We continued our way into Juneau, I think we were supposed to arrive at 1:30pm.
Juneau in the distance, with Bliss docked, that lady is huge! It is basically the only thing you can make out there clearly, lol.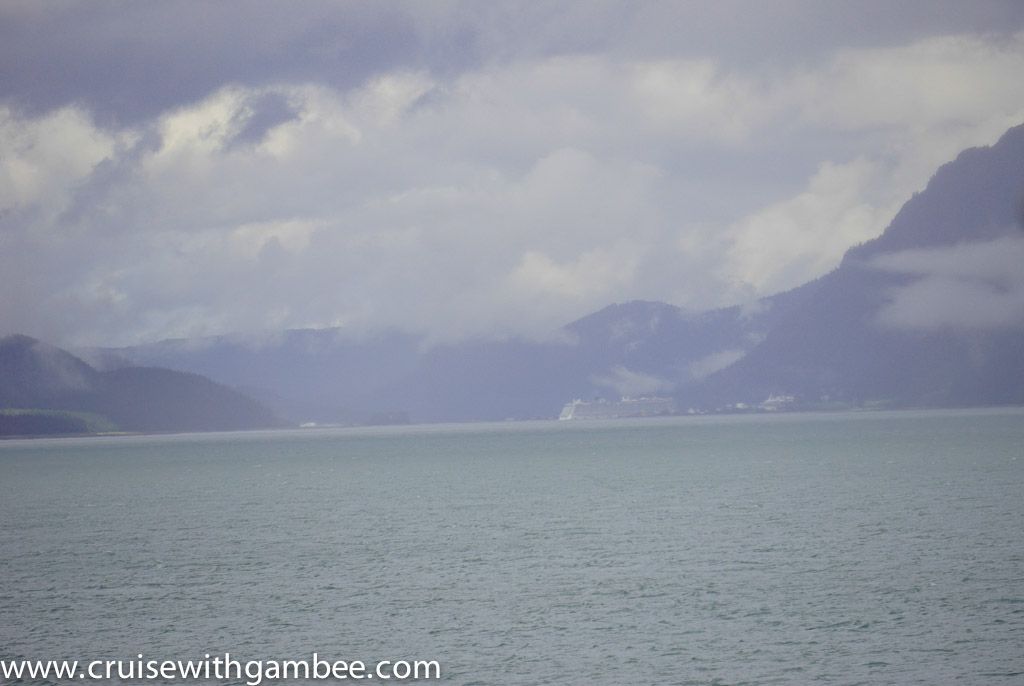 Just a few random shots. I was shutter crazy!
Pearl close behind us.
The weather started clearing out as we approached Juneau. Such gorgeous greenery.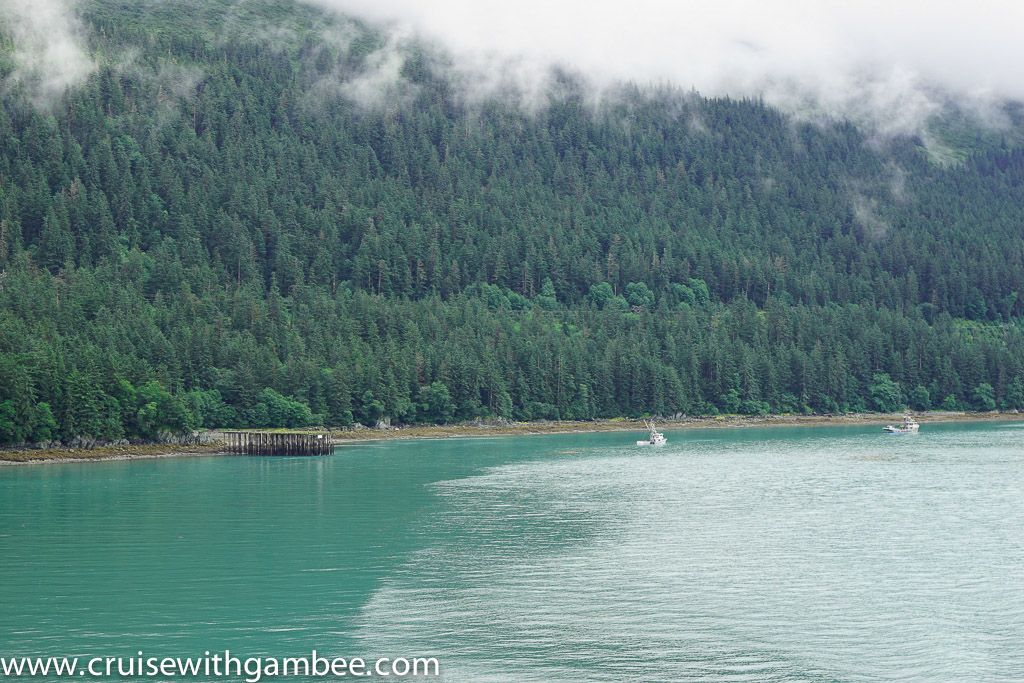 By the way Juneau is an island, you can only get there by water or air, obviously lol. So as you can imagine things can get expensive there. I did a lot of research about Alaska, because I am planning on doing travel Physical Therapy around there, or find a job for a year or two. I was thinking about this way before this cruise, around the first year in PT school. So this was a great time for me find out a little of how it is to live in Alaska. One thing to keep in mind is that the population in Alaska in summer tends to increase about 20-30% in most cities, well at least the ones we went to. Not really sure about Anchorage, or Fairbanks.
Love this one!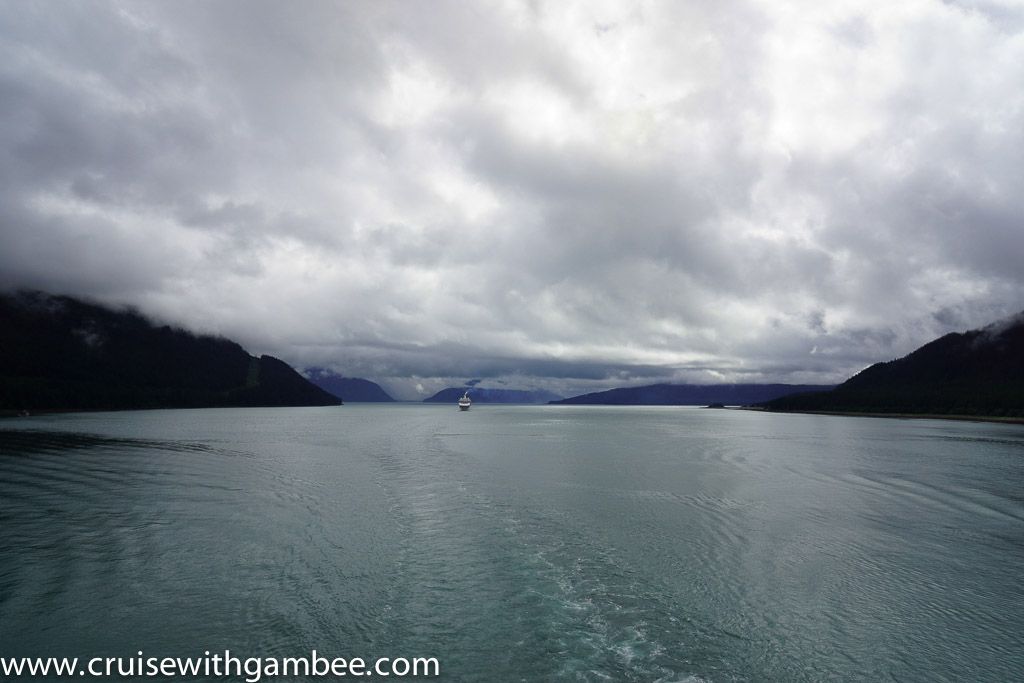 Just look at the water. So calm….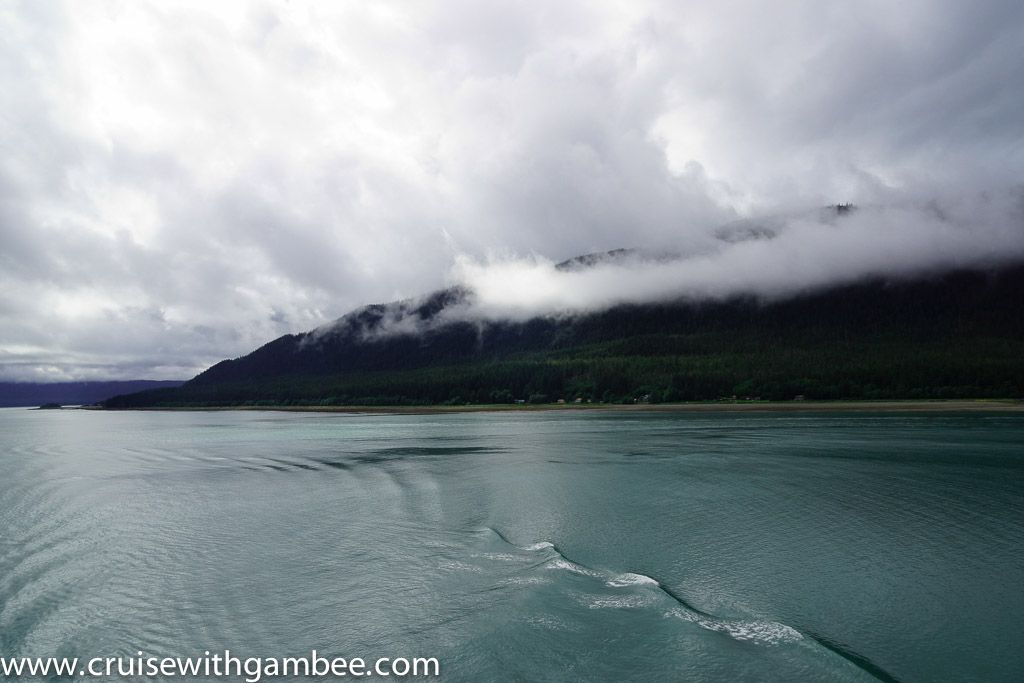 Tides in Alaska can vary a lot, they can be as much as 25 feet. So docks need to be able to adjust to it. A lot of them are floating decks, or they use a long lever to allow for the wide movement.  You can tell by the colour of the land near the water.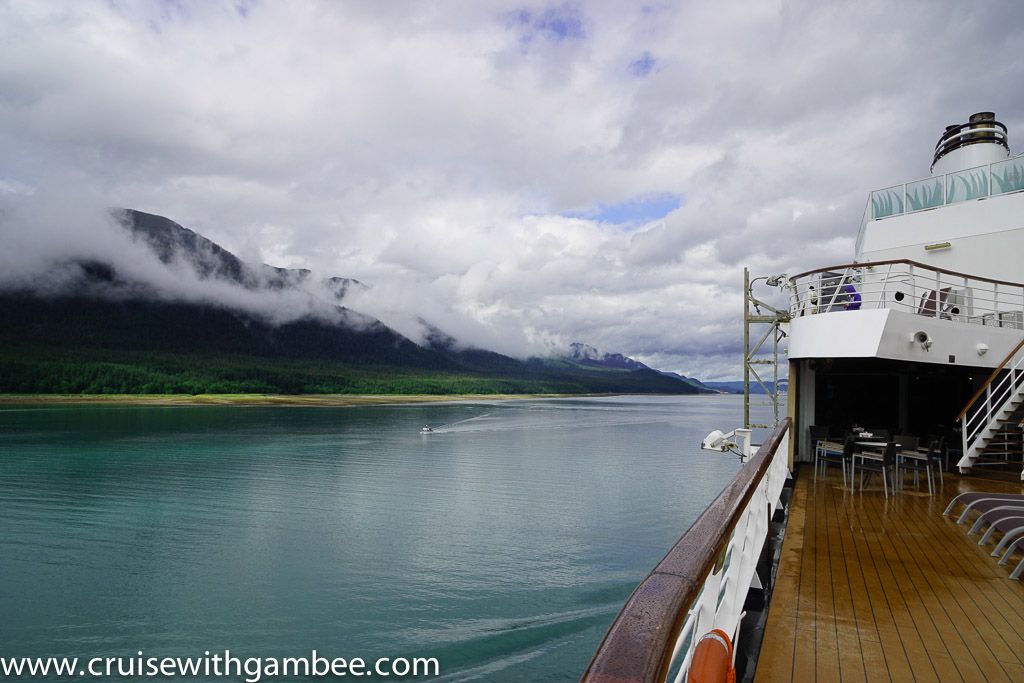 Real estate prices are high, would not have thought that before this cruise. But yeah those water front properties cost in the millions of dollars! The issue is that most of the land in AK is national forest, and they cannot build on it. So all the houses we see there, were there before the US made it into a national forest, thus the high price for properties. They have no where to expand but up. So some 1-level houses are sold, and then made into multi-level condos. But even then, there are a ton of regulations to deal with. Rent for a 1/1 bedroom is around $900, and then you have utilities to deal with in winter. Funny enough, Juneau does not see a lot of snow in winter, they sorta hover around 30's-40's. Actually the same goes for Sitka, they told us they barely got snow (Years back they got a good amount of snow). Can't recall about Ketchikan. Sorry, I did not take notes, this is all from memory. And most of my brain is busy trying to retain information for the upcoming physical therapy boards exam.
Anyway, very expensive homes right there.
I mean really, just look at that! How can one hate that? It is absolutely amazing!!! Those cloud formations! The water! The mountains!
Just look at that property, add a nice little boat, and what else could you ask in life.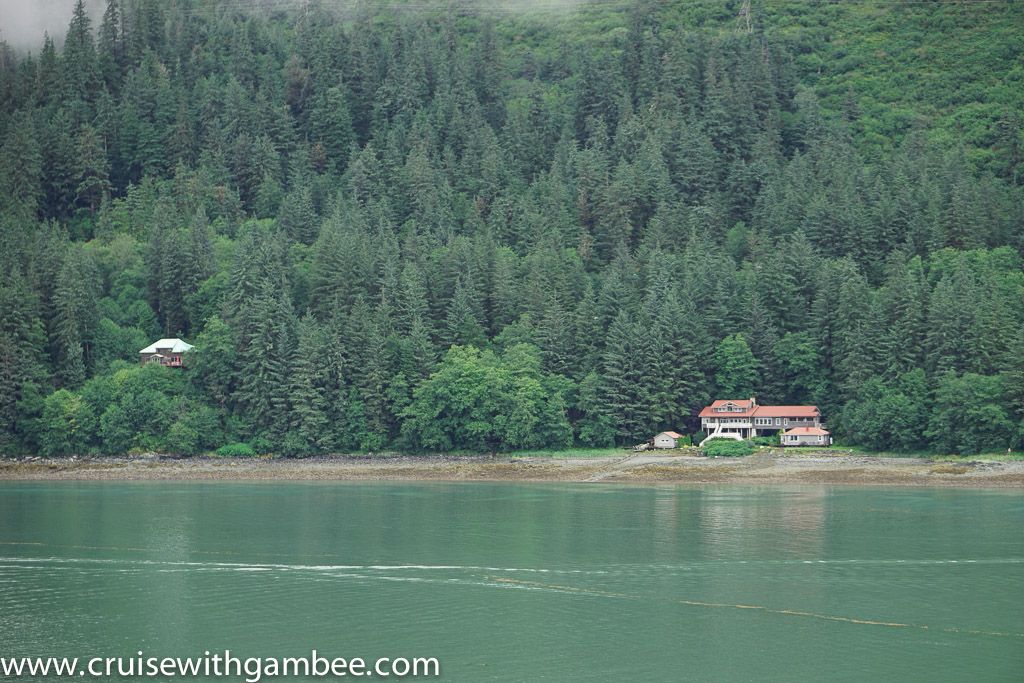 Just look at all the waterfalls, to die for =)
I will love any tinny house around there, I kid you not!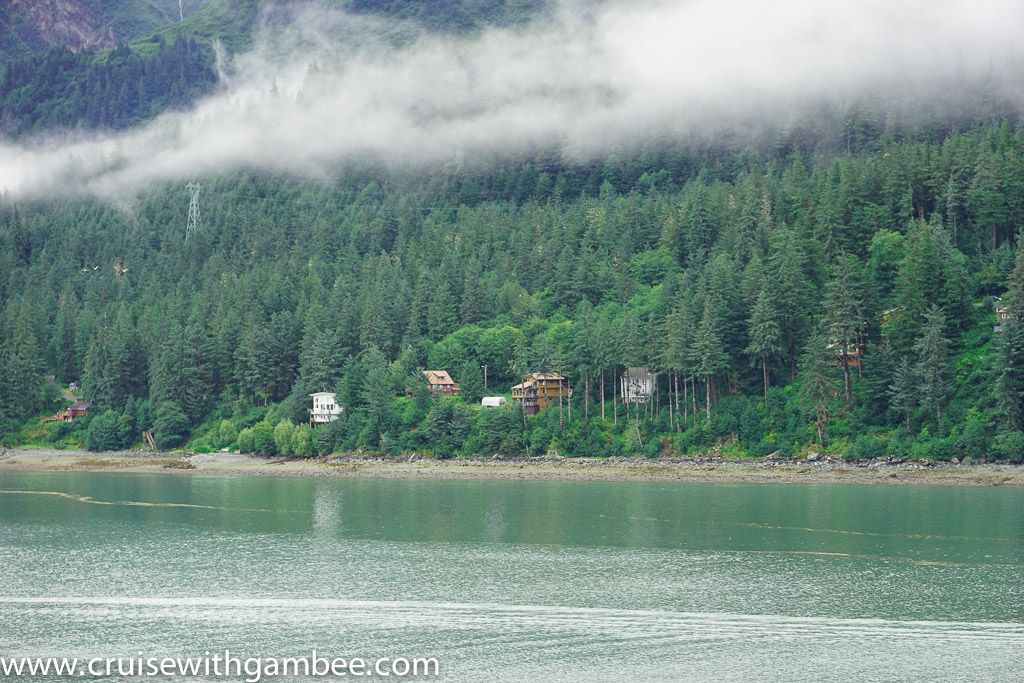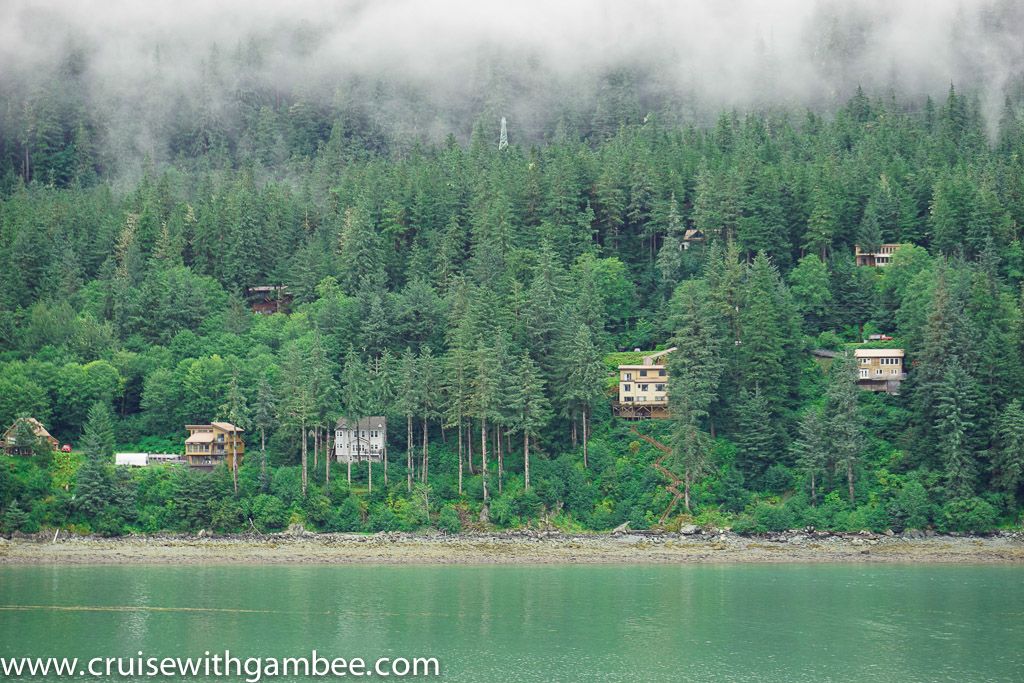 I absolutely LOVE ALASKA!!!
As we moved closer around town we saw people fishing on the shore, just be careful of the tides.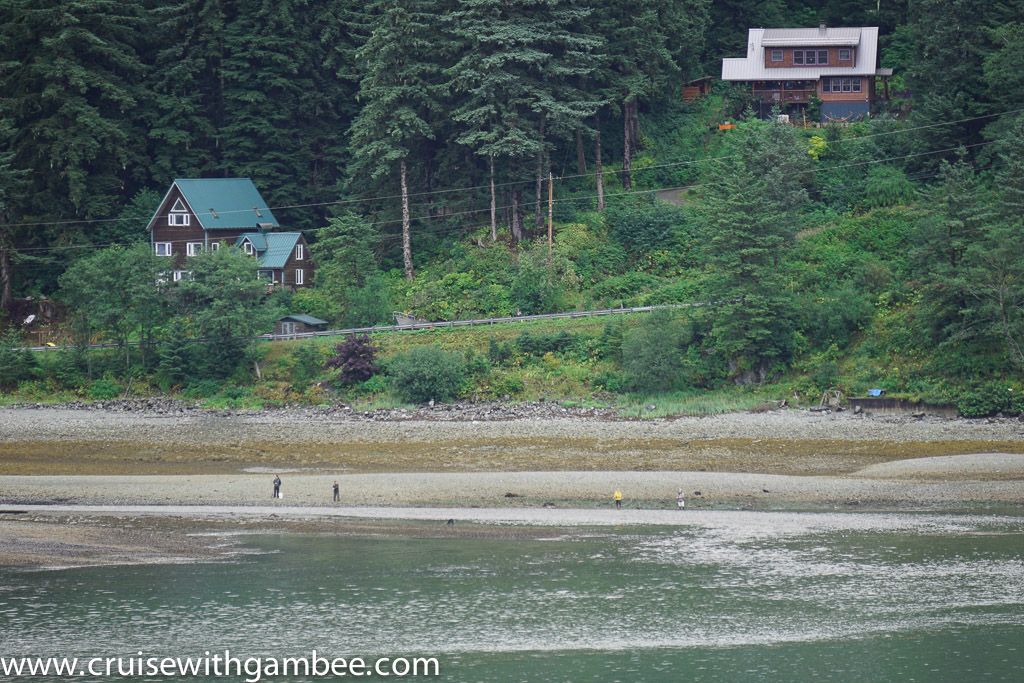 A bunch of birds in there! Maybe feeding on crustaceans from the tide?
I have always wanted to do a fishing shore excursion, but I just don't think mom will enjoy it as much. Not to mention that most of them are really pricy.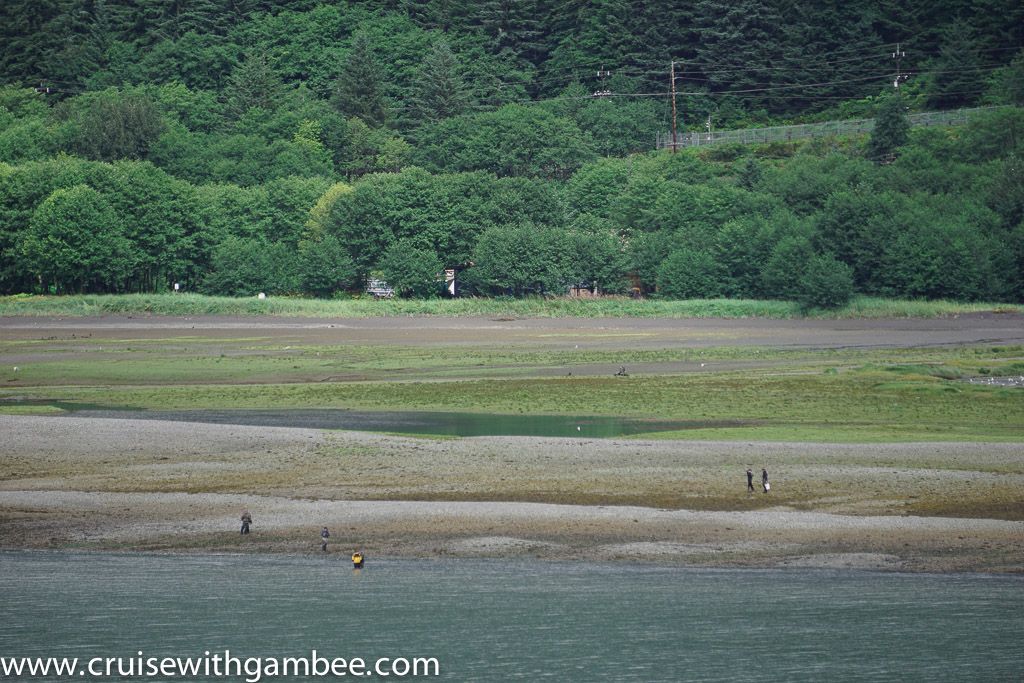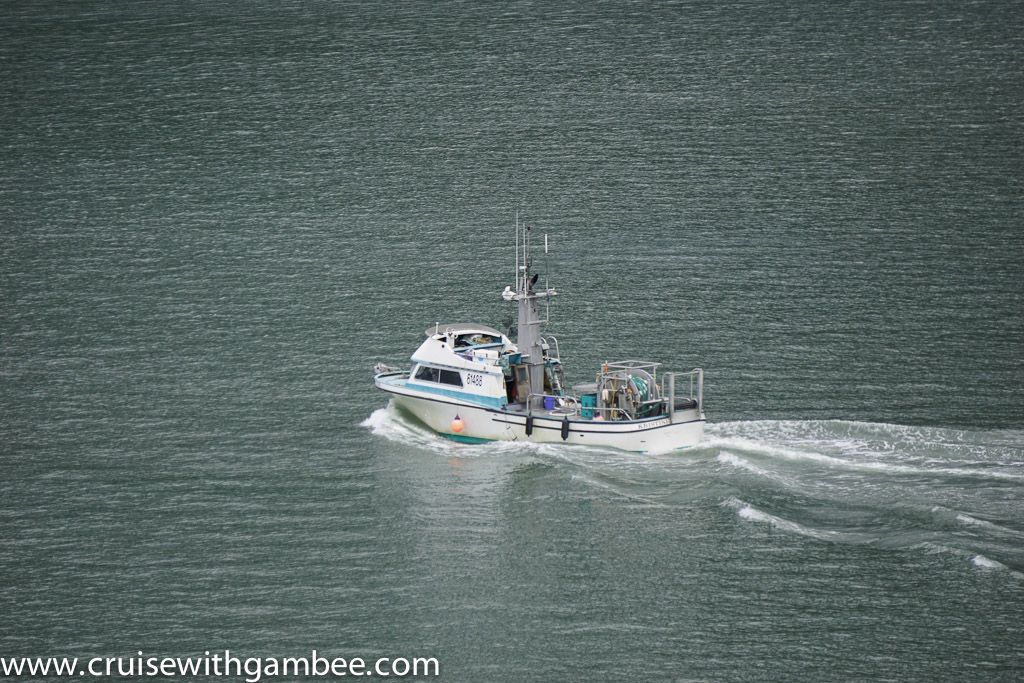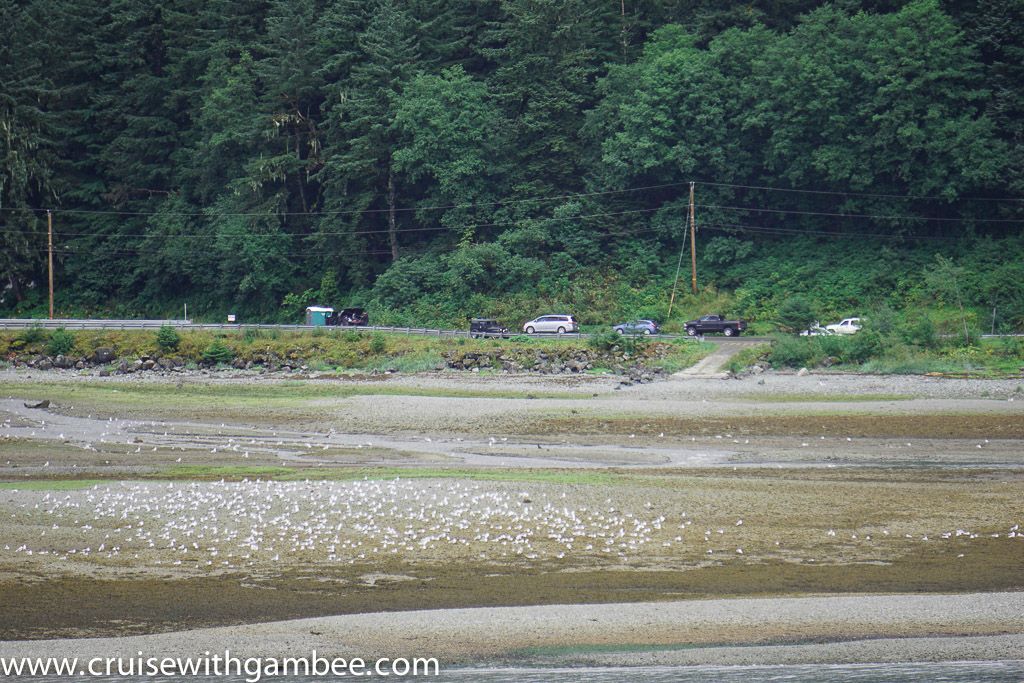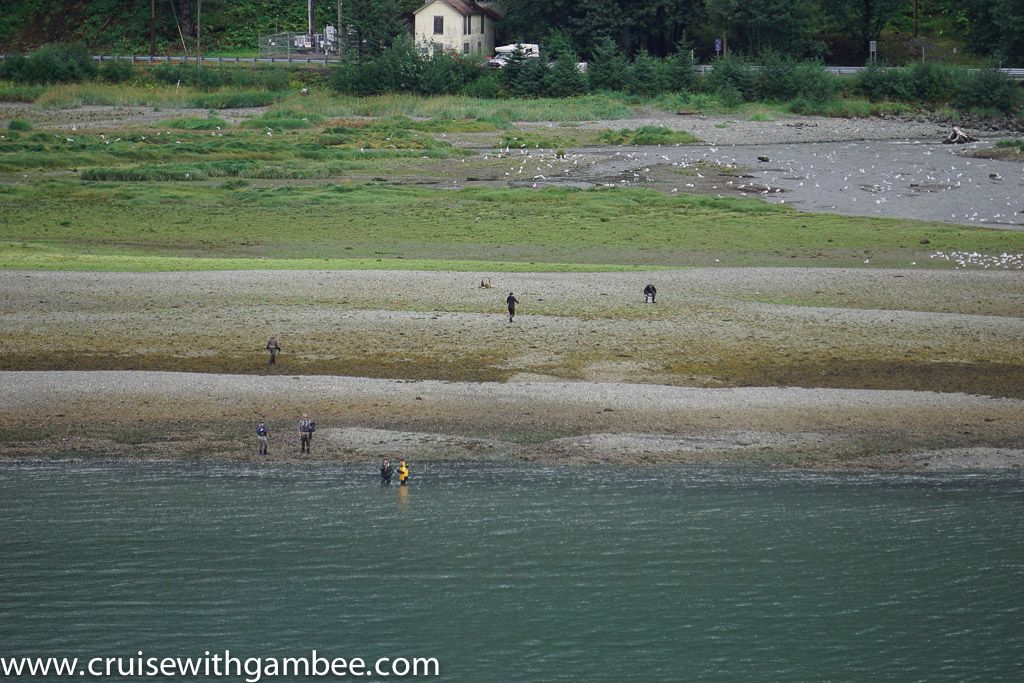 I would love this life. I am an outdoors person, and fishing in clean lands, a dream come true.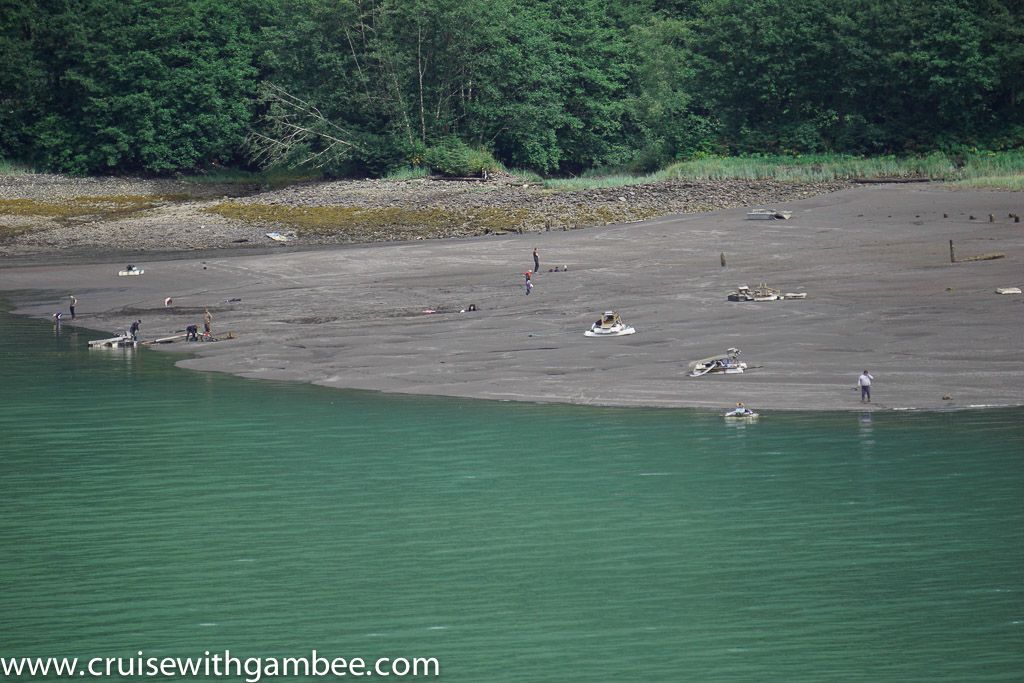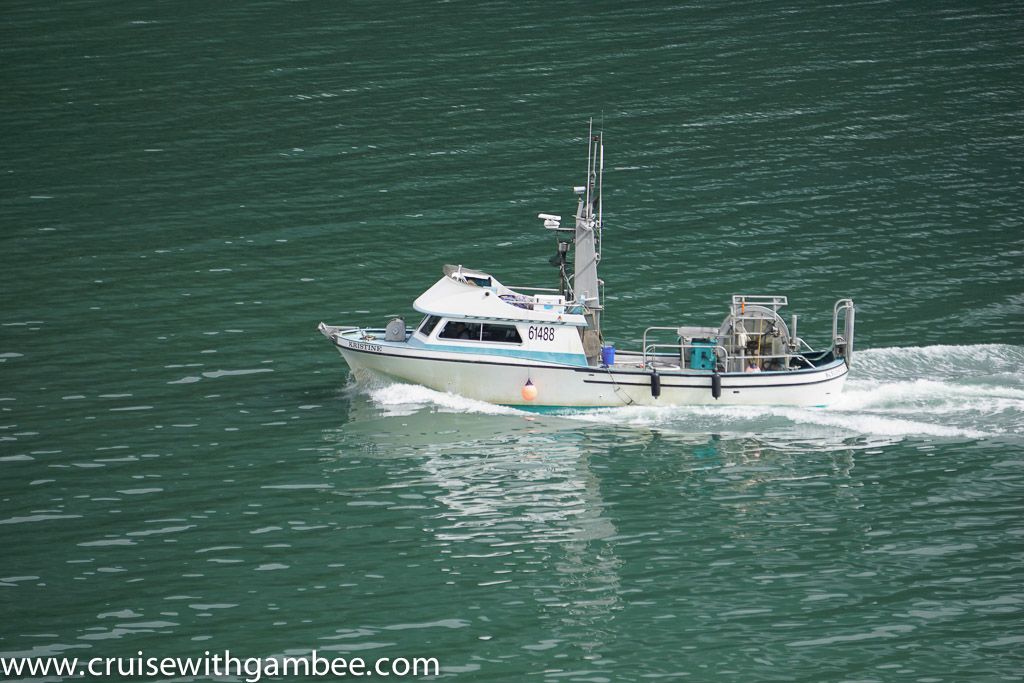 Juneau was becoming more visible as we closed in.
With the Pearl still in tow, just stunning!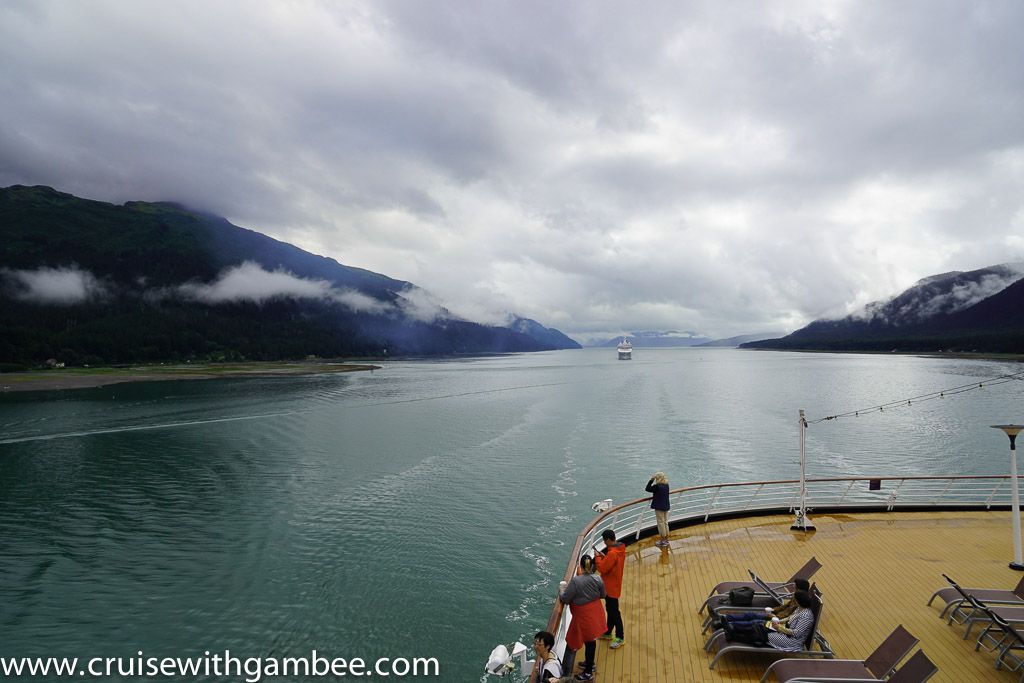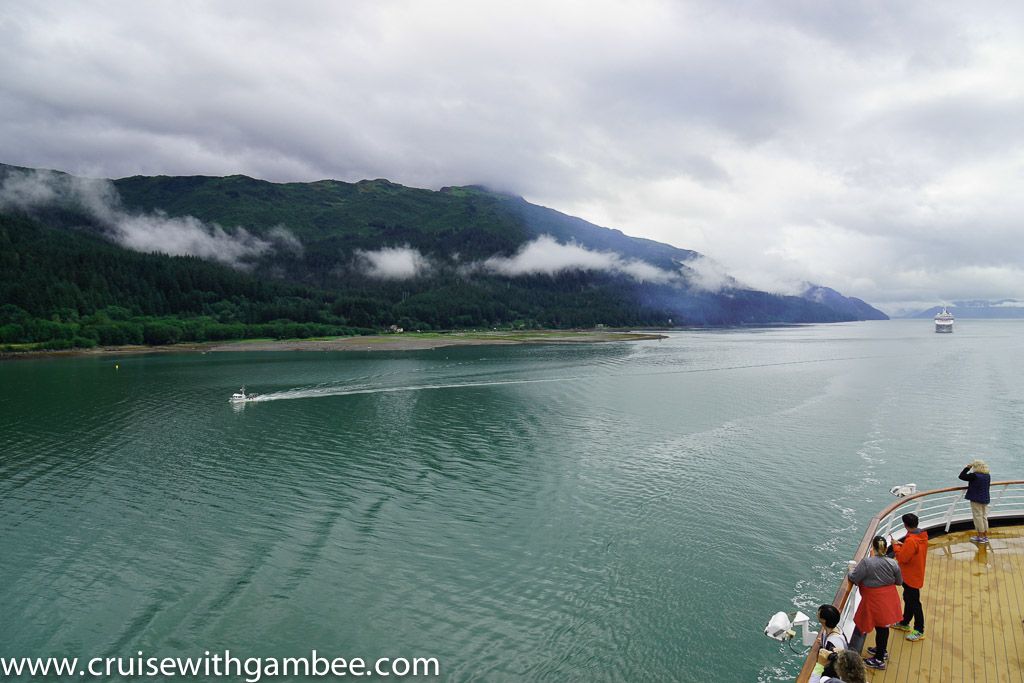 Then we started seeing tons of tour float planes, a lot of them!!!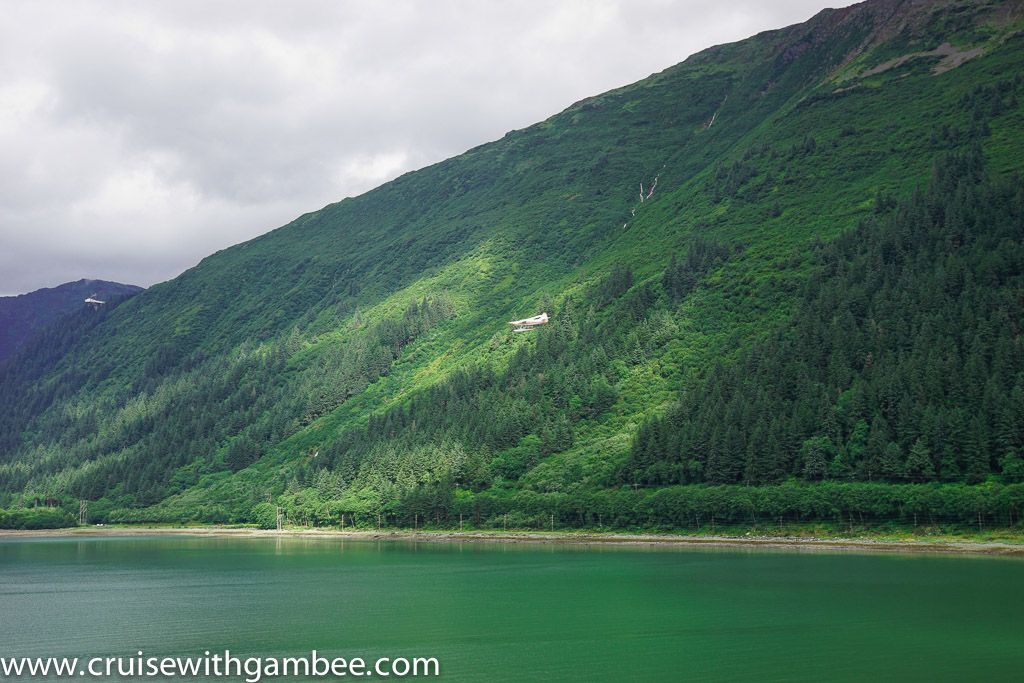 And more waterfalls.
Look at that aft pool, and the mountains, where is everyone?!?! The entire ship should be here enjoying this view.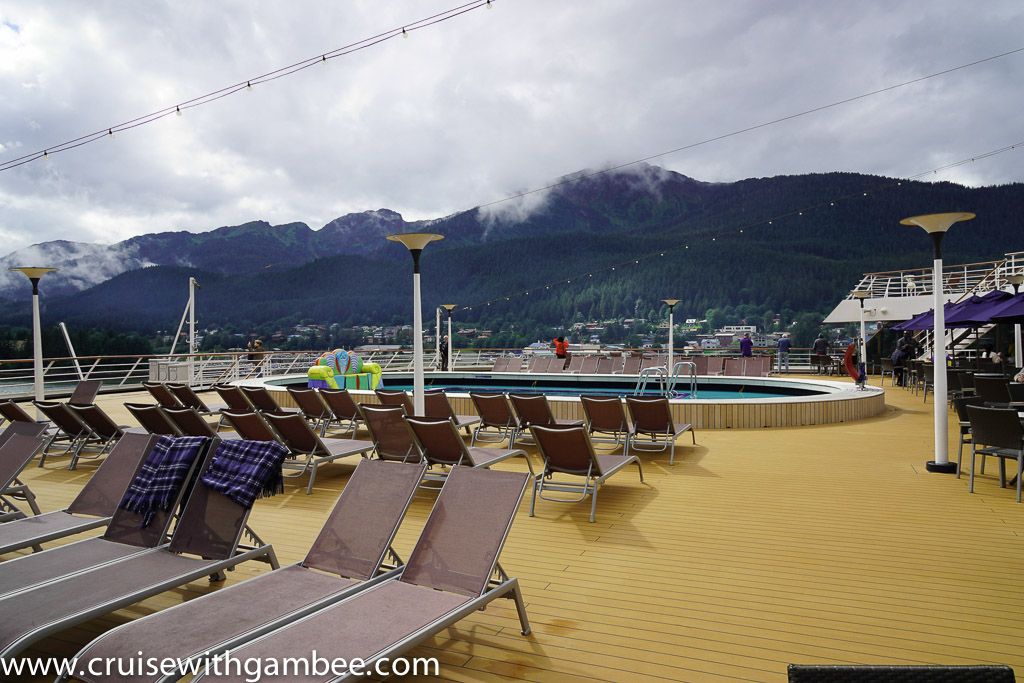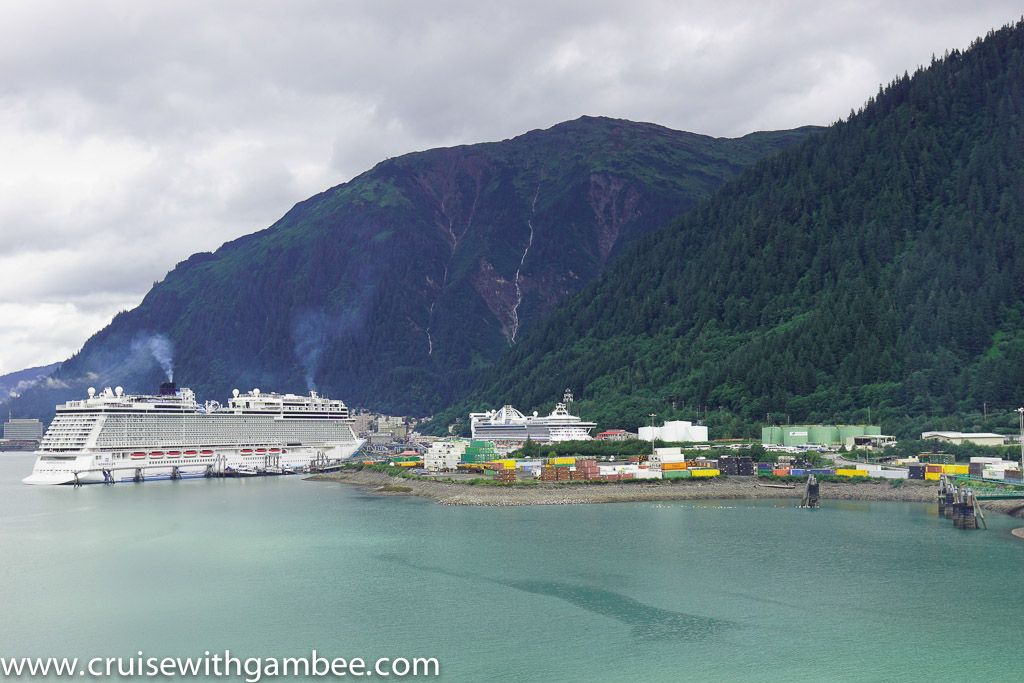 Ok so here is something I found out. Yes, the NCL Bliss is an amazing ship, just like the Escape(In my top 3 favorite ships). But in my humble opinion they do not belong in Alaska, they are too large and they spoil the experience. Some people in port said that the hours that they are in port not the best, and the carts and laser tag are not worth the price. But to each their own, I am just happy I got to experience AK in a small ship free of crowds =). Not to mention our ship docked in prime real estate on all ports, (the same cannot be said about larger ships like Bliss, people had to shuttle to town).
Prime real estate dock waiting for us!
Love those aft balconies on NCL! I will never forget our trip on the Breakaway to Bermuda, love those memories =)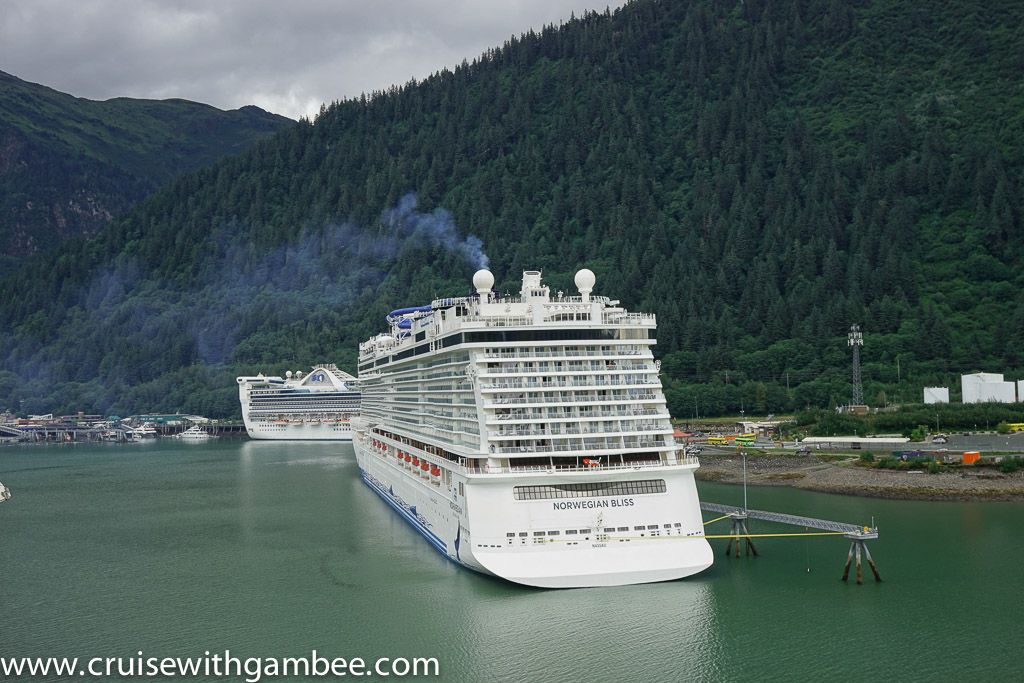 Love the whales on the ship, perfect for Alaska! Good Blend, especially since they all look like humpbacks, lol.
The Pearl actually had no dock, and they had to wait until the Bliss departed to get her spot. I guess they tendered into Juneau until then?
Mom taking pictures, she's so cute.
Like I said, plenty of sea planes.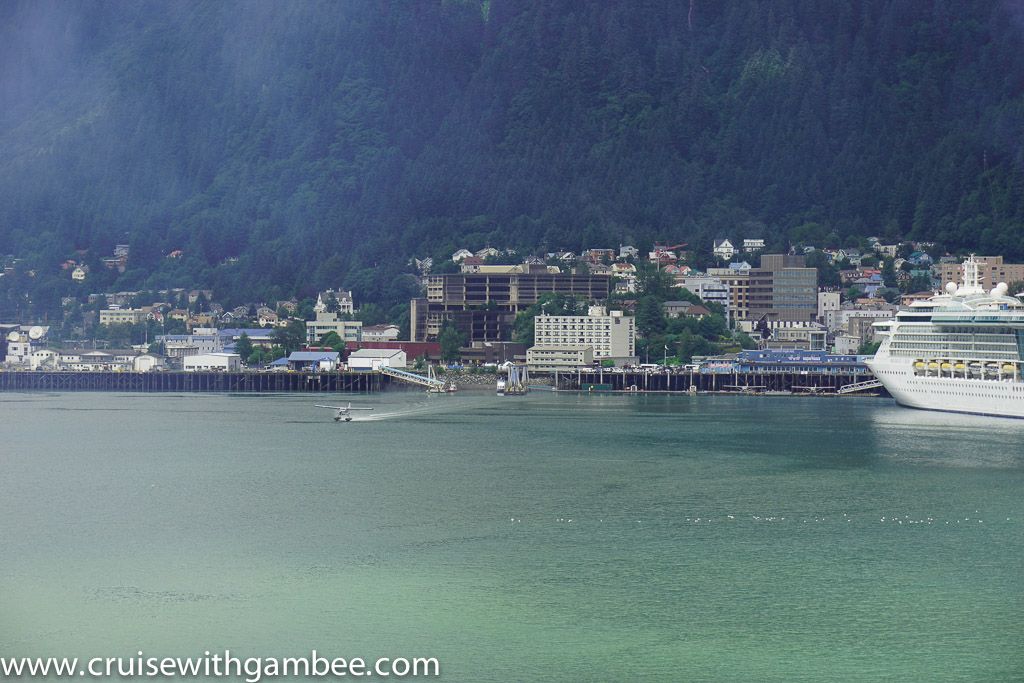 And another one.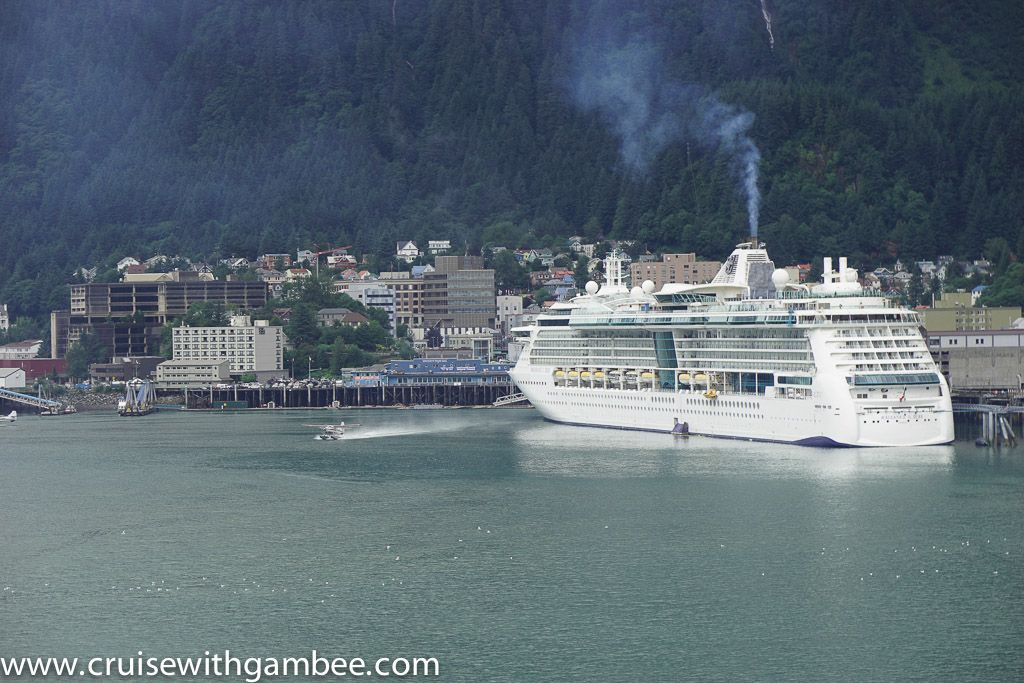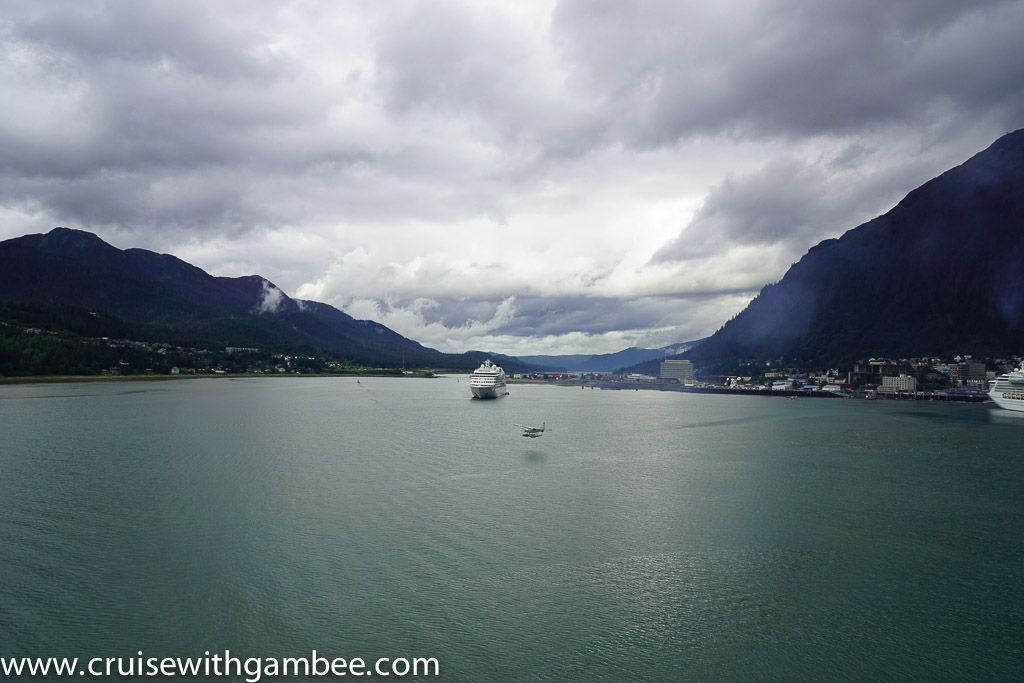 I guess at one point she passed us. She docked a little further away, maybe walking distance, but not as close as us. But much better than Bliss, at least she did not require a shuttle.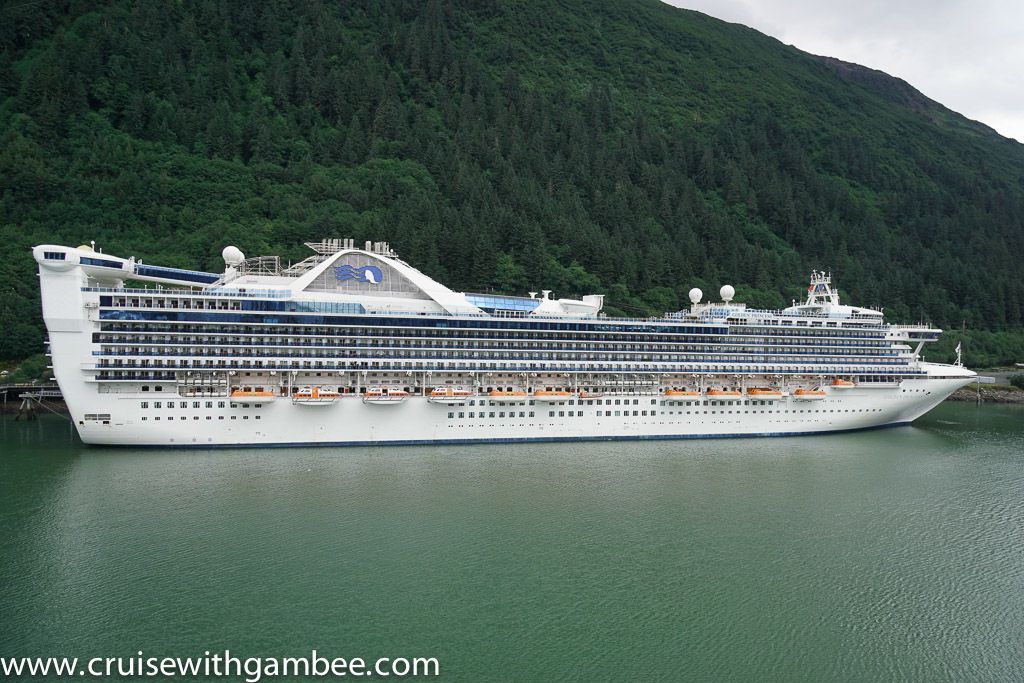 There were a few vessels there, and I just enjoying my self and taking it all in.
Moving closer. If you look close at the dock, you can see how much play the tide has. Plus the main area where we disembark is a floating platform. And don't ignore the waterfalls and the tram.