The rest of the day went smoothly, we were just enjoying our time in Ketchikan.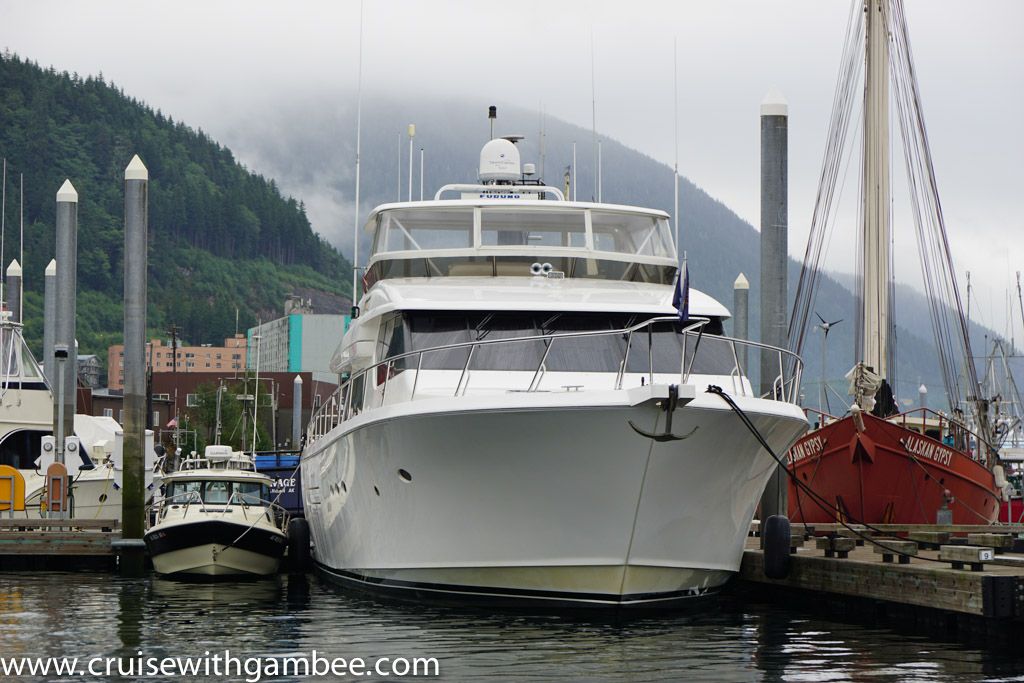 Mamma boat and baby boat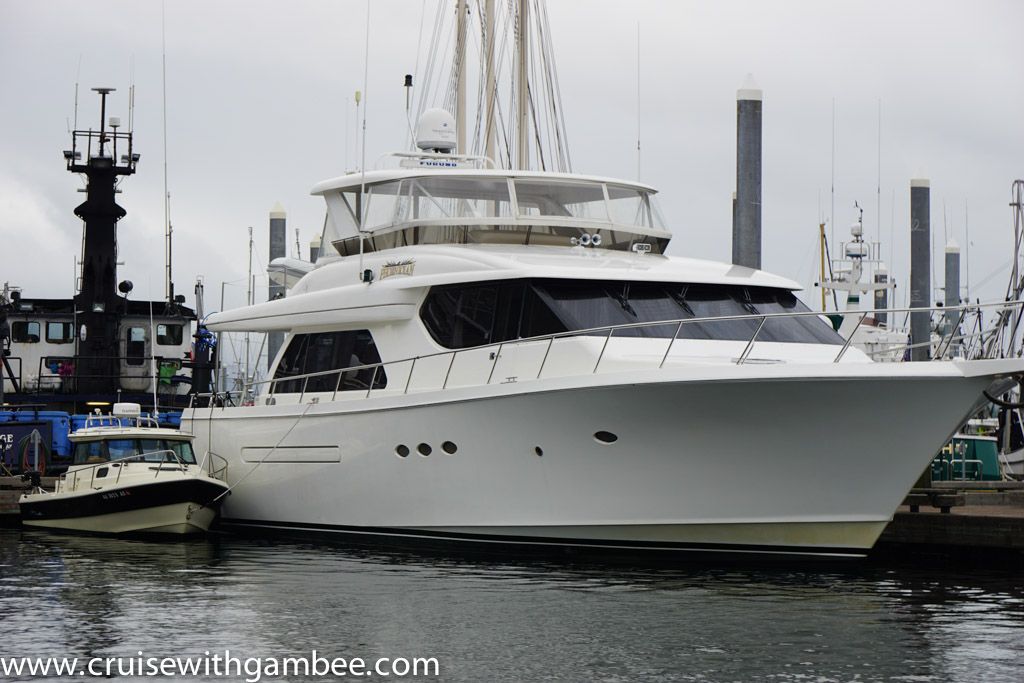 Our Duck boat captain/driver lives in that marina. Her husband works out of their boat, neat lifestyle. They go back and forward from Florida to Alaska, they have also sailed all over the world on a small sailboat.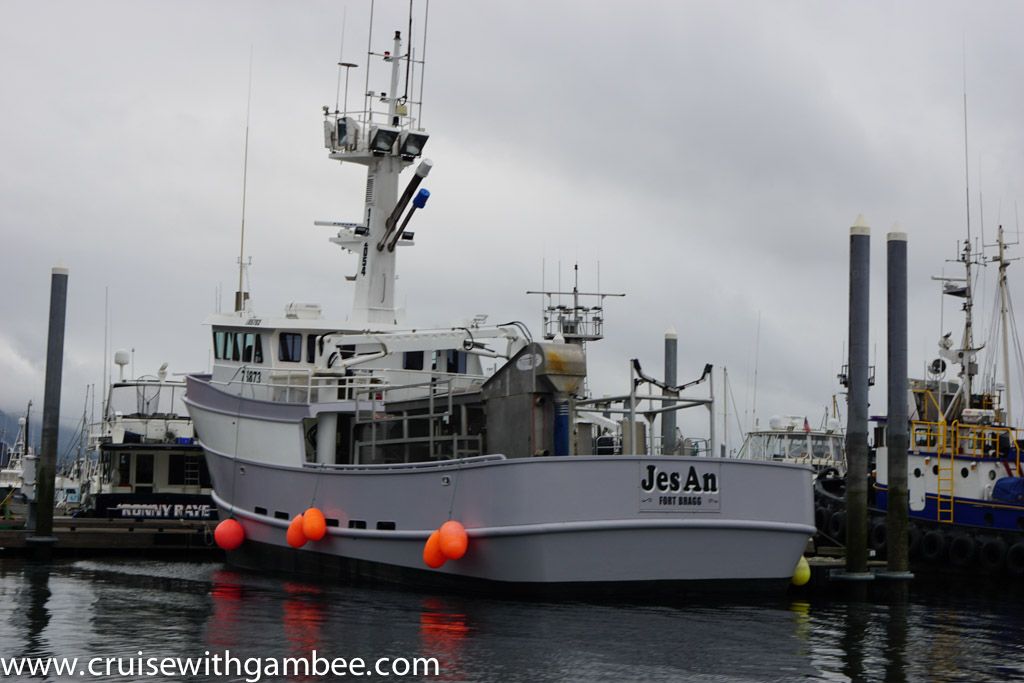 Yes, yes, yes. Me want!!! And I will take it in that colour.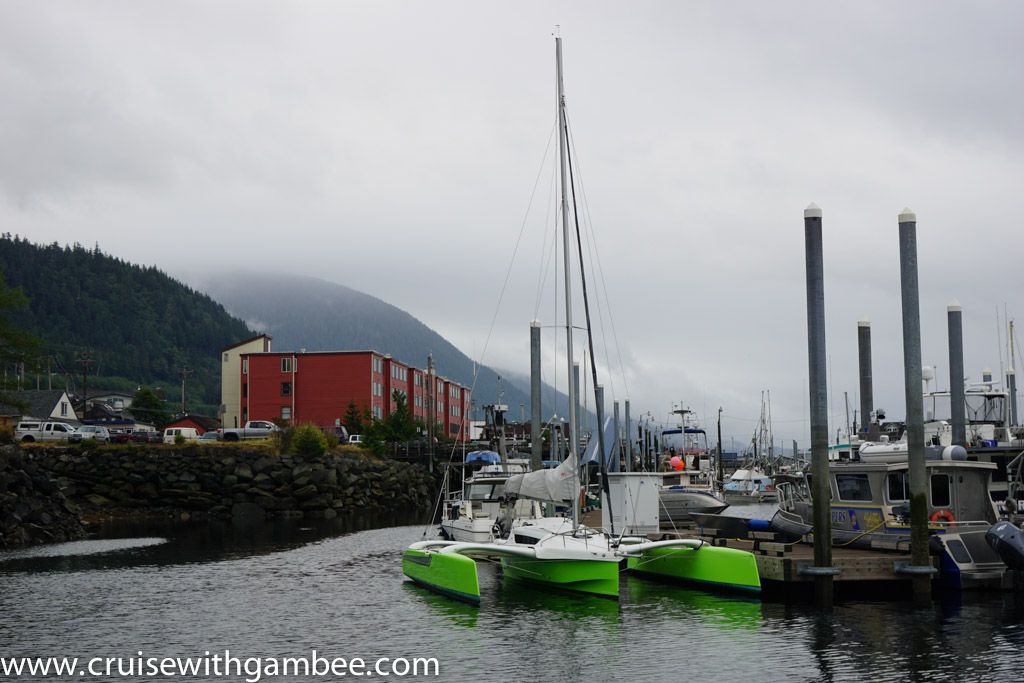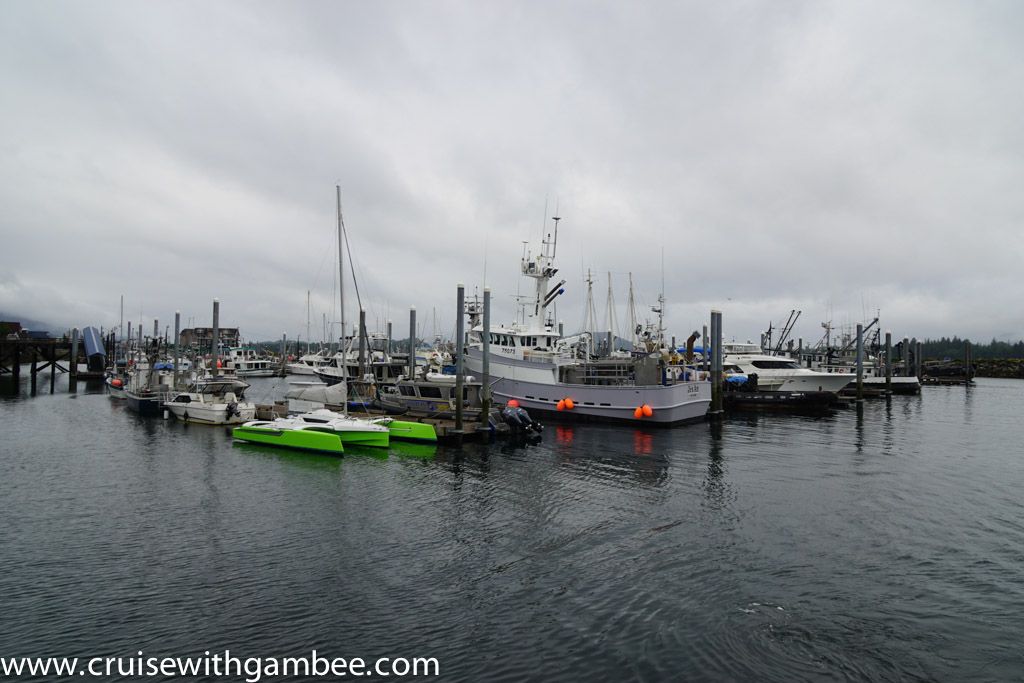 After we went out of the water, they quickly cleaned up the vehicle. Apparently, they have gotten as much as deer stuck in the wheels in the past. There is a little washing station there with a hose and everything. Also that salt water must be horrible for the undercarriage, and remember we are on a $250k vehicle. So funny, our captain/driver said,  "I always saw myself driving a nice 250K vehicle, just not exactly this one" lol.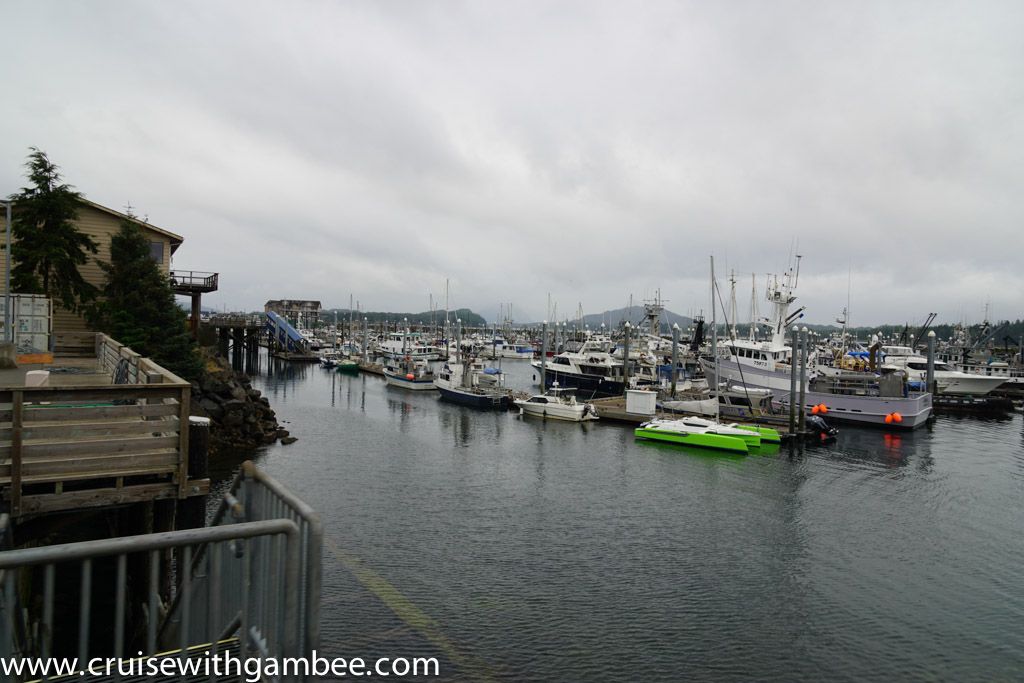 It took us about 5 minutes to get back to town, and get off the Duck bus/boat. Then mom and I went walking around and exploring some more.
So don't quote me on this, but apparently there is some beef between Ketchikan and Juneau and that is why the eagle's butt is pointing at Juneau. I really can't recall why, I just remember the clips of it.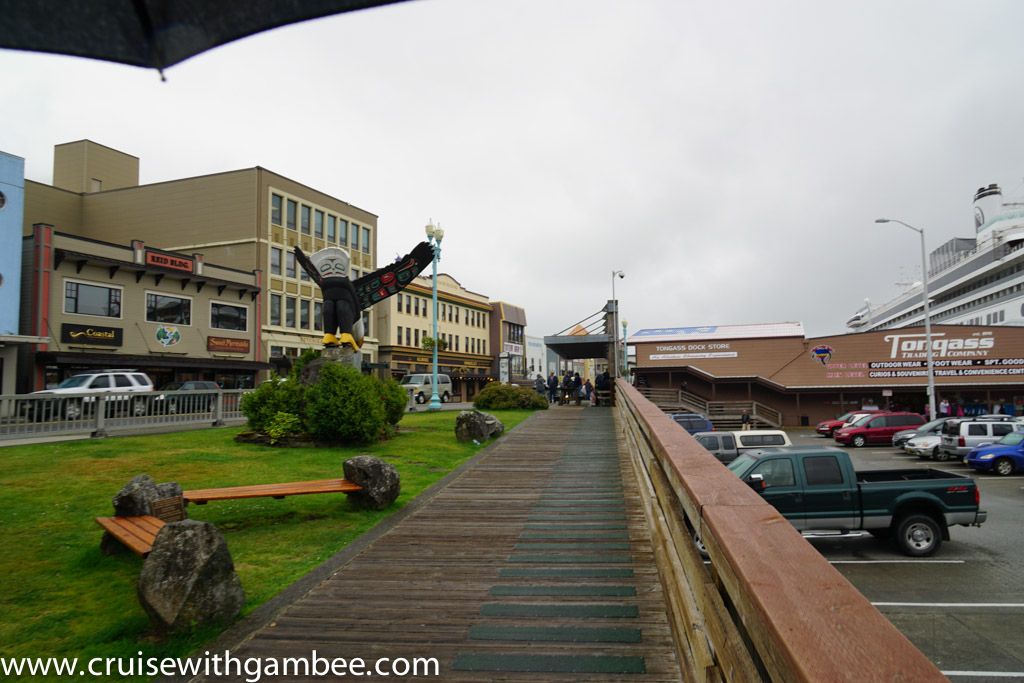 It was raining quite a bit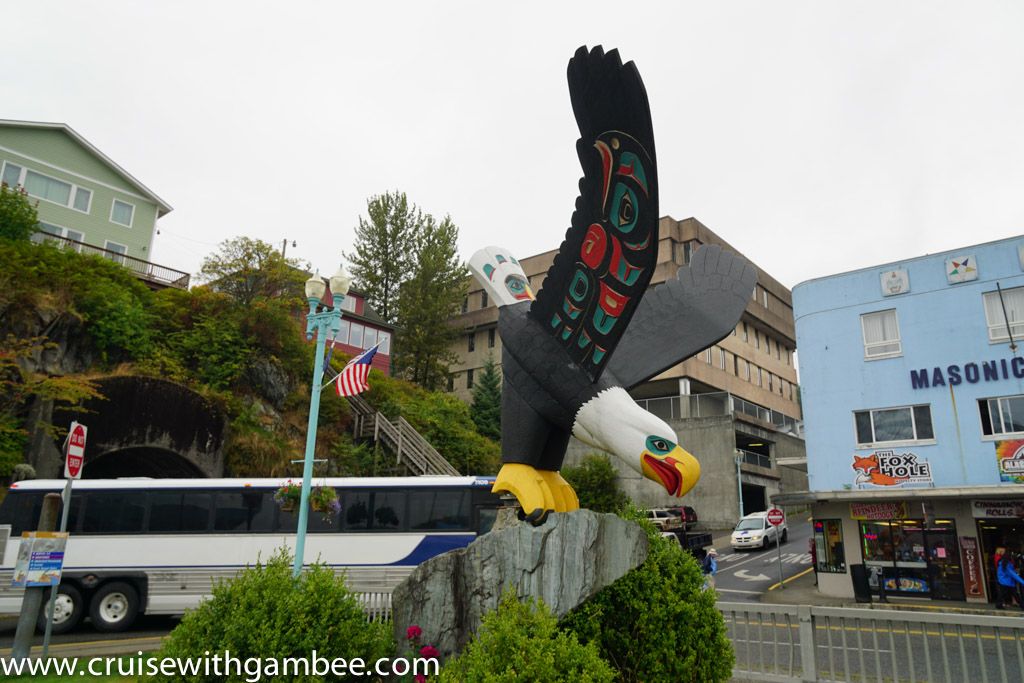 And this was exactly the reason why I bought my umbrella, just to cover the camera, lol
Again, we had prime real estate! Best located ship there, no question about it.
We walked around. I also needed to use the bathroom, so we stopped by that building there in the right. It is the visitors center, and a bunch of shore excursions are available for sale there. They also have nice clean bathrooms available. Beats boarding the ship just to use the bathroom.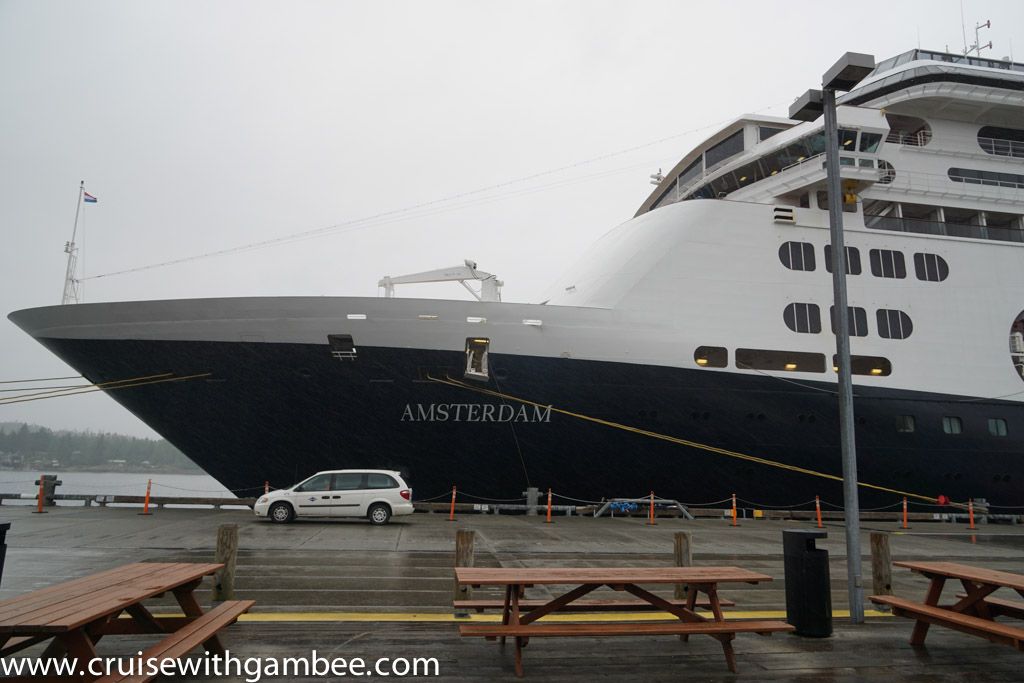 On our way to creek street. The rain was helpful as it kept the people inside the stores, and the streets vacant.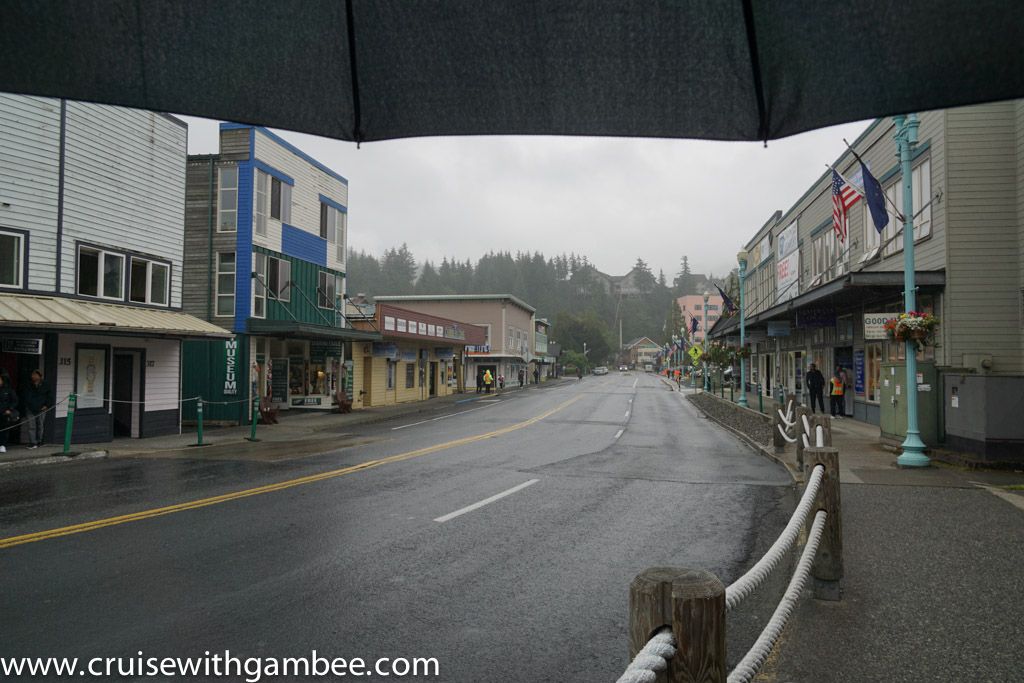 Trying to get a pic of mom with the funicular on the background
Another duck tour on the way
Little info on totem poles. First off you can commission one, but it can cost you up $3k per foot depending on the artist. Each part of them tell a story, but they are not chronological, meaning that the story can move all over the pole. Originally in the past, only the artist could tell the story, if anyone else told the story it was considered intellectual theft. People who were caught telling the stories of the poles, were shunned and possibly removed from the communities. Thus many of the stories have been lost through the years. Mom bought a few of the souvenir mass production ones, and they were not $3k, lol.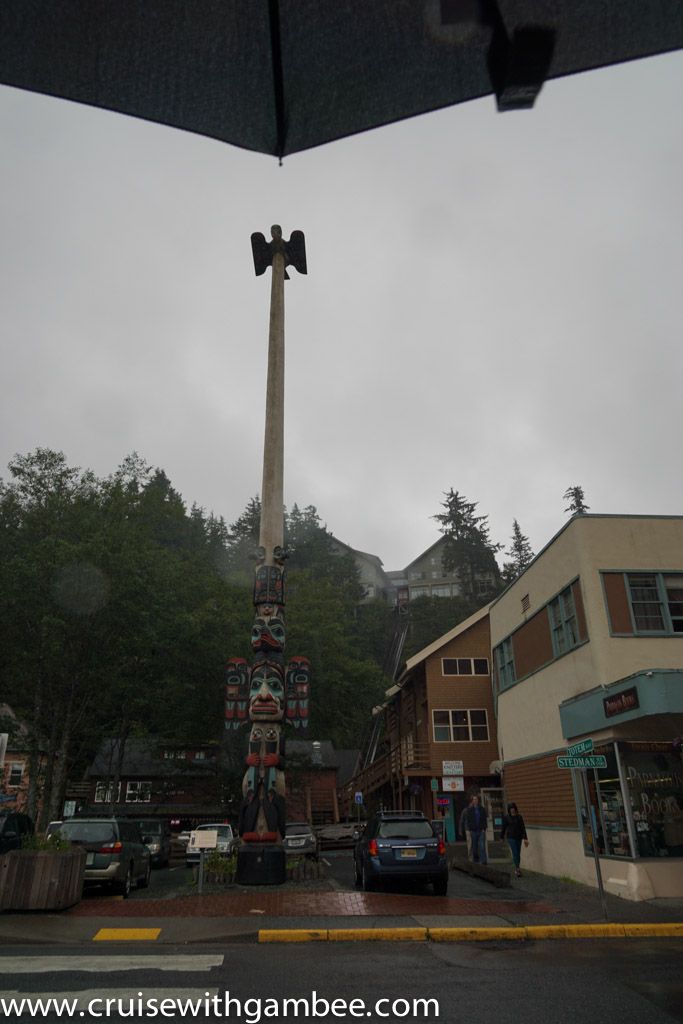 Then we went to creek street, which is absolutely gorgeous. Of course now it is all about tourism, and some of the charm has been lost. Now all the houses are either stores, restaurants, bed and breakfast, or museums. By the way 30% of the income of Ketchikan comes from the fishing industry, and guess where the rest comes from? Yup, tourism.
Look how gorgeous it is!
The river below was loaded with salmon
The birds looking for an easy meal mostly on salmon that were either dying or dead.
Some kayaks came up to there, they stopped and then turned back. I imagine they stop there to listen to their guide tell them about Creek Street.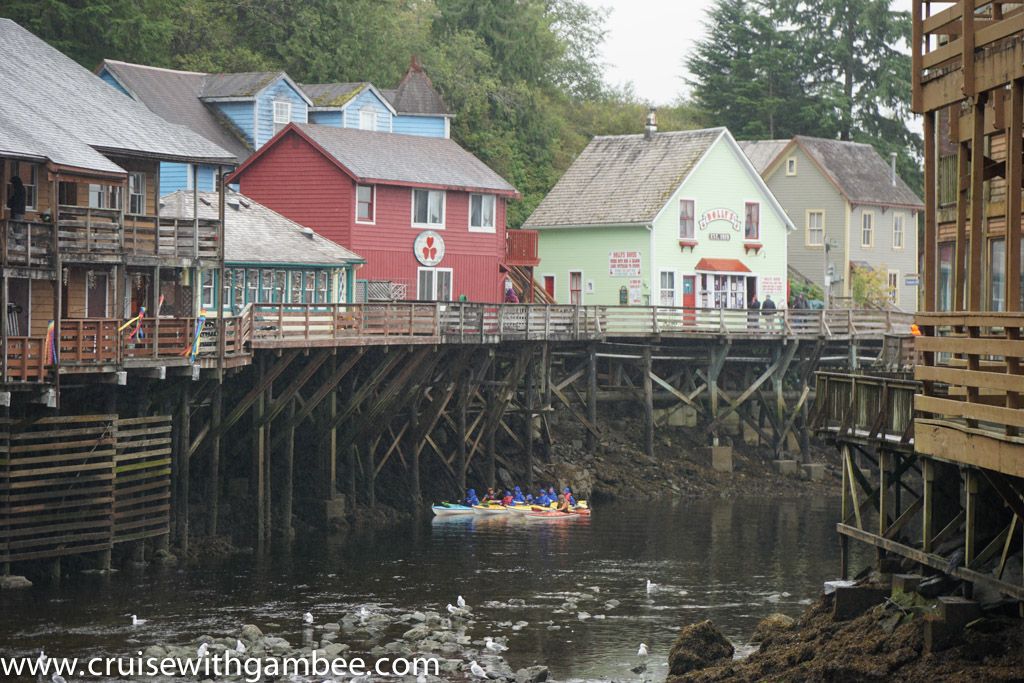 The rain wasn't that bad, but bad enough to ruin my equipment. Better have it protected.
I love the touch that the umbrella gives to the photos, it reminds you of that day with a more detailed pattern.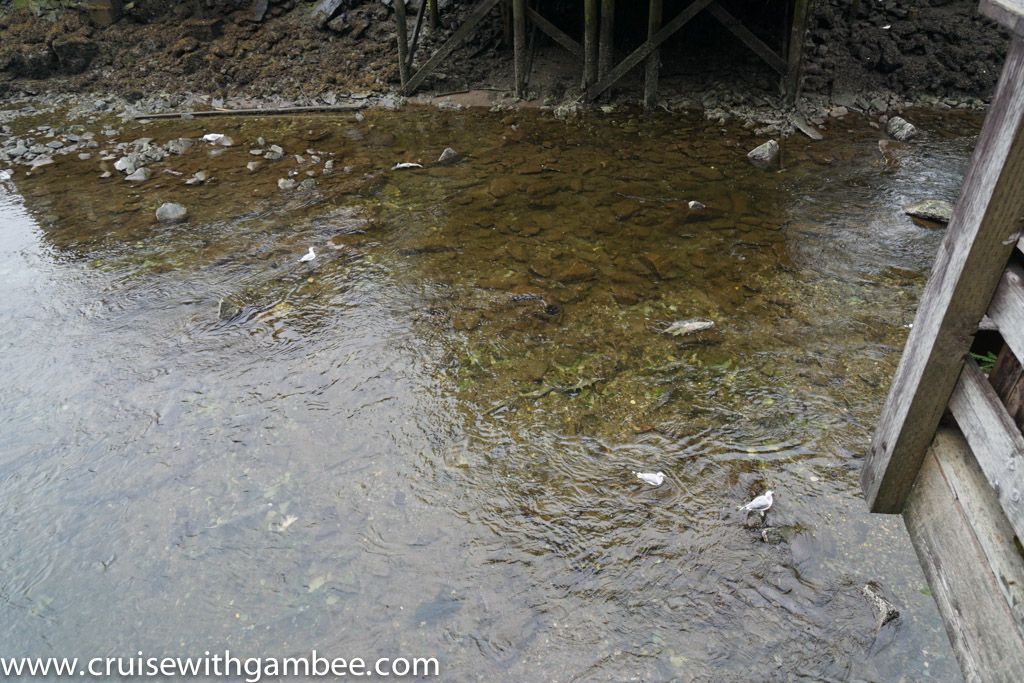 Like I said the funicular was closed, I am not really sure for how long. But during the planing of our cruise, I had planned to go on it. It goes up to a Hotel called the Cape Fox Lodge.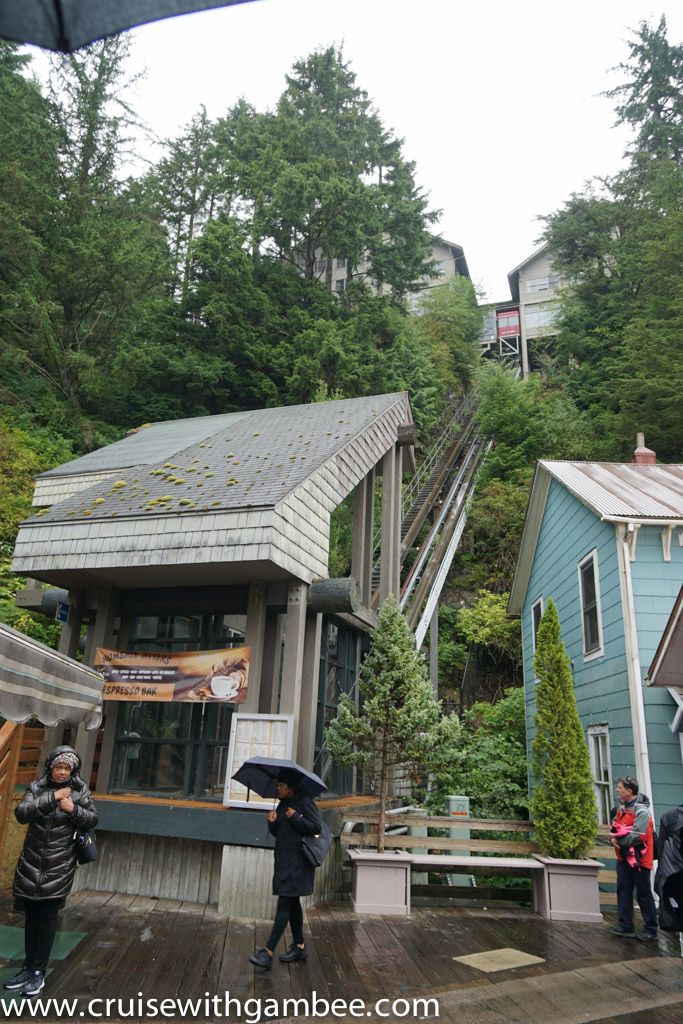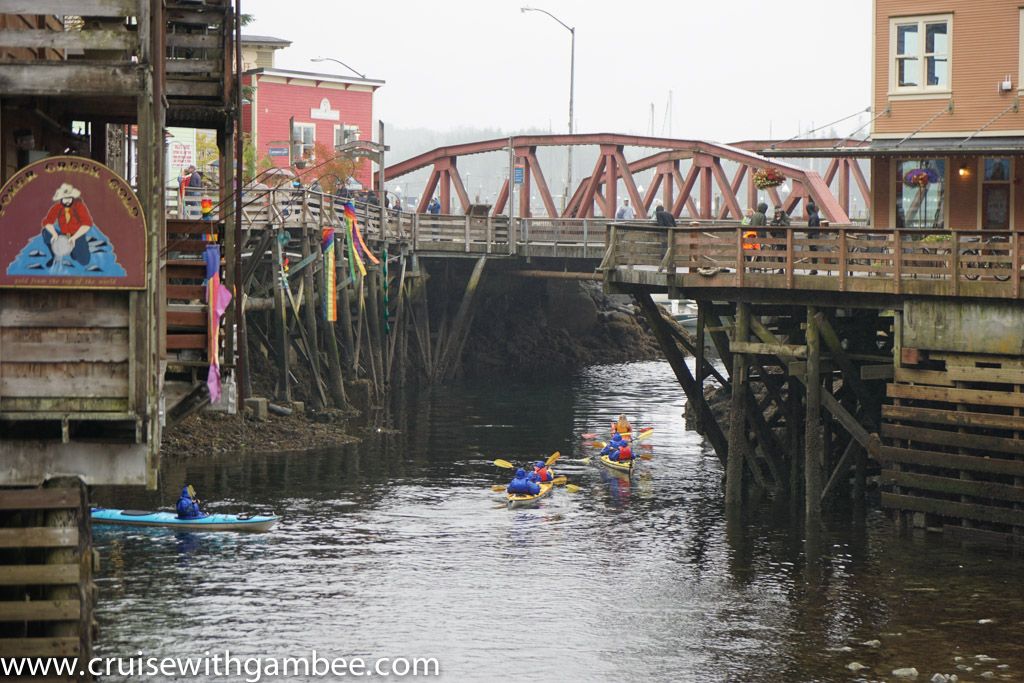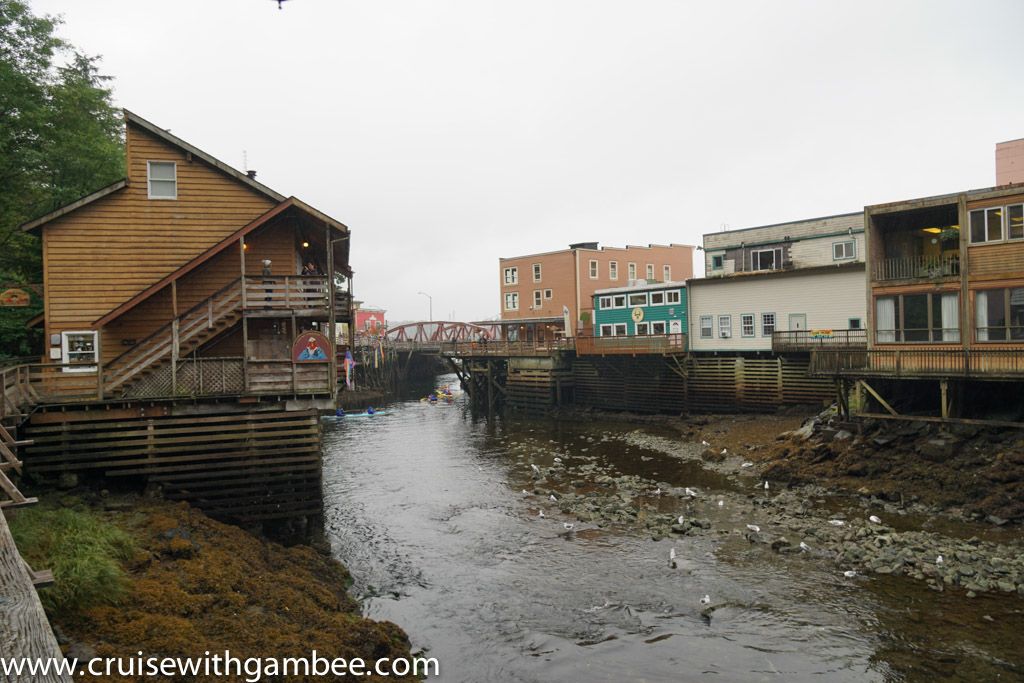 In Ketchikan wooden paths are considered roads, mainly because back then everything was wooden. Now only one real wooden road exists that cars can go on. But many houses still use wooden stairs to get to them, and they are still considered roads. Some people need to climb up to 8 flight of stairs to get home each day, imagine the mail delivery guy, and other city services. They have to be very fit!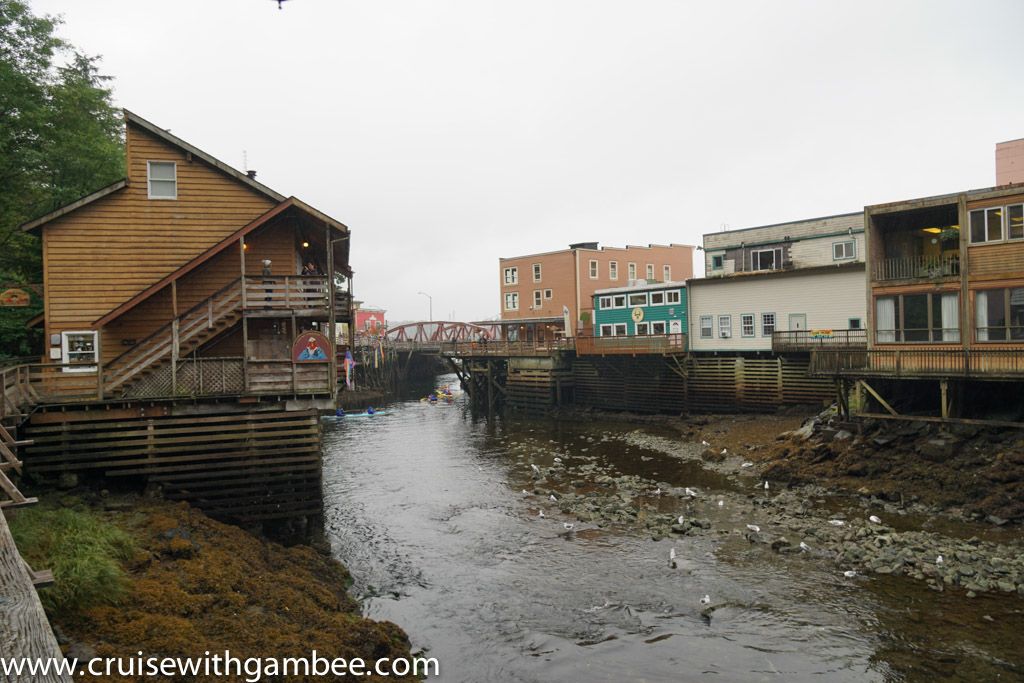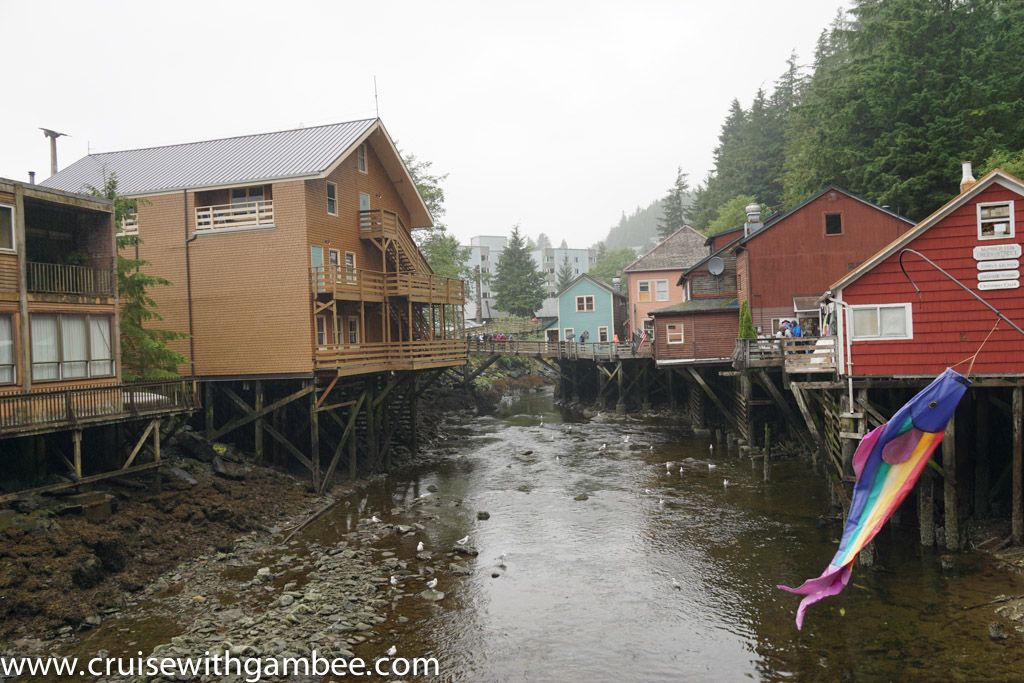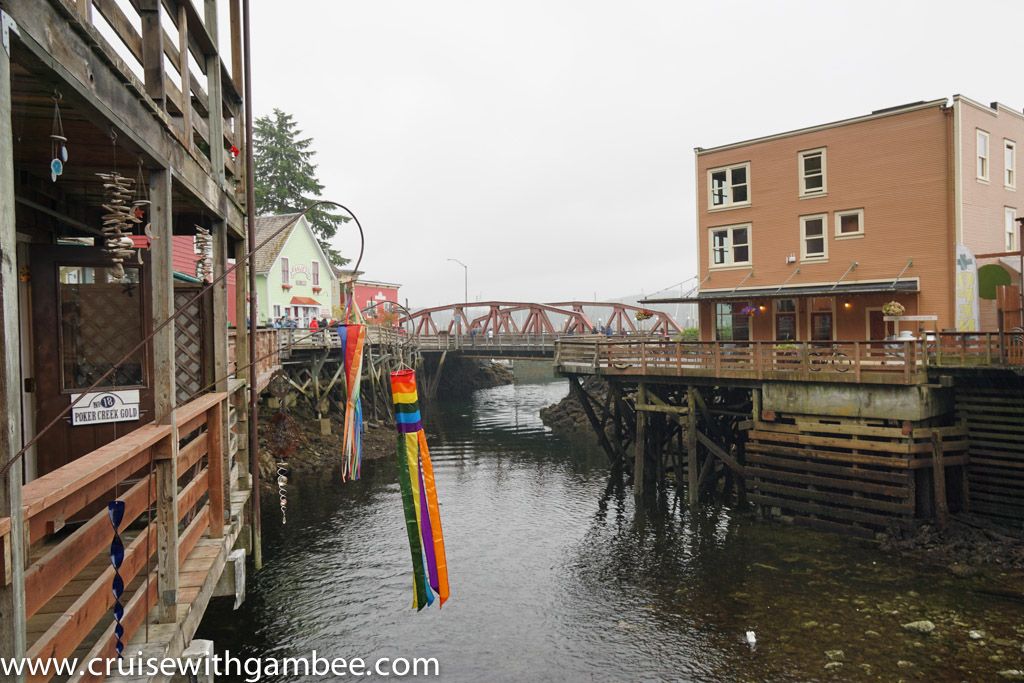 They all sell different stuff. I will say that the one thing that I fell in love with was a $2,300  cooking knife =/, go figure that one out. I love cooking, and I love my knifes, but 2k is not reasonable at this, or any point for that matter. That said, it was gorgeous and hand made.
Anyway, here is one of the stores around creek street.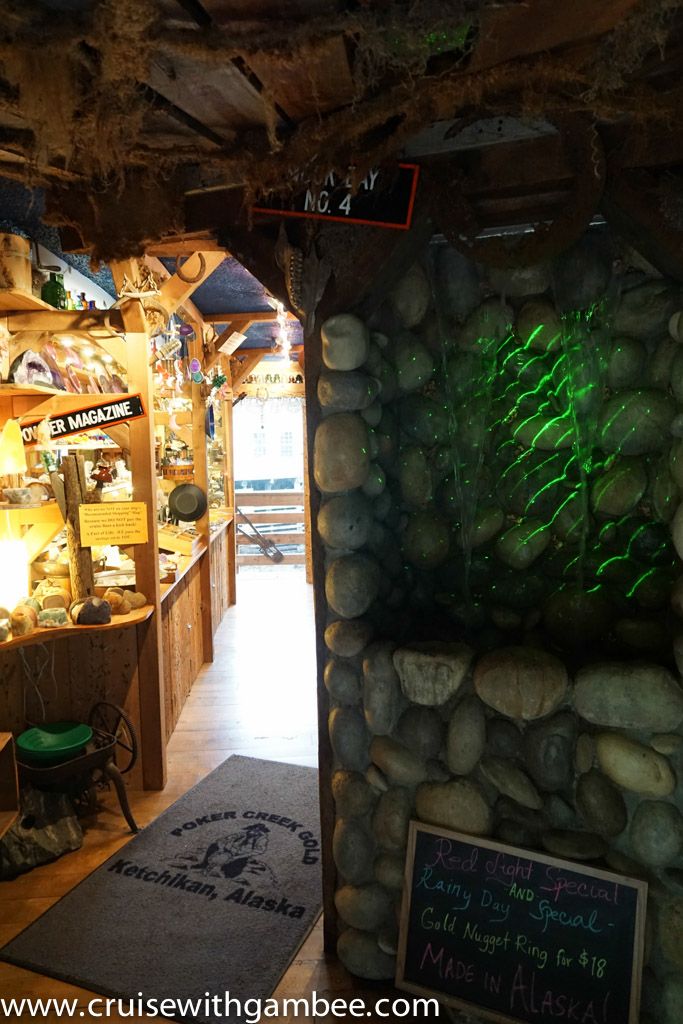 Look at how cute the paths are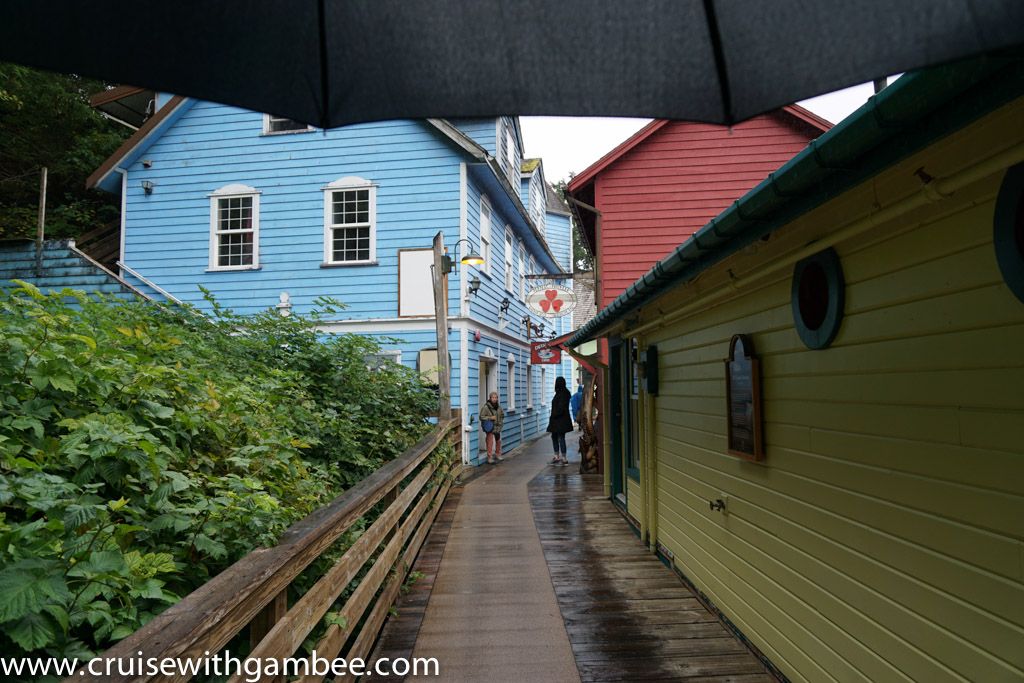 So this is Dolly's house, and now has been turned into a museum. It started around 1919, and lasted for a while. The tour inside costs like 10 or 15 bucks, not expensive. By the entrance there were two ladies dressed accordingly to the time period and profession, if you catch my drift, lol.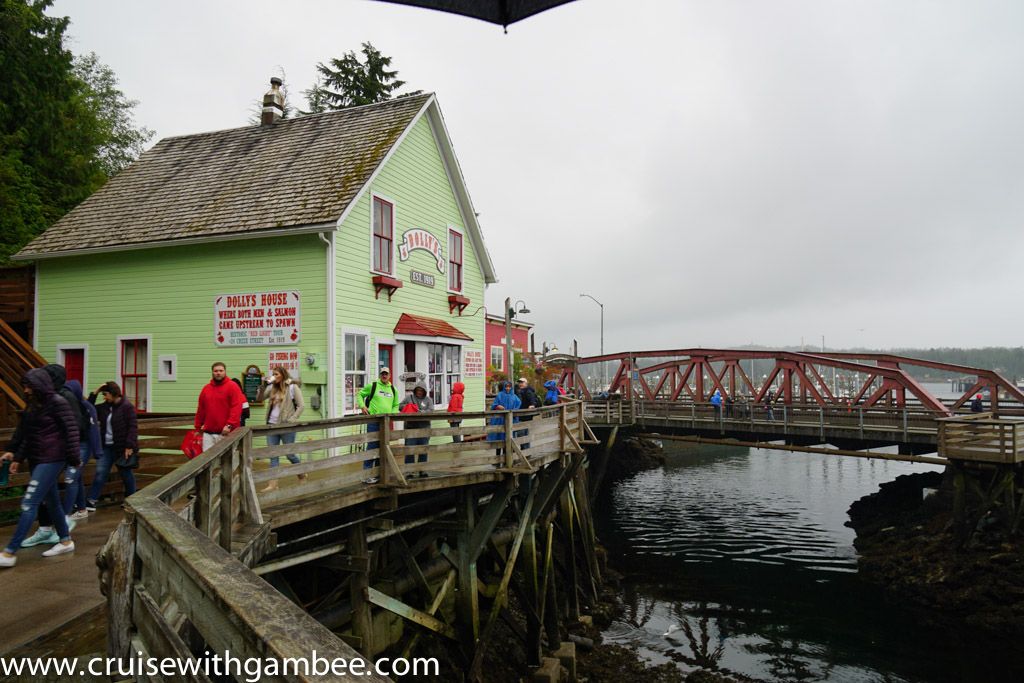 This is the view from the other end of Creek street. It is definitely a must for anyone going to Ketchikan, and only like 5-8 minutes walking from the ship.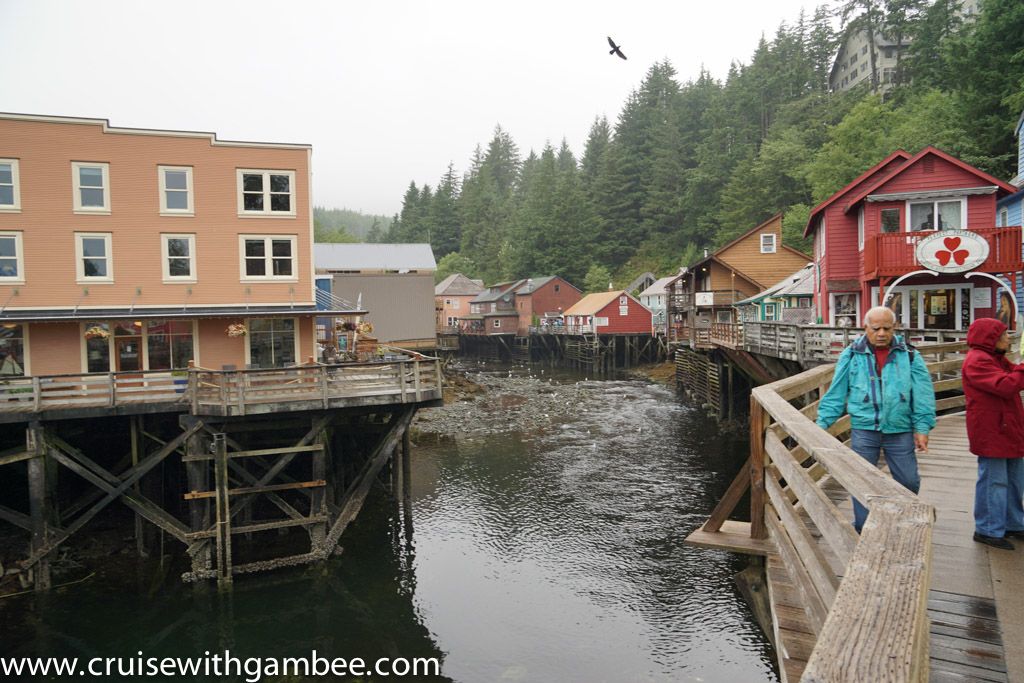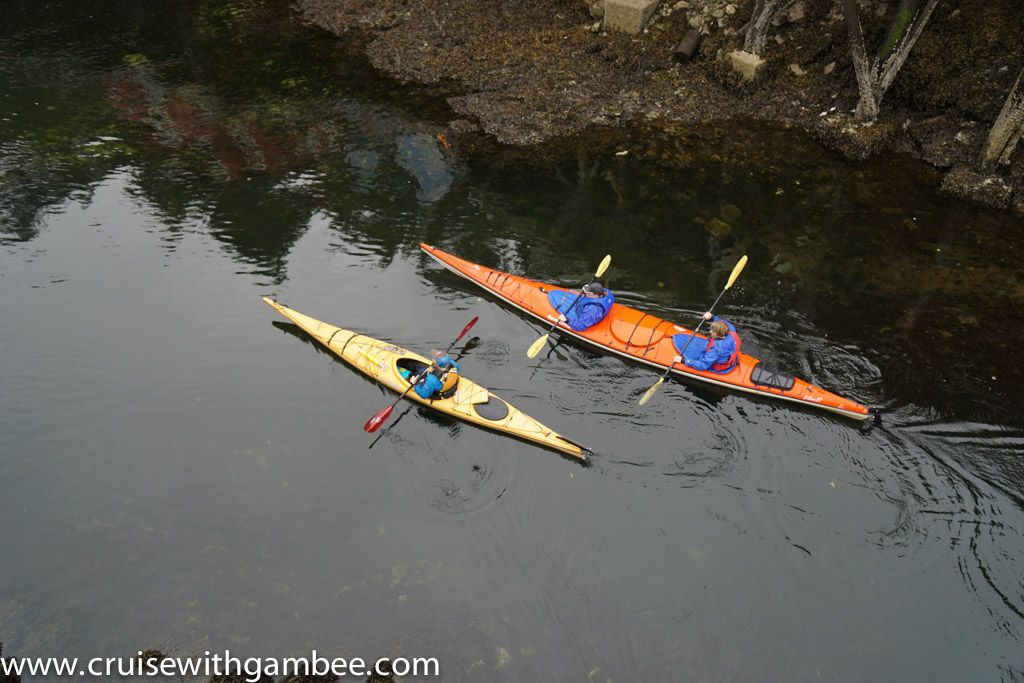 So cute and quaint.
After that we decided to get some food, it was rather early still, but all aboard was at 12:30. So we decided to get some fresh crab as brunch., before leaving Ketchikan. This was the only port that docked times are a little short, but there is still plenty of time to do everything we wanted to do.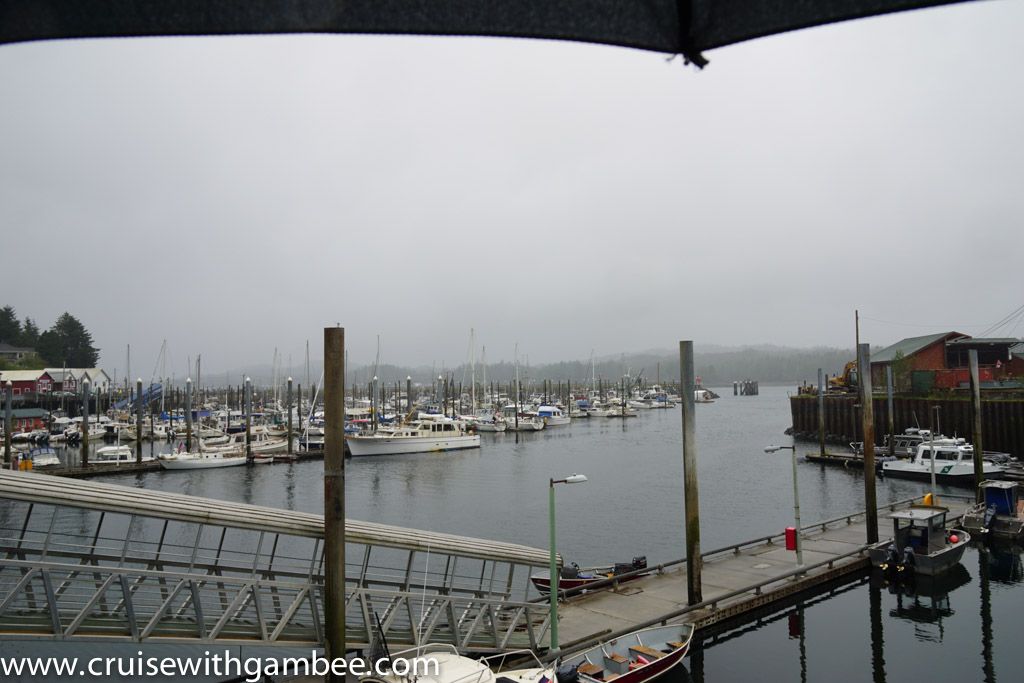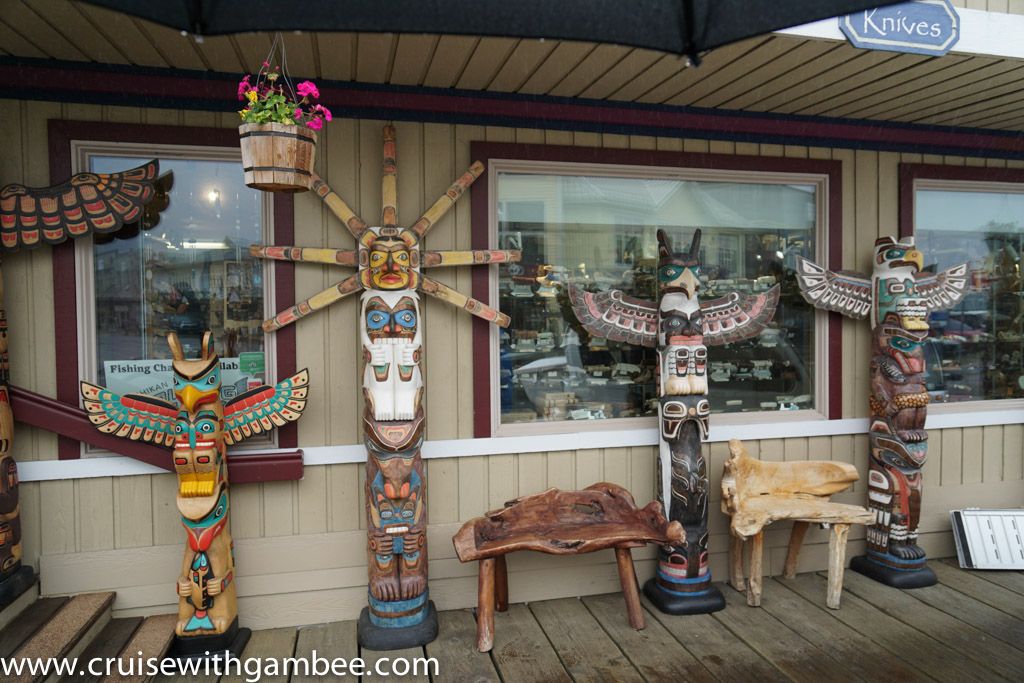 We walked by the great alaskan lumber jack show, it was LOUD in there. Lots of people screaming and cheering. Not really the kind of entertainment that I enjoy, but it seems to be a popular attraction in Ketchikan.
And right next to the great alaskan lumber jack show is the Alaska Fish House. I had done my research ahead of the cruise and this one seemed like a solid restaurant. Prices were reasonable, you order in the entrance, and like in 3 minutes your food is delivered wherever you decided to seat at. Mom was really looking forward for the freshness and taste of the prior day in Sitka.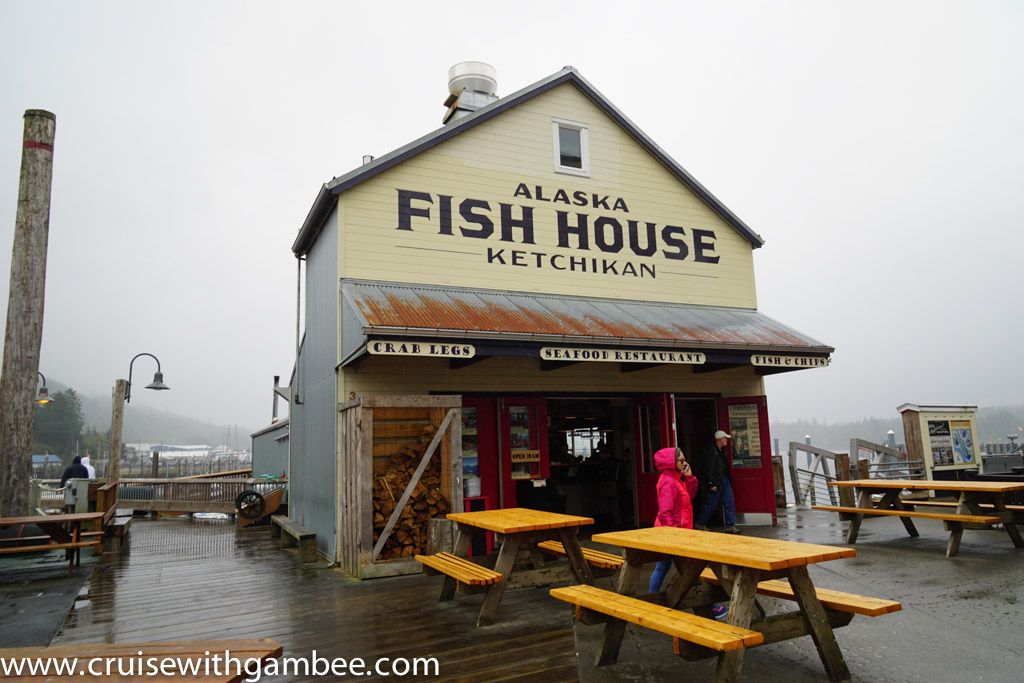 To be honest, it was good, but the one in Sitka was much better. I am not sure what it was, maybe it was the lack of those tasty corn cakes, who knows. But that said, they were better than the King Crab on the Amsterdam, it was definitely fresh and not frozen crab.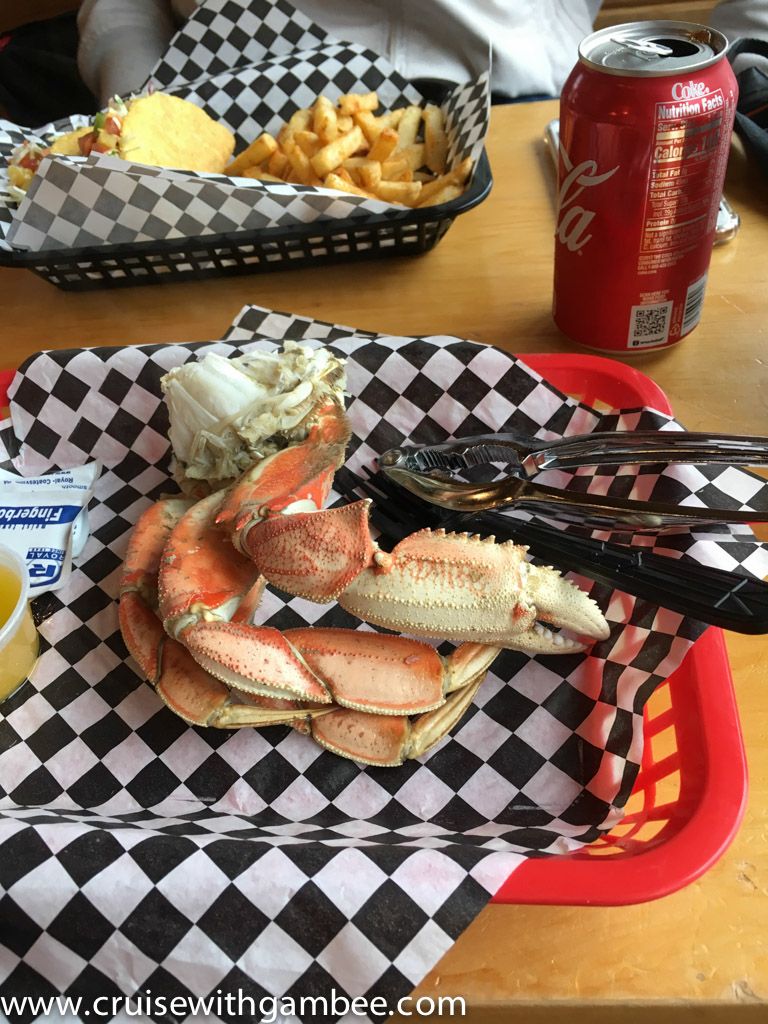 I got fish tacos. The issue was that in the past 2 years I started reacting to crab, and the day before I had a mild reaction to the crab on Sitka. Without my epipen (because I refuse to pay $300 WITH insurance for them), I thought it was better to just not risk it and get something else.
The tacos were good, we shared the fries since the crab cluster came without sides.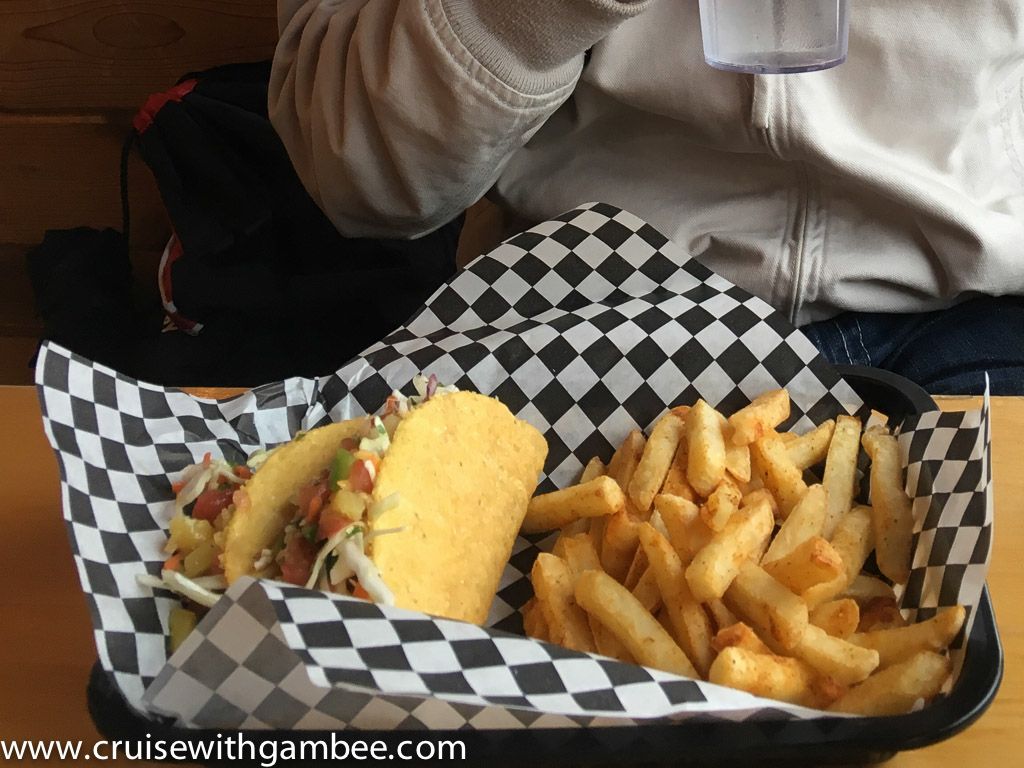 We enjoyed our food with a nice view.
A larger HAL ship arrived. A funny story here, the couple next to us saw the ship moving and they thought it was the Amsterdam departing. OMG it was to die for, the face they made was just too much.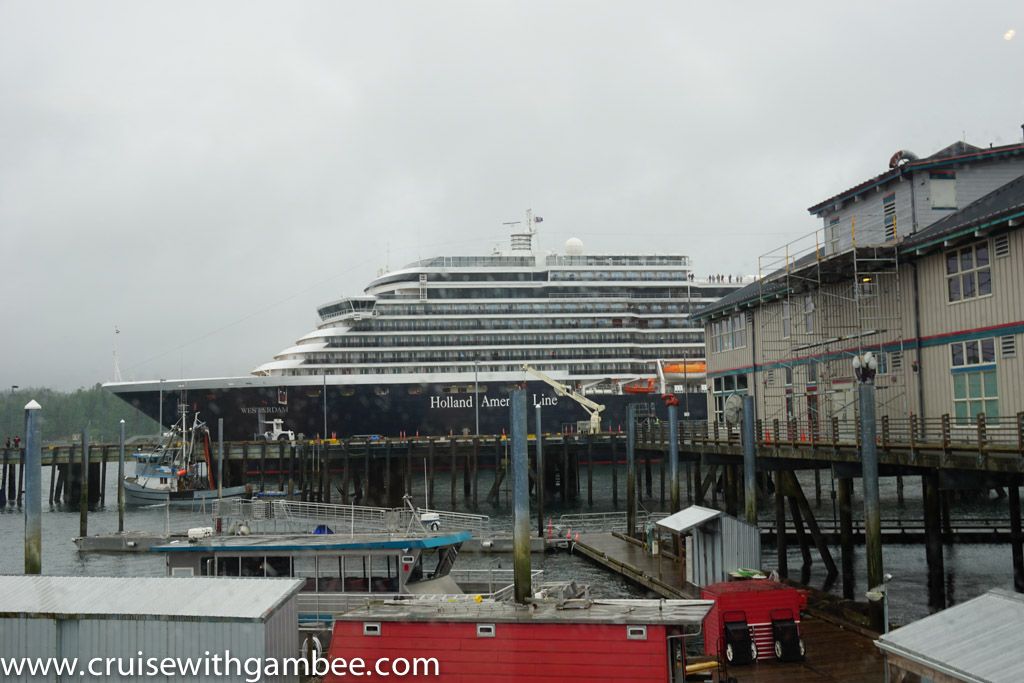 After we ate we went shopping a little, mom nearly died when she found a everything Christmas store, lol.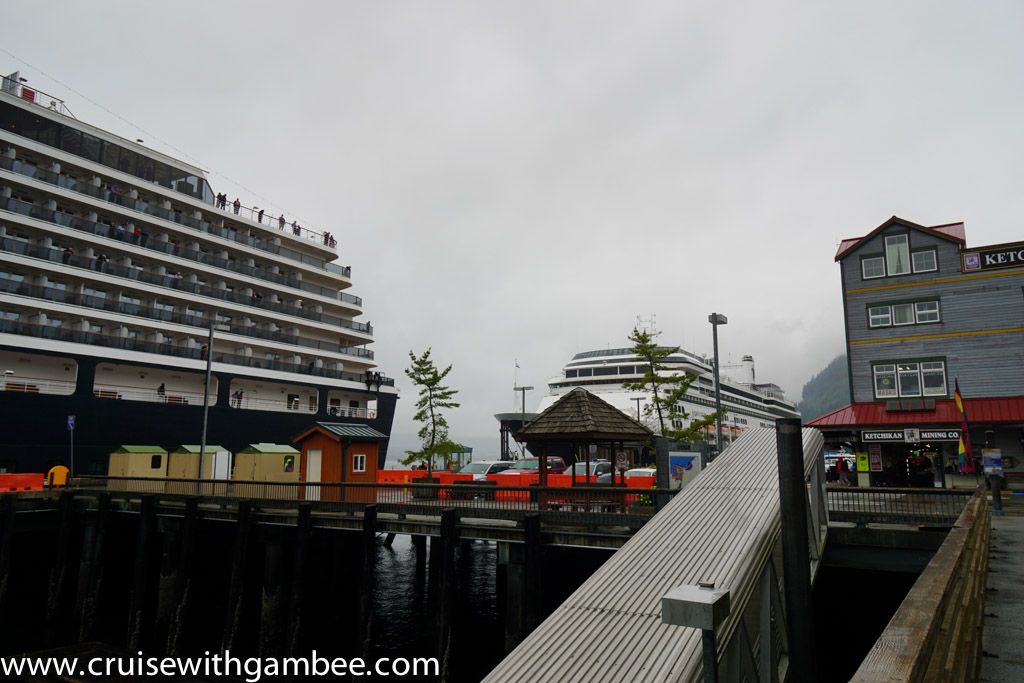 It was close to noon, so we decided to board the ship.
FYI, most of the stores have the same items, so it really does not matter in which store you go in. The only stores that have different things, are the smaller stores, or the ones like the Christmas store, or the Harley store. But the large souvenir stores, are all the same.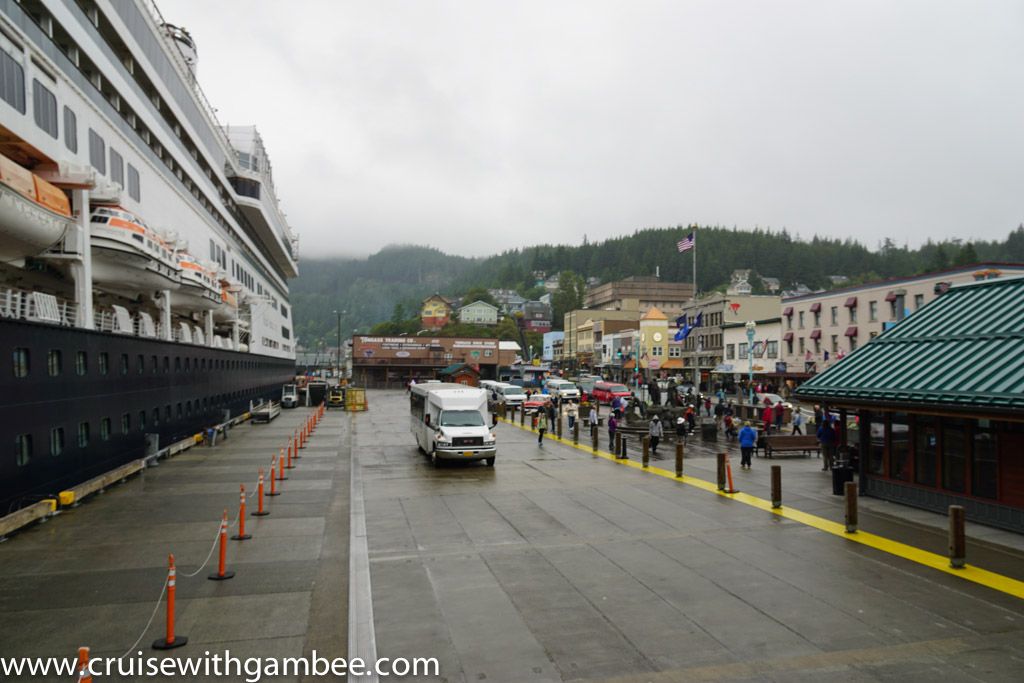 And pretty soon we were on our way to Victoria. I have to say that having port days 6/7 days was absolutely amazing, it was like the never ending vacation. I considered Hubbard a port day in itself.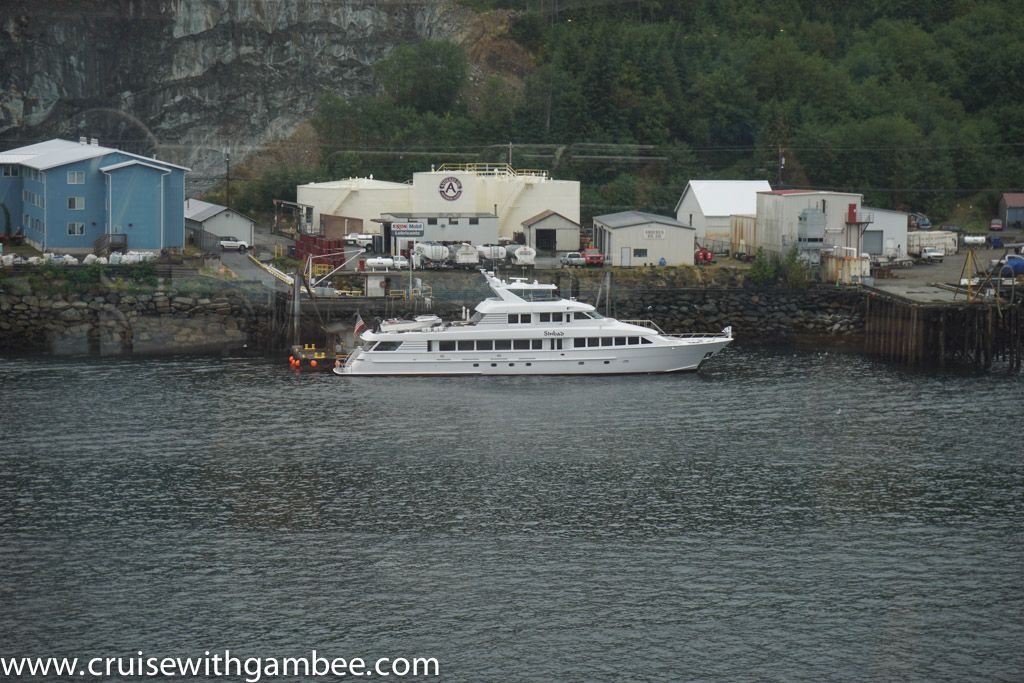 The rest of the day was spent in the jacuzzi, out on the promenade deck and napping, lol. That night was also Gala lobster night, but I had no desire on dressing up. We ate at the buffet that night =).
This are the last 3 pictures that I have after we boarded the ship, and started moving. It was a just a really relaxing day, and I decided to leave my camera in the room to enjoy myself.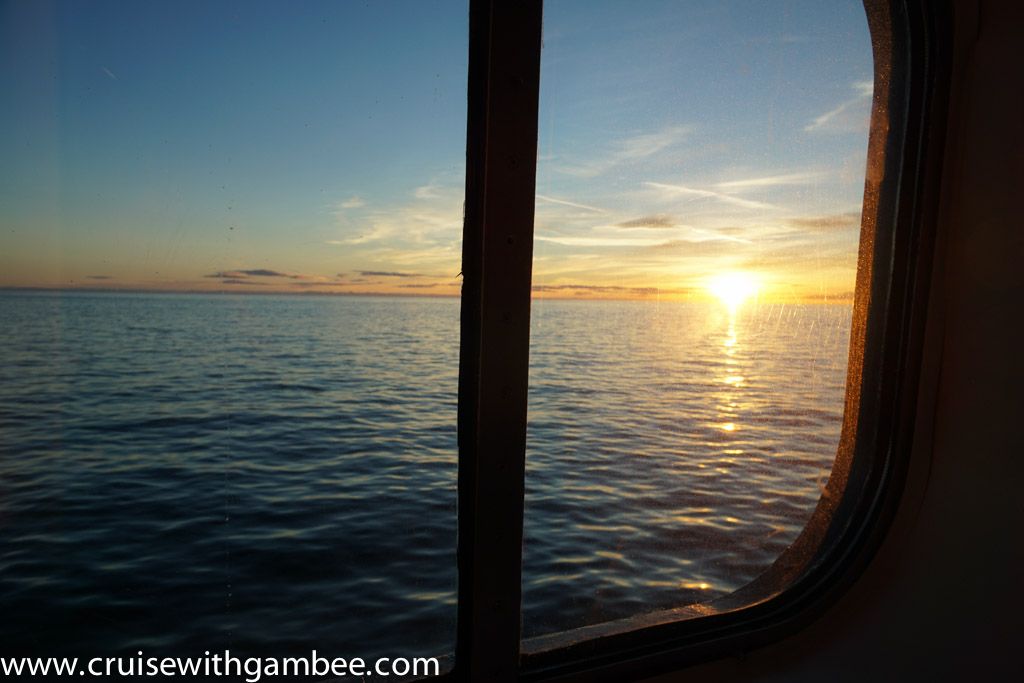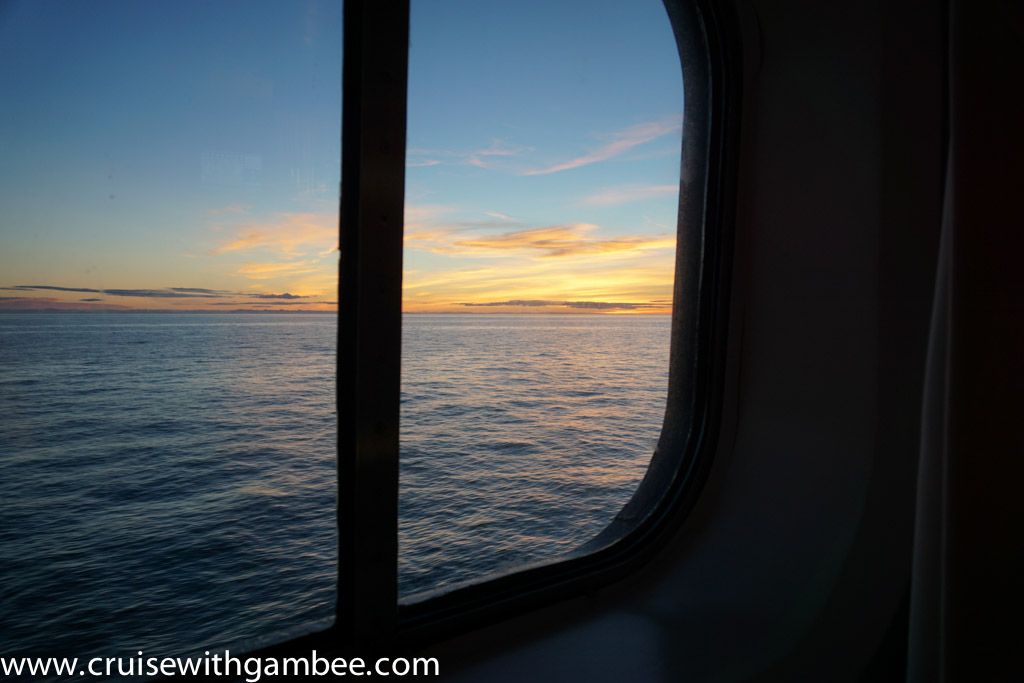 That is about it for Ketchikan, another great day in Alaska. And we were loving every second of it.
Day 6, End.