Day 5 Sitka, AK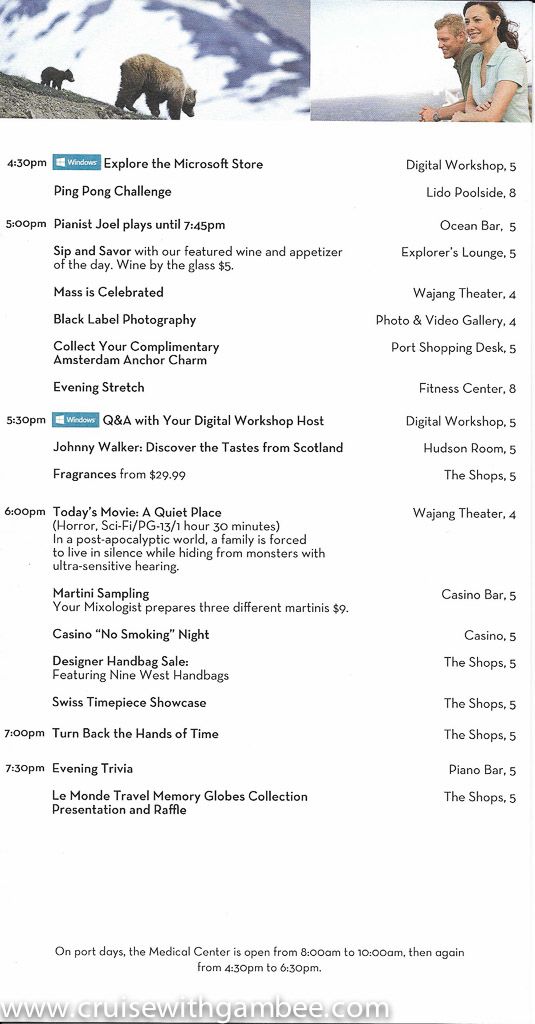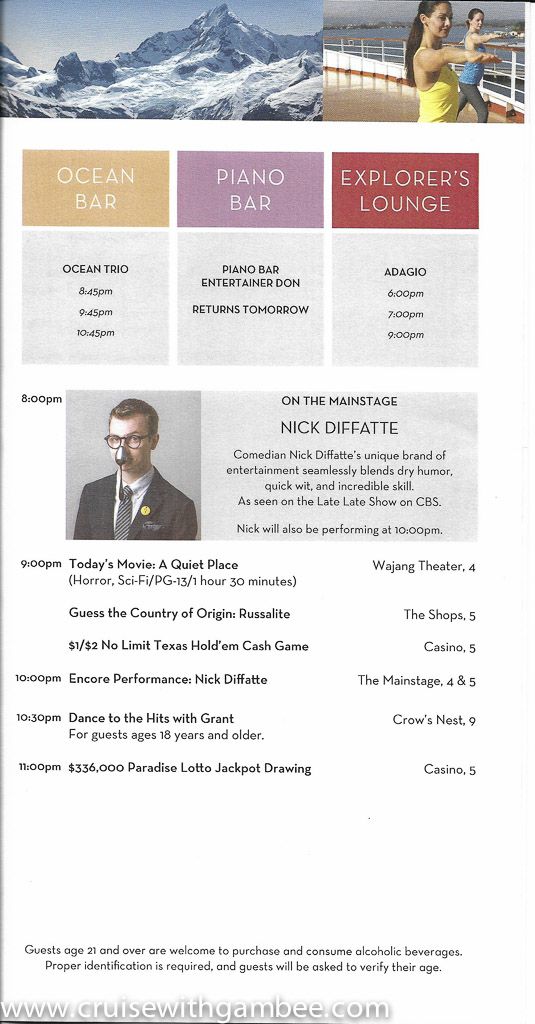 When we got to Sitka early, around 7:30 or so. It was sunny and hot, around 75 degrees. I was a tad bummed out, because I really love traveling for cooler weather, Florida is hot enough for me. They actually said at one point in our tour that it was one of the best days of year that they had seen, go figure, lol.
We had booked a tour with HAL called "Birds, bears, and barnacles" it was about $90. Since the day in Juneau we got super lucky and saw bears and birds, I was actually looking into doing something different in Sitka, and HAL was nice enough told me that I could use the $$ of this excursion towards another. However, nothing really called me out, and we ended up keeping that shore excursion. There was one that took you to see sea otters, but it was around $160, and I could not justify the extra $ for it. Remember, mom was paying for this, it was just not fair, well at least not for just sea otters. Maybe for a Polar bear, lol.
Anyway, we got there and I guess we had breakfast at the buffet and headed out to our meeting point for the excursion. The meeting point for our excursion was right there at dock, no need to travel into town on a separate bus. The benefit of ship based excursions, HAL claims they are the most affordable excursions in port. Who knows, but I could not complain, both excursions served me well.
The ship docks about 15 minutes north from town on a floating dock. There are free shuttles going back and forward every 20 minutes.
Our tour guide was a really nice guy name Danny, who also drives the school bus during the other seasons of the year. He told us a lot of history in the ride into town, I think it was about 20 of us in the bus. It was a nice comfy ride as I recall, maybe 22 people on the tour?
Our first stop was the Sitka Raptor Center. It is a nonprofit organization that focuses on saving the lives of all kind of birds, but their main focus is with Bald Eagles. Their main goal is to release them out into the wild, but unfortunately that is not possible with all the birds. The ones that can't be release are used for education, and awareness.
This is a large enclosure which has a one way glass, the idea is to decrease the amount human contact at all cost to increase their survival in the wild. All these birds were to be released at some point.
Bald eagles are solitary animals, and rarely interact with each other.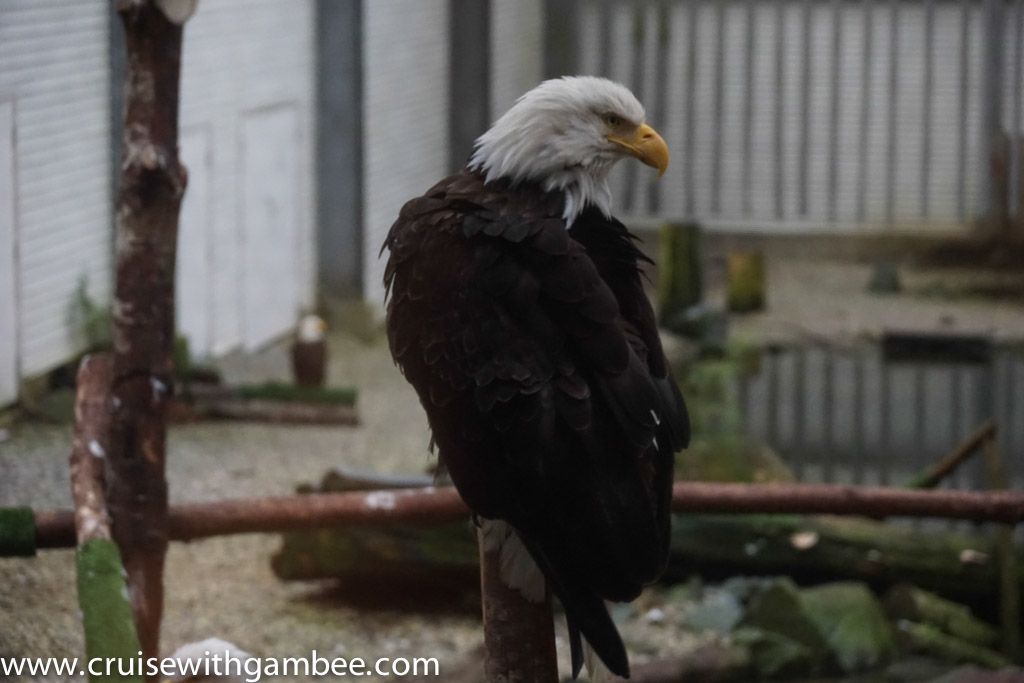 There is also a little manmade river to drown out our voices.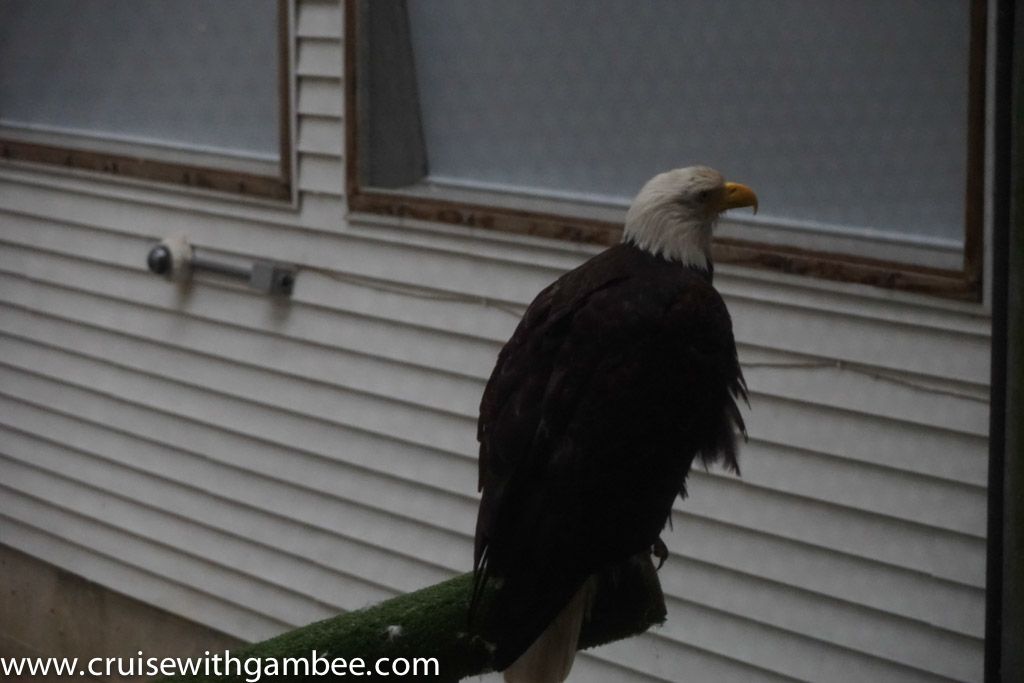 The young ones have black heads, and when they grow up they get the gorgeous white feathers.
I also spent a good amount of time talking to a young lady who was there for the summer, and lives in the lower 48. She was studying some kind of biology, and was there just doing like an intern rotation (not really sure the non medical term, lol). Anyway, she told me the same thing as Juneau, it is expensive because they are on an island. But she said that it was an amazing experience.
Anyway, after a few minutes there. They move you to a room and you take a seat. They tell you to always stay seated down, and not to make any loud noises. The birds can get nervous, and it is a not a good thing.
Next thing you know they bring this humongous bald eagle, I will say, it was very intimidating!
This is one of the birds that cannot go back into the wild. His case, if I recall correctly is impaired eyesight. Without their vision, they are pretty much dead. He lacked peripheral vision, for some reason. I forgot the mechanism of injury.
At one point the bird freaked out, and let me tell you I WAS FREAKING OUT!!! But they told us to stay seated and that is exactly what we did. Eventually, he calmed down.
Eagles are Apex predators which means they literally have no predators. Unfortunately, we (Humans) seem to be the main cause of their injuries. Wether it is car accidents, shooting them (yes, it happens), destruction of their habitat, poisoning, broken wings, etc.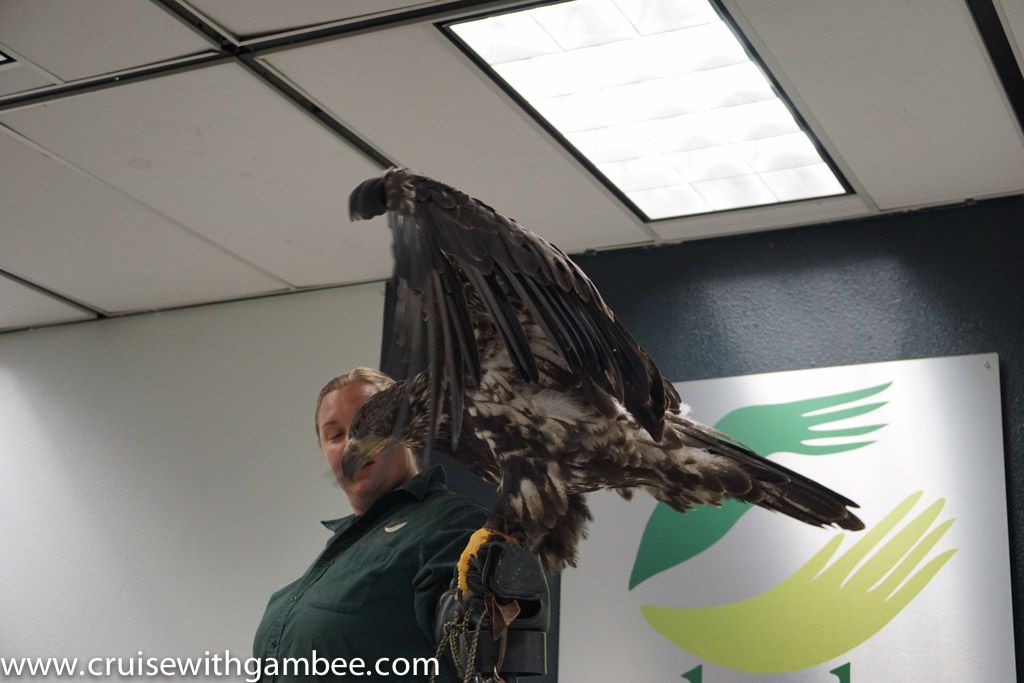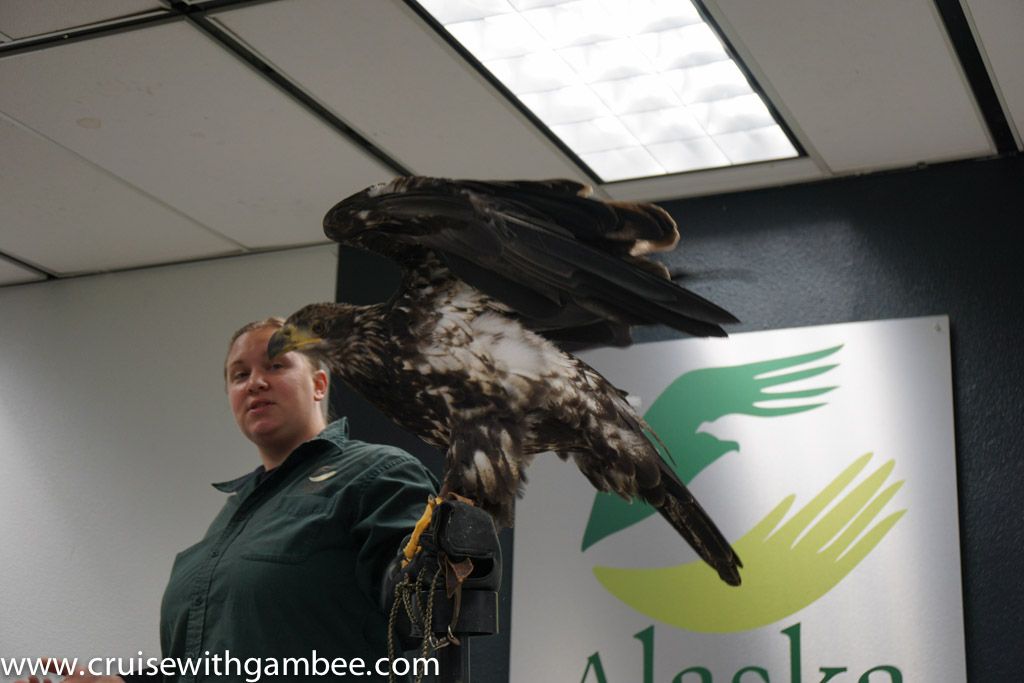 She was talking about them, and thanking us for visiting, you know $$$ moves the world. And they need a lot of it to rehabilitate these incredible animals.
He freaked out again, but she calmed him down with food. Let me tell you one thing, that lady stayed calm at all points, but meanwhile I was looking for exits, lol. Very intimidating
Look how calm she stays, lol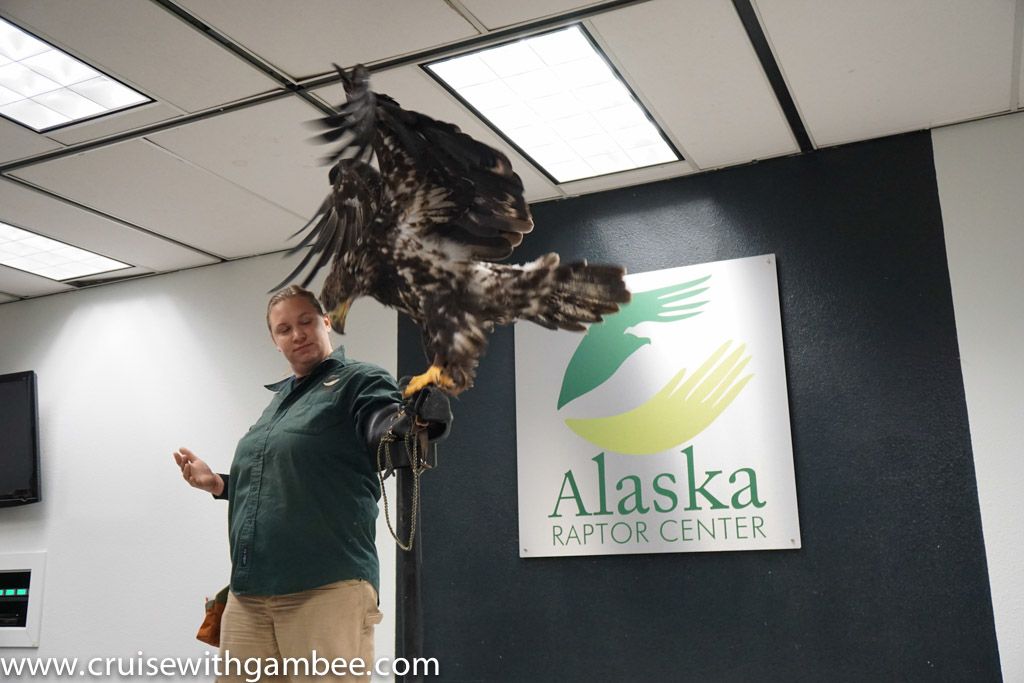 By the way, they are mostly feathers, I think that one was about 9 lbs, He was a juvenile.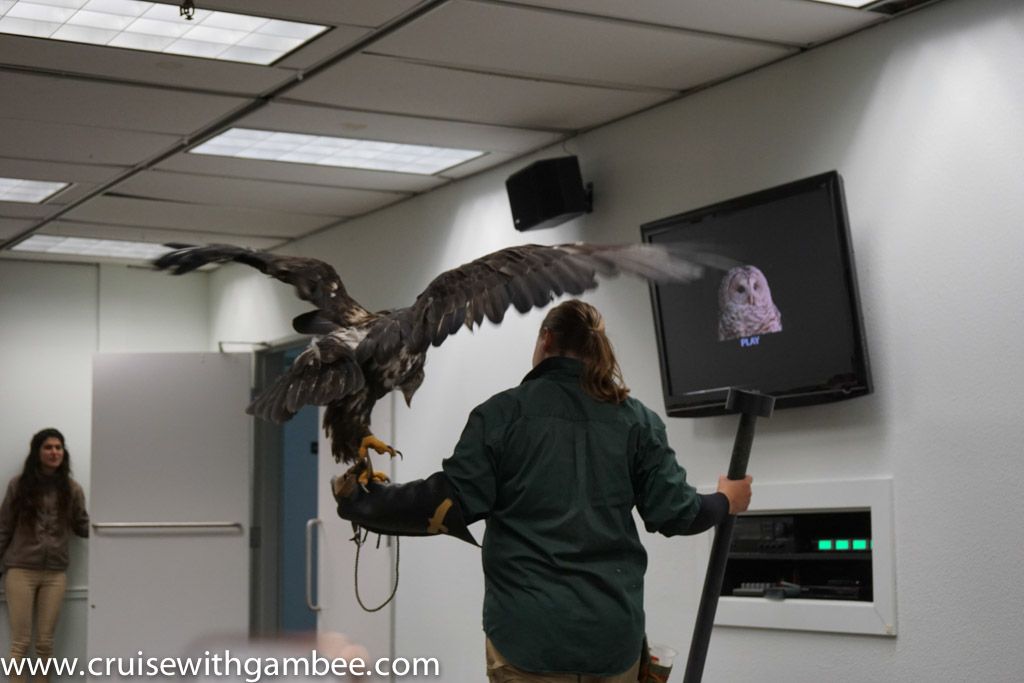 After the bird left we could clap. After that was over we could go and walk the grounds, they also had a nice souvenir store. I think in total we stayed there about 50 minutes which was a perfect amount of time.
We went for a walk.
This is another bird that wont be able to go free, he has a broken wing and is unable to fly. So his enclosure is actually open from above, and only fenced around it. He needs ramps to go high and perch. Otherwise he is unable to reach them.
Same for this little guy.
They also had some smaller owls, and other kind of birds.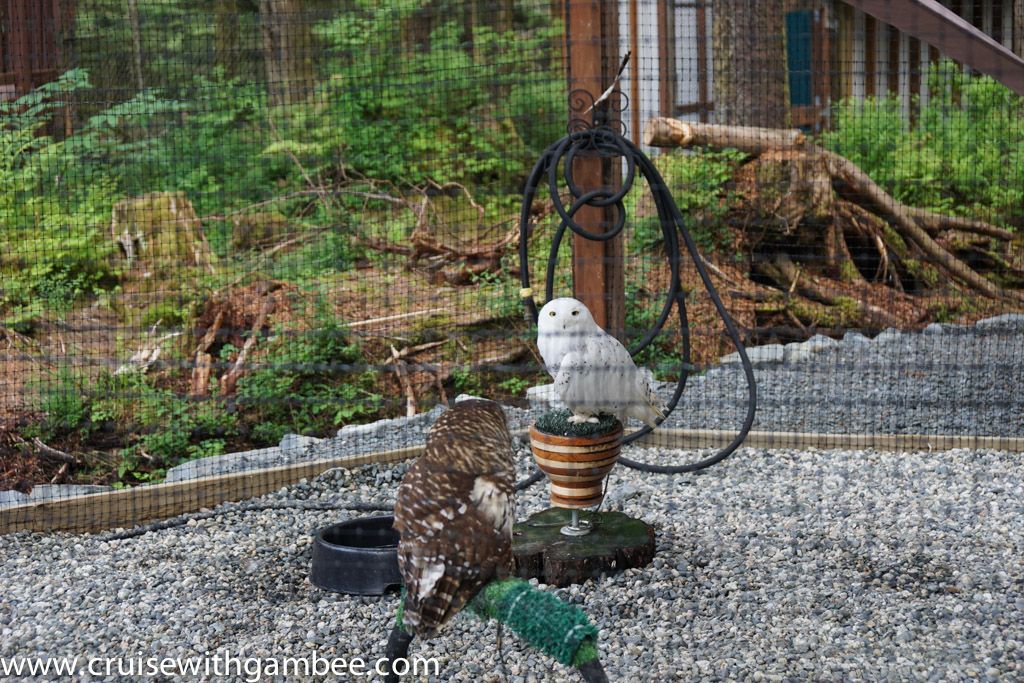 They all have some sort of injury.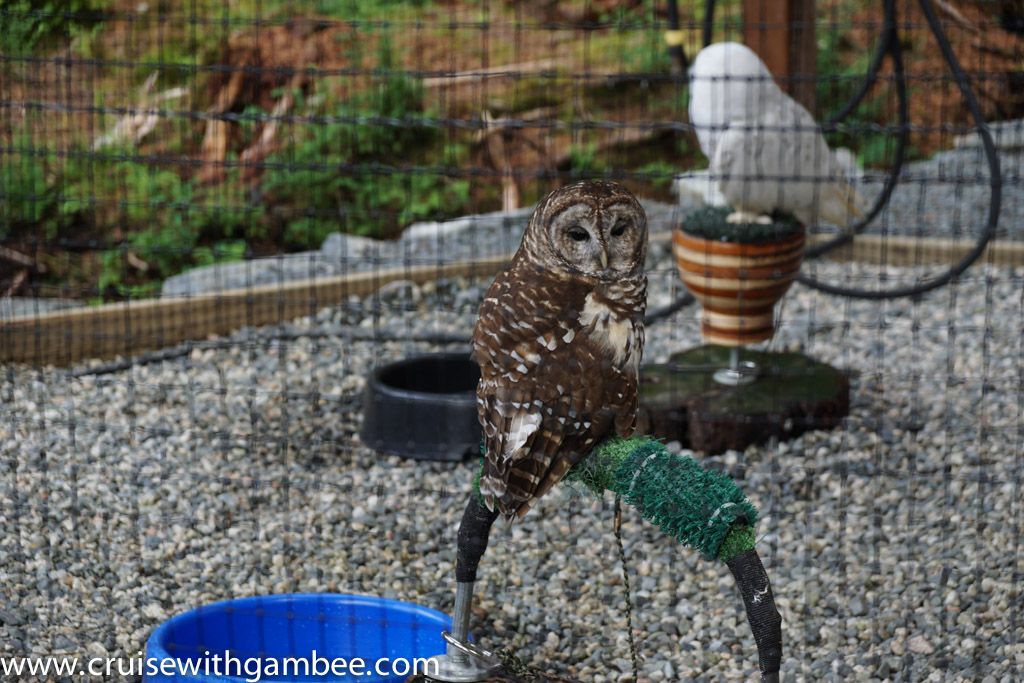 There were a bunch of wild ravens there, my guess to try to get free food.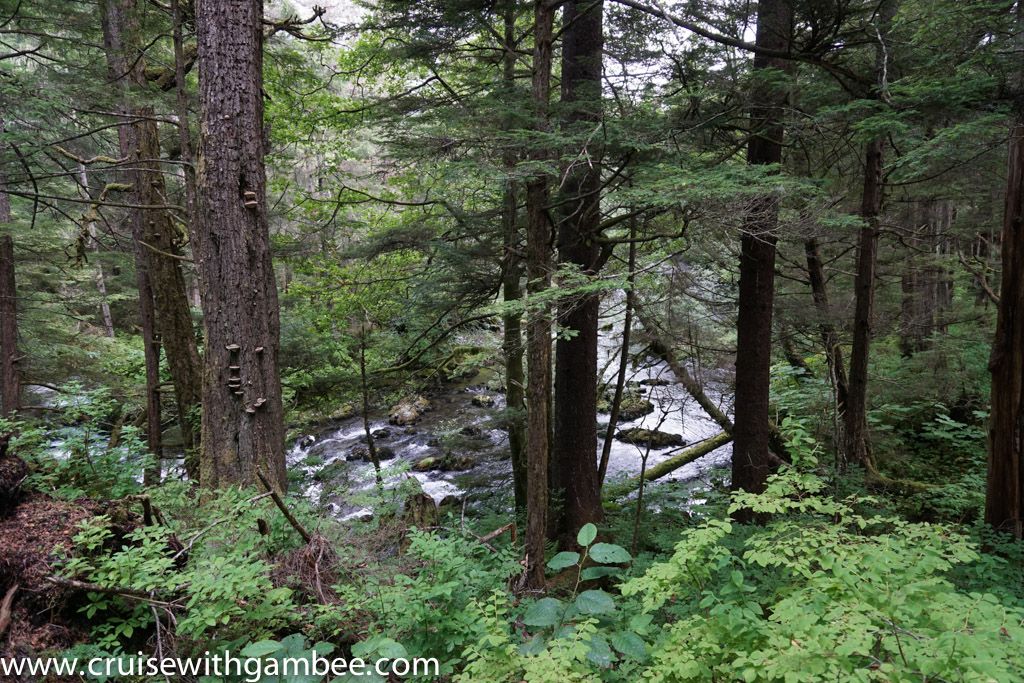 Yup, thats about as far as we went on that trail. Black bears are one thing, but brown bears, nope, nope, nope.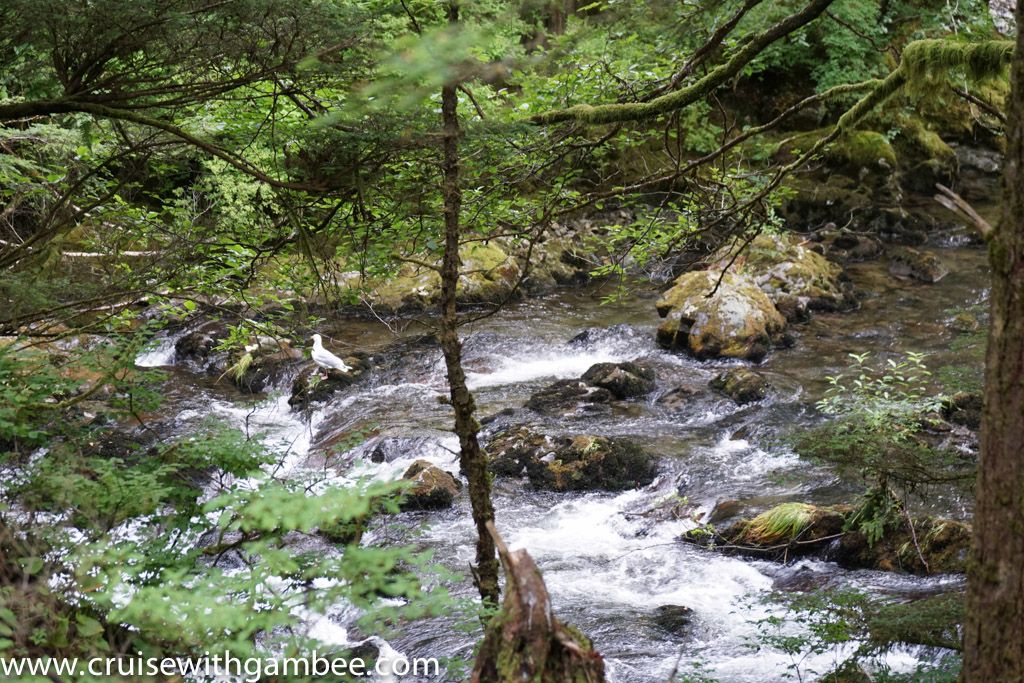 This guy would not take his eyes away from me, so cool!
This little guy was all messed up, his wing looked all broken, and he would not stop shivering.
It is a really nice place, we really enjoyed our time there.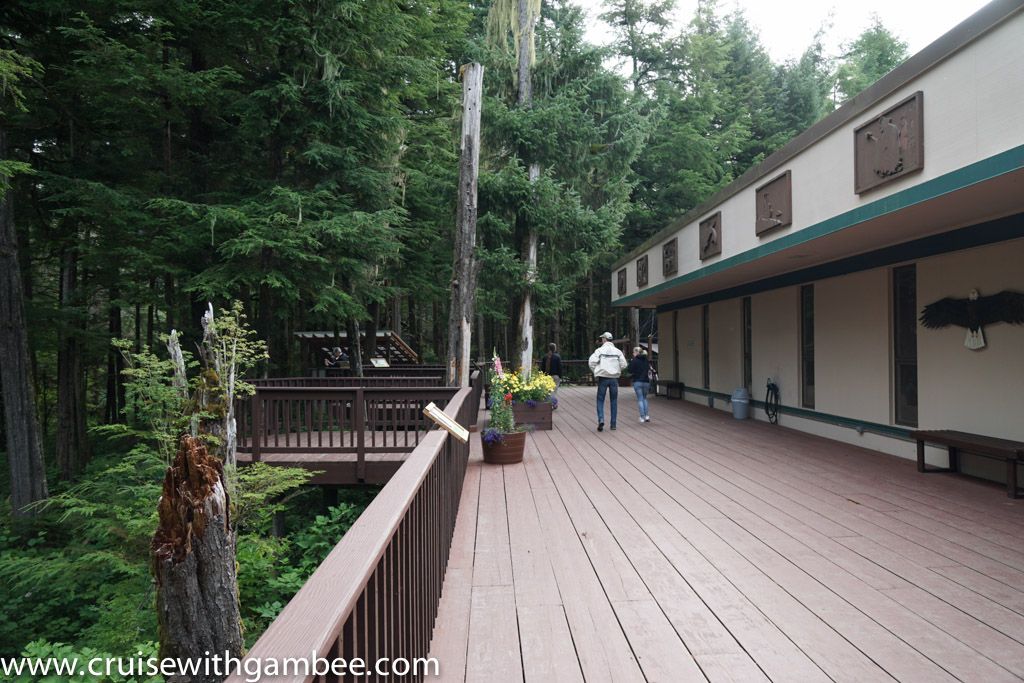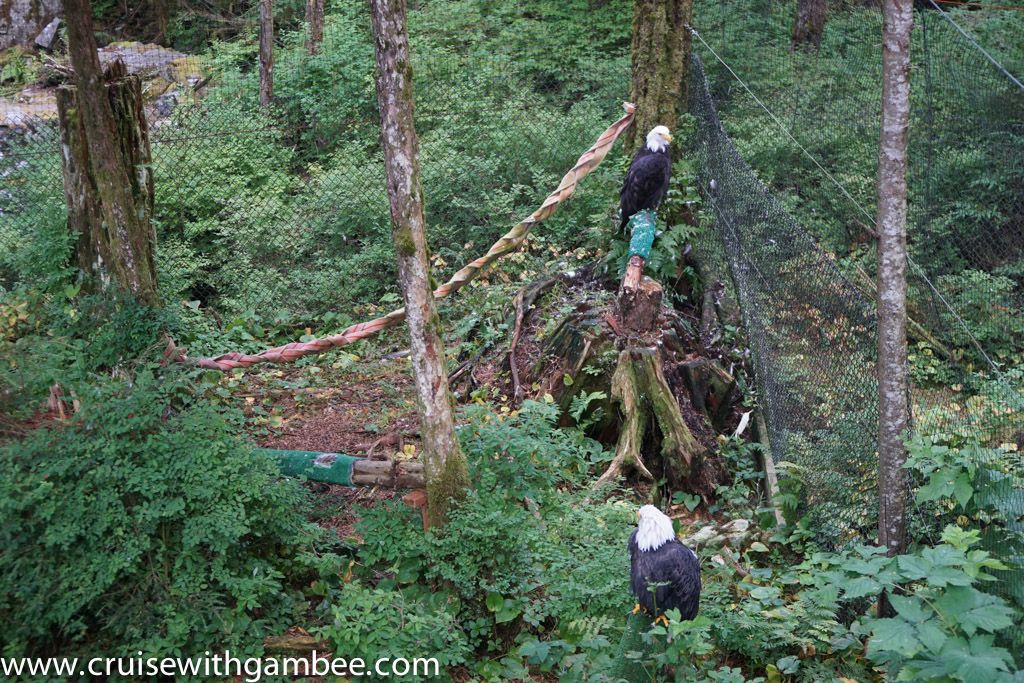 This little guy is one of the smallest raptors.
Should I get that hat, lol. Maybe he was hiding one of the birds there, lol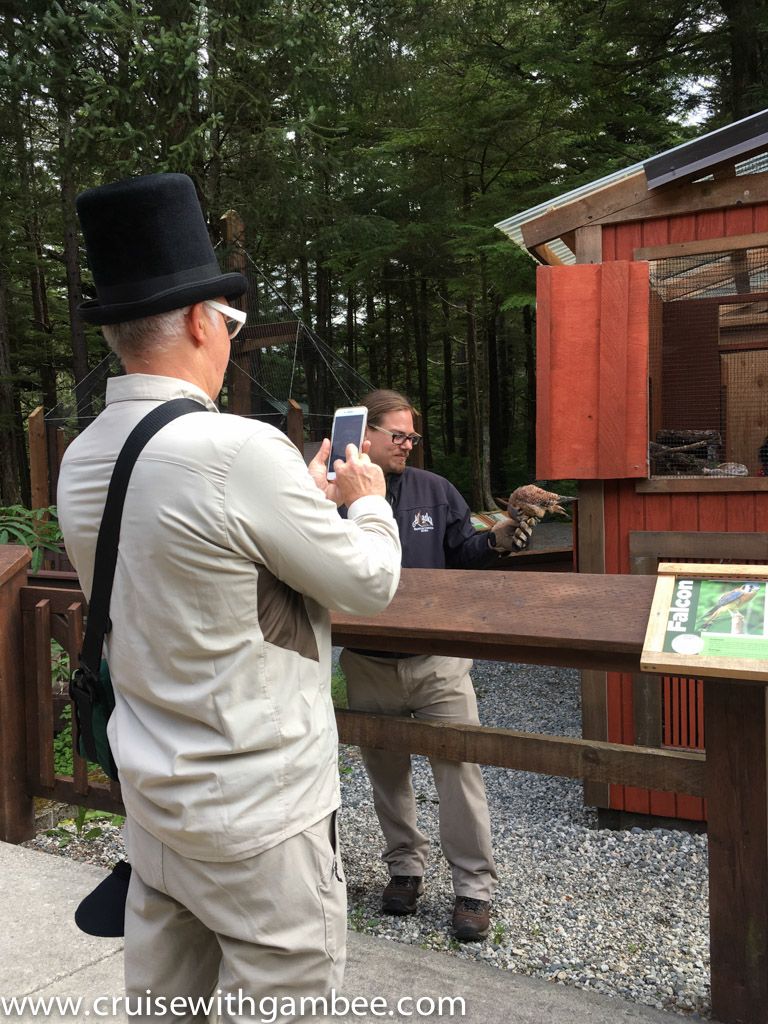 He survive out of pure luck, by the time they found him he was so weak he was unable to eat. But now he is good shape, just can't be released due to multiple medical issues, among them eyesight issues.
I listened to a lot of history that day, but quite honestly it is hard to recall all of it. But I do recall that there are about 8k people living there in the winter, and that number increases to 11.5k in the summer. Sitka has a rich Russian history, and it is also where the purchase of Alaska to the US was done (price 7.2 million dollars on 1867). The funny part is that the most expensive part of that of that purchase was a man-made lake in Sitka. Back then it was used to make ice for sale, now days the lake does not reach freezing temperatures. So now the lake just has a few nice houses around it, we saw the lake, it was fairly small. No pics, the bus went quickly through the area.
Click here for the next Chapter.