At the end of the aquarium there is enough time to walk around a little beach that is there. We also bought a really good clam chowder, and mom was loving it, specially since it was not full of starch and her stomach could tolerate it. Let it be said that the non-creamy soups aboard the ship, she was ok with. It was only the thick ones that she could not eat.
A few houses around the hatchery. It was a gorgeous area. There is also an abandoned college around there, called Sheldon Jackson College that suspended operations back in 2007 due to cash flow issues.
To the left is the aquarium building and the hatchery. The college is to the right passed the blue car, it was actually quite large for a town that size. Since then its been restored, and it is now used as a summer camp. The grounds are gorgeous. That would be a dream come true for a summer camp!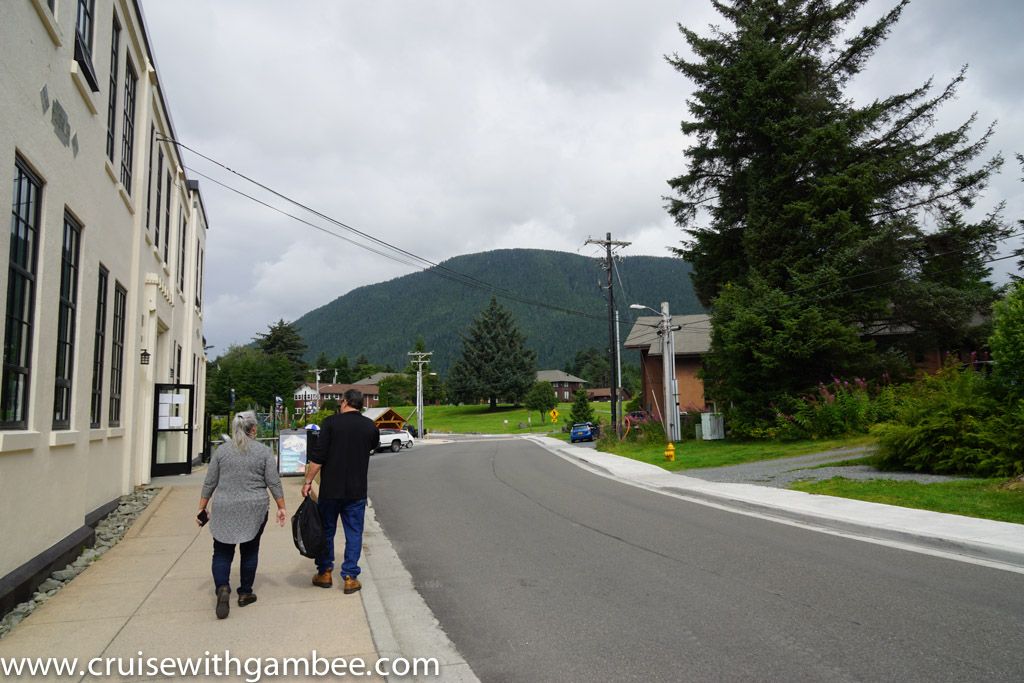 The terrain in the beach was really rough, so mom stayed on top of the hill. I went for a short walk.
Tons of dead salmon, and oddly enough, it did not smell too bad. The tide was pretty low at that time.
They told us that whales frequent those canals in the area, I did not see any.
Downtown Sitka in the background.
A few people fishing.
Ok, so that rusted/red building is the gift shop, and where the clam chowder store is at. They also sell a lot of organic stuff, I bought a $5 organic homemade lollypop (not that the word organic means much now-days, and how can a lollypop be organic in the first place, anyway) with rose leaves inside, lol, it was actually quite yummy. y. By the way that chowder was to die for!!! A tad spicy! It is sold by a local young lady, and it seems to be her own business, because you have to pay her directly and not to the souvenir shop. Oh, I almost forgot, the chowder came with an amazing slice of a homemade bread, I am salivating just thinking about it.
Anyway, Right behind it, the white building is the aquarium and hatcher
A fisherman, my best guess is that he is going for salmon?
As you can see the terrain was not mom friendly. If you look to the right of rusted building, there is a group of people there, that is where mom waited on a picnic table.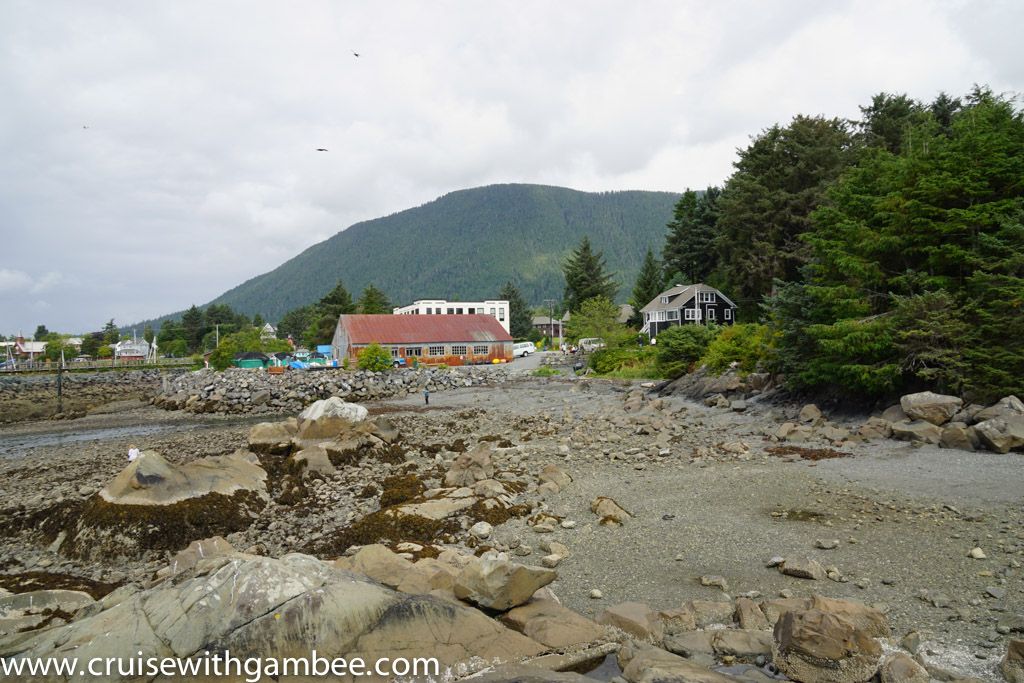 And there were a lot of salmon jumping all over the place!
We stayed there for about 45-1hr, all the stops were just short of an hour. He briefly drove us by a Totem park, but we were not able to get off the bus. But we got to see some later on in Ketchikan =). Overall, the tour was pretty nice, it was relaxing and we got to see a lot of land around Sitka. Specially because the Fortress of the Bear is outside of town, about 15 minutes driving in the opposite direction of the ship. It went also went a park called Whale Park, which is supposed to be great for whale watching. It was overall a good tour, I am glad we kept it.
After a short 5 minute ride, he dropped us off in the tourism center, which is where the buses to the ship depart from.
With plenty of time left before departure, we went for a walk, and some shopping. It is a pretty quiet town, and with only one ship in port, it felt really nice. By then I was really getting use to traveling with low crowds, and even being on this ship provided us with low crowds in this port by being the only ship in port.
How cute is he? Mom was upset after I showed her the picture later on in the cruise, apparently she would have bought him. I don't really think she would have bought him, but truth be told, our kitchen clock broke a few months ago. I love weenie dogs! They are by far my favorite breed, even if they are super mean, lol. And yes, I have experience with them, and being loyal to one person, and mean to others. Not all, but most, lol.
Sitka downtown is very easy to get around, the main shopping area can be done in well under 1 hour. To the right of the picture you can see a restaurant called Kadataan Lounge, it was recommended by our bus driver. But were just not hungry enough then. It did look really nice, and with great views on the outside dinning area.
Same restaurant to the left of the pic. Behind the restaurant is the Westmark Hotel. Seems like a nice local hotel.
The flowers where just incredible! I imagine that they wait all year for them them to blossom this nicely.
We just kept walking around downtown.
Cute pup, it reminds me of a dog in an Ski store in Utah, he was so friendly. This one just laid there, and no interest in me petting him.
Mom did some shopping, I think she bought some petruska dolls and nativity scenes. I don't think I got anything for myself. Actually, I only got a wooden bear from Juneau during the entire cruise now that I think about it. Oh wait, I also got some Alaskan taffy in Ketchikan which was super tasty.
This is a historic church that is in the process of being restored. We did not go in, I am sure if it was Catholic we had gone inside.
You can see the church in the background.
There was a food truck, and a few street vendors with books, jewelry and such. you can see them on the right of the pic under the blue tarp. The people approaching the truck is because there was a social doggie in the truck waiting for his master.
Heading back to the tourist center.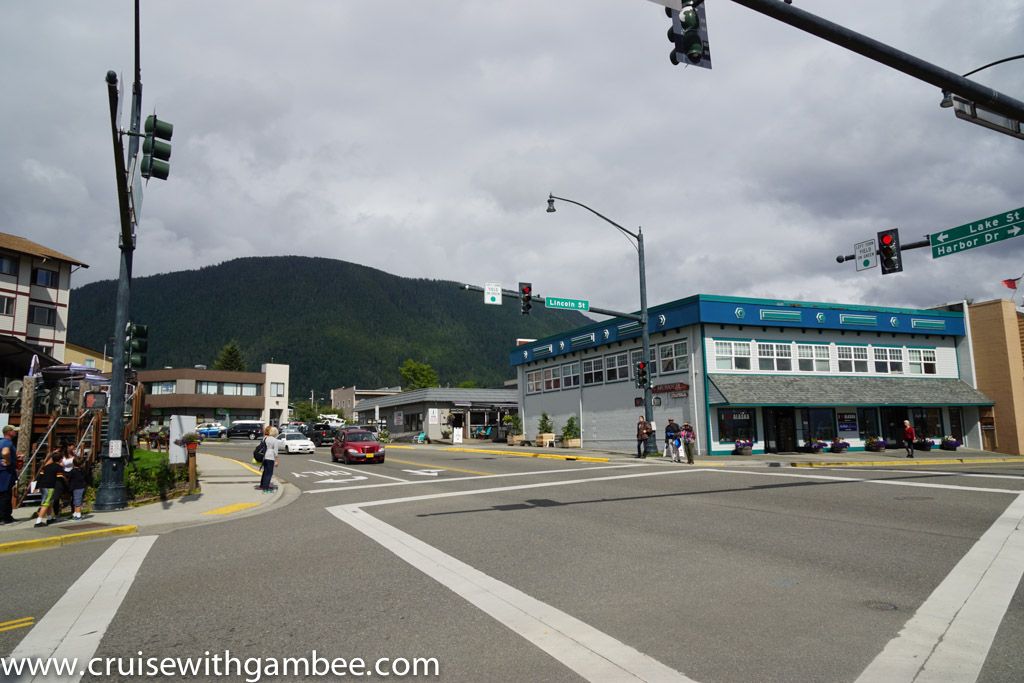 Next to the tourist center there was a fairly large marina.
I relaxed there for a little while.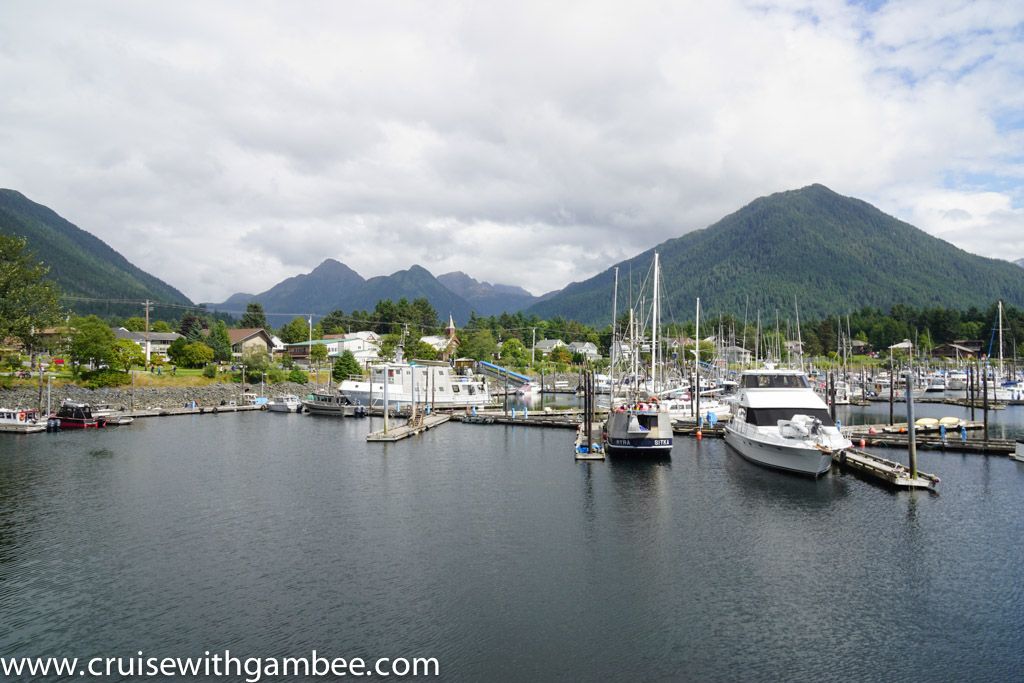 Those floating docks are just incredible. Look at how much room to move they have. They travel up and down via those poles.
There were a few children there selling painted rocks and baked goods. Mom bought one rock from them, can't recall what they were collecting money for.
After that, we boarded a bus back to the ship.