We got to port with plenty of time before departure. It was nice and calm as usual, no crowds just a very relaxing setting. There is also a store there just in case you forgot to buy something.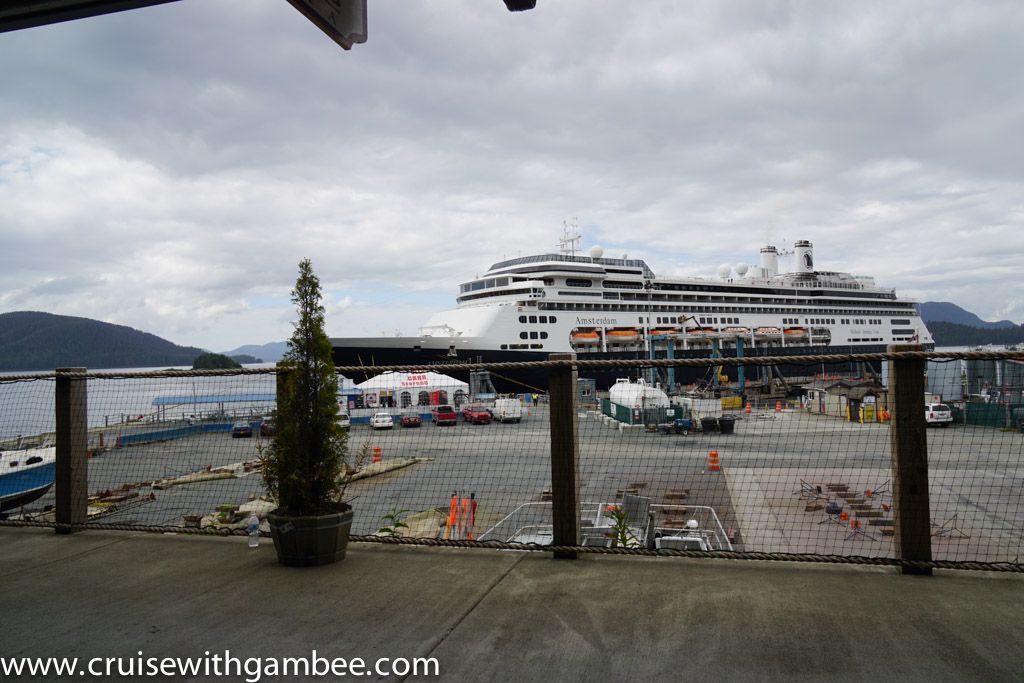 Then I noticed the Beer, Crab, Seafood red sign. Being a popup tent and all, I was almost sure that this was really fresh seafood. If there is something I learned from traveling is that usually small shacks like that have really good local food.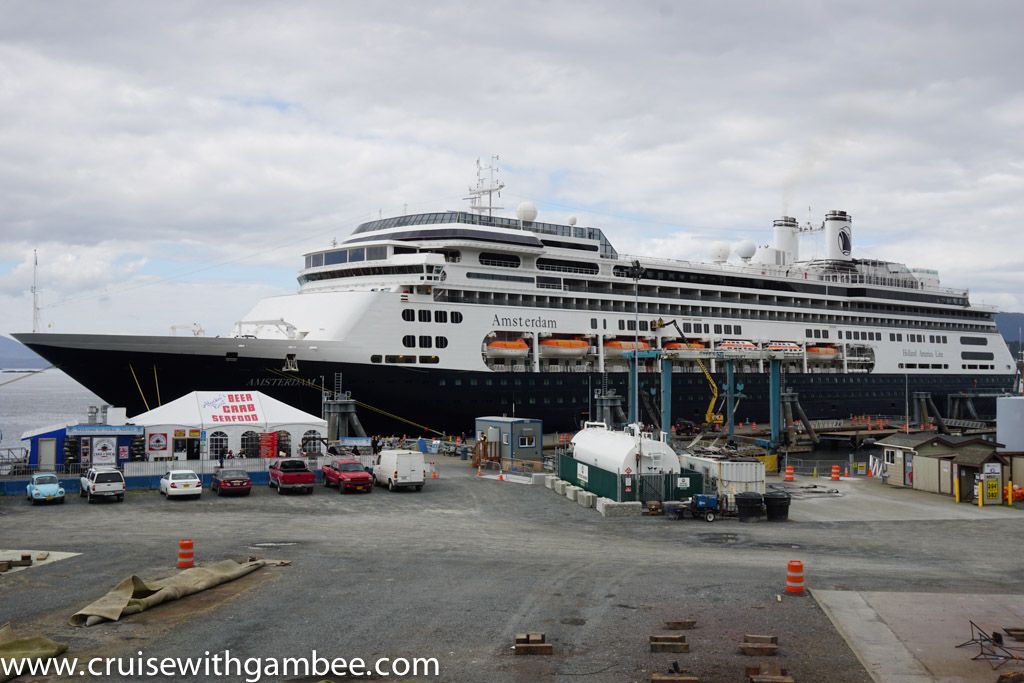 So I told mom that maybe we could try it out. I knew for a fact that she was not impressed with the King Crab that she had onboard a few days back. I mean it was good, and they gave really large claws, but it was a frozen product (which makes sense). But this was our chance to turn that around, and possibly get real fresh crab.
We walked towards the restaurant.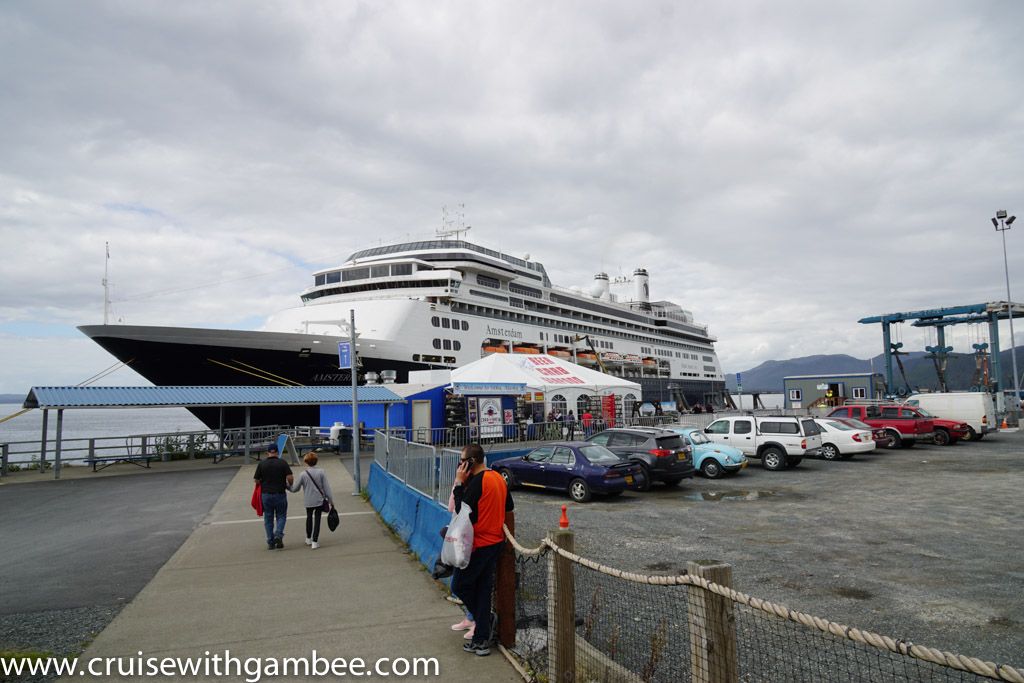 Mom more than agreed, and the icing on the cake was free unlimited internet. That day the ship's internet was not the best. And our travelers Wifi device was also struggling to get a stable connection, along with out phones. We have metroPCS and along Alaska the service was very spotty at best.
Does it get more fresh that this?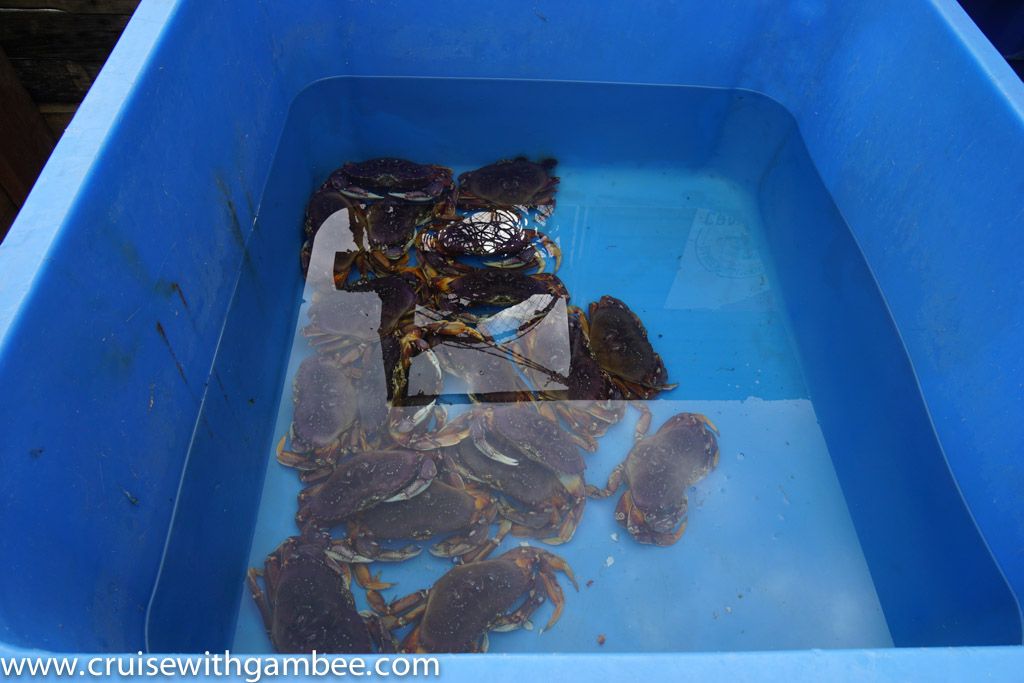 We ended up ordering the Dungeness crab cluster and the crab cocktail. I was still feeling a little full from the clam chowder, so there was no point on going overboard with ordering.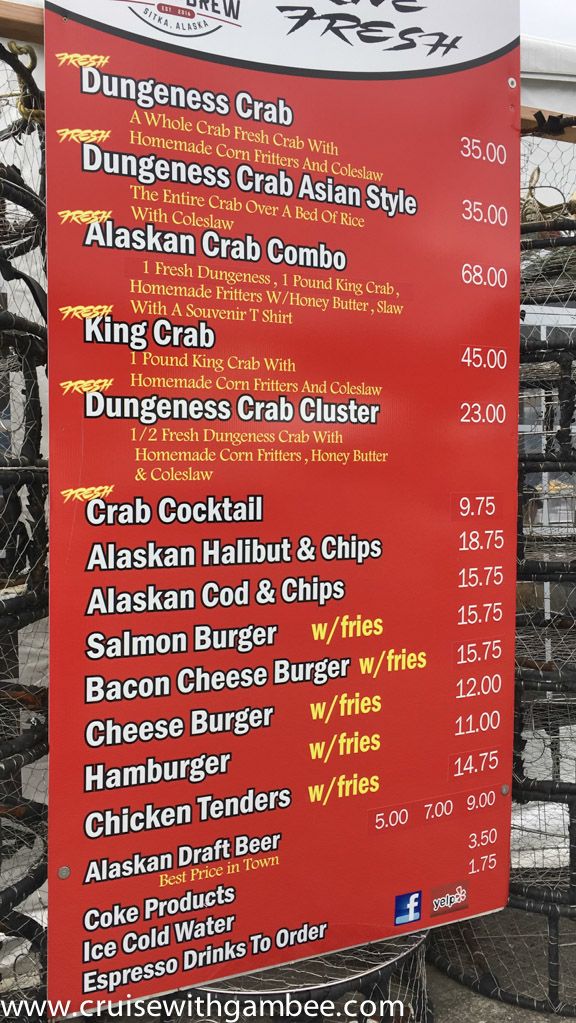 Inside they have a nice little setup. There were a few crew members there enjoying a burger and making use of the free wifi.
Let me tell you something. THIS WAS BY FAR THE BEST CRAB WE HAD IN OUR LIFETIMES!!! It was unreal, this is when you notice that freshness makes the difference.
OMG that cocktail, I can still taste it! It had a really good amount of fresh crab meat on it.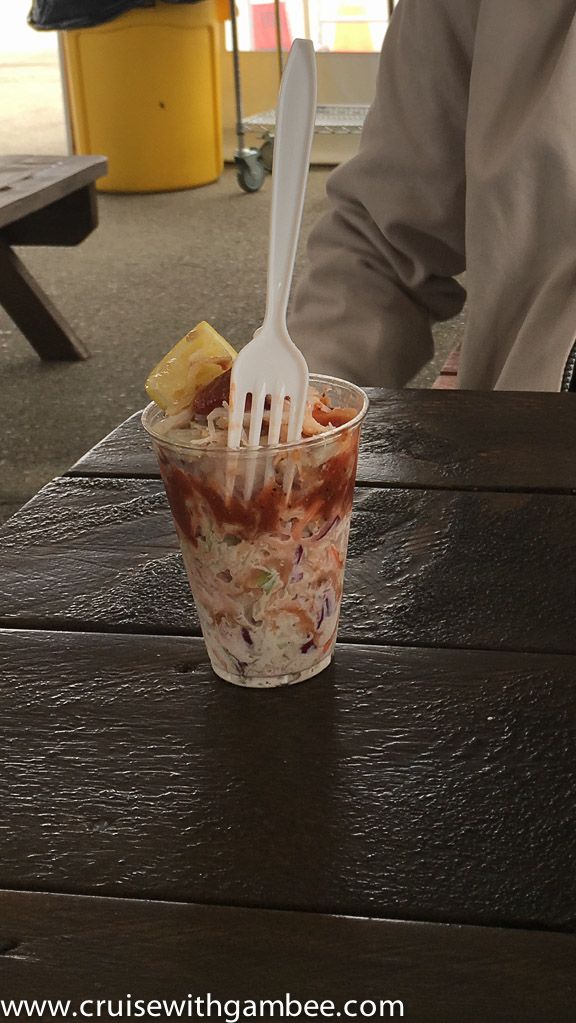 The crab was moist to a level that I did not believe was possible, and those corn cakes OMG, OMG, OMG, by far the best flavors that I experienced during that cruise! They also gave us this sweet butter, that was unreal. The only thing I regret is not ordering more corn cakes, I only ate one, I left two for mom, I noticed she loved them as well. Everything was super yummy!
After the best meal of this cruise we decided to head back to the ship. Granted we stayed there for a long time, the free internet did it for mom, and she was a bit backed up with pictures to send from Sitka.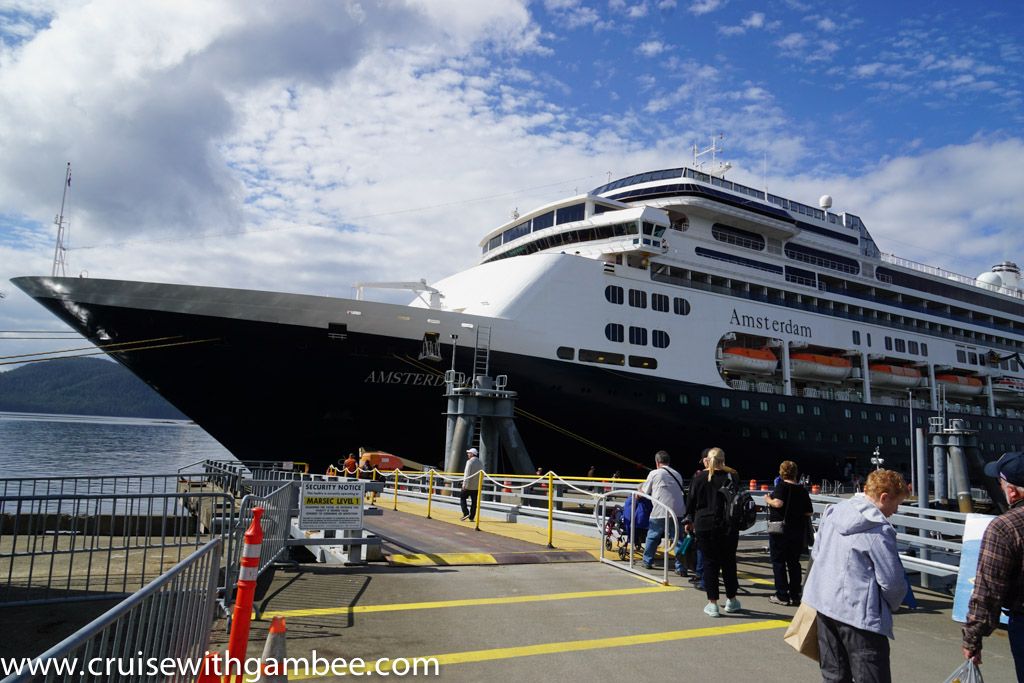 The boat related shore excursions leave from here, no walking needed.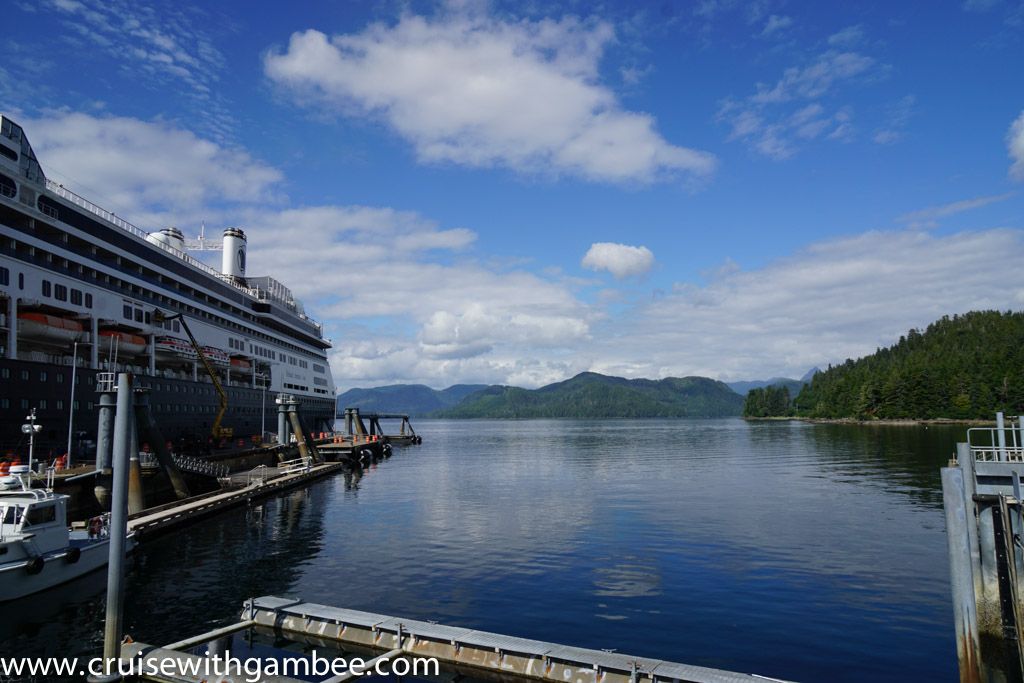 From this angle it kinda looks like a Disney ship, well other than the tenders are not yellow. Then again, Disney is the new line and HAL has been running for a while, ironic. It just kinda reminds me of a pic that I have.
Eventually the ship left, and we started sailing towards Ketchikan.
That by the way, that is a dormant volcano called Mount Edgecumbe. Back in 1974 one guy played a pretty cool April fool's prank when he dumped a bunch of burning tires from a helicopter, and the entire town thought that the volcano was about to erupt. He did not get into any trouble, but park services were pretty mad at him for the prank.
I went to my usual spot, promenade wraparound deck.
And we just relaxed there, while watching out for wild life.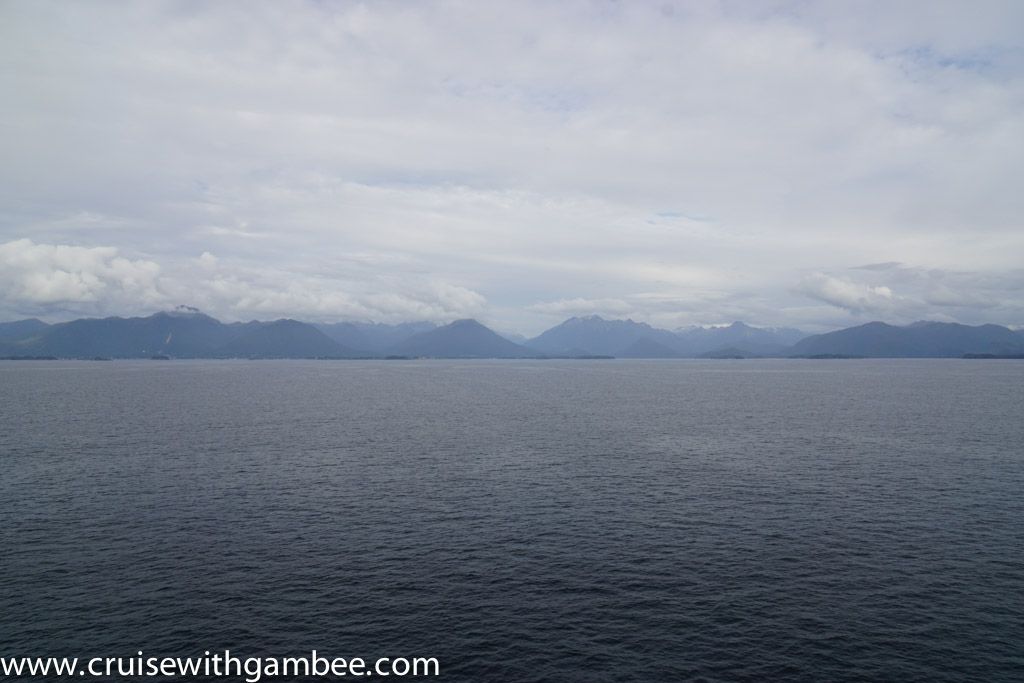 You can see Sitka in the background.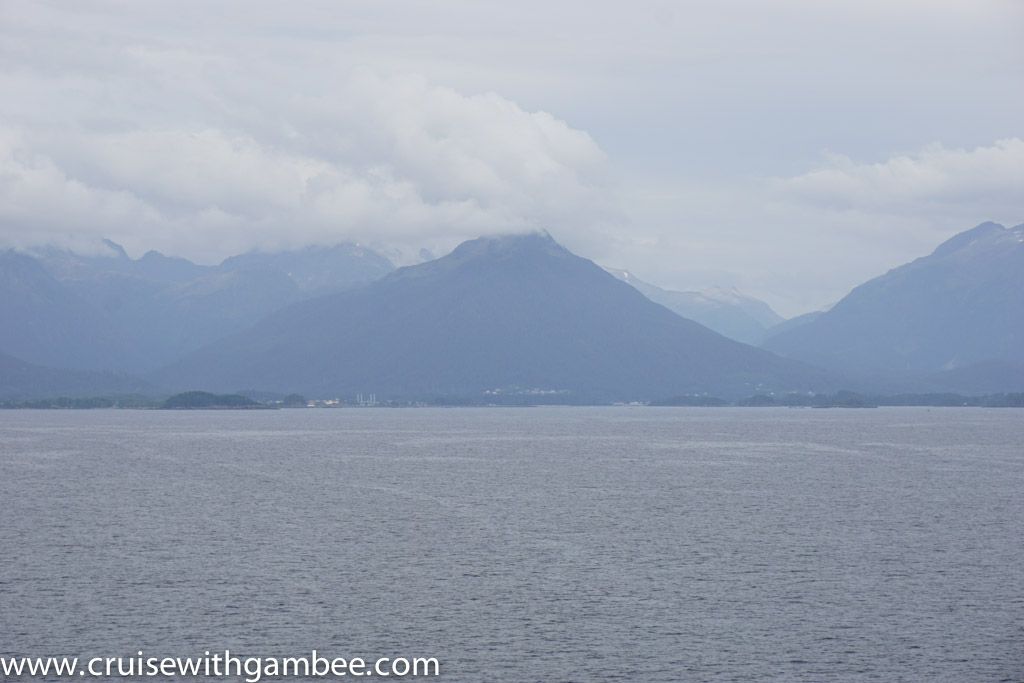 Thats the bridge to the island where the airport is at in Sitka.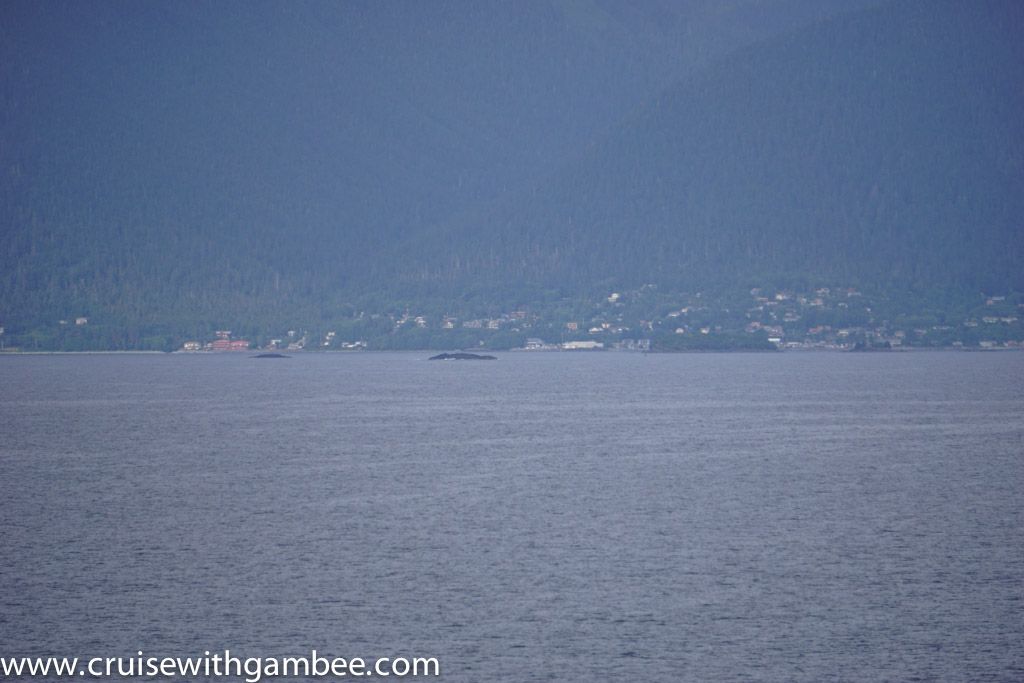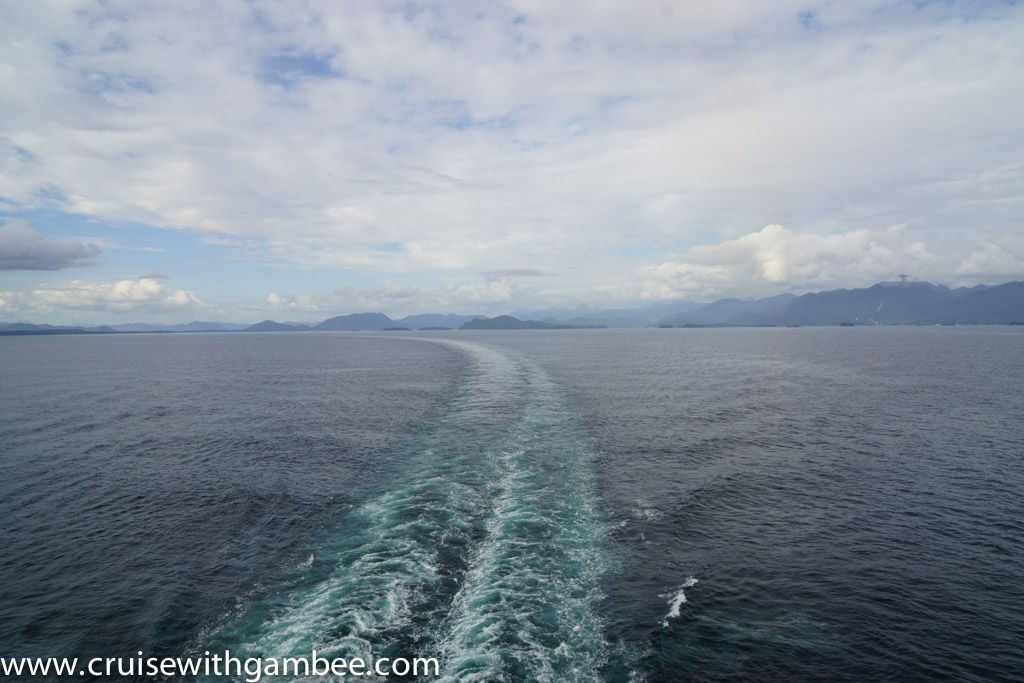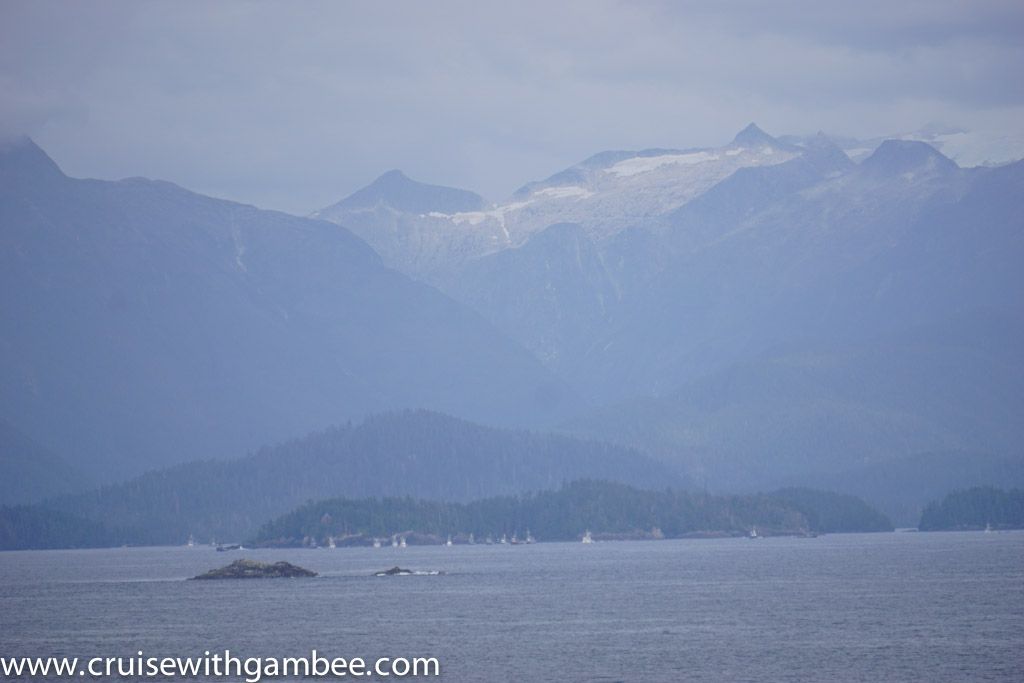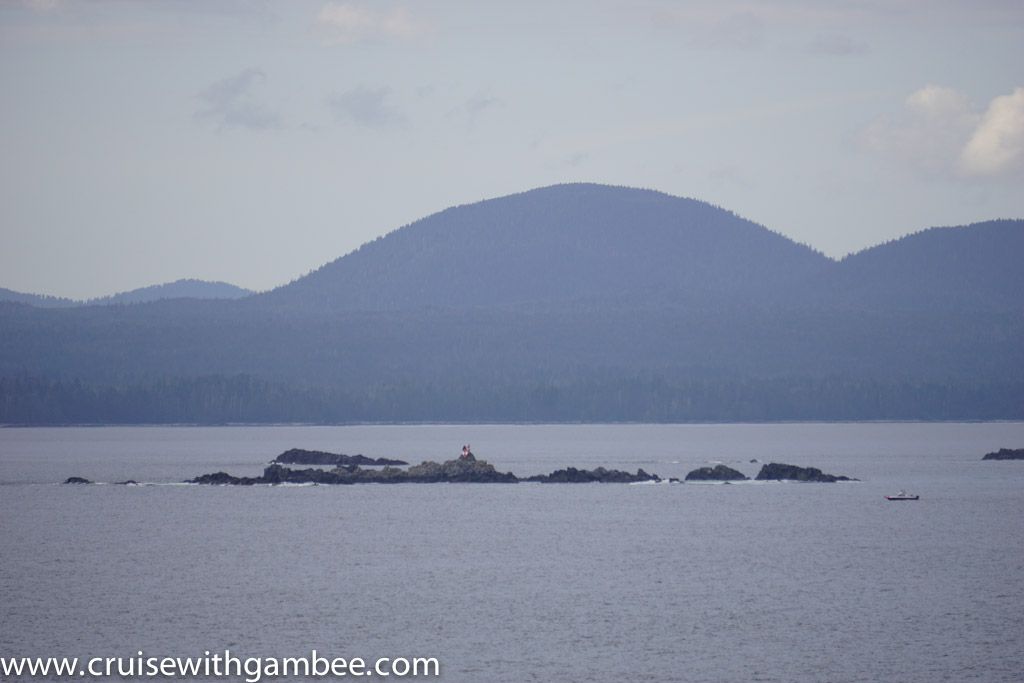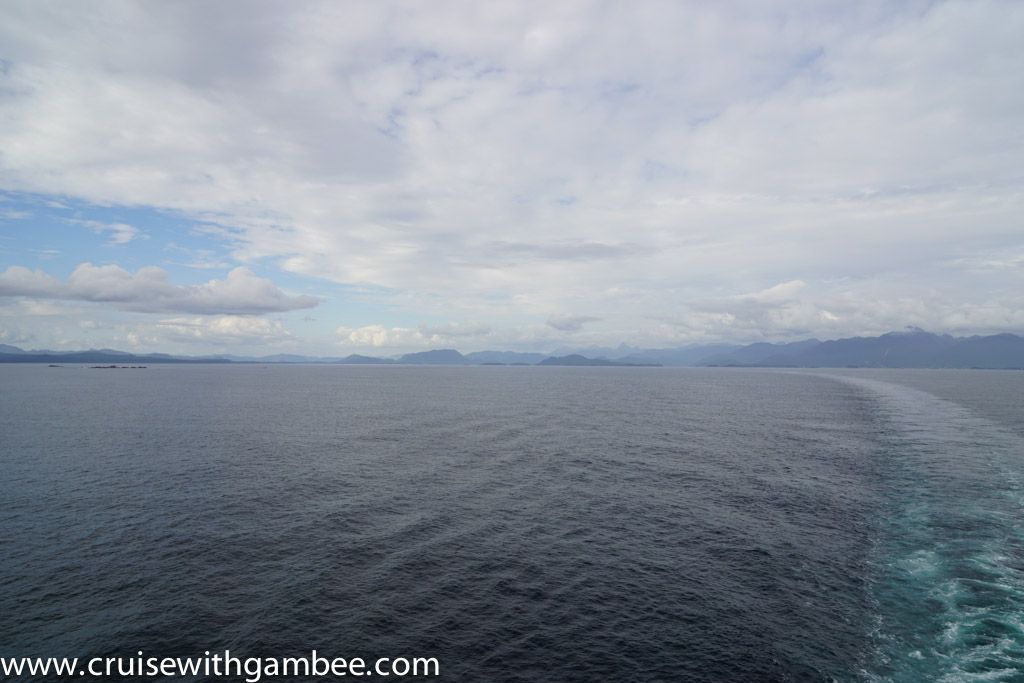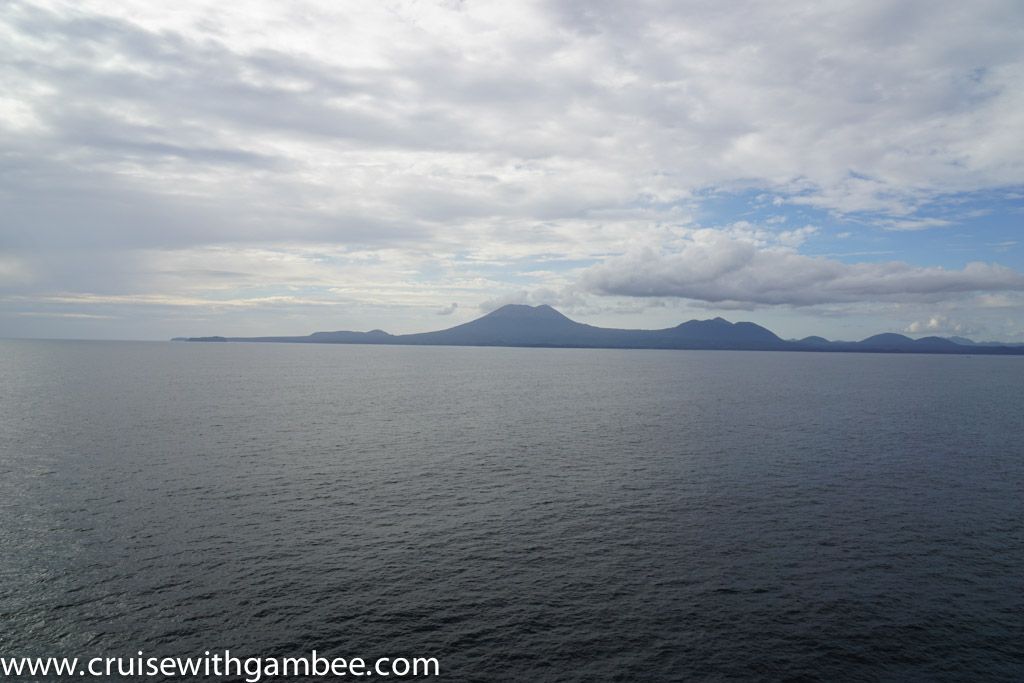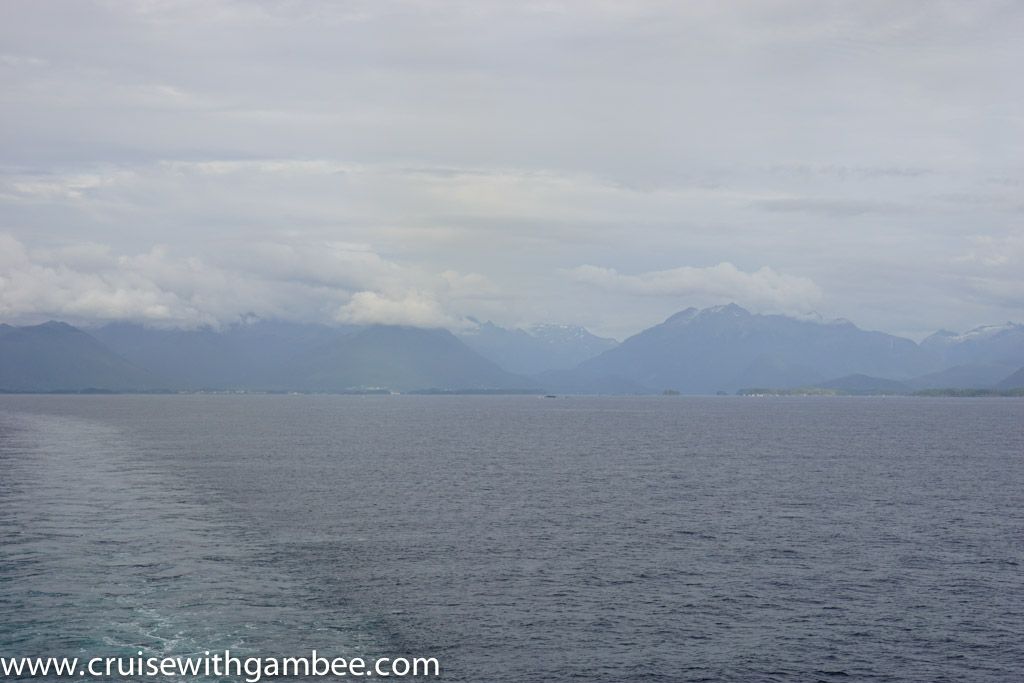 I guess at one point I went to the pool to check things out, it was rather quiet up there.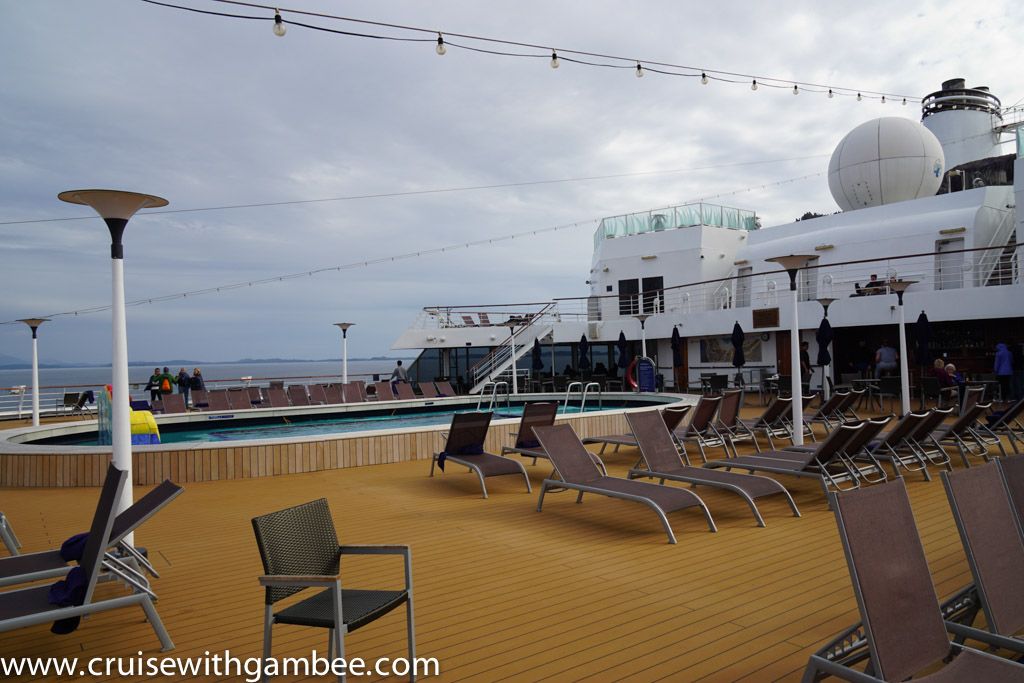 And the rest of the day we spent back in my favorite area.
At one point we saw some porpoises, but those things are quick! Makes it near impossible to get them on film! Actually during the whale watching tour we saw them, but I could not get one pic of them.
But I tried my best =)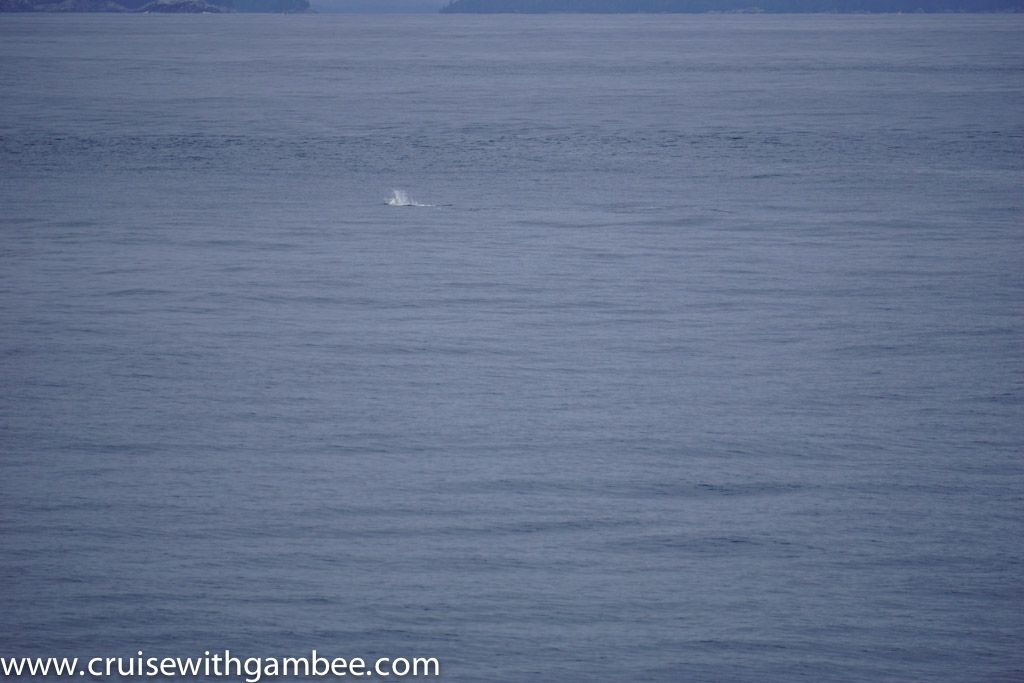 Mom went to the show that night, and she said she really enjoyed it. She did also say that the ship was very quiet at night, unlike other cruises, but that was expected.
And that is about it for Sitka. Another great day, with the best food of the cruise. We were very grateful for such a wonderful cruise thus far. And there was still so much more to come! It was like the never ending cruise!
Day 5, End.