The ride to Maho is now much faster with the opening of a new swing bridge. I have not previously heard of this type of bridge before. I think we took about 20 minutes to arrive there. You drive through several mansions., including the one of the wealthiest family on the island, which by the way is ridiculous! I could not obtain a clear picture of it.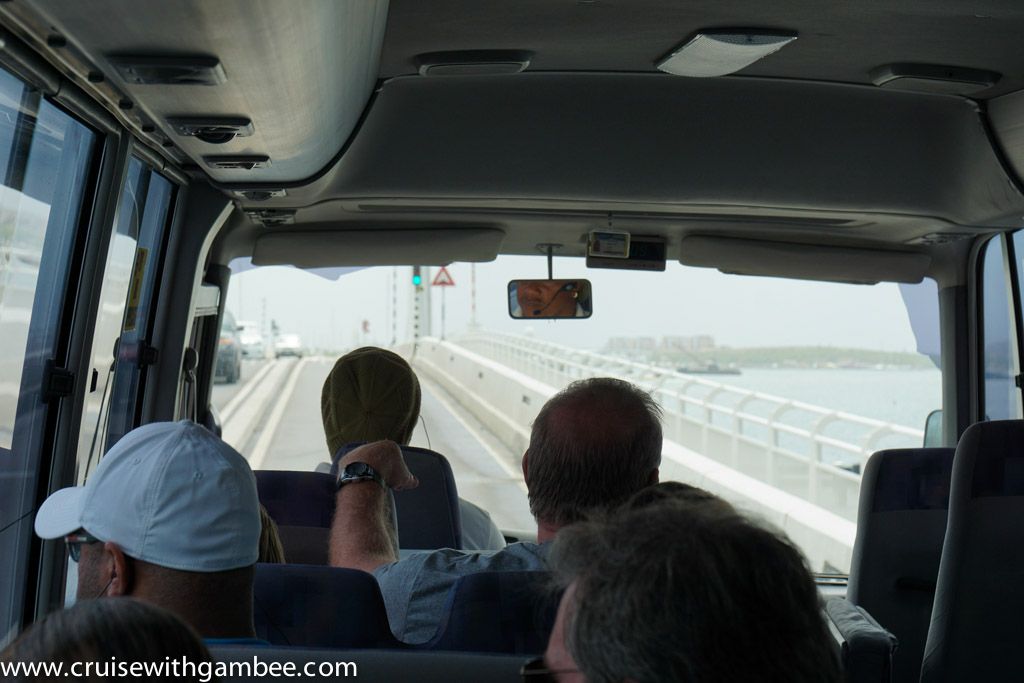 This bay works as a safe ground for boats when storms approach the island. He explained how it is protected from the strongest winds.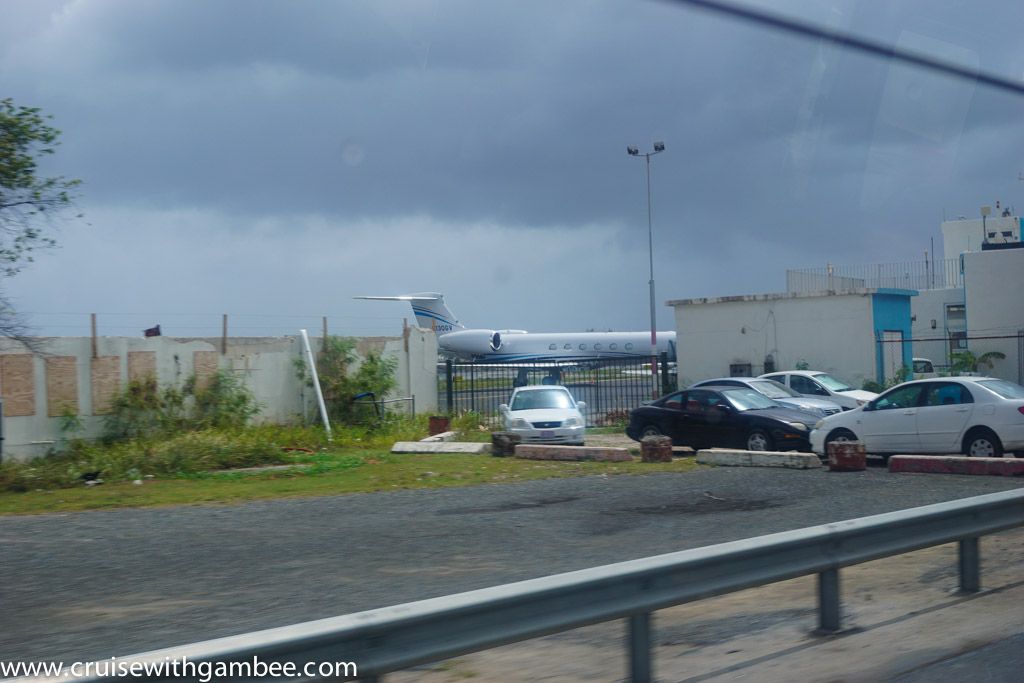 This is the new terminal.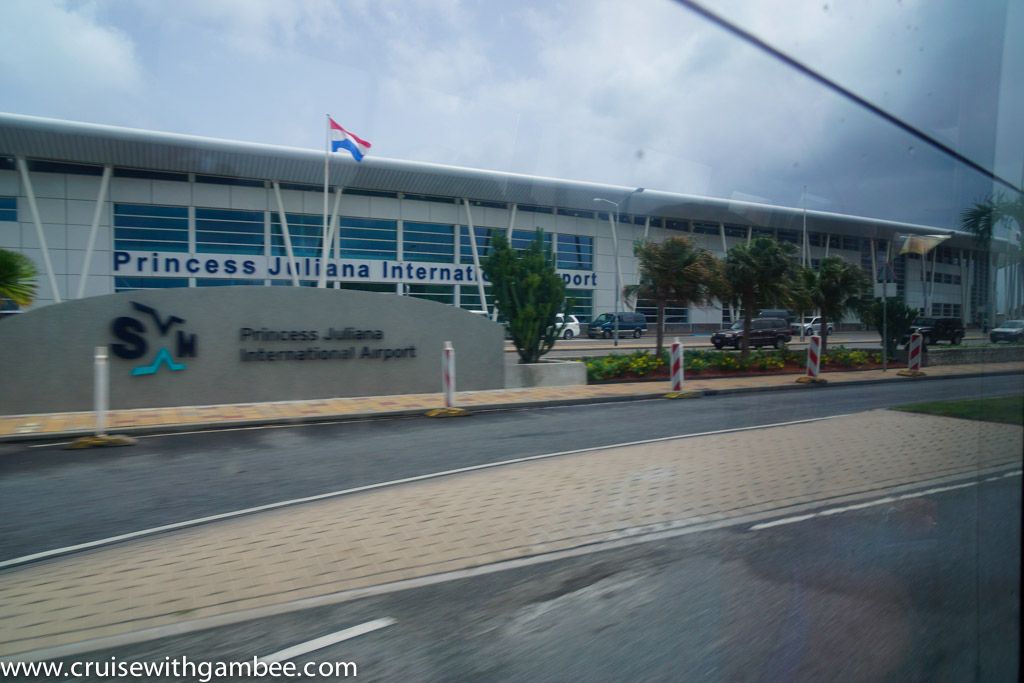 By the way, the Mailman was hilarious, great sense of humor! Maybe a little much for children, but since there were no kids in our tour it was all good. I am sure that he accommodates his humor depending on the crowd. Just hope you get him without any kids.
The terminal used to look just like this building.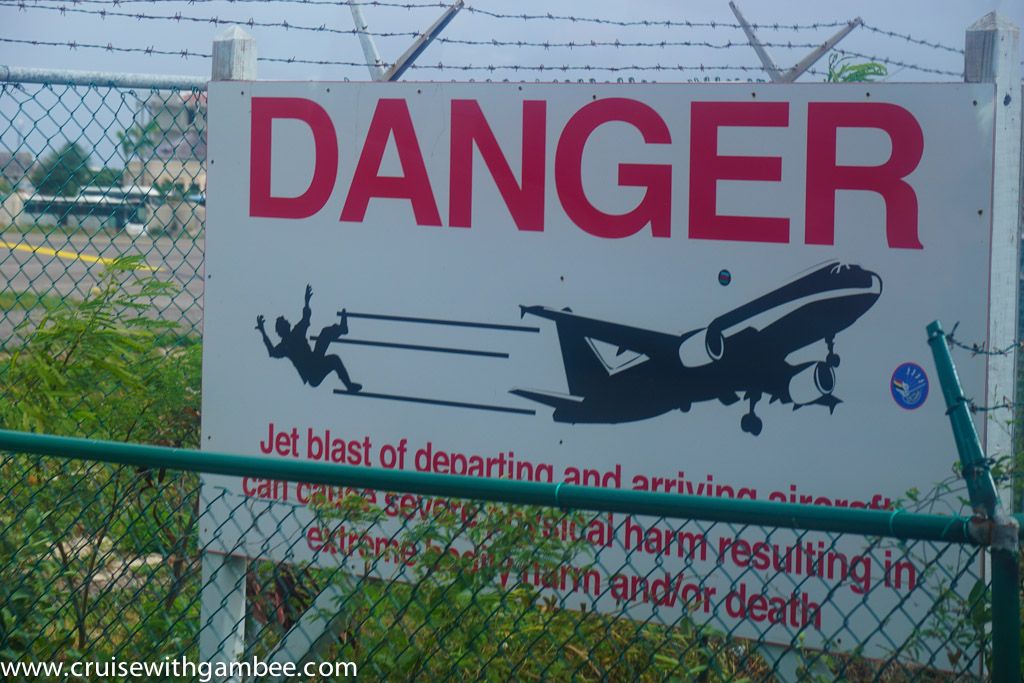 We got there just when a plane was landing. This is the second busiest airport of the Caribbean, when you consider its size. I think he said the busiest was in San Juan, but quite honestly I cannot clearly remember.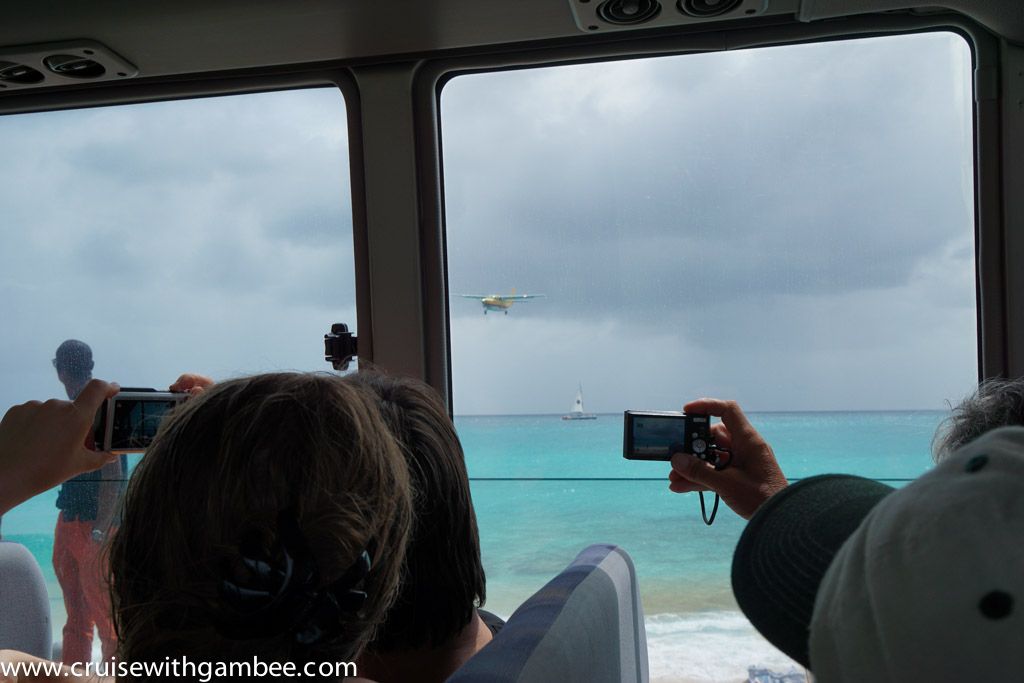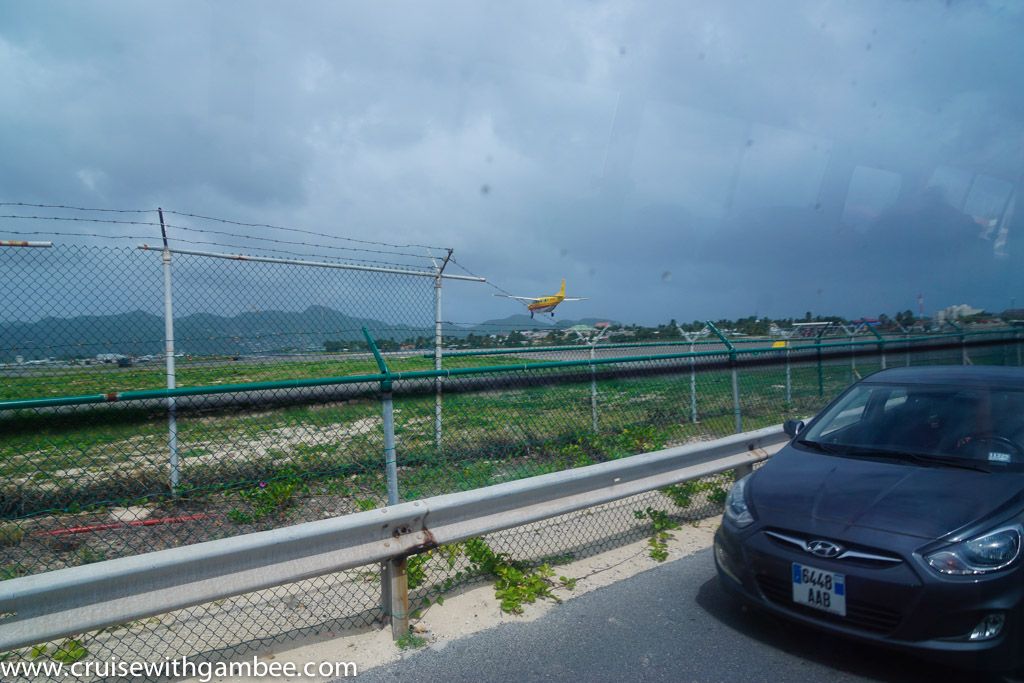 Maho beach is a very busy place. I heard people complaining that they planned to stay there the entire day, but later realized that it was too busy. Just bear in mind that this is a beach that people go to have a good time and get tons of pictures. Not very relaxing at all, but a blast nonetheless.
We parked and he told us to be back on the bus in 25 minutes. Traffic in St. Maarten can get very bad and he did not want to risk it by arriving late to port. This was kind of a bust. Quite honestly, I think I could have gone without the stop in Marigot and more time here. Nonetheless, like I said this was the best way to find out what you love to do next time you go back to the island.
He told us that the Airfrance large aircraft was about to land, so we were super excited. This was a transatlantic aircraft flying in. Before we got off my uncle asked for more drinks and I said what the hell ill take one too. This was the last of the rum punch.
As we were walking, I saw this!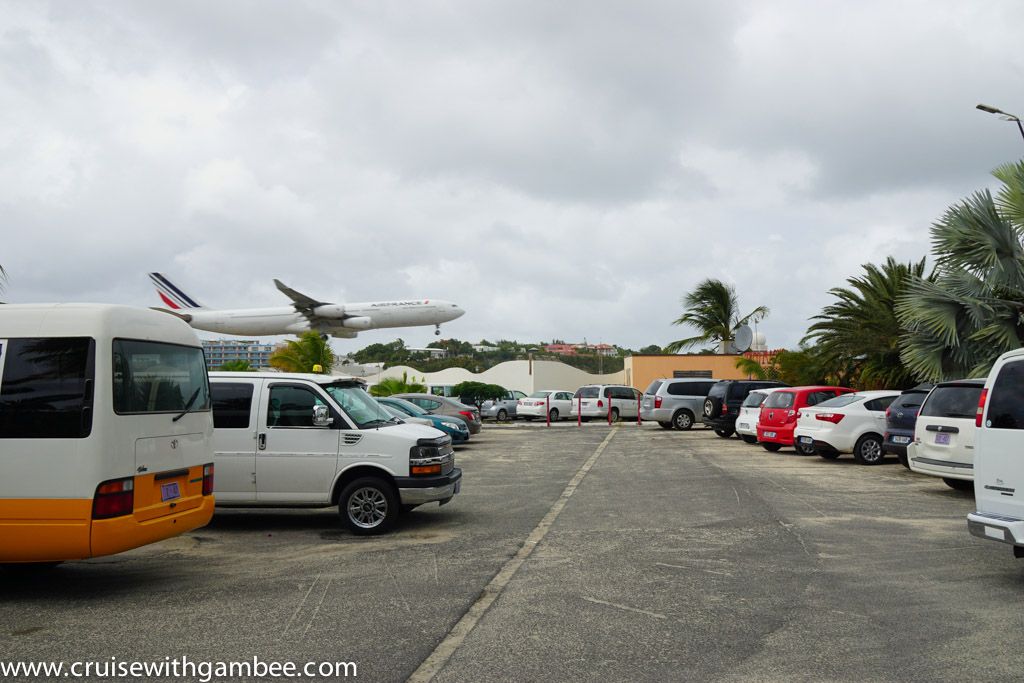 That was a big blow for my heart melted. That was our only chance at seeing a large aircraft because of the limited time there. What else could we do? So we kept on walking and heading down to the beach. If we had not stopped for drinks, we might have made it on time.
Oh well, life continues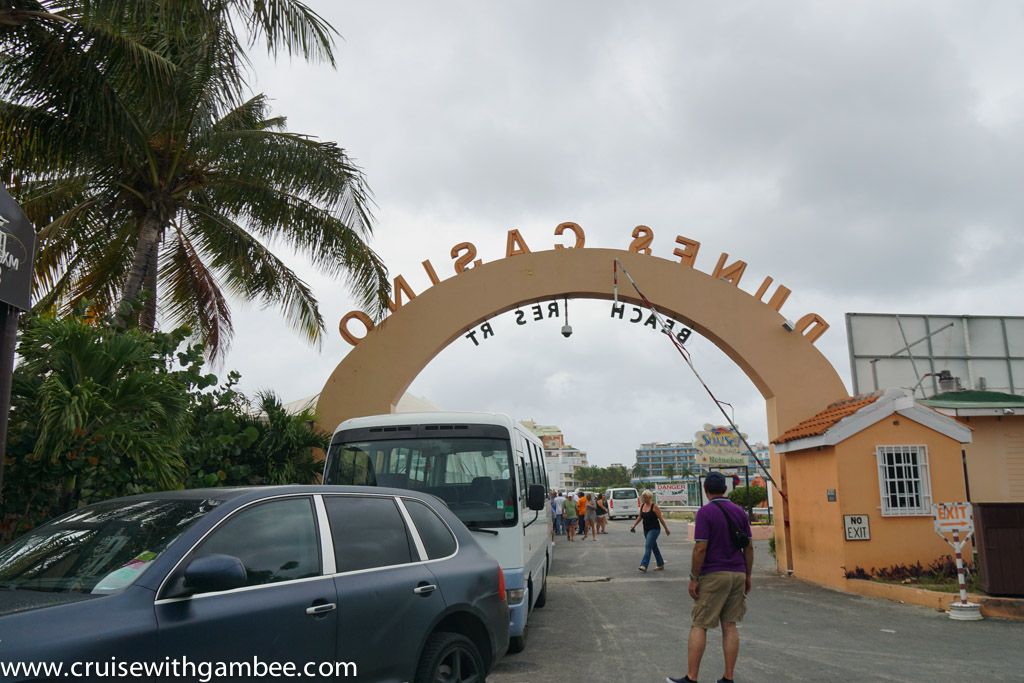 We kept on walking towards the main airport area.
It was PACKED!!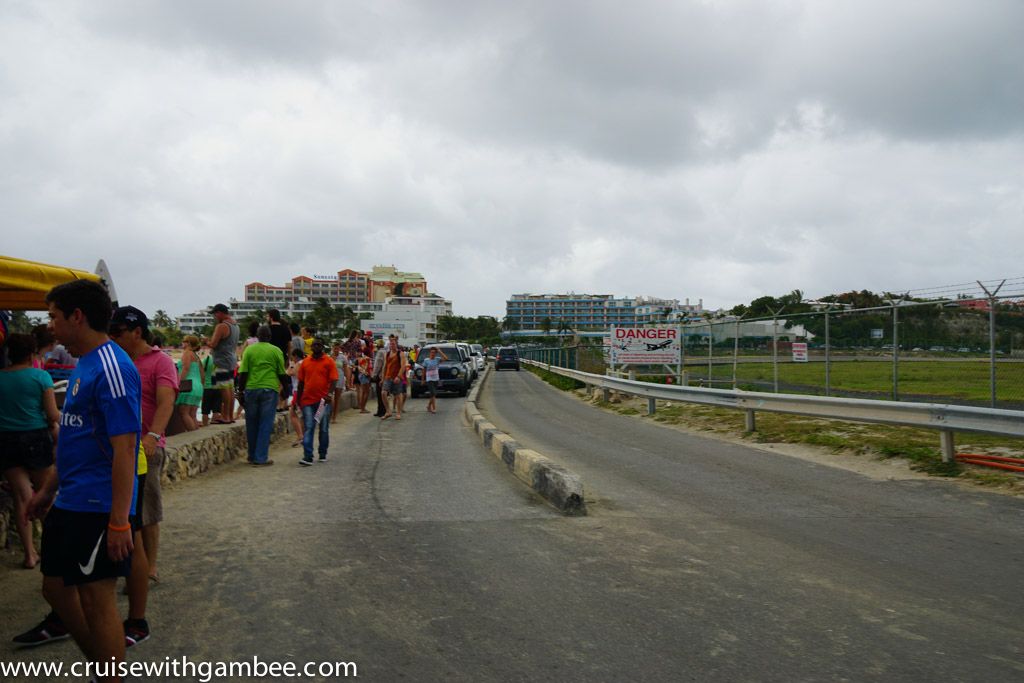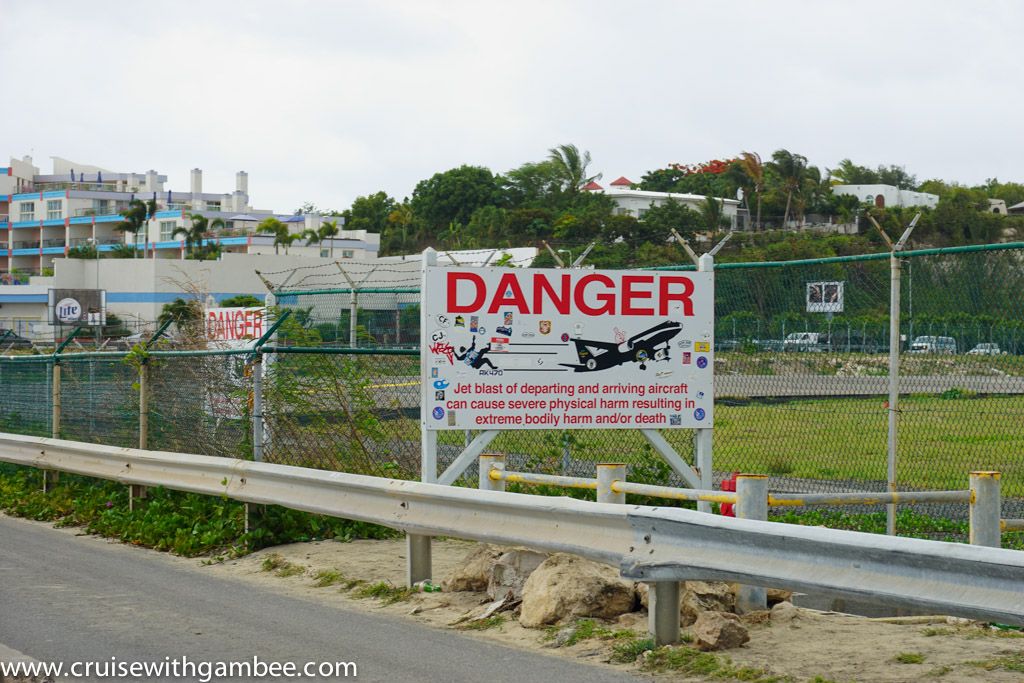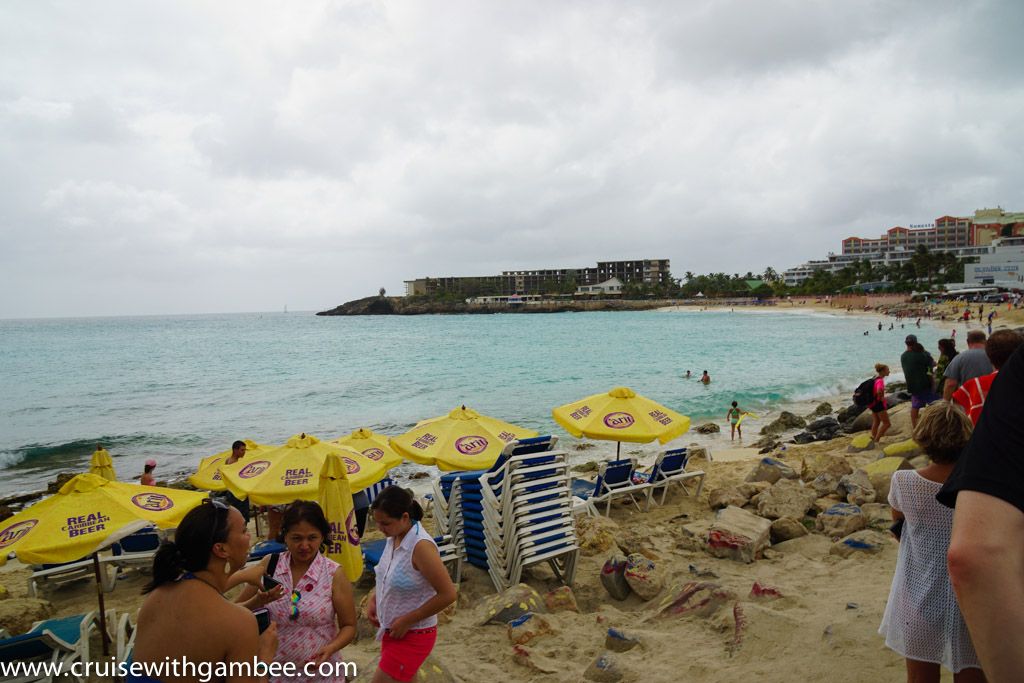 I could see the Air France plane taxying =(. Quite honestly. I don't think we would had made it anyway.
Also a personal suggestion here, get the first seats in the bus! When we got on the bus, he told us that the back row had space for 4 people, so we went there. But quite honestly that was a big mistake! First of all we were the furthest away from the drinks. The second problem is that we were always the ones to get out of the bus last. And considering the limited amount of time in each stop, every second counts! Third problem, there are no windows, and if you like taking pictures like I do, the window is a must! Fourth problem, you can barely hear him talk from back there. The only plus was that you had a nice view from all directions.
There is a lot of erosion on that beach, it is mostly rocks now. In order to get to a nice beach area you have to head to the other end, you might actually be able to get some nice relaxation there as well.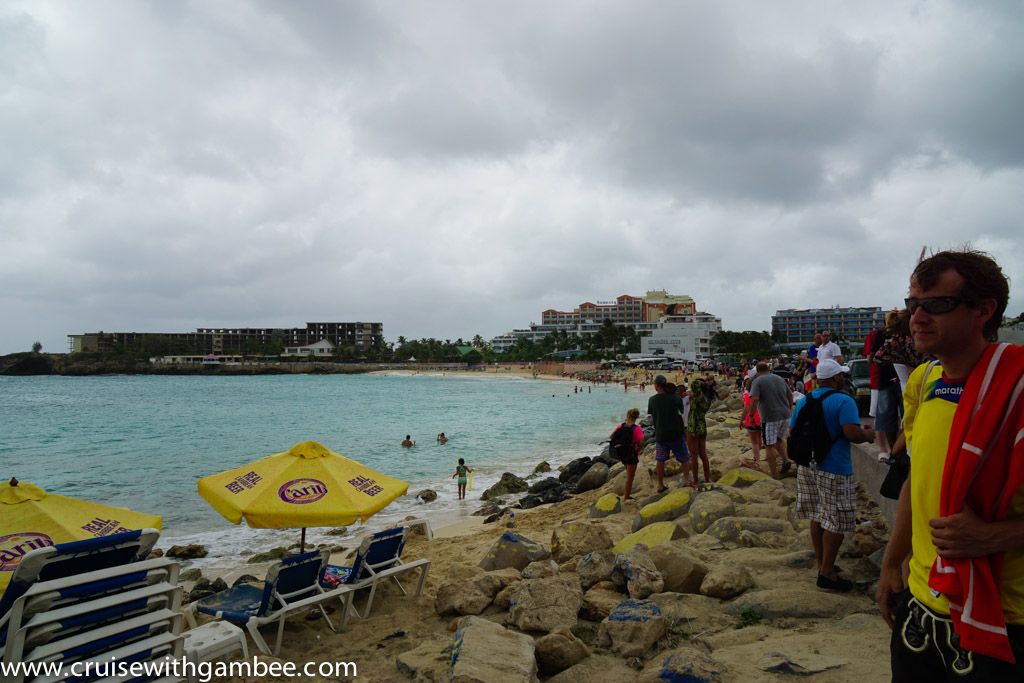 This is the beer available in the tour.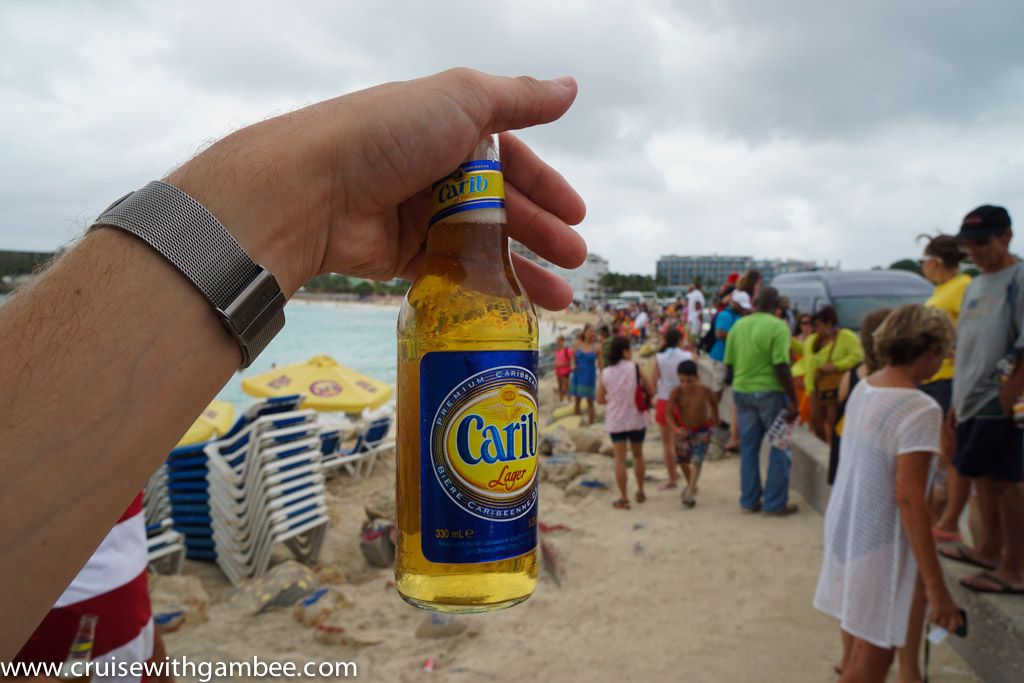 You can rent those there from the restaurant, but honestly the area is cramped. Not sure if I do it. Then again if mom wanted it, then I would get it.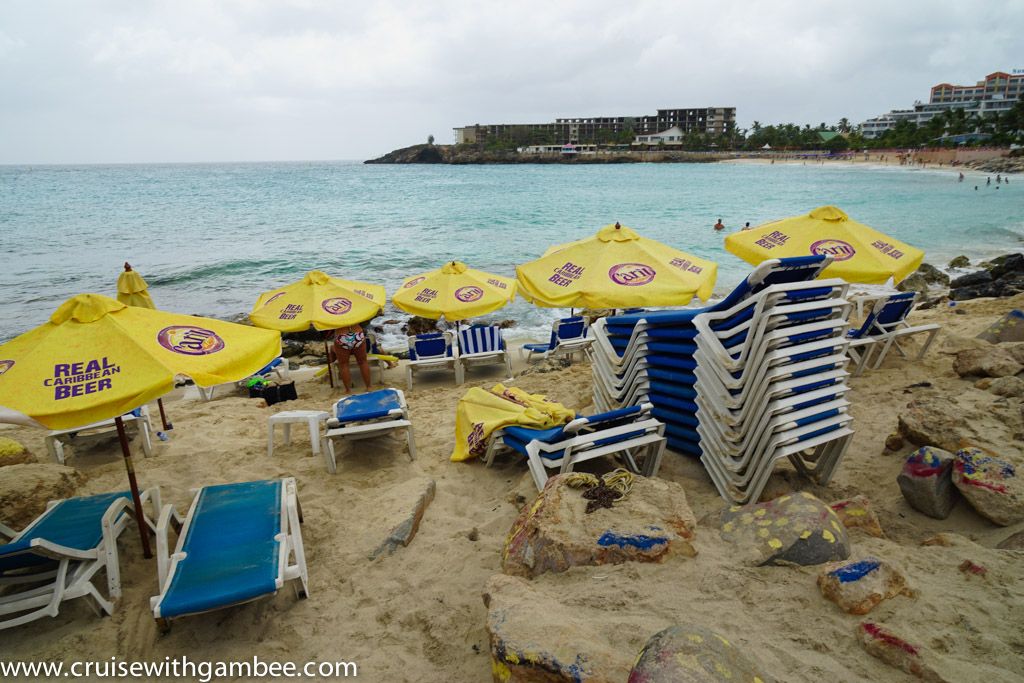 That restaurant is really happening. The placed was packed! My mother and my aunt decided to stay by the restaurant, I think they were tired by then. I was actually thrilled about this, that mean that I did not have to worry them falling on the rocks or the street.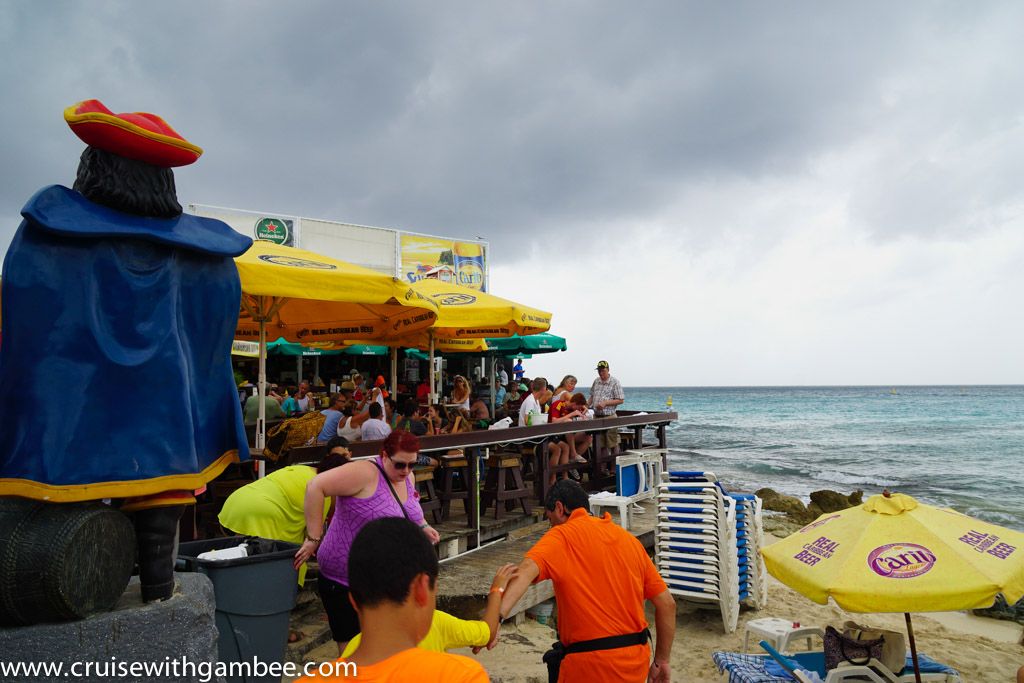 My uncle and I headed towards the main area where most of the people were located in. The walk there is a tad tricky, and the best way is walking on the street. I know, it's not safe. But the rocks are even less safe. Just make sure you're walking against traffic so you can keep an eye on the cars, and you don't get hit.
Then some planes started coming in.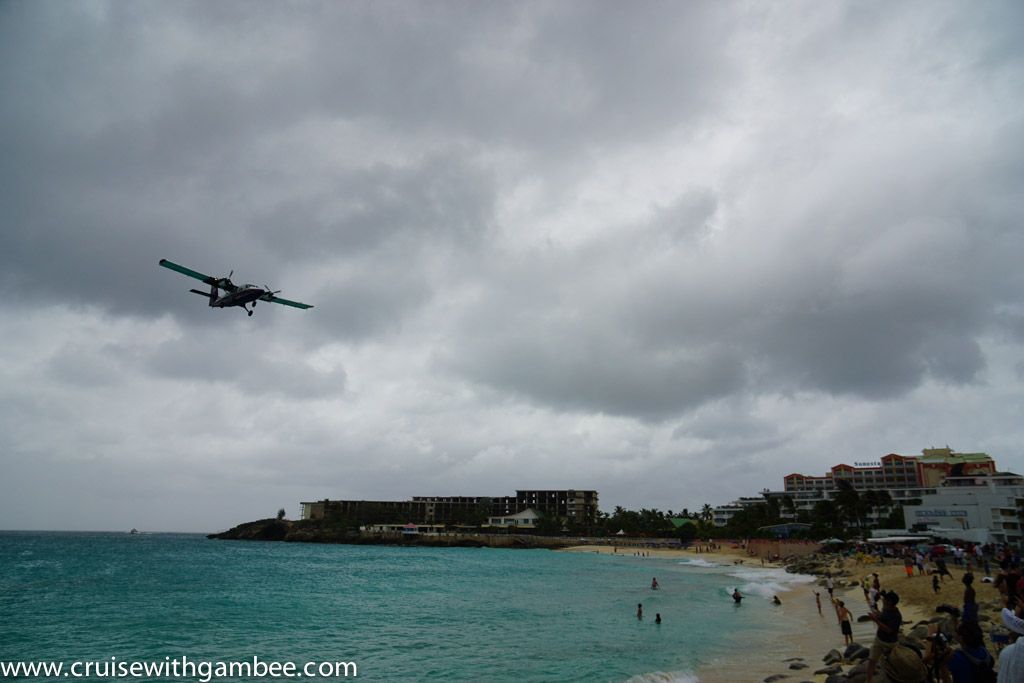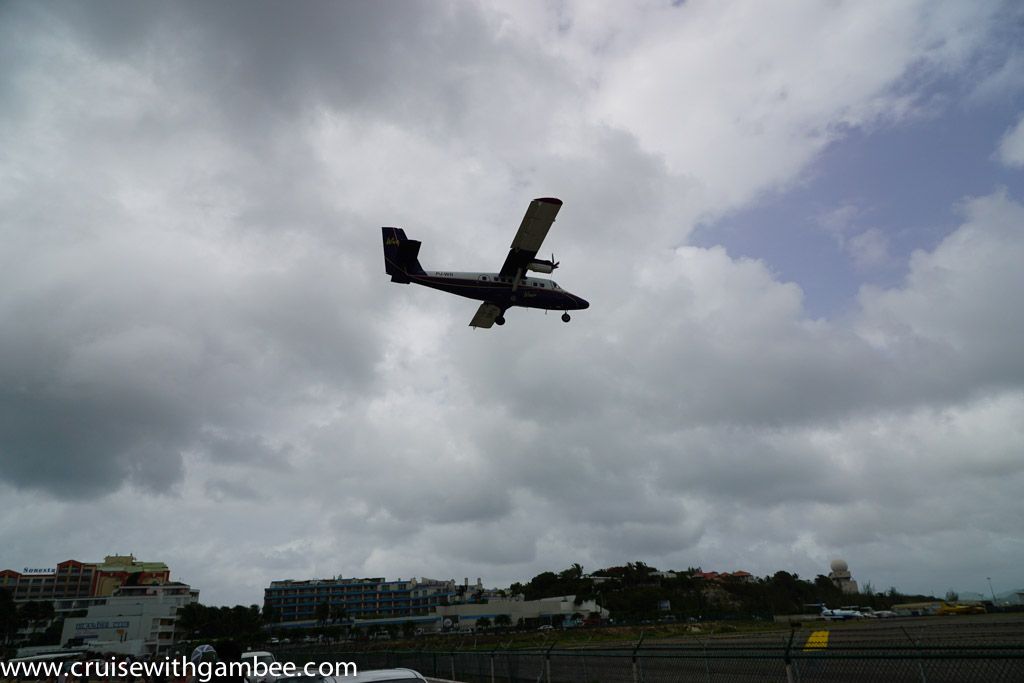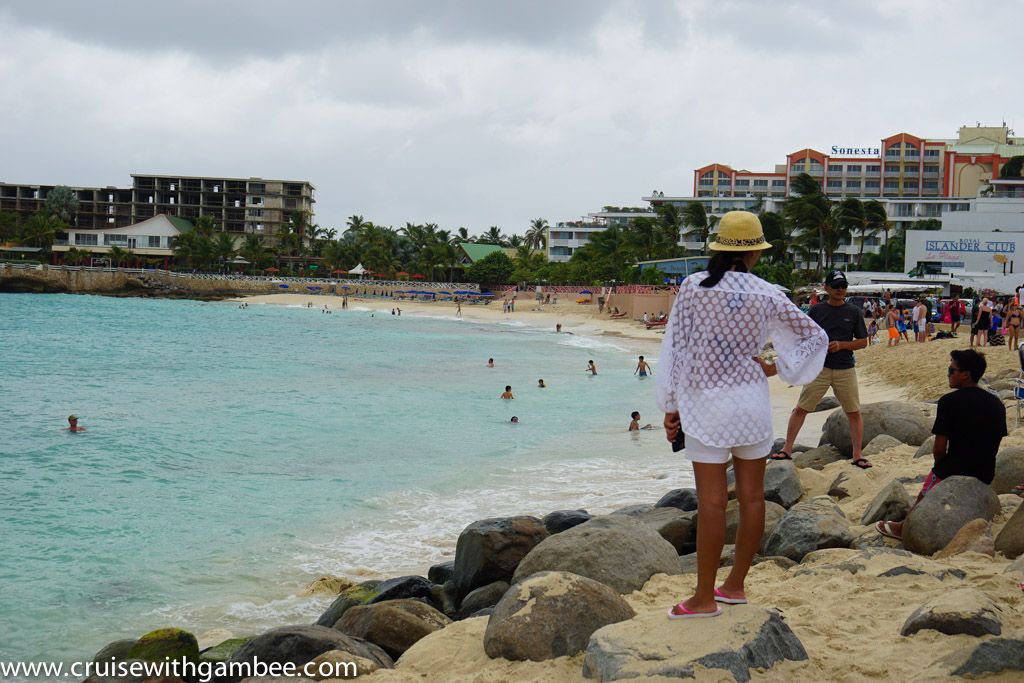 This is a really busy street. Most drivers are aware of this and thus drive slow. There are tourists everywhere, and no one cares where they walk.
Nice picture.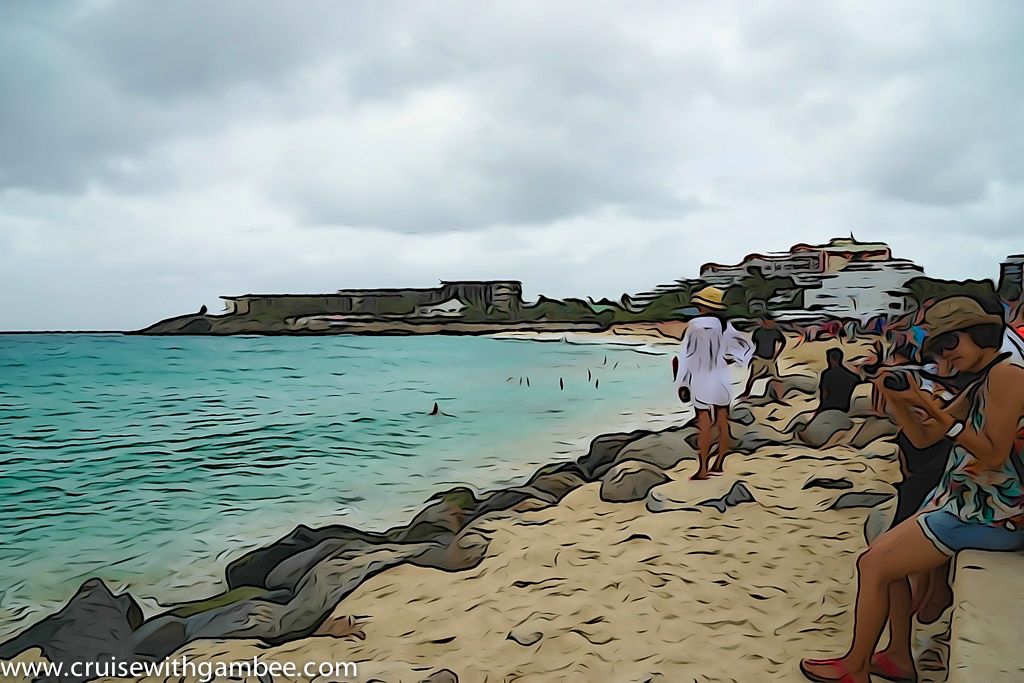 This was a really nice wave break area, but I could not obtain one of the big waves breaking there.
The weather that day was not the best.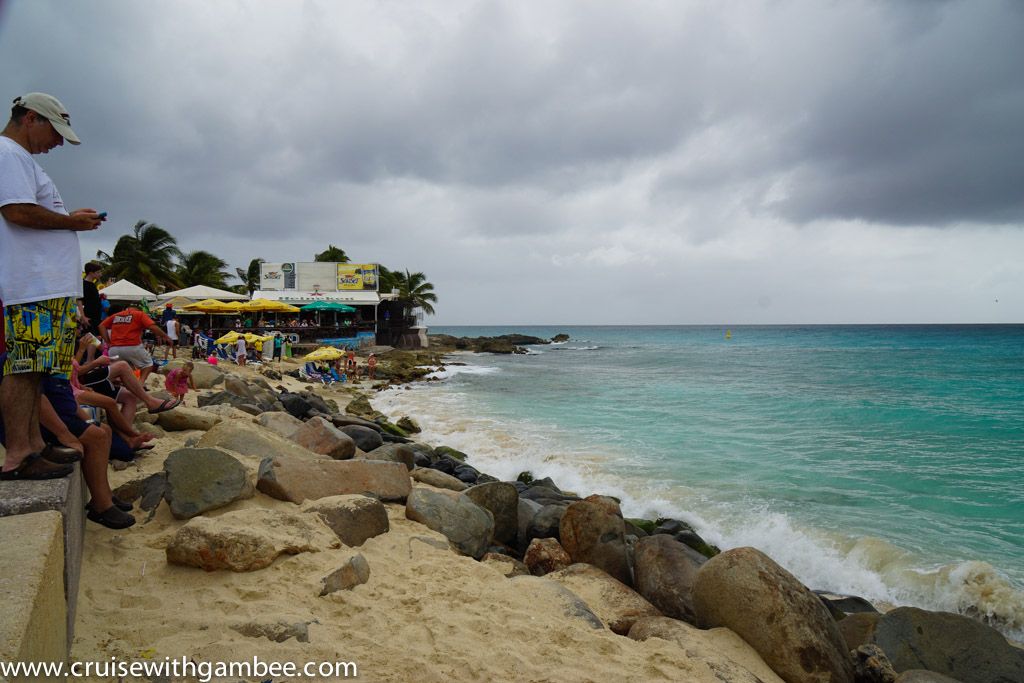 There is a board in the restaurant with the times of the planes coming into the island, I never had a chance to get a picture of since I was rushing to get to the main strip.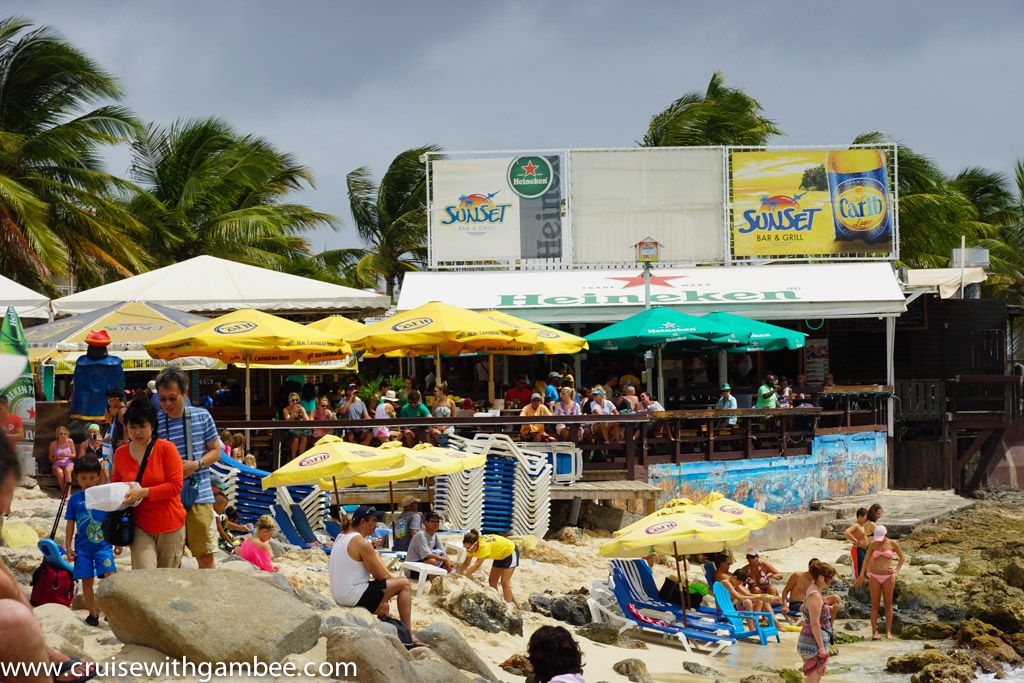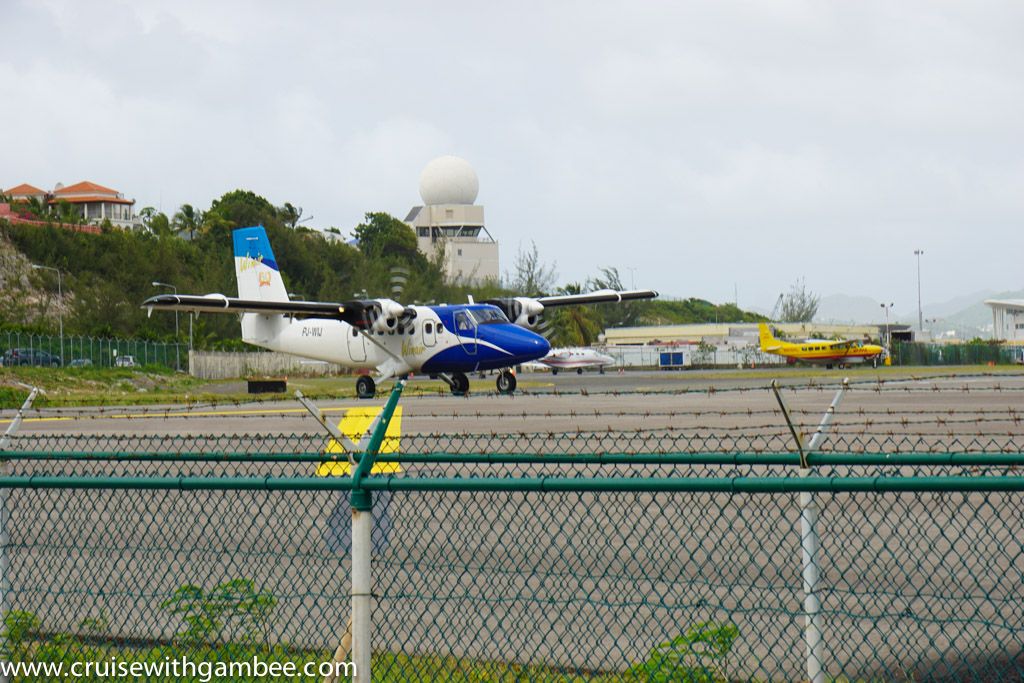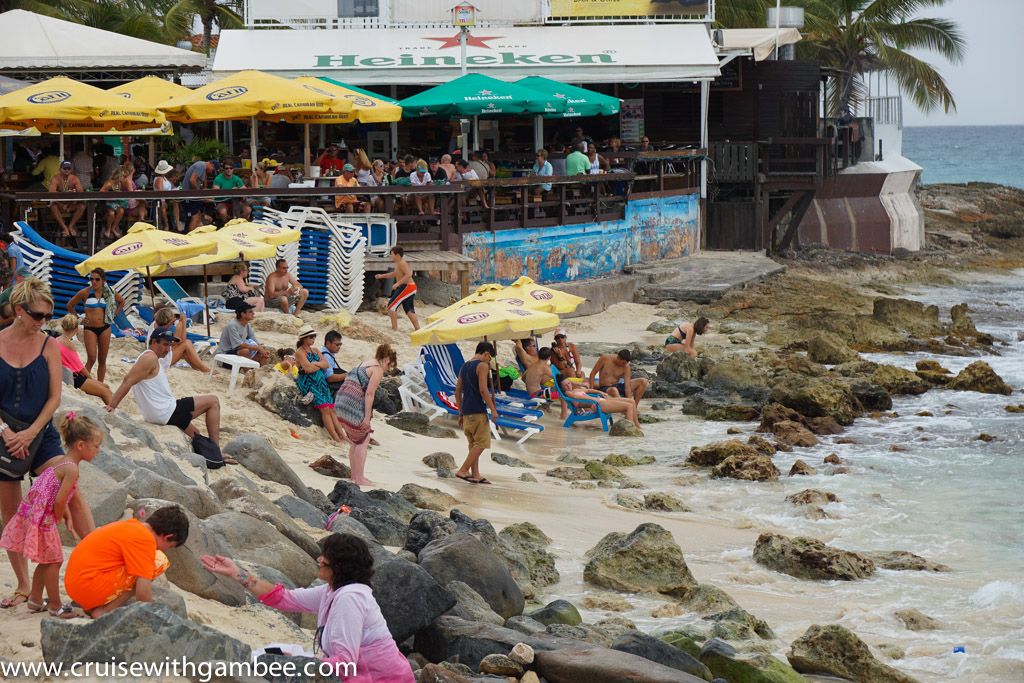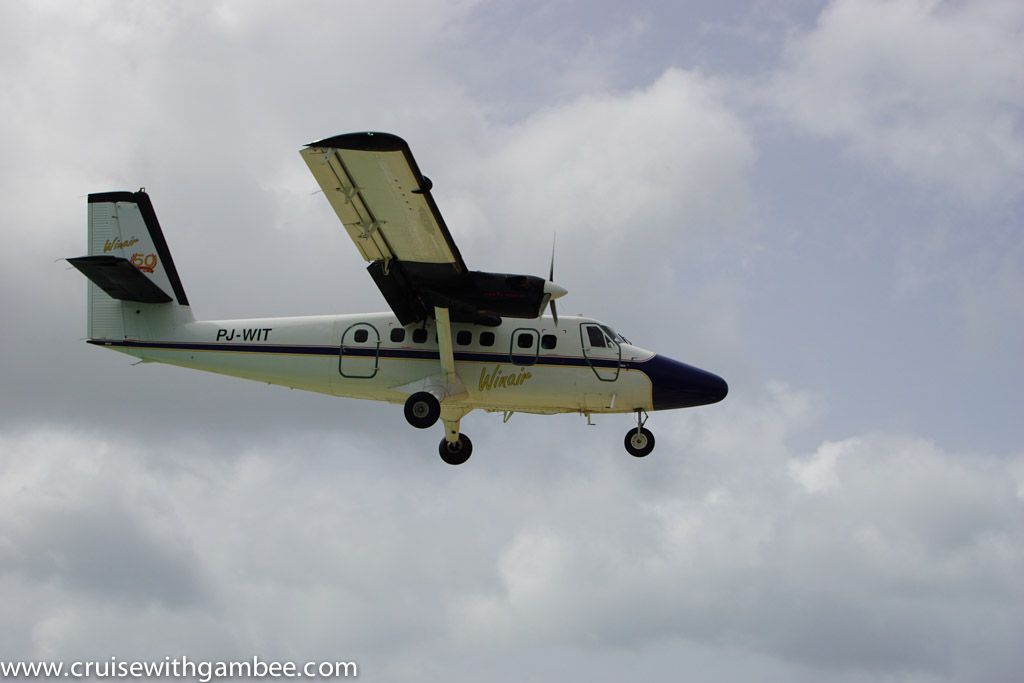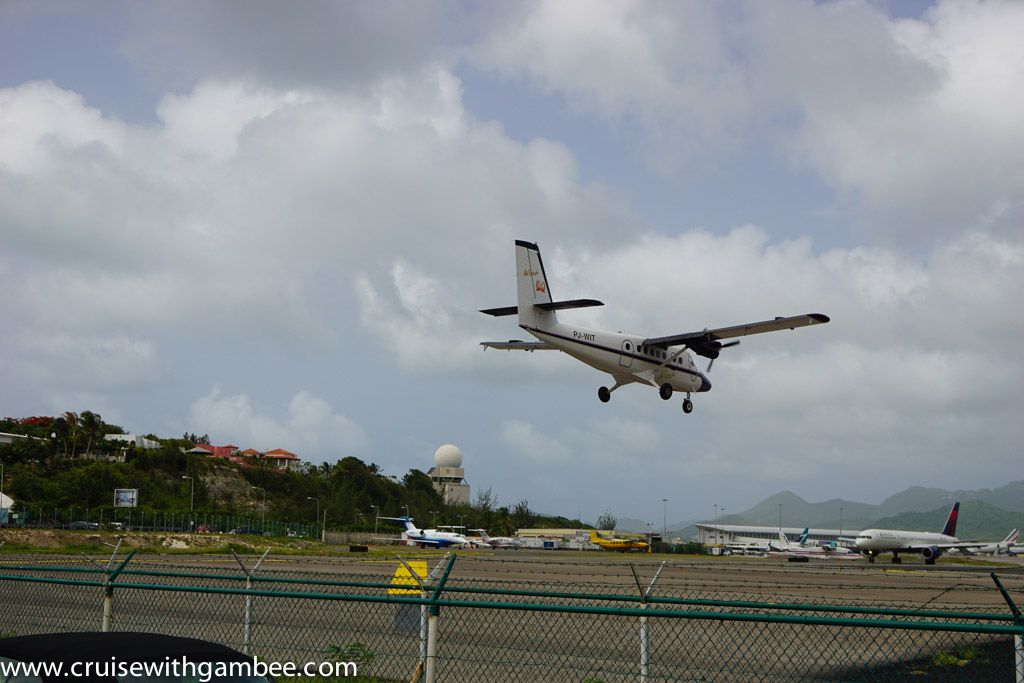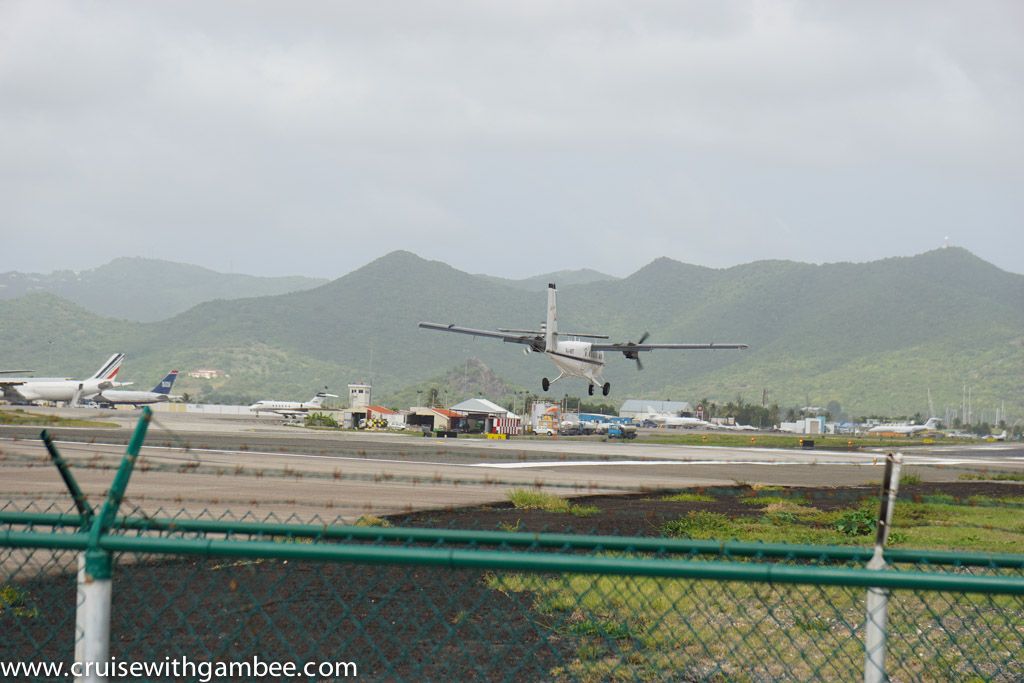 It was truly a very busy airport!
So right when we were supposed to start walking back, we saw the Mailman. I asked him if it was time to head back, and he said "no", we have a big boy coming in and another going out!!!!!!!!!!!!!!!!! OMG WE WERE GOING TO WAIT FOR THEM!!!!!!!!!
I GOT SO EXCITED! YOU HAVE NO IDEA!
The Mailman
It was so funny, he knew everyone! And then he started directing traffic.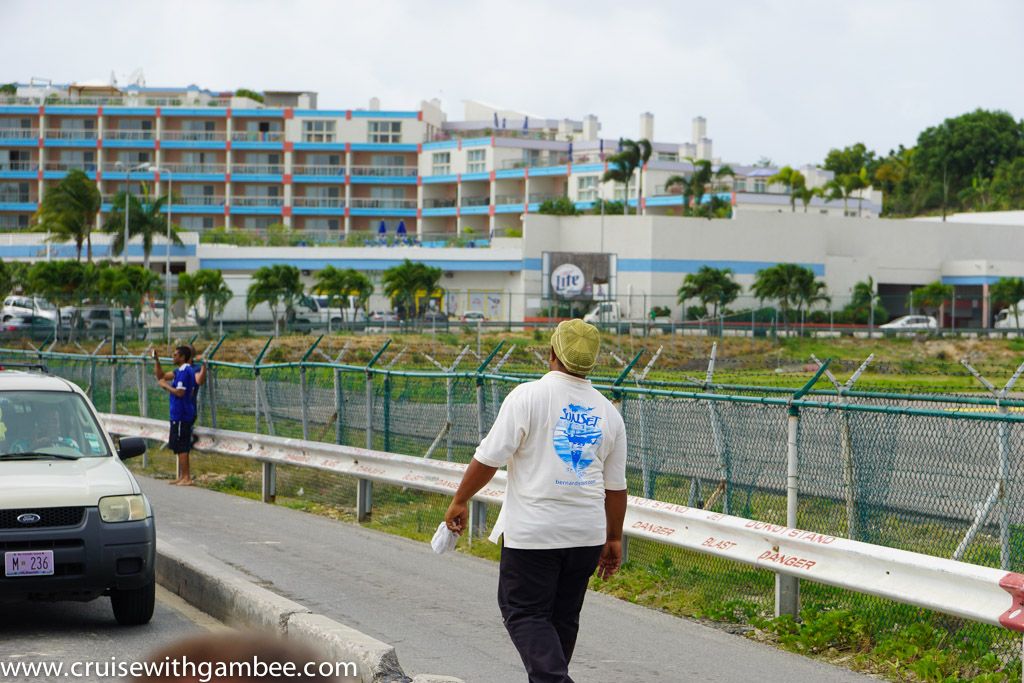 A few more small Aircrafts.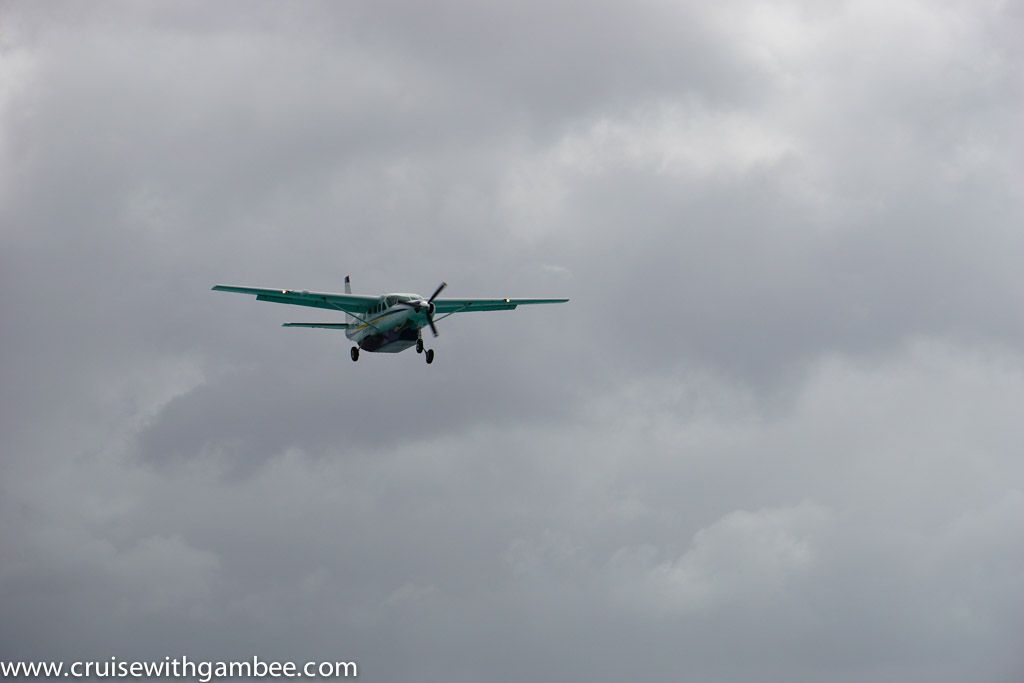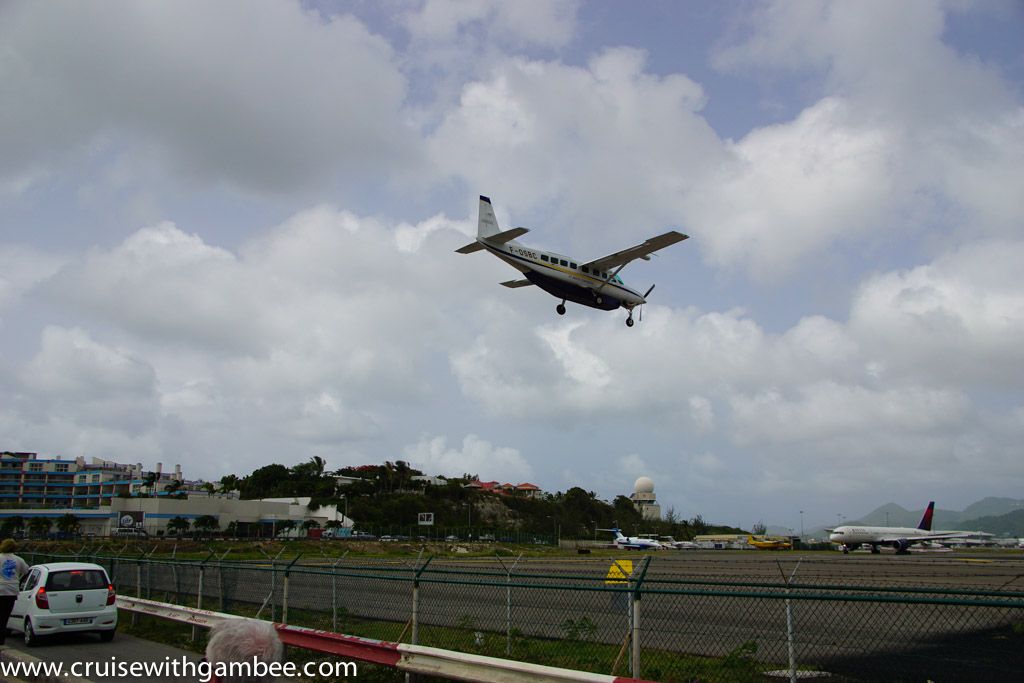 Here is the Delta plane getting ready to take off, but there were so many little aircrafts coming in and landing aricrafts always have the right of way.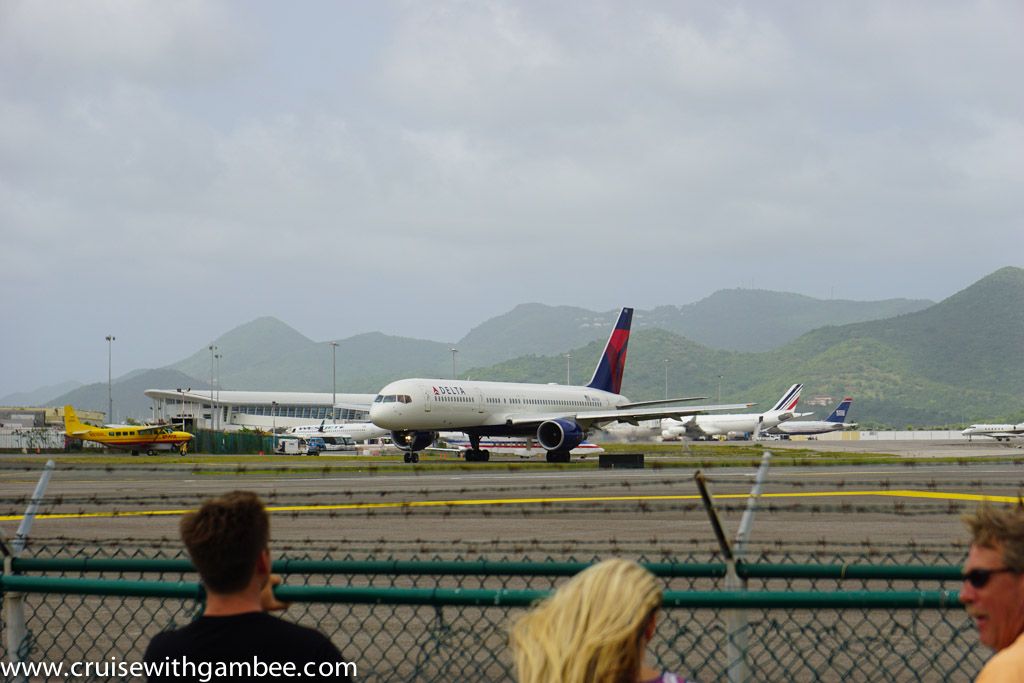 Those folks were getting ready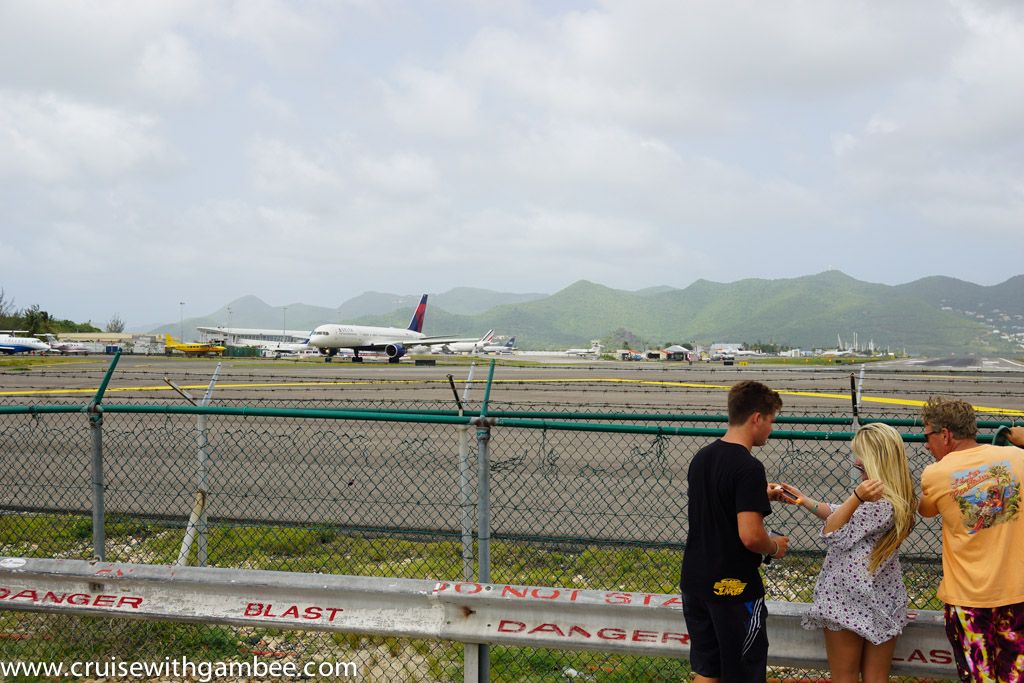 My uncle and I moved in closer to the action.
I love the way this picture came out.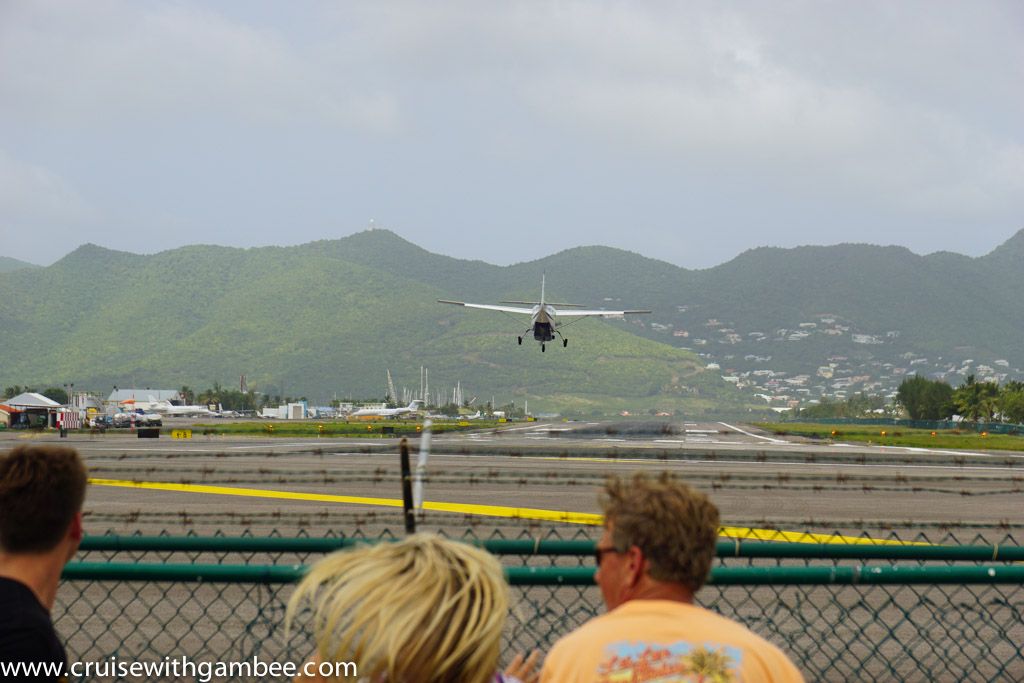 The cops came by and made them move.
The Mailman was directing traffic, and directing people as well. Very cool guy, my God, his jokes were to die for. Most of them very personal, I won't ruin it for anyone, but yeah, ask for him.
The coast guard did a "Sobre Vuelo"
, I hope you know what that means by now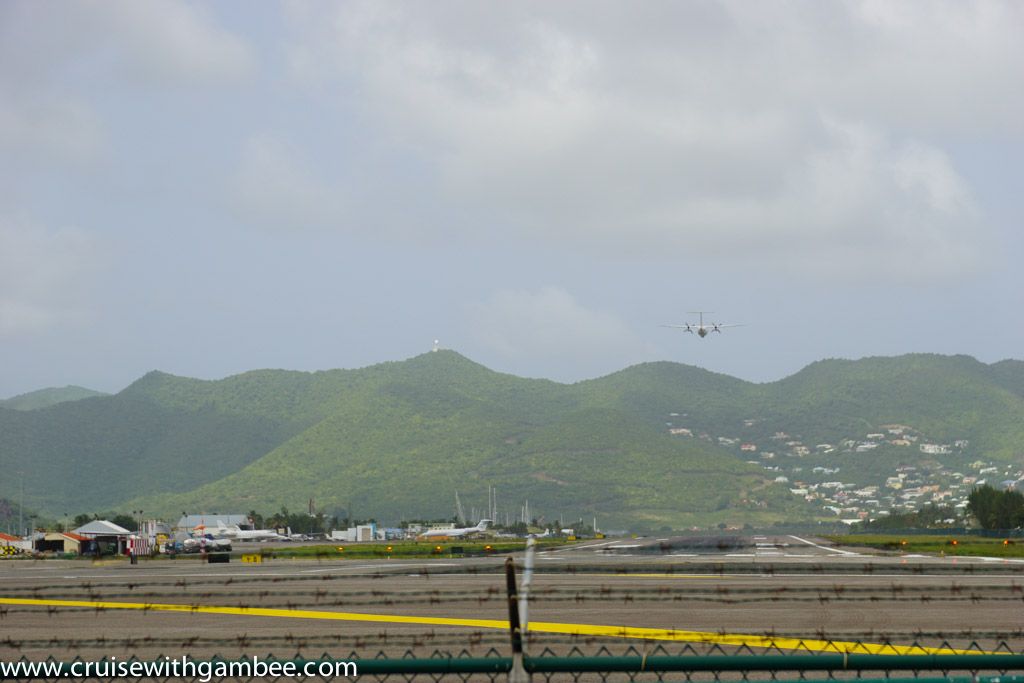 We kept on waiting, still some more planes coming in.
I love how well this picture came out, Mailman was a bit worried that the sailboat was going to interfere with the larger aircraft's path and they had to make a second go around. Oh, by the way this is the #3 most dangerous Airport in the world? I think, I should have taken more notes.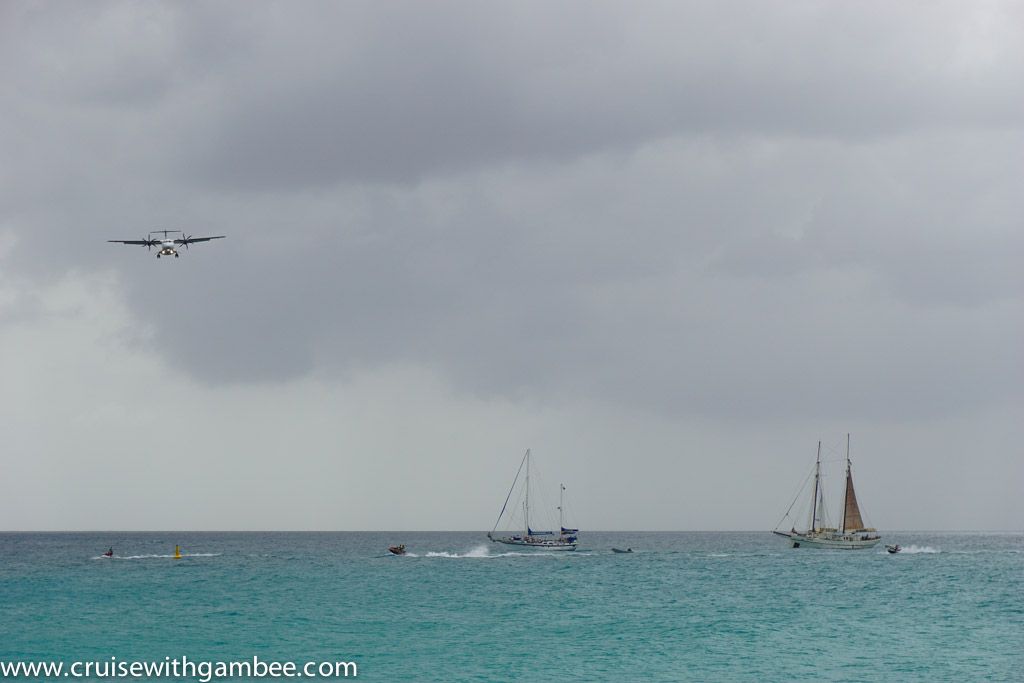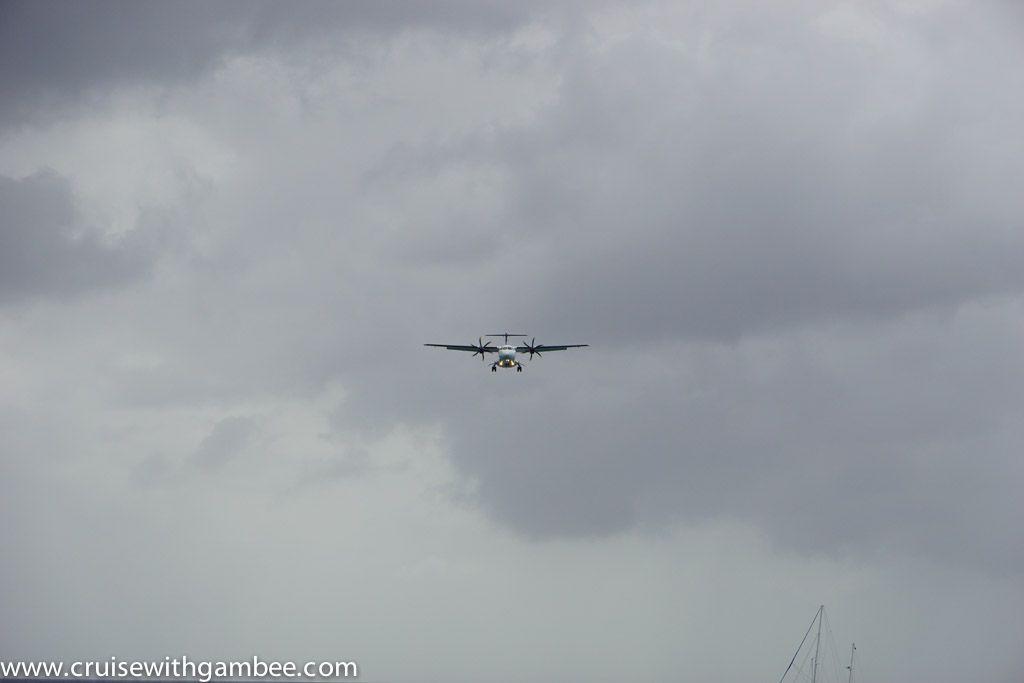 Gorgeous picture.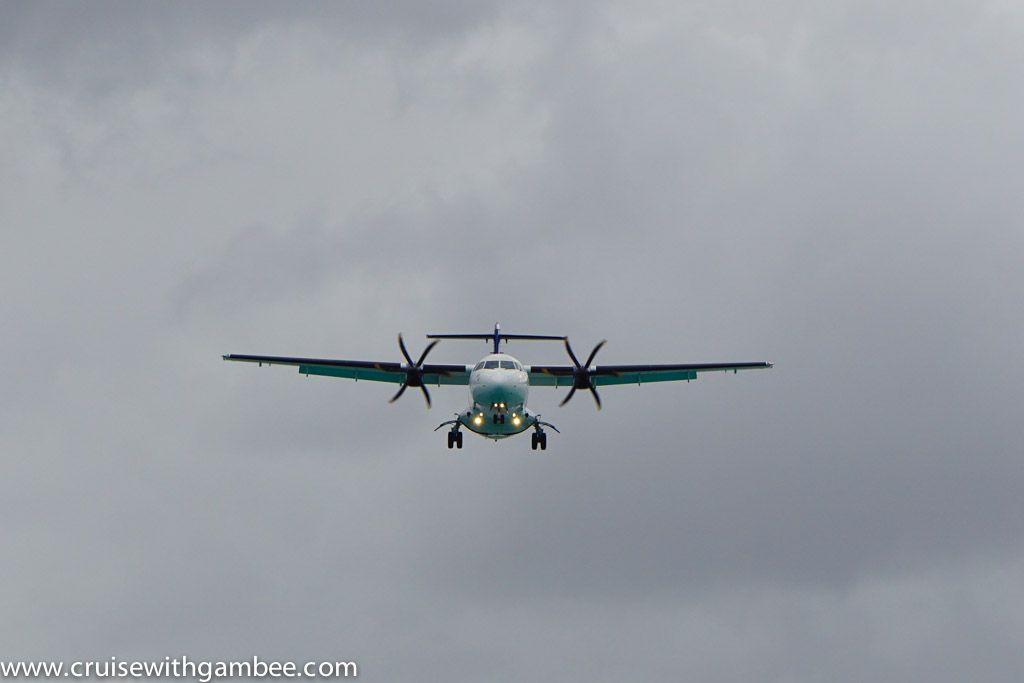 They fly so close to you!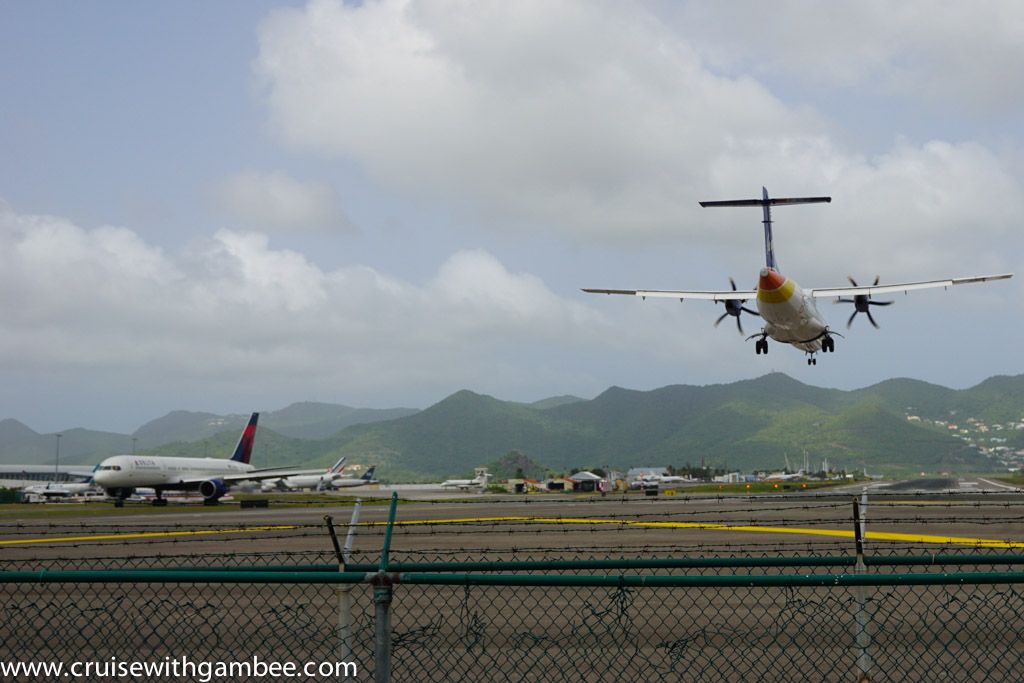 And there she goes
We kept our eyes on the horizon looking for a larger aircraft. When far, far away I noticed some lights and I yelled "There it comes" In Spanish. My uncle was having a having a hard time seeing it, but soon enough he spotted it.
How cool is this picture? Spot the plane?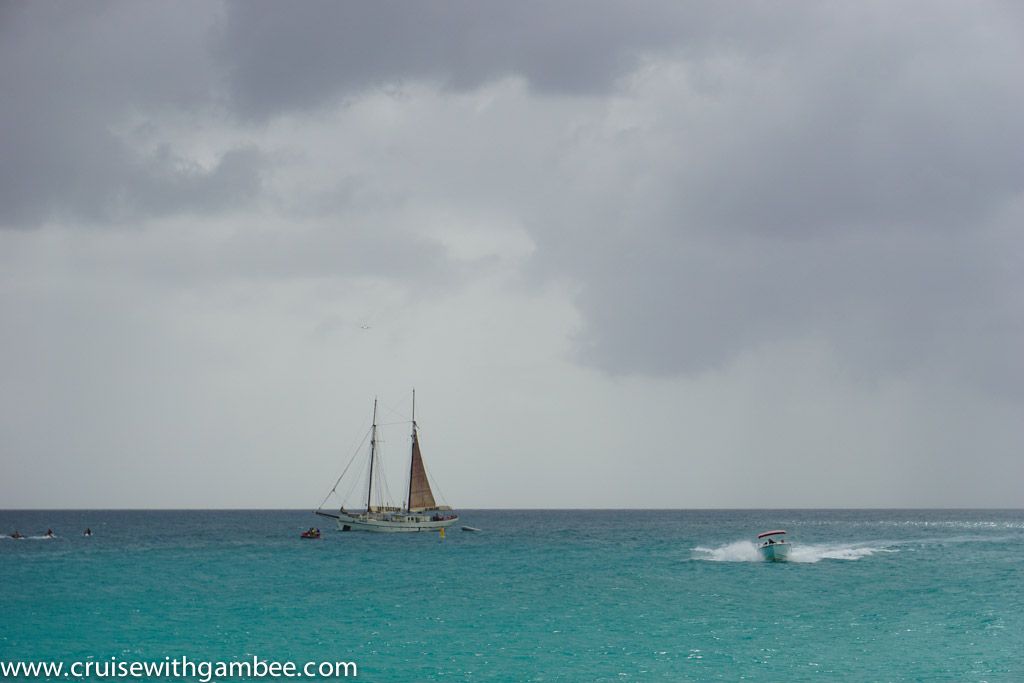 The sailboats moved out of the way.
Just so you know I took 900 pictures in 35 minutes. My new camera shoots 11 pictures per second in burst mode. It is very easy to fill a memory card that way. It was very hard sorting through all those pictures, and just choosing a few to share.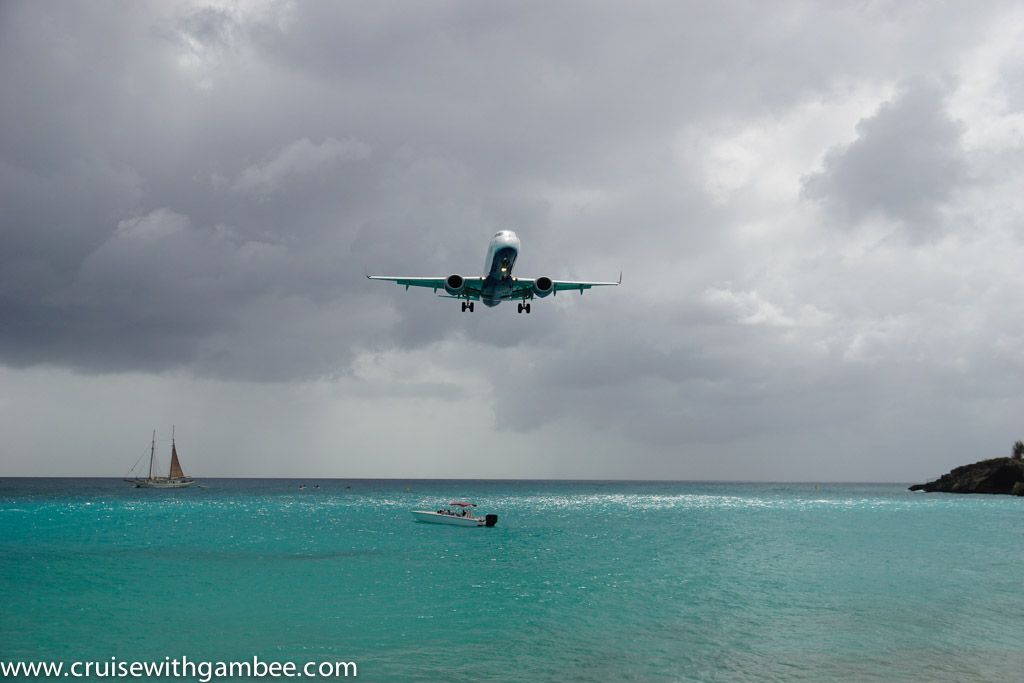 This is truly an incredible experience!
It was really hard to maintain focus, while enjoying the experience at the same time. I wish I had more planes, to play with. I can only imagine the results that I had gotten, if I had stayed there for 2 hours.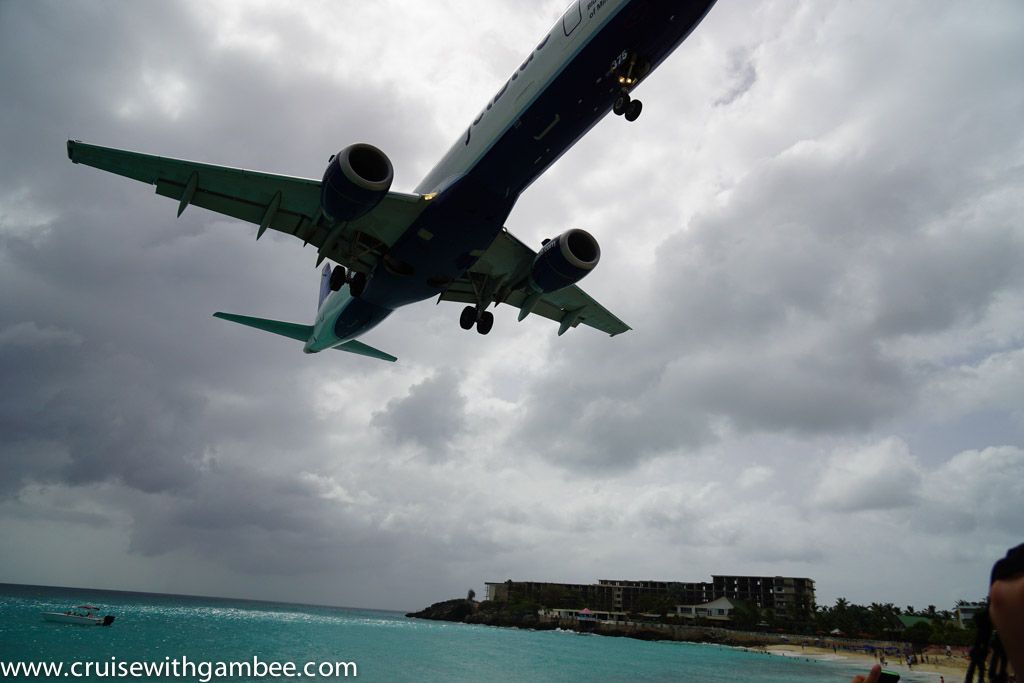 JUST AMAZING!!!
Pretty much all the cars stop every time an airplane lands!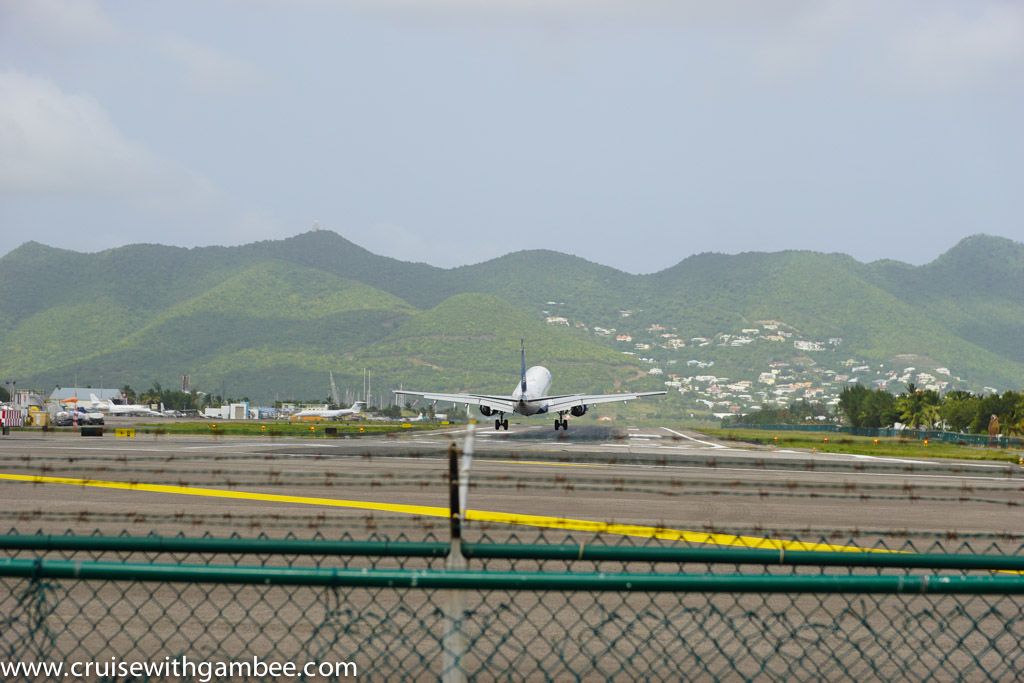 With the runway clear everyone started running towards the fence. Quite honestly, I had made no plans on being on the fence, it was my understanding that it was quite dangerous. But I looked at the Mailman and he waved at us to come, so made a dash and grabbed perfect spots. We noticed everyone grabbing for their dear life. So we did the same, but the thing is that I wanted to get everything on video, so I decided to hold on with one hand and grab the camera on the other hand.
Word of advice, just make sure you hold for your dear life on that fence! The winds get very, strong and very it also gets very hot!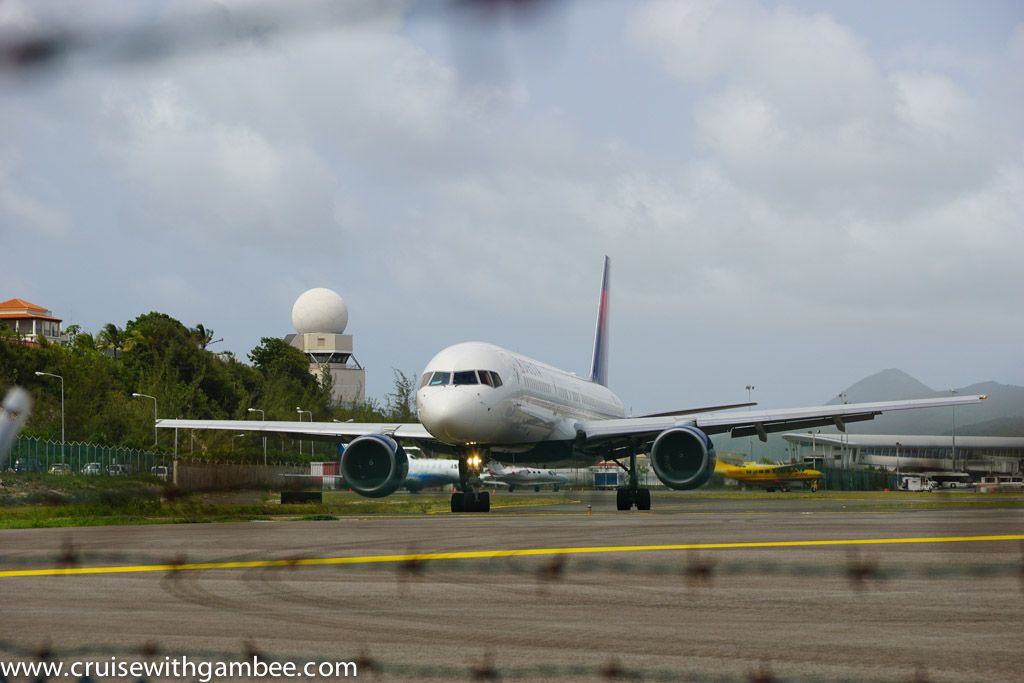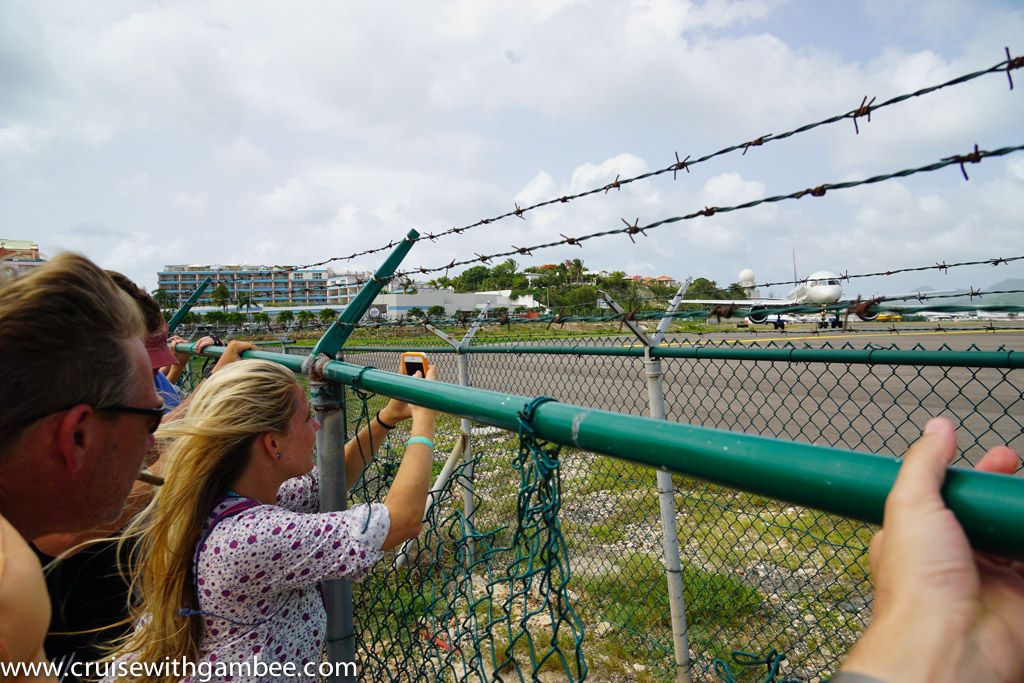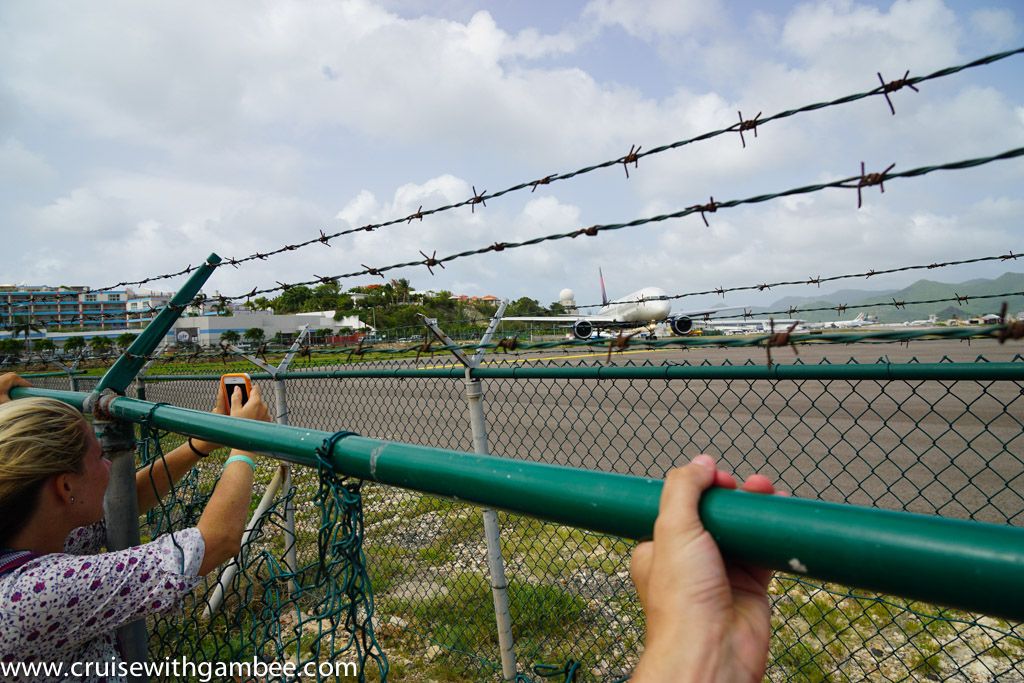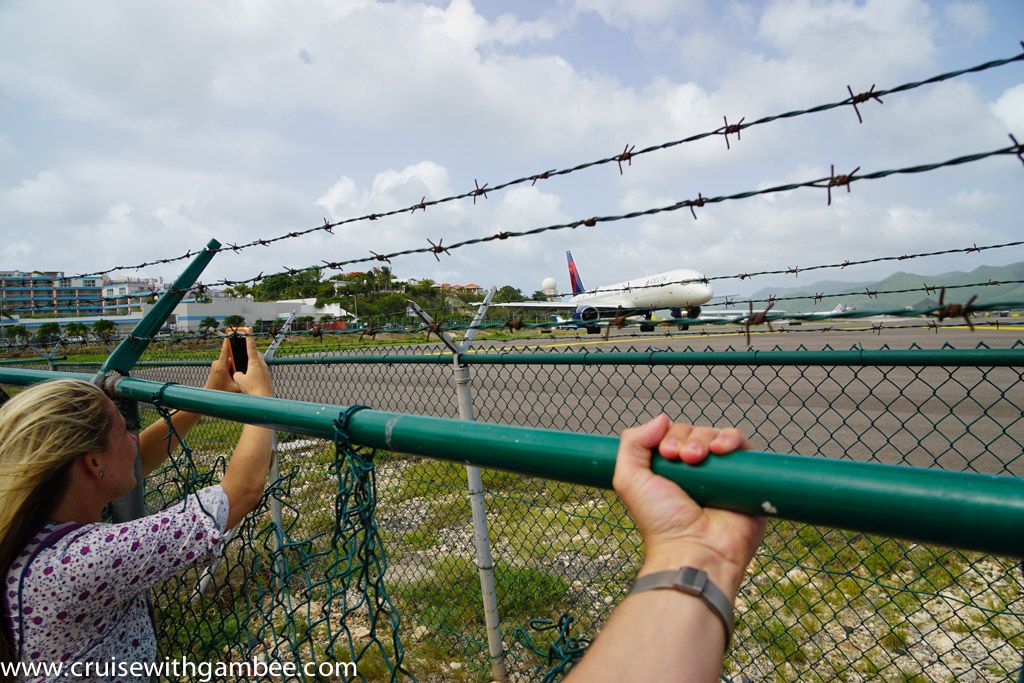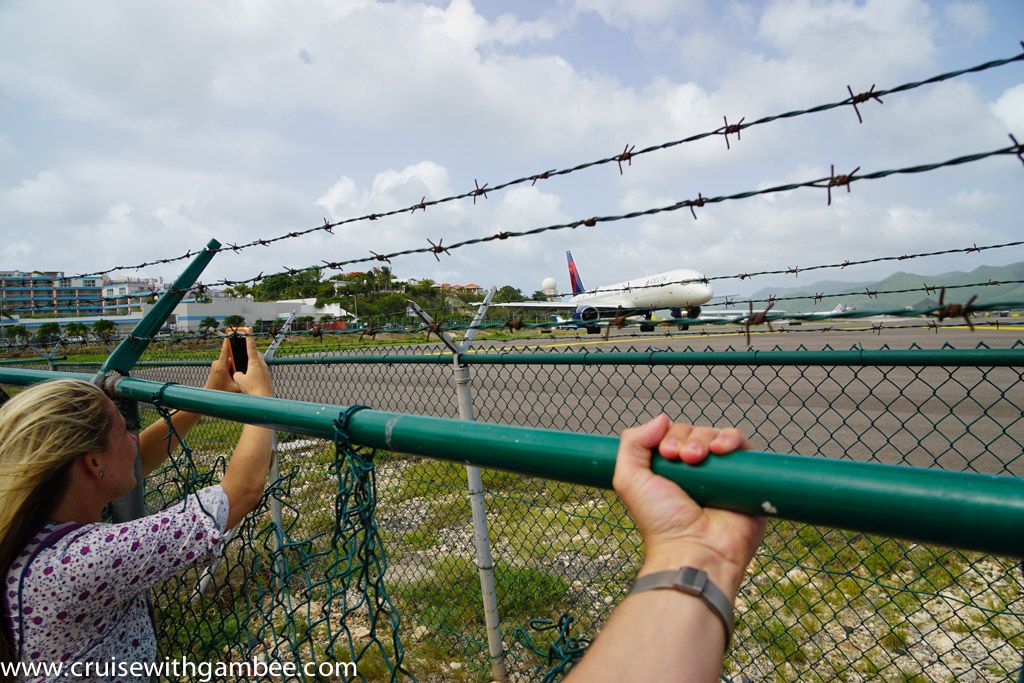 My uncle ended up putting the camera away before the plane blasted the engines, he feared either him or camera flying away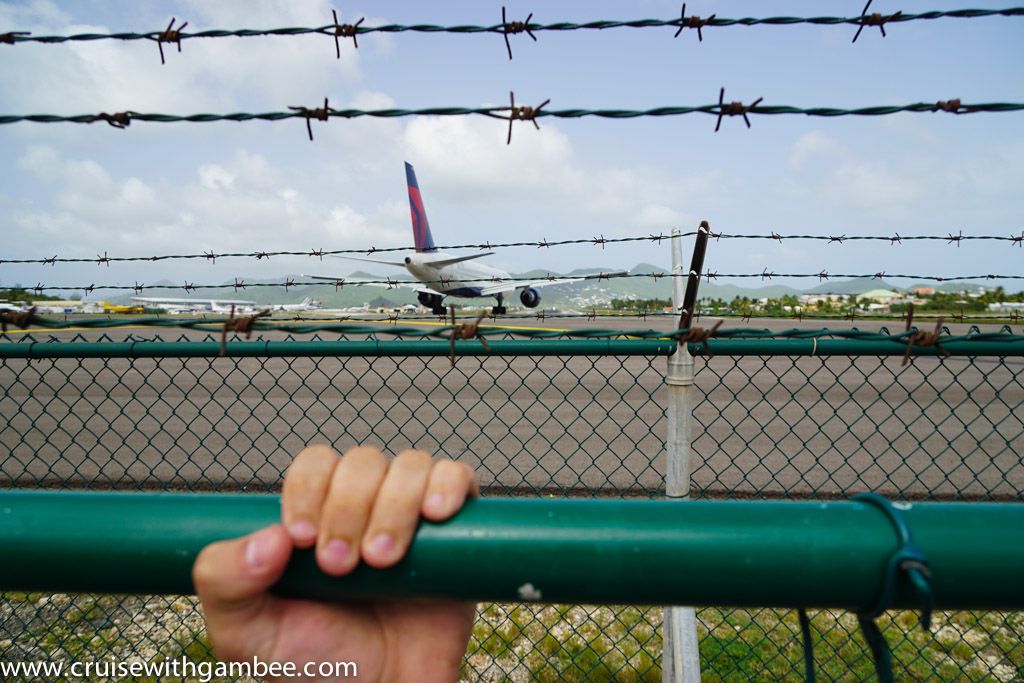 So here is one of the few videos I took on this cruise. You have to watch it!!!! If you don't see it, you're not my friend! No, just kidding. But for real, you have to see it!
Jetlinner taking off!!!
https://www.youtube.com/watch?v=HAgaOUr7c5Q
IT WAS AMAZING!!!!!!! LIKE THE MAILMAN SAYS, YOU GET A FREE FACIAL!!! THIS IS NOT TO BE MISSED!!!!!
This was the highlight of my vacation!
The amount of energy and adrenaline is ridiculous!!!!
We picked up mom. She was all worried because we were like 10 minutes late. I don't blame her.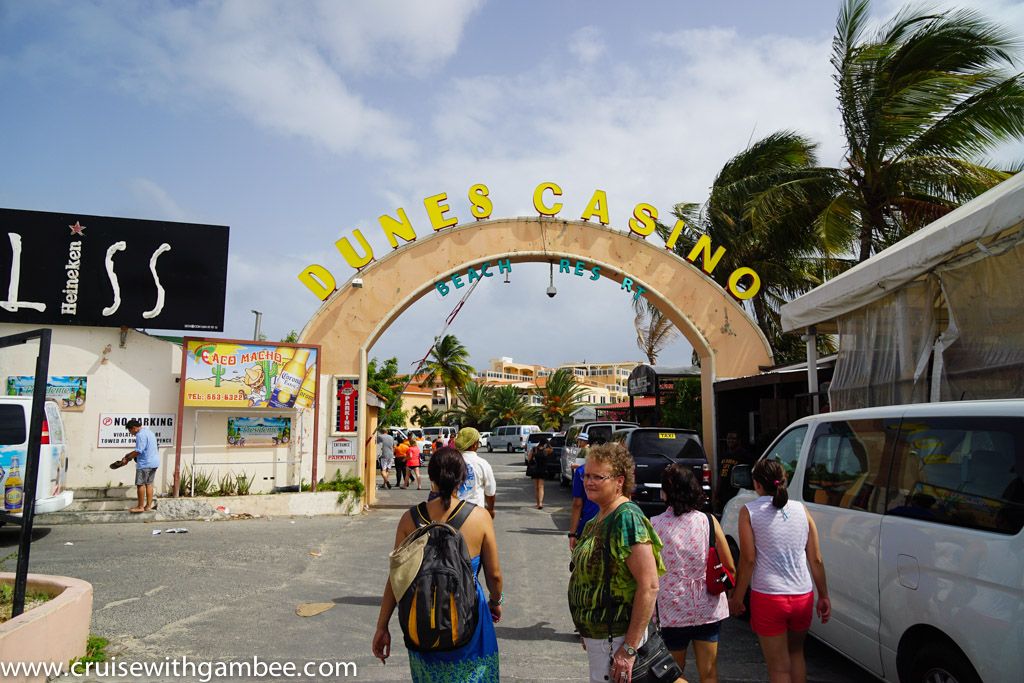 Then we got on the bus and headed towards the port. That is when everyone found out that we were out of punch
whoops!
I did take some notes about St. Maarten, so I will share them now. The most ships, the island has held in one day were 11 ships with a total of 52k people. It was a very chaotic day and a lot of people complained, the island now tries to limit the amount of ships in port to 9 ships.
There are 3 currencies in the island, the French side uses the euro, the Dutch side uses Gilda and of course dollars are accepted anywhere in the island. St. Maarten depends 100% on tourism. There is no other industry to fall back on. On the radio talk with the politicians, they were talking about how making the off season more stable should be one of their main focus points. I am not sure how one can accomplish that…
Everything on the island is imported, and water now comes from 2 desalinization plants. The entire island is duty free, so purchasing diamonds and such might be a nice idea. There is a total of 134 nationalities living on the island. Schools teach 4 languages, Dutch, Spanish, French and English.
Tourist wise, the French side is more peaceful, while the Dutch side is more friendly.
And last but not least, the Mailman is 60 years old, but looks about 38. He says the secret to that is to have 2 wives, and plenty of rum in your life
.
Then we stopped at our last stop, it was a good place to get some nice pictures of the bay and the ships. Everyone got off and we took a bunch of pictures.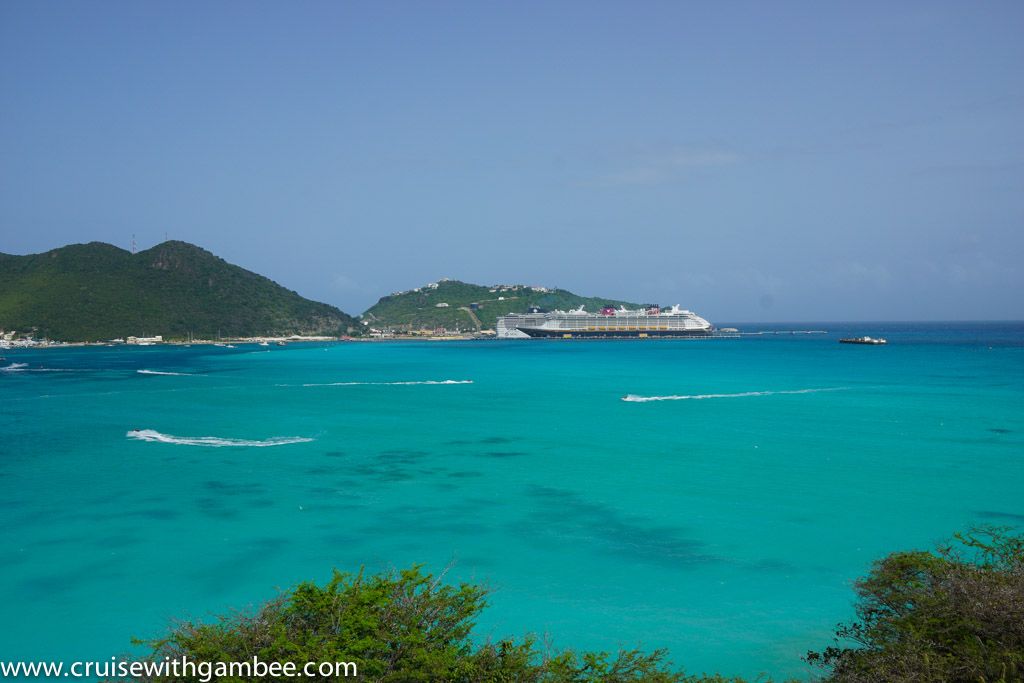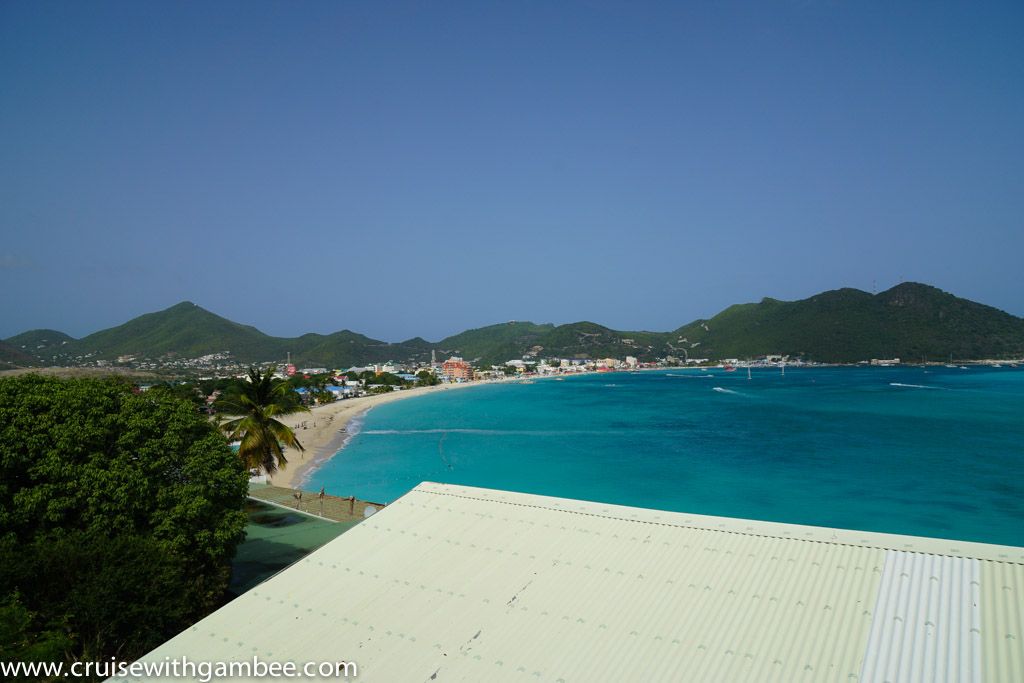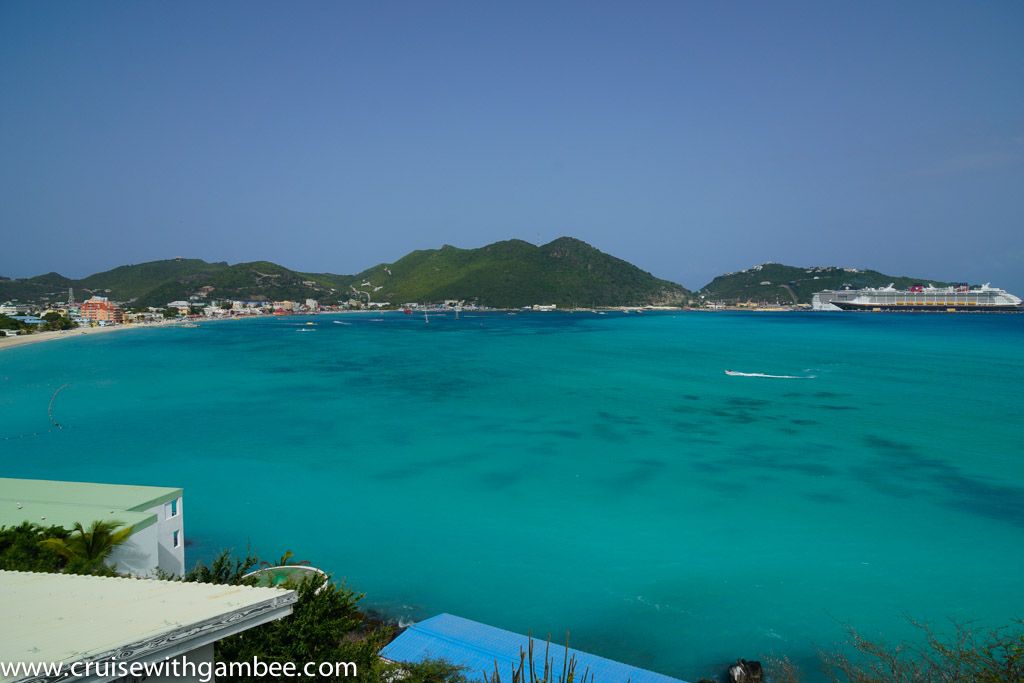 I think that could be another nice option for a beach when we return.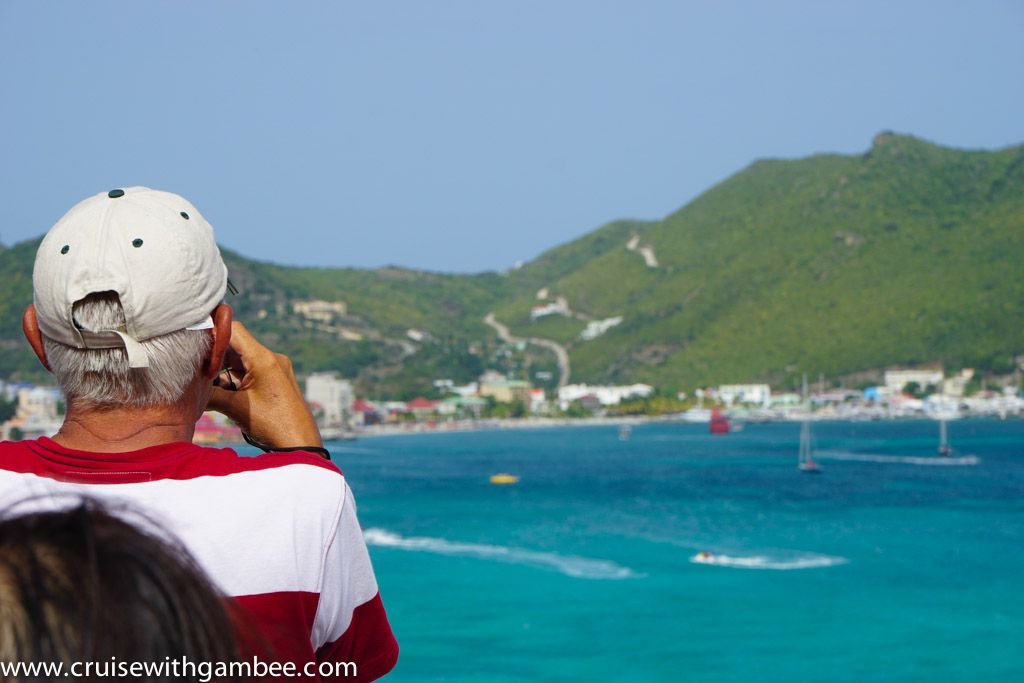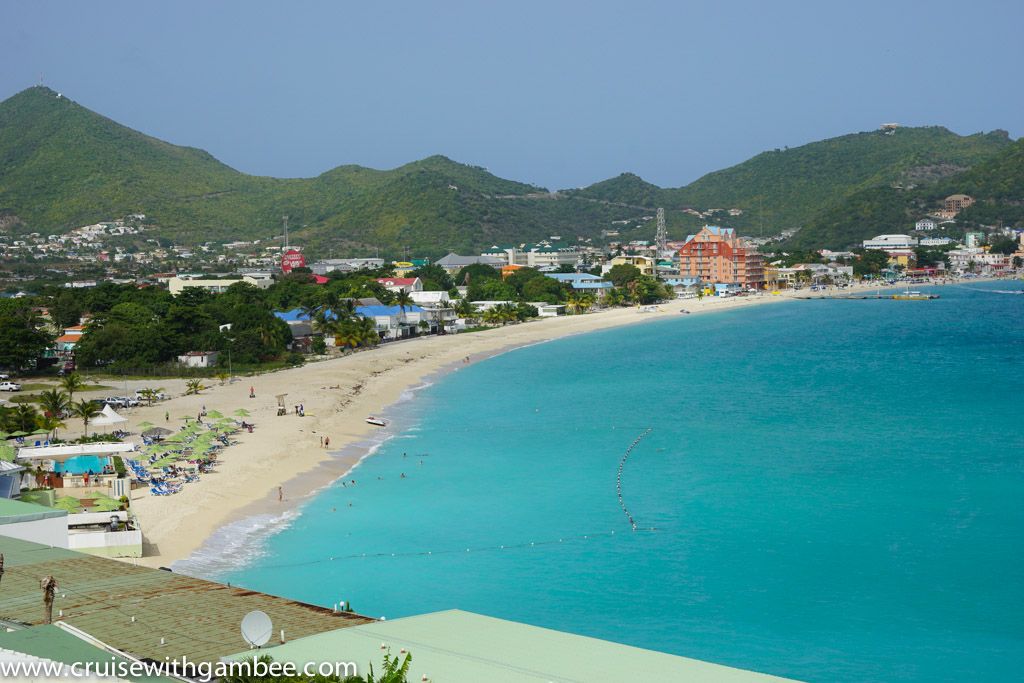 We got back on the bus, and the first thing my uncle does is blame us for sitting on the baguette. Guess who sat on it? It was him!
lol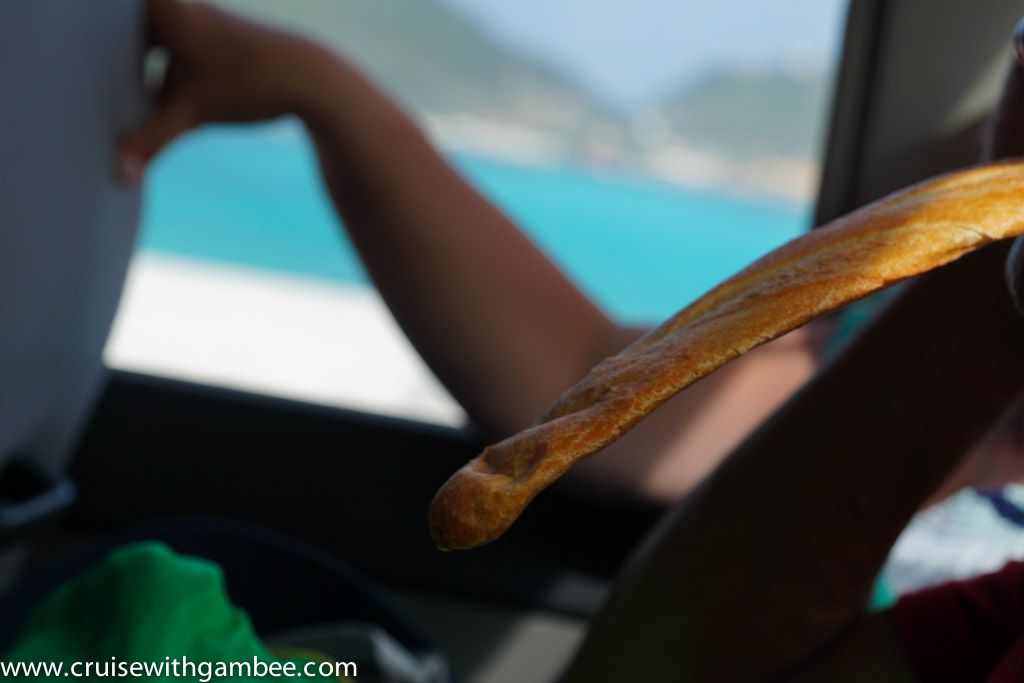 We kept on driving towards the docking area. There were elections signs everywhere, most of the pictures got running because of them.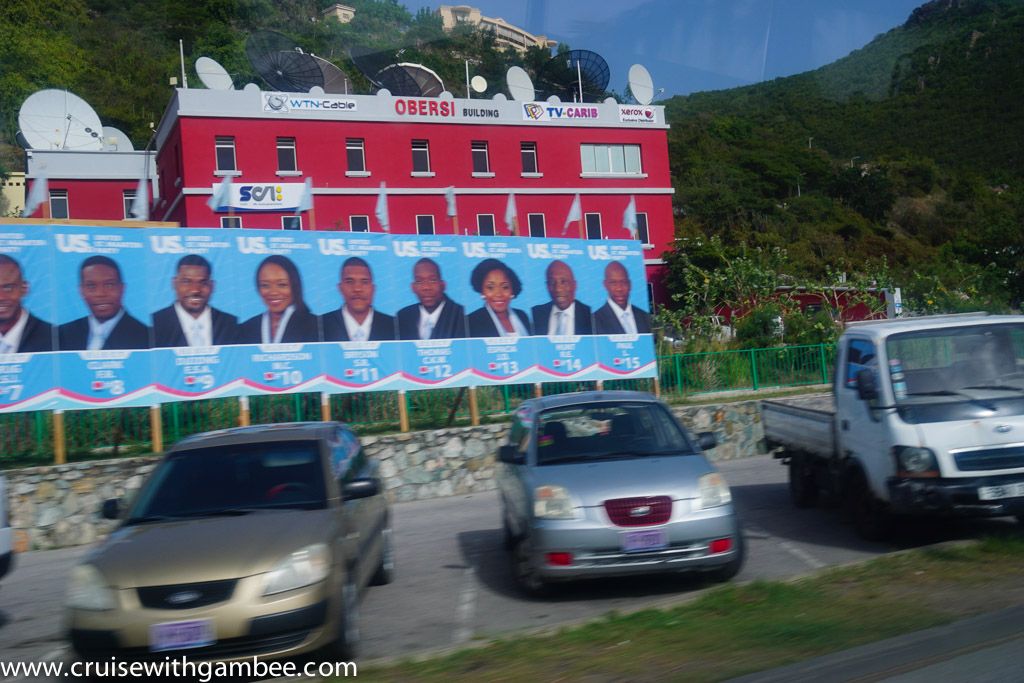 He dropped us off with a little over an our left before departure. We gave him a tip and thanked him for everything.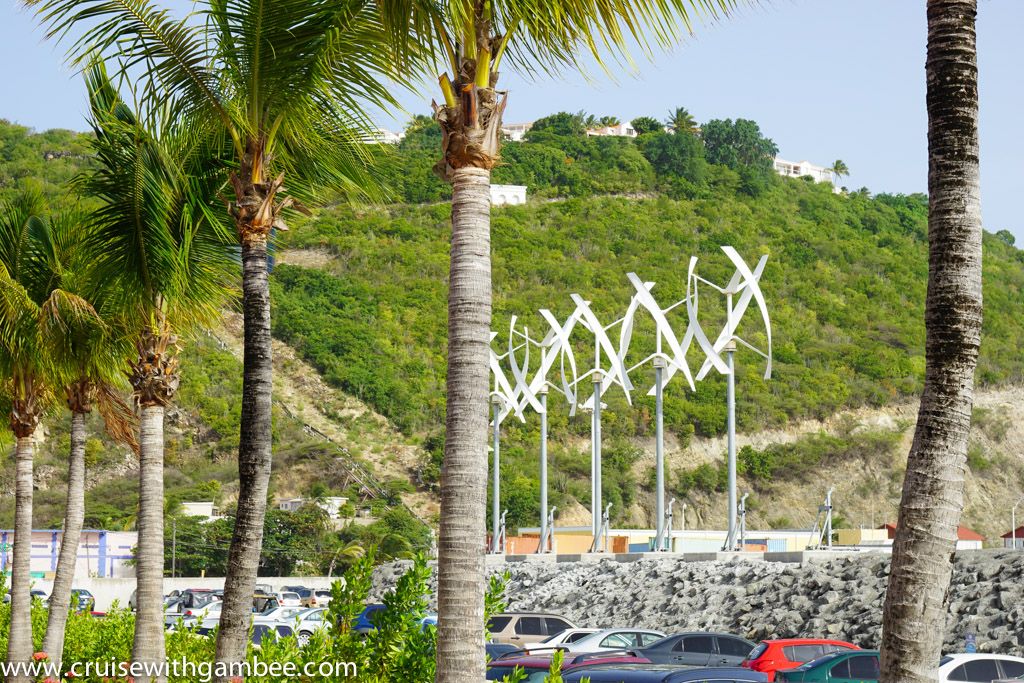 We started walking towards the internet store.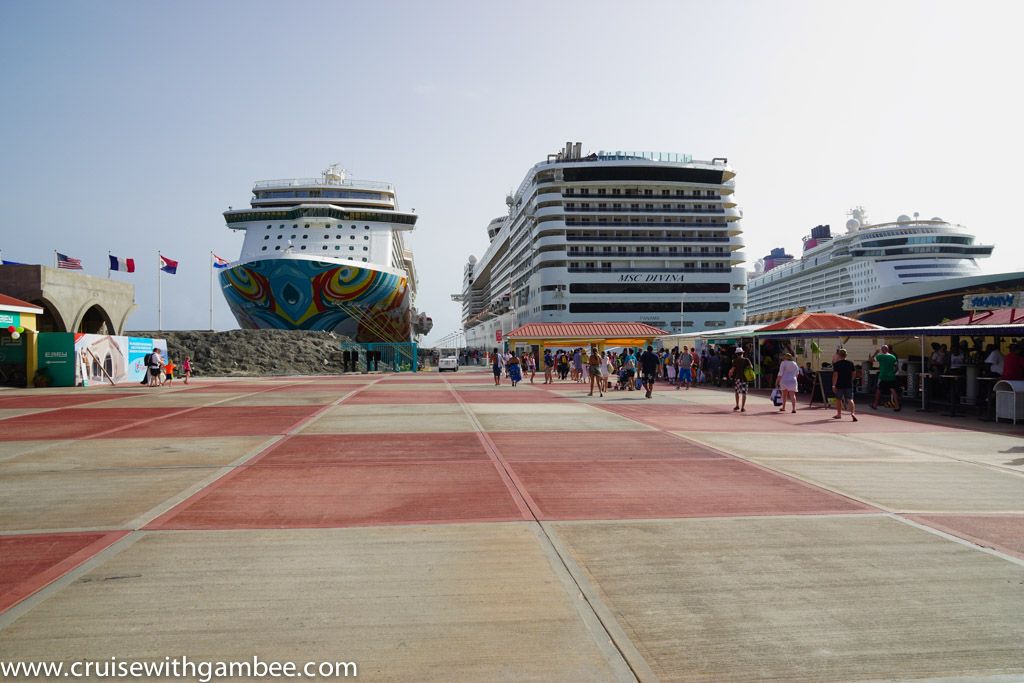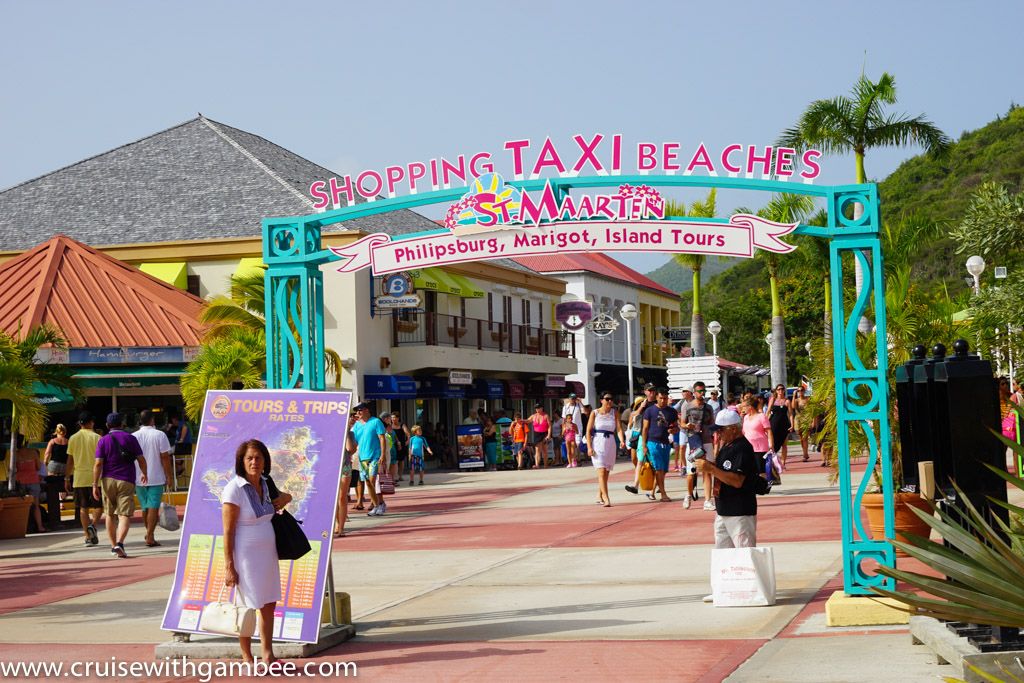 We purchased 2, 30 minute plans of Internet. I forgot how much it was. I think $5 each? We sat there. Mom did her thing and I did mine. I had a bunch of emails to go over and check on the blog to make sure that everything was going good. Thankfully everything was running smoothly.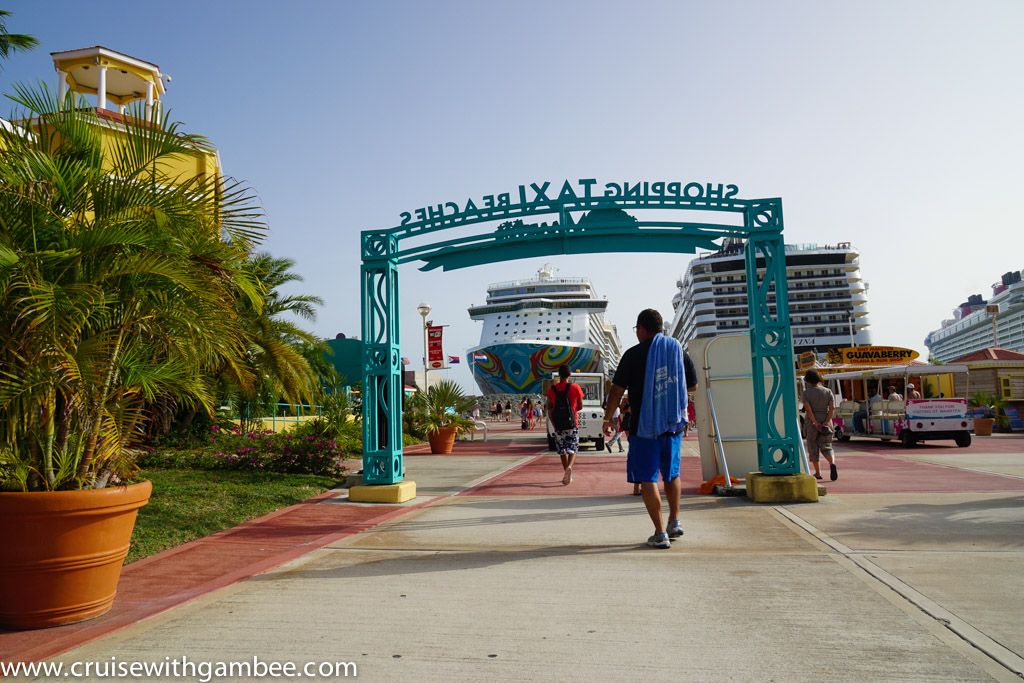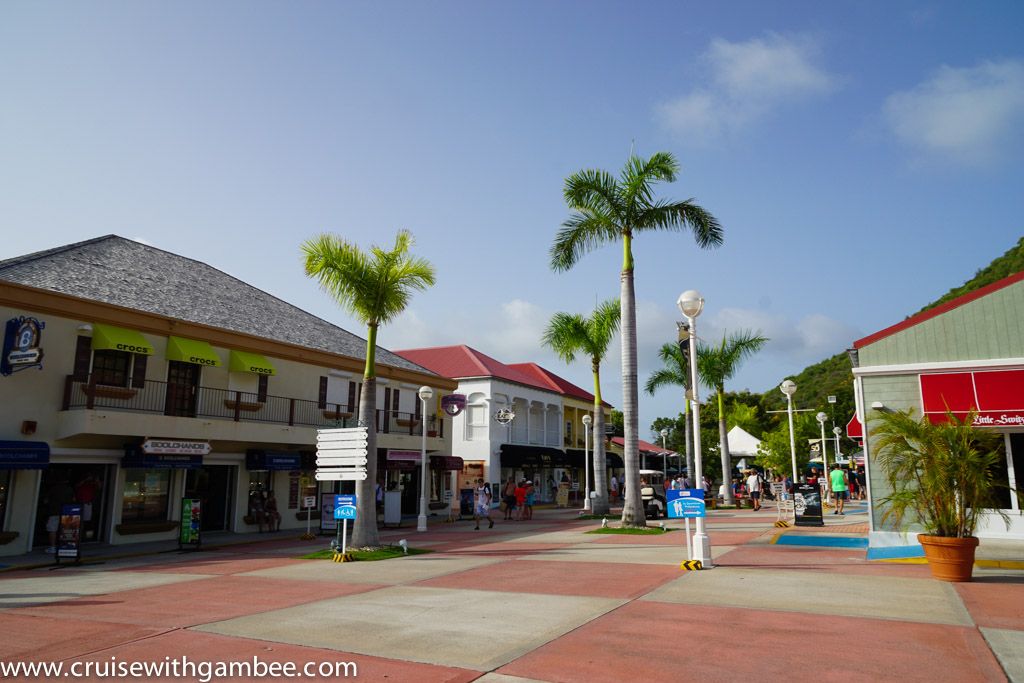 Then we went shopping, well they went shopping. I sat on the floor by the shade and waited for them. I think they bought a few shirts and such.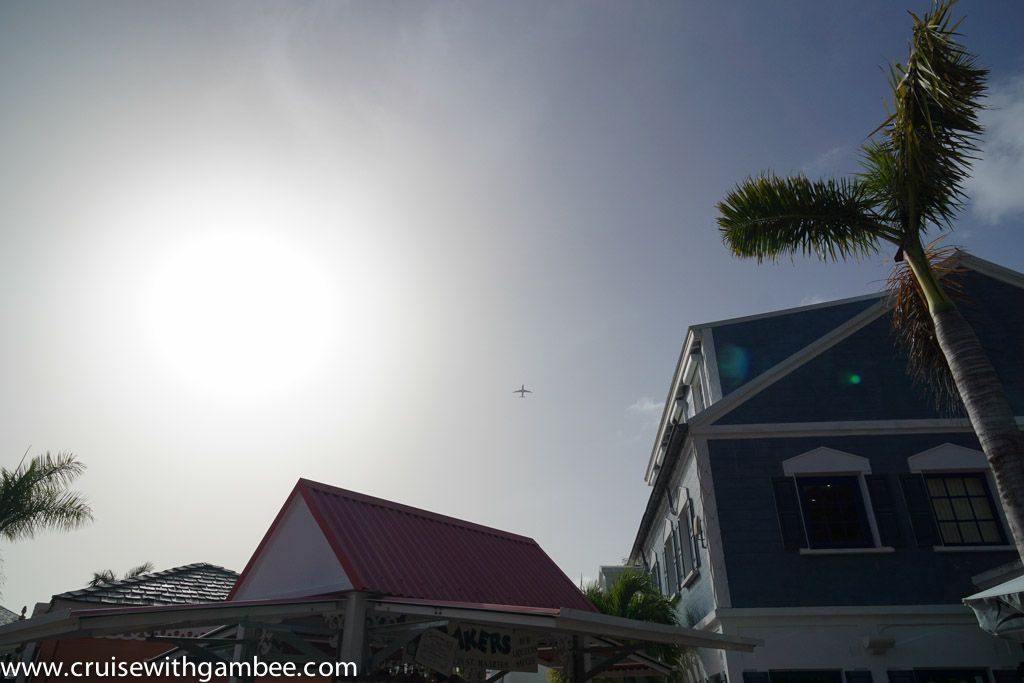 Check out the Disney Shore excursion bus, they go all out!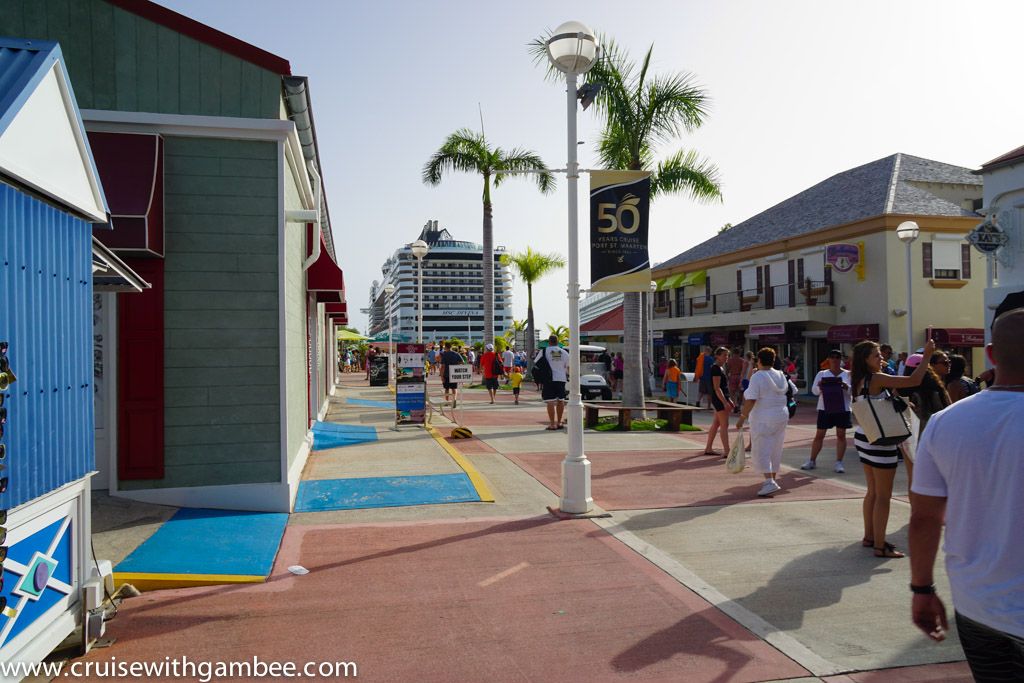 I lie, I did buy something. My memory card was full by then and I needed to purchase a new one to make sure that I got enough space for the rest of the trip. I have not mentioned this, but throughout the cruise I was petrified that if the memory card failed I would lose absolutely everything. But what could I do? Just pray that no other issues came up.
I think it was like $36, not super overpriced, but still more expensive than home.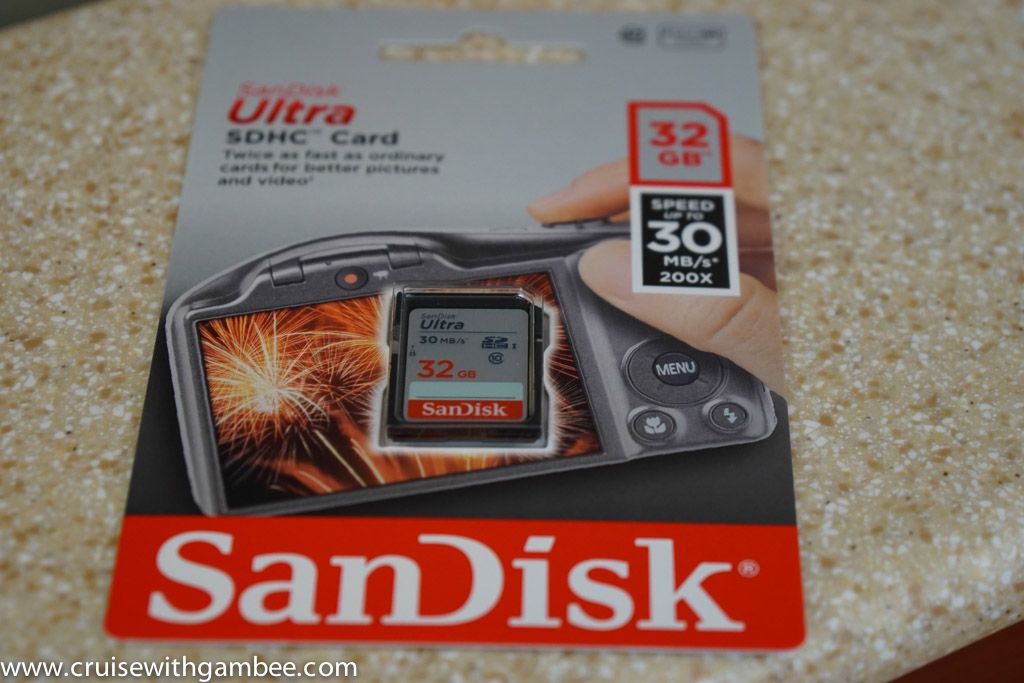 After that we started walking towards the ship, it was getting close to all aboard, and I wanted to avoid the late rush.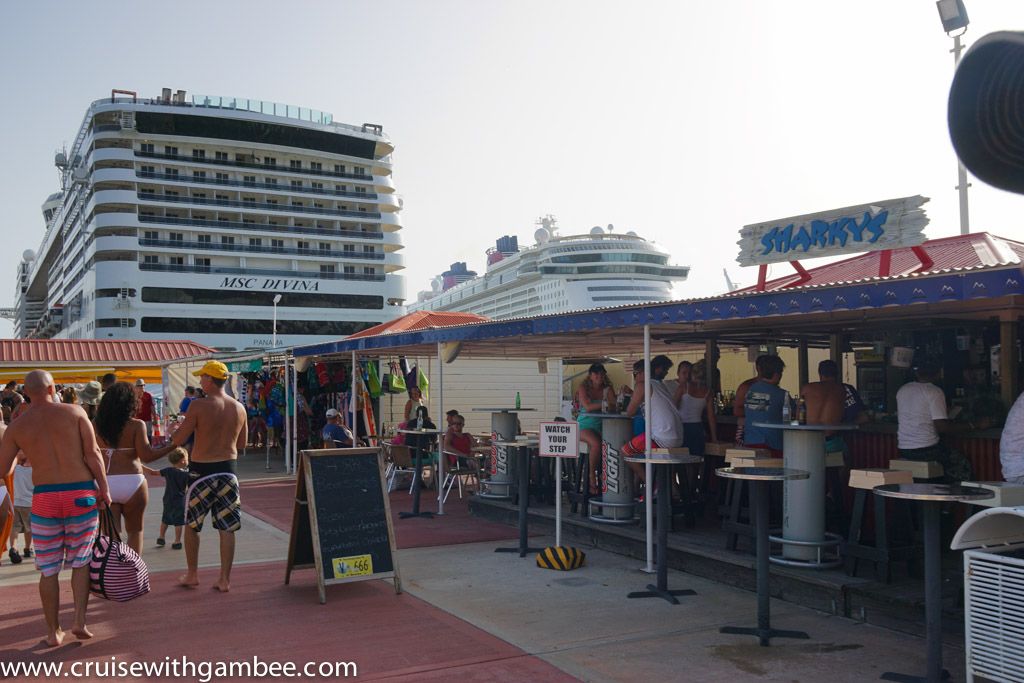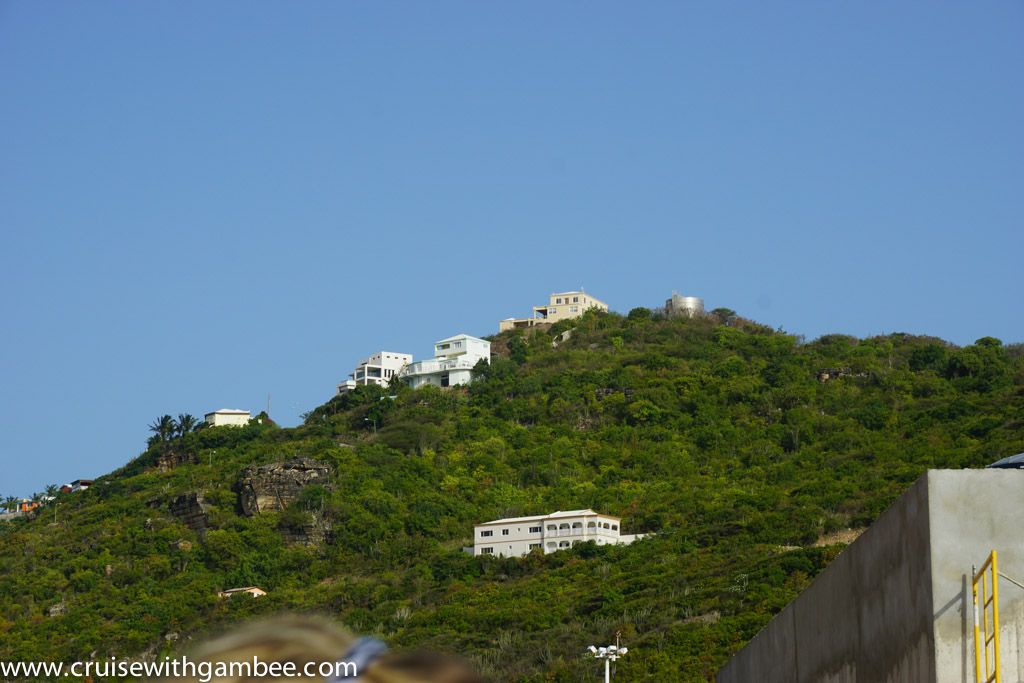 With everyone happy with their purchases we boarded the ship.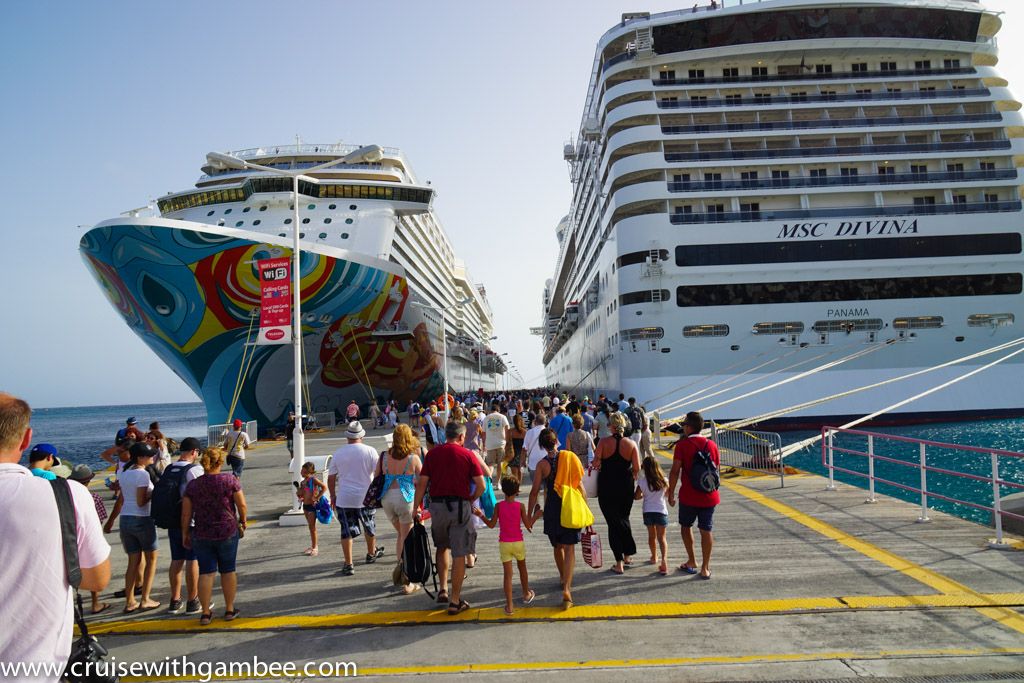 Divina looks much larger by being backed in.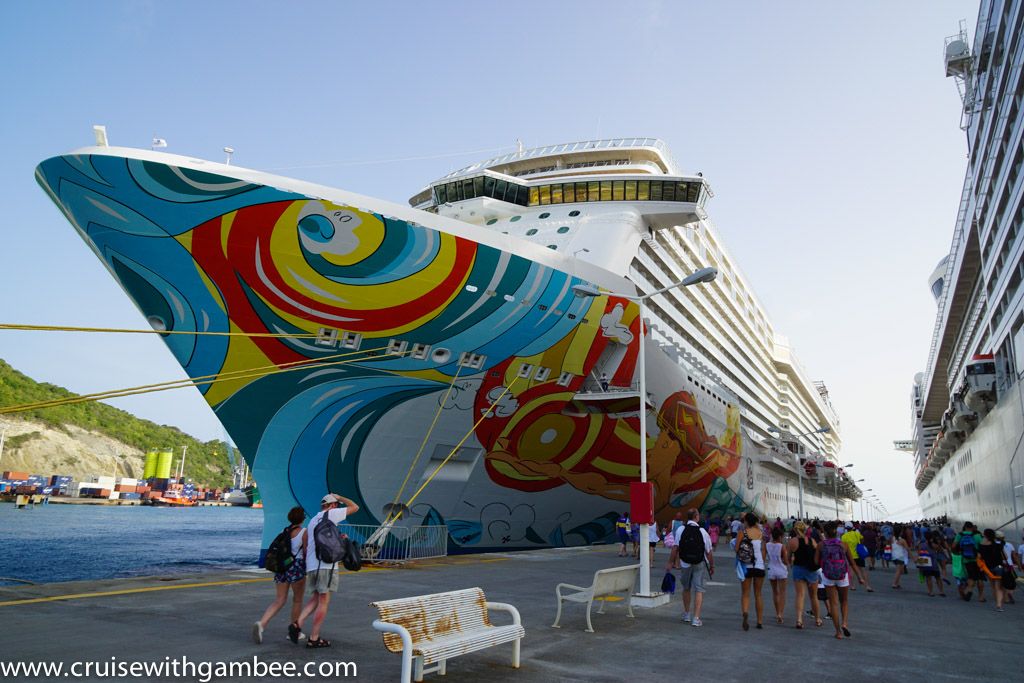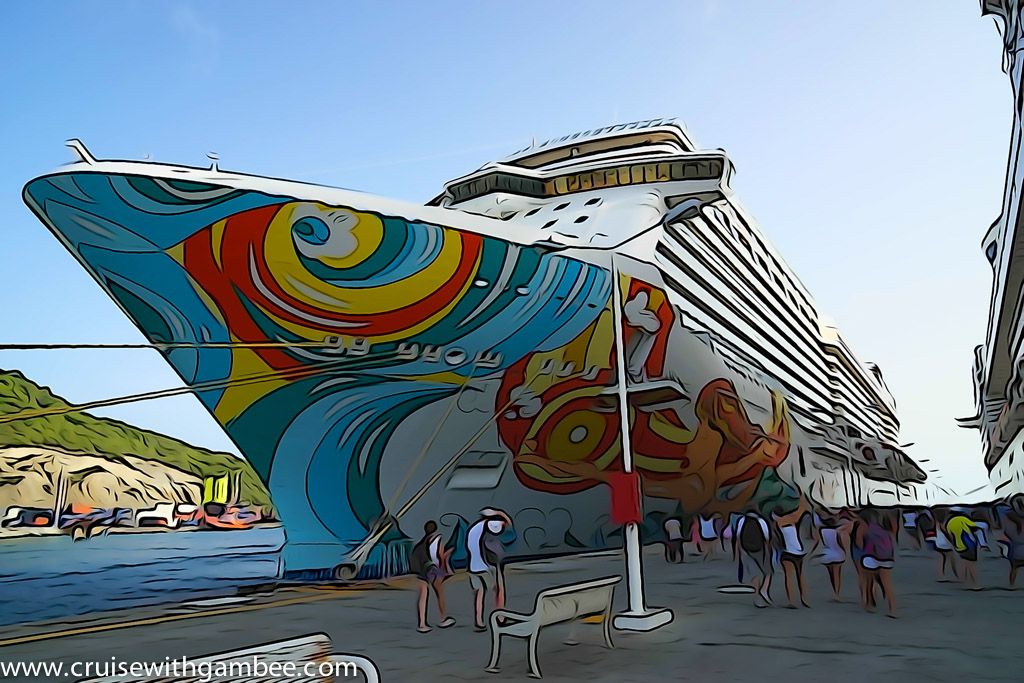 He was wearing the same shirt that my uncle bought, it looked really good on him.