Once on board MSC Divina, I noticed that MSC left a birthday card for my aunt. It was nice of them to do that. Inside the card was a letter. I will sum up what the letter said… Come spend money in our specialty restaurants and we will give you a personalized birthday dessert on us….

Ummmmm

, Yeah, that is not a birthday gift MSC! No, thank you! It's simply a way to get us to spend money. We could also get that personalized cake in the MDR, I noticed it done on another table.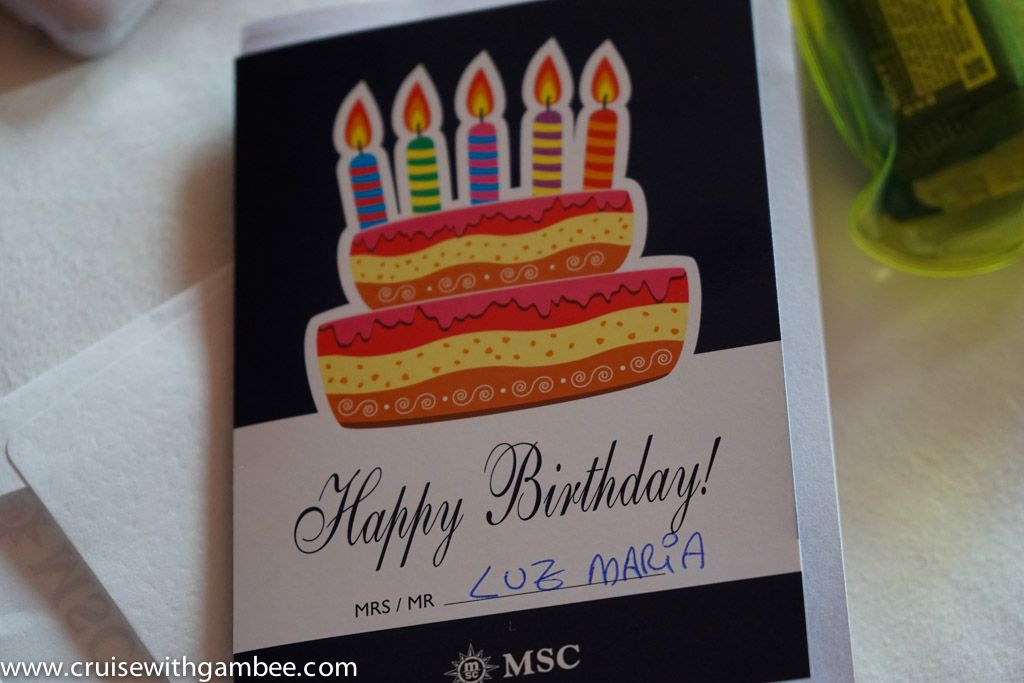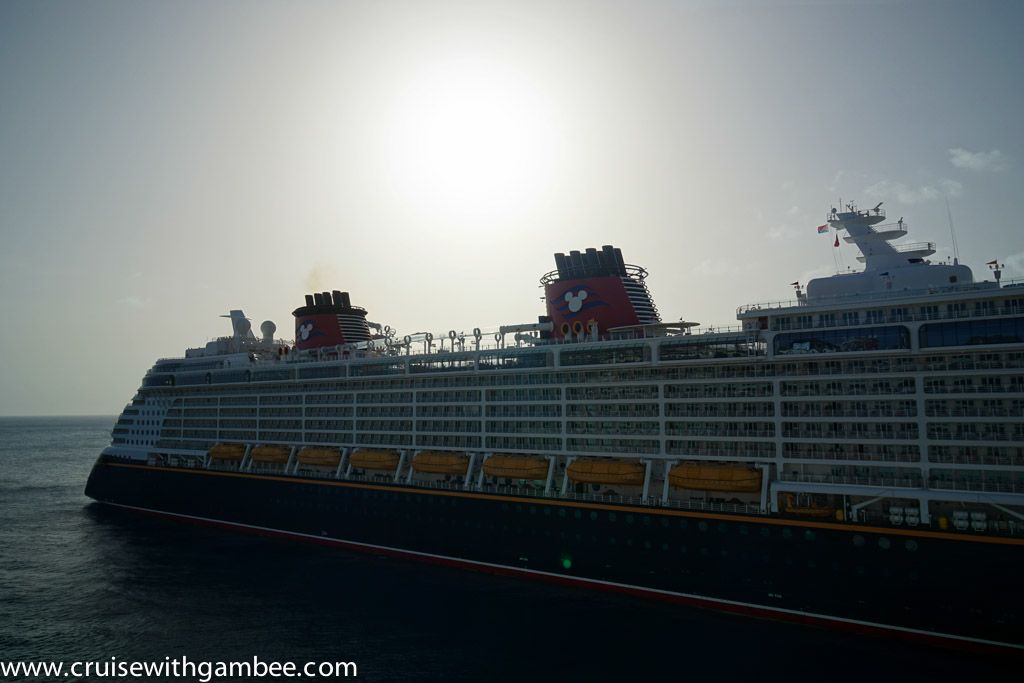 My uncle tried on his shirt. He was really happy with it. Everyone was having a blast laughing at the shirt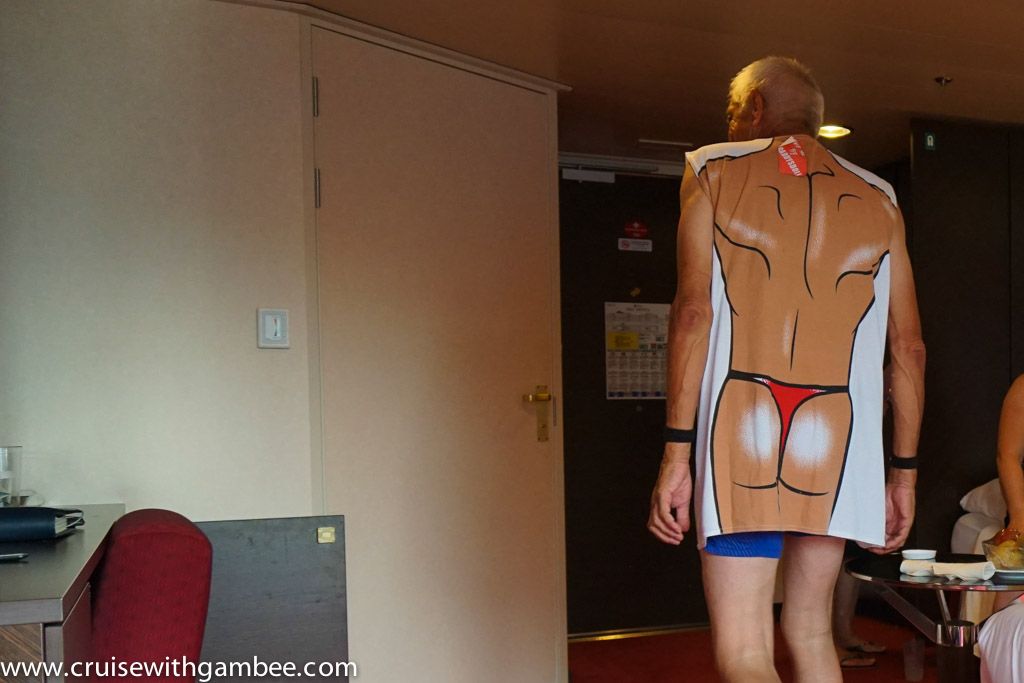 We went to the indoor pool to benefit from the shade in the Jacuzzis.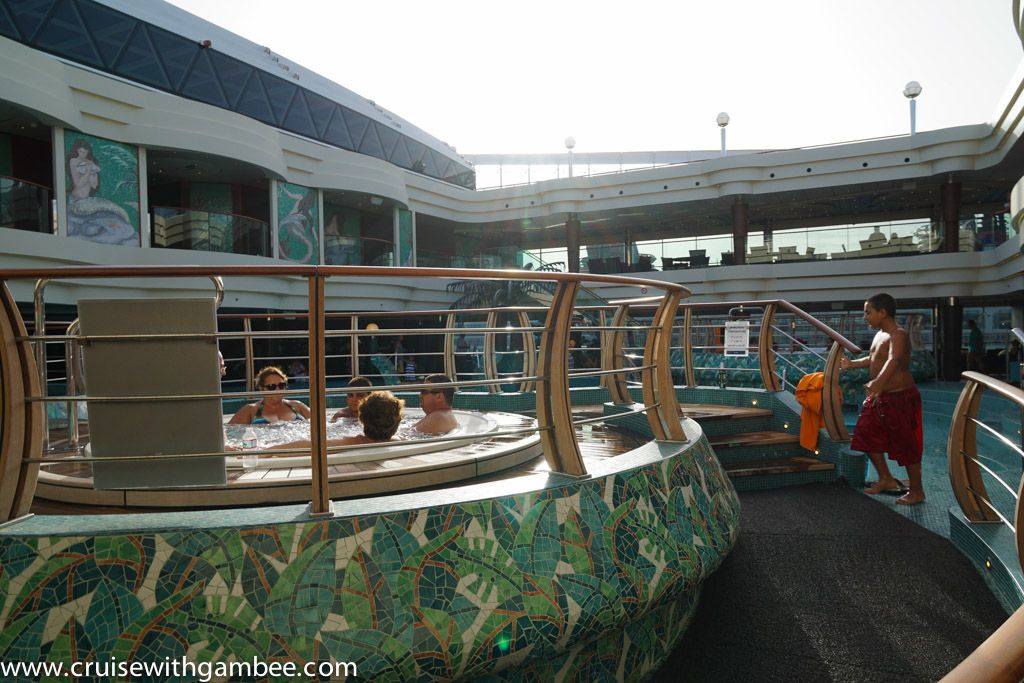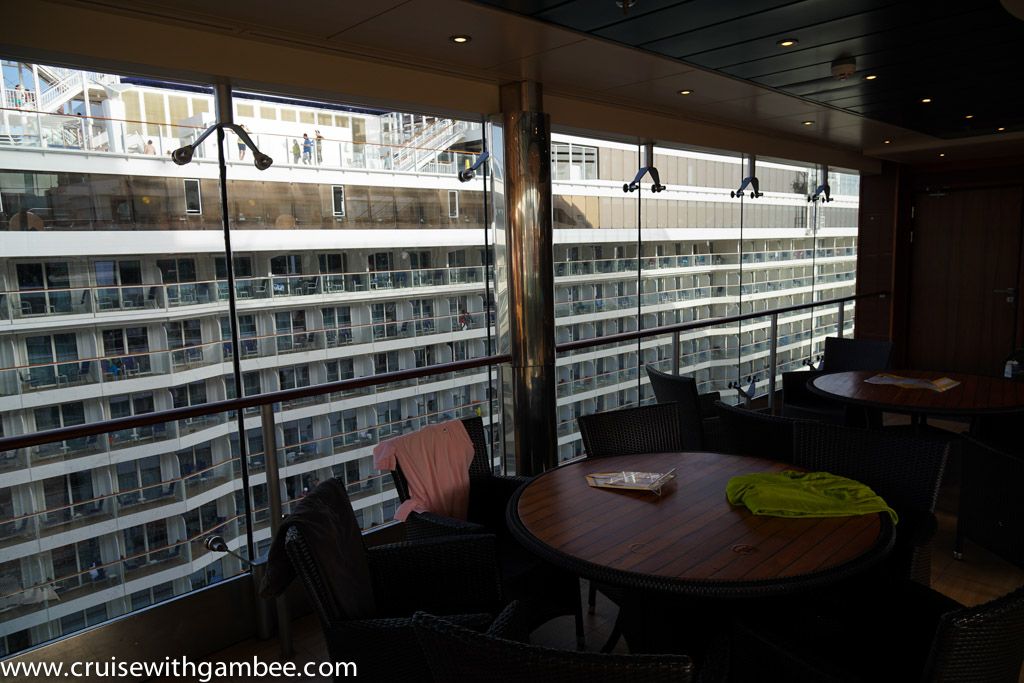 That "caution wet floor" sign works fantastic!
. The lighter color surface is the one that my mom slipped on. But they are both quite slippery.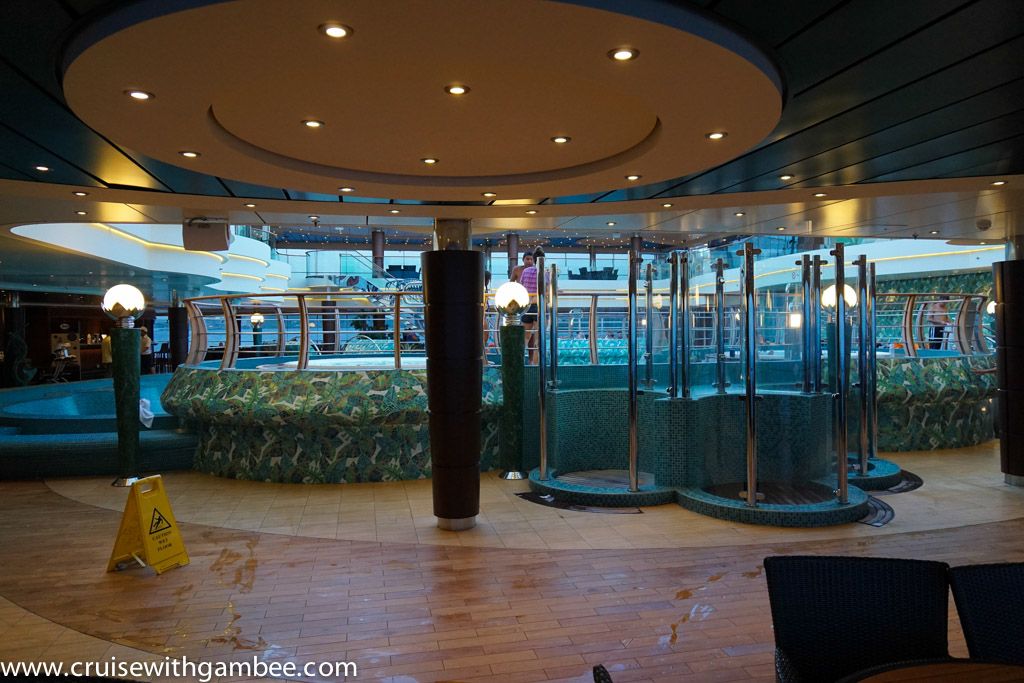 It was calling our names!
This area is really nice, very calm on port days, this could a perfect kid free area.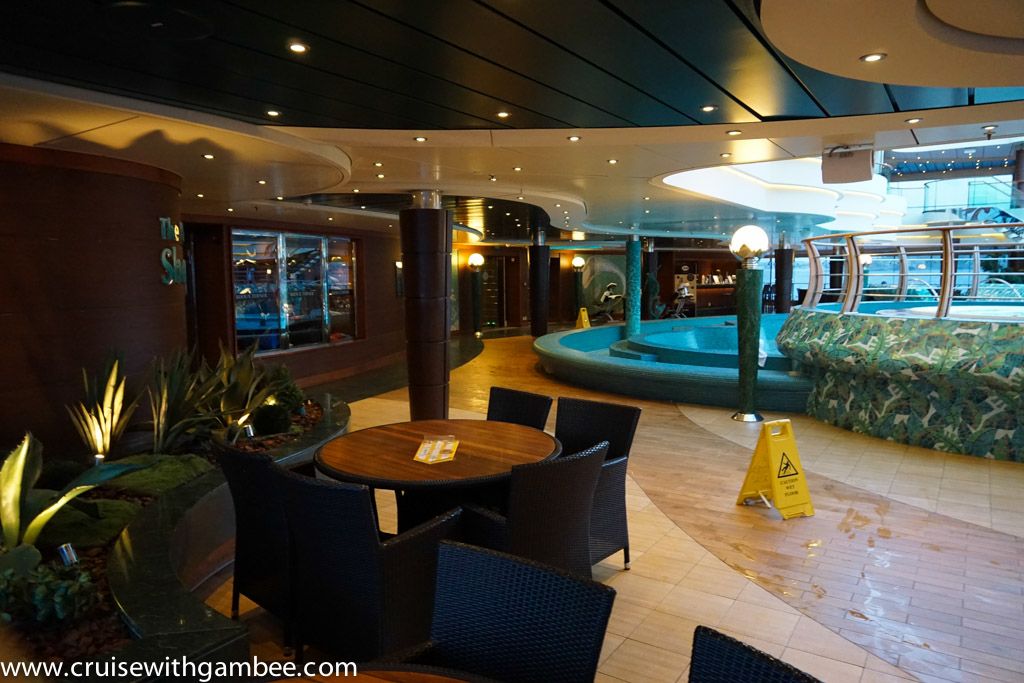 After some time we went back to the room to shower and whatnot.
You can notice my closet over there taking shape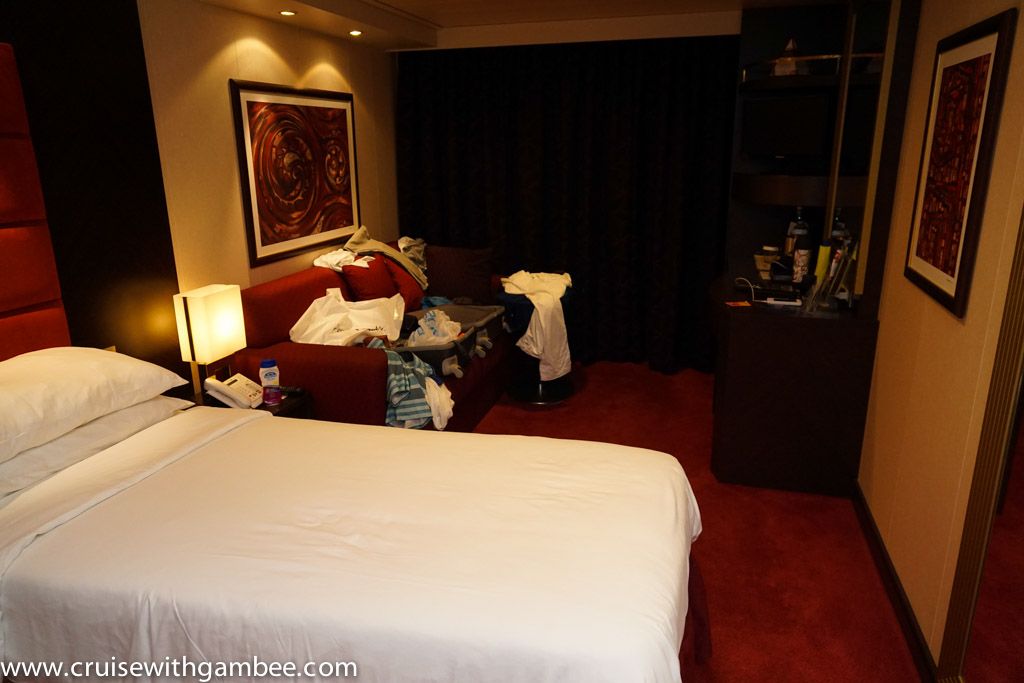 While we were on the balcony Getaway and MSC Divina left port. We relaxed and took some nice pictures.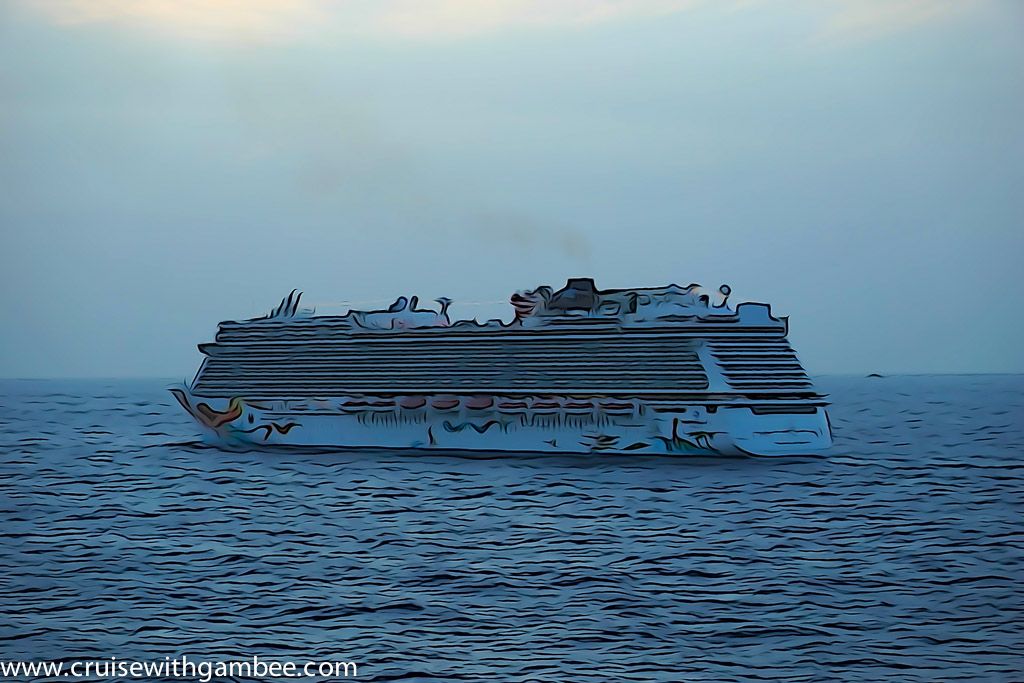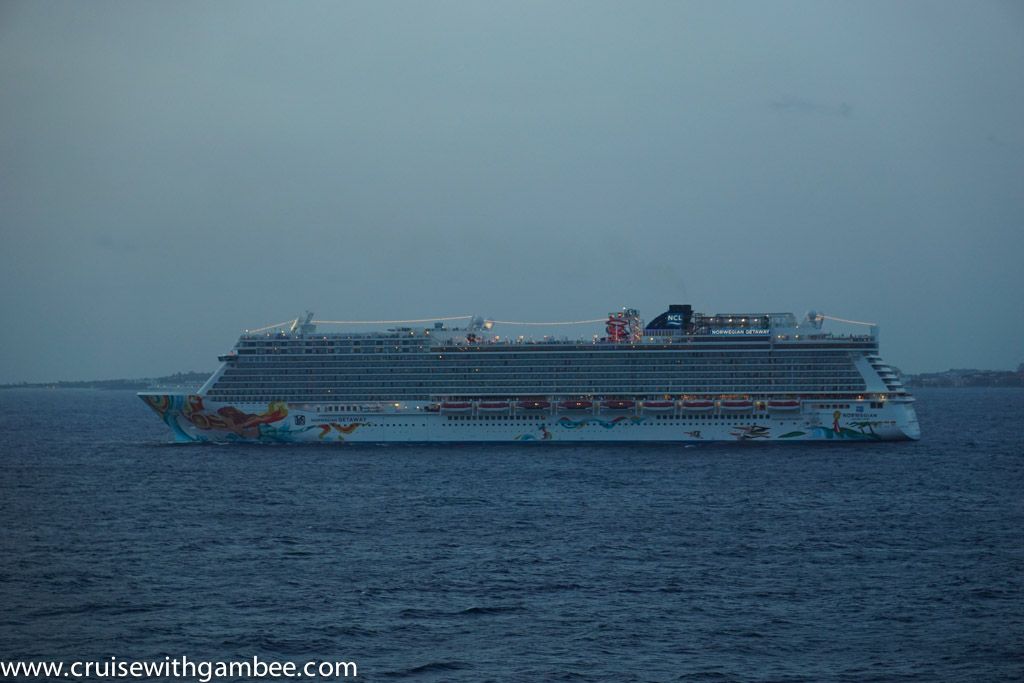 I tried calling out for them, um yeah sure it worked… LoL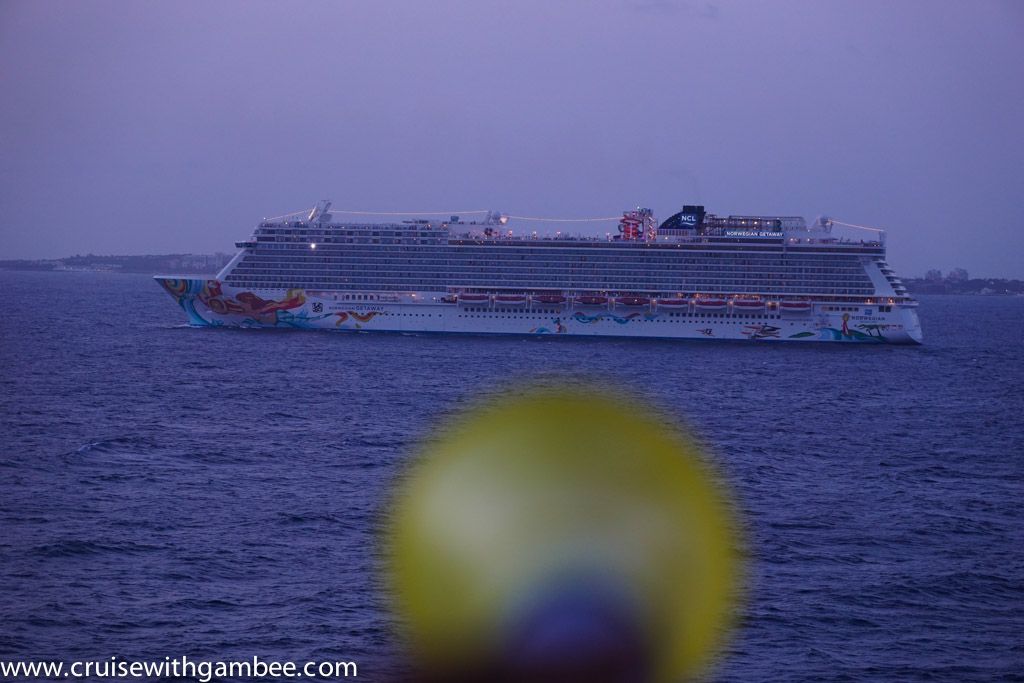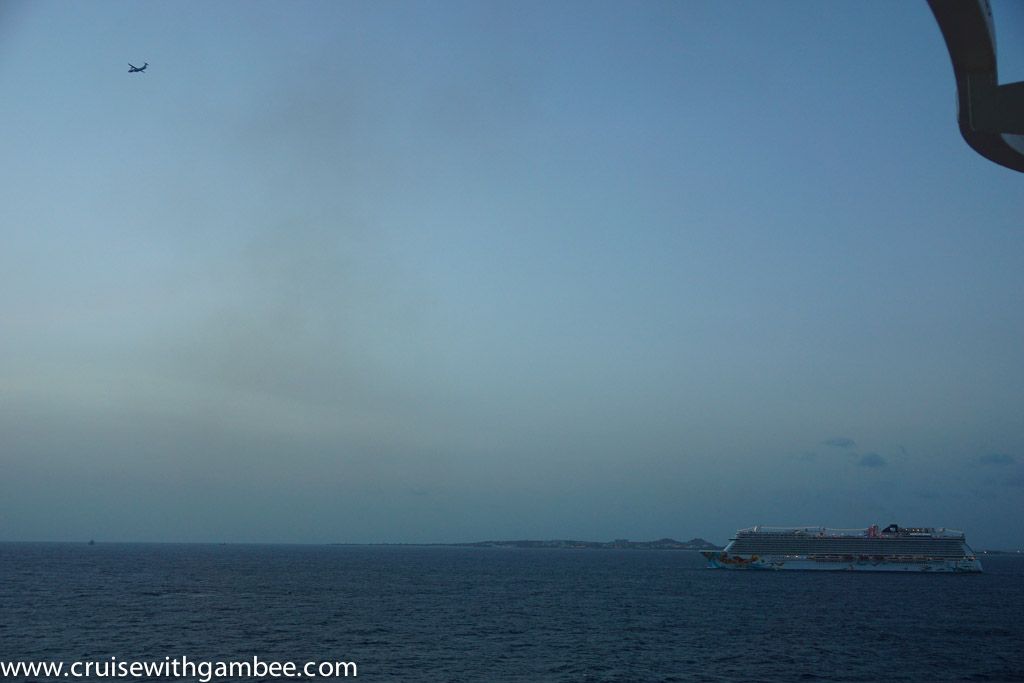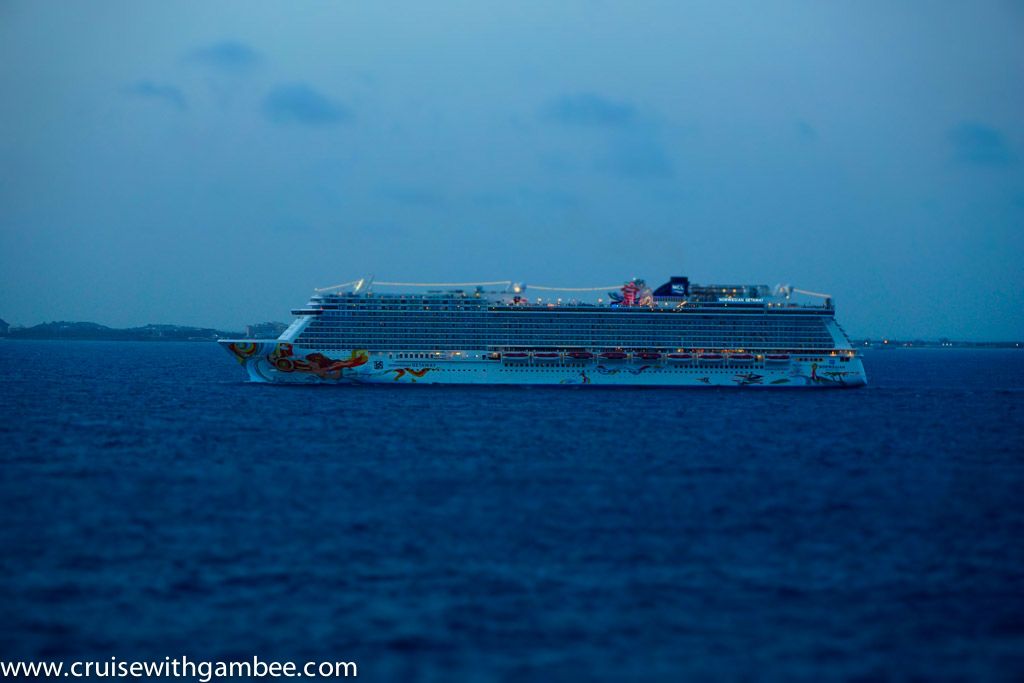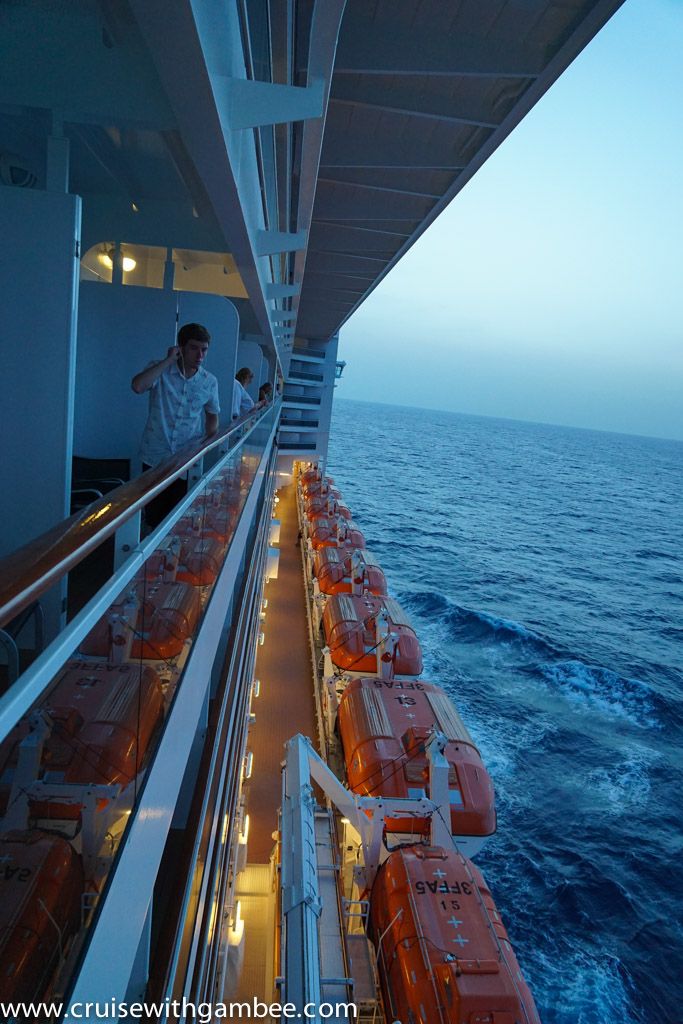 I went to the room and got ready, we had to head out to go see the show later on. On the way to the theater, I took some pictures of the casino. I think I already spoke about the casino, so I will let the pictures do the talking now.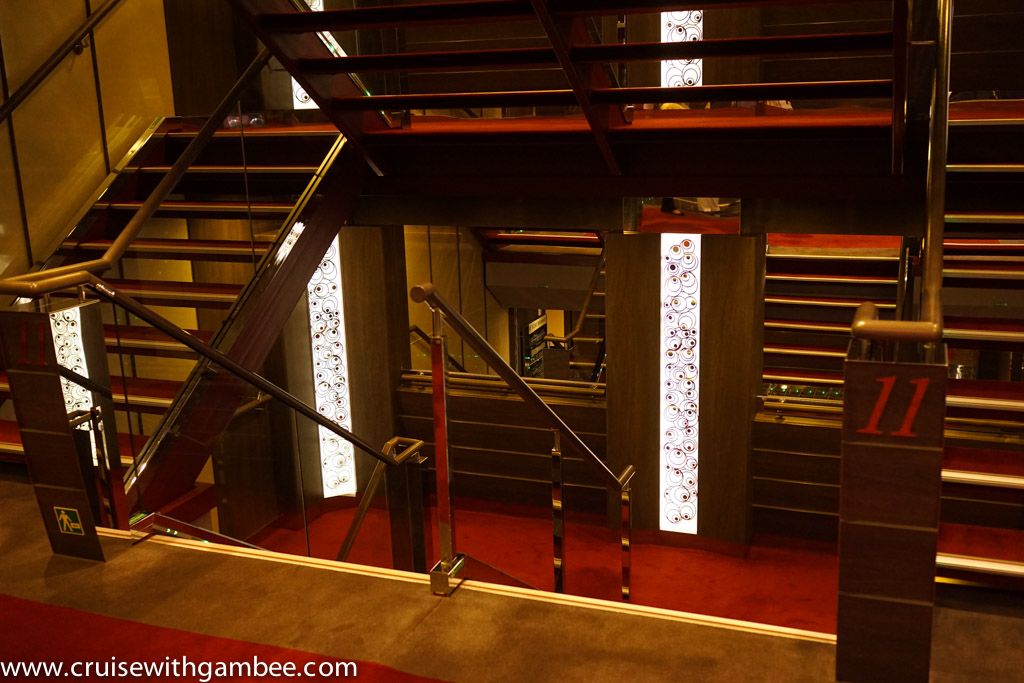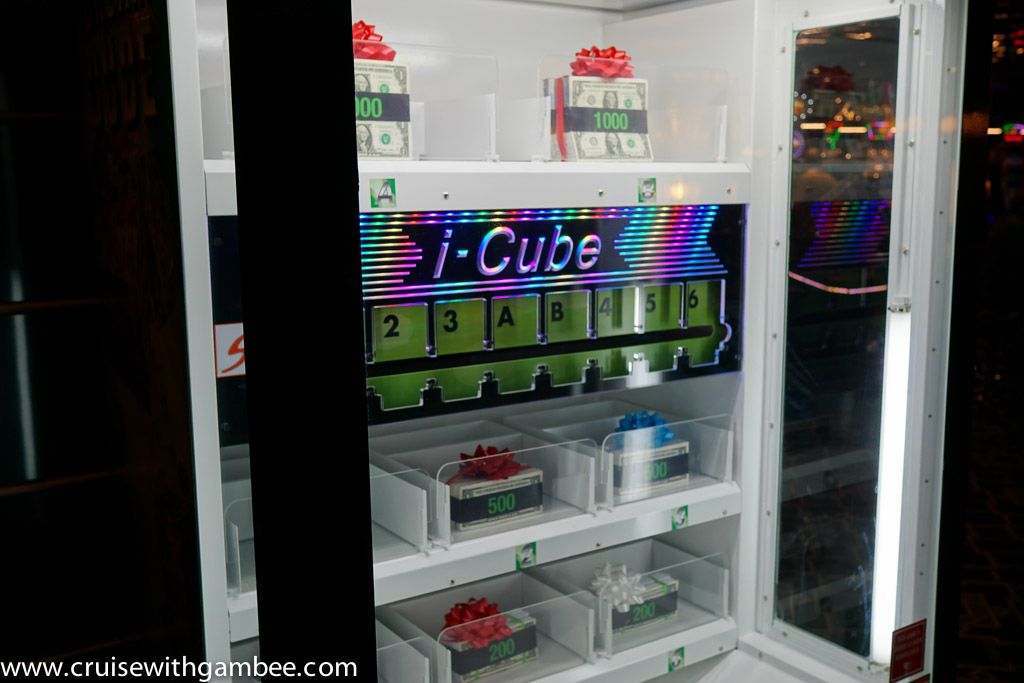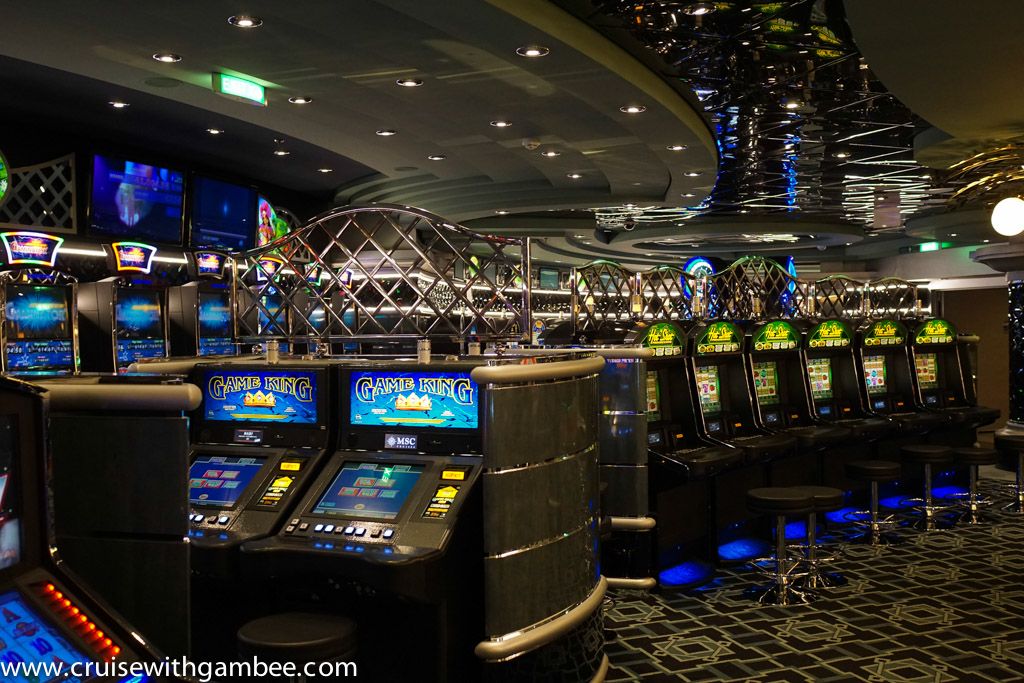 The show that night was called witches. Quite honestly, I did not like it one bit, and neither did anyone else in my party. To me, it seems that Alice in Wonderland, Witches and the other cirque style shows are all the same with a change of outfits. There are also no flying acrobats, well at least at the begging of the show. Remember, none of us lasted there long enough to see more than 10 minutes of the show. Shows last about 25-30 minutes, plus the 10-20 nonsense talk from our CD.
The MSC Divina theater itself is completely gorgeous and the music shows are really good. We enjoyed a couple of them very much. Then again shows are subjective, some people love some and others love the rest. This is no more than the opinion of our group.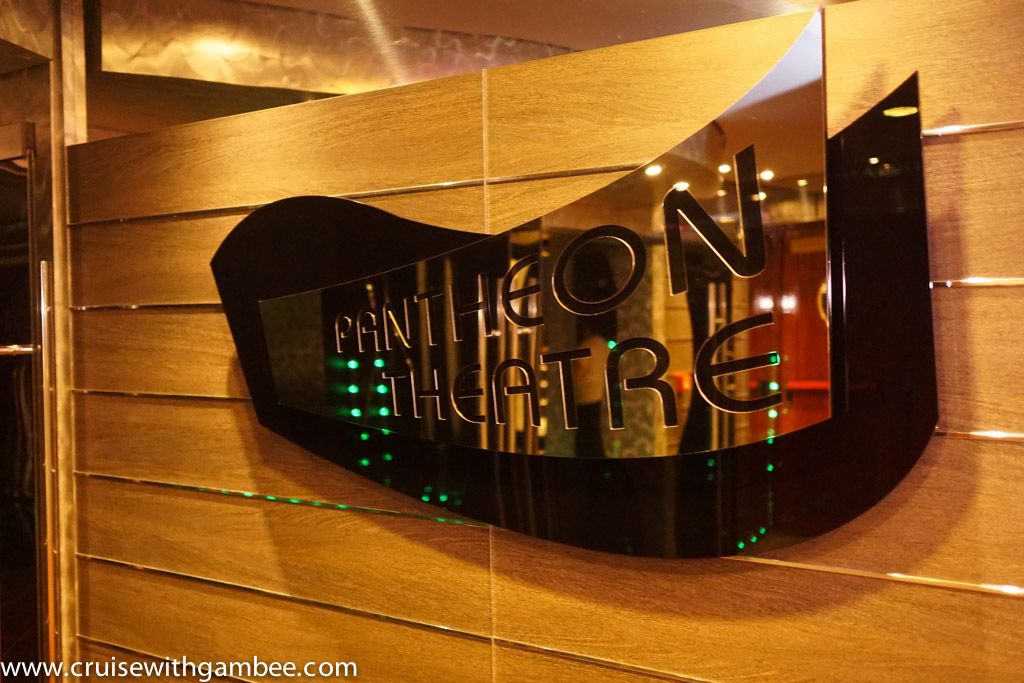 My mom noticed that there were some events on the pool decks, so we headed upstairs to see what was going on. My uncle and I were coming down from all the alcohol we had consumed on St. Maarten.
This is on our way up,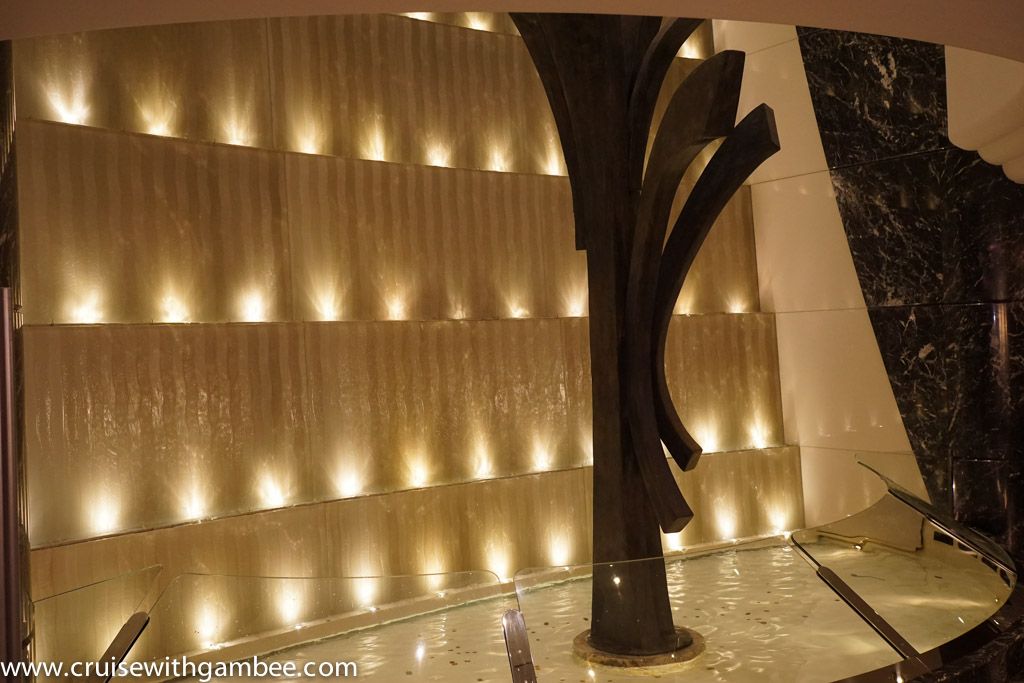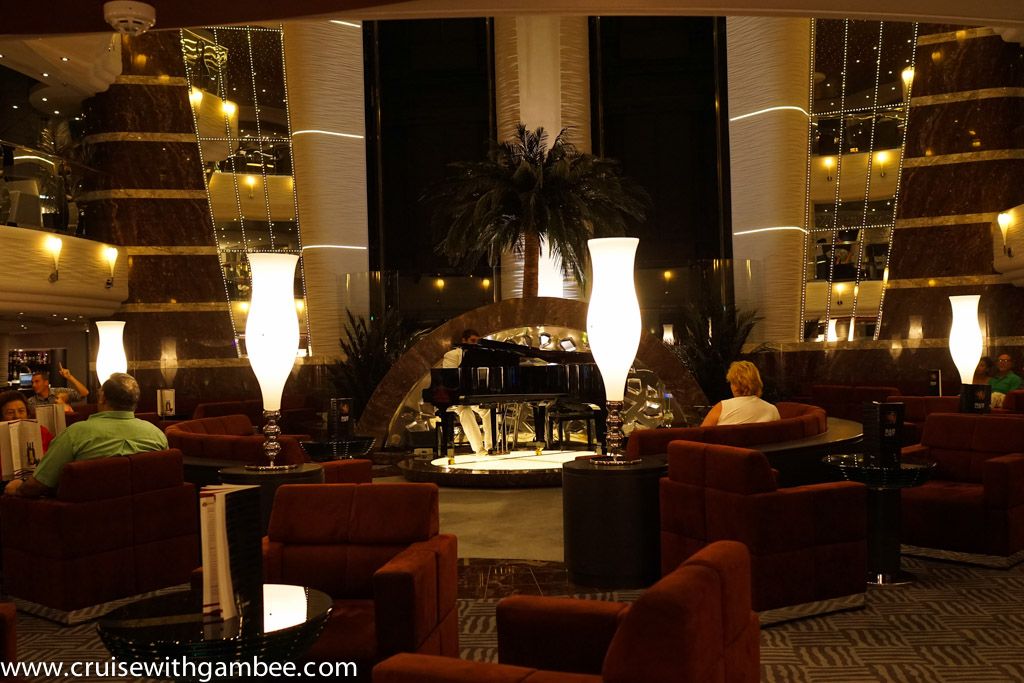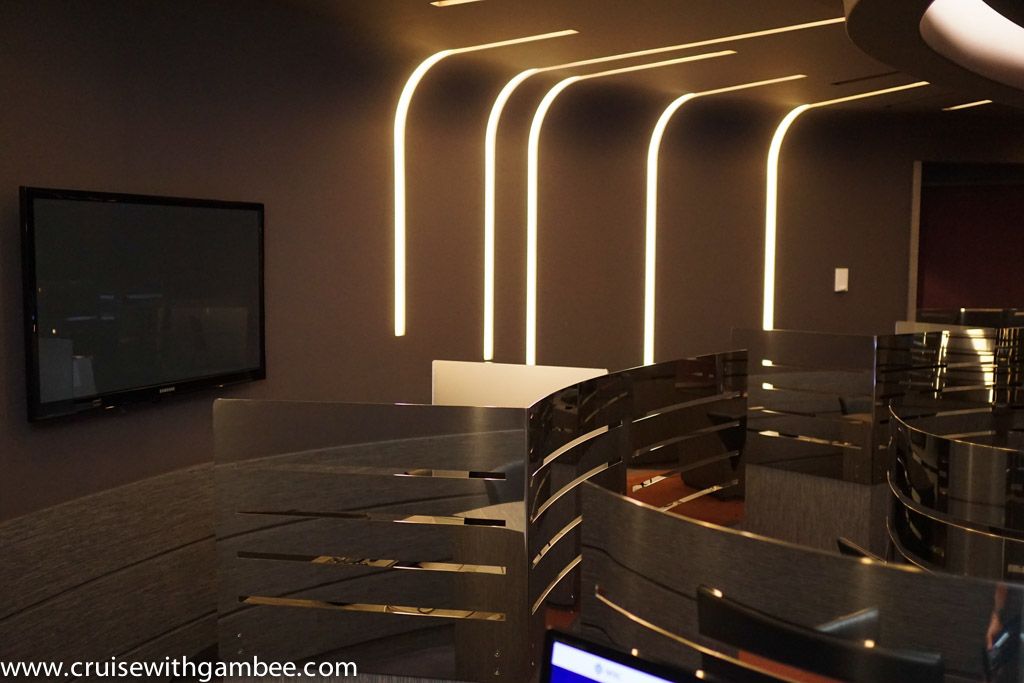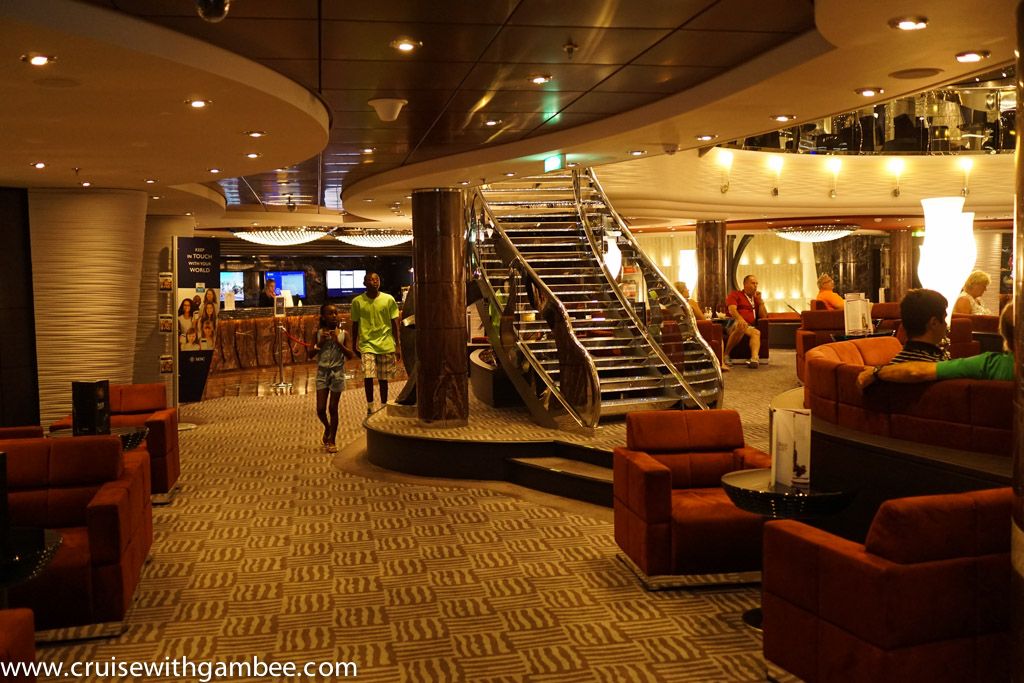 Oh, I forgot we did a quick stop in the room and they picked up all the fancy stuff that my mom had bought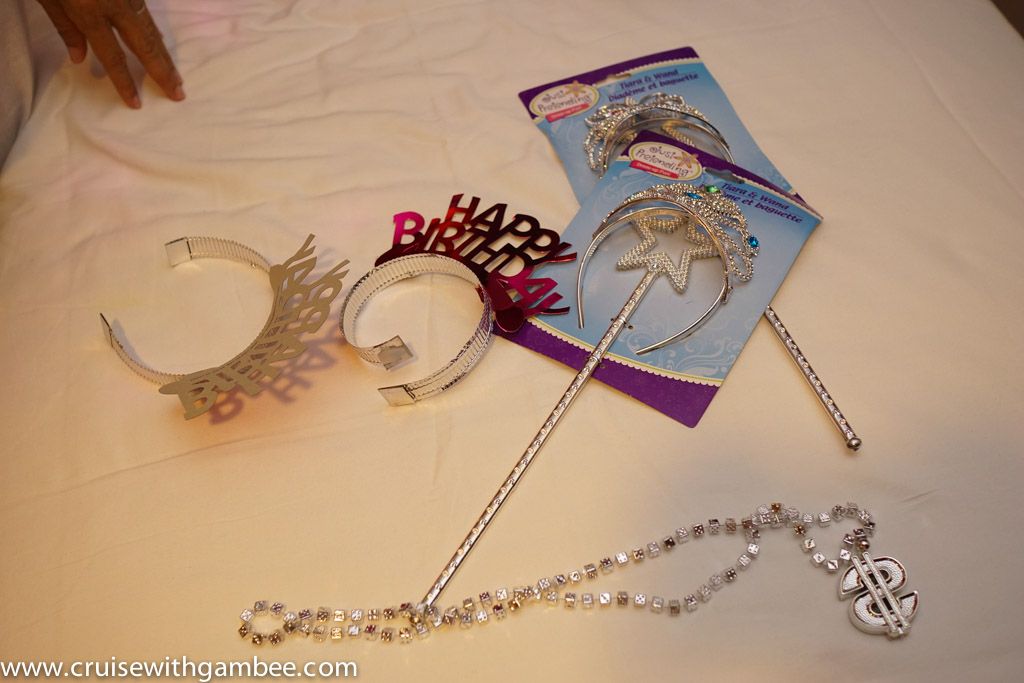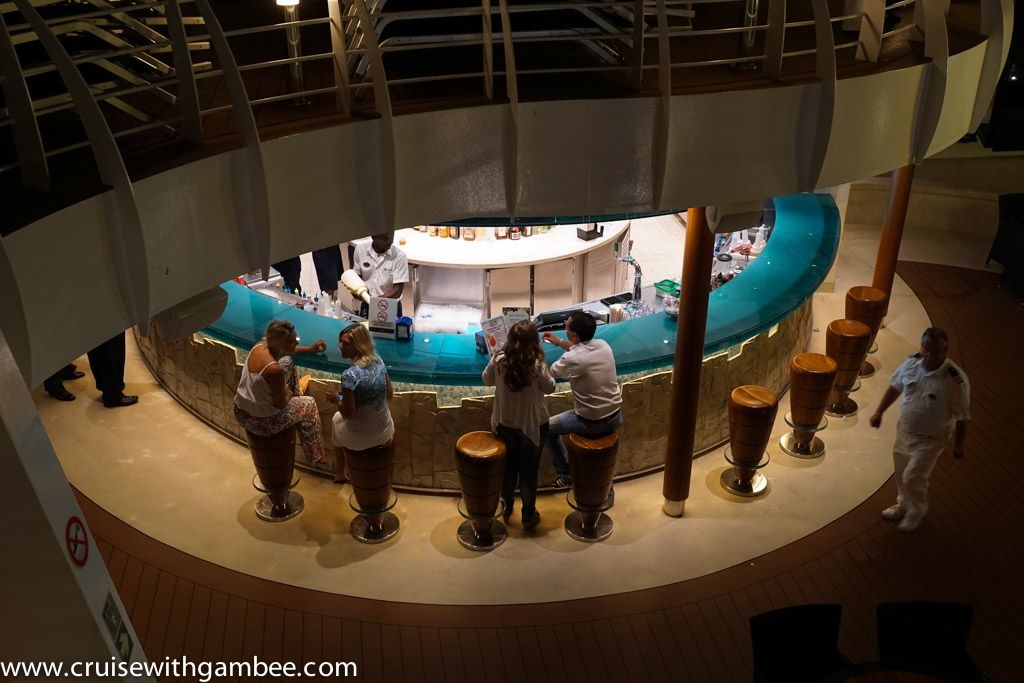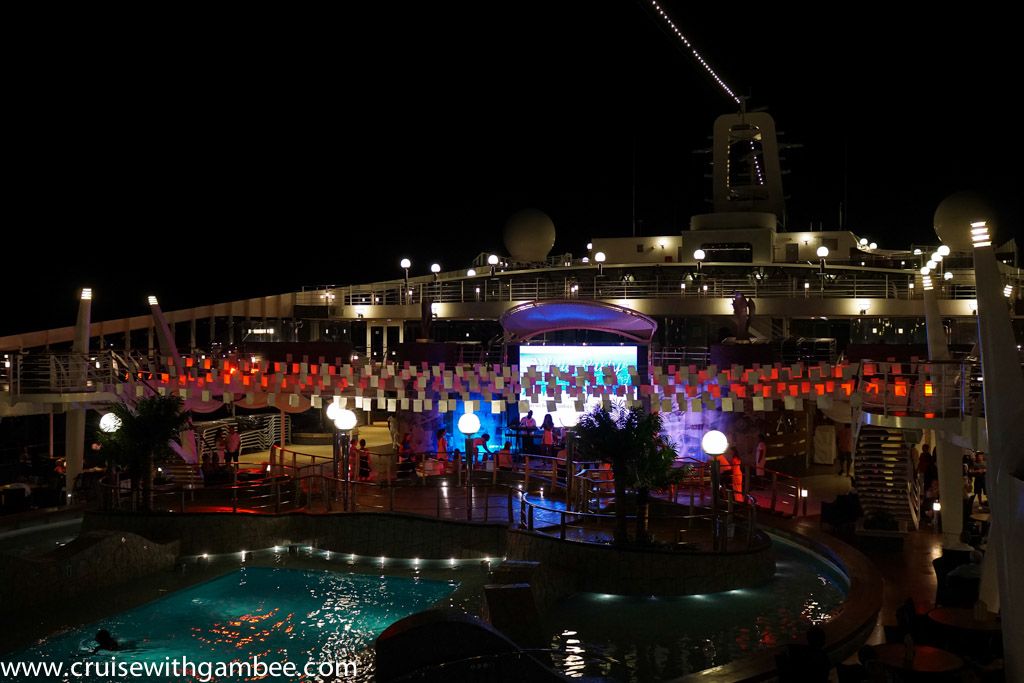 The main event on MSC Divina was actually Salsa dancing classes. They had a lot of people engaged there.
Here is a short video.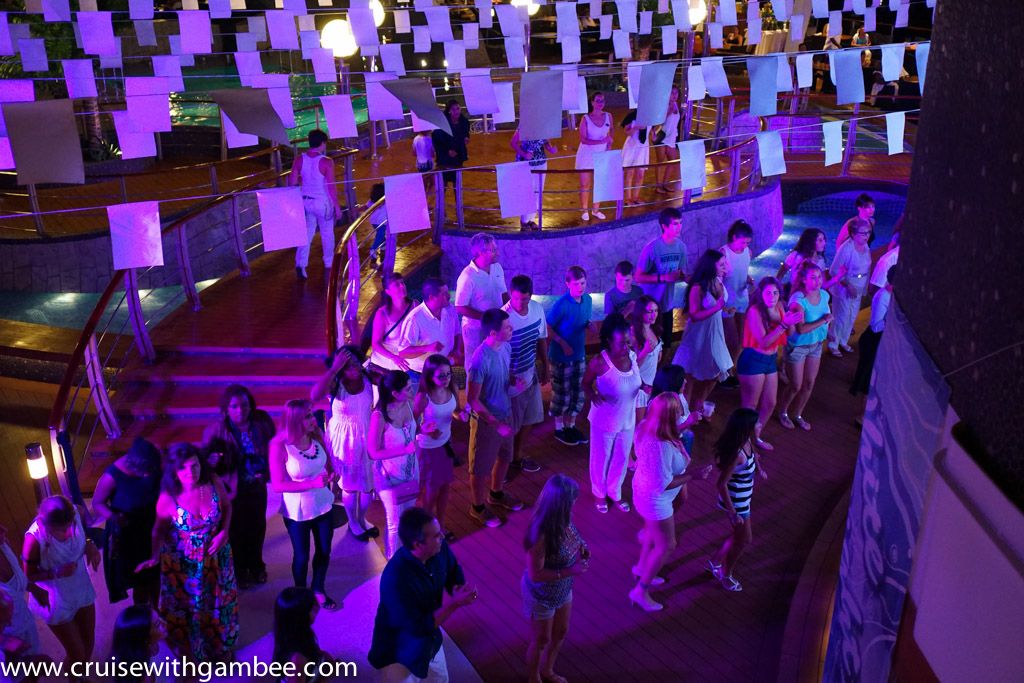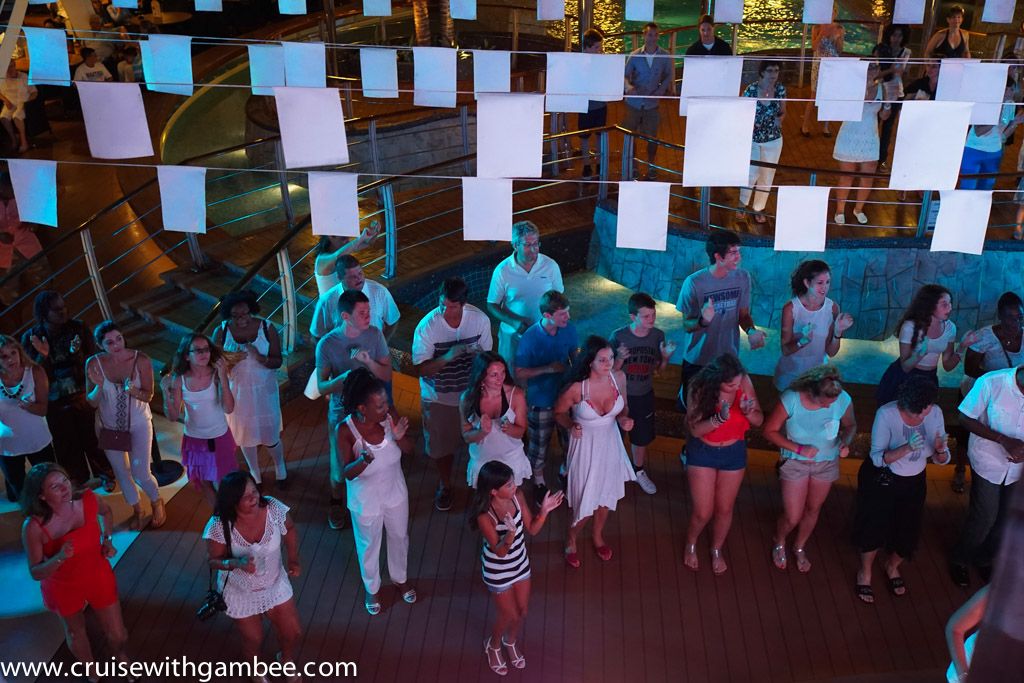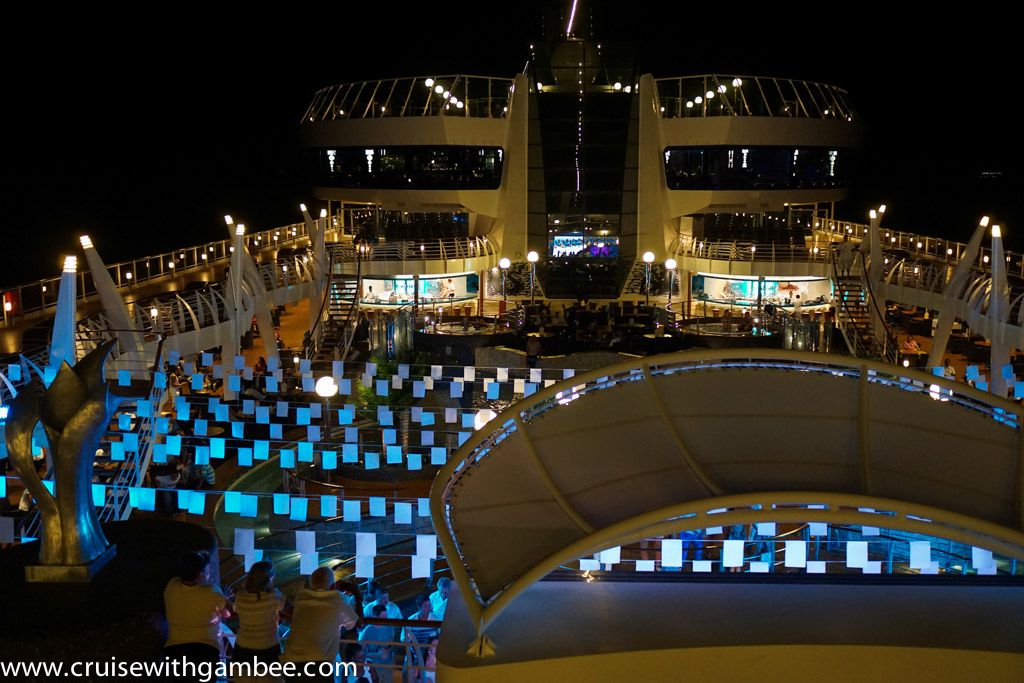 There's my family dancing
, I haven't seen my mom dance in a long time!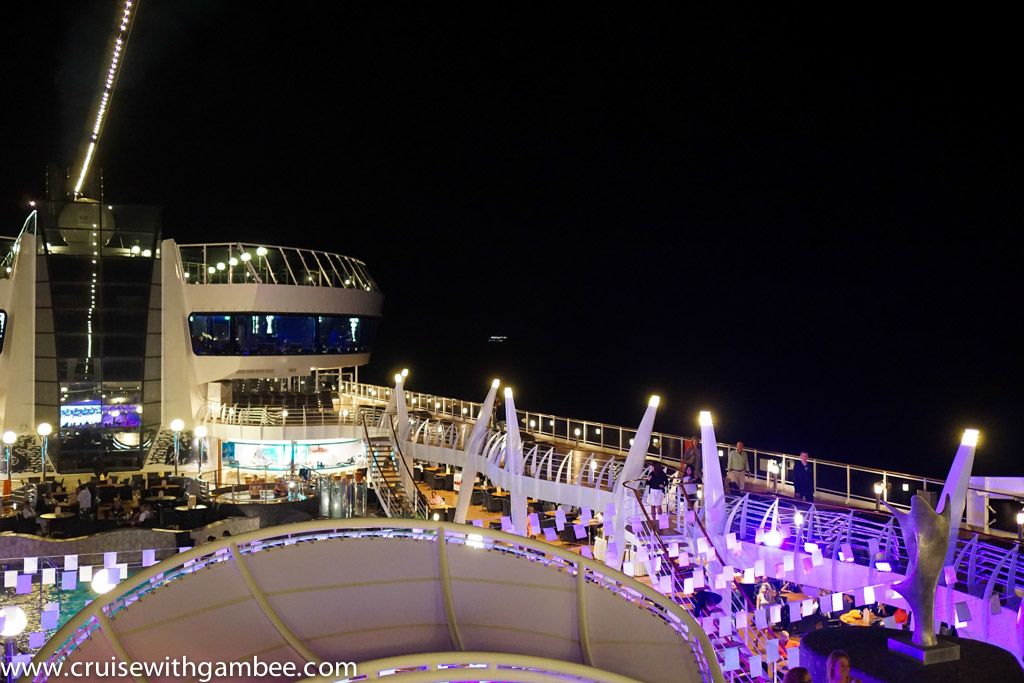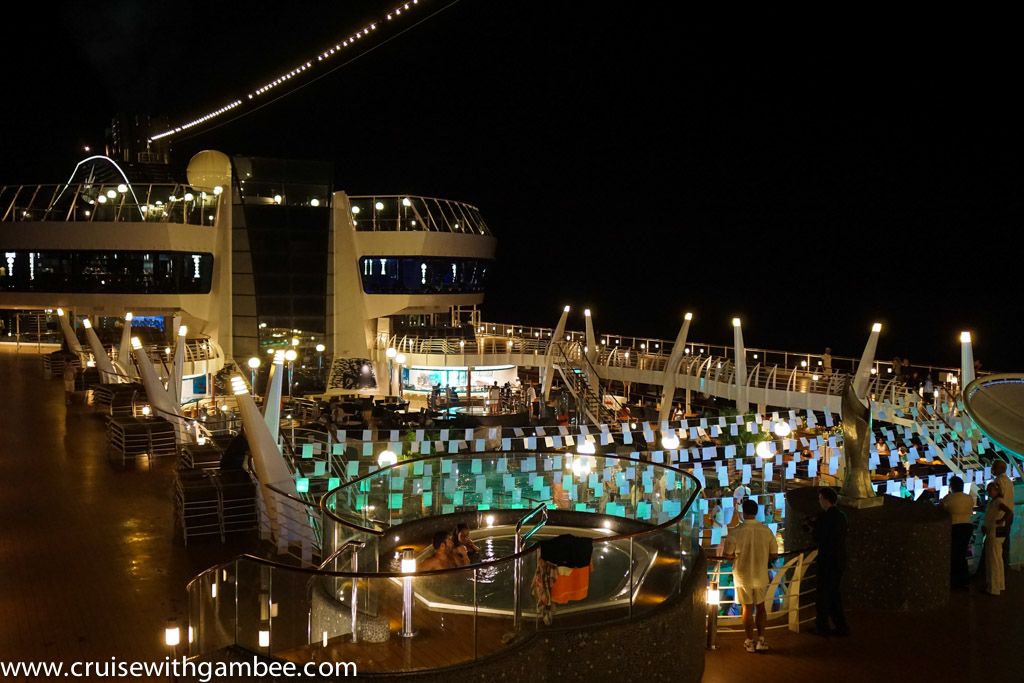 The Jacuzzis close at 10pm on MSC Divina.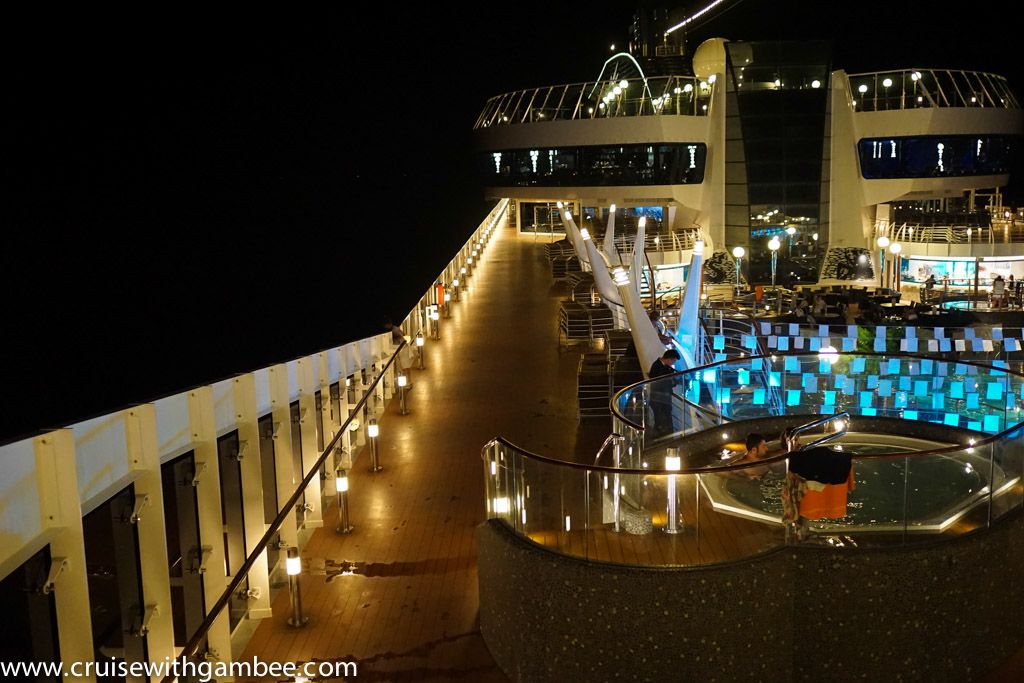 MSC Divina Salsa Class
They did a conga line to close up the classes, everyone was involved in it, and I am telling you, this was the hell of a workout for them!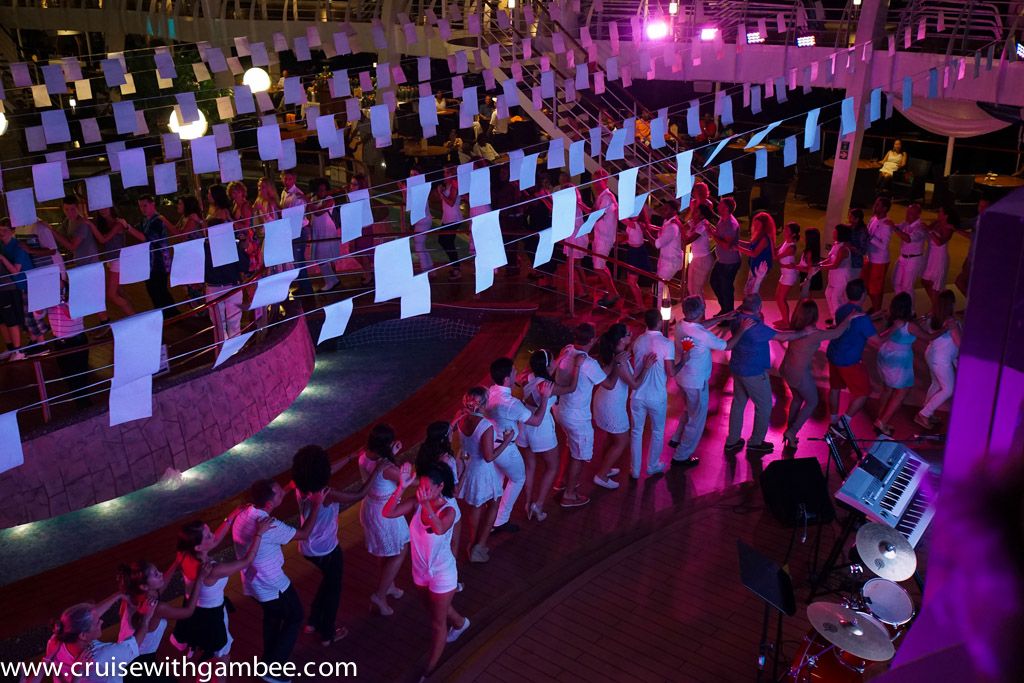 Then we went for a little while to listen to our favorite singers on MSC Divina. By now they knew us quite well.
Here is a short video of them singing, and me horribly singing as well. I have been told that I have one of those singing voices that only a mother could love
https://www.youtube.com/watch?v=qypJLUKiX60
She even waved to us =)
We stayed there until it was dinner and then headed towards the MDR, we all agreed to head there that day.
On the way there.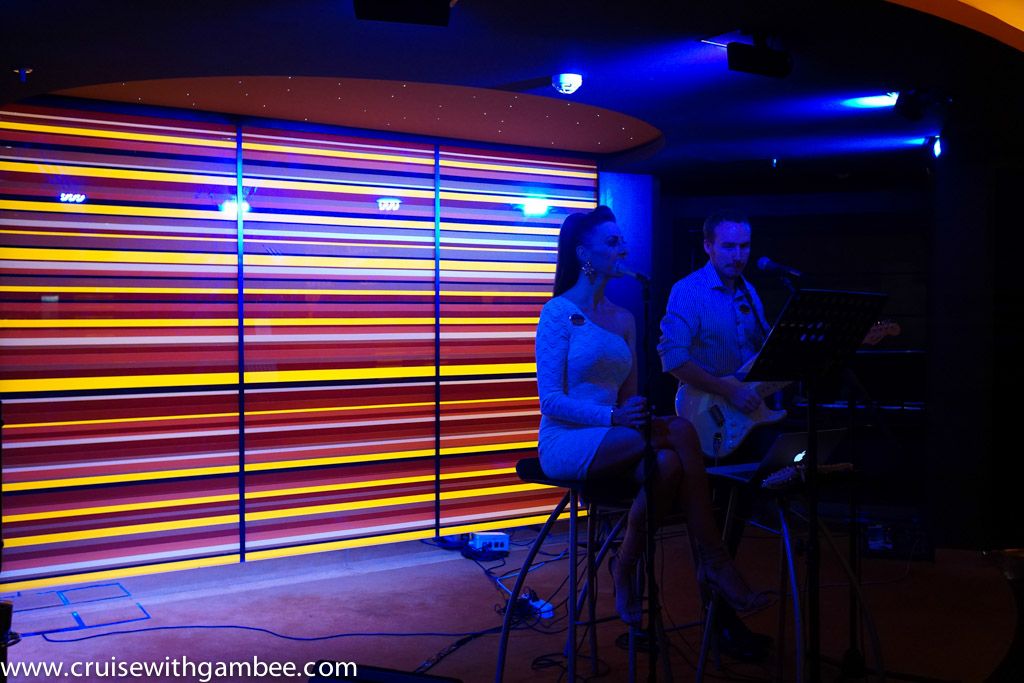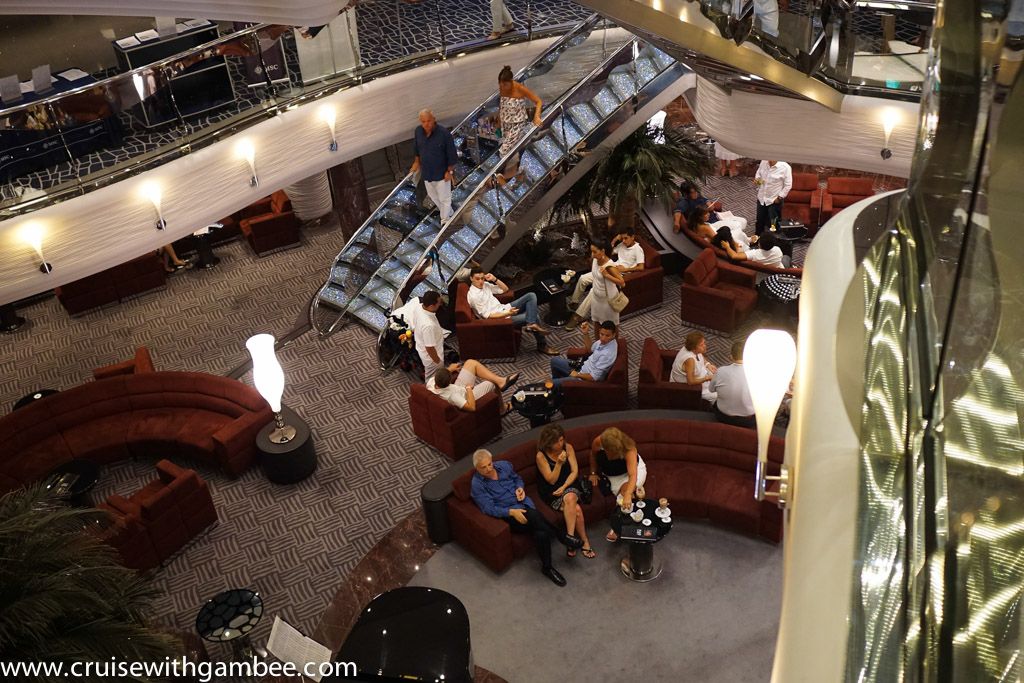 They had a nice crowd that night. I am not sure that I like how open this upscale restaurant is. You're basically on display during your entire dinner. That is a high traffic area.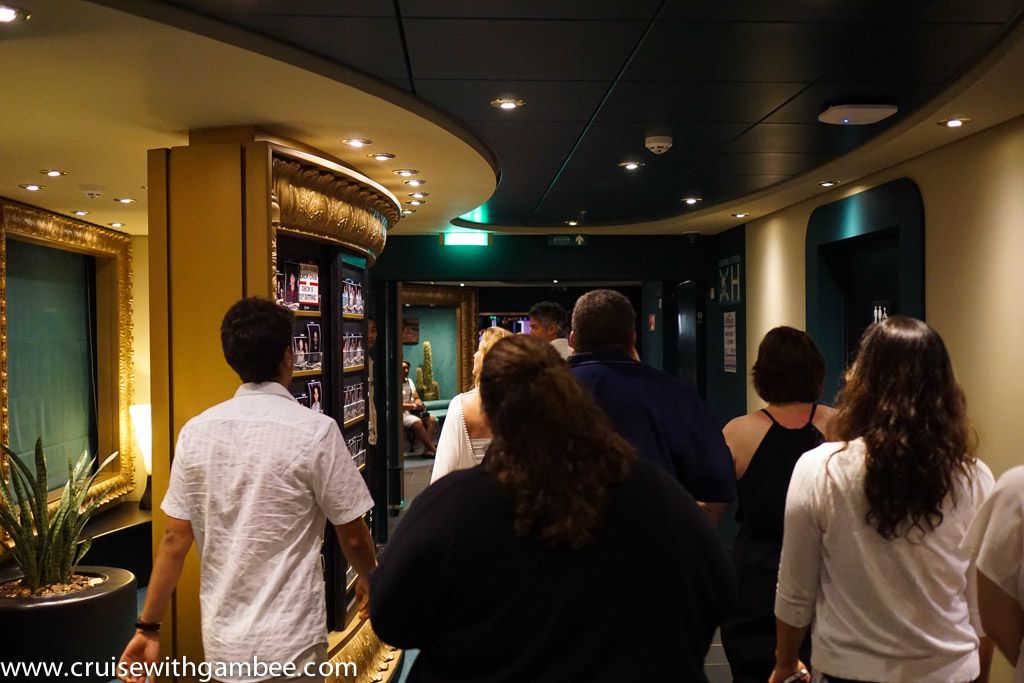 Service that day was the fastest out of the entire cruise, since we sat until we left, it was 1:45, still way too long for us. There should be some sort of option for passengers who dislike the European style dinner. Personally, I think MSC should dedicate one MDR to my time dinning.
The menu for that night.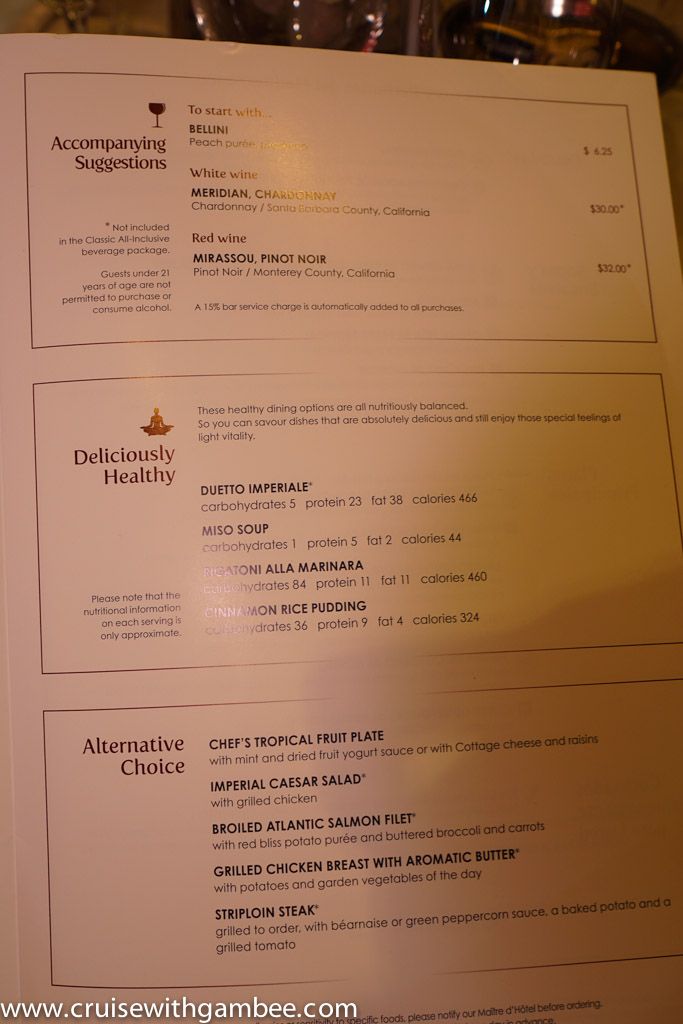 The seafood Gumbo was delicious!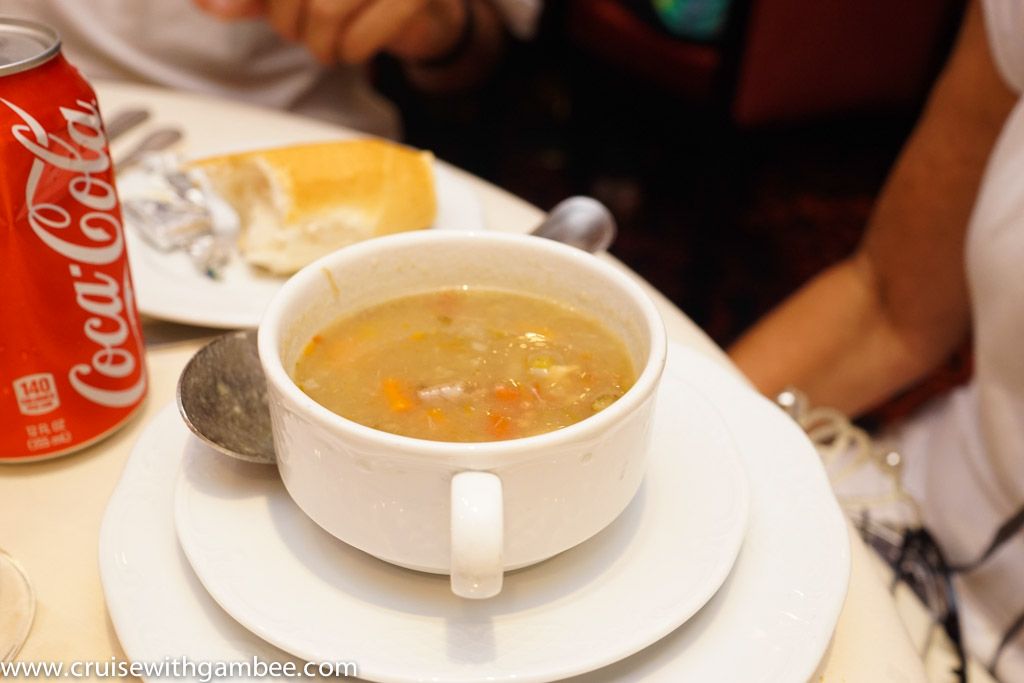 Smoked salmon and shrimp cocktail was great. I think this was the first time that I ate smoked salmon on that cruise :-/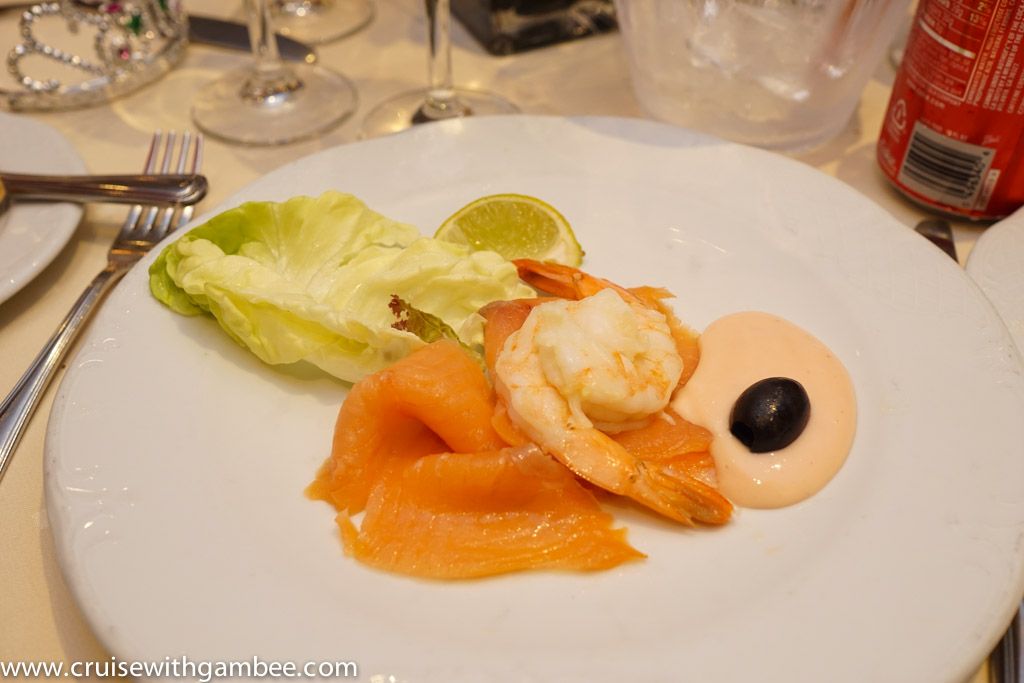 My aunt said the spring rolls were really tasty as well.
I also got the miso soup, it was nice. I rarely get soup, but do enjoy a miso soup here and there.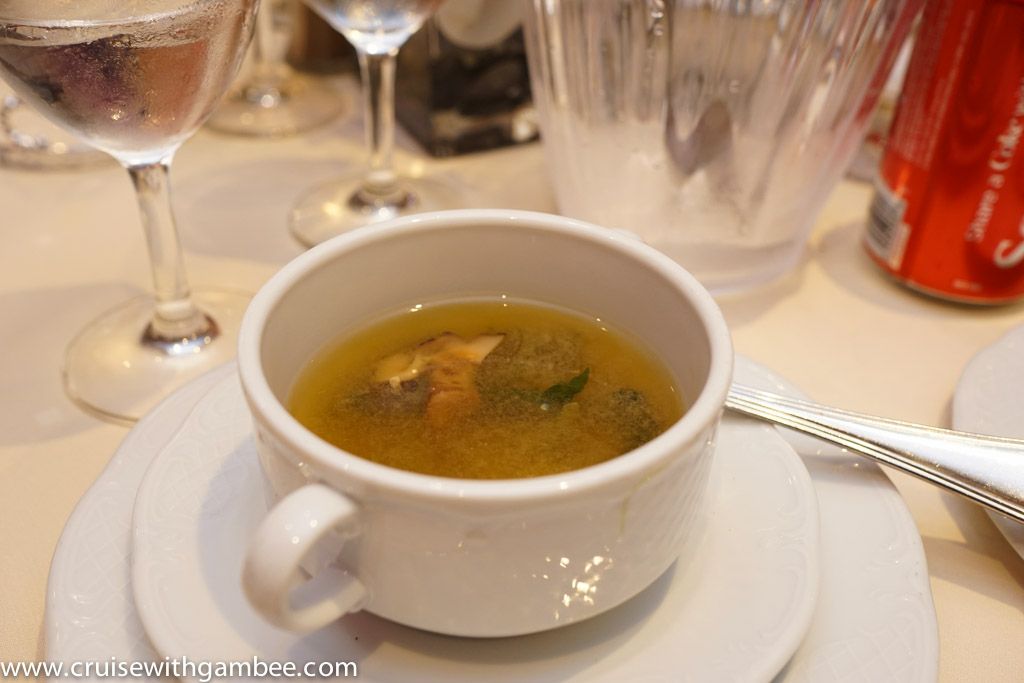 My aunt got the Steak, she loved it!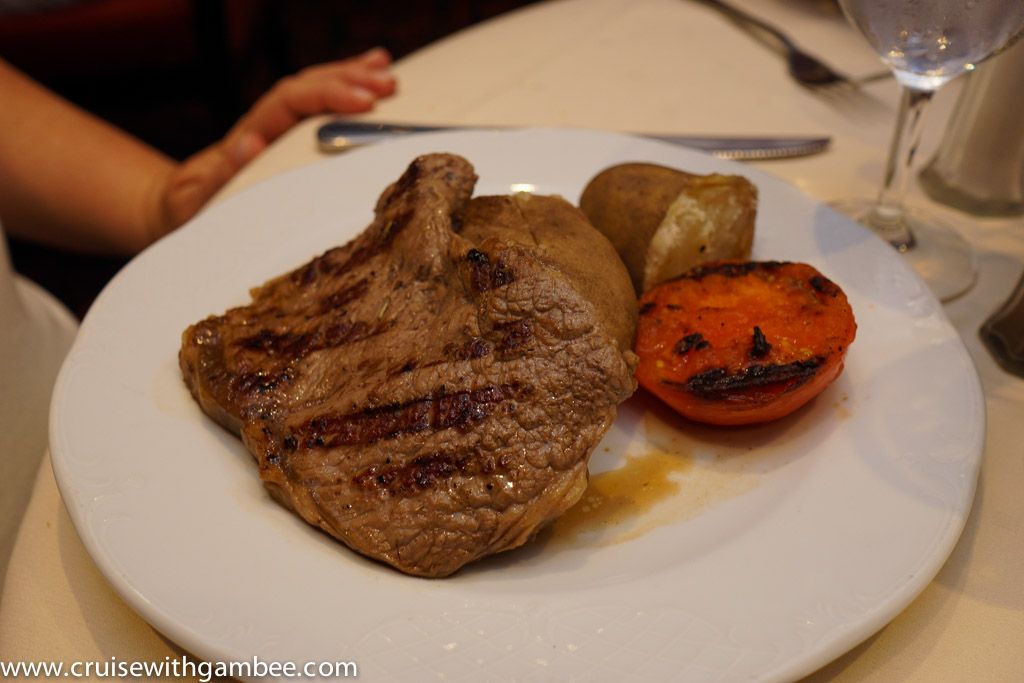 Mom got salmon, it was just ok. Fish is not one of MSC's strong assests.
I got shrimp and risotto. It was just ok, and rather small.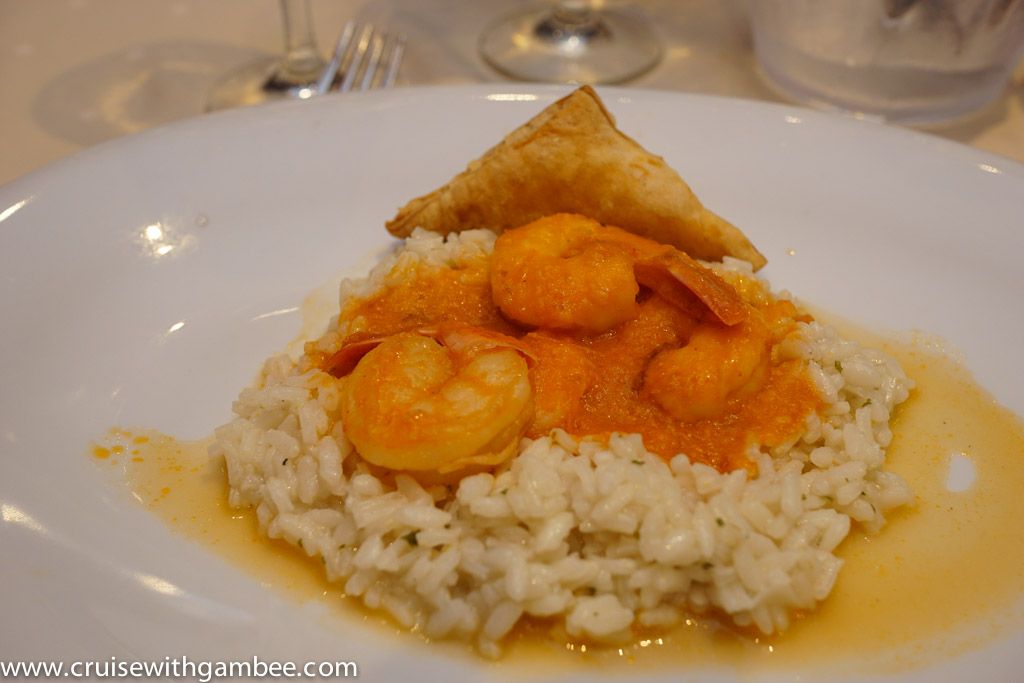 And my uncle ordered the wrong thing, he thought it was seafood. This was very basic and plain. I felt bad for him so I gave him half of mine. He loved mine.
By the way, the portions in the MDR are rather small. And this is coming from me, those who know me, know how little I tend to eat.
For dessert I got the torts Caprese. It was delicious!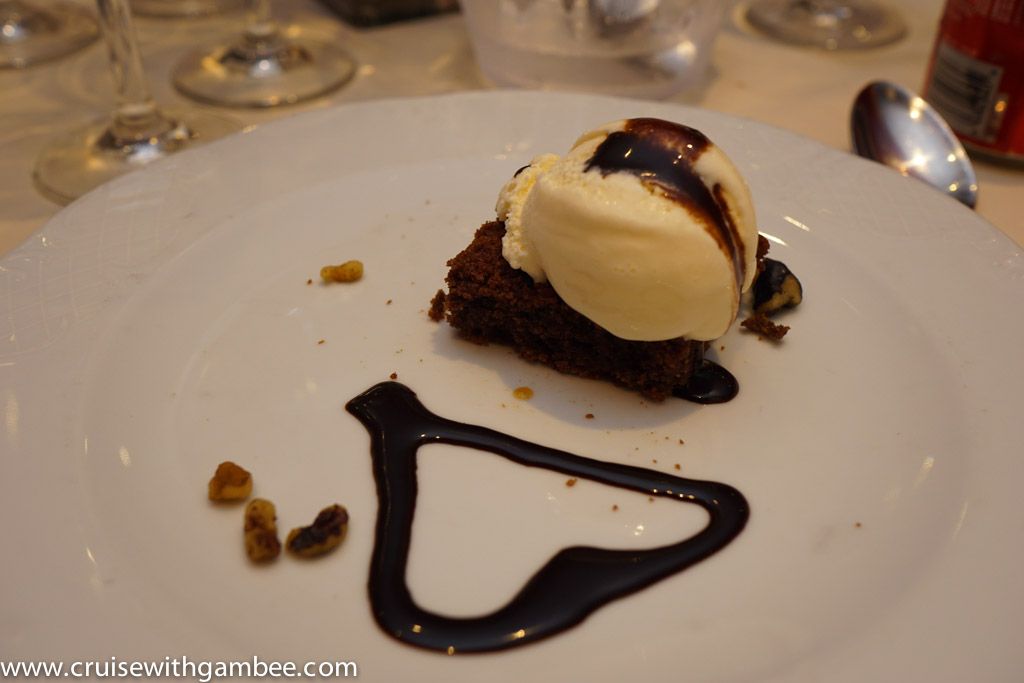 Aunt's rice pudding, great!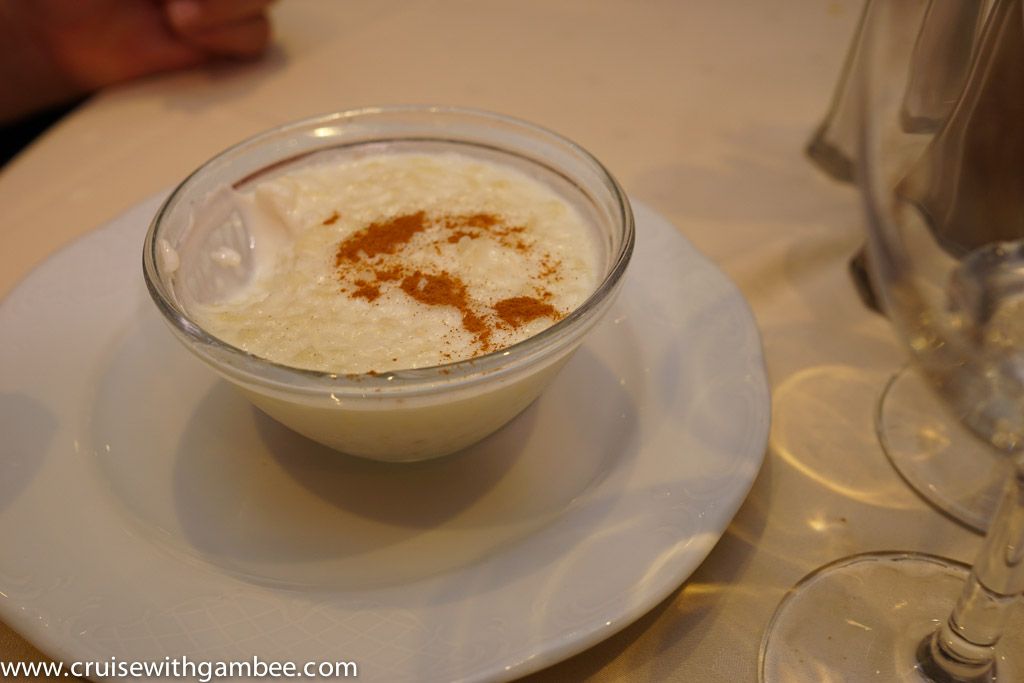 My uncle screwed up again and ordered gelato of some weird flavor that I have never heard of. Again, he ate most of my dessert, since his was pretty bad.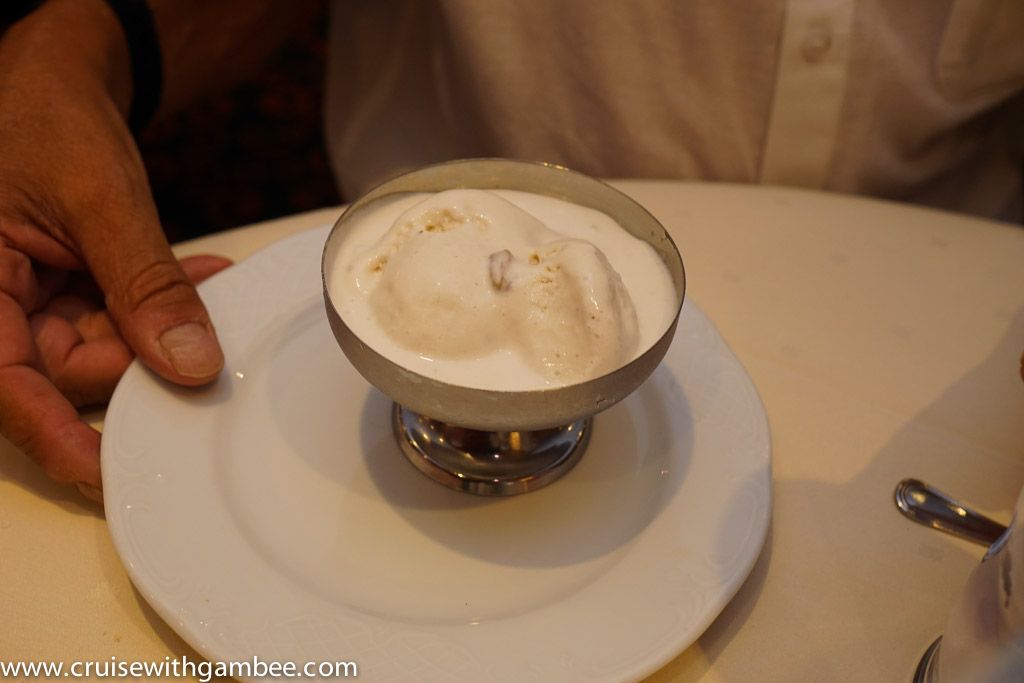 Mom got the Creme brûlée. I am not entirely sure why, it really did not look appetizing. Maybe she was hoping it would be better?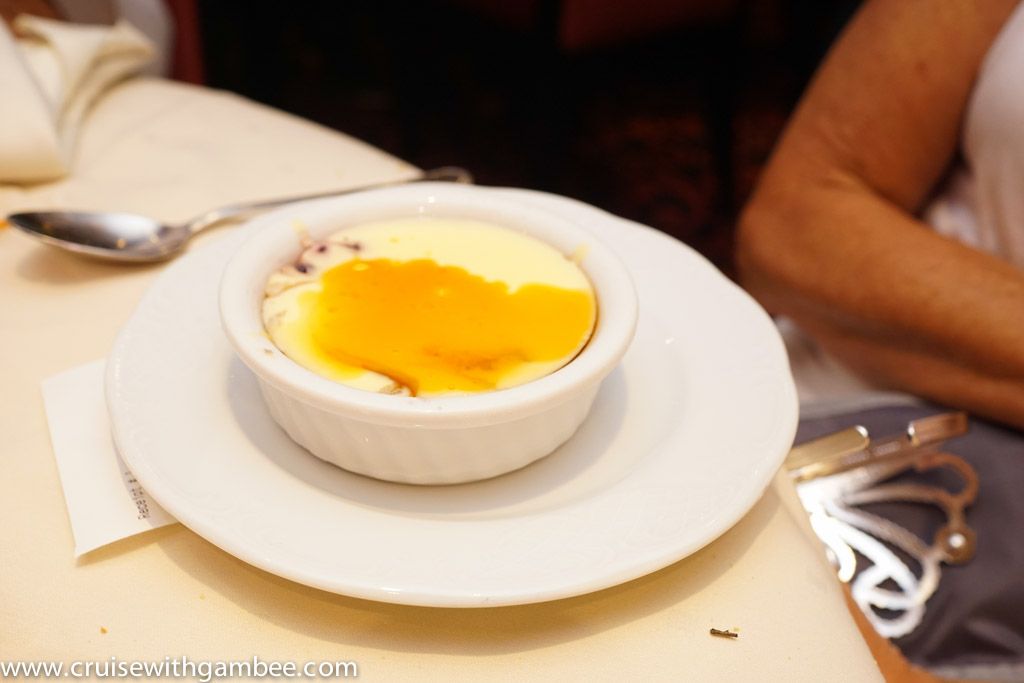 And what is a Gambee dinner without messing up my white pants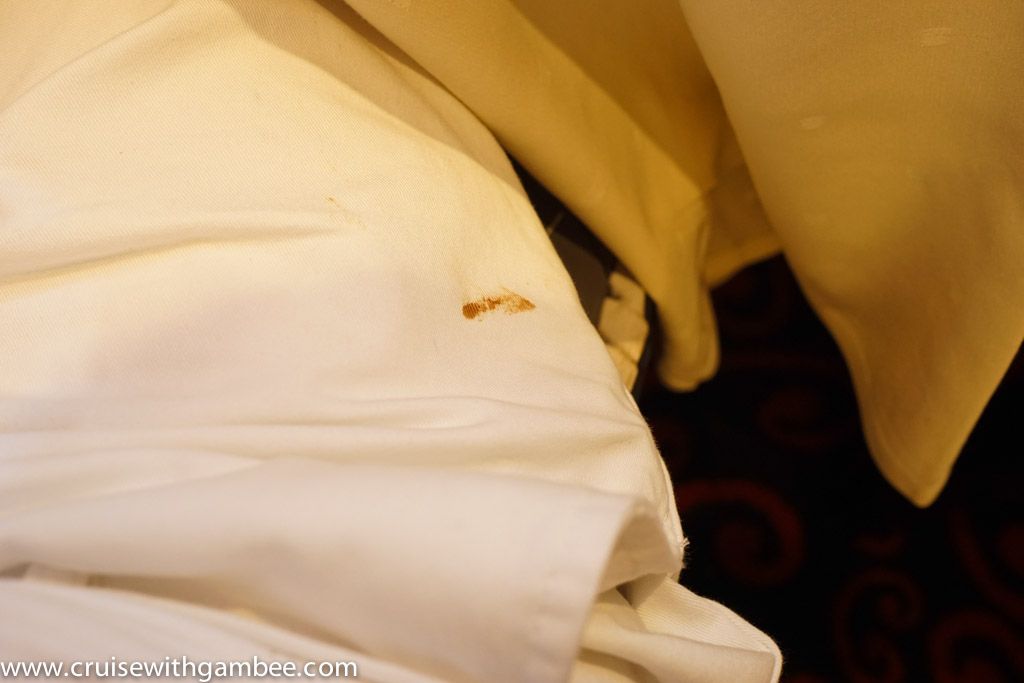 And that was about it for that day, I don't seem to have much more pictures. I think I was pretty tired and headed towards to room. We had a great time that day, I can't wait to go back to St. Maarten! Who knows, I might be there again before I know it.
Day 4, End.