Continuing with my MSC Divina Review.
I also got a little dessert. The truth is that I knew that my mom was going to eat it, I know my mom very well, and I know what she likes. The pastry was really good, she ate it all.
After eating my uncle parted ways as usual, I am not entirely sure where he went to. He always used to say "I am going Downtown", we never found out where downtown was located. The Atrium? Who knows, I think he just walked non-stop until he found us again.
We decided to go to the Jacuzzi, on the way there I went up to the solarium to get a few pictures for those interested in purchasing a day or two. But like I said, personally I would not waste my money there. There are plenty of places to relax and find a peaceful area on MSC Divina.
It would be fantastic if this Jacuzzi had a cover, maybe then I would consider paying on a sea day.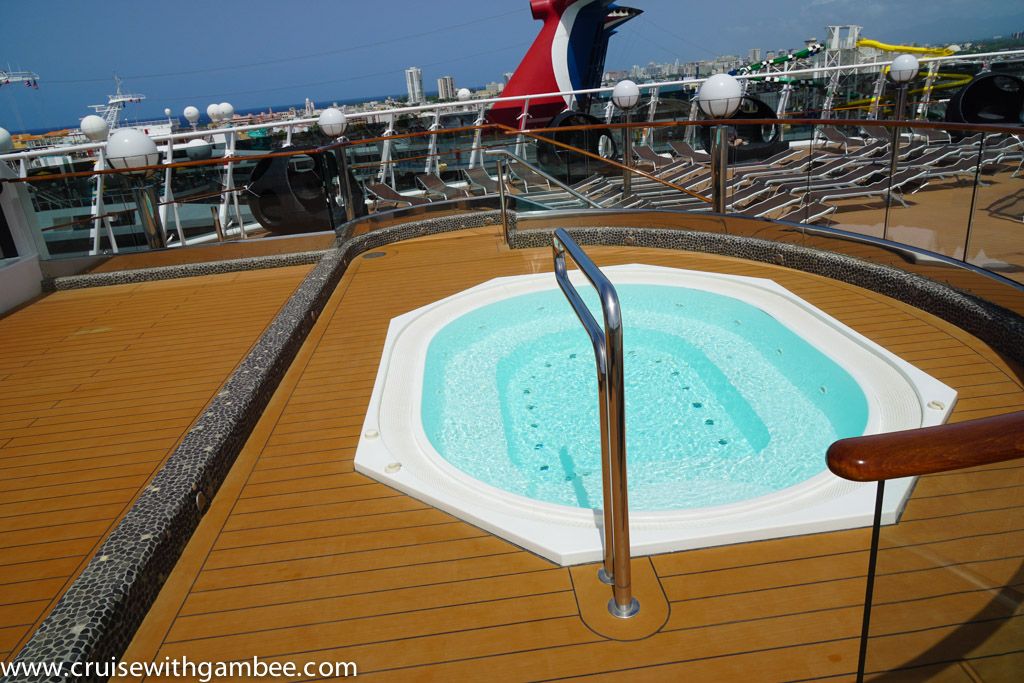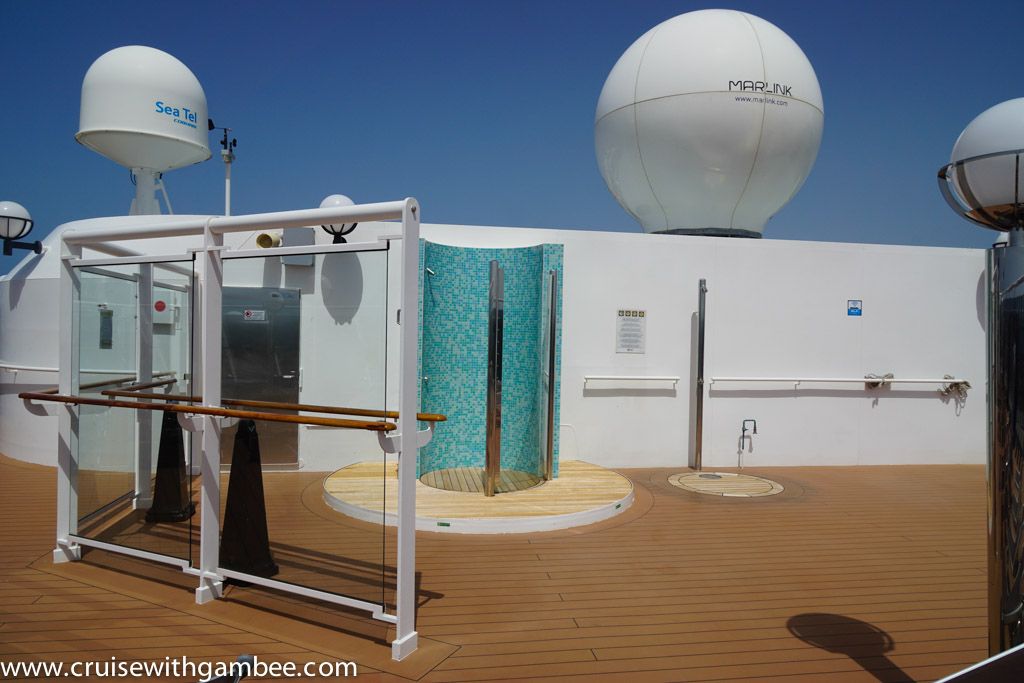 I don't think many people actually purchase access to the solarium. Granted it was a port day, but there was only one lady there.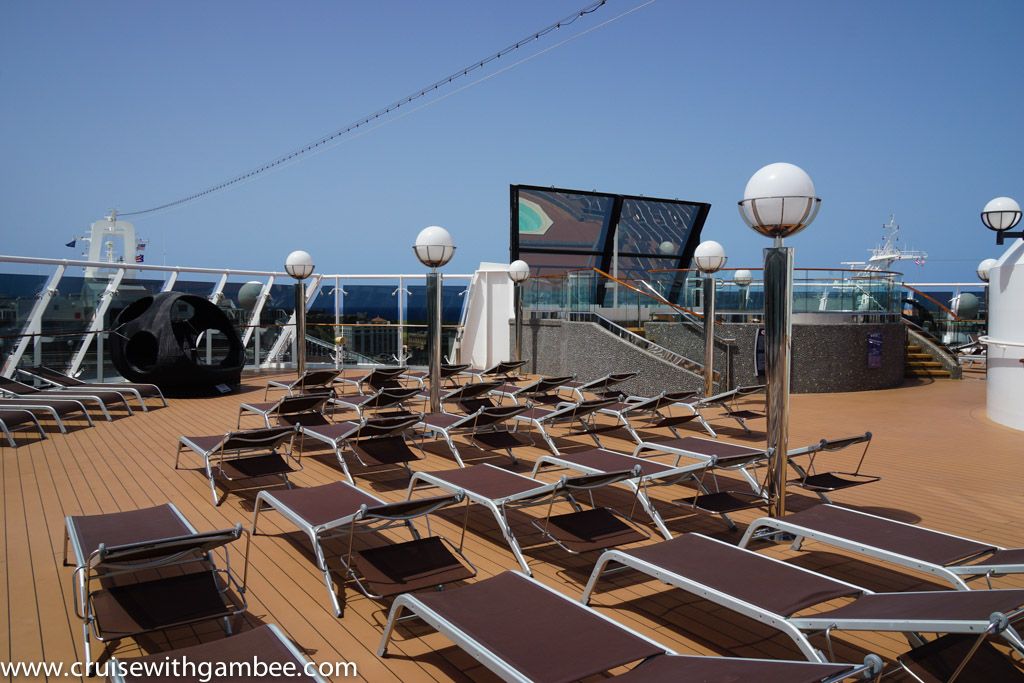 It is a very nice area, and I can imagine that it is nice and quite there during most times. But also notice that there is no bar area there. The nearest bars are either by the main pool or the aft pool, a nice walk away from there. I also want to point out that drink servers that walk around the pool area are few in-between. So your best bet is to get something like a bucket of beers and head up there, then again if you're not a beer kind of person… You're out of luck I guess.
So we kept on walking and arrived to our preferred Jacuzzi relaxation area. We really enjoyed our time there during the entire cruise, I am very glad I eyed it on the first day. The floor was ridiculously hot!!!
I do love how they are sunken in.
We tried the same chair-shade system, but the sun was not low enough at the time. Needless to say that we did not last there long that day. It was way too hot. And even if I looked like if I was an albino with the entire bottle of sunscreen on me! I was also feeling dehydrated!
We headed downstairs and stopped by the aft pool bar to get some drinks. I want to point out that something uncomfortable happened here. It goes along the side with the entire 15% tip system that you get when you get the drink vouchers before your cruise. Please be aware that is not something I said, but I was told by several MSC employees.
So a lady went to purchase the vouchers at the bar, and the bartender told her the cost was $72 plus the 15%. She started arguing with him over the 15%, why did she have to pay it now and before it was included. I heard some people saying that it goes with the European tipping system. But once again, I want to clarify that MSC decided to Americanized one of their vessels to make a stronger presence in the US market. Anyway, I made my point clear here. I will drop it now. The point is that the lady went on and on about it, then the server explained how the system worked. She then went from arguing to completely embarrassed and pissed off that the tips were the discount.
We took our drinks and moved to the starboard side of the cruise to see the other vessels leave port. Plus, I managed to get 4 chairs and place them under a shaded area, it was perfect! Everyone was happy =)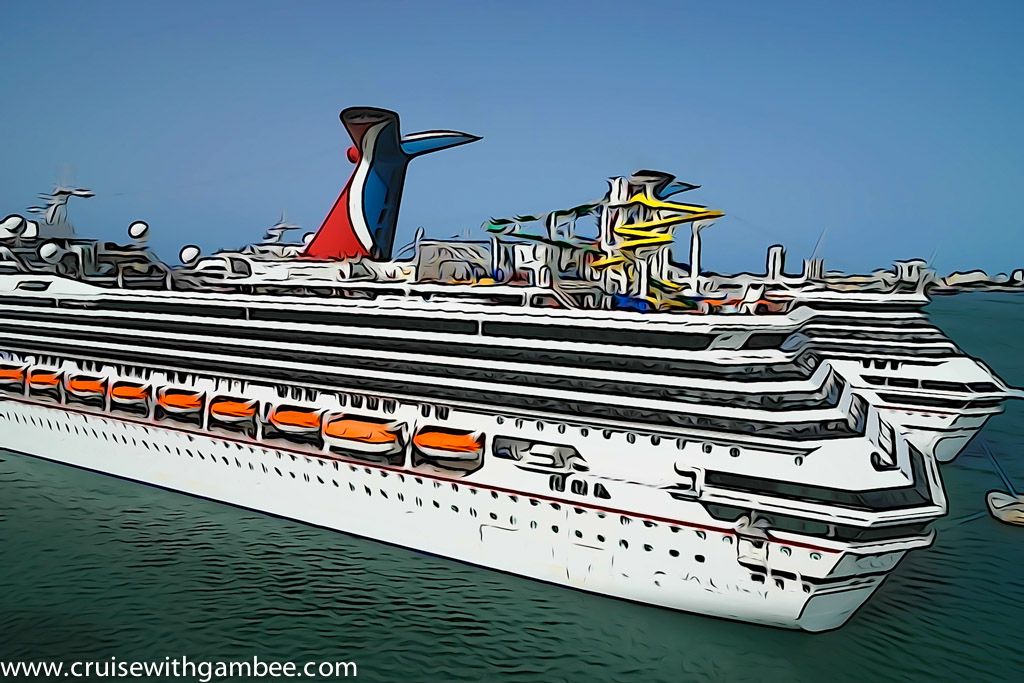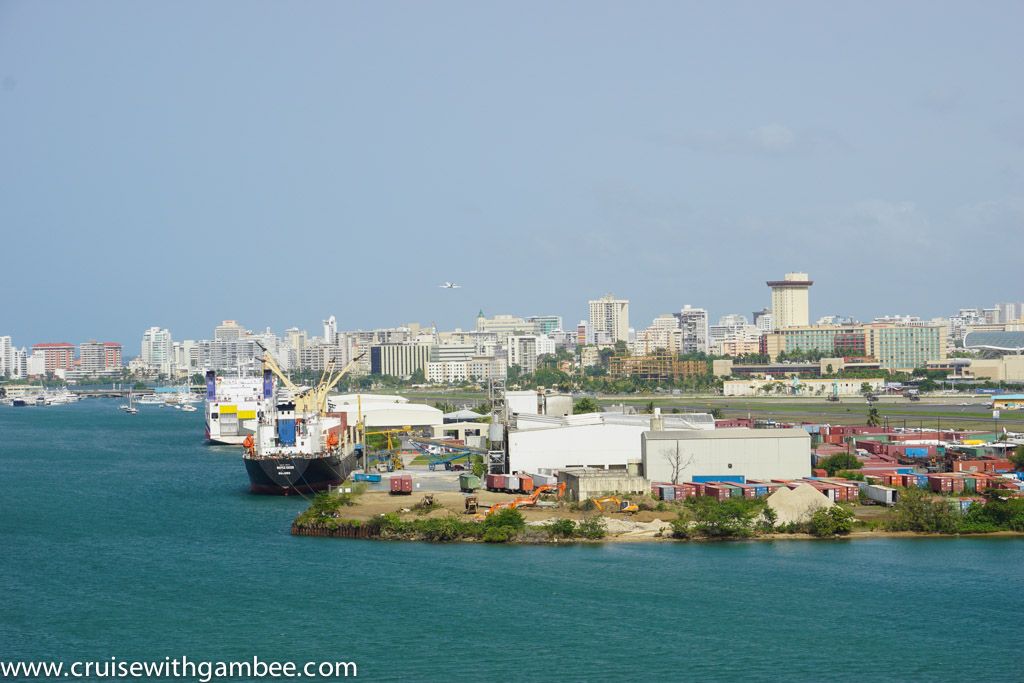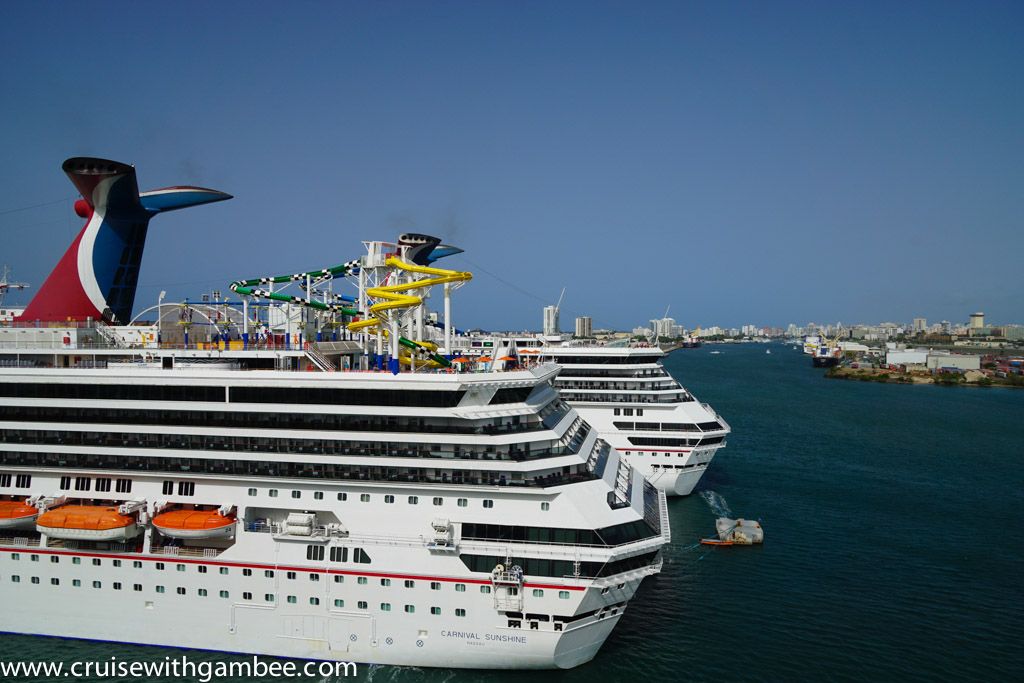 Soon enough the Carnival Glory started leaving port.
The was some nice shade in there.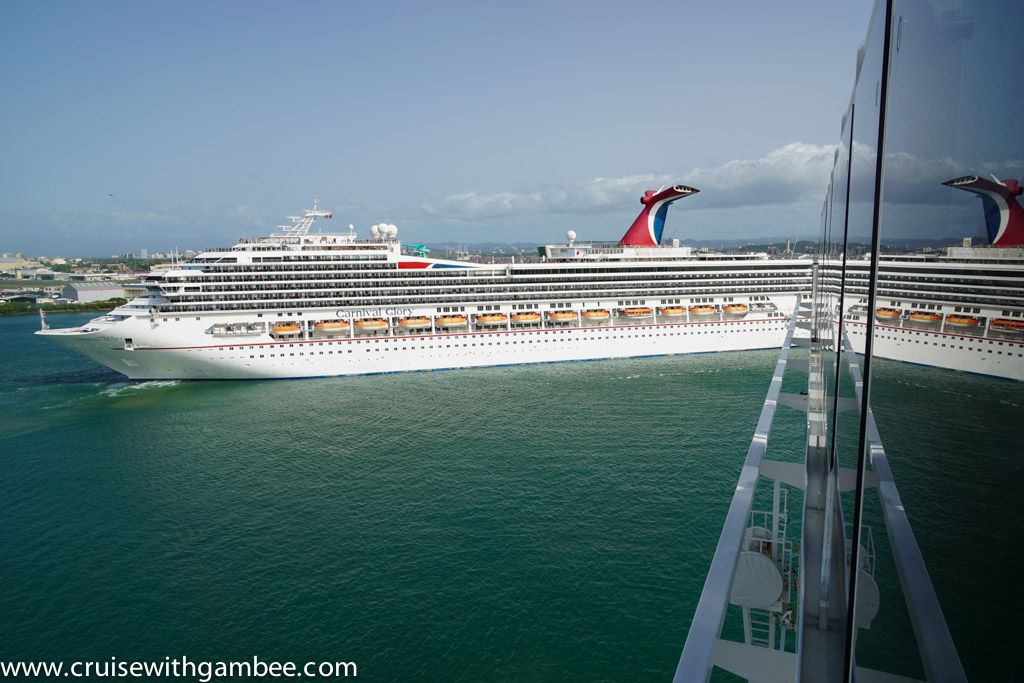 For some reason that I can't recall, I had to go to the room. Once I tried using the room card it was dead again.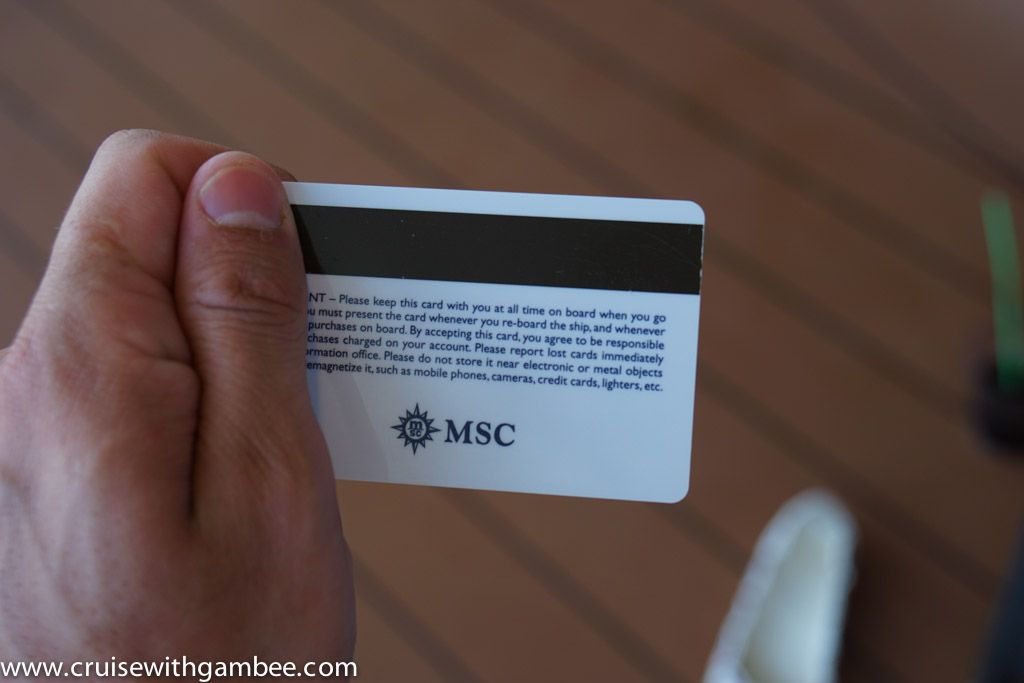 On the way up I got a few desserts for my family, my uncle had found us again and he was there taking pictures. Everything was really nice.
I took a few more pictures of the Sunshine. It looks like a really fun ship!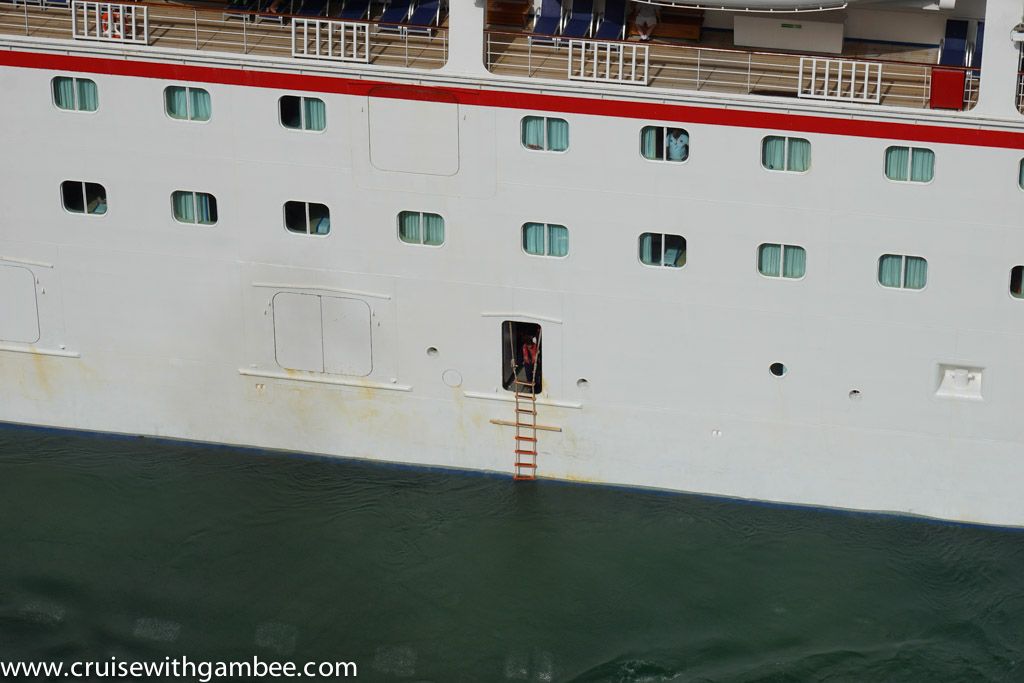 I really like that waterfall in the multi-deck serenity area.
The ship soon started pulling out.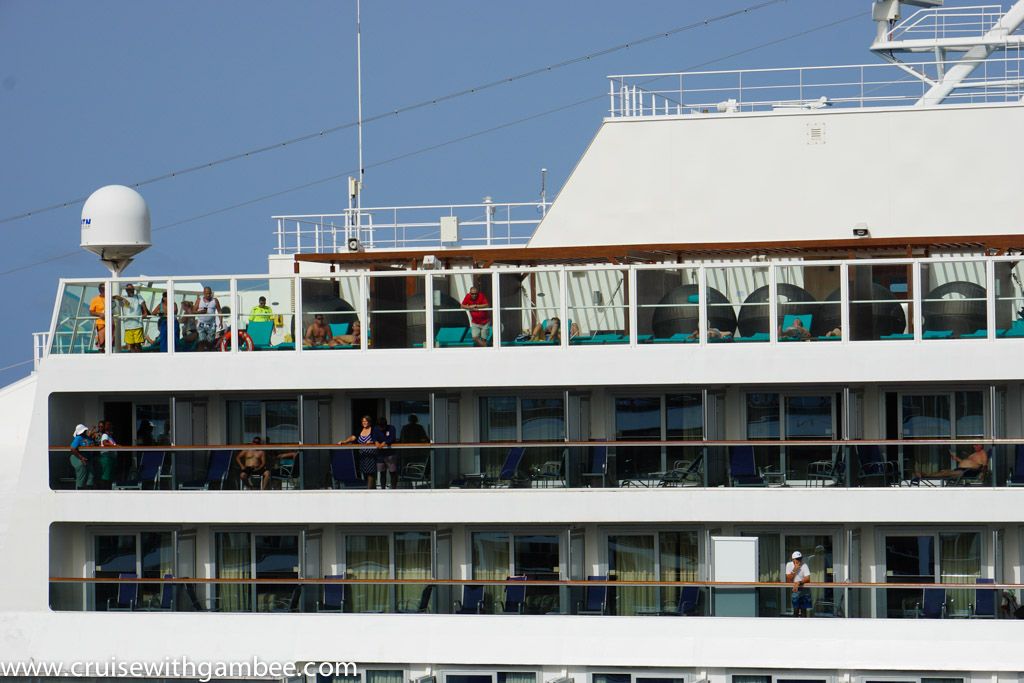 That suite on top of the bridge must be really nice!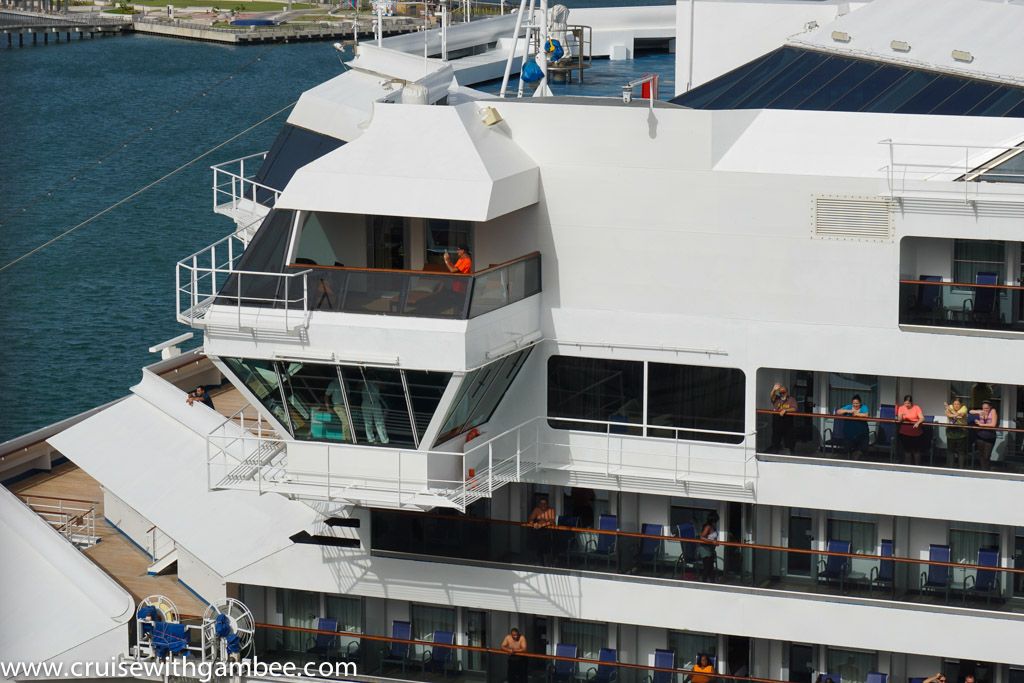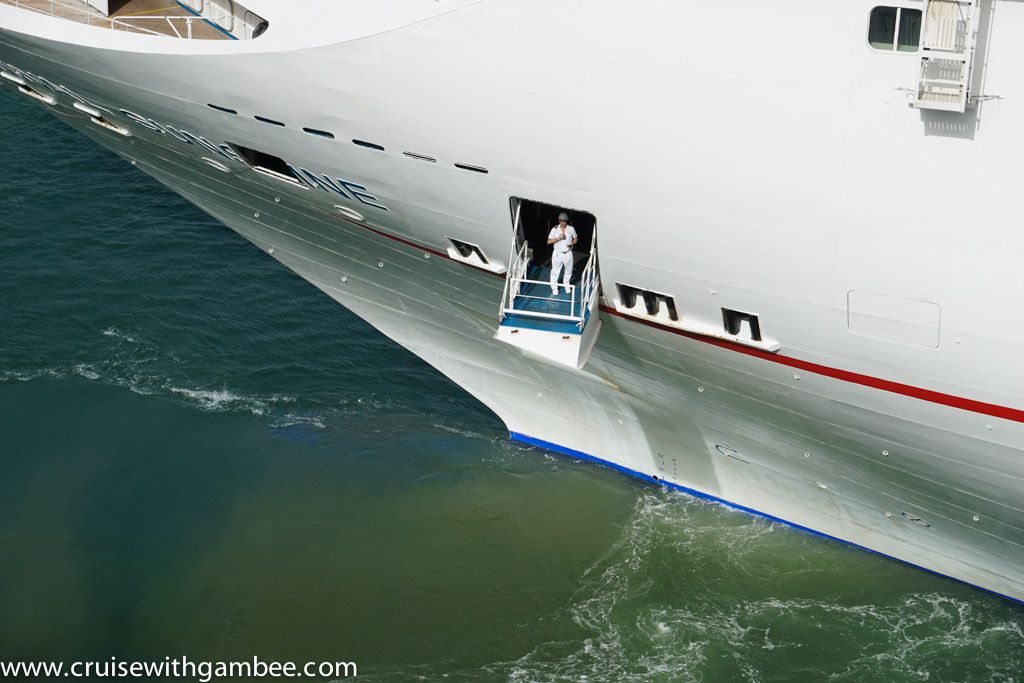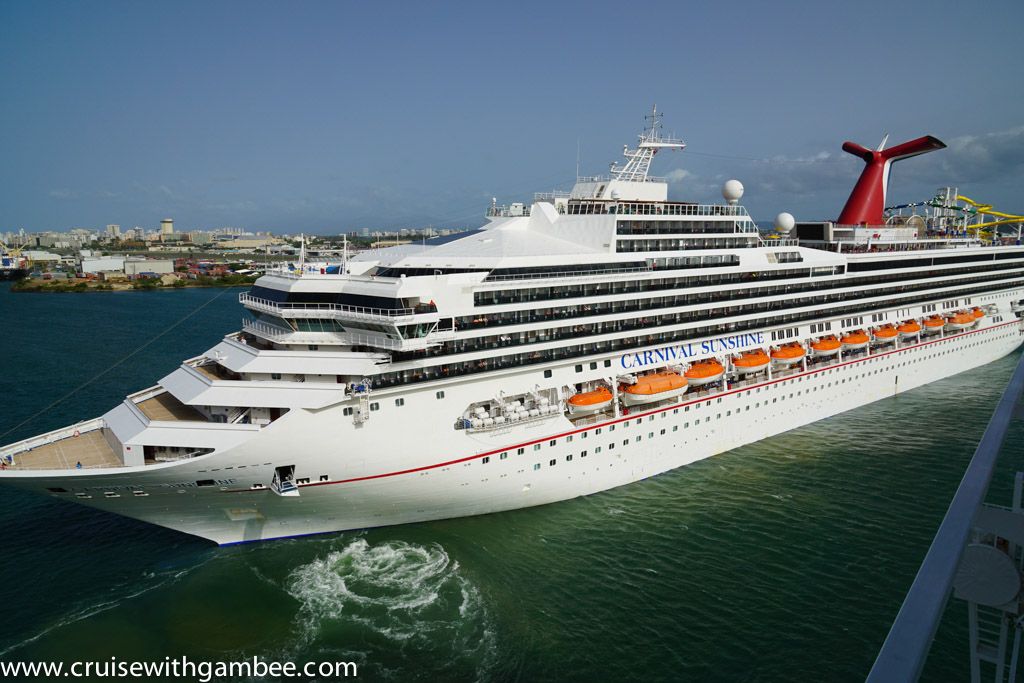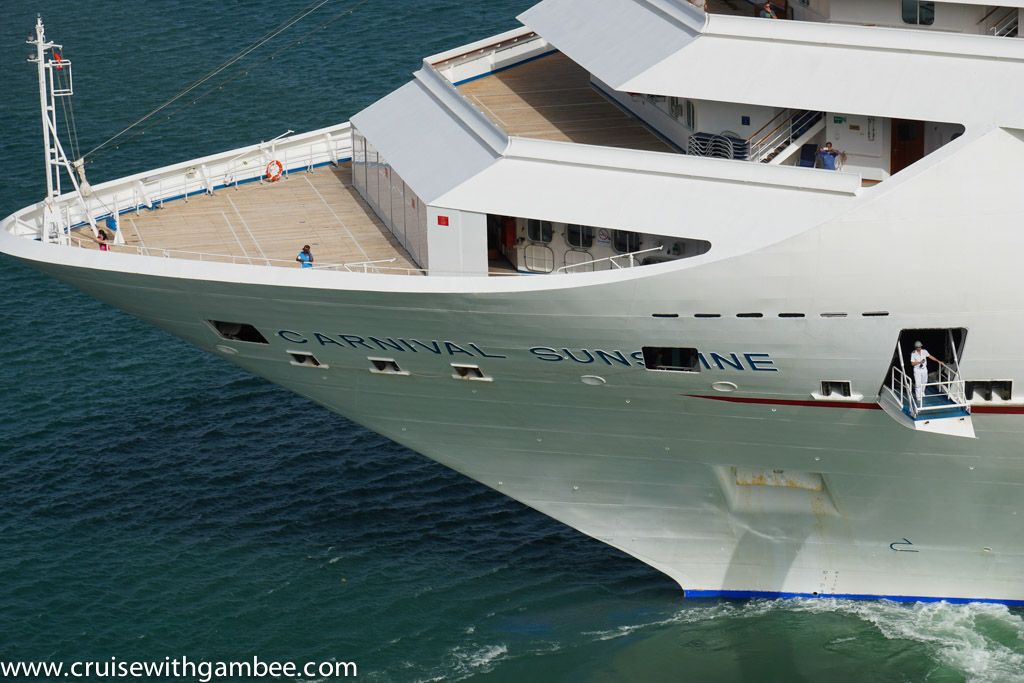 There is an airport for smaller aircrafts right there.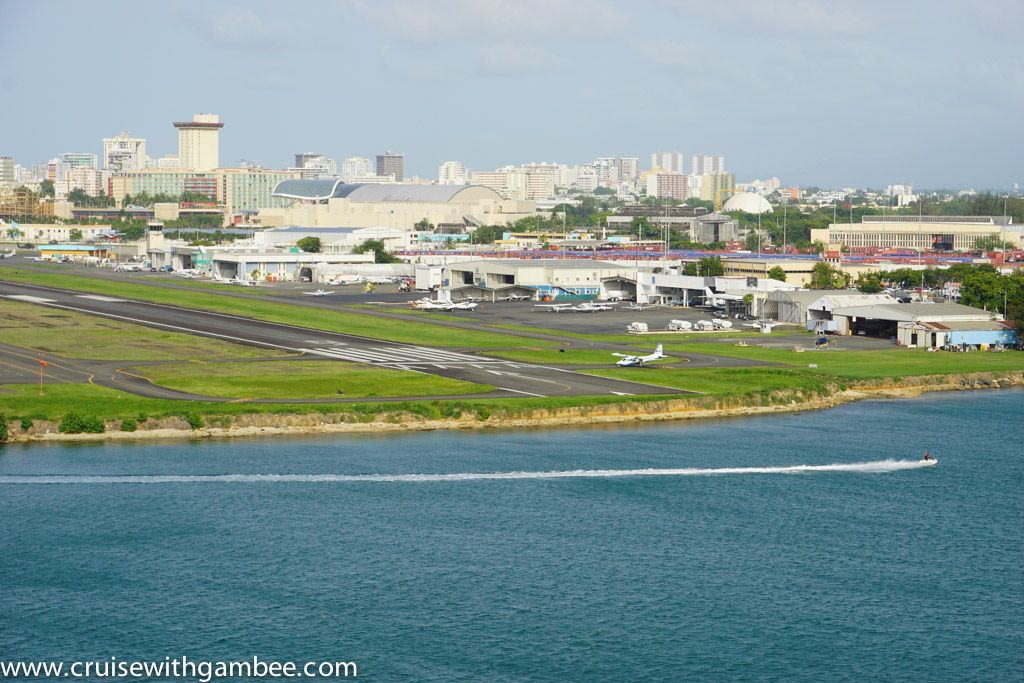 That airport gets a lot small aircraft traffic, we enjoyed seeing several aircraft land and take-off.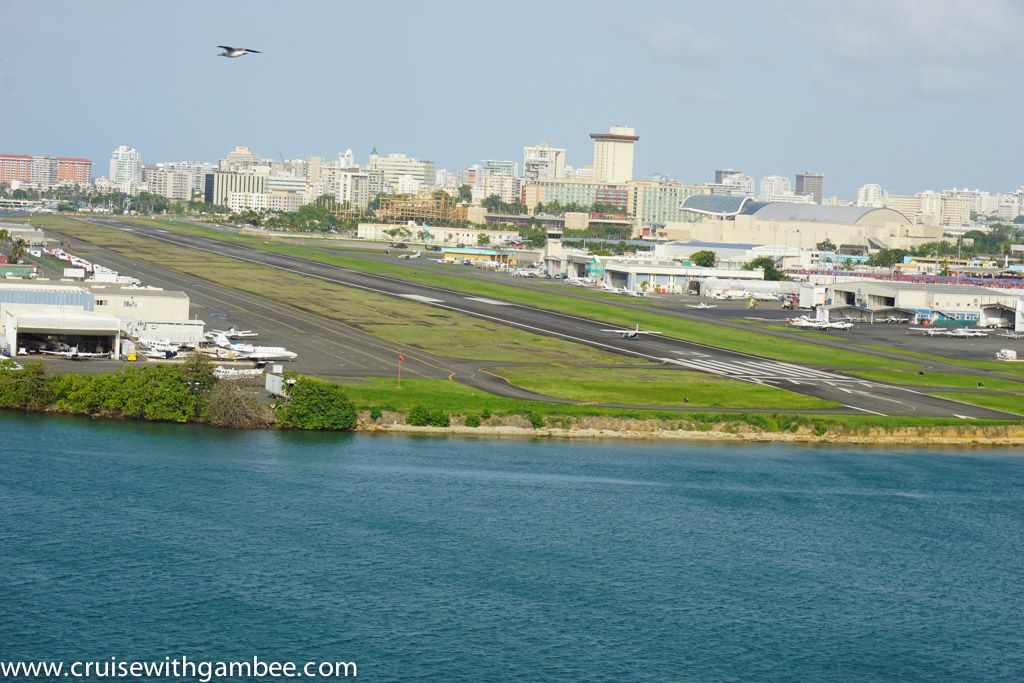 Good looking aircraft!
We just relaxed up there and waited for MSC Divina to leave port.
There's my uncle getting pictures of the airport.
We decided to stay in that location for the sail away, I will admit that it was the best location, mainly due to the tall dark glass. But my mother and my aunt were just enjoying the sea breeze and talking, so we decided to stay there. Departing from San Juan is really neat and the views are fantastic. I suggest you get a nice location on the starboard side of MSC Divina.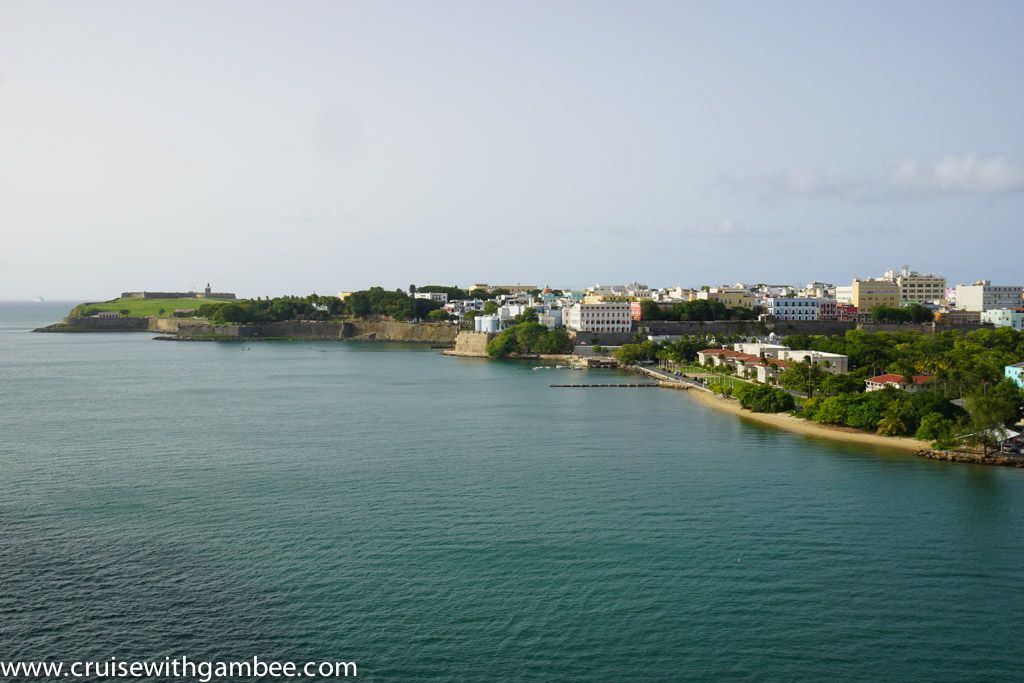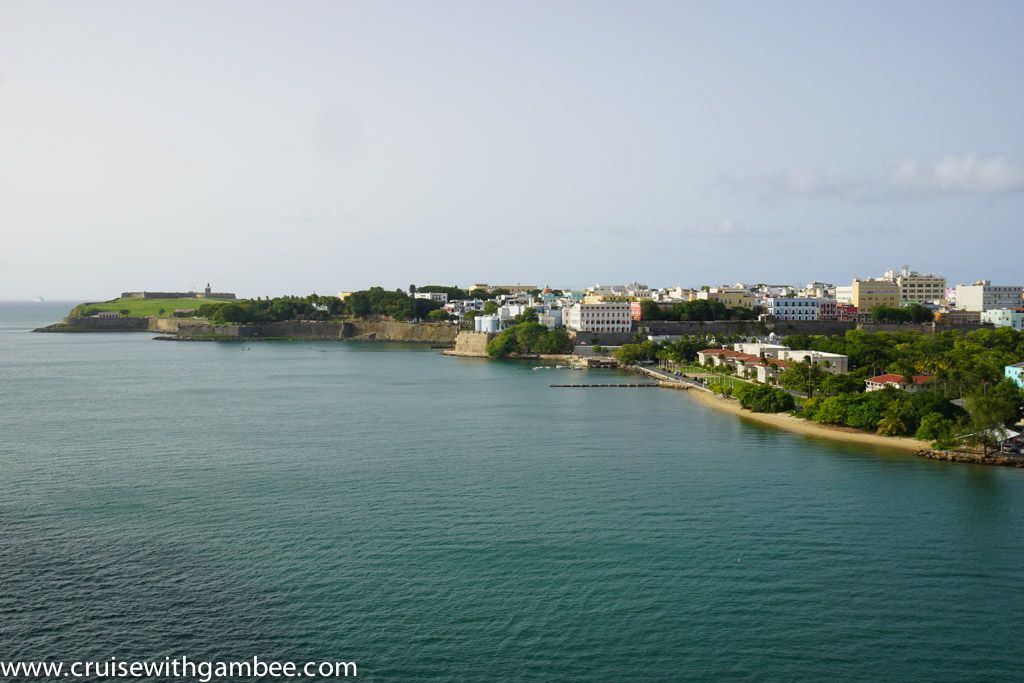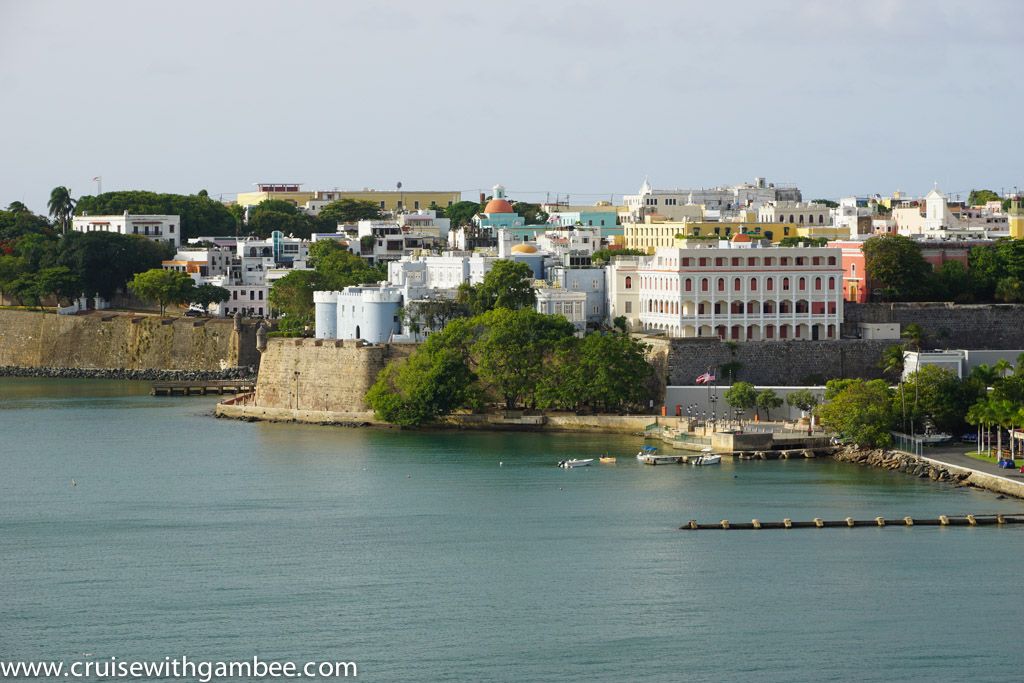 The fort looks so nice with all the green fields contrasting the fort itself.
Do you see the little path? It must be awesome to go around there for a nice walk or jog.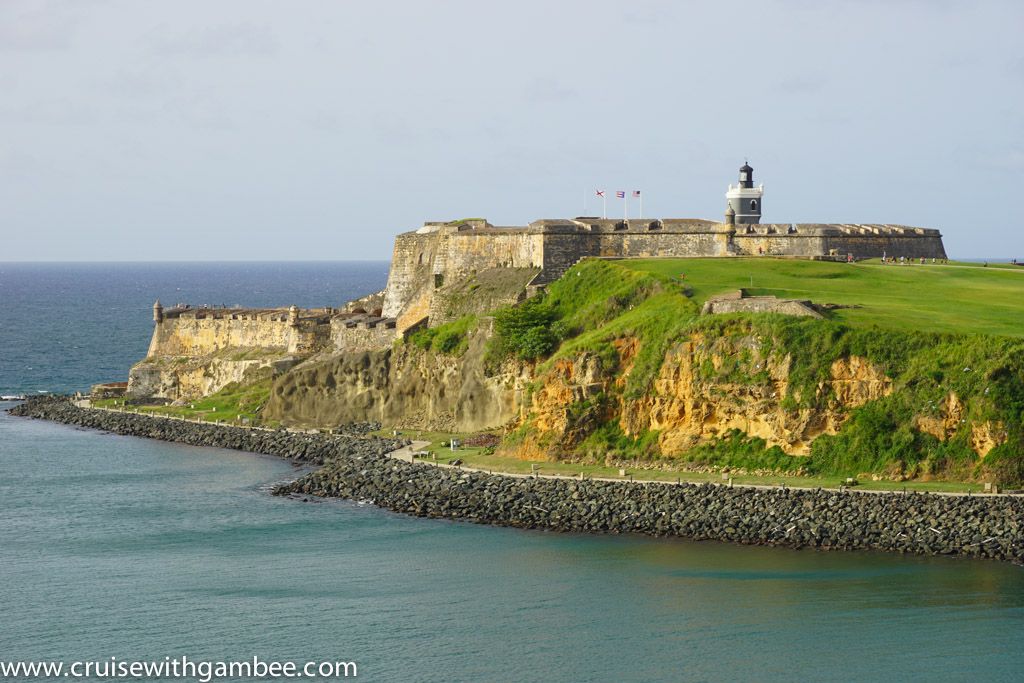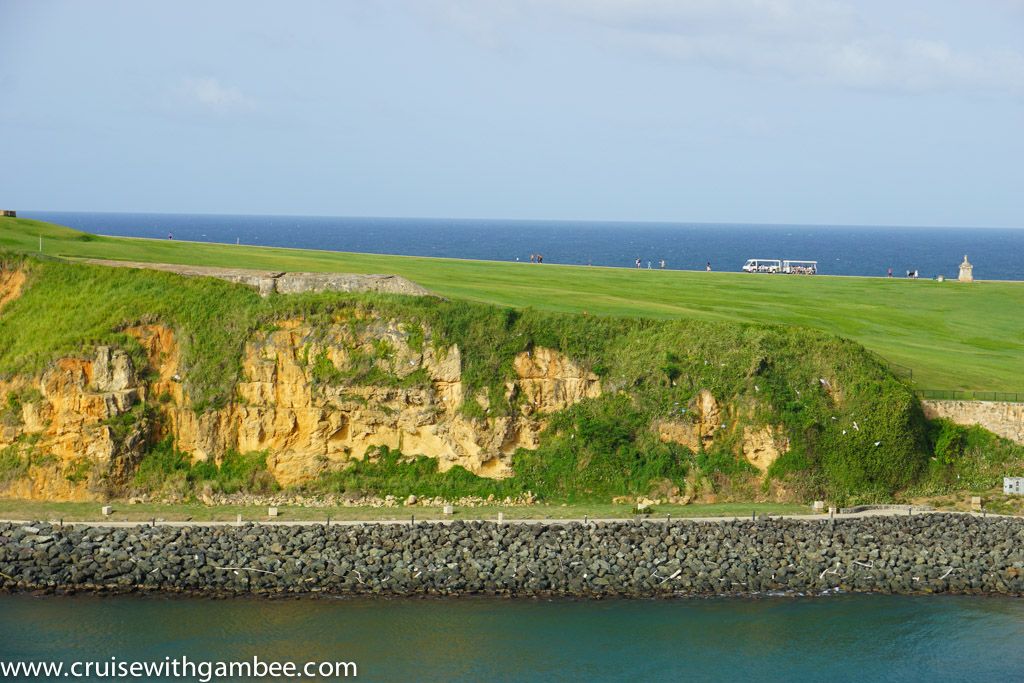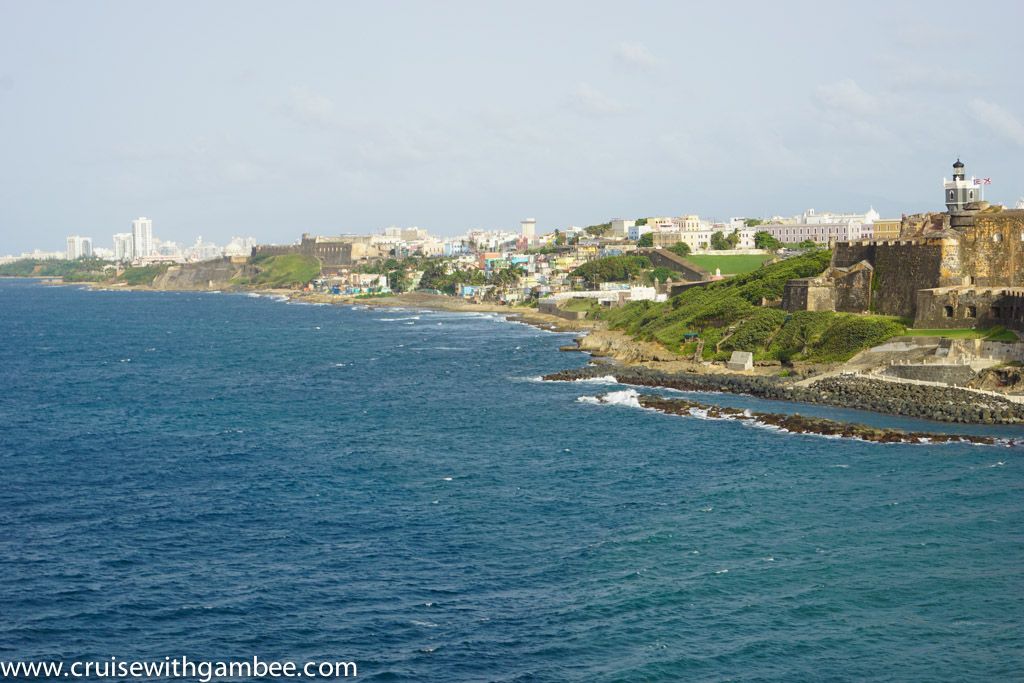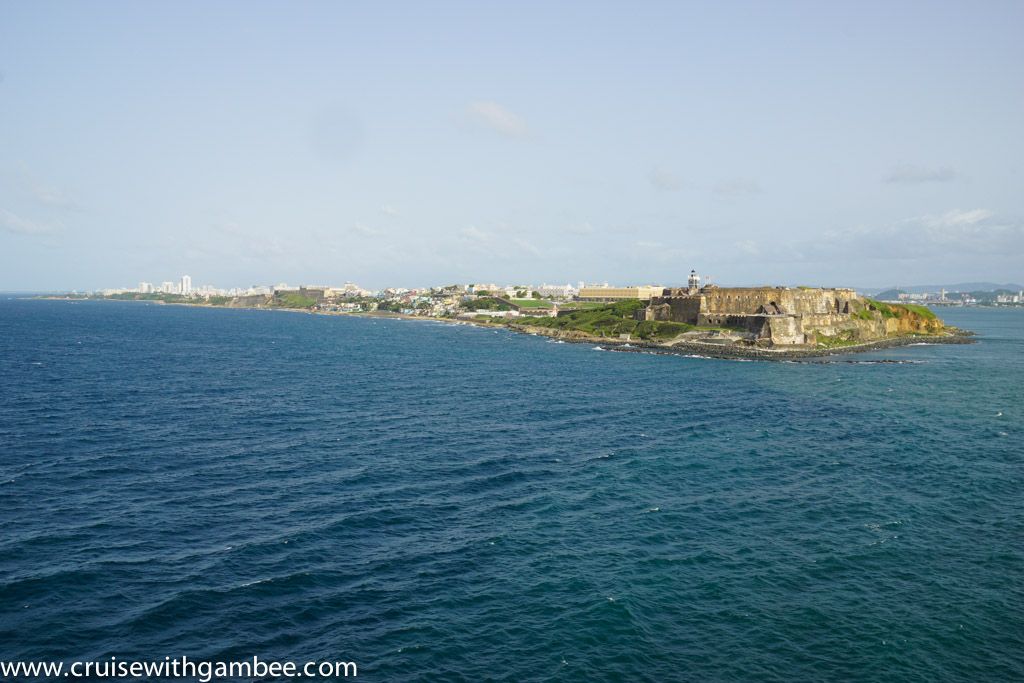 The pool was pretty busy. That reminds me, I think the capacity limit was 28? Mom used to walk around and count how people were in there and mostly always it was over capacity. I think that is very common now days, most ships just don't have enough pool capacity for busy sunny days like this one.
Since the sun was going down, we decided to head up to the Jacuzzi for a little while.

We had the Jacuzzi for ourselves for quite some time, but it was getting close to show time so we decided to go and get ready.
I got some nice pictures on the way to the room.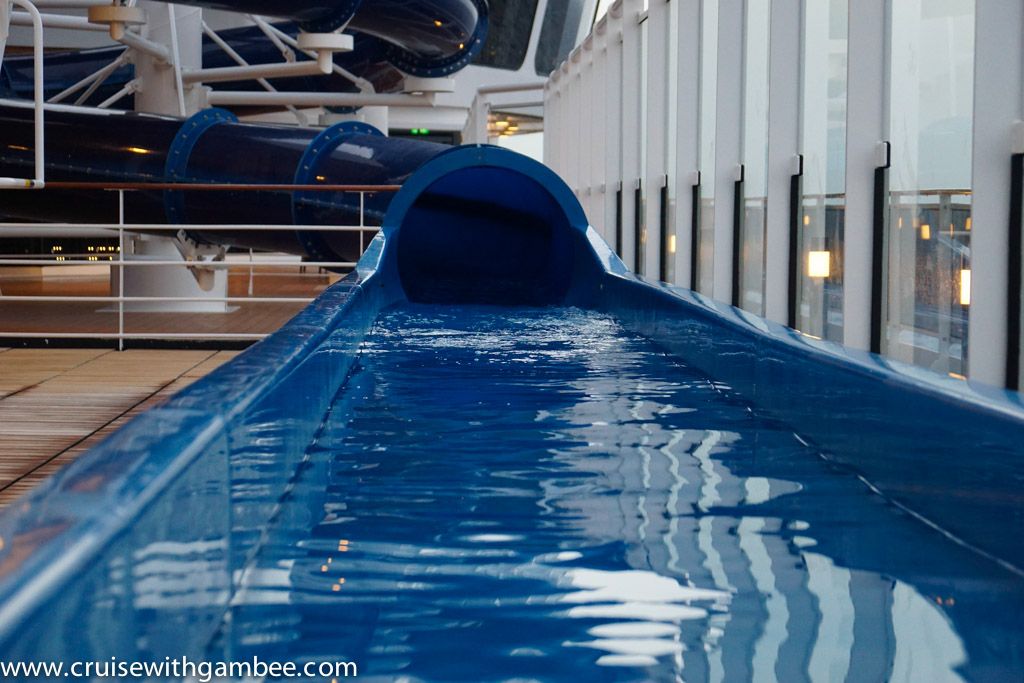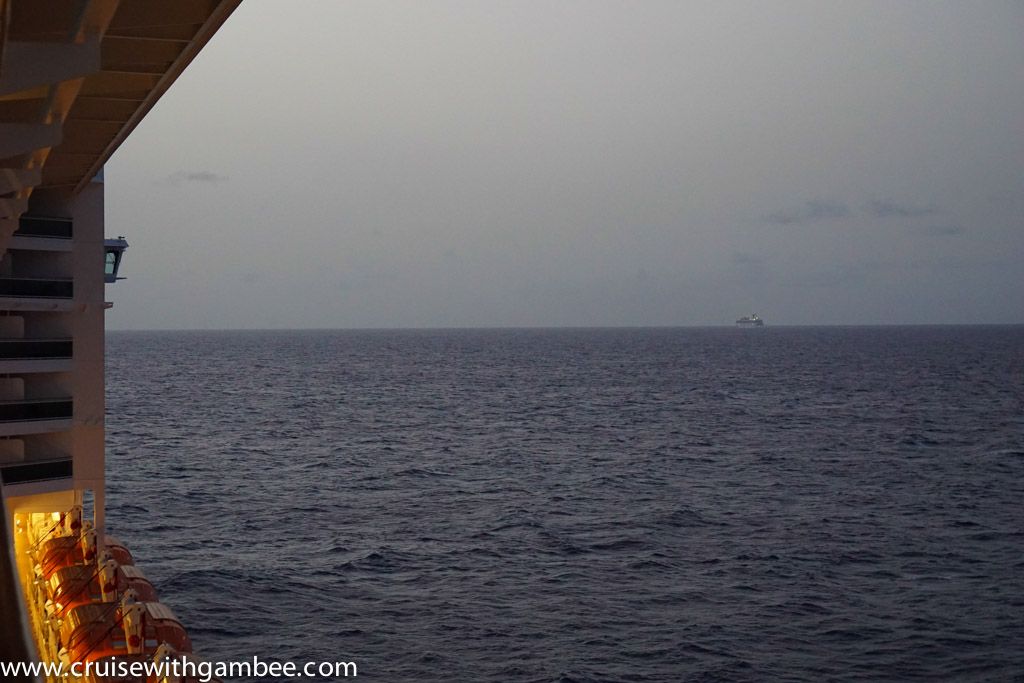 The show that night was called Pirates. I was in fact initially excited about this show, mainly because I am a fan of pirates in general. We found the show to be bland, slow and boring. Liked I said. It was like a mild variation, of witches and Alice. This is not only coming from me, my mom made the "variation" comment, and since I mainly review shows with her in mind, then I have to take her word for it. We did not last very long in the theater, maybe 10 minutes or so. I was going to leave alone, by they all followed me, I was not expecting that.
Most of us were full by then, remember we had eaten like 2 lunches that day. So we decided to make a quick stop in the buffet and get a light dinner. I had no intentions of waiting 2 hours for a dinner when I was not even that hungry in the first place.
My aunt's food.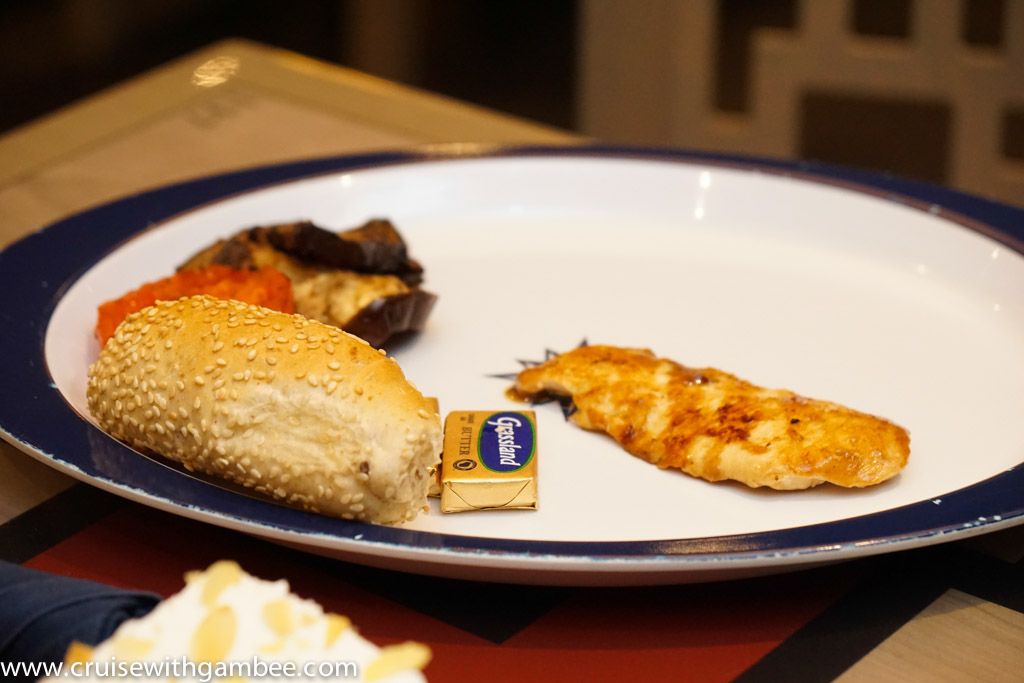 I decided to check out the kids section, I actually ended up getting some of the fish sticks from there.
And here is mine, the meat in the far end is pork. Everything was pretty tasty.
After dinner we went for a little walk around the MSC Divina. I manage to get a few drinks lists that I was missing, among other things.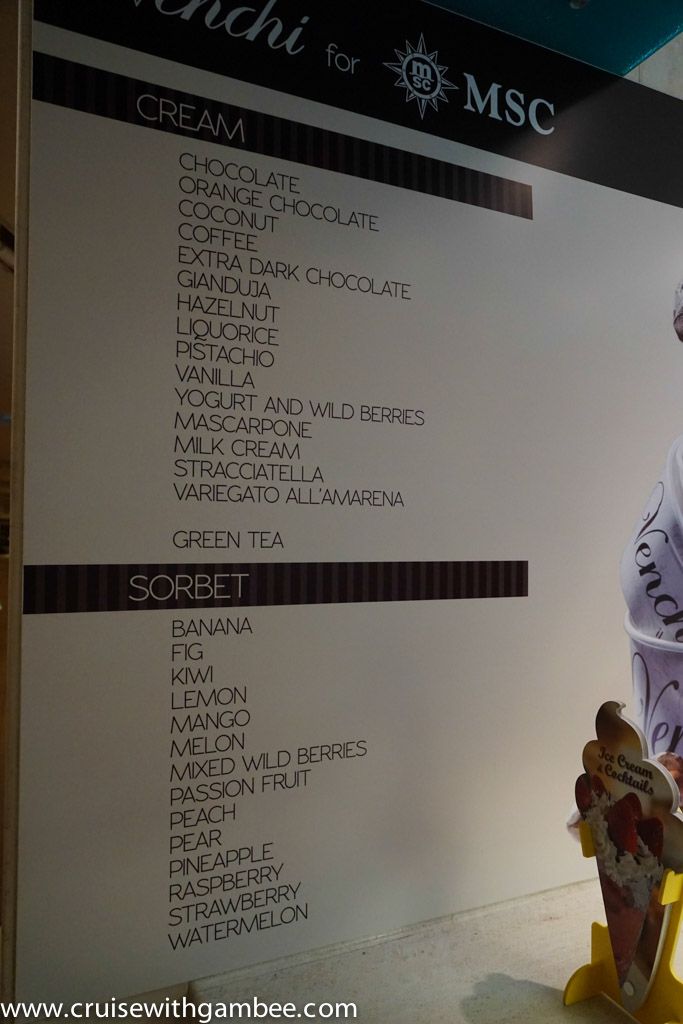 I love crepes, but I have never been a fan of nutella. I might have tried them if they something other than nutella.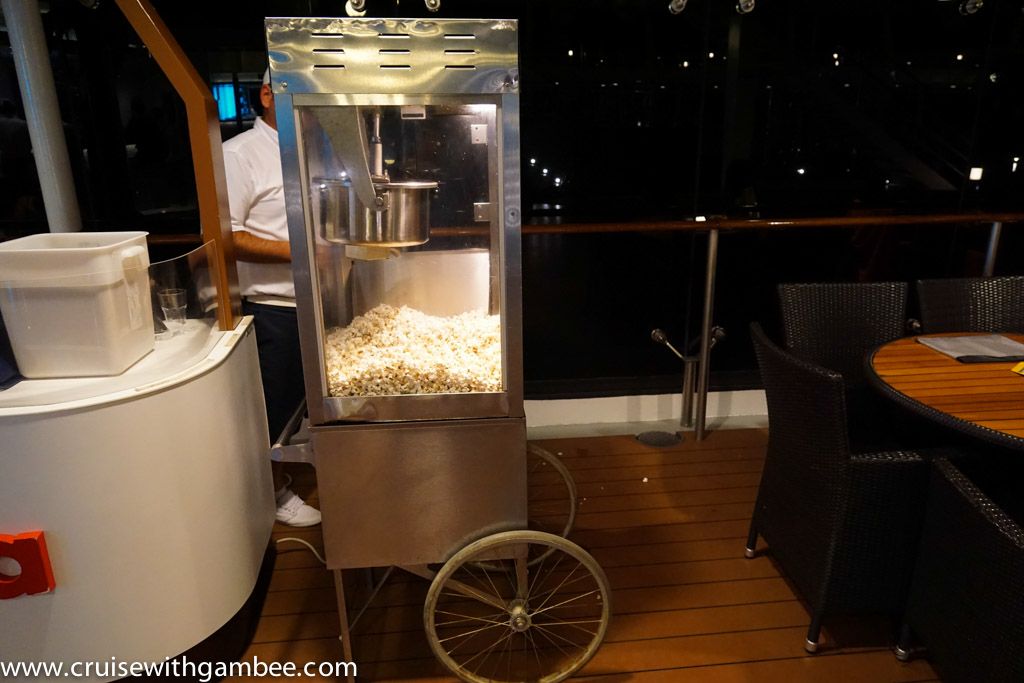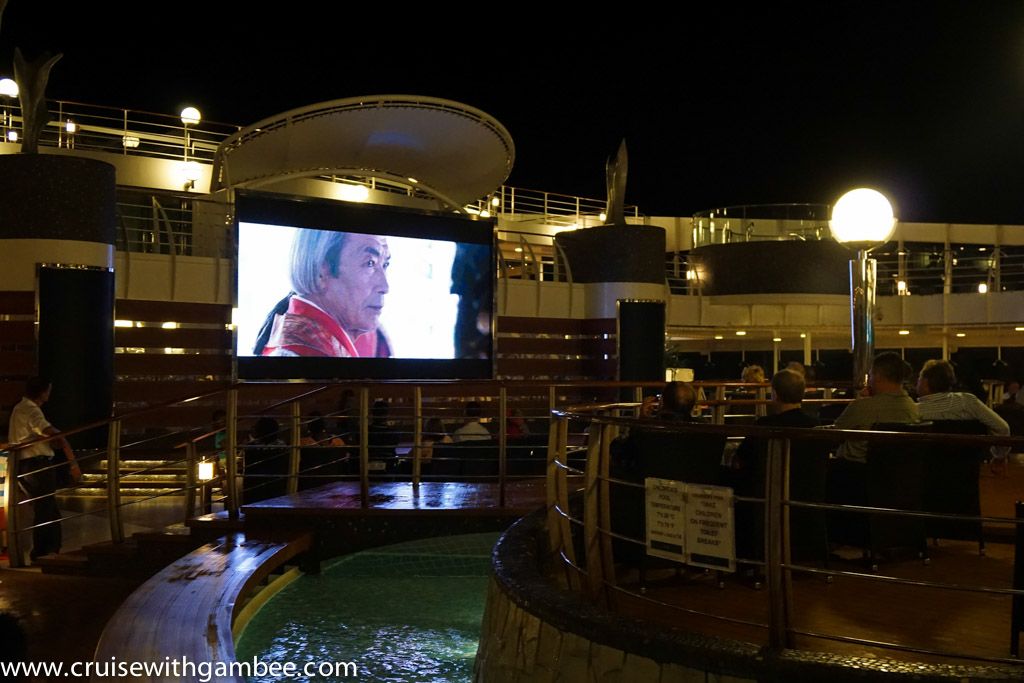 As you can see seating is rather limited in that area. But then again with the kind of movies that they are showing on Divinia, I don't think this will be a problem
I took some pictures of the indoor pool with the roof closed.
MSC Divina indoor pool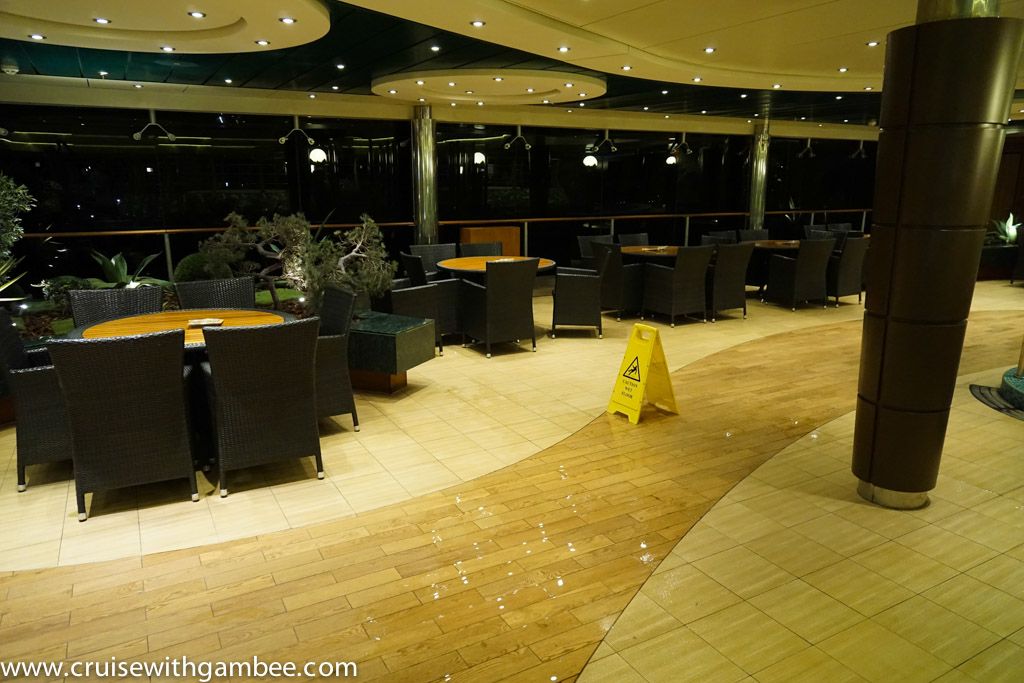 That night was flower night, so everyone was supposed to wear flower decorations. My mom had brought some Hawaii style flowers, and they all had them for the party later that night. The party wasn't until later on, so we went out for a little walk before it started.
This is where the party would be held later on.
We stepped outside to get some sea breeze, it was really nice that day.
My uncle asked us to come with him and collect his winnings from the casino, he had yet to check out. So we took a short stroll there, and I took a few pictures on the way.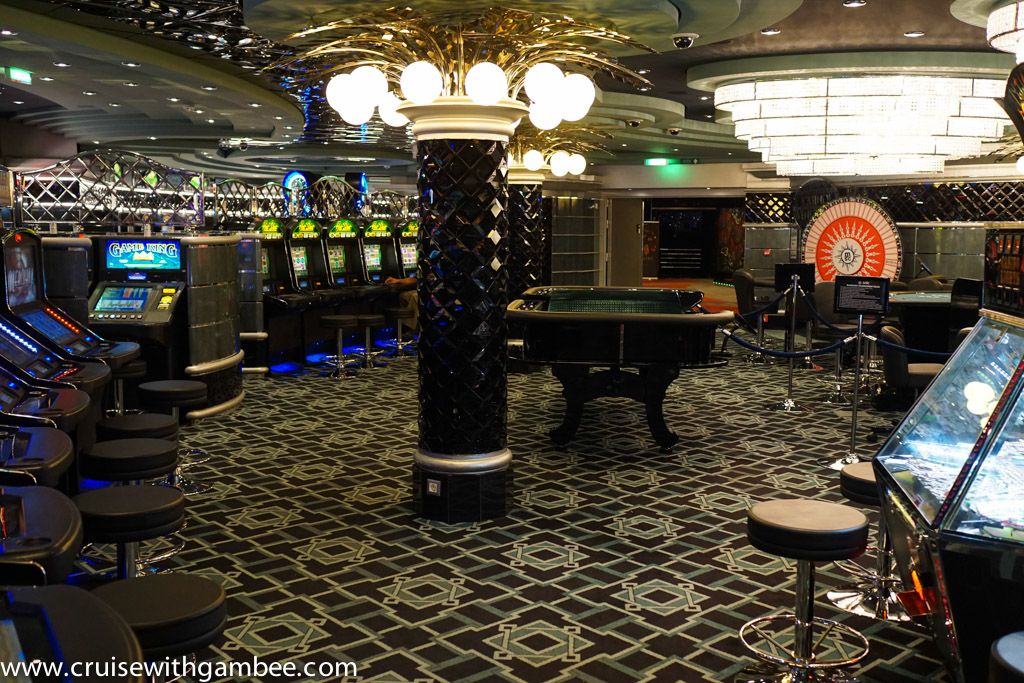 The casino was really empty that night. Now that I think about it was much less occupied than other casinos that I have seen on ships.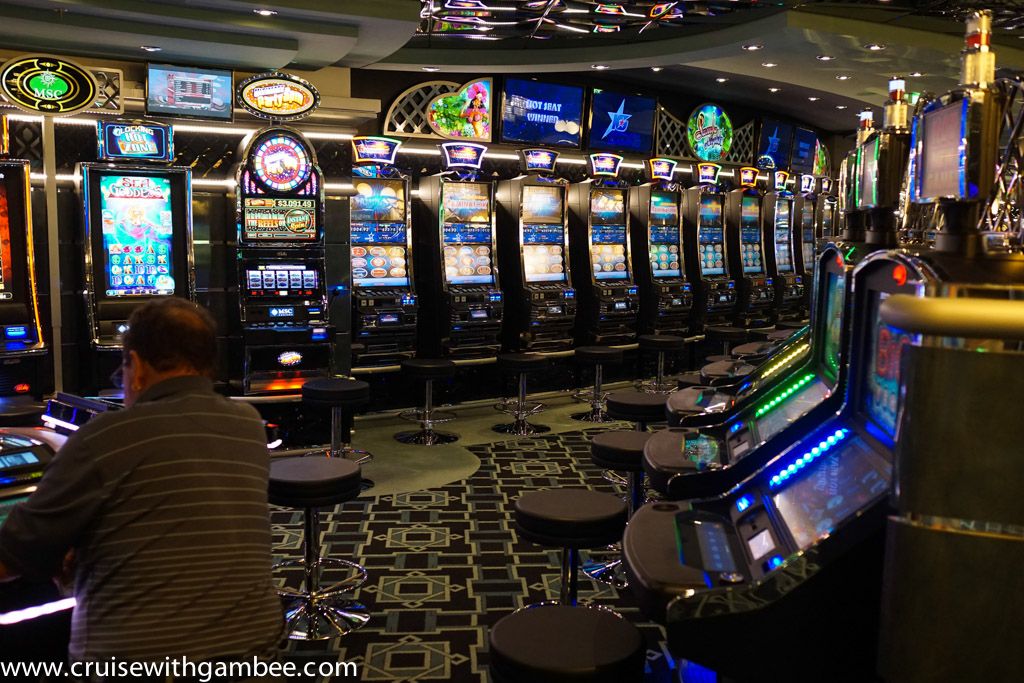 And here is a happy uncle! Who would not be?!??!?!?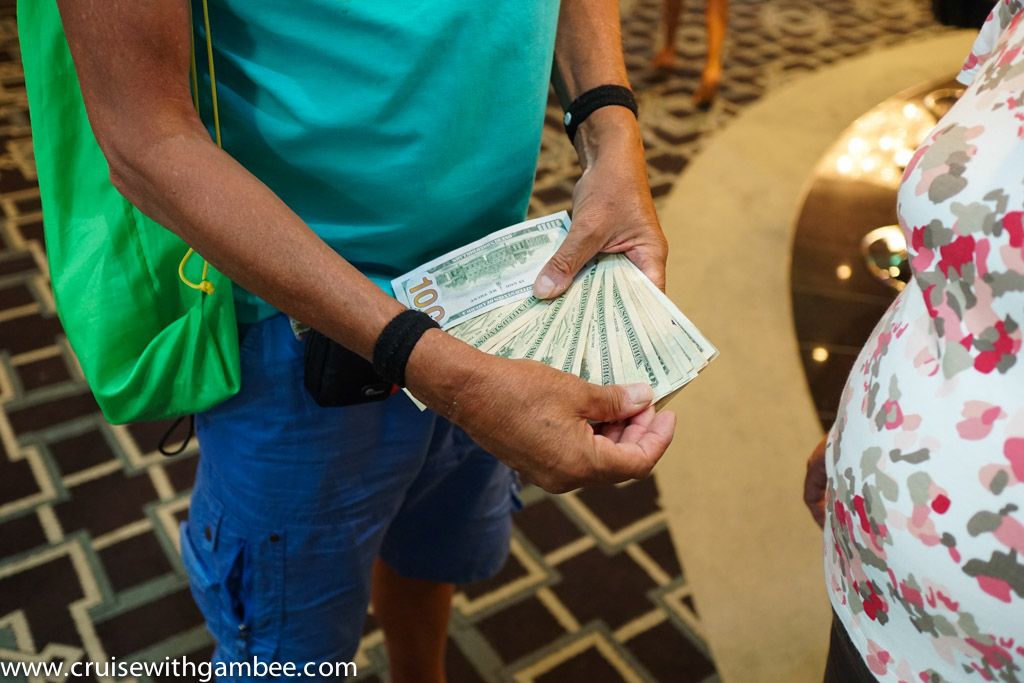 He gambled a little more, but did not win anything. I decide to head up to the room and attempt at rescuing my data one more time. I went into the arcade next to the casino to get a couple of pictures.
Once I got to the room, I took a hot shower and got ready to attempt the rescue of my data. Little did I know that all the persistence and hard work finally payed off!!!!!!!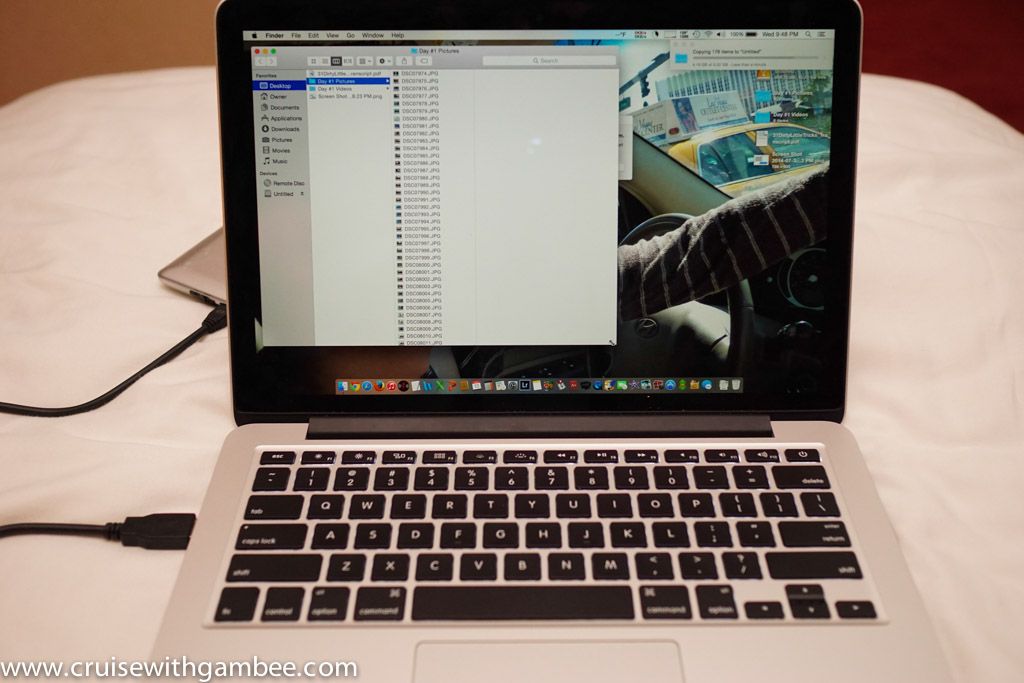 The computer did come to life, but it was working insanely slow and it would lock up every so often. My first priority was extracting the day 1 pictures that I had lost, that in itself took about 20 minutes! I have never seen that computer so slow.
My family came and knocked on my room, they were all dressed up with flowers on the head and whatnot. I told my mom that I had other priorities. I needed to make copies of the current data and duplicate everything into the external drive.
I knew that was going to take at leas 1 hour. So stayed back to keep a close eye on my project. I was able to do everything I needed to do, but as I predicted it took about 2 hours. The party was either well underway or over by then. Either way I was exhausted! So I decided to call it a night!
I was very excited about my success! Finally it payed off. The funny thing is that I restarted the computer, and it was dead again. That had been a stroke of luck, one that I was very thankful for!
So that was about it for that day, I pretty much crashed in that bed as soon as I laid my head on that pillow. The sun will do that to you.
Day 5, End.