MSC Divina Video Tour Review
I am starting this section with the video tour review. I will say from the start that this is not my favorite set of videos. There are several reasons for this. For starters, I was using a new lens, and I am not sure that I enjoyed it as much as the fish eye. Please give input on the lens situation. I also did the second half of the videos during a very busy time and it was rather hard to walk around. Also, I think the lens seemed to struggle under the low light.
Nonetheless, I am posting the video for everyone's enjoyment.
Video # 1
https://www.youtube.com/watch?v=-H2duqwJ2Ps
Video # 2
https://www.youtube.com/watch?v=xAYLUxstLuI
Video # 3
https://www.youtube.com/watch?v=ZQSWIqdTR0w
Video # 4
https://www.youtube.com/watch?v=PlXHa90pYro
Continuing with the tour with the Fisheye lens.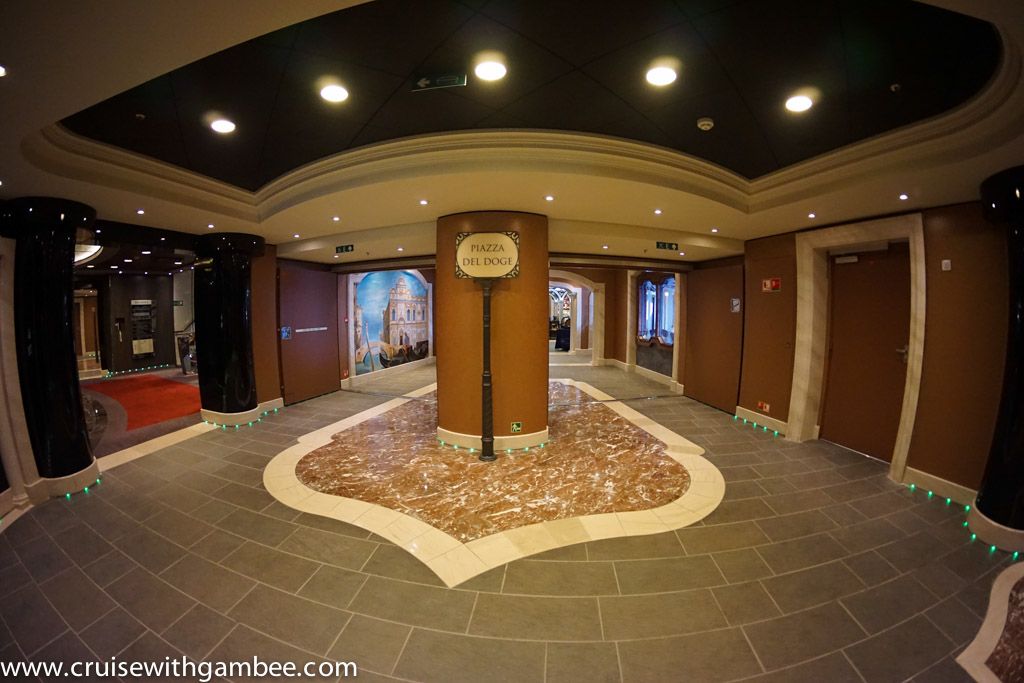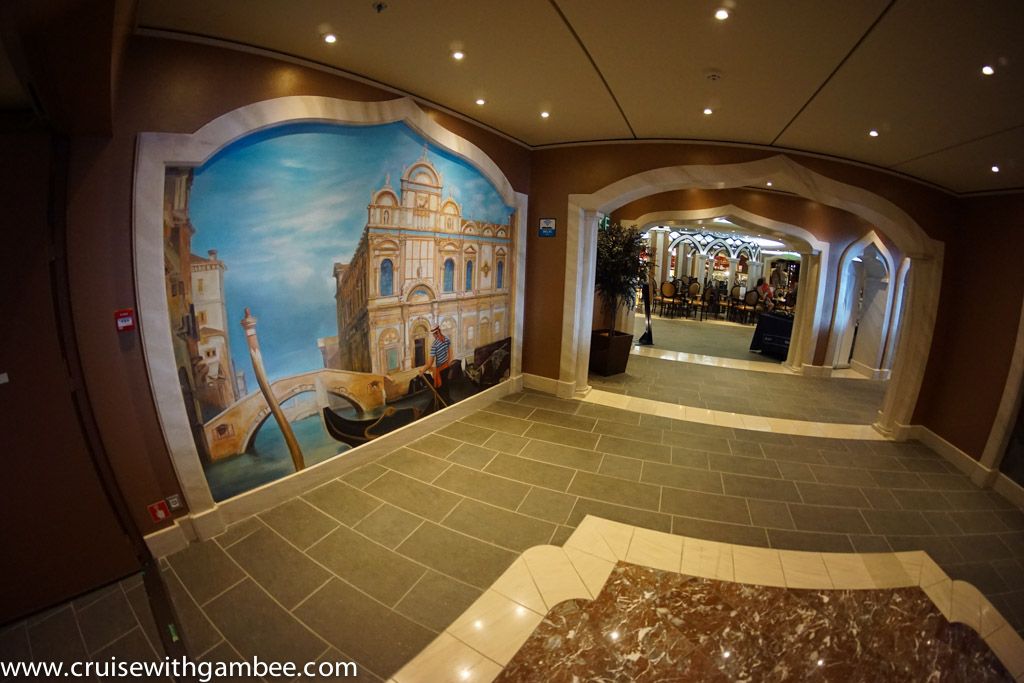 You think it's easy to win, but it is really not. I got sucked into that evil machine, and she $2 away from me, lol.
This area came out really great with the fisheye lens.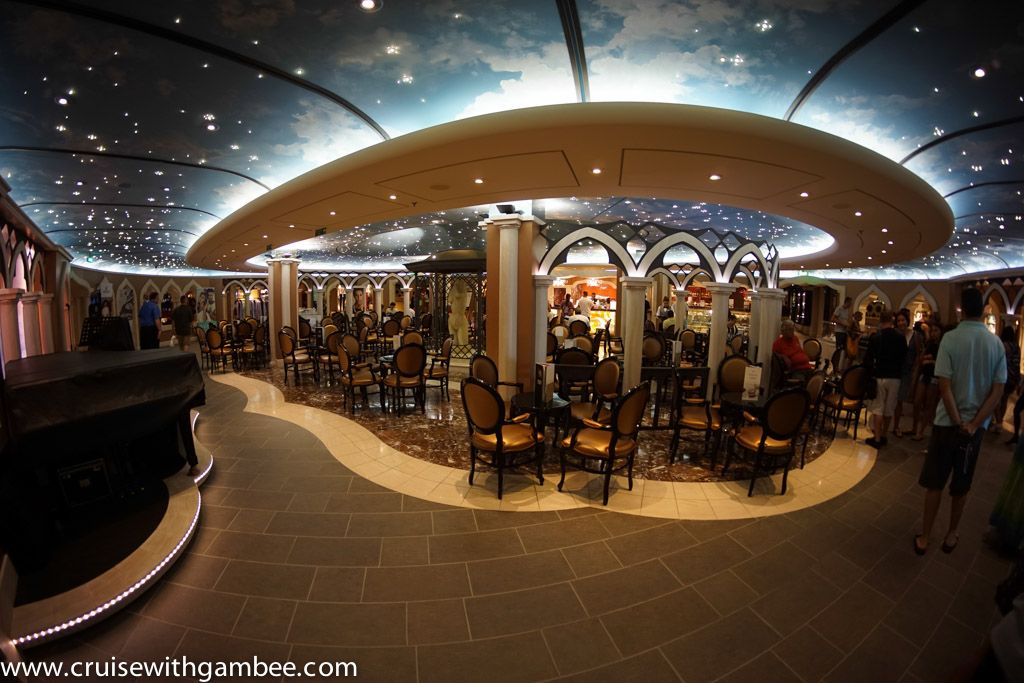 This is one of my favorites.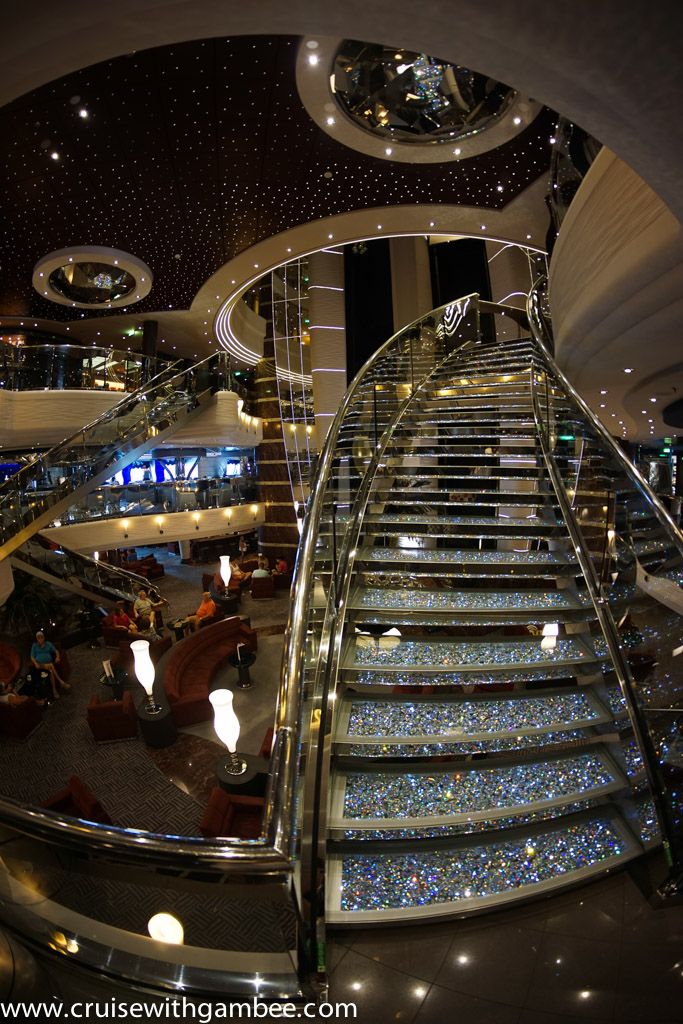 This picture came slightly off center, but still a fantastic shot!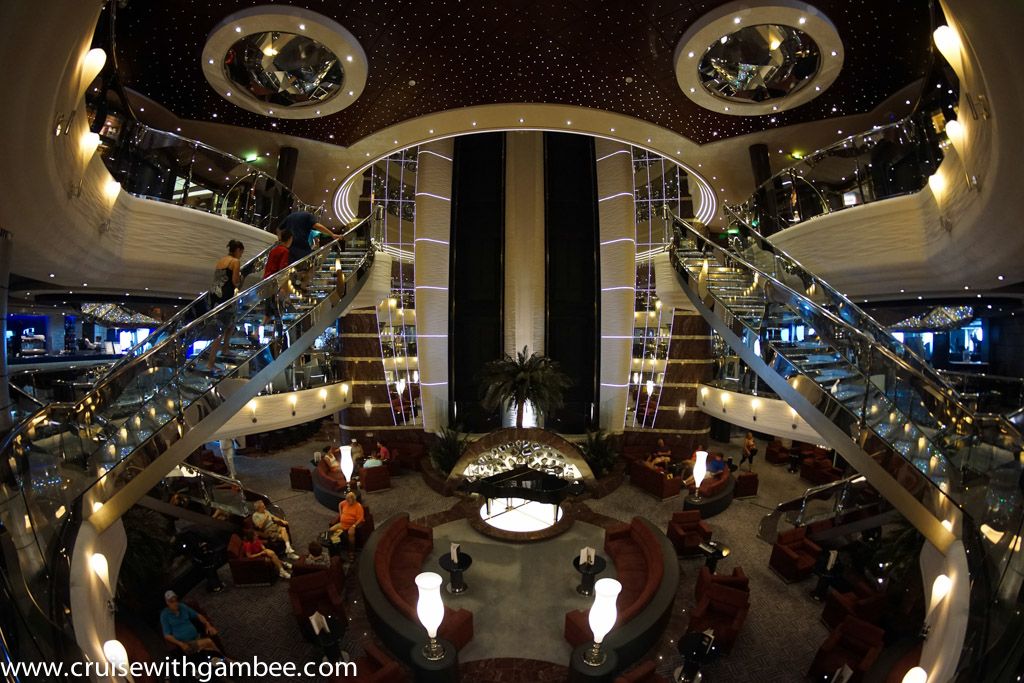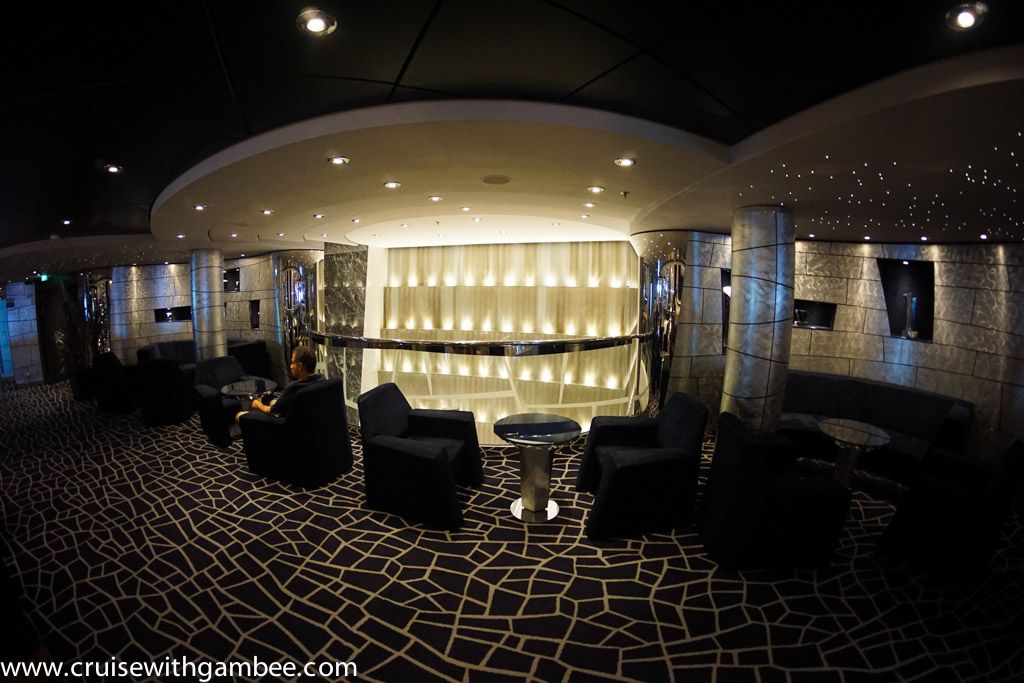 MSC Divina Atrium
This lens really shows the beauty of MSC Divina!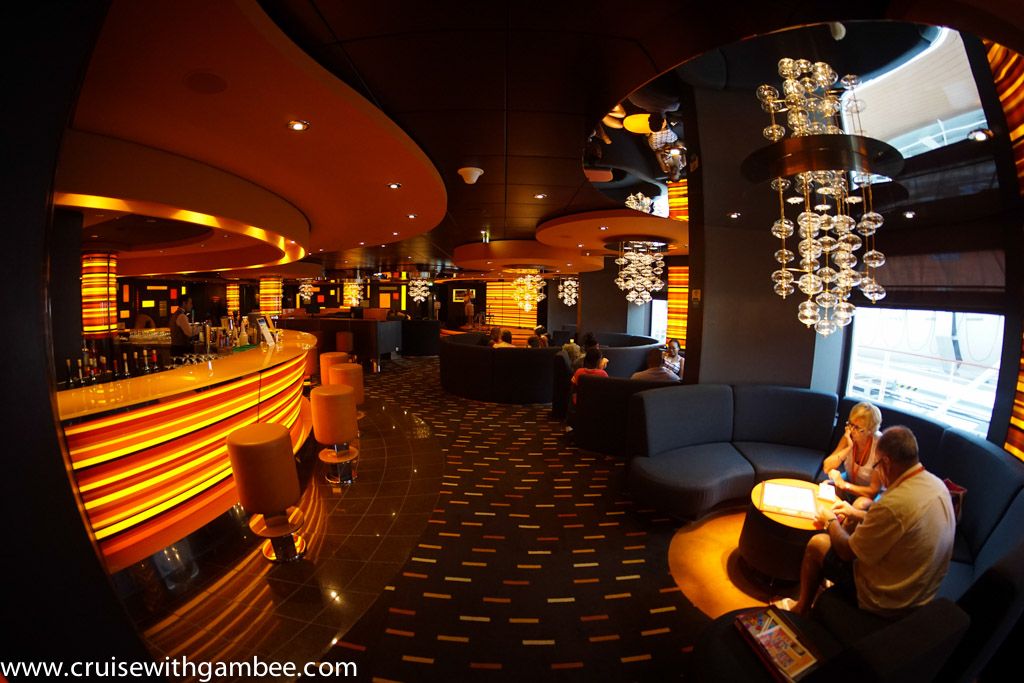 MSC Divina sports bar and bowling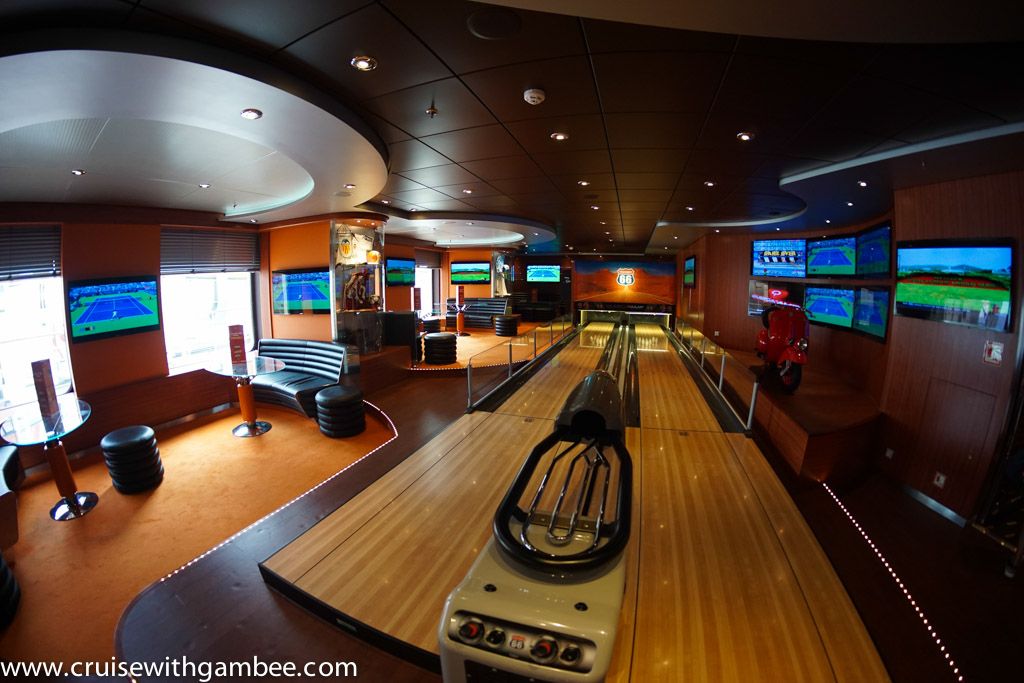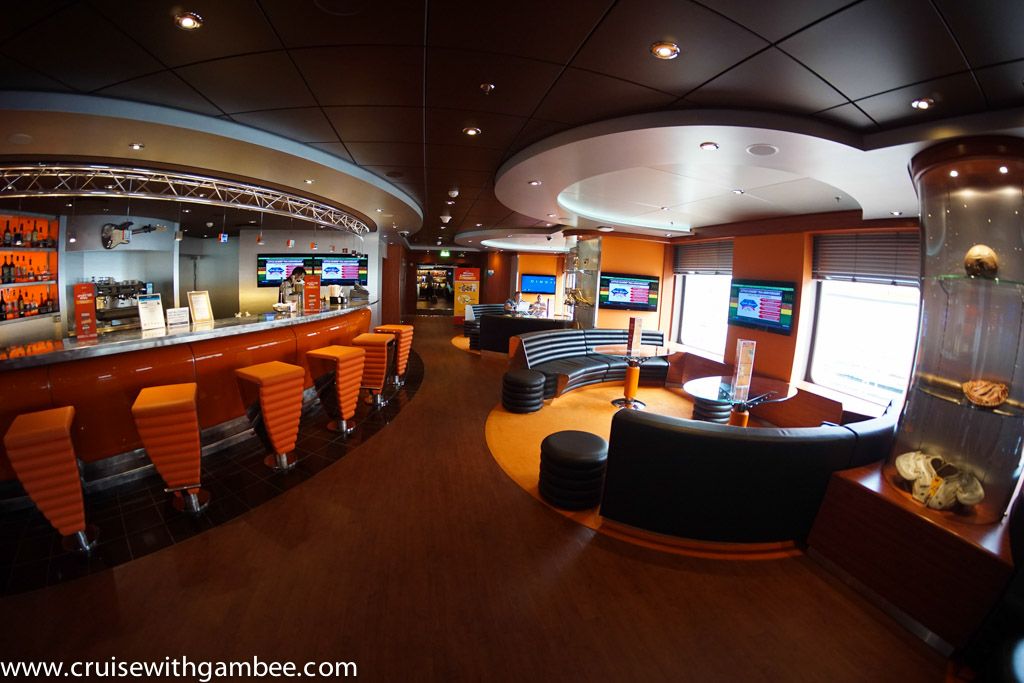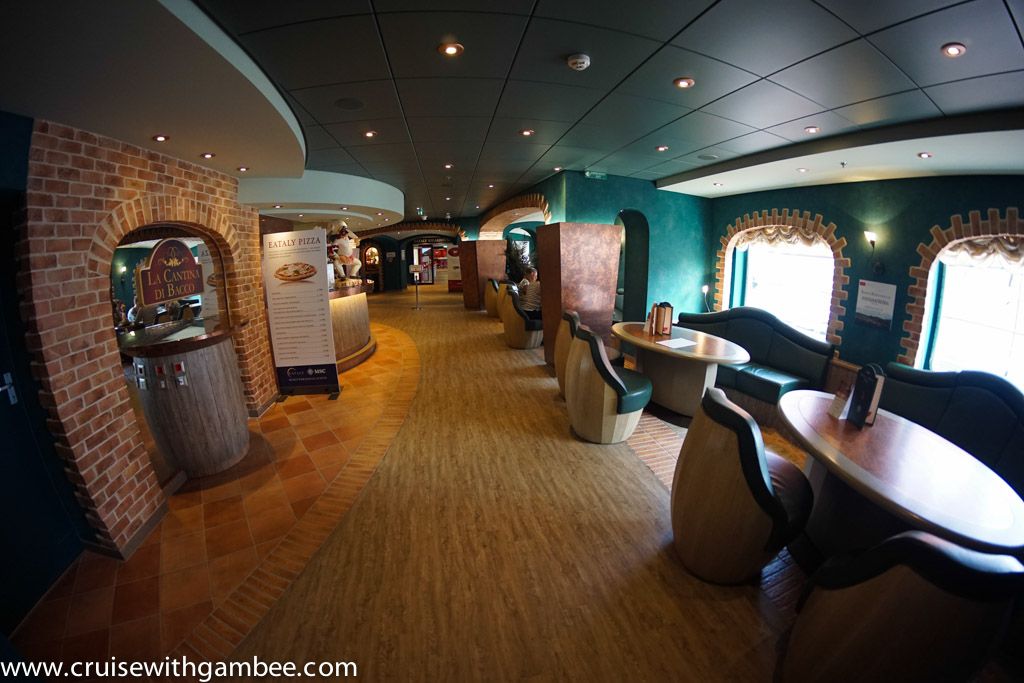 Much has been said about this venue, mainly about how plain it is. That said, everyone who reviews the restaurant says that the food is exquisite and well worth the price paid.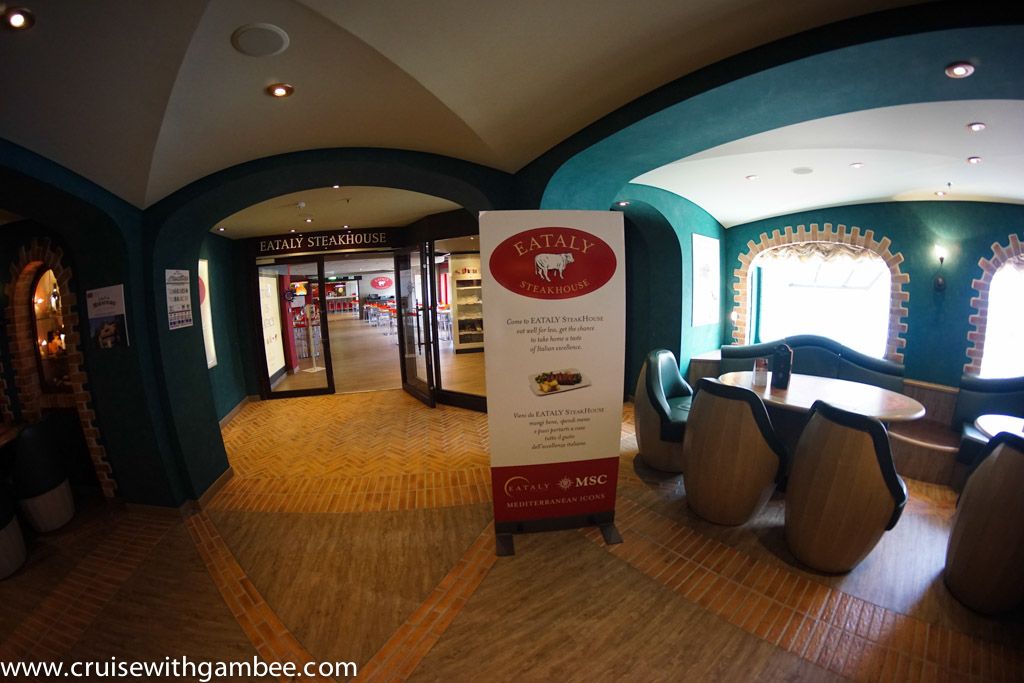 They have a bunch of products for sale in the entrance of the restaurant.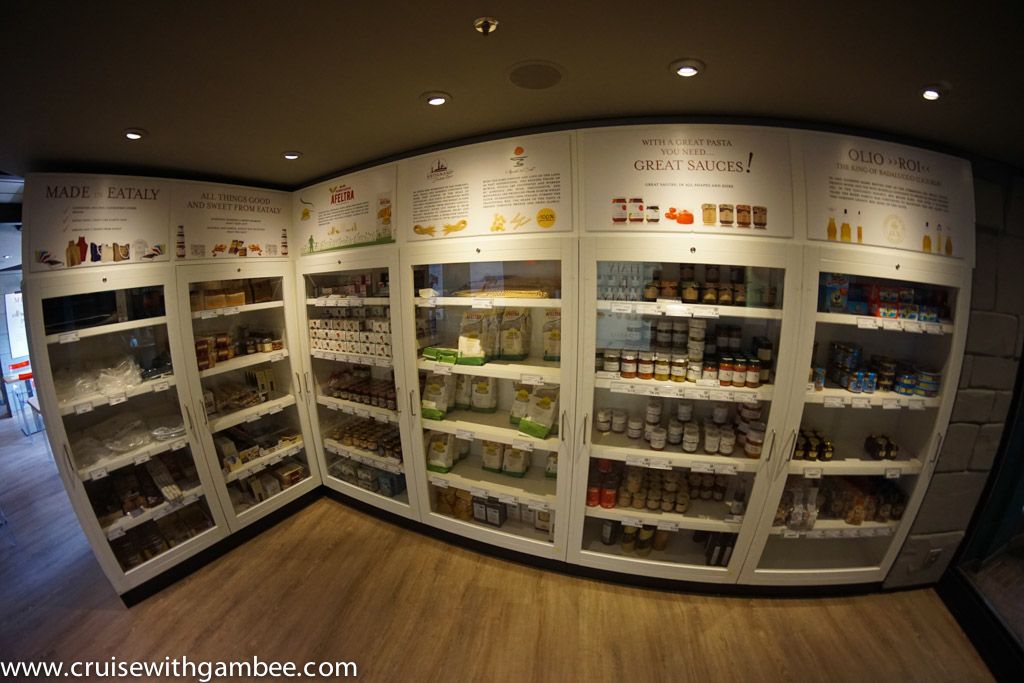 Black and White Lounge.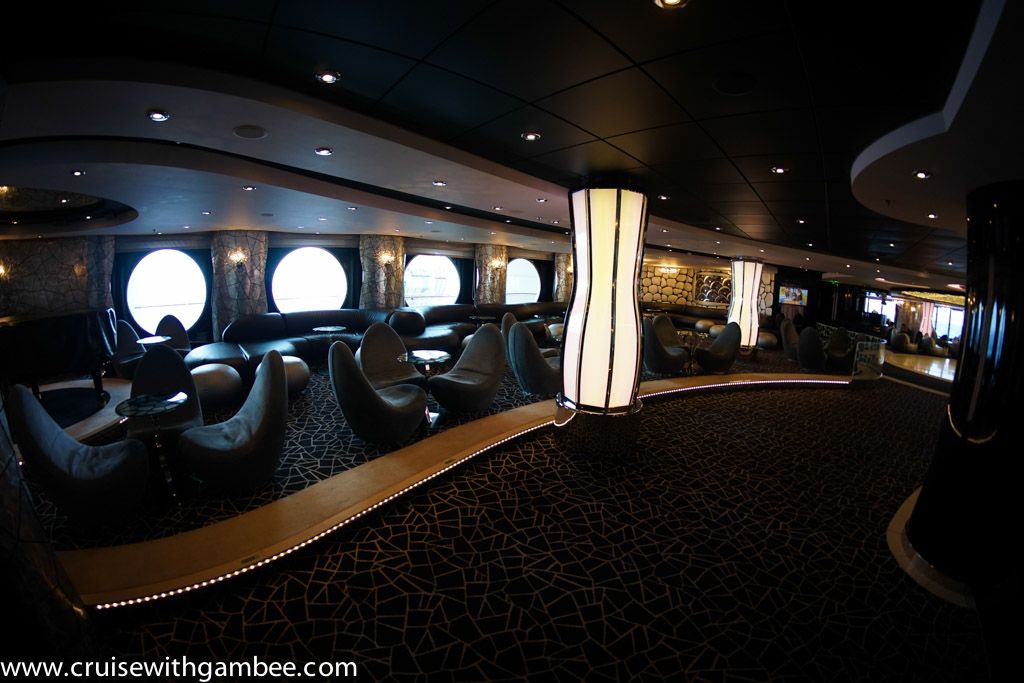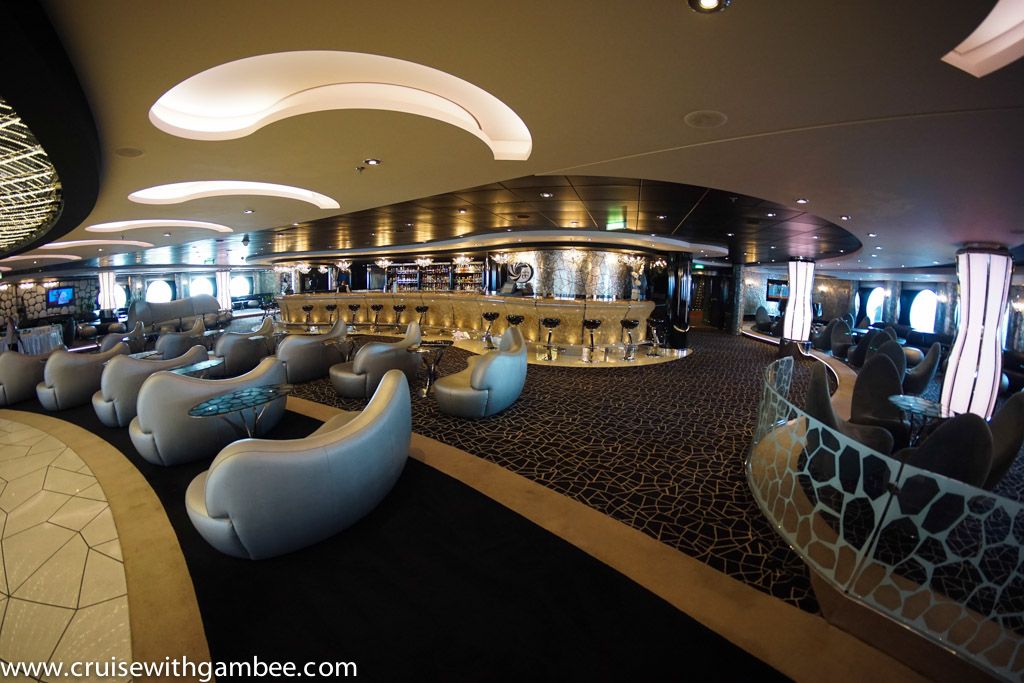 I was feeling a little tired, quite honestly, I think now all I want to do on sea days is lay on the Lido deck with a drink in my hand and enjoy the view. I think they were also feeling the same way, all it took for me was to suggest we hit the Jacuzzi and they all agreed. We made a quick stop in the room to get changed, and headed up to the deck 16.
The fisheye does amazing illustration pictures.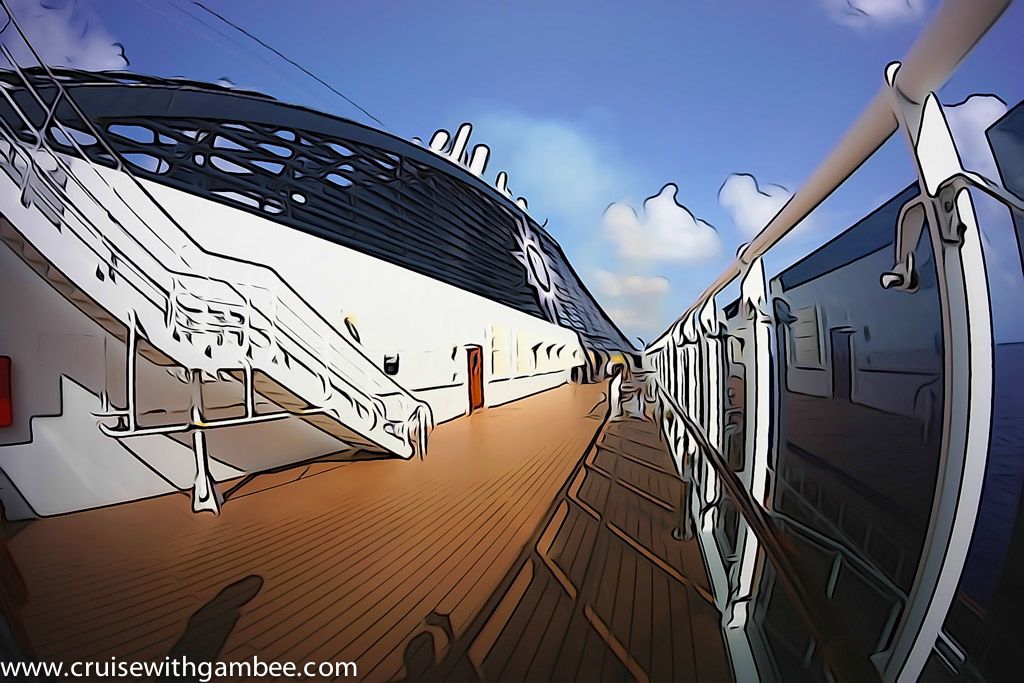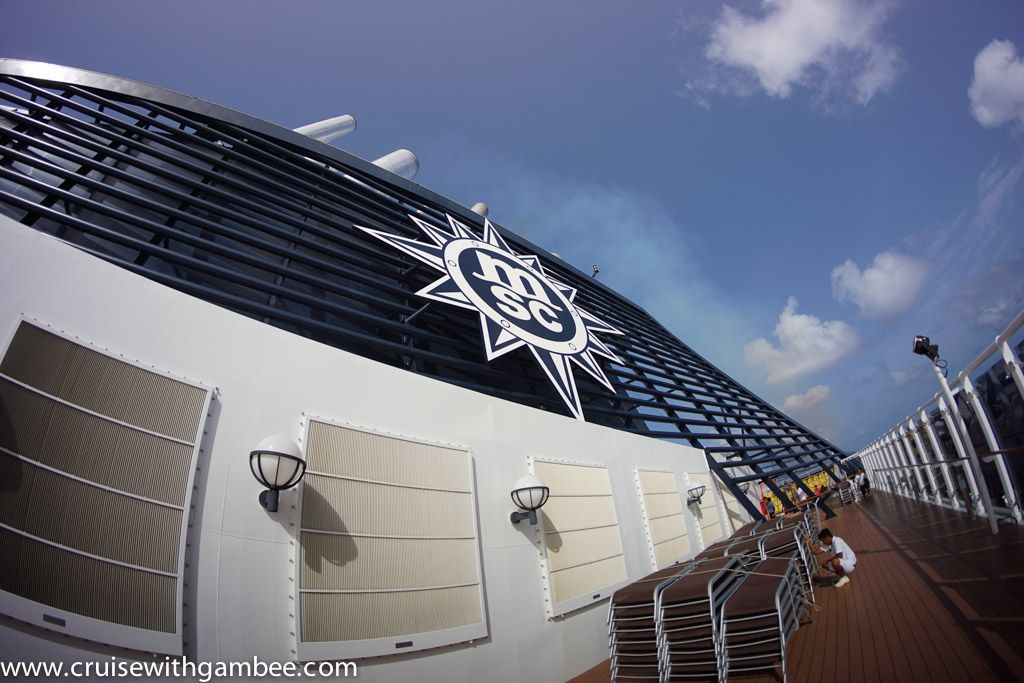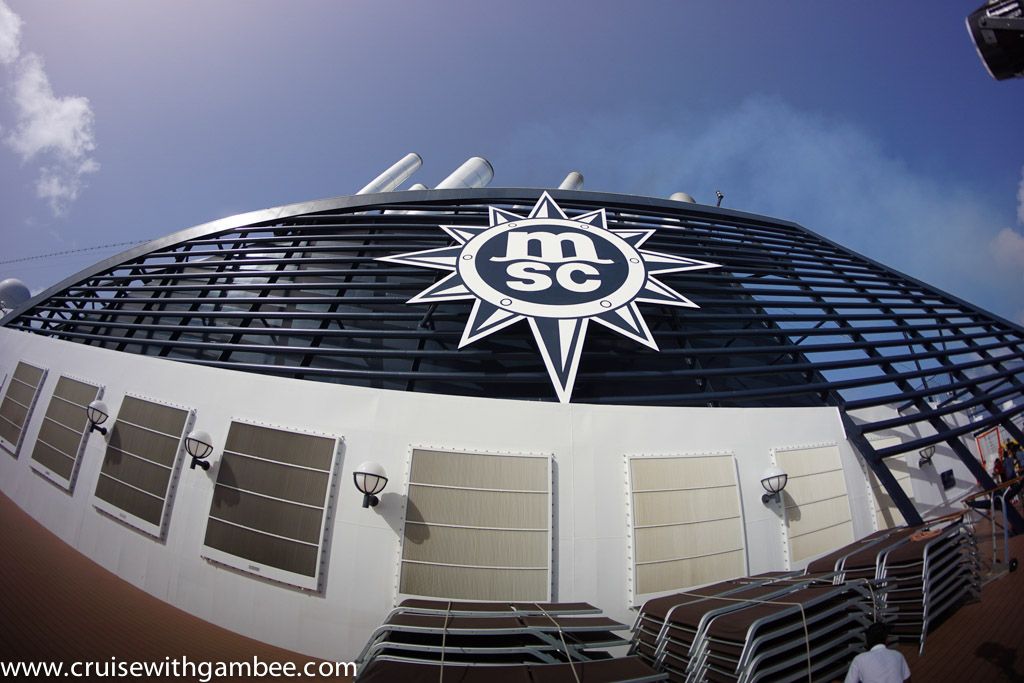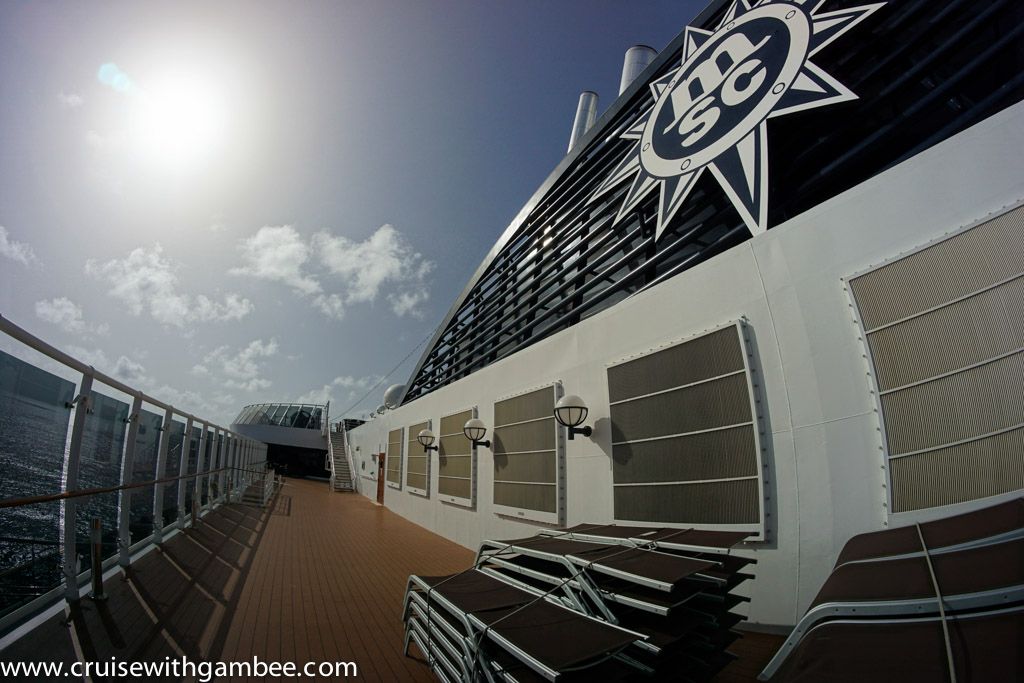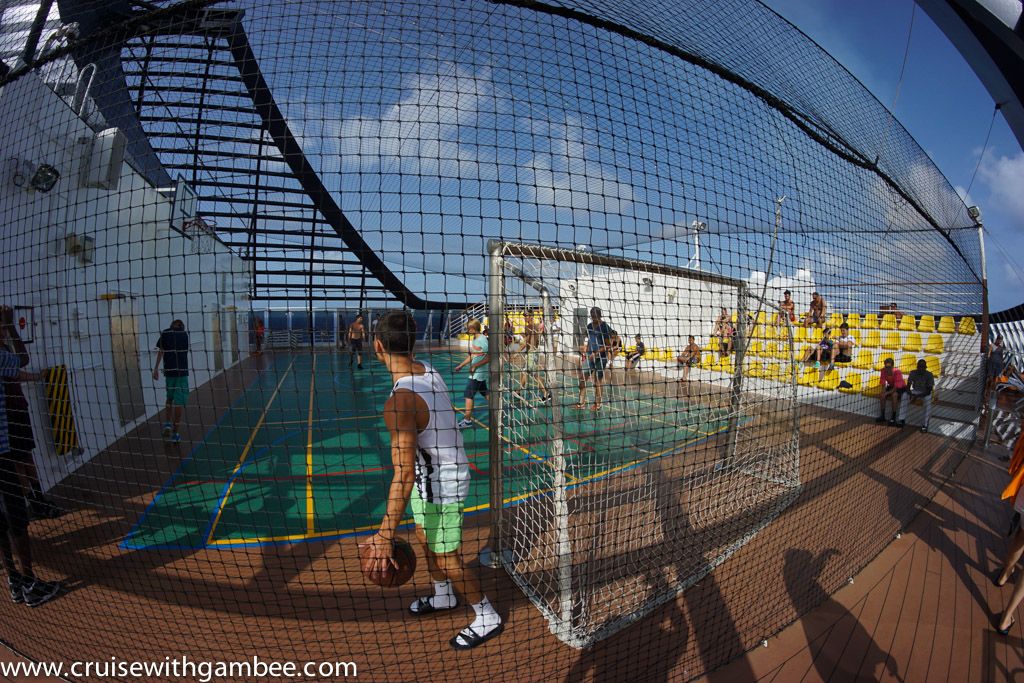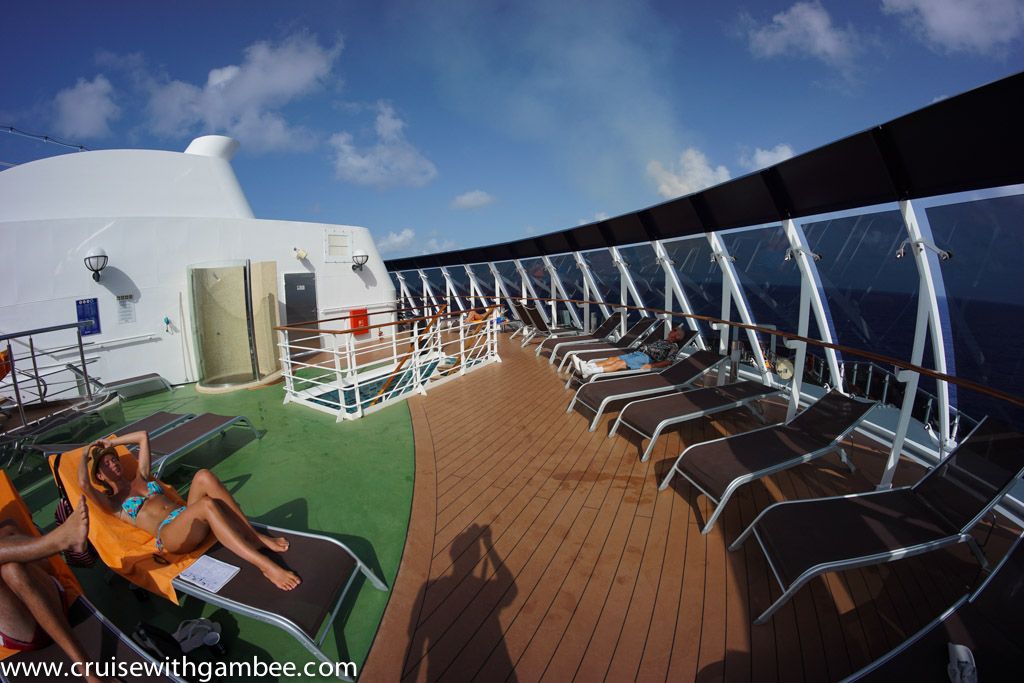 As usual, we found a few free spots where to place our stuff and we headed to the Jacuzzi.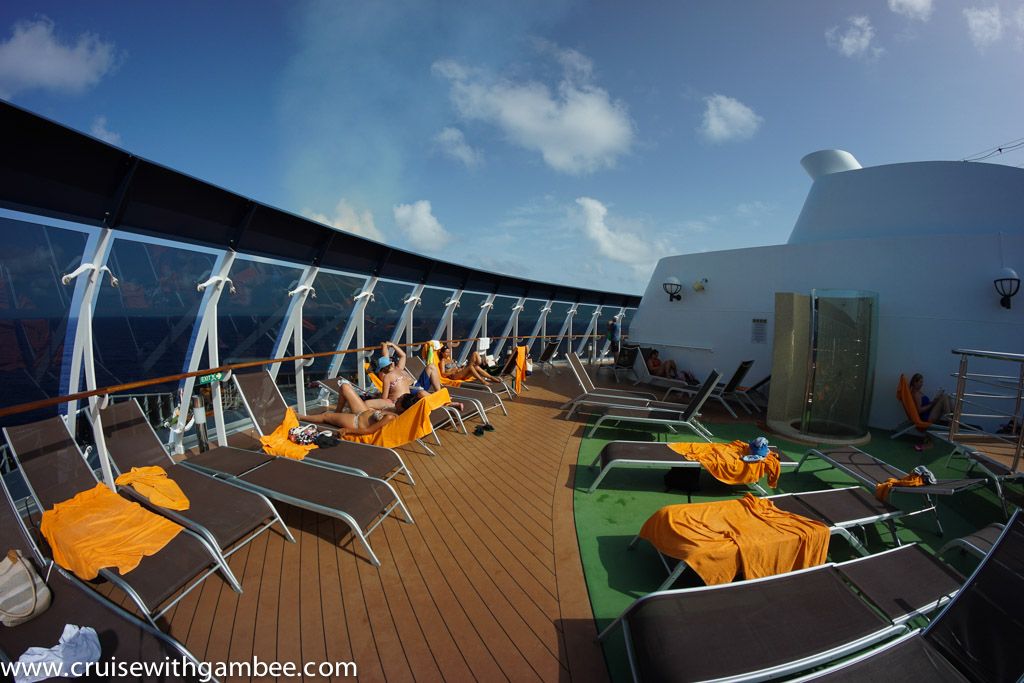 Now that I come to realize the gentleman there was really nice. We had a really nice talk about cruising and he asked for a few suggestions. I think next they might be going on the Allure
. I have noted that it is really hard to recommend Carnival. Most people that I talked to have a negative view of the company, and no matter how much I talked it up, I could not persuade them otherwise.
We stayed there for several hours, and enjoyed the view. Since the sun was going down, the heat was much more bearable that before. It is funny how as humans we are never fully content, it's either too hot or too cold. But trust me, I much rather this weather than the one we had on the Silhouette. Although a simple roof over the Jacuzzis would fix the problem. I think I might buy one of those hats with an umbrella over it and my own problem, CLASSY
We grabbed our belongings and headed down to the room to relax for a little while before the show.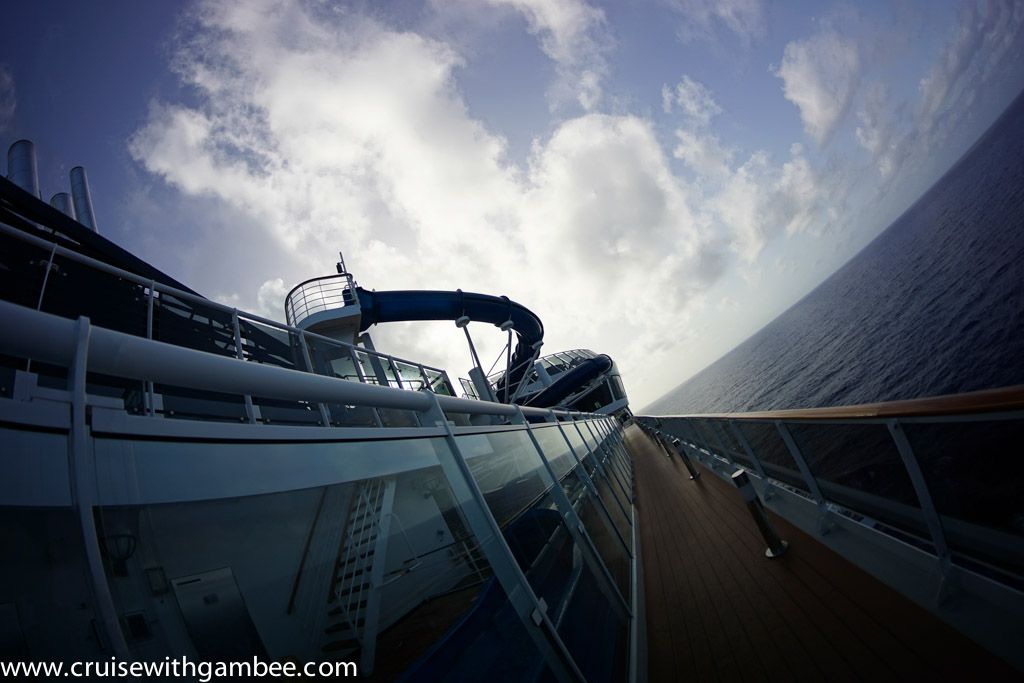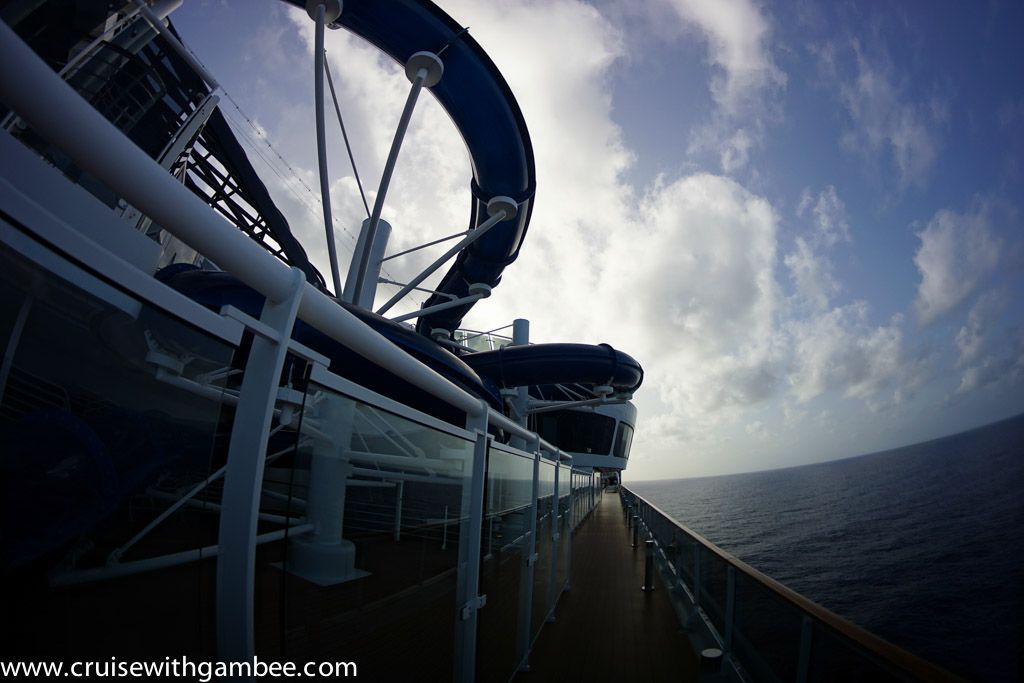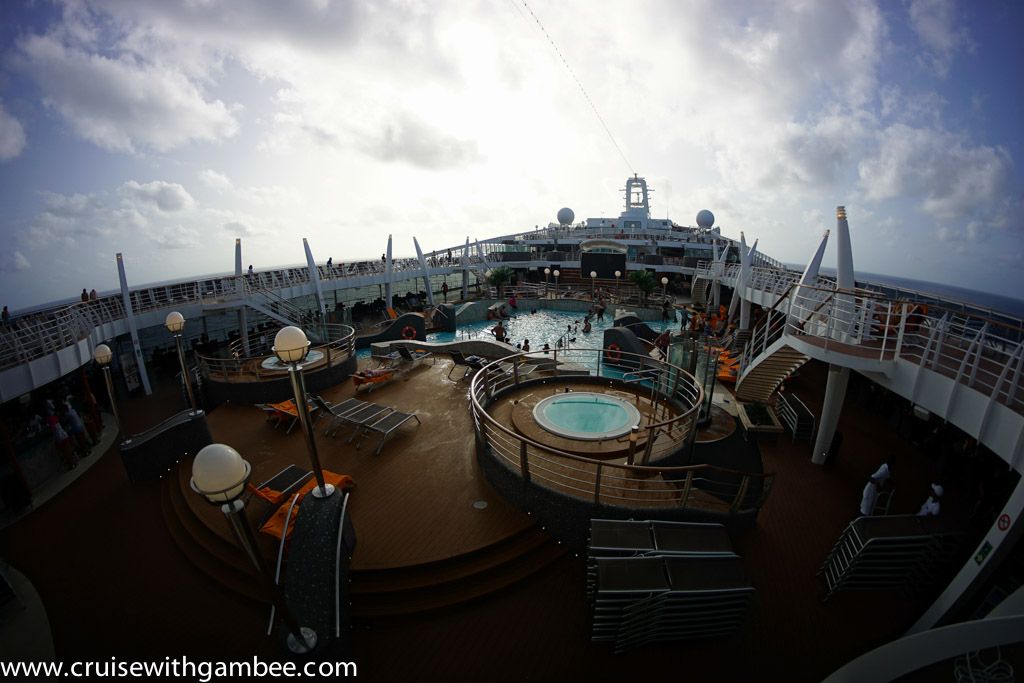 This one came out really nice!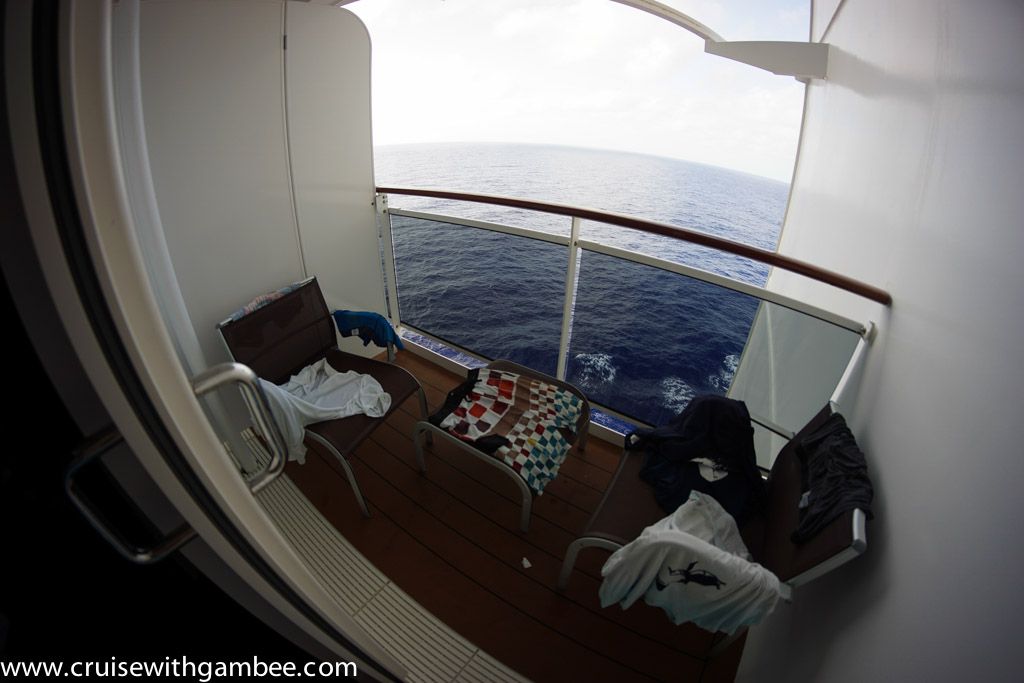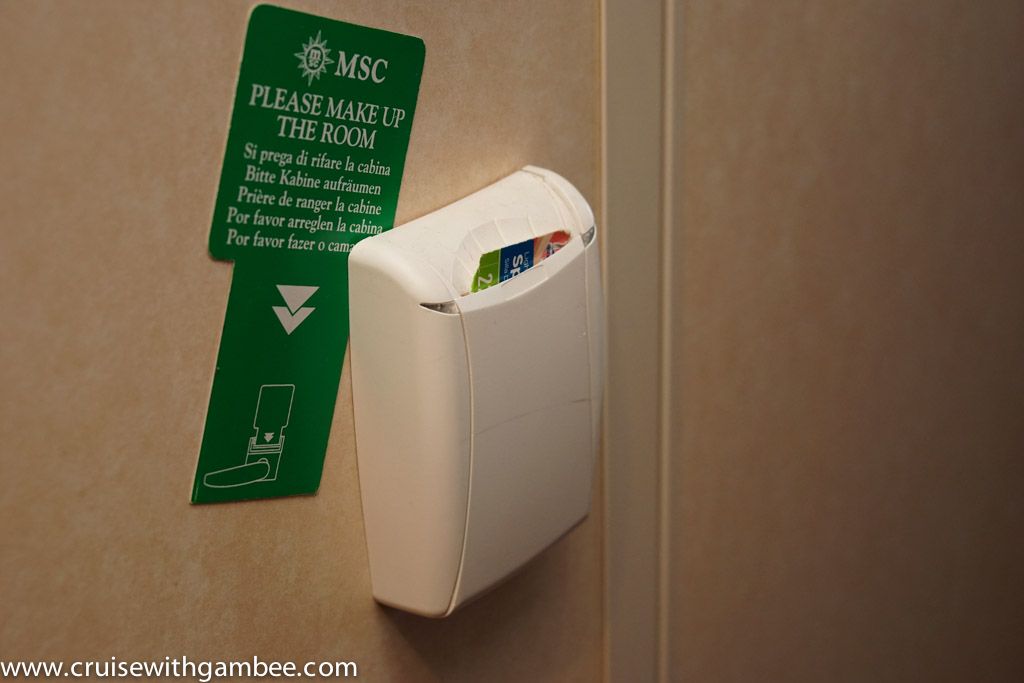 At this time I decided to do the video tour. While doing the tour, I noticed that the buffet had calamari. This was the first time that I saw seafood other than the shrimp in kids station. As you can imagine I was all over it! I got a nice size plate, and loaded it with some other items to bring down to room for everyone to share.
The calamari itself was not that good. It said grilled calamari on the sign, but it was loaded with butter! I am a butter lover, but just not on calamari. Nonetheless, we cleaned up that plate.
We had some time to burn before the show. I decided to head to the room and take a little nap, I had the perfect recipe for it. Full stomach, tired and a nice buzz to burn off. I forgot to mention that MSC Divina has the perfect curtains! You can get that room up to 99% darkness, I have never seen anything like that on any ship. I loved them! My uncle actually left a little gap open to let some light in on purpose.
I also watched some TV before heading to bed.
This show brought me back some childhood memories, it had been years since I saw it. It is a Spanish show, like a silly comedy.
I woke up and met up with them in the main theater. The show that night was a Michael Jackson performance.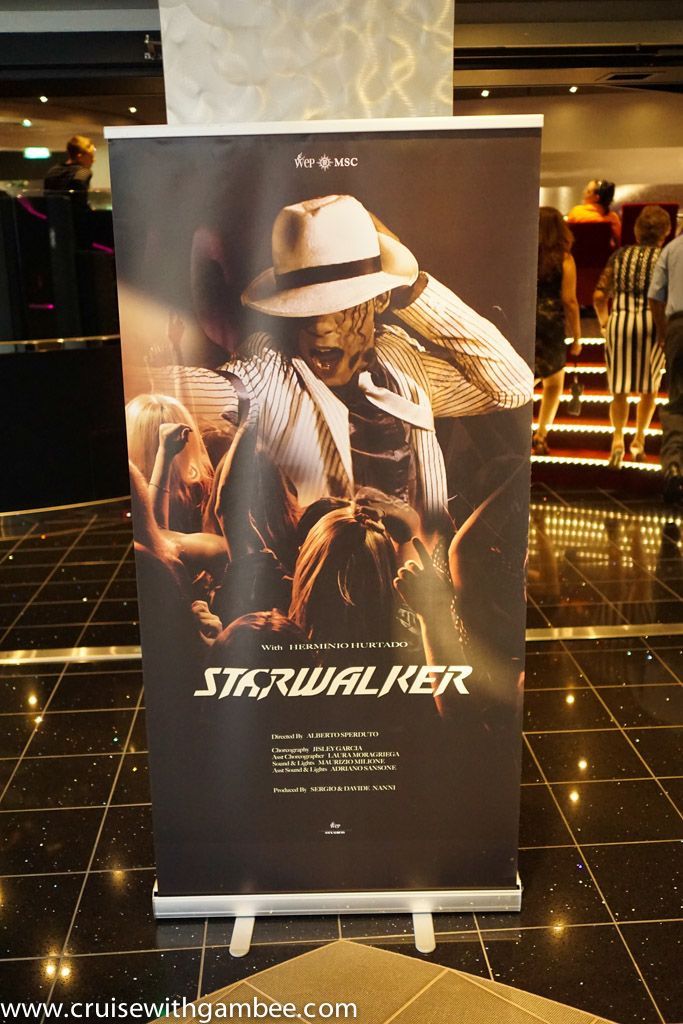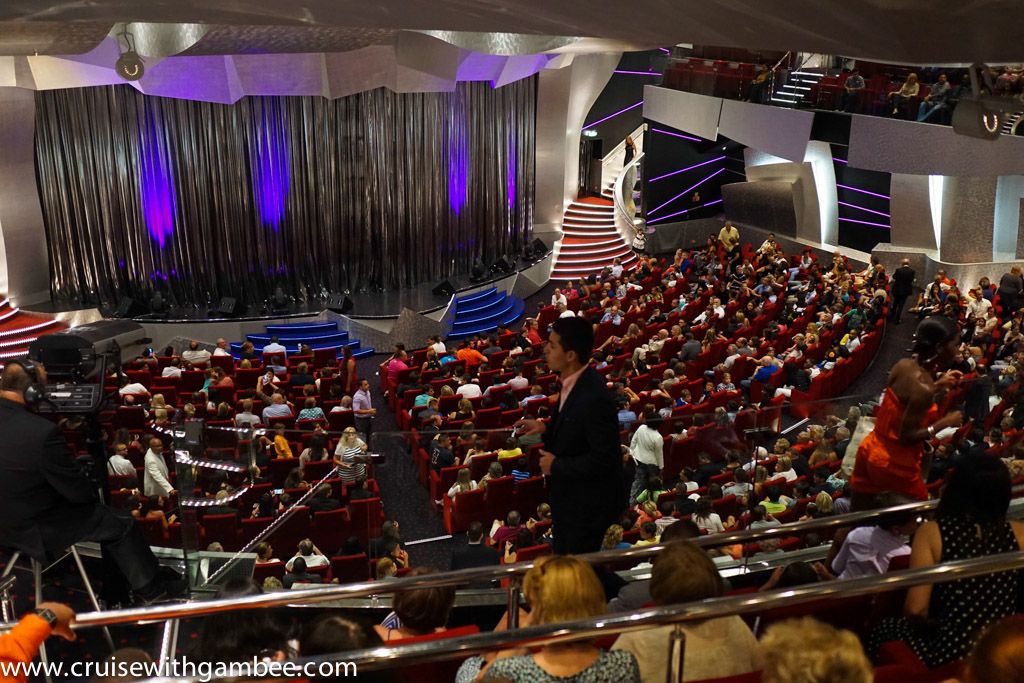 It was a full house that day and we got there pretty late, so we had to move some chairs in order to get a nice seat. The show itself was really good, the performer impersonated Michael Jackson perfectly. However, it was better when he lip sang, because his actual voice was not the greatest.
In front of us, were 3 people, it seemed like a couple and a lady friend of the couple. The single lady was VERY LOUD! Trust me she kept screaming constantly, it was clear that she had more than her share of drinks that day. We were ok with it, she was having a good time I guess. But an older couple next to her had it with her. They went to tell her to calm down a little, and she turned into a cursing monster. I cannot tell how many words she cursed at them. She also told them to get the F… out of there because they were ruining her show. Granted the only thing the elder couple suggested to her was that she quiet down a little. The entire upper rows had their eyes fixated on her. It is sad to say that the old couple decided to leave. Once they left, she took over all 3 seats! Please note that there were a bunch of people standing up everywhere because there were no seats available. The funny thing is that you could tell she felt embarrassed over it, she did not say one word after that until the end of the show. Later on she also moved out of her conquered territory and finally allowed two new people to sit in there. I told my mom I wish I had my horn with me, just to blow it on her ear and see how it felt.
Anyway, I got a few pictures of her.
This one is of her cursing the older couple away.
Here she is nice and quiet after allowing people to sit in 2 of her 3 seats.
And here she is going wild again at the end of the show.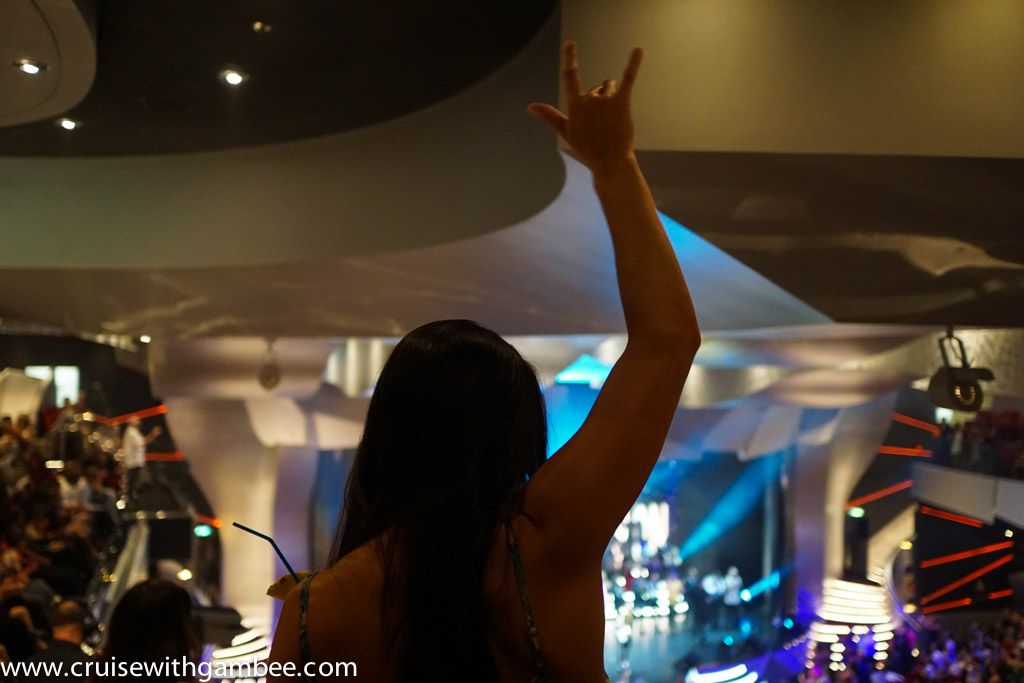 I hope the older couple found another seat, but it is very likely that they did not. Like I said the place was packed!
At the end of the show the captain came on stage and said a few words. There are 1350 crew members. He said one statement that I really loved. "There are 42 nationalities from all religions and we work as one family. If it can be done here in MSC Divina, don't you think that it can be done anywhere in the world?" I absolutely loved it! I think that is the loudest and longest that I have clapped after a show EVER!
He said some other stuff, but none of it truly important.
We relaxed at our favorite show, we had some time to burn before dinner.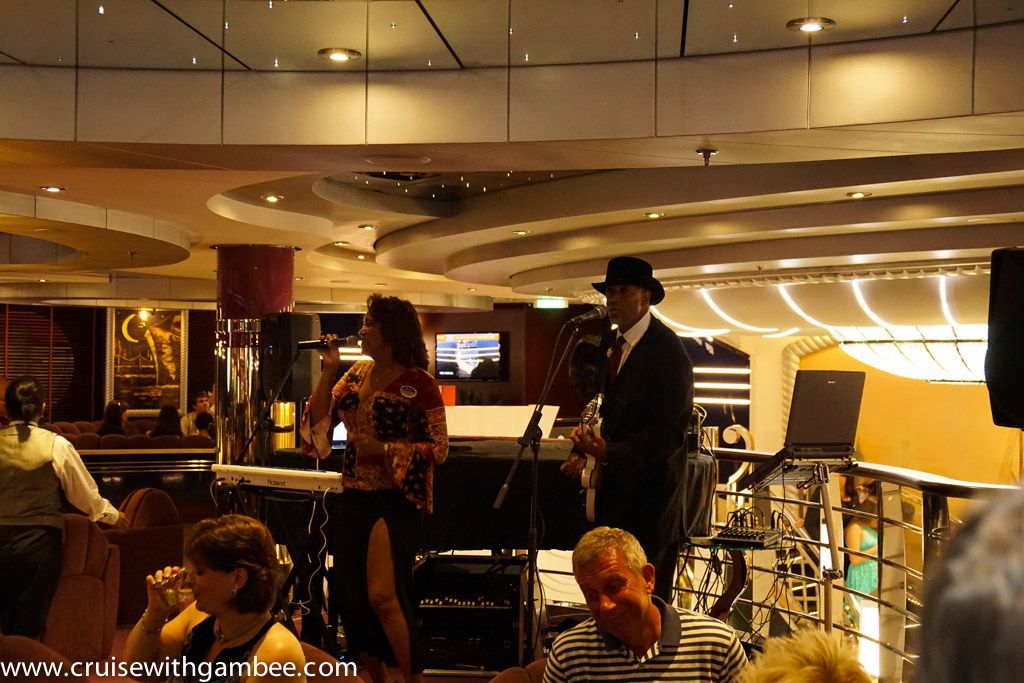 Then a little walk on the promenade.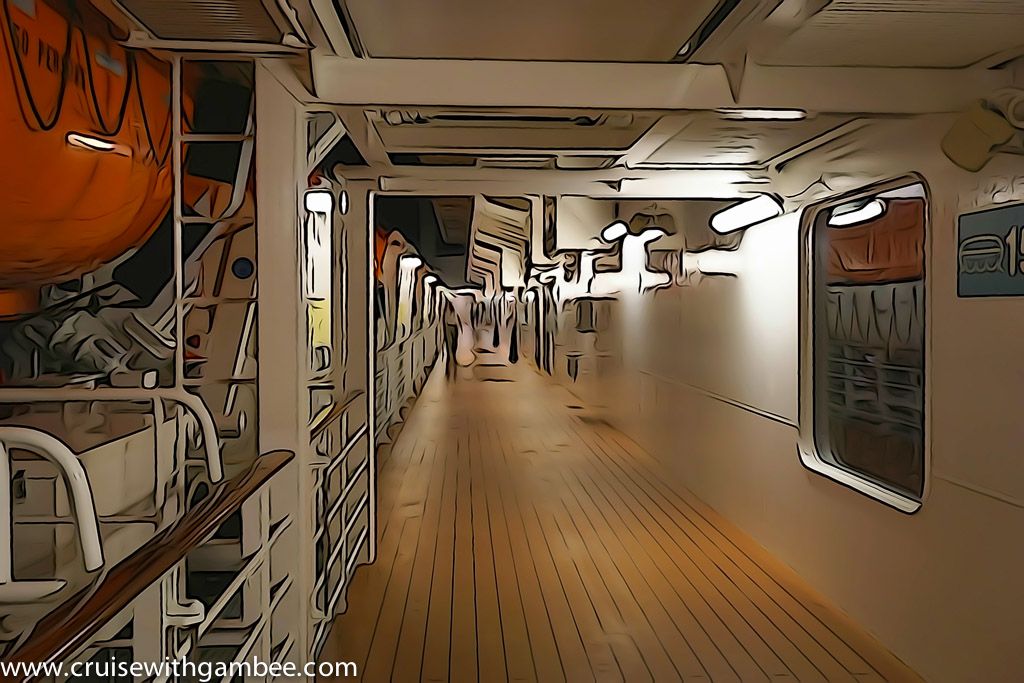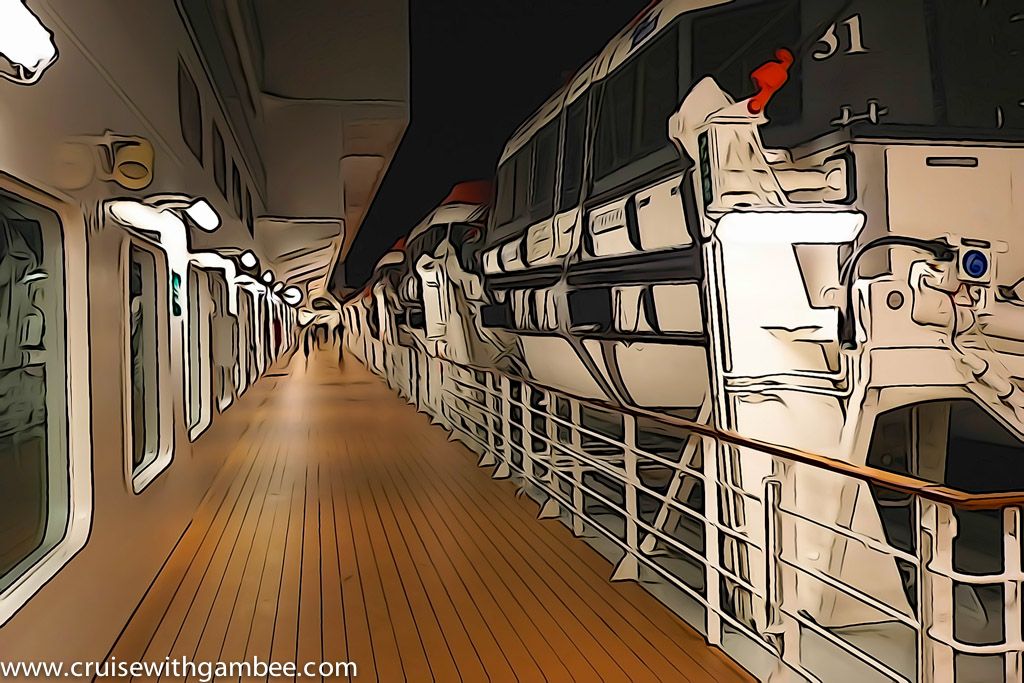 I have never been in set time dinning, and entered at opening time. This was the first time for us trying this. It was so chaotic! I really can't imagine anyone wanting to do this for 7 days. Anytime dinning for us all the way!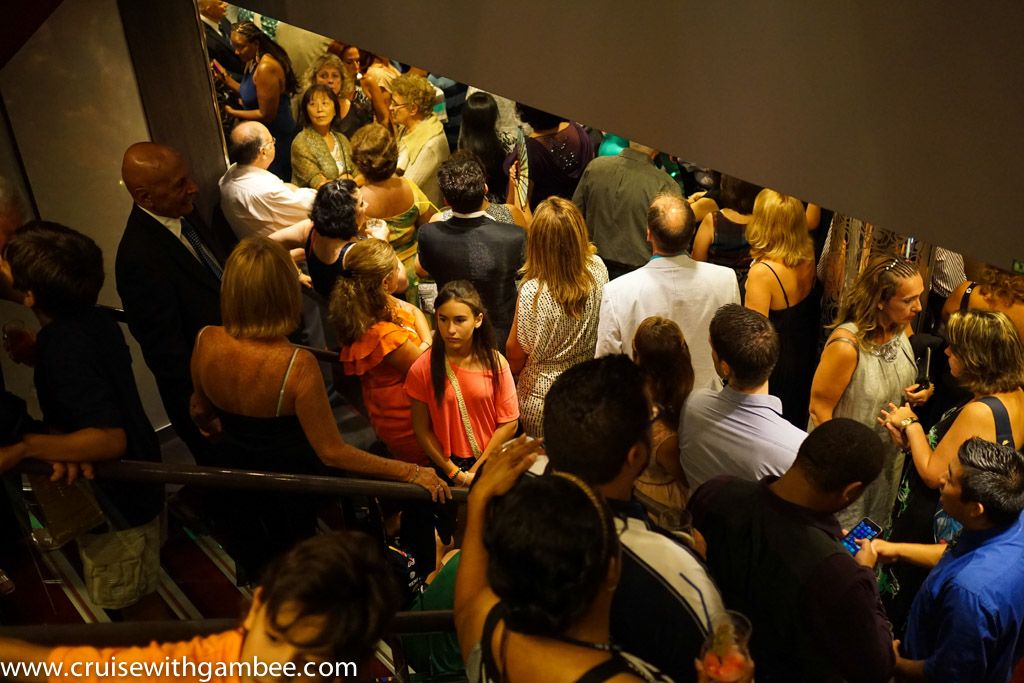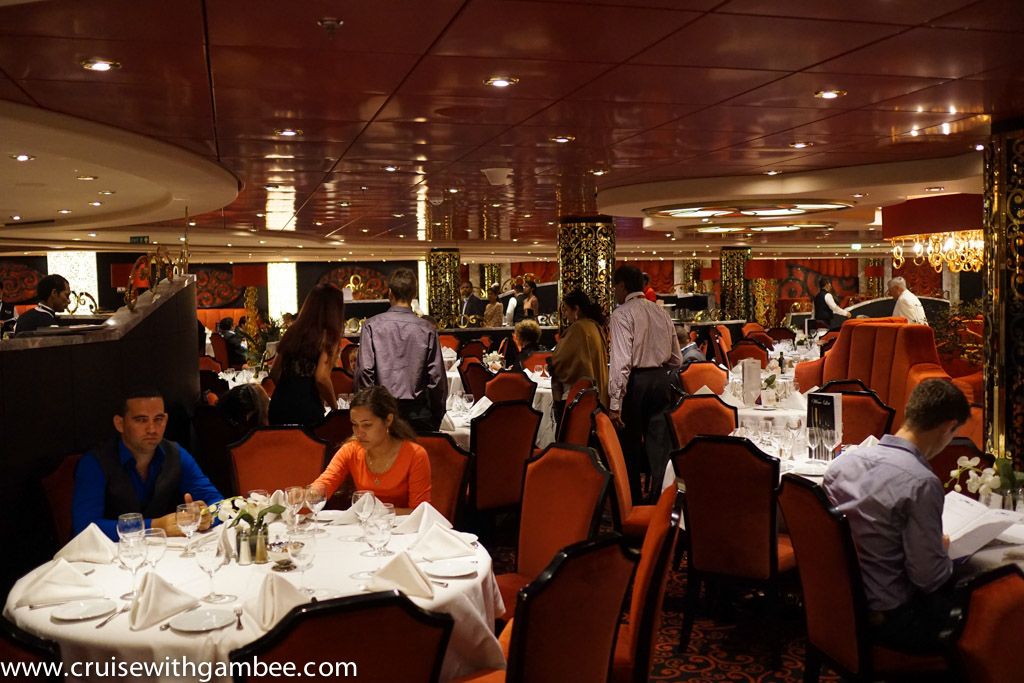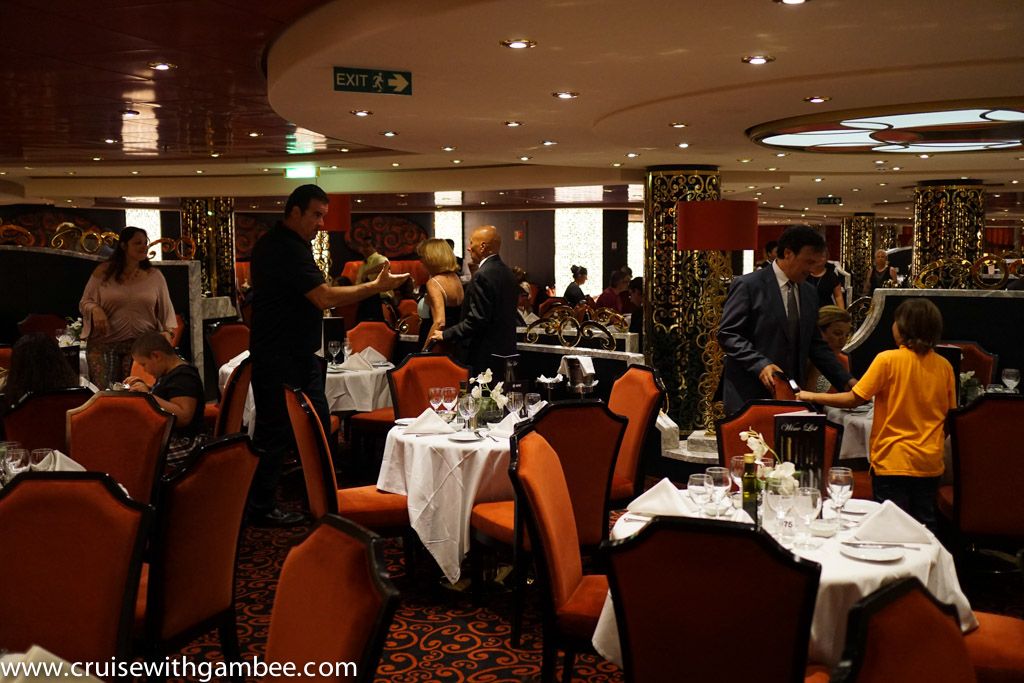 There's our table! They had the curtains down, I rolled them up throughout the course of our dinner
. What's the point of having a nice window and no views? Then again, it was really dark outside and we could barely see the wake, lol. Oh well.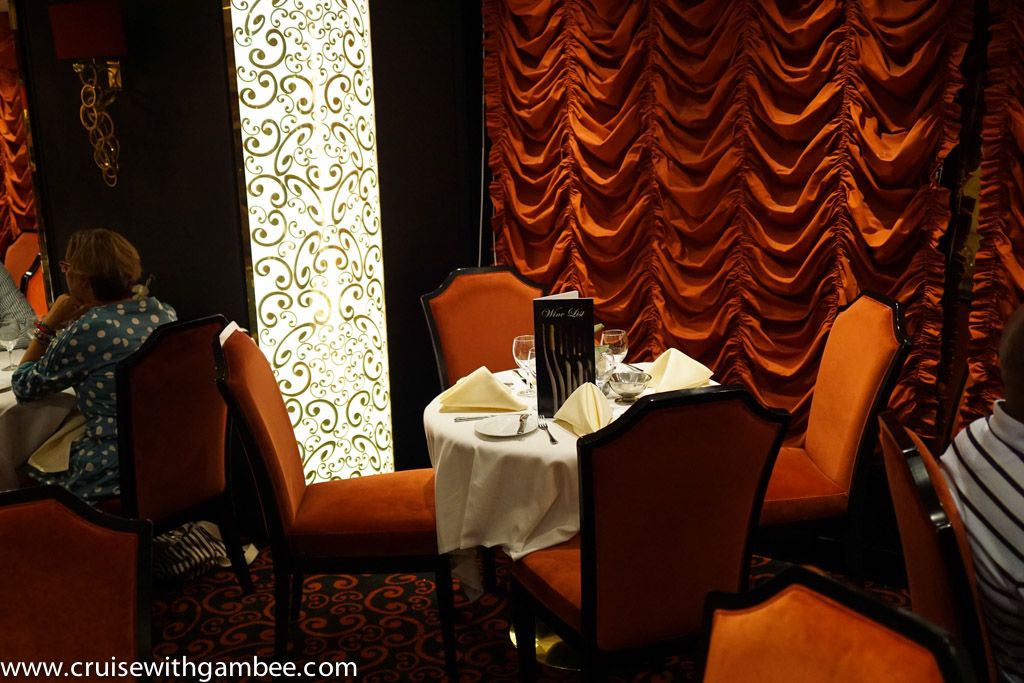 Service was the usual that night, about 2 hours. I also want to point out that the server was impersonal, and that is how I like it. Mom not so much, she likes to ask questions and whatnot. But for me it was perfect. He was also very good with the orders, the way we ordered was confusing, he never made a mistake.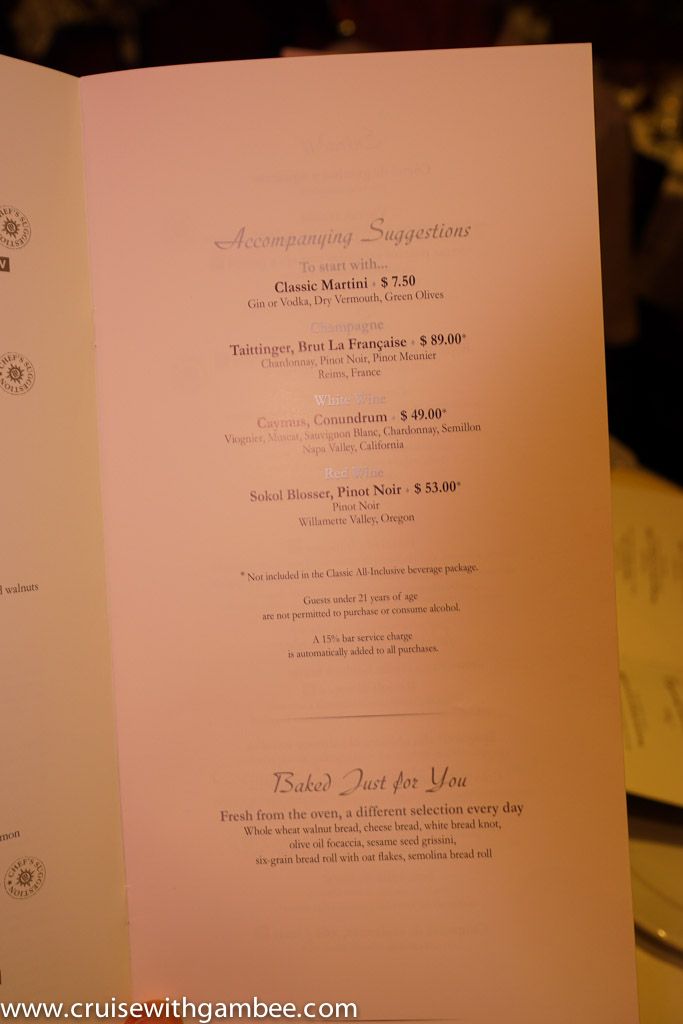 He also noticed how much ice we consumed and brought a little container with some. I really enjoyed that.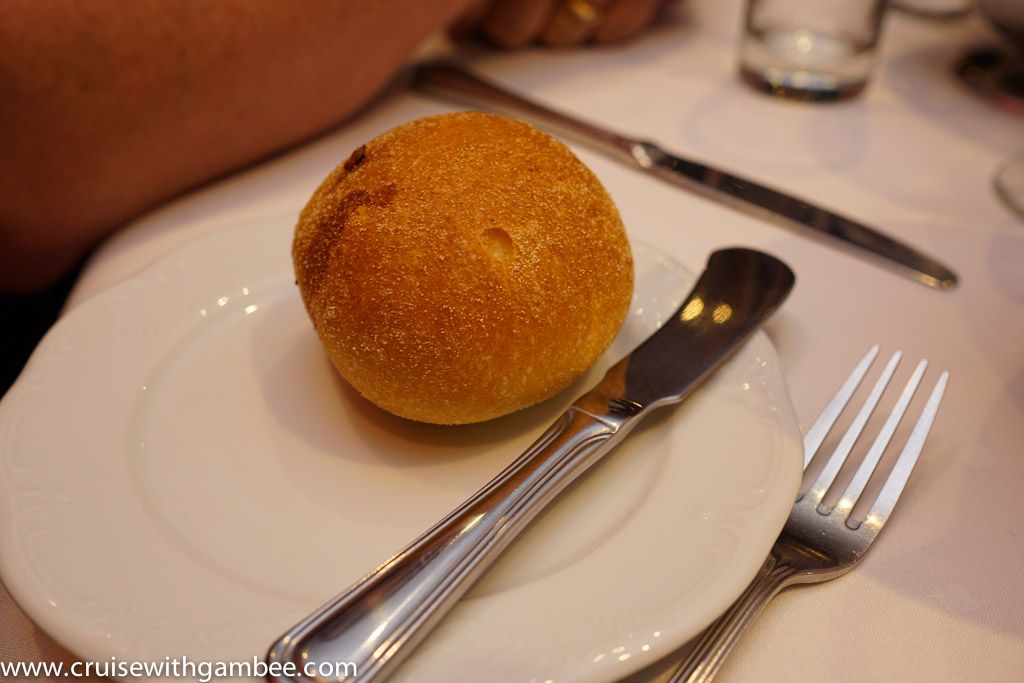 The shrimp were really nice, as usual. But please note the avocado, it was gone. I wish I had taken pictures of my mom's plate, her avocado was flat out black. I am not sure why they served it, it would have been better if they said they ran out of it. Or maybe it just sat too long out and oxidized.
We all had that for our first course.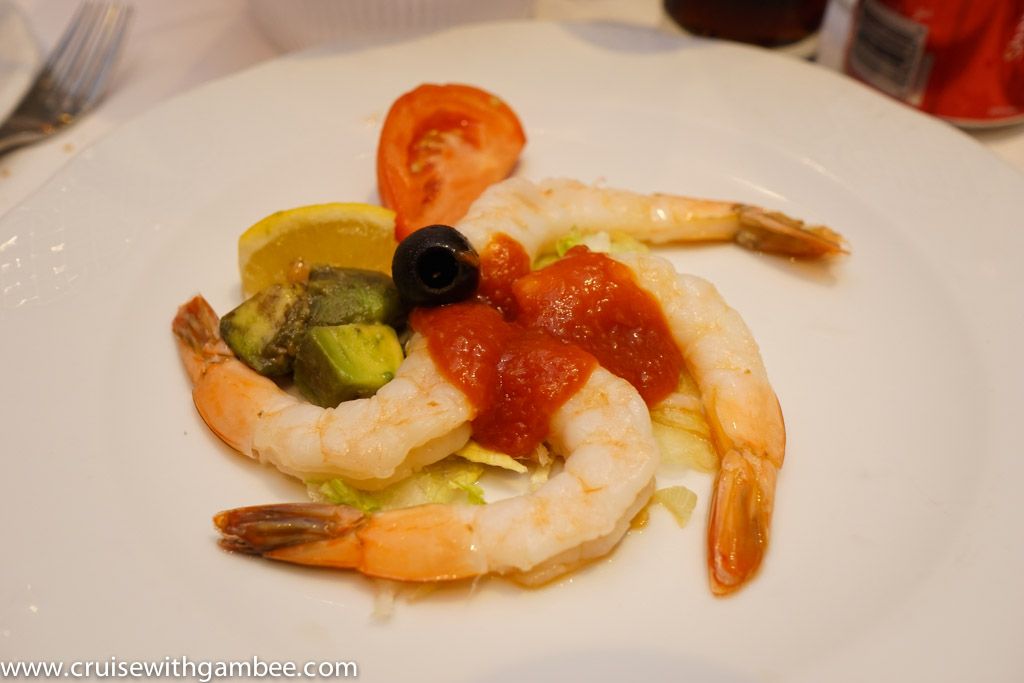 I had the risotto and scallops for my second and they had soups. Everything was good.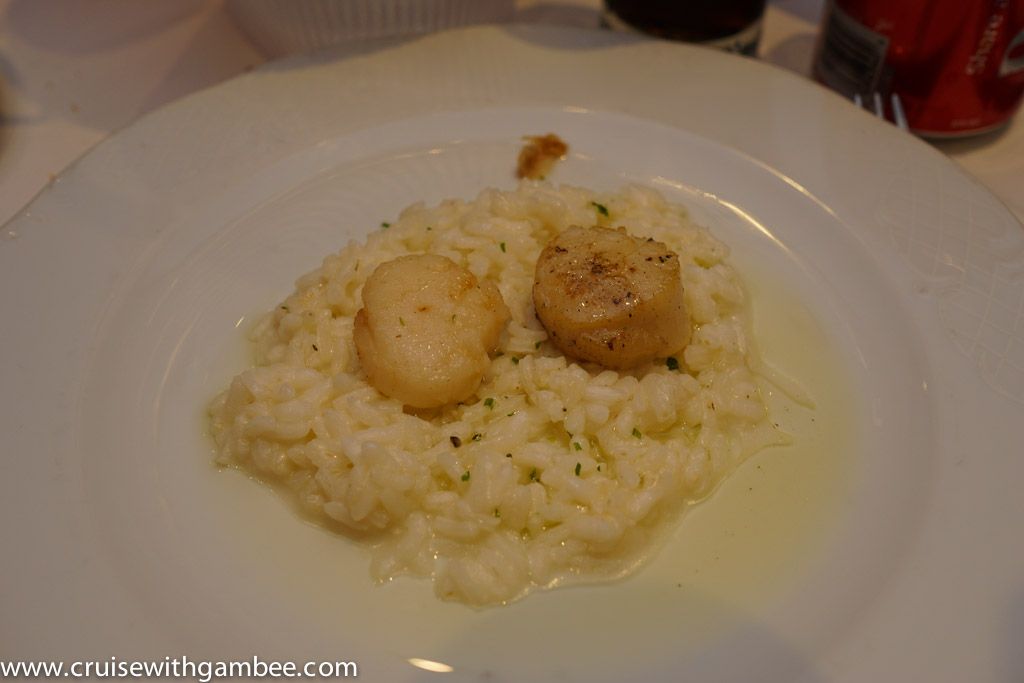 The lobster was AMAZING! One of the best included lobsters I have ever tasted. We got 2 lobsters.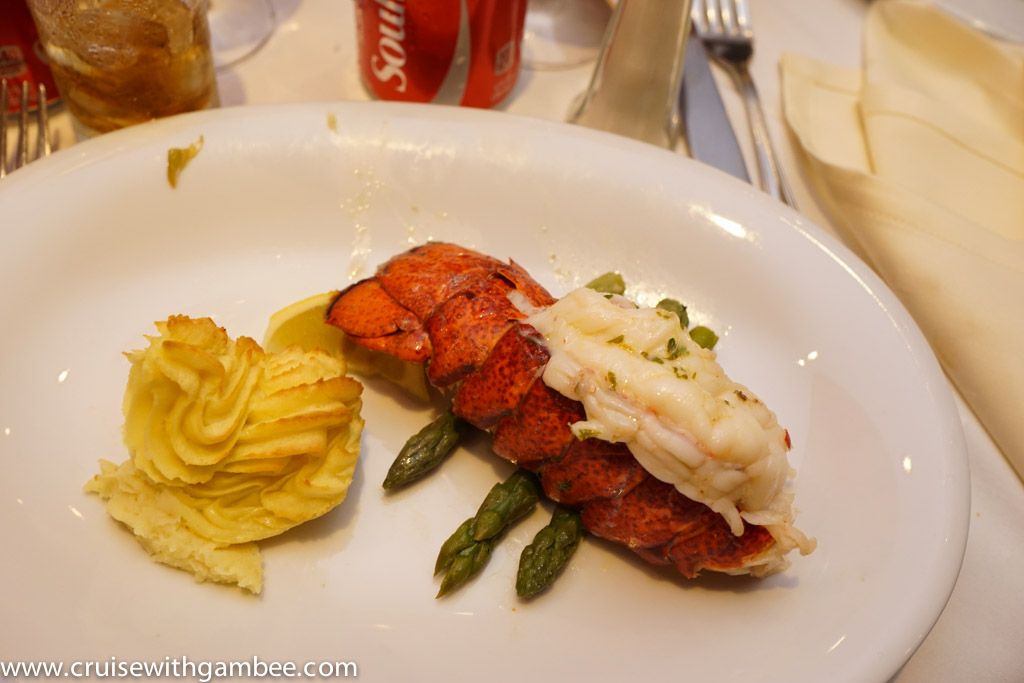 The duck was good, maybe a tad dry? We got 2 of them as well.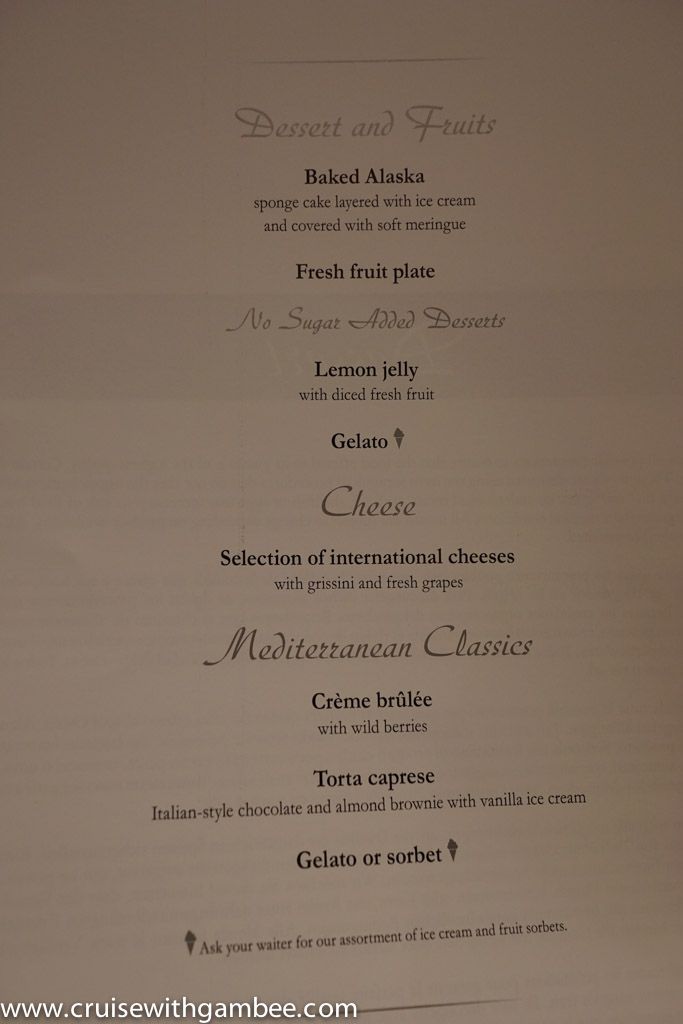 For dessert we all wanted baked Alaska. But we were told that they could not serve it then, he said there was a problem. I did not understand what he meant. Well, little did I know that they had a dance and song before serving it. But quite honestly, they should have some available for the people who finish dinner earlier and do not want to see the show.
Another thing that irritated me was that our server should have told us to wait a little because there was something happening. Our server was good, but like I said he was very dry and impersonal. If we knew that in 5 minutes we could get the baked Alaska after a show, we might have waited for it. Then again, you all know I am not a fan of the dancing servers. In this case it was kitchen staff that dances around with them.
Like I said, they should have some available for us who like to eat fast.
We pretty much just got whatever…
My uncle got some plain jello… This was really bad. First off, I can't believe they have jello as one of the desserts. Second, it was really bad.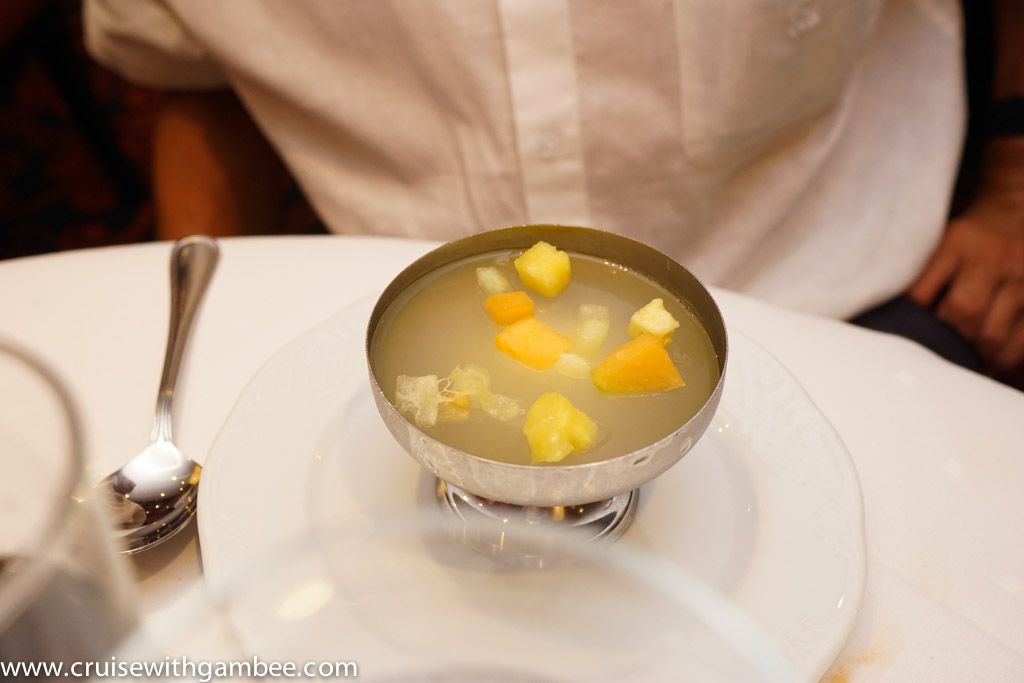 My aunt's. That was good.
I have no idea why I got the cheese plate again, I already knew it wasn't good.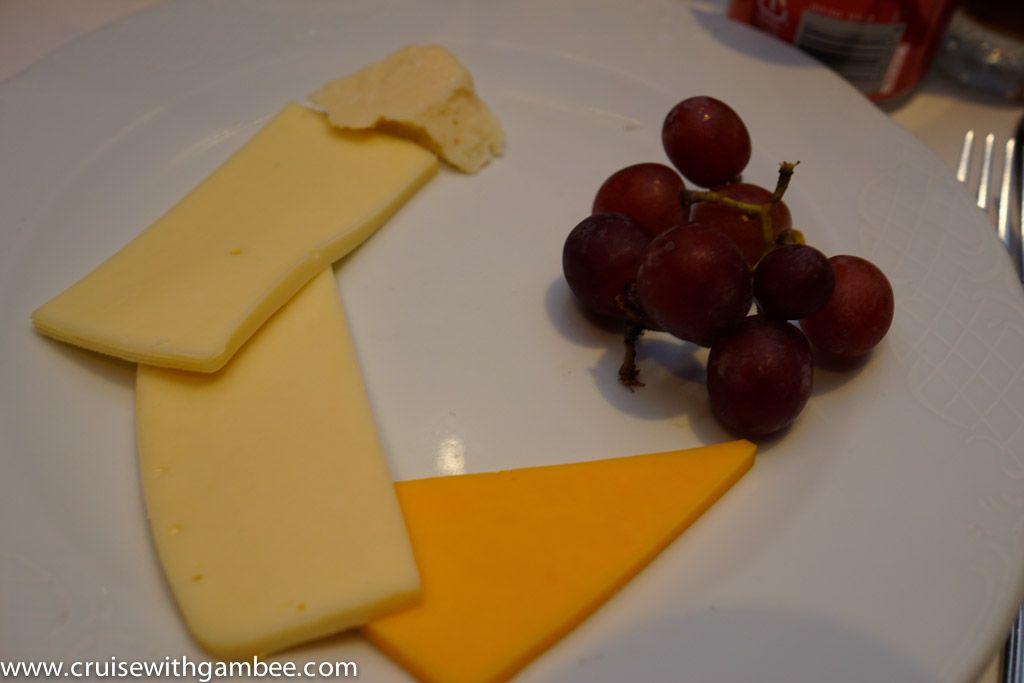 Mom skipped dessert altogether.
When we were leaving, we noticed the baked alaska and all the staff getting ready.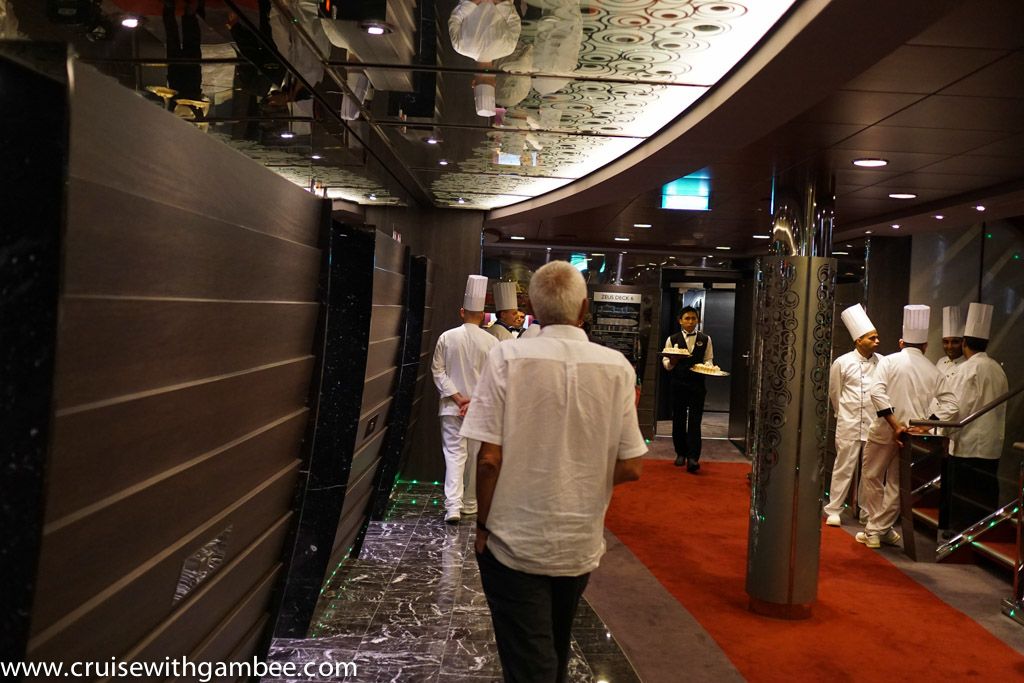 Since that night was the first time we saw karaoke on the daily, we had to go there. But the main issue is that I noticed that it was going to be held in the same place as the flower event that I had missed earlier that week. I told my mom that it was very likely similar to that event.
We still went and when we got there all my fears got confirmed. The place was packed, disorganized and you could not get a drink if your life depended on it. Needless to say that we did not last there very long. I will not go longer into this topic, as I already expressed my opinion on this topic and the current CD.
Smile for the camera
I took this one by the atrium.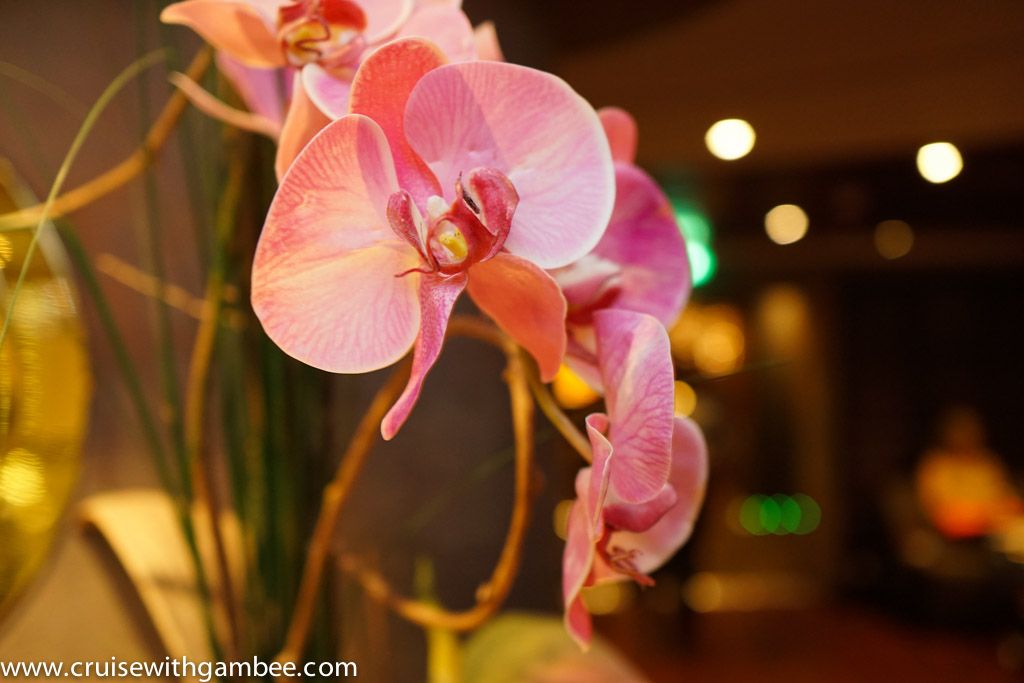 We went upstairs to try to get into a more relaxed environment and to have a few drinks.
They had Hair Spray on the big screen. I have always wanted to see this movie, the only thing deterring me is that it's a musical. You all know how much I love musicals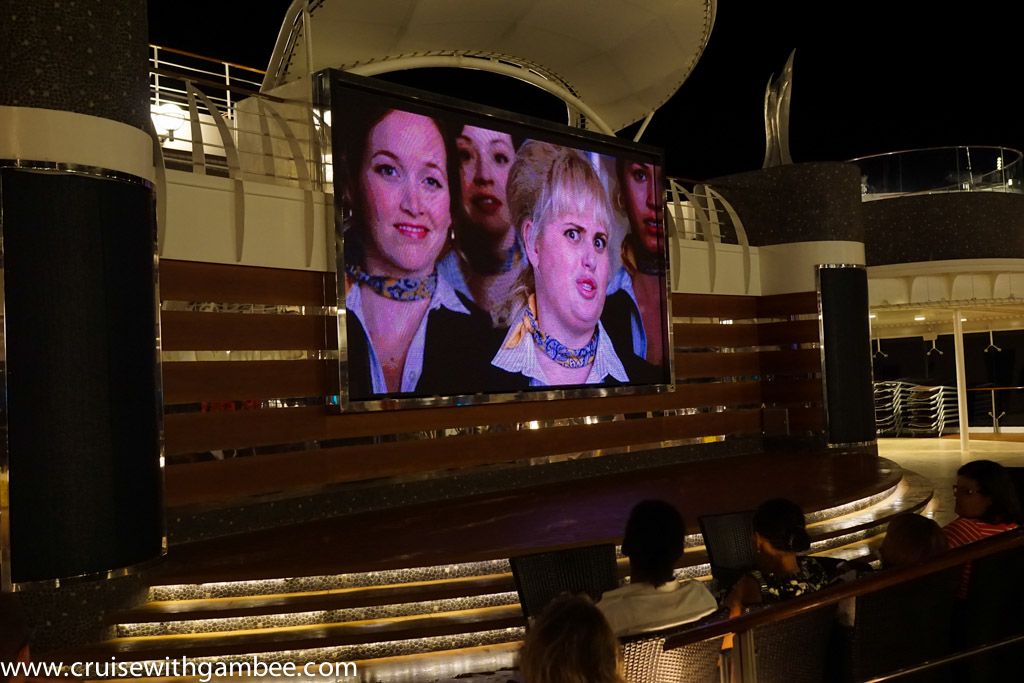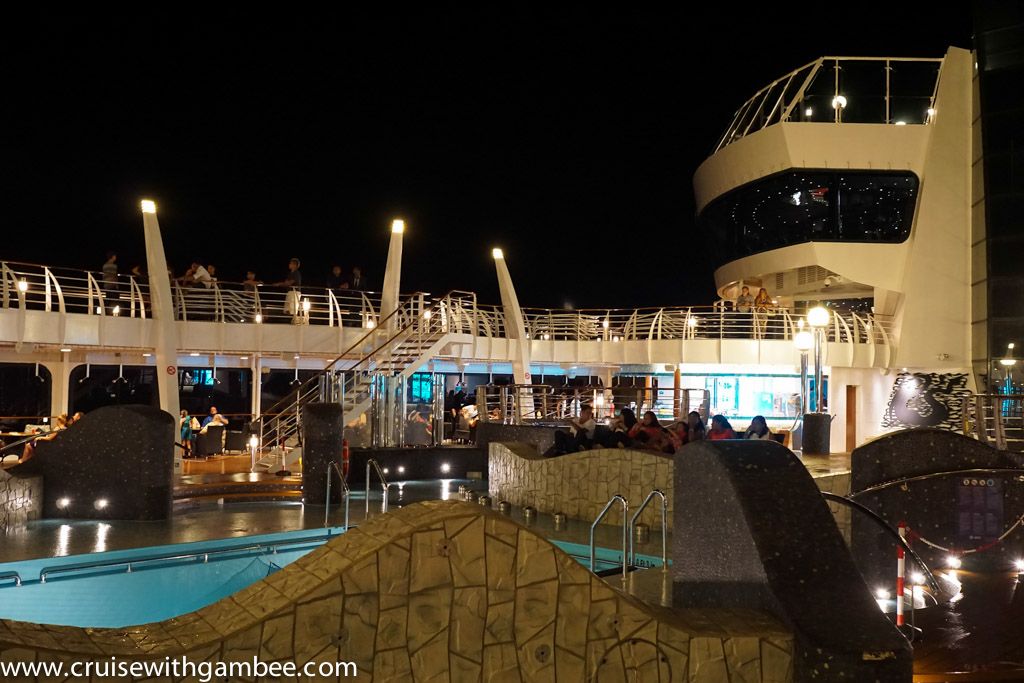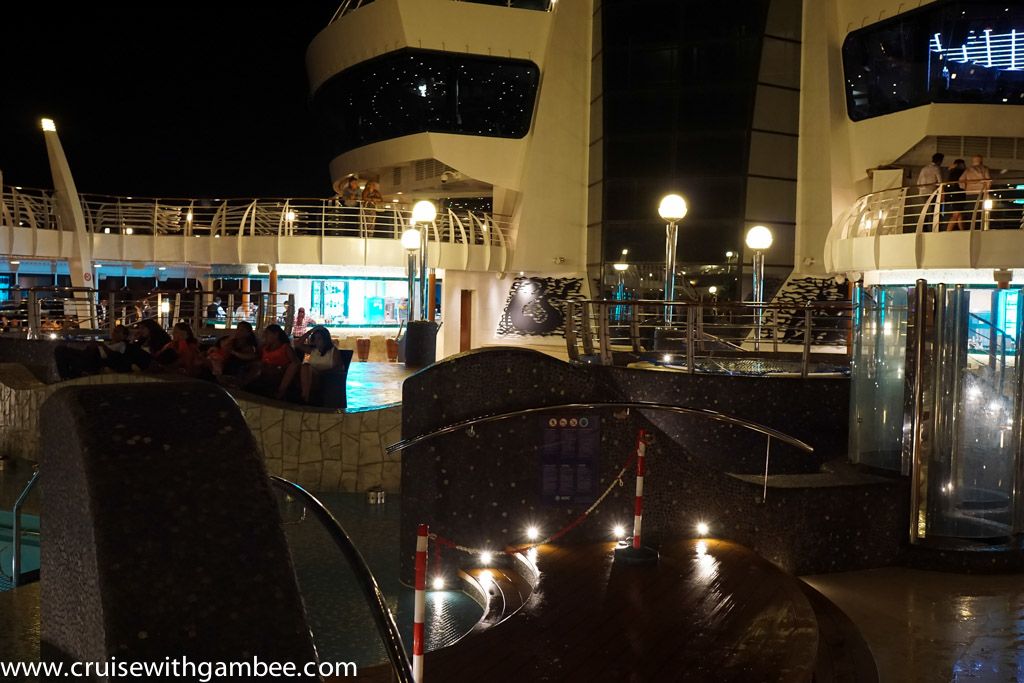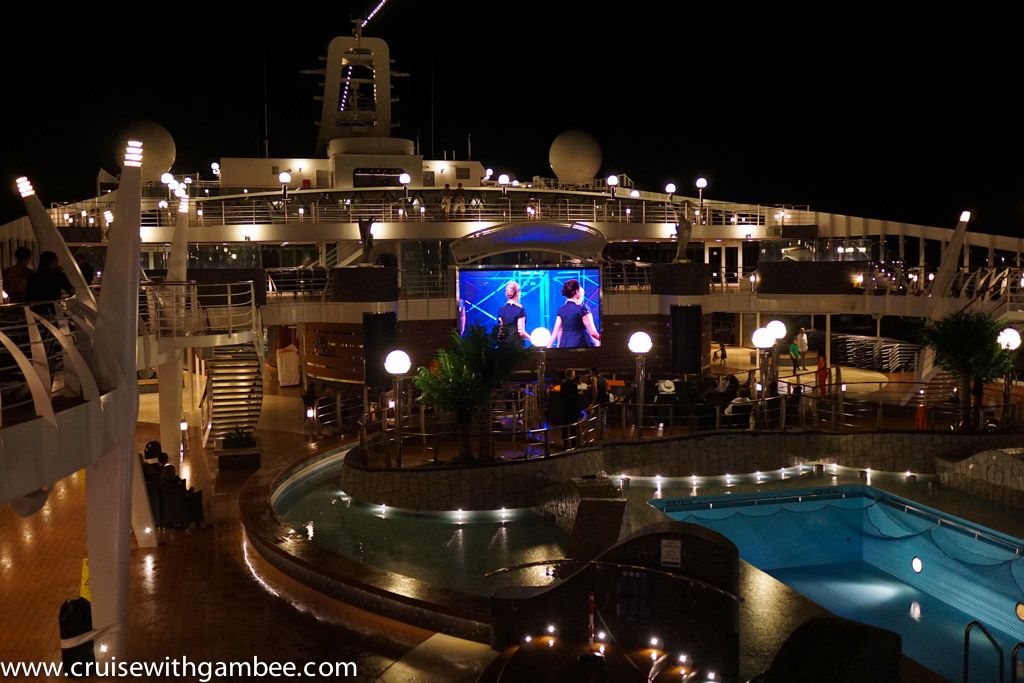 It was much easier to get a drink there
That's the disco up there. My uncle did get to go there on one night and he said it was mainly a teenager meeting area. During the day you can have events done there, I am almost sure you can reserve the area.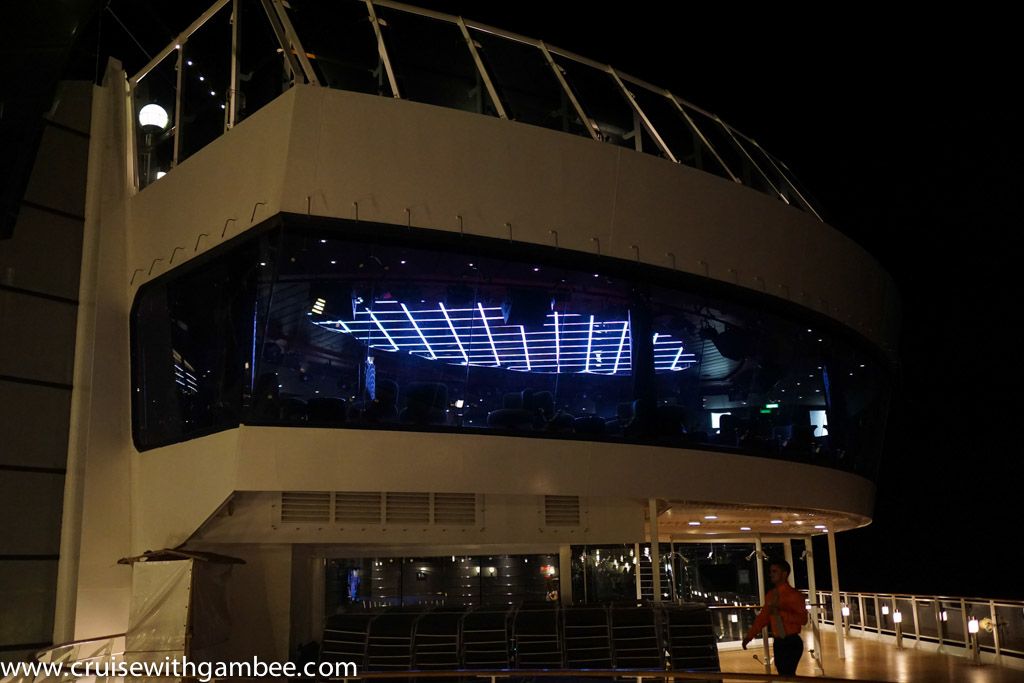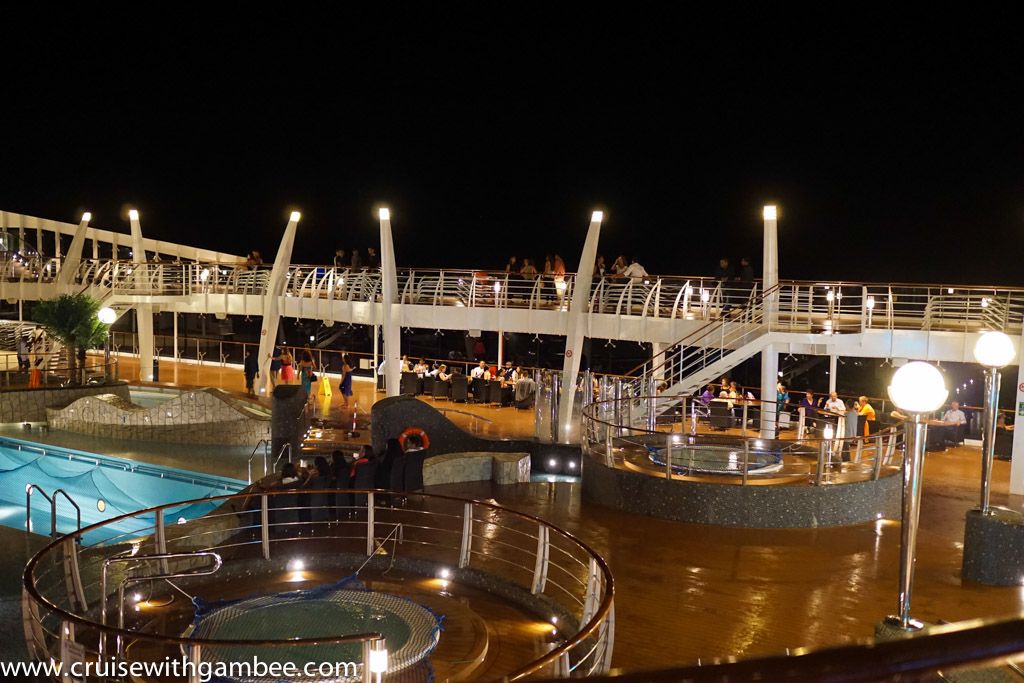 They also had a DJ in the aft pool, but barely anyone there. Maybe it had to do with the lack of explanation on the daily paper.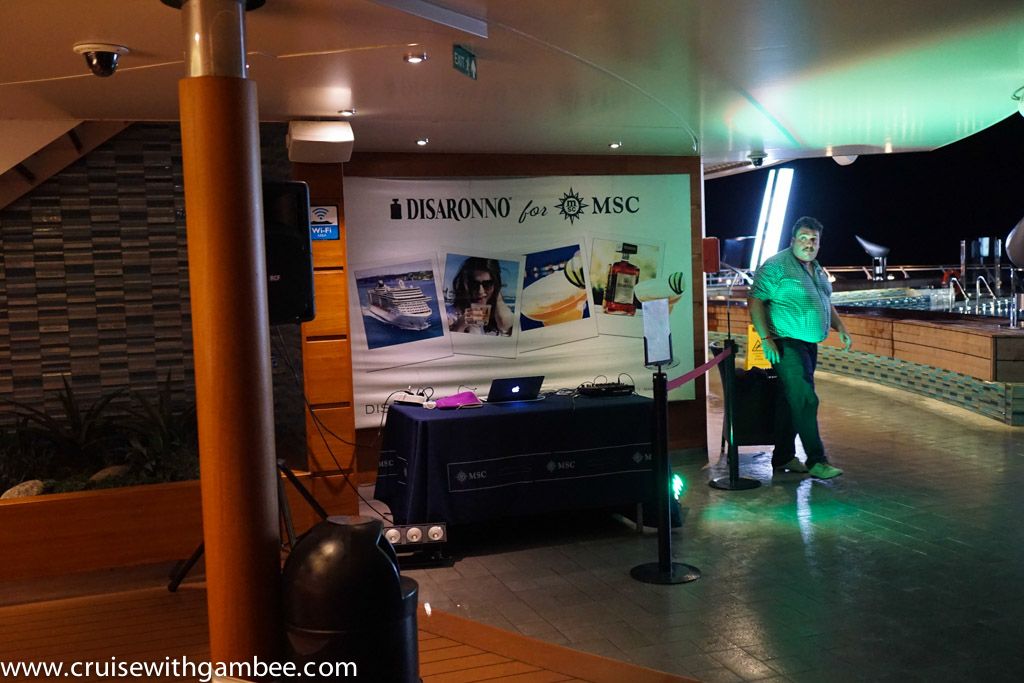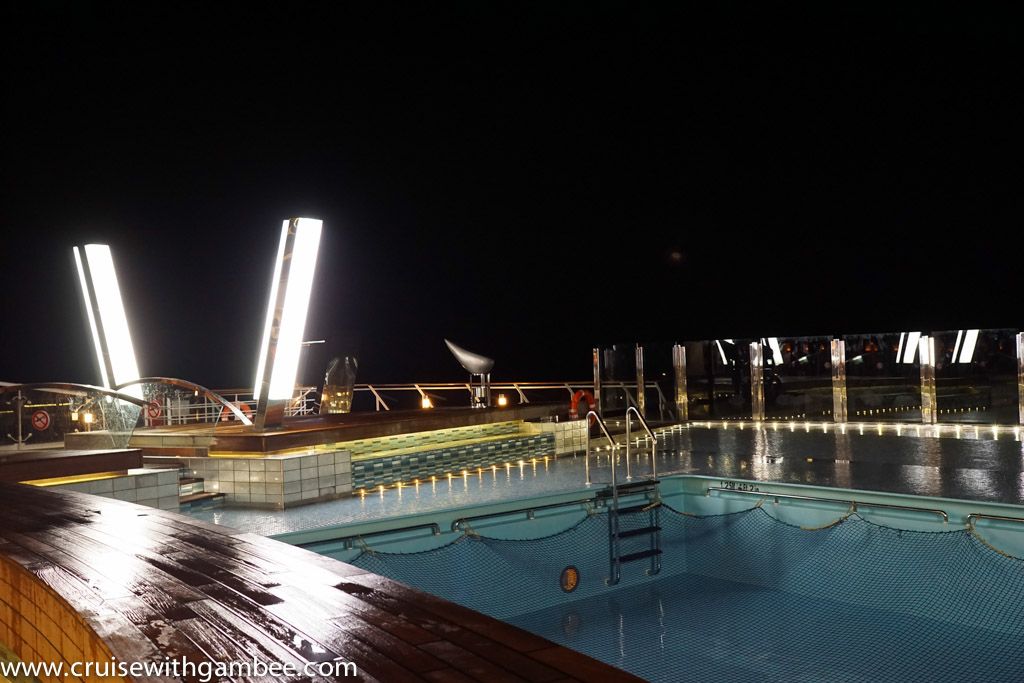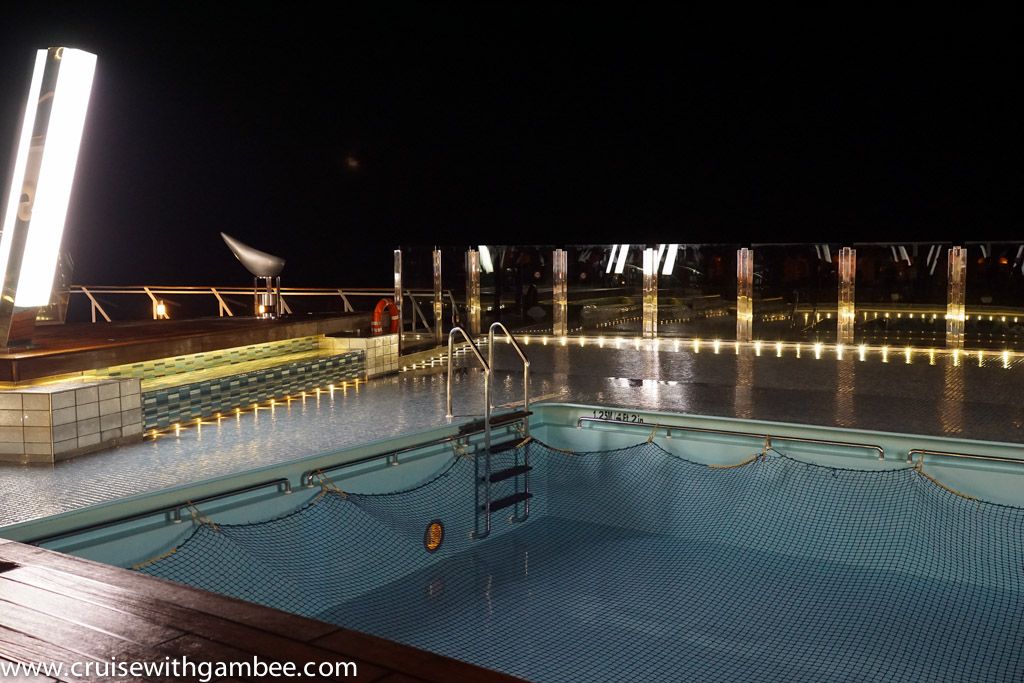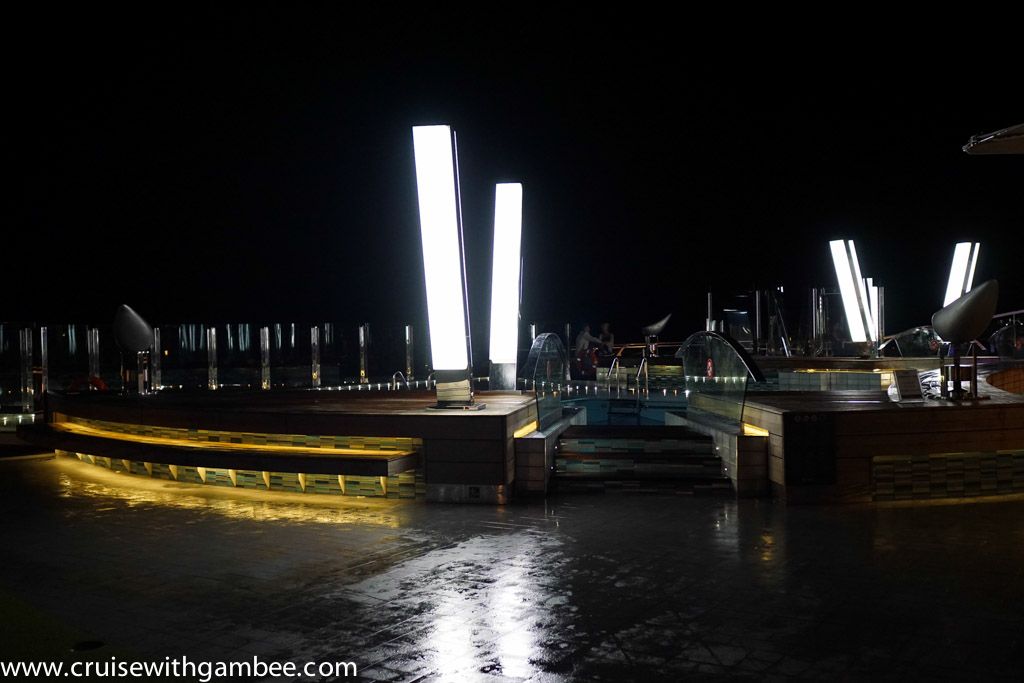 That is one of the dining venues for the Yacht Club.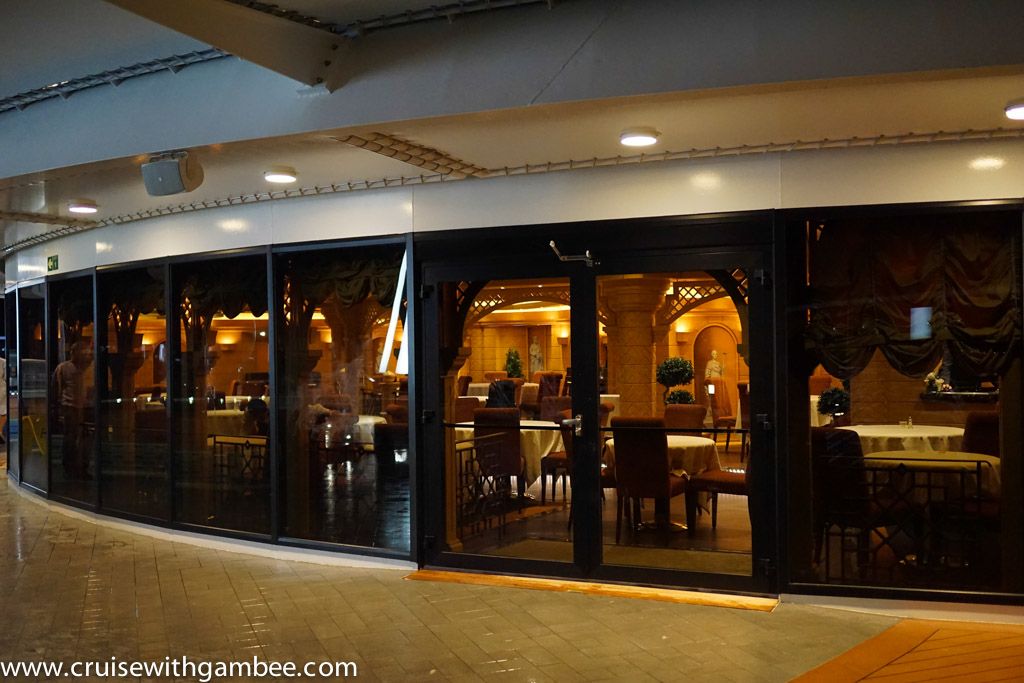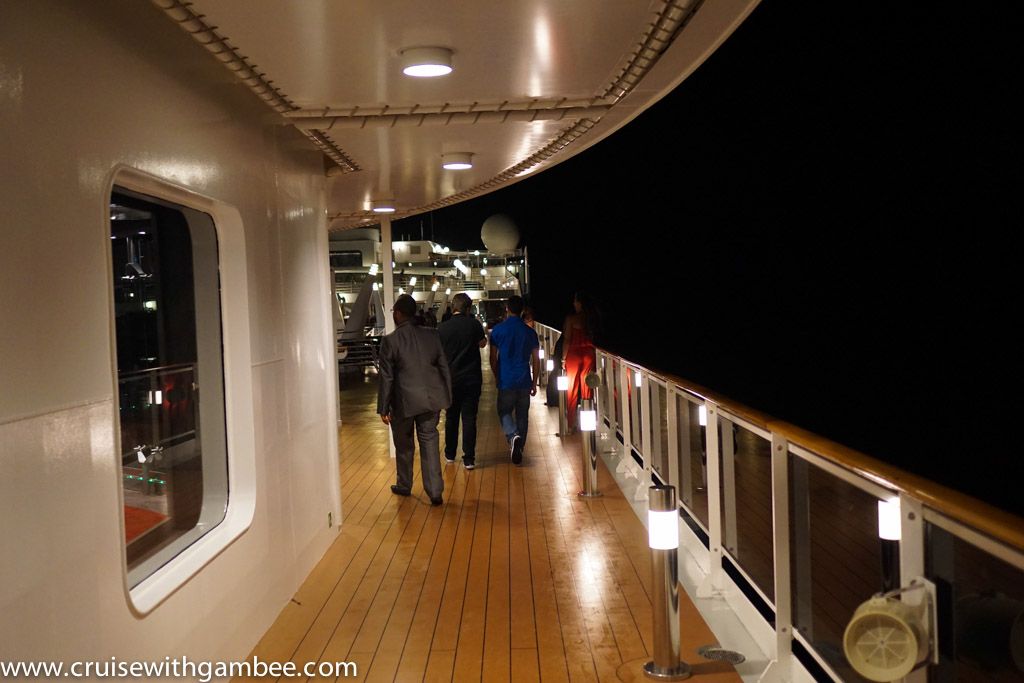 I had my tripod with me on this cruise, but for some reason I did not use it. These were all handheld pictures. I think I am trying to minimize and simplify the way I do reviews. That way I can have as much fun as possible, while still delivering good content and photographs.
After that I called it a night. I believe my uncle went to the casino to try his luck, but he did not win anything. I guess he had already squeezed all cash out of that casino
.
Overall, it was a great day! It was only a little sad because we knew that the cruise was getting closer to an end.
Day 6, End.