The terminal for MSC Divina is very nice and organized. My family was very excited. Remember this was my uncle's first cruise. He was taking pictures at a faster rate than I was. Funny note one of the security officers asked him to stop and she personally erased the pictures that he took there. Meanwhile, hundredths of people walked by taking pictures of everything. It is impossible to keep control on that. People will take pictures no matter what. After all, it is the beginning of the vacation!!!
Guess where mom is?
They had a delightful stand there with water and juice, the ironic part is that it was not offered at any of the ports while boarding the vessel again. Personally, I much rather have the drinks after a very hot day at the port!
We all had a drink. I mixed the pineapple juice with some Pellegrino.
It was early in the morning, so the line went by quickly.
Checking in for MSC Divina was really amusing! My family is quite loud, and everything that happened was an event. For starters the new Colombian passports are a mess and they don't work half the time. So we were all joking around about it, the lady at the counter told us that we were going to be a fun group. Later on 3 of our nationalities changed to Cameroon, she said that I must have messed up. Um, there is no way in hell that I would have messed up. I triple check everything for errors and I printed the check-in paper like 5 times over the issues with my cousin. Not a big deal, she just had to modify it. I just found it funny that she blamed me, after we all know how useless their website is…
After we checked in we found 3 empty chairs and mom took possession of them. She proceeded to give everyone their motion sickness medicine. I declined. Honestly, there was no reason to take them so early. MSC Divina was scheduled to leave port at 7pm. Either way I bought a coke for them and they all took them.
There was a nice window there and my uncle and I went to get some pictures.
You can see some of the crew there catching up with their families. I wonder if they purchase US phones for the season? Metro PCS would be a cheap method, plus it works in San Juan as well.
My uncle could not believe the size of the MSC Divina. He kept on saying "Excellente!" LoL
We noticed everyone started boarding MSC Divina, and my family was anxious to board. We had boarding pass #12, it went by quickly and before we knew it, it was our turn.
Like I said the terminal is really nice, and well appointed.
We got on-board MSC Divina through the back entrance, so it was rather dull. But if you enter through the main entrance, the first thing you see is the gorgeous Atrium! My uncle was like a child boarding MSC Divina. His smile was priceless. My uncle is loud and proud of it. He has no shame
.
The promenade in MSC Divina is very enclosed and lacks the sea views that we all cruise for. It is also not a full wrap around and does not even go around the aft of the ship. There are some open spots that you can see the ocean, but they are rather limited.
Once we boarded the first thing we did was headed up to the buffet to get some food. No one of us had breakfast that morning and it was already 12:20. We were in need of some food.
We decided to head all the way to the aft of MSC Divina and grabbed a wonderful table. The glass is slanted outward and you can see straight down to the water. It is very neat. Unfortunately, and I don't know why. This was the only time that we got a table all the way back. Maybe it was due to the long walk there, who knows.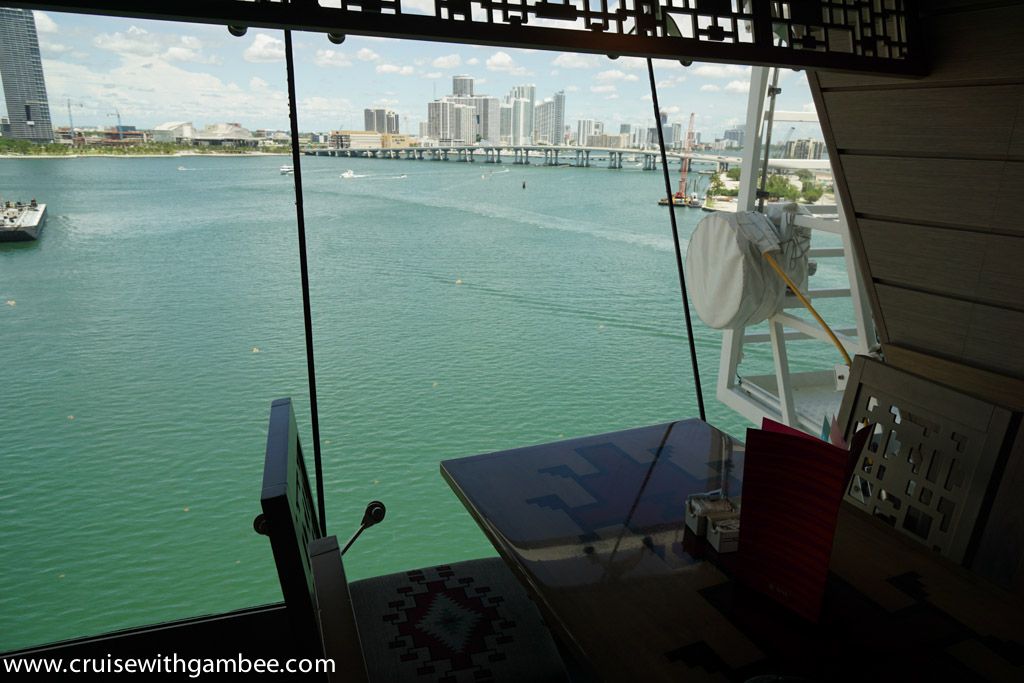 The MSC Divina buffet is really nice, I enjoyed the wooden look to it. They also use red curtains that act as walls, they look really neat. Just don't try to lean on them while intoxicated, like I did
LoL
Notice the curtains fold and become like a type of roof, very neat!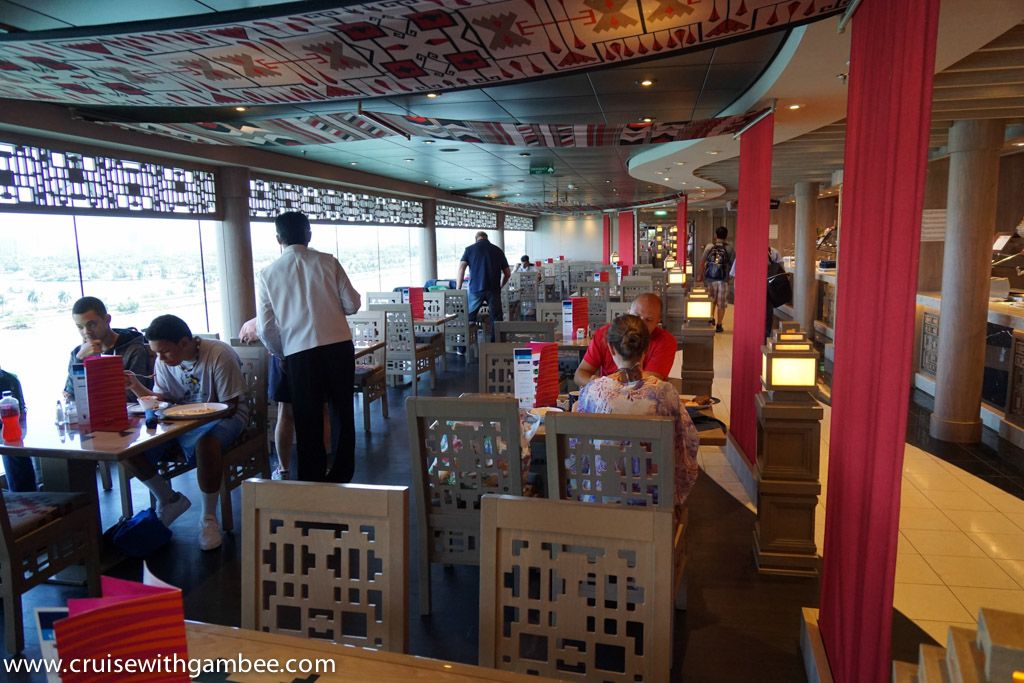 I told them to look for food, I stayed behind to guard our belongings. I had all my camera equipment and computer in my bag. It was heavy as hell and I did not feel like leaving it unattended. By the way, on the captain Q&A, one lady said that her camera bag was stolen during the cruise. They tried to look for the thief with the MSC Divina cameras, but they could find him, or the belongings. I had stuff stolen from me in past cruises and I am now very careful with my belongings.
They came back with their food.
The was the first of many plates that my uncle would enjoy on MSC Divina. I am not a fan of mixing so many flavors together, but you can tell he has no issues with it, lol.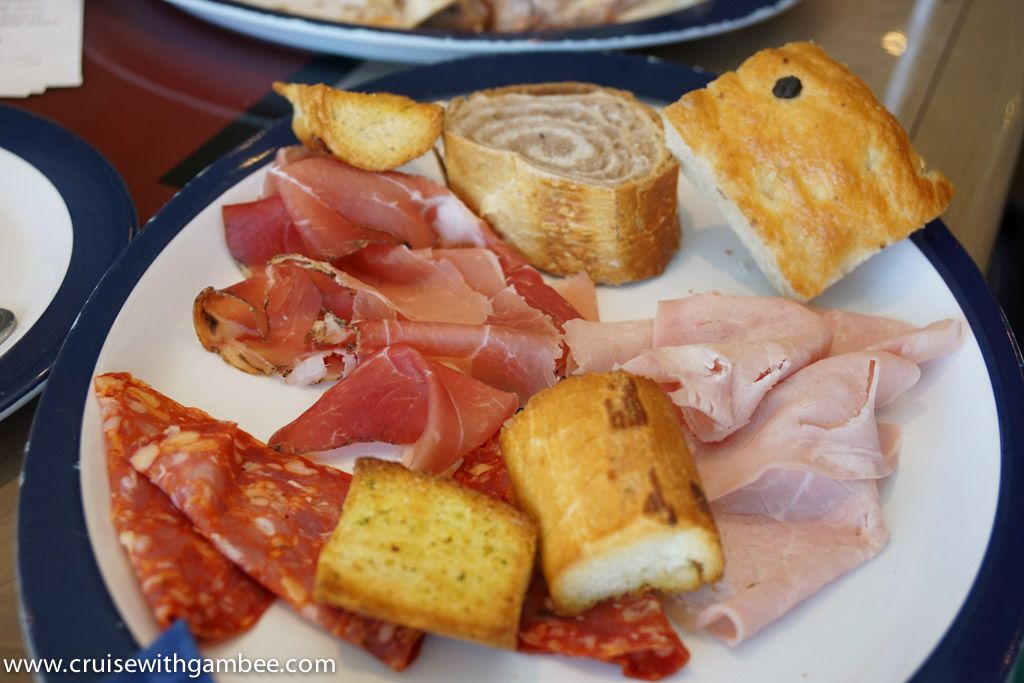 And now it was my turn to get some food.
Here is a picture tour from the buffet options aboard MSC Divina.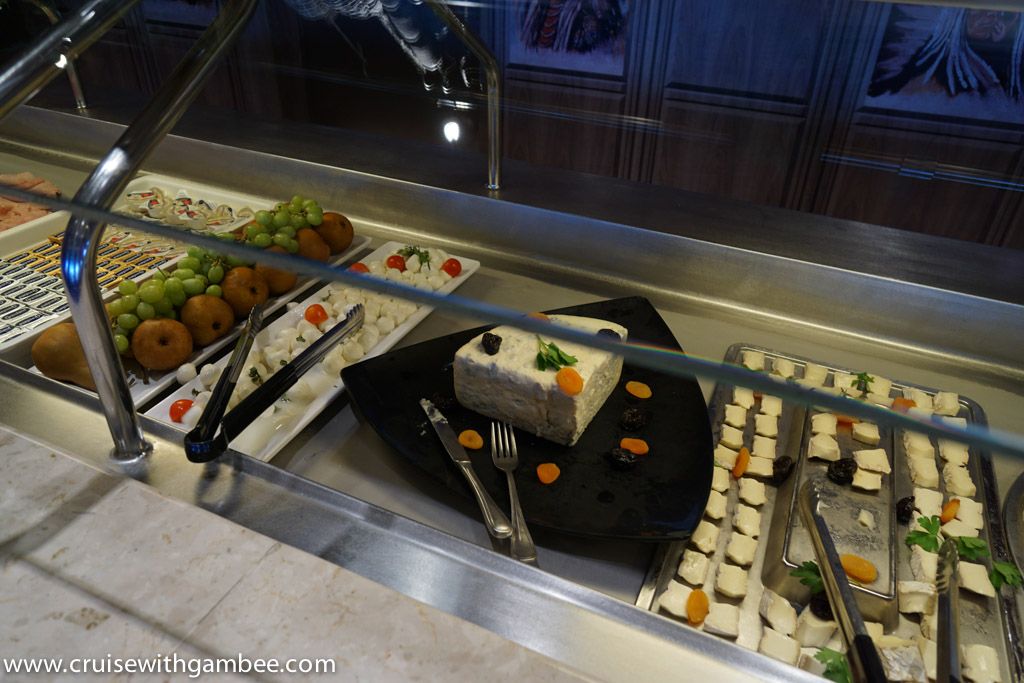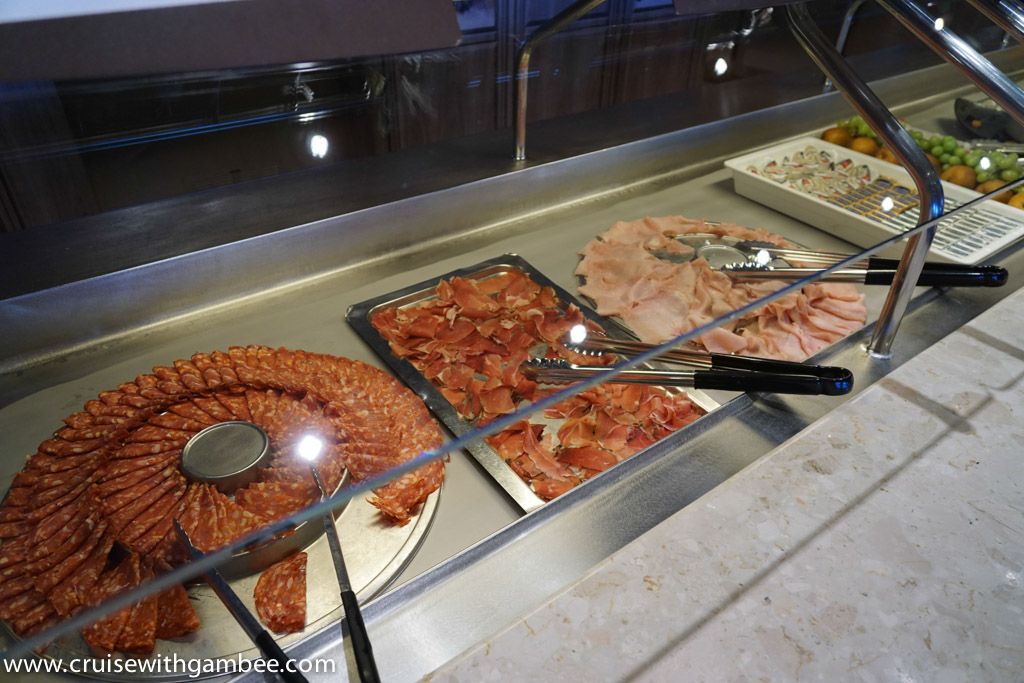 They have some really nice desserts.
They all said the ribs were awesome! I am not a fan of ribs, they are too messy for my personal taste.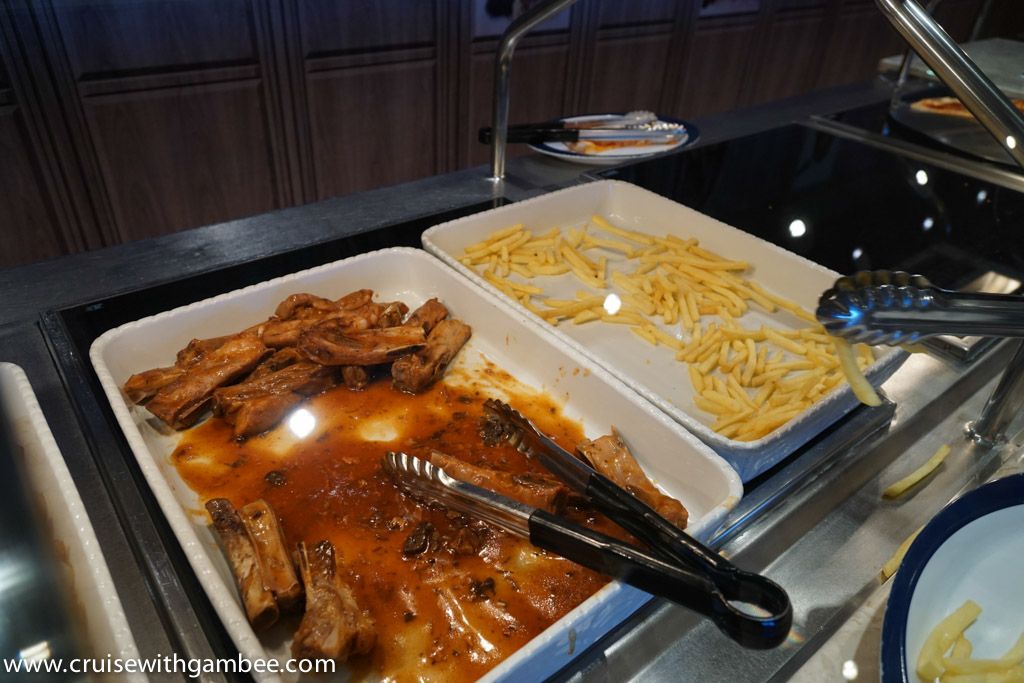 As you can expect from an Italian cruise line, there are lots of pasta choices.
The pizza aboard MSC Divina is absolutely fantastic!
They have some really nice salad here from time to time, you can also add more items to them from the salad bar.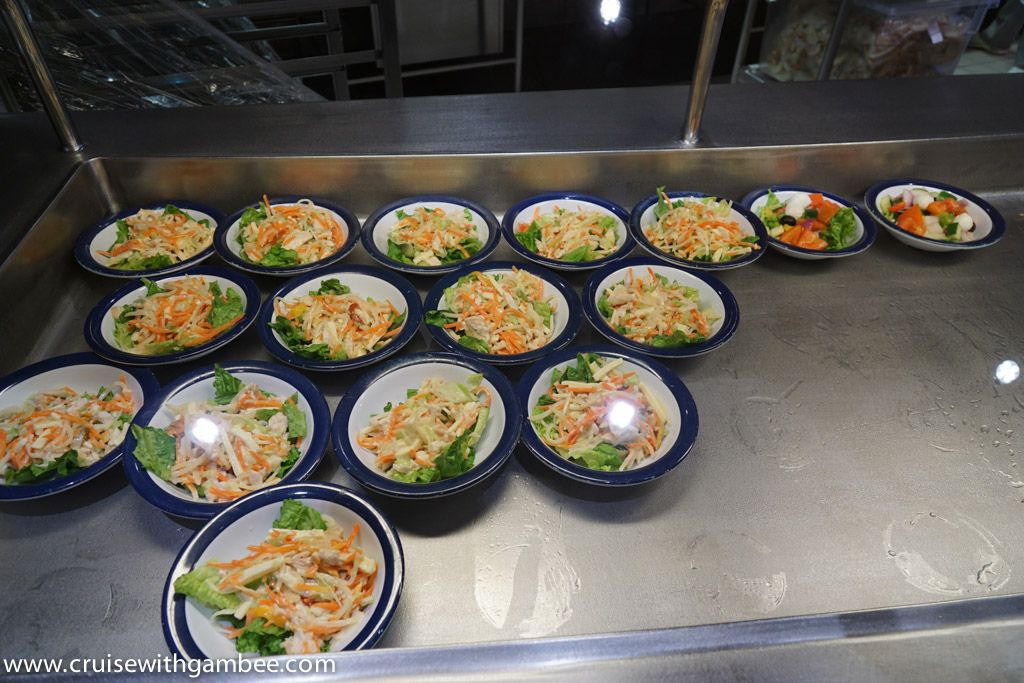 That buffet was kept impeccably throughout the entire cruise.
For those who don't know me, I am a big cheese lover!!! Unfortunately, I am lactose intolerant, but with the help of medicine I am able to eat moderate amounts of it. MSC Divina had a really nice cheese selection on the buffet.
Lamb curry. I am not a fan of curry, but this one was actually pretty tasty. I think my mom got a little.
I actually found some really good items in the MSC Divina kids section. I suggest you go there and check it out, don't be shy, lol. There were a lot of adults there throughout the cruise.
Ironically, the only shrimp on MSC Divina that you will see on the buffet are in the children's section by the form of popcorn shrimp. You can see them there. They were really good, I just wish more seafood was available in the buffet.
Ok, so let's talk MSC Divina buffet food. I will just try to be as honest as possible. I found out it to be ok. A lot of reviewers say it's fantastic. Others say that it is inedible. I thought it was to be just about average. Definitely a much larger selection than I find at home
, but not up to par with all the other cruise lines that I have sailed on. The main problem that I found on MSC Divina was the absence of variety, especially for breakfast. They have about 5 stations with the same eggs and bacon. There was also never eggs Benedict and smoked salmon, you could only get it in the main dinning room.
The taste of the food was good on some items, while others not so much. Personally, I did not care for the burgers at all, the meat-tasted kind of funny and they just seemed like they sat on the heater for too long. Needless to state that the only burger that I tried was that one, and one on Great Stirrup Cay.
The pizza on MSC Divina is absolutely PHENOMENAL!!!! The problem is that one cannot live on pizza for 7 days, especially when you have a lactose intolerance problem like myself.
The pasta was good for the most part, but I think I can pull off a better fettuccine Alfredo than the one they have aboard.
The meats are good, tasty and tender, just wish there were more of them.
Fish is rather limited and a lot of the days, and finding tilapia and swai fish is very common. A few times they had mahi mahi and other options. By the way the swai fish smelled horrible, I got a picture of it. No one touched the tray. I think there was one piece missing. Everyone avoided, personally I would not have put that fish out there.
Seafood… Good Luck… Rare sightings, I found calamity once, and like I said popcorn shrimp in the kid's section.
All that said, you just have to come back and realize how much I paid for the cruise. It was good food, you cannot board a ship of this price and expect the food that I have received in say Disney or Celebrity. The main problem here is that MSC Divina is absolutely gorgeous, it is one of the nicest ships that I have sailed on. So when you have such an amazing ship, with this type of food, it has a tendency to throw you off guard. Well, at least that is what I think. Because the food was somewhat comparable to my NCL Sky food, but for the Sky it was decent food. MSC Divina is in an odd bracket. I will try to talk more about this. They are trying to please too many people from different cultures and ethnicities and that in itself is almost an impossible thing to do. Like I said I will approach this later on.
Oh, by the way the president of MSC USA was aboard our sailing. I never saw him, not a knew what he looked like on the first place.
Here is my food. Everything was enjoyable, but the burger, I took 1/2 a bite and that was it.
We sat and ate our lunch, my uncle and aunt also got more food. Their personal opinion was that everything was phenomenal. I am simply sharing this detail. Mom knew me better, she asked me how everything was, but she already knew how I was about to answer.
That terminal reminds me of the Airport in Denver, very neat!
The hallways on MSC Divina are like a maze, there are so many turns and twists. It was kind of funny. We kept turning and cracking up. Anyway, I much rather the long hallways, they look nicer and make the ship easier to navigate.
After lunch, we decided to head back down to the room and check out the rooms.
Mom had a fantastic handicap sized room on MSC Divina. It was very spacious and great views. The room itself had less storage than my room, I am not quite sure why, but no one was complaining. The decor of the room was nice and it had an elegant feel to it. It reminded me of the Celebrity silhouette stateroom. The TV was on the small size, and hard to see from the bed.
Like I said the rooms are really nice!
MSC Divina hadiccapped stateroom tour.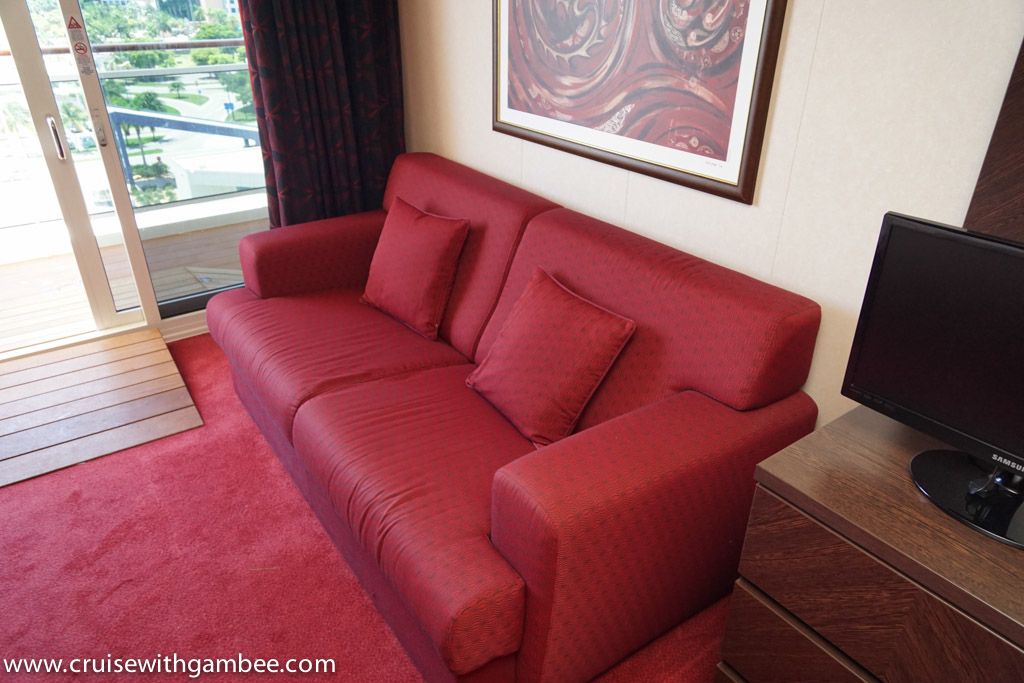 I did take two videos of both staterooms, but I have no idea where they are…
That bathroom was huge!!!
I loved this room, I wish I could afford this size rooms during all my cruises. Oh well, LoL
Just look at the SIZE!!!
Their balcony was really nice and long!
My room was also very nice. The only bad thing about it is that it was right next to a wall. So I basically had no aft view since the wall blocking everything. If I had the option to select a room, I would never book this room, what is the purpose of booking a balcony if half the view is blocked by a wall. Remember, we had balcony guarantee reservations.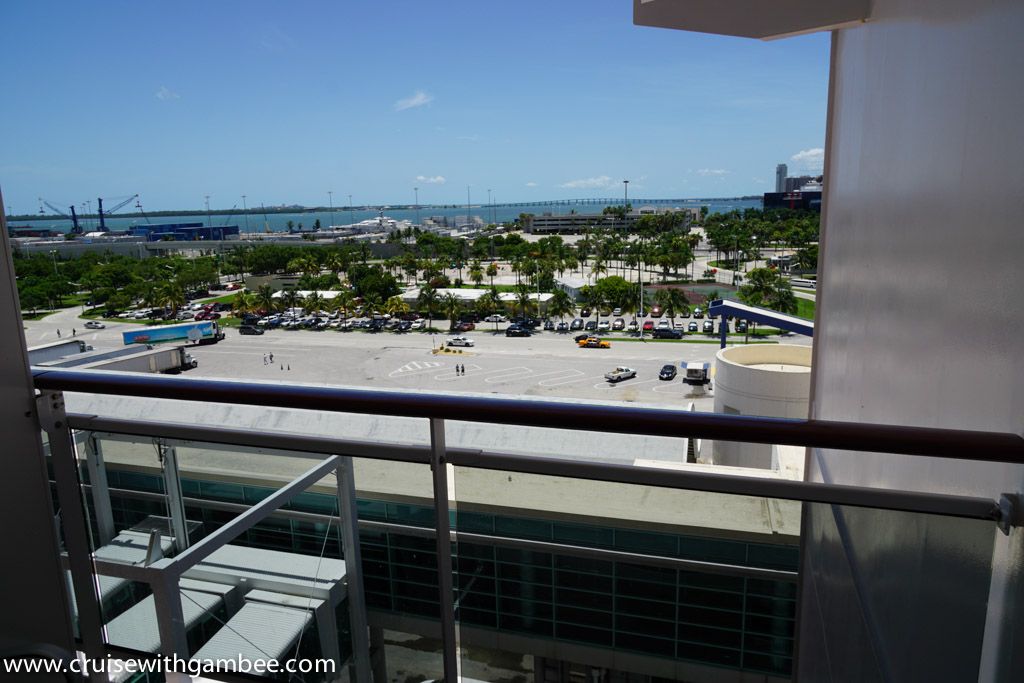 I could already smell the fresh sea breeze… ahhhhhhhh. I am a balcony lover, LoL. They are getting expensive though :-/
The is the wall I was talking about.
While I was doing the tours, I could hear them laughing a few doors down. Our rooms where a few state rooms apart. I decided to go check out what they were laughing about. They were sending pictures to all our family members and showing off the silly tiaras that my mom had bought for the cruise, lol. Trust me, I was not in favor of the tiaras at all, every time they wore them everyone looked. But at least they were not as bad as the blinking lights flowers that they decided to put on one day. Oh my my my… Thank God that they were meant for kids and they were so tight on their heads that they cause them headaches. If not, they would have worn them the entire day, fewwwww
Anyway, we turned the TV on to check out the cameras and we noticed that they had what seemed to be a wedding photo-shoot in the aft pool. A very nice place to get pictures of your wedding.
That Pool is AMAZING!!!!
We then chose to head out to tour the ship. The elevator waiting area is absolutely stunning! The elevators themselves could use some work on the software. The wait times can be a little on the long side, especially at times when the ship is busy. There is one hidden elevator that works wonders for busy times. It is mid-ship going towards the aft. This elevator is perfect when you board MSC Divina after a port and the main elevators are packed. You have to walk up one deck to catch it.
The atrium looks absolutely stunning! No question about it, everything sparkles and it is kept impeccable at all times. It is a beautiful place to sit and people watch.
My family took a few pictures with the smurfs. They had him there for everyone to take pictures with, they also had a super woman, and I do not even know why I did not get a picture of her.
And here is the famous staircase. I am not entirely sure, but I think I read somewhere that each of those steps is made of Swarovski crystals and each step costs $30,000. The steps have led lights built into them and they really make them shine. They are gorgeous. This a perfect place to get your family pictures taken.
MSC Divina Staircase
We kept on walking and we walked into a small area.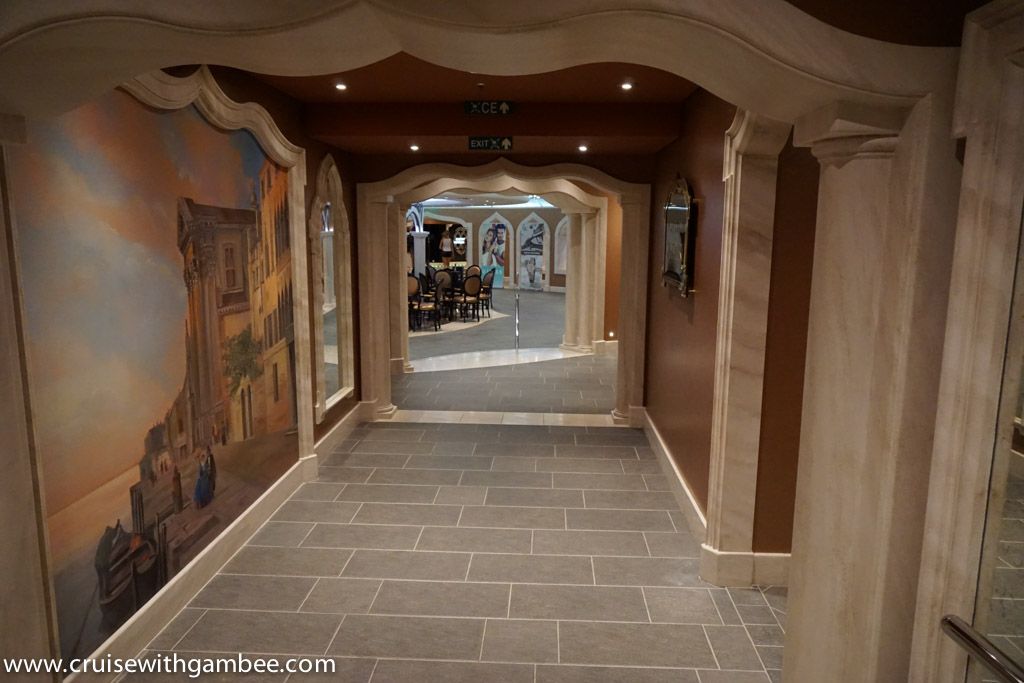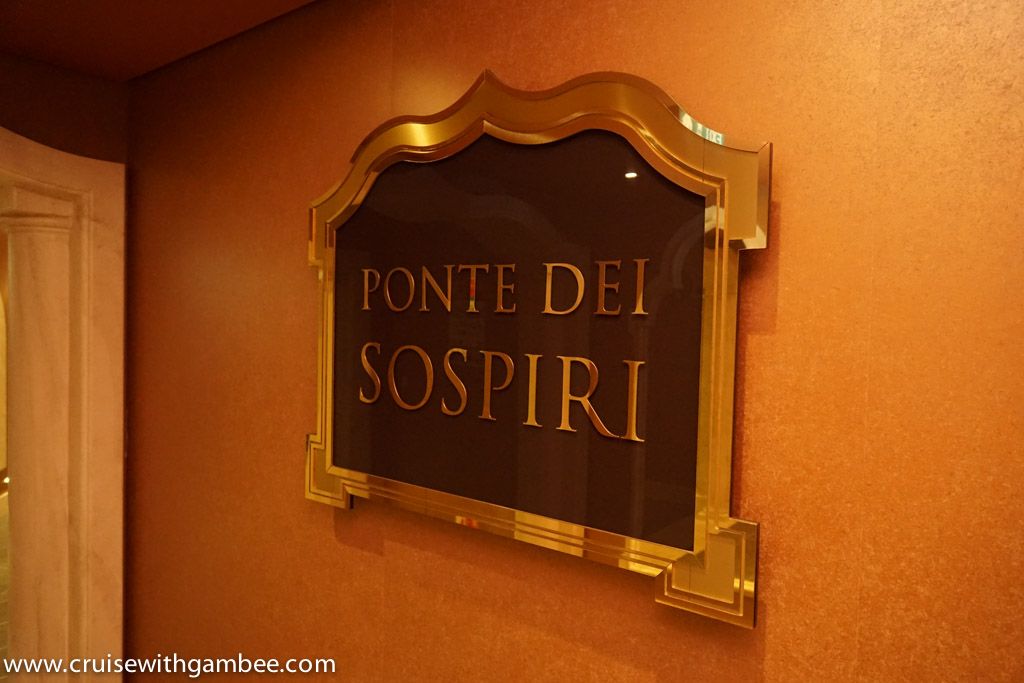 This area is rounded by the brand store and there is also a pastry shop where you can purchase several tasty treats. They also have numerous performances at night there. It gets incredibly busy here as they sometimes setup sales with watches, jewelry and whatnot around it.
The area looks absolutely spectacular!
You will most likely walk around this area several times during the cruise, since it is located in the path to the main theater. We never purchased any of the pastries, mainly because of the long waits. There are consistently lots of people here buying sweets and coffee.
We kept on walking a landed in the casino. My uncle actually got very lucky and I think he won a good amount of money. He is not a big gambler, but he does enjoy playing here and there. I lost a total of $2 during this cruise
.
The casino itself is rather small, or at least I thought so. However, then again I never saw it full to capacity, so I think it is a good size for MSC Divina. I never noticed any smoke smell. They must have a very good ventilation system implemented.
At the casino we also picked up our pre-purchased drink vouchers. We had bought a few of them. When you get there you show them your room key, they look you up and then hand you your vouchers. It was fairly quick. The only issue was that the gentlemen ahead of me was having some issues with his package.
By the way my family saw children playing in the casino. It was right after a show had ended and the casino was chaotic. The father was encouraging them and kept handing them more dollars. They never got caught and left as soon as the casino cleared out.
I think the location of the casino is perfect for a cruise line to maximize profits, as people leave the show it encourages them to spend a few dollars there. However, flow wise it is terrible. It gets clogged up and no one can move. It can get very chaotic.