So like I said, once you exit the MSC Divina casino you end up in the theater. The theater is just like the rest of the MSC Divina, simply spectacular! I think it is one of the nicest theaters that I have seen on a ship, amazing!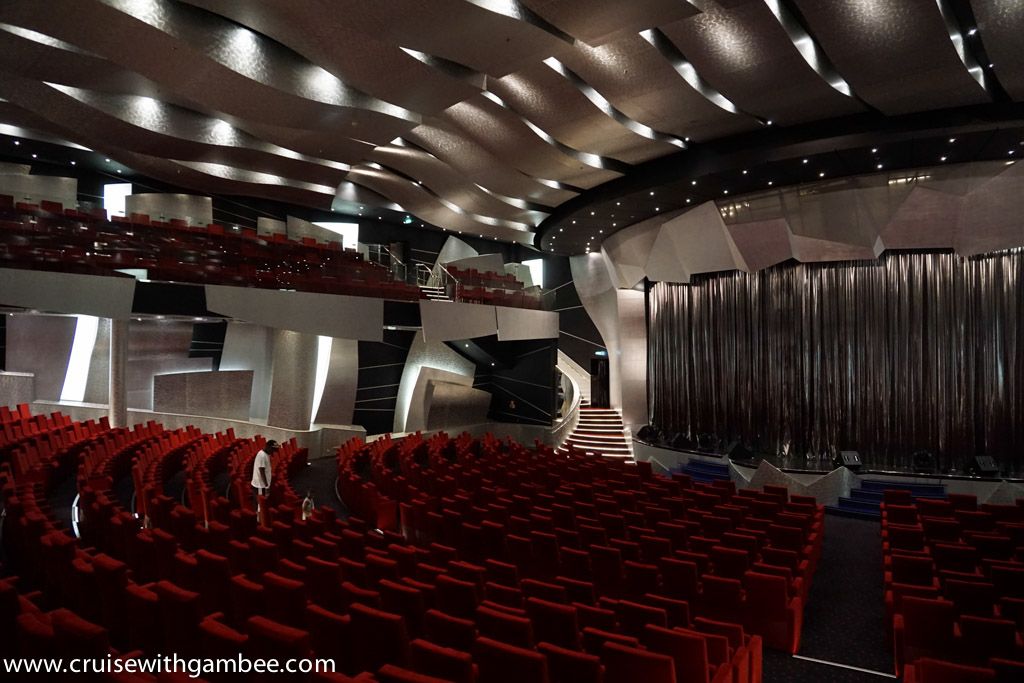 There is my uncle sitting. He wanted a picture to send to his wife.
By the way cellphone reception on MSC Divina is amazing, by far the best out any ship. I wonder if that means that the ship is built with thinner metals? Whatever it is, it worked in favor for us! Mom sent about 1000 pictures that day
from almost everywhere inside MSC Divina!
After that, we headed up to the pool area to get a drink and go check out the Spa.
Near the MSC Divina Aqua Park is the ice cream shop, this is the ice cream that you have to pay for. We did not try it.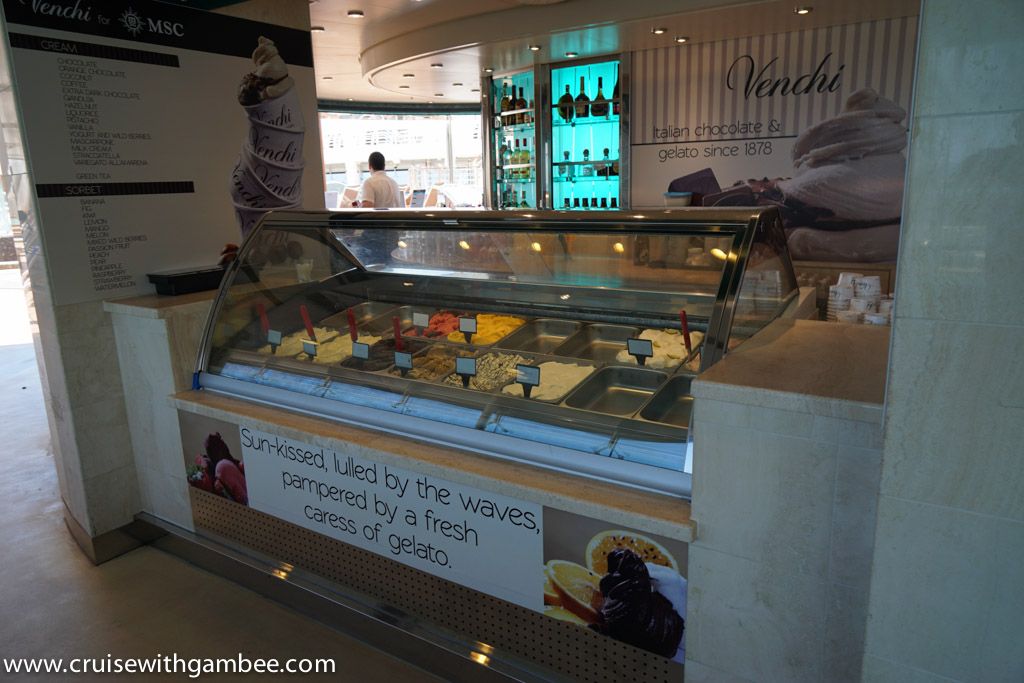 You can sample the flavors if you like.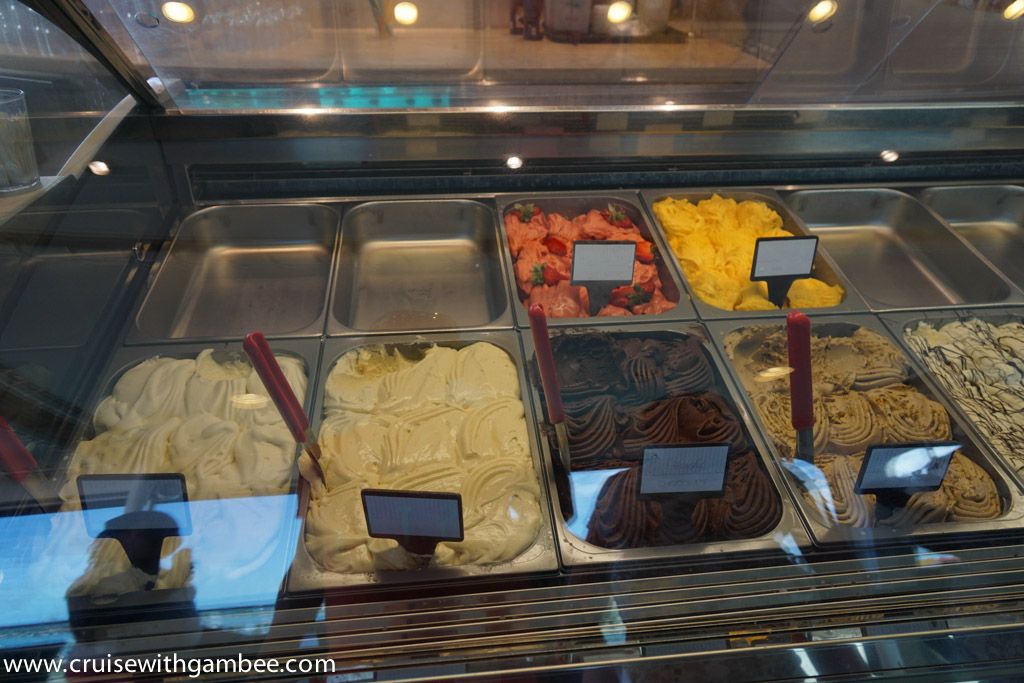 We stopped at the MSC Divina pool bar and got drinks, they were all very tasty, although my long island was on the weak side.
Here is the first of many drinks lists. For some reason I did not take pictures of the drinks, I think I forgot because everyone started drinking them pretty fast.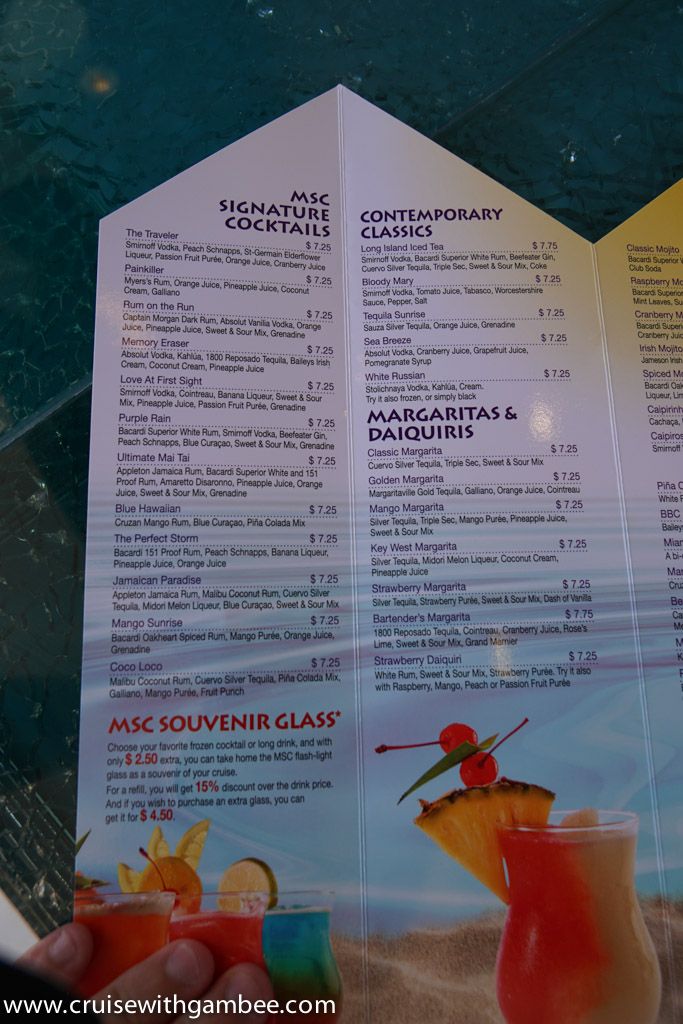 I will talk about tips now, since something odd kind of happened here. Ok so here is the deal, when you purchase the drink packages ahead of time, you get a 15% gratuity discount. What exactly does that mean MSC? If I read correctly, it means that MSC is not giving the discount, the discount is coming out of the crew paycheck. This is not right at all! And something I do not understand. How can you have a happy staff when you're taking away their tips? I knew all this ahead of time and we had brought aboard lots of change to make sure that they got their well-deserved tips on our pre-purchased packages.
But here is the thing. I think I was the only one doing this. Because when I went to tip him, it almost seemed like he was about to refuse the tip. I couldn't understand it. I think it was so rare that he got a cash tip that he got confused. All the other cases were similar. The servers and cocktail servers were almost in shock that we gave them a tip. You are required to sign a receipt even with the vouchers, but there is no room anywhere to add additional tip. The same goes for Great Stirrup Cay.
My guess is that this is part of the European system, but what I fail to understand is that if MSC specifically tailored this vessel for the US market why aren't most US cruise factors ignored? This is just one of them. The list goes on and on. As I remember, I will write more on it.
We continued walking and heading towards the Spa to see it.
The main pool area is very nice, but just like all other cruise ships. It gets very busy on sea days.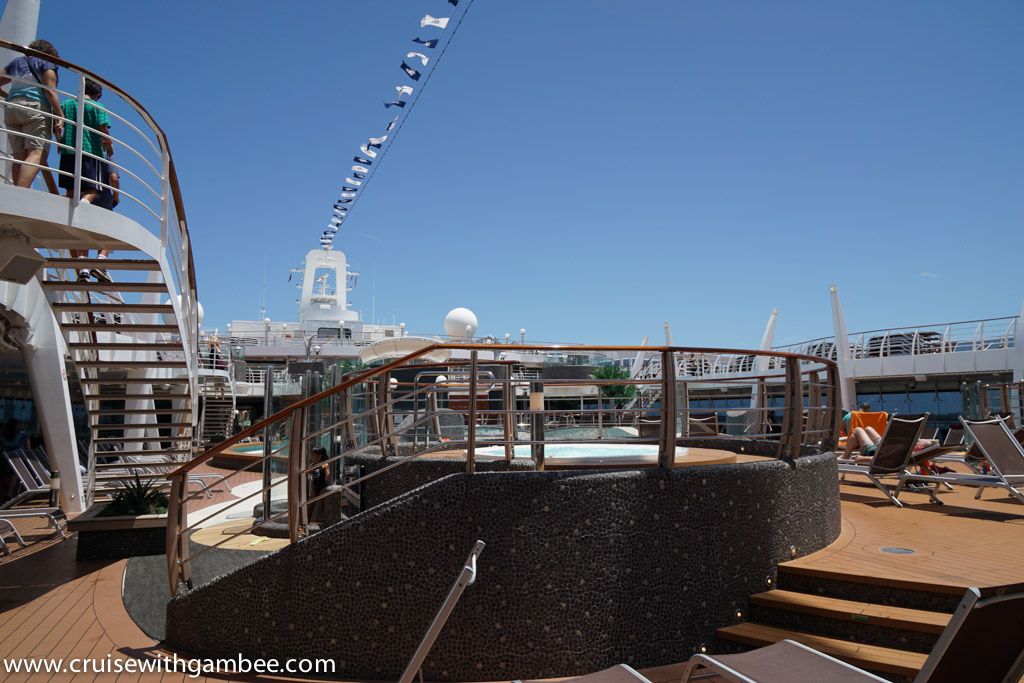 That right there is one of the children's pool, they had a delightful temperature. Although maybe it a bit warmer after it got some action ;-), LoL. Just kidding, or am I?
All the pools on MSC Divina were salt water. The Jacuzzis had fresh water.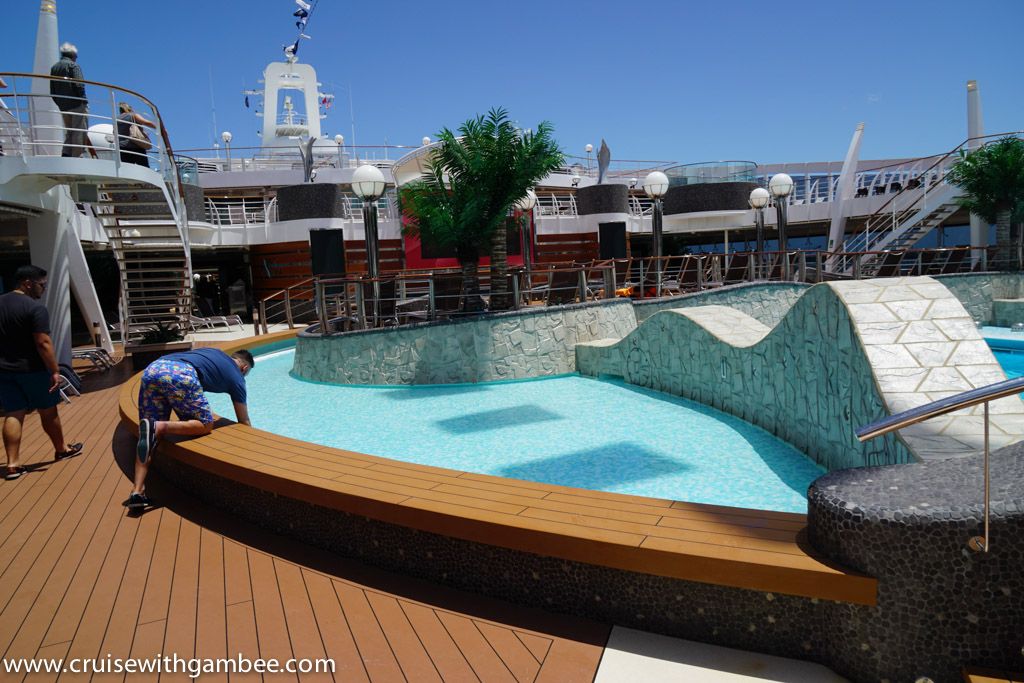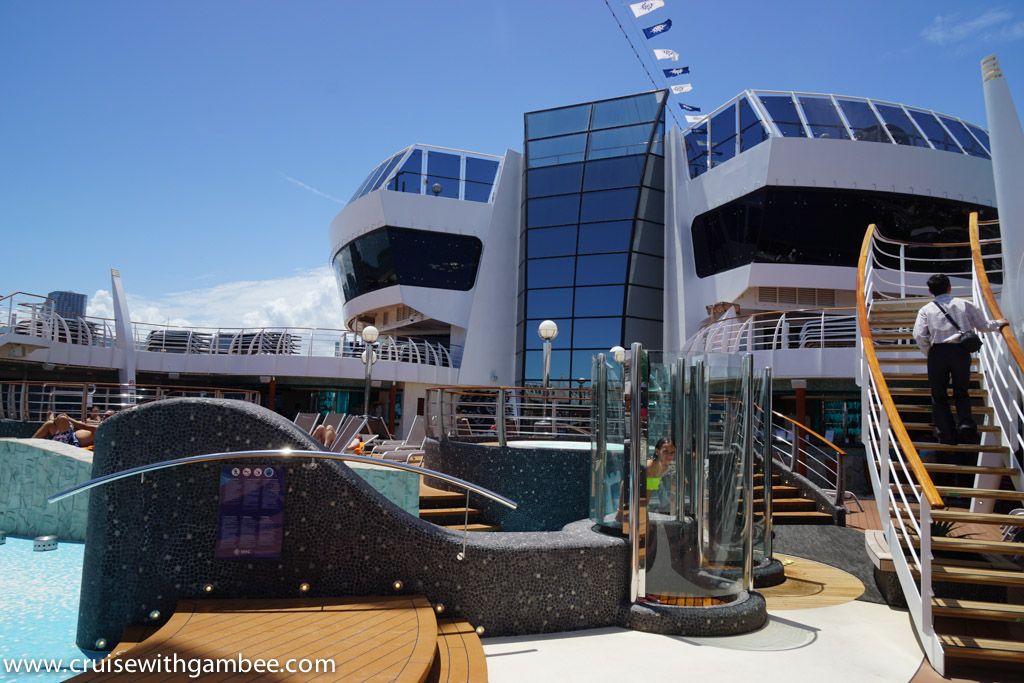 See that? "Frequent toilet breaks!" LoL, yeah, I think I rather avoid the pools ;-). Then again, there is so much chlorine in cruise pools, that I think we are safe =)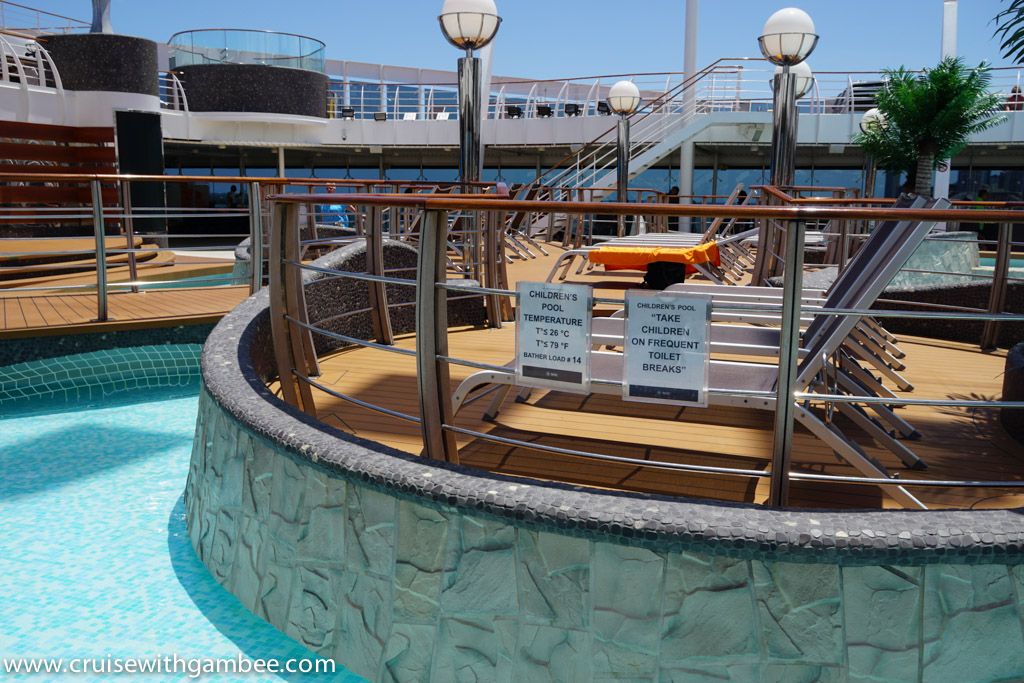 WOW I AM JUST NOTICING HOW AMAZING THIS PICTURE IS!!! Just look at the cloud formations.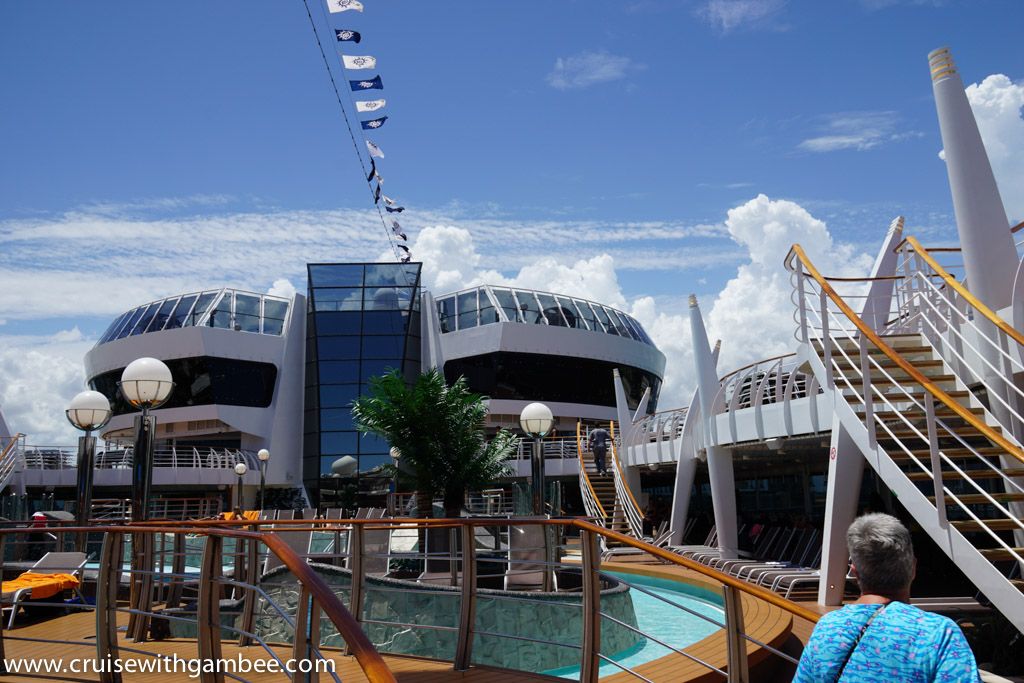 Before you enter into the indoor pool area are the soft serve ice cream machines. The machines are not the best, when they are working barely anything comes out. So you can only imagine the lines that form in there, I took a few pictures of that. In the end what they did was give up on the machines and they a had an attendant serving the ice cream with a scooper.
The ice cream itself is similar to other lines, nice and refreshing, just impossible to get.
Here is the MSC Divina indoor pool, it has a retractable room that they open and close several times during the cruise. It is a beautiful area, I just wish that this was an adult only area and that it was enforced. The only free adult only area is the aft pool, which is very nice. The big problem is MSC does not enforce the adult only rule. So you see children quite often jumping and running around. If you truly want a strict adult only area, you will have to pay for the solarium. I will show you the solarium later on.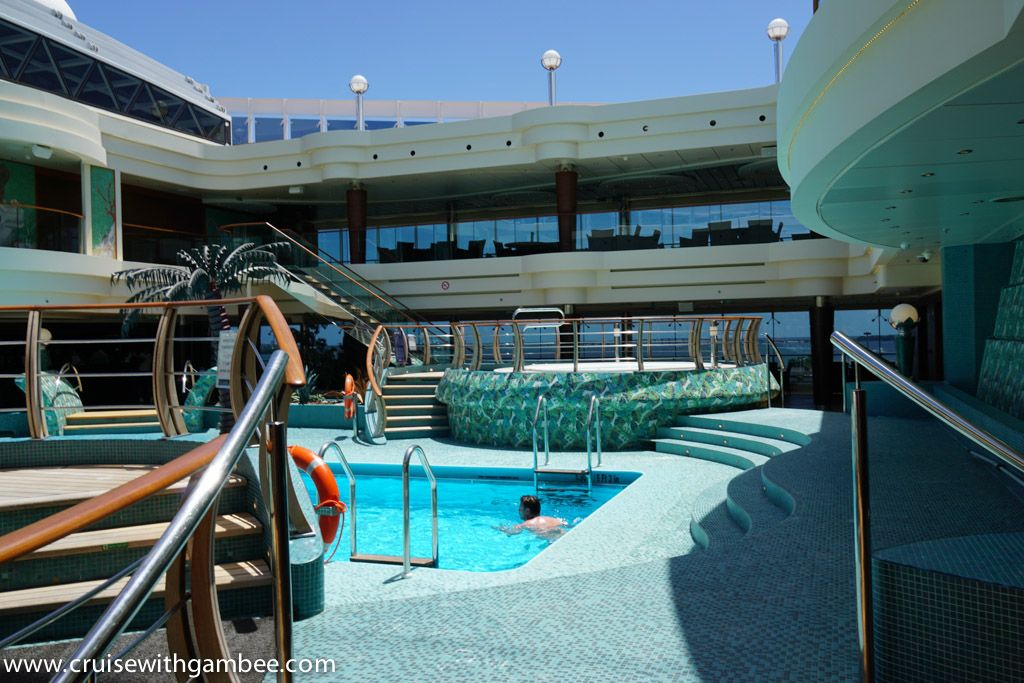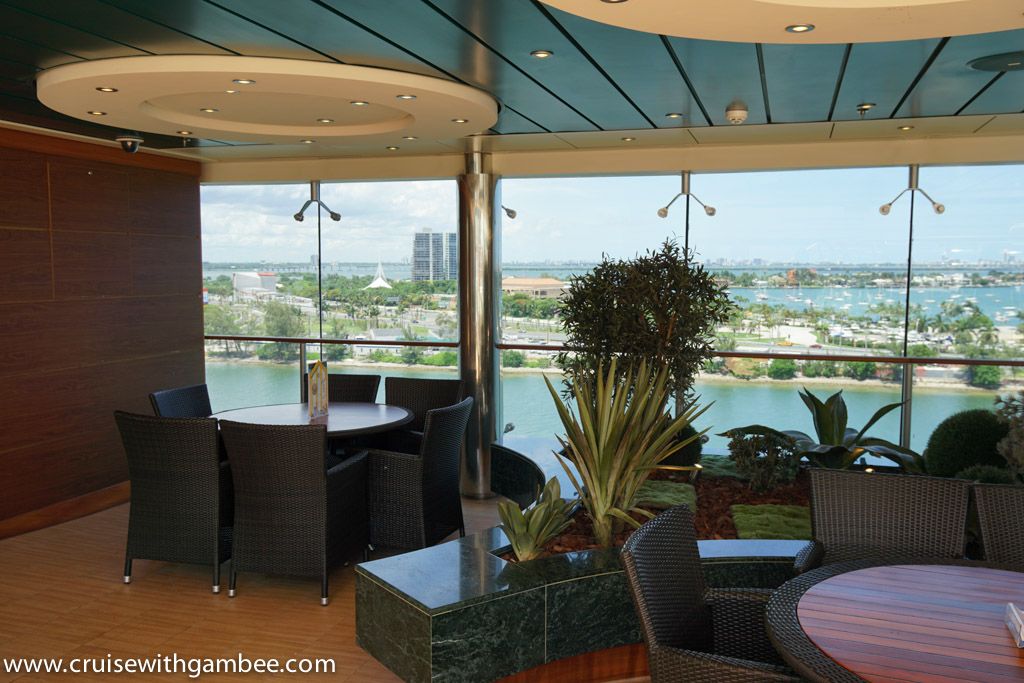 MSC Divina indoor pool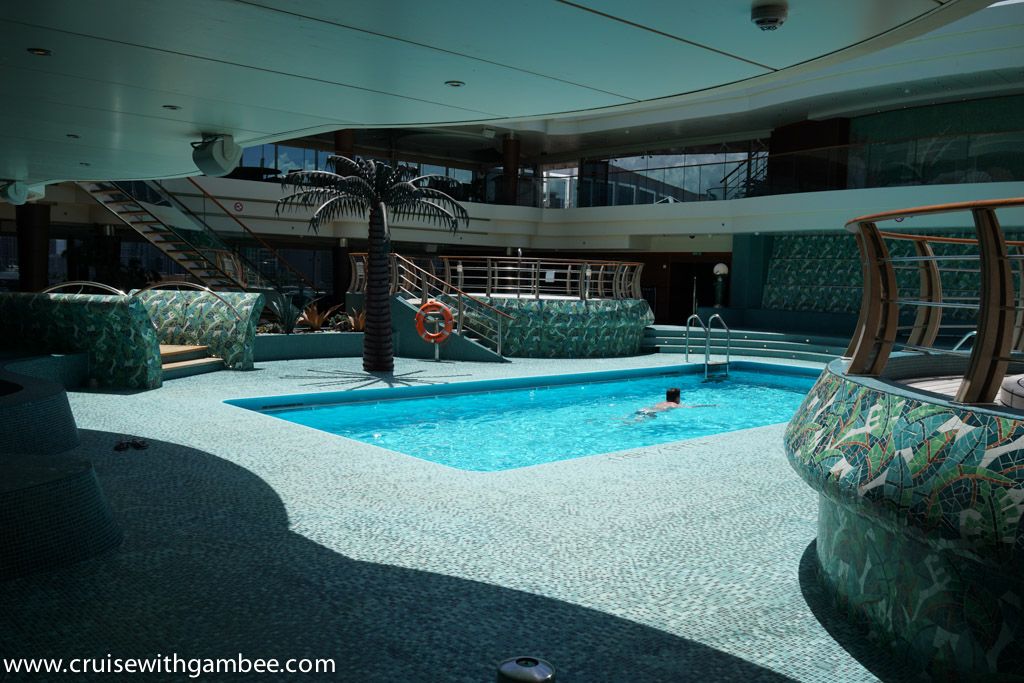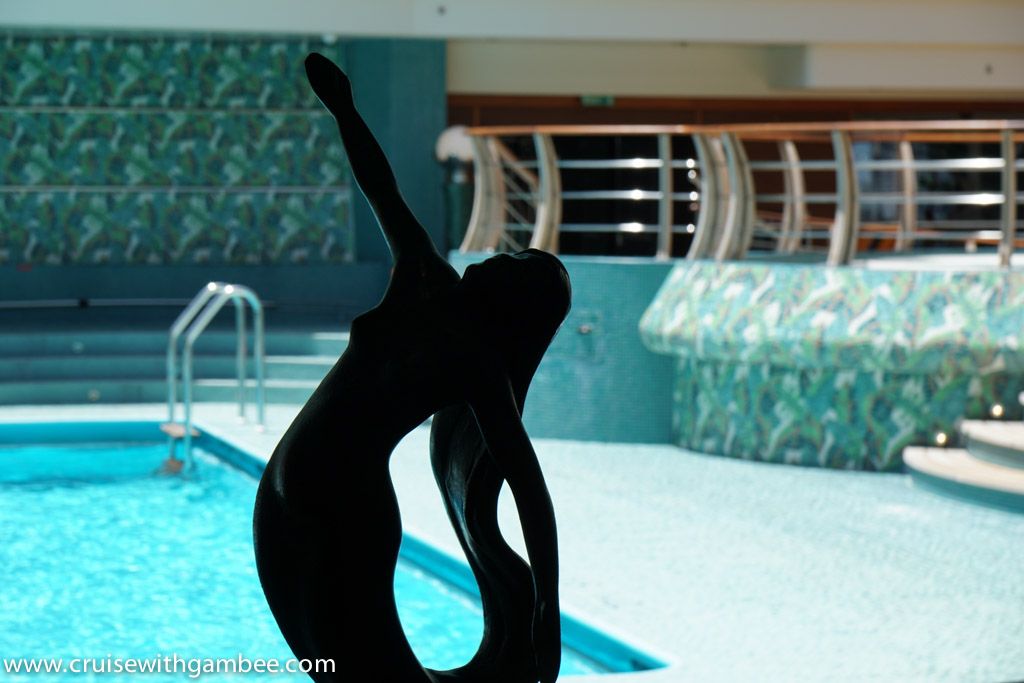 Immediately after the indoor pool is the spa. We took a quick tour of the MSC Divina spa.
Writing these review I feel that I repeat myself over and over again. It is very hard to keep track of what I have said. Anyway, I think I have not spoken of this before. The MSC Divina spa itself is very nice and follows the trend of the gorgeous ship, I have the prices of the spa services, but I took them another day, so you will have to wait a bit for them. The spa has several steam rooms and saunas, which are available to you for $16 per hour or $30 for the full day. There is no hydrotherapy pool like there is in some other modern ships. We never tried the area out as I am not a big spa kind of person, and again we were on a tight budget. The truth is that I wanted to spend an hour in the coconut steam room, it smelled divine in there. But if I spent an hour for me, I had to pay for 4 more people. It was just not doable, since we had shore excursions and other expenses ahead of us. Maybe next time =)
Picabu!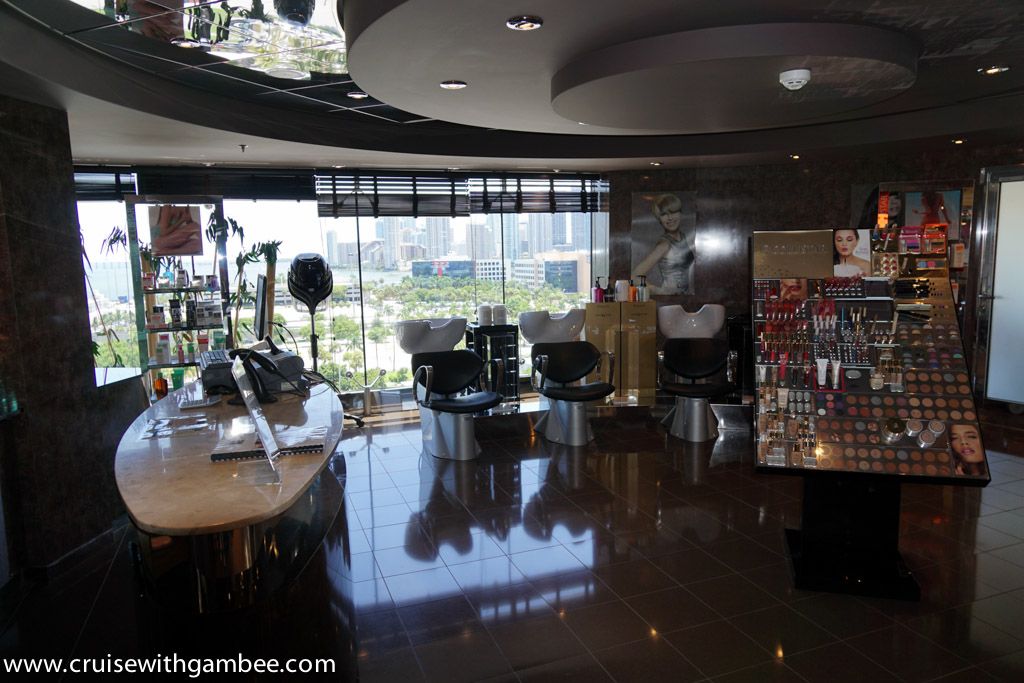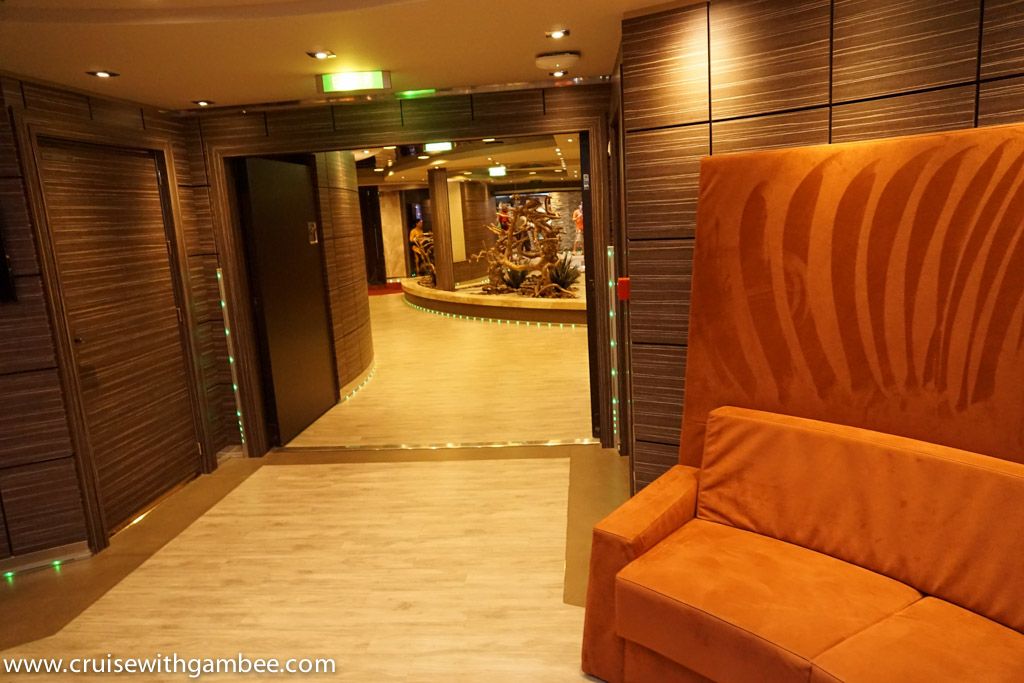 Our tour guide was very nice and knowledgeable.
I am just noticing now the amount of breasts aboard MSC Divina.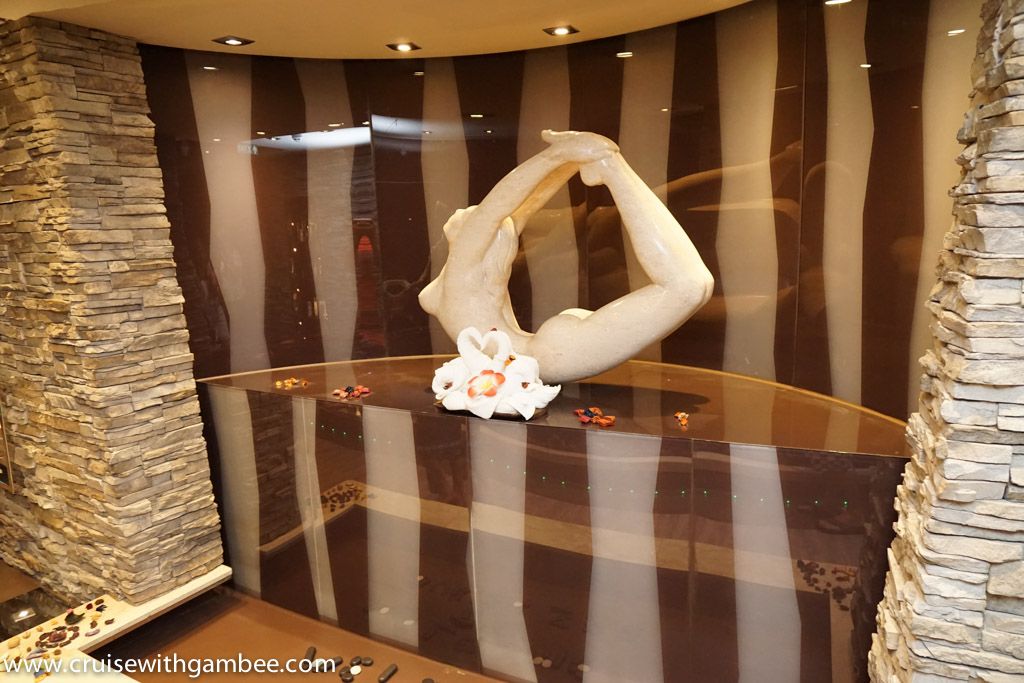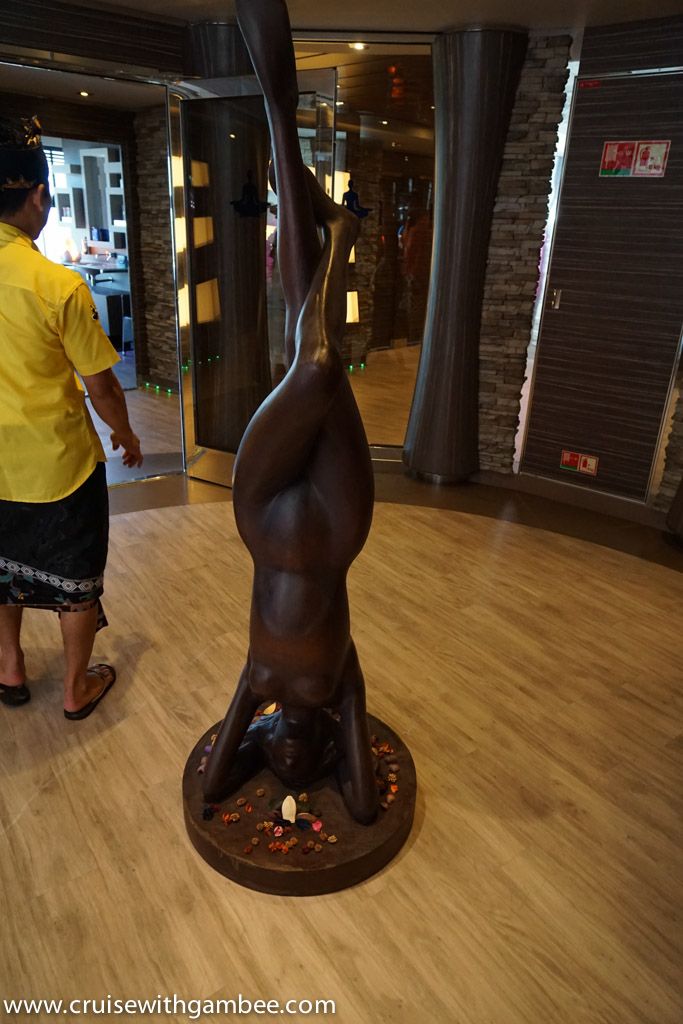 The funny thing is that the only time that I got a treatment on a cruise ship was on the Allure. It was given to me as part of the cruise deal. The funny thing is that the spa rooms on the Allure have no view, they are completely enclosed rooms. I wish it would have been a room like this one =)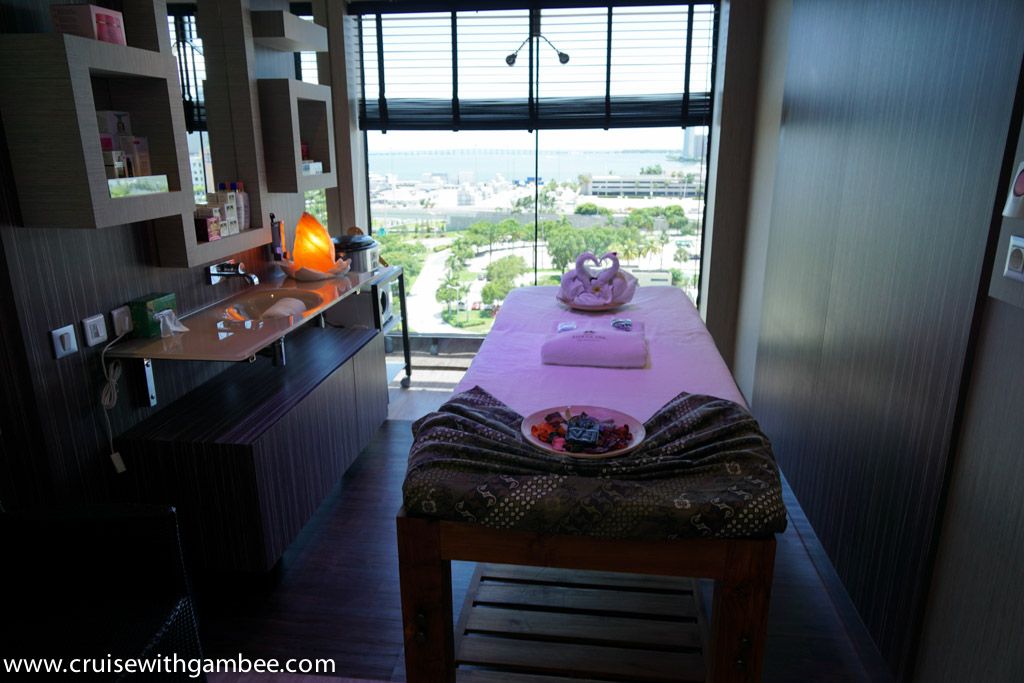 A very nice view from up there.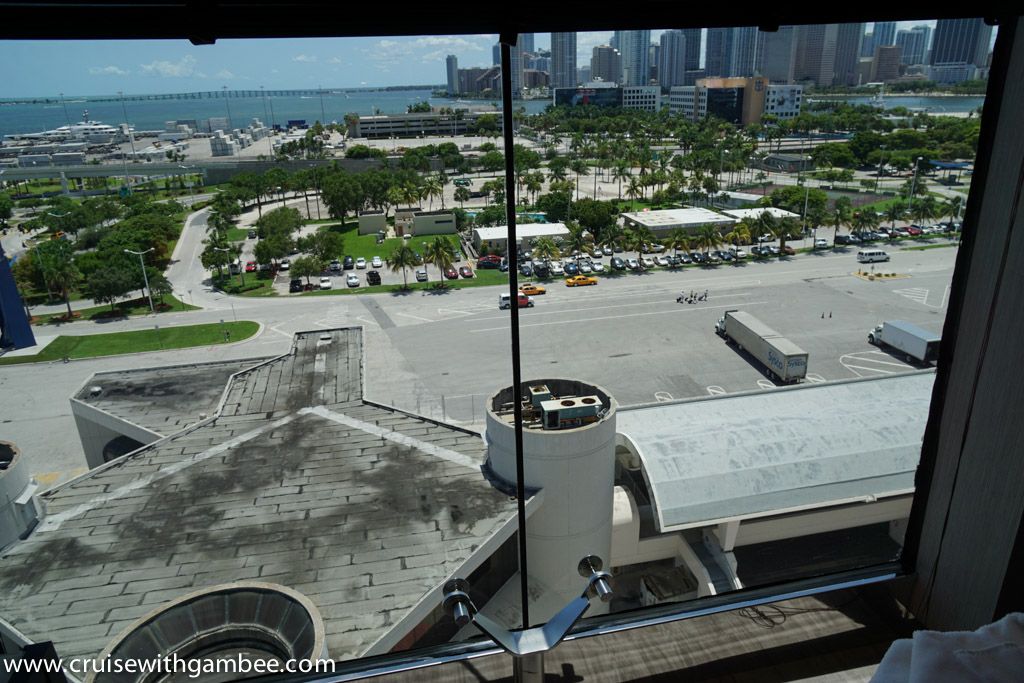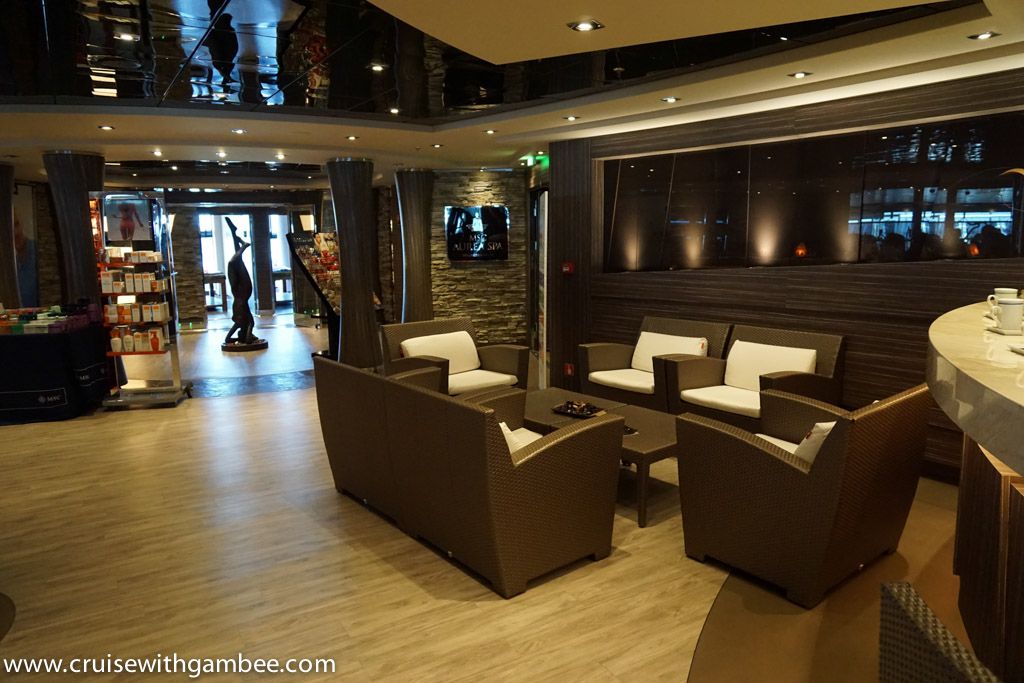 There is a large store inside with lots of sport gear wear and equipment.
The MSC Divina Yoga Room. This picture is really funny! It's exactly how we looked the entire cruise. Both with camera in hand just taking a million pictures!!!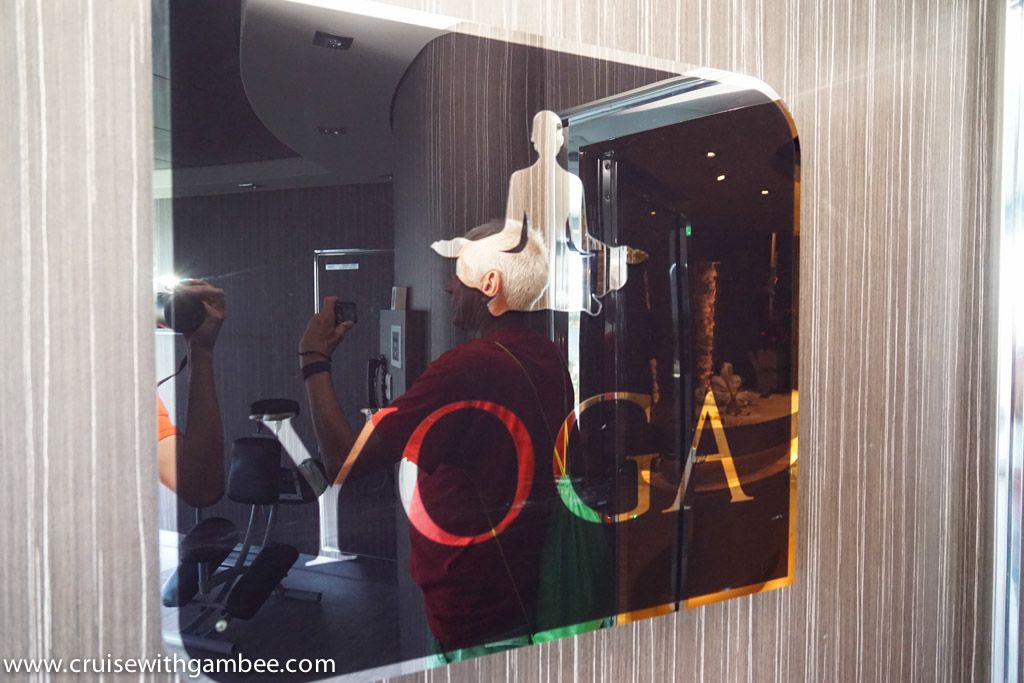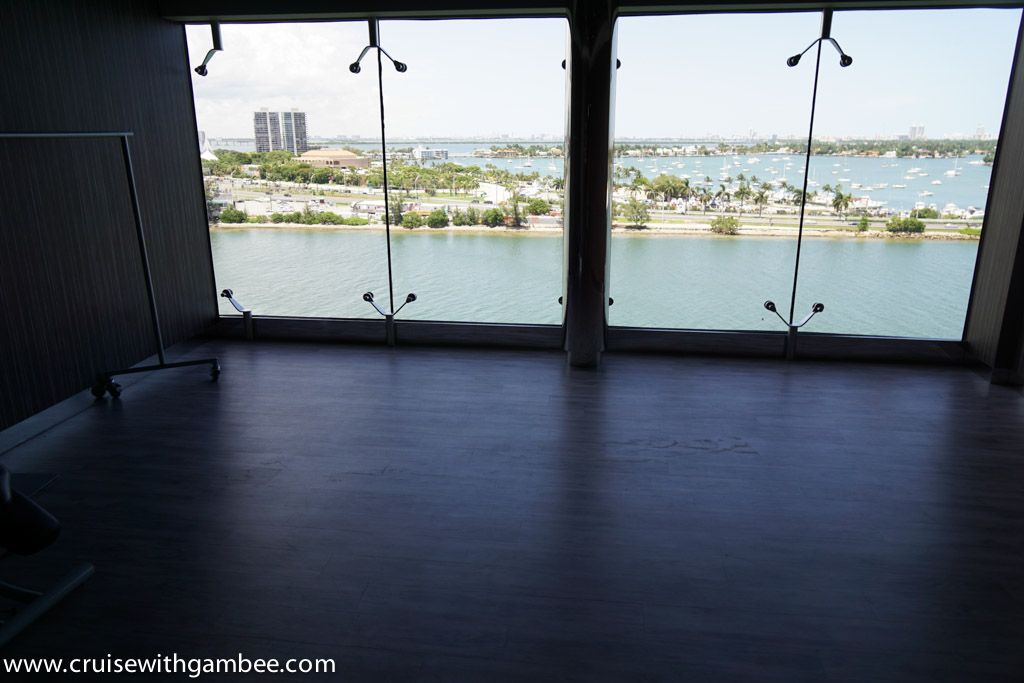 One thing that I really disliked about MSC Divina was that unless you were in the Yacht Club, there is no way of going to the top front decks and look forward. I think that was a lousy call from MSC, at least the Breakaway class has half of the ship for regular passengers and the other half for Haven. Anyway, I guess I just dislike being treated differently, I understand that they are paying a premium. But having access to the front of the ship is really nice and I make it there often in my voyages. So back to the spa topic, the only way you can see the bow of MSC Divina if you are not in the Yacht Club, is by going to the gym. The Gym is part of the spa, and of course it is free to use. However, as much as I said that I was going to go every day to the gym, I did not do it even once. That meant that the only time I saw the bow of MSC Divina was on boarding day and the TV ship camera. Not a big deal, but it is something to be noted nonetheless.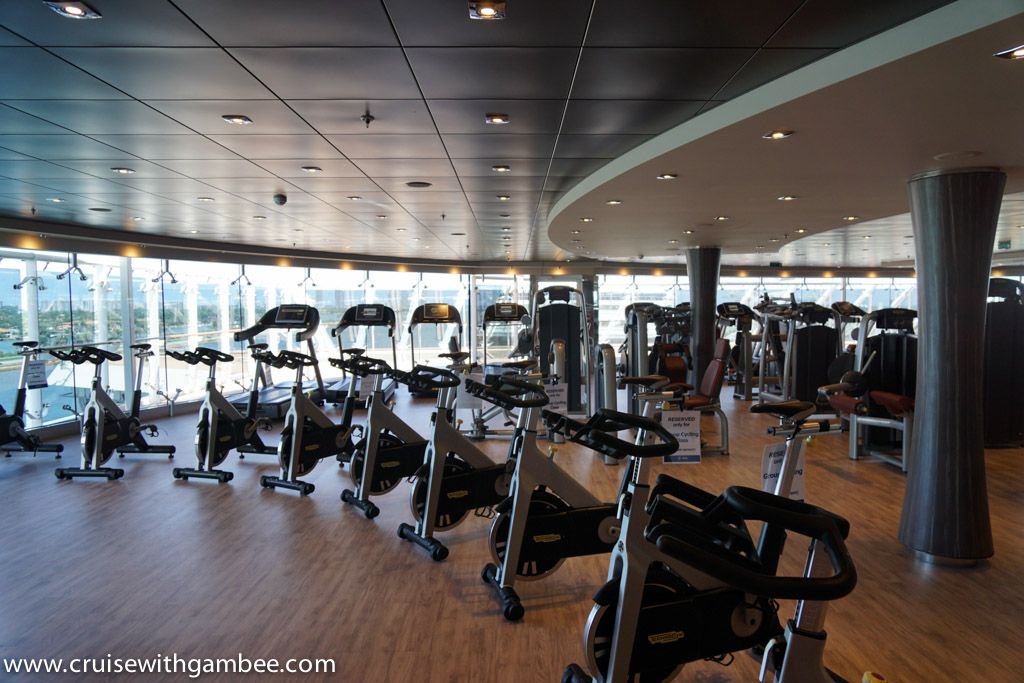 MSC Divina Gym!
All the equipment looked like new and it looked like top of the line. But then again this is coming from a guy who only sees gyms in boarding days of his cruises. So that really does not say much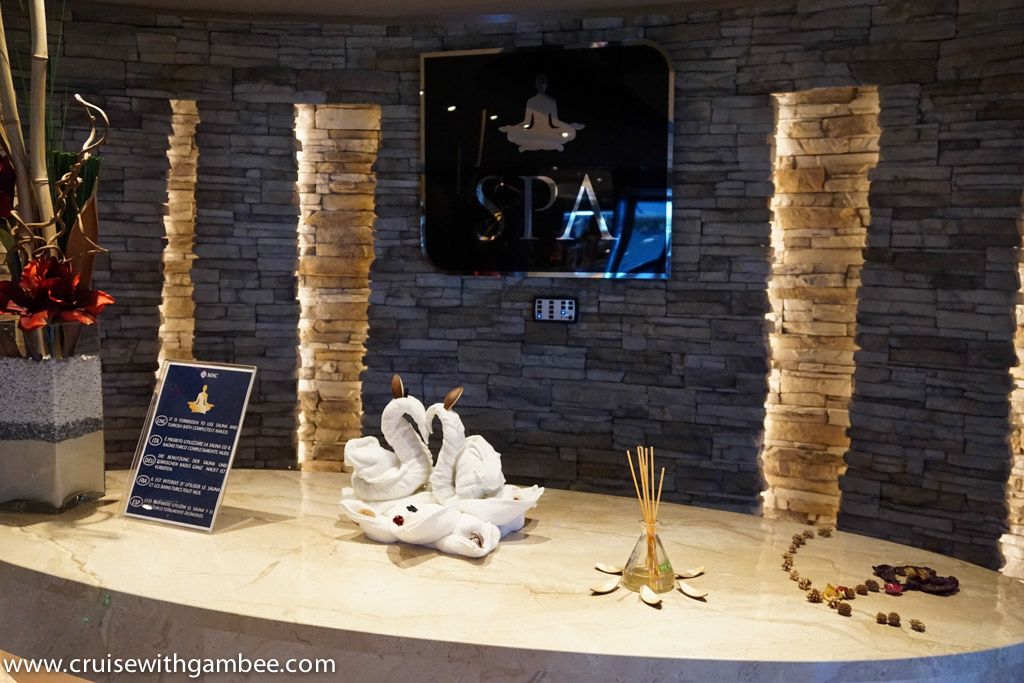 By the way enjoy these towel animals as much as possible, because you won't see more for the rest of the cruise. Yup, you heard that right. We never saw any in our staterooms
. Please be aware I am not complaining about my room steward, she was fantastic! I am not sure if the non-towel animal thing is an MSC thing or not. We failed to ask her.
More boobies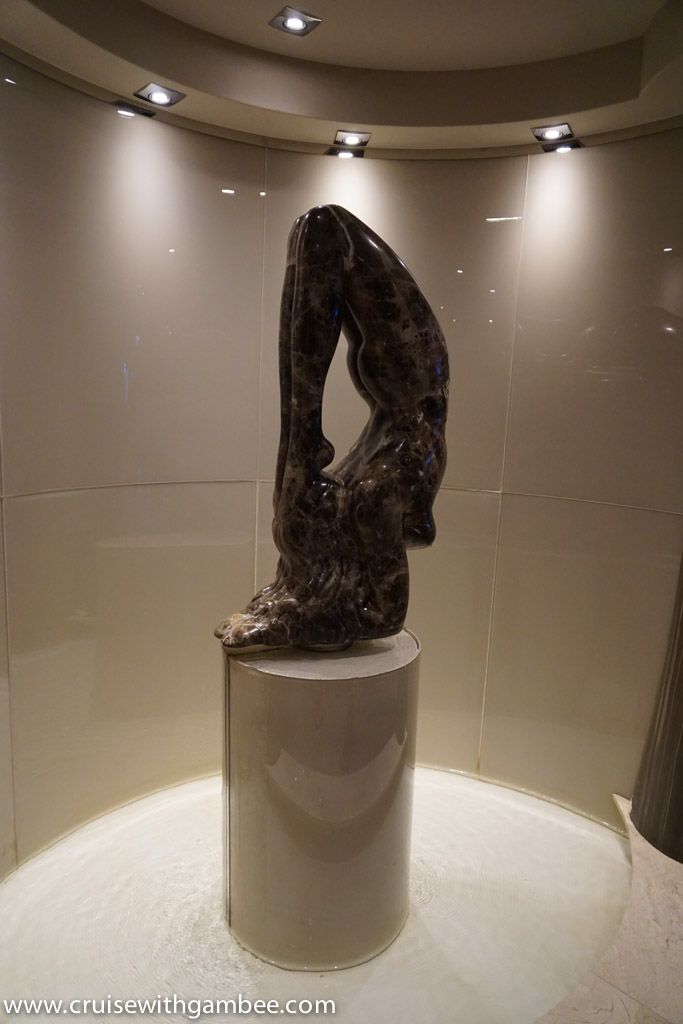 This is the steam room area, very nice area!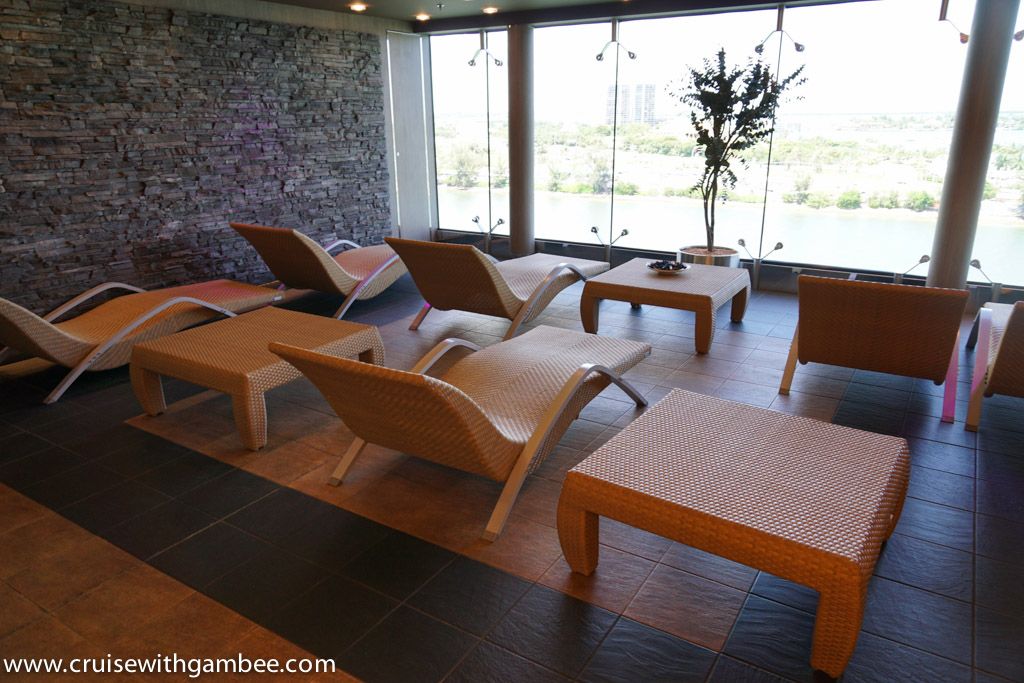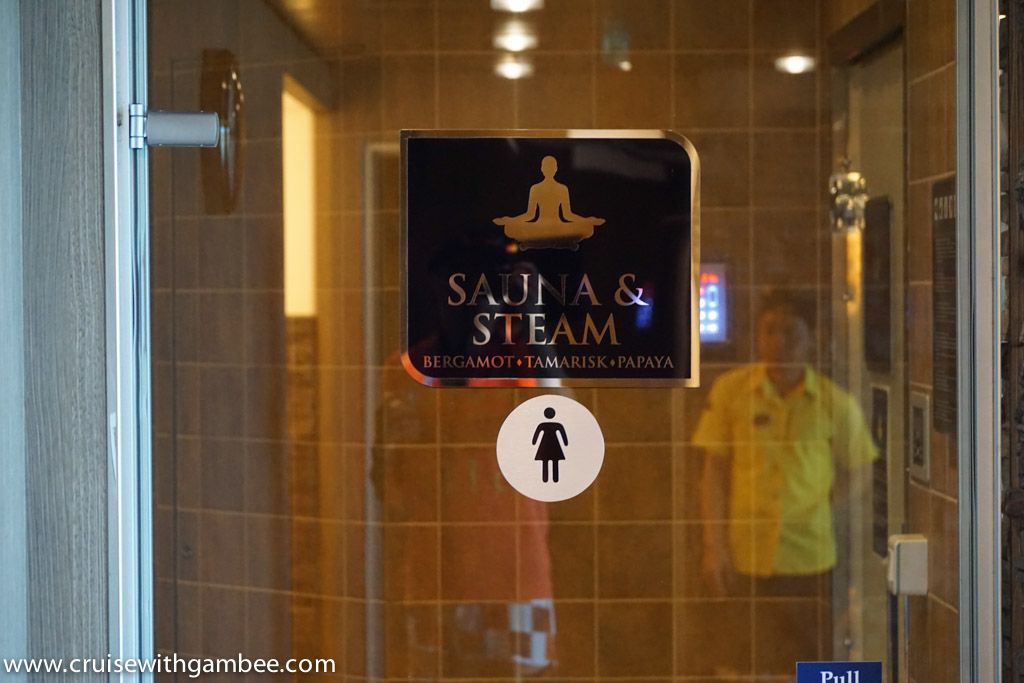 My uncle and I spent sometime here and lost my mom and my aunt for a minute or two. The view from up there was phenomenal and the area smelled like all my desserts should taste. It really was an area that you could relax for hours, very enjoyable!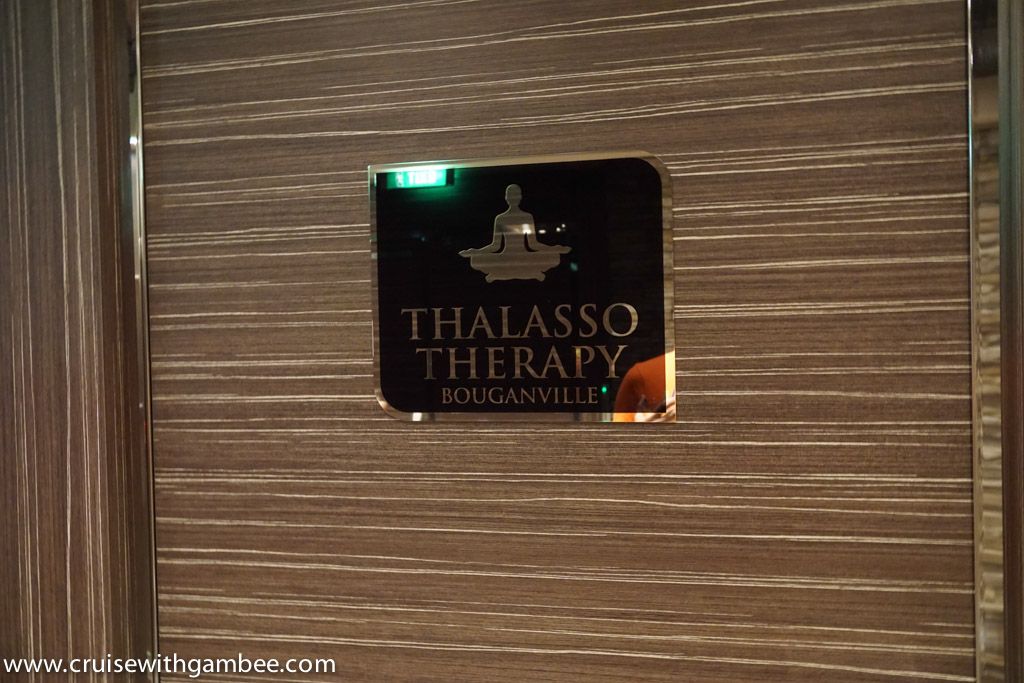 We met up back with them in the gym lobby. They were sitting waiting for us. There is also a bar there with nutritious drinks, and a very interesting drink menu. As you can imagine I documented it, here it is.
I should have bought some of that Ultima youth drink to bring home with me!
Here is the little lobby area.
We sat there for a little while, my uncle also signed us for the raffle. The main pool holds the raffle the next day around 11am. My uncle went there, but we did not win anything. After we had rested and finished our drinks we agreed to go check out the kids club.
I took a few pictures on the way there.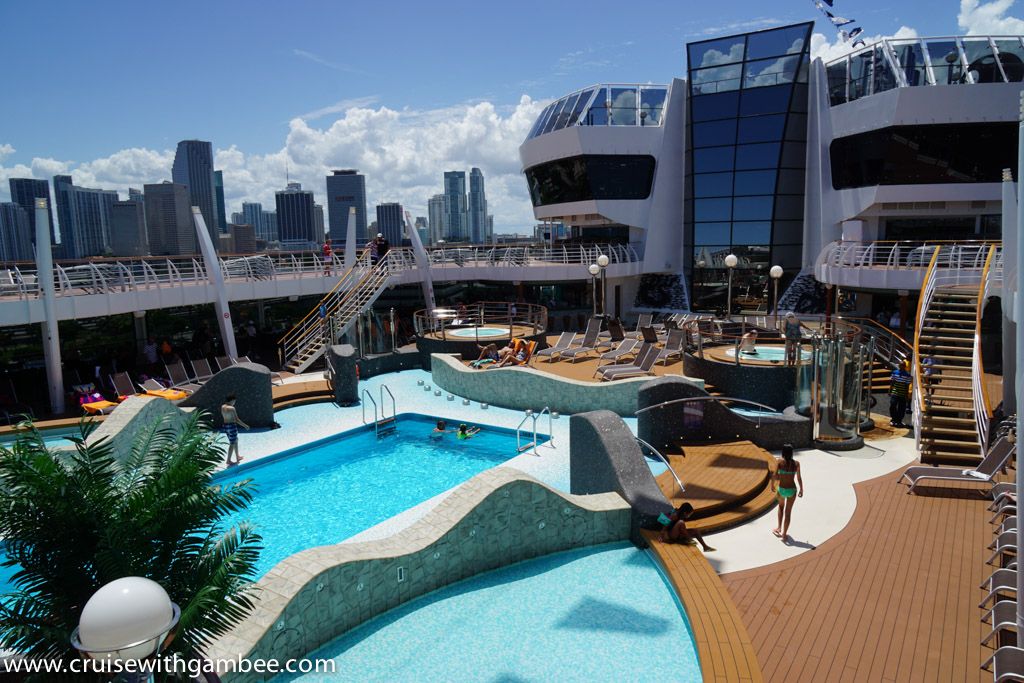 They have movies under the stars, but most movies are quite dated. Rocky, Mary Poppins, etc. You rarely saw anyone watching these movies. For starters the sitting is rather limited. These are not movies that most are particularly interested in. MSC should consider showing more current material.
The main pool area is very nice, and the layout works great on sea days. MSC Divina seems to spread the crowds very well.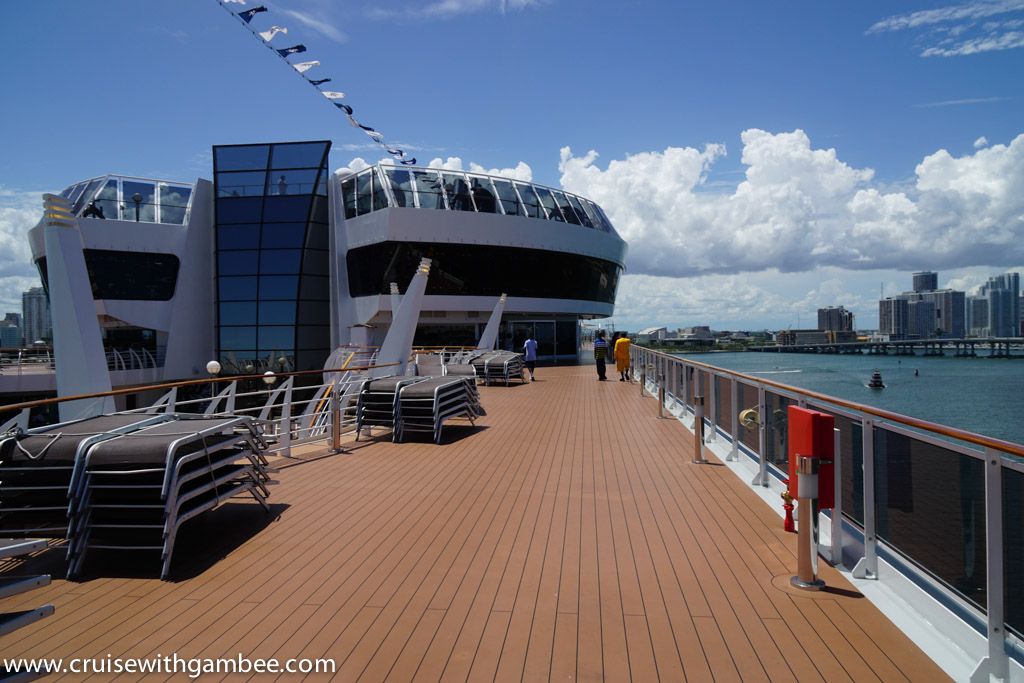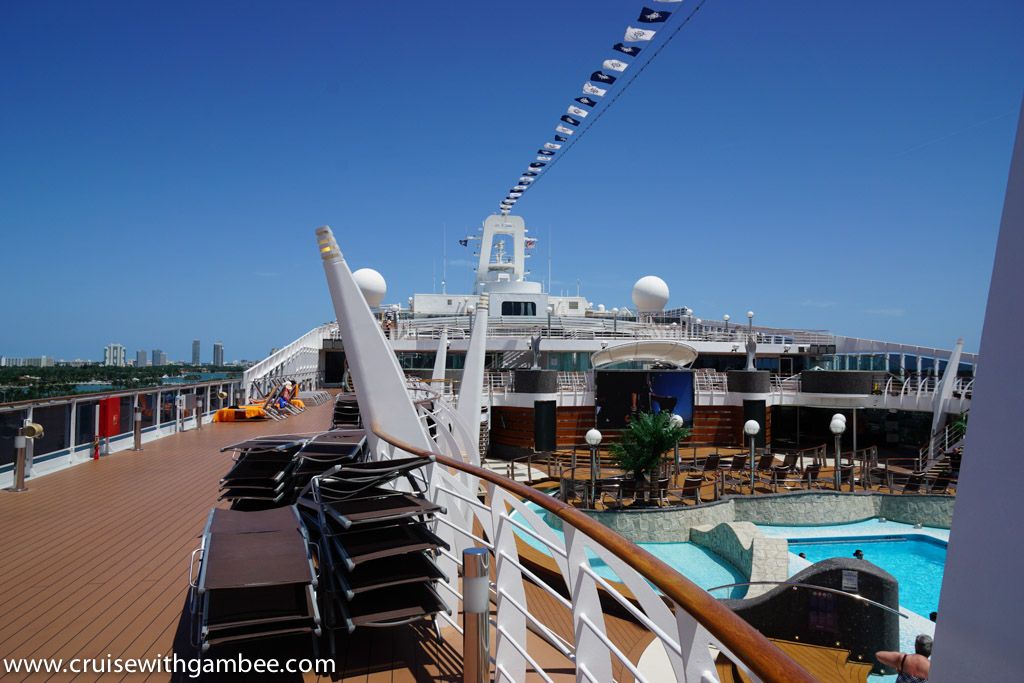 Really nice, and busy photograph.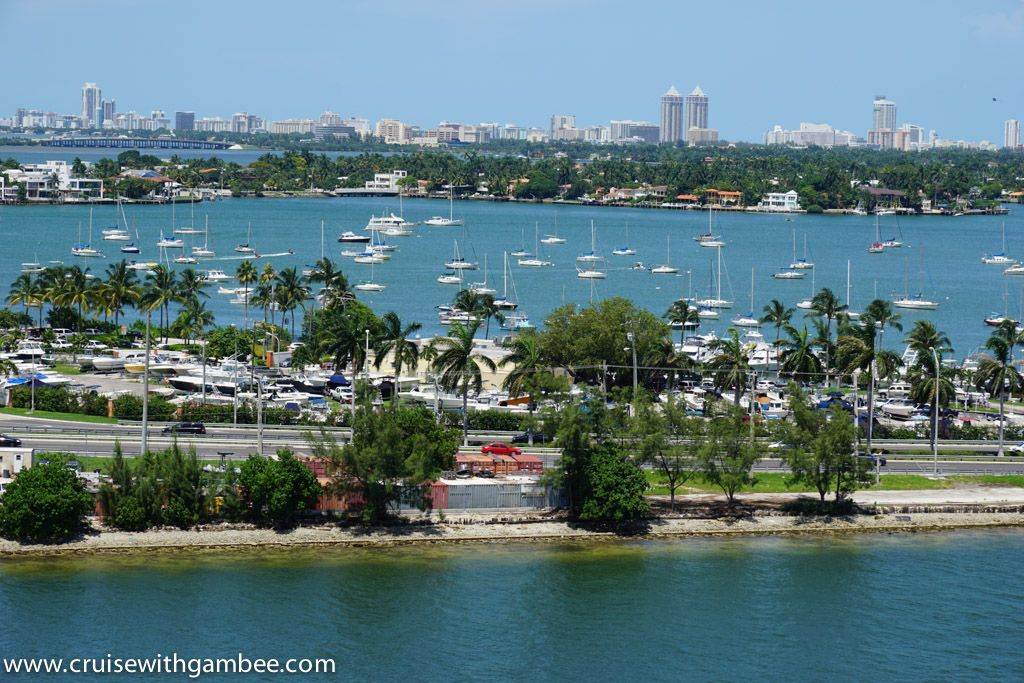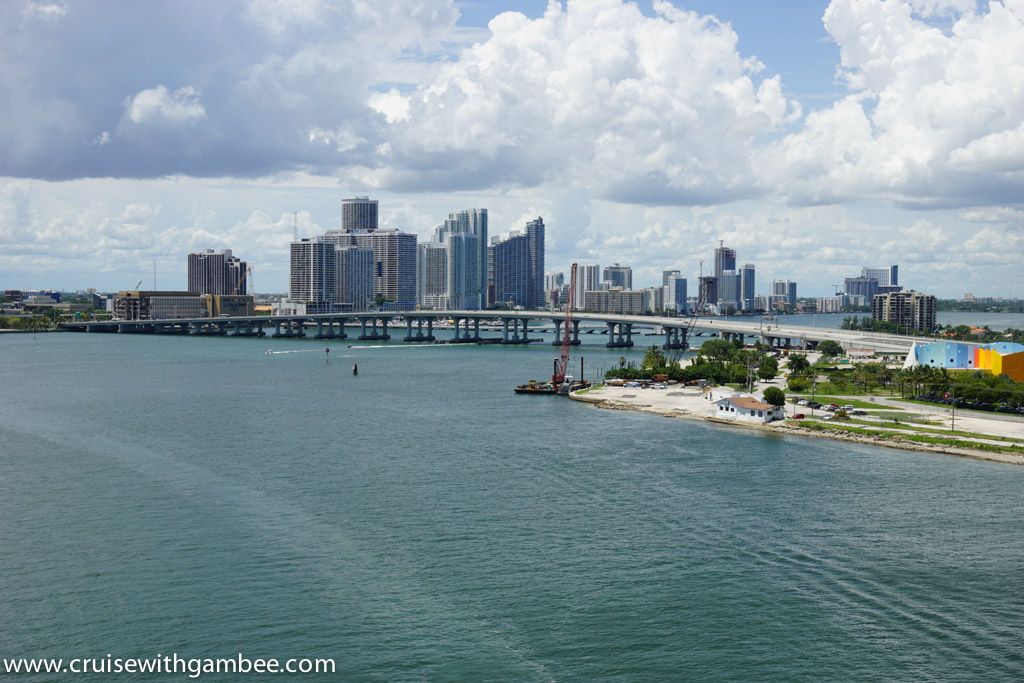 We kept on walking and arrived at the kids club. Mom is usually the one who makes the observations of the kids club. The younger children's area is really cute and well appointed. It is themed with the Smurfs theme and flows nicely. Personally, I thought it was really nice, but rather small. One thing to point out is that MSC much like Norwegian does a lot of activities throughout MSC Divina with the kids. So you will find them around walking at times. They also do lunch and dinner so parents can relax and have some nice adult time together.
Here is the tour of the area. My uncle was playing around in the playground and getting pictures to send to Colombia. Oh my, lol. He was having a blast! We almost had to sign him up for camp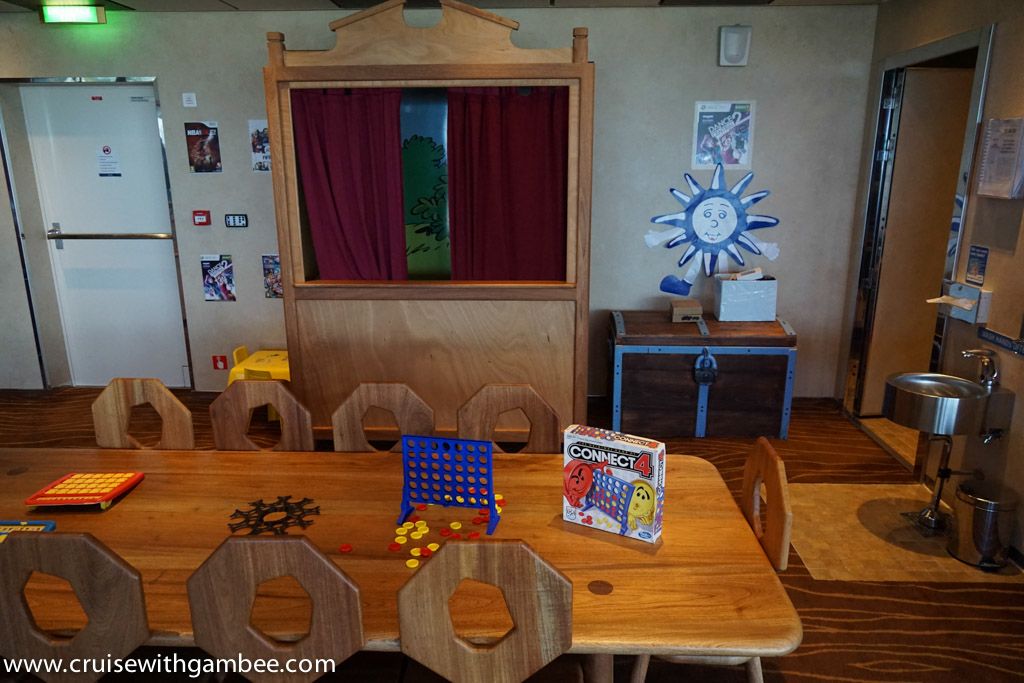 I love his bow tie, I might have to get one for myself =).
He was really good looking himself, the lens wide angle just messed the picture up.
Um, yeahhhhhhh. My uncle did ride the slide down. I thought he was going to break it. All the kids were staring at him!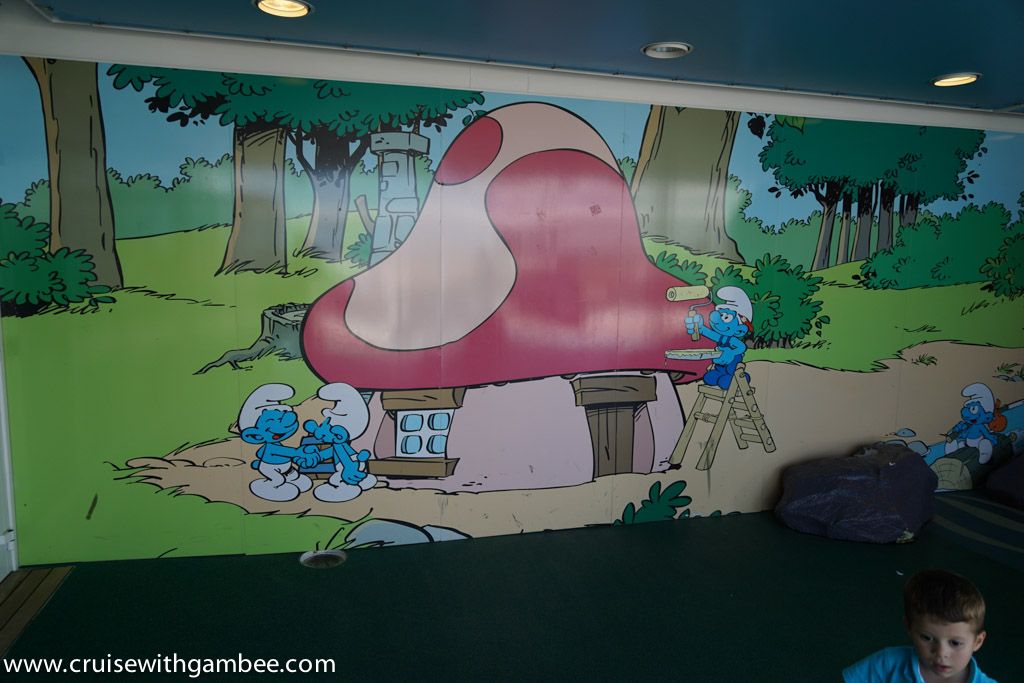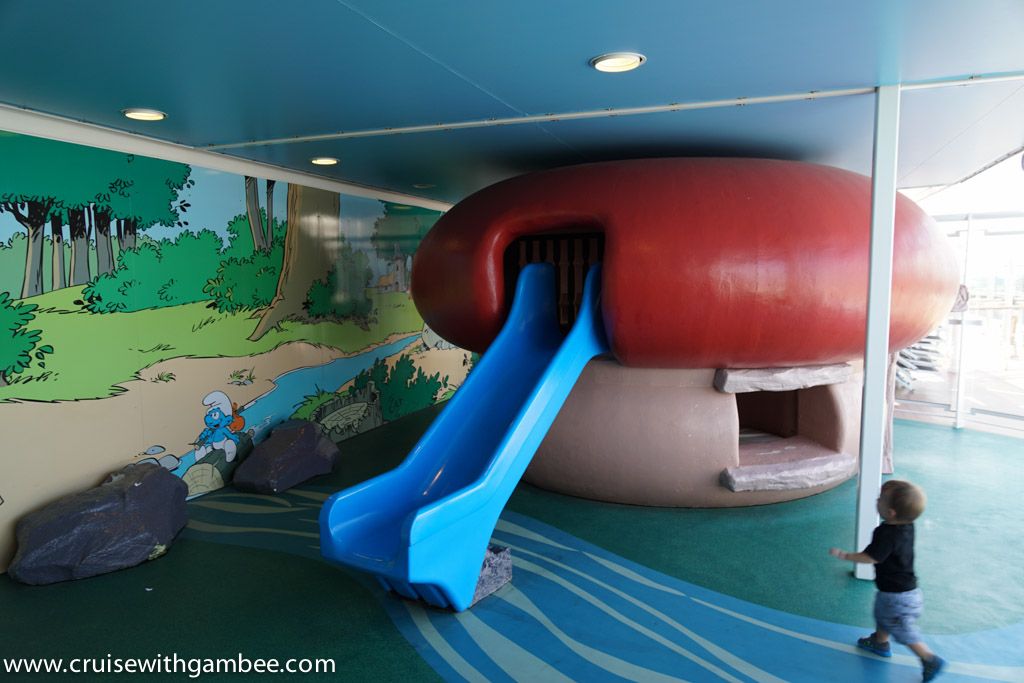 I saw few carpet stains around MSC Divina, not many though.
We finished the tour there and headed towards the teenager section. The area was very bland and even smaller than the younger kid area. They did not have any of the video game consoles that you see on some of the other cruise lines.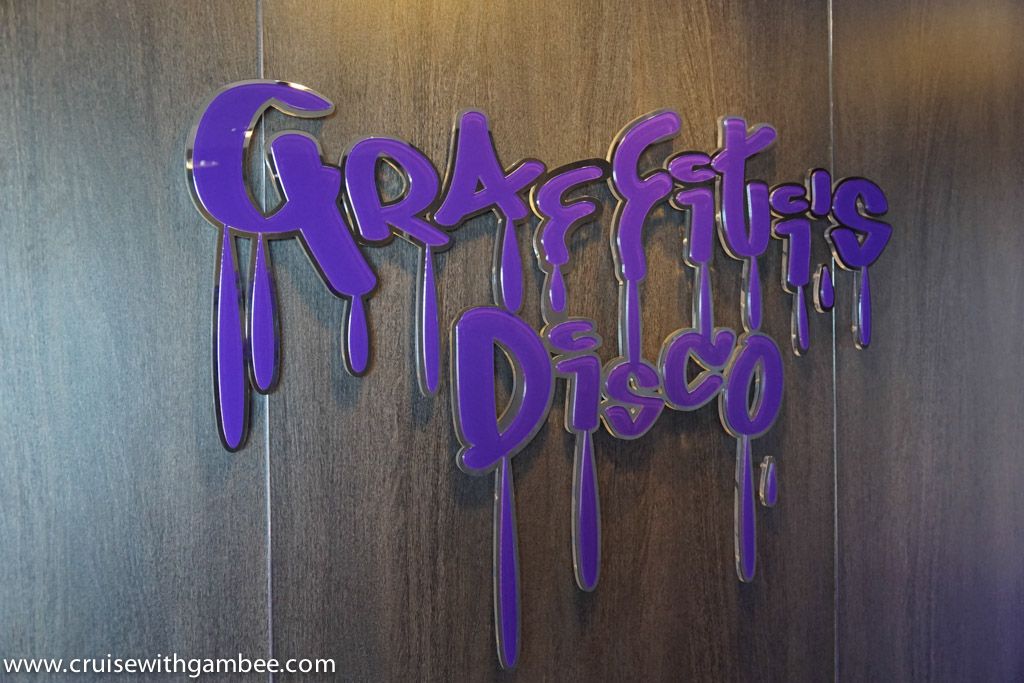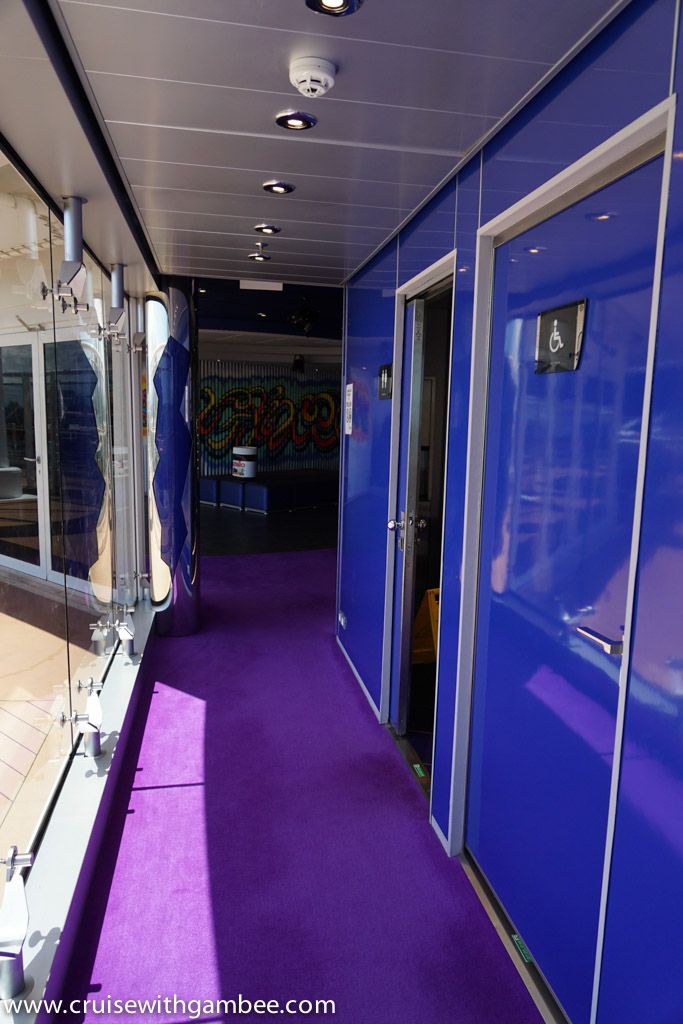 There are a lot of

nutella

products on board.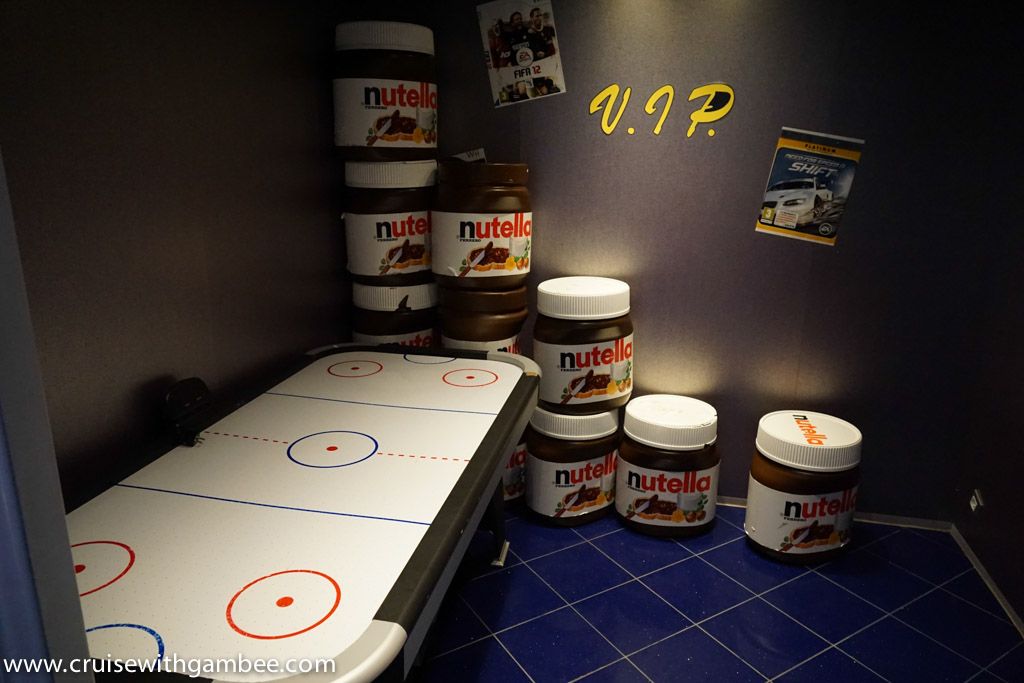 Exiting the teenage section you can go up one deck and end up in the arcade. I guess it's a good way of getting teens to spend some of their parents' dollars.