Lets continue with chapter 5 of my MSC Divina Review.
I decided to get my zoom lens to get some pictures of a private yacht parked at the port and I noticed that at some point in time the lens UV filter got busted. Thank God it was not the actual lens, this is why I always invest on these protectors. That reminds me, I need to order the replacement. Not exactly something good, that filter is about $40 :-/
Can you spot my heli?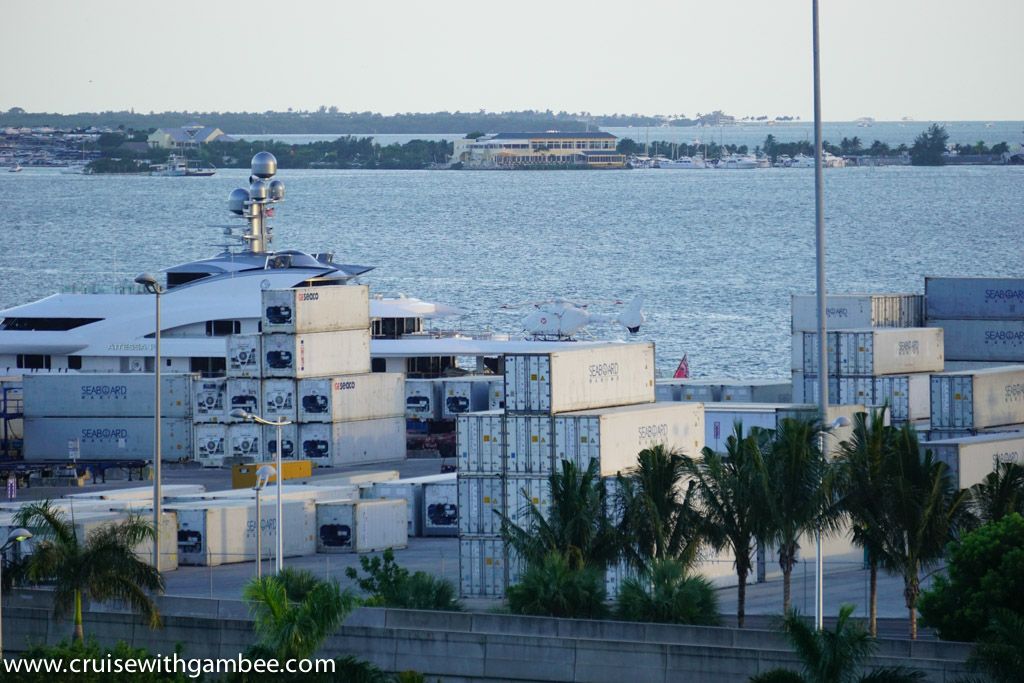 Isn't she gorgeous? I wish the view was not blocked by the containers.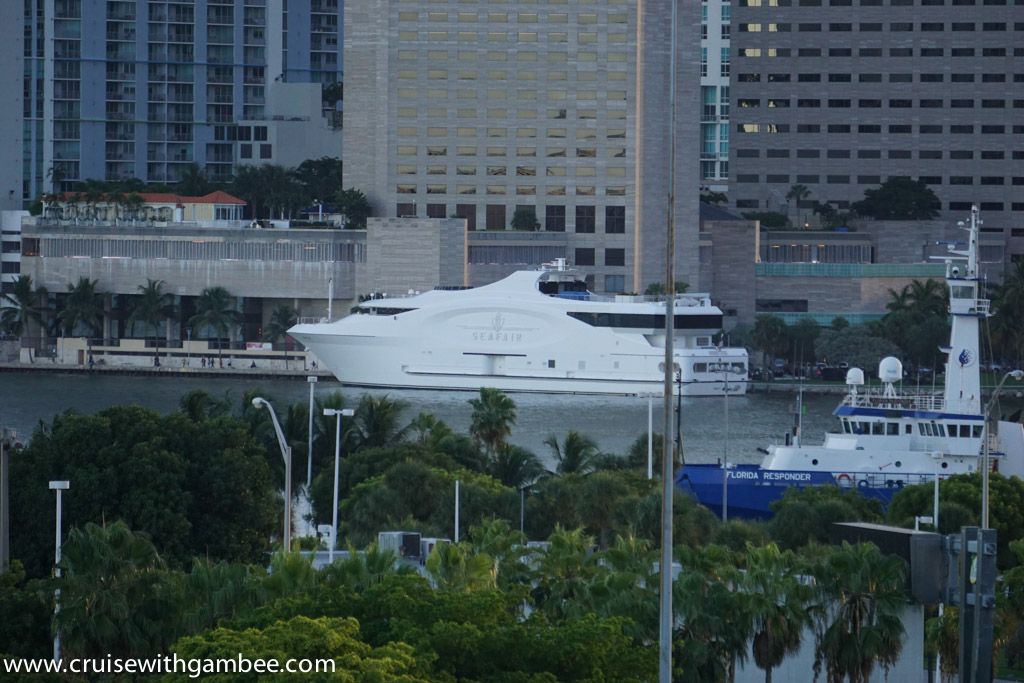 This camera is truly amazing!
So buttery, LOVE IT!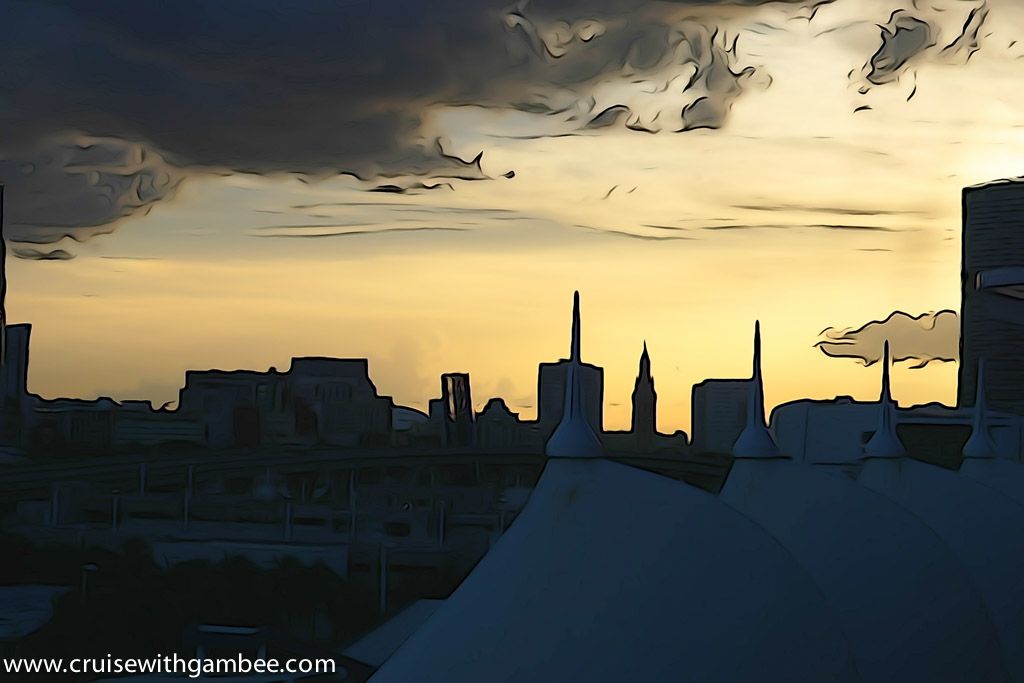 Does anyone know what this building is all about? I loved the red lights on it!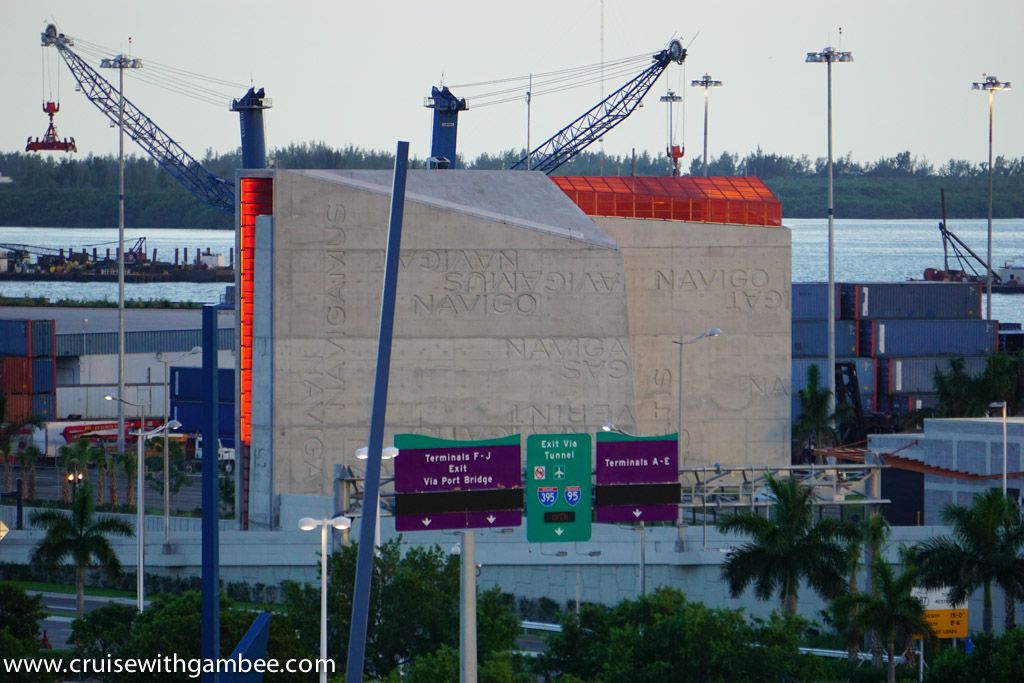 Soon I noticed some action and we were getting ready to set sail.
We all grabbed our stuff and headed out to the sail away area that I had planned for us. Just so you know, any of the decks have side aft balconies that are accessible to anyone. We chose to stay on deck 11 and head aft. The spot was everything that I had dreamed of, we were the only ones there and it was a really large area. It was perfect for the noise that we were about to start making!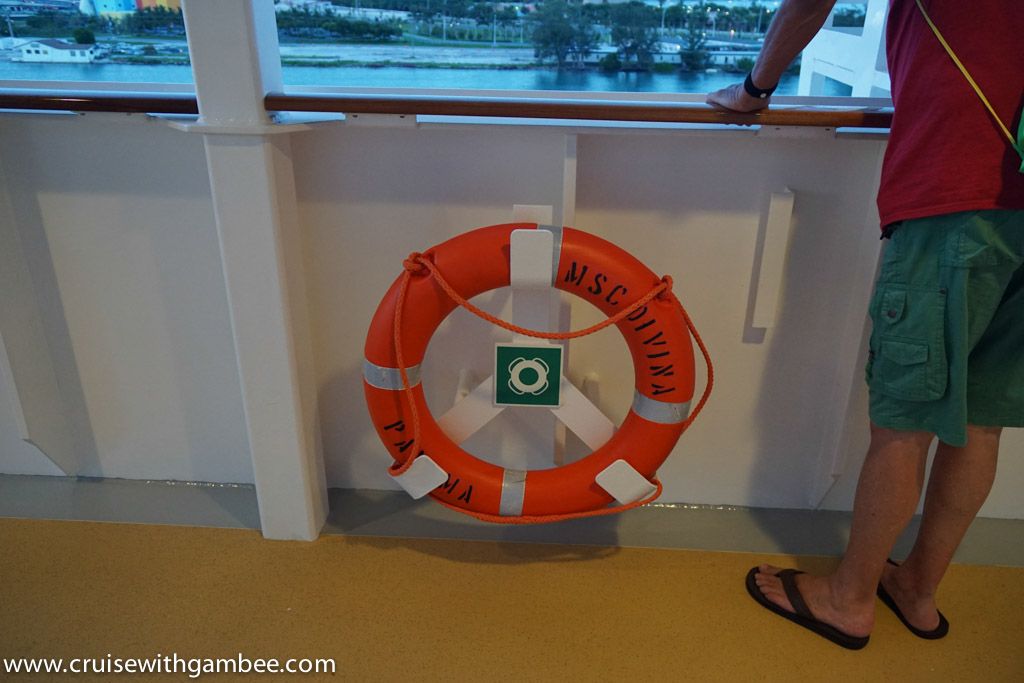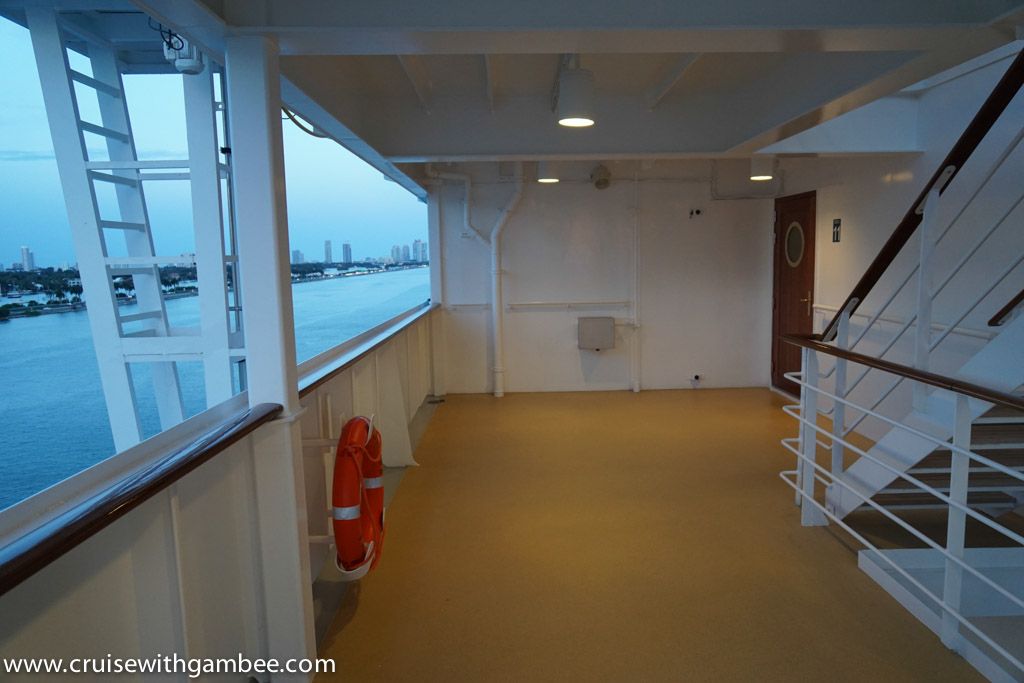 Priceless!
That looks like a similar building on that side.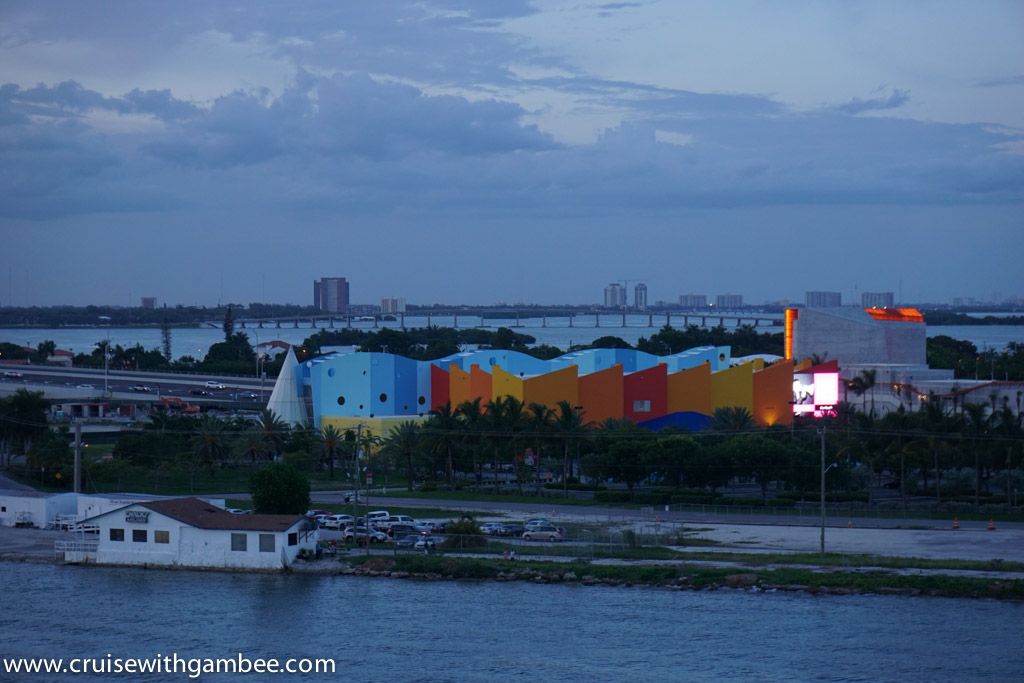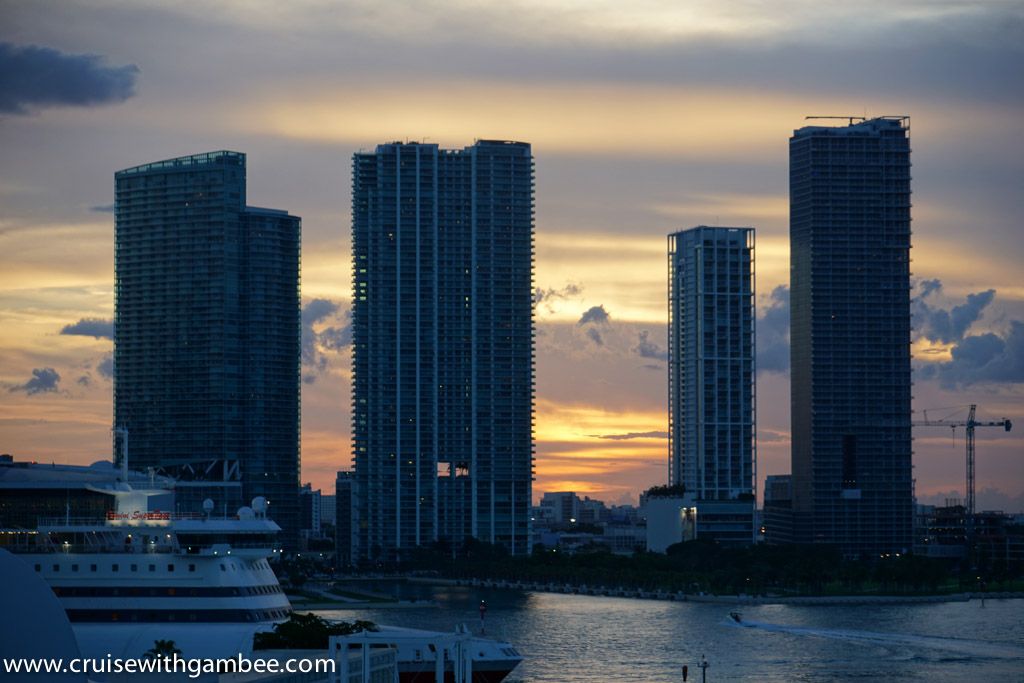 And you ask how we were going to make noise that everyone around us would be disturbed?
Here you go!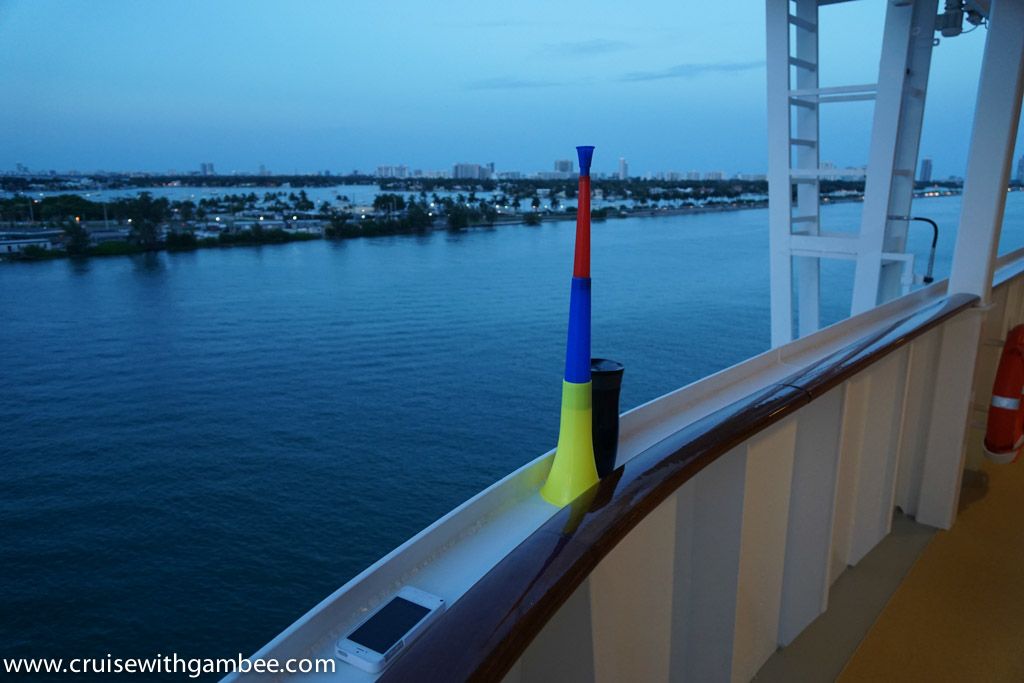 Trust me those things are incredibly loud, and we each had one of them. The folks on the private balcony next to us told us that it sounded like New Years Eve, we agreed, it was loud as hell, and it was about to get even louder!
I got some nice pictures of the sunset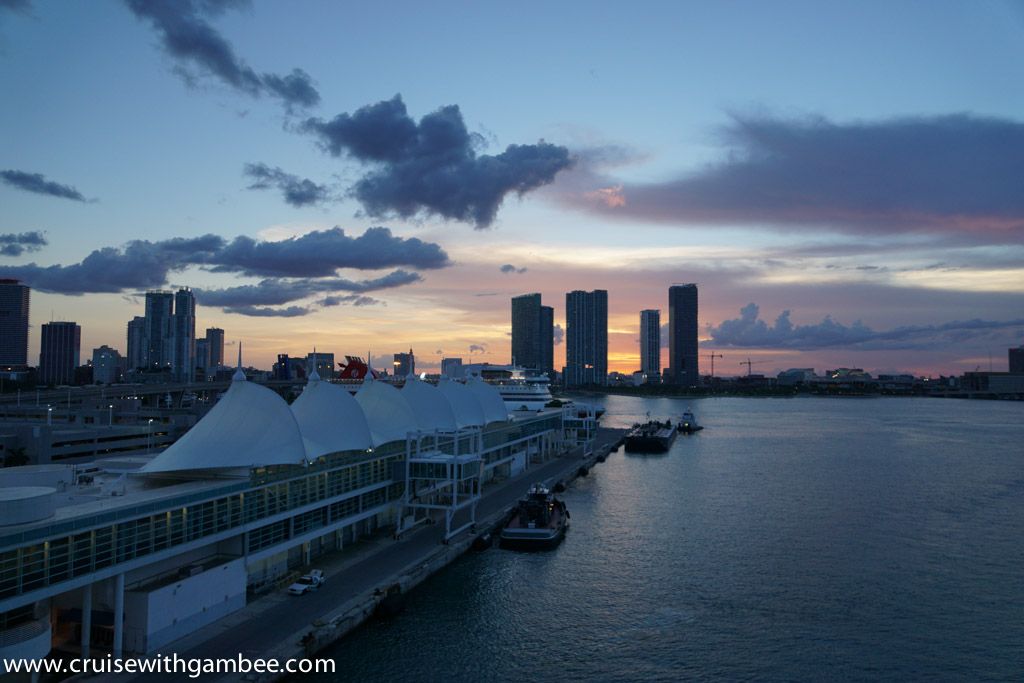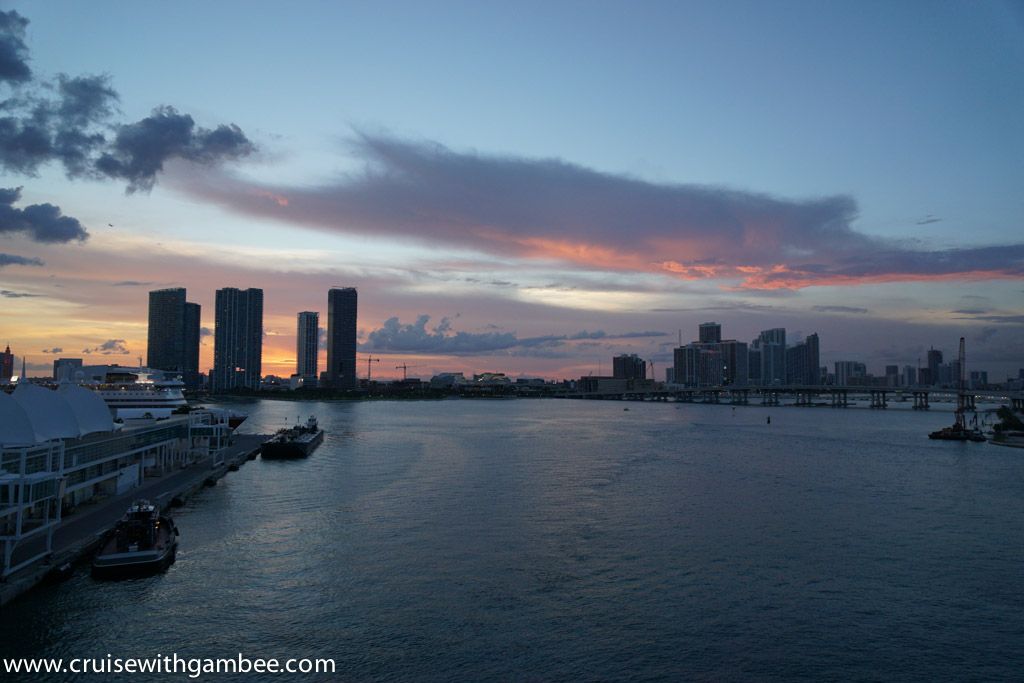 That's the Bimini Express.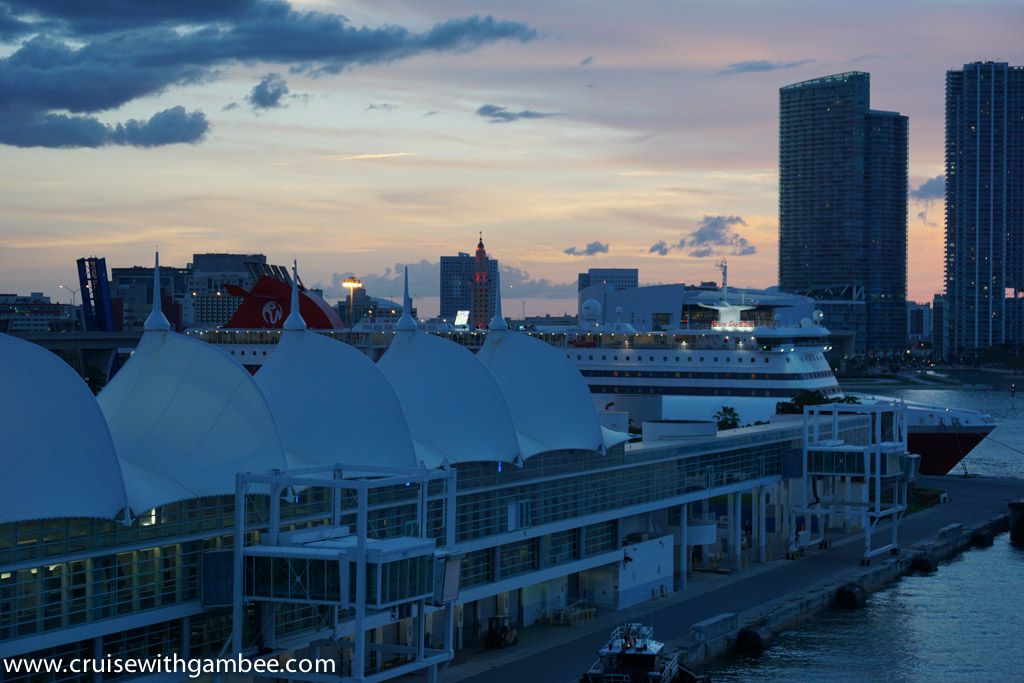 I wish I was there right about now!
The views that those condos get on a daily basis have to amazing!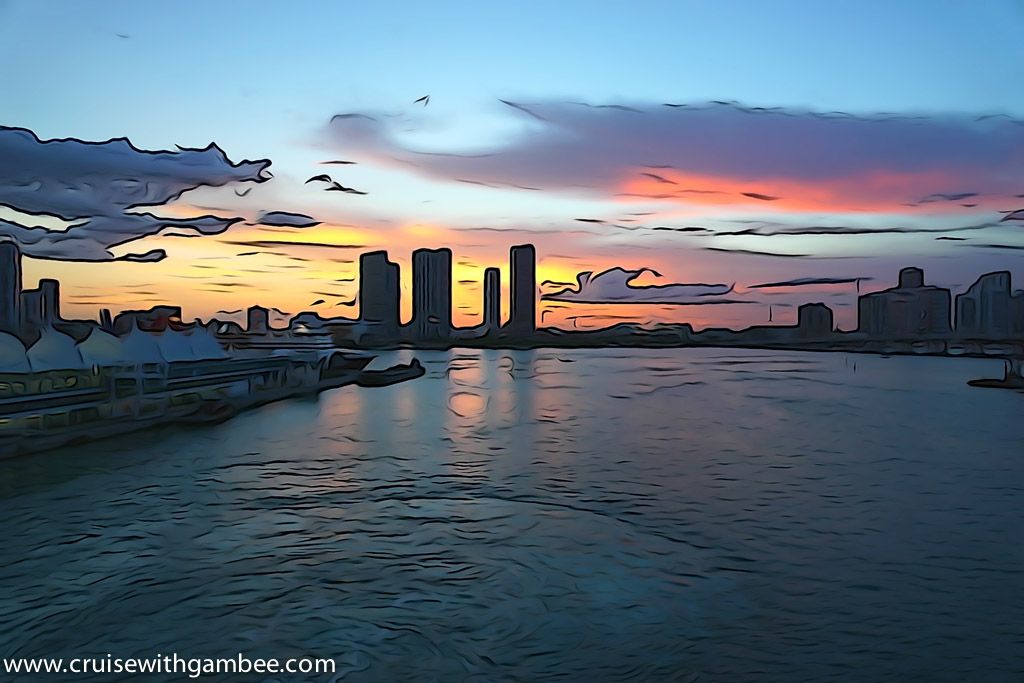 Cool looking house!
Just an incredible sail away!
That late departure time really worked great for us! Just look at those pictures!
And here is when it started getting really LOUD!!! We called the cars out and A LOT of cars would blow their horn back at us. This happened during the entire stretch of that street. It was amazing. I have to say this was the best sail away EVER!!! A lot of cars would stop and wave, and you could tell they were mainly waving towards the super loud party in the back. Meanwhile, all the people on the balconies were staring at us, it was really funny. But I think none of us care.
It was AWESOME!!!!
At one moment one crewmember came in and I thought he was going to tell us to quit it. He simply waved at us and smiled.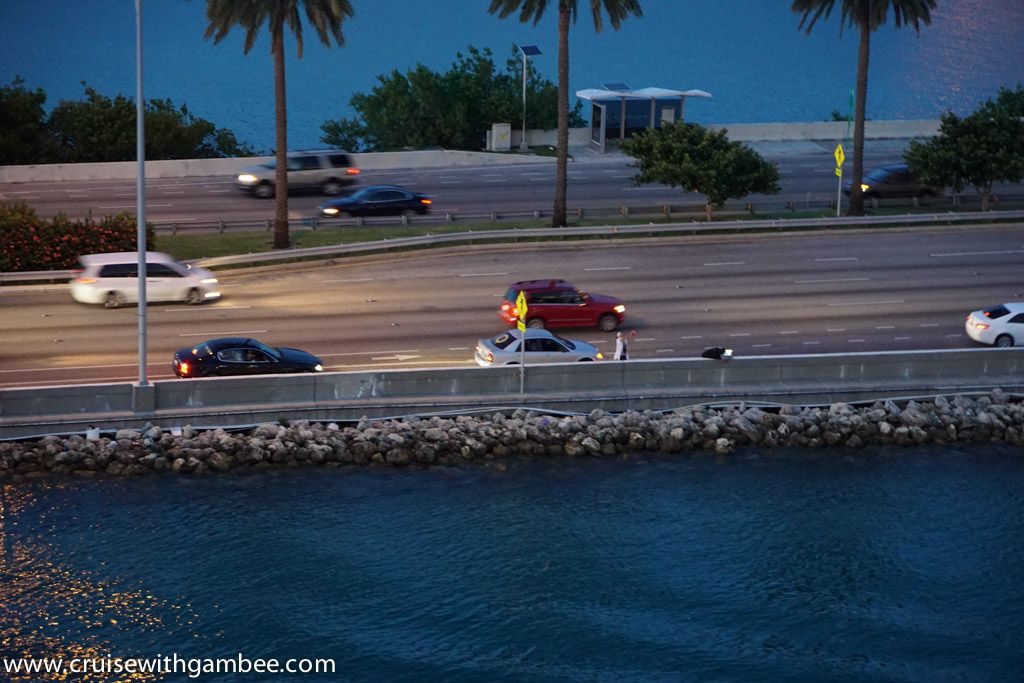 Well hello there!!!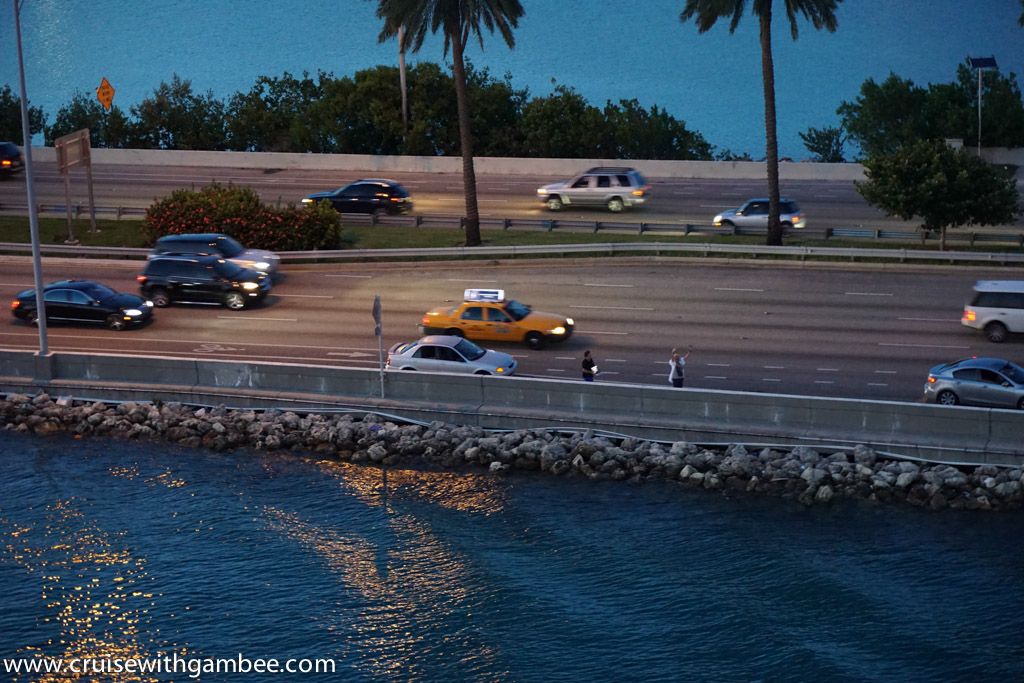 See my bubuzella? I don't know the name in English, sorry.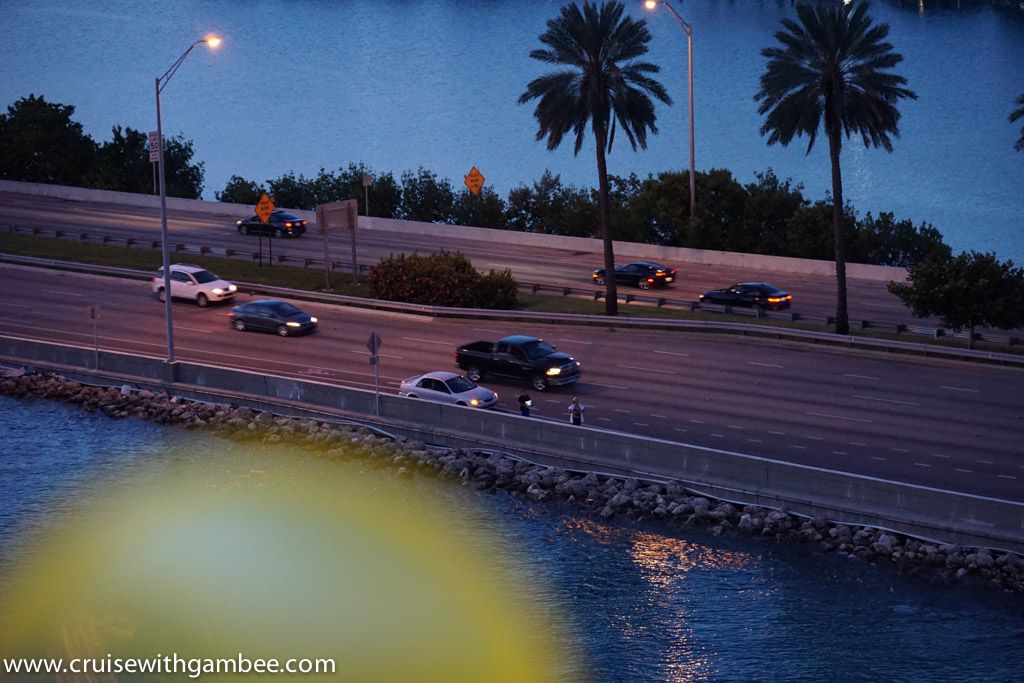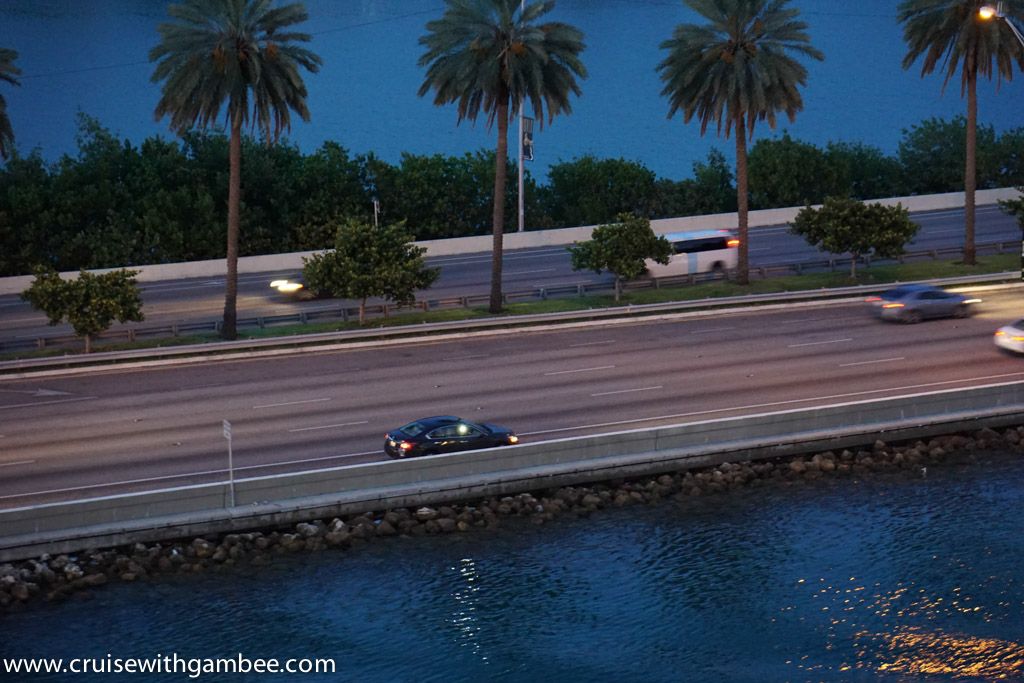 It was just incredible!
I have had some amazing sailaways' in the past, but nothing like this one!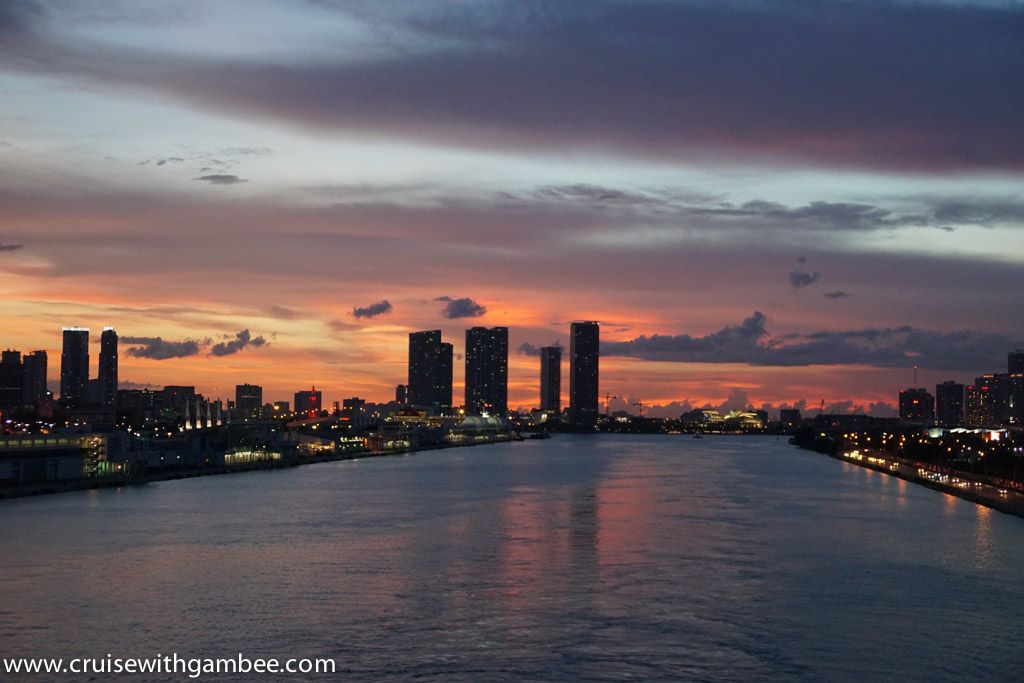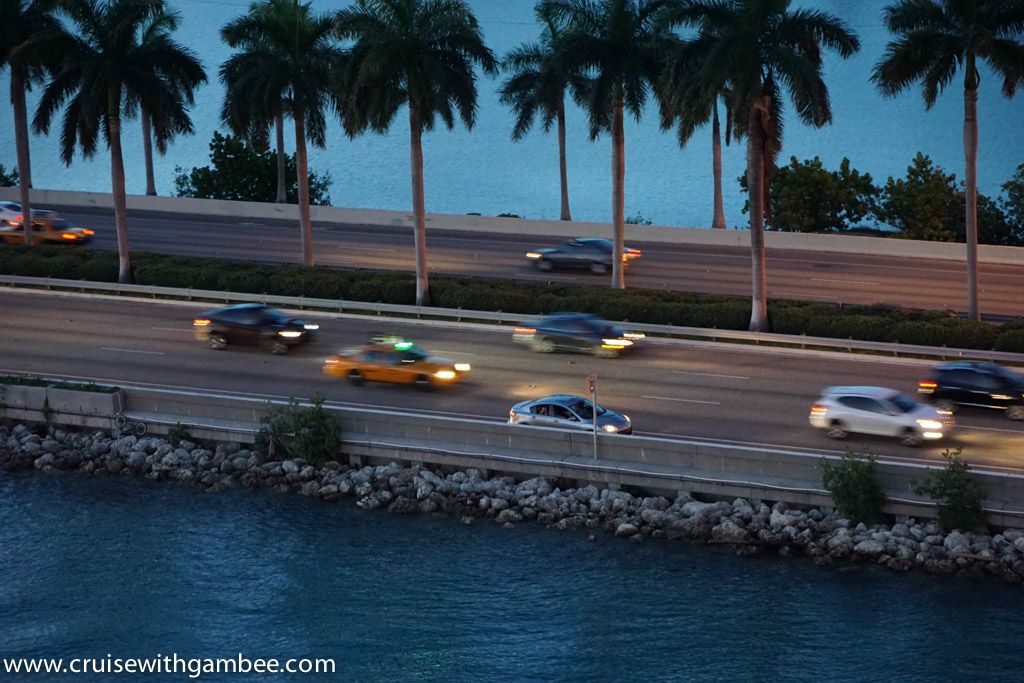 A Couple joined us later on. They did not seem to mind the noise. I believe that they rather enjoyed it.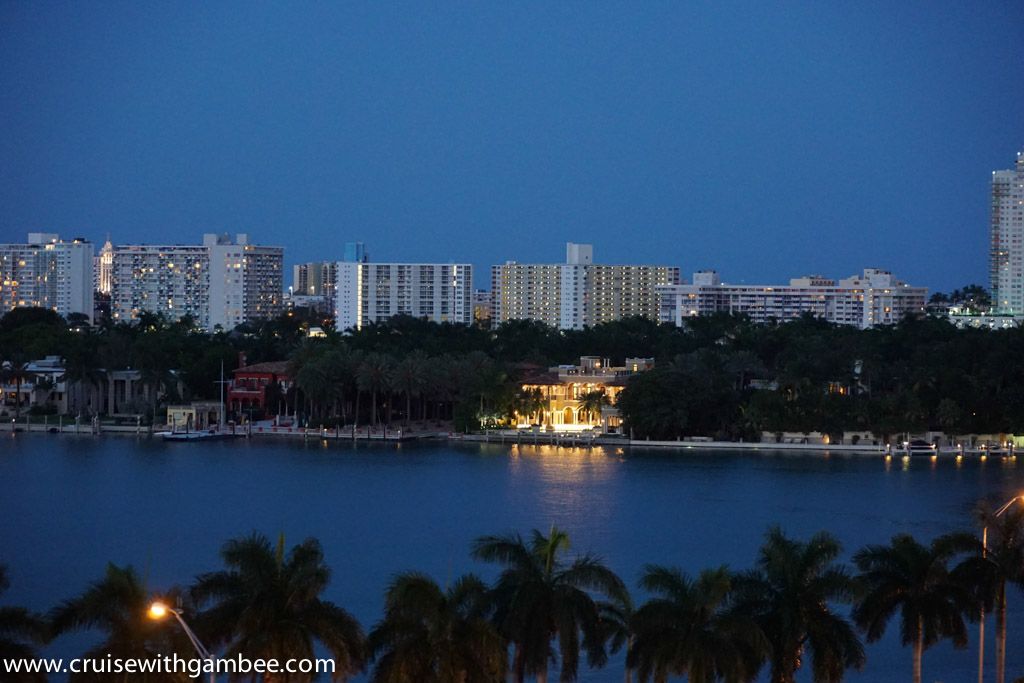 AAAAAAAAAAAAAAAA!!!!!!!!!!!!!!!!!!!!!!! Vacation!!!!!!!!!!!!!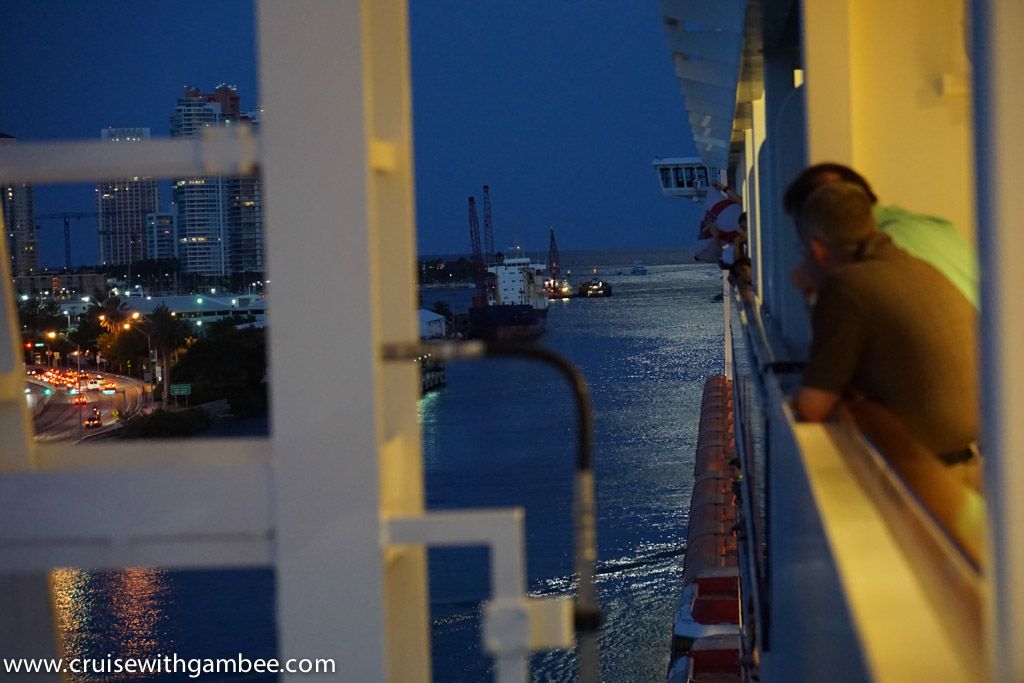 I think he was facetiming.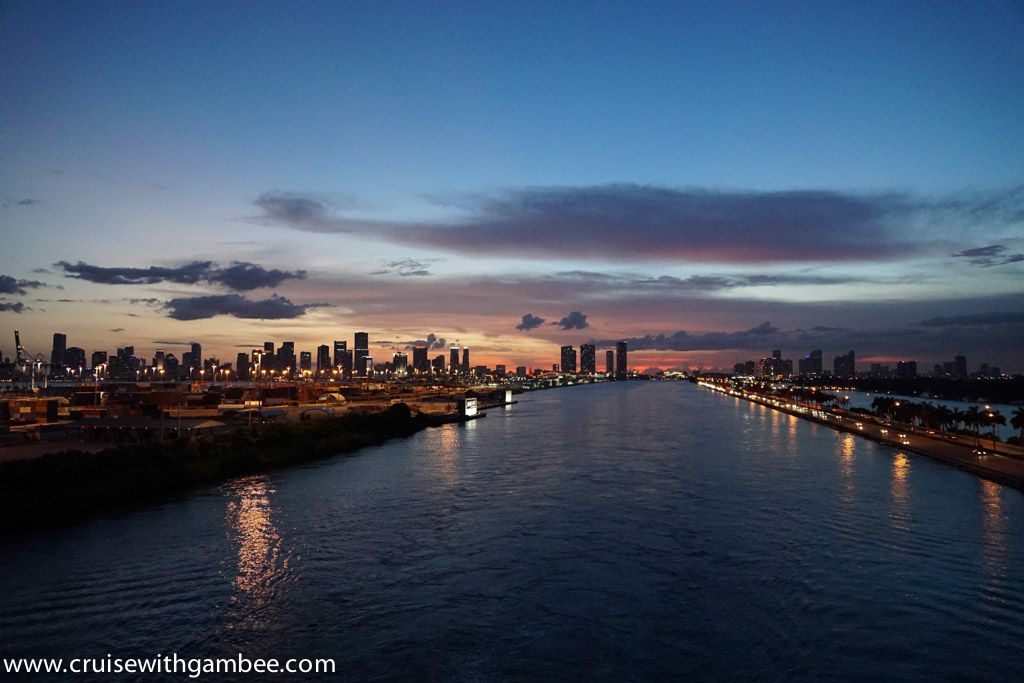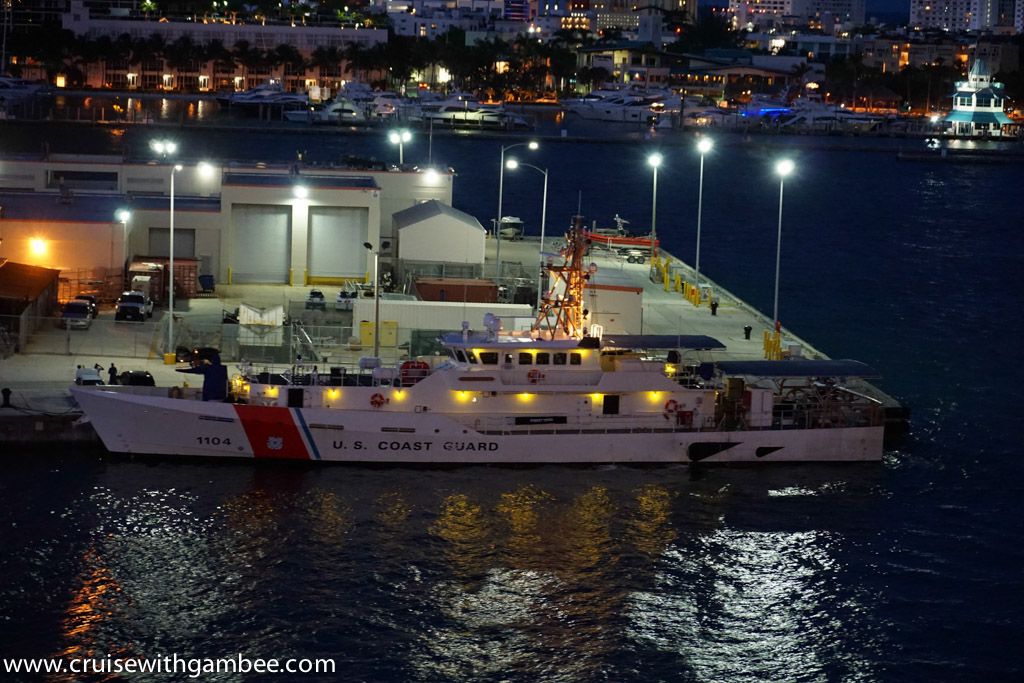 I like the blue one much better. Then again, my favorite color is blue.
The captain spoke during the Q&A and said that they are currently drenching in port of Miami and it makes the port very narrow at this point and hard to navigate. They have to be very careful, as there is a very slim margin of error.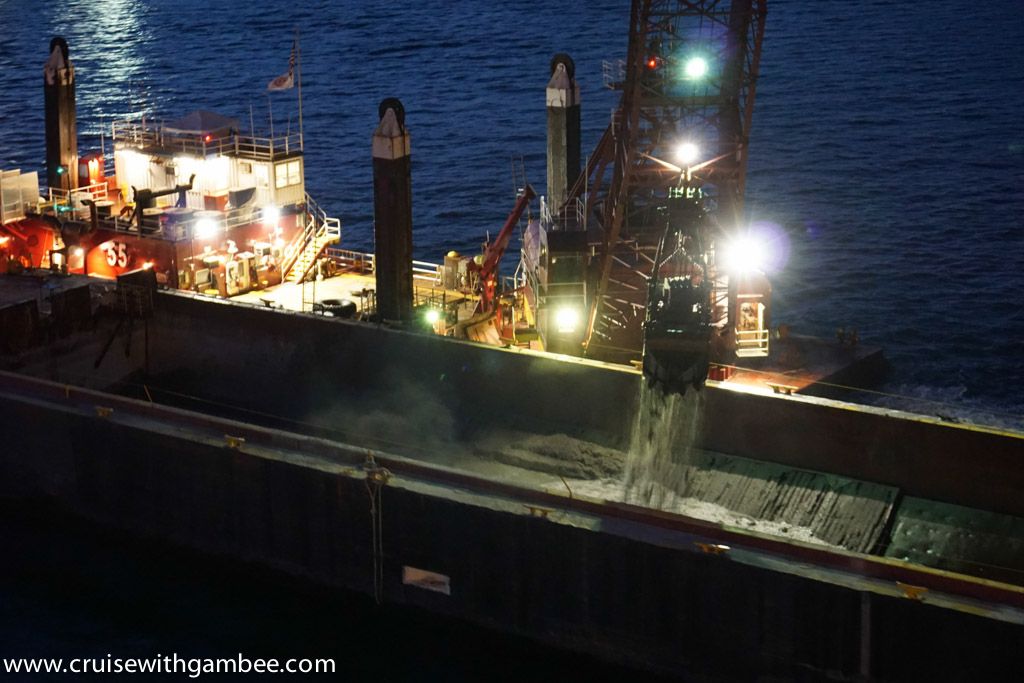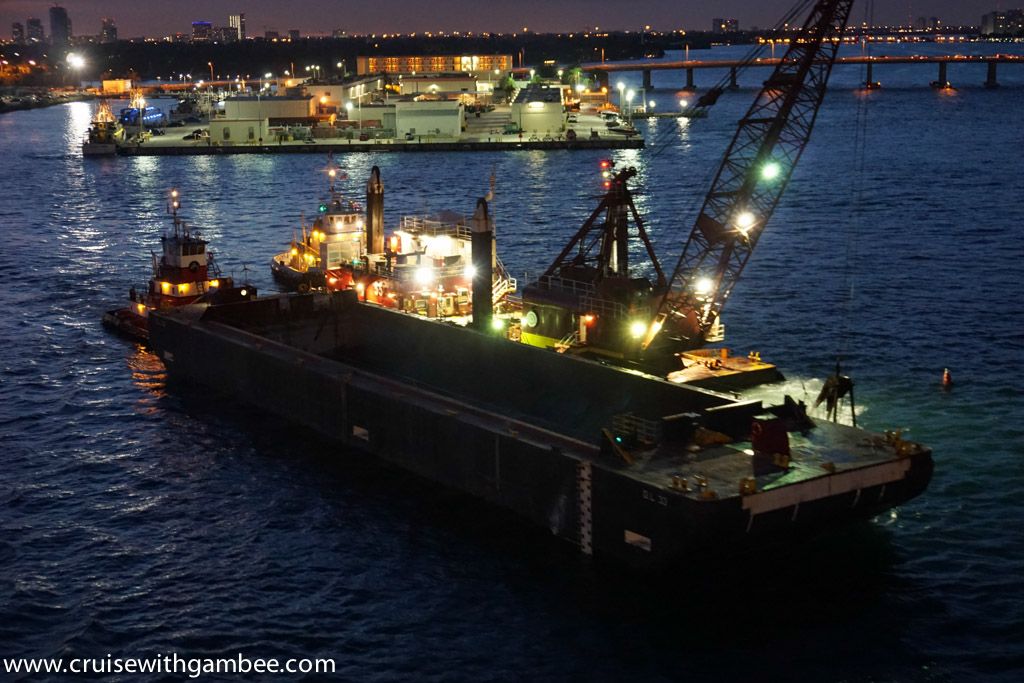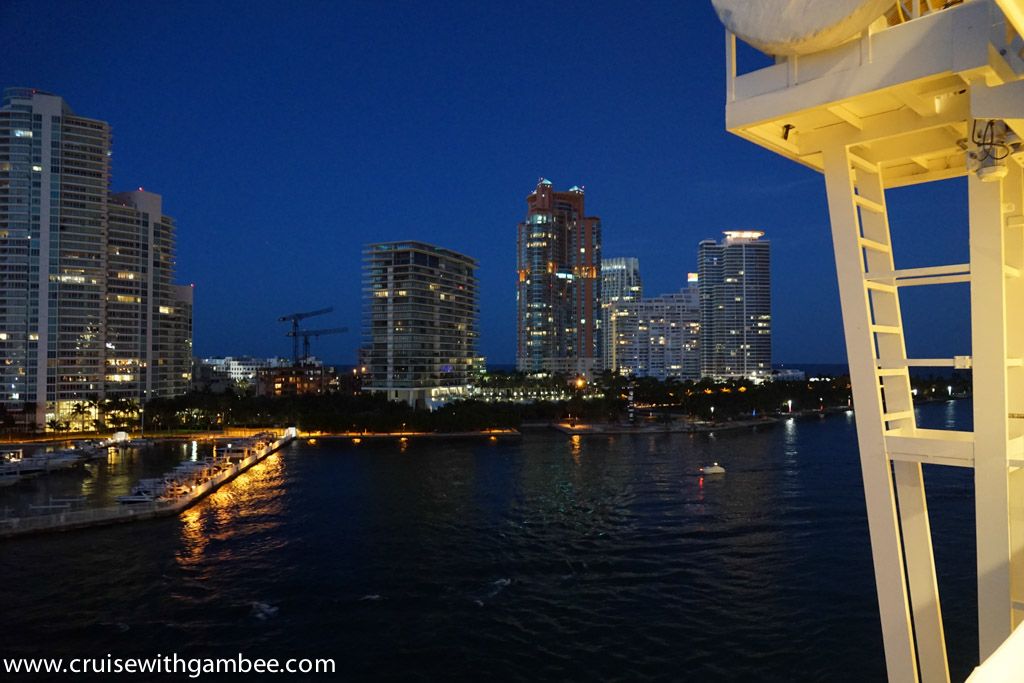 I have always loved the pictures when you finally leave the city and your vacation truly starts!
These pictures came amazingly sharp for such a slow lens.
Love it! The water so still.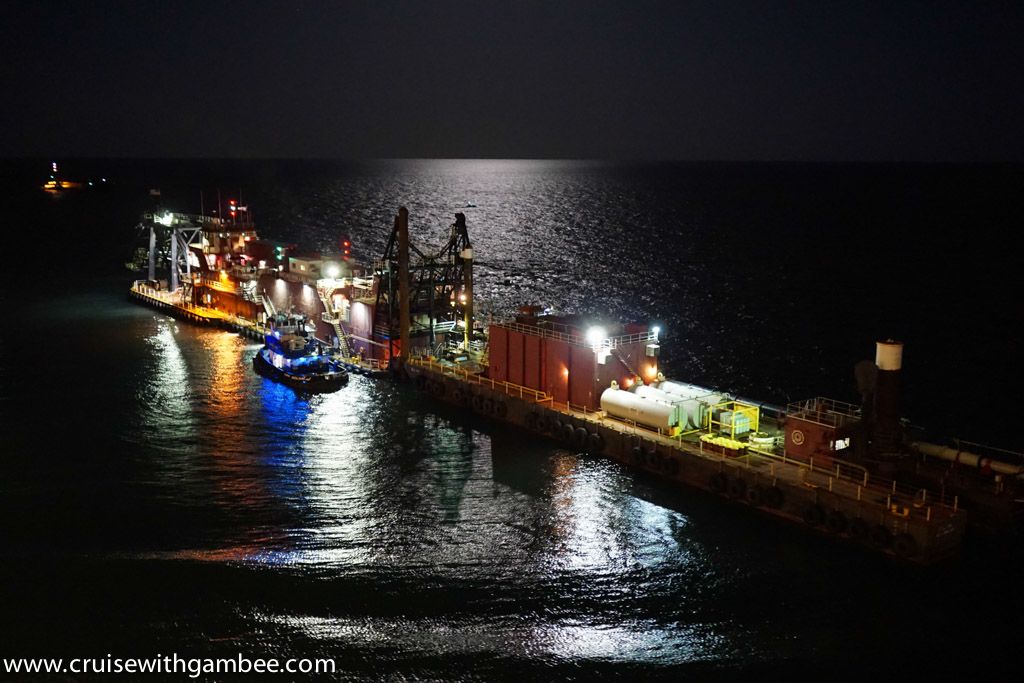 Then we headed out to the main dining room for dinner. My uncle and I were pretty hammered by then =)
We had a great table, right on the wake of MSC Divina. We were all very excited to have such a great spot all for ourselves.
The wine bottle packages are very affordable, or at least I thought so.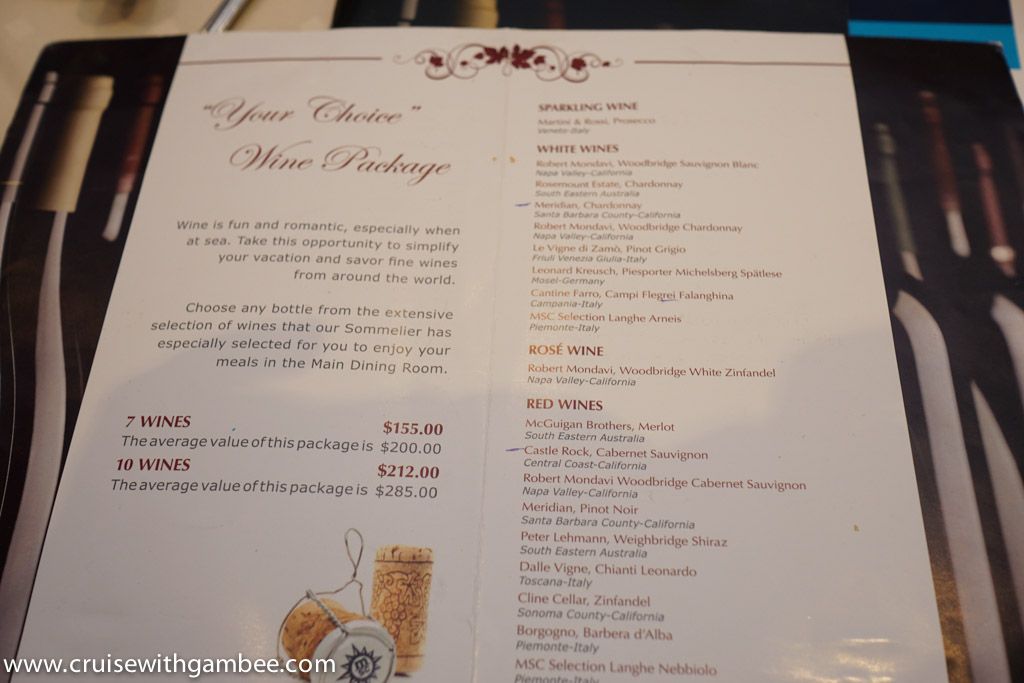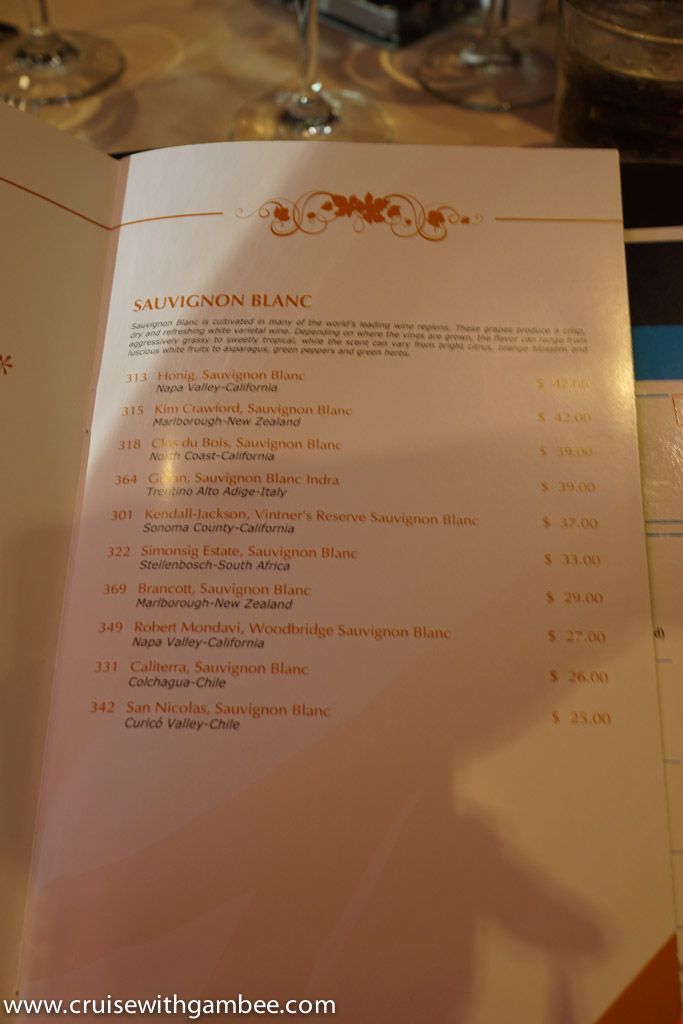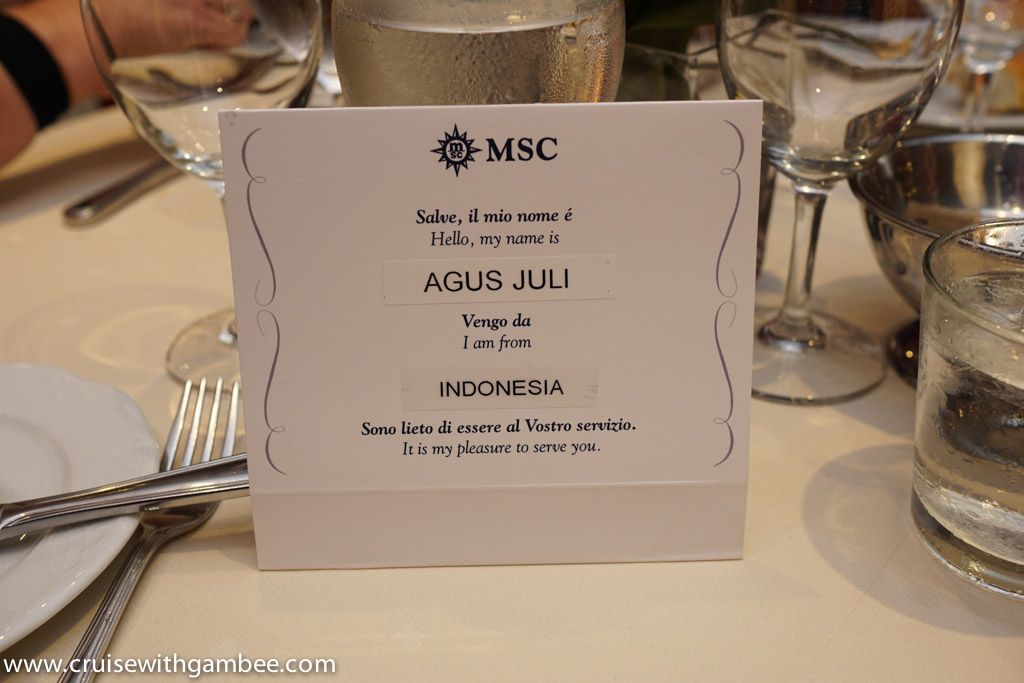 The bread on MSC Divina was really good. My family always commented on how good the bakery was on board.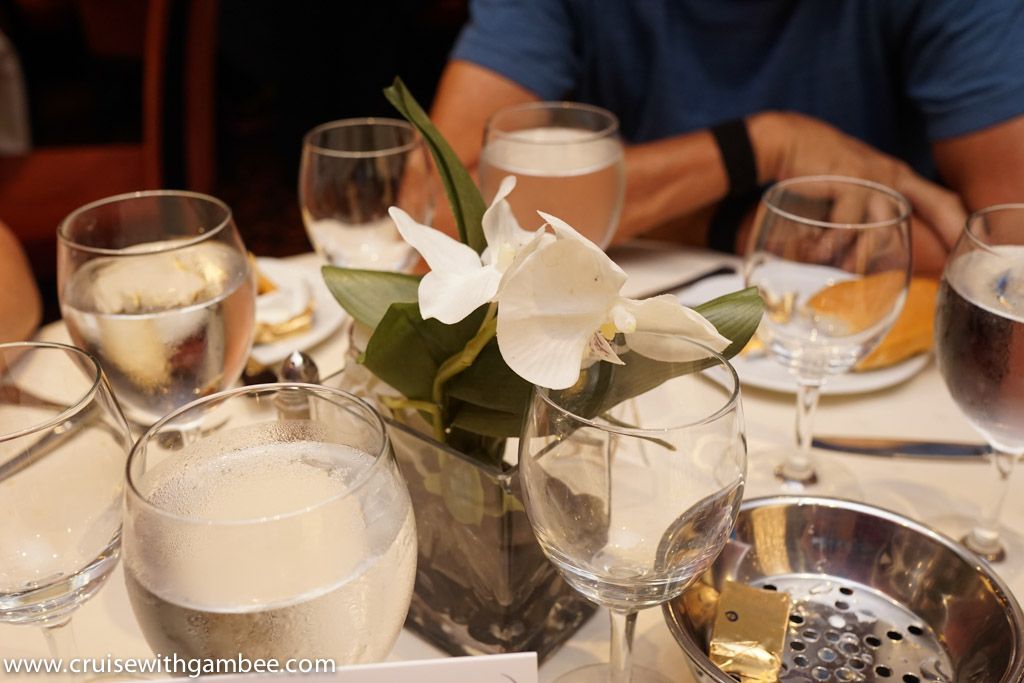 It was quite busy that night, as can be expected from the first night of the cruise.
MSC Divina Main Dining Room
Service in the main dining room was not bad. Our server got everything right and he always has a nice manner about him. The problem is that I am not used to 2-hour dinners, I like things fast. The Food took forever, even when we rushed to put in the order, the food would simply take its sweet time to come out. I have already commented that MSC Divina should appeal more to the US market. This is one area that needs revision ASAP. Then again this is nothing more than my honest opinion. I know I may get blasted by saying that, but it is exactly what it is.
We all got a shrimp cocktail that was very nice. The shrimps were of a nice size and very tasty!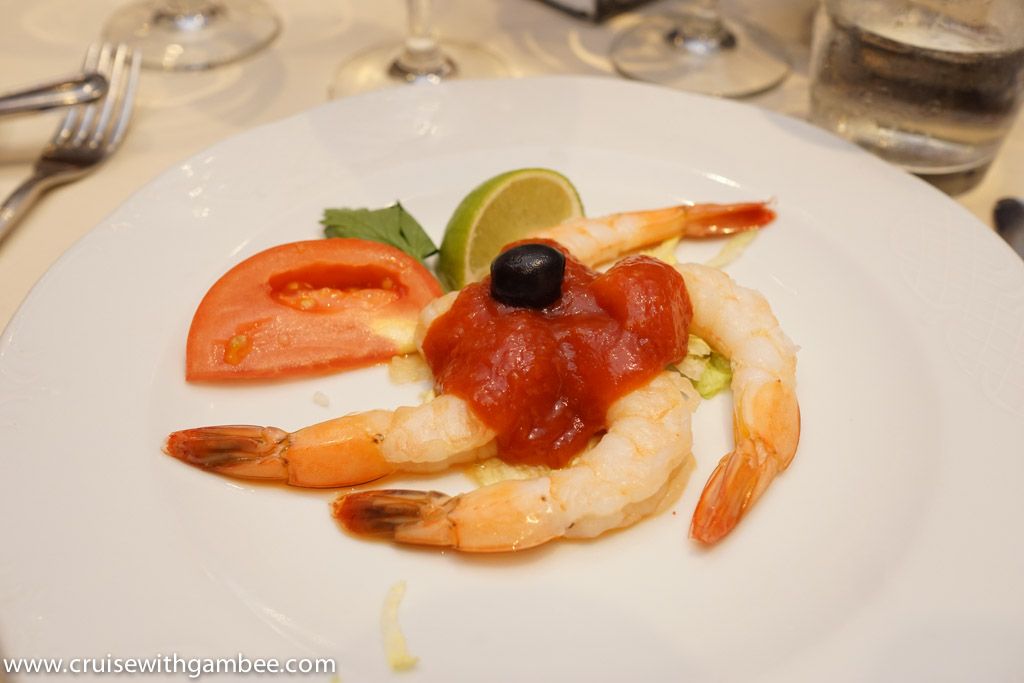 And then they got a soup, which was good, and I got a salad.
What can you say about a salad? It's a salad I guess =)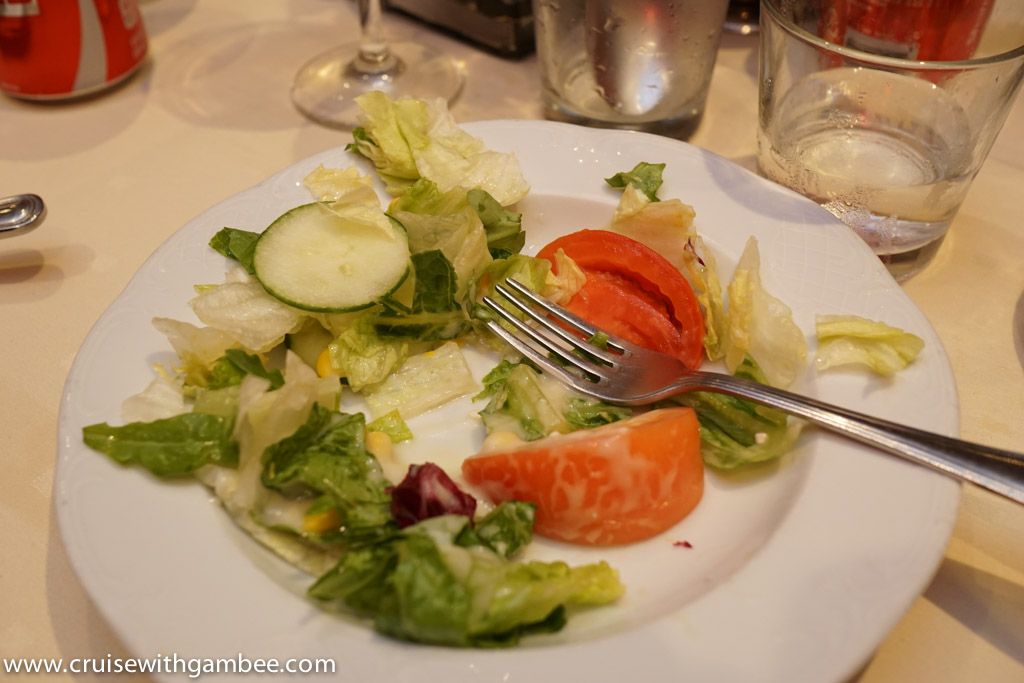 Moms coke on a classy wine glass
And yes, I spilled some of her coke. She was not that thrilled about it. You know, the funny thing is the fact that we rarely spill things at home. I am starting to think that it is the alcohol's fault =)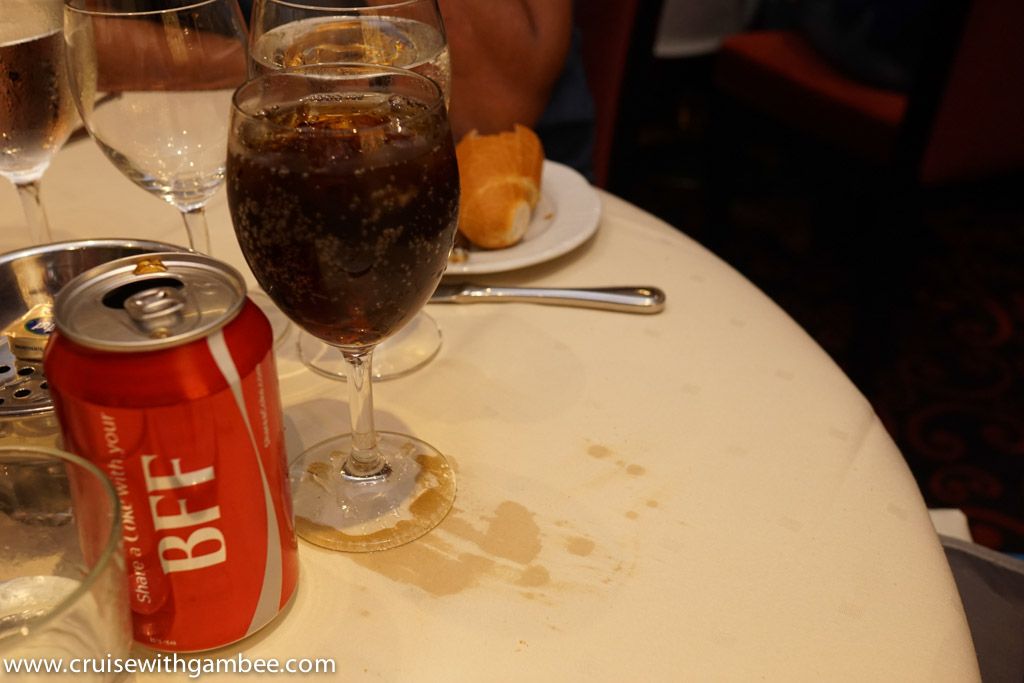 All 3 of them got the fish and I got the lamb chops. The lamb was MUCH better than the fish. I allowed them all try a little of mine. One thing to note is that portions in the MDR are not very large. So you should consider getting 2 appetizers.
Fish is not one of MSC's strengths.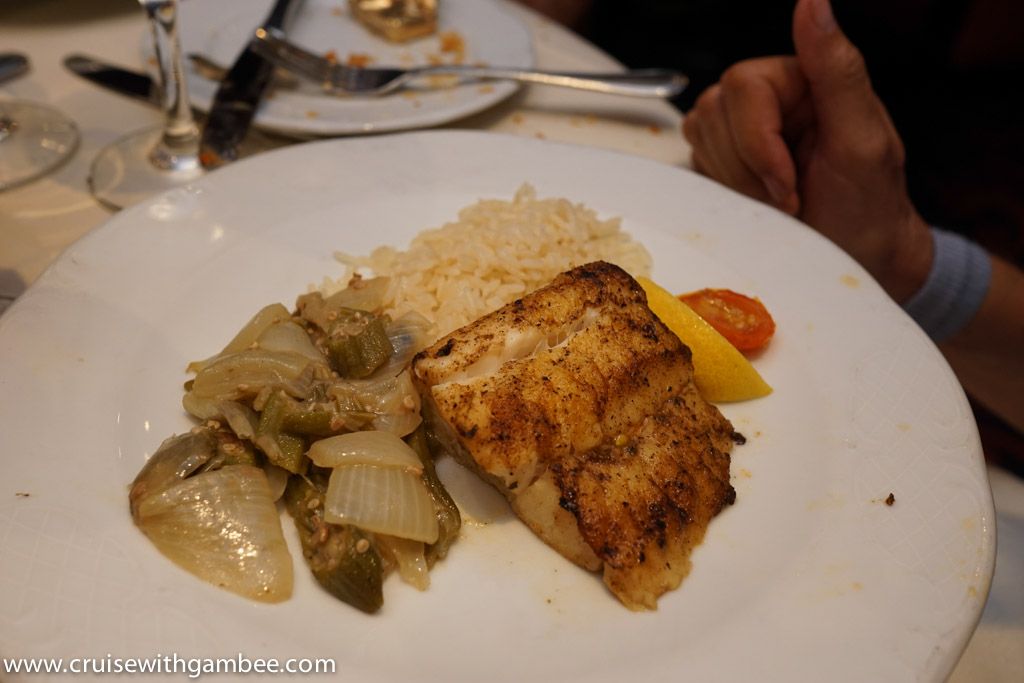 The MSC Divina lamb chops were tasty, I wish they were more red. I did order them medium rare.
MSC Divina Dessert menu
MSC Divina drink vouchers.
I got a cheese plate and the cannoli, not a wise decision for someone who is lactose intolerant
The cheese plate was blah…. I really expected much more after looking at how good the cheese selection was on the buffet.
The cannoli was FANTASTIC!!!!! Although I could live without the colorful sweets.
Mom and aunt got the crème brule and it was really lousy. The caramel, which is supposed to be hard was like syrup, the custard was ok, I guess.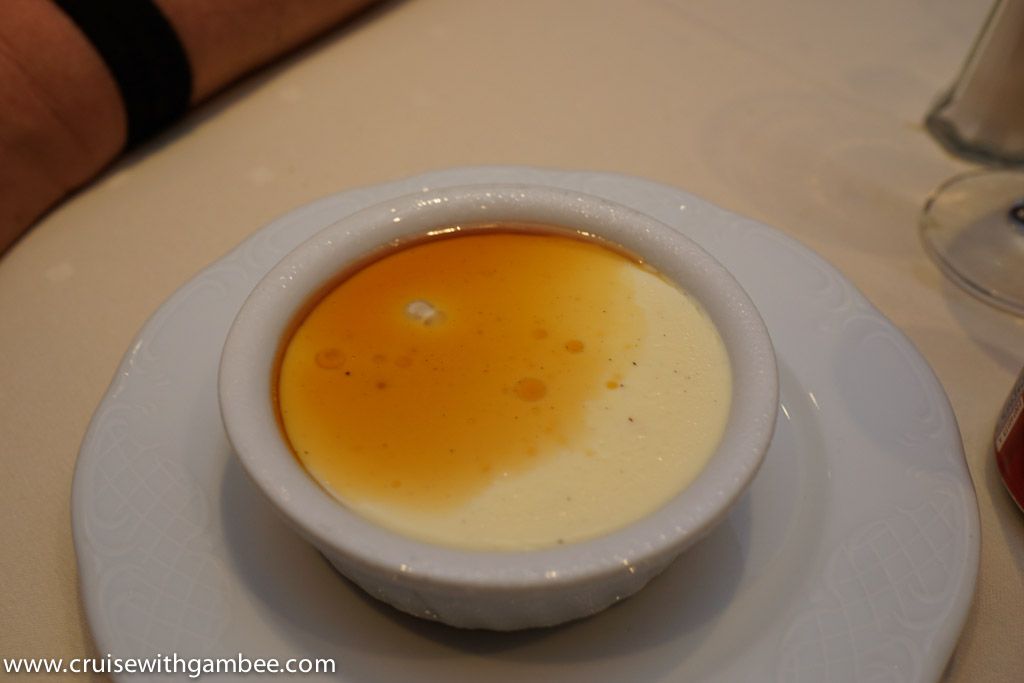 My uncle's warm Apple Crumble was very tasty!
We ate our desserts quickly and rushed out of there to find out if maybe the bags had arrived. Remember it was close to 10:30 already, and no bags!
Finally, when we got there the last 2 bags had arrived
. IT WAS A MIRACLE!!!!!
I took these from my mom's balcony.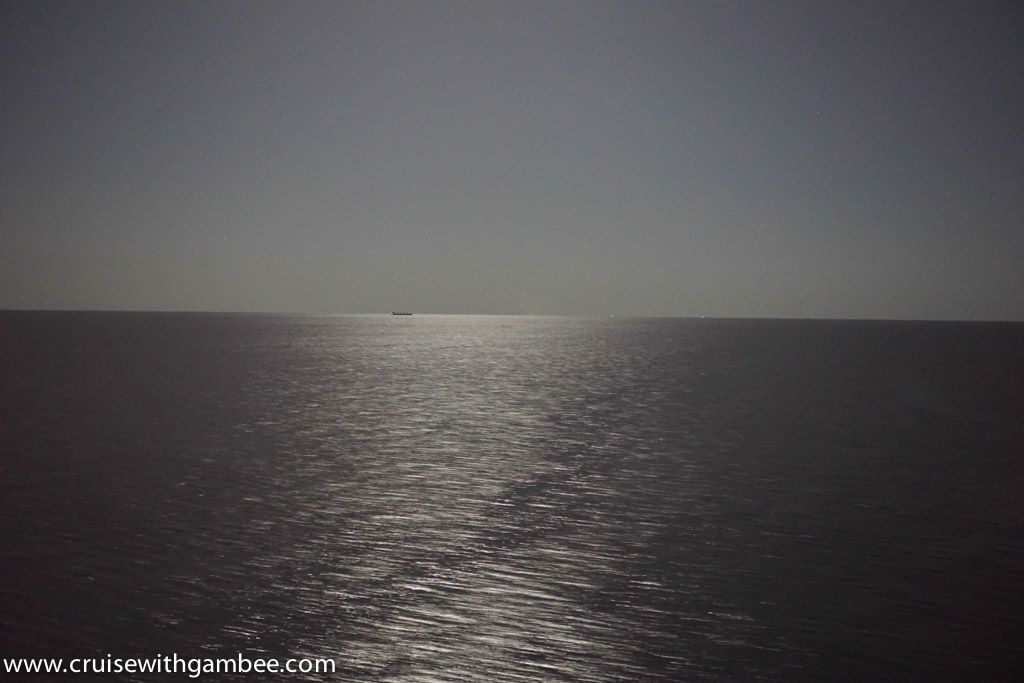 I just noticed our neighbors TV, neat!
Nice view of the MSC Divina Promenade.
Our heading and Speed.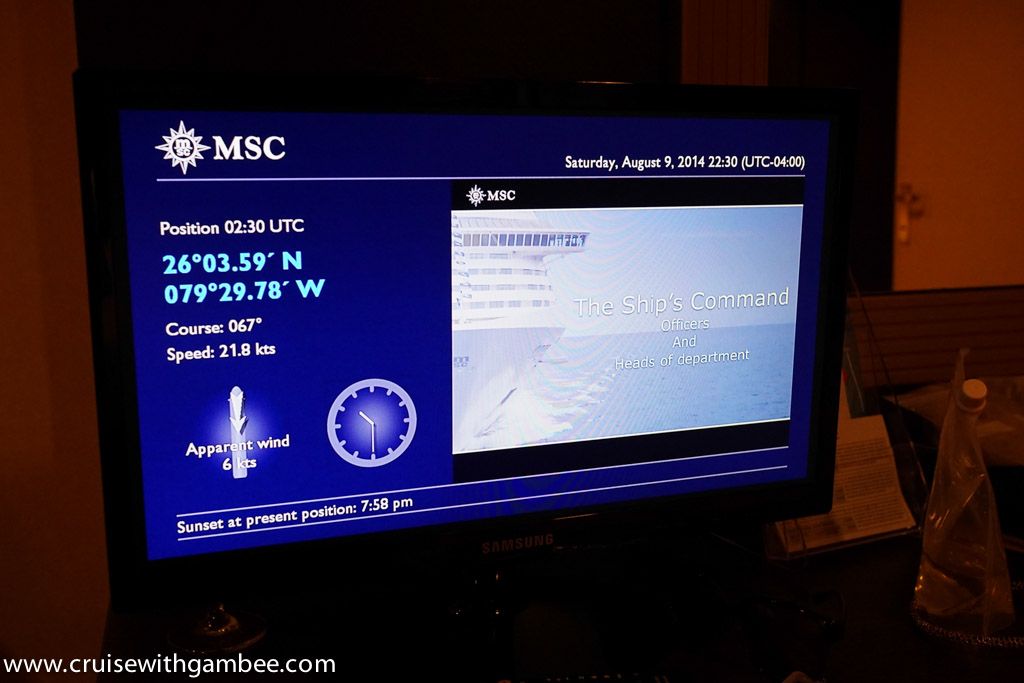 Our sleeping arrangements by the cruise line count were supposed to be me and my aunt in my room and my uncle and mom in the other room. But my mom wanted me to have the room for myself, and my aunt insisted she would sleep on the sofa in my mom's room. That did not seem right to me. We had also talked to our room steward Michaela and she told us that my mom's room only had those two beds, and she was right. There was no third accommodation available there. As they all continued to insist that my aunt would sleep on the sofa, I told them to wait for one second.
I made a dash to my room and did this.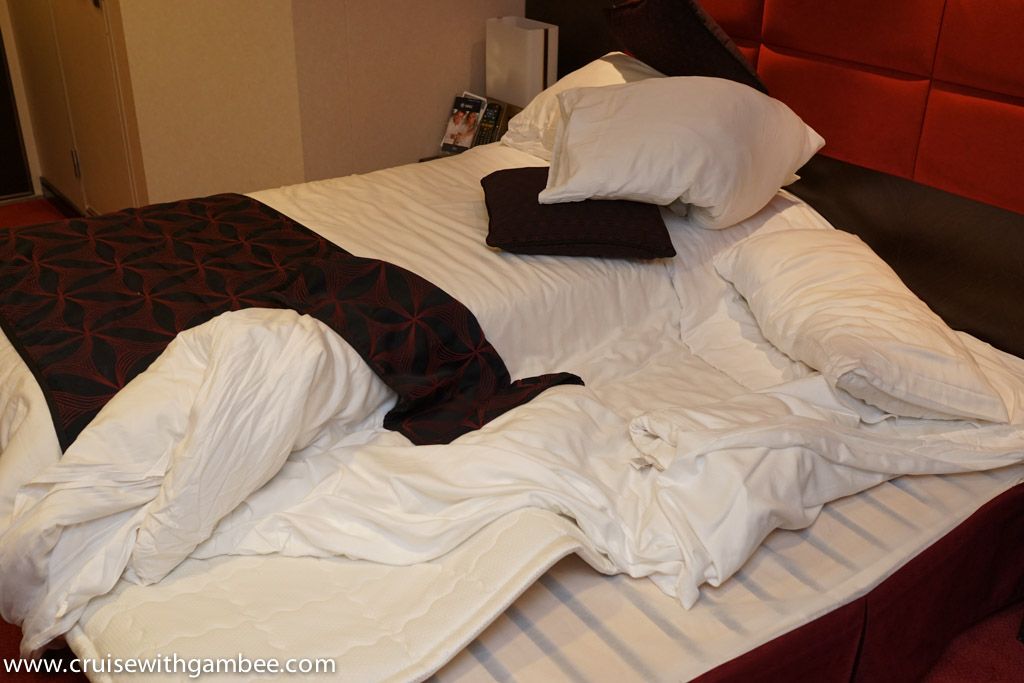 And took it to my moms room for my aunt.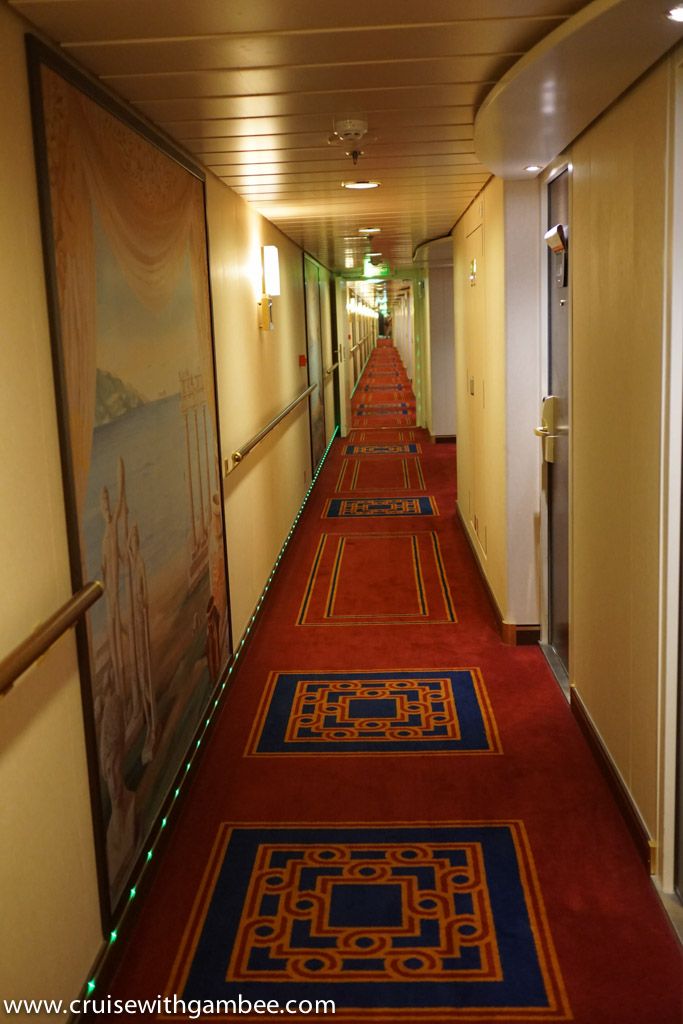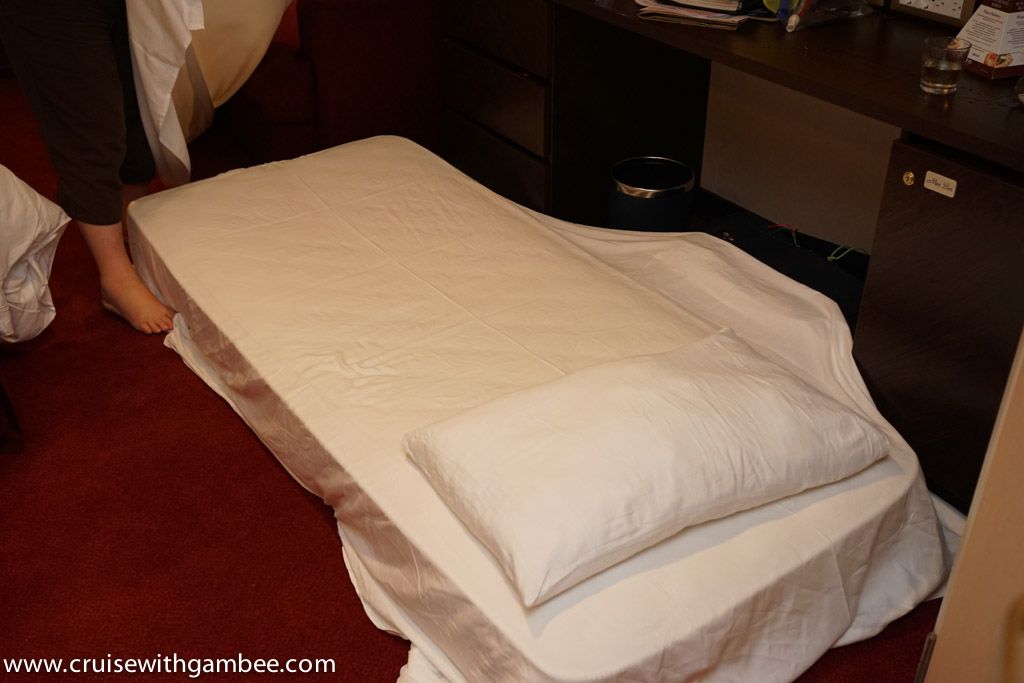 It was pretty simple and everyone was happy. I was planning on telling Michaela about it the next day. She was our steward for both rooms, so I thought we could most likely get away with it. It looked like the perfect setup. And I am telling you I am getting used to having my own room on a cruise.
My mom and my aunt were drained and they chose to stay behind. Meanwhile, my uncle and I went for a walk around MSC Divina. Until today I am not sure how my uncle got around the ship
. He got lost on every corner and just continued walking until he found what he was looking for. I think he was the one on this cruise that walked the most.
We just walked around with no specific target.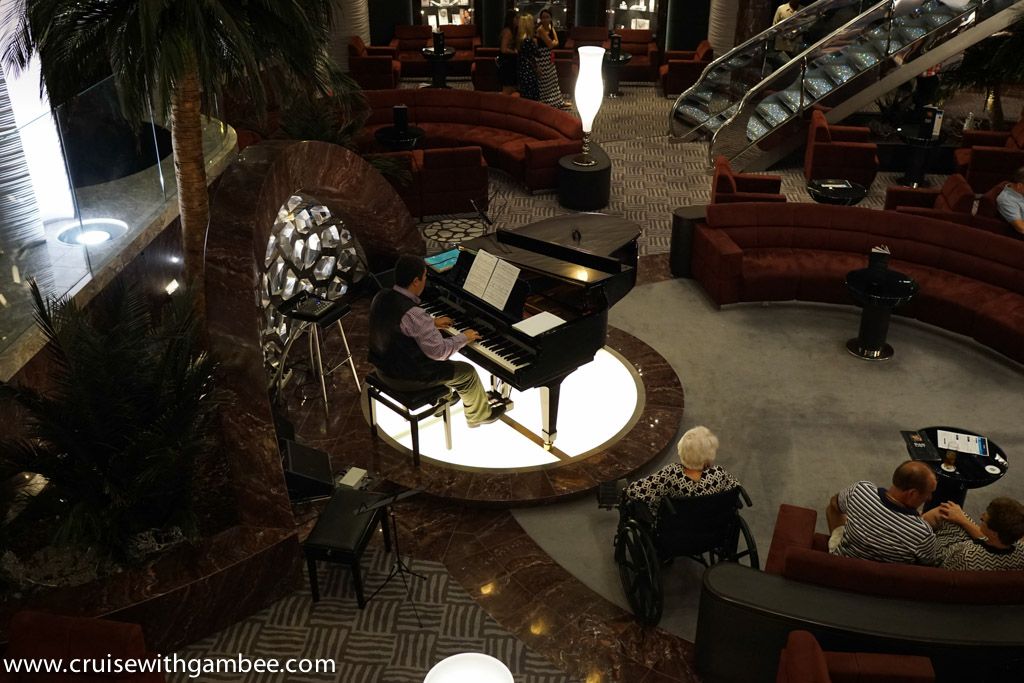 This is a really nice waterfall by the atrium, it is simply gorgeous.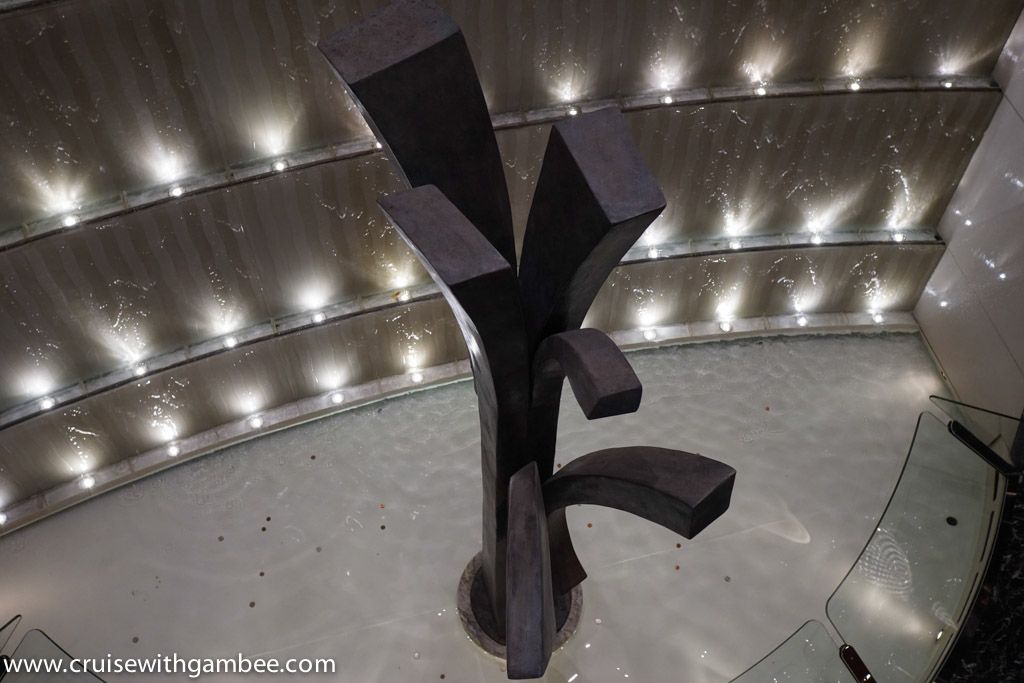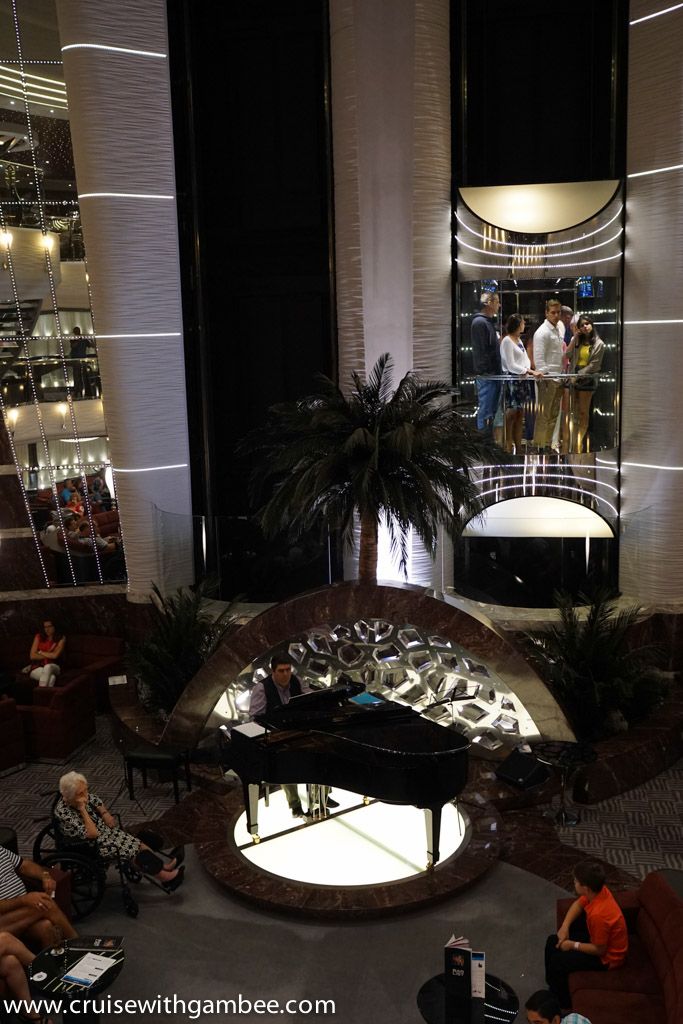 We then headed to see some of the stores since they were open already. I found most of the prices on MSC Divina very competitive and possibly the best prices out of all the ships that I have been on in the past. Prices were the best in the MSC logo shop, we bought a few item, I will post the pictures later on.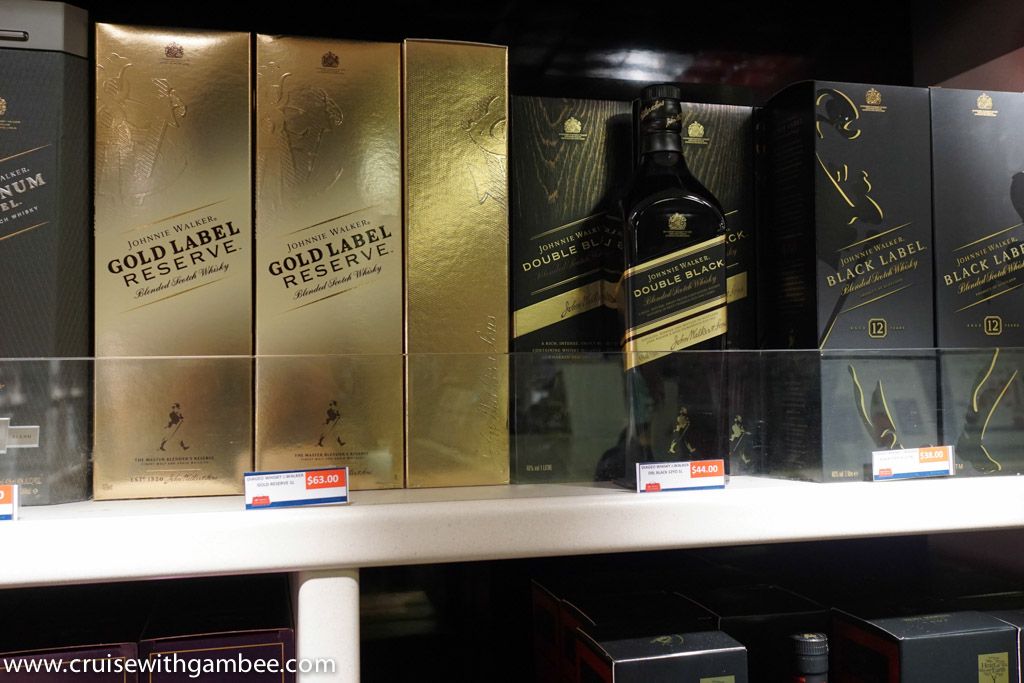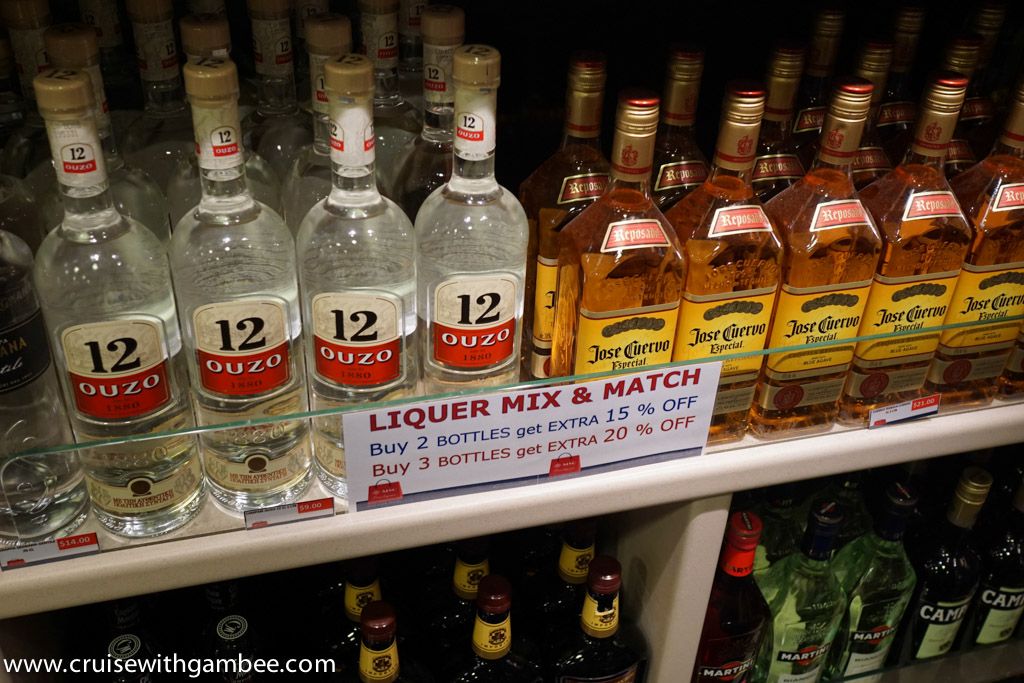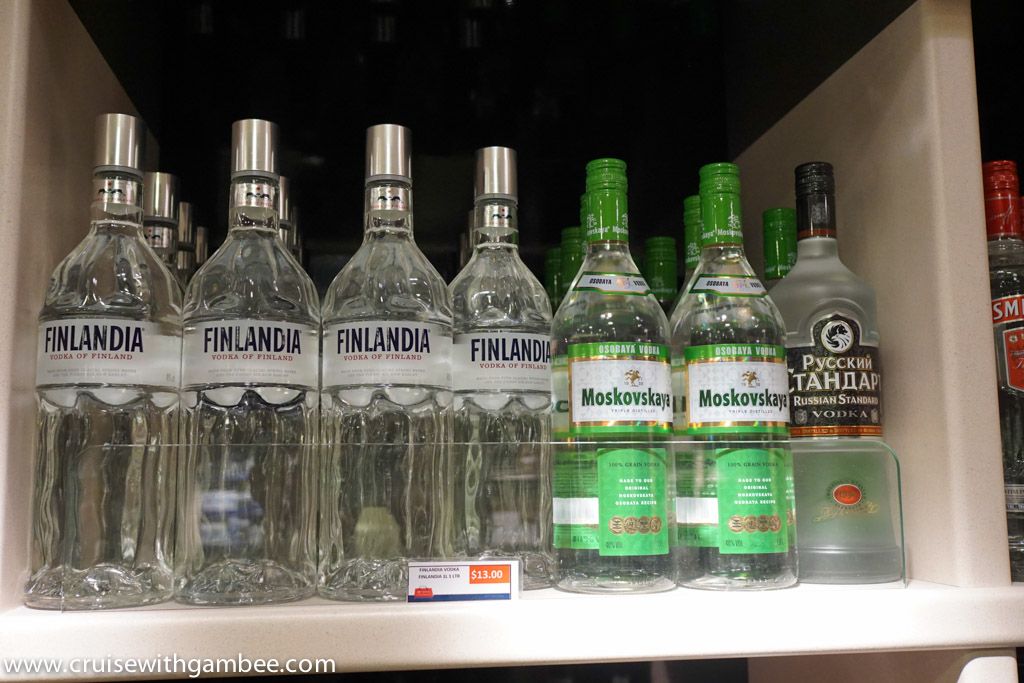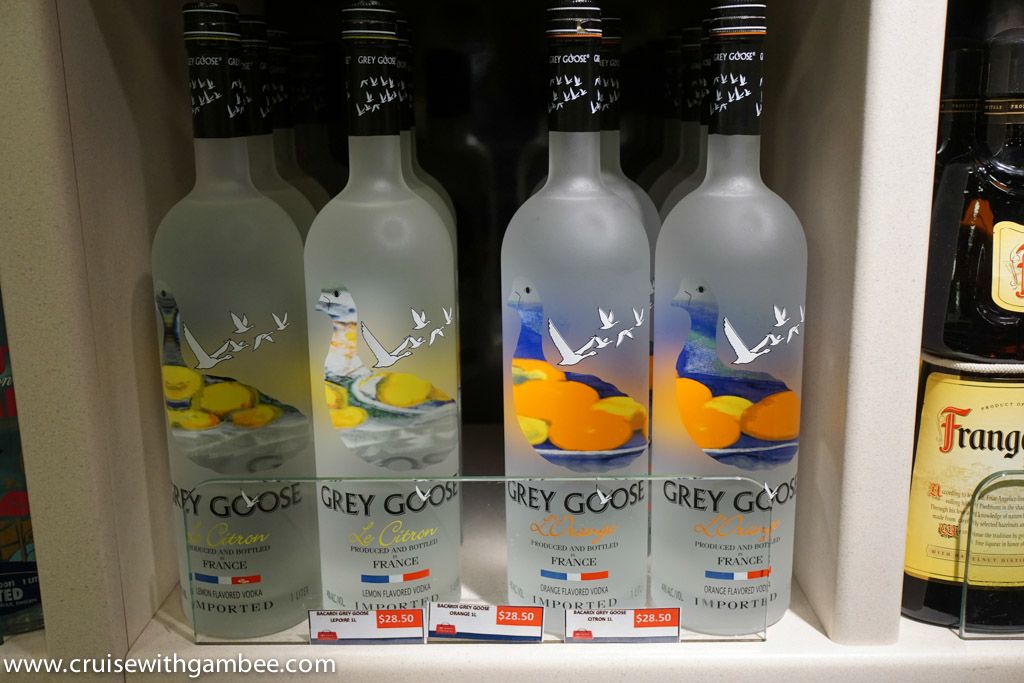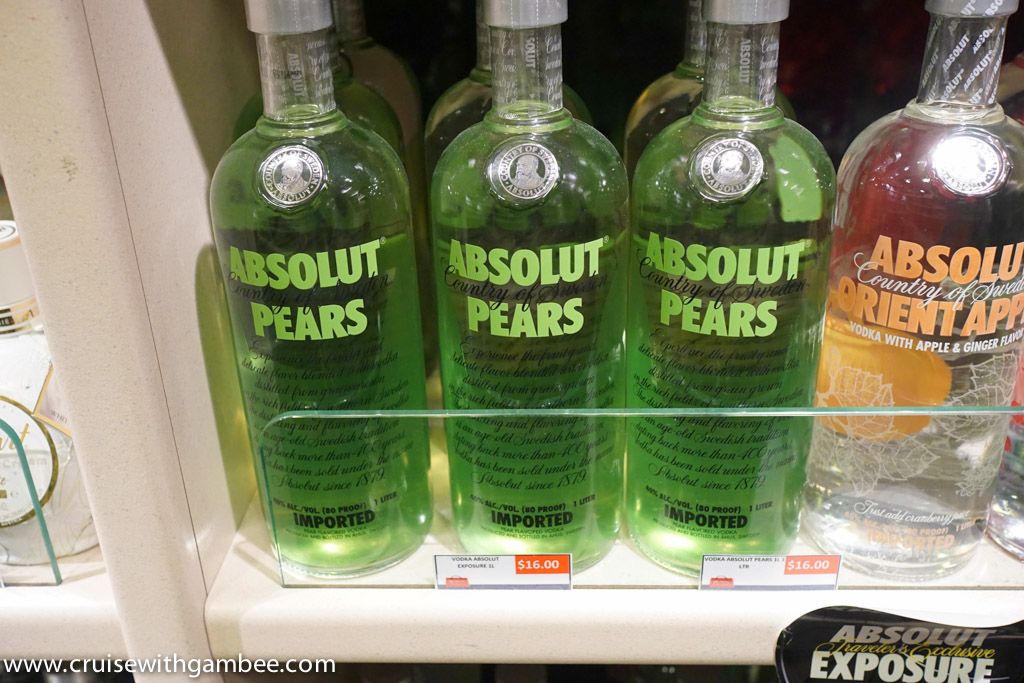 Thats mom's favorite!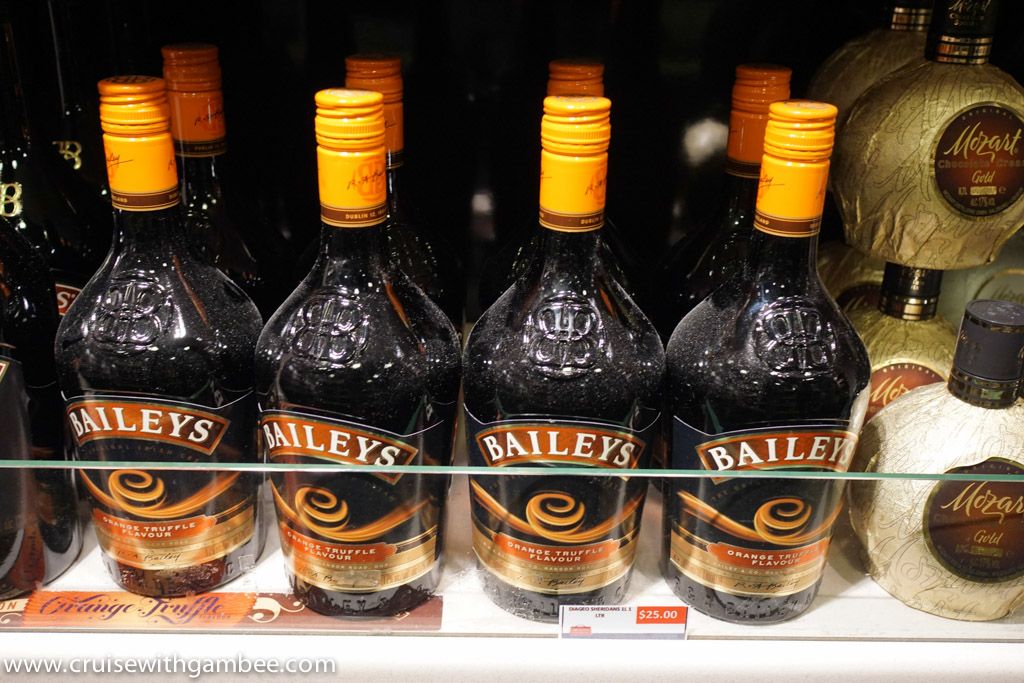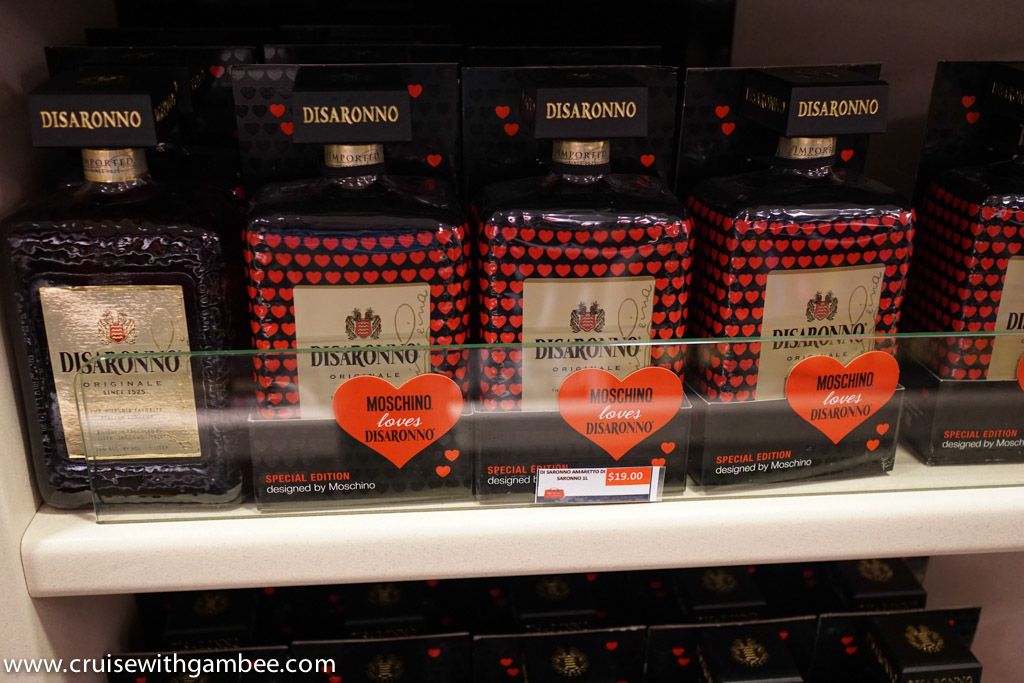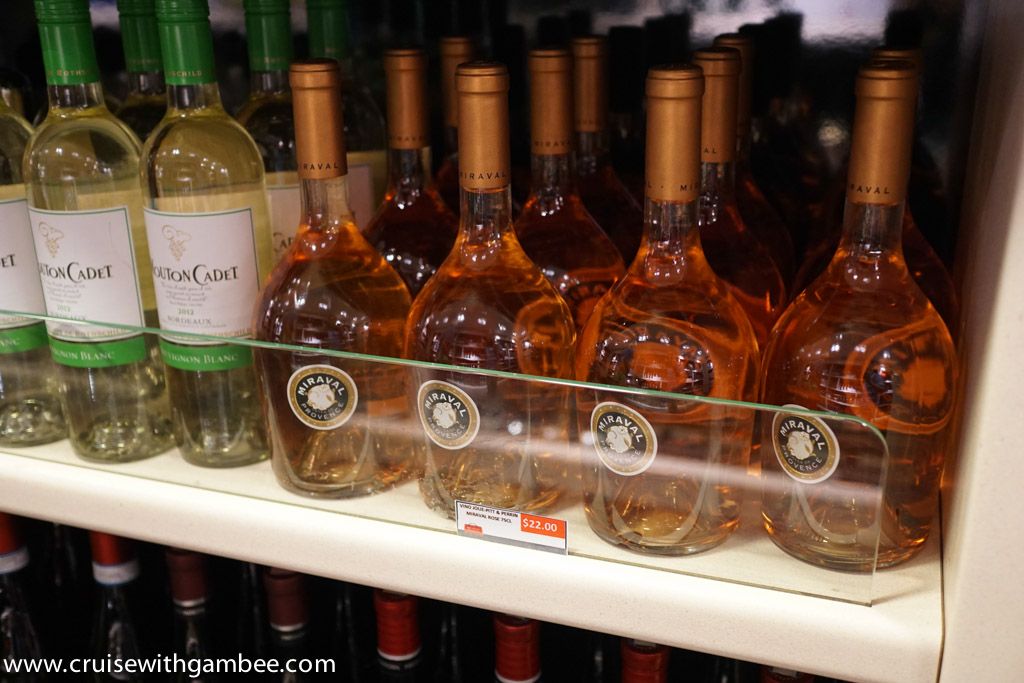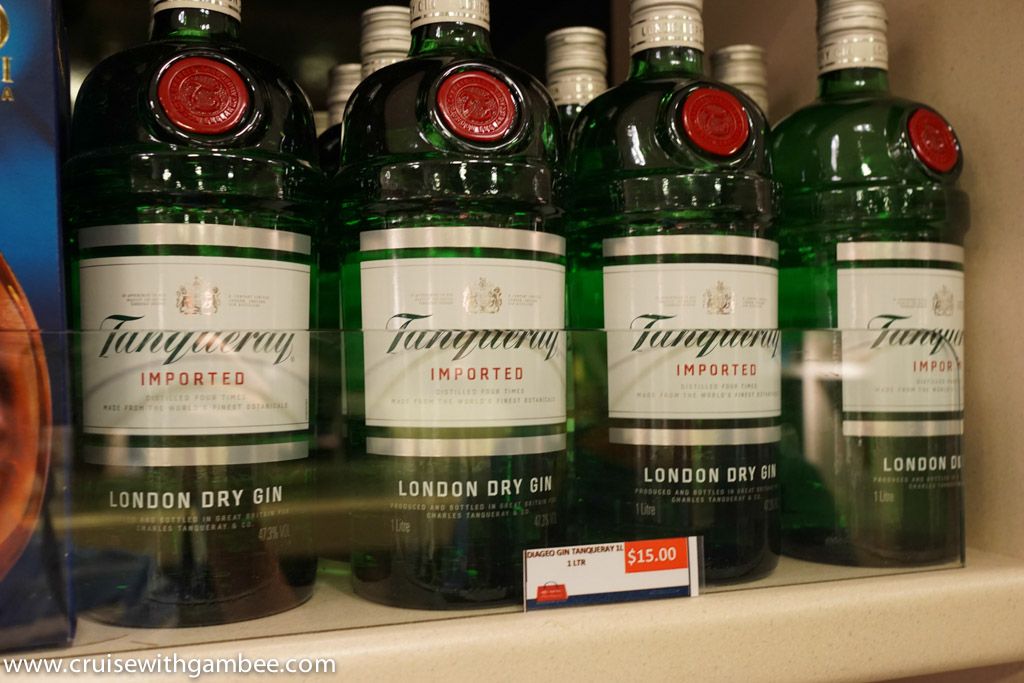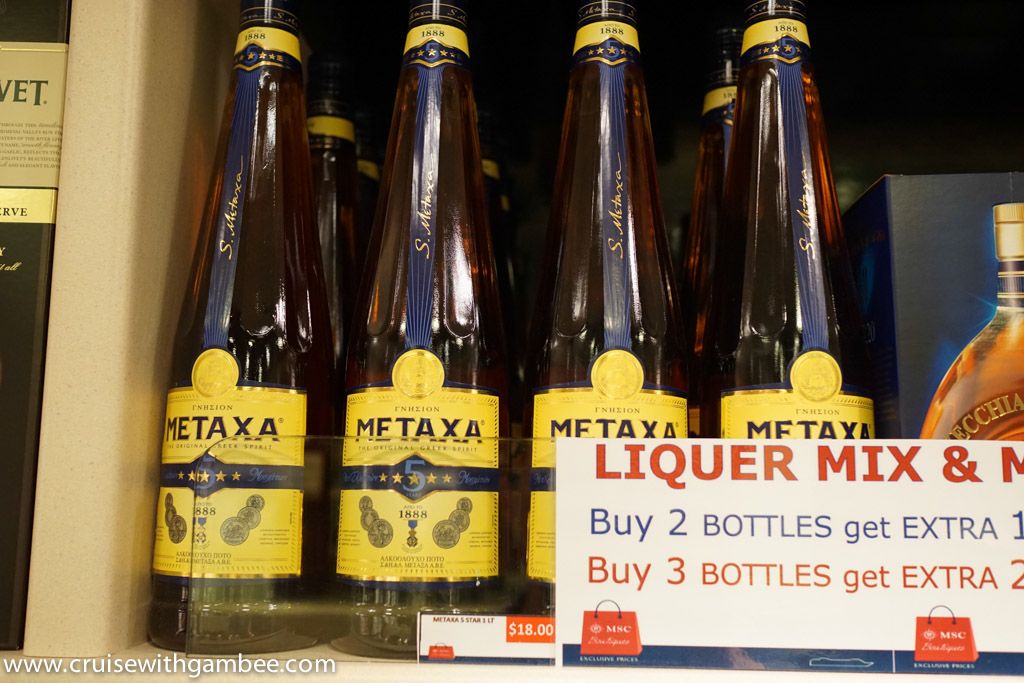 Recently I switched to Scotch, so far I have been happy with the change. Vodka was starting to get to me.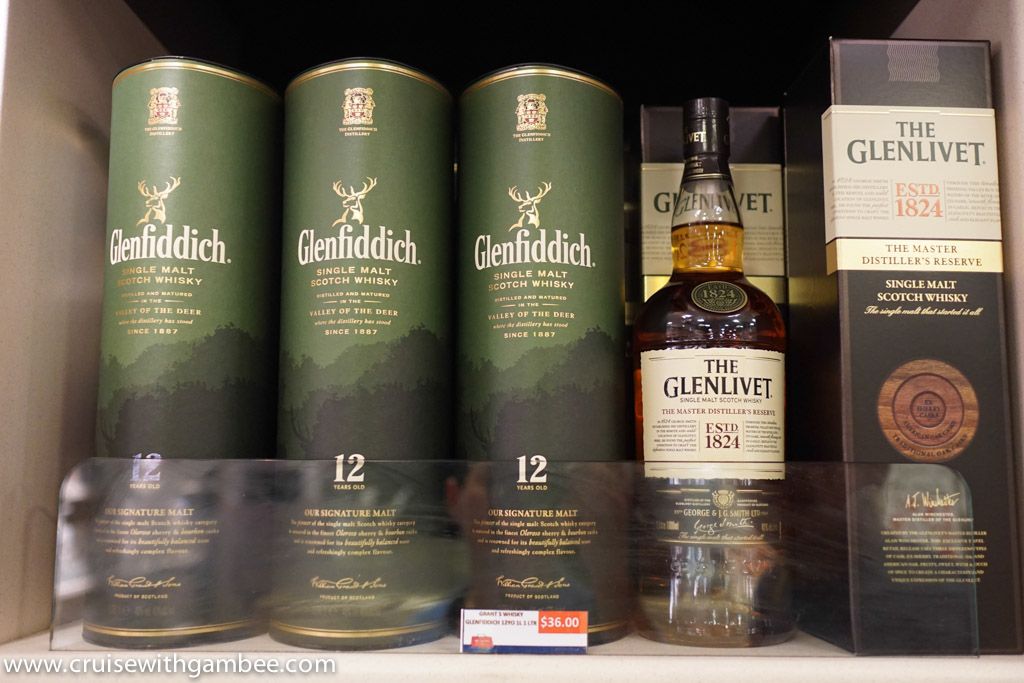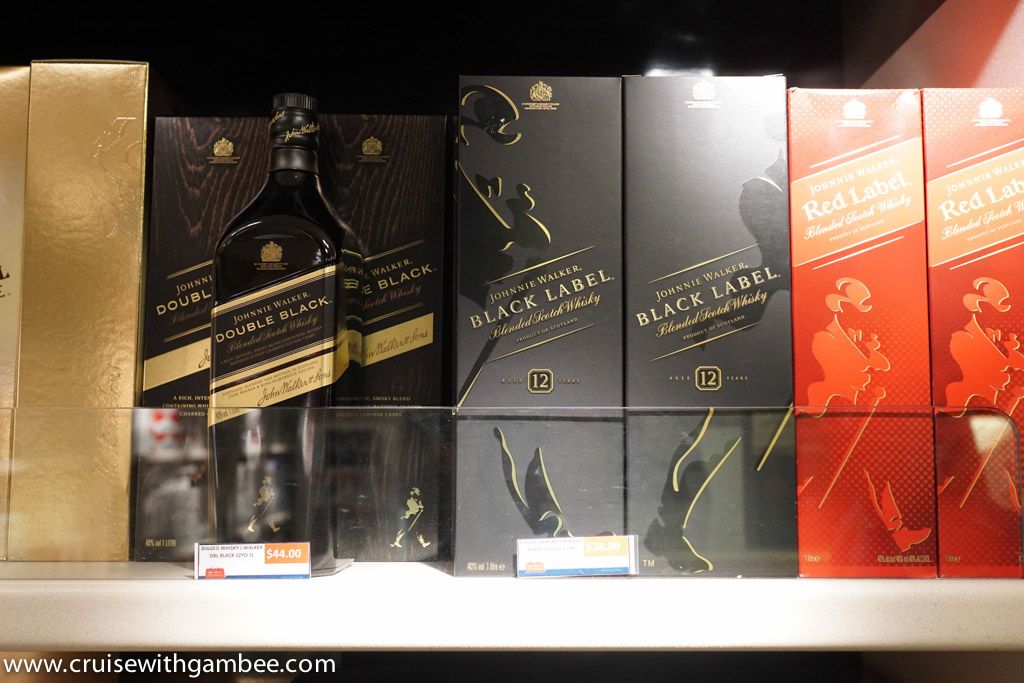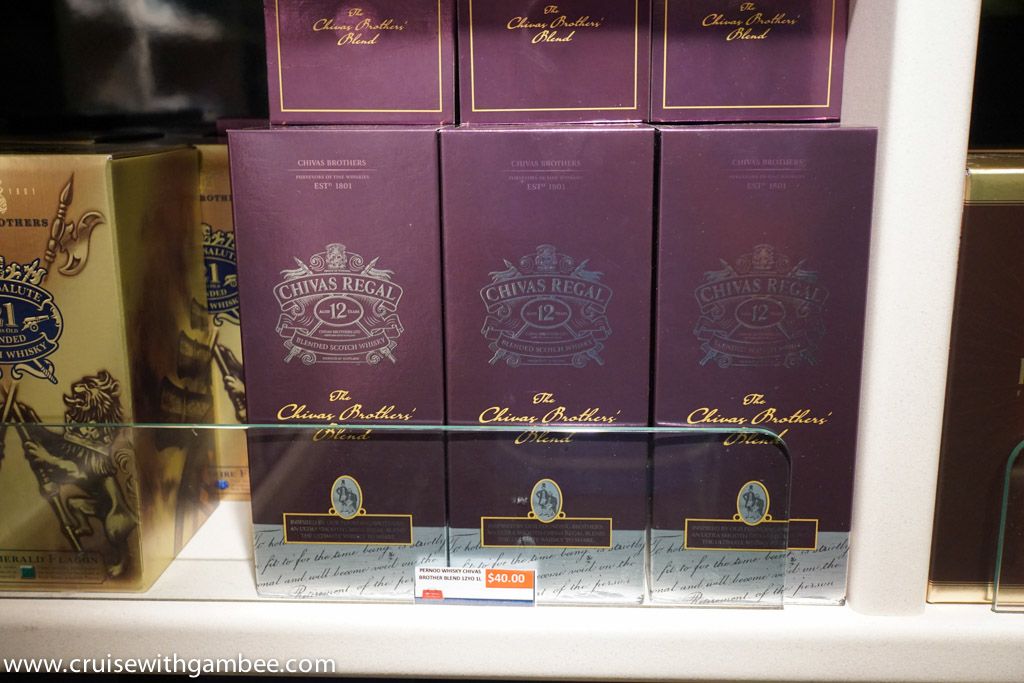 These chocolates looked fantastic, I should have bought some. Very reasonably priced as well.
Then my uncle and I celebrated being on board by drinking this bottle.
Yeah right
!!! Not in a million years!
We kept on walking and exploring MSC Divina. The ship is somewhat confusing to navigate and it takes a while to get used to the layout.
You won't find me there ever! I used to Black and Milds back in the day, and I am still paying for it.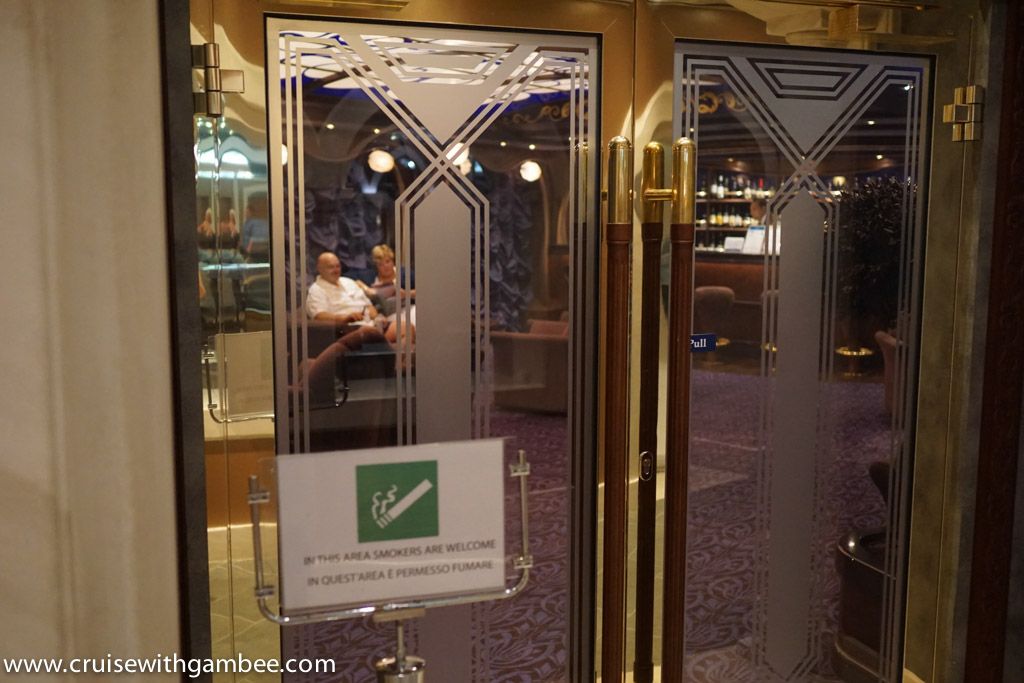 I love this little space!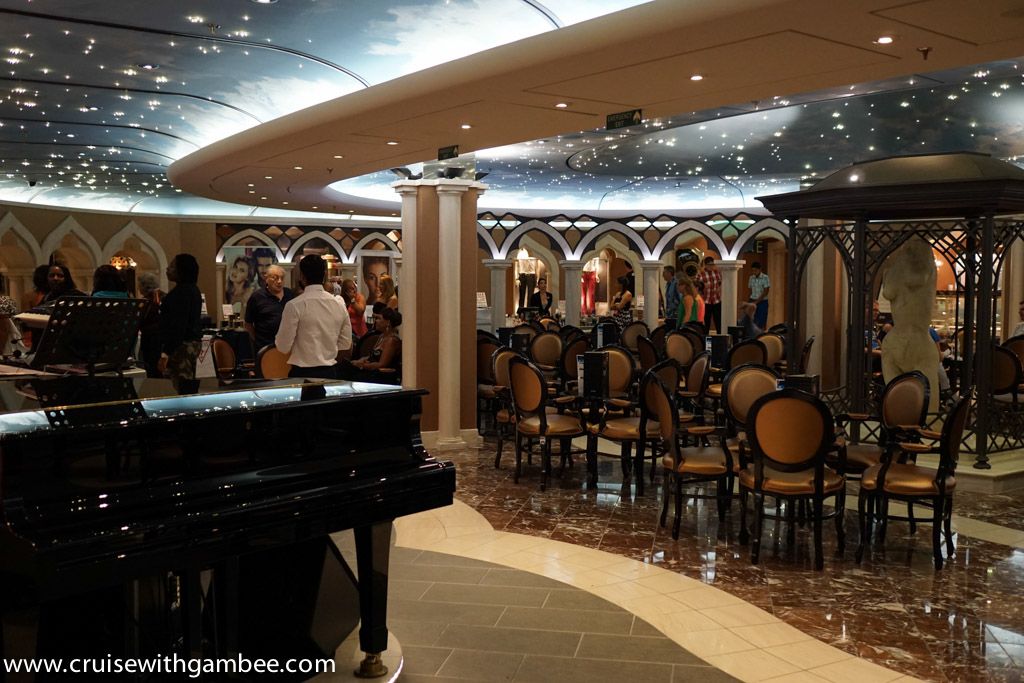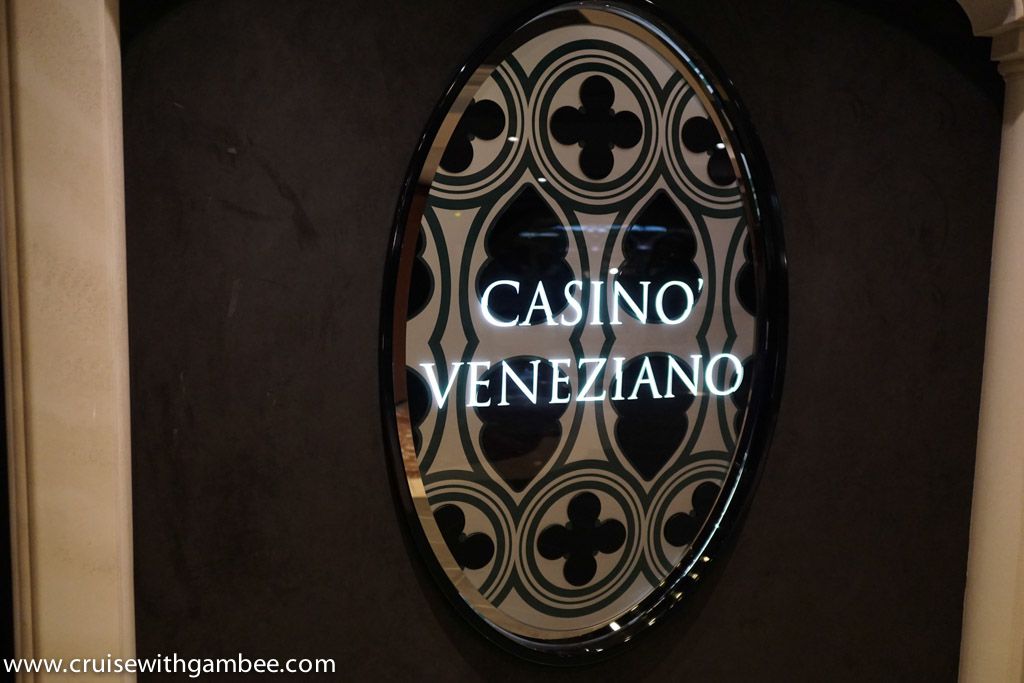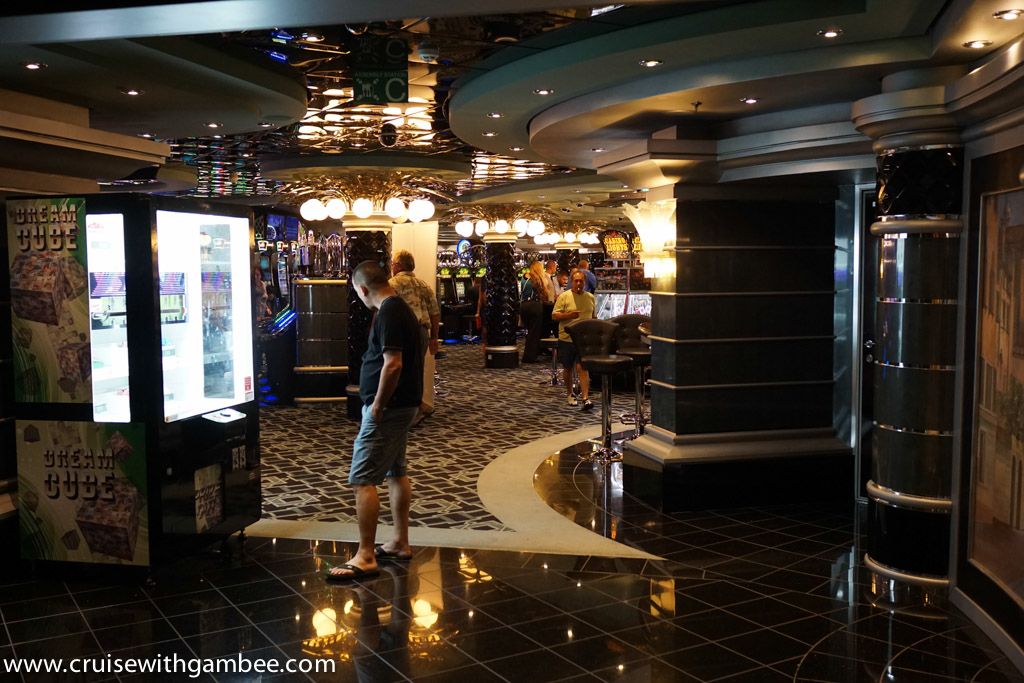 These stairs go from the casino to the deck on top. They usually have a nice couple singing some great music there.
Here they are singing, they have been married for some time already and work together. I LOVED We kept on walking and just exploring MSC Divina.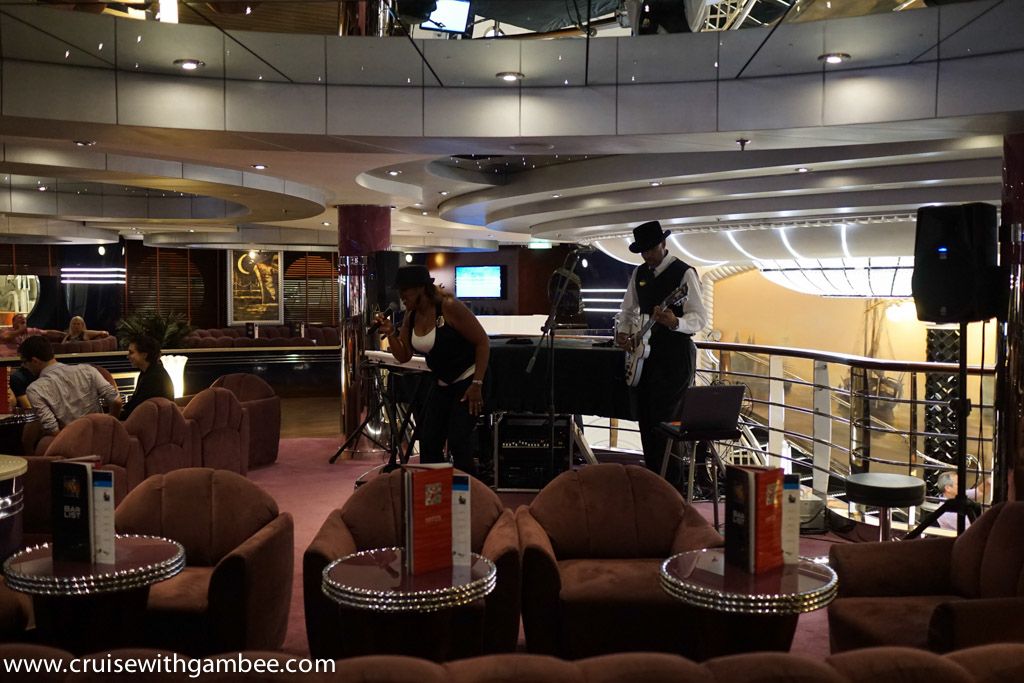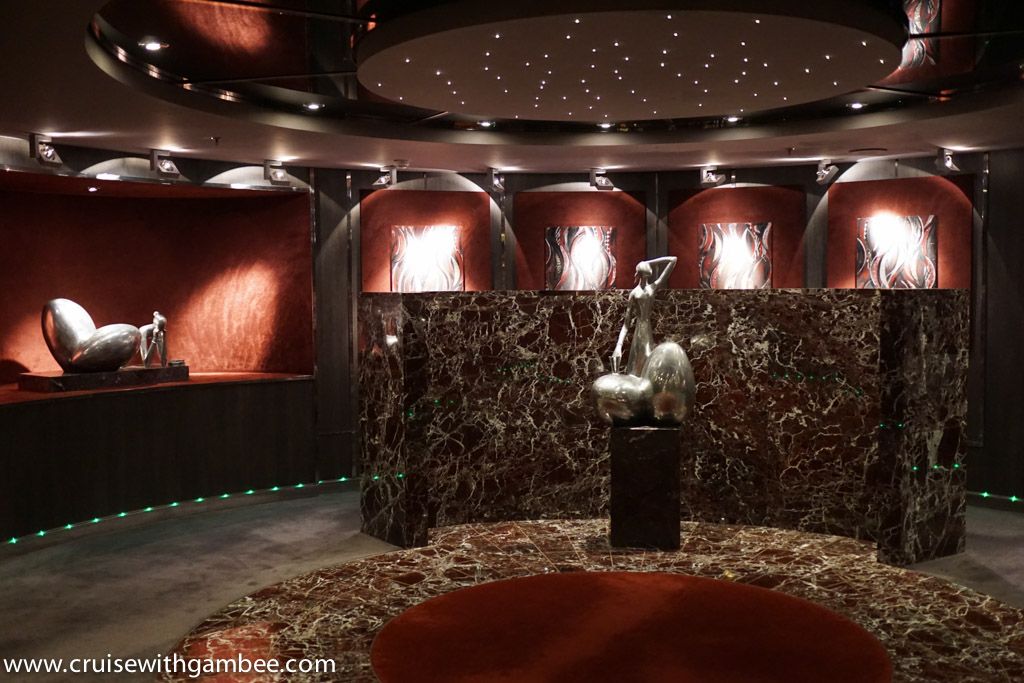 We went through a few lounges.

We also stopped by the sports bar, here is where you can find the bowling lanes. Bowling in MSC Divina is expensive. You have to go to the reception to buy the tokens, each token is 7 dollars per person. Each token allows you to play 5 turns vs. the normal 10 turns. I think in Breakaway it was $5 per person for the full 10 turns. We only played there once.
It's a really nice bar!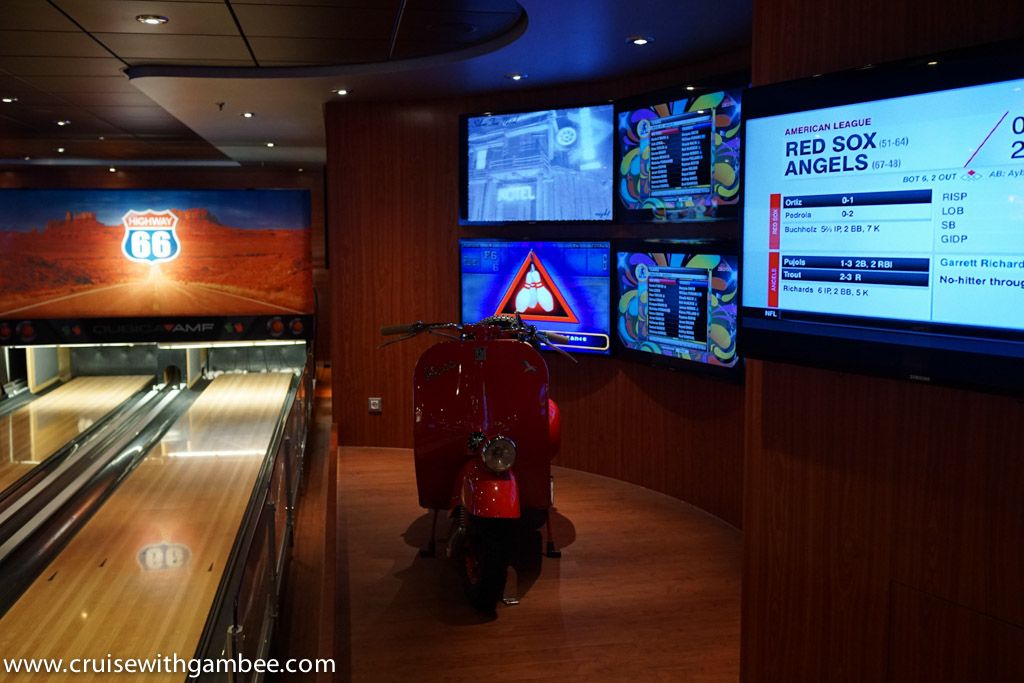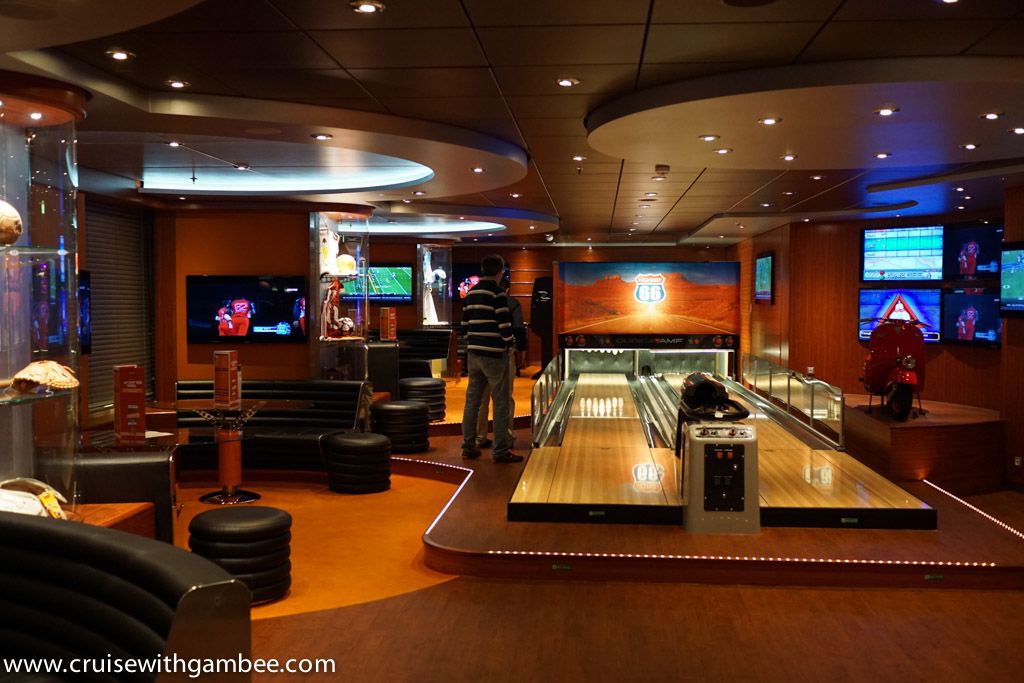 They also have a small menu there, I get the pictures later on in the cruise.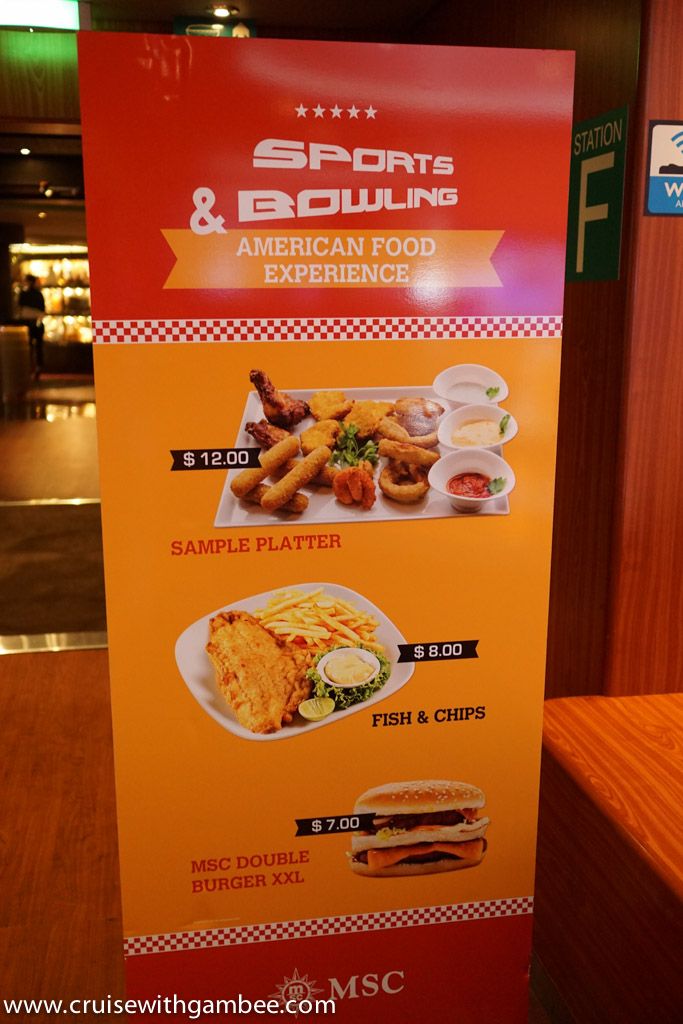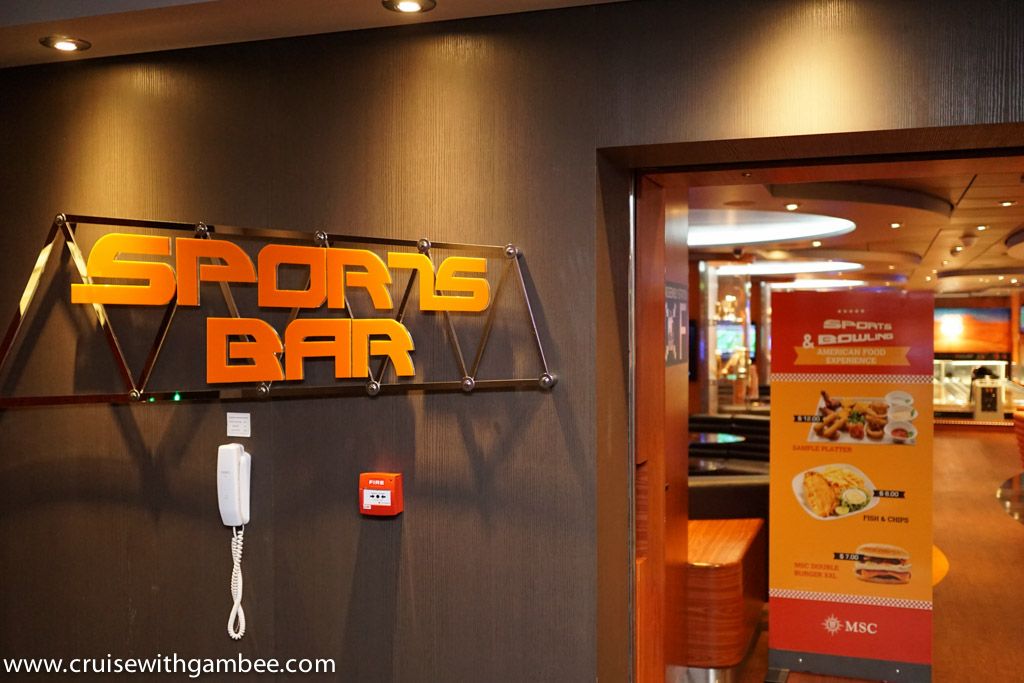 Just gorgeous!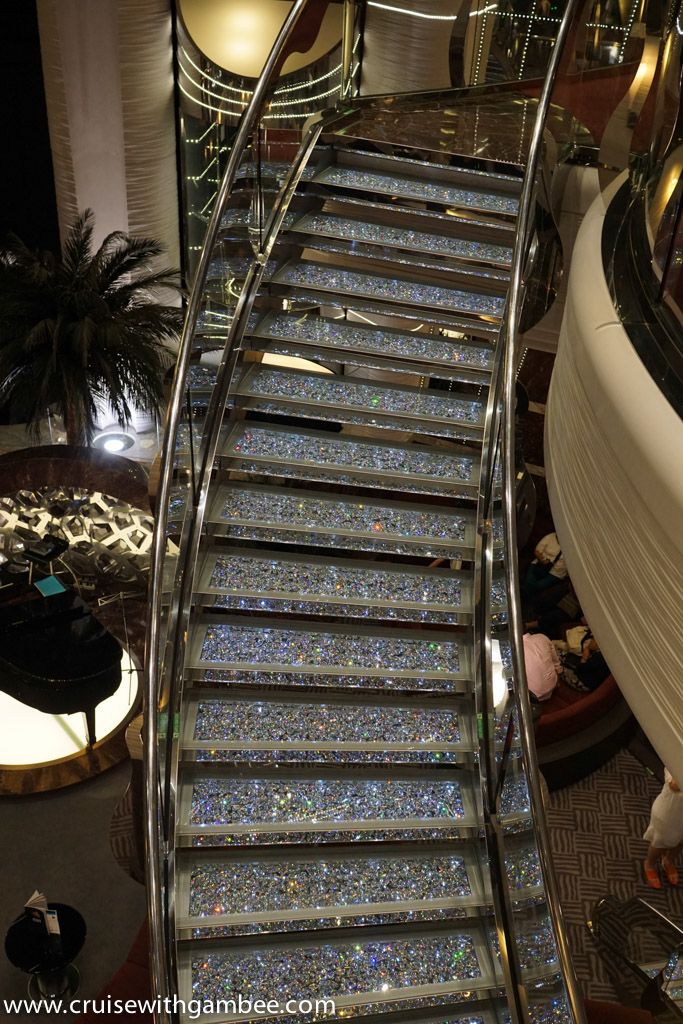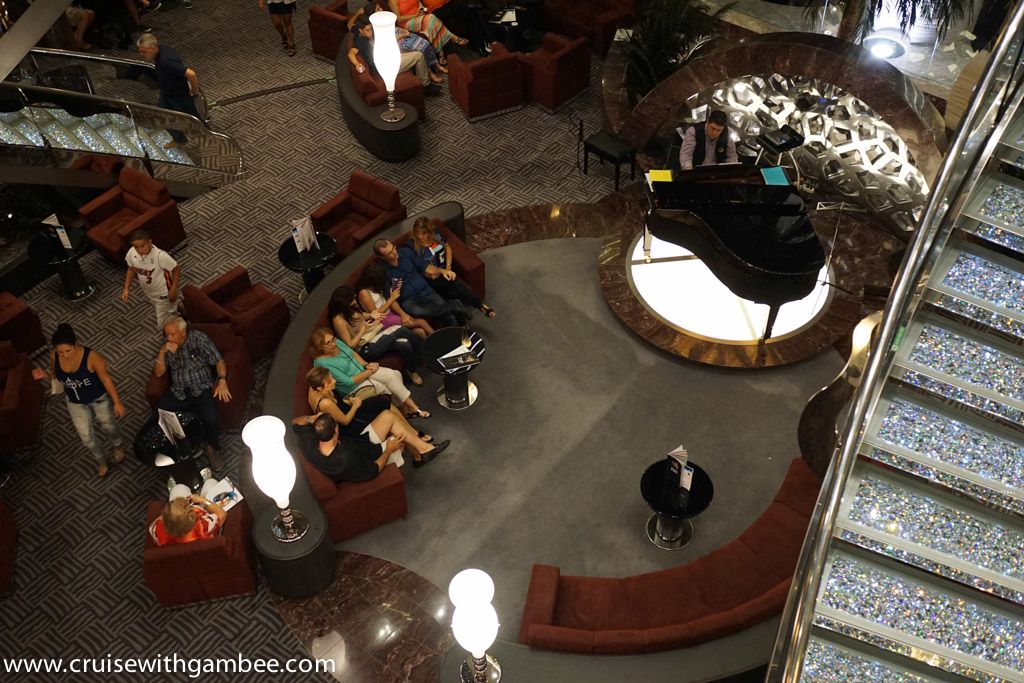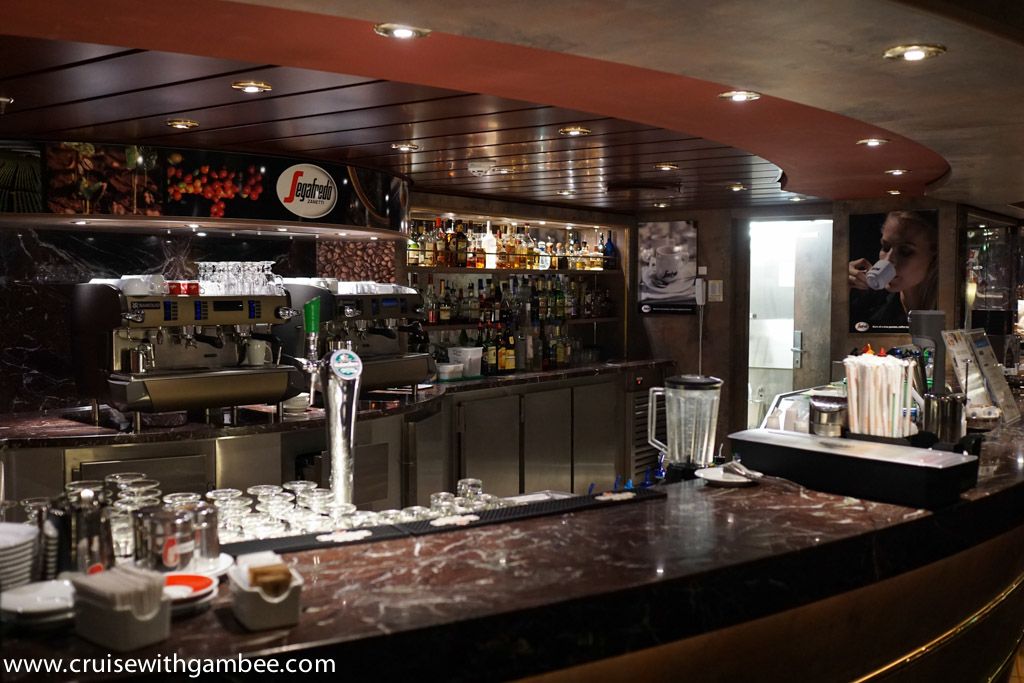 Like I said the Logo shop has a lot of nice stuff, and I especially loved that they offered all the cruise ships in the cruise line. I only bought the MSC Divina since I only buy the ones that I sail on, already have 7
.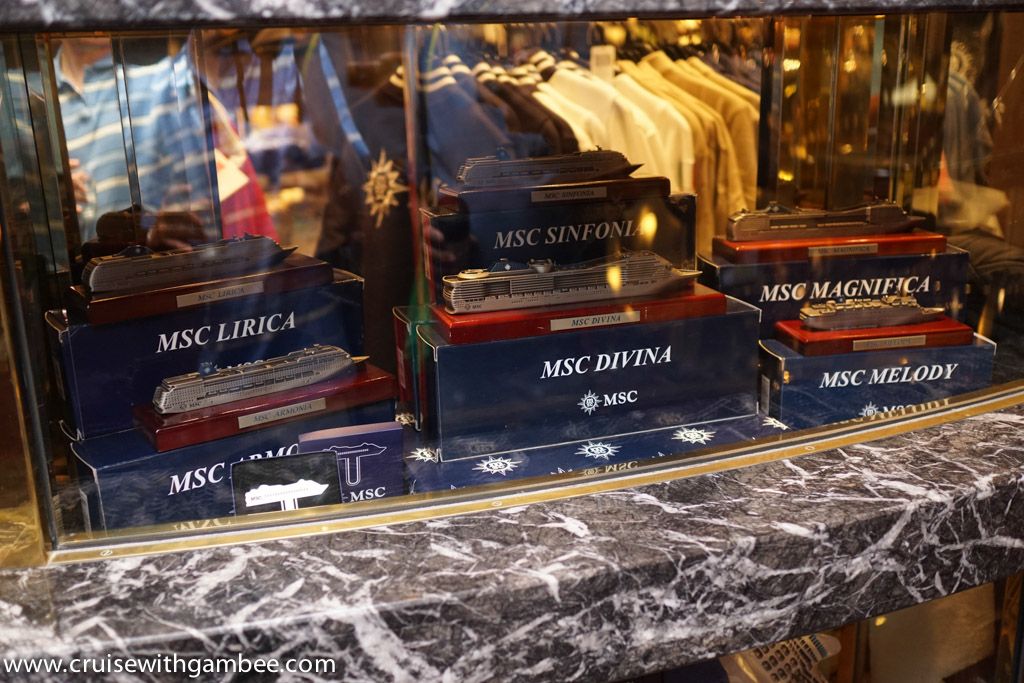 These models are by far the best looking cruise ship models that I have ever seen! They are built very nicely.
Then we went up to pool deck to check it out at night, I got a picture of some of the desserts that are offered in the Ice Cream Parlor. I saw one guy try out most flavors and walk away without purchasing anything. Maybe he did not like any of them ;-).
The Lido deck looks very nice at night, and this was a good place to test out my new camera. I was overall very happy with the results.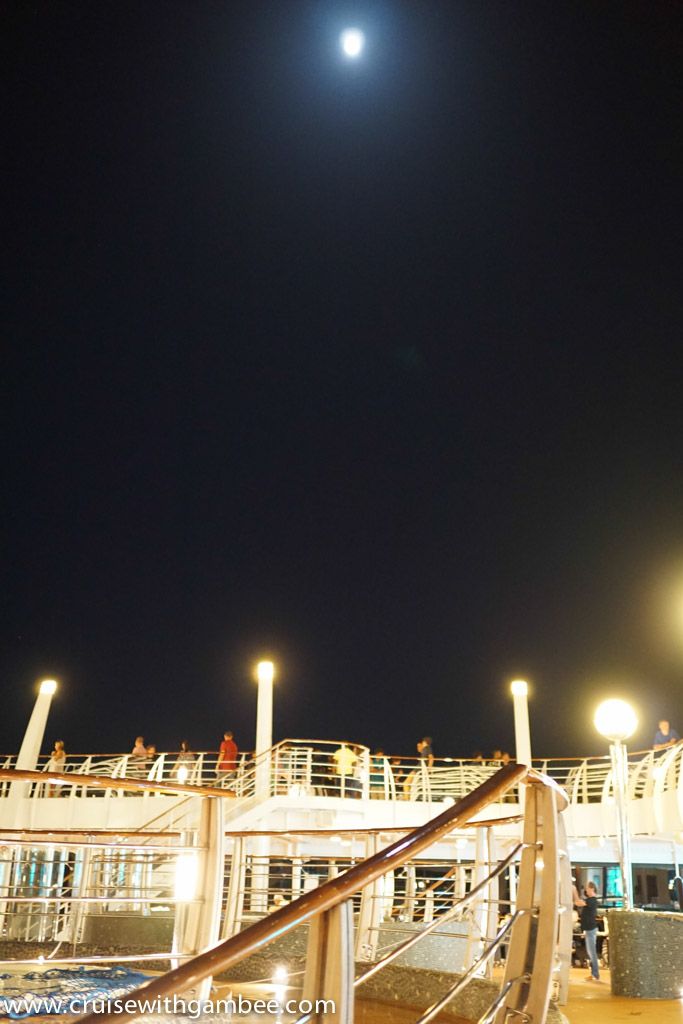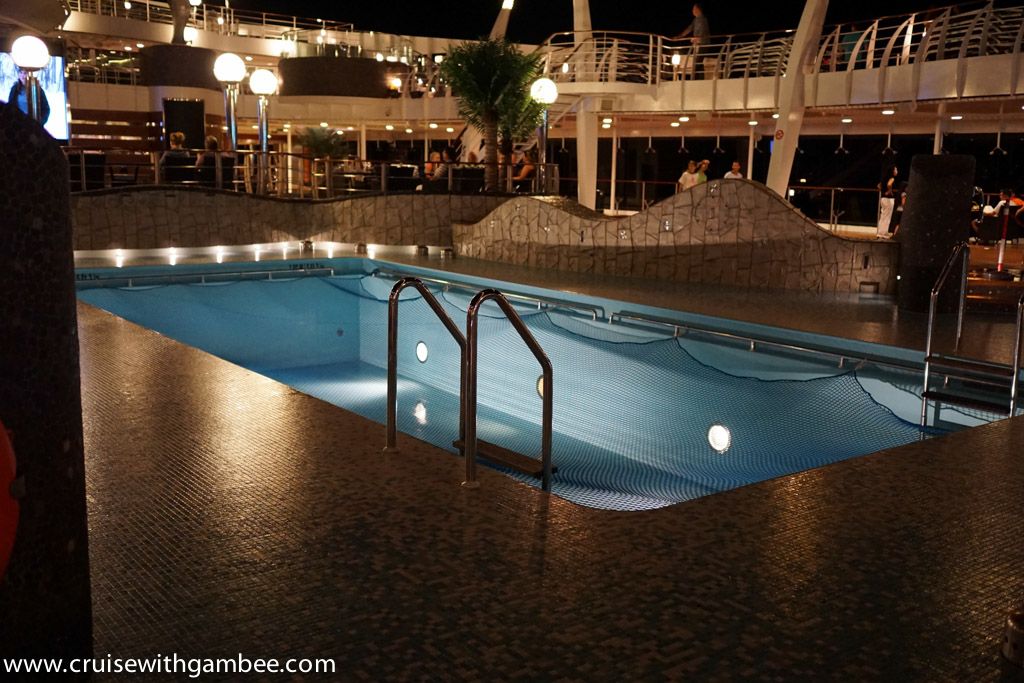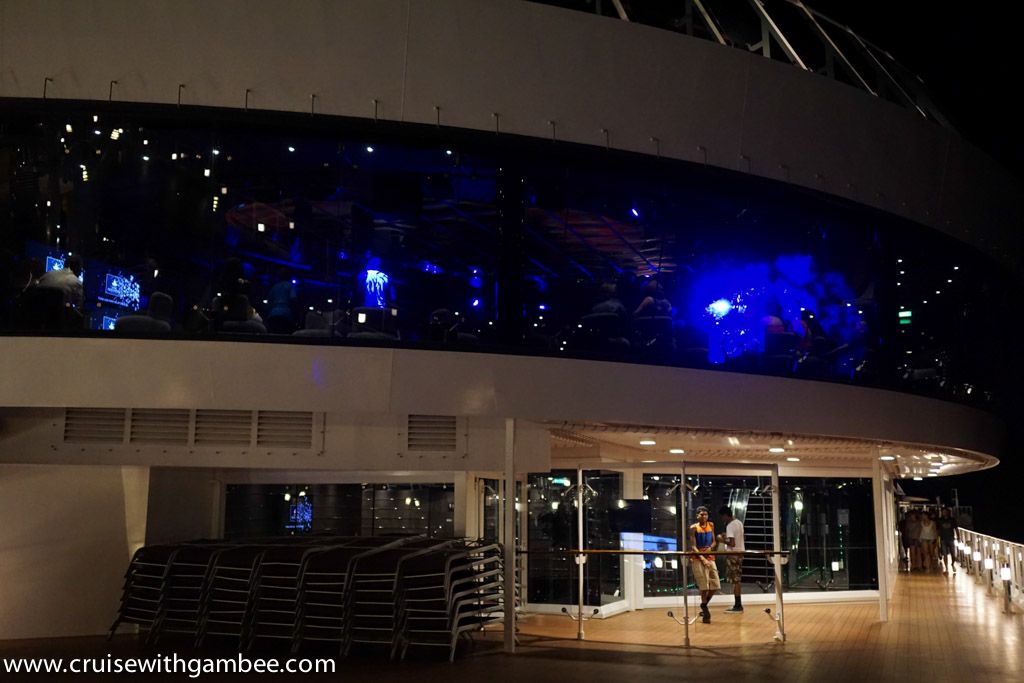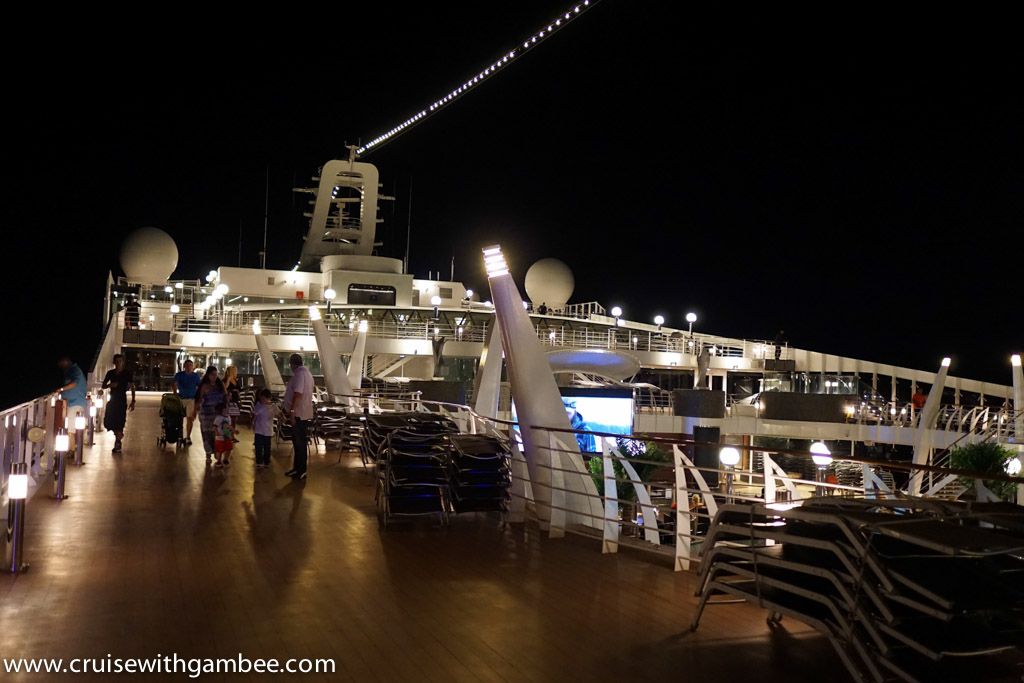 Very nice picture.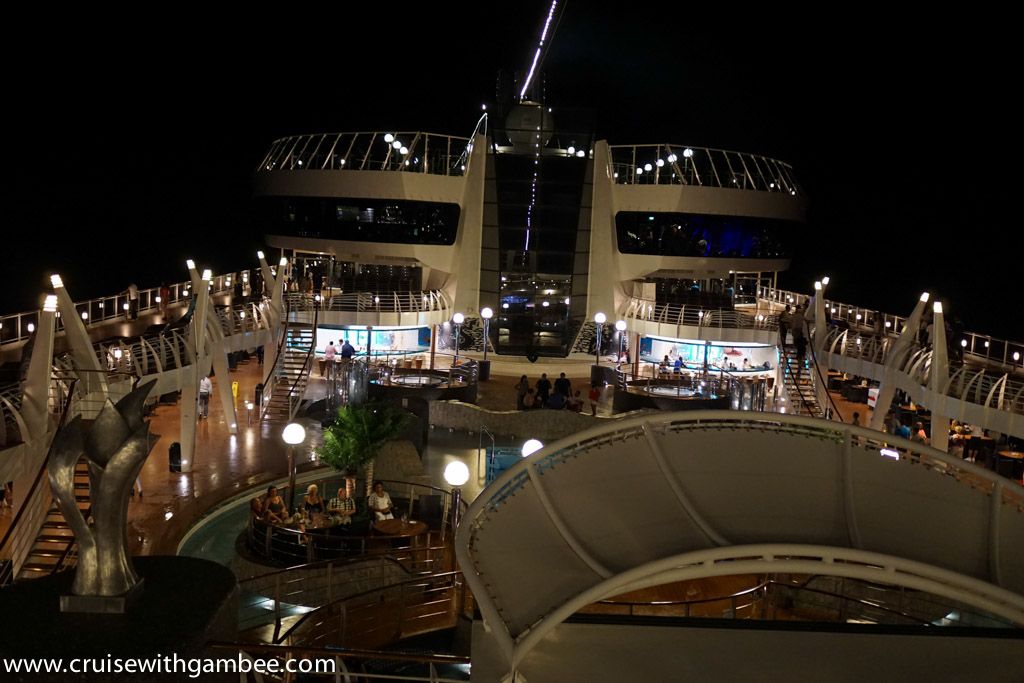 You see those stairs there? that is a far forward as you can get unless you're in the Yacht Club :-/
This is as far forward as you can get if you are not part of the yacht club.
They close the roof at night and during bad weather.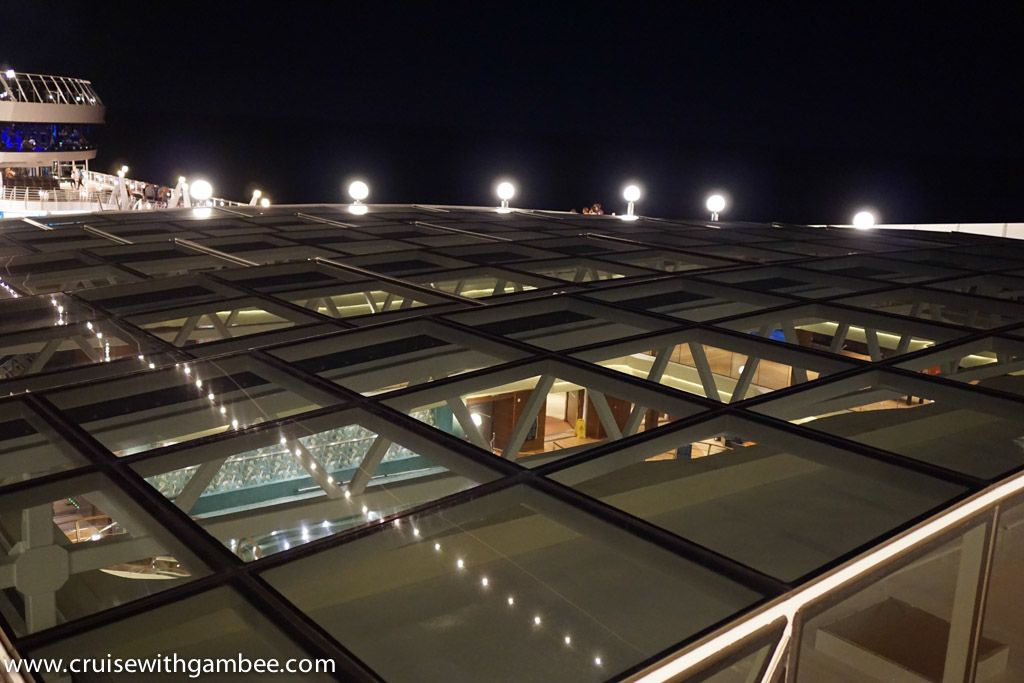 My uncle said that he would hit the casino, you know me, I am not much of a casino kind of person so I decided to head to the room. My uncle did pretty well that night, I think he won around $130.
Back in the room, I turned on the TV and decided to check it out. I have to say that the TV channels are among the worst I have seen on a ship. Most of them are news, a few TV shows channels and the rest are in different languages. Thankfully TBS was at least in Spanish so I could understand it. But overall a very weak TV system, no free movies either… But hey, at least you get CNN in several languages to keep you to date with all the news that you try to avoid while in vacation.
I went to sleep pretty fast. It was a really long day and I was exhausted.
I just have to admit that as of now I don't like the tone of this review. Everything that I say seems to come out negatively. Nonetheless, all I am doing is writing from my personal experience. We truly did have a wonderful cruise, but there is certainly a lot of room for improvement from MSC.
Day 1, END.