My uncle had not seen the MSC Divina candy store, so we took him there before going bowling.
They sell a few toys there.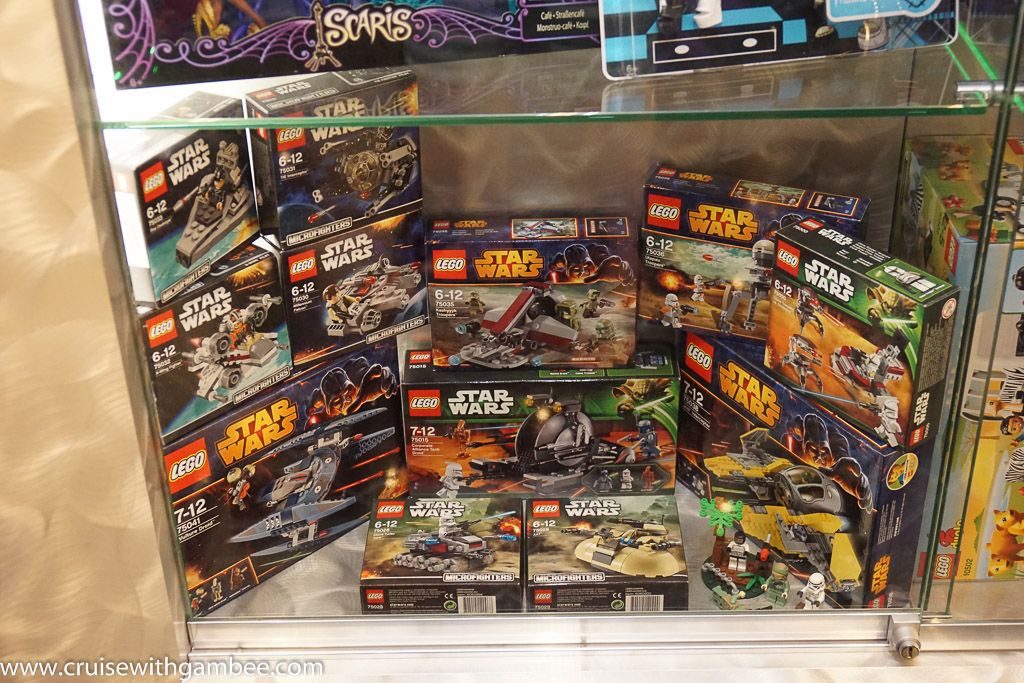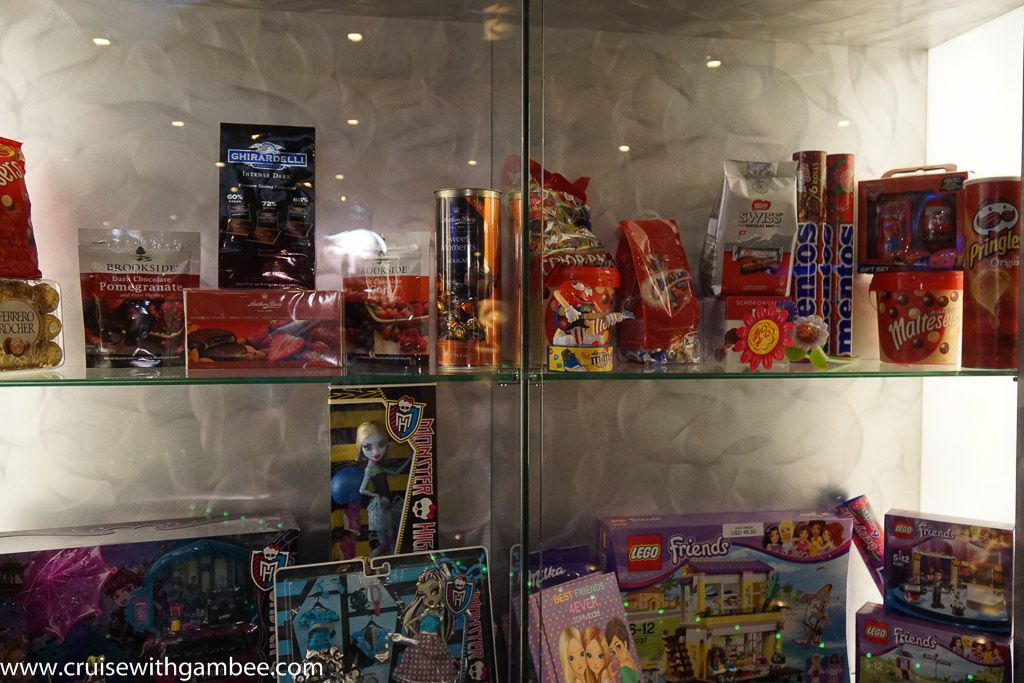 Yum Yum!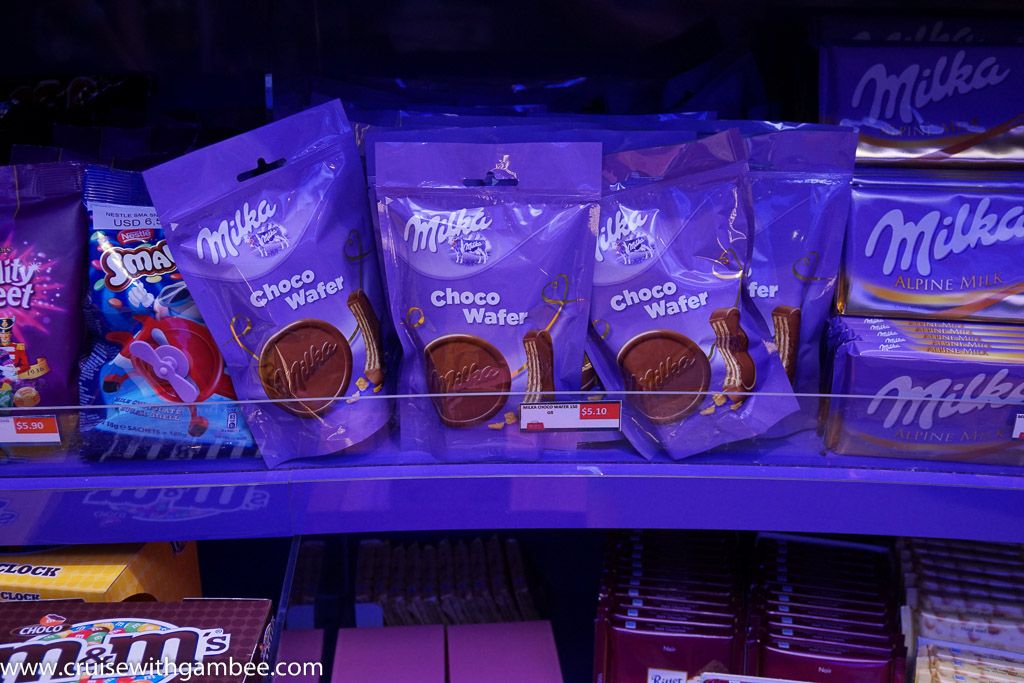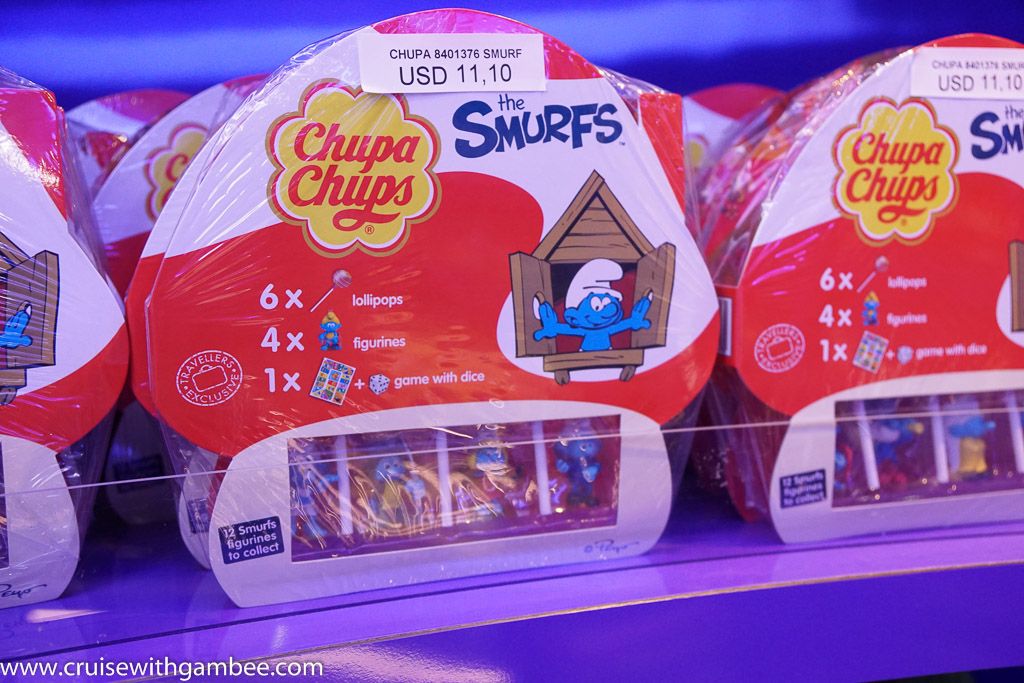 Then we stopped for a drink, we all needed it!
I took a few more pictures of more drink menus.
Once we go to the bowling lanes, we noticed that they where out of service. They had tangled and the staff had no idea when they were going to fix it.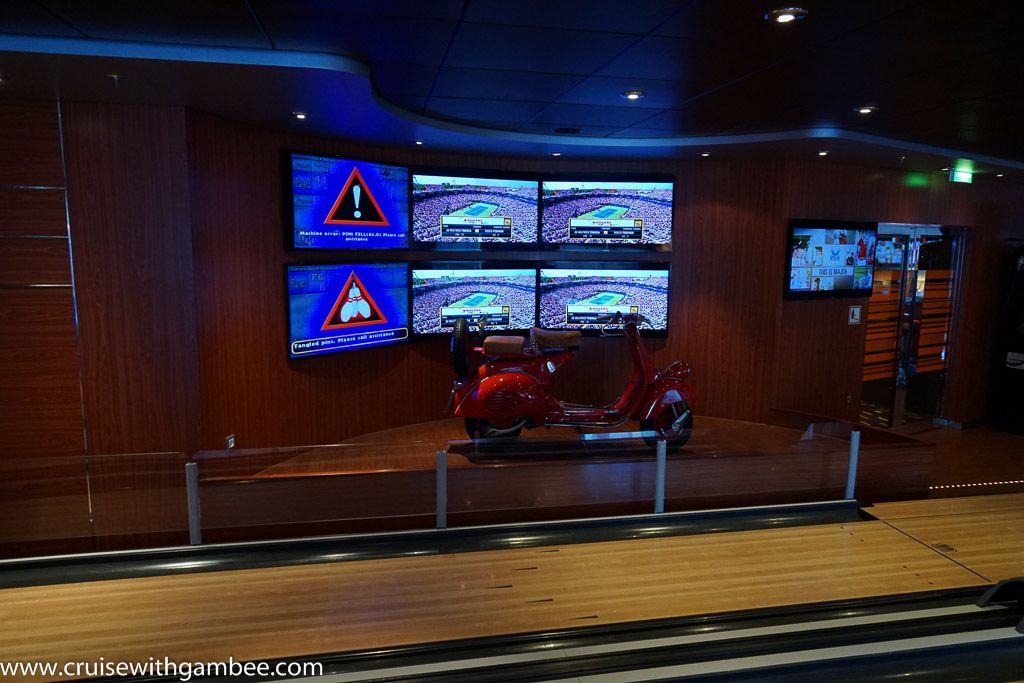 Here is the sports bar menu.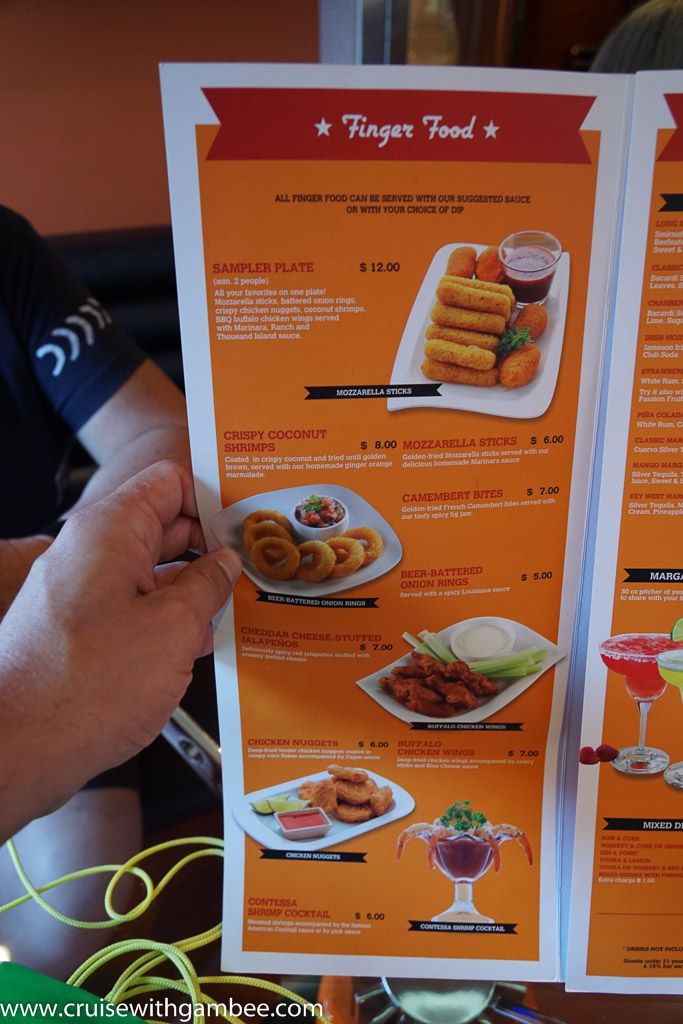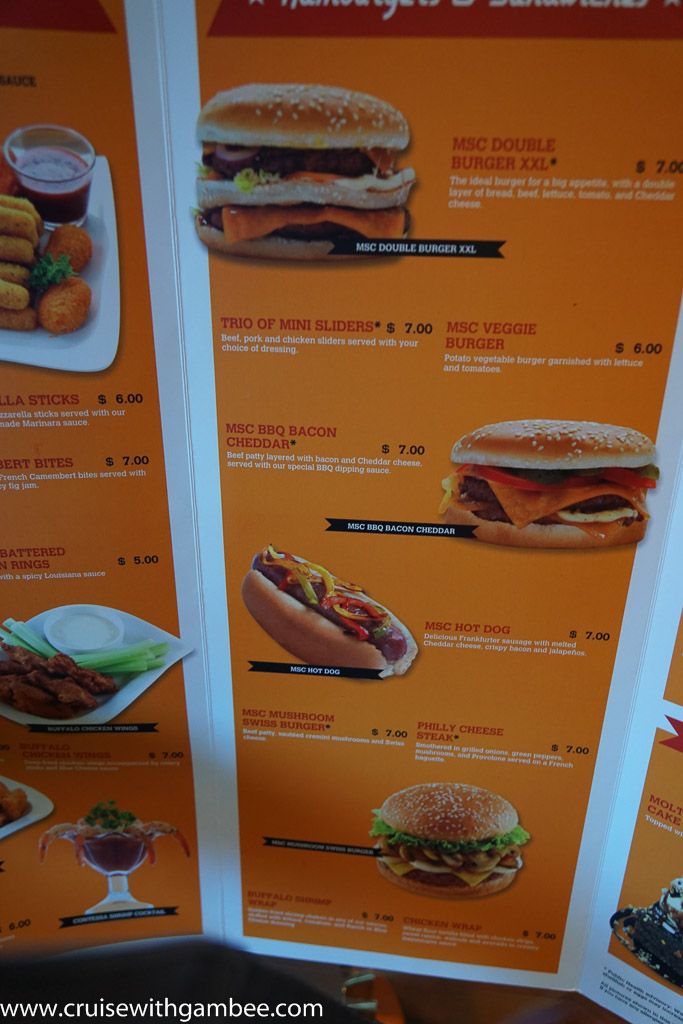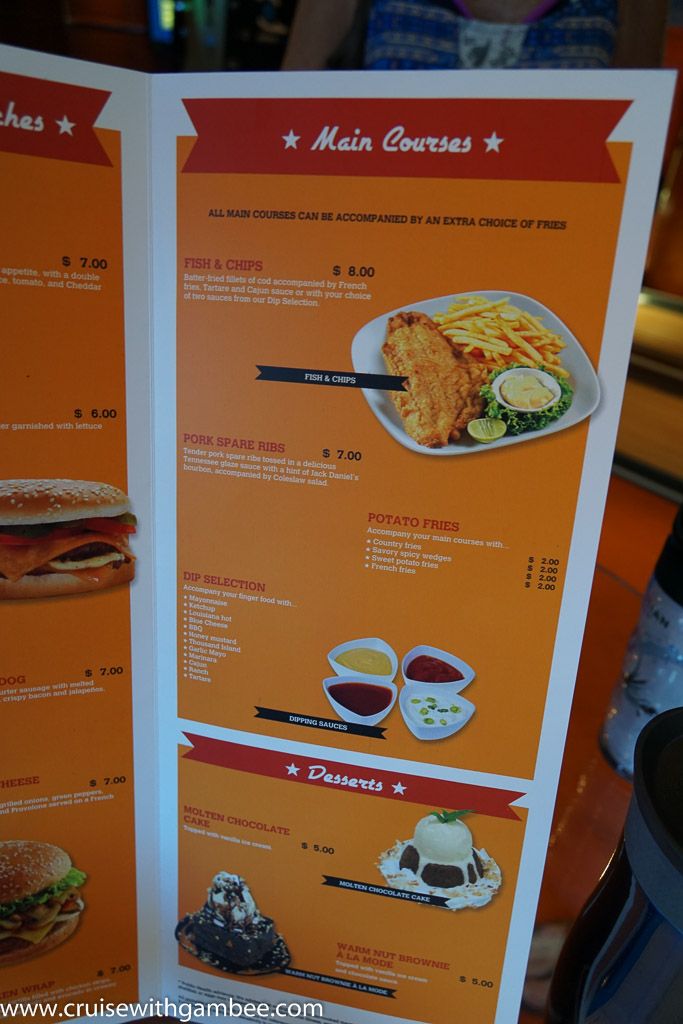 Not much action going on there. I imagine that it is really busy at night when they have games going on.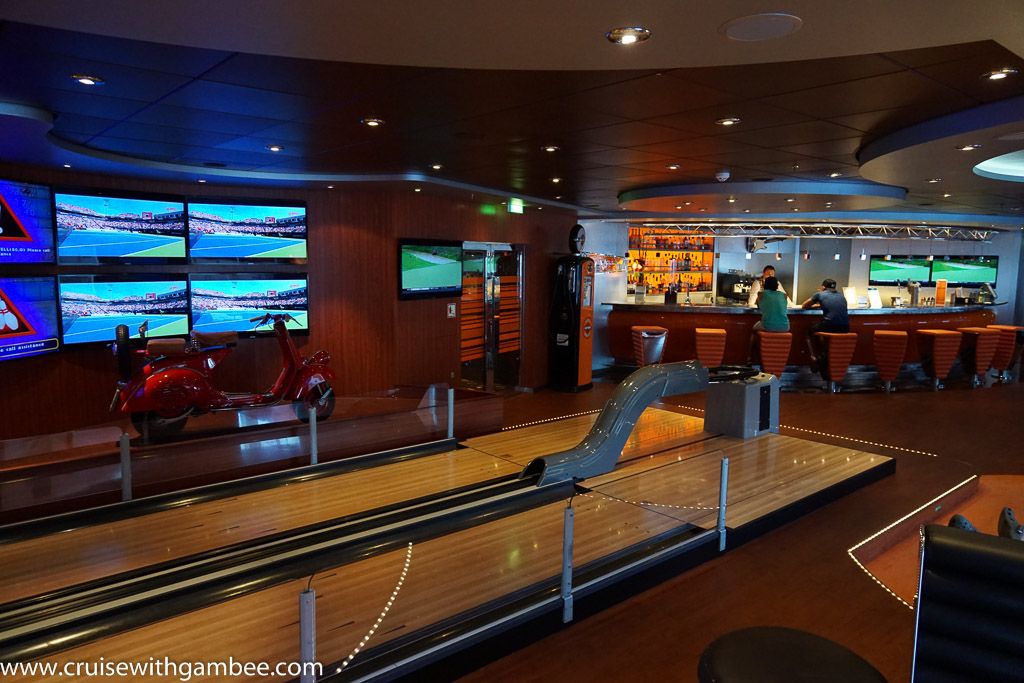 You can see there that screen say out of service.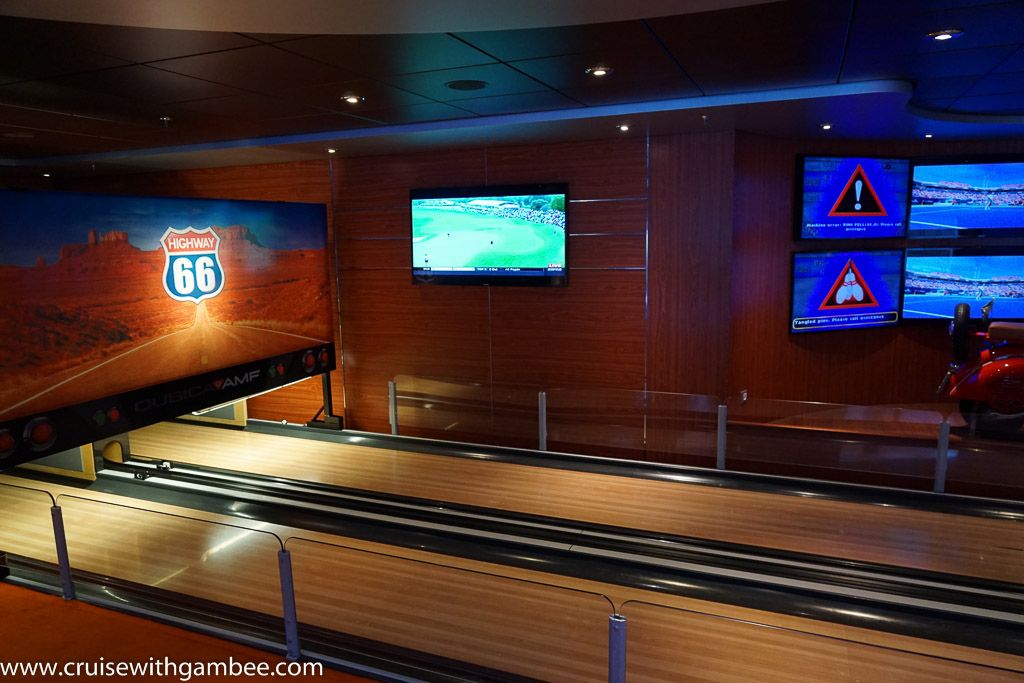 So with the MSC Divina bowling broken, we decided to check out the formula one simulator that my uncle was dying to try.
Here is the MSC Divina disco, my uncle went there on one night and he said that it was only a few kids in the dance floor.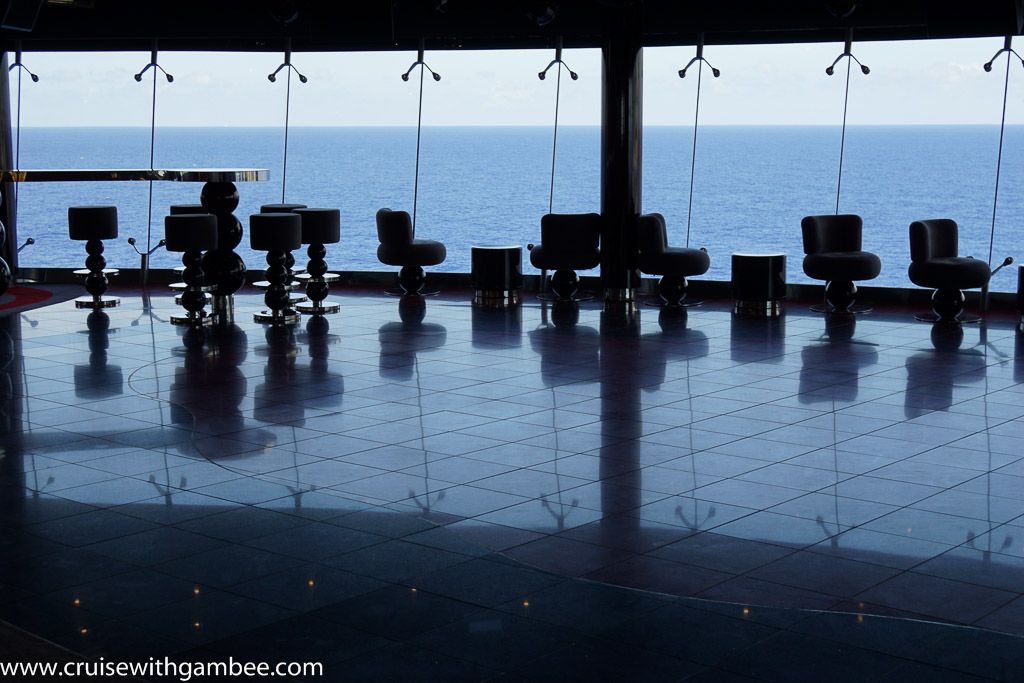 And here is Galaxy specialty restaurant.
This area reminds me of the Viking crown on the Allure.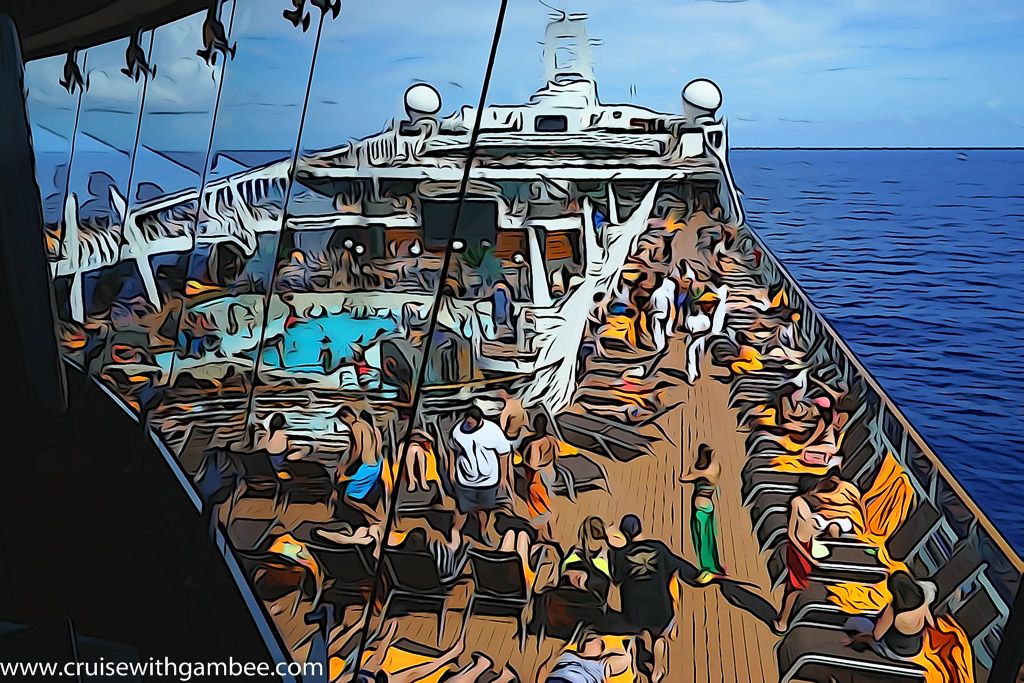 We got to the MSC Divina formula 1 simulator and my uncle was eager to try it out.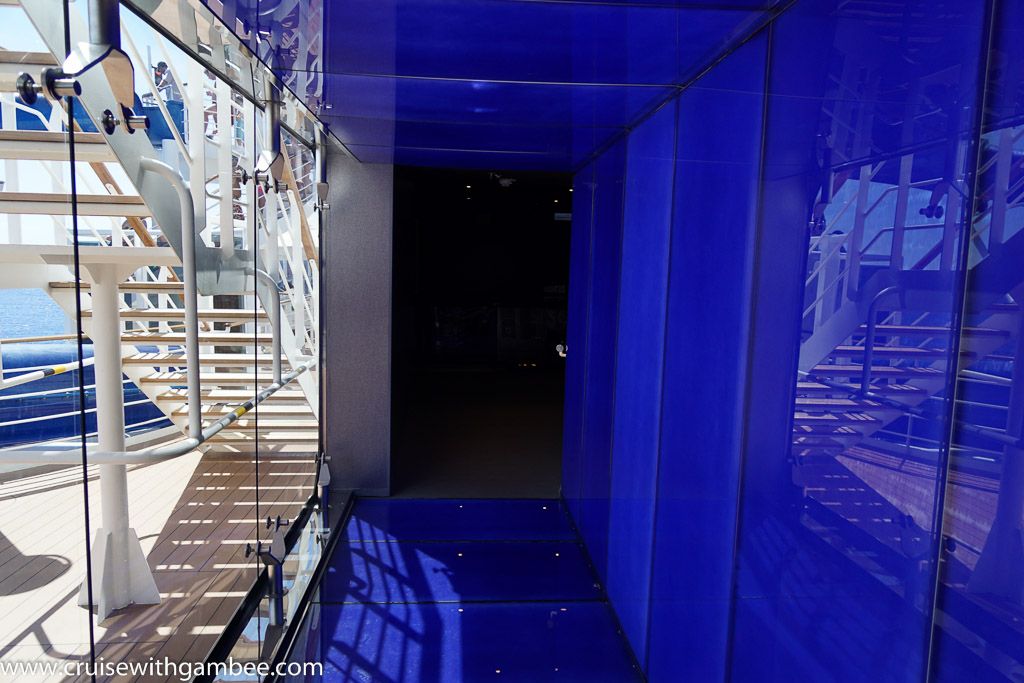 The bad news is the fact that it was broken as well. We spoke with the person in charge and he said that it was supposed to get fixed for the last sailing. I knew then that we would never see it working during our sailing. That was a total bust, he really just wanted to try out.
The XD Theater is also there and they offer a few movies. I never had a chance of trying it out, but from what I hear it is a neat experience although a tad short.
MSC Divina XD Theater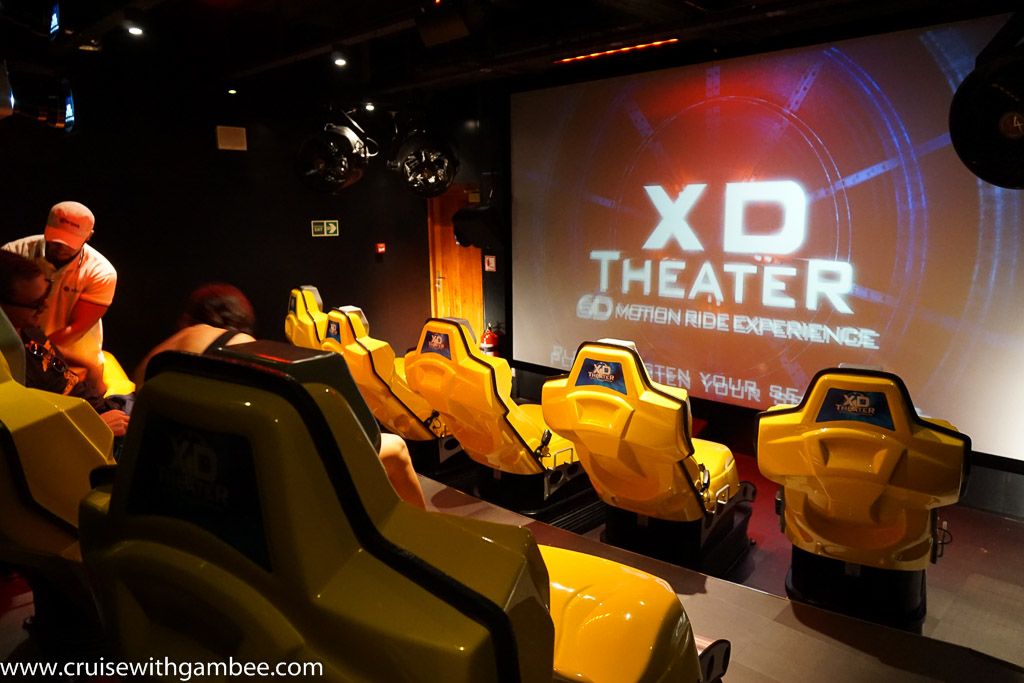 We chose to head out and go get some Jacuzzi time. My uncle suggested we try some of the forward ones, because they had a partial roof and maybe they would get some shade.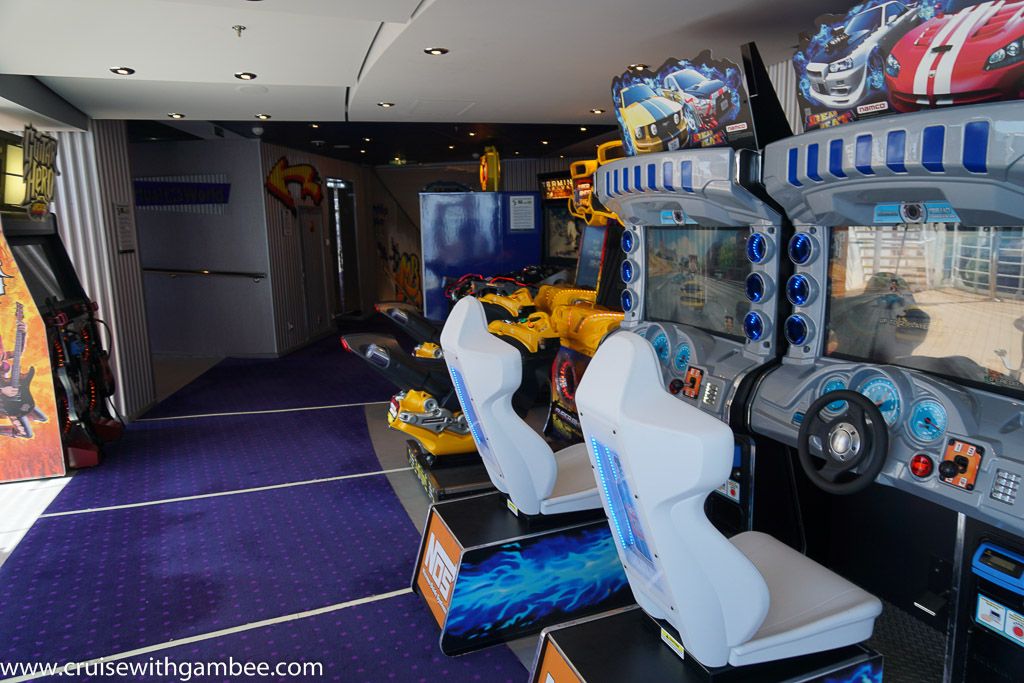 My uncle was doing some silly poses and I decided to join in.
I am not entirely sure what this one was all about. I think it was meant to be like diving into the ocean?
Leaning on the slanted glass.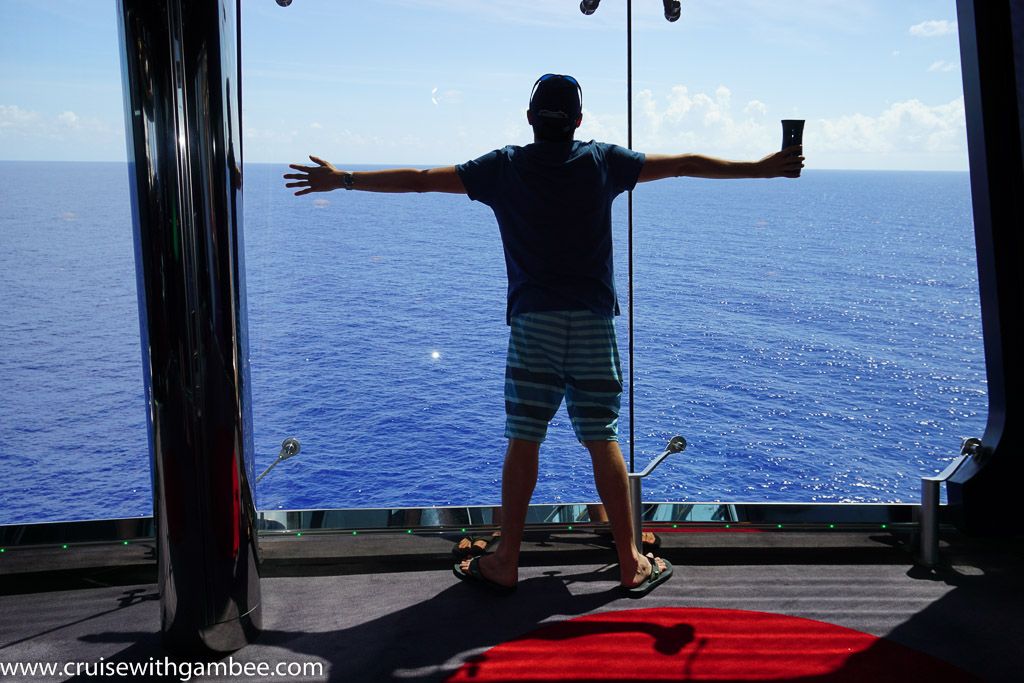 We saw how packed the Jacuzzis in the main pool were, my initial thought was that the forward ones would be just as bad. But he insisted that there were few people in there when he went there, so we agreed to go check it out.
The main pool is very nice. The water looks much cleaner than the one on the Breeze. I wonder if the Breeze was emptying their pools every night.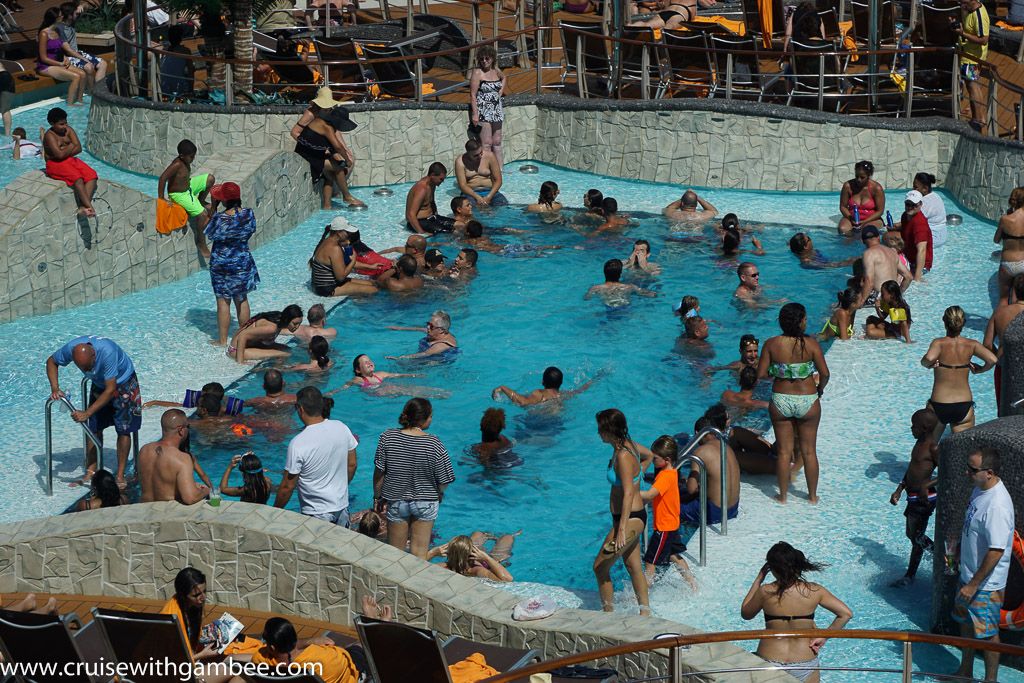 The problem with that stage is that there is no place in-front to place chairs and loungers. There is no way to have an engaged audience this way. Hopefully their new ships will be built with this in mind.
You can see there the people sitting on the little ledge, which by the way gets hot as hell!
Remember that I told you about the ice cream machine not working properly.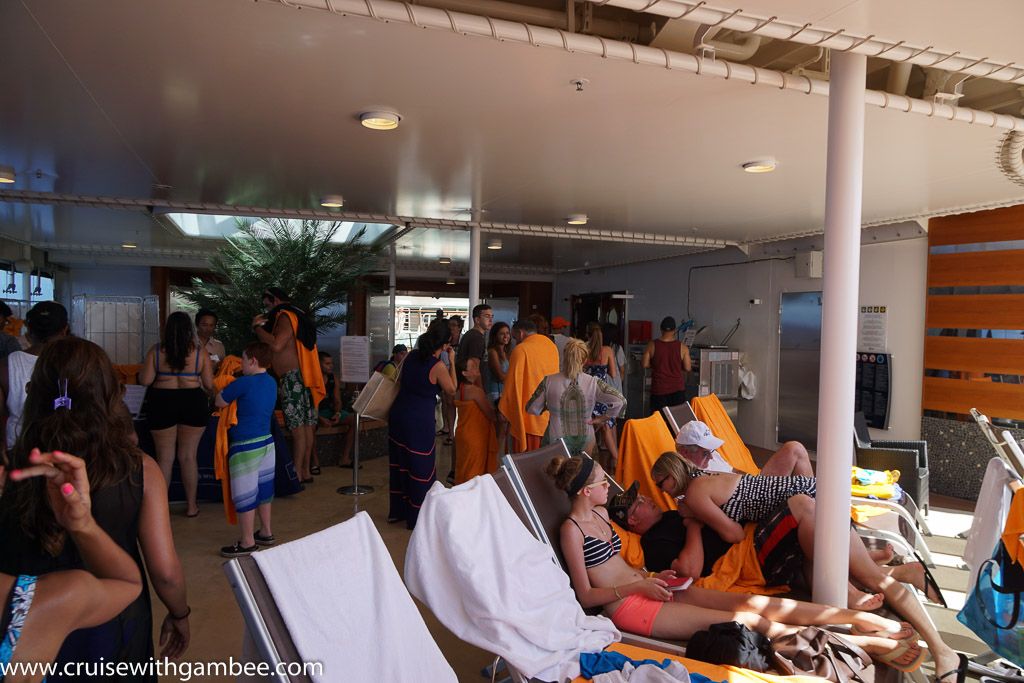 The crew member was there trying to fix the machine.
When we got there, we noticed that the area was slightly less crowded than the main pool. But the shaded area was already taken up and the other two Jacuzzis were fully exposed to the sun. So we agreed to just go to our area that we knew would be less dense.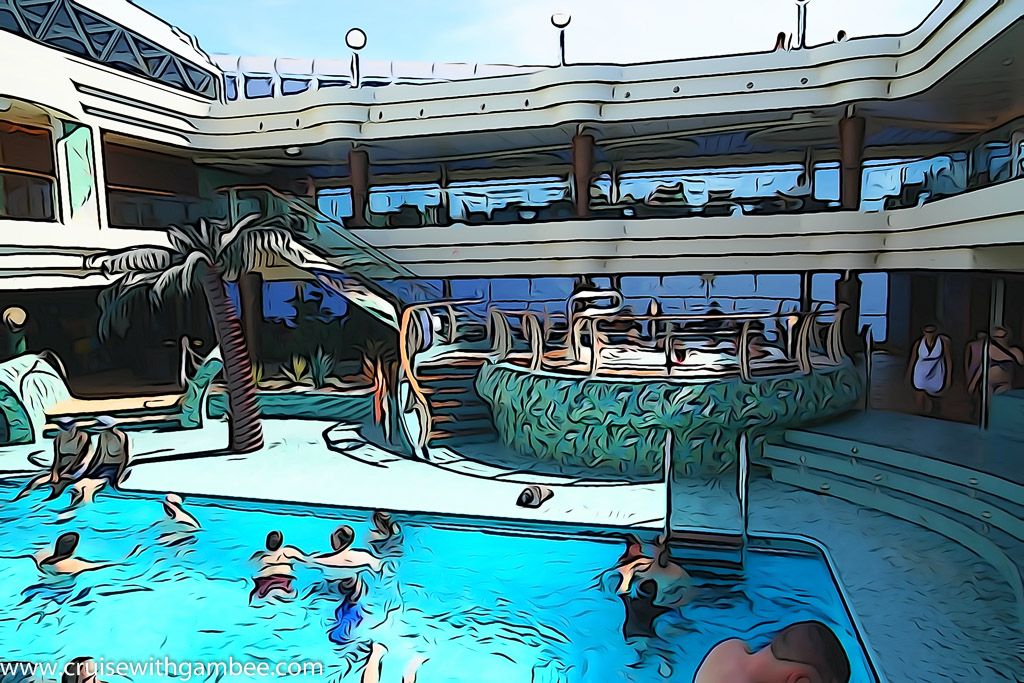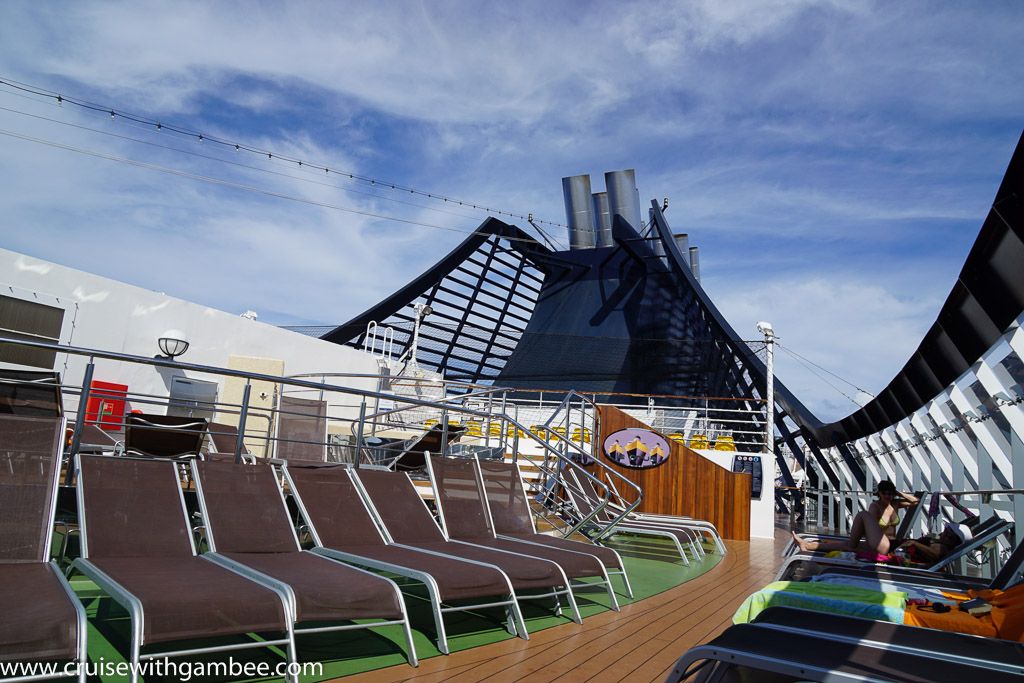 There was some swelling, but nothing major. I tried my best not to worry about it too much…
We must have stayed there for quite a while. The sun was very intense and bright. I had an idea to try to get some shade for my mom. It worked kind of good. The only problem is that this only works when the sun is at a steep angle, but at the time it did the job. A crew member walked once through there and continued walking without telling us otherwise.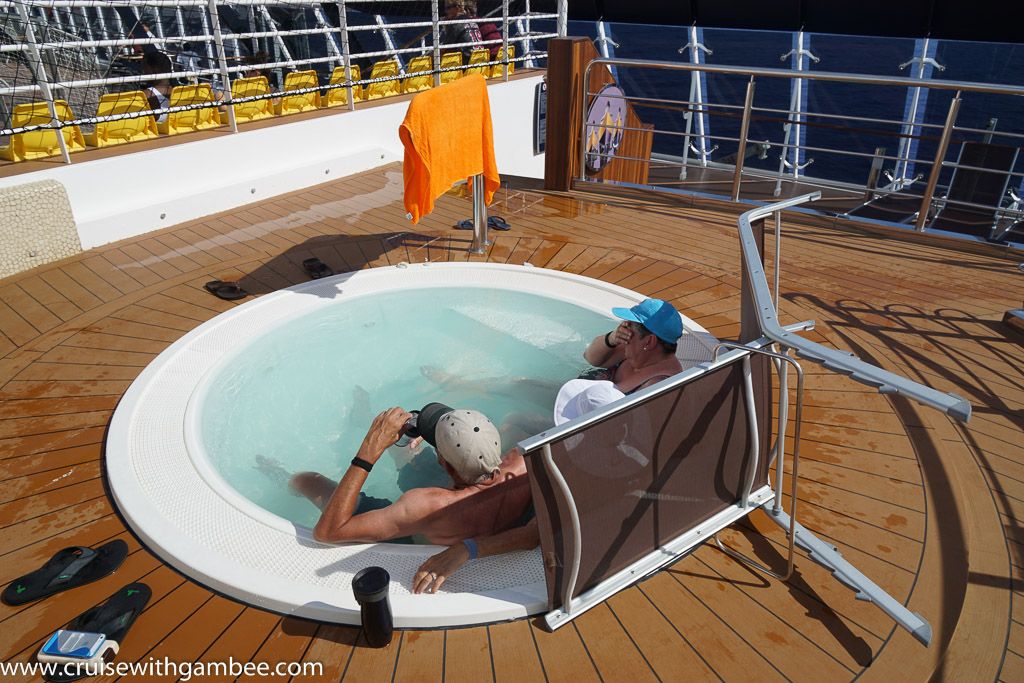 We relaxed there for sometime and then went to the room to get ready for the show.
I have been wanting to talk about this since the beginning, but I had to wait for the pictures. So you all know how much I love the navigation channel that shows you the maps. Well on MSC Divina that channel is nowhere near as much fun as all the other cruise lines. The main problem is that in order for them to get to the maps, they show you the entire top officer and managers line up.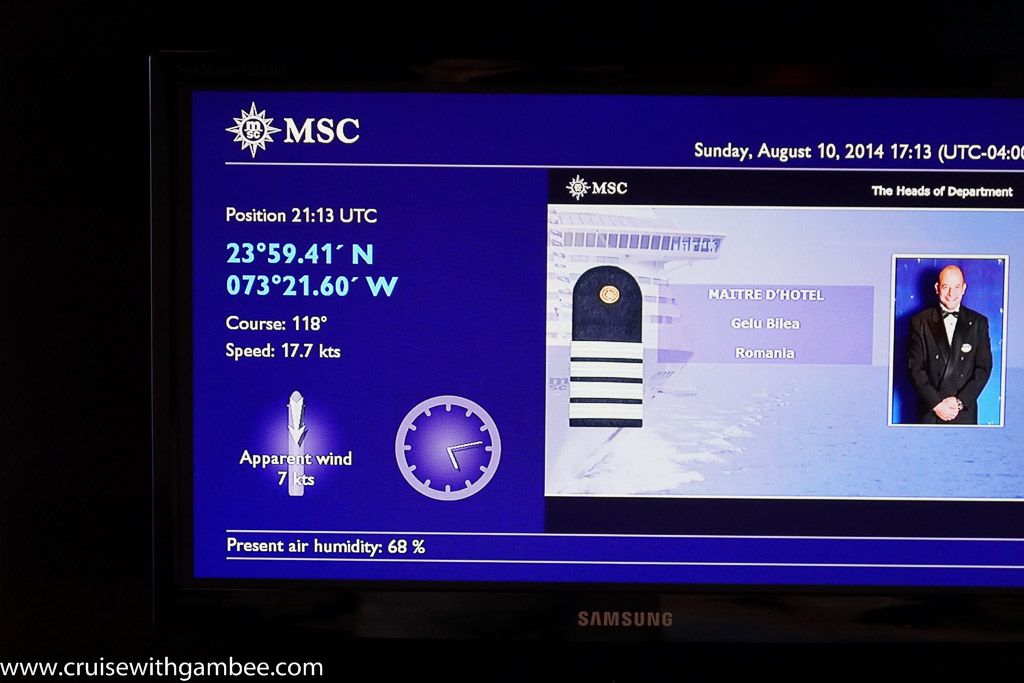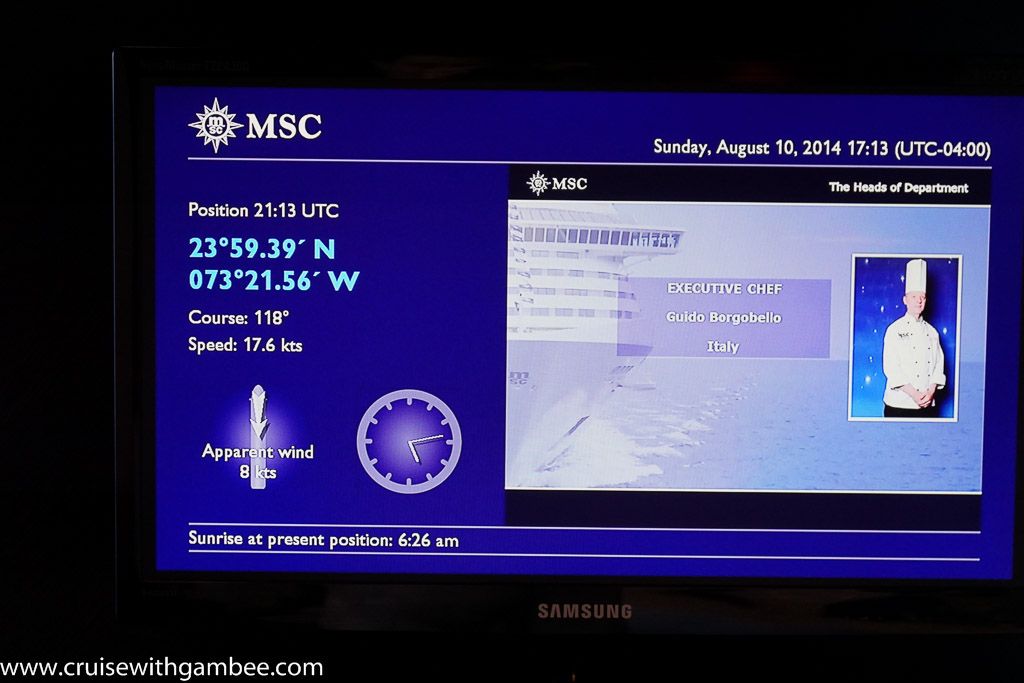 This lasts forever! Trust me, and it is the same people over and over again. And then when it finally gets to the maps they only last less than a 1 minute. Every single time I tuned into the channel I landed in the section I did not want to see.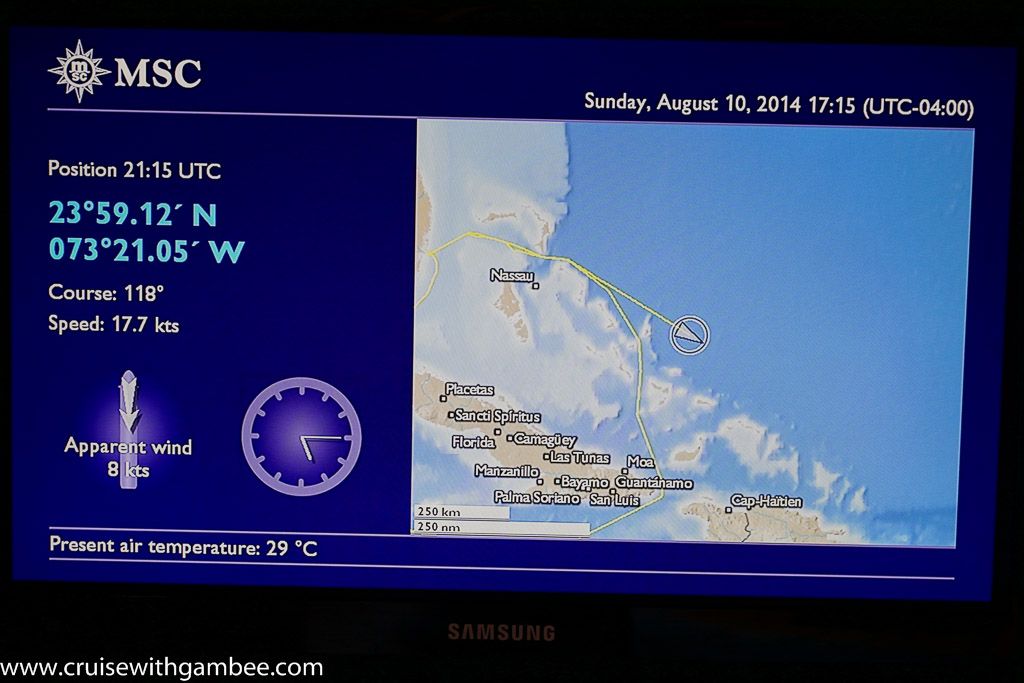 Much like all the other new vessels this one also has the light card slot. The good news is that they all only need something in there. I simply got a piece of carton and placed it in there. But if you want, you can also use the sign behind it.
We relaxed in my mom's room for a little while, and enjoyed the views.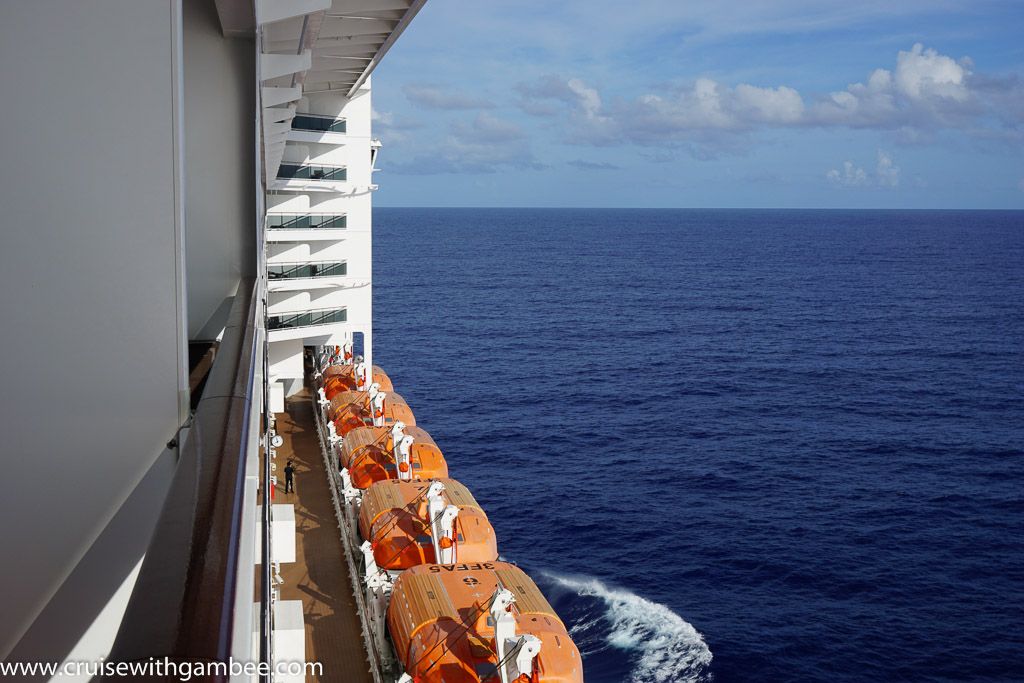 I was enjoying my drink and some light music, while they got ready.
There was a barge being towed in the distance.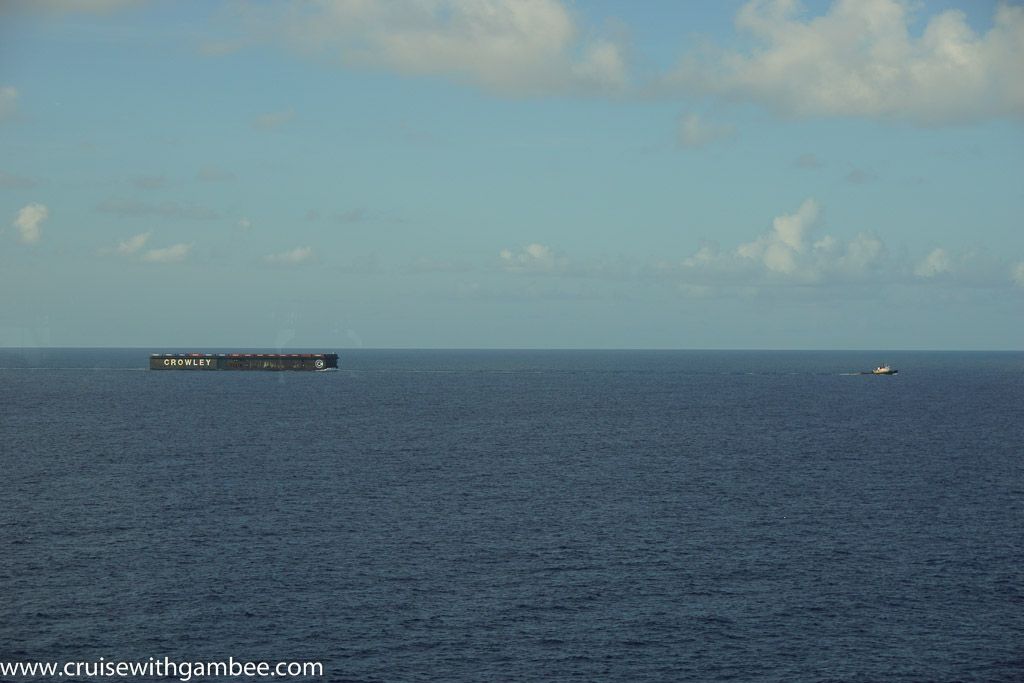 My uncle went out for a walk and brought back one burger. I think each time he went out he brought back something to eat from the buffet. I have a picture later on about what their fridge looked like by the end of the cruise, lol. It was ridiculous!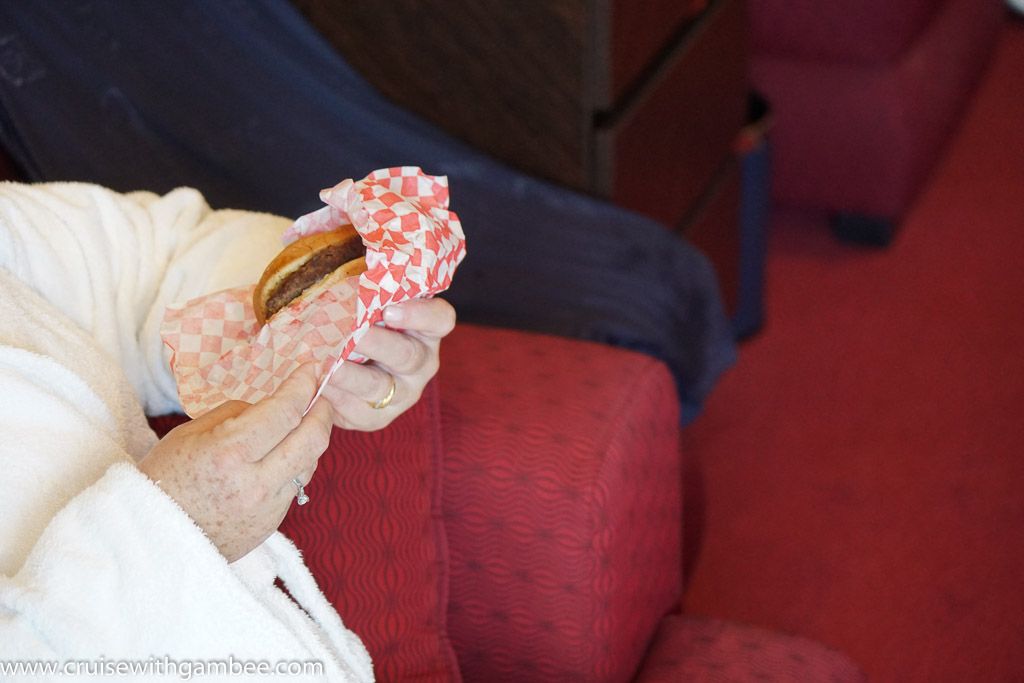 While they got ready for the show I decided to head to the buffet and get something to eat. The truth is that I was getting hungry.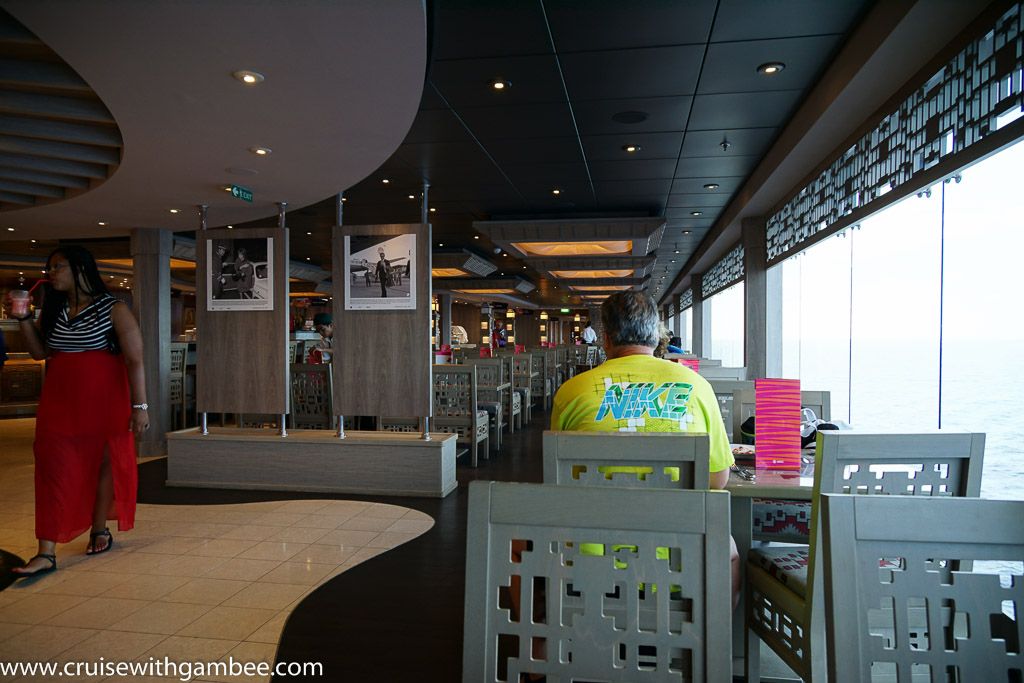 I am not a fan of rich sauce, and MSC Divina had lots of them. Most people seem to enjoy them, I am part of the minority here.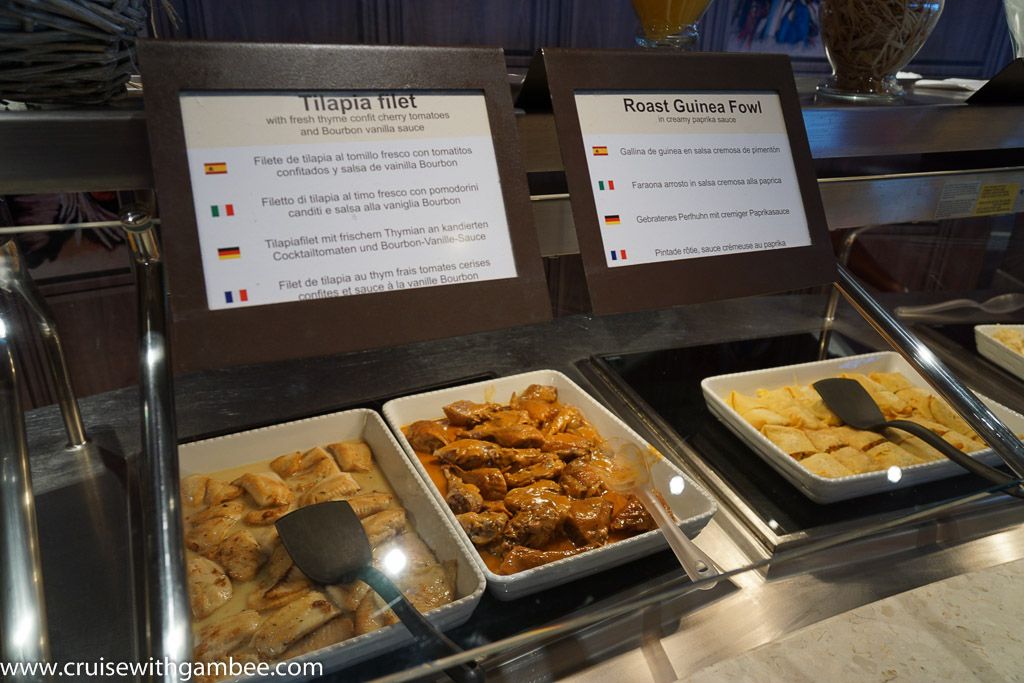 The crepes looked nice, not sure why I did not try them.
They had some nice items that day.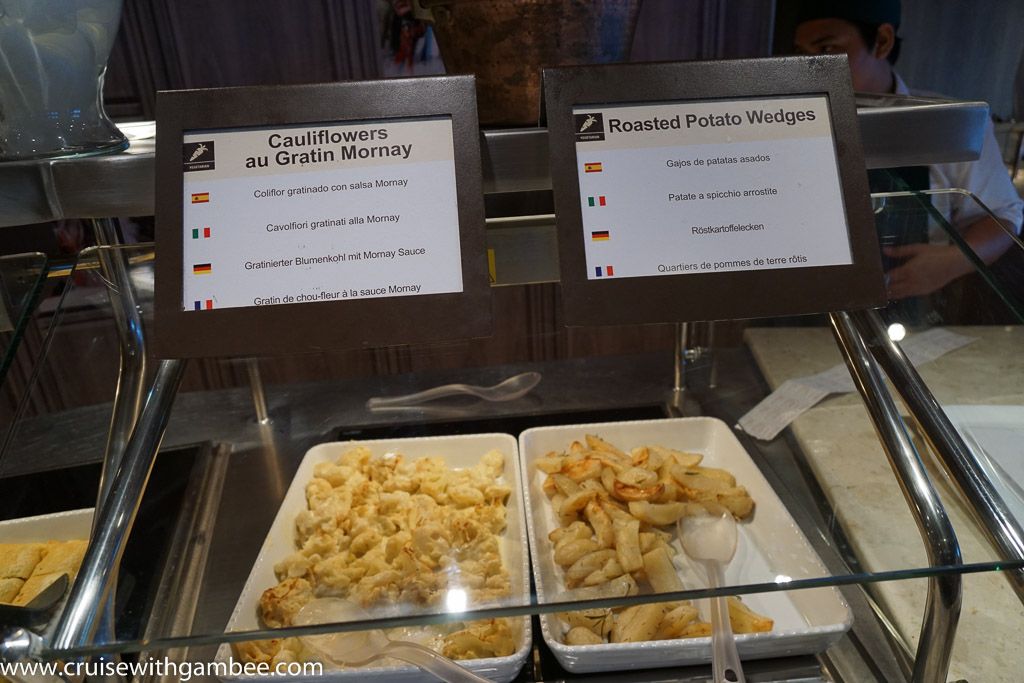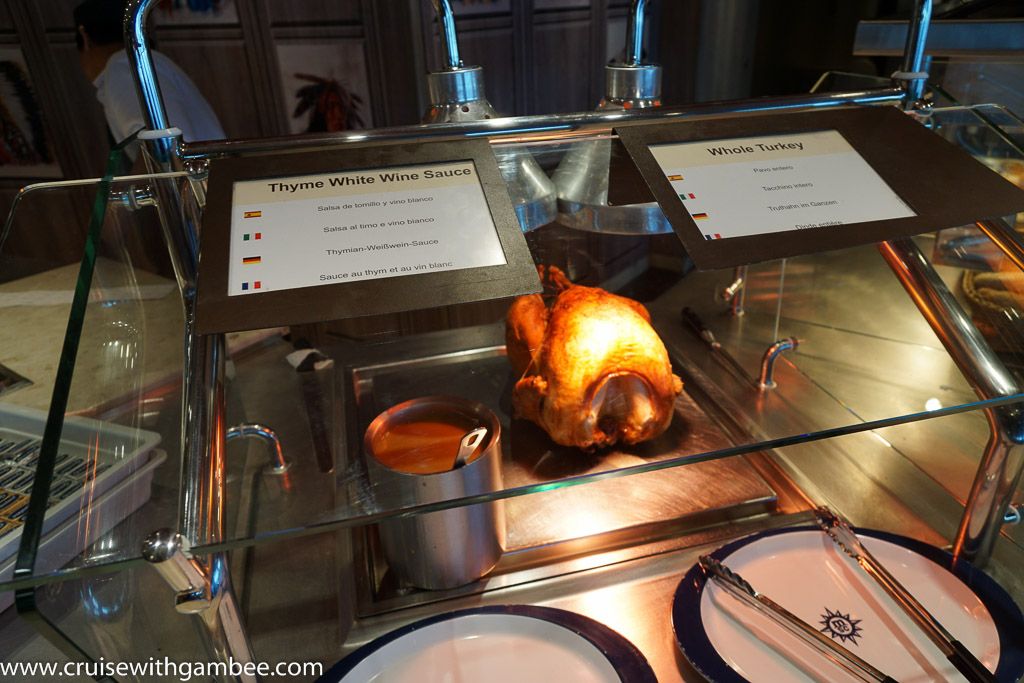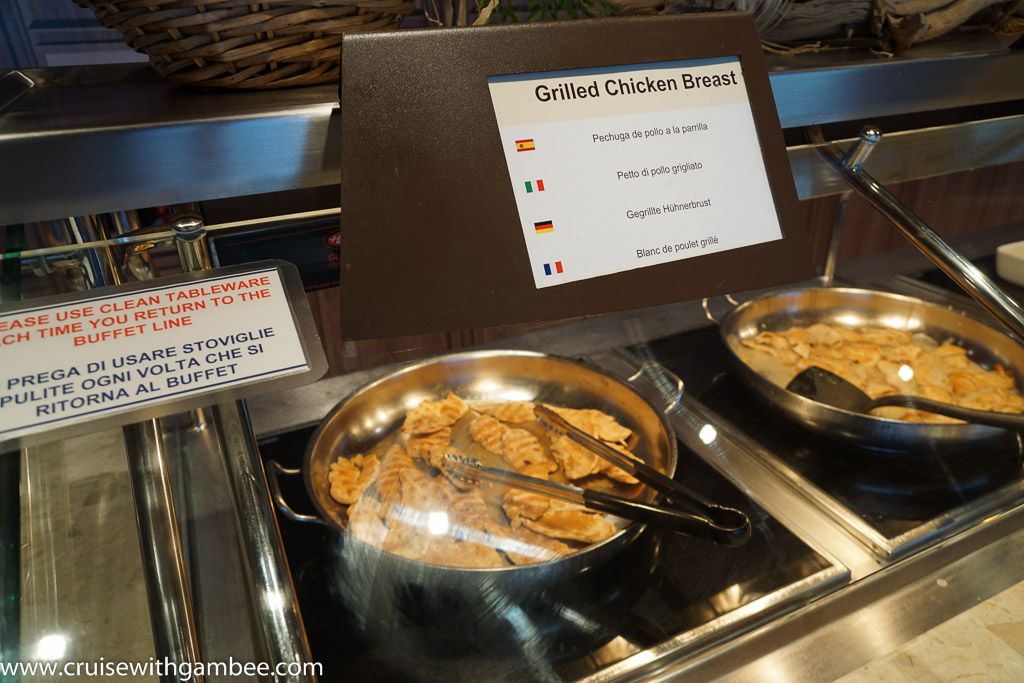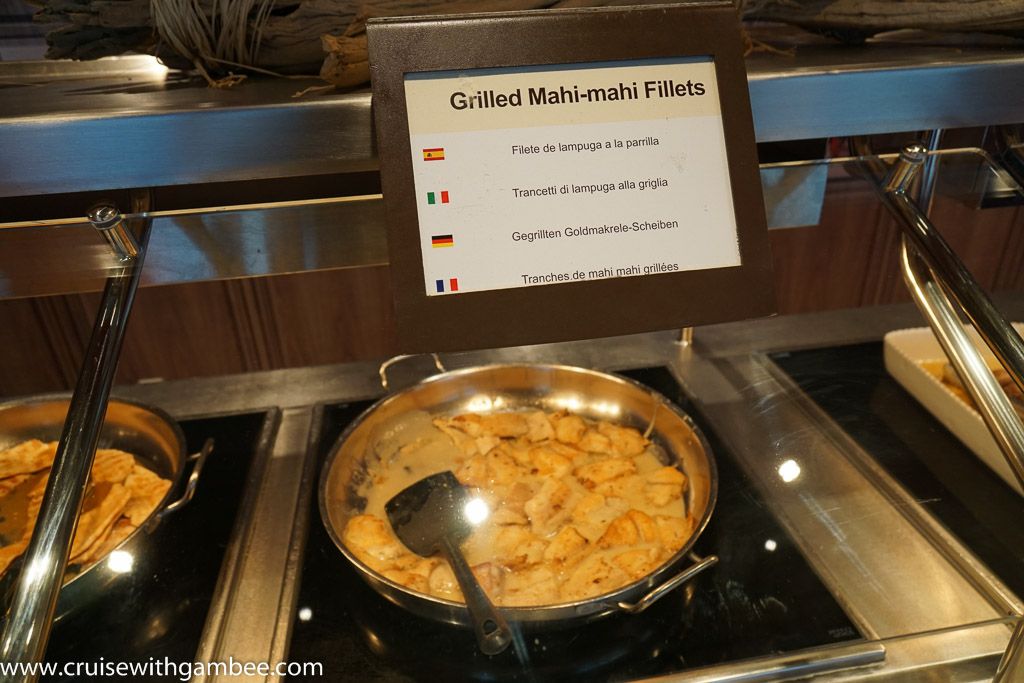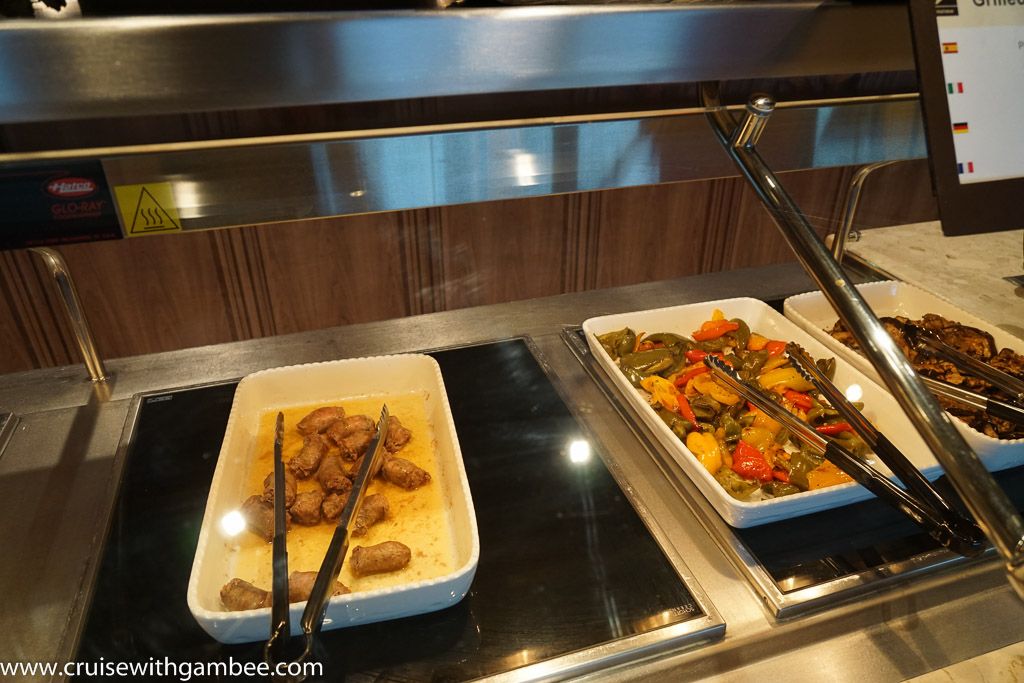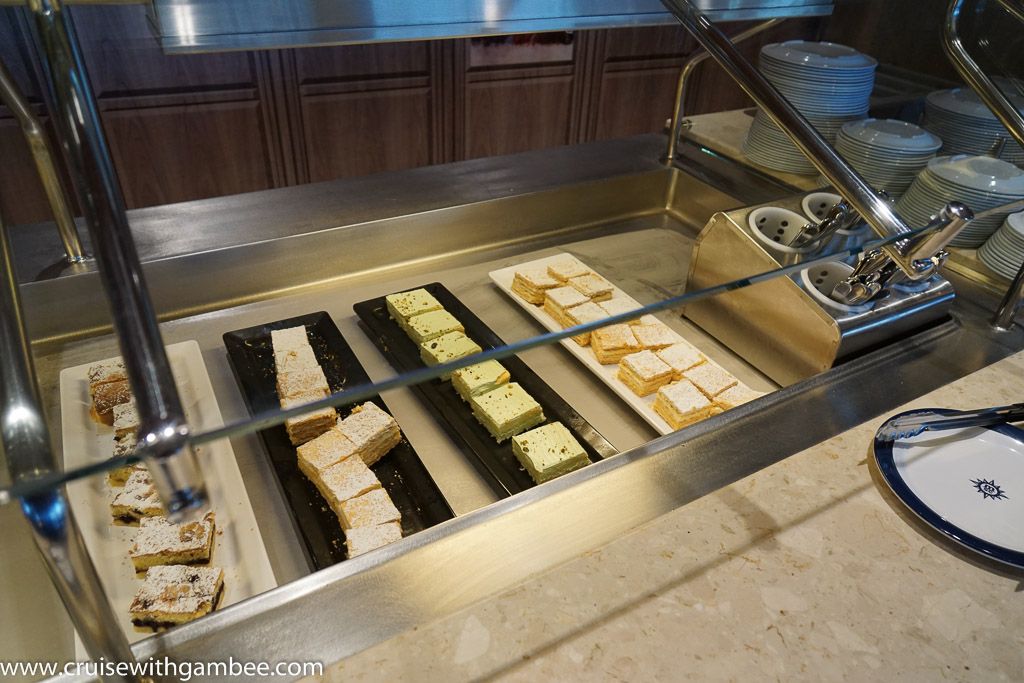 I ended up getting a couple of slices of pizza, both very good. The pizza aboard MSC Divina is just how love it! Crispy and thin.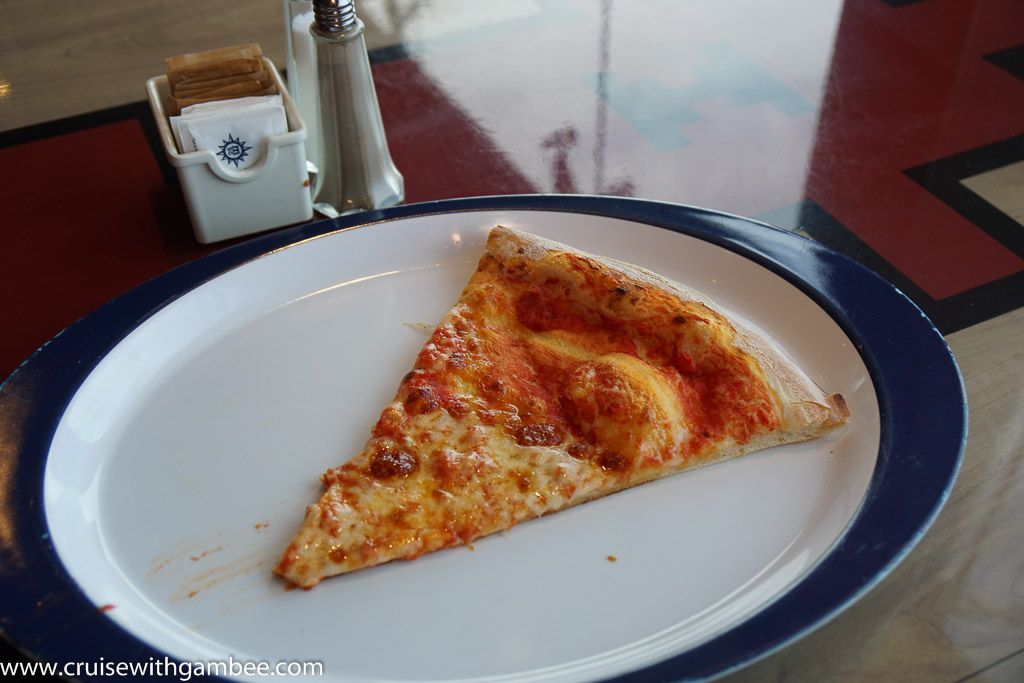 I also grabbed a couple of desserts for my mom and my aunt to take to the theater. That night was Gala night and I was severely underdressed, shorts and a t-shirt at the time. They had already got nice spots and were waiting for me.
I really dislike dressing up on vacations.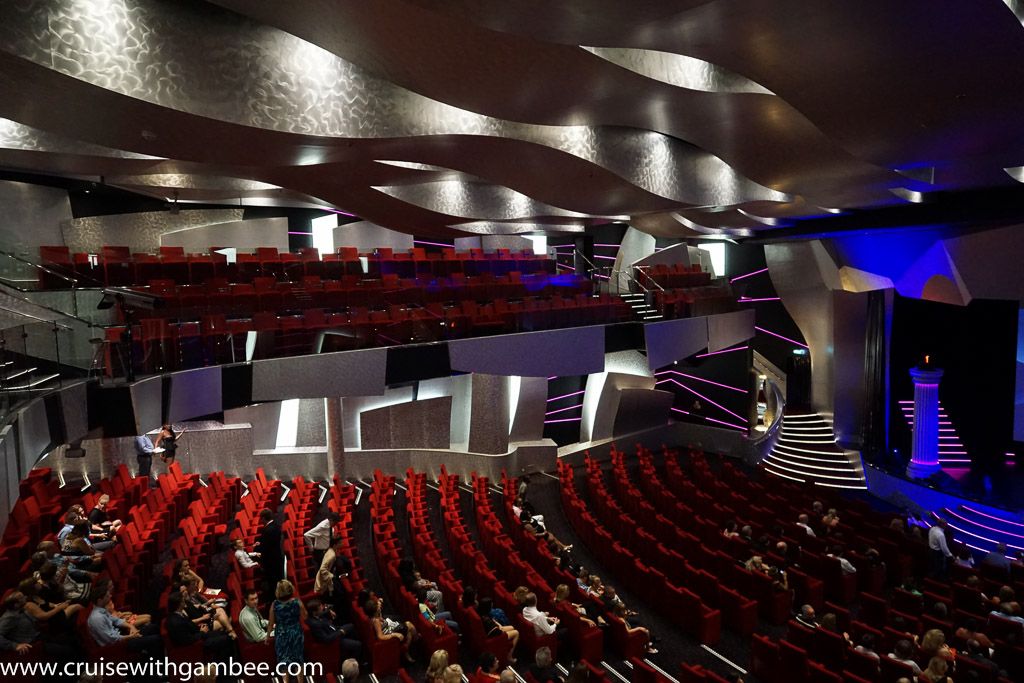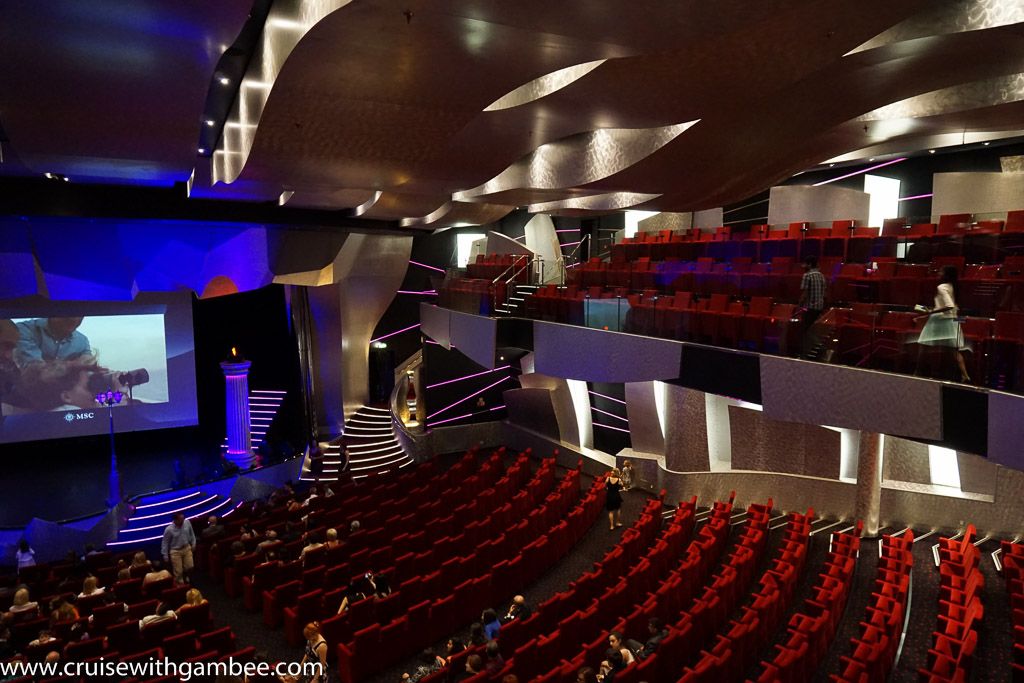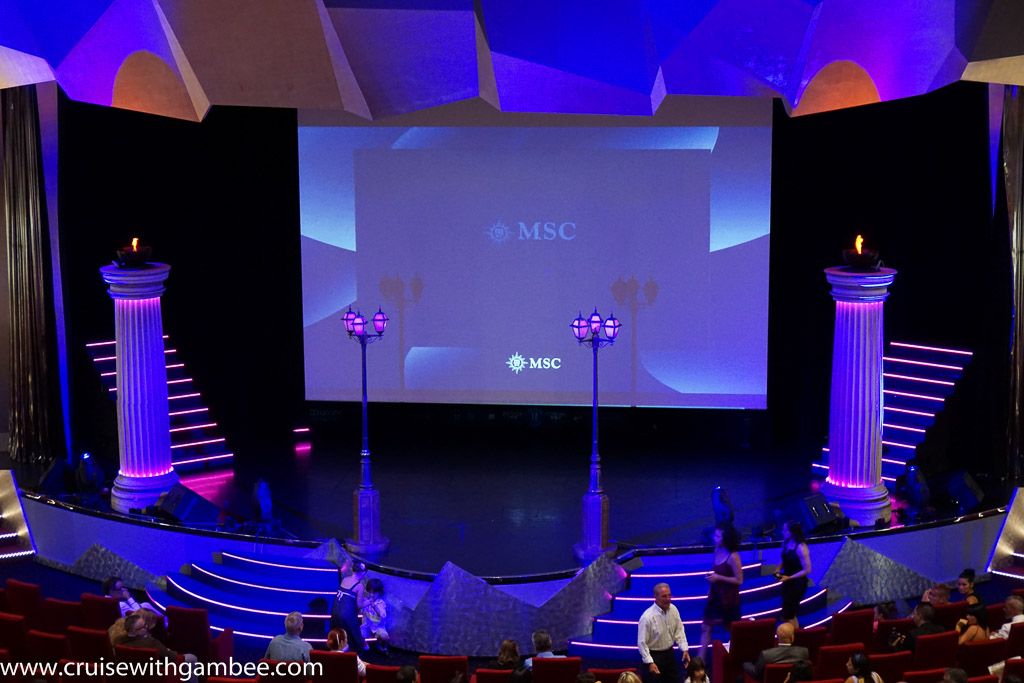 One of the things that I absolutely loved about Carnival was that the shows started exactly at the time that they were scheduled for. In MSC, well that is not the case. An introduction to a show can last 20 minutes.
First the cruise Director came on and started talking about basic information; silly jokes, weather, activities, sales, movies under the starts, etc. This lasted quite some time.
I am not sure If I have spoken about our CD yet.
Just when you thought that it was finally over, he started introducing a bunch of officers. Each officer walked from the entrance of the theater to the stage. This lasted even more, plus I already knew all the staff from the navigational channel. I know many of you like this kind of thing. But there are times and places to do this. That is why they have the meet the captain events and such. This was nothing more than a brief introduction of each person and then everyone clapped.
I could see people getting impatient and some even falling asleep.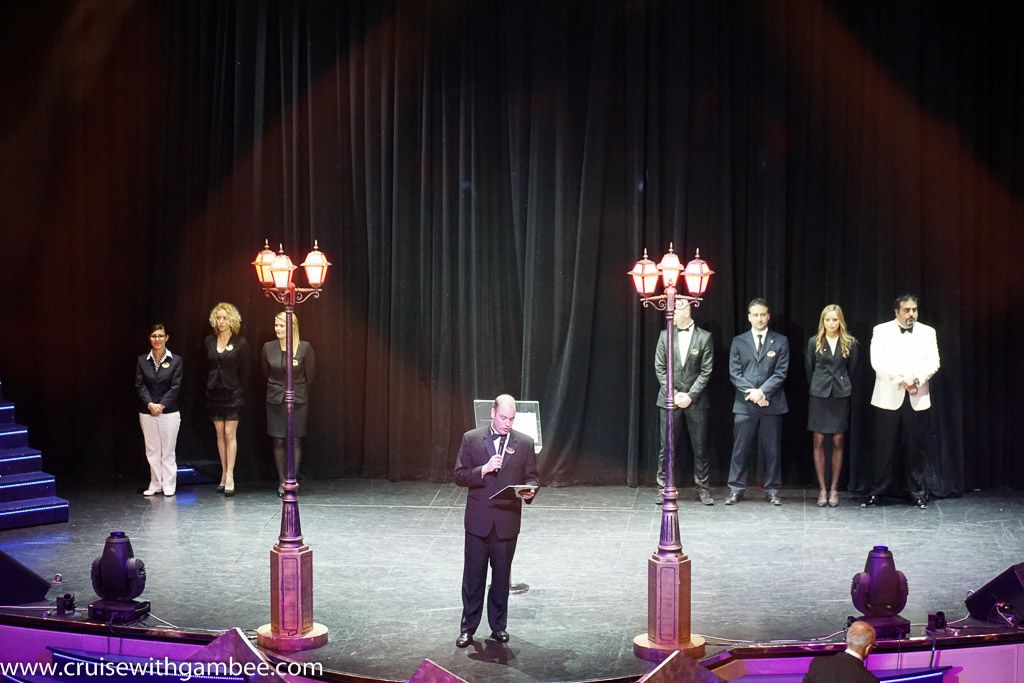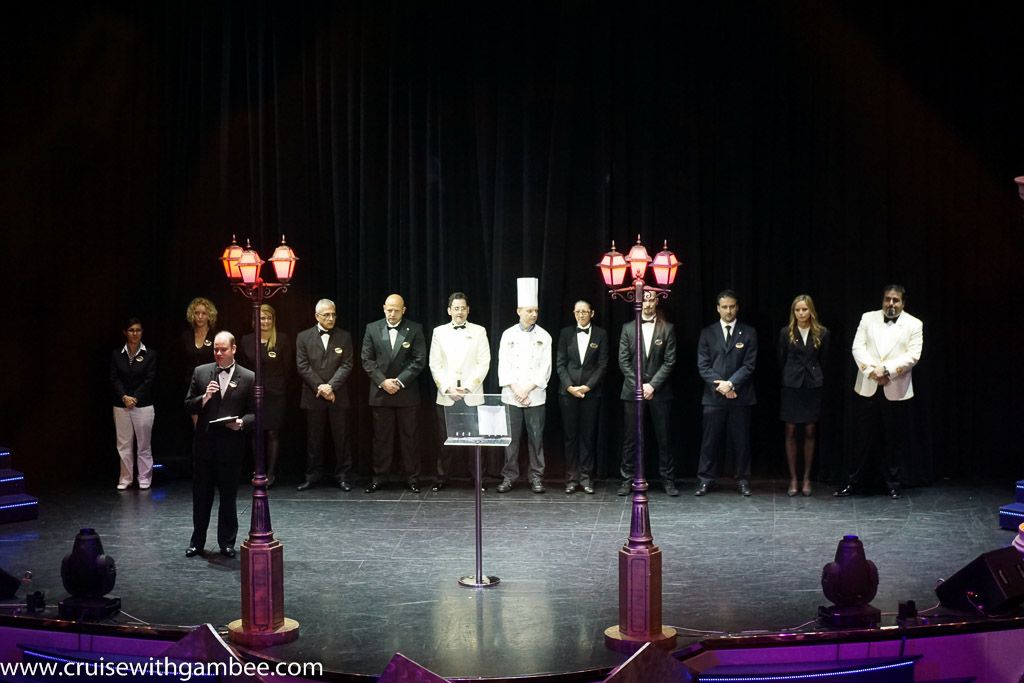 Then the captain came on. Oh my….. He said something along the lines of this "Welcome aboard MSC Divina, I hope you're having a wonderful time and enjoying your cruise. MSC strives to do its best, blah, blah, blah" IN 10 LANGUAGES!!!!!!!!!! So yeah, this took some time to do as well, while I admit that it was very impressive, it was nonetheless boring and not the reason I was there for.
Finally, after 25 minutes of this spectacle, they said goodbye and left the stage.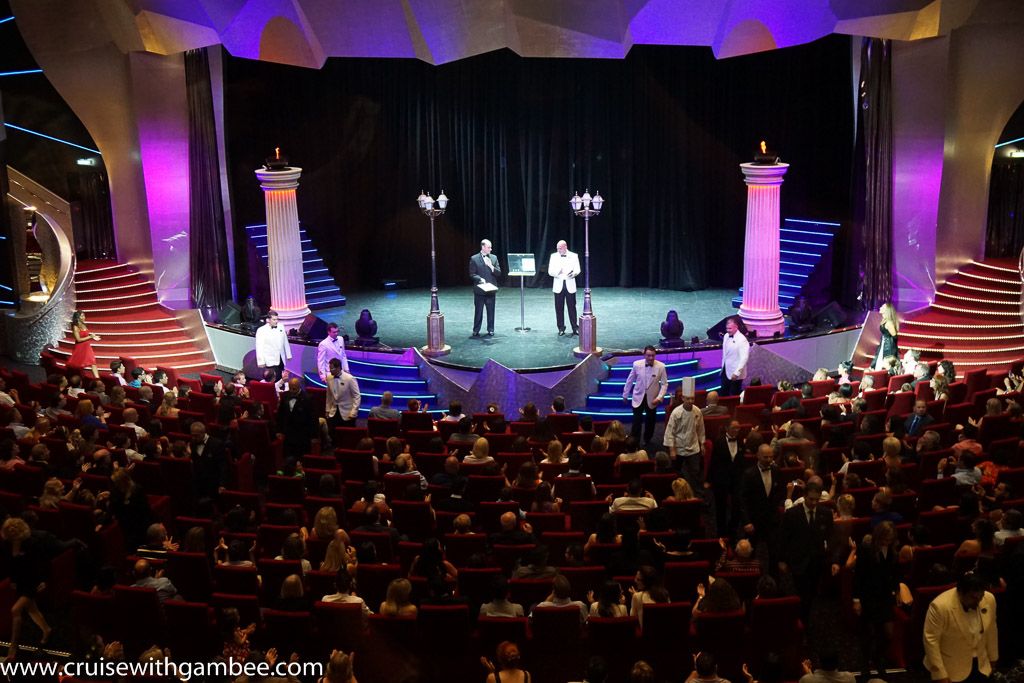 Unfortunately we had missed the show of the night before because we were enjoying sail away. You know I am not a big show kind of person, but I am a big Frank Sinatra fan, so I am sure I would had enjoyed that show.
Today's show was Alice in Wonderland. I have read in several reviews that the shows were like Cirque style and very good. About 3 minutes after the show started I was out of the theater. I told my mom I was going to get a drink and head to the room, to come looking for me there when they were done with the show.
Back in the room, I enjoyed the view a little first. Ughhhh that WALL!!!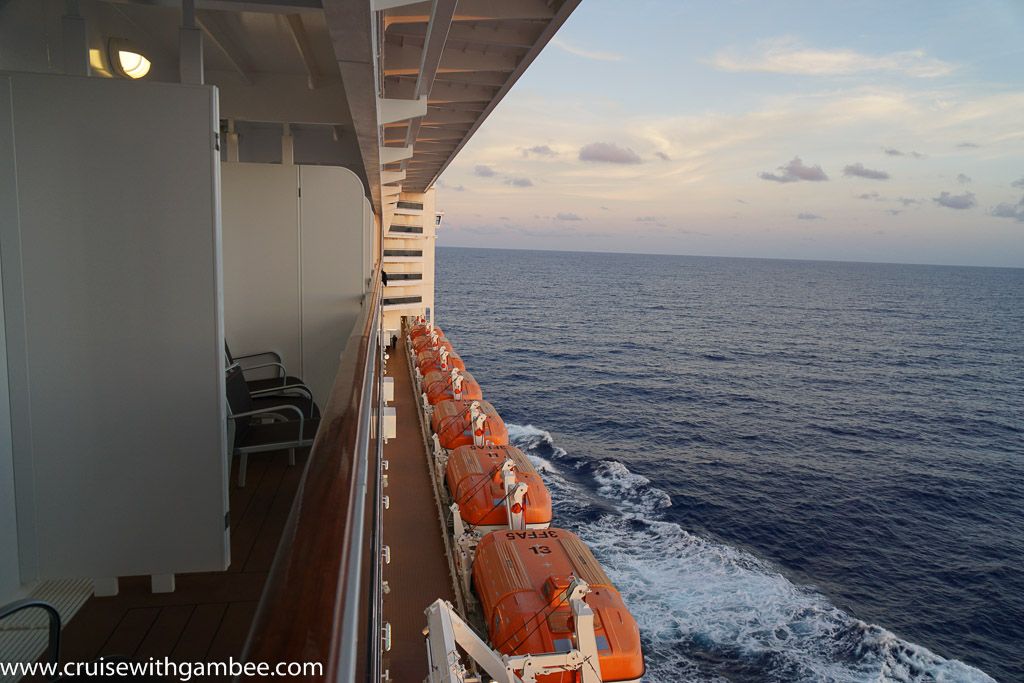 Then I went to bed and grabbed my computer. I had a few of the harry potter movies and I started watching Half Blood Prince. Which reminds me I never finished the movie.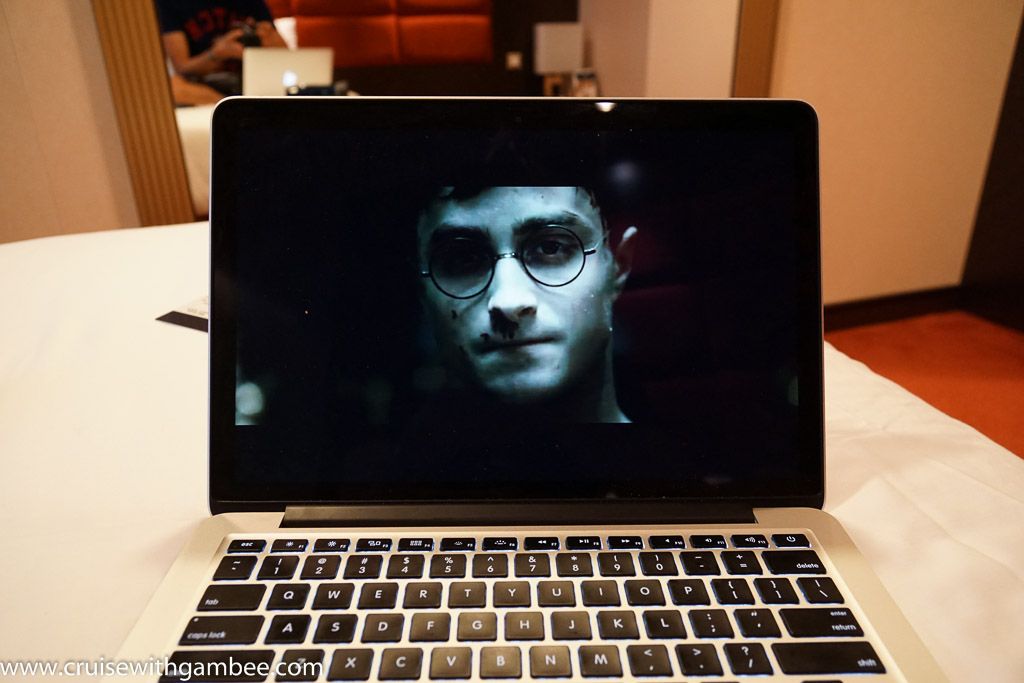 It wasn't long, maybe 5 more minutes and I heard a knock at the door. Apparently none of them had enjoyed the show either. They said it was slow and opera like, I really enjoyed the Alice in wonderland movies. But this show was just boring.
My uncle wanted to head to the aft pool to get some pictures of the sunset and I came with him.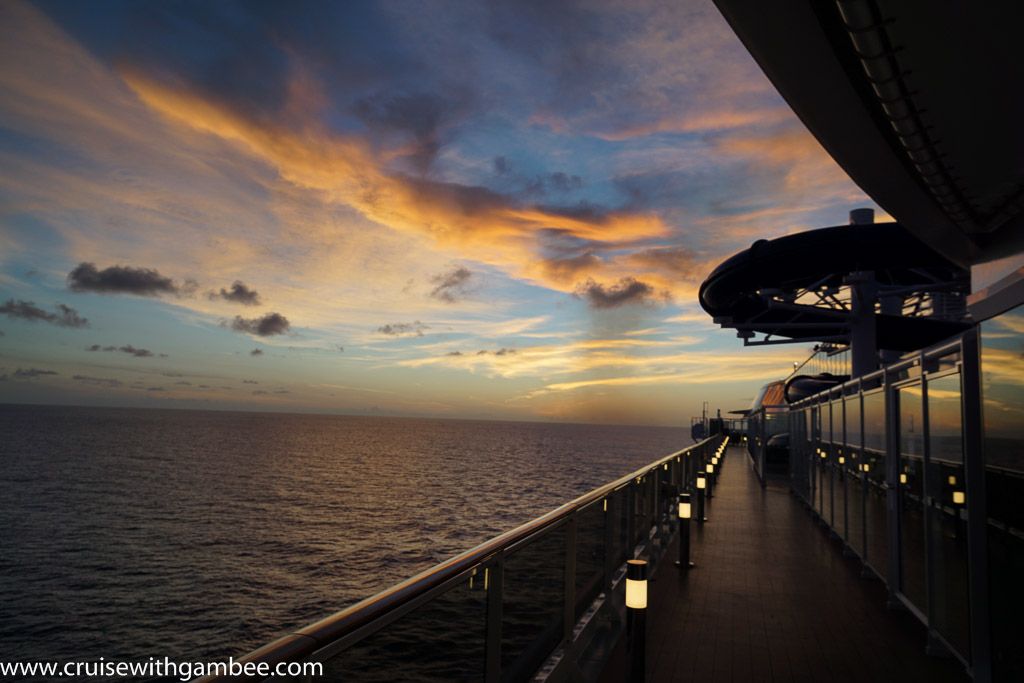 I will let the pictures do the talking now.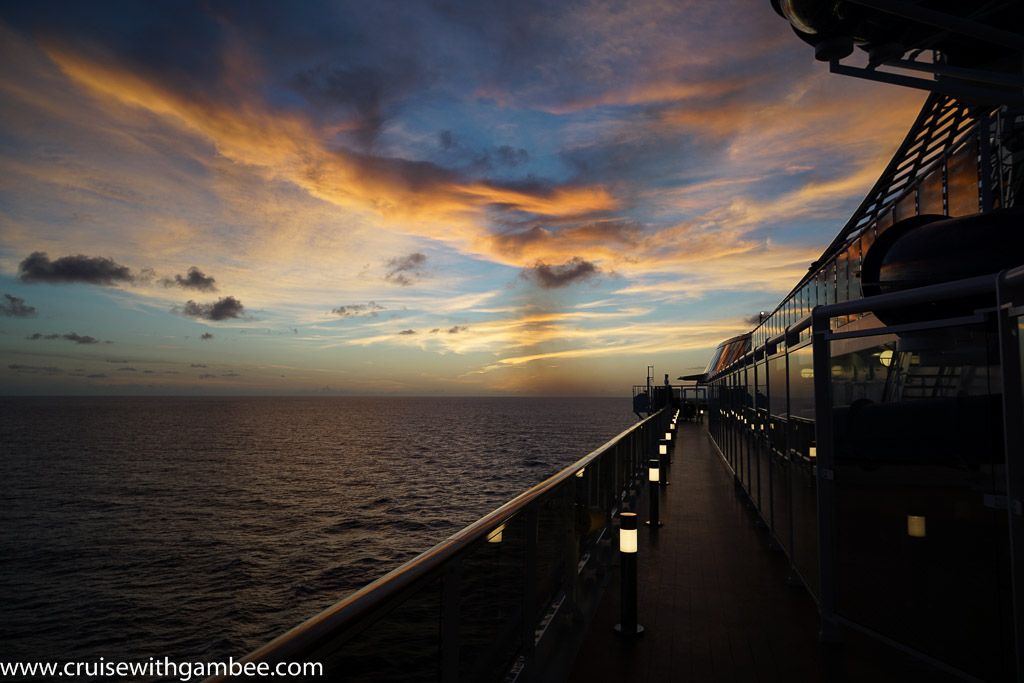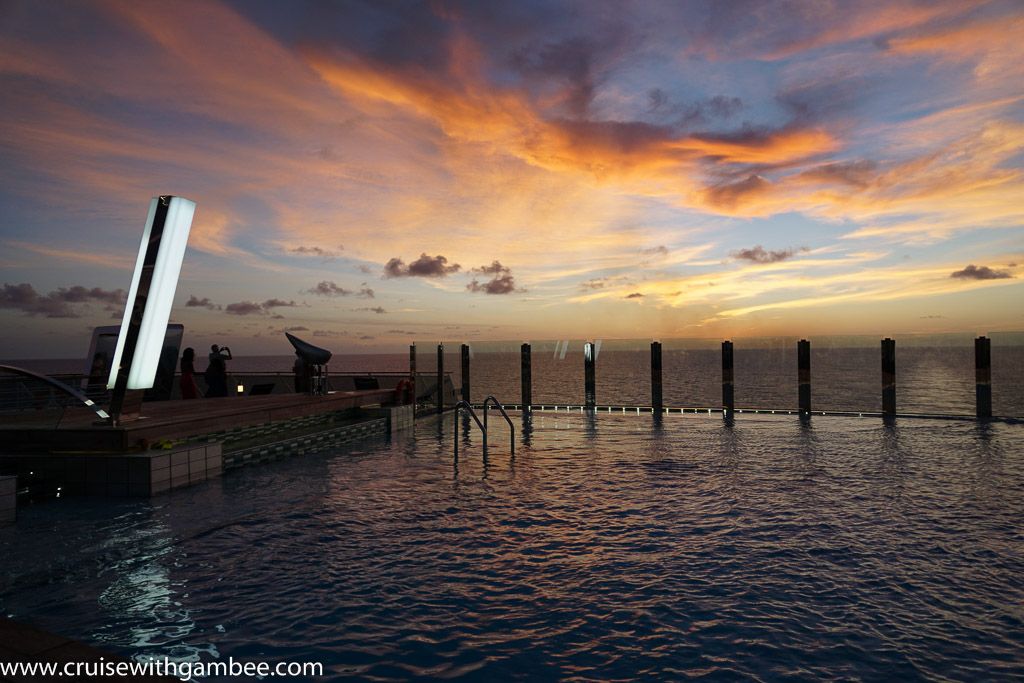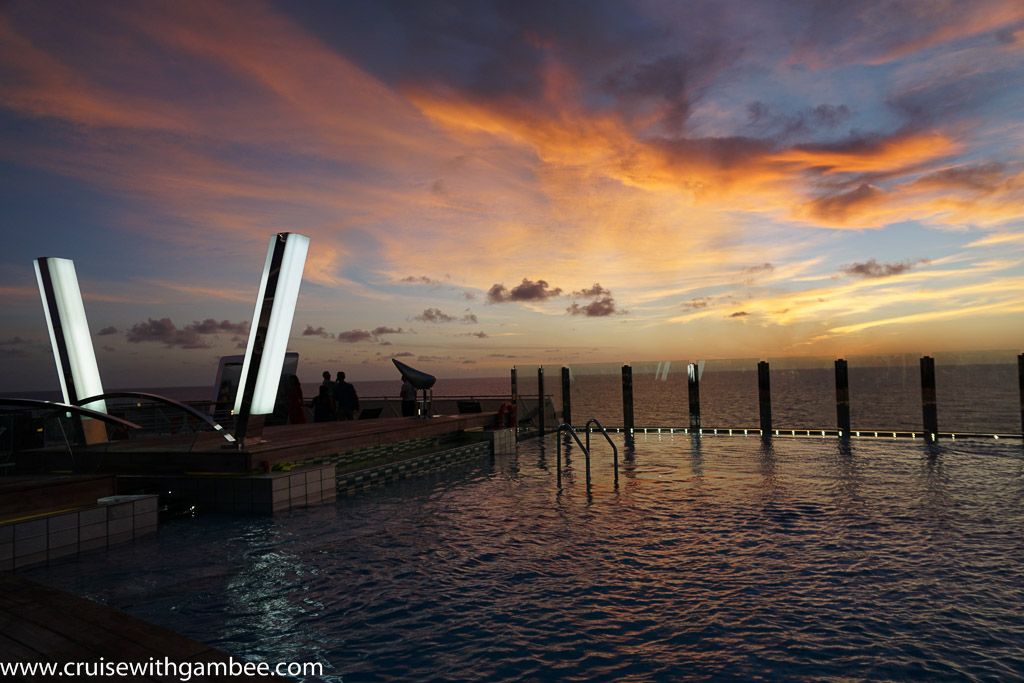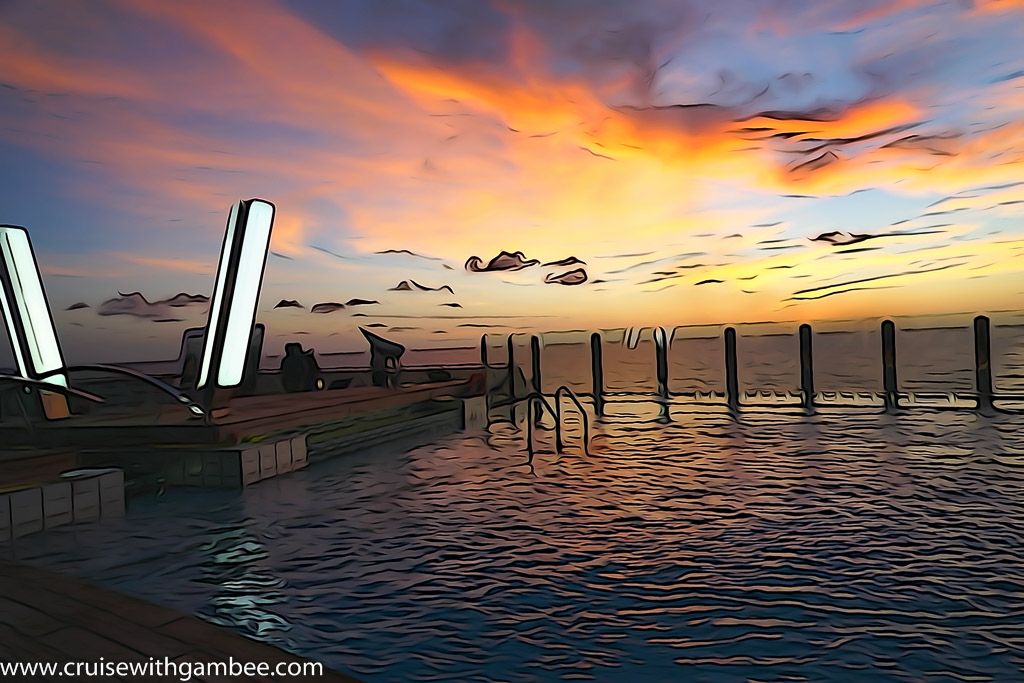 This is the perfect time to enjoy the pool. Just imagine a pair of jacuzzis there with that view!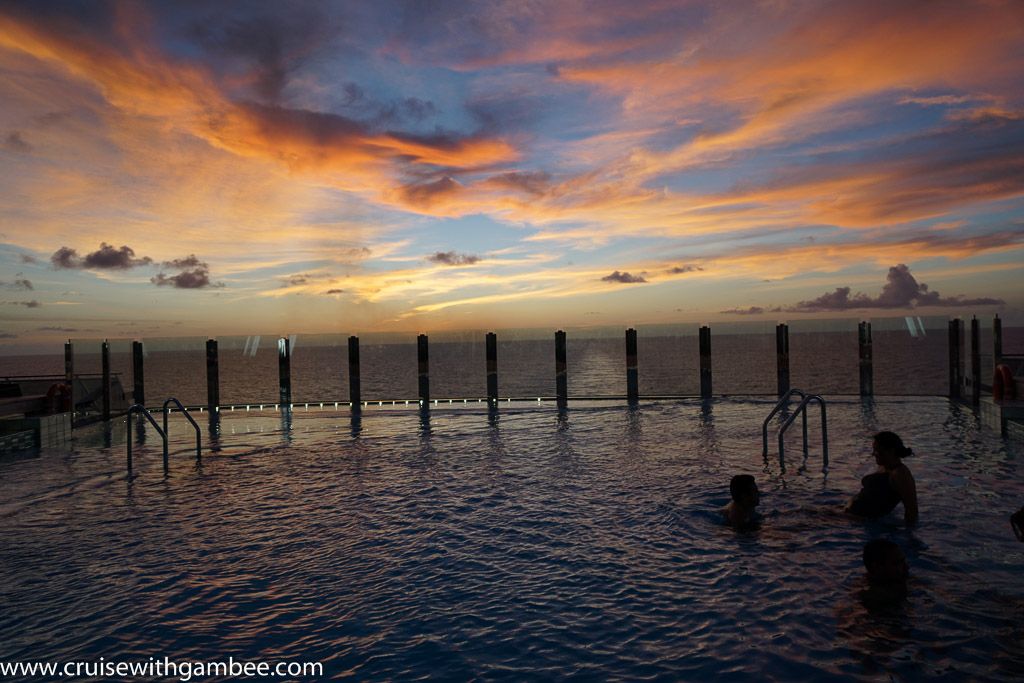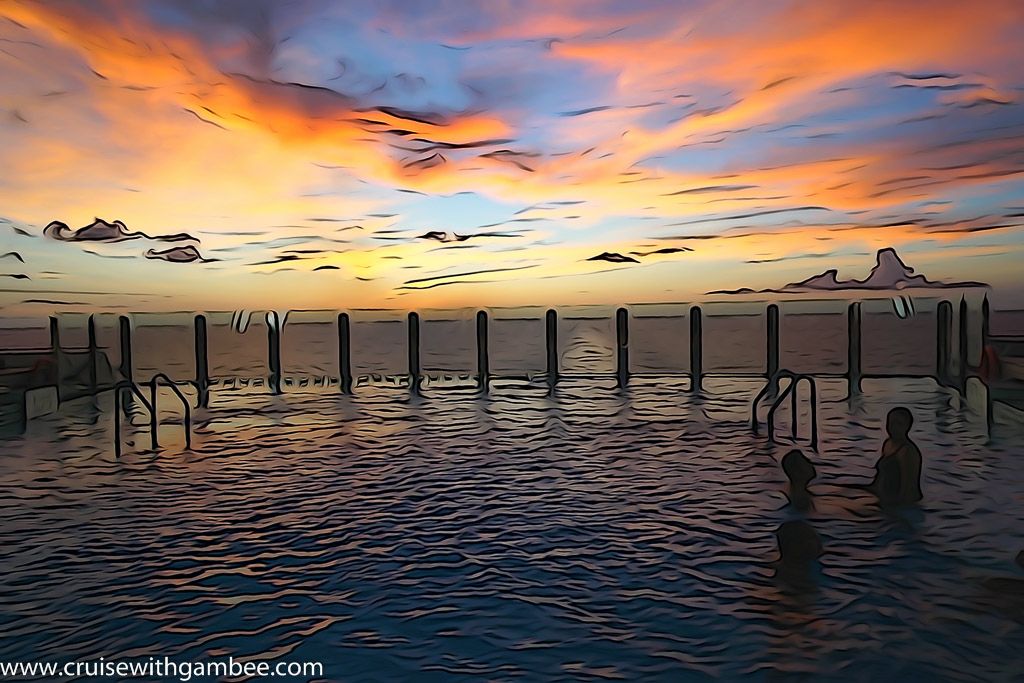 LOVE THIS PICTURE!!! It has a lot of elements in it, people, structures, a gorgeous sunset!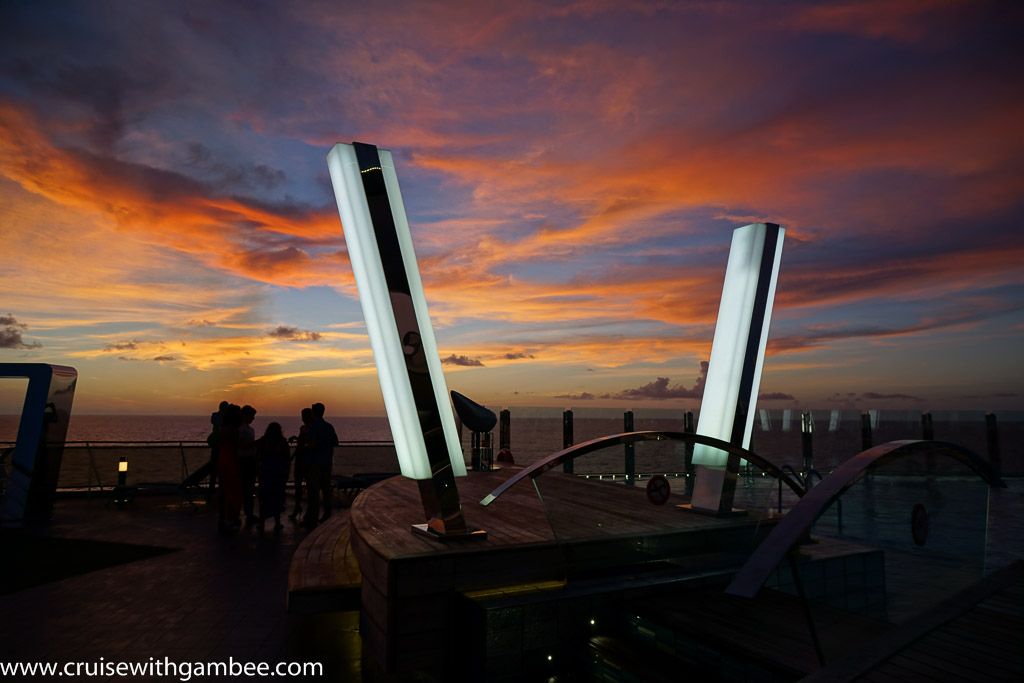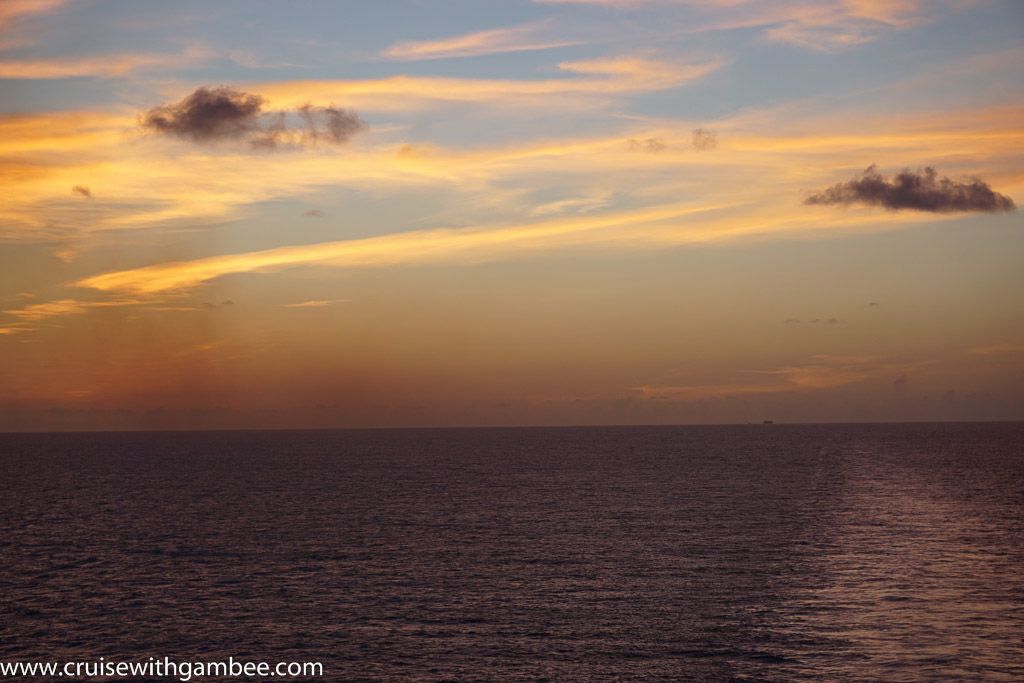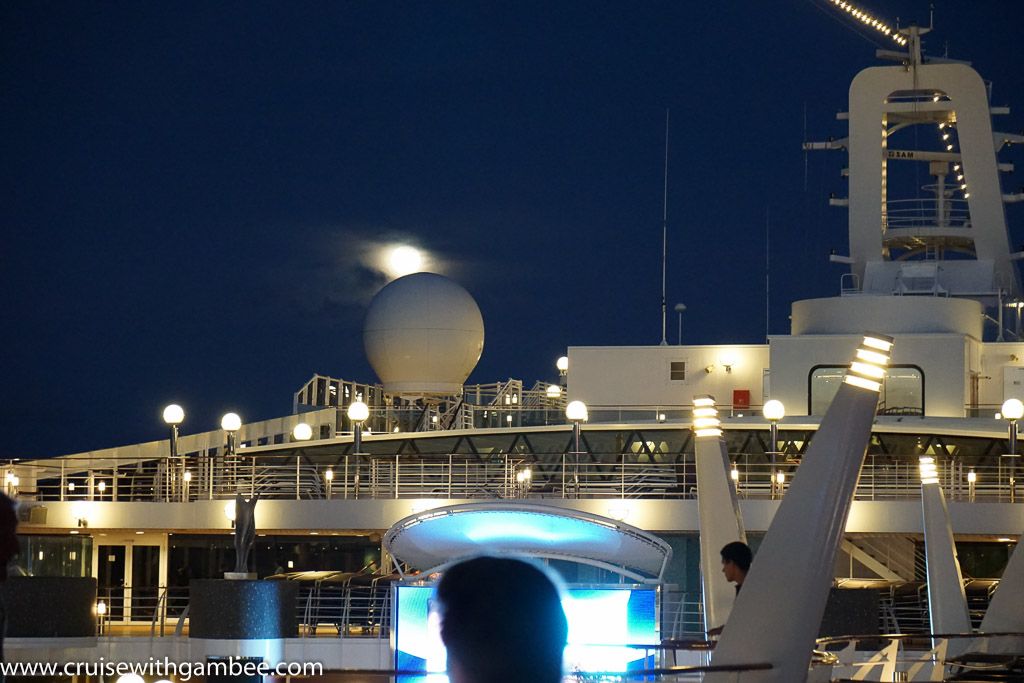 Then I we headed to our rooms, I continued watching my movie and they relaxed for a little while. I was exhausted. It had been a very stressful day for me. So I made the decision to head to bed early and I think I went to sleep around 9pm, crazy right?
They went to dinner in the main dining room. They told me that day was by far the longest wait to get the food. Over 2 hours, I am thankful that I did not go. I cannot imagine waiting so long for that food.
The pictures coming up, are from my uncle's camera. I still wish to share some of what they ate that night.
This is a portobello mushroom that they all raved about!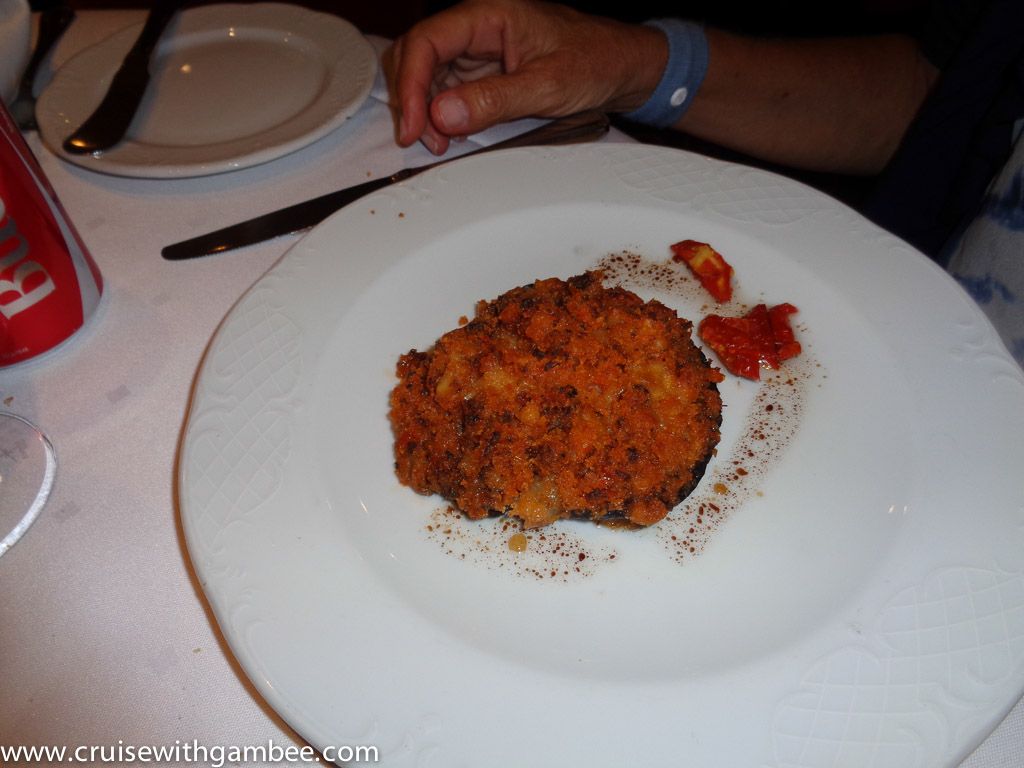 My uncle loved the escargot, I think it was the first time he had it. I would have loved to try it, but honestly, I don't think it was worth the wait.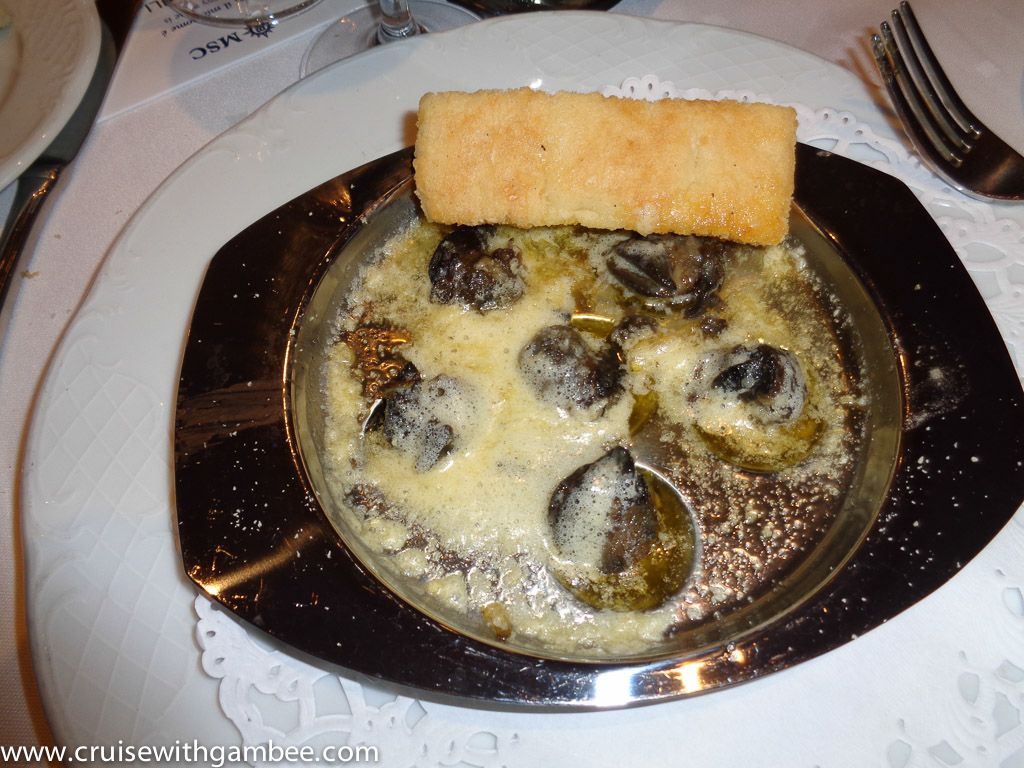 That is pretty much it, that night I was so tired that I did not even transfer my pictures to the computer. That actually ended up being a good thing, more on that on the next set.
After dinner they went to the casino for a little while. That was also the night that my uncle went to the disco and he said it was loaded with teenagers. He said he was the only adult there.
Have a great Friday everyone
Day 2, ending.