Day 6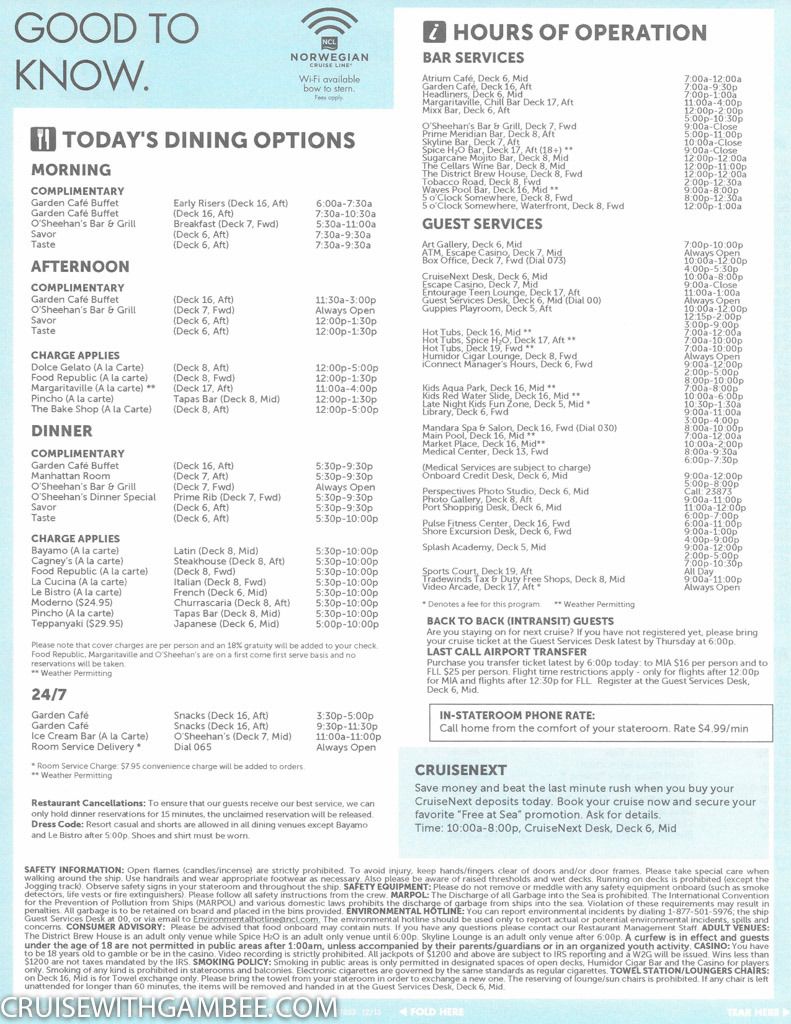 I was a bit hungover, so I decided to start working on the pictures of the cruise. I think I woke up around 9:30 that morning.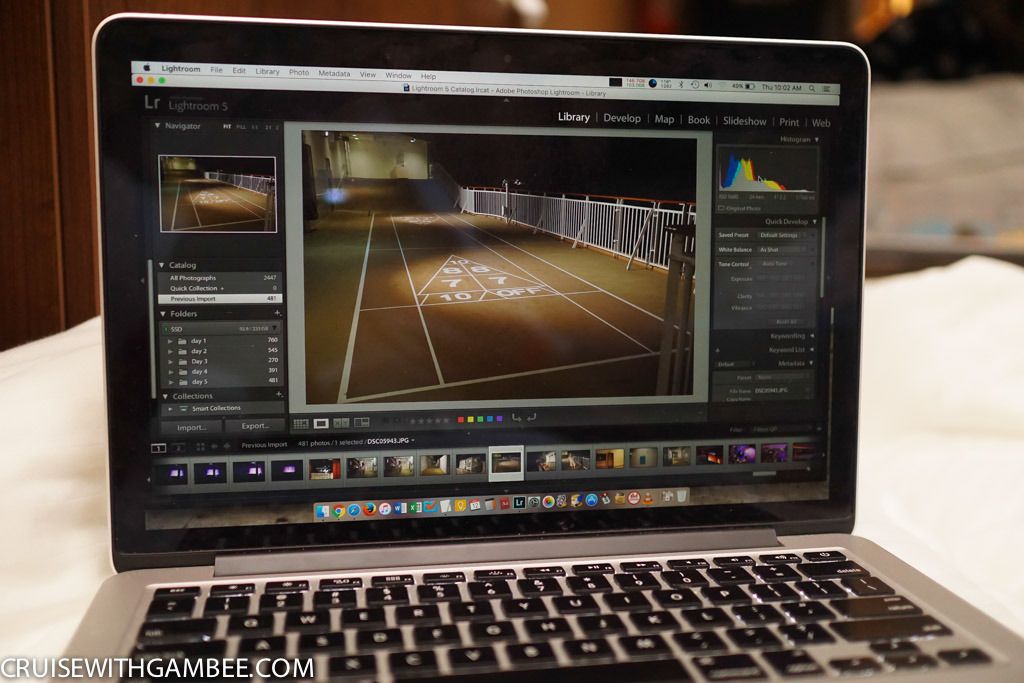 Mom went out and got me some breakfast.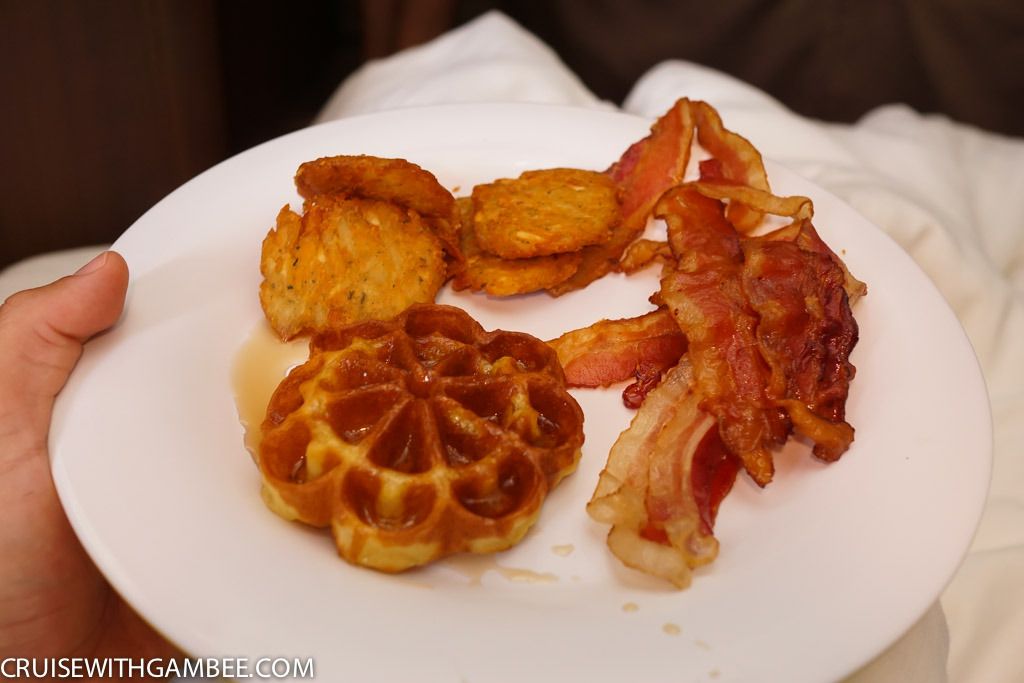 I really needed that juice!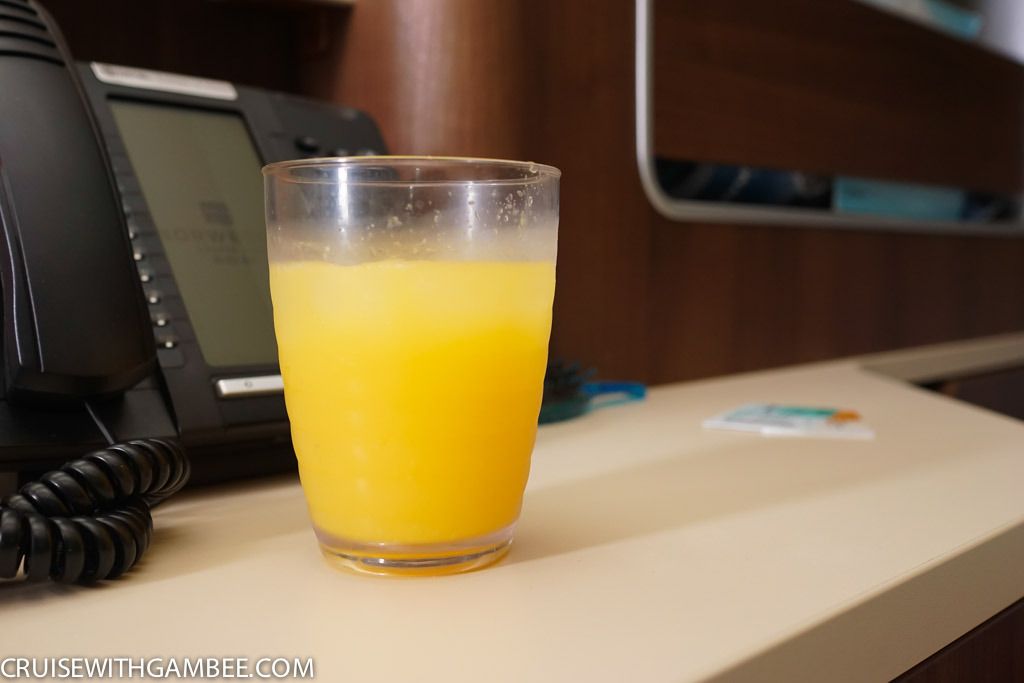 I forgot to mention that those damn announcements start at around 9:50. While they are not directly in the room, you can still hear them. I blame on the thin, yet heavy doors. But either way who cares, the doors slamming had woken me up anyway
I also watched some DS9.
Mom had left the room, I think she was in Vibe. Eventually I made it to the balcony, but I was in recovery mode and watching some more DS9.
I also went through the Freestyle to check if there was something that I would be interested in.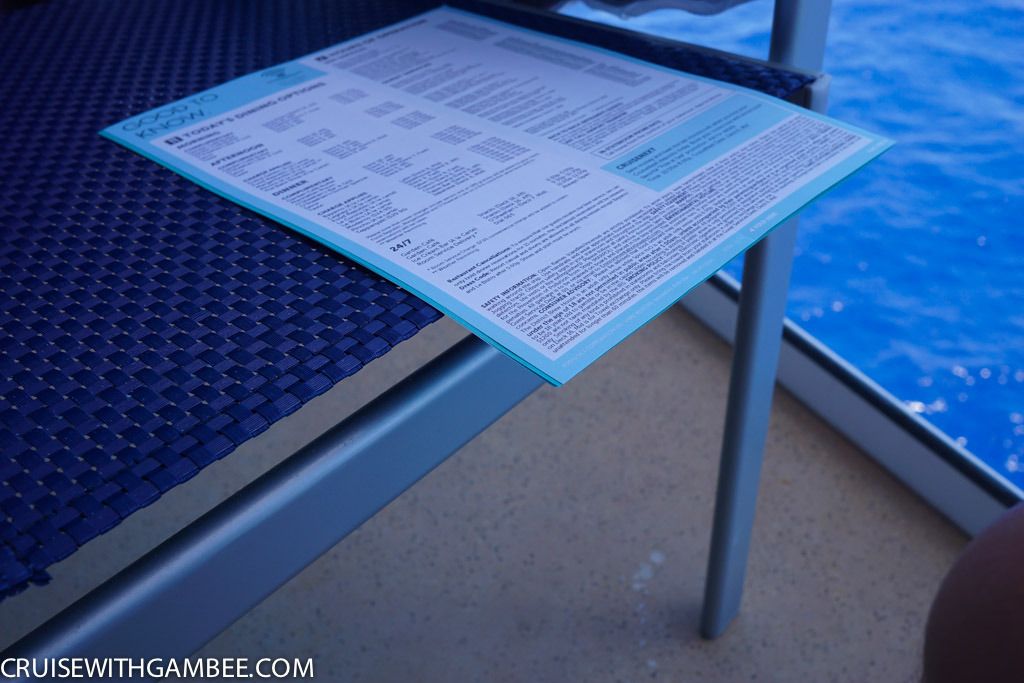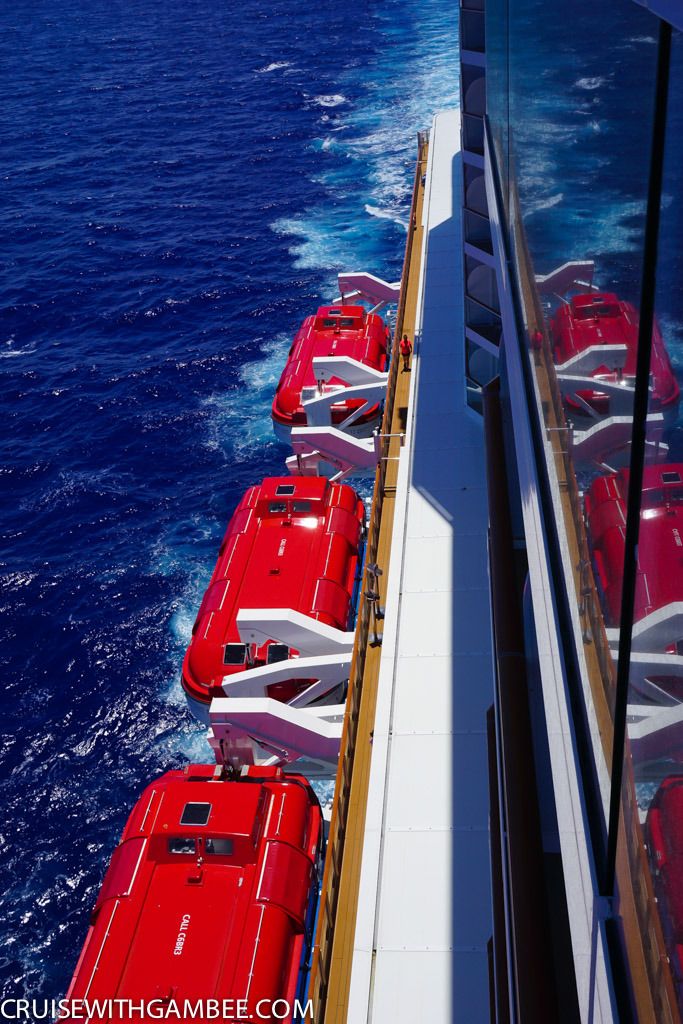 I have to say that from our balcony on deck 14 you can hear the loud speakers on the main pool. I am not sure I have mentioned that before, but those speakers are quite loud. Multiple people have reported that in the past. Even from Vibe the noise apparent, although distant.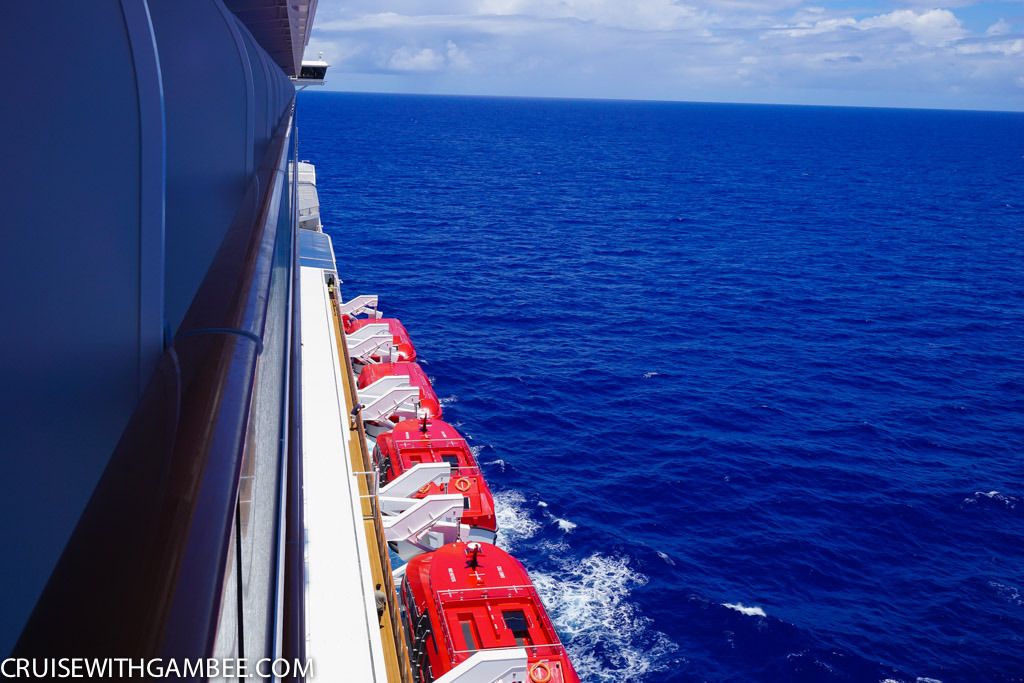 I left the room around noon, and went down to meet with the crew for lunch. By the way, when you're waiting for the elevators there is an easy way to know if it is going up or down. 2 beeps mean it is going down, and 1 beep means it is going up. No need to look at the arrows.
And what is it with people ramming into the elevators before everyone has gotten off?!?!?!
Anyway, I made into 5 o'clock bar and most of them were already there.
I got my usual. Not exactly that I needed a drink, but you know, hair of the dog…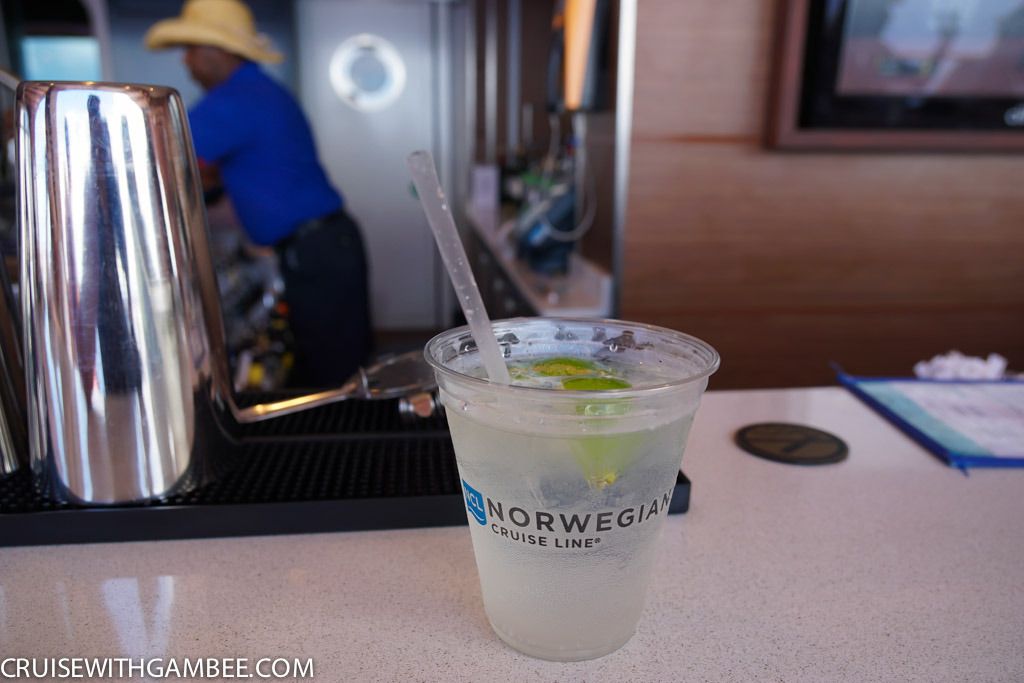 Once we were all there we left to go to Food Republic, which by the way it is right there.
Like I said, it was packed, and the only seats left were on the bar. But it was good, since it was a big group. I don't think they could have accommodated all of us at one table anyway.
We all shared 3 ipads and ordered quickly since the restaurant was closing soon.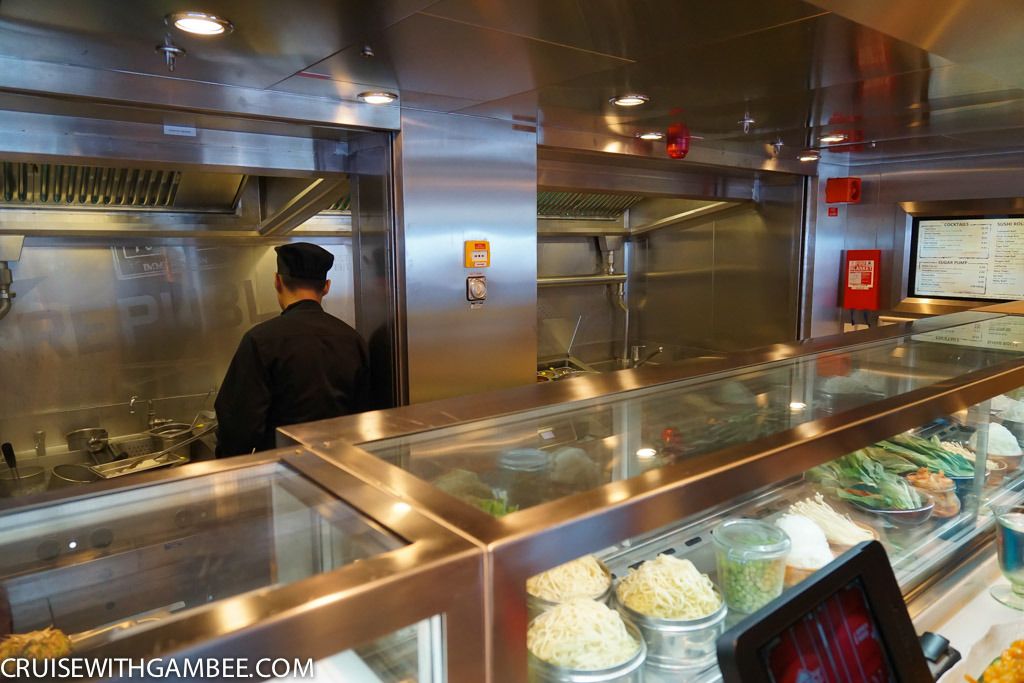 Susan got the shrimp skewers which were great by the way.
My lobster rolls, were excellent!
Salt and pepper calamari, they were good, but I've had much better. I think what threw me off is the batter that they used, and the overall texture.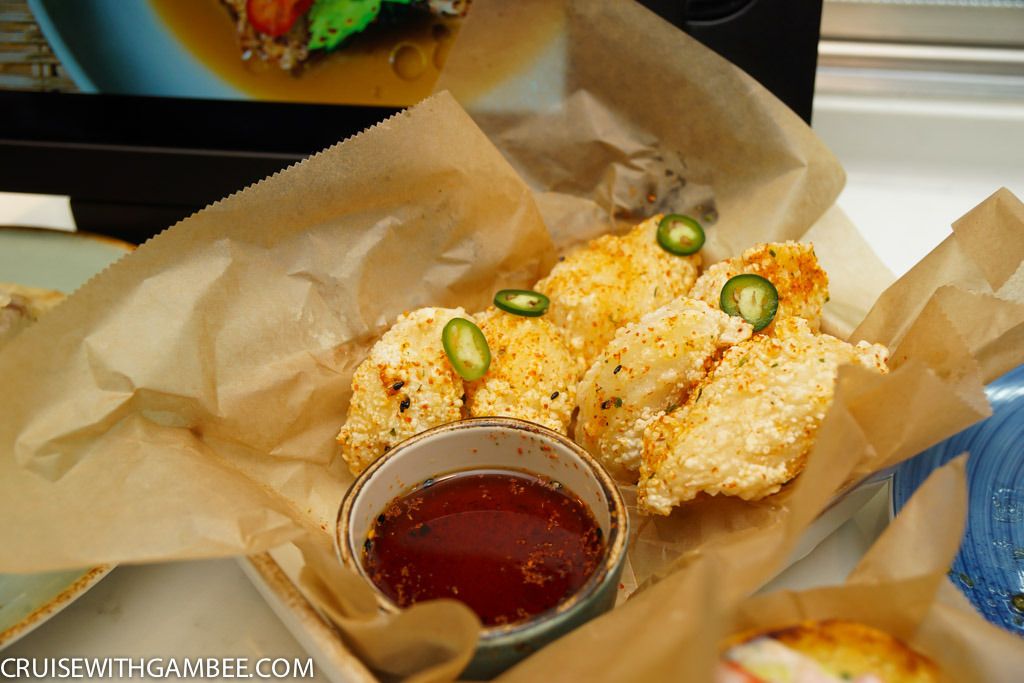 Everyone said that the chicken teriyaki and the wings were excellent!
I kind of felt bad that mom missed out on all the good food, so I asked the server if I could bring some up to her. He packed it nicely for me
Su gave me some of her shrimp. They a chimichurri sauce and mom loves that sauce.
I took my food, and went looking for mom.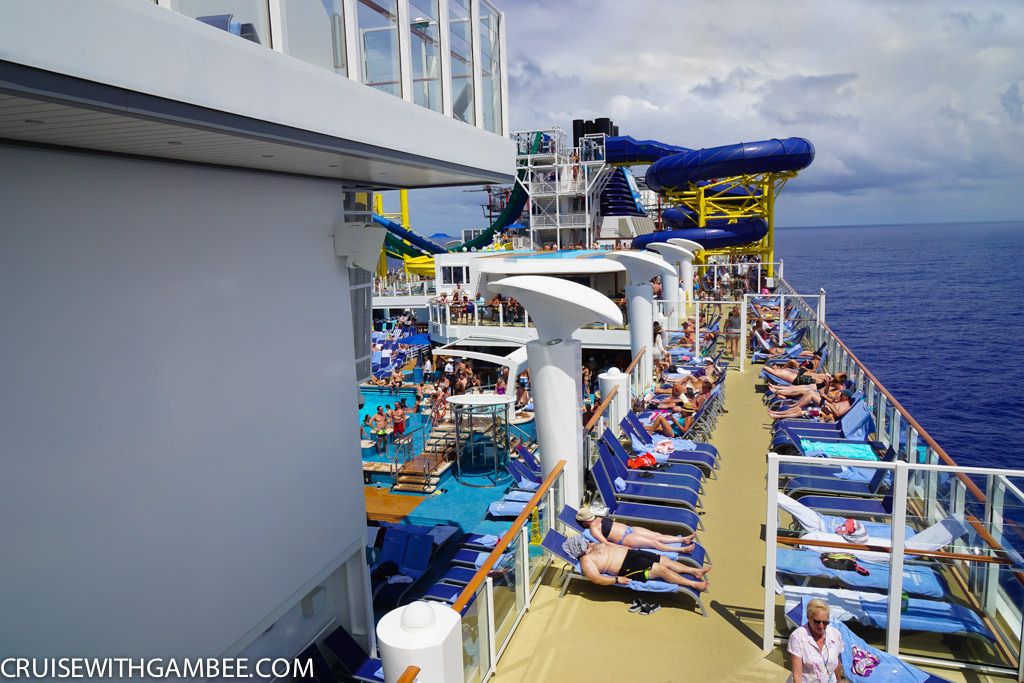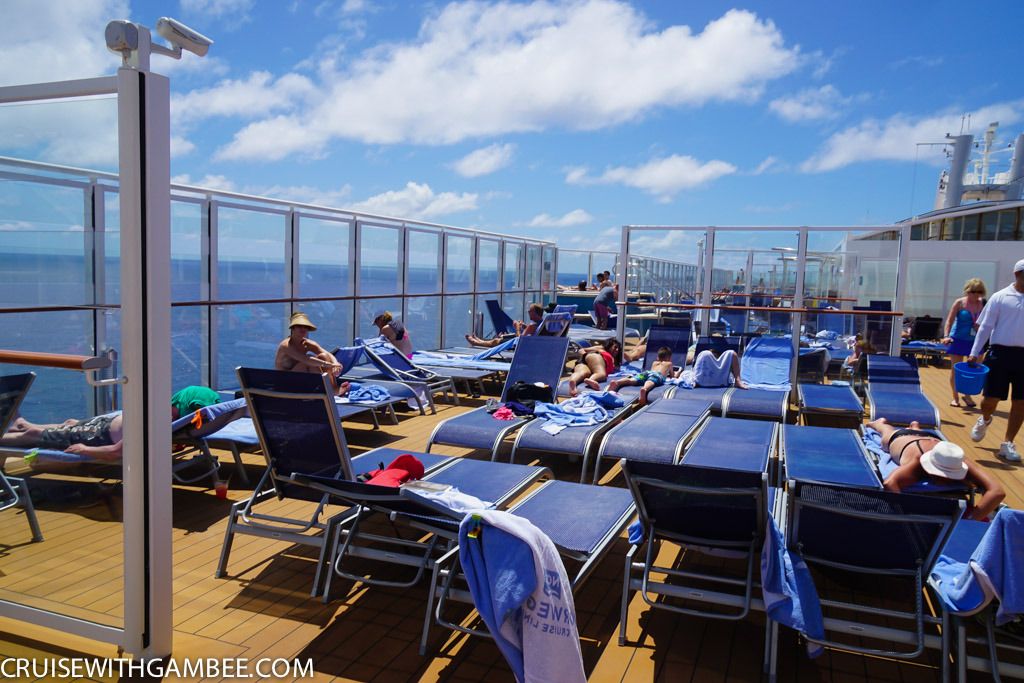 I found mom in the jacuzzi. She loved the food. Ro got me some water.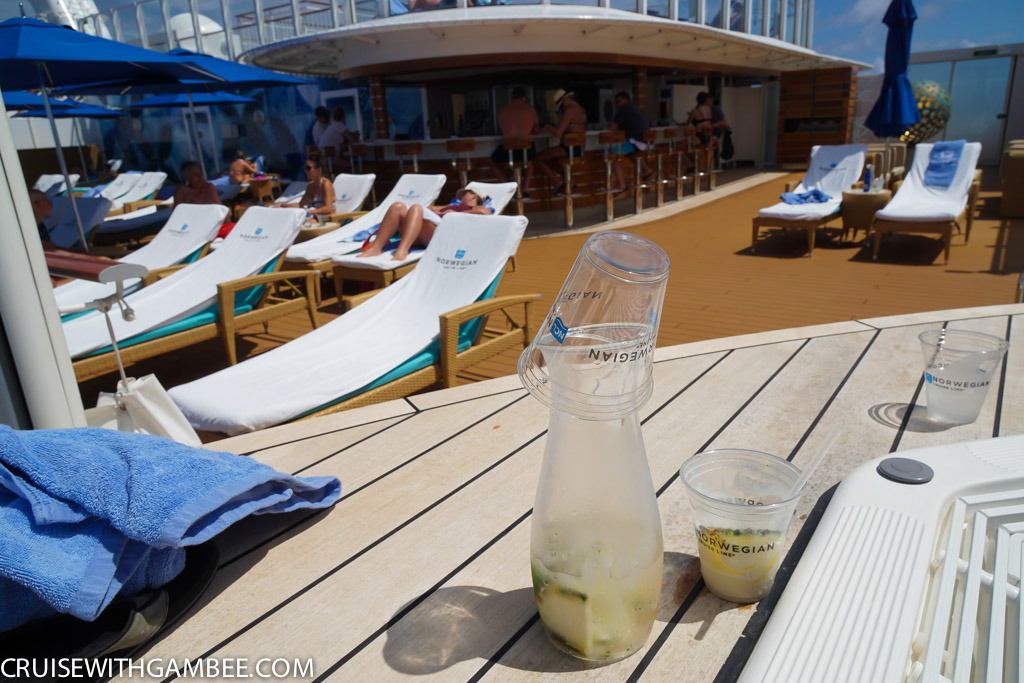 And my gin. That is also when I met Tom, we talked for a little over an hour. Nice fellow =)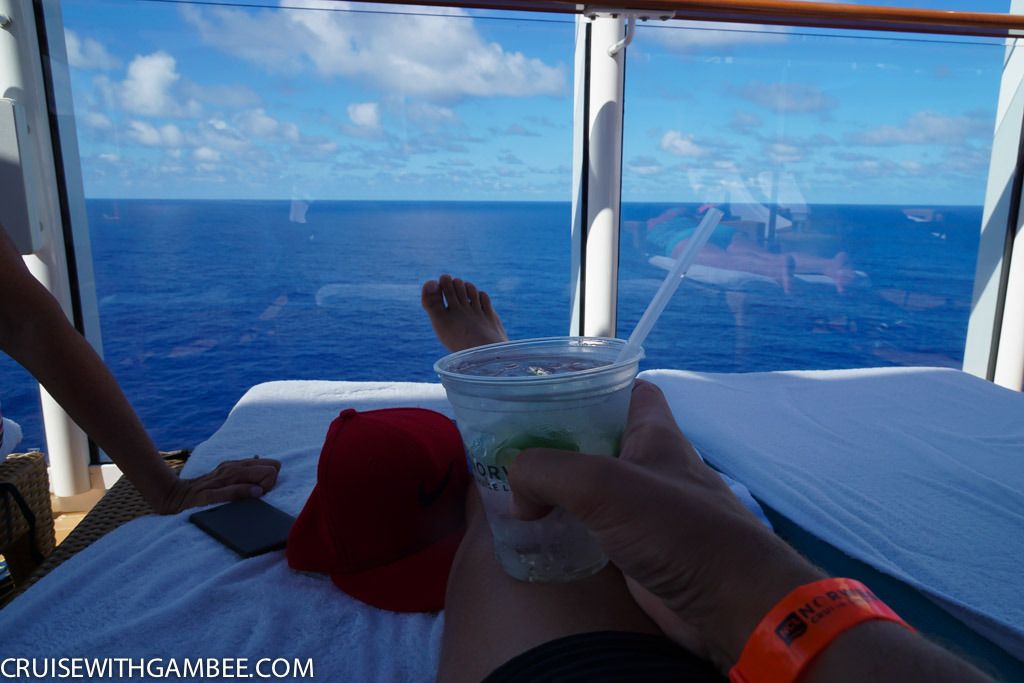 I relaxed there most of the afternoon and talked with Tom. He has done around 80 cruises I think he said!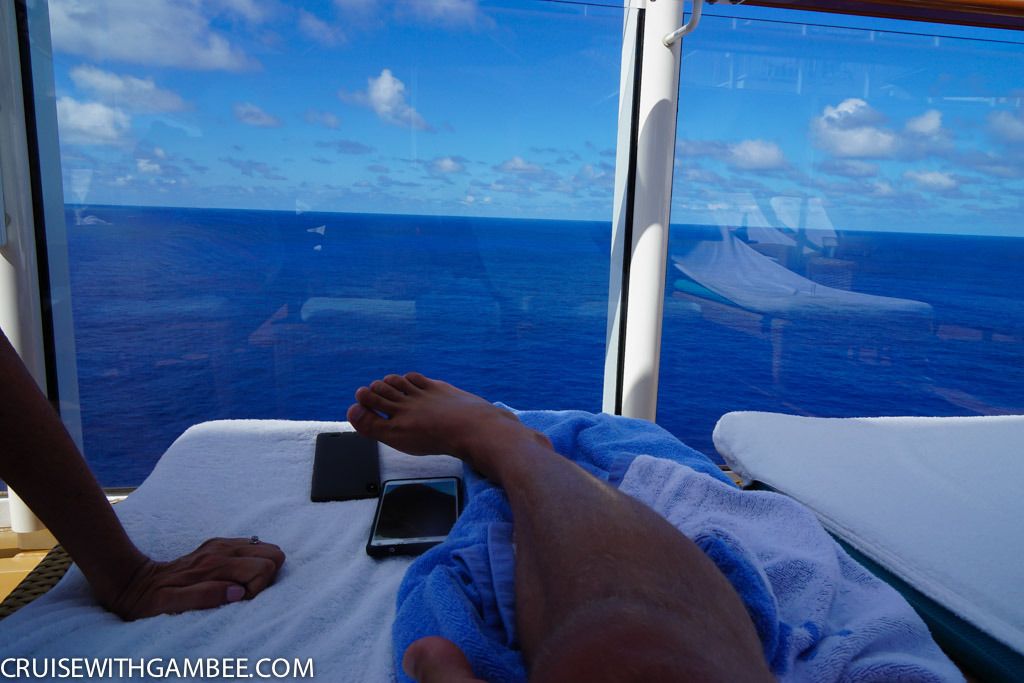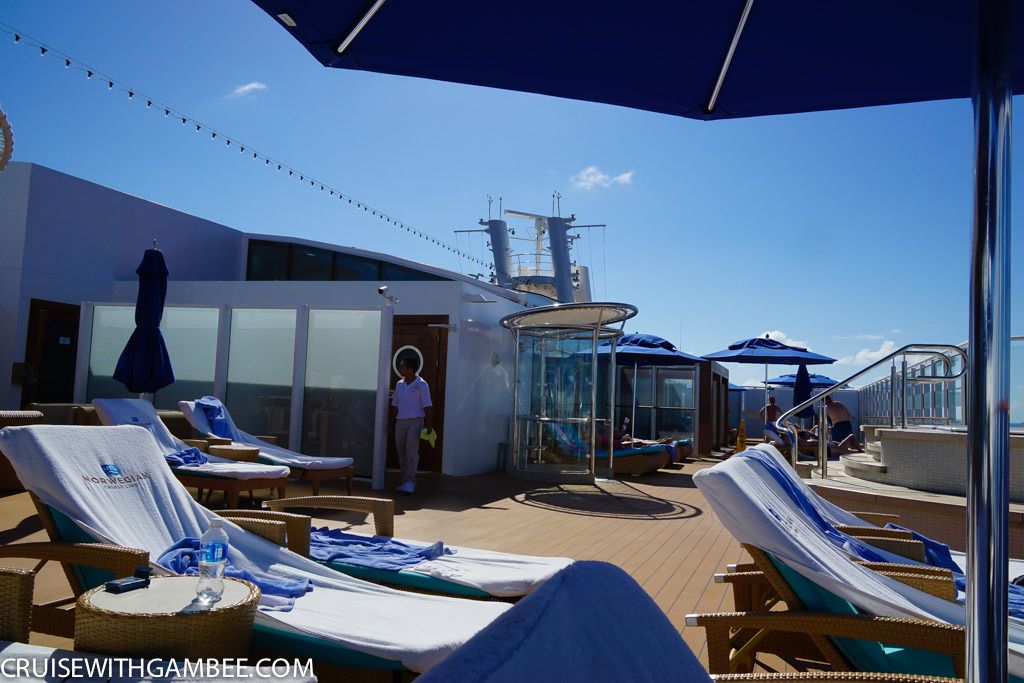 And then this happened, Lol, oppps
I think it was a way of my body telling that I had enough
No worries, she quickly noticed and got me another one.
And this is what makes Ro special, just look at that. She would go around and give people people short foot rubs with cold eucalyptus towels. She was just incredible.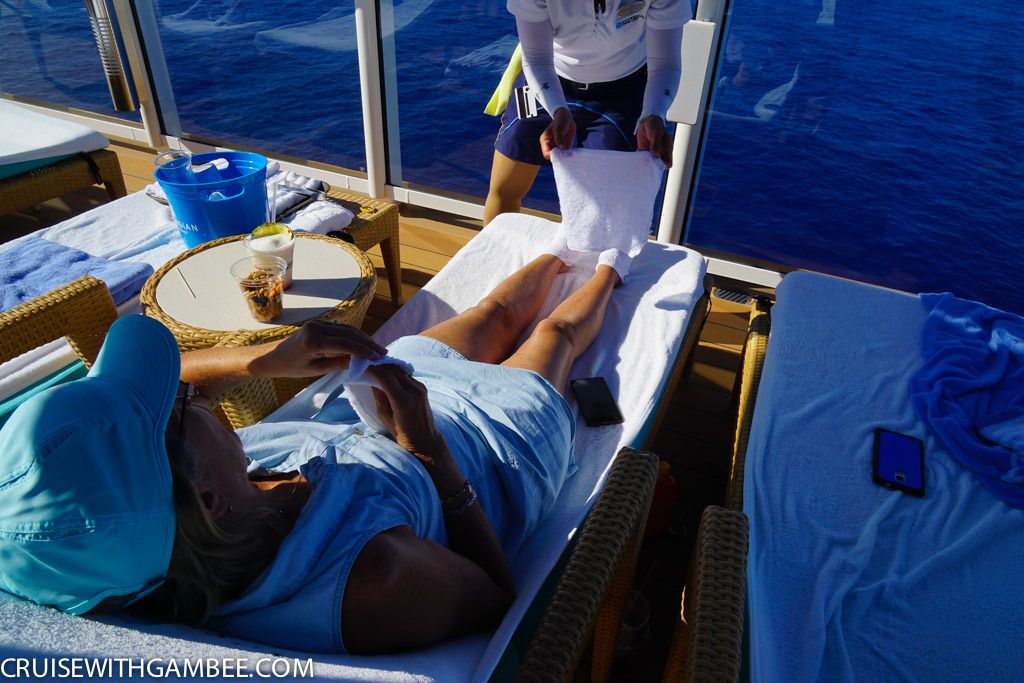 I think that is the first time mom has gotten a foot rub, she usually dislikes massages in general.
After that we left because I wanted to try the rope course one more time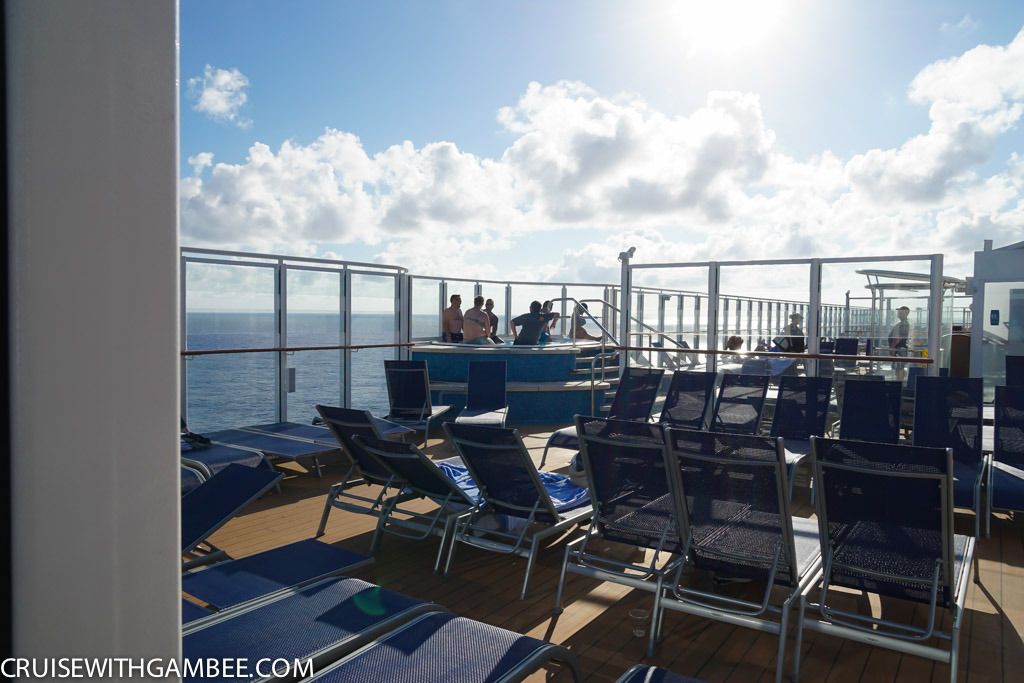 The deck had cleared up a little.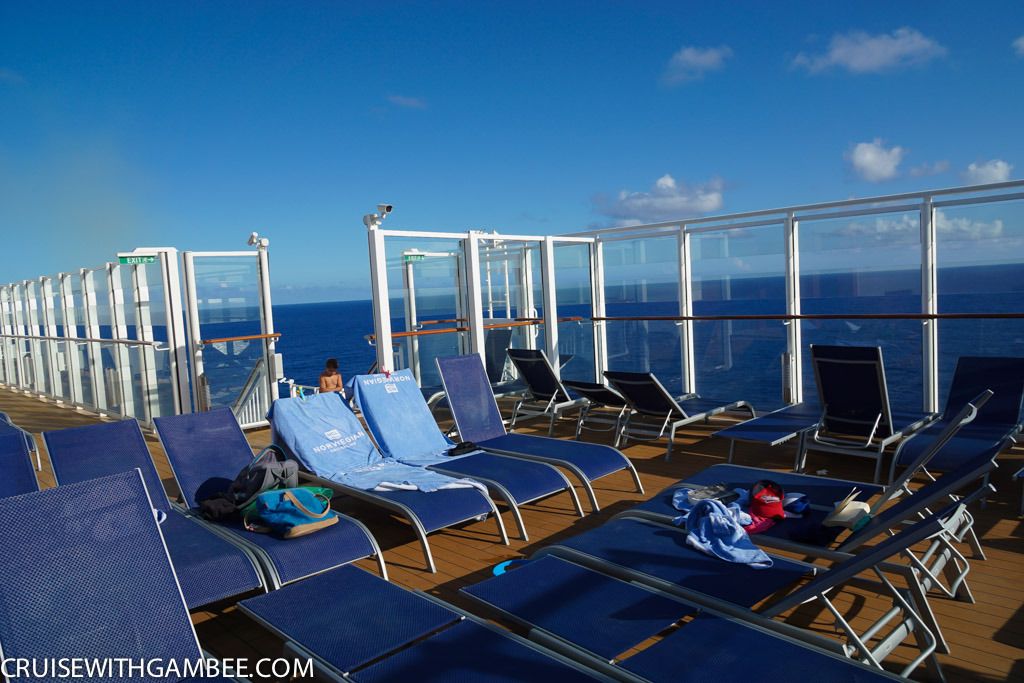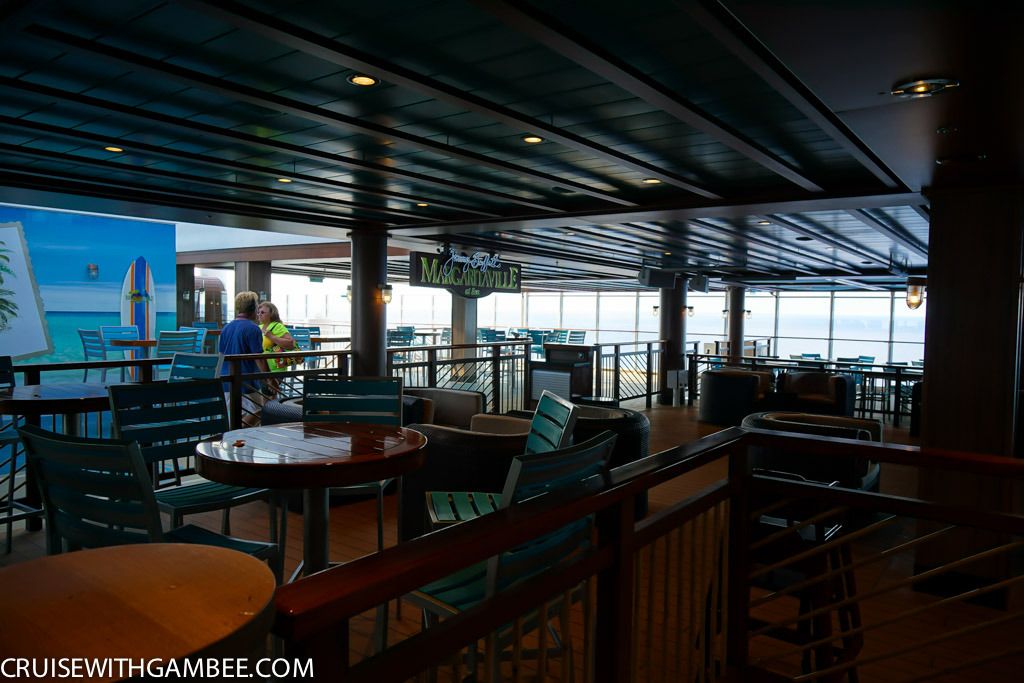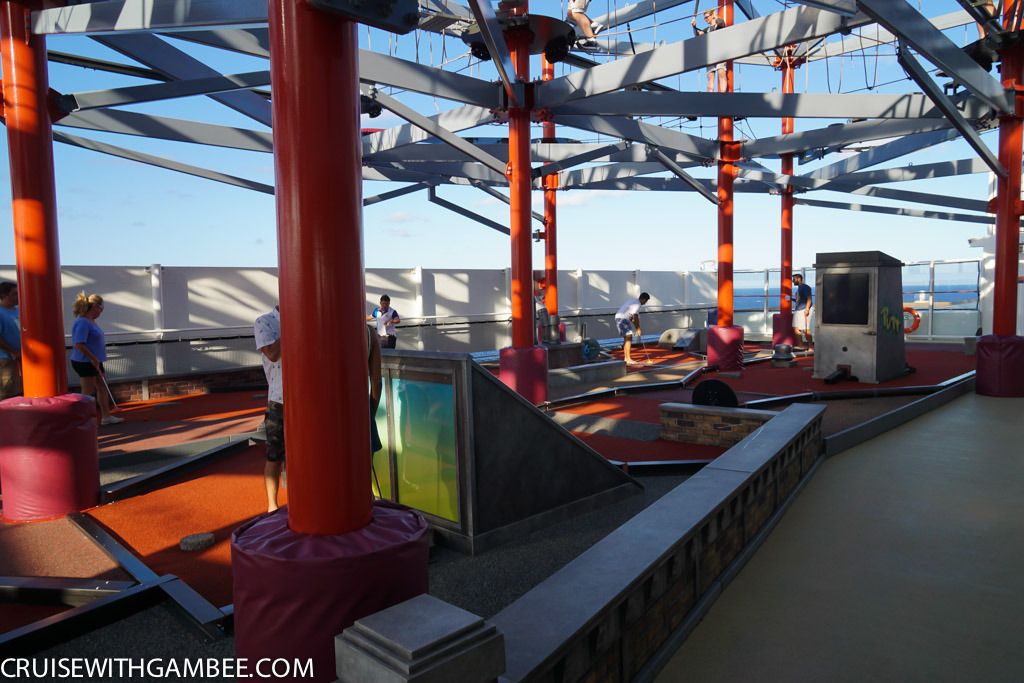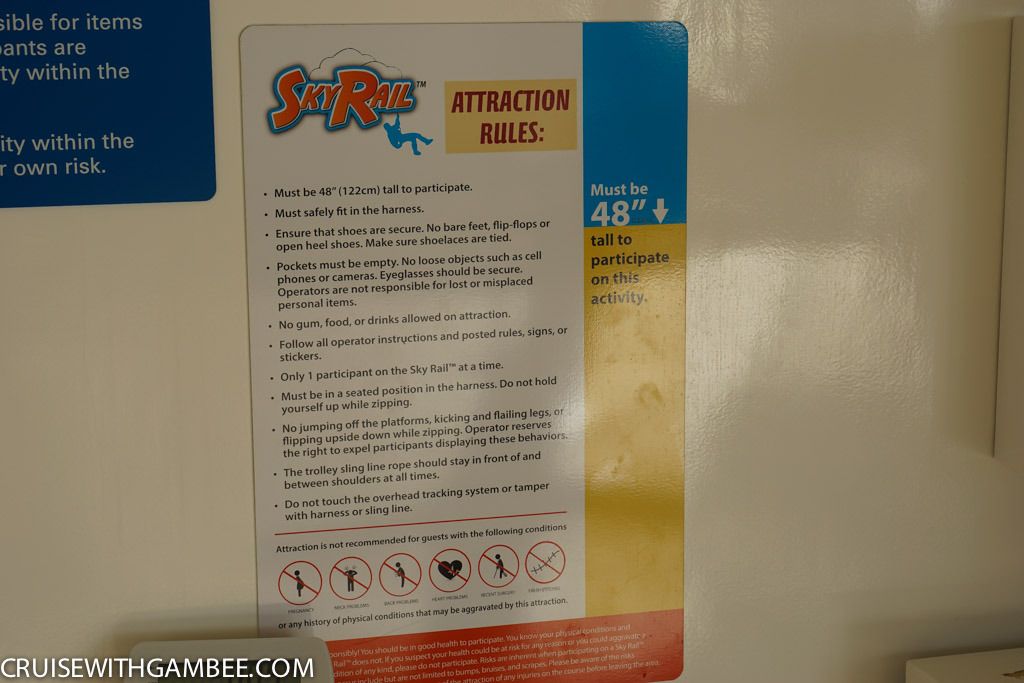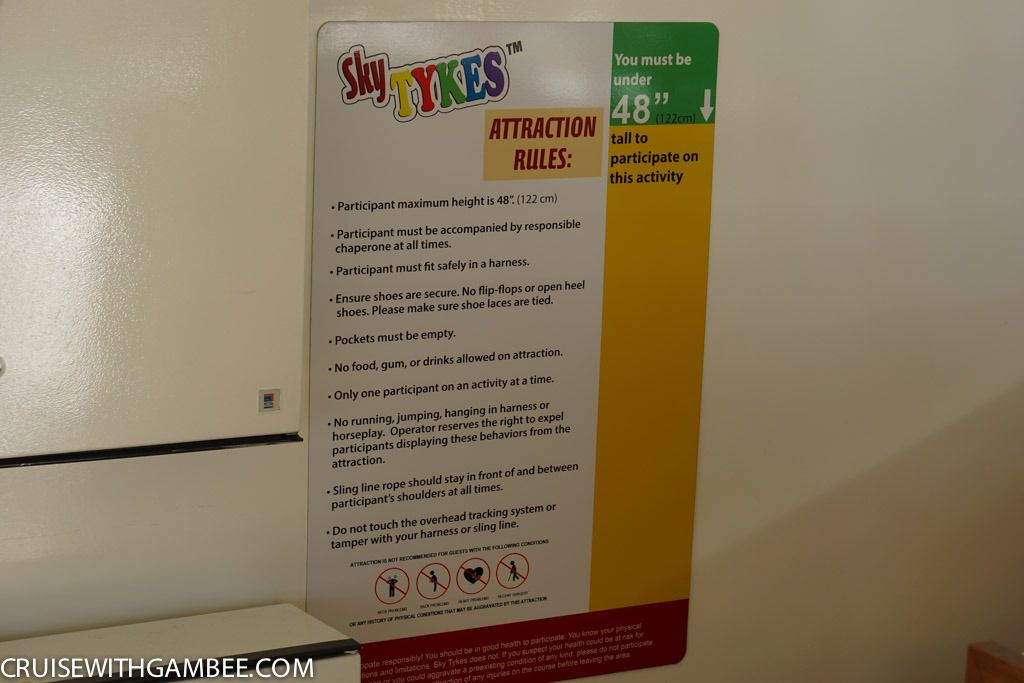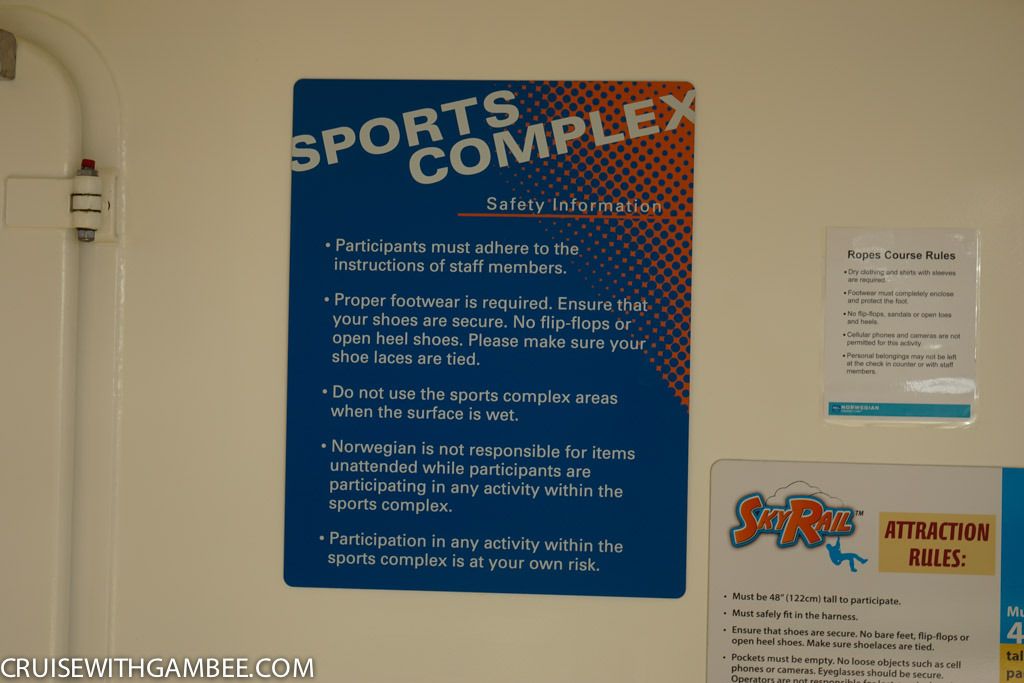 Ok, something very irritating happened here. When I got to the room it was around 5:20, but I spent like 20 minutes looking for my head harness for the GoPro. I have not idea what happened to it. What made no sense was that both the head and chest harness were missing. And I never used the chest harness. WTH???
After I gave up on it, I rushed upstairs and they set me up. By the time I started the rope course it was around 5:45 they close at 6p. Here is the problem, around that time I guess the people start working slow and a big line forms behind the first zip line. Please note that there was no way of skipping the first zip line. When I got to the zip line the lady tells me, sorry we are closed now, please exit the rope course. This is after I waited 15 minutes in line, are you kidding? Why the hell did you let me on in the first place if you knew that I would not make it. There were about 20 people behind me on top of that. They really should stop people from going on at a certain time and let all those people finish their turn. The lady behind me was on FIRE, I think she was going to kill one over it. Her daughter at first was going to cry, but then got relaxed and told her they could try the next day.
The sad part is that the rope course was closed most of the day the next day.
Here we are waiting
Here is the line in the zip line, it was taking forever.
Here I am playing balancing games to stay occupied…
Just looking at a ship on the horizon.
And just waiting…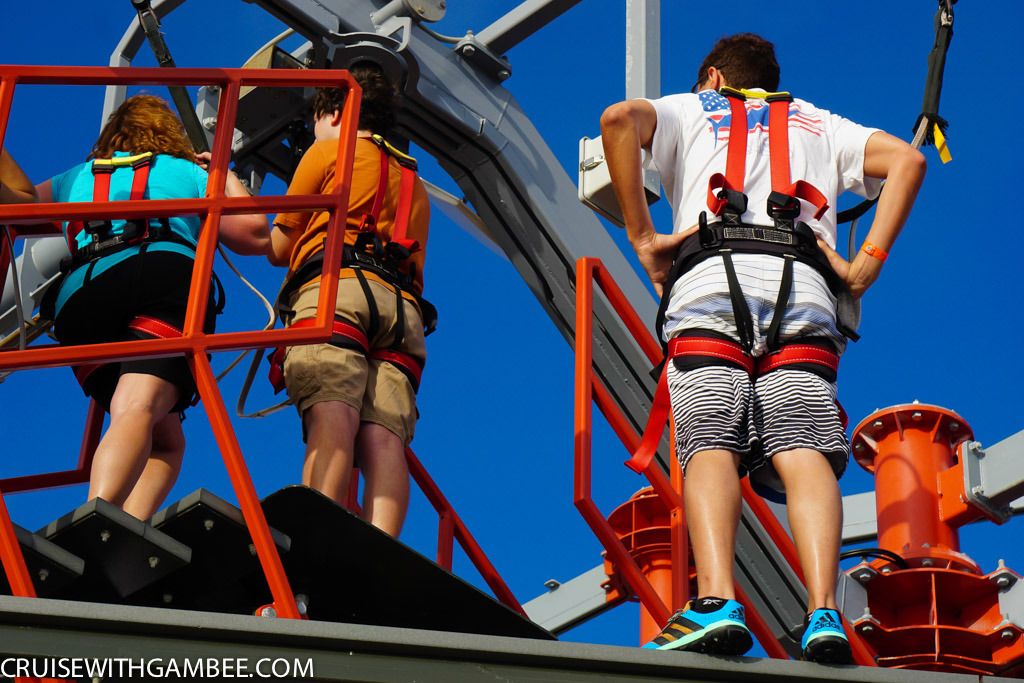 I was not a happy camper, this is exiting the rope course.
After that I met with Ty and Su at o'sheehans, they were having a quick dinner.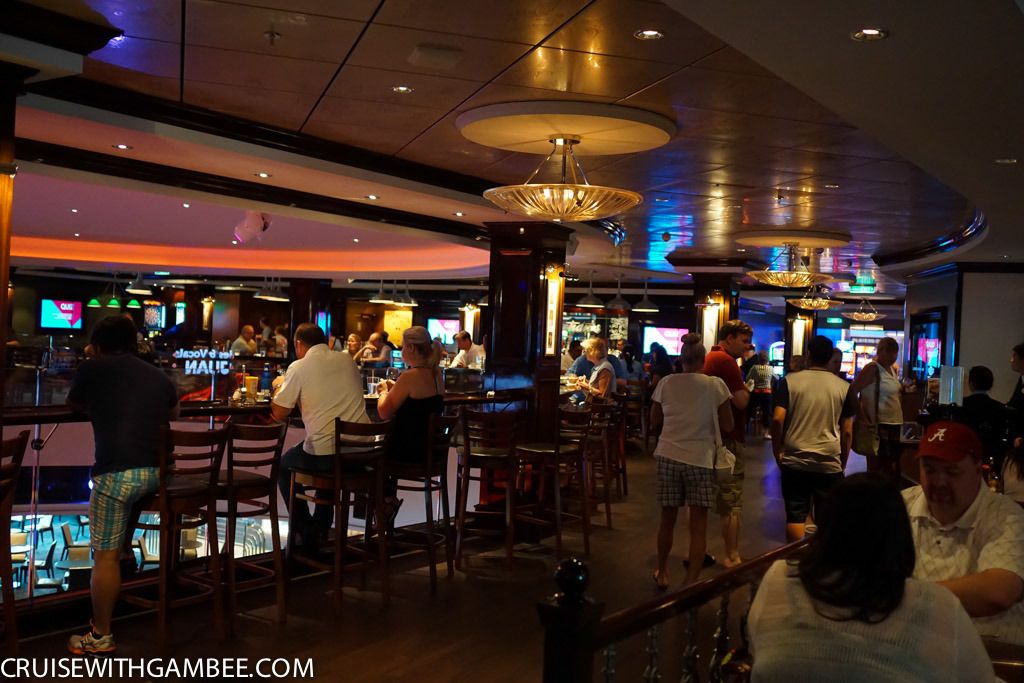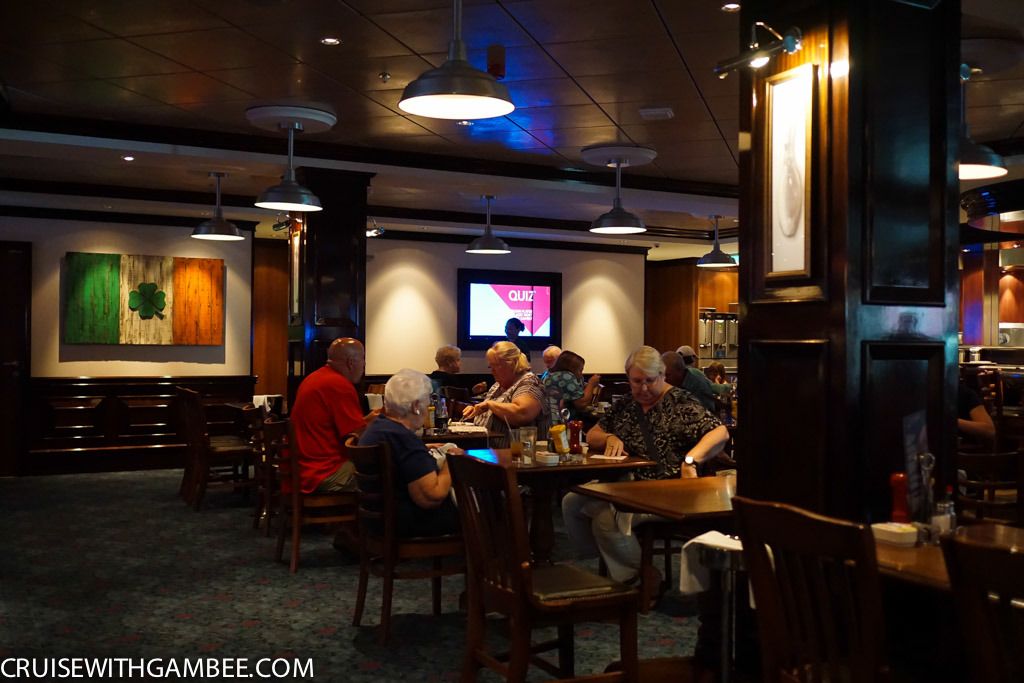 Su did not care for her hot dog.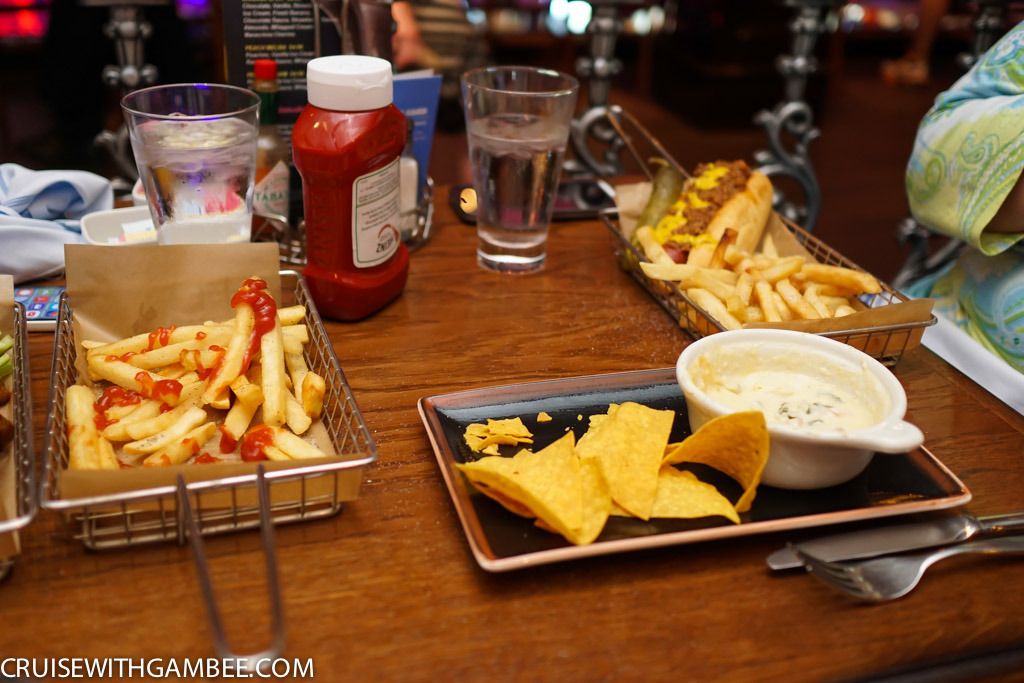 And neither did Ty with his wings.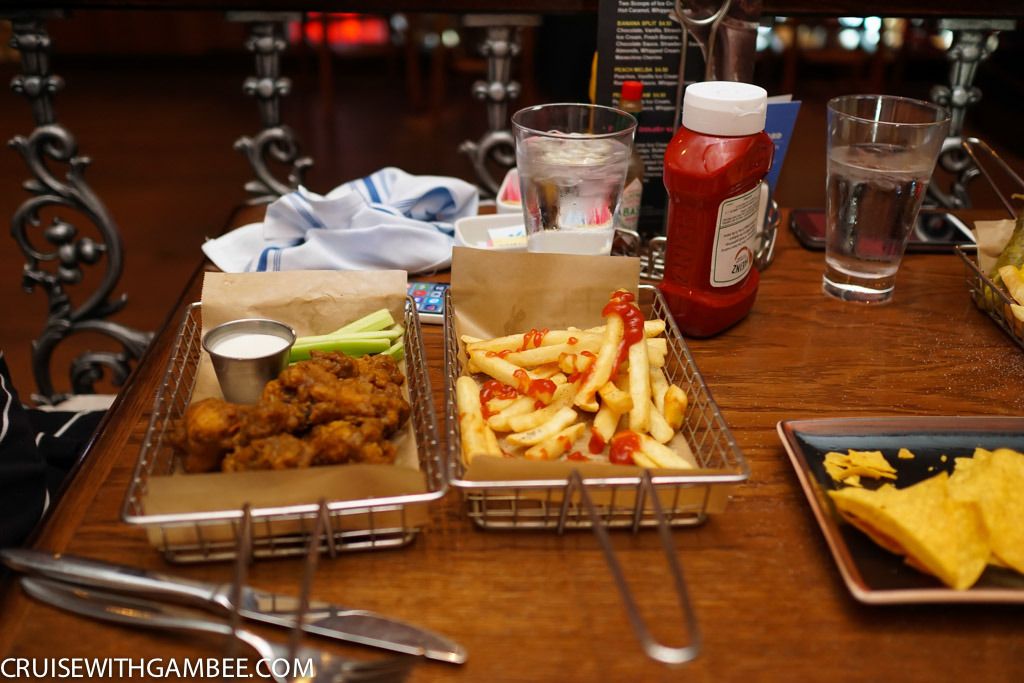 Then I went upstairs to get changed, and then went back down to 5'oclock to meet with the gang.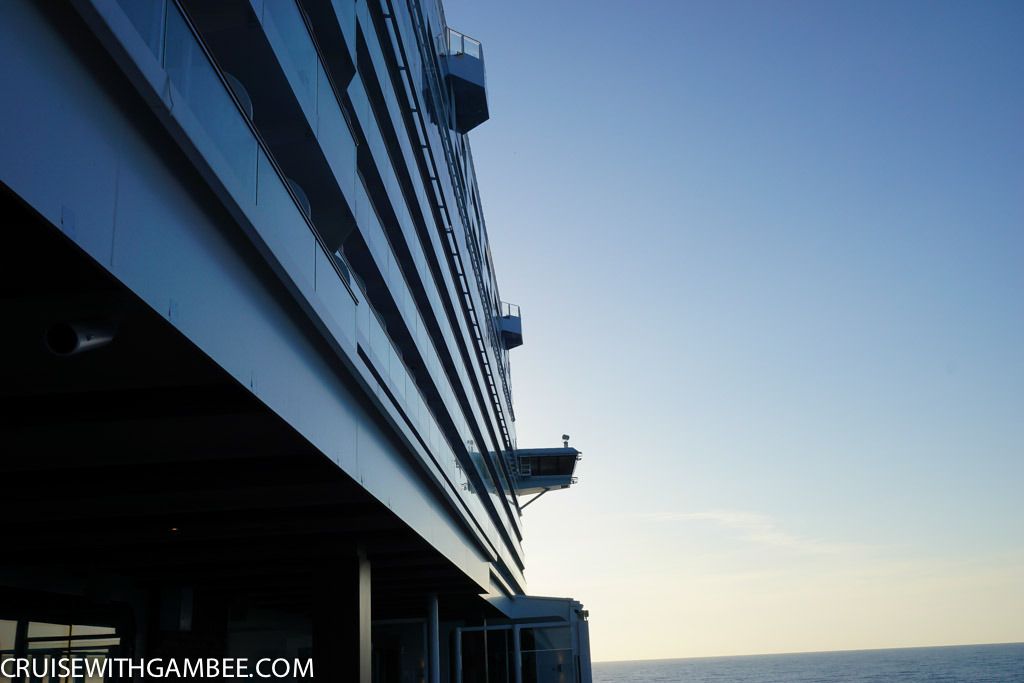 Your typical 2016 cruising table with all the phones at the table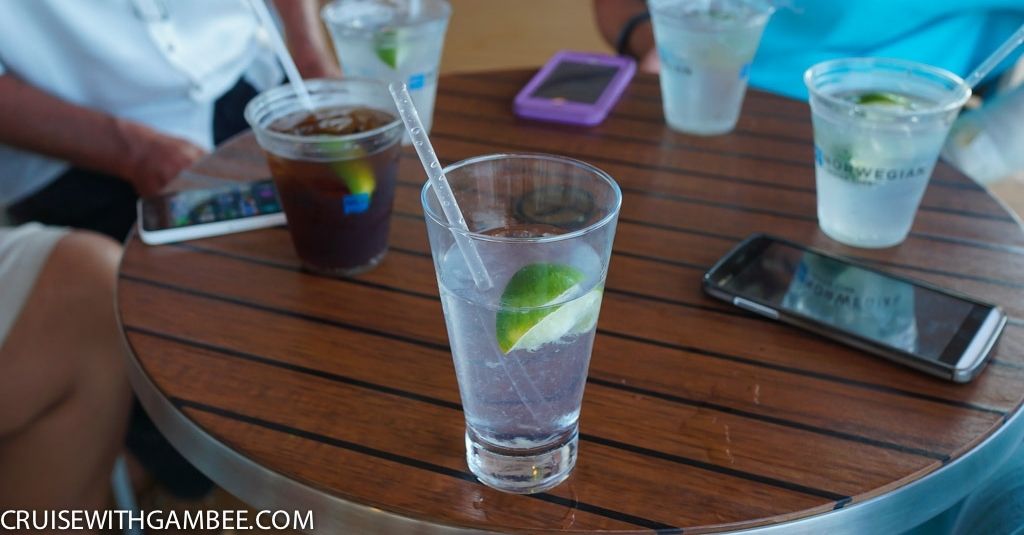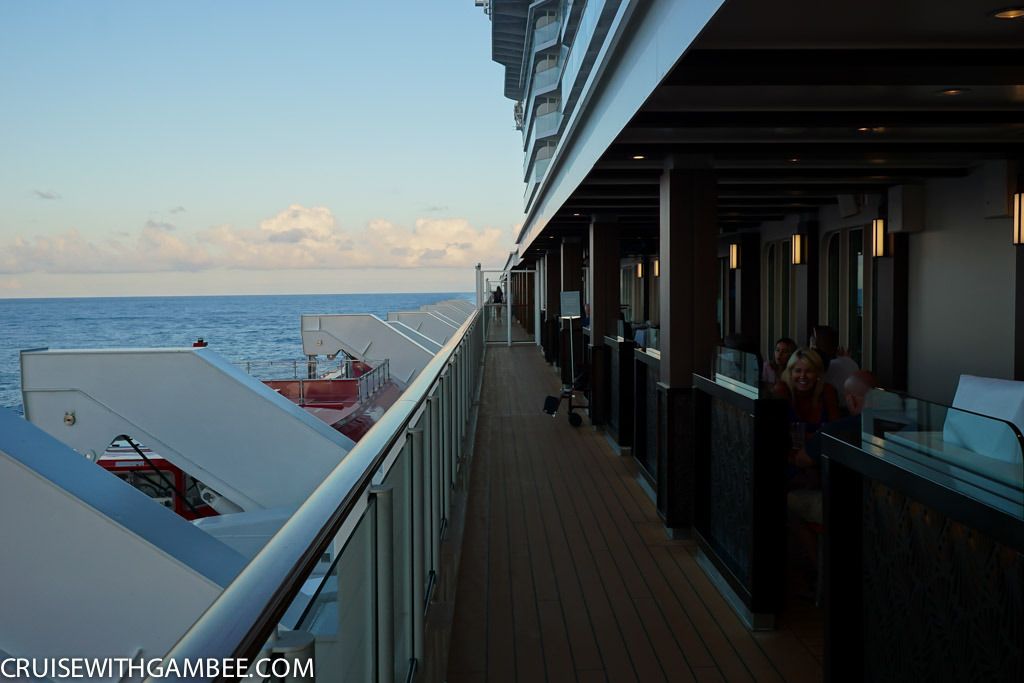 After a little while mom came down and we went for our dinner at Cagney's.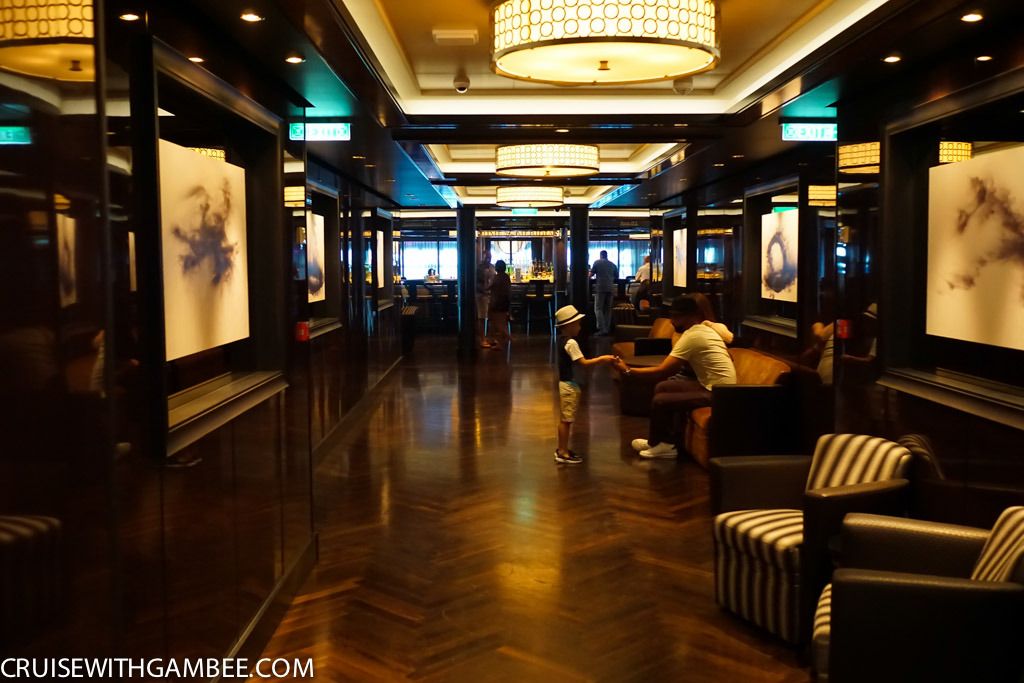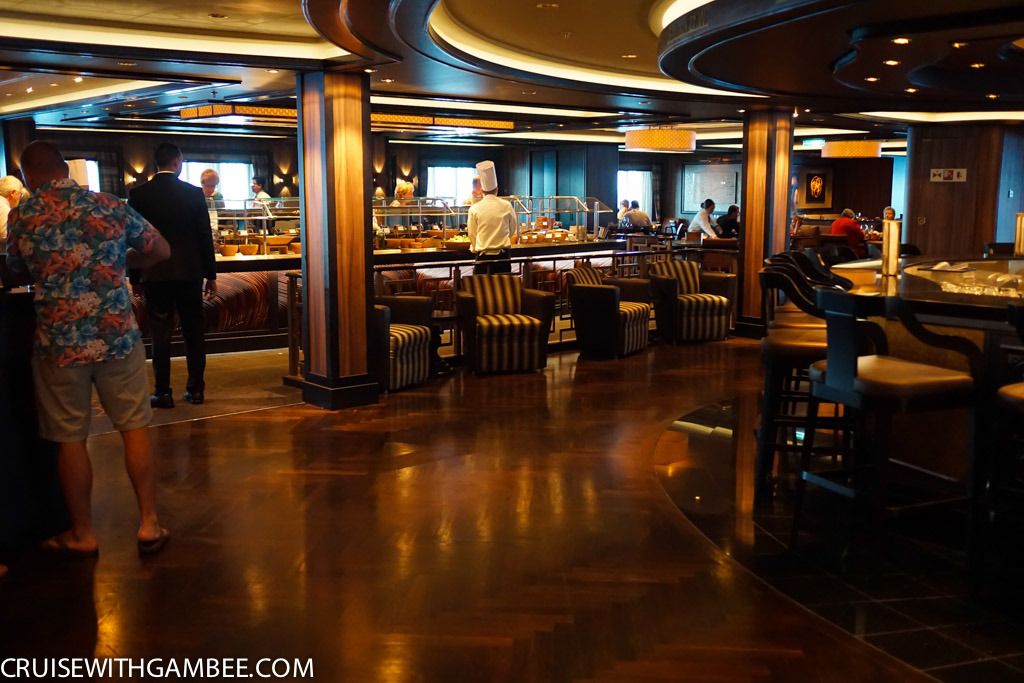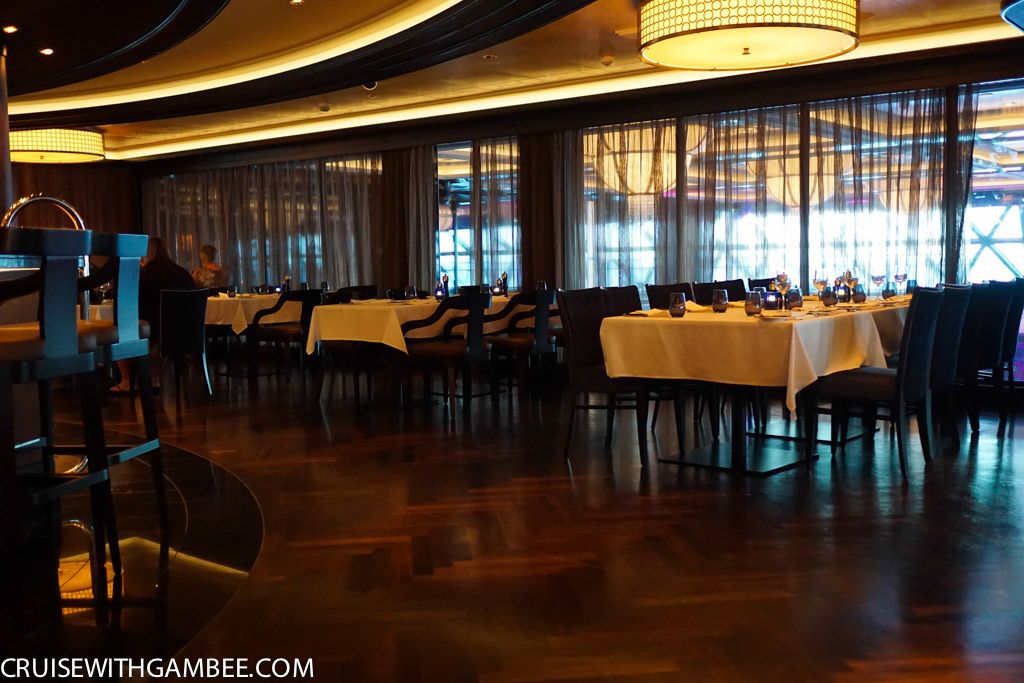 I asked for a table outside, but she told me that there was a wait for those. She then told me that she had a really good window table, so I thought that would be good as well.
Then they brought us to one of the aft tables, it had an incredible view!