Divina was following us.
Mom did not realize that there was a puddle there, and sunk her foot in it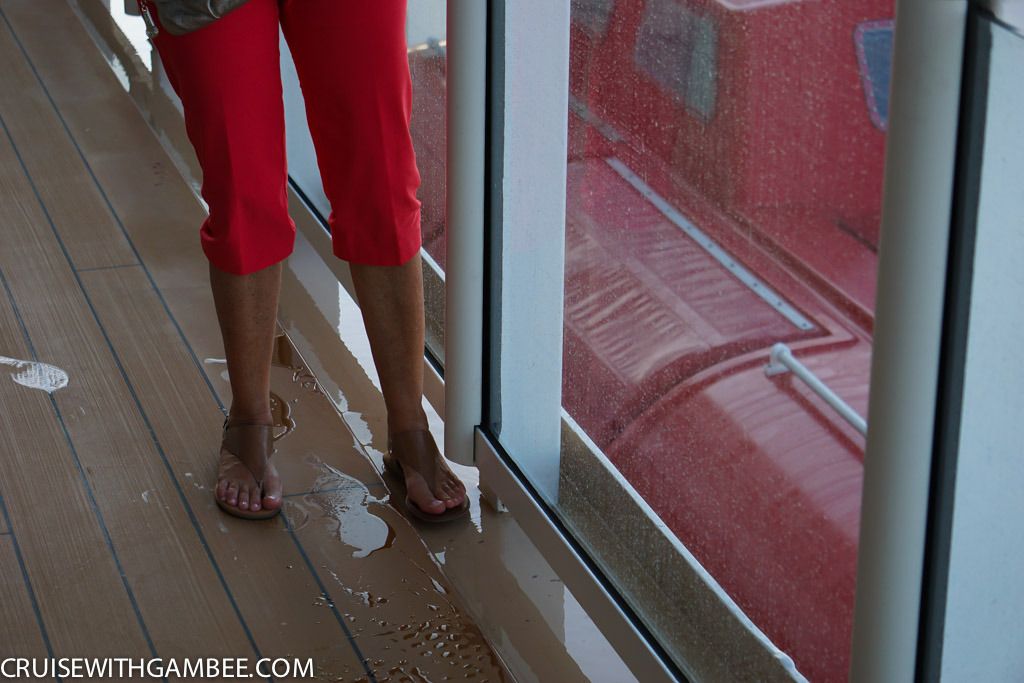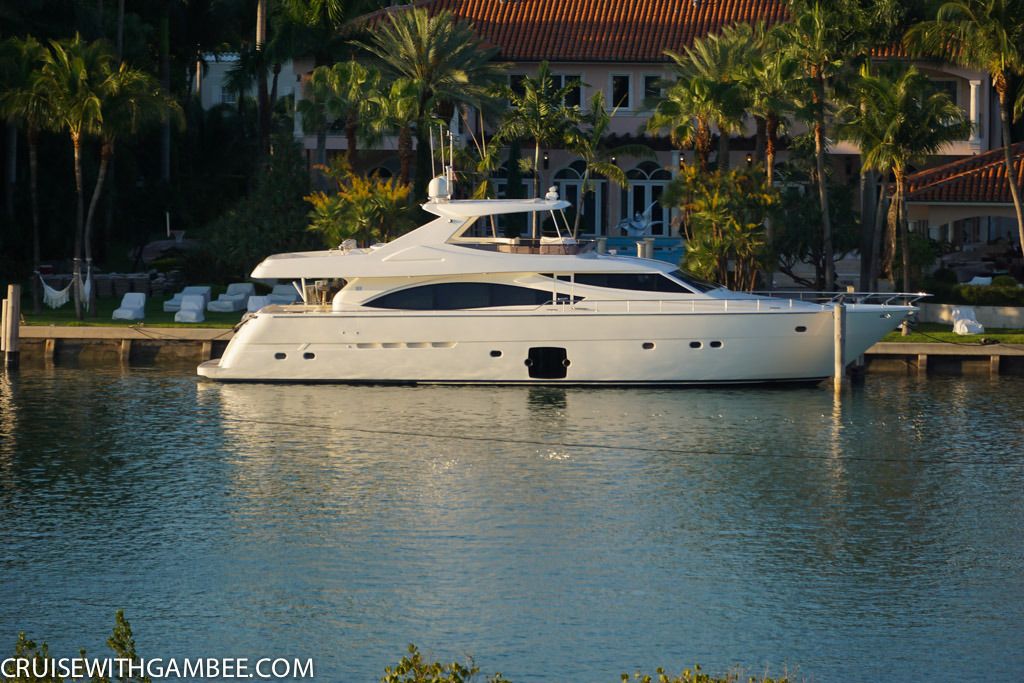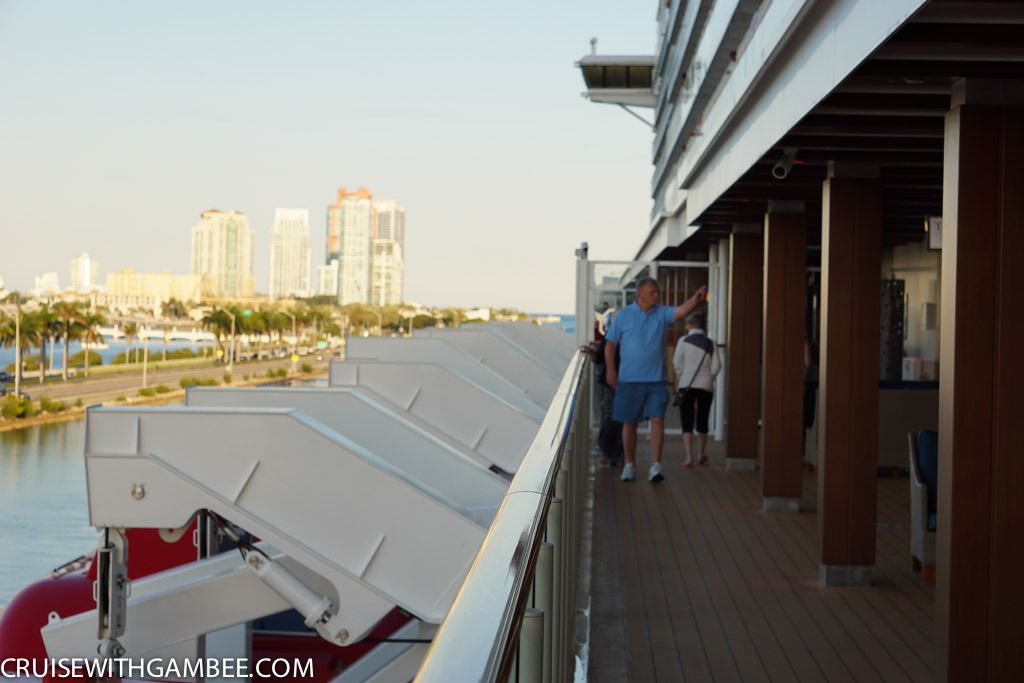 My future yacht,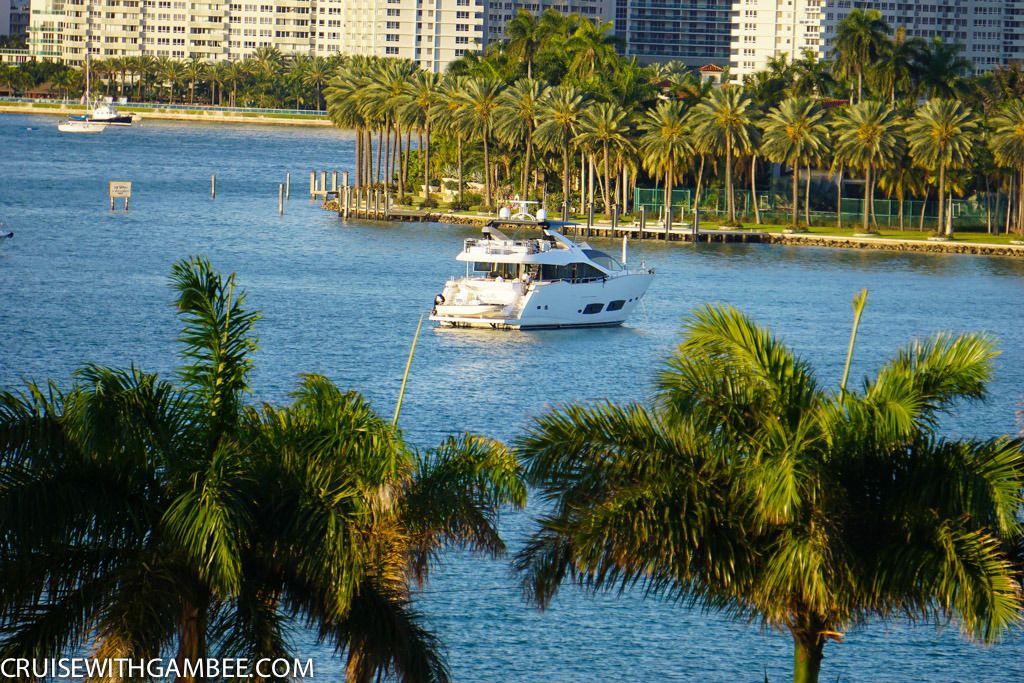 And one of my future cars… All I need to do is win the lottery
Some of the crew enjoying the view.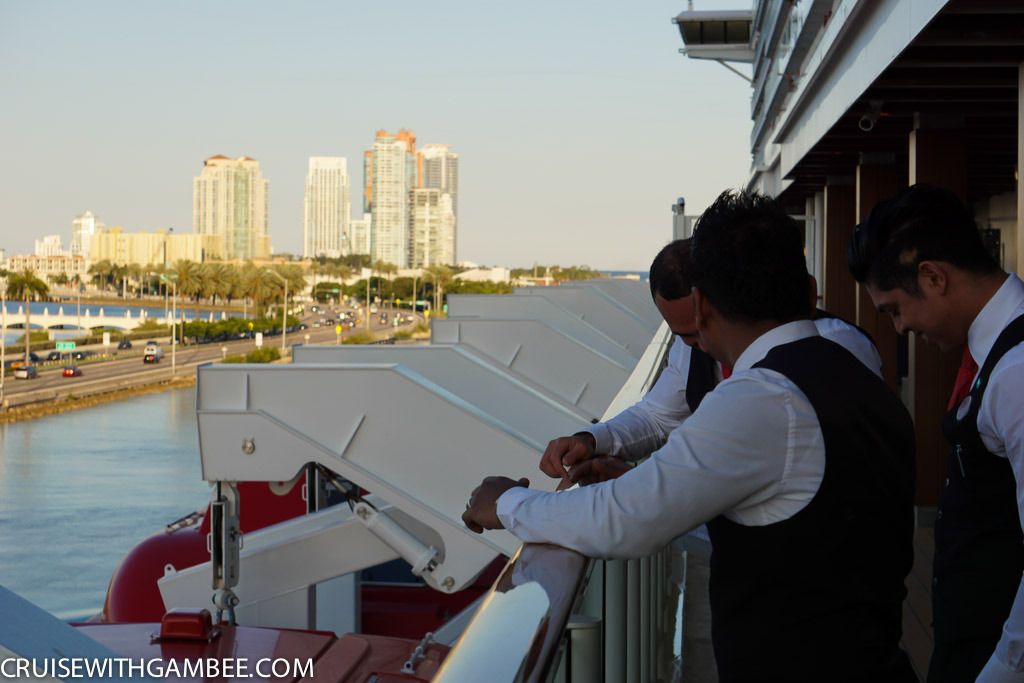 Everyone enjoying the sail away!
And yes, we had our horns, and we were blowing the hell out of them!!! Oh My, that did not come out right, lol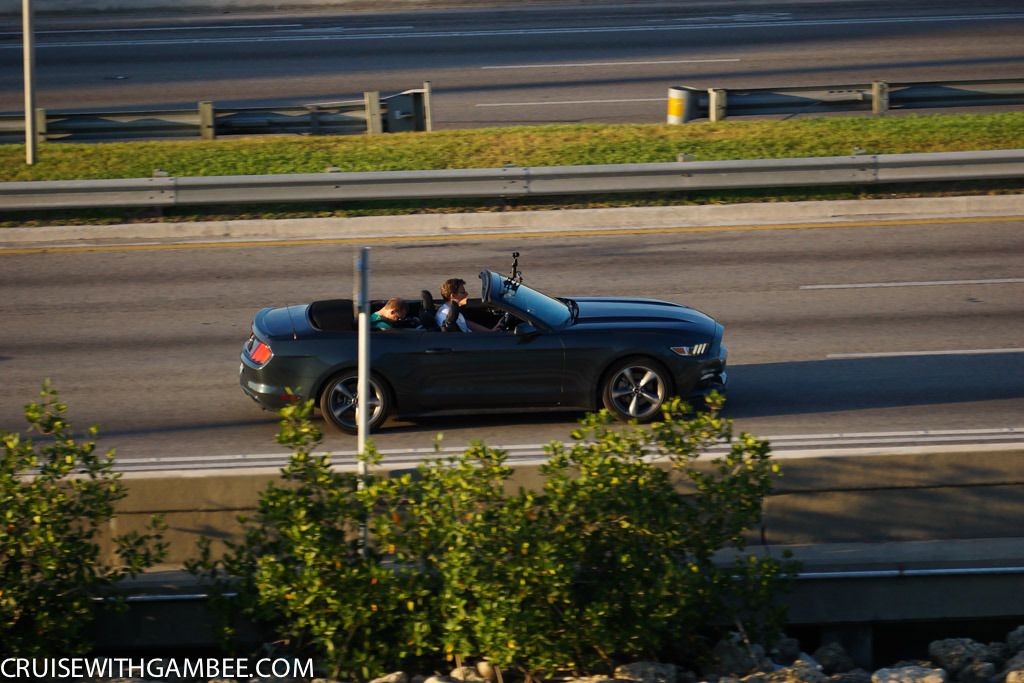 On the way to Fisher island and waving at us!!!!
RIGHT HERE!!!!!
Love candid pictures, LoL.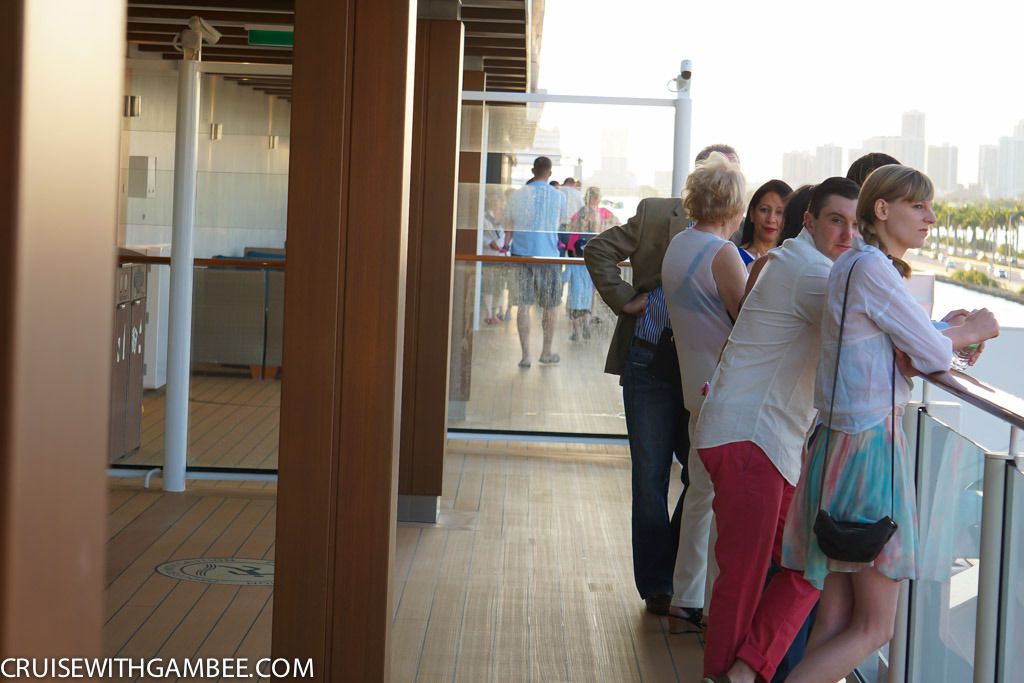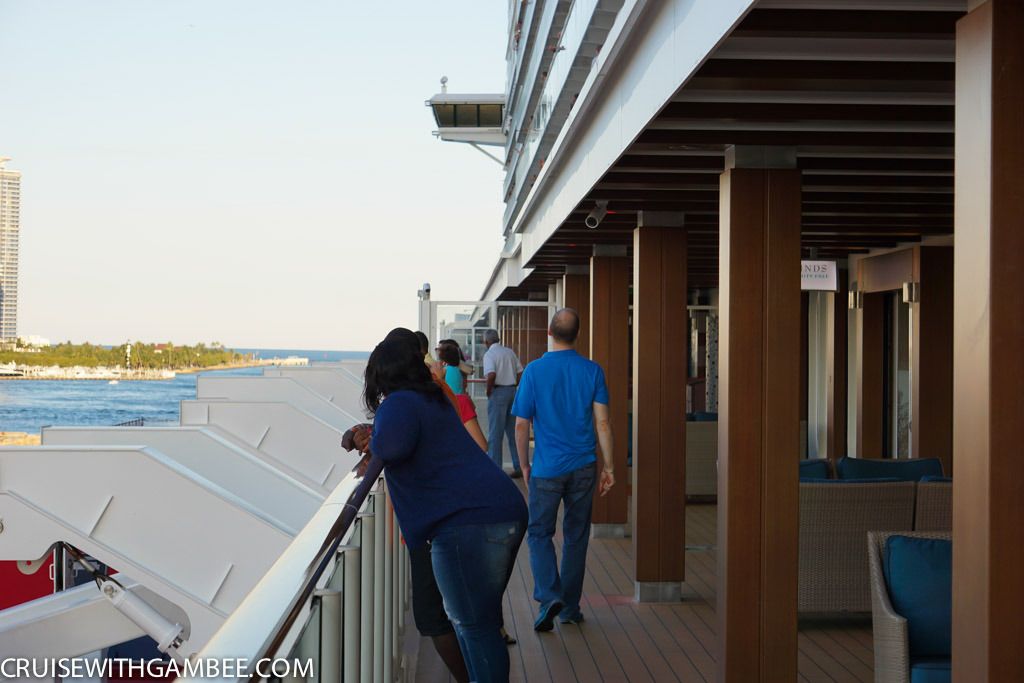 Go Mom!!!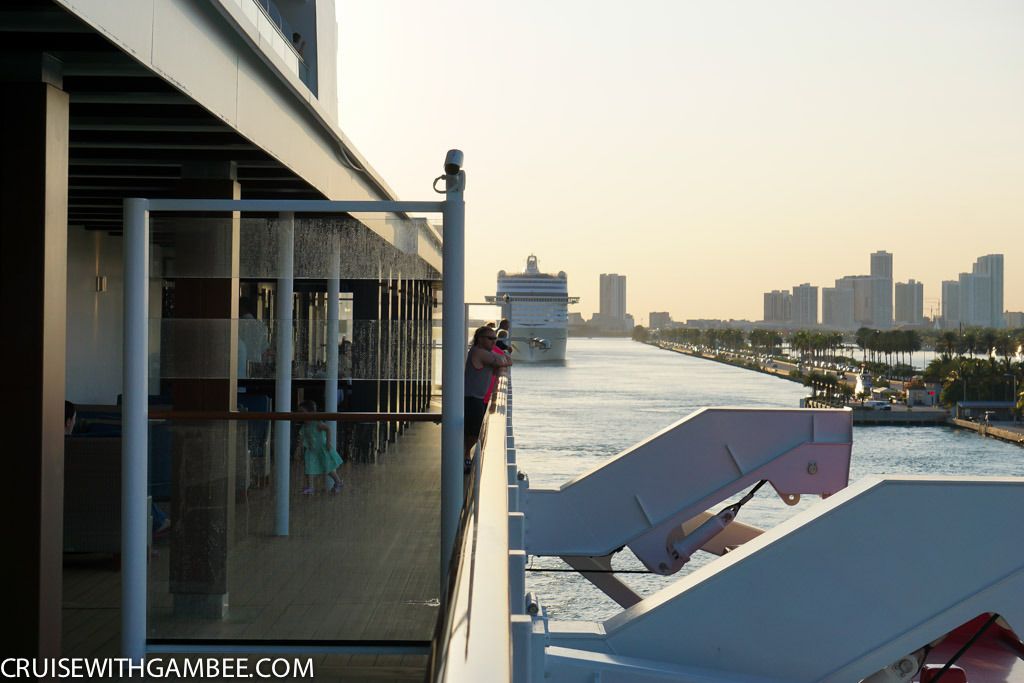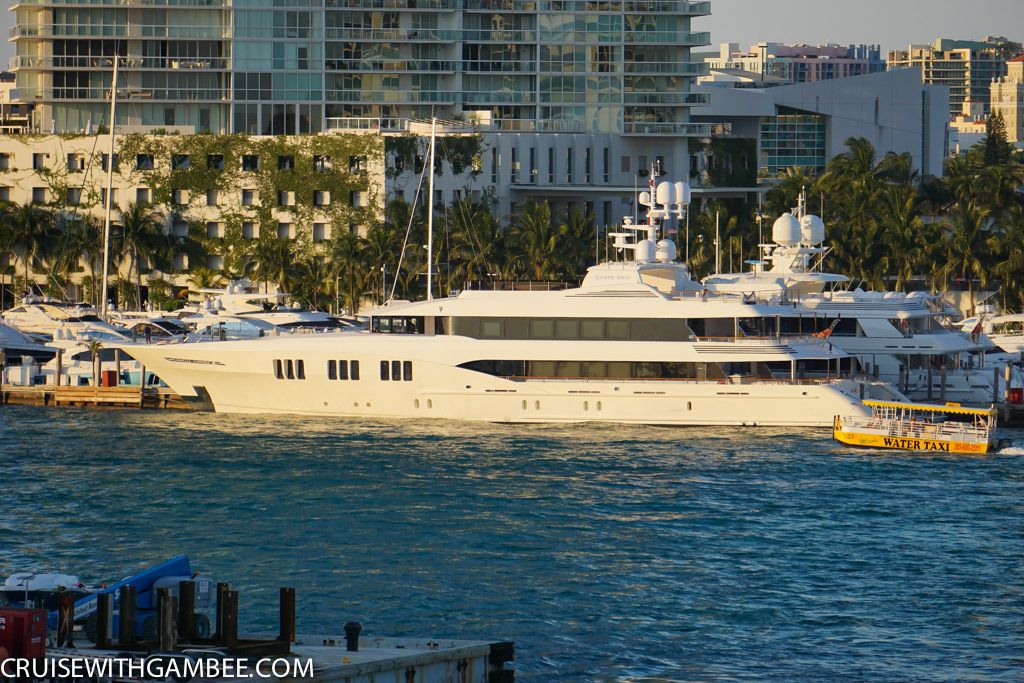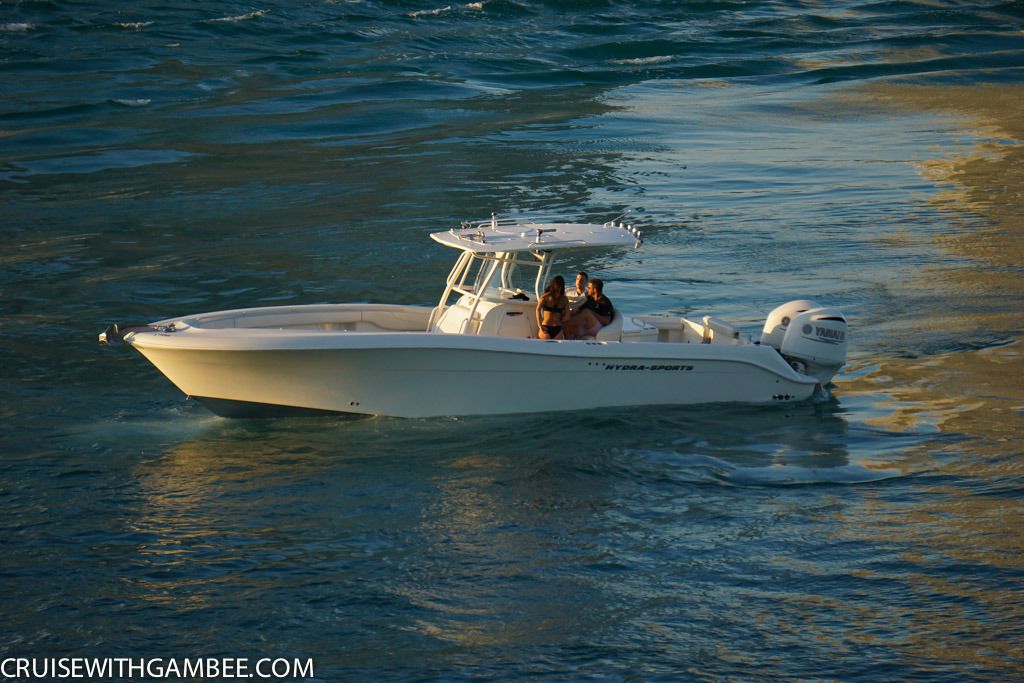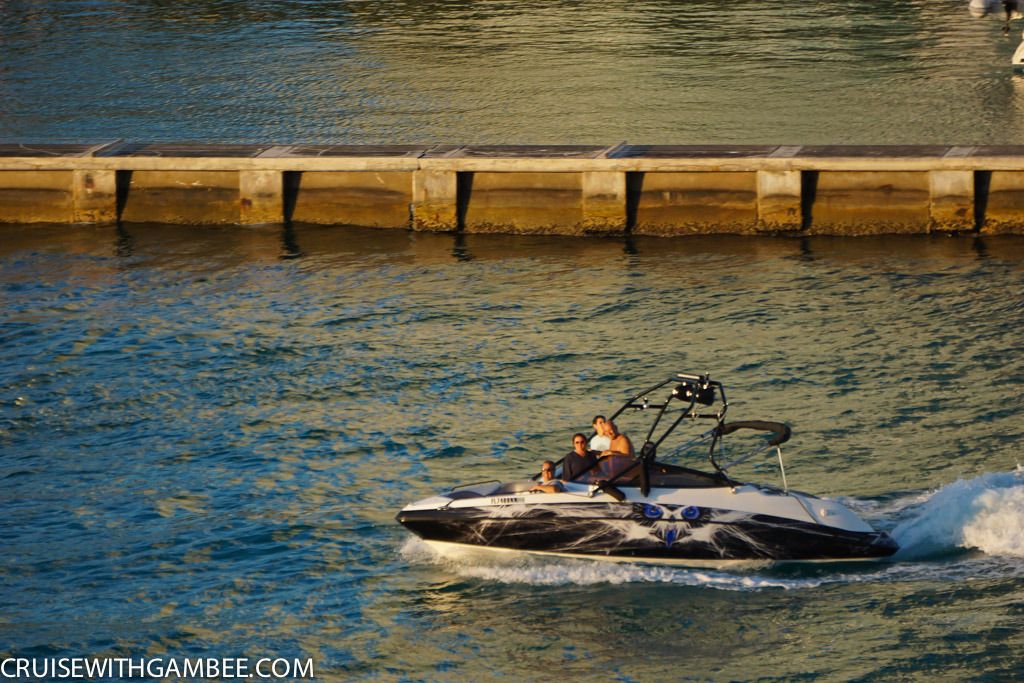 Some yoga at the beach.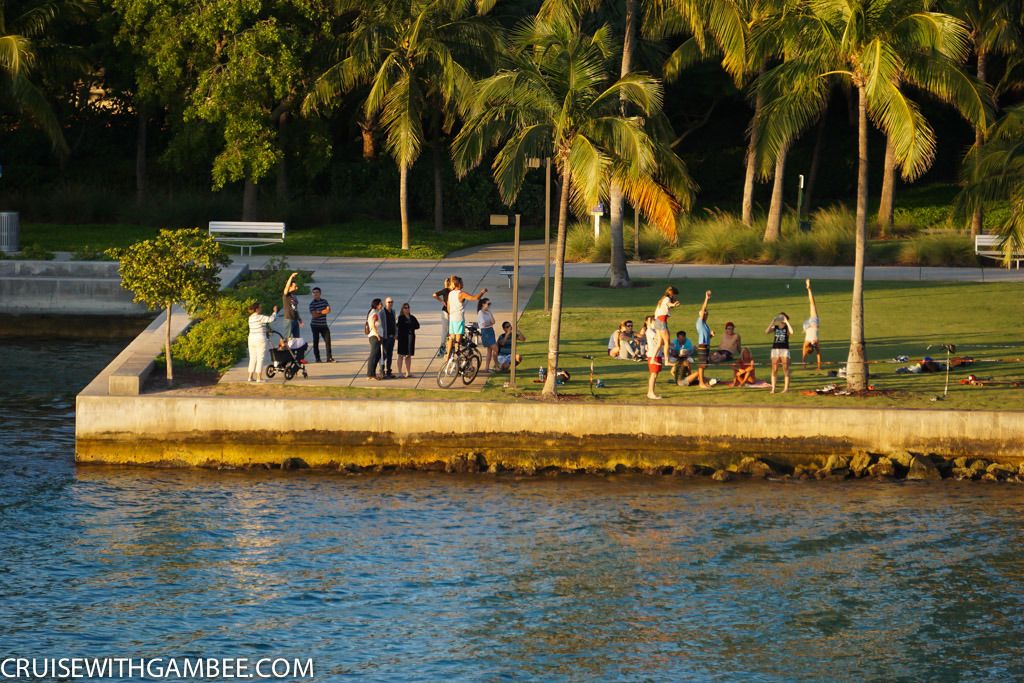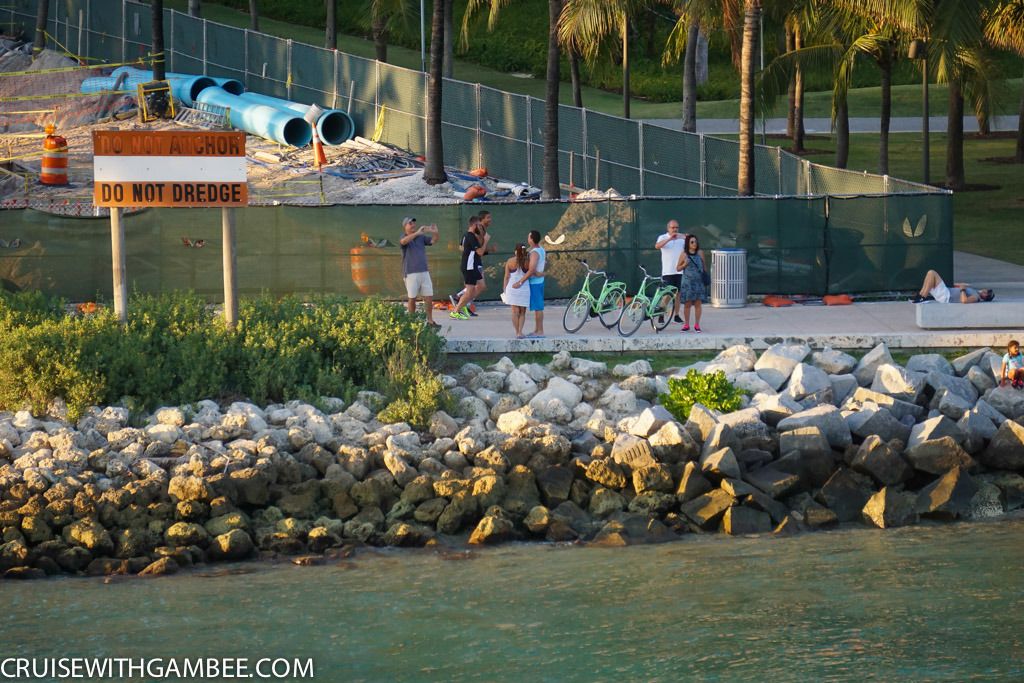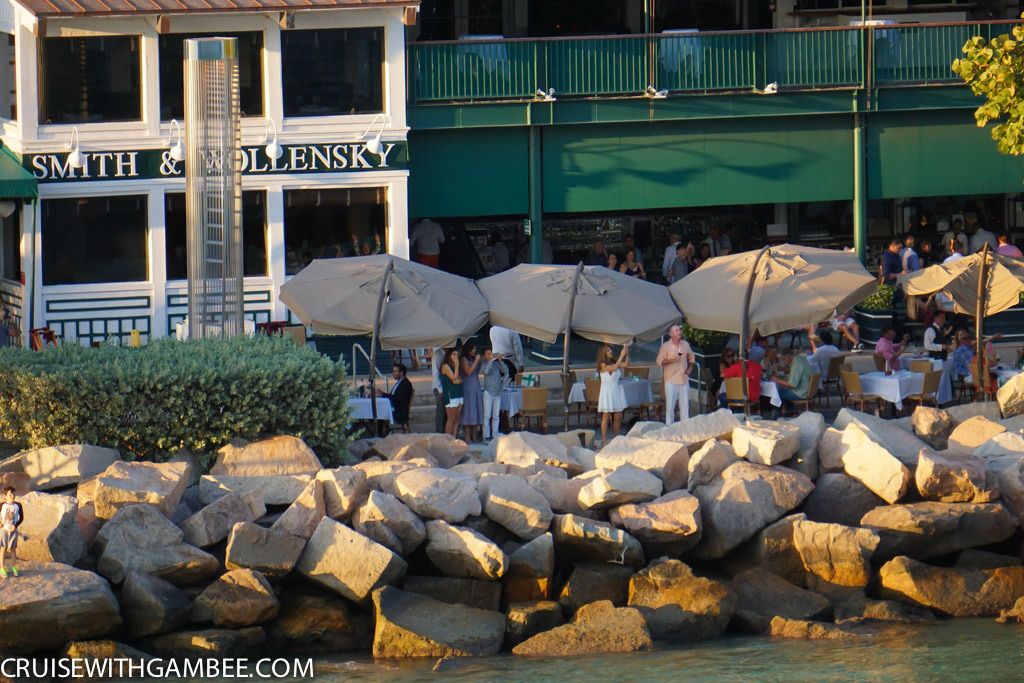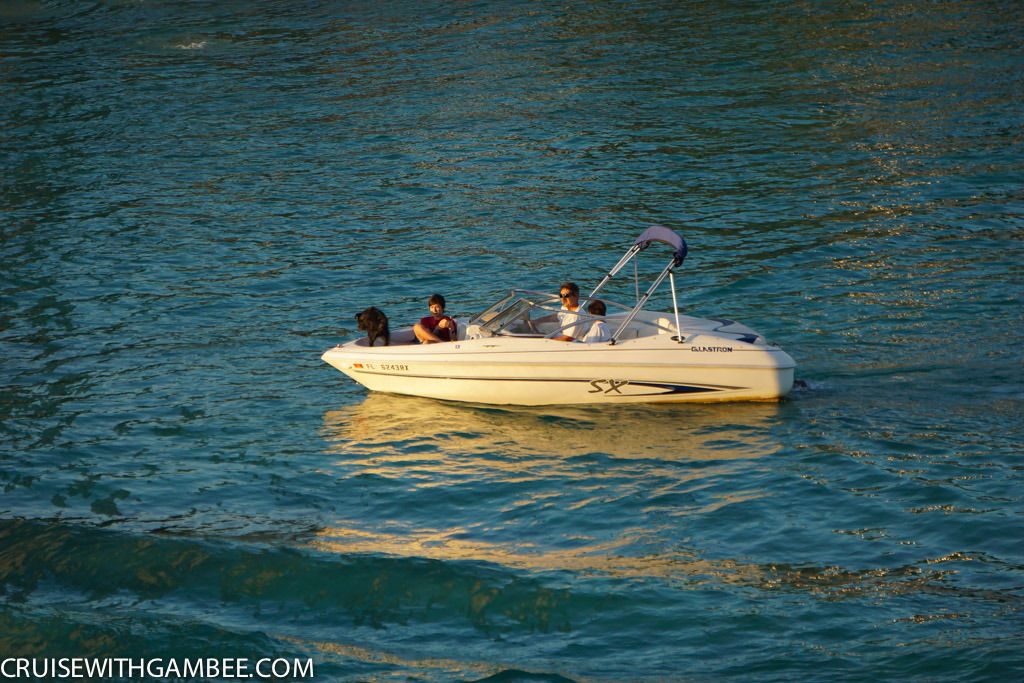 Finally someone waved back, a bunch of miserable people.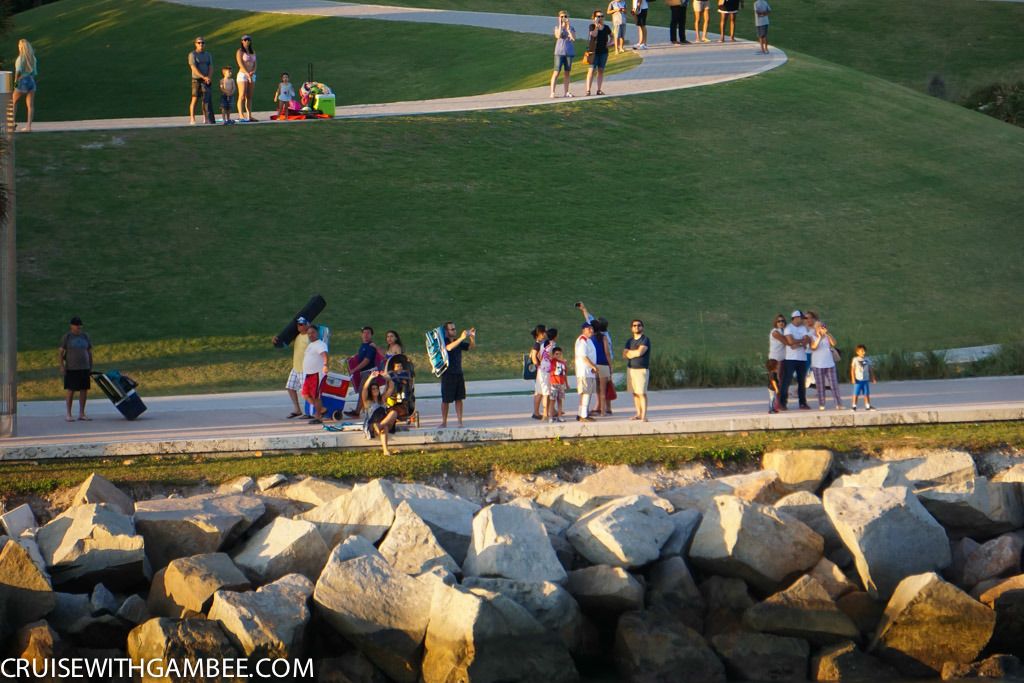 All the people looking at mom and I making noise
I will admit, this is the least people waving back us ever. I much rather leave from port everglades.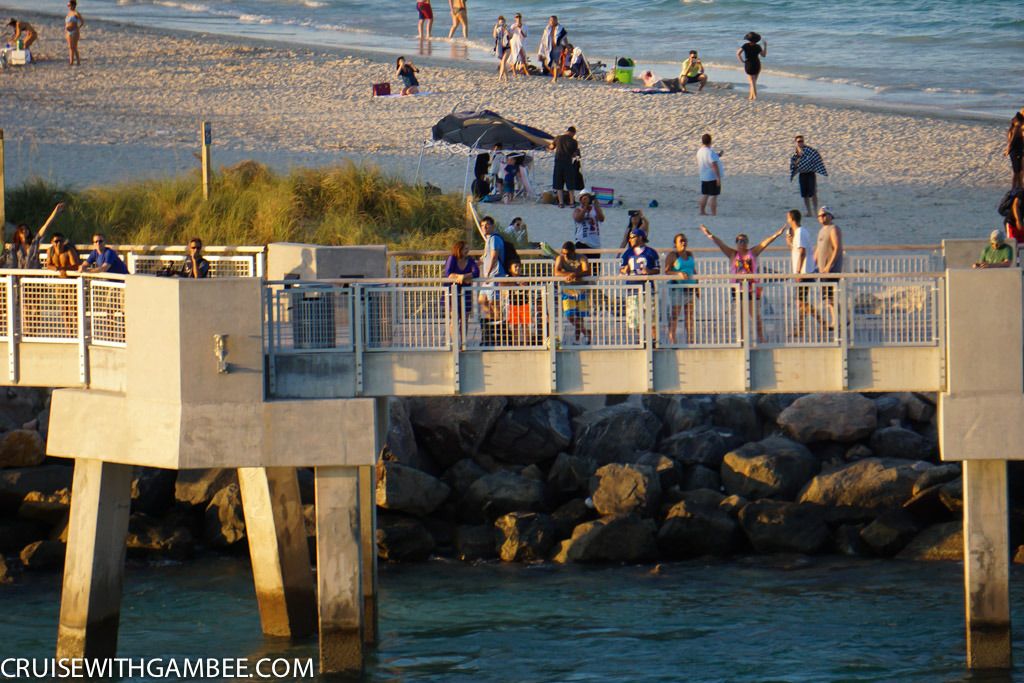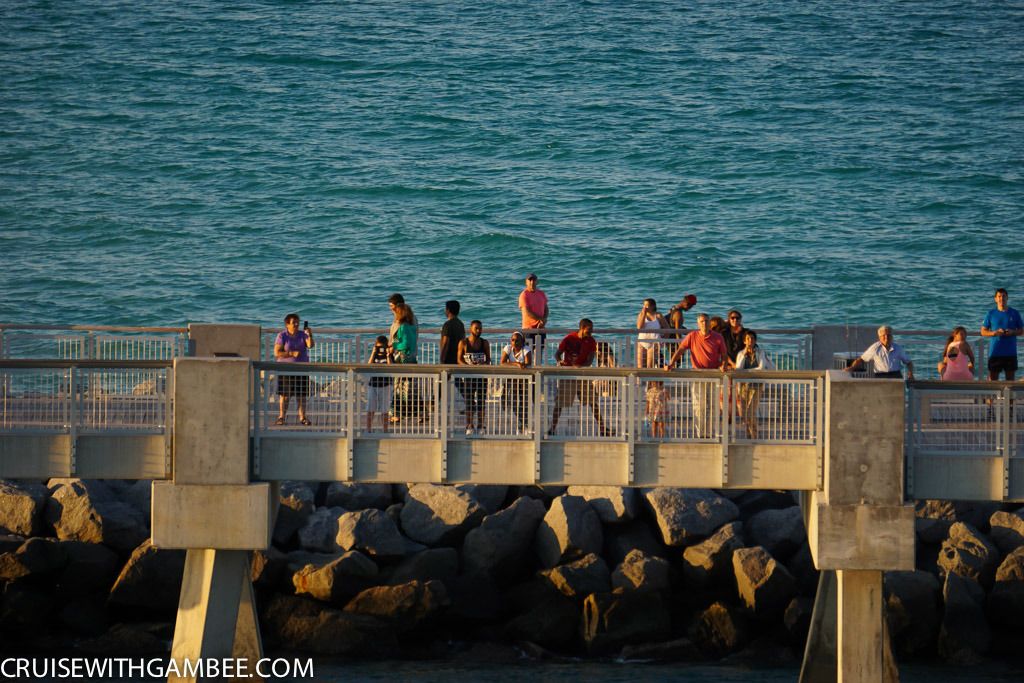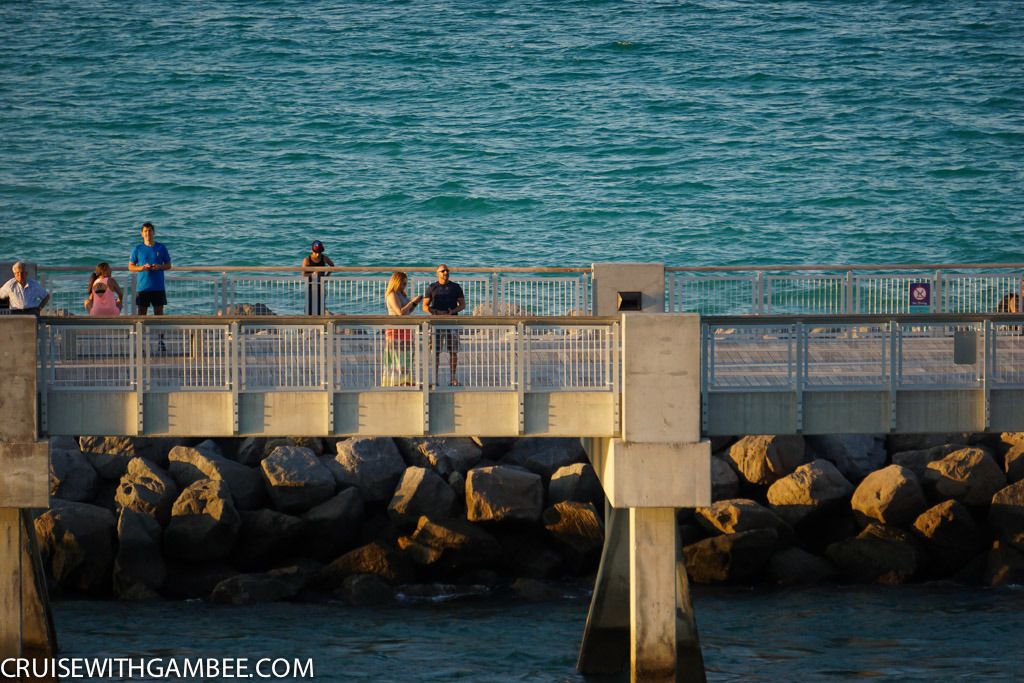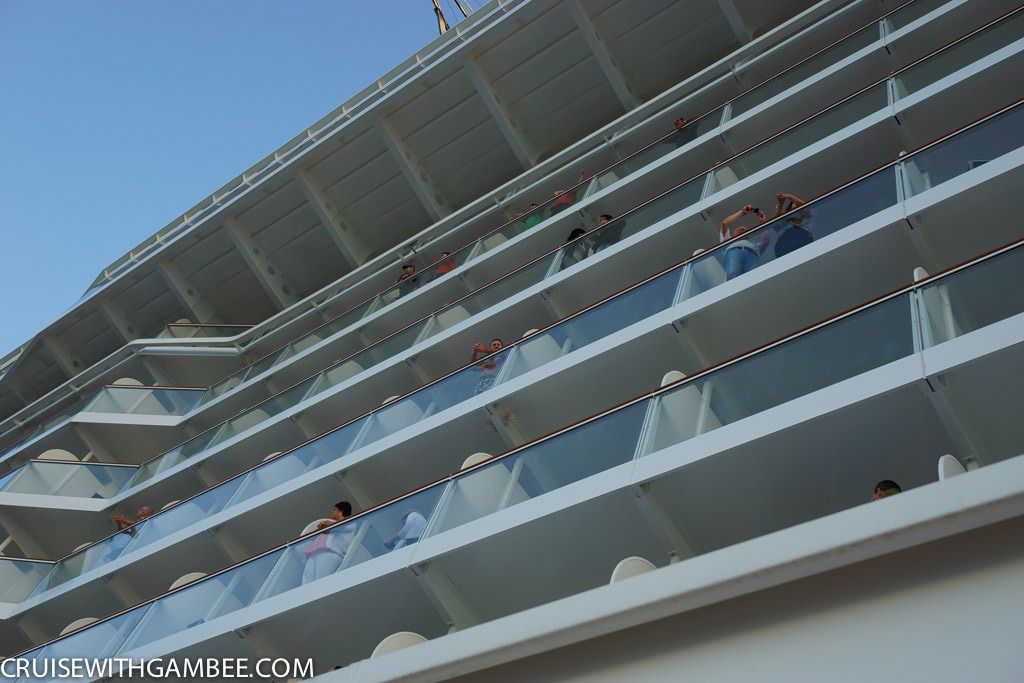 Mom's first spill
Hello World! And good bye to Miami!
Hold on for dear life
Back in our balcony. No smoking issues on this cruise =). Just some very loud people around us. By the way the walls are paper thin, and the doors slam too hard. That was usually our alarm each morning, slamming doors all over the place. Oh, and our neighbors upstairs beating each other to death each night
. I am surprised no one reported them! I have a feeling he grabbed her by the hair and just slammed it all over the place, either that or ummmmm how do I put this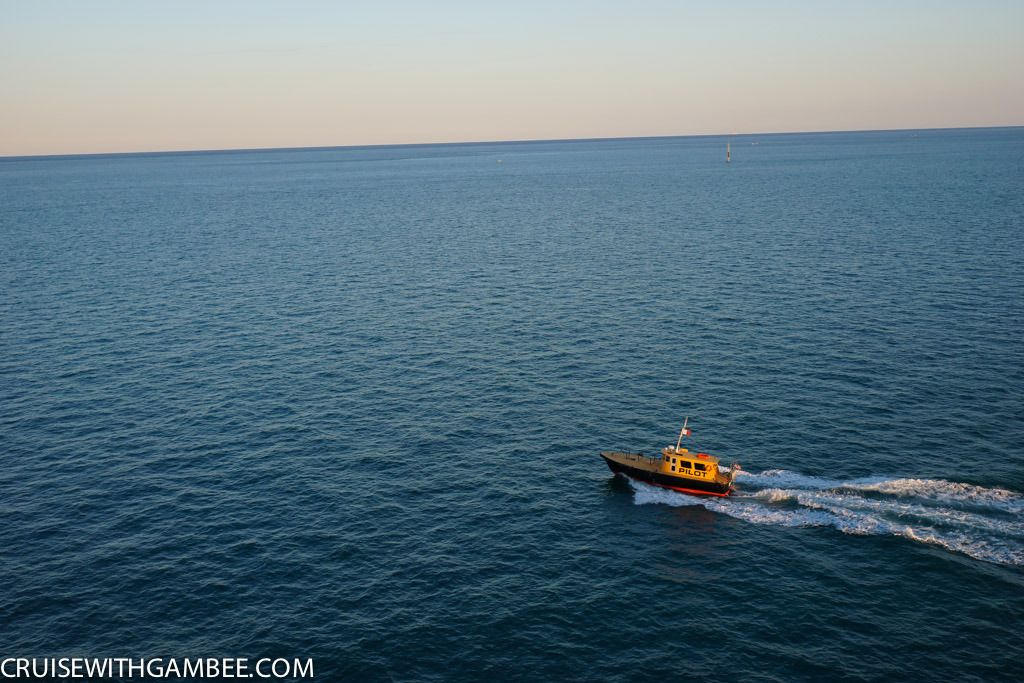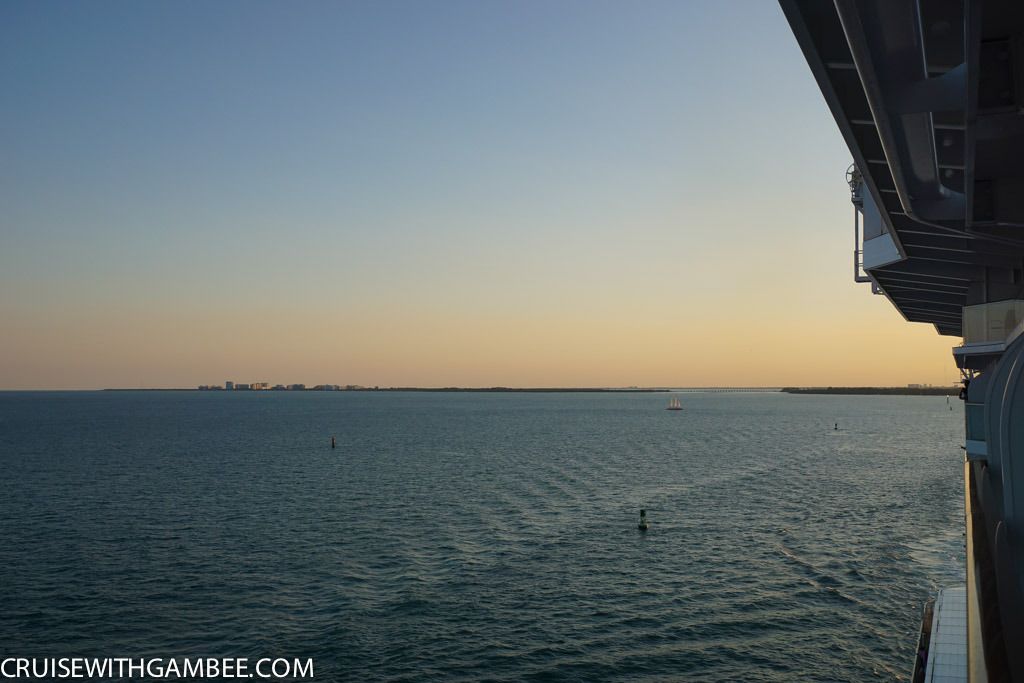 Need I say more?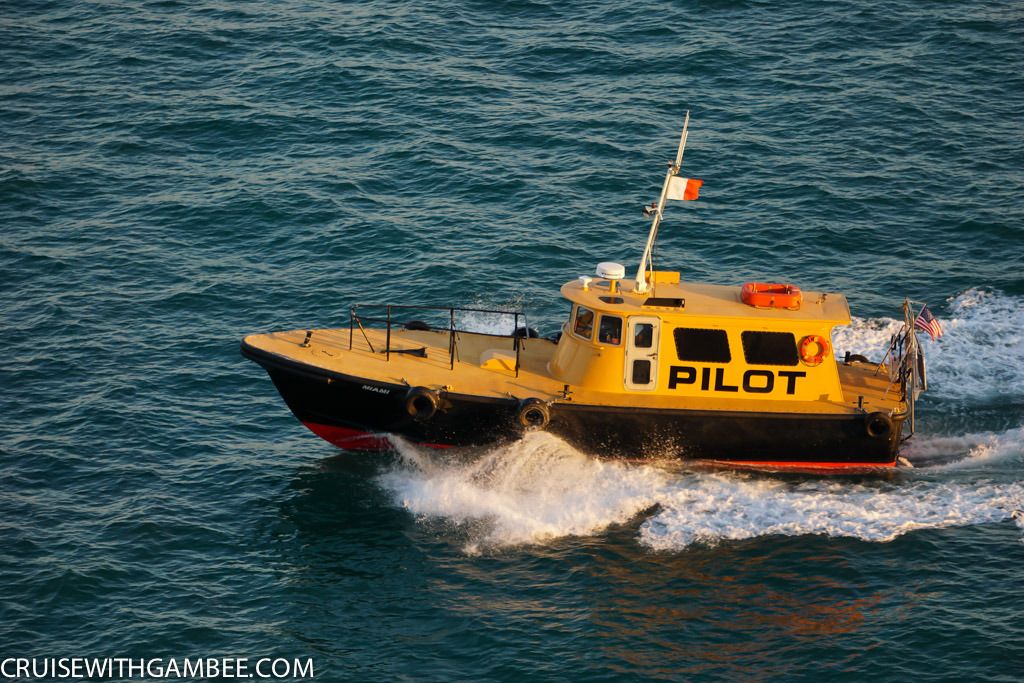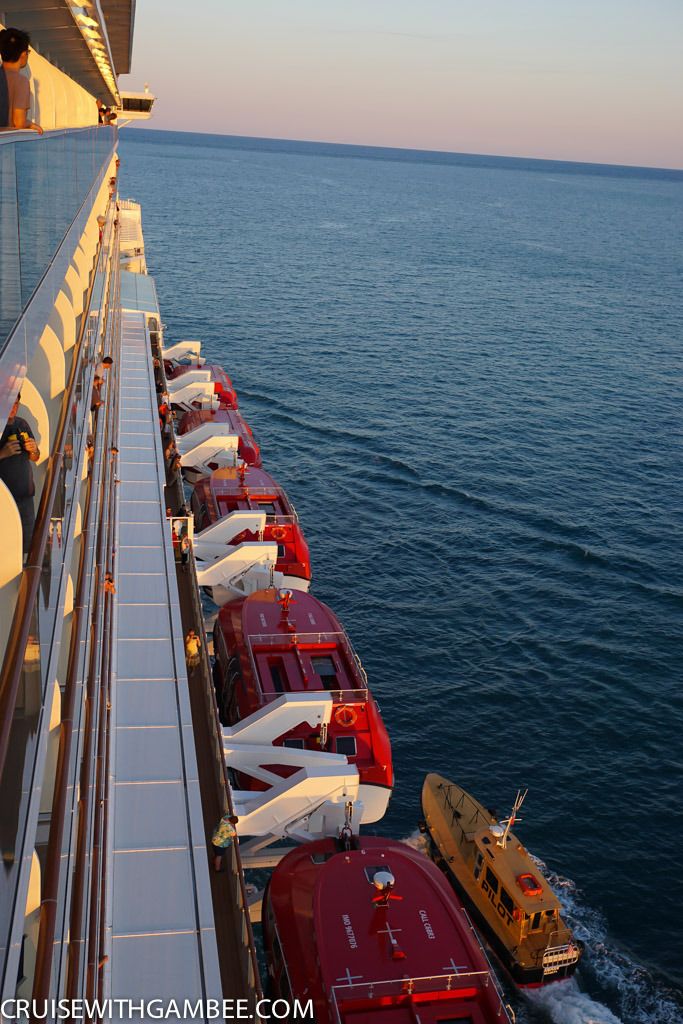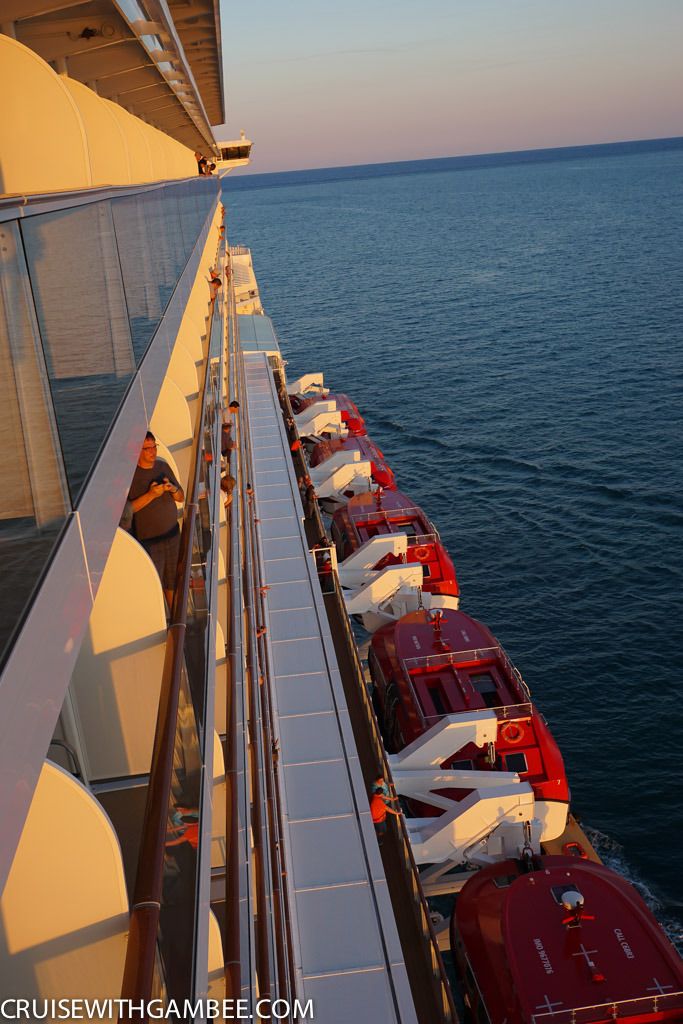 How incredible is this pic, one for the books!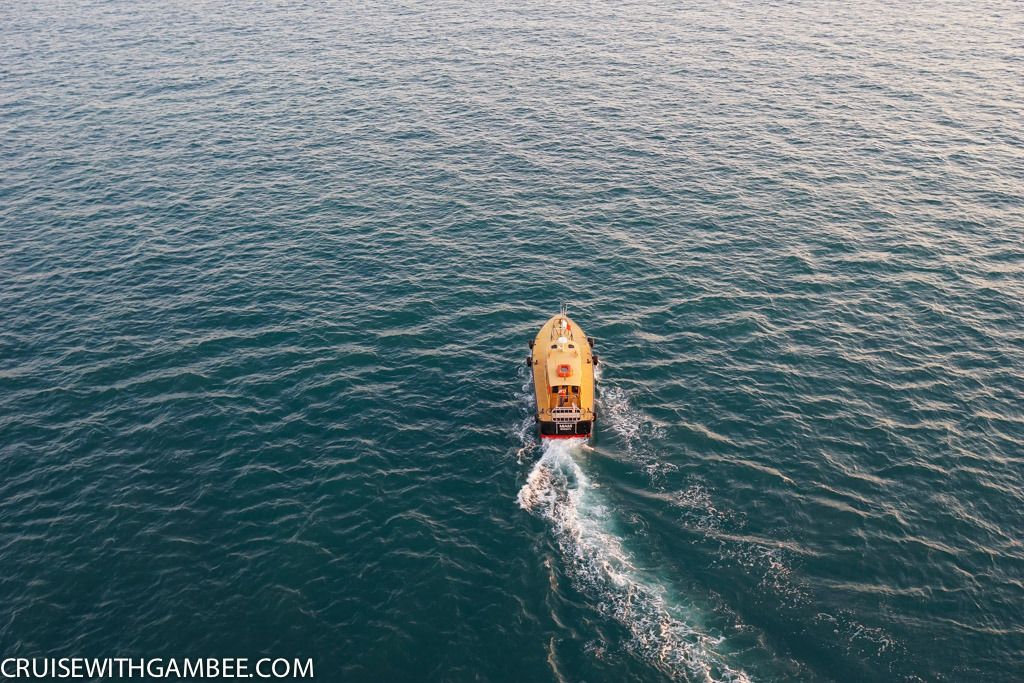 Divina following us.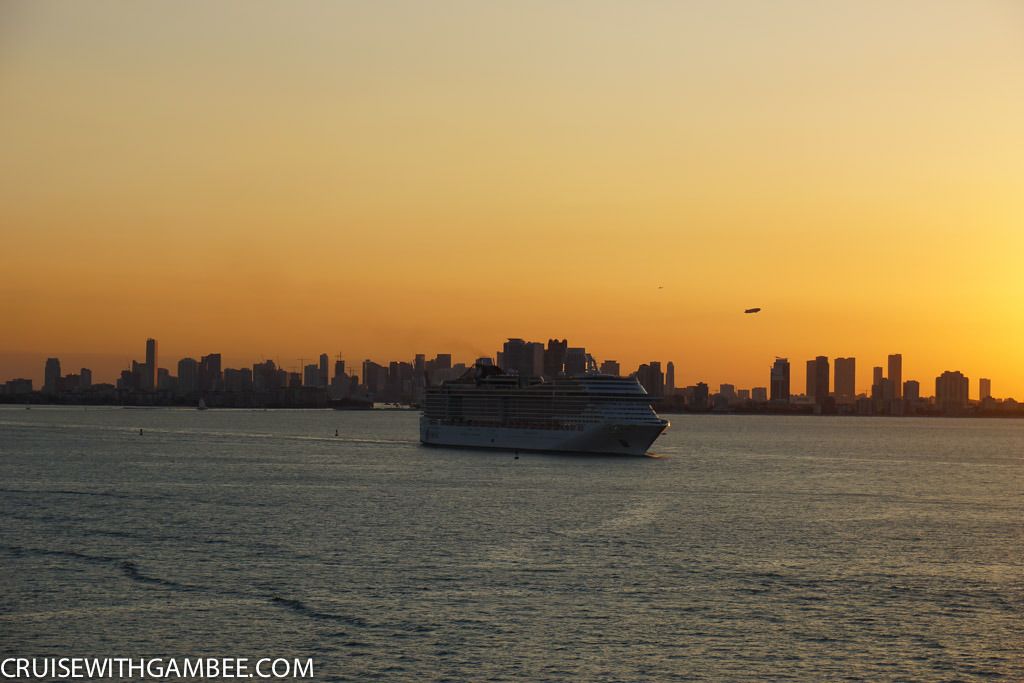 Let's touch on another subject. Most of the reviews that I read complained about motion on this ship. Well, I will be completely honest and say that it was minimal on our voyage. We did have some high winds on a few days, the ship just rocked very gently and soothing. I am not sure what kind of weather the ship went on the other sailings, but to us this was a non issue at all. And this was kind of a disappointment for me, I was really looking forward some major rocking. Mom on the other hand was super happy.
Nonetheless, we did not know that then, so we took all our meds. I also saw a ton of people with the behind the ear patch.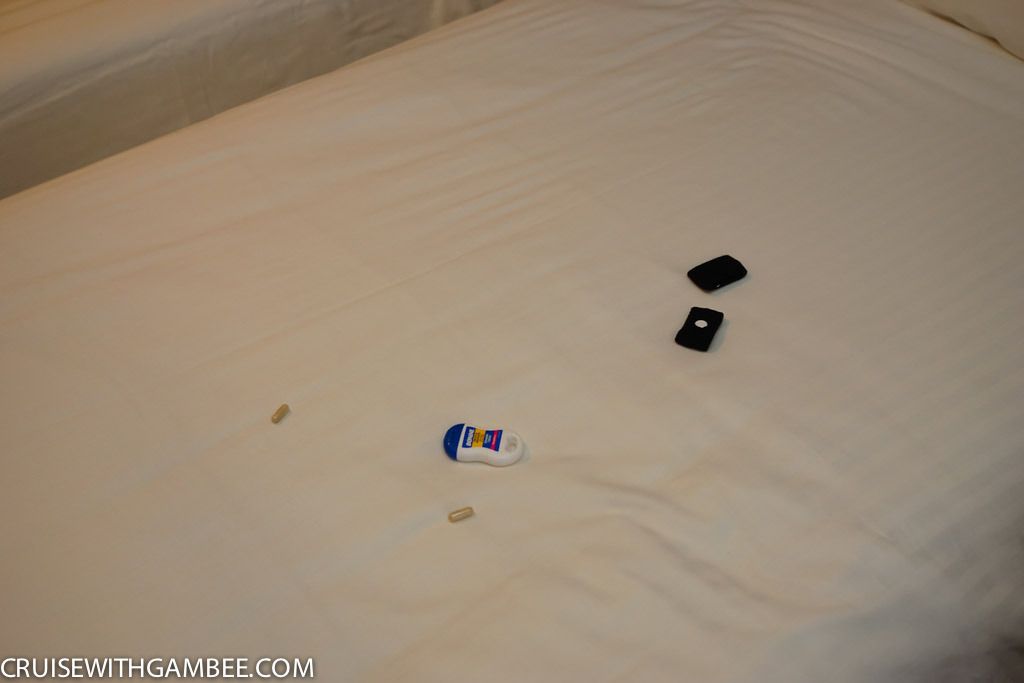 We then went to Bistro for our dinner there
Notice that the crowds are well dispersed, and almost no wait times on the free restaurants, unlike my breakaway experience.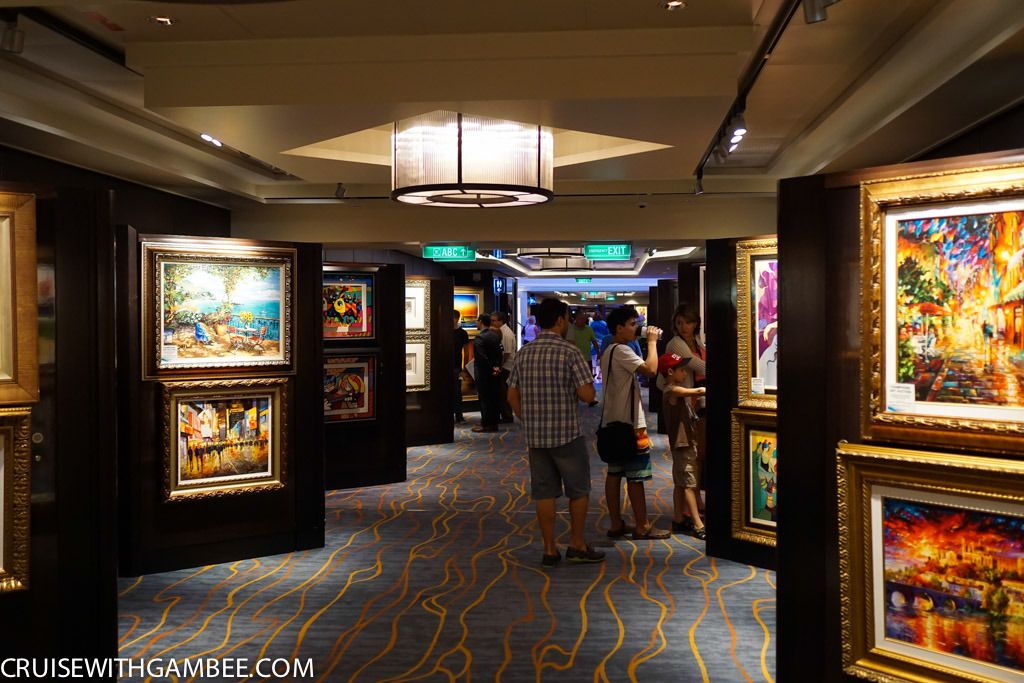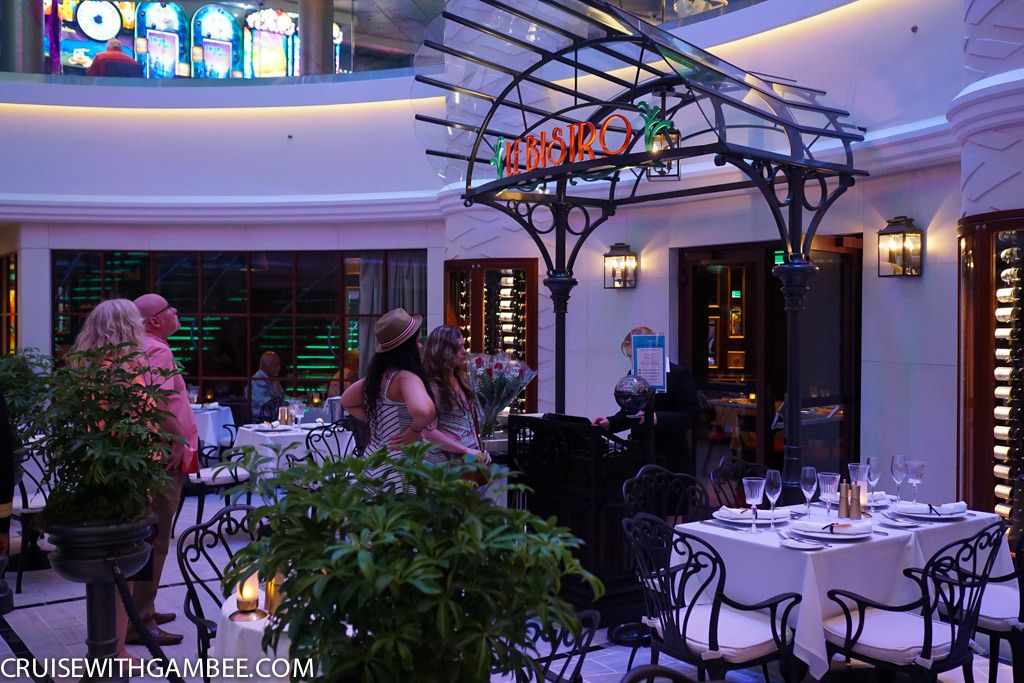 Just a little something to note, late in the evening there is some mild smoke smell in this area. Not horrible, but yes, there is some. Mom said it was not too bad, and I have to agree with her. But it was however noticeable.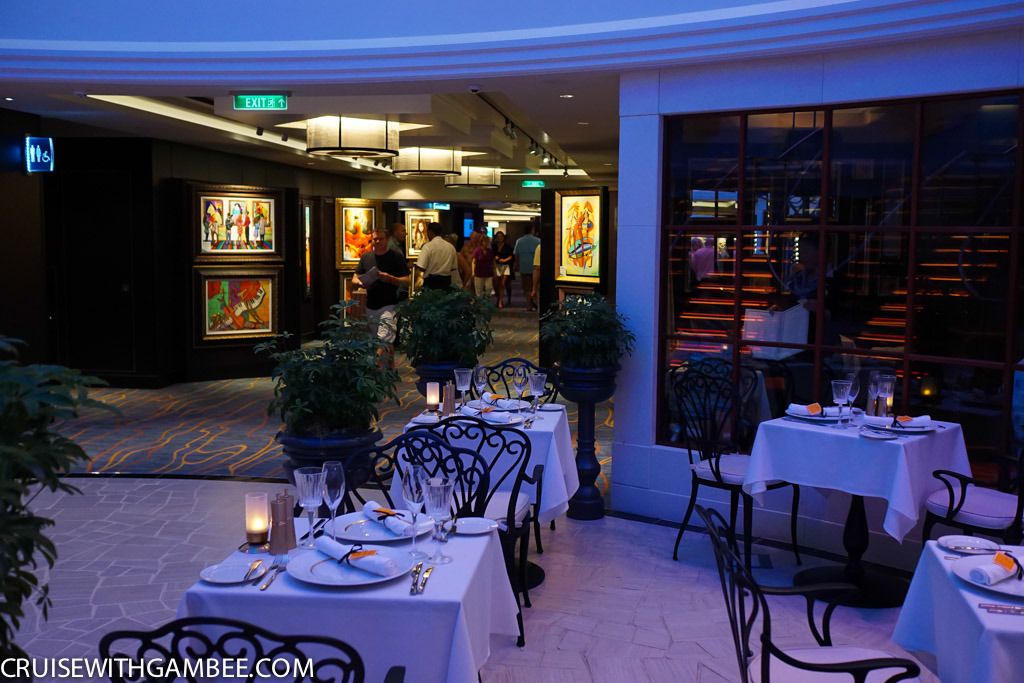 We got to Bistro and were welcomed by a fabulous hostess, which actually turn out to be the staple for this cruise. The crew is the best overall that I have experienced from 11 cruises that we have taken so far. That to me says a lot.
The service on bistro started a little dry, but it quickly changed into perfection. I think the large group next to us was running him thin.
Here are the internet plans. At the moment we did not buy one, mom was actually insisting that we go the entire cruise without it. But there is no way that I could do that to her. She is plugged woman, I swear I am not sure what would happen if there was a zombie apocalypse. Then again the lack of internet would be the least of our worries, lol
I guess I can go ahead and talk about the internet now. It costs 3 times as much as the RCCL one, and it was about 1/3 the speed of the RCCL one. Total rip off, but it made mom happy, so all is good. We ended up buying the unlimited one on day 2. I think I paid like $179, something around there.
Also logging in and out is a pain in the ass, so switching from devices is not ideal. After a while I was quite irritated about it, so I basically left it only on my mom's phone and used her phone sporadically. The main problem is that you have to log out of one device to log into the other. But to get to the log off page is quite irritating.
All that said, the news is that NCL has partnered with a satellite company and they will have fast internet on the fleet by July. They really should, because most lines have cheap internet now. The cheapest one being on MSC if you get the 800mb one.
Anyway, on to the food. I got a dirty titos martini, which they forgot to make dirty. But that meant more Booze, so no complaints here. Mom stole my olives as usual
I got the muscles, mehhhh, get something else. They weren't bad per say, but I bet half of the menu is better than the muscles. My dumb ass just ordered the most expensive thing since it was included, don't make the same mistake. Choose well and to your taste. The sauce was just,,,,,,,
OMG MY MOM'S SEAFOOD PUFF PASTRY APPETIZER WAS UNBELIEVABLE!!!!!!!
Mom's Moscato. May I say that I ordered a lot of top shelf liquor on this cruise, and I was never charged for anything.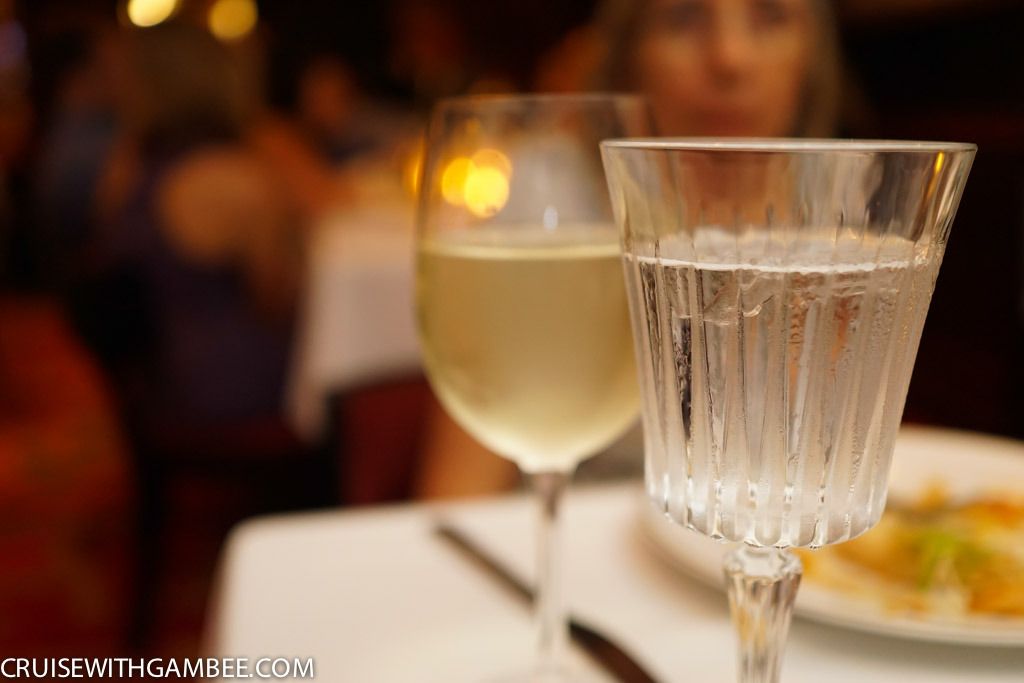 I got Dover Sole, it has been a while since I had this fish. It is quite hard to get it fresh, and it is usually quite expensive in florida. It was delicious!
It had a nice mild lemon, butter, caper sauce.
But again mom won with her lobster. They basically take it out of the shell and cut it into smaller pieces and then saute it with a butter cream sauce! Oh my God!!!! Soooooooooo good!!!
Mom for the win all the way. All that said, our dinner was amazing!!!!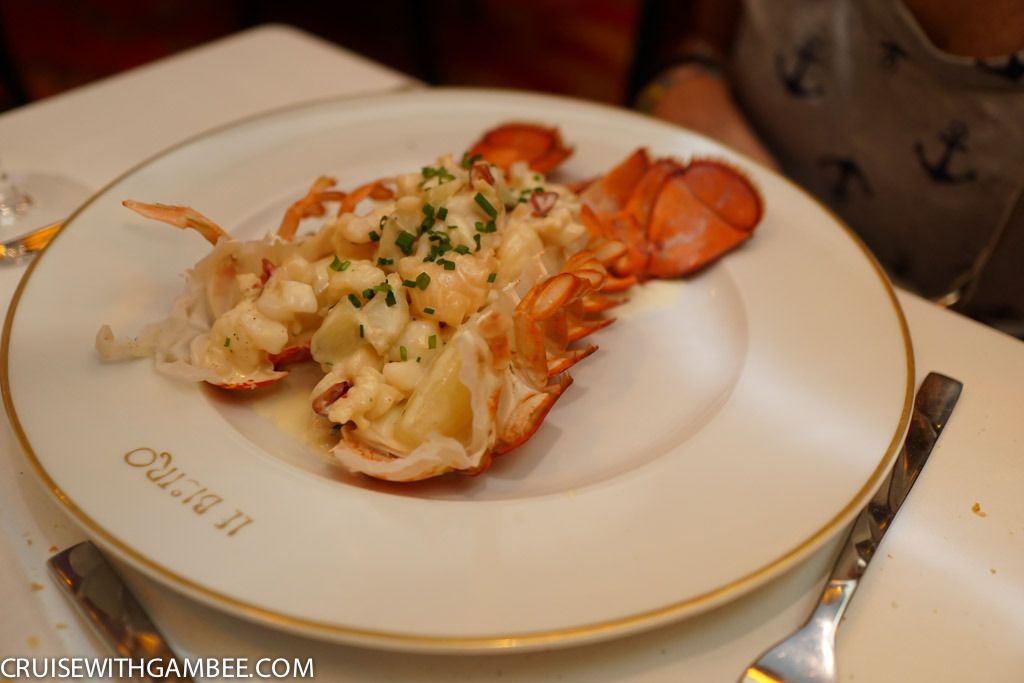 I got a port wine.
And a cheese plate.
Mom's creme brule, it was quite tasty.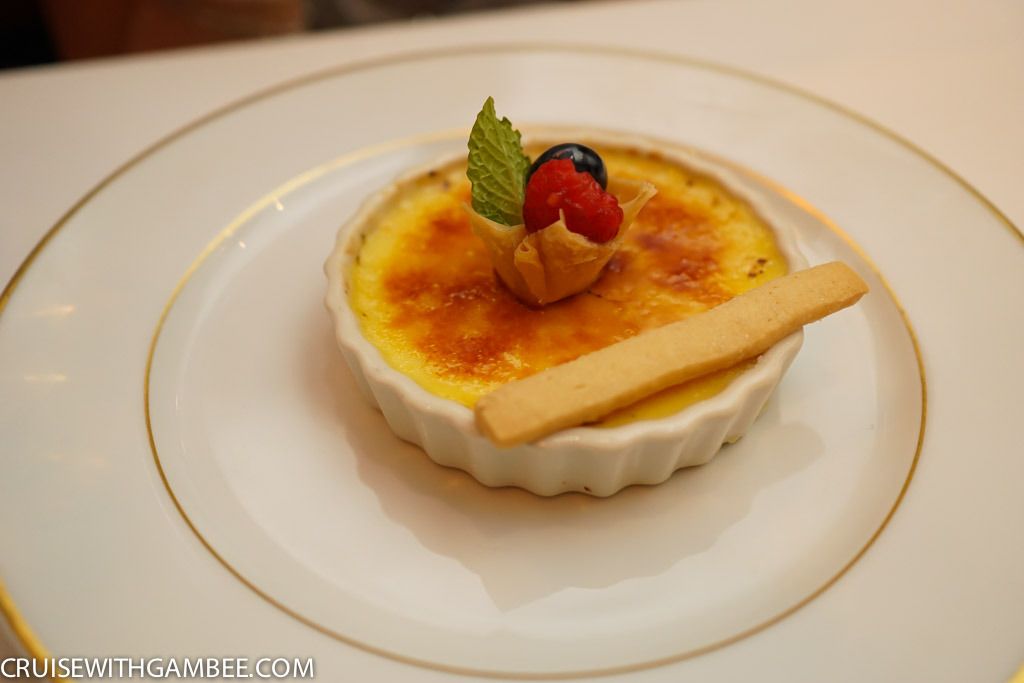 The bill. Remember, we had the 4 restaurant plan, which is not longer offered I understand as a freebie? Can you still buy them separately?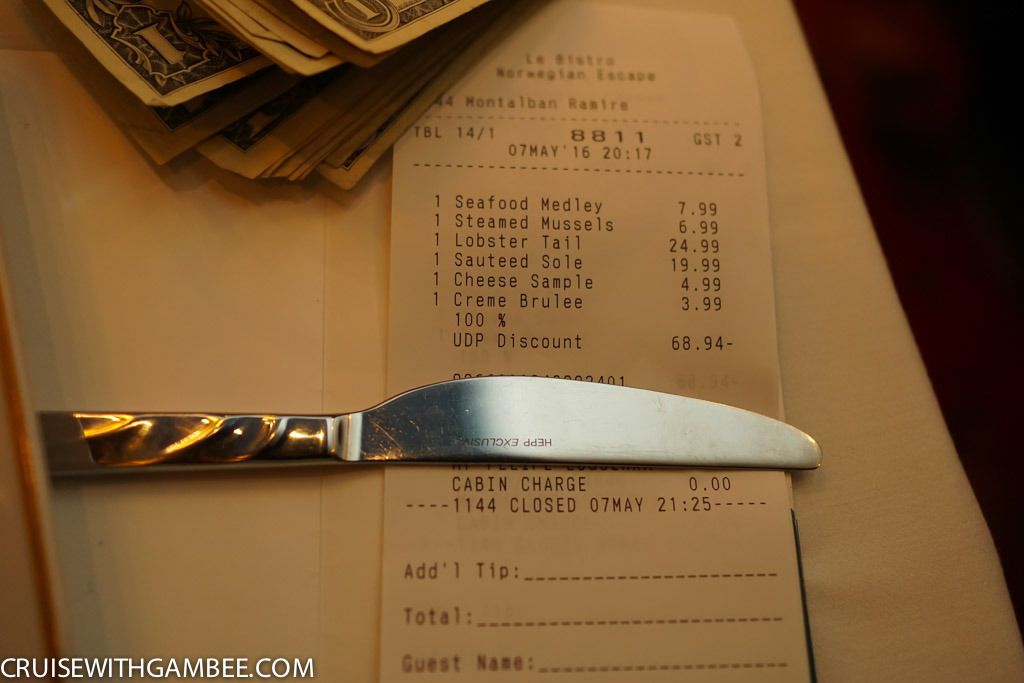 Again I want to commend the service, several people came around and checked on us. They would go around the restaurant introducing themselves, and stuff. It was unlike any other sailing.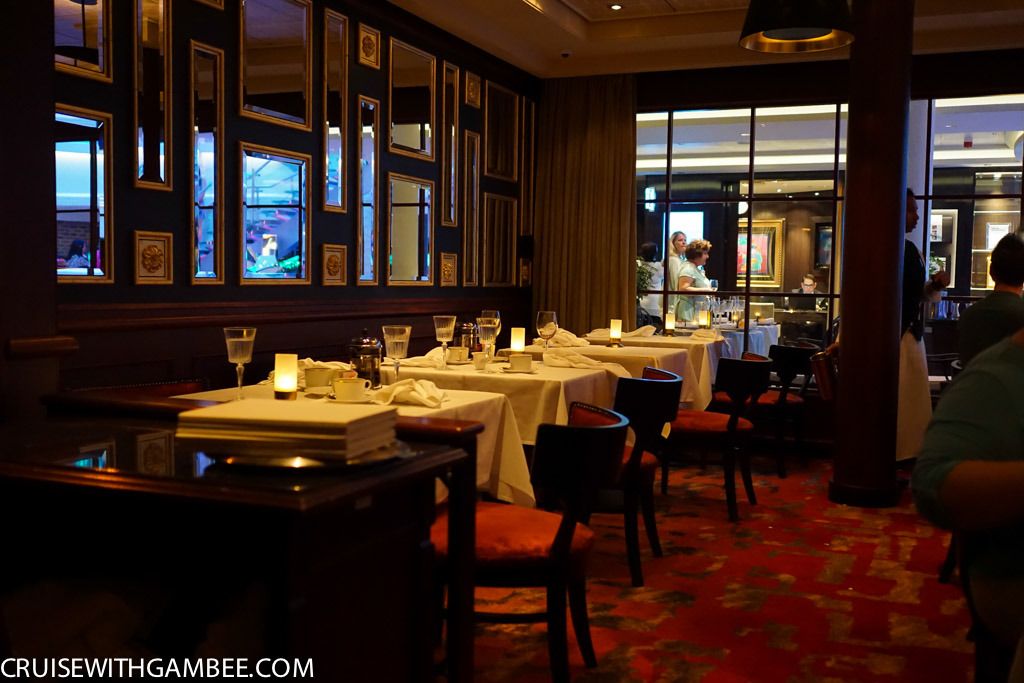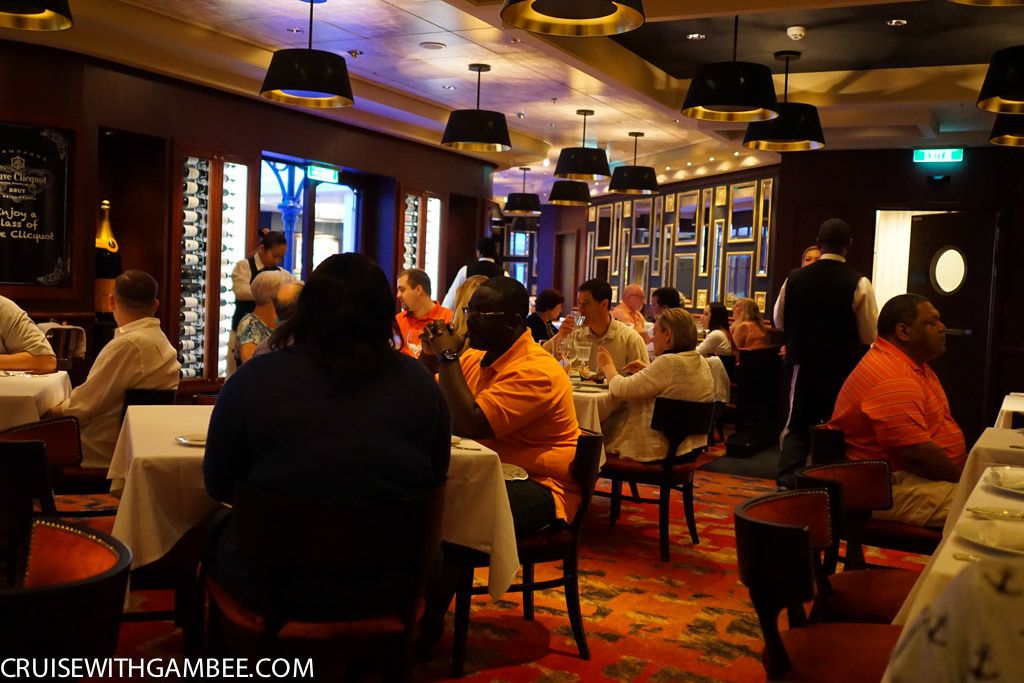 The table next to us had a huge steak! ME WANT!

I am not sure if NCL service is like this because they are in damage control mode, or if this is their new thing. Either way I was loving it! I really hope this is the new NCL.
We left and headed towards the Mixx bar to get another drink. Here is the list form that bar.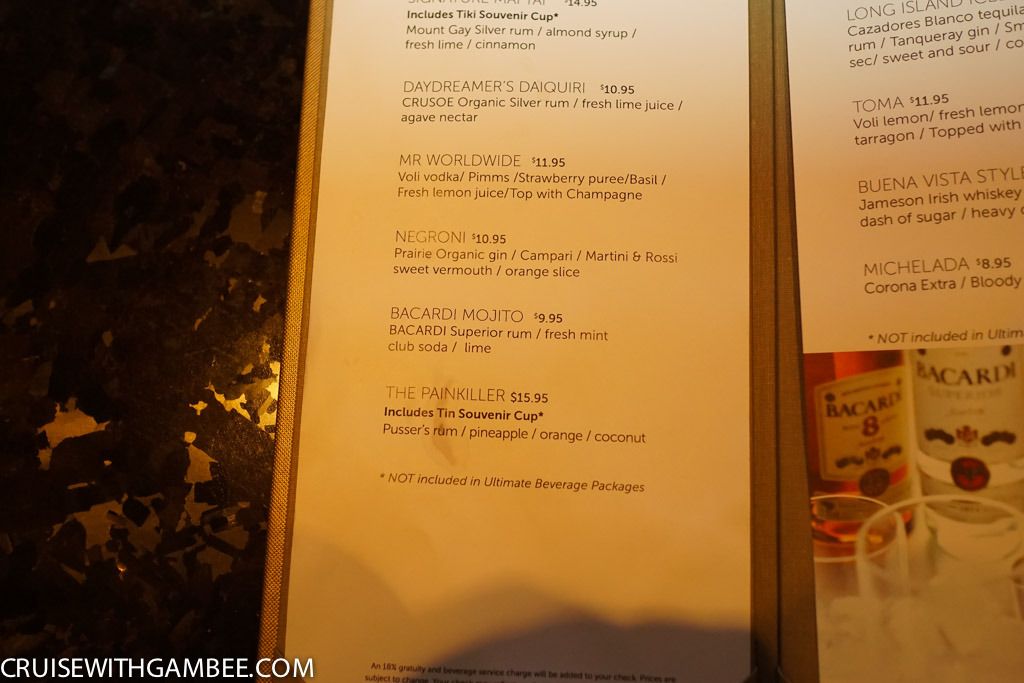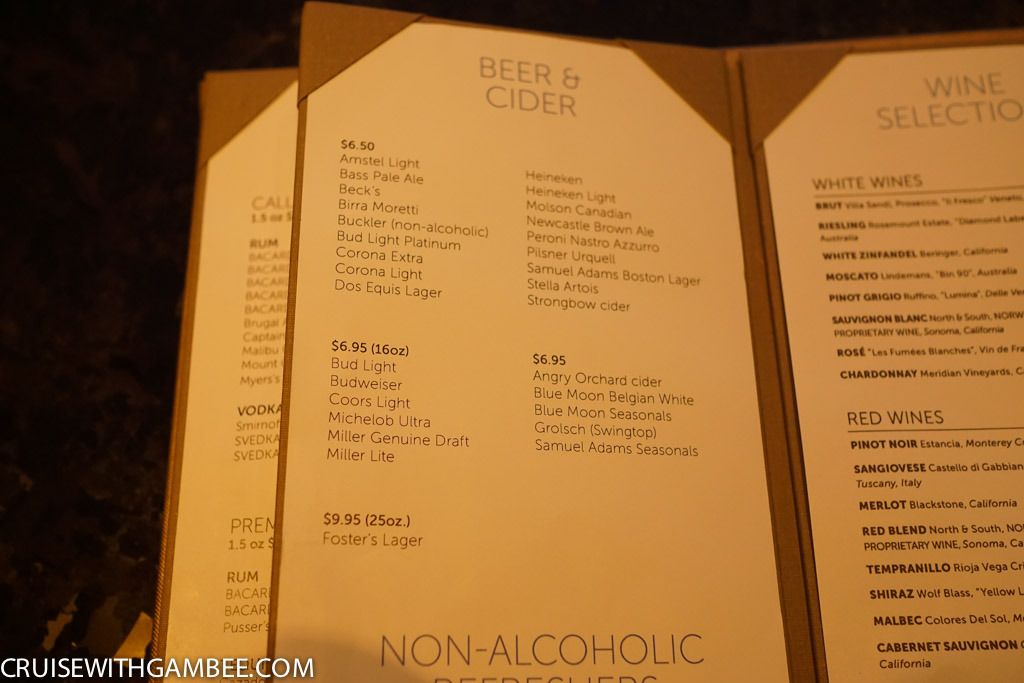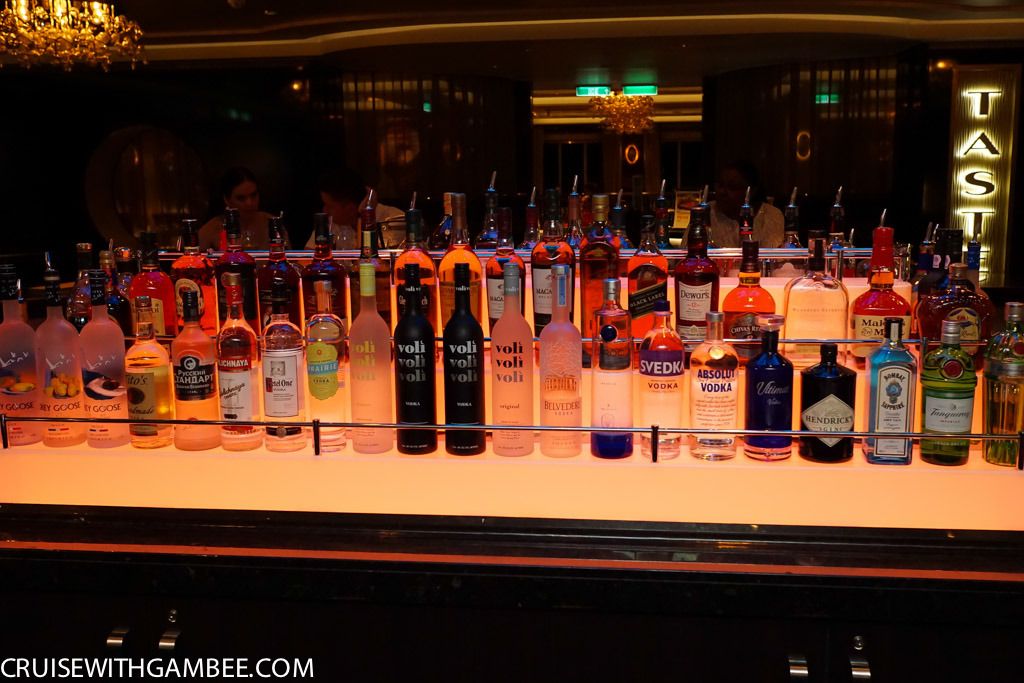 I usually order hendricks gin, but when I noticed I could order the organic gin I switched for the cruise.
I ordered the Prairie Gin with tonic and lime. That is pretty much what I drank the most the cruise.
Mom got the signature mai tai, she loved it! I thought it was nasty, but then again I like my drinks dry and strong
We went to the room to get changed into our bathing suits to head to Vibe.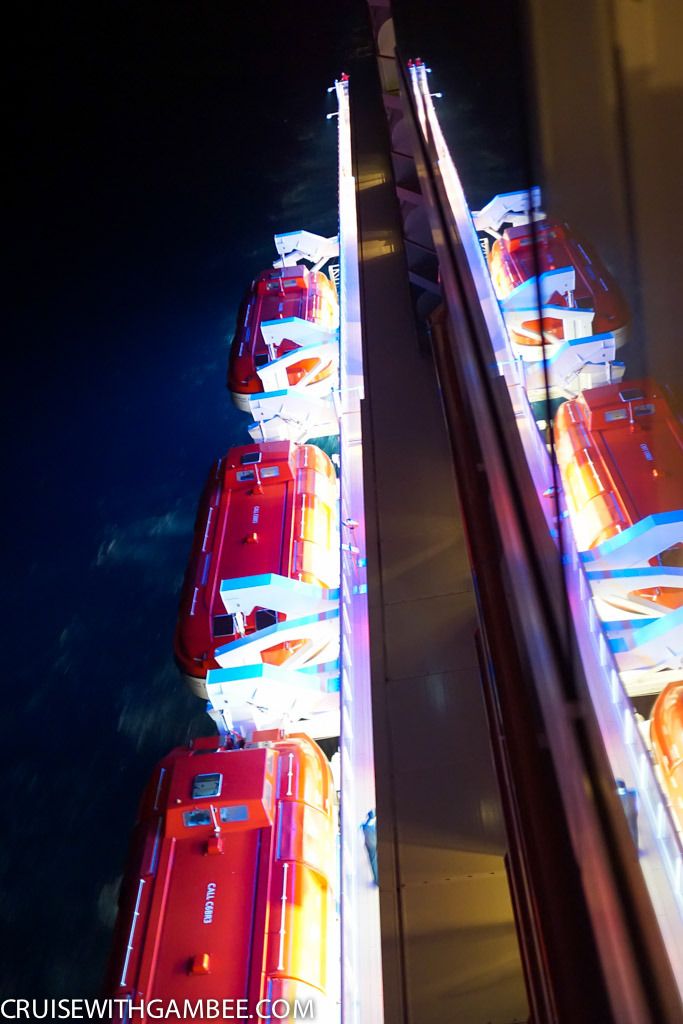 That View!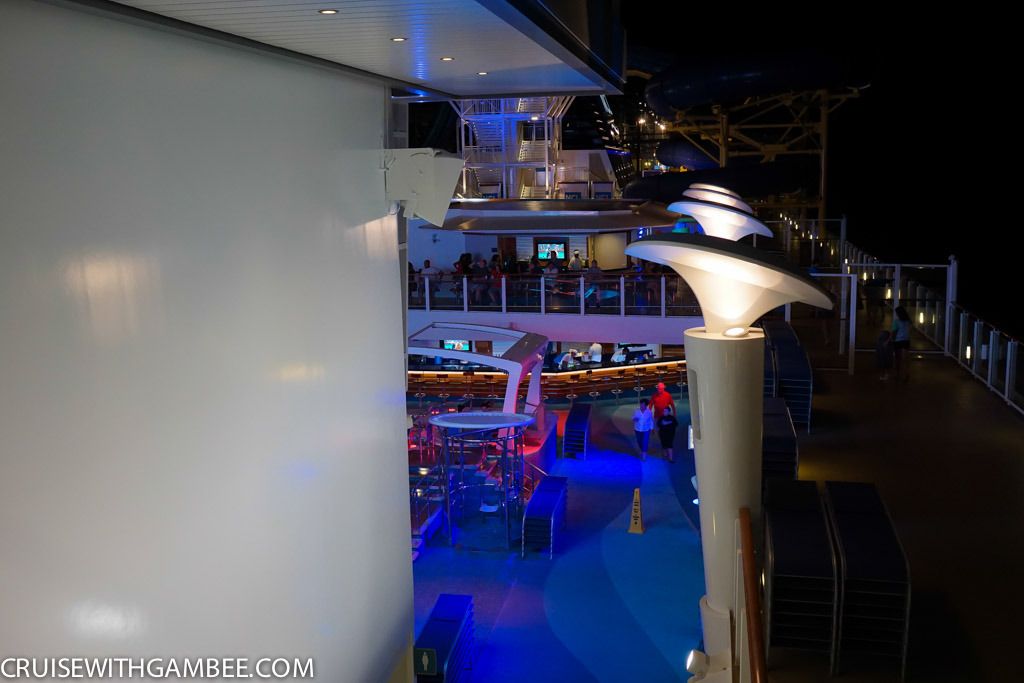 The mist shower at night.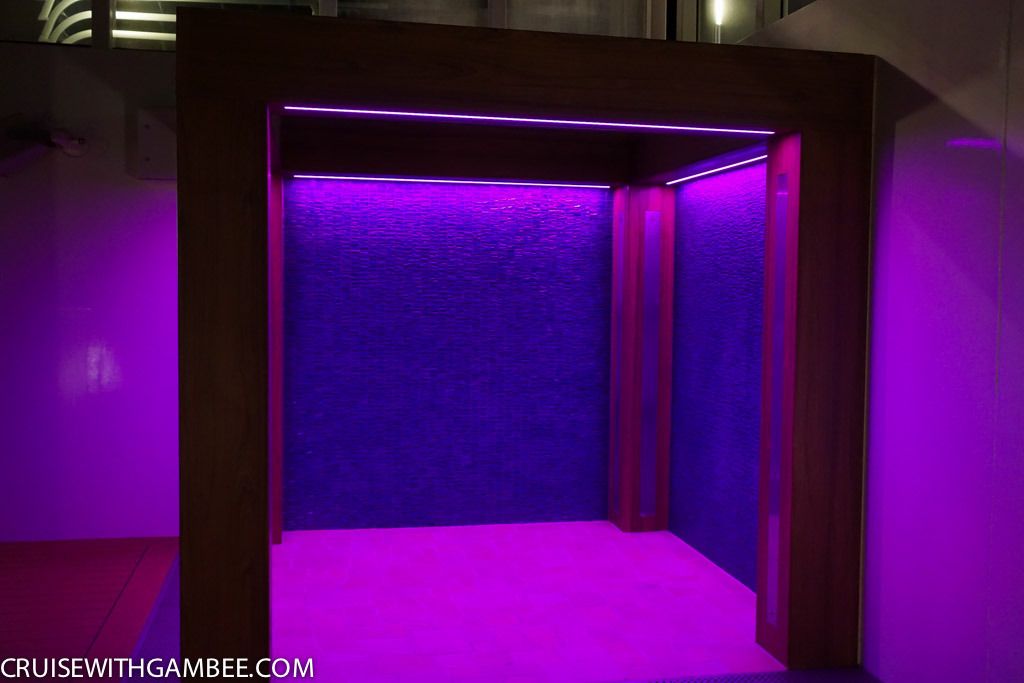 Outside of Vibe, packed!!!!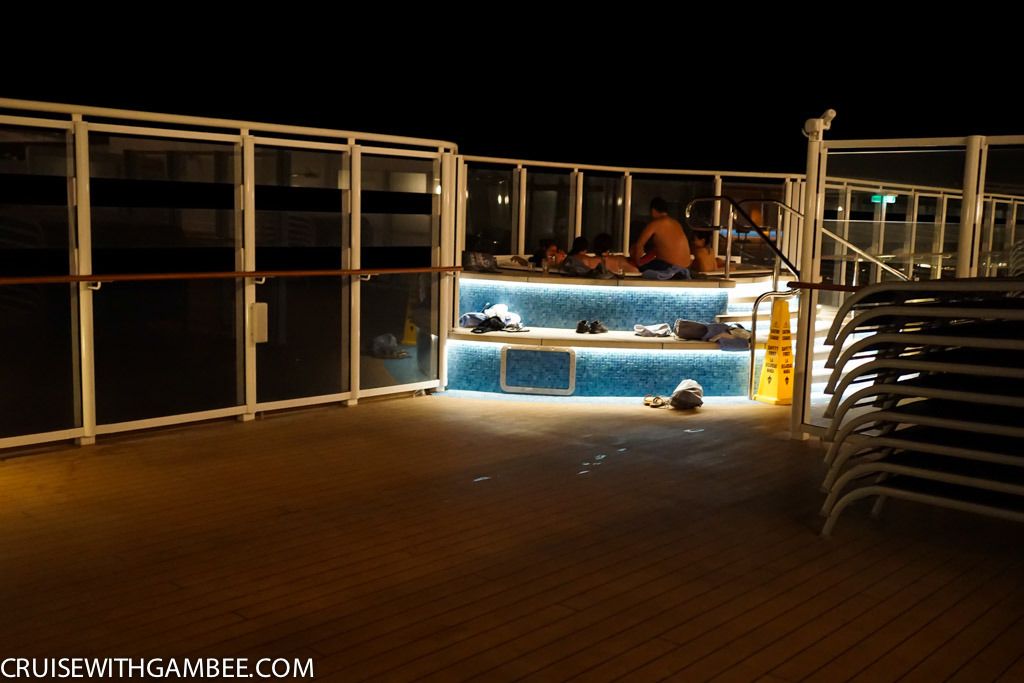 And Vibe.
We were the only ones there.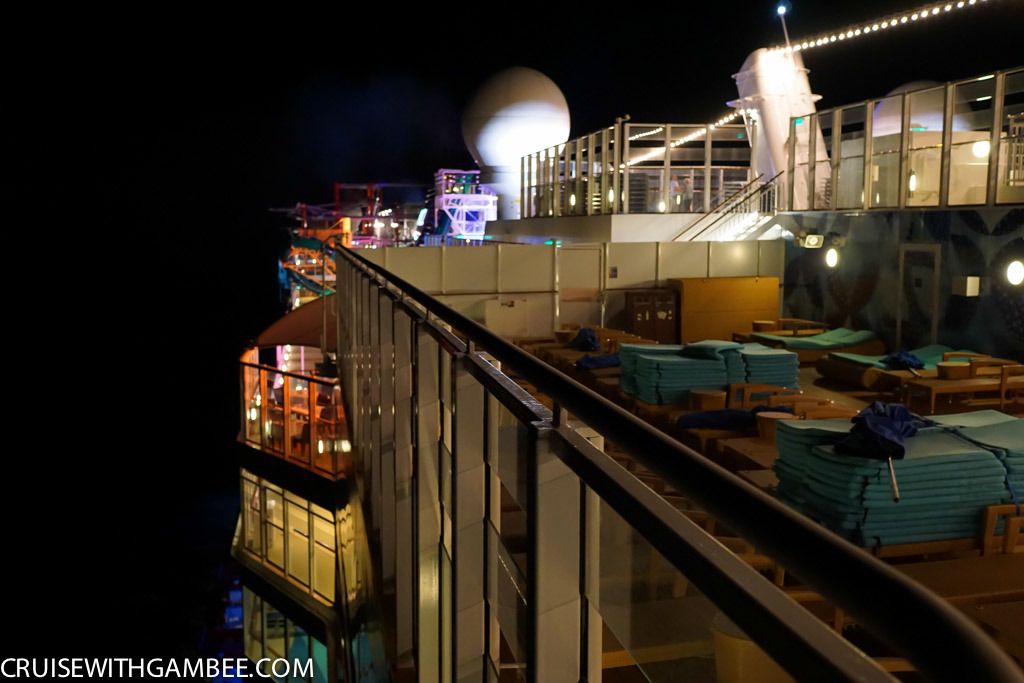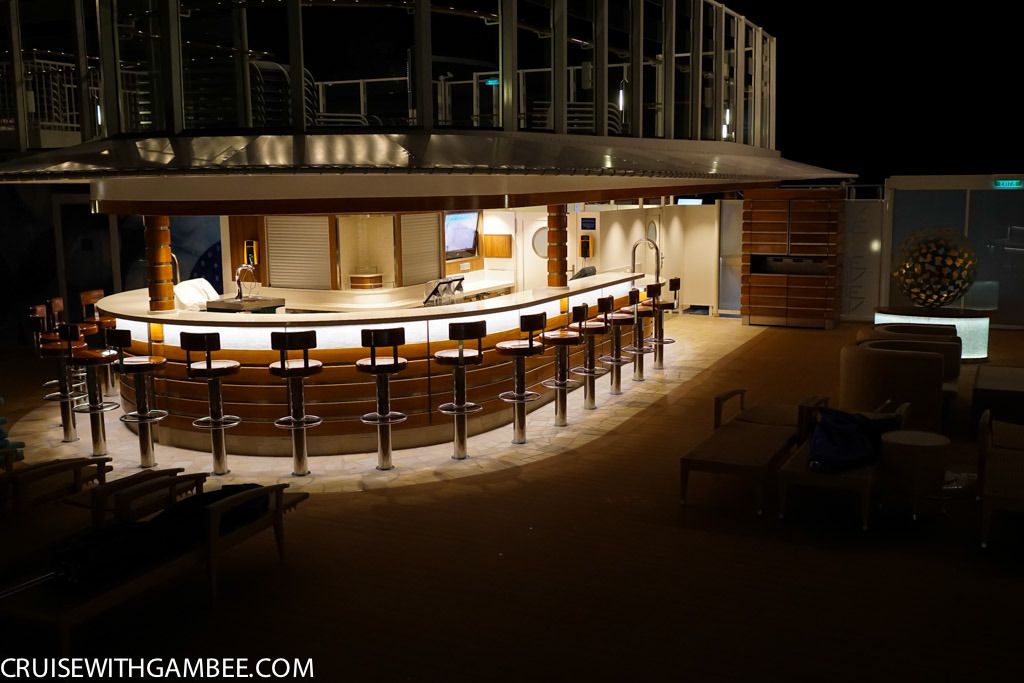 It was quite windy and perfect up there. The water temperature was divine! Mom was super happy =)
And not that is not a well, ……. LoL. It is just the napkin from my drink that flew in there. Mom almost had a heart attack when she though it was a co…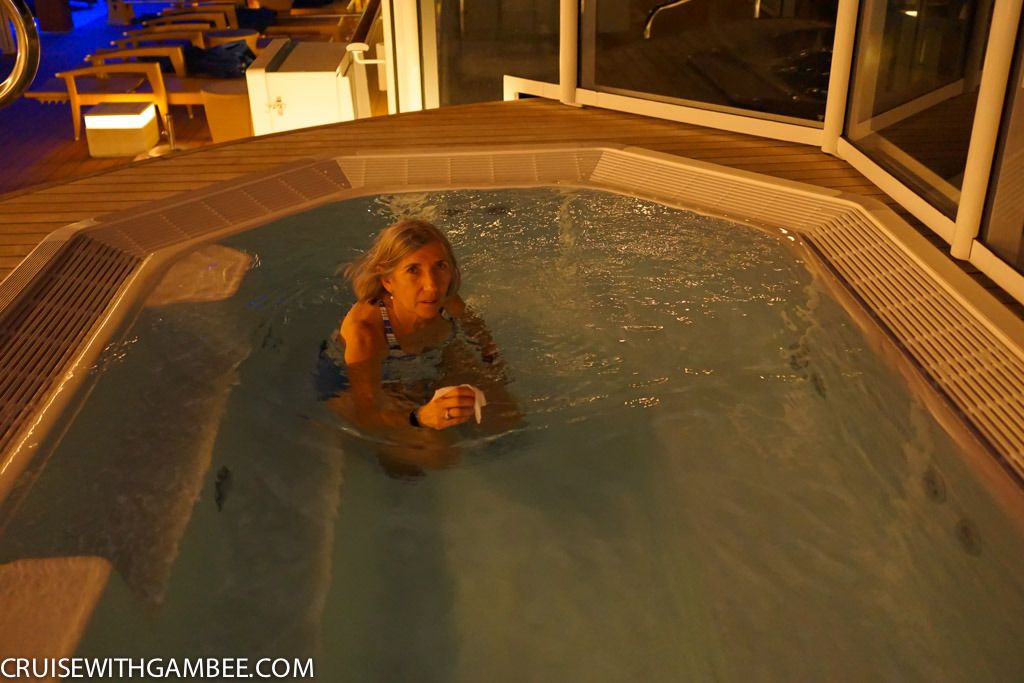 At around 10:20 someone went there and told us it was closing time. We had been there for only a little while, oh well. But I do wish that it was open until a little later. So back to the room we went.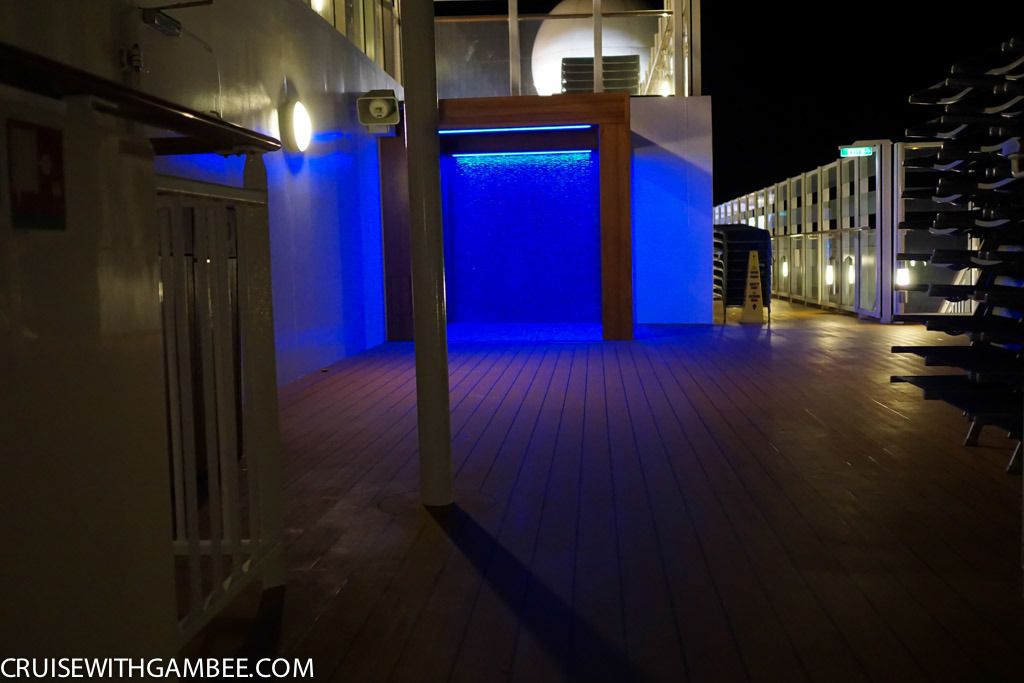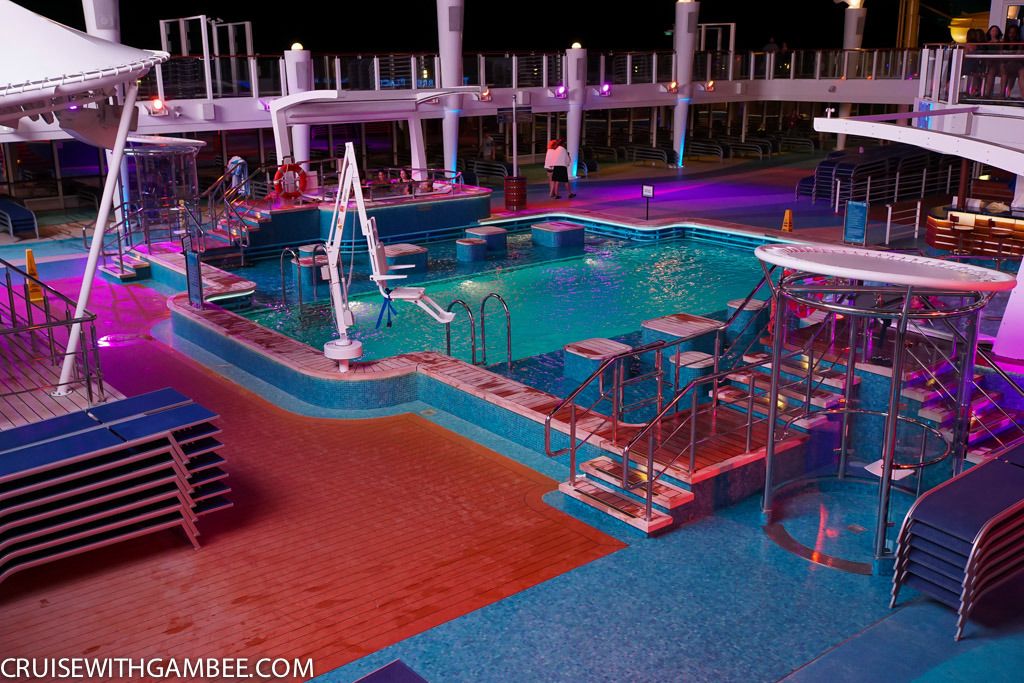 Ironically, the main pool jacuzzis stay open until later.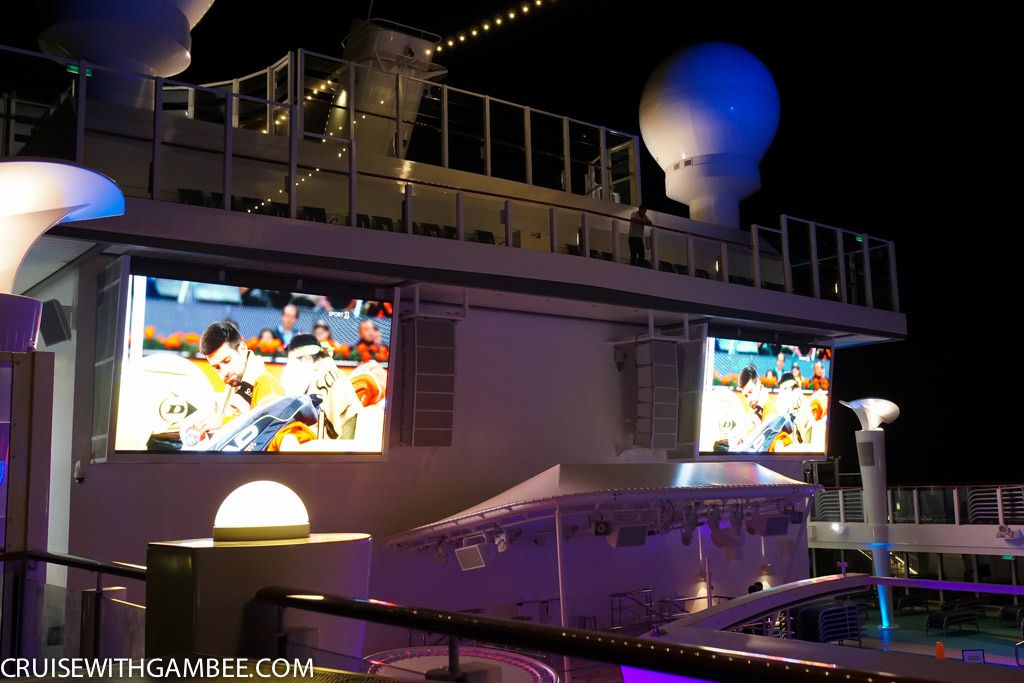 You bet!
So some of you might remember that I am a light sleeper and mom snores a little. On the Oasis cruise I was able to move the mattress and set it with ease going through the width of the room. But these rooms are too narrow in that area and it was impossible to do so. Fortunately, I was able to squeeze it there, it was not the ideal situation, but it worked for me. The very best part is that since I slept with the balcony open, I could hear the ocean noise all night long.
Another note, is that the AC continued to work even with the door open, that was kind of odd. But it was well received by us.
Oh, before I forget. The mattress was about half the weight of the one on Oasis, so it made the move each night and day very easy. My mom even did on a few nights for me. But I did hear some people complaining that the mattresses were too hard. To be honest, I was so squeezed in there that I could not even tell if it was hard or not.
On the bright side, I slept like an angel every night!
I even found the perfect spot to keep my computer and it was not on the floor this time
Anyone for Star Trek DS9?
Ok, lets talk TV system. I kind of wanted to avoid this area for this day. But let's just knock it out while at it. The channels on NCL SUCK!!!!! They really do… They have a bunch of news channels, international and all. Who the hell wants to watch political news on their cruise? You tell me… Other than that there are just a few channels available. One called favorite TV shows, which is a bunch kids shows, not cartoons, like growing up shows. My guess is Disney and Nick? And the favorite movie channel. I will be honest to say that I never saw a movie that I have seen before there. I have no clue who selected these movies, but who ever is uncharge of this should really rethink everything.
There is one good channel on the ship and that is the Guy Harvey channel, unfortunately it is on loop and it is quite short. I would dare to say 4 hours if not less. Everyone in our group kept making jokes how they had seen the channel 10 times, it was so funny. And then Byron said something along the lines that he would be a perfect narrator for that channel since he had seen everything like 10 times, trust me, I would not put that past him. I think I saw the whale shark part about 6 times. And this was the cruise that I spent the least time in my room.
NCL really needs better programing!
I was so happy that I had preloaded my laptop with a bunch of Star Trek DS9 Dominion war episodes. At the very least they rocked me to sleep, and kept me sane in during the hangovers
.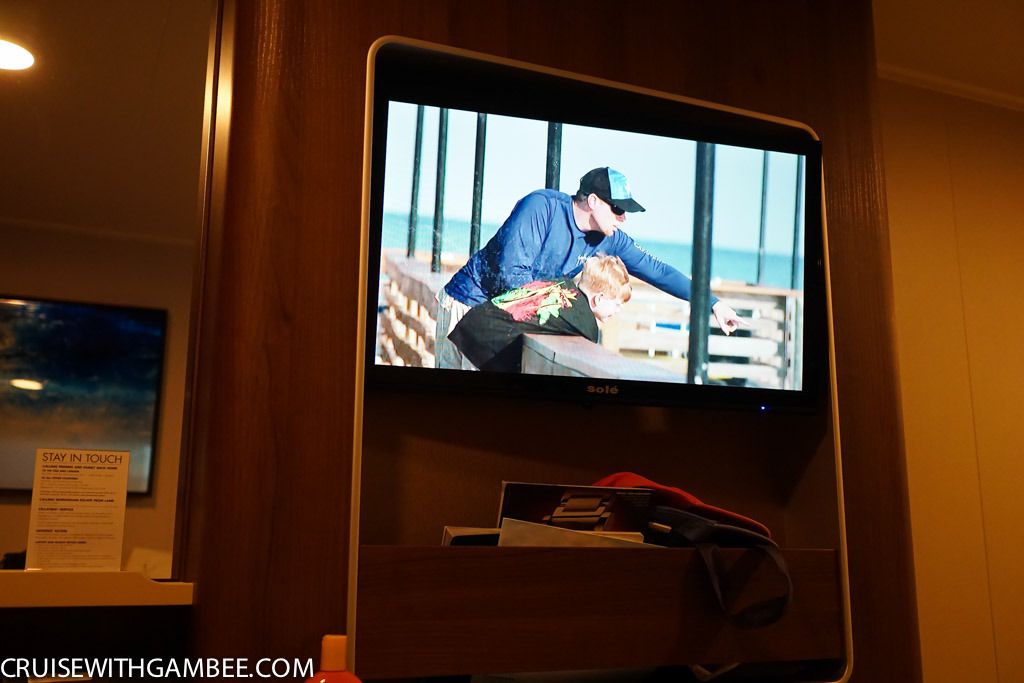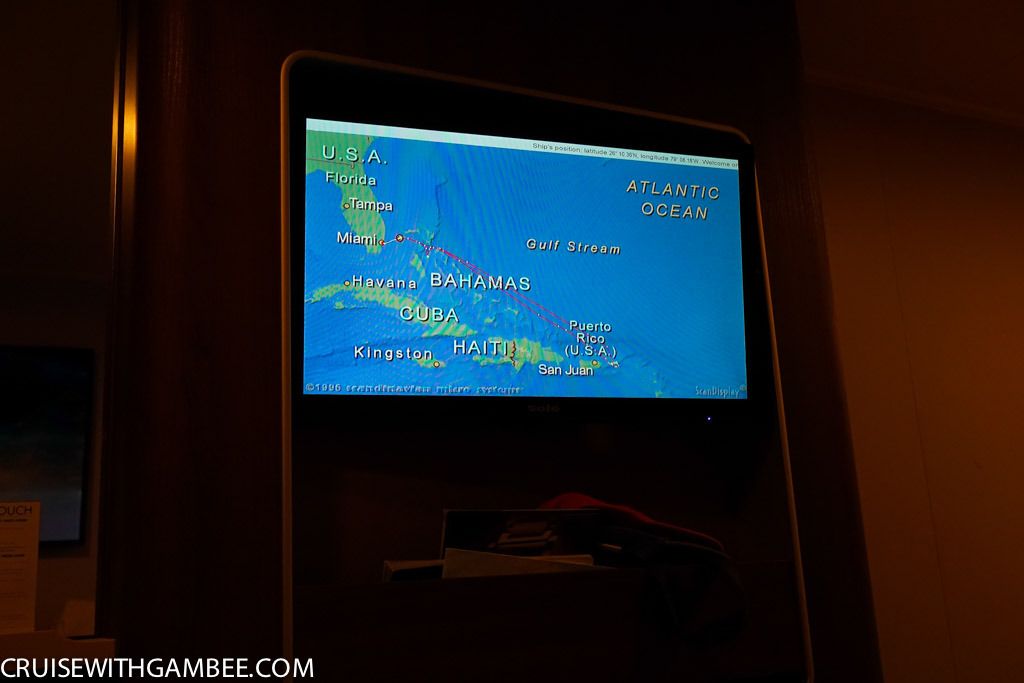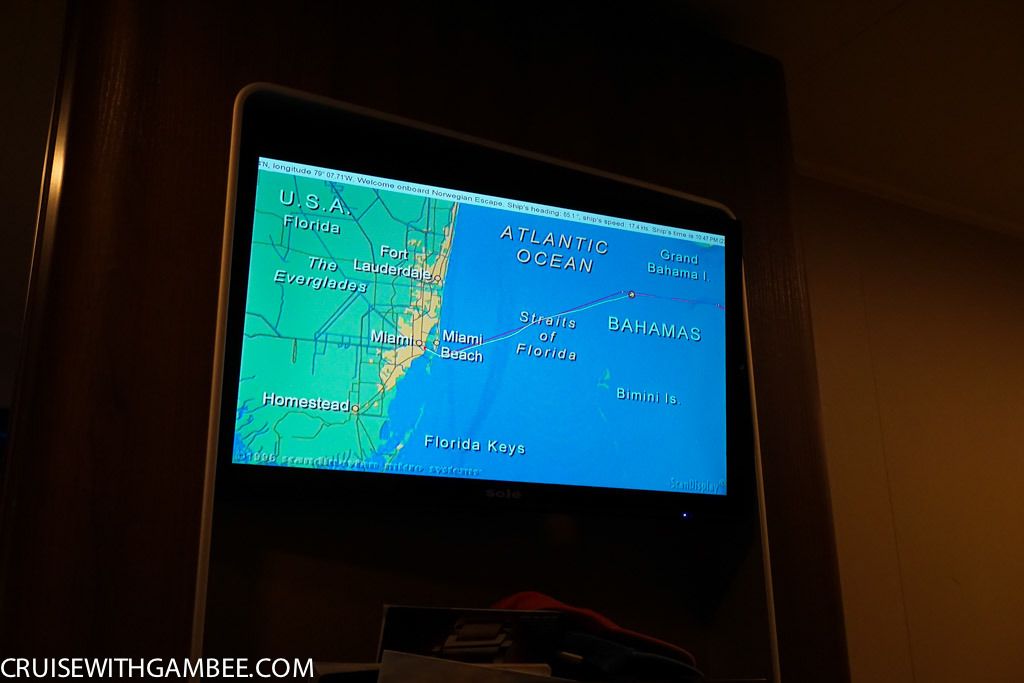 What a great day we had to start that vacation. If that was the way the entire week would be, I would be one happy camper. Mom could not be happier, she was loving every minute of it!
I was so very grateful that I was able to squeeze this cruise before starting school. And more importantly that I was able to give her a well deserved break
Day 1, End.