Day 2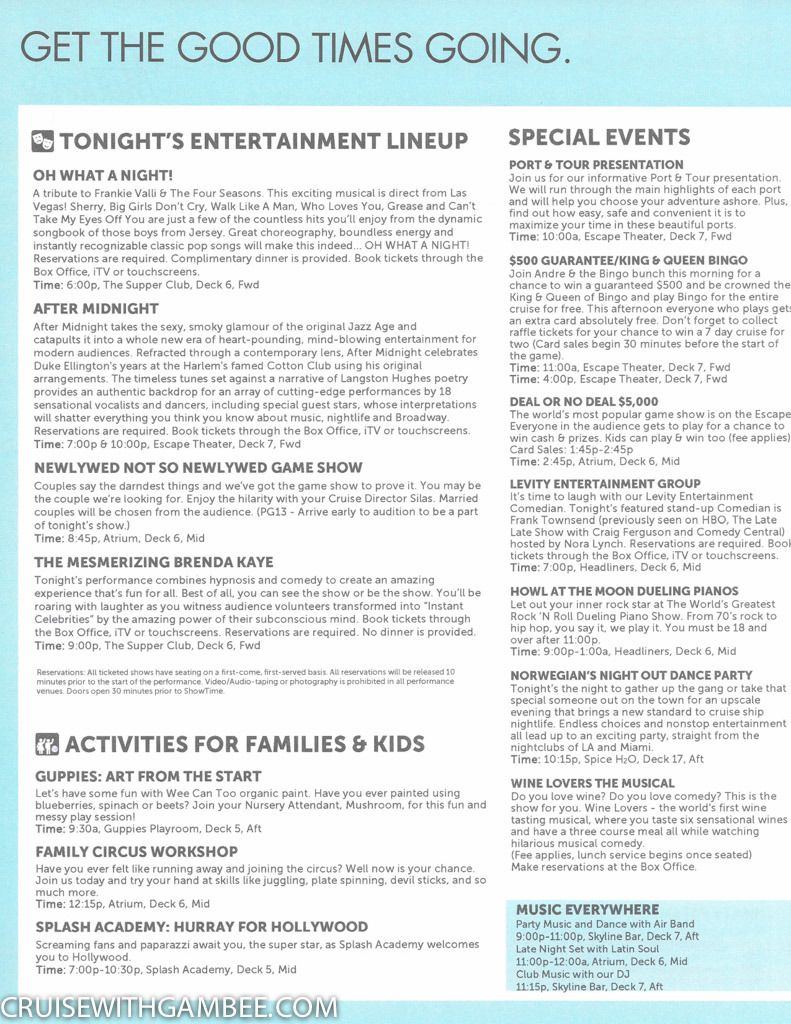 We woke up rather late for us, around 9am or so. I immediately decided to safeguard my data and transferred all the pictures to my computer, and then to the external drive.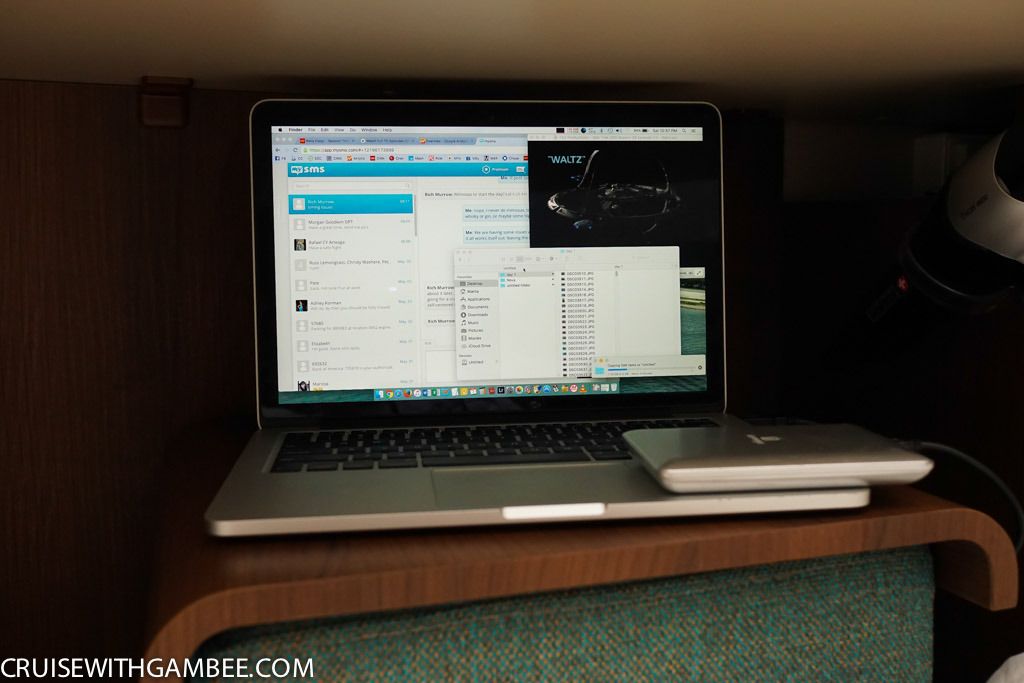 The classic position picture. I will say that I rather the way RCCL does the navigation channel with the information constantly on the side, instead of it rolling on the top of the screen. It takes for ever to get to the information that you want to see.
The weather was looking very nice.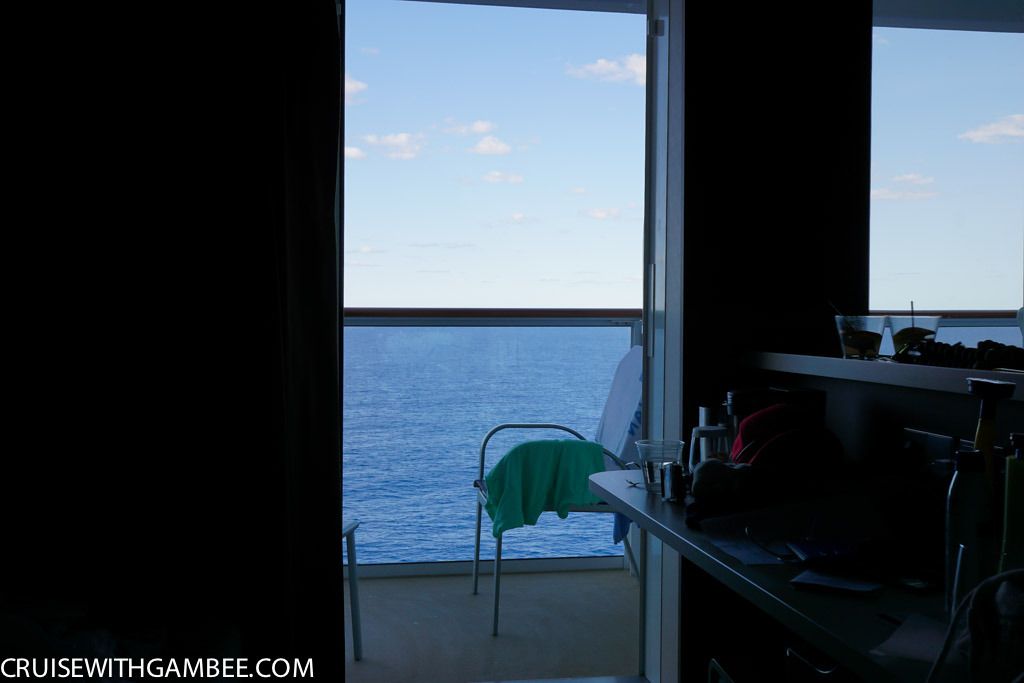 Here you can see the charges of the taxes of the drinks for the first day of the cruise.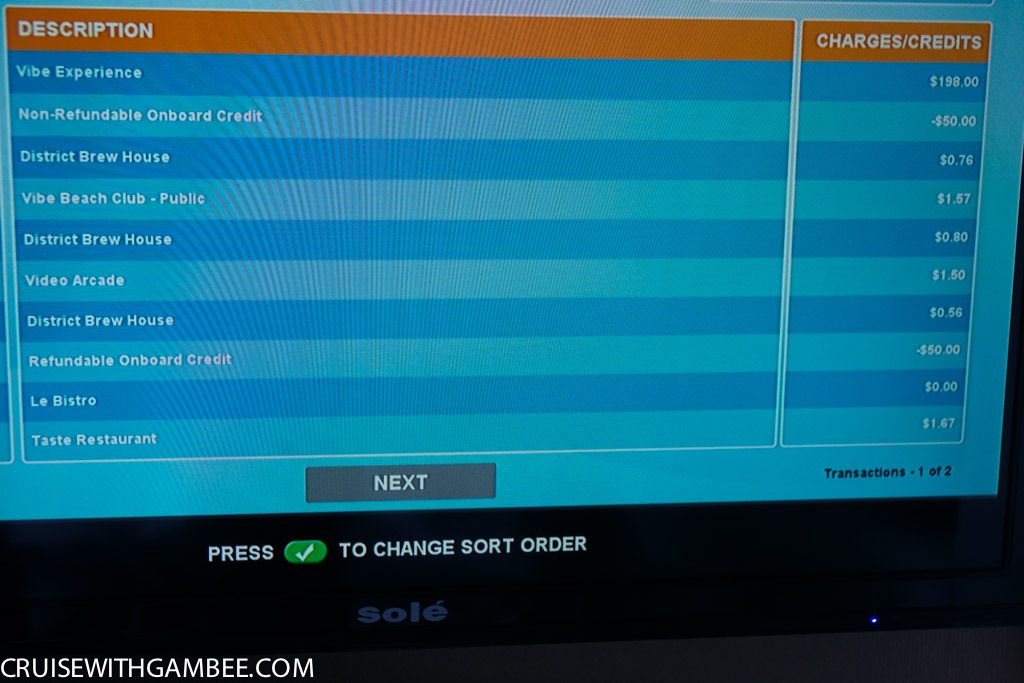 I also noticed that there are quite a few shows that were not advertised on our NCL reservation page before the cruise. They even offer a free show at the super club, which I reserved immediately. Some of the showings included dinner, and others did not. By the way the show is "Oh what a night", and it is also shown in the main theater on the last day of the cruise. Mom ended up going to that show.
Anyway, here is the entertainment for our cruise. You don't need reservations for Howl at the Moon, and a few other shows. Mom actually snuck into a few shows in the main theater after they started, but let it be said that they are usually at capacity.
You can also book your shows at the Box office in the entrance of the main theater.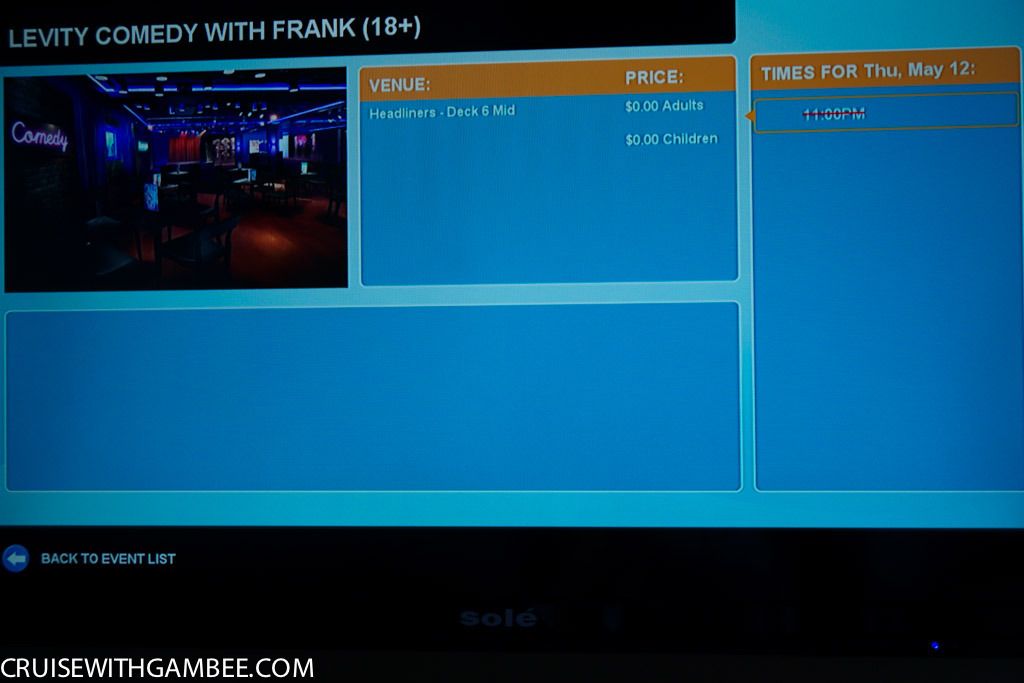 We decided to head up to the buffet for breakfast.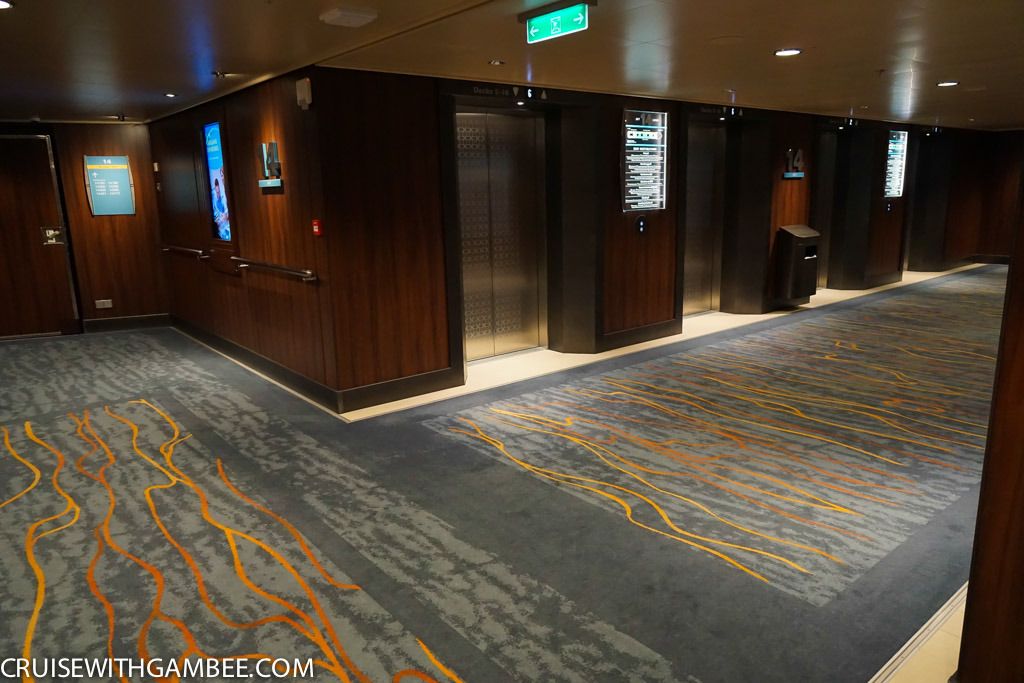 When you get to the garden cafe there are two people welcoming you and singing. They sing quite loud and not very coordinated, the song was something about washing hands "washy washy, something something" The funny thing is that I thought it was party people drinking and I ran the other way. Lol.
It is quite busy, but at 930 we were able to find a table by the window. I recommend to go towards the back of the garden cafe.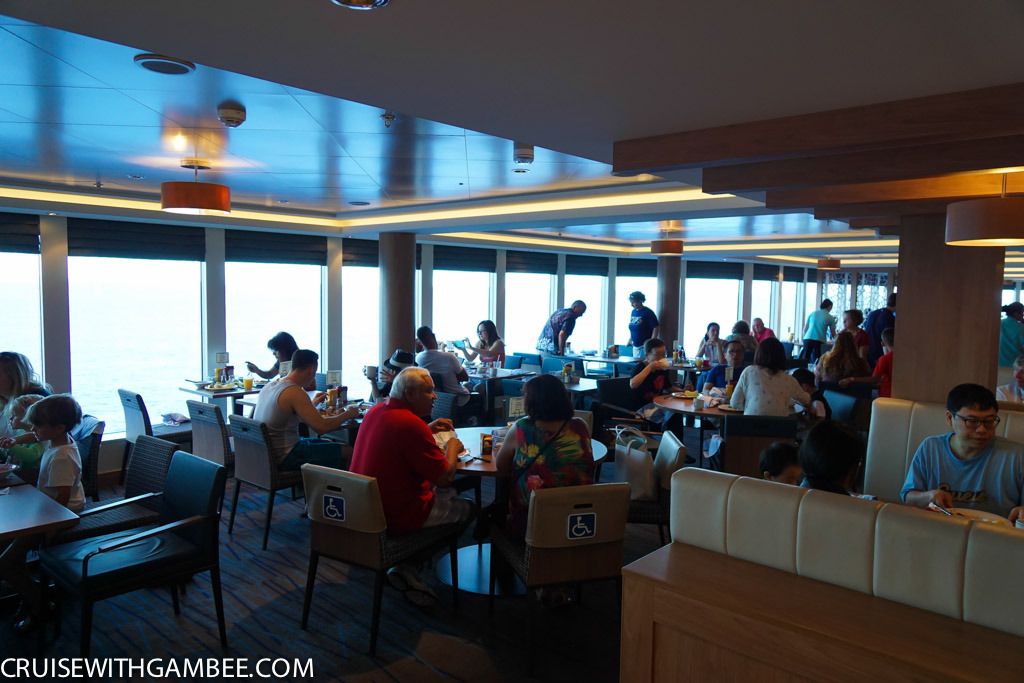 We found a table by a window and I told mom to go get her food while I made sure no one took our table.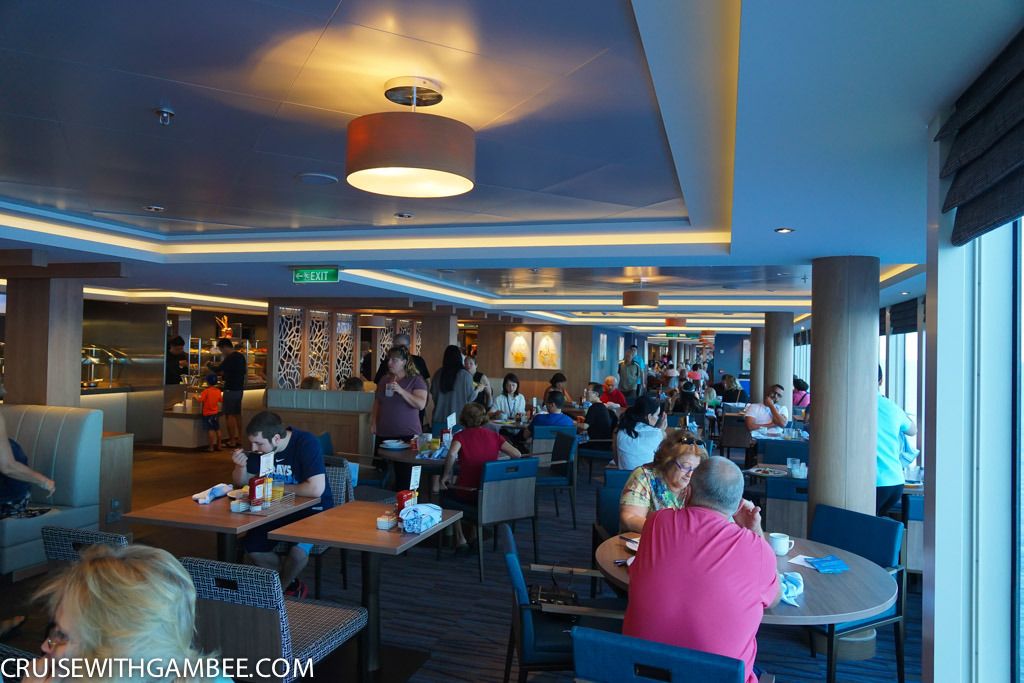 It was mothers day.
The water slides and rope course open at 10am and close at 6pm.
Mom got her food, and then I went to get mine.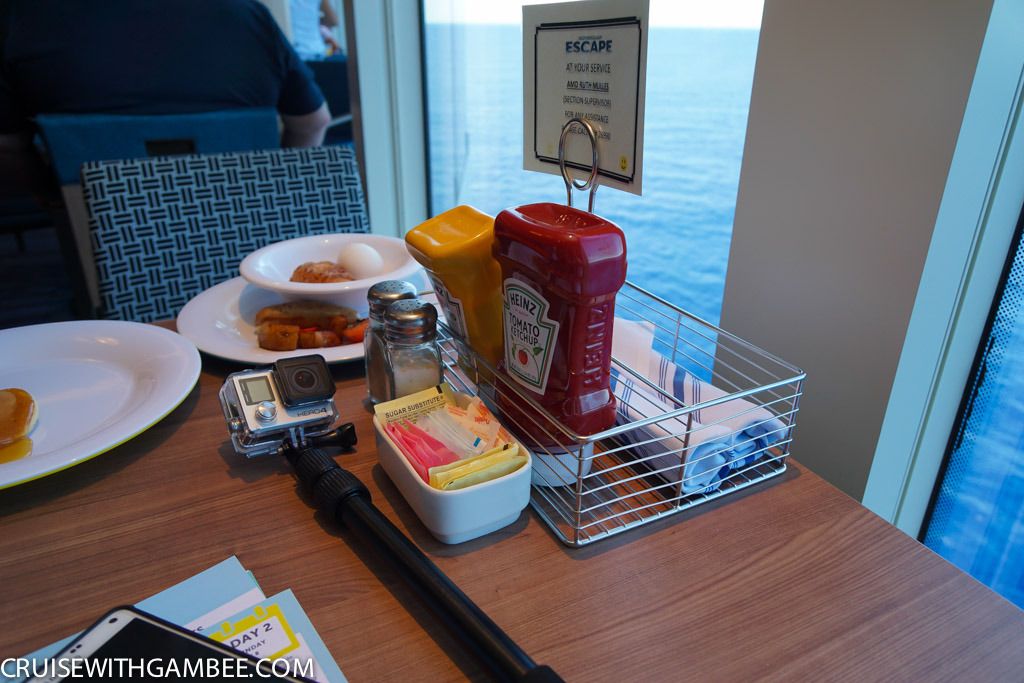 She said the pancakes were not good.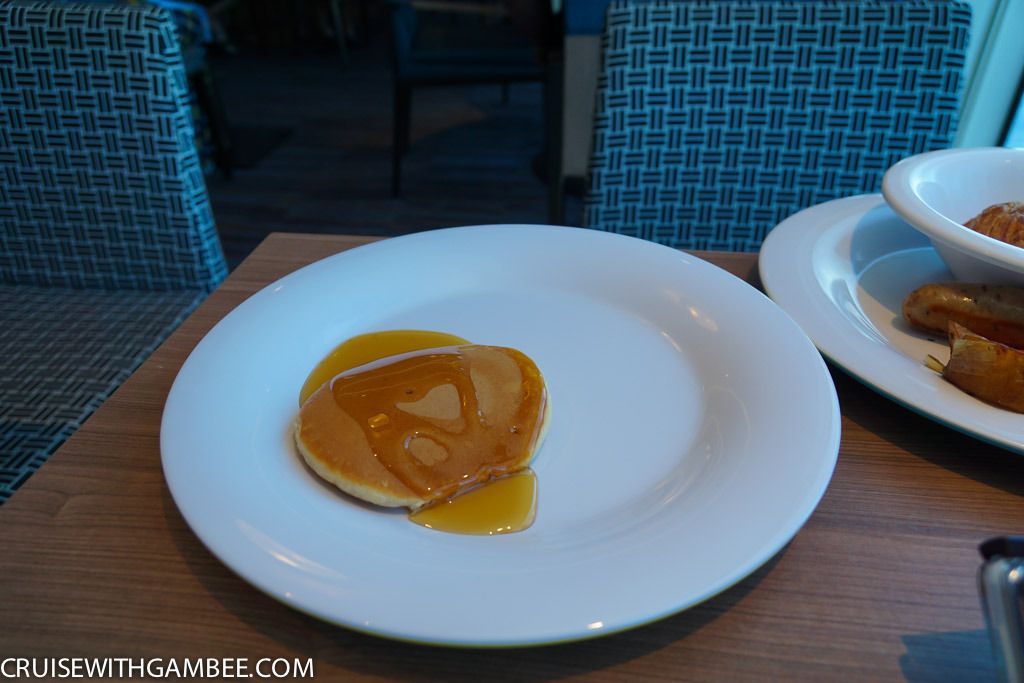 Mom's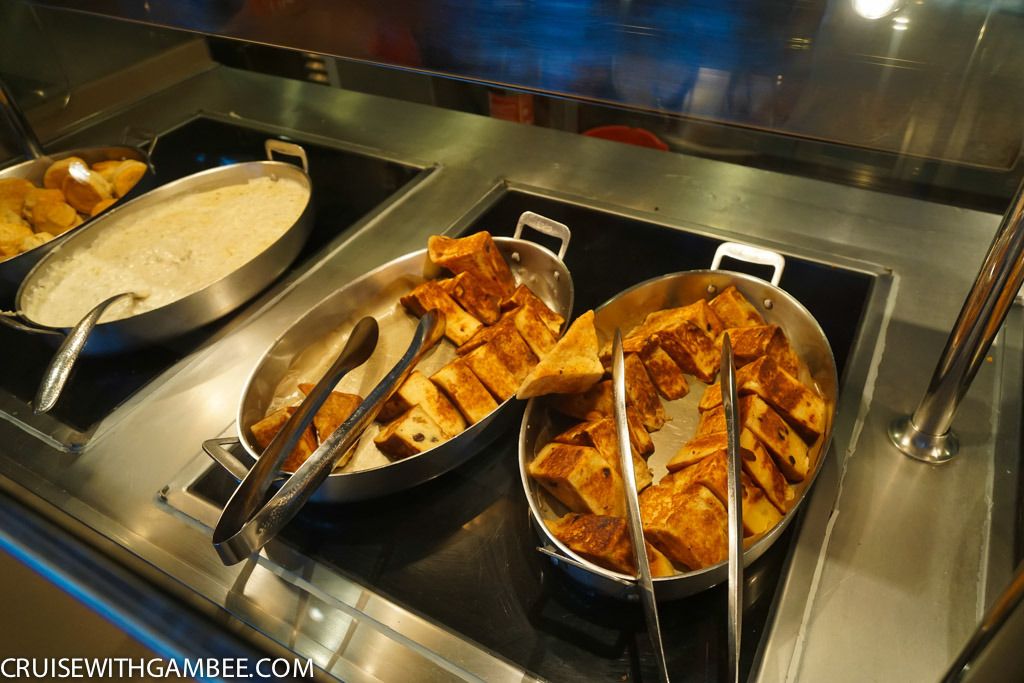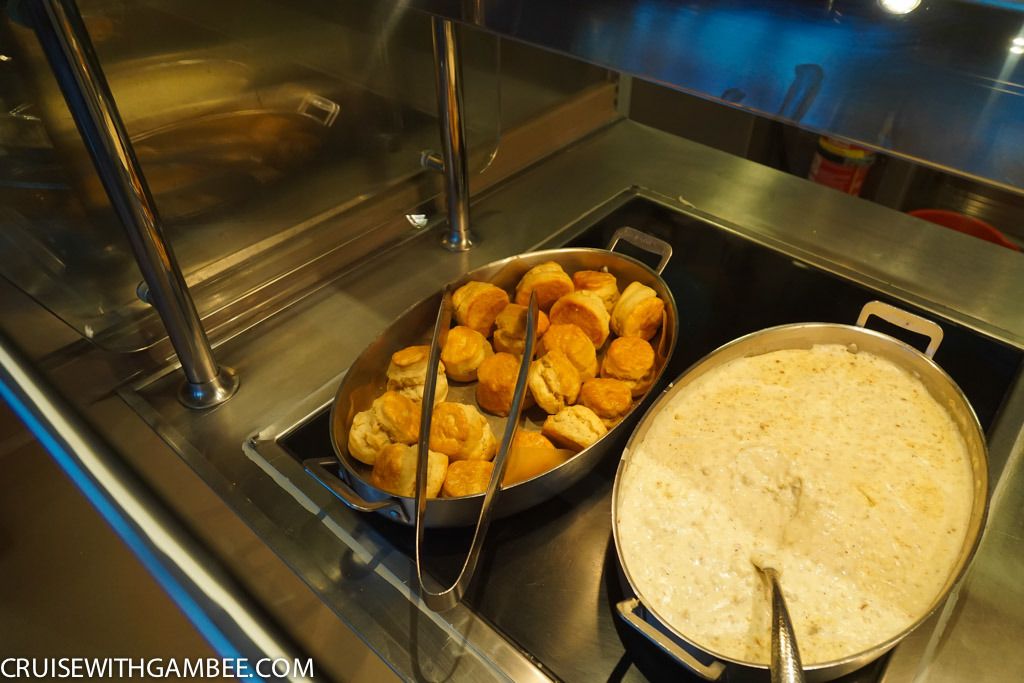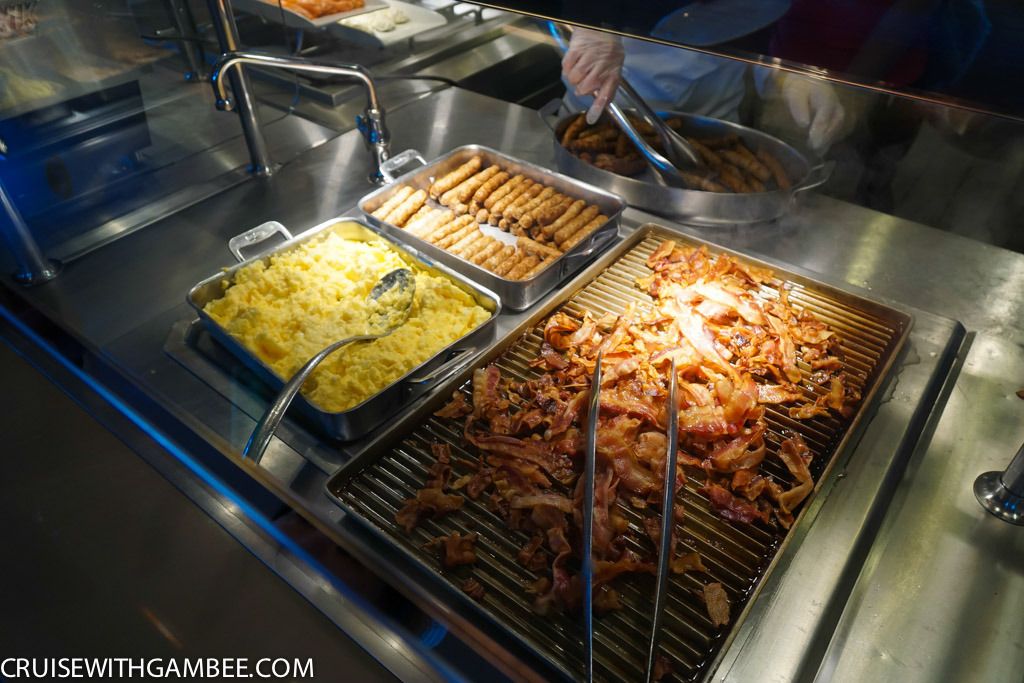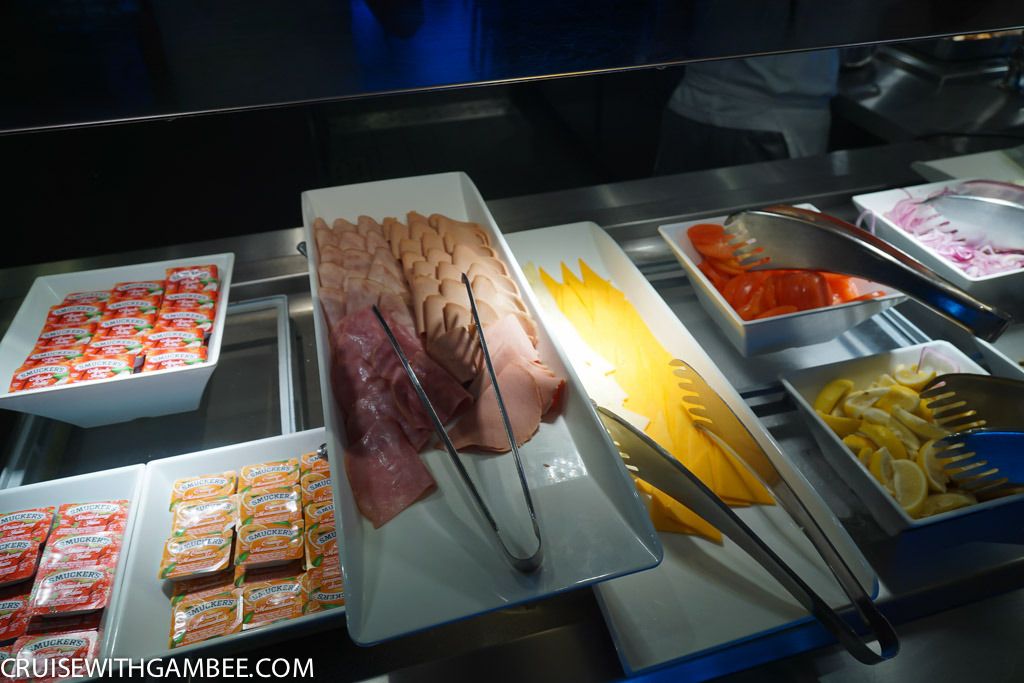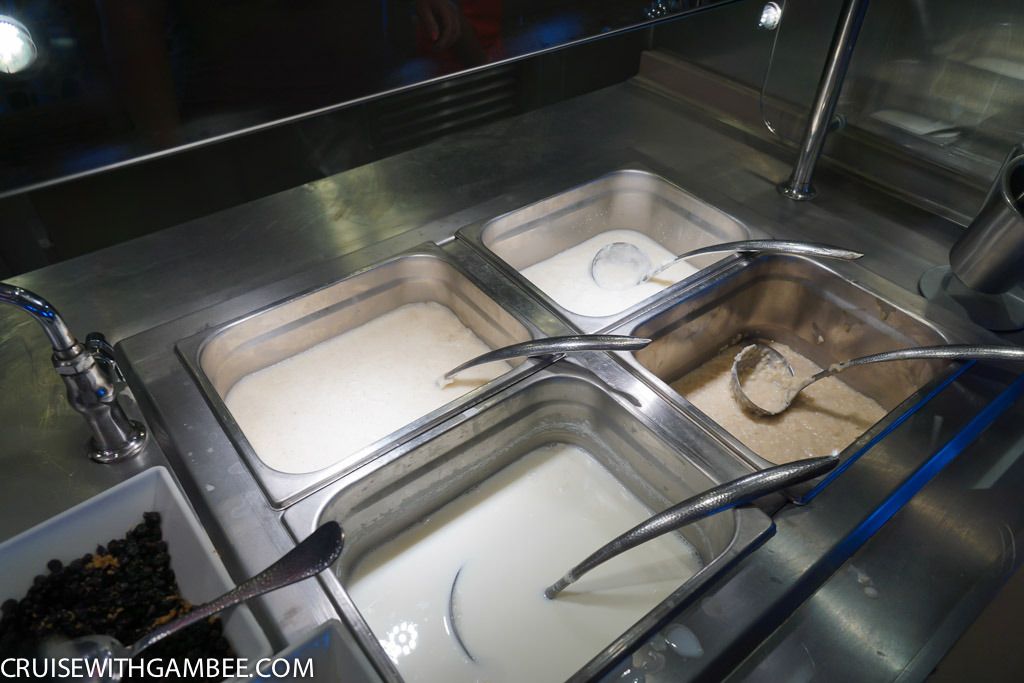 It was so funny, that kid took A LOT of bacon, then when he realized that it was too much, he dropped half of it all over the counter and placed it back in the warming tray. The lady in front of me took the bacon all the way in the back and so did I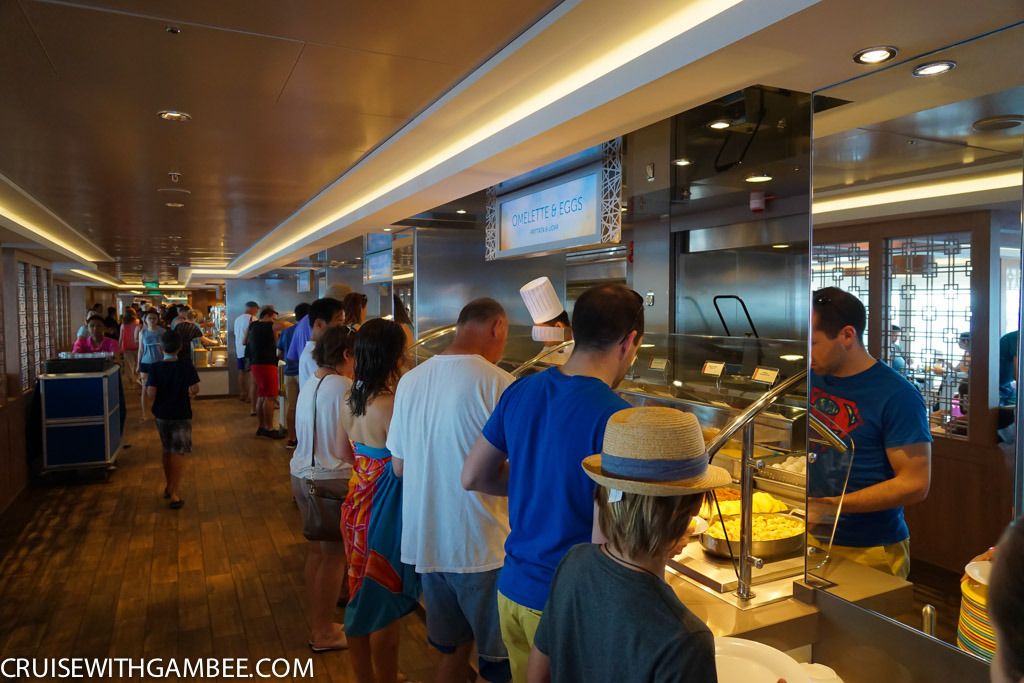 OMG I just realized that I have a picture of him doing that. Lol, um, yeah, it was quite funny, LoL.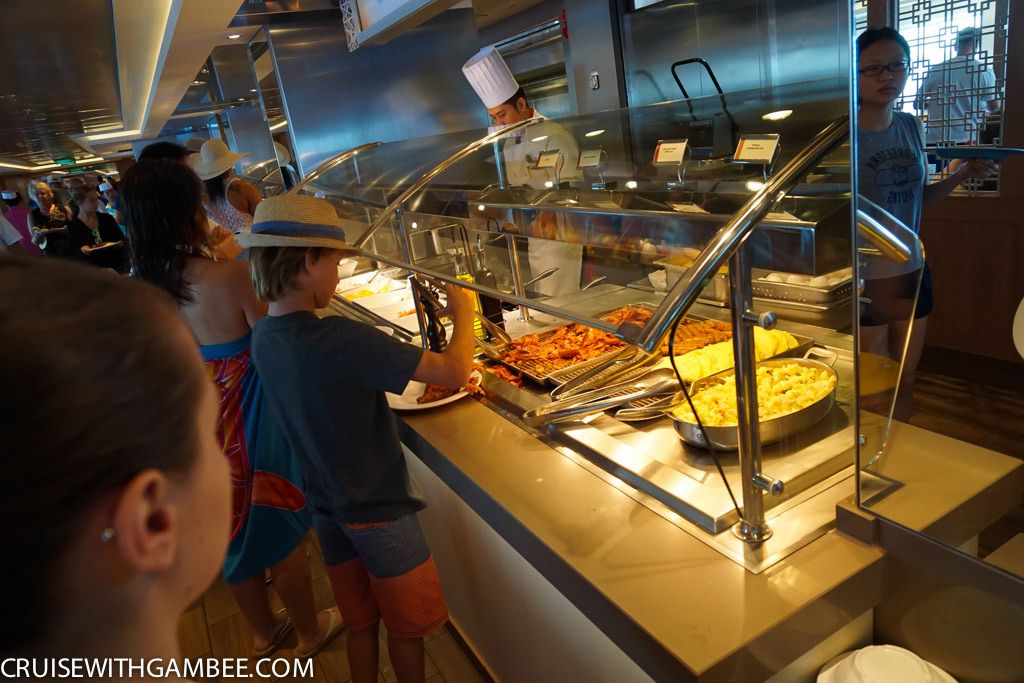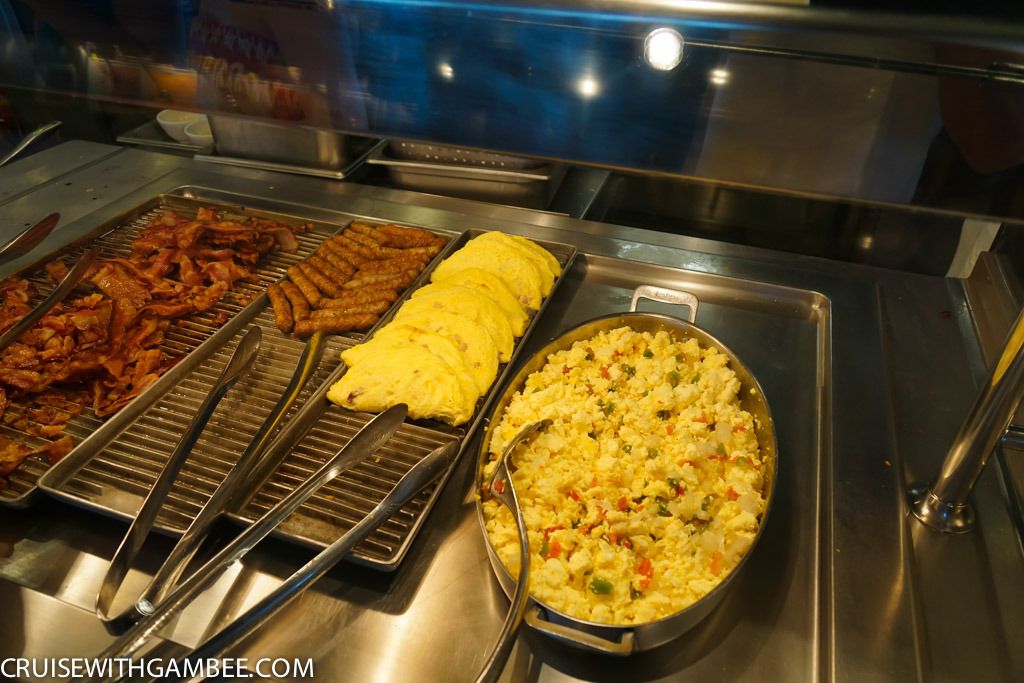 I highly suggest you get the food from all the way back. I know I will from now on.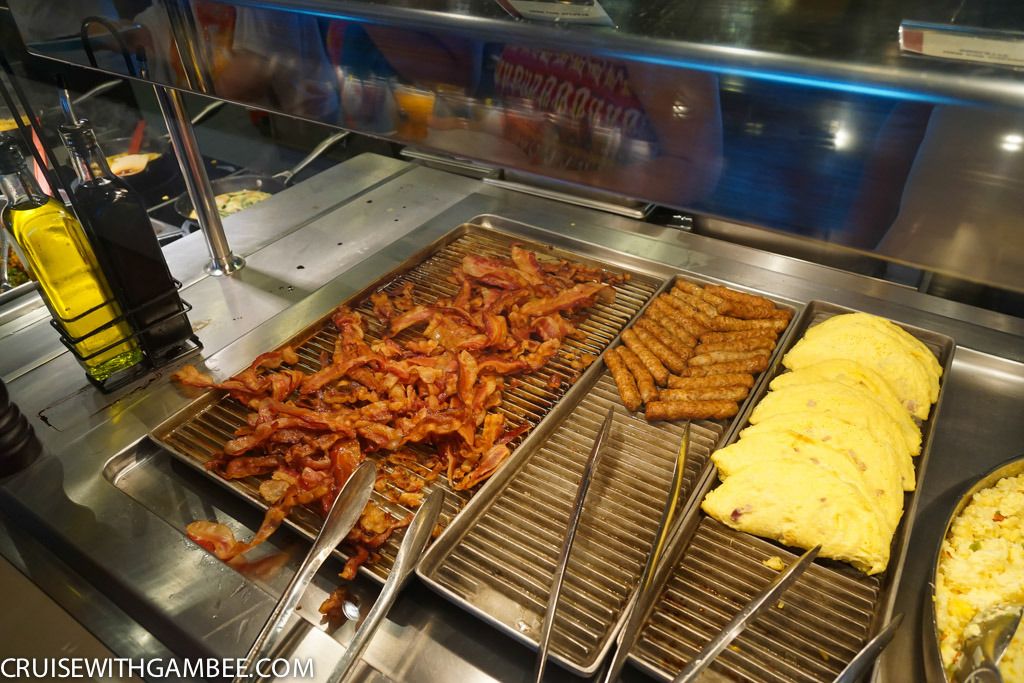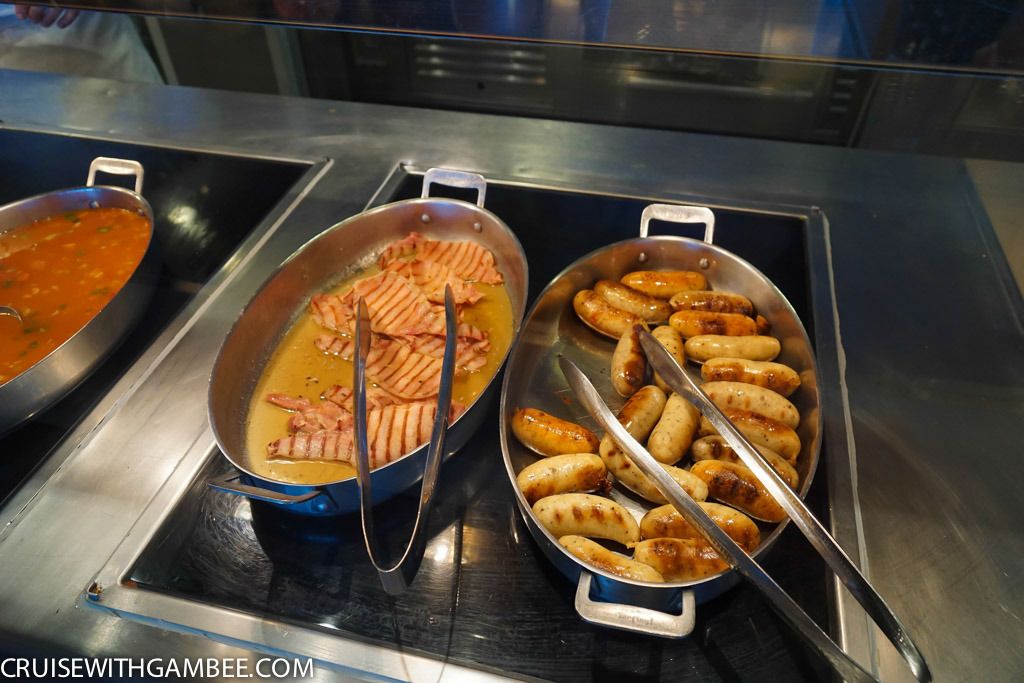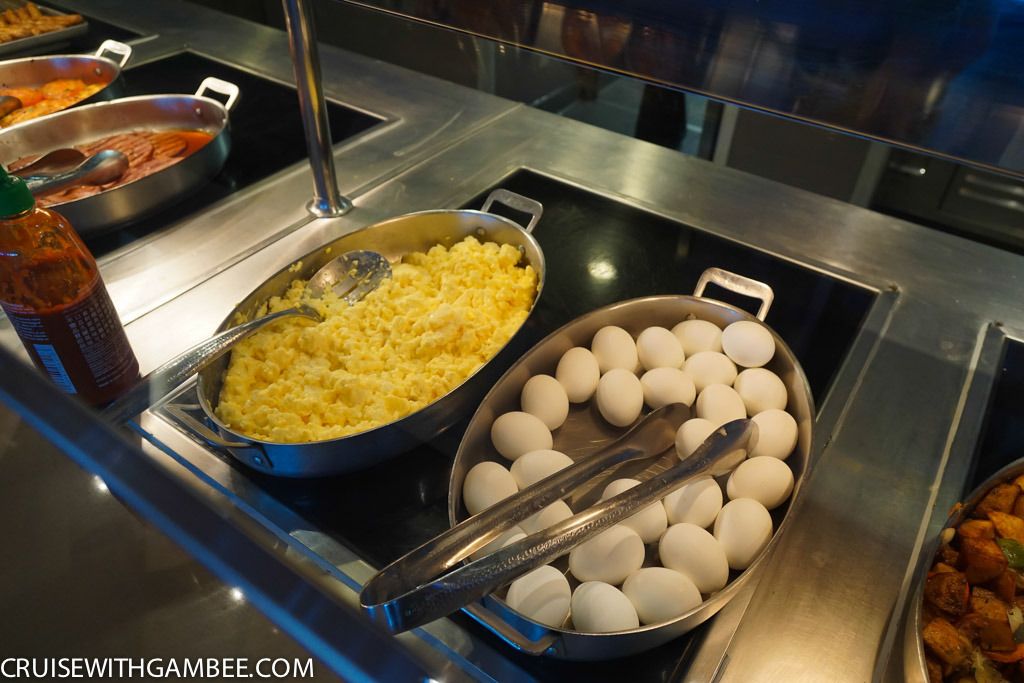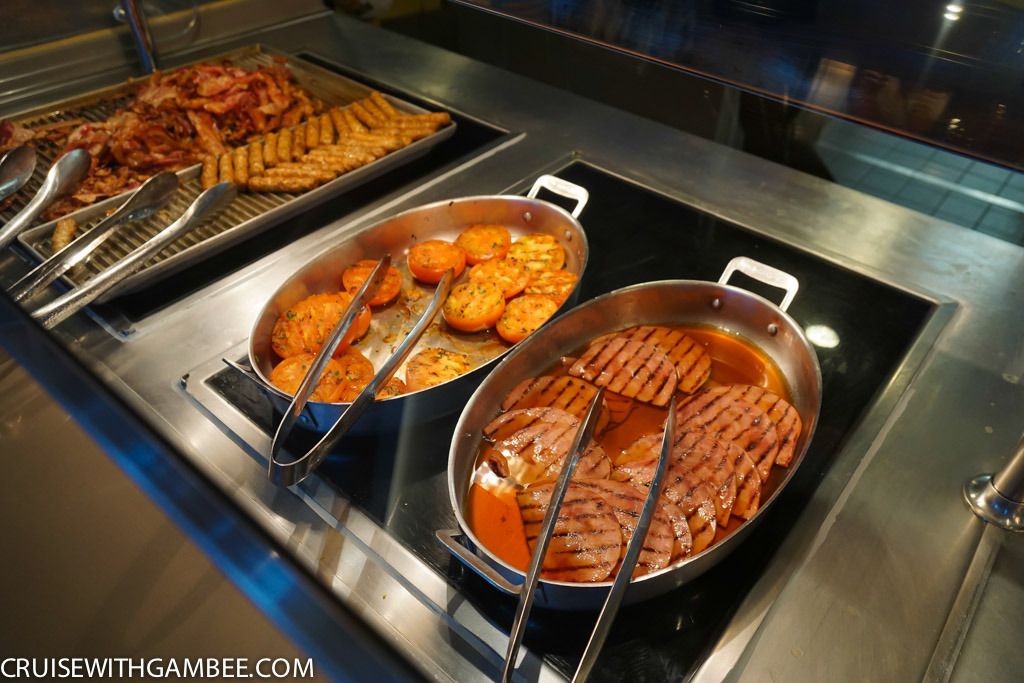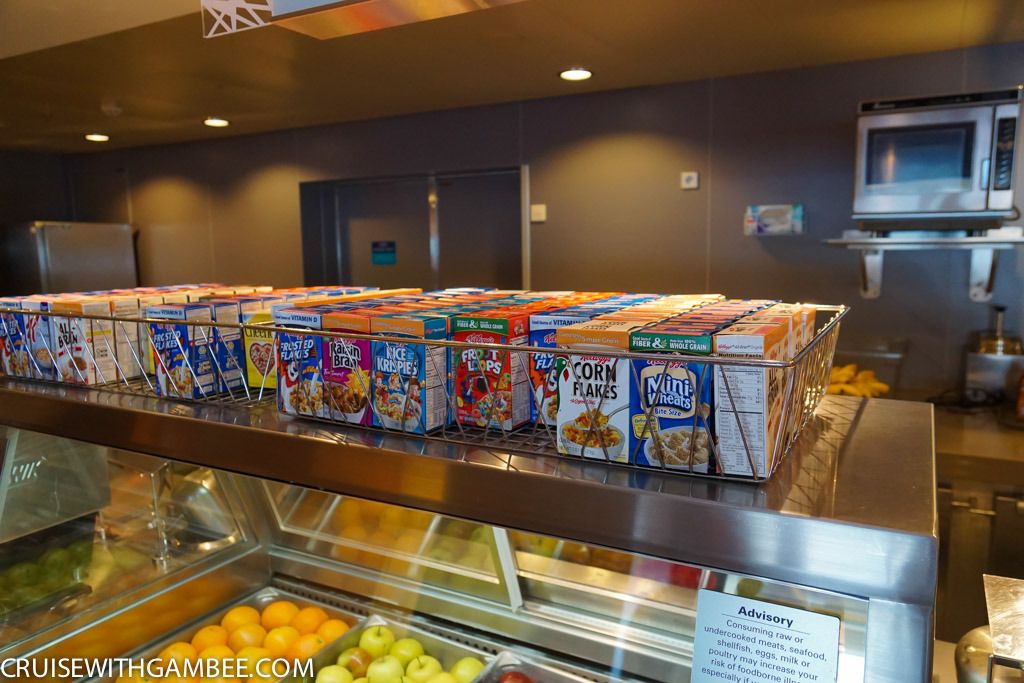 The food for breakfast was good for the most part, you know your basic breakfast buffet food. Something to note is that they usually have some really good items all the way in the front of the buffet and that is the area that is least frequented. As a matter of fact that is where they have the eggs benedict and I found that on the last day…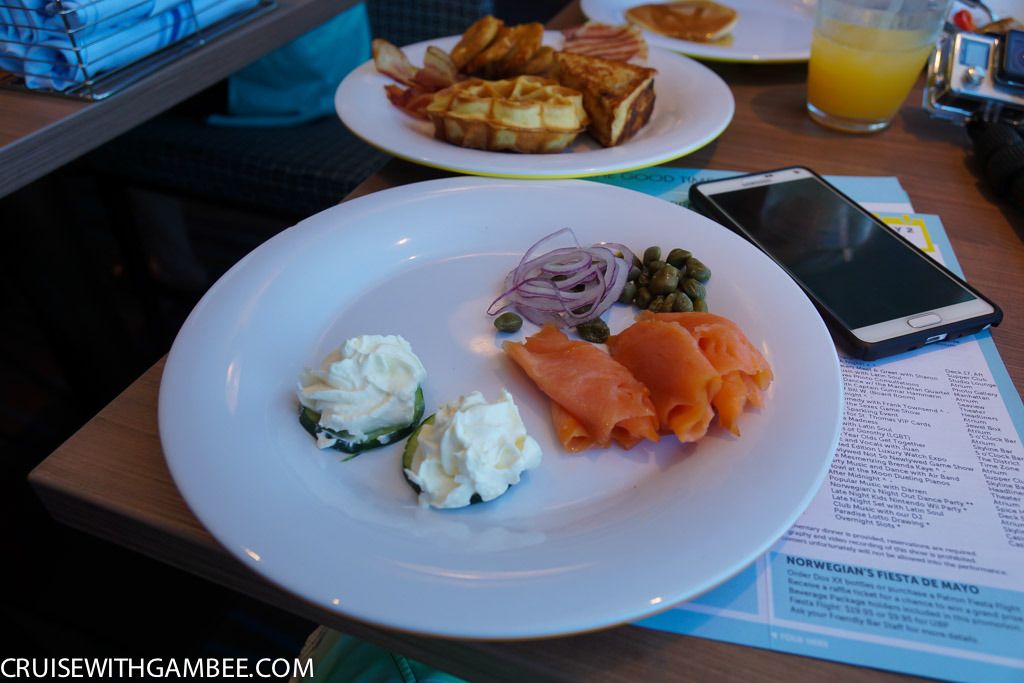 The waffle was quite good, but the french toast was not.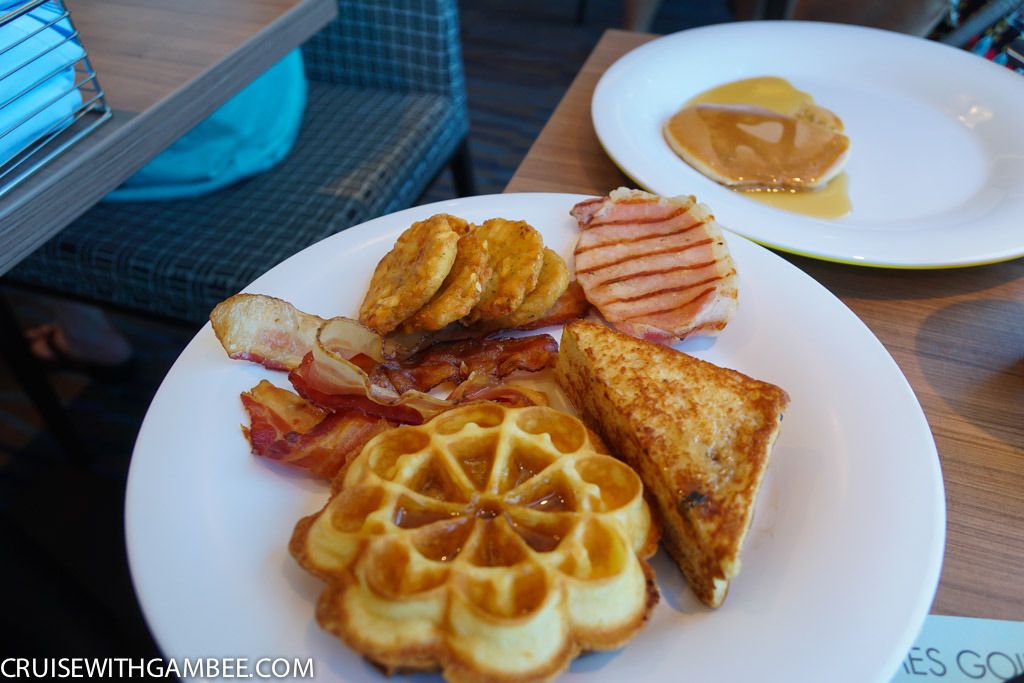 I think it was around 9:30 when we left the buffet, and these are the crowds around that time. I think it is fair to say that as long as you look for loungers before 10am, you should be fine. Well, unless you want to be directly by the pool.
Here is H2O, the adult only area.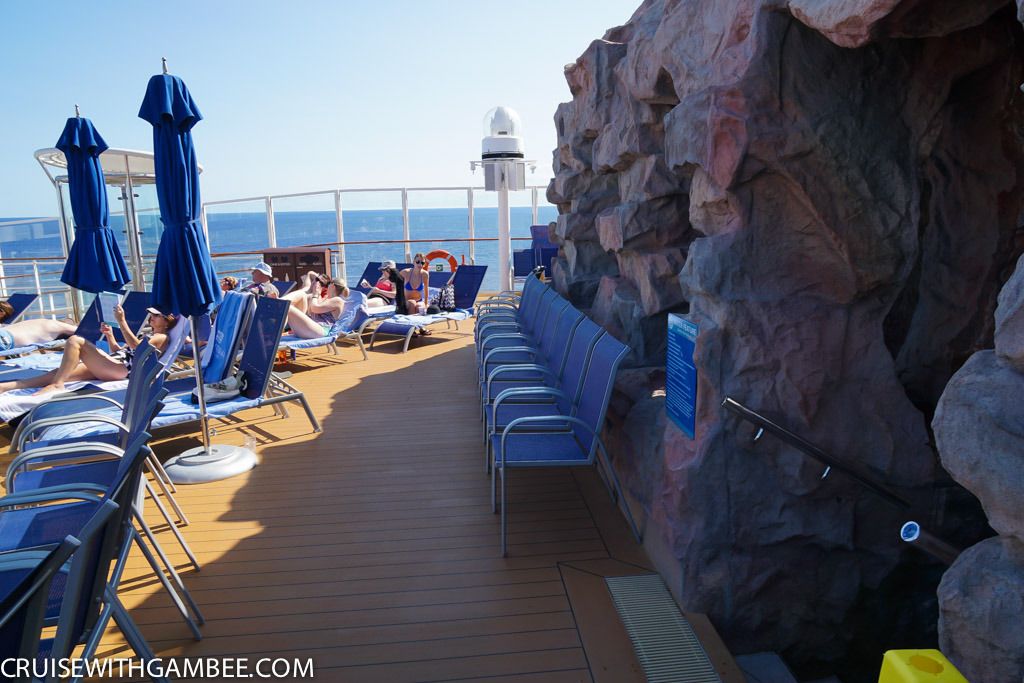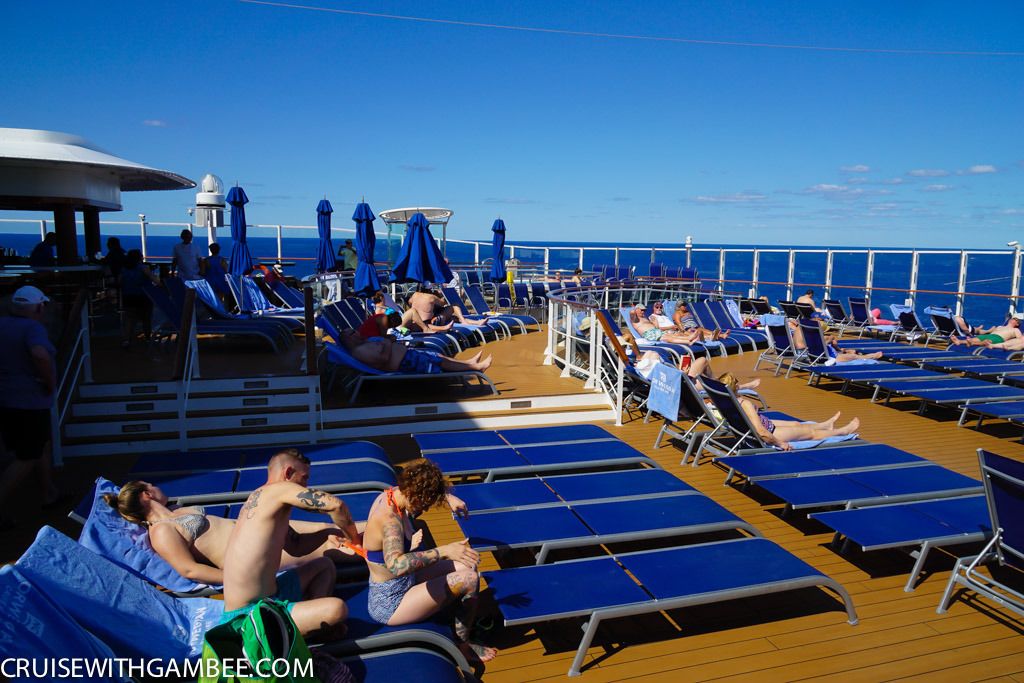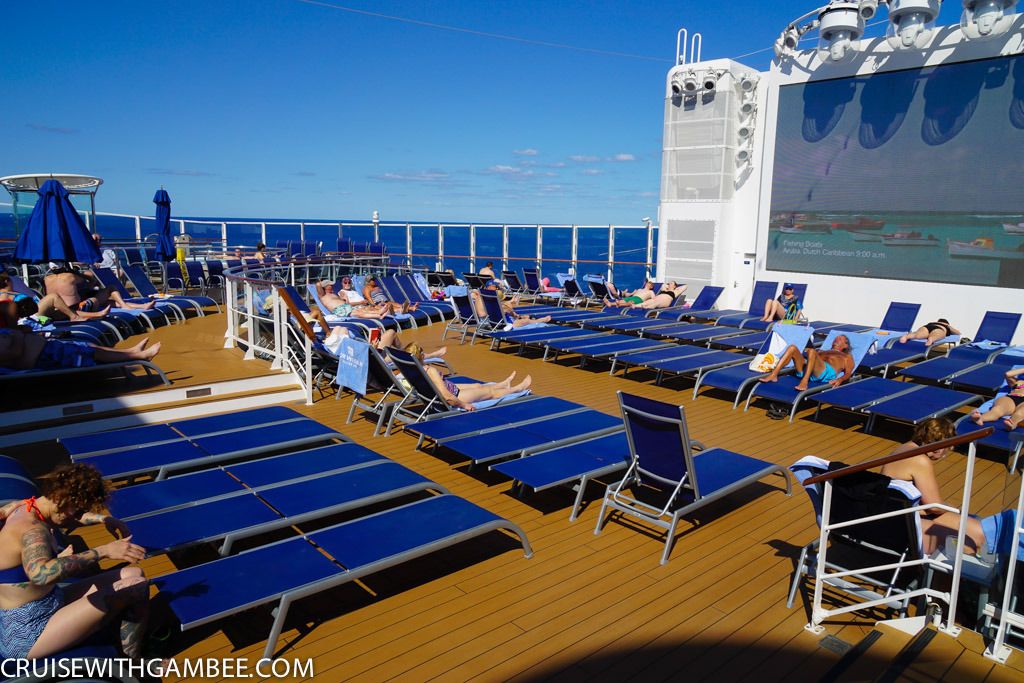 Then we left towards the main pool area.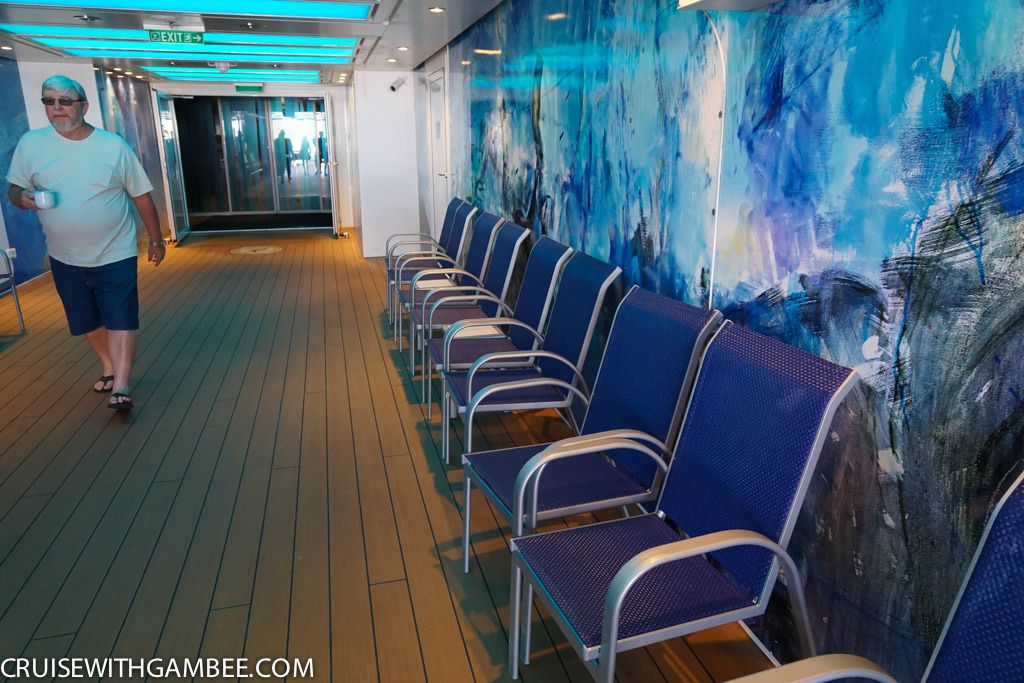 This is a really good area for those looking for shade with great ocean views. Also great for people watching.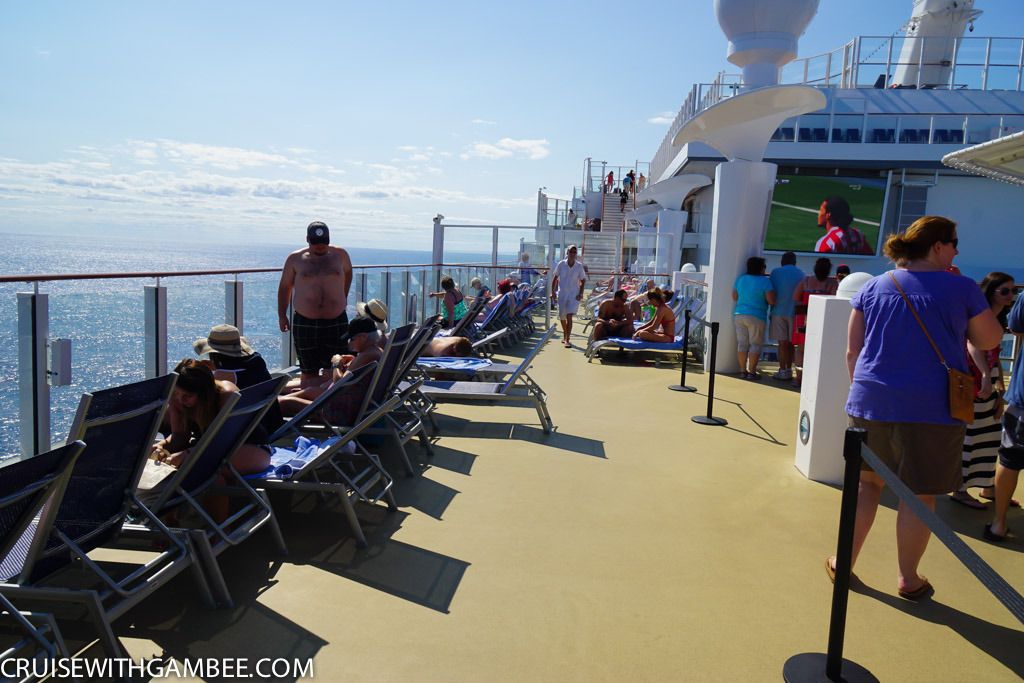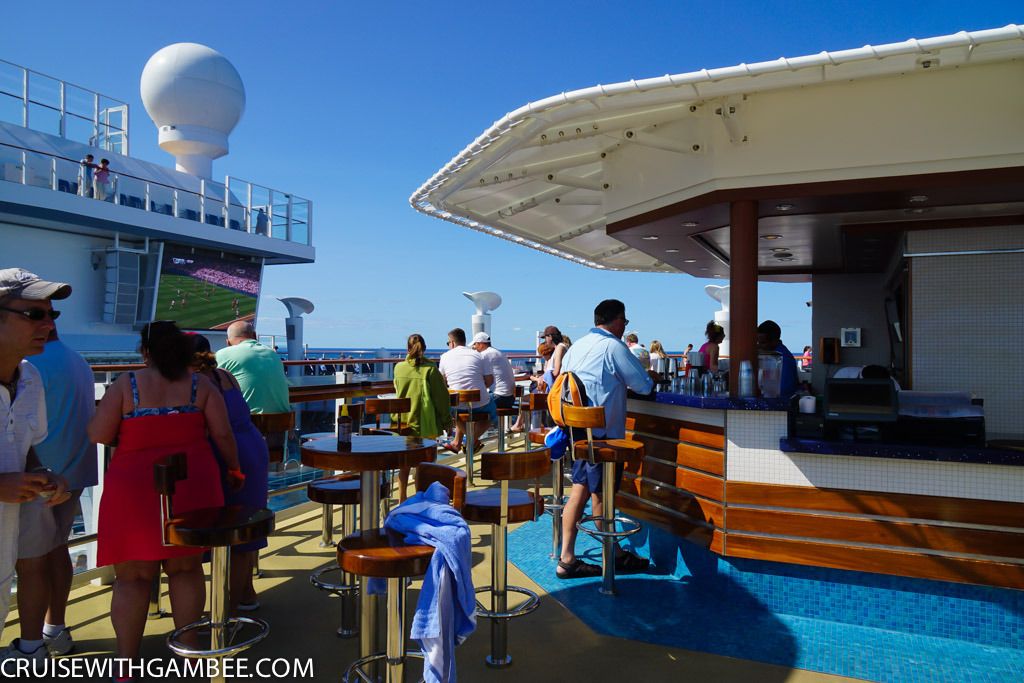 The pool area does get very crowded. It is beyond me why in a ship with 5,200 people there are only 2 pools. What makes thing worse is that the kids pool has little space around the pool for parents to lay/sit to watch their kids.
Another thing to note is that the adult pool is around 8 ft deep. That is why you see people around in the splash area, but you rarely see them in the pool. I have a theory for this, but again this is just my opinion. Even though this is supposed to be an adult only pool, maybe it is that deep to prevent people from drowning. By making so deep few people use it at a time, and thus the less chances at over crowding it and maybe a child just drowning by accident.
Keep in mind this is basically the only adult pool, in a ship with 5200 people on board. That makes zero sense to me. Oasis has 5 pools and they have about 6200 people on board.
So yeah, the pool area is just not ideal. I spoke to several people, some said too much space is spent in Haven, others said the rope course should not be there and the slide should be moved back. Another person said that they should have a pool in H2O.
Personally, I think this area would be proper if the ship had around 4k passengers. I remember the breeze only had two pools, and they seemed to be ok.
I think NCL solution was to add two additional jacuzzis on the port side forward, but that is simply not enough water space.
I sure hope NCL addresses this on their future ships.
By the way the water was quite cold in the adult pool.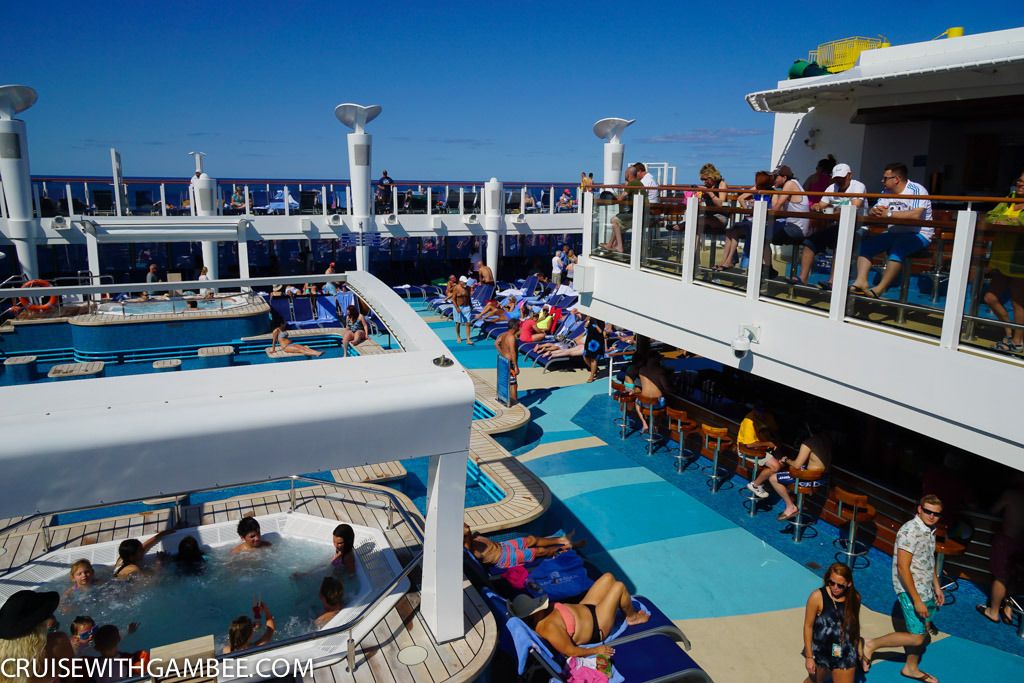 At that time there were still loungers available under the shade.
Adult pool with kid jacuzzis?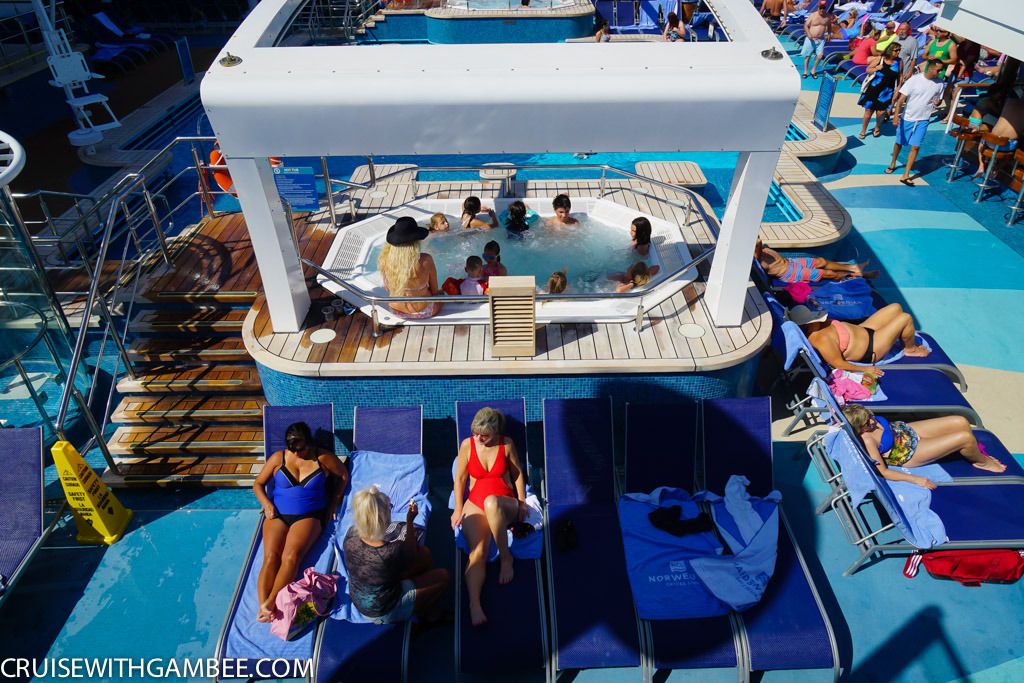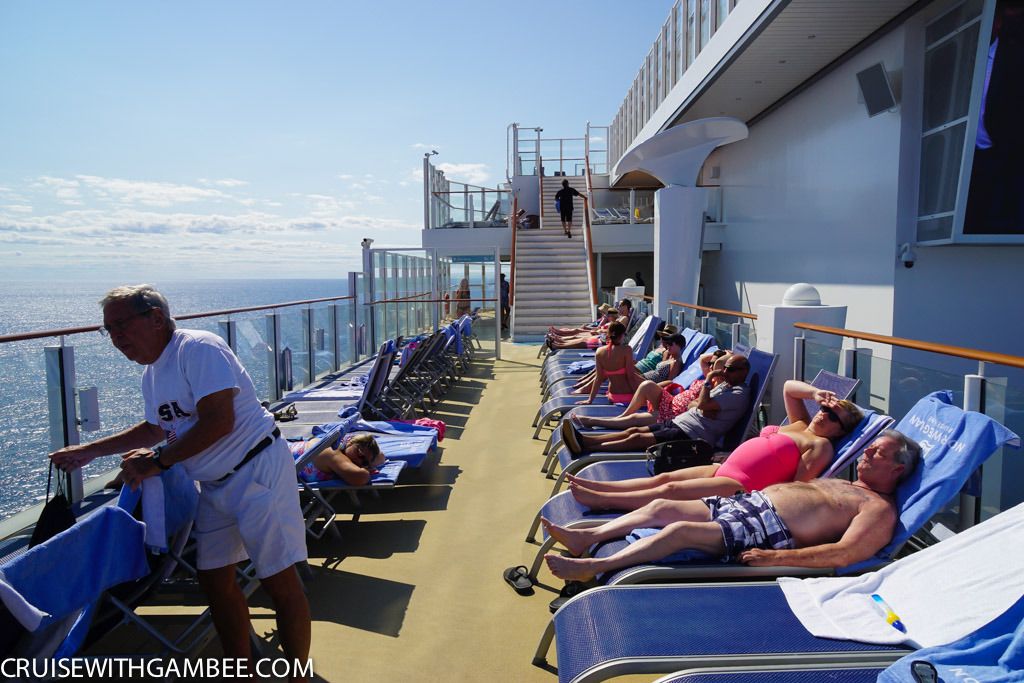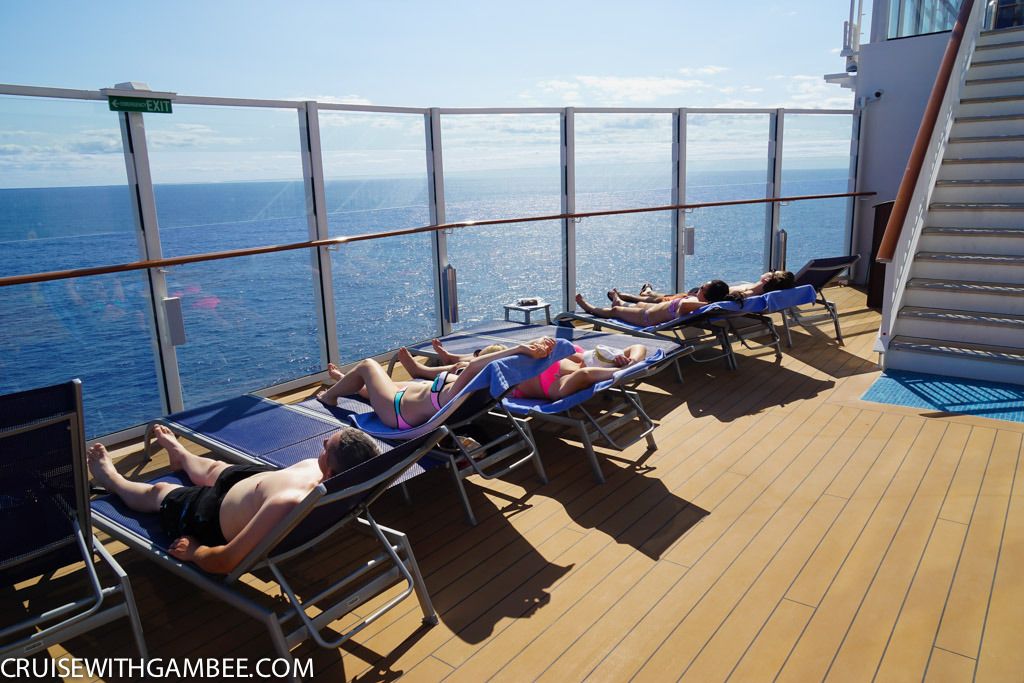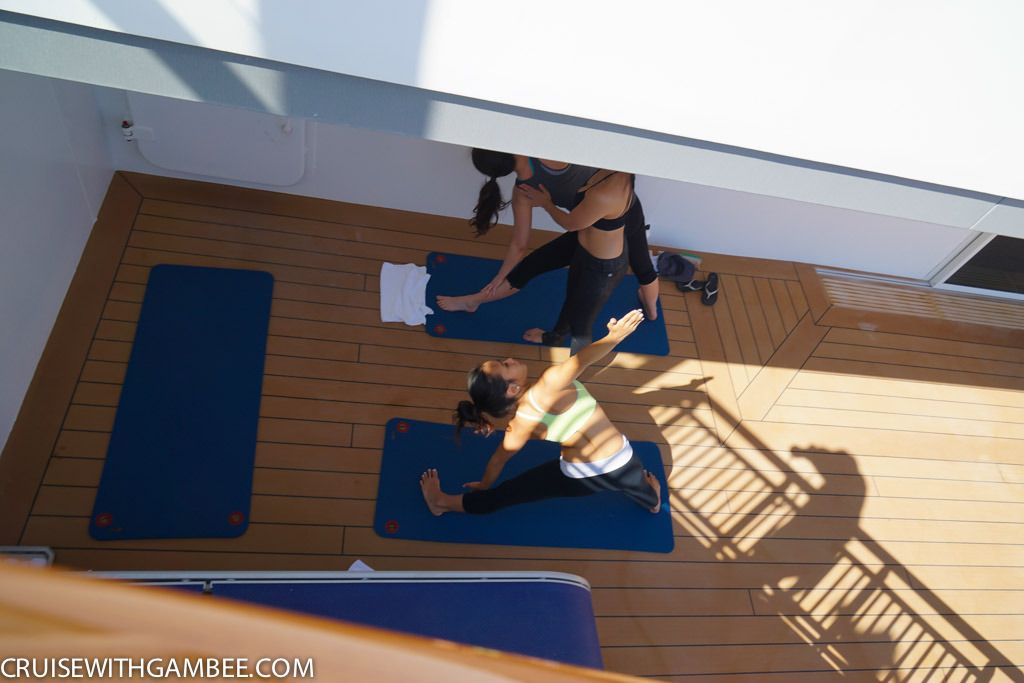 Still plenty of space around here.
Those mist showers are FAB!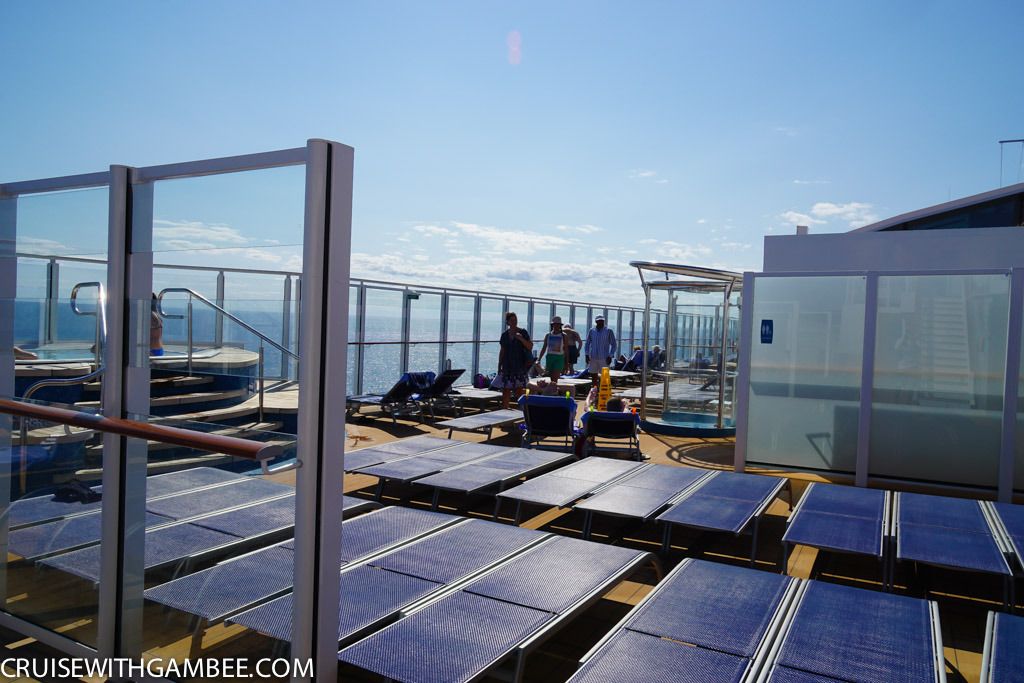 Here is the little box where you use your Vibe access card.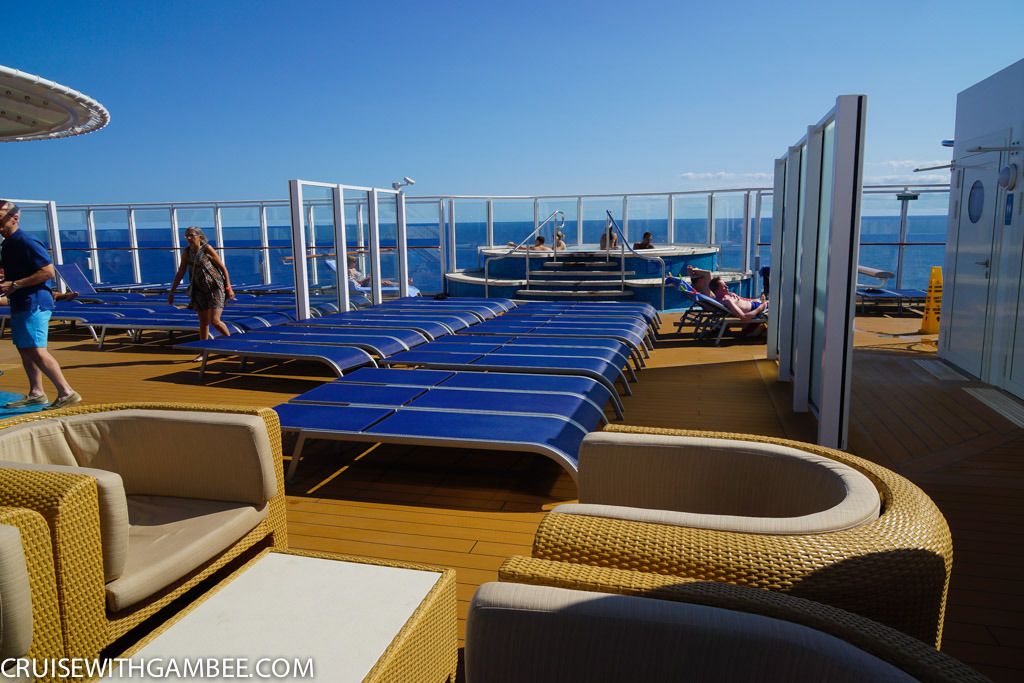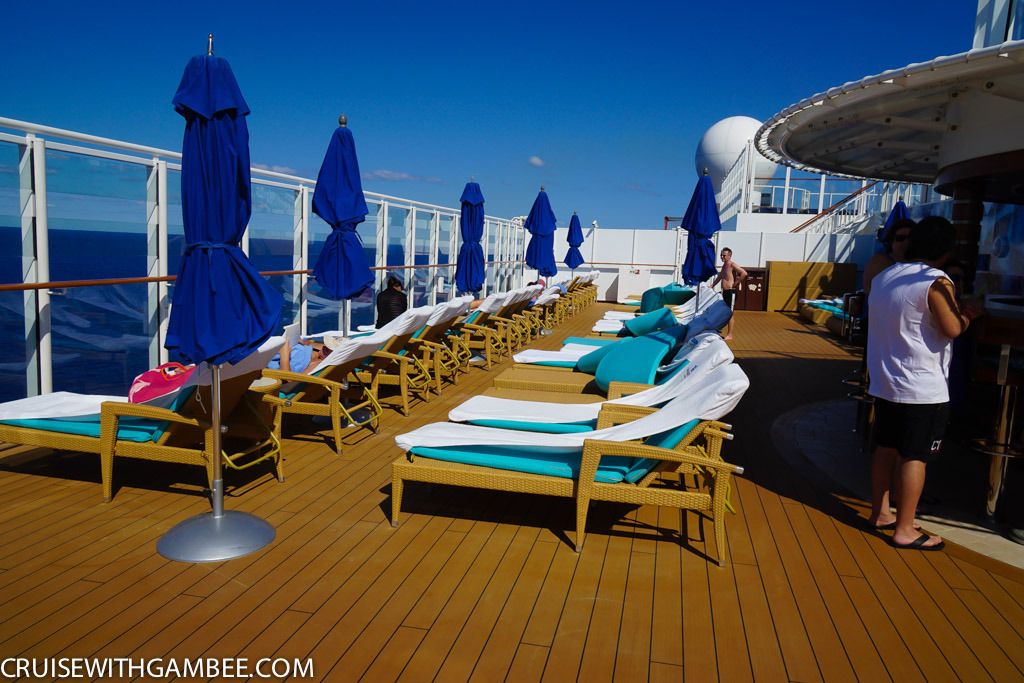 One thing that I found rather annoying were the announcements. They did have them every now and then, and they were loud enough to disrupt conversations in vibe. Not to mention if you're trying to sleep. I highly suggest you sit far away from them.
Very annoying, and I sure hoped they did less of them.
I found a seat towards the front of the ship, and settled there. Not more than 5 minutes had passed when Rowena Manalo, which she goes by Ro, brought us some cold water with citrus fruits inside. Ro was absolutely amazing, she was very personable, and genuinely seemed to enjoy her job. Let me tell you one thing, she spoiled me! I will show more and more as the review goes on.
At one point mom left to get the sun block. This was the first time that mom went on her own, mainly she had not yet gotten her bearings around the ship.
Mom came back with the sunblock. Yes, I know, I know. On the Oasis review I said how these types of sun blocks are not safe. But after I bought one I fell in love with them. I am, however safe and hold my breath whenever I am spraying, I hope that is enough to avoid the toxins going into my lungs.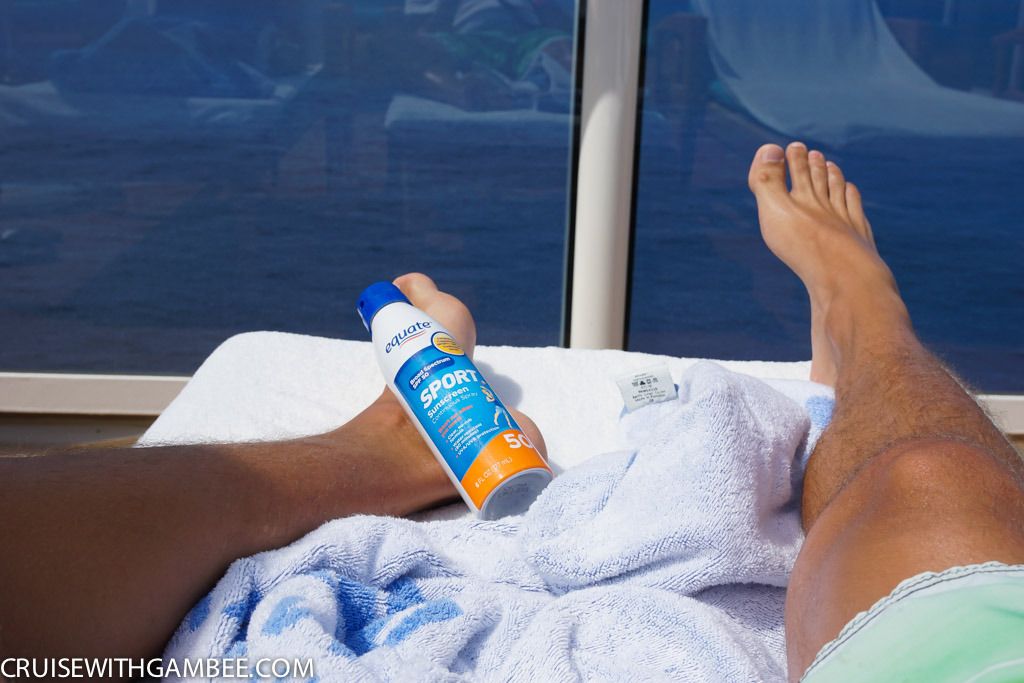 The other bartender in the is Rommel De Guzman, but he goes by Romelito. He was a very nice guy, but to be honest, I mostly dealt with Ro as I rarely sat at the bar. But his bar was always full and everyone was always having a blast. Service in Vibe is unlike anything else! They are both there to make all your requests possible.

Later I ordered a bloody mary which was excellent!

That thing had a salad in it, Muahahaha. Did I mention I hate celery?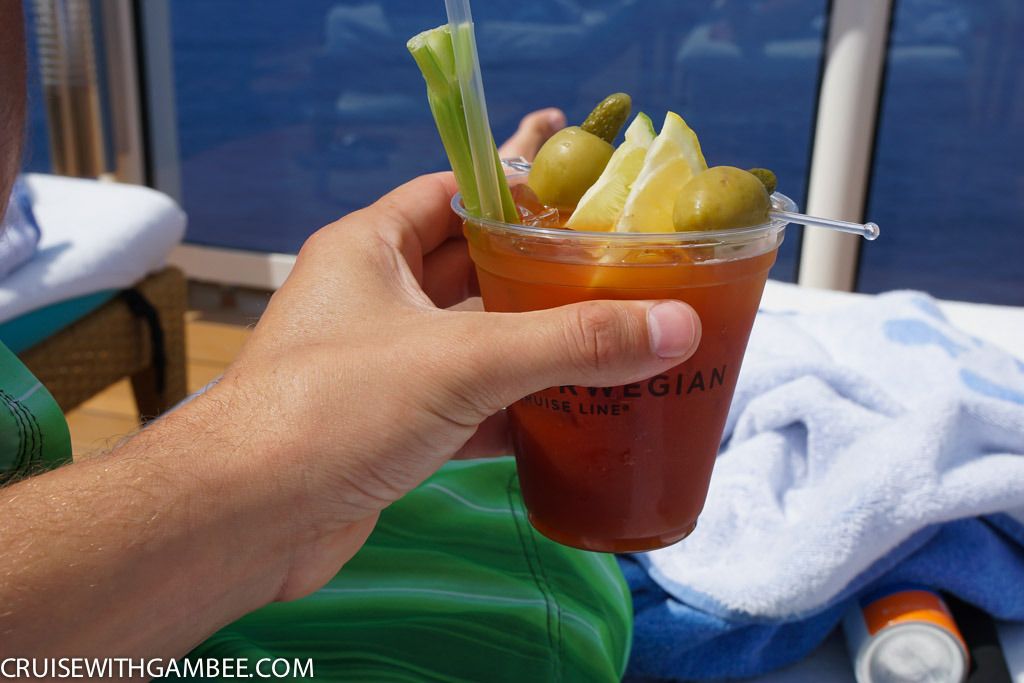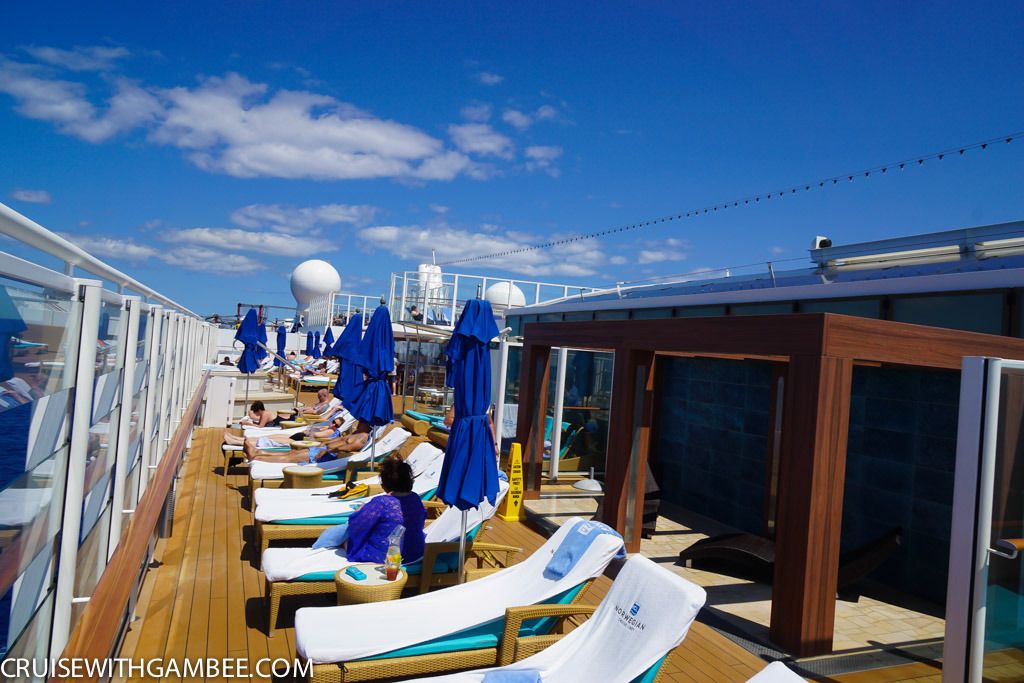 I saw mom was getting angsty, and I knew exactly what the problem was. She needed internet, so I asked her for her phone and went ahead and bought the internet package.
Happy mom! Oh, and Ro brought a towel/pillow for mom! Can life get any better?
I also managed to get the drink list from Vibe. I think they are all very similar.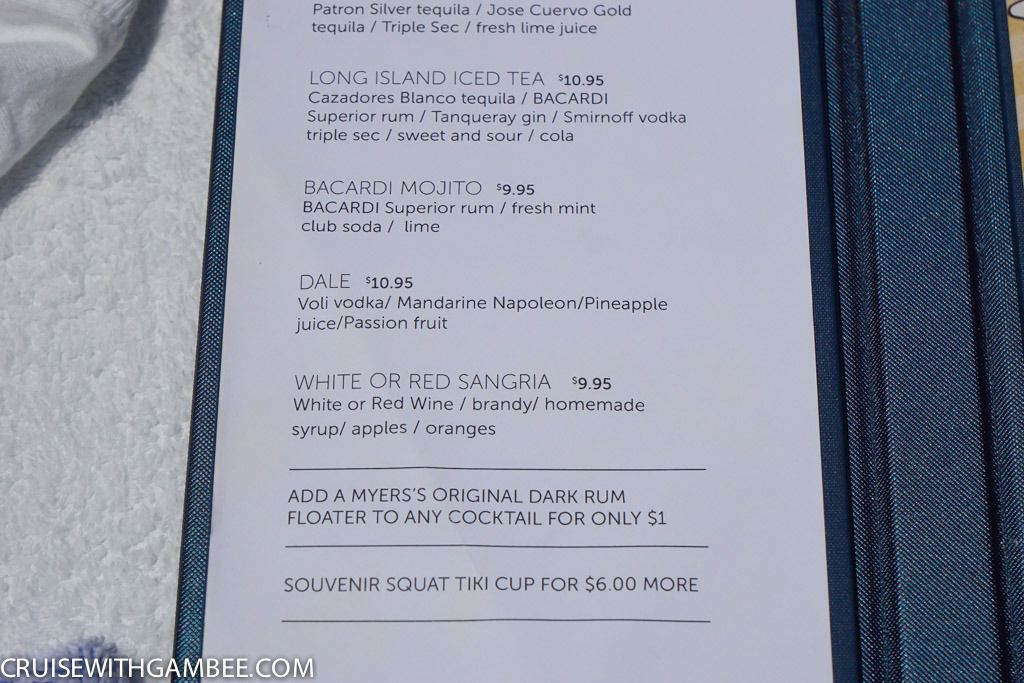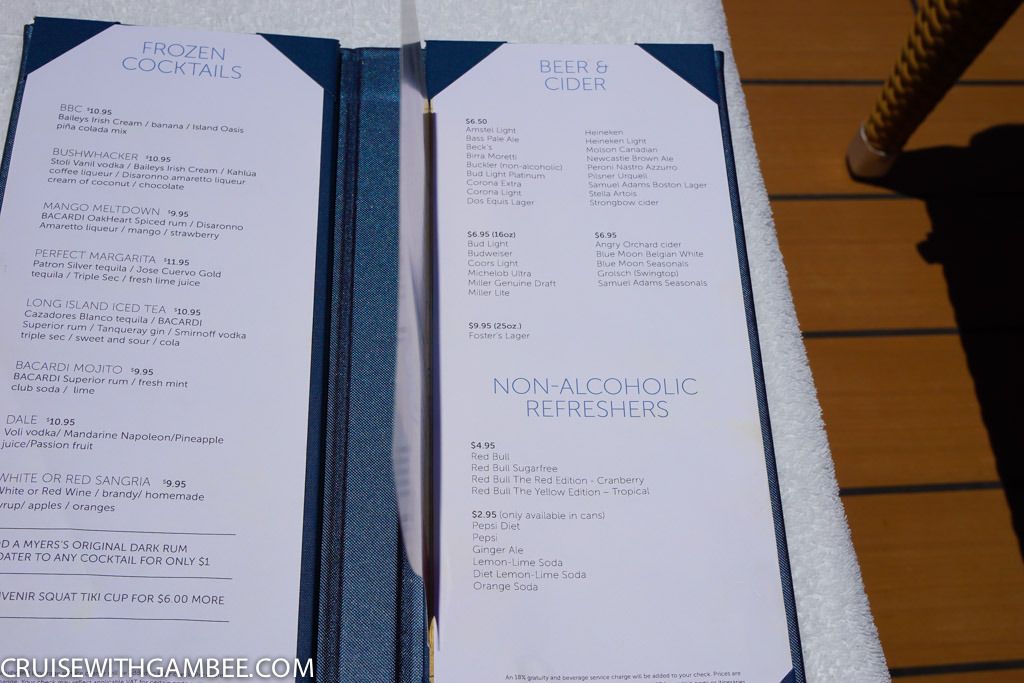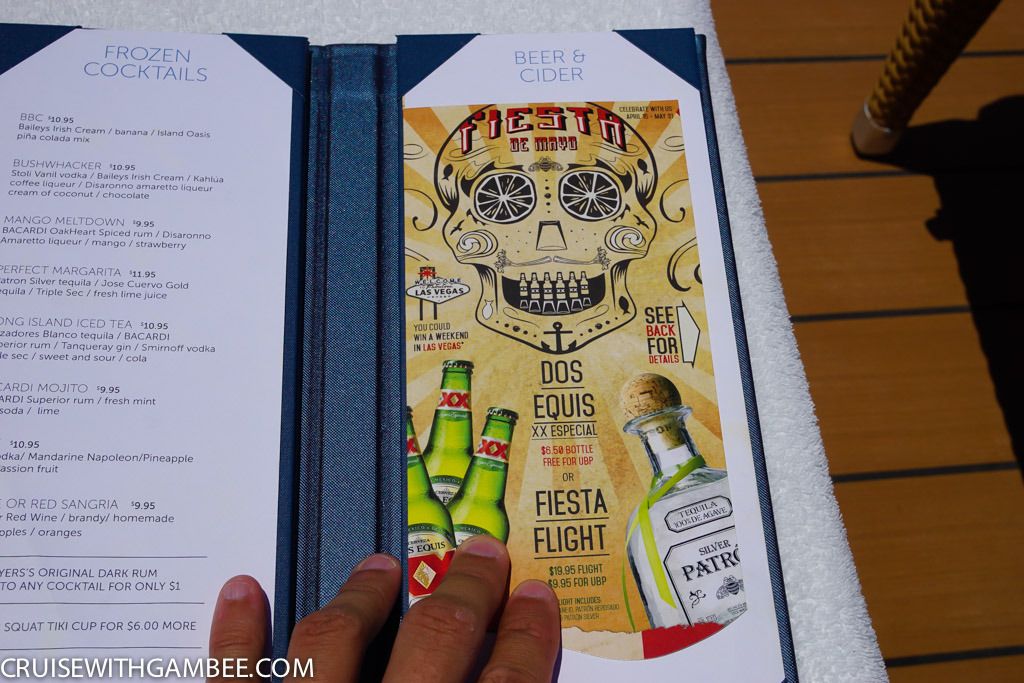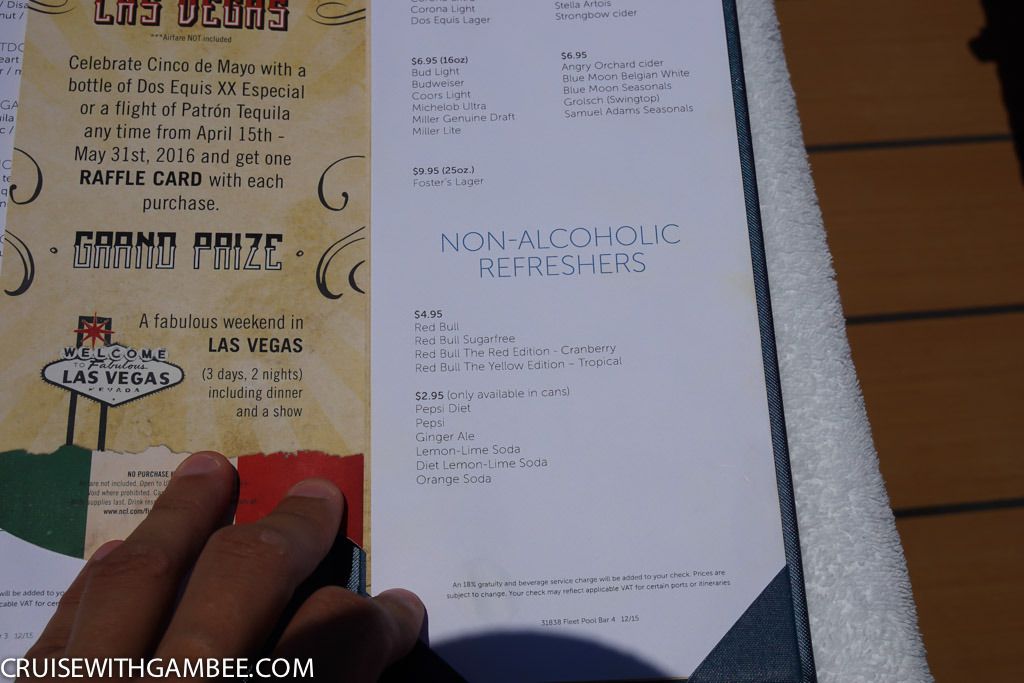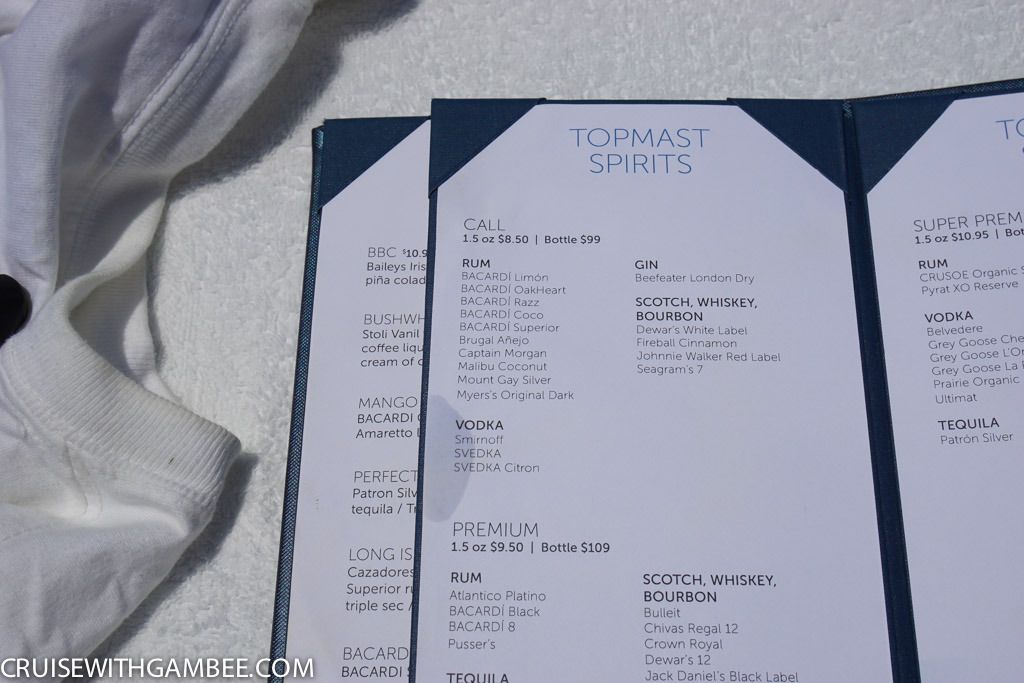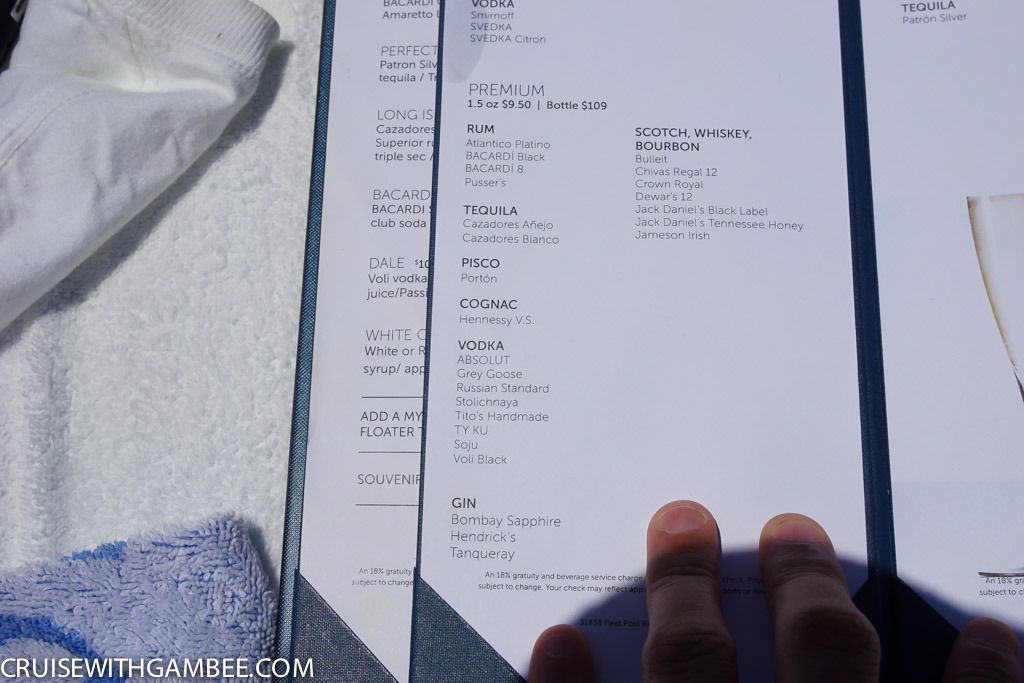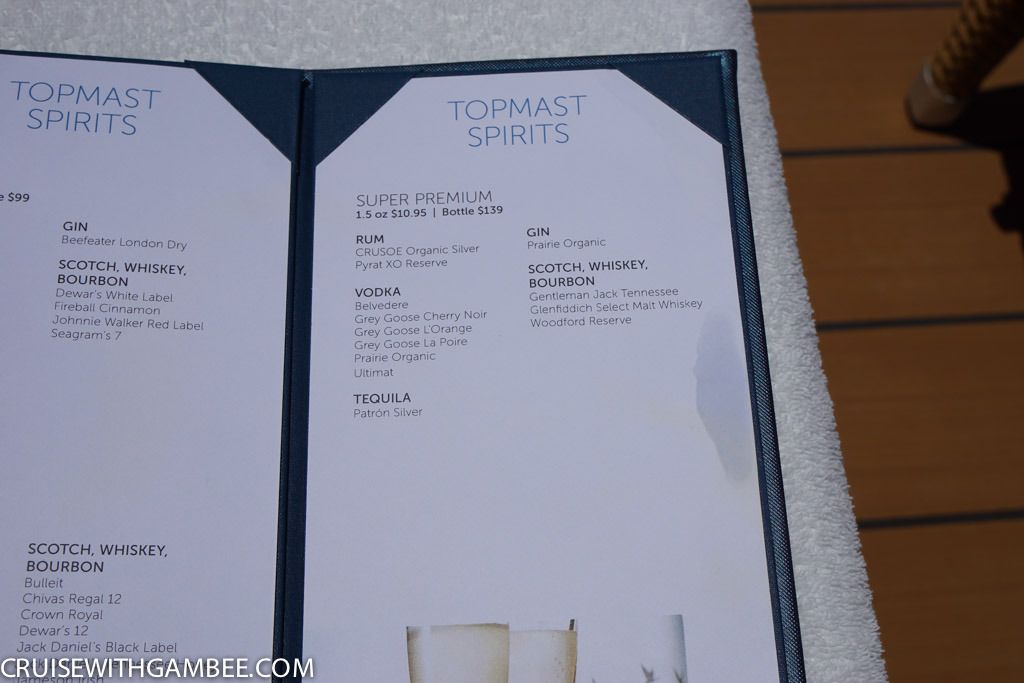 Ro came back and asked me if I wanted anything. I told her a Gin and tonic would be nice. She would usually hold my card, and then give to me at the end. That way she would not bother us asking for the card over and over again. And most of the time she just kept the drink flowing, especially when in the jacuzzi, once she saw your drink was low, the next one would show up before that one was over.
Nothing compares to Vibe! And I know I am screwing myself here by over selling a limited area. But I am honest in my reviews, it is simply the way it is. Someone even suggested that vibe should be larger, but I responded saying that the rest of the cruise would be even smaller.
Ro also goes around with fruit skewers every so often. She was fantastic!!! I think her contract ends in 5 weeks, and she goes on vacation for a couple of months.
At one point they made some announcements that they were offering free mimosas for anyone who visited an art auction. While a lot of people had the unlimited drink package, I know for a fact that not everyone had it. Quite a few people were paying for their drinks. So I guess maybe more than one made use of the free mimosas. It is beyond me how NCL is making money with all these free packages…
This is pretty much how it looked at the busiest. I remember offering to move once for a couple who came a little later, and he said that I was the first nice person he dealt with. I am not sure why, but he said that most guests were rude. That was not my experience at all. The funny thing, is that at one point he was really rude to me over a towel situation… The funny thing is that in Vibe there is no towel control. You can pretty much grab as many as you want.
Let it be said, that was the last time I was nice to him. I have a feeling he was the one being rude to everyone, and not the other way around
I left Vibe for a little while to check out the crowds on the pool deck. I will just let the pictures do the talking here.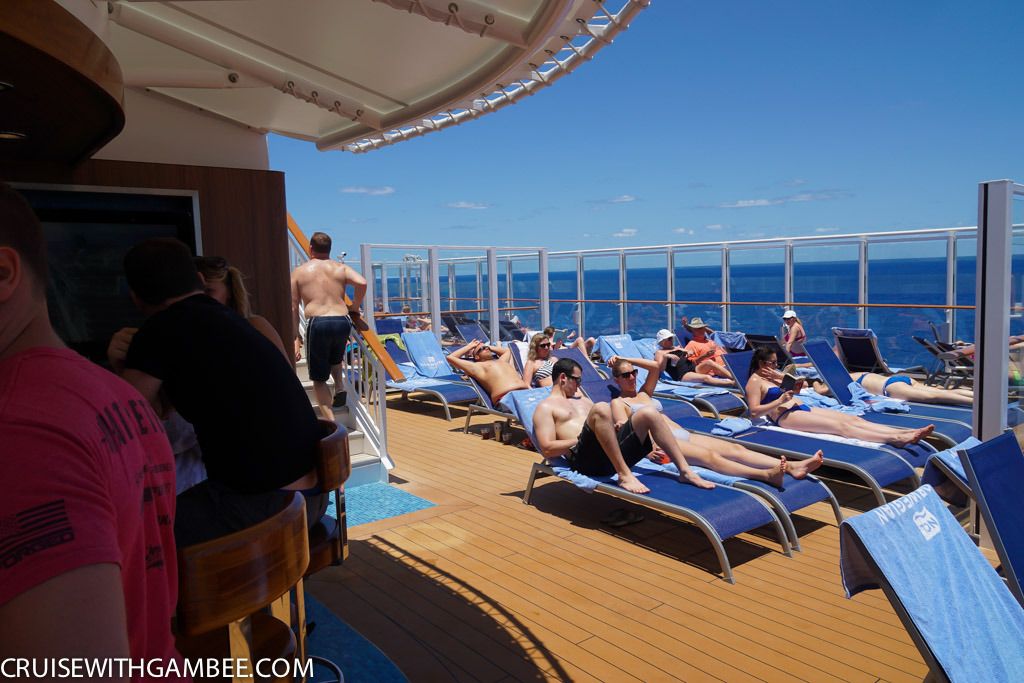 You can always find loungers. Unlike what people reported in multiple reviews.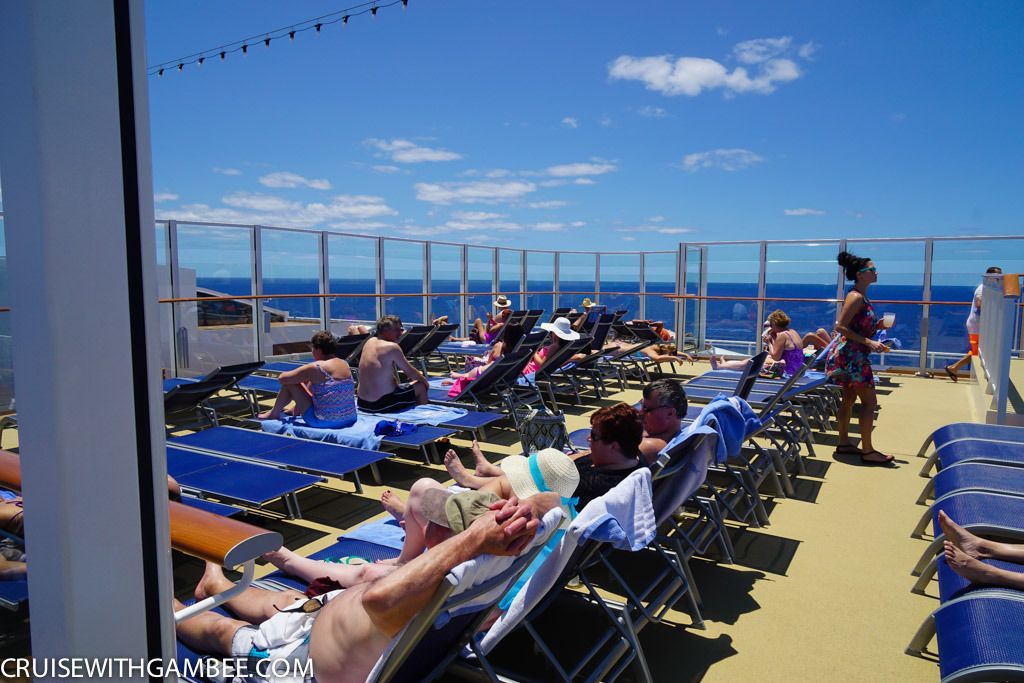 This is on deck 19, the very top deck.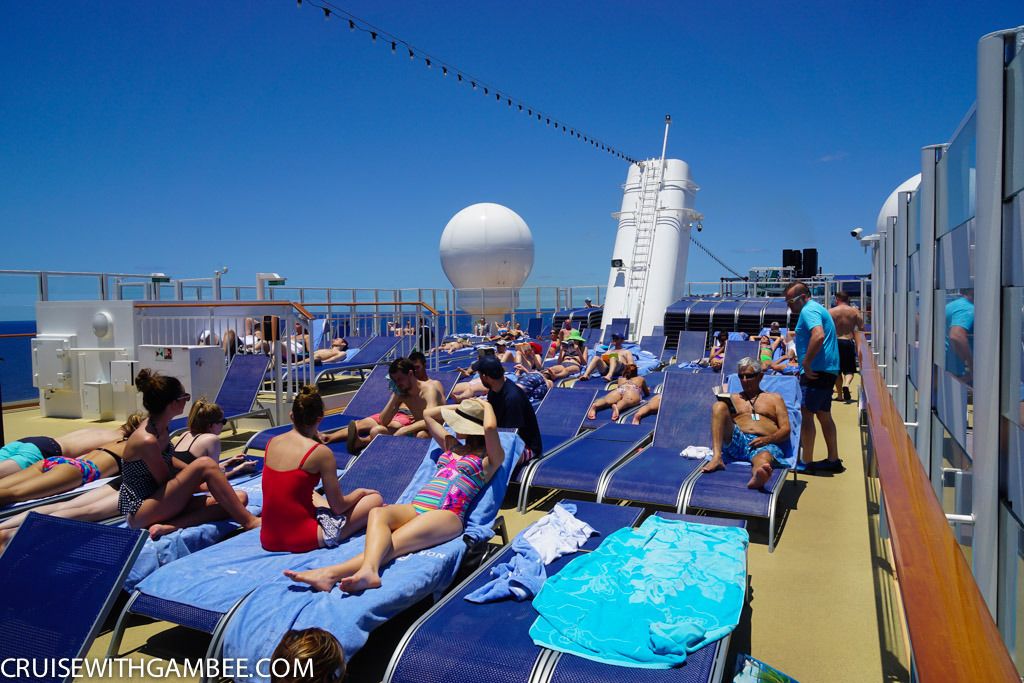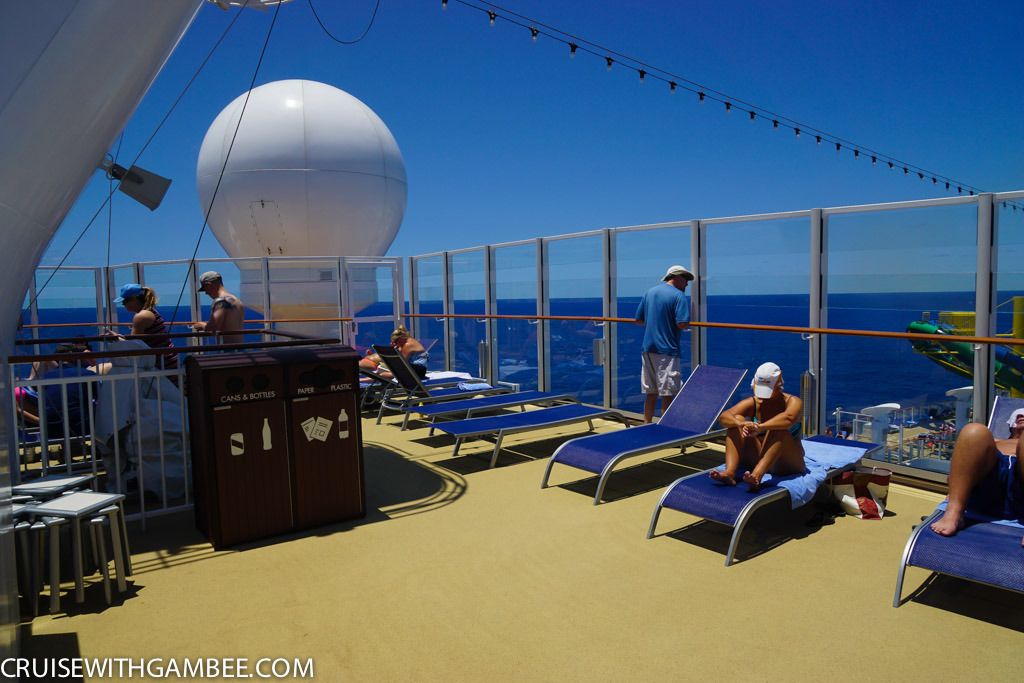 Notice no one is actually in the pool, it is just too deep.