Look at the top right, there is bar service going around.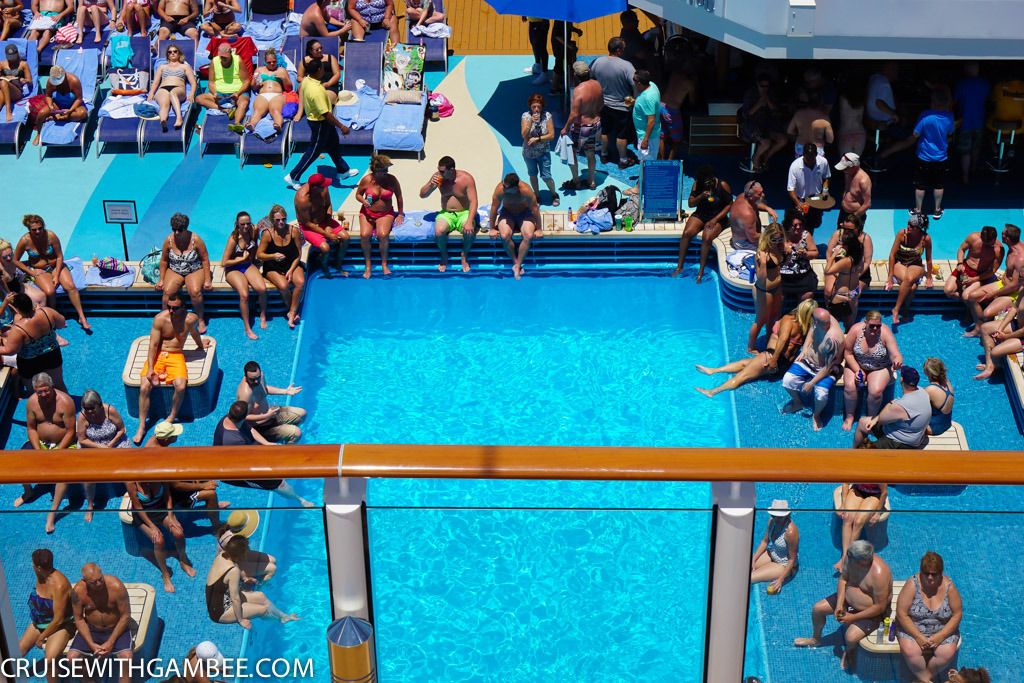 The lines for the water slides are never horrible, and they go fast. Although I do recommend going from 4:30-6:00. You will be in line for less than 5 minutes.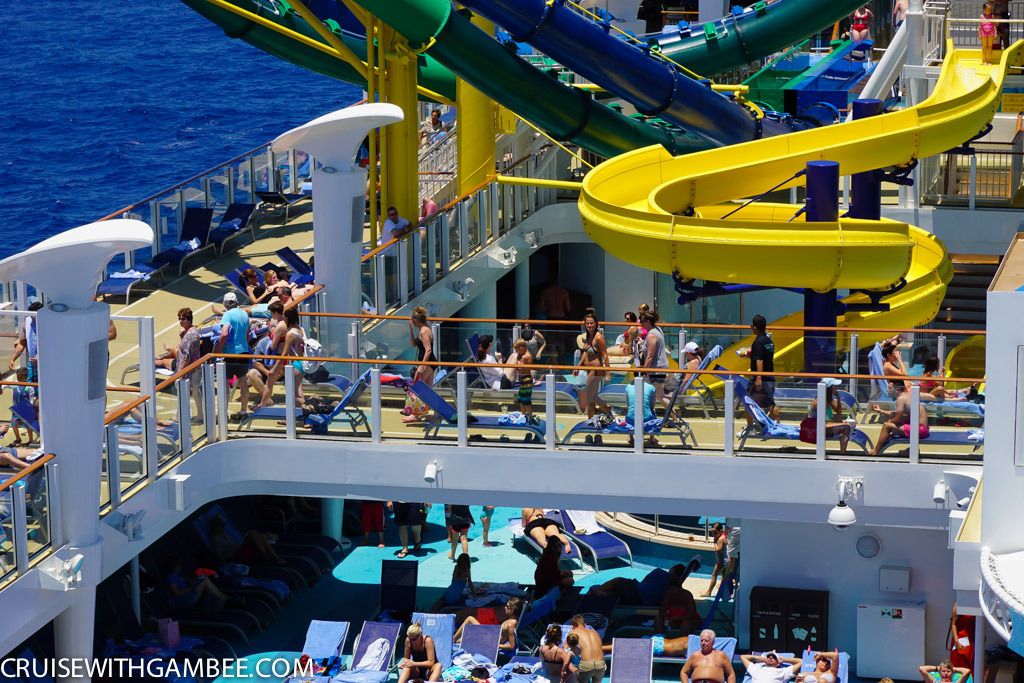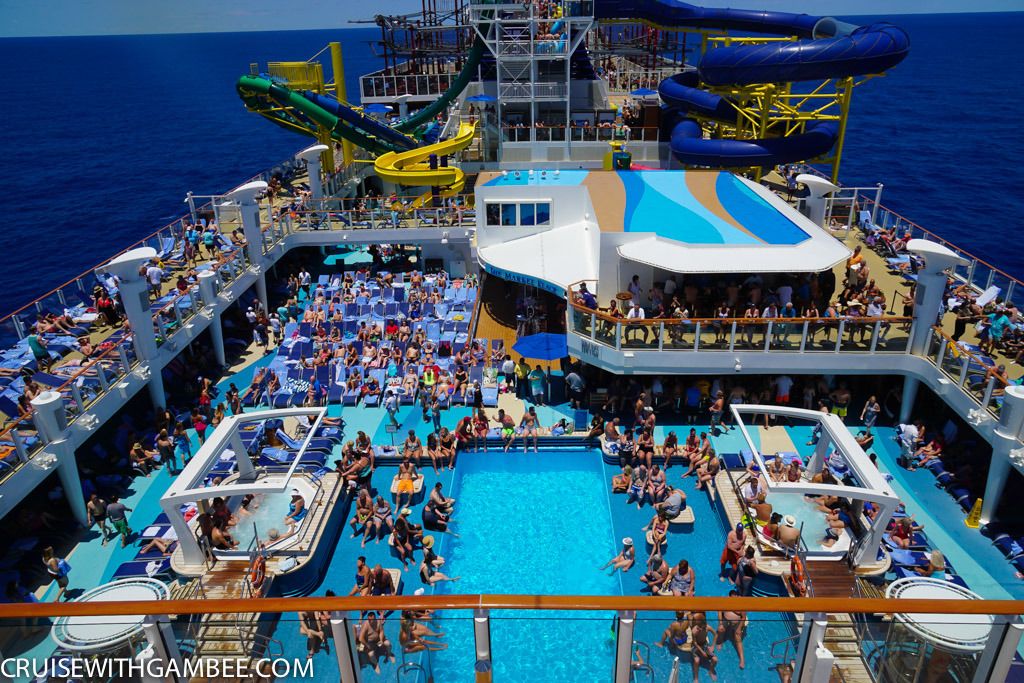 I have seen the roof of those jacuzzis closed on other reviews, but I don't think I ever saw them closed on our cruise. Maybe they keep them open to minimize the time people spend on them?
Back in the Holly Land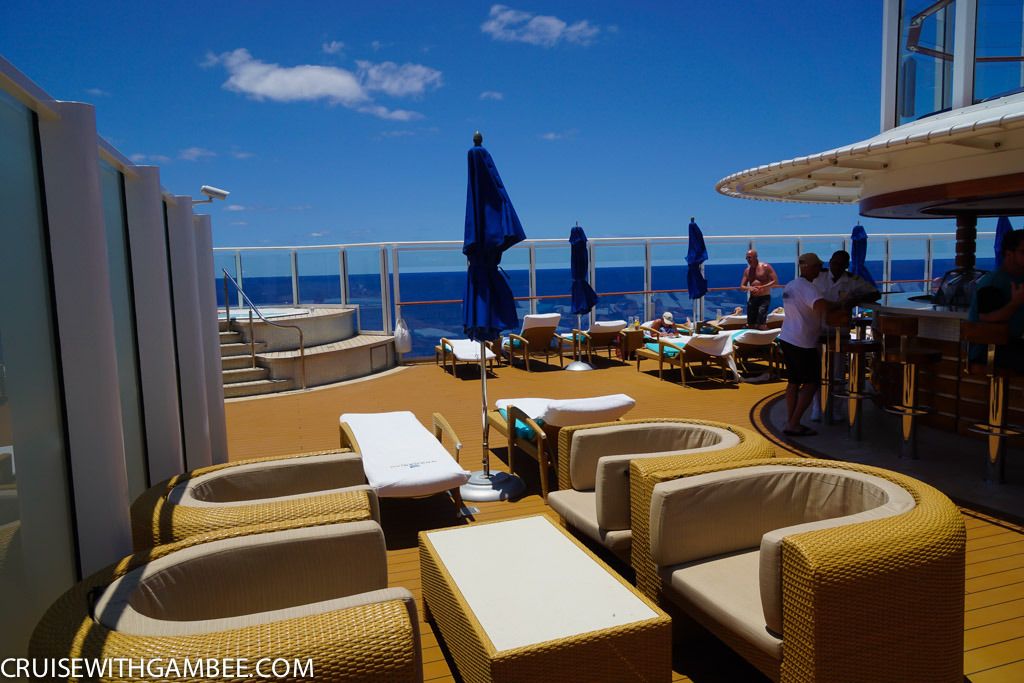 I forgot to mention that since it was windy that morning they had to close all of the umbrellas.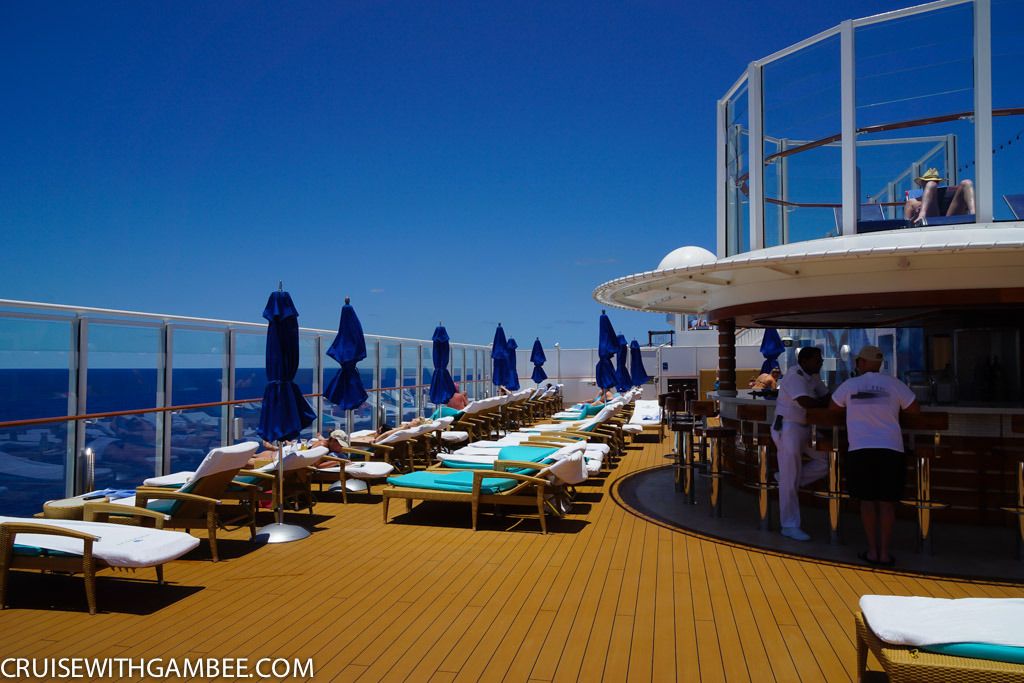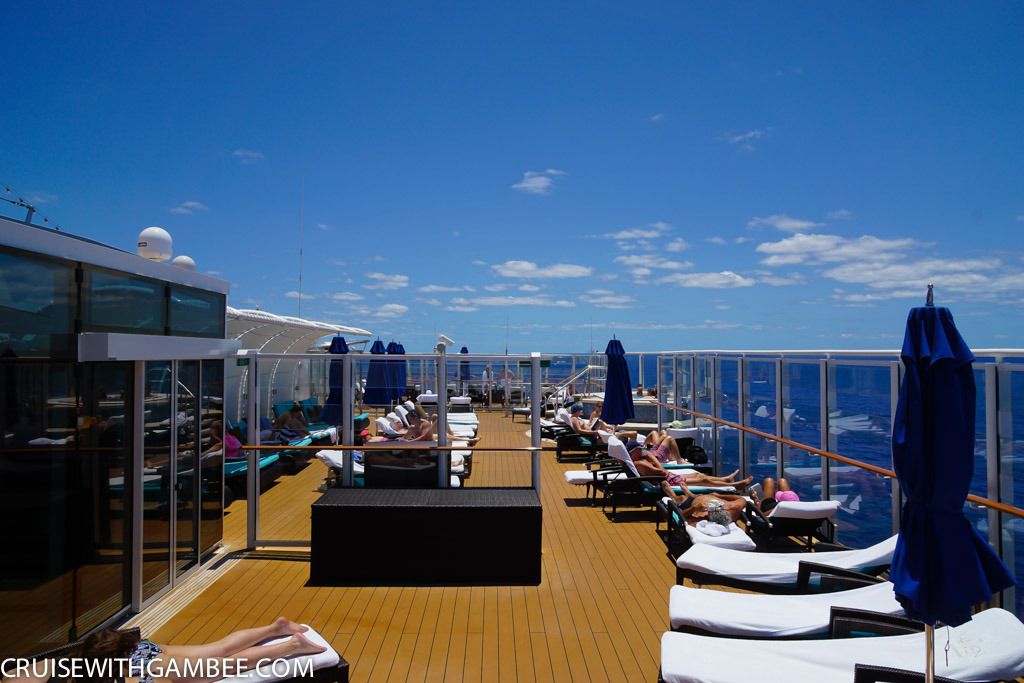 This one is from the GoPro, notice there are still plenty of loungers.
Hi Ro!
Vibe has a really low amount of people, so you get to know pretty much everyone there. I met a lot of people there and spoke to pretty much everyone. I was quite surprised at how many people knew Gambee. Please note that I did not disclose it. I like to fly under the radar, but my mom said to a few people and then a fellow CC member figured it out and the word spread out. I was not upset or anything, but knowing that I have so many readers does make one feel proud.
By the way this is when I met two ladies from Haven. Apparently they boarded the ship and noticed how loud and loaded with kids Haven was, and they could not tolerate it. So they payed for Vibe due to that situation. However, the top outside deck on Haven is not loud at all. I know that for a fact because they are right next to each other, and I often sat near that door. I think the part in Haven with kids is the courtyard. I think they just got used to Ro and stayed there for the rest of the cruise. But they told me that they had the same service over there as well.
Anyway the ladies invited me to check out their presidential suite, which I never did. But I did get into the courtyard later on that day.
The ladies were really nice, and she actually lived in Colombia for quite a while.
Ro came back with more water, and refilled my drink. She pretty much knows what you like by the second day, not to mention names and everything. I cannot say enough good things about her. I need her in my life permanently, Where is my Gin? LoL, oh, never mind it's on my hand.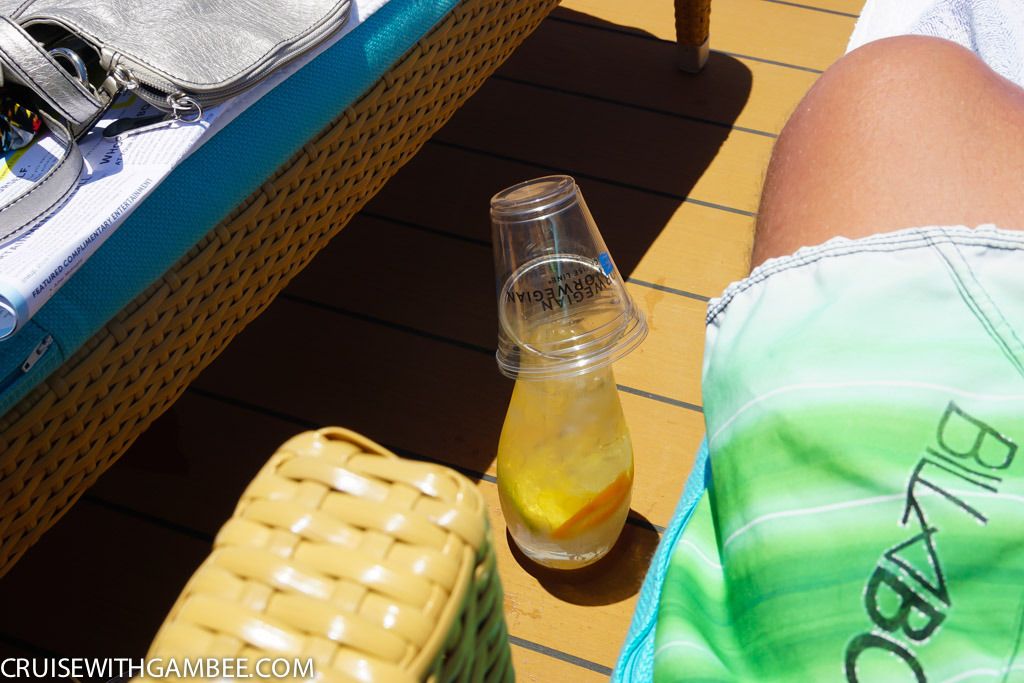 We decided to go get ready for lunch, I wanted to try Food Republic.
On the way to the room.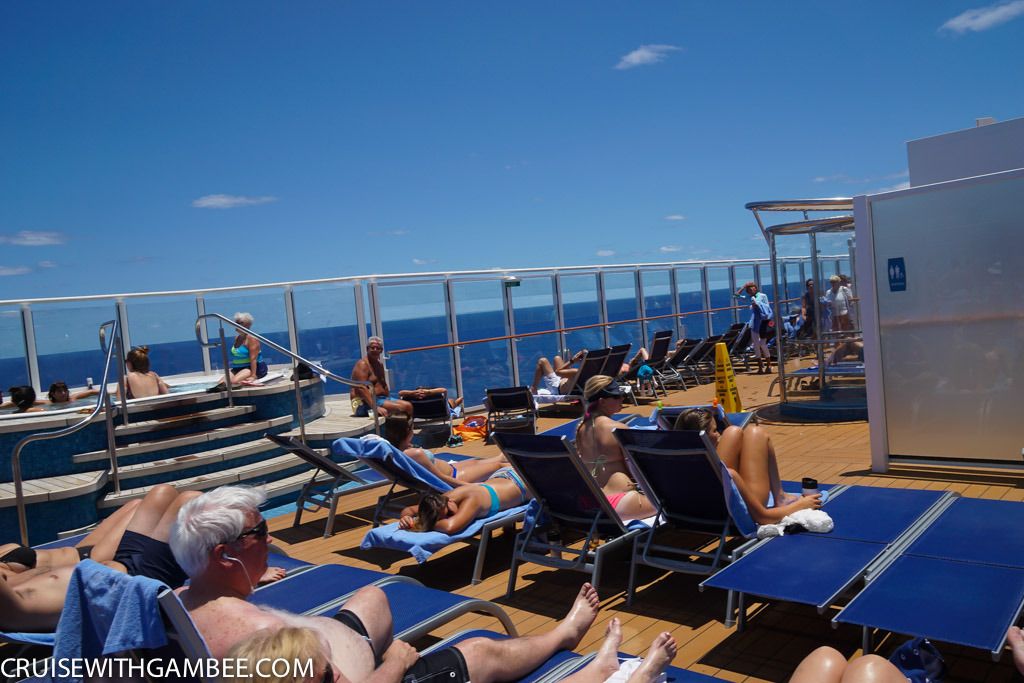 Well hello there!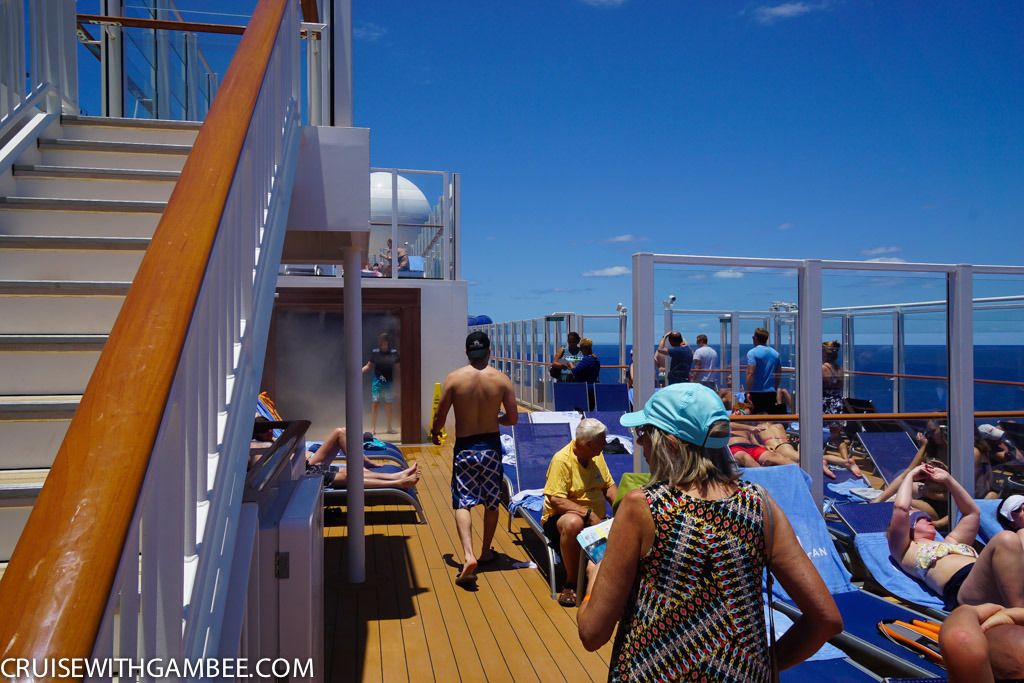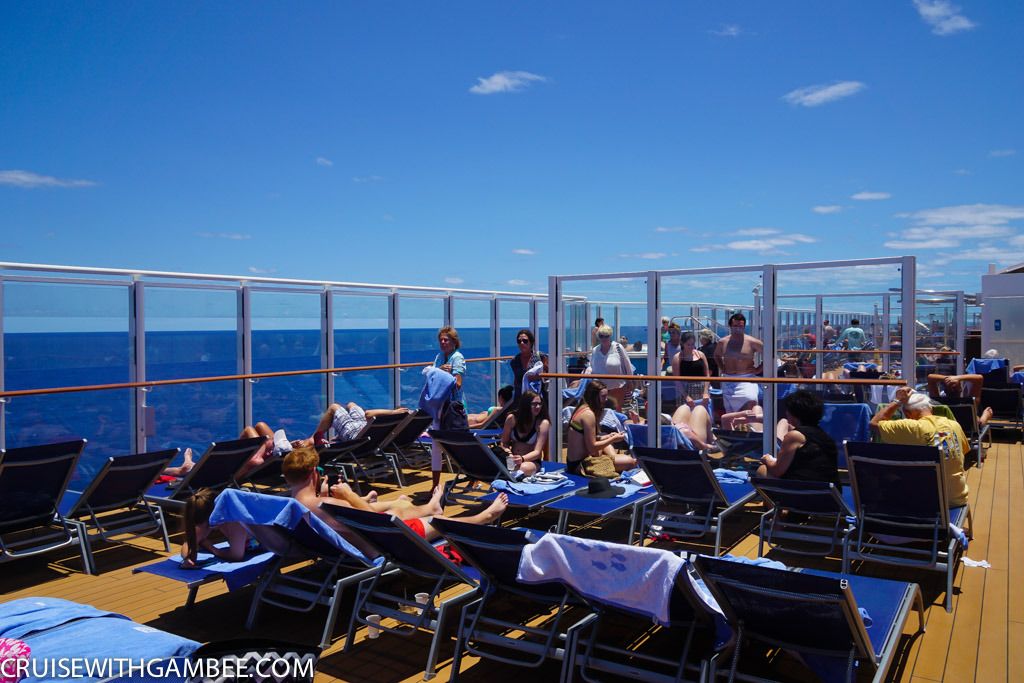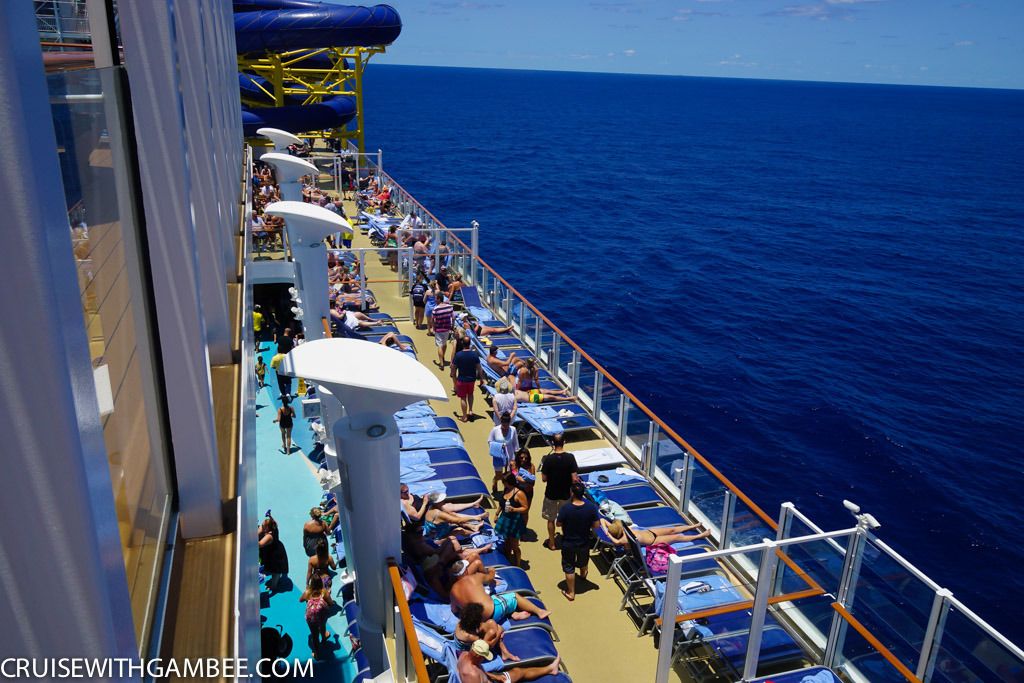 At one point during planning this cruise I thought of bringing some sort of floating device to go in that pool. Although, I am sure that someone would have asked us to remove it from the pool.
You go girl! Dance the day away!
Every time I wrote something there they would erase it. Can you blame me? It says Draw something!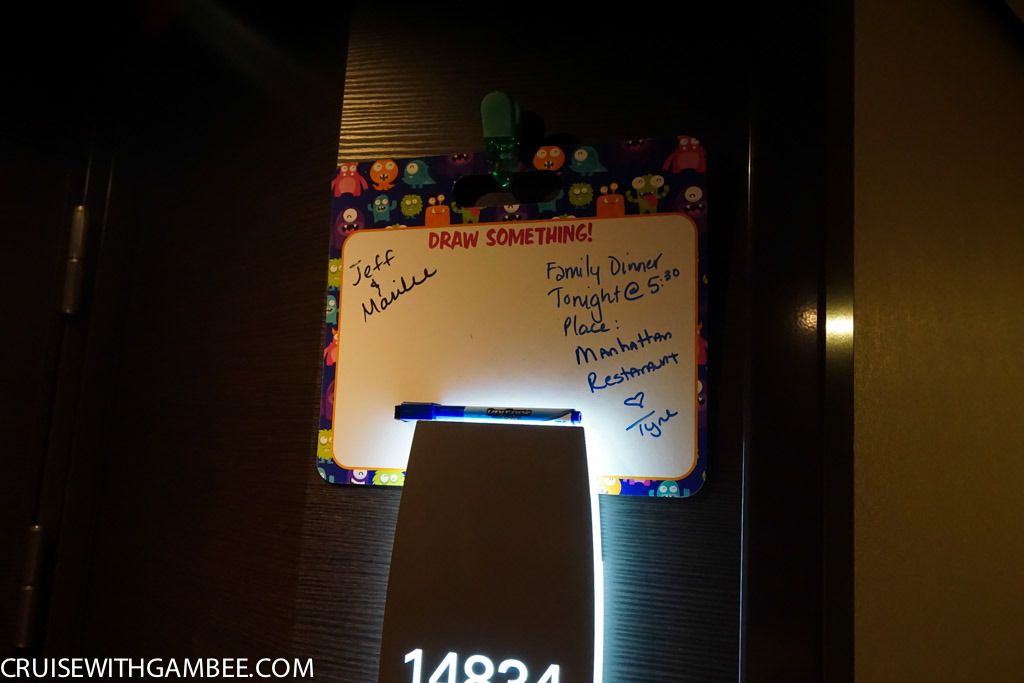 I had my Salt Life T on. If you live in Florida you have to be Salt Life, and proud of it!
Just look at that view, we were blessed with awesome weather!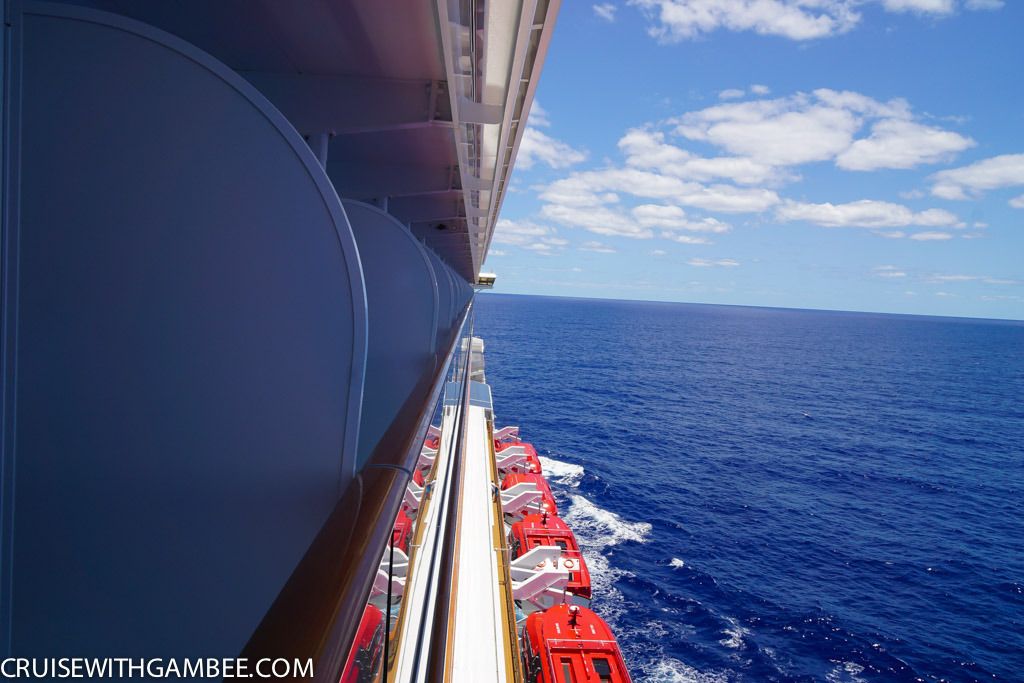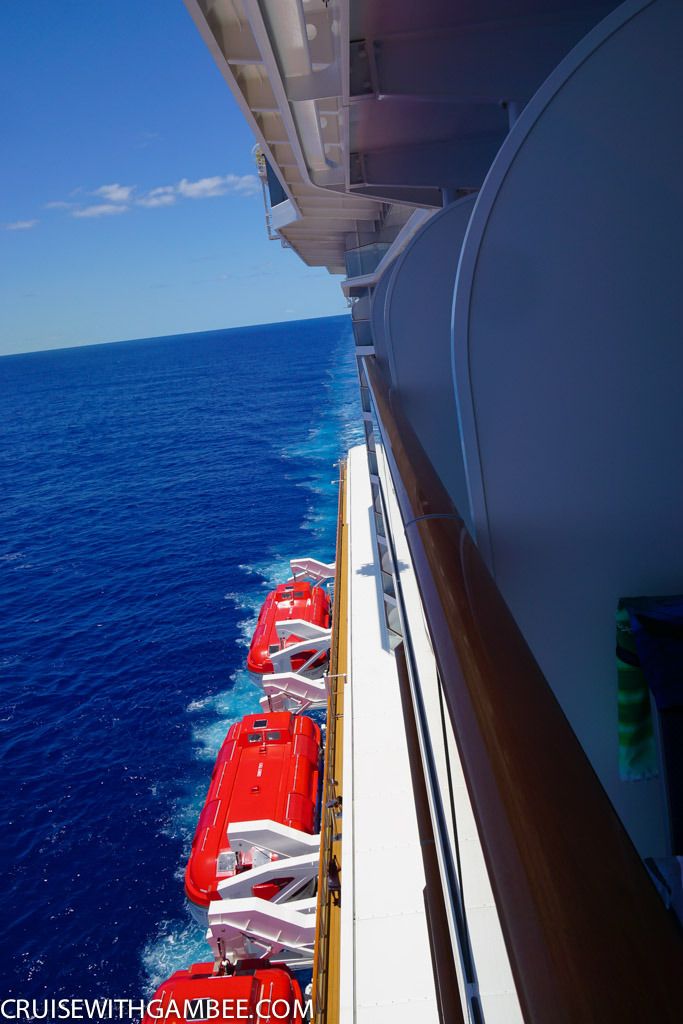 On our way to Food Republic.
Food Republic is excellent and a not miss experience. My advice is that you go early during the cruise, because towards the end everyone is talking about how good it is and it gets very crowded. As you will see later on during the review. Just go early in the week.
The way it works is that you sit down, and start browsing the iPad menu. Keep in mind that the drinks have to be ordered by the server, and not the iPad. Also, in order for them to start making your food, you need to pay for the order. Then everything comes out as it is ready. So do not order the dessert on your first order, just wait until you finish eating the main stuff.
My only complaint about food republic are their lunch hours, it is only open from 12 until 1:30. Just not long enough. They reopen again for dinner around 5:30.
We got a nice table by the window.
Like I said, on the first days it should be pretty quiet there.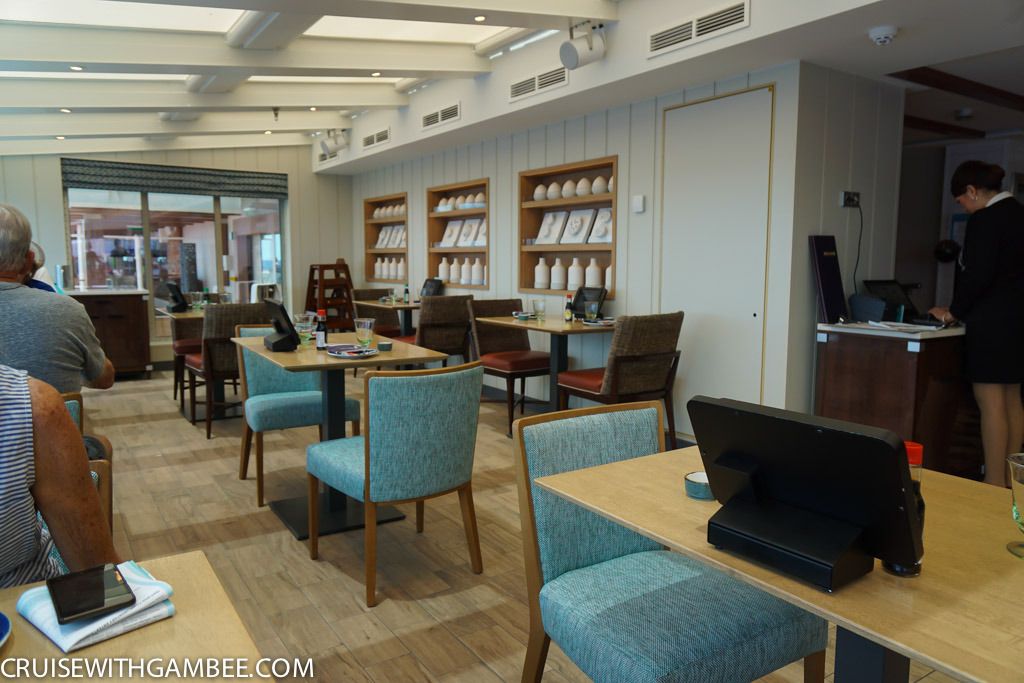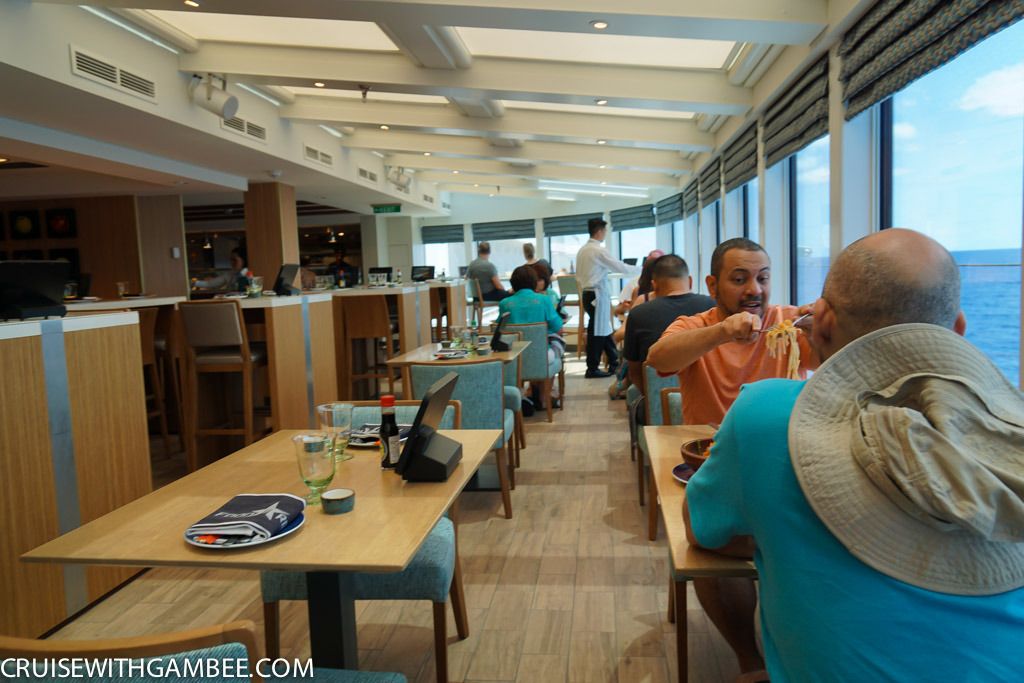 Here is the menu with pictures.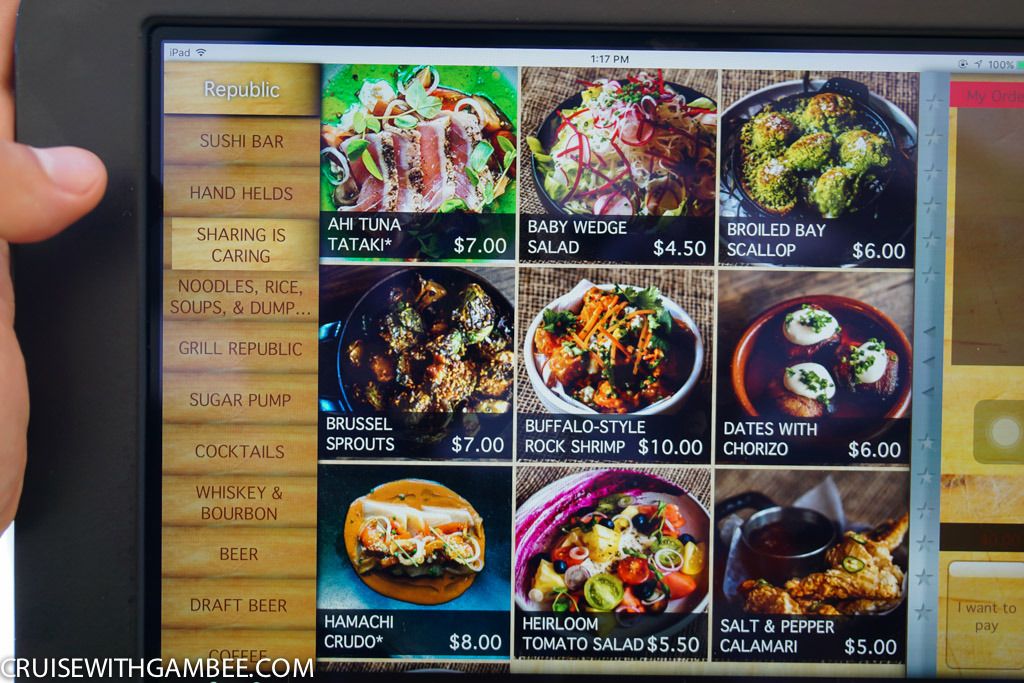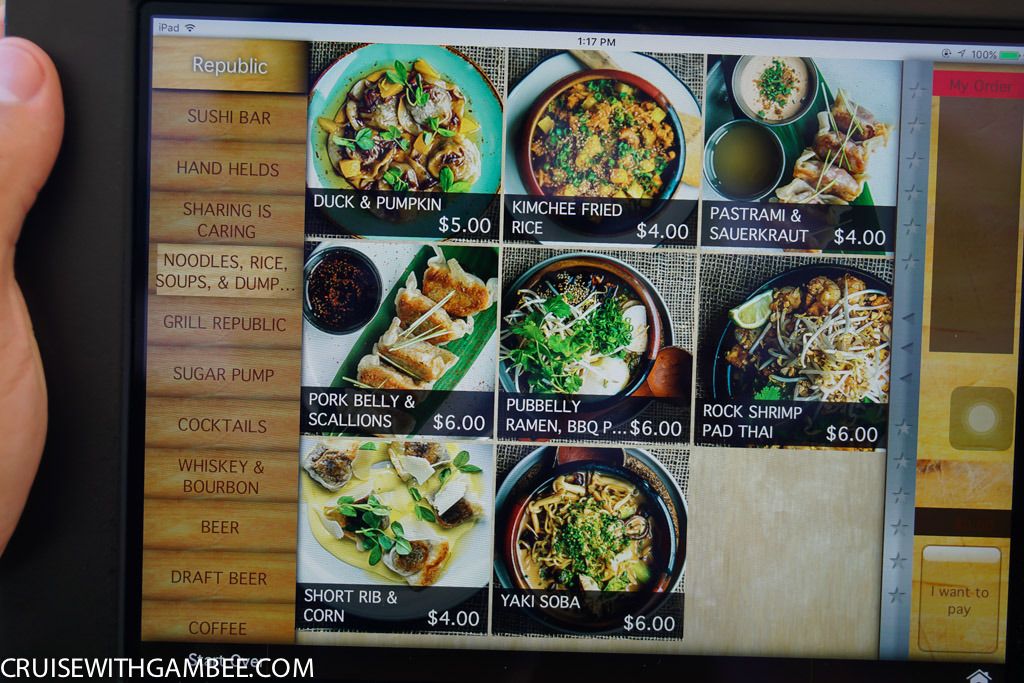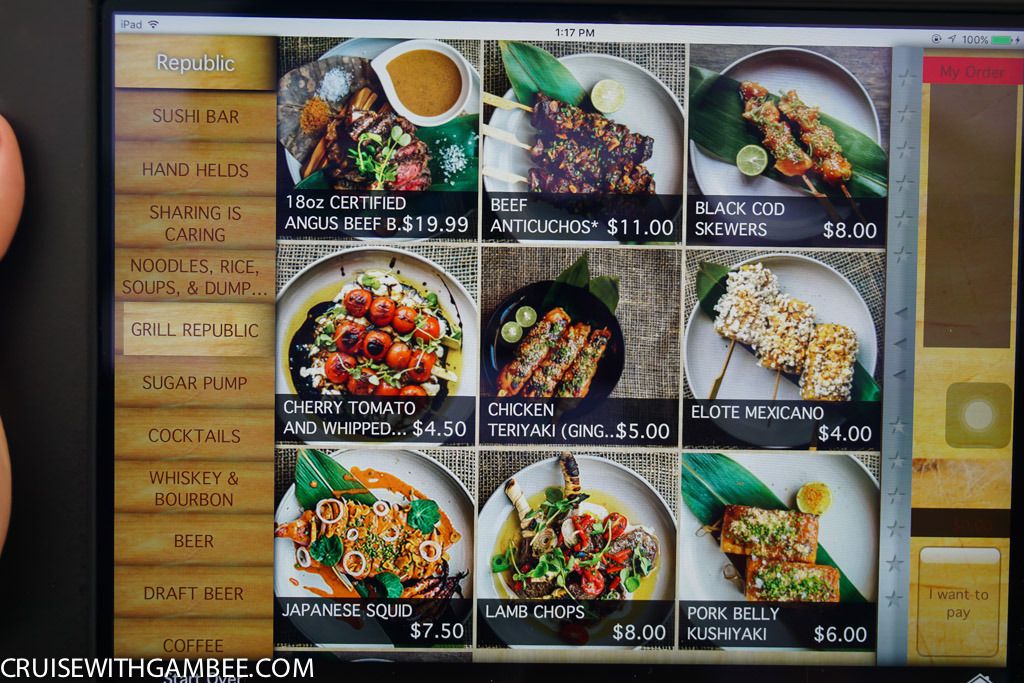 This was our final order, I kept adding and erasing like 4 times. But finally decided on these items.
Our drinks came out, to be honest, I can't recall which ones they were. Mine was ok I guess, I like my drinks strong and dry, these were both sweet.
They looked pretty though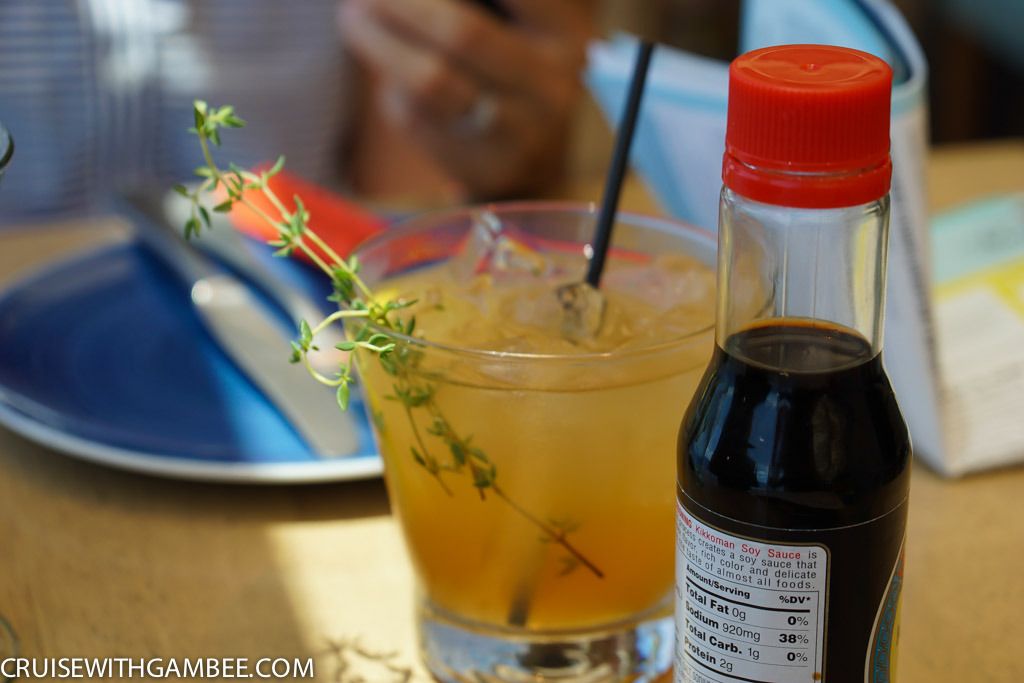 I went for a walking tour around the restaurant!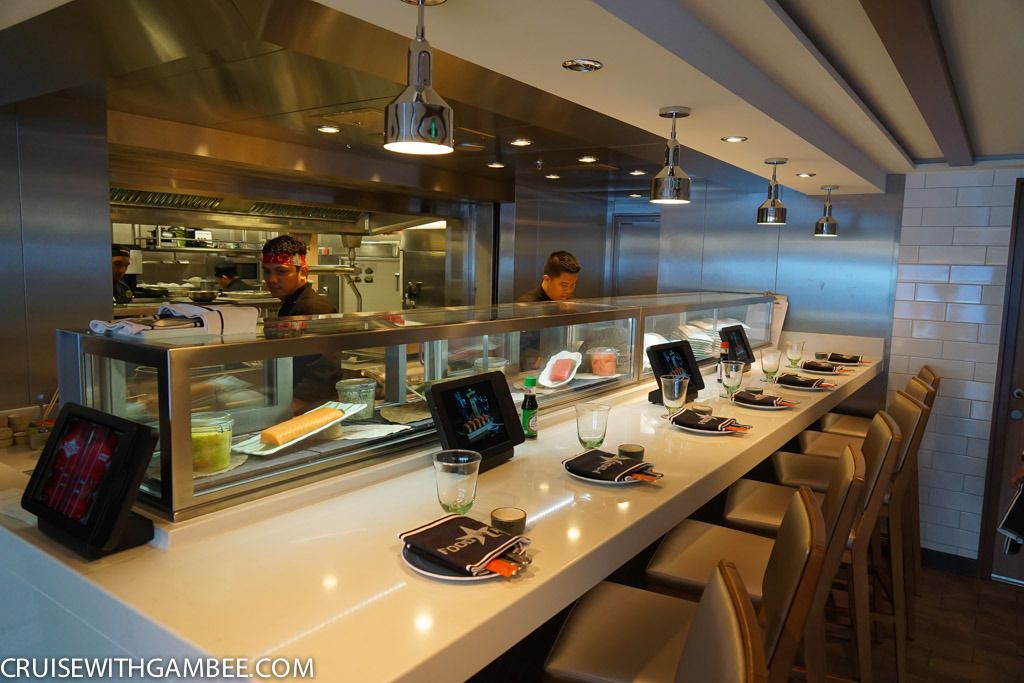 I want to say that they have increased the prices since they first started sailing. But I don't have the evidence to confirm that. Either way, it was still fairly priced.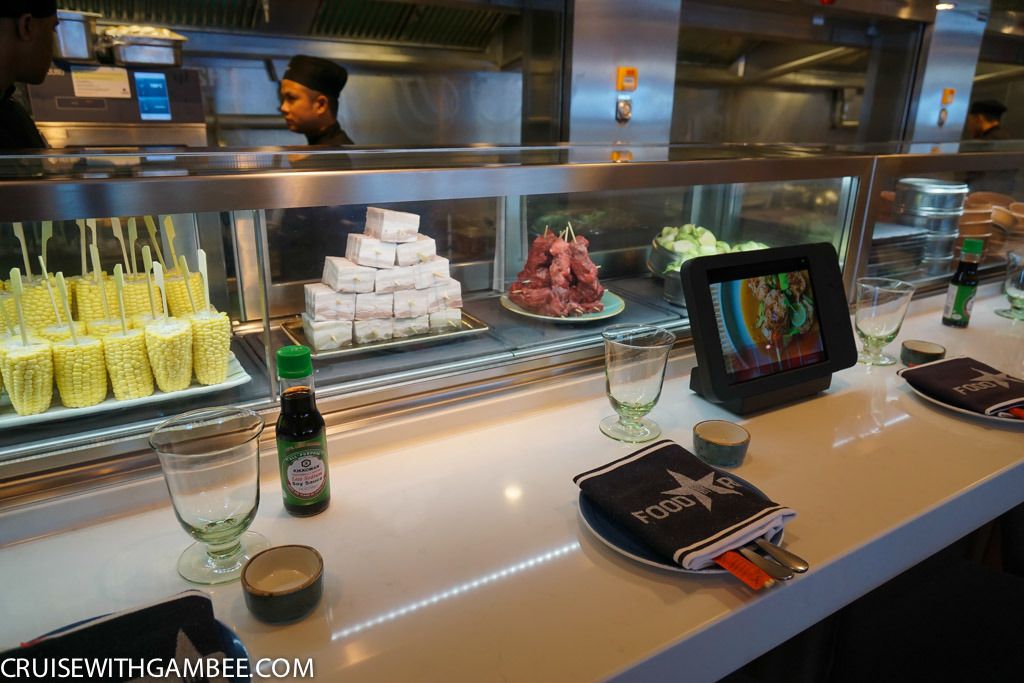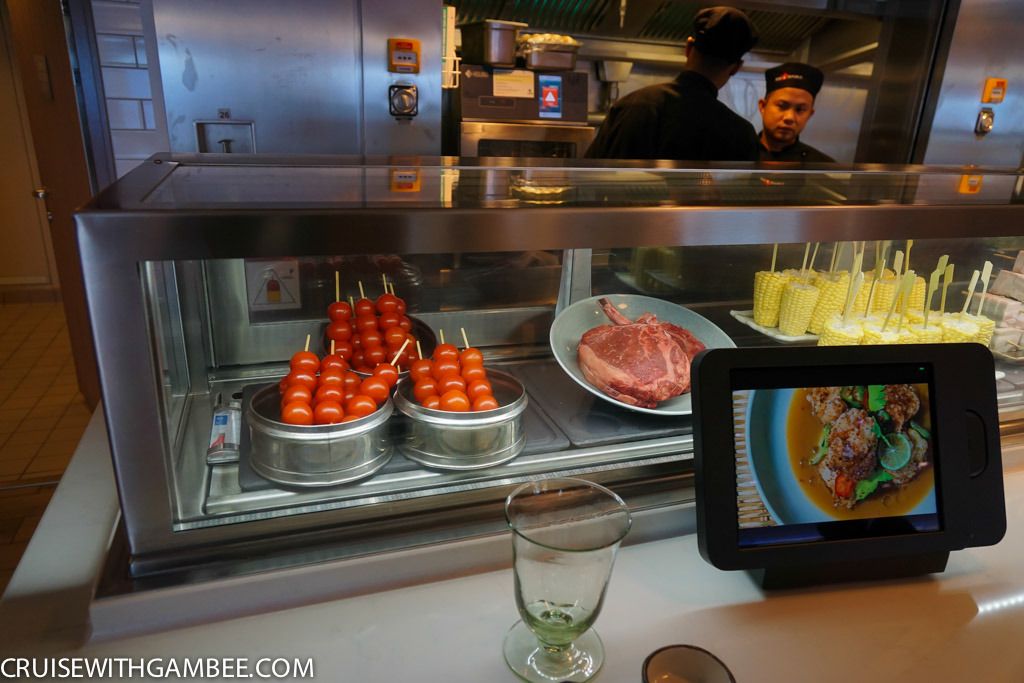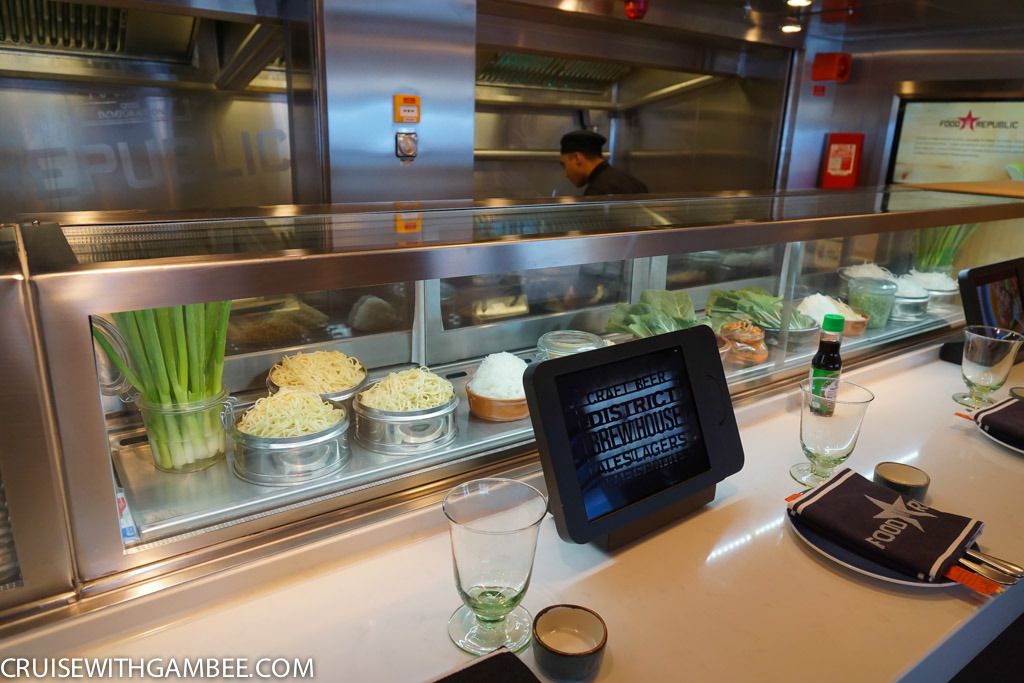 I LOVE THIS RESTAURANT!!!!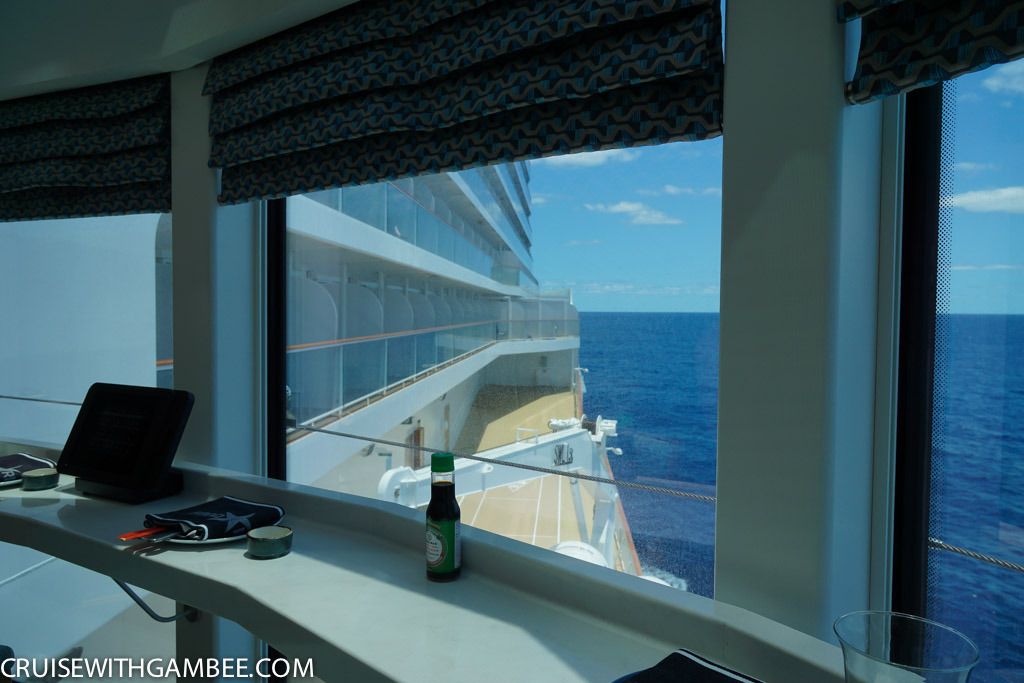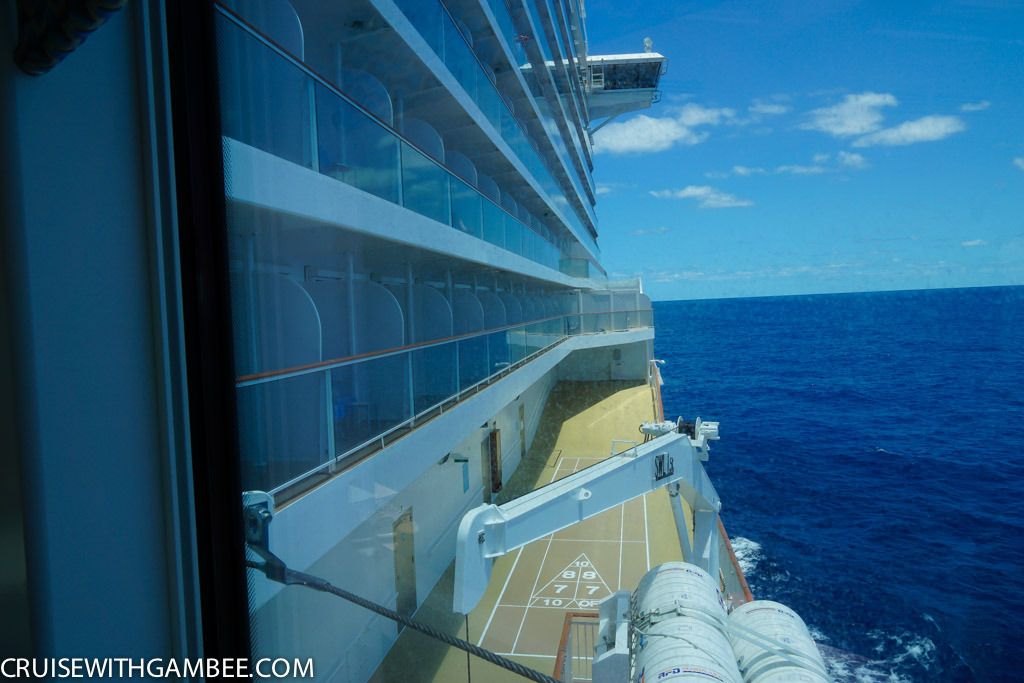 These are the Duck dumplings. OMG SOOOOOO GOOD!!!!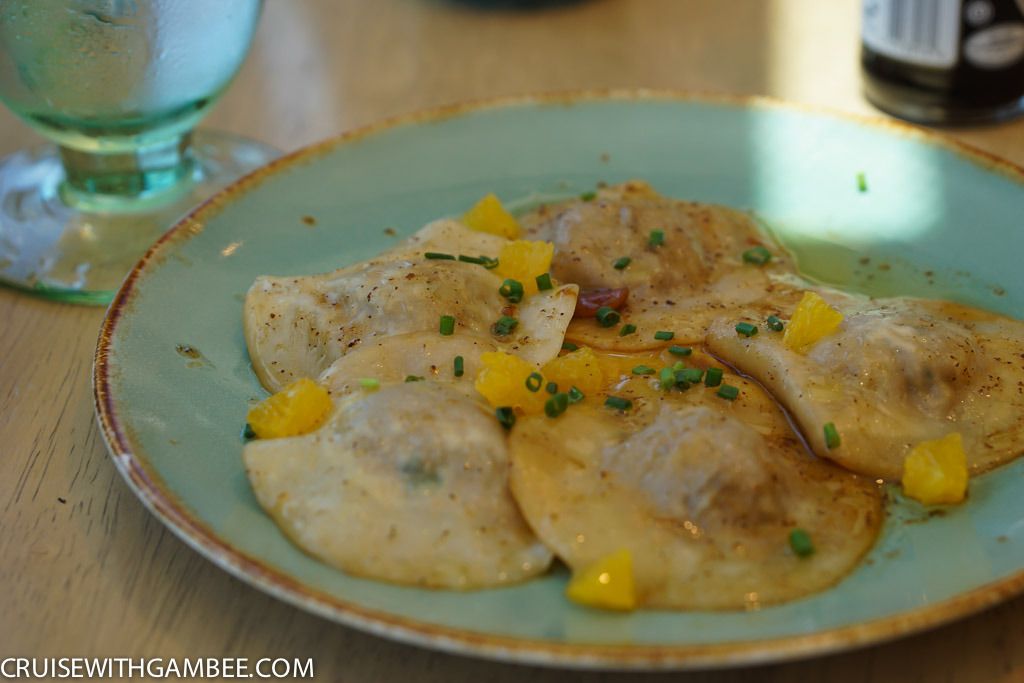 Rib dumplings, excellent as well. I think what makes food republic so good are their sauces.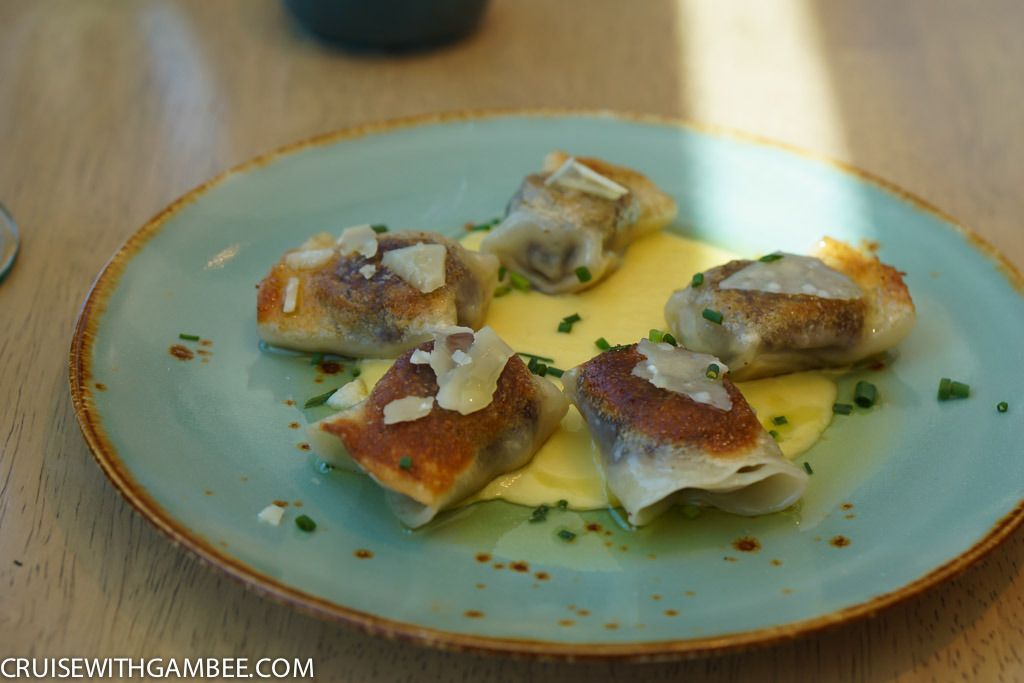 Japanese squid, I thought mom was not going to like it, and she ended up eating my last bite that I was saving
She loved it!
Pork belly. I was really curious what this would be. In the end it is very similar to a Colombian pork dish. It was really good, but maybe too sweet with the honey glaze on top.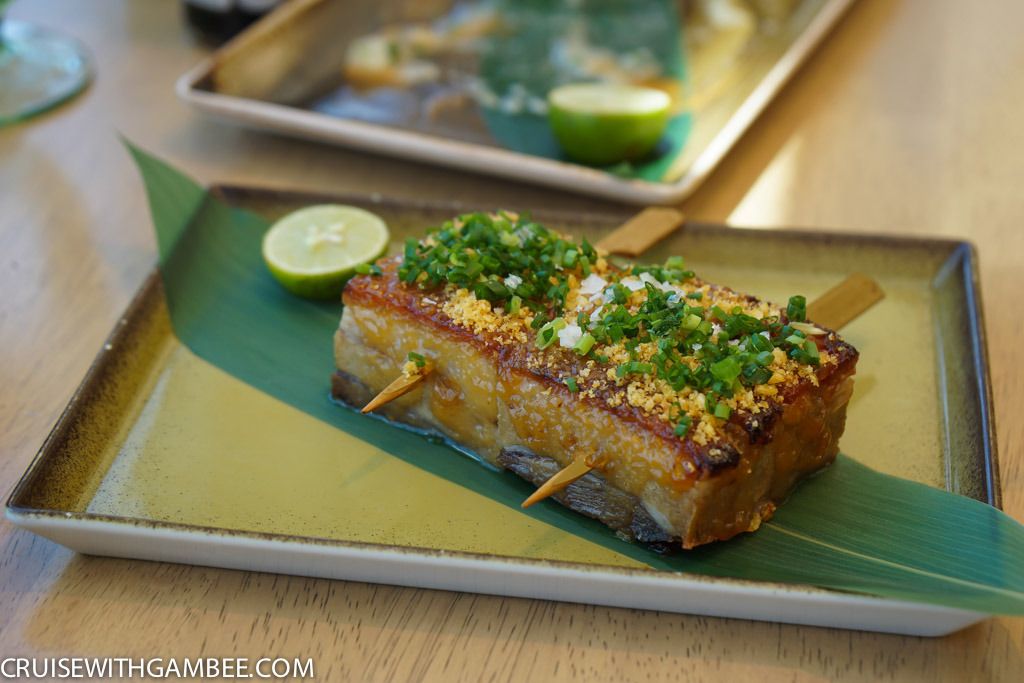 Like I said, I wish switching the internet from one device to the other was simpler like on RCCL.
After lunch I went to get a beer on the Pub, and then headed to meet with the group @ 5o'clock bar.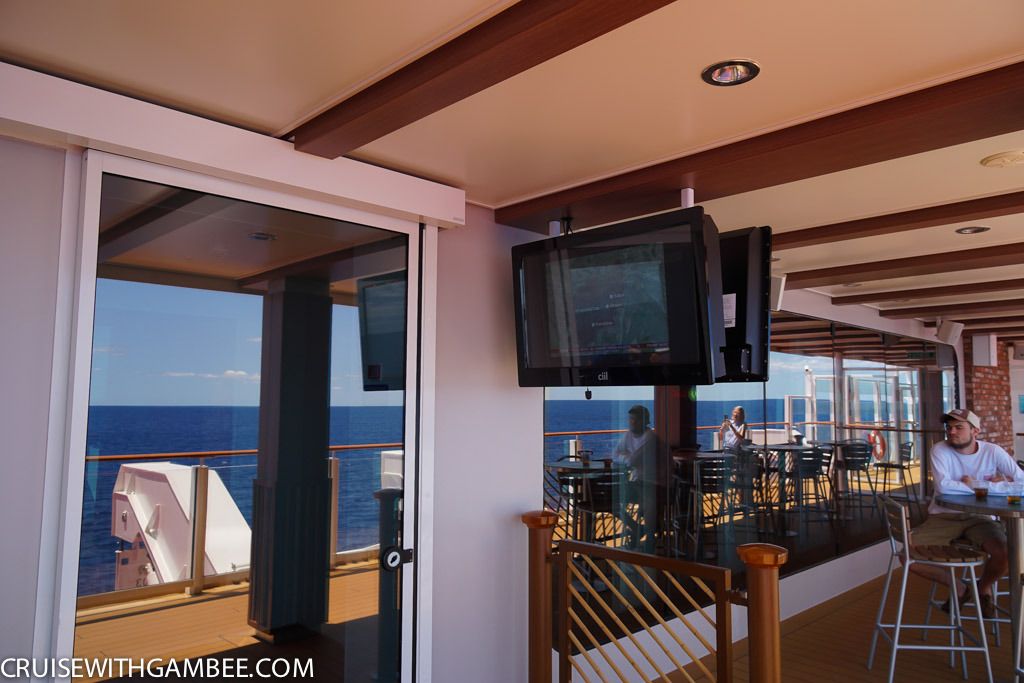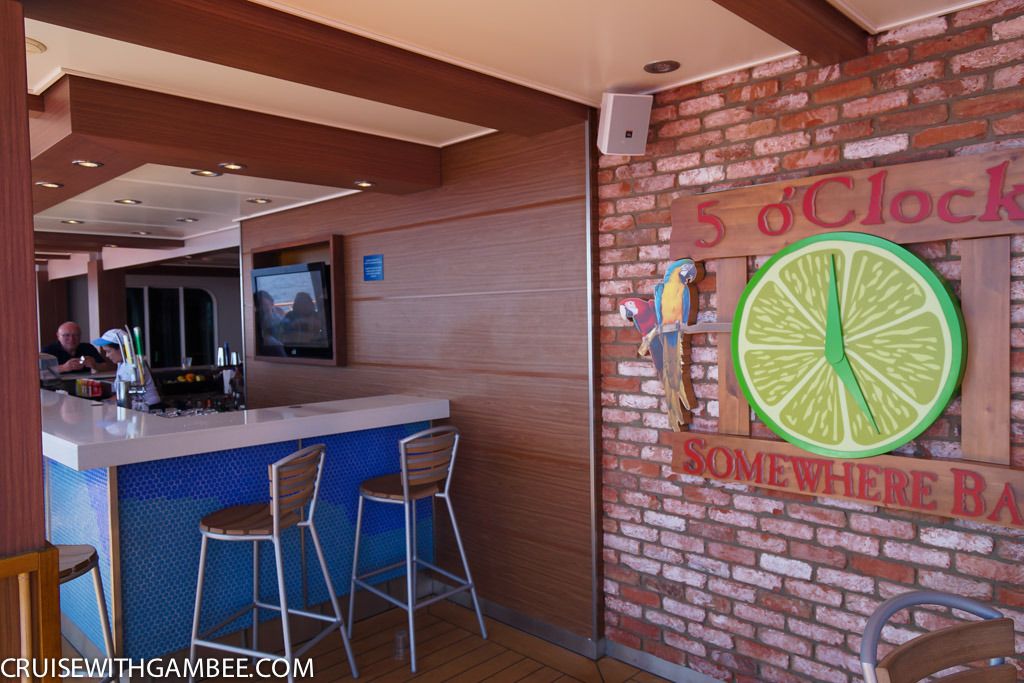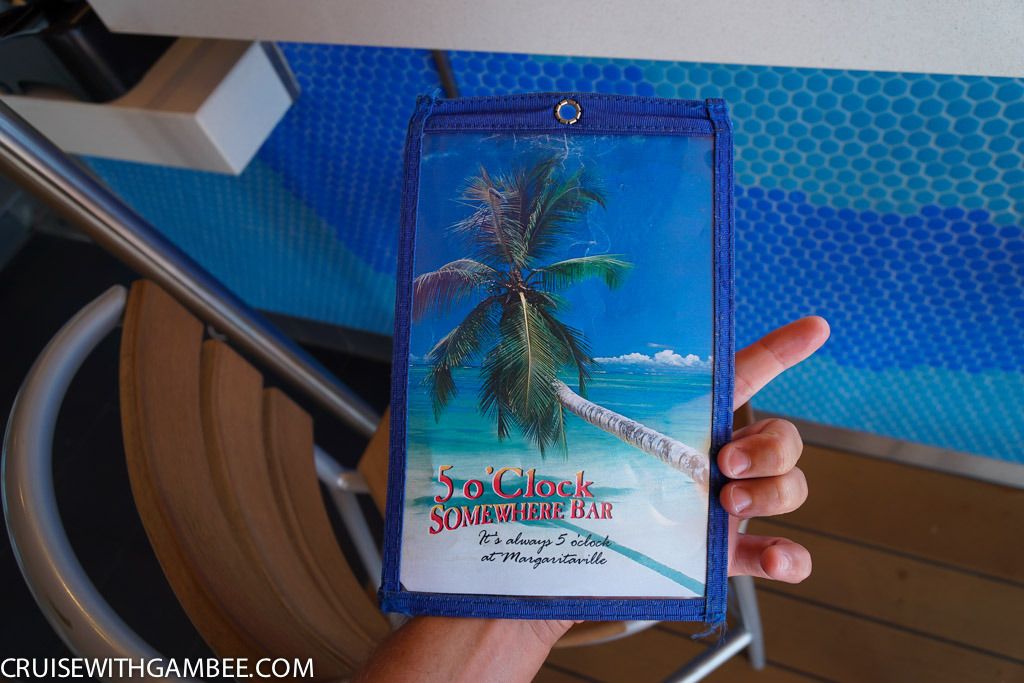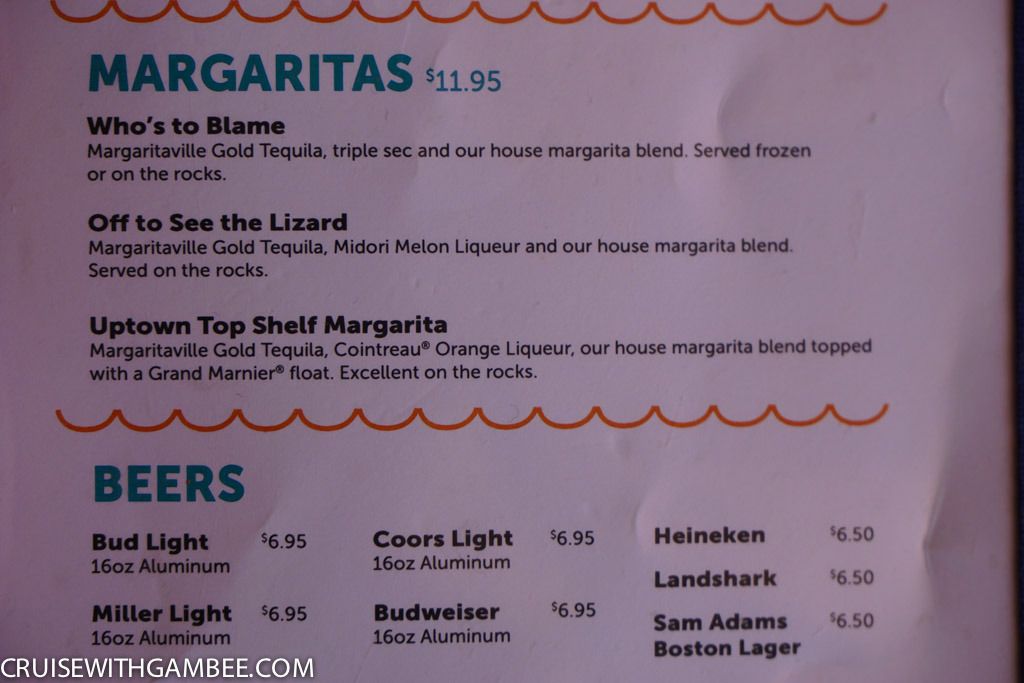 We chatted there for a little while, good times, good laughs.
After a little while mom and I went for a walk around the ship.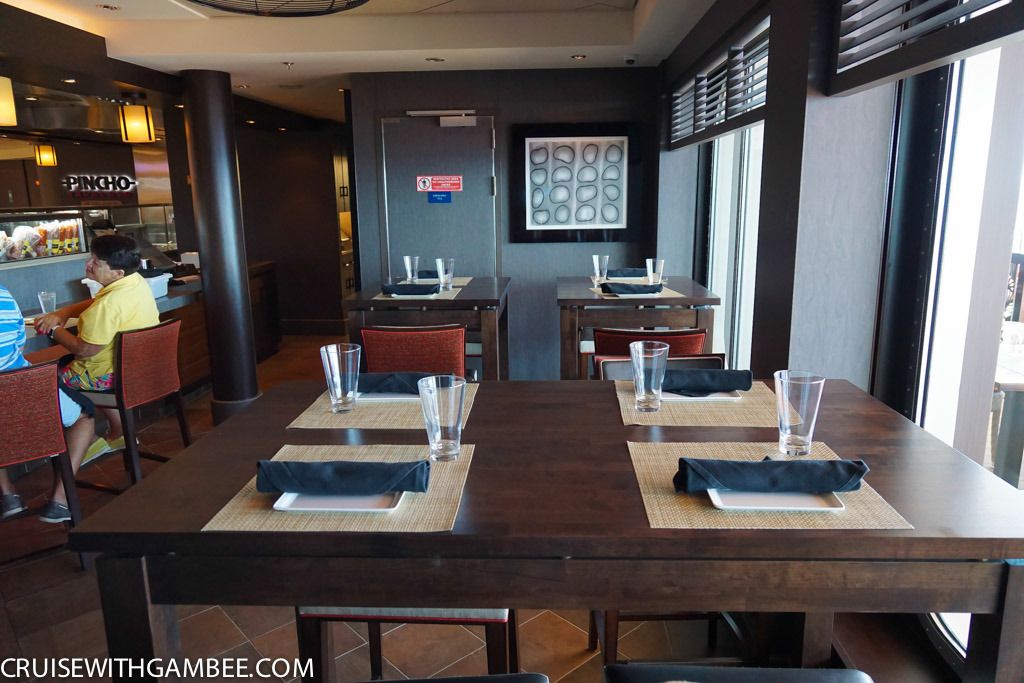 We stopped at the mojito bar and got a couple of drinks.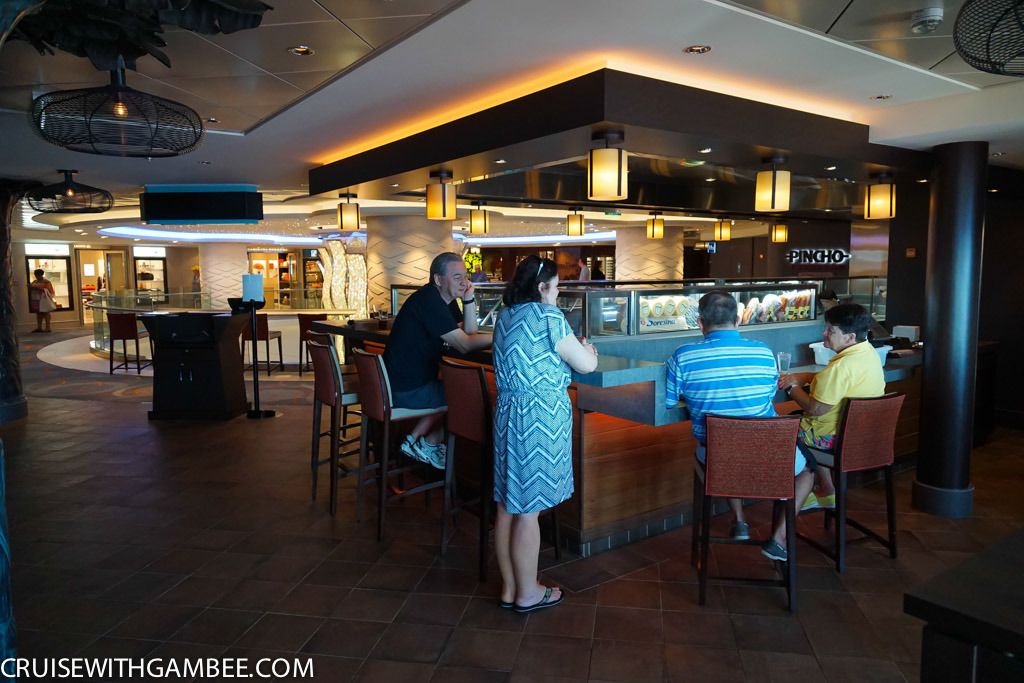 Here is the Mojito Bar.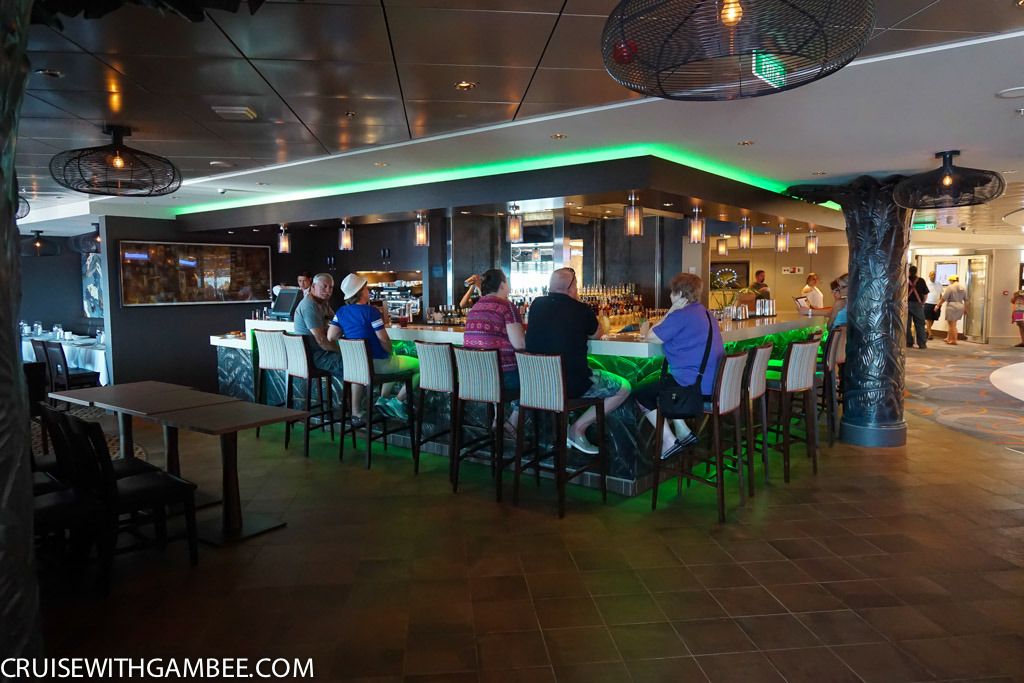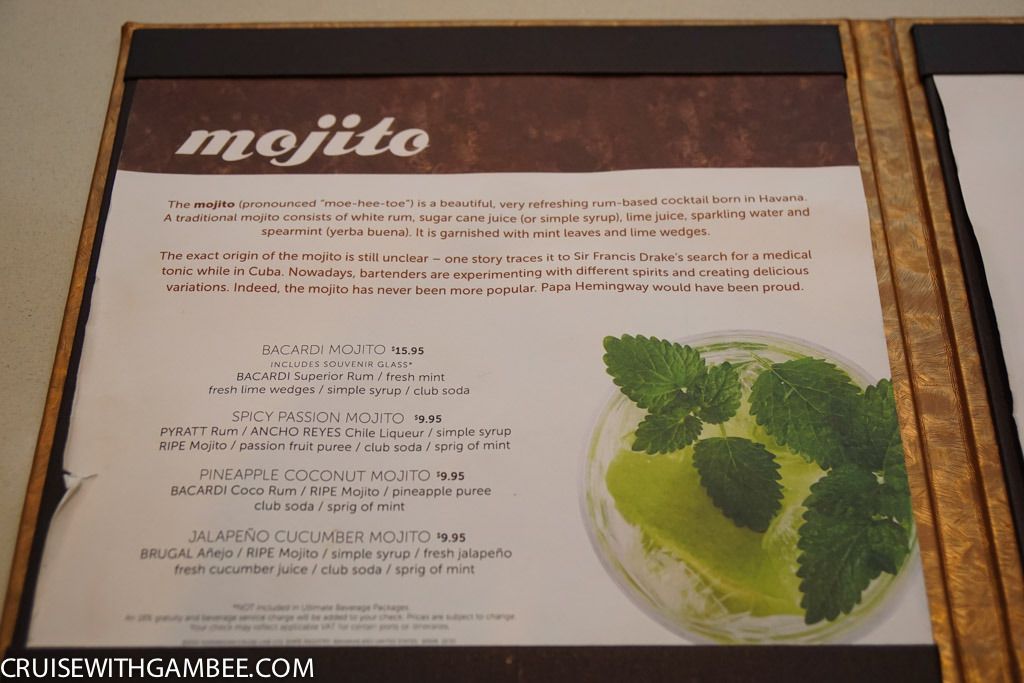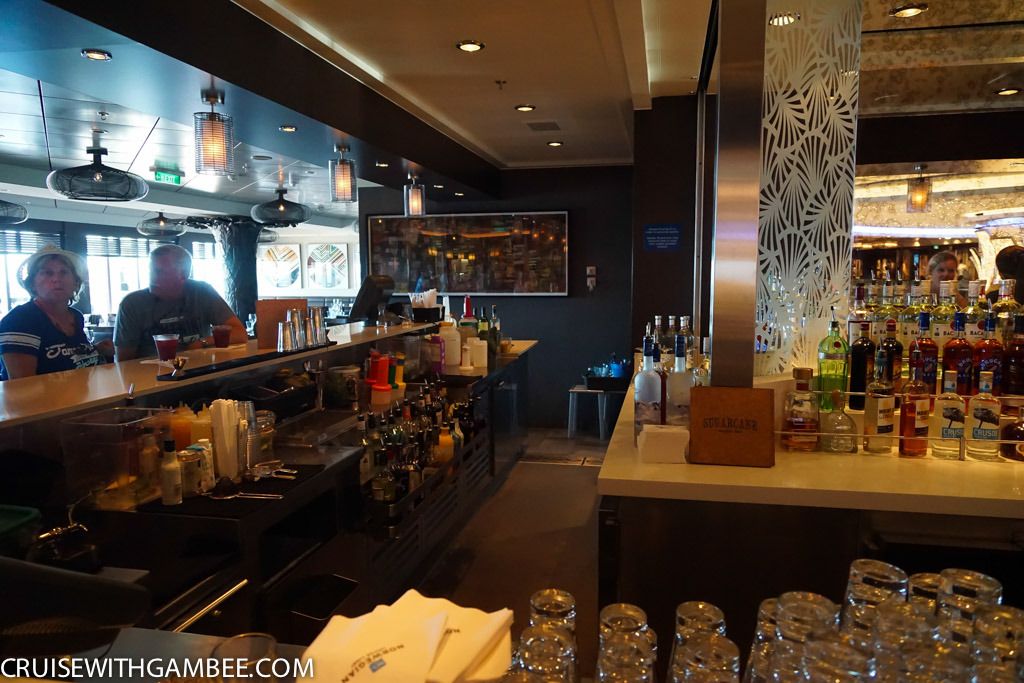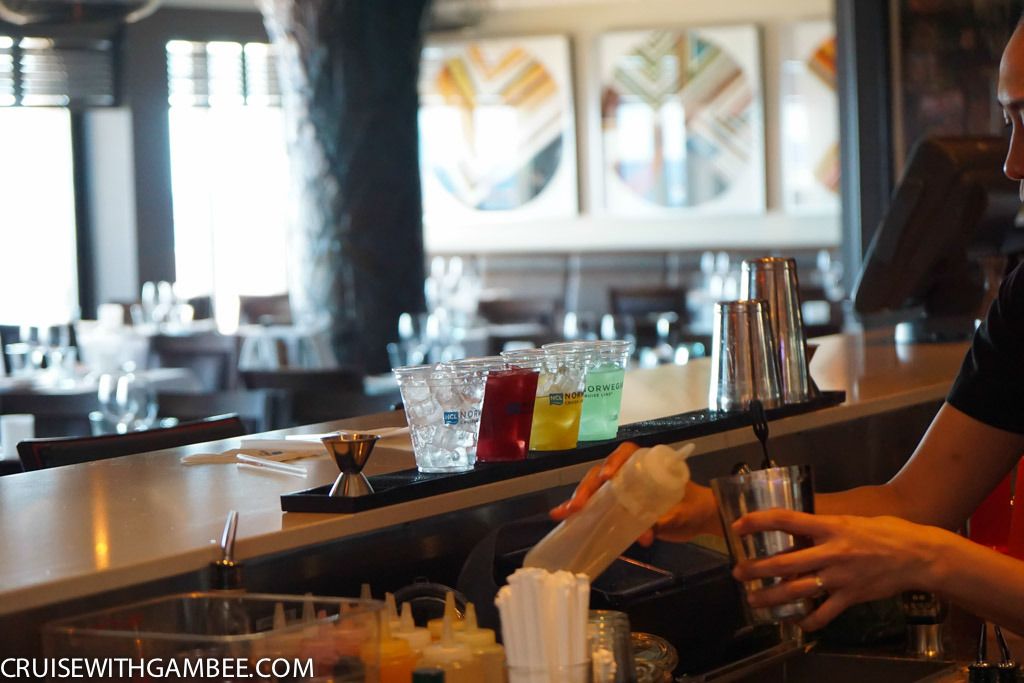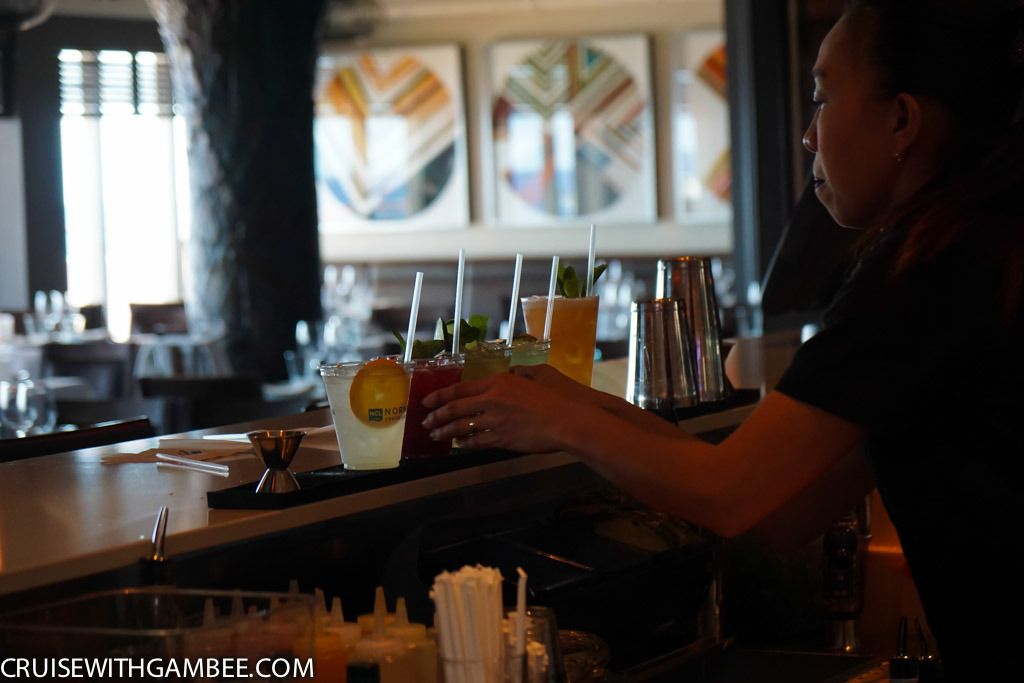 I got the Jalapeño Mojito, Dear lord, it was ridiculously spicy! I usually enjoy spicy drinks, but this one kicked my ass!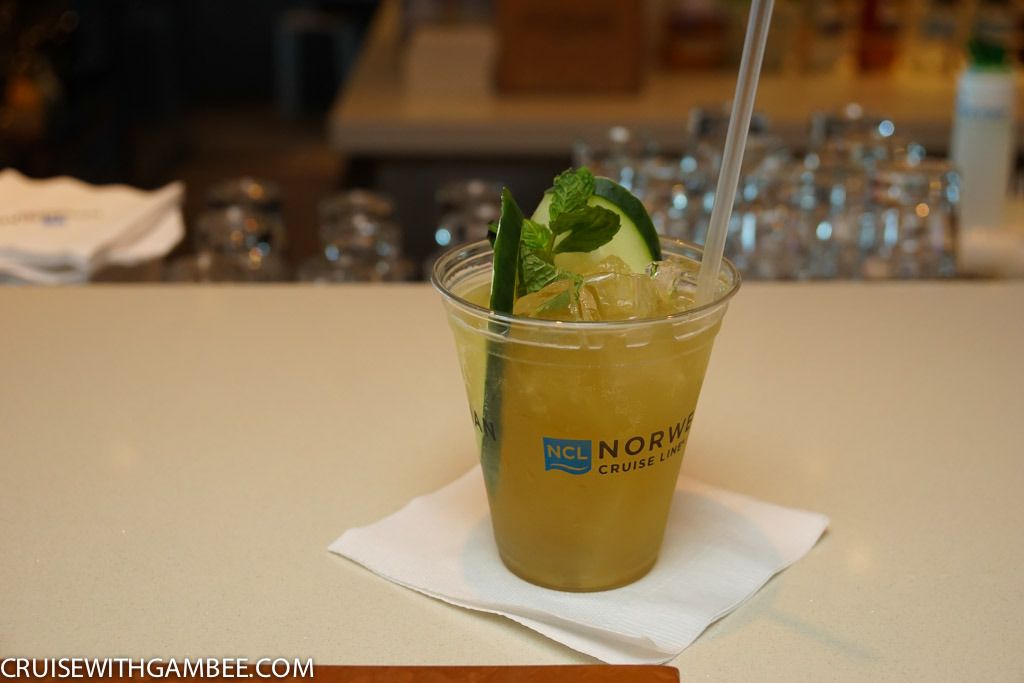 Mom got the berry one.
We just walked around the waterfront.
When you can't drink fast enough, and booze is free!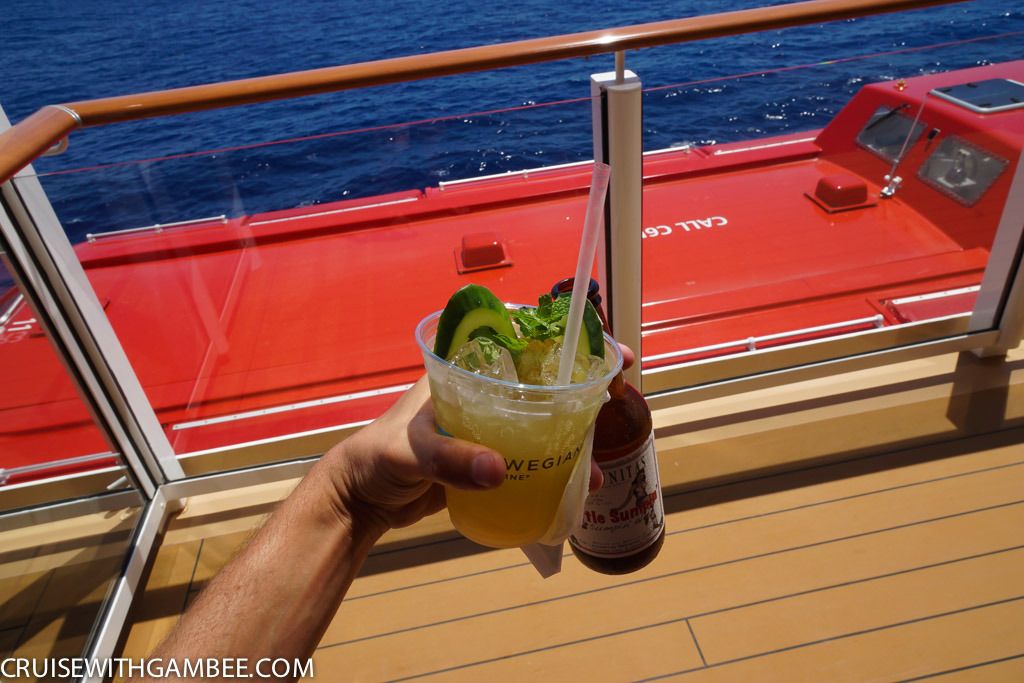 Here is the Gelatto store.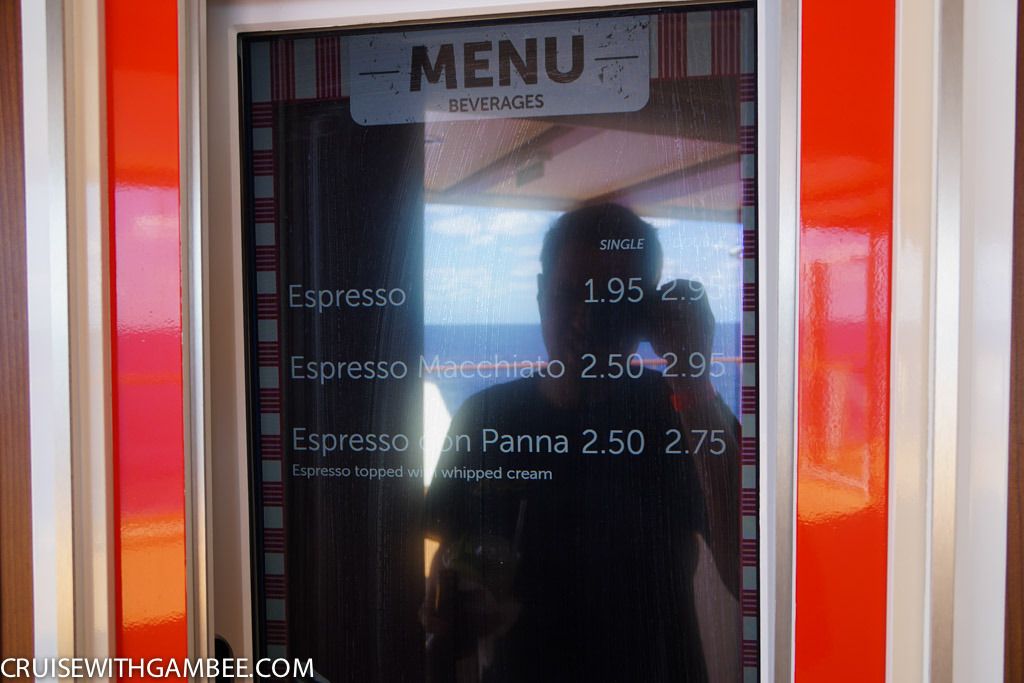 Love that photo!
What a view!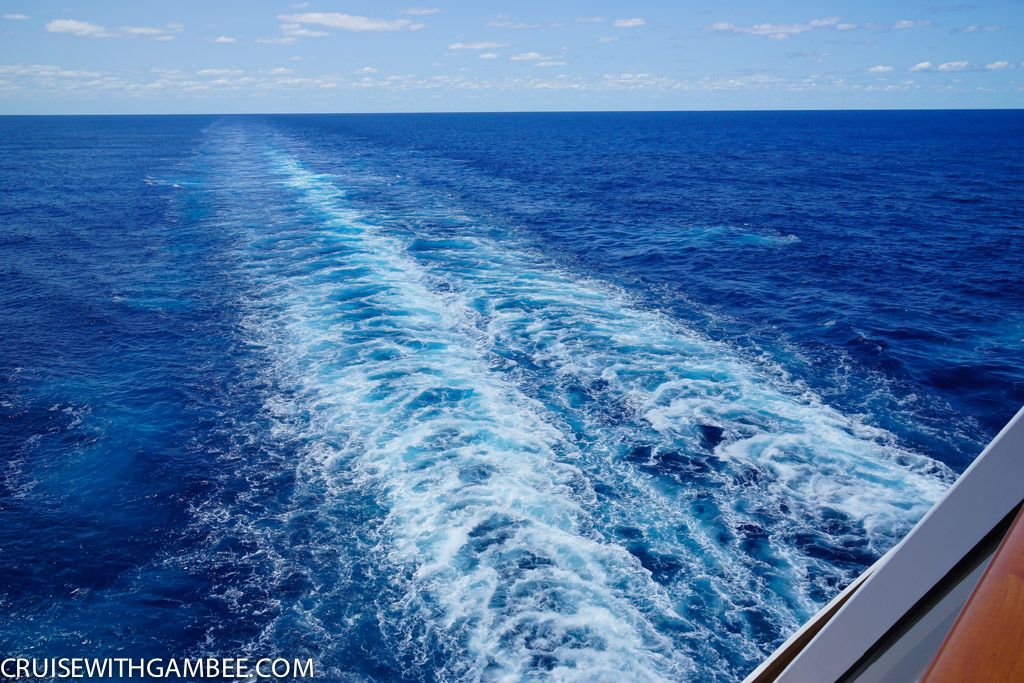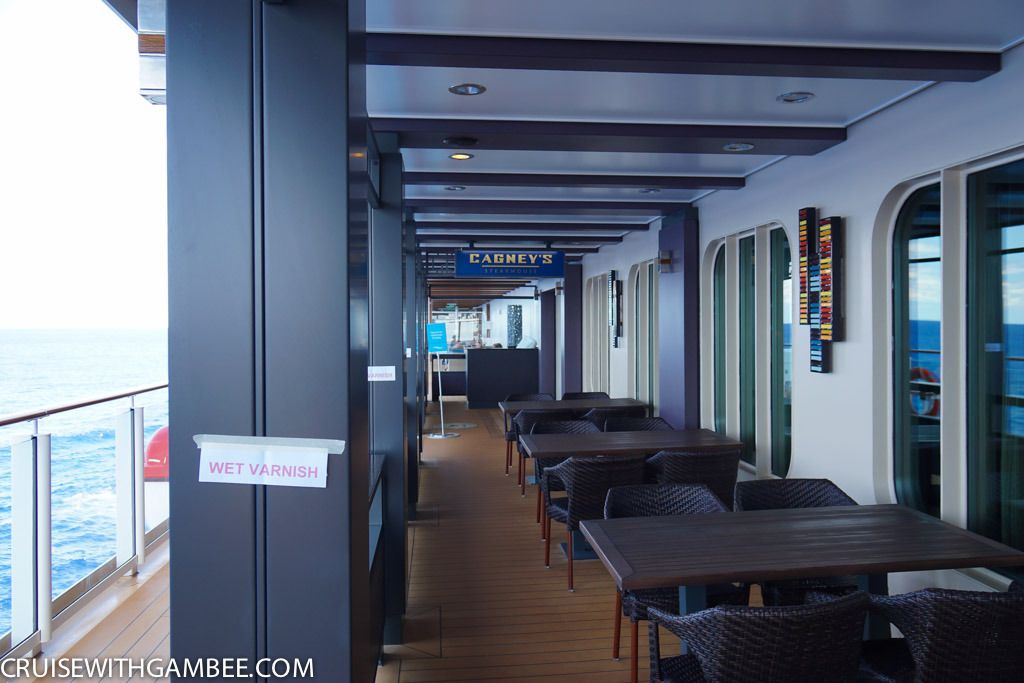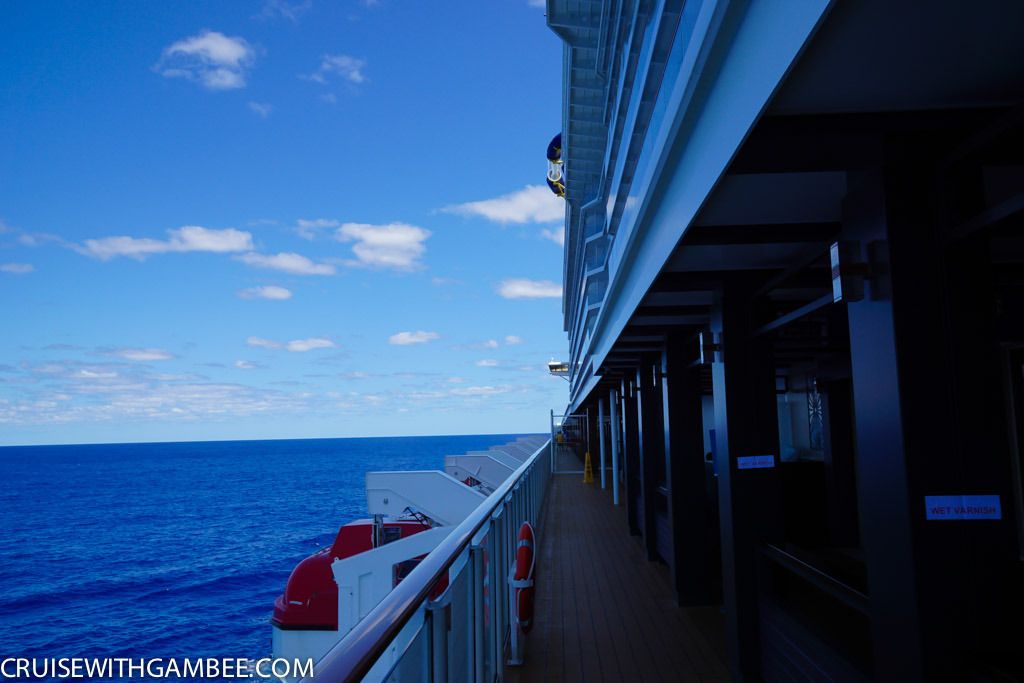 I told mom I wanted to try the rope course, so up we went.
Here is Margaritaville. I think that is the busiest I've ever saw it. Keep in mind that the venue wraps around.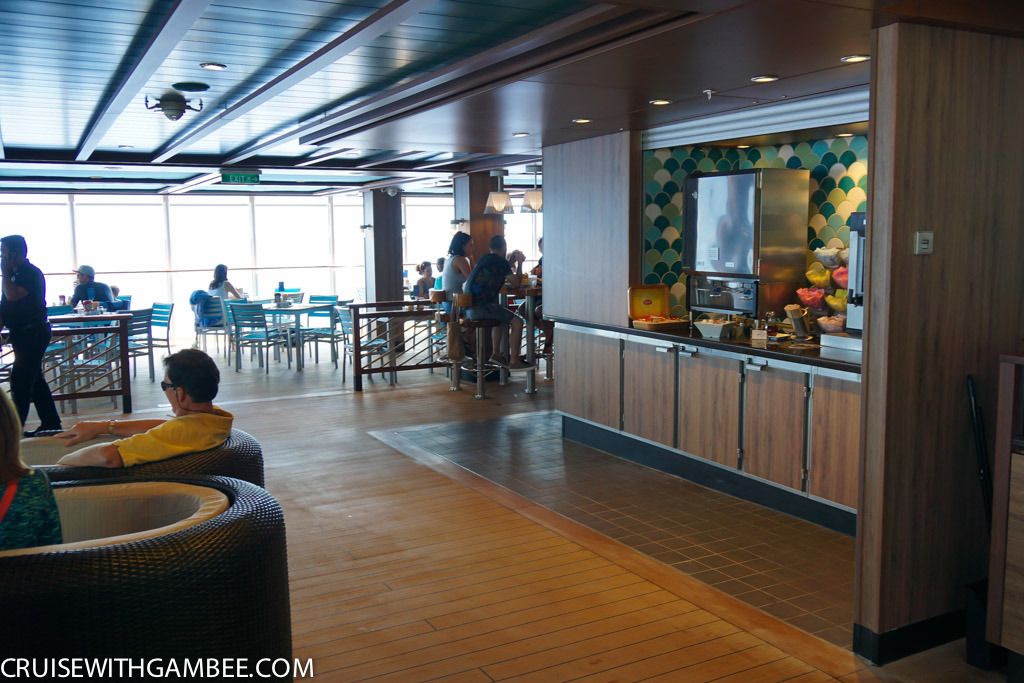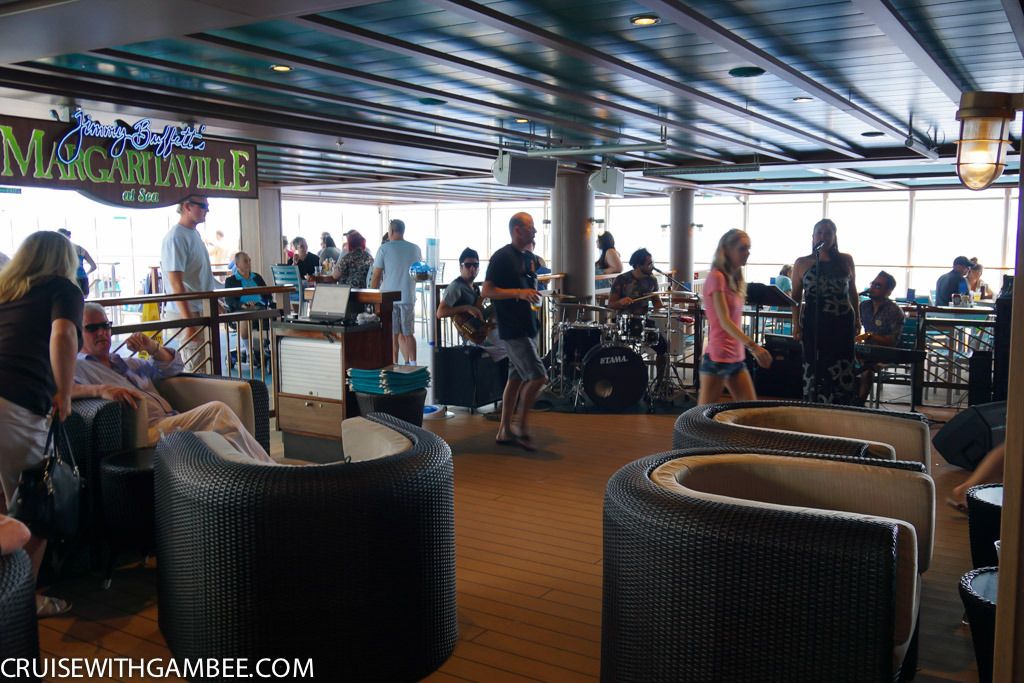 I kinda feel for this pic, she was not looking her best
The food looked REALLY good!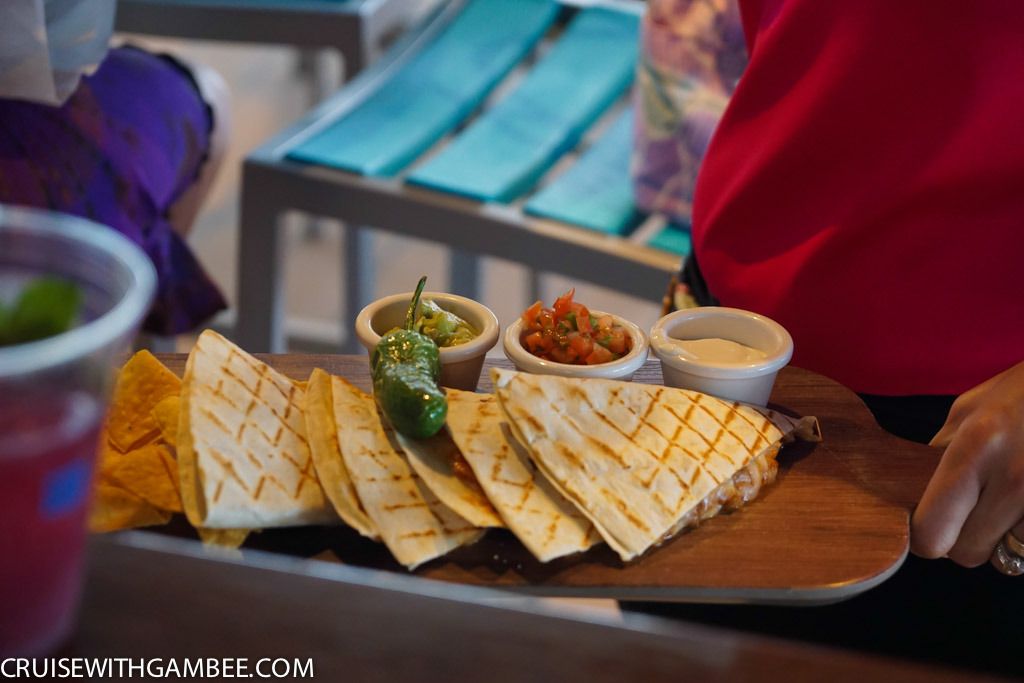 And up we went to the rope course.