Welcome to my NCL Drink Package webpage, this site is for those who are considering purchasing the NCL Drink Package. There are two options for those looking into purchasing this plan.
NCL Drink Package
1. Corks and Caps Beer and wine package: The package costs $54, plus 18% gratuity coming to a grand total of $63.72 per person per day. This plan includes unlimited draft beers under $5.95 and bottled beers under $5.50, as well as wines under $10 and unlimited soft drinks.
2. The Ultimate Beverage package costs $69, plus 18% gratuity coming to a grand total of $81.42 per person per day. It includes all drink under $14.
Is the NCL drink package worth it? This will help you decide, it really depends on how much you drink.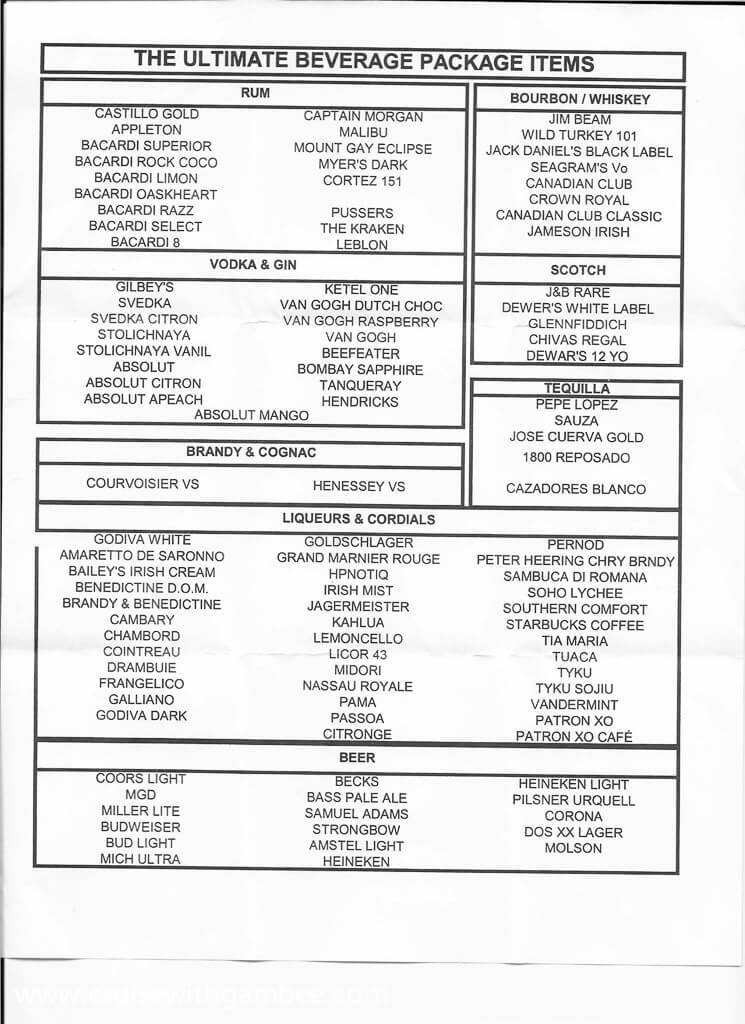 NCL Drink Package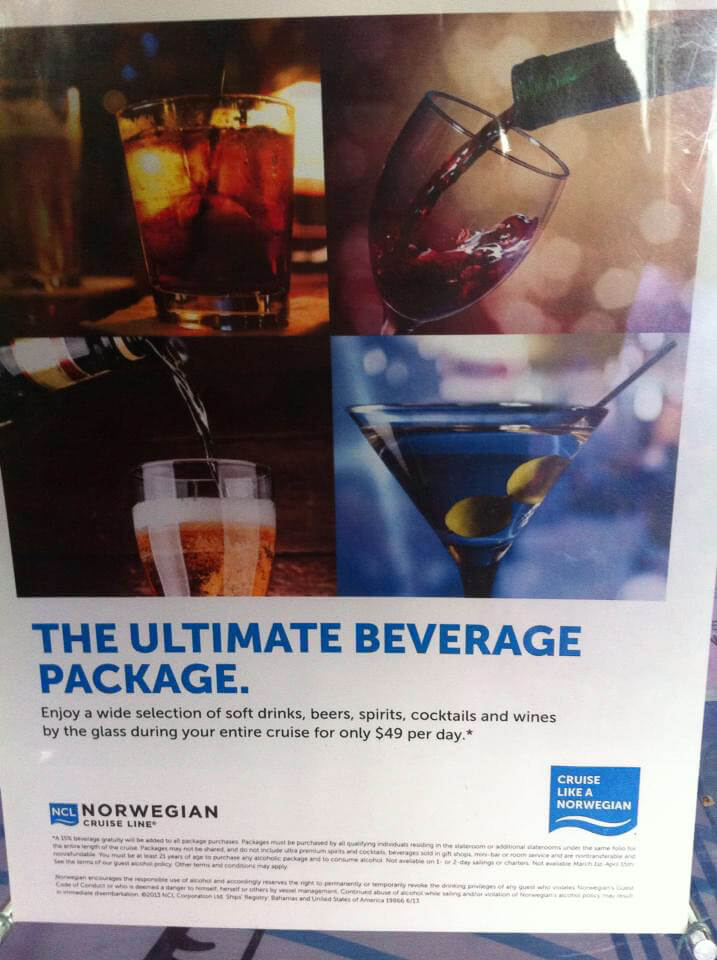 NCL Drink Package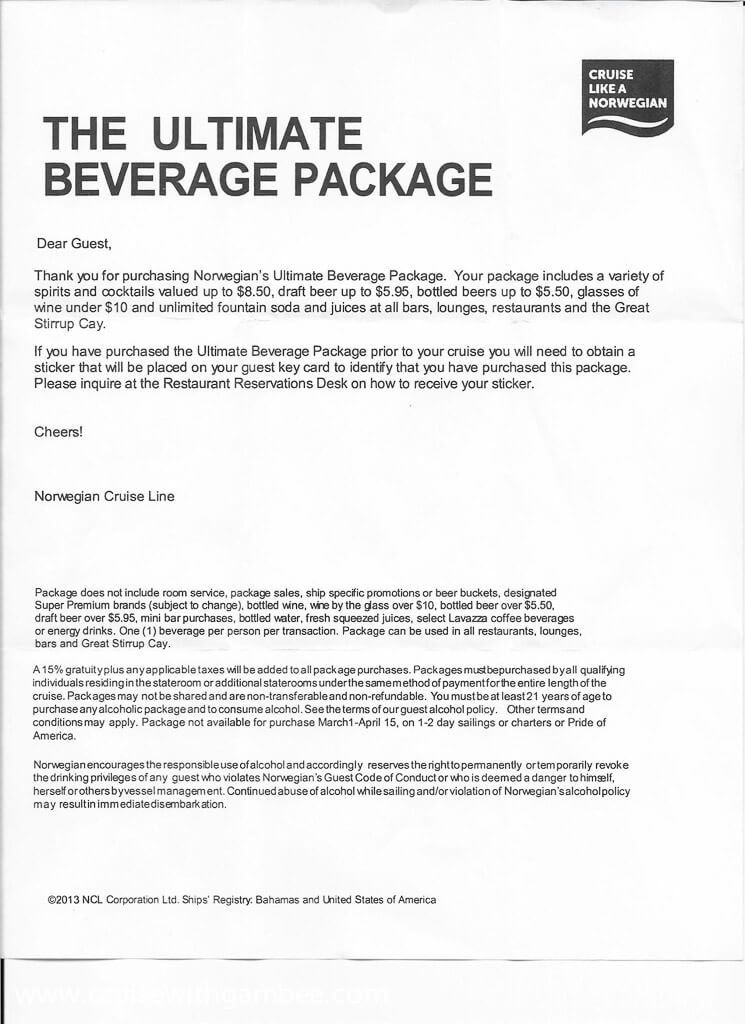 NCL Drink Package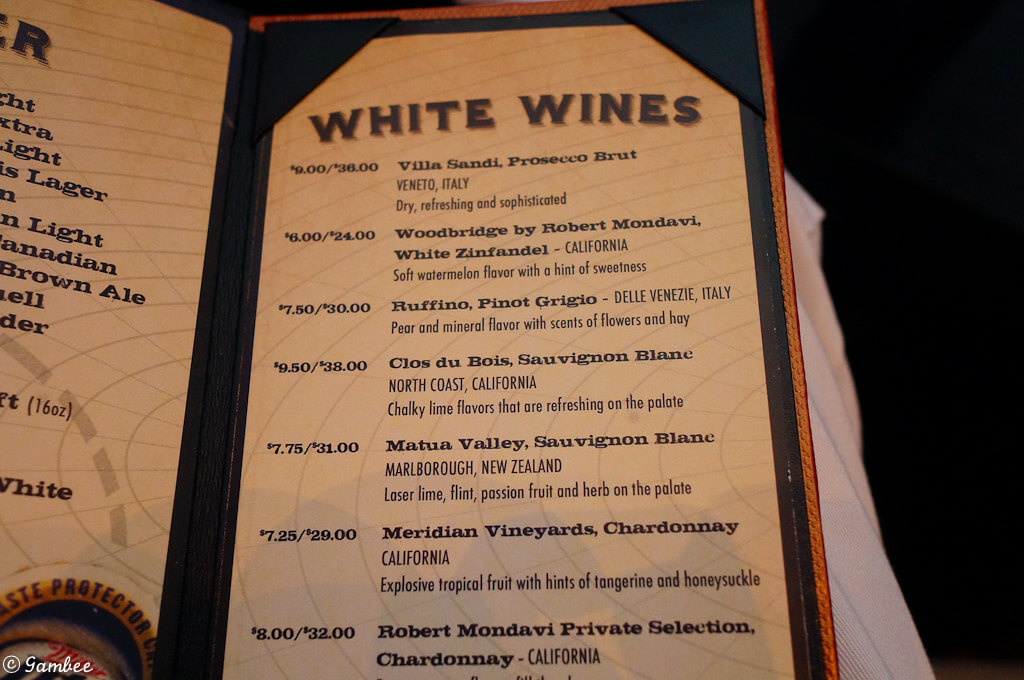 NCL Drink Package Restrictions:
The package does not include special sales, souvenir glasses, room service,

minibar

, premium brands, bottled waters,

lavazza

coffee or energy drinks.
Only one drink can be purchased at a time.
The drink package has to be purchased by all the adults in the room.
It has to be purchased for the duration of the cruise.
Packages are not

transferable

or refundable.
From March 1 to April 15 the packages are not available, this is mainly because of spring break and I guess NCL did their study and noticed that they come out at al loss here. As far as I know this is the only cruise line that does this practice. I traveled on Celebrity during that time and I had the complimentary drink package from them.
The package is not available on

Pride

of America or 1-2 day sailings.
I can usually hold my liquor, but honestly, these packages has never been for me. When I had it on my Celebrity cruise I had a hard time keeping up with it, and always found myself looking for drinks to order even if I did not care for the drink at the time. I think maybe I am more of a casual drinker, who knows. All I know is that there is a huge market for the NCL Drink Package and they seem to be quite well.
For more information on this topic you can try to visit NCL Drink Package webpage.
Norwegian Breakaway, Norwegian Dawn, Norwegian Epic, Norwegian Escape, Norwegian Gem, Norwegian Getaway, Norwegian Jade, Norwegian Jewel, Norwegian Pearl, Norwegian Sky, Norwegian Spirit, Norwegian Star, Norwegian Sun, Pride of America
Thank you for visiting my NCL Drink Package page.