We stayed out in the Norwegian Sky pool deck for quite sometime, if I can recall correctly until the sun died down. It was a lot of fun just people watching and sipping on a few drinks. Just as in every sail away event, they have a party and they try to encourage everyone to participate. To my amaze I actually found it to be very well attended, although one thing is for sure… You would not catch me on the dance floor, I guess I am simply to shy to even attempt, and I don't think anyone would appreciate my dancing either way, lol :D. It was a very neat experience just to sit there and watch Miami disappear into the horizon. It was starting to look like the beginning of a fantastic vacation aboard the Norwegian Sky.
Then after the party had down we went for a little and we happened to stop by the shops. My mom just like everyone else I know of loves shopping, me not so much… I am actually rarely go to the mall, I think now days the only time I go to the mall is to buy shoes, and that is only because I can't try my shoes online. Everything else that I have purchased in the past 5 years has been done online. I just don't understand the love and desire to walk around looking for something to buy, when it can be so online and so much easier. Anyway, we stopped by the shops and I saw the Norwegian Sky model ship. Mind you I did not purchased it that time, but little did I know that I would start buying all the models of all my cruises! My collection is growing at a very fast rate, and I am actually thinking of buying a nice shelve to put all my models on. For those of you who are curious, I did already get the Norwegian Sky model, my mom went back on another cruise and got one for me 🙂
The first night is lobster night aboard the Norwegian Sky, so make sure you don't miss it. The service was pretty good, we never waited long for our server and everyone was very friendly. We also asked to be seated by a window and they sat us all the way in back with a fantastic aft view of the wake, you really can't ask that much more from life. I am a fairly simple guy, and sharing that amazing experience with the person I love most in my life was truly a joy of life.
The lobster on the Norwegian Sky was good, you know the kind that you expect on a cruise ship. If I remember correctly you could either get surf and turf or lobster with shrimp and fish. You just had to request it, and they would bring it over for you. Everything was very nice, and sometimes we forget about our first cruise and how much we truly enjoyed those first experiences. Now I usually walk into the MDR and I forget to look around and just notice the little details that remind you that are aboard a fantastic vessel! That was not the case for our first cruise ever! on the Norwegian Sky.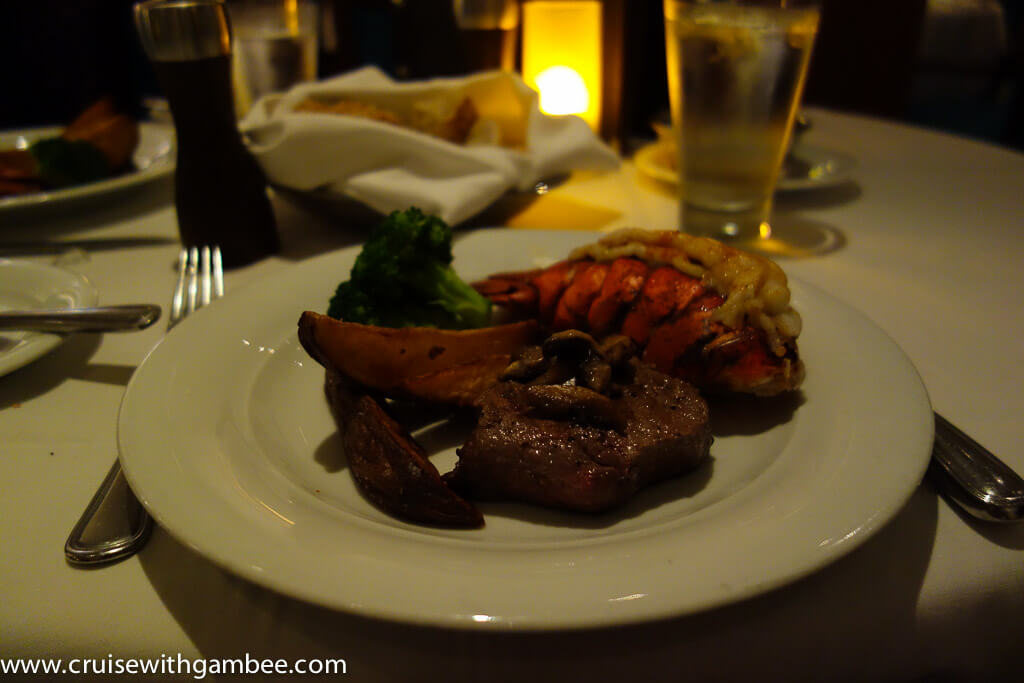 Well to be honest I am not entirely sure what we did that night, I know we went to a comedy show. The show was pretty good, and the performer was actually quite funny. But like in every other show, I simply do not last that long in them. I also remember going late night for a jacuzzi run and enjoying sometime relaxing in there. I think one of my favorite things is to go late at night to jacuzzi, it is just so peaceful and relaxing.
Norwegian Sky at night
After a very long and exciting day aboard the Norwegian sky we decided to call it a night. When we got into our room we had this little guy waiting for us. I don't think I have talked about our room steward yet, and that might be because we rarely saw him. But mind you, our room was always neatly organized and clean up when ever we needed it. Now that I think about it, this is possibly the fastest and most convenient room steward I have had to date! Although I think the fact that we rarely went into the room since it was an inside stateroom also had to do with it.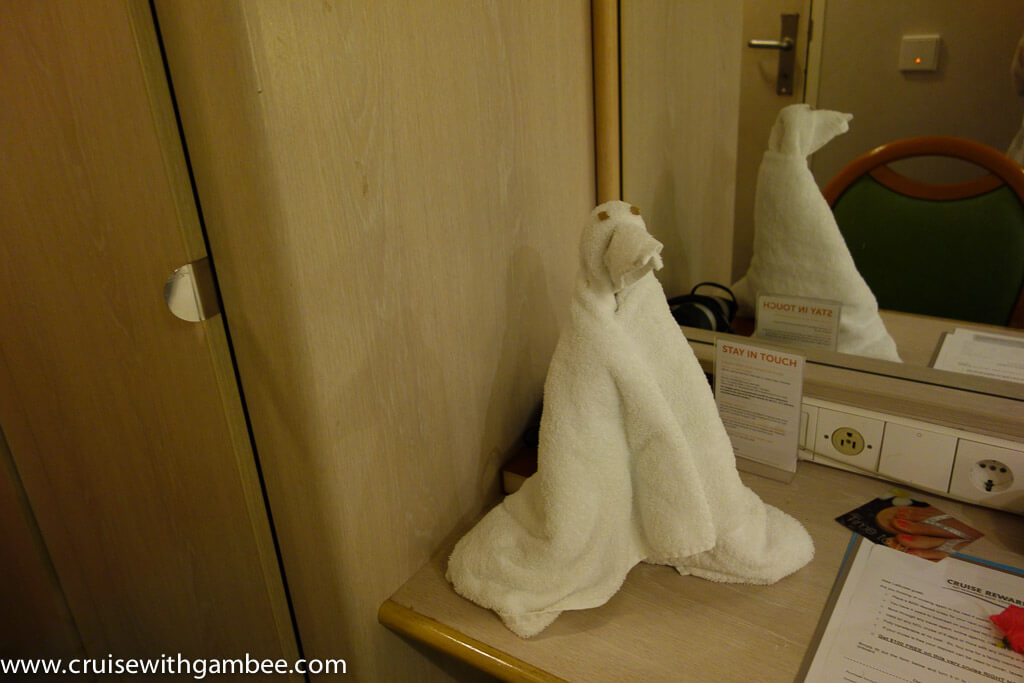 We woke up the next morning, got ready (mom and I can get ready extremely fast) and headed out to get some breakfast. Mind you I rarely have breakfast, but when I cruise I pig out for breakfast and the Norwegian Sky was no exception! That might have to with the fact that I usually gain 3 pounds on average per cruise and then takes me the time in between to get rid of it. I am telling you not a good cycle :/, oh well what can one do, lol. Anyway, I guess we ate while enjoying the view of Great Stirrup cay and also the Majesty of the seas. Since we had booked one of the clam shells, we could basically go at any time and board the tender with priority.  I am not a big fan of tender ports, but I have to admit this one went pretty uneventful, fast and simple.
Once Great Stirrup Cay of course mom wanted to check the stores, not that she was going to buy anything but still… They offer your usual trinquets and such, mom did not buy anything I think it was mainly because we left all the cash onboard. Plus she decided to buy something in Nassau instead. We walked around for a little, but I needed to get into the ocean, it was a super hot day and I needed to cool down a little.
The beach area in Great Stirrup Cay is very neat and clean, the ocean water is also very clear. However there is very rich smell of contained water, I think it was coming from a pond from the runoff water of the water slide. They really need to figure out a solution for that, because the smell was actually pretty bad.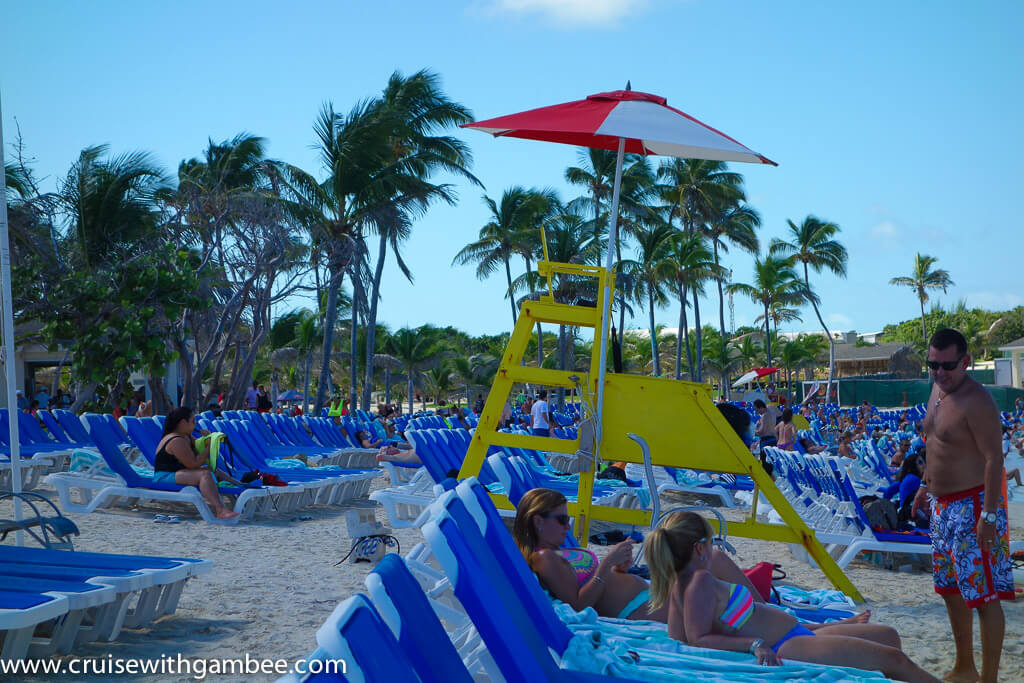 I highly suggest you go snorkeling early as the water does get murky with all the sunscreen lotion. I was lucky to go early and managed to see a good variety of fish. The also have a stingray adventure and you can swim around and look at the stingrays without the need for paying. They actually even had a little show for all of those standing on the other side of the fence.
We sun lounged for a little while, I remember getting a long island ice tea, decided to make it a large one so I could share with mom. She enjoys sipping off my drinks here and there, she rarely has her own  drink. I also want to suggest to never rent the clam shell, OMG it was so hot in there, almost like a sauna. The problem is that all of them are pilled up towards the back and they are too close together, there virtually no airflow there. We ended dishing the clam shell and seeking shelter underneath a palm tree, we later shared that palm with a family with a young child, he was so sunburn :EEK:. There is a serious lack of natural shade in Great Stirrup Cay, I think NCL should invest into either providing natural shade areas or umbrellas for rent. I would pay for an umbrella over that clam shell any time.  If no umbrellas are offered next time I visit Great Stirrup Cay, I will be bringing my own from home.
So anyway, we stayed there for some time and then headed towards the Buffet. The buffet is very comparable to the one in Labadee with all the usual BBQ offerings, everything was pretty yummy and I actually even ate some coconut. I think the last time I ate coconut was back in Colombia years ago. Overall it was a great day in Great Stirrup Cay, with some great company.
I will however admit that this is my least favorite private island so far, you can blame that due to the tender process, lack of shade and overall size of the beach.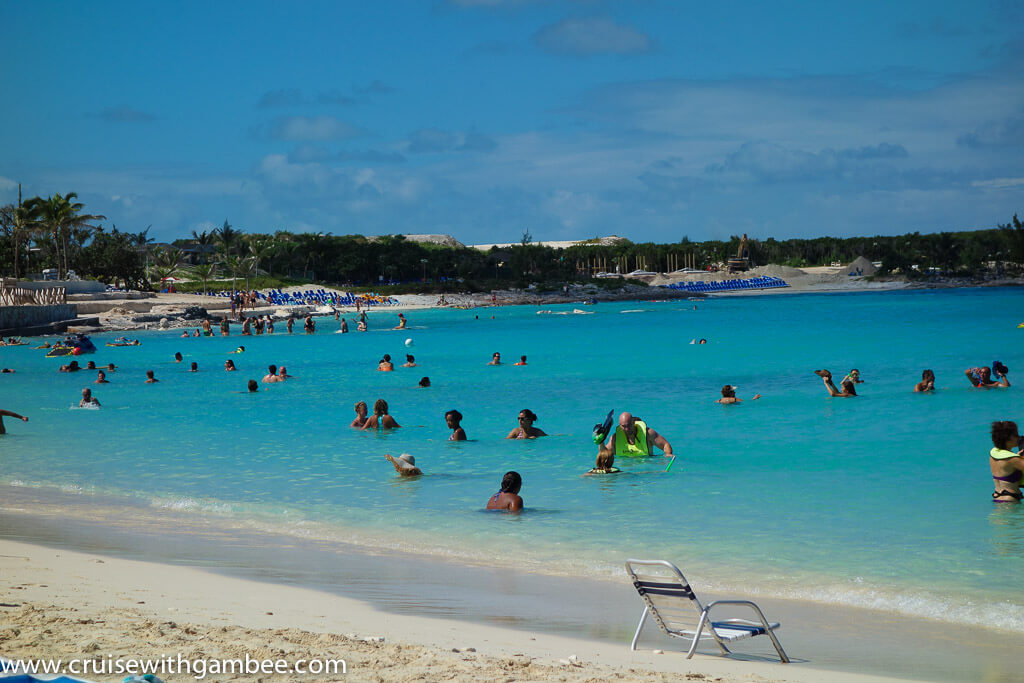 We headed back to the Norwegian Sky a little earlier than I expected it, the sun was really strong and it had wore us down. Ironically once we got to the ship we took a shower and ended up in the jacuzzi for another hour, lol. I particularly like what they call the kids pool, since it is actually much more calm than the main pool. The sun had died down slightly.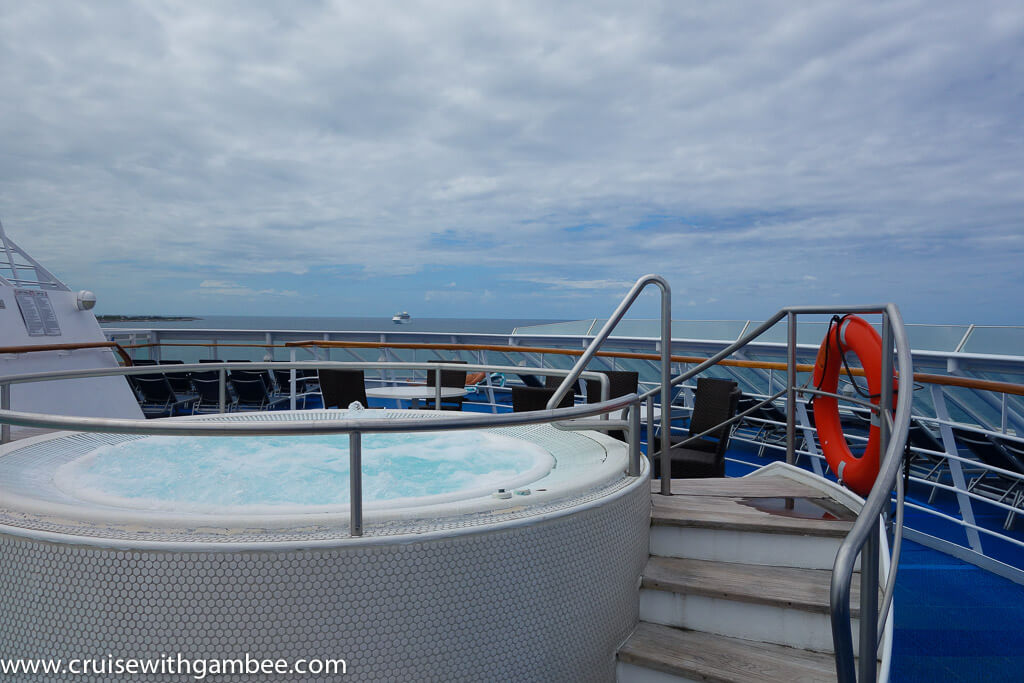 Some food was in order just to hold us up until dinner was ready to be enjoyed.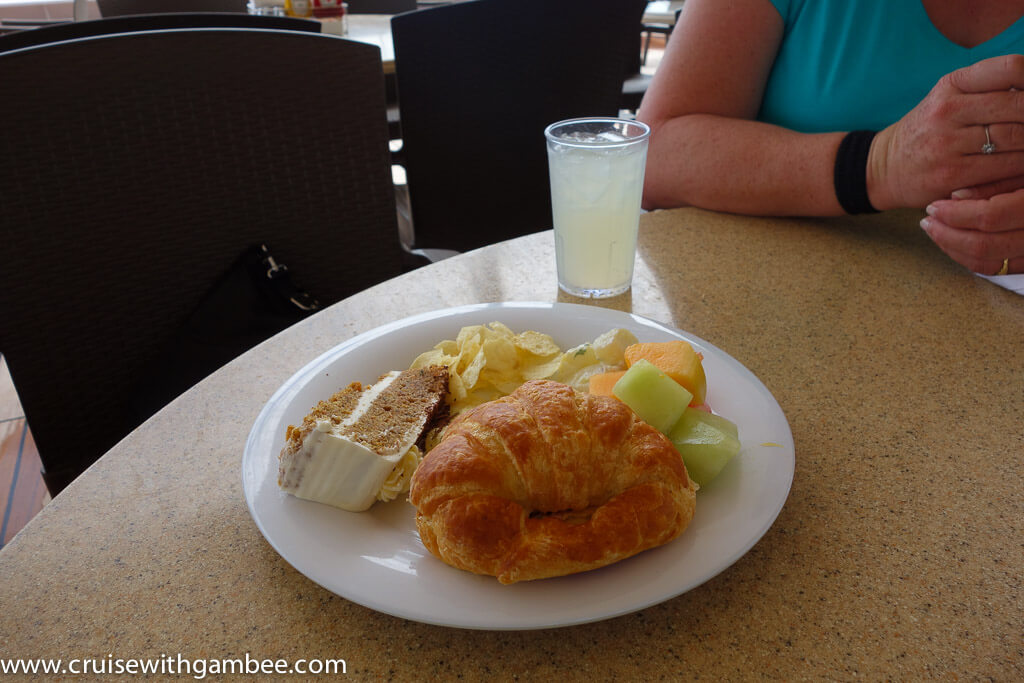 We sat outside and watch the people come in on the tender for a little while. You can see that the sun was out on full force again.
Bingo is never my kind of activity, but mom wanted to try her luck, so I went with her. Of course luck was not on our side, it usually is not on our side. I dont think we have ever won at the casino or anything, maybe we are just lousy players :D, lol.
More on the Norwegian Sky on the next page,