I guess it is a good time for my take on Labadee. We enjoyed our time there as we have done in the past. But I will say that this peninsula falls short of being amount our favorite private islands. Sure, you dock right there, but right away the walk is long, and without an established tram service, well it leaves a lot to be desired. The beach has a lot of shells, and rocks, while I could live with it, it is just much more comfortable to have one with soft sand. The water was also considerably more murky than all the other ones I've been to, and this was also the on our last stays there.
The food on the other hand is about the same, well with one exception (Disney). And the facilities are about the same as well.
If had to rate the private islands that I have been to, it goes something like this.
Out of 10
Castaway Cay (Disney) 10
Half Moon Cay 9
Labadee 7.5
Great Stirrup Cay 7
I think that is a fair assessment. But in the end, I love private islands, they are inexpensive stops that usually provide us with a lot of fun.
We kept on riding on the tram.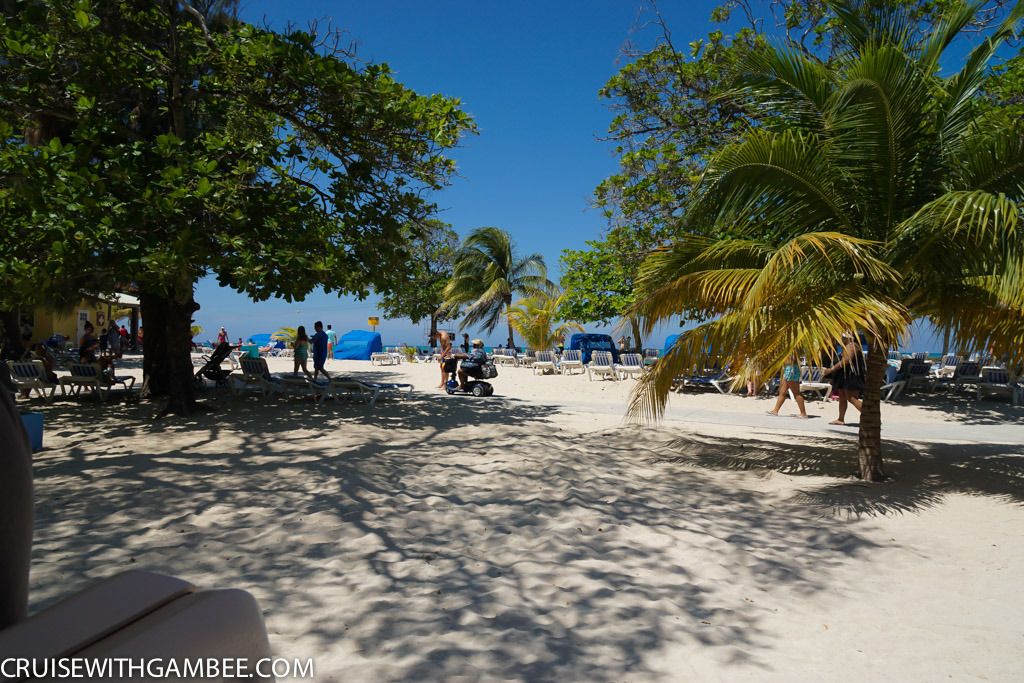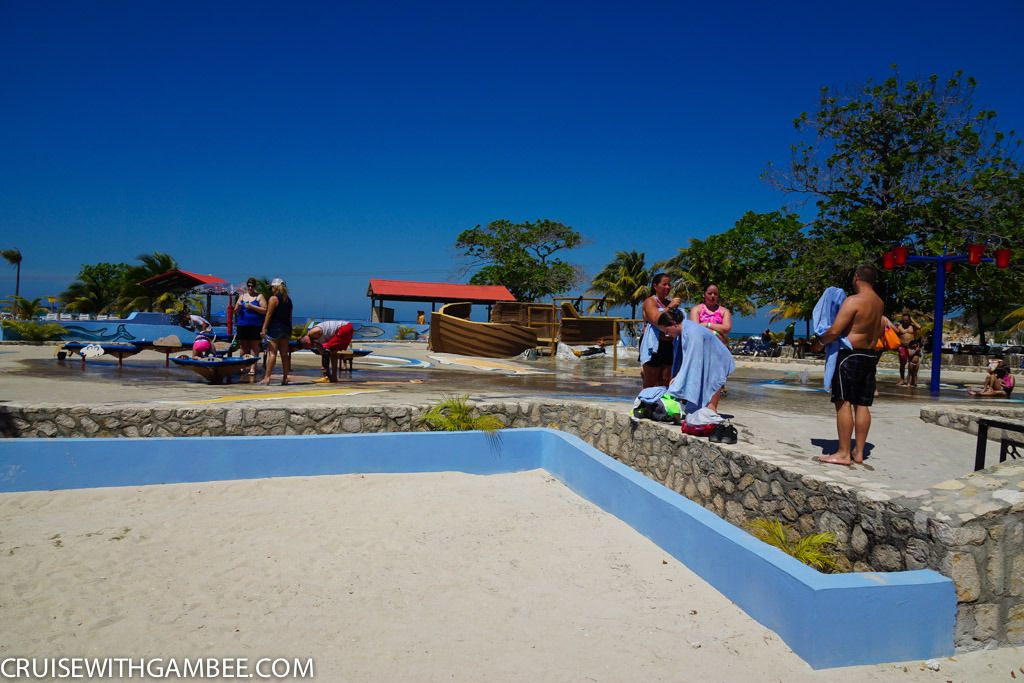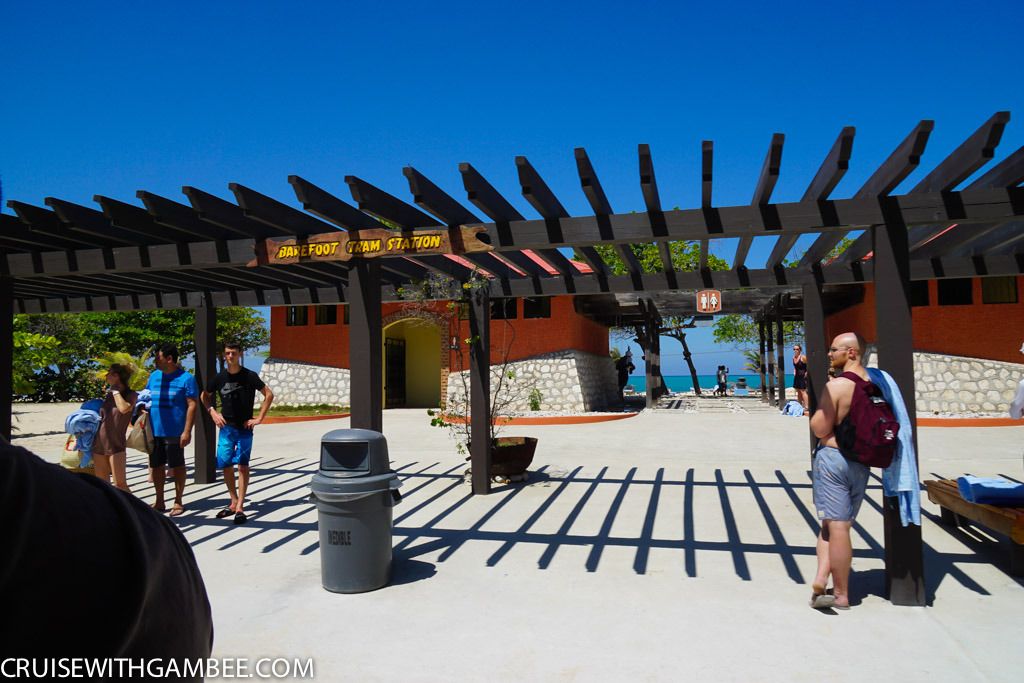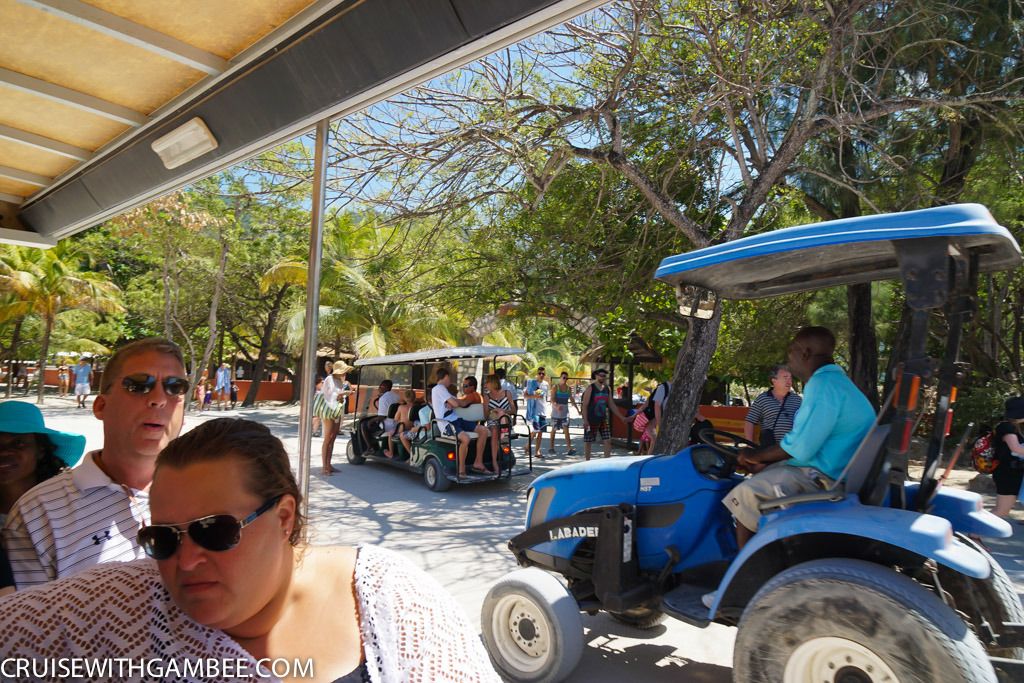 We then got off and I asked my mom if she could handle a little walk through the wall around the island. We went there on our Silhouette cruise, but it was so cloudy last time I wanted to get some pictures with nice weather. She said she was ok with it, I offered her to buy a coke, but she said she was fine.
So of we went.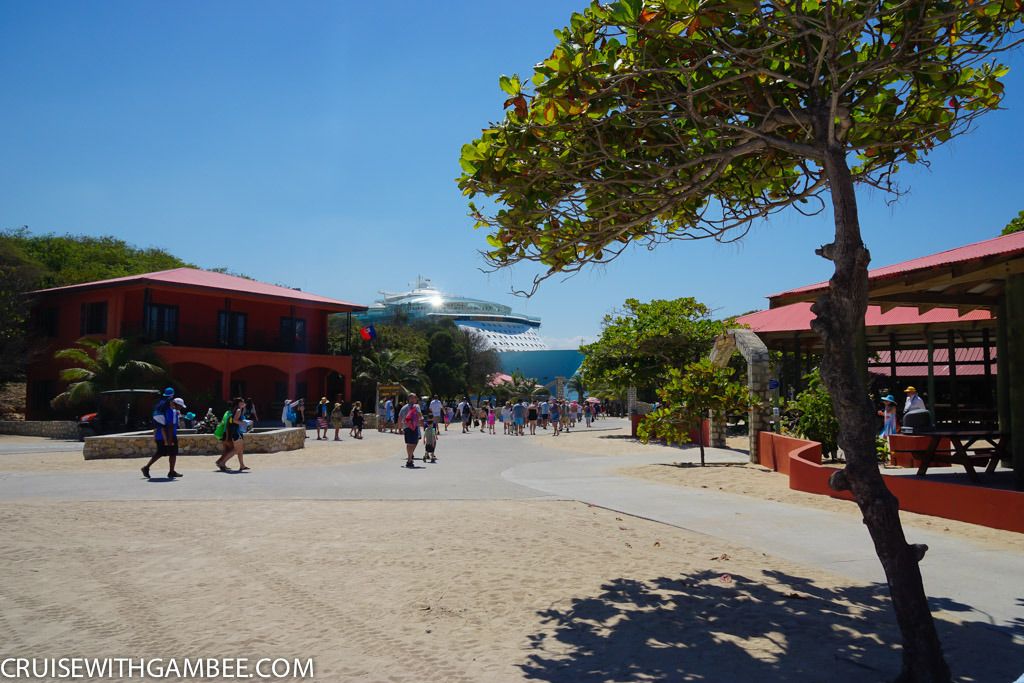 I will admit that I would love to try that zipline, but at $100 it is just hard to justify it.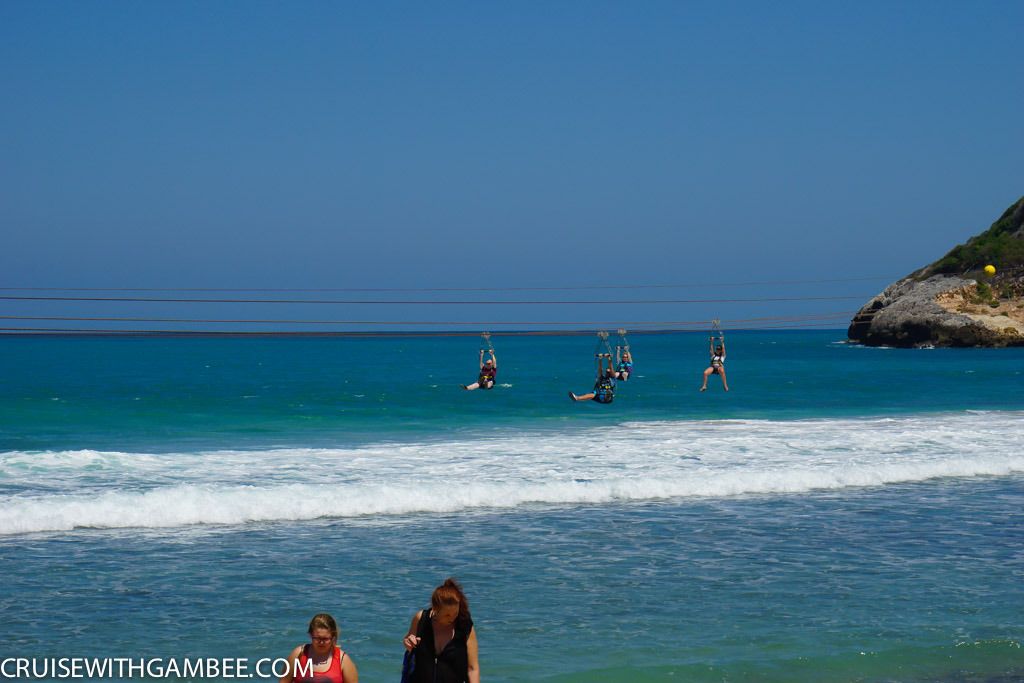 Everyone was having a blast on it! Yelling and what not.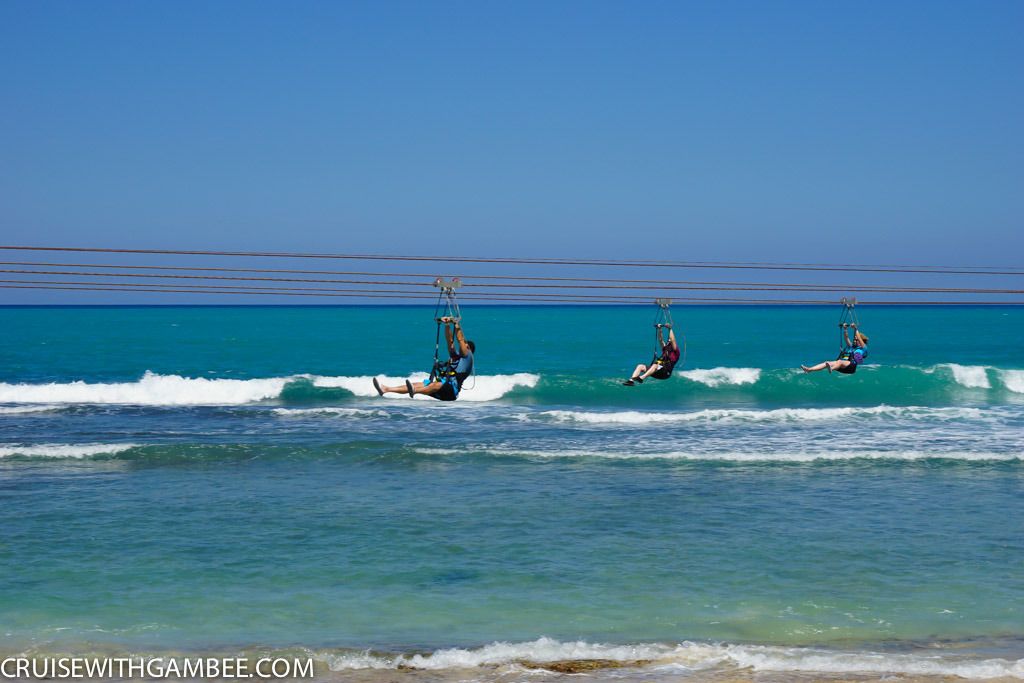 Very nice, well kept premises.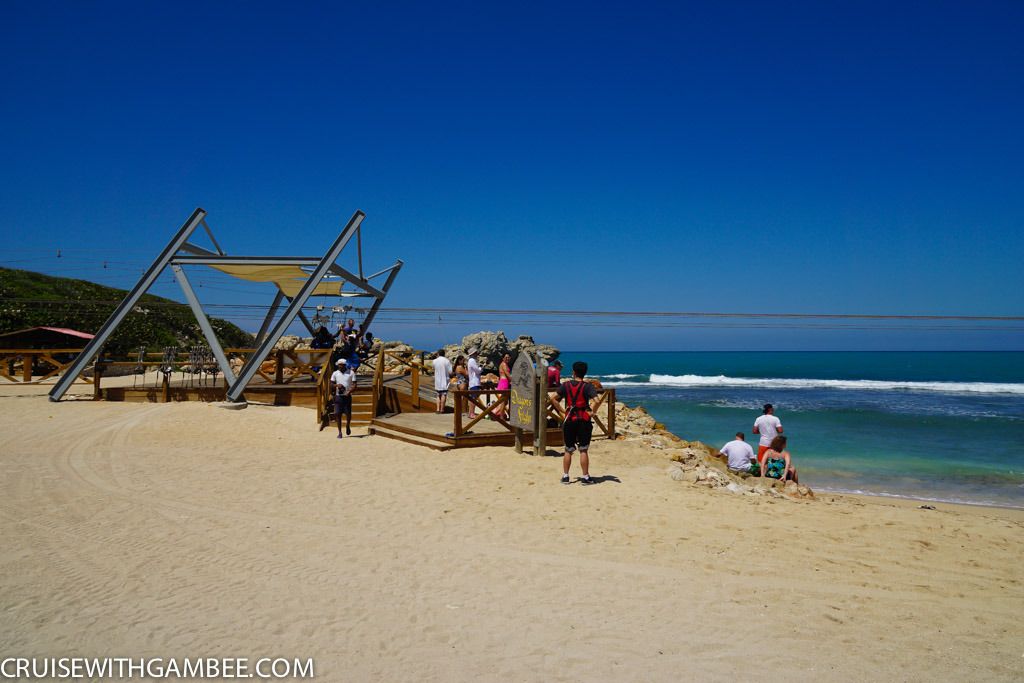 The path starts through the back of the Zipline.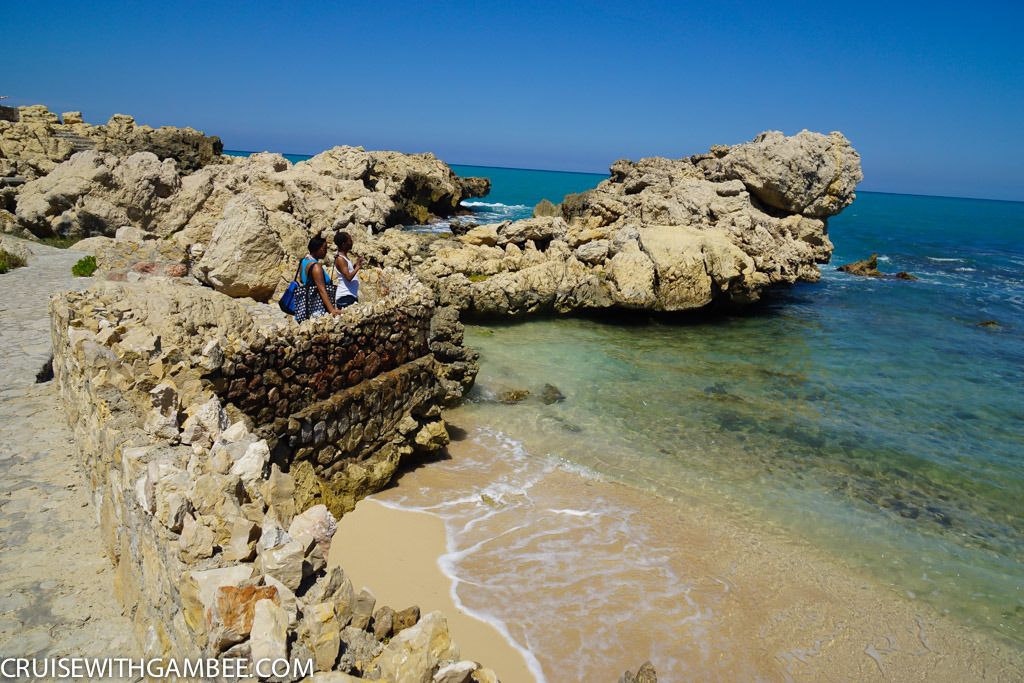 The view is really nice from there, I suggest you go there.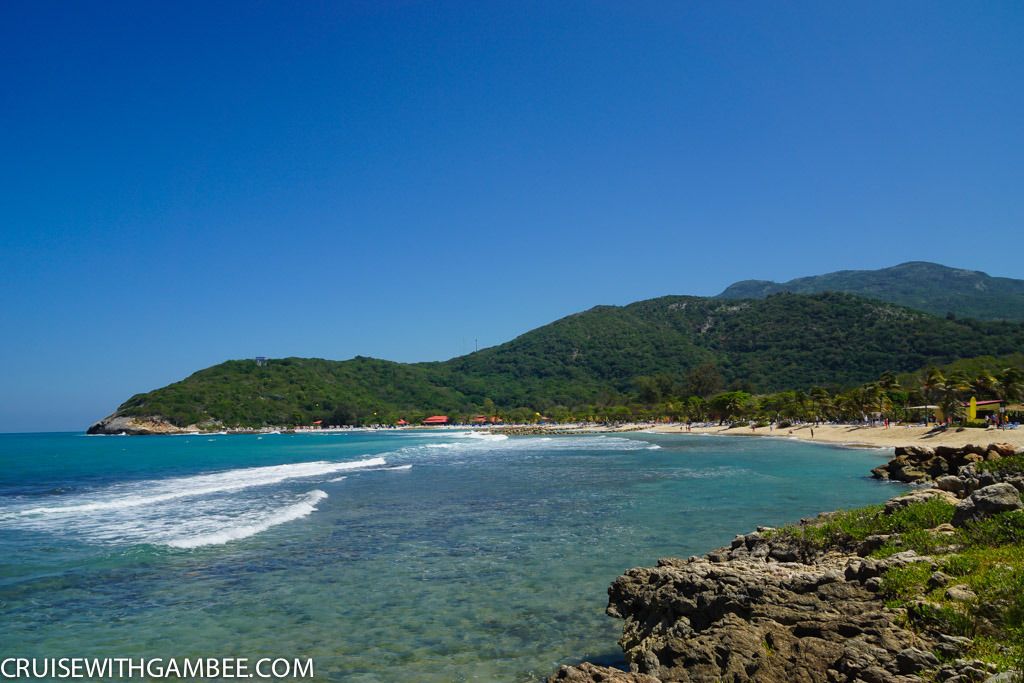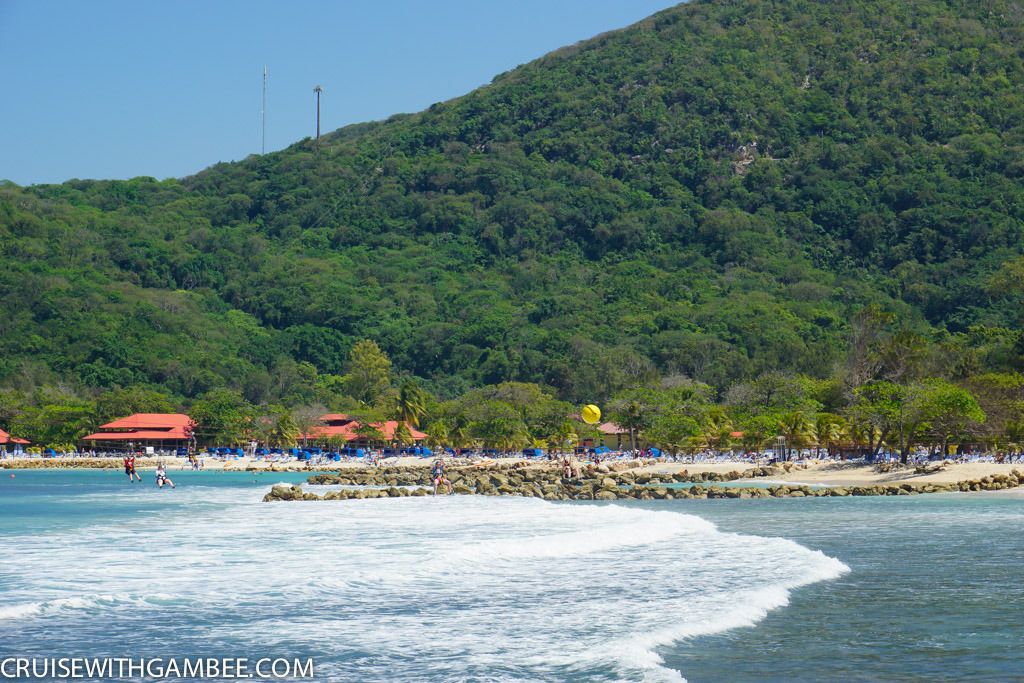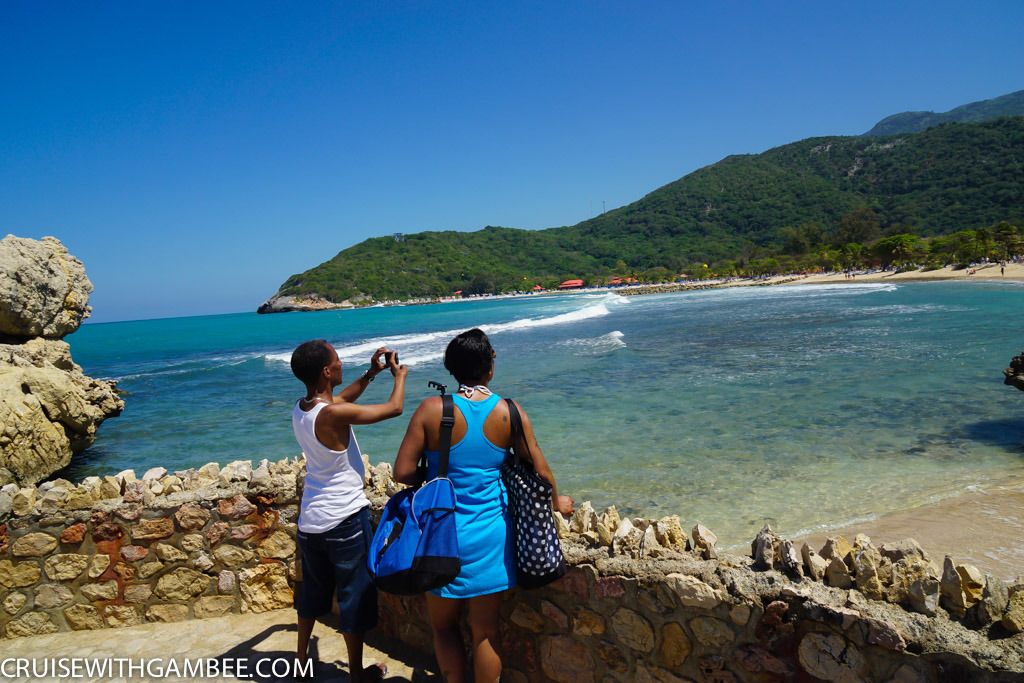 I was following mom, ain't she the cutest?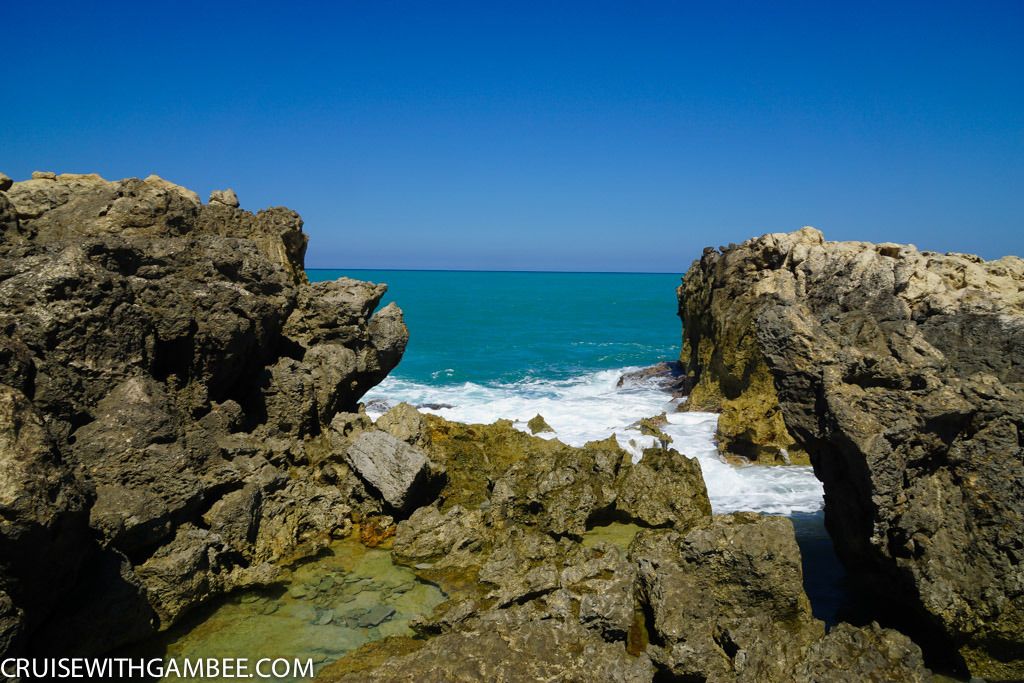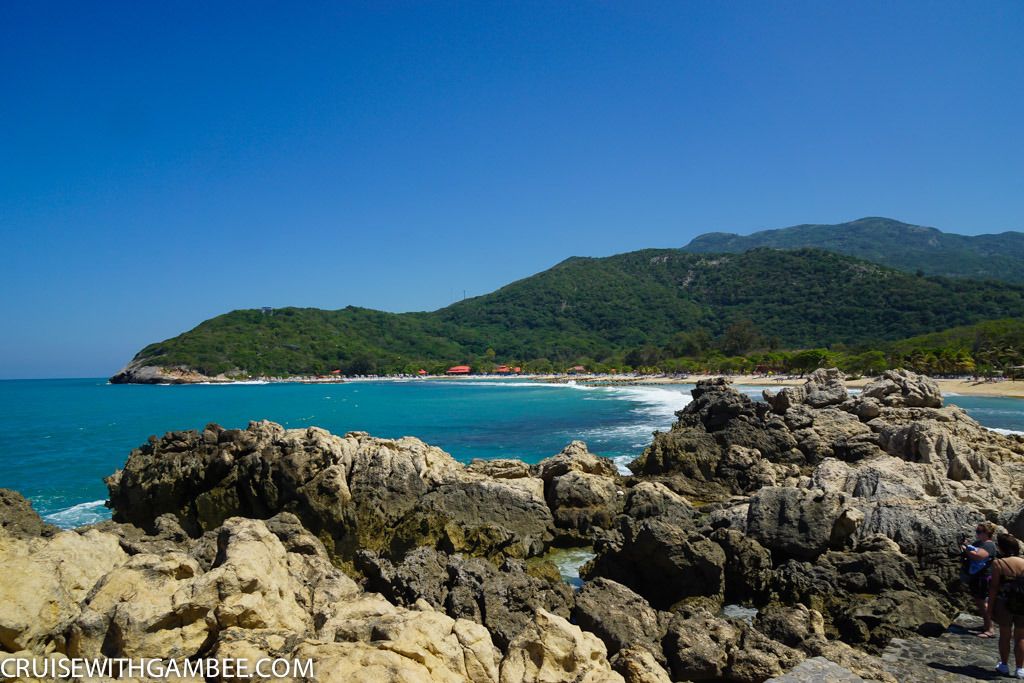 Then we got to the little cabana at the top of the rock formation, it is a great place to take pictures. I took some pictures of my mom and she took some of me, most of them with the ship in the background.
Then a security officer came by and offered to take a picture of us together. Sure thing, why not?
LoL, he had the best intentions. Mom tipped him a few dollars for it, and he looked extremely happy about it. I doubt that anyone tips him, and all he did was take multiple pictures of everyone. Nice fellow.
It is still a keeper, mainly because of the amazing memories we created that day. Damn, I look so fat in that picture
I was carrying all of our stuff to minimize the amount of weight on my moms' body.
That's the view from there. Like I said, it is an excellent spot for pictures! Well, other than the garbage can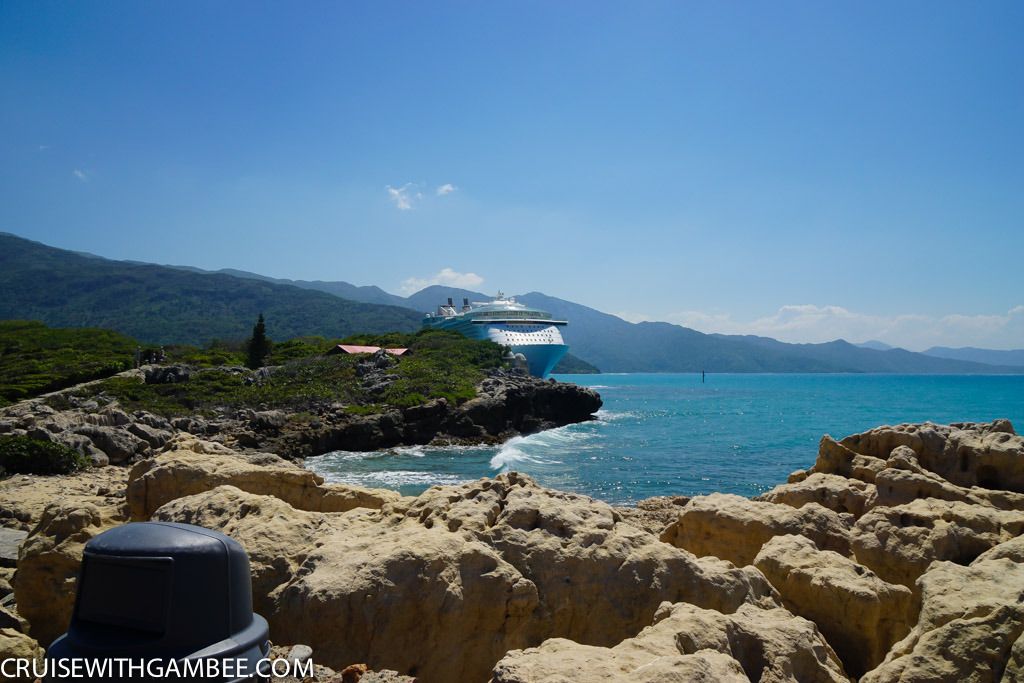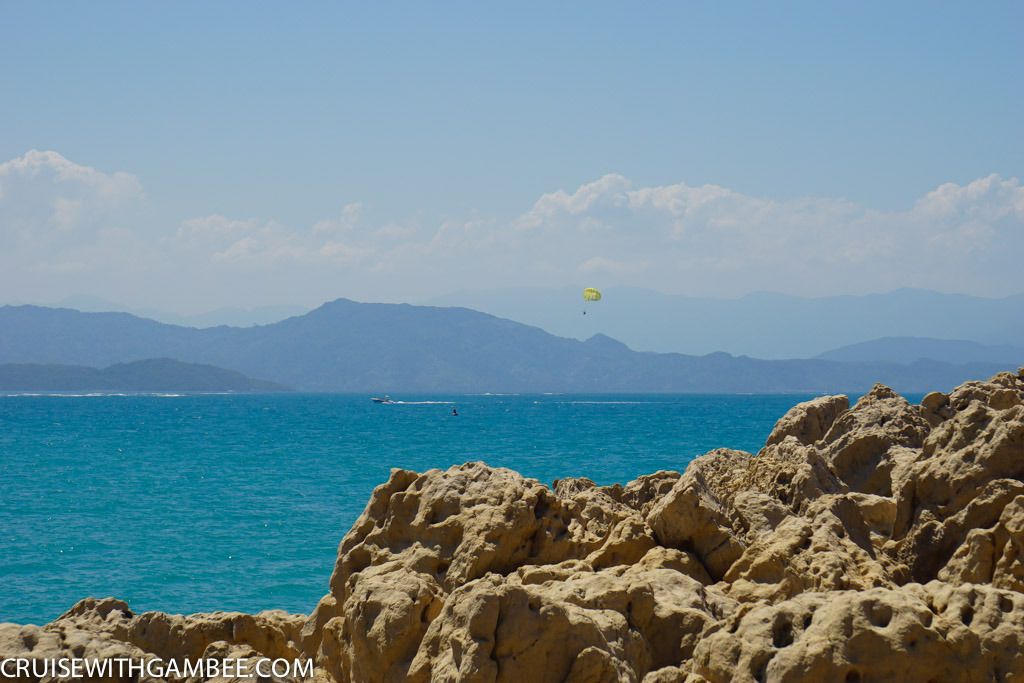 There you can see the path.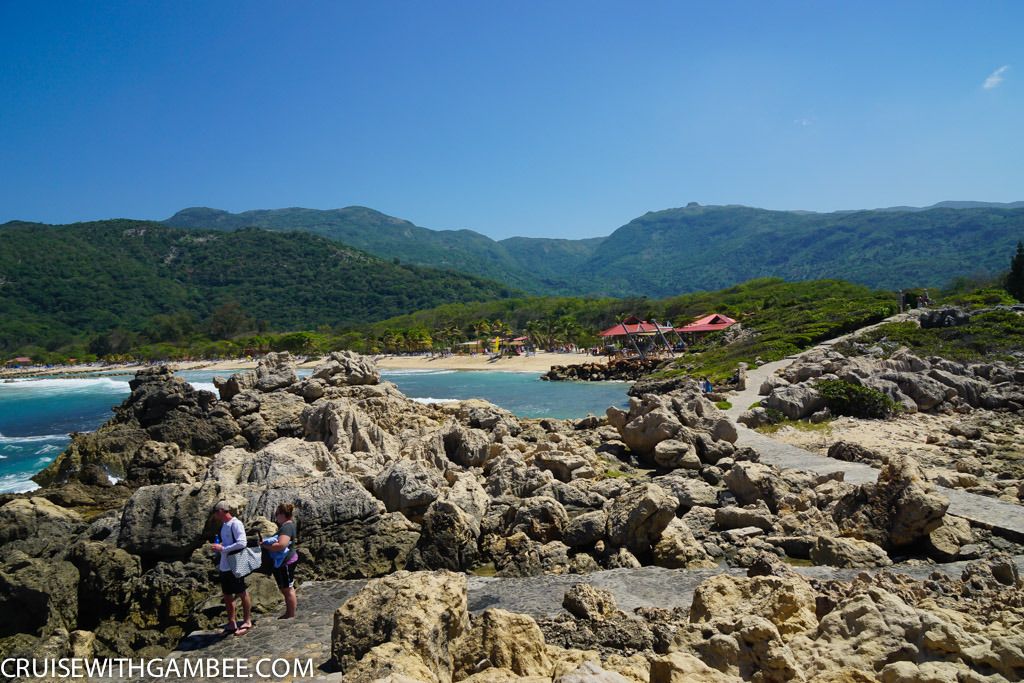 We turned back and started heading towards the ship through the same path.
Mom was ok with it, but I could tell she was a bit tired. The path is not too long.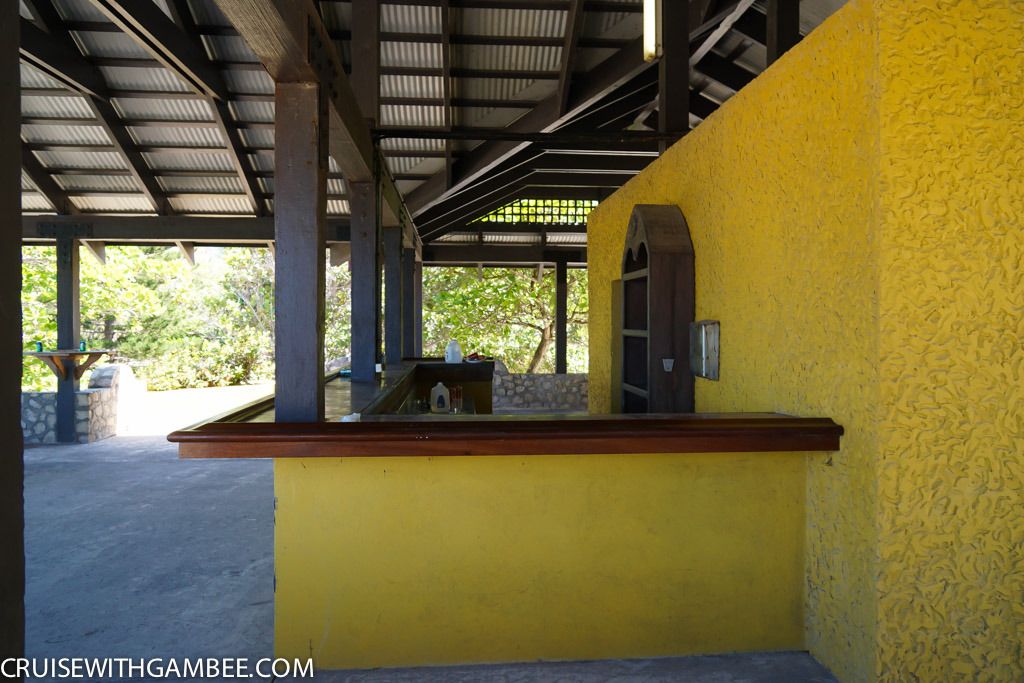 Up there is a section where you can get massages, and it is actually a really nice peaceful place to lounge.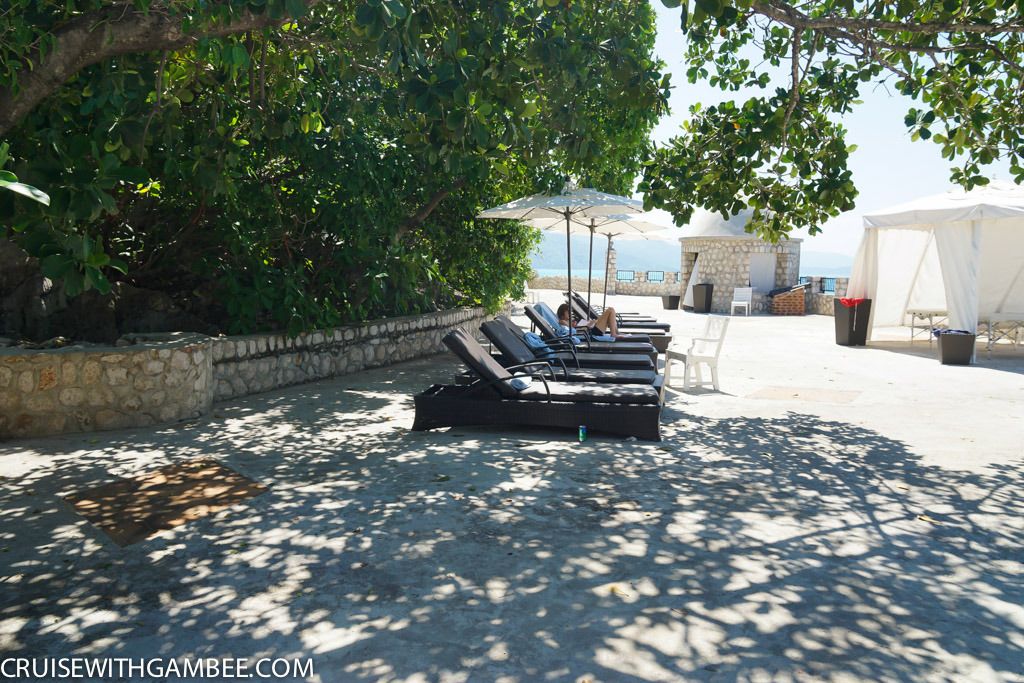 When we got there it seemed like everyone was gone.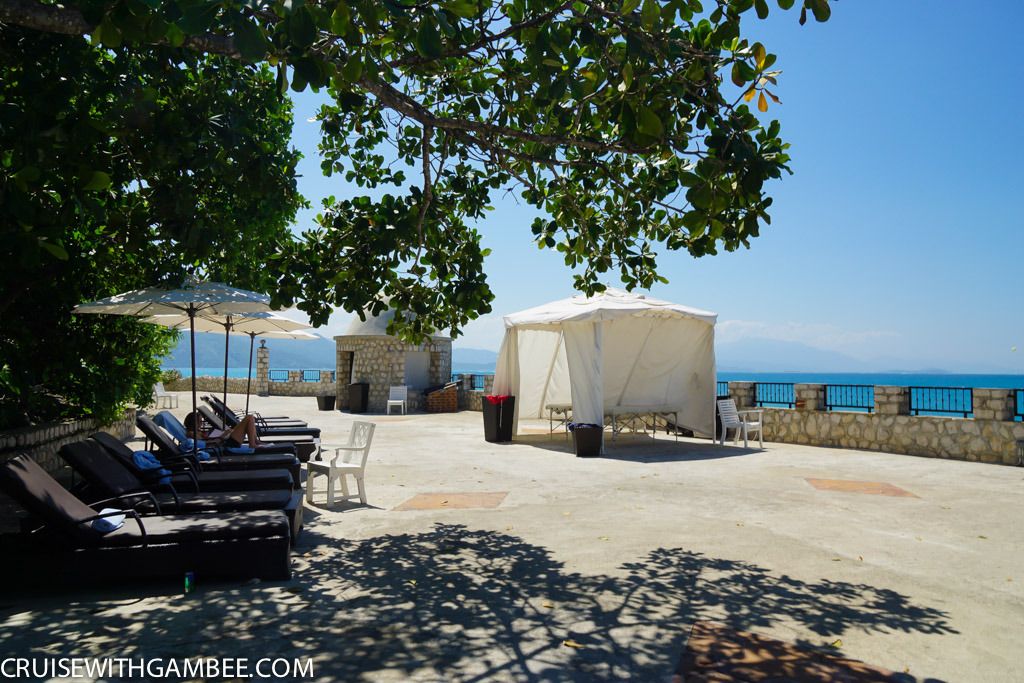 Beautiful spot for a back rub.
The walk can be a little hard since there are a lot inclines and descents.
There is a great spot to take pictures from up there. We traded pictures with another couple there taking shots. They got ours and we got theirs.
A little overexposed, but still lovely =)
Like I said, this path offers amazing views!
And down we go.
There was a live band there, I grabbed a few bucks for them. Last time I kind felt bad that I did not leave them anything.
After a quick security check (Don't forget to take your shoes off, kidding), back to the ship we went.
I love photos like this one. They are not planned, but yet there are so many stories being told there.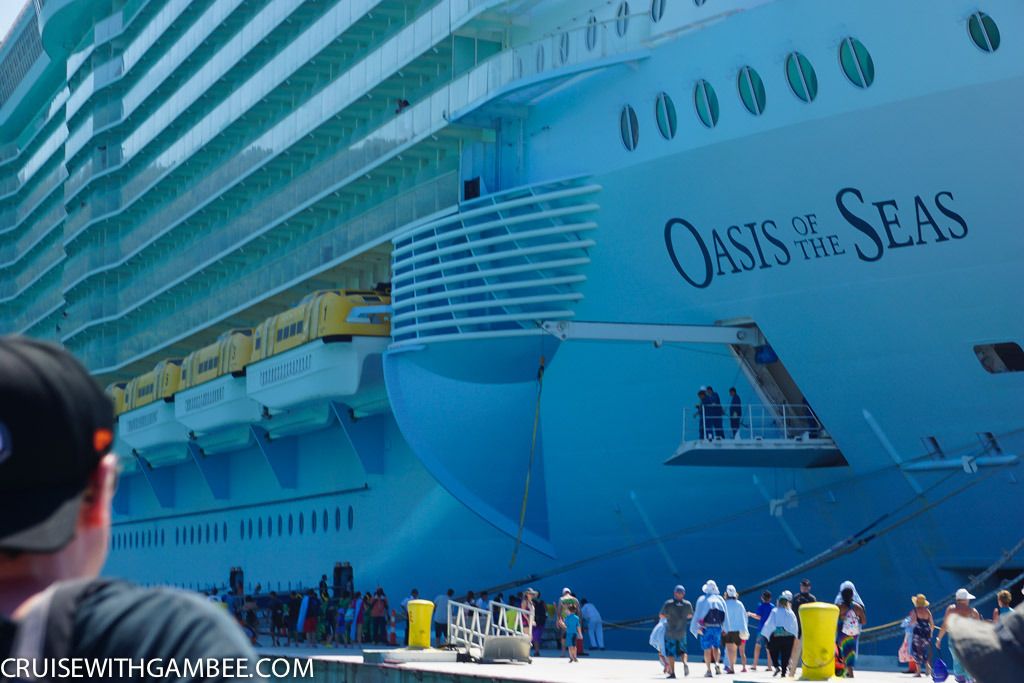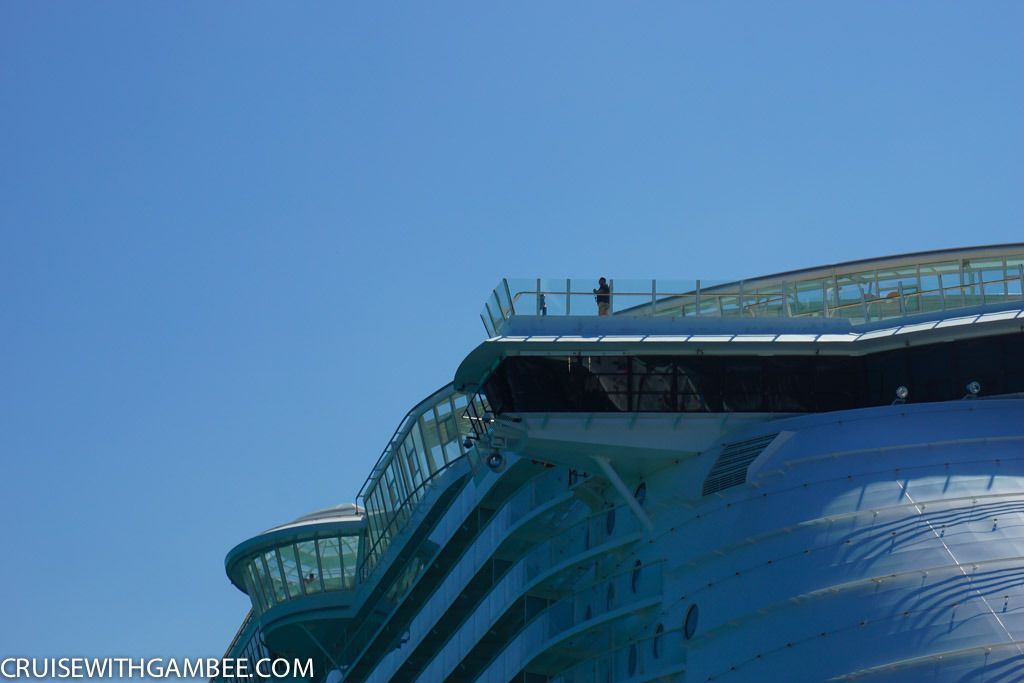 I stopped there and asked mom to give them a little $ as well. It is only a few dollars for, but it can mean so much more to them. One thing that working in the service industry has taught me is to be very appreciative of everything that others do for me. Had I grown up in Colombia I would not be who I am now, with all my traits and such. And of course that I owe to all my uncles that made it possible for us to migrate to the US. Never forget your roots, and most especially those who made you who you're. Family is all we have in this world.
Mom walking back after giving them a little something in their little tip jar. She told me that there was little money there. I felt bad about it, mainly because on our previous cruises I failed to contribute.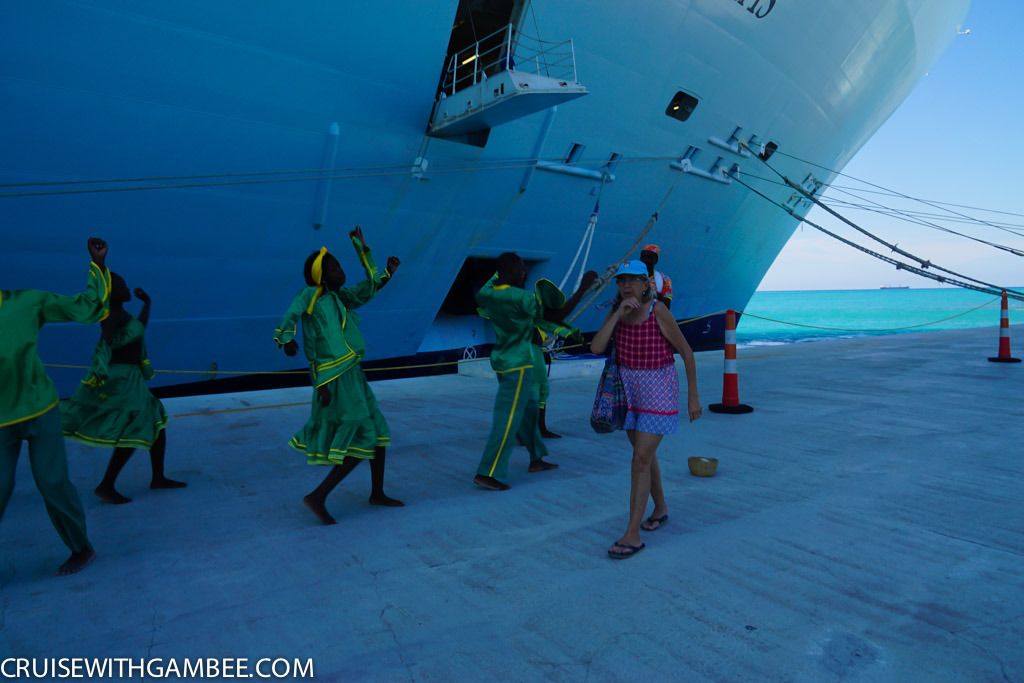 Back on board.
I really dislike this towel tracking system, just for a few people stealing them, we all have to pay the price. We usually bring our own towels, and not worry about it. But for some reason we forgot the towels at home. At least they always had a towel stand when you get off the ship and back on, that was convenient. I just dislike keeping an eye on the towels. On our Allure cruise, our towels got stolen by someone in the Solarium…. Fixing that was a mess! Otherwise, we had to pay something like $30 per towel!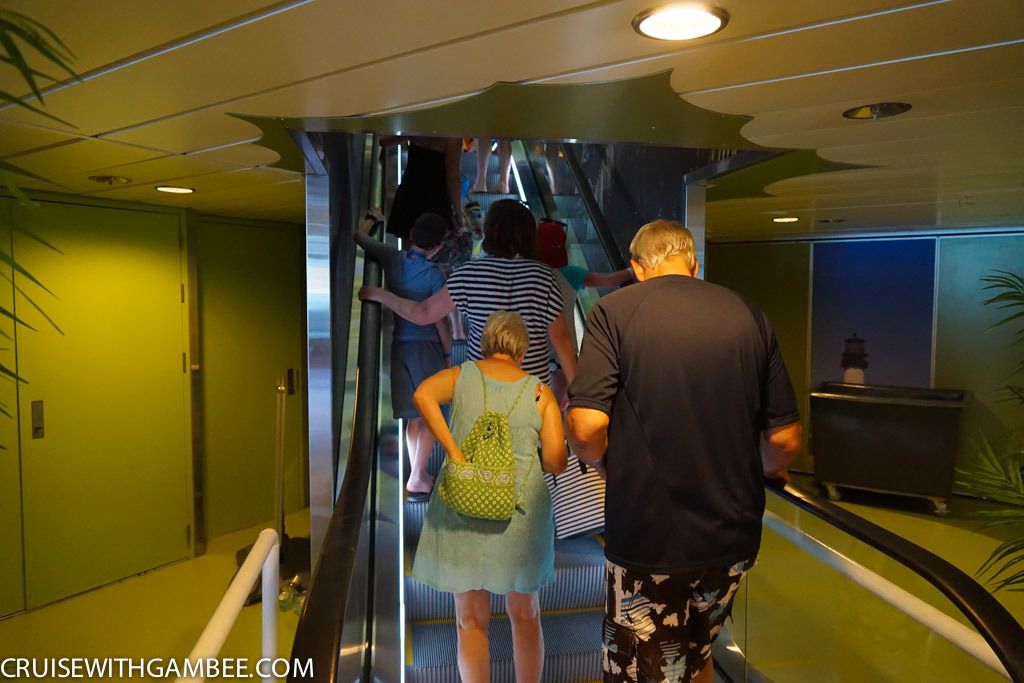 We were both a bit hungry, so we decided to stop by the cafe promenade and check out their selections.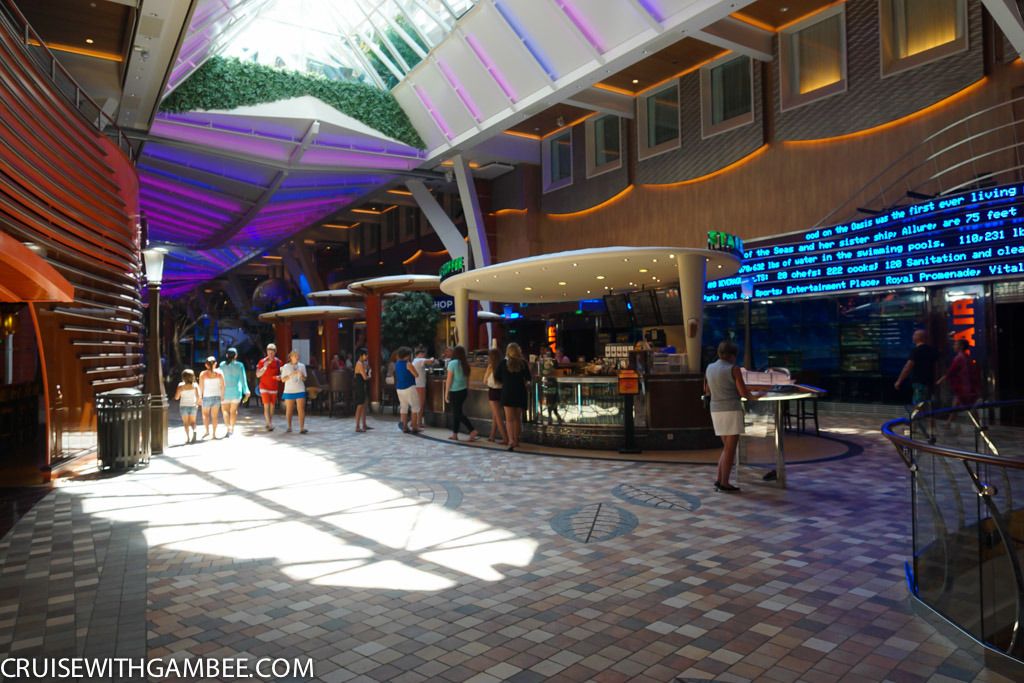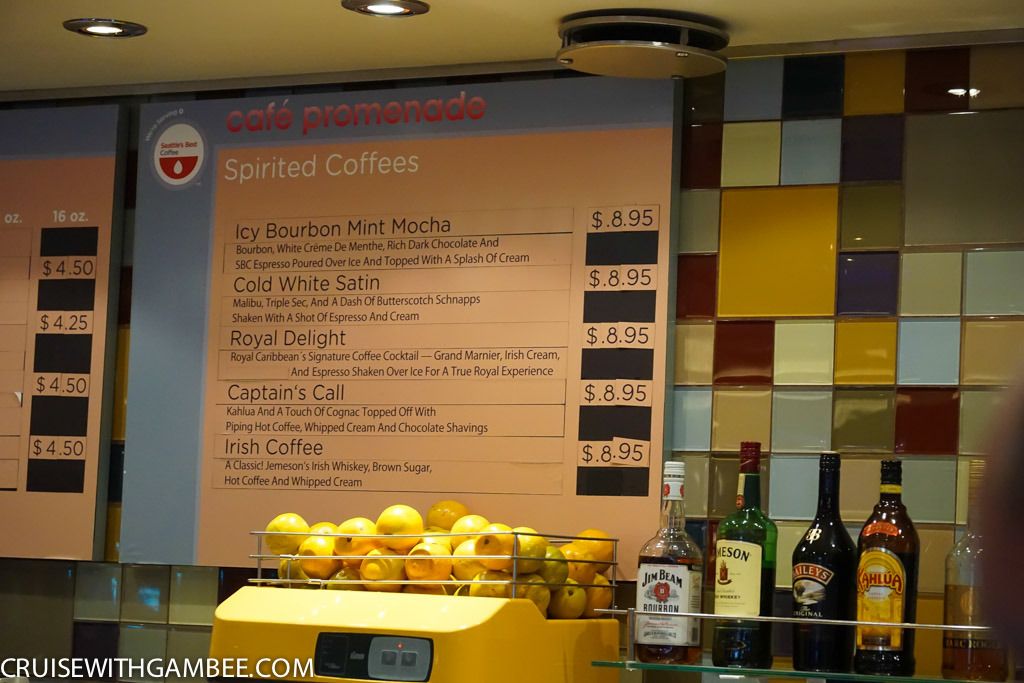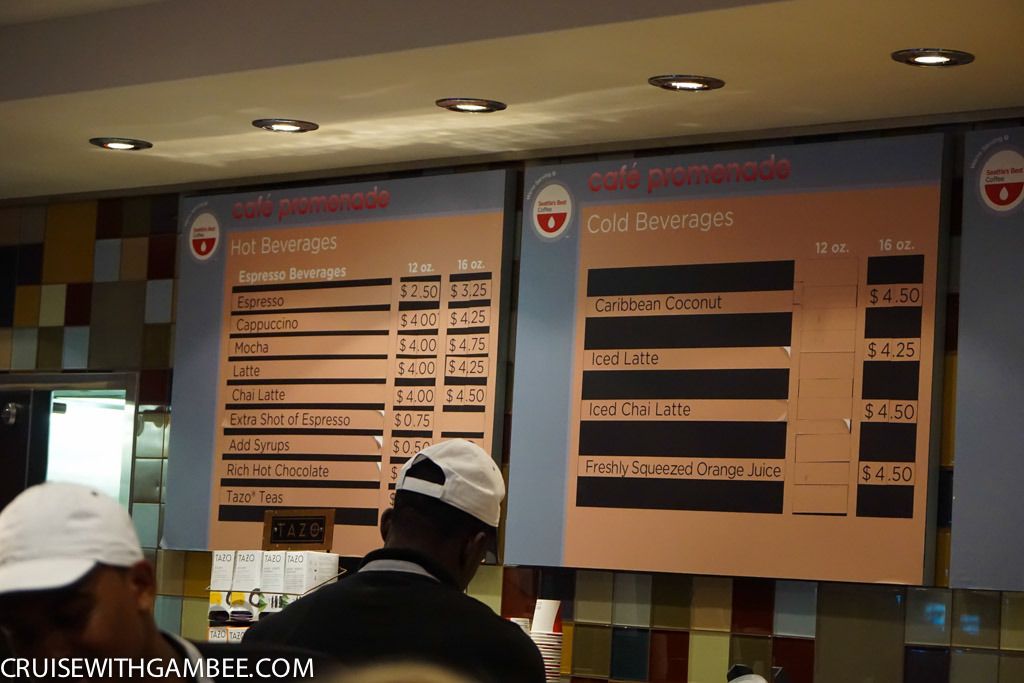 Not my best photos, but I rather post them, than not.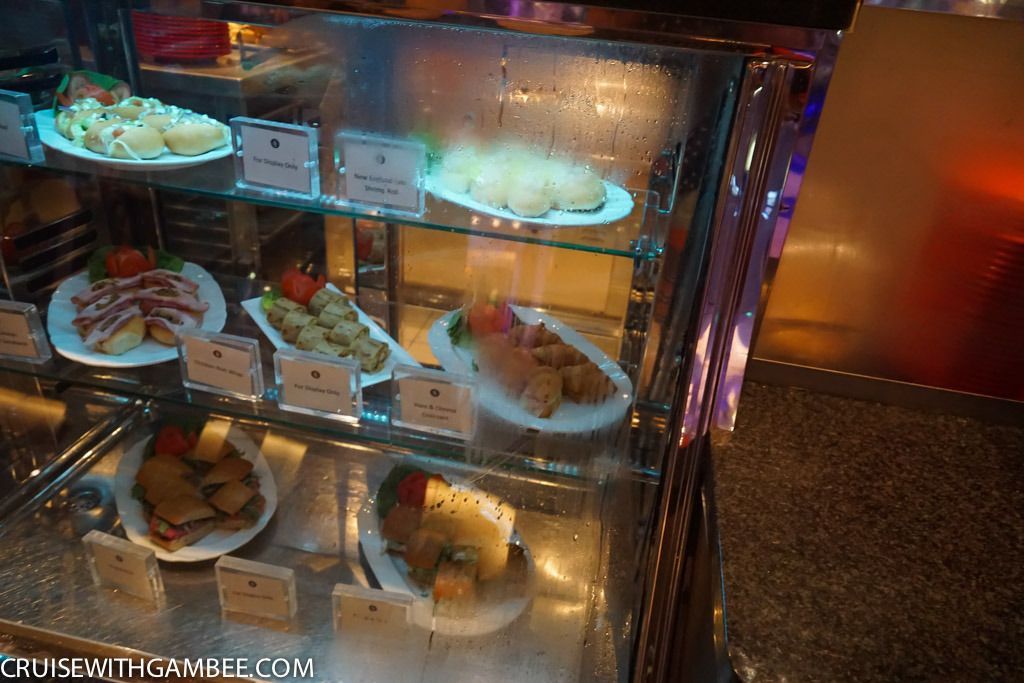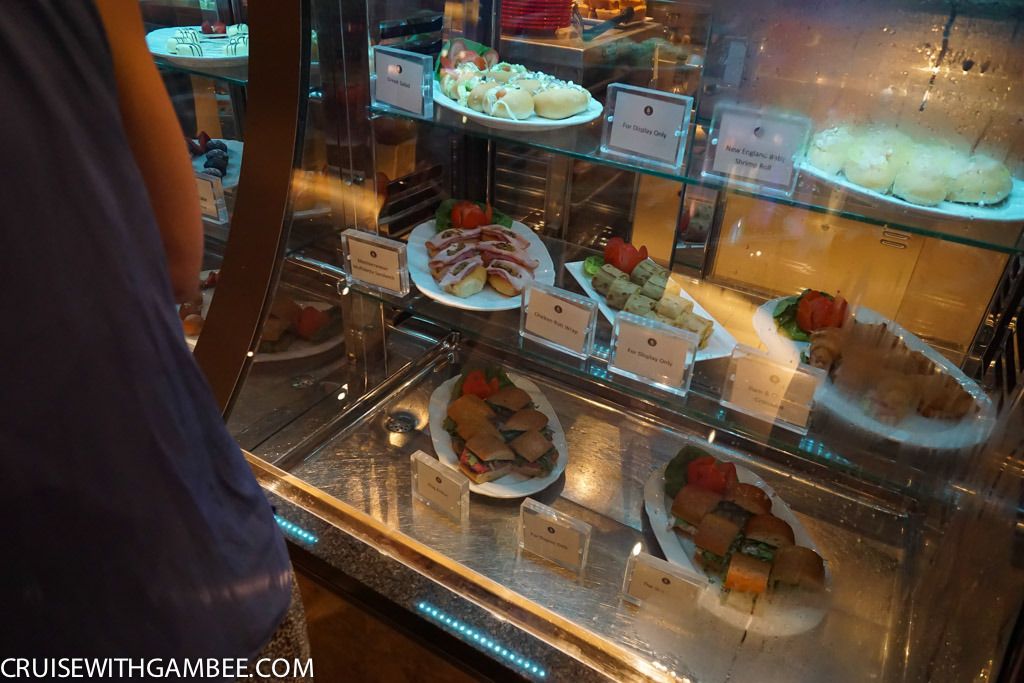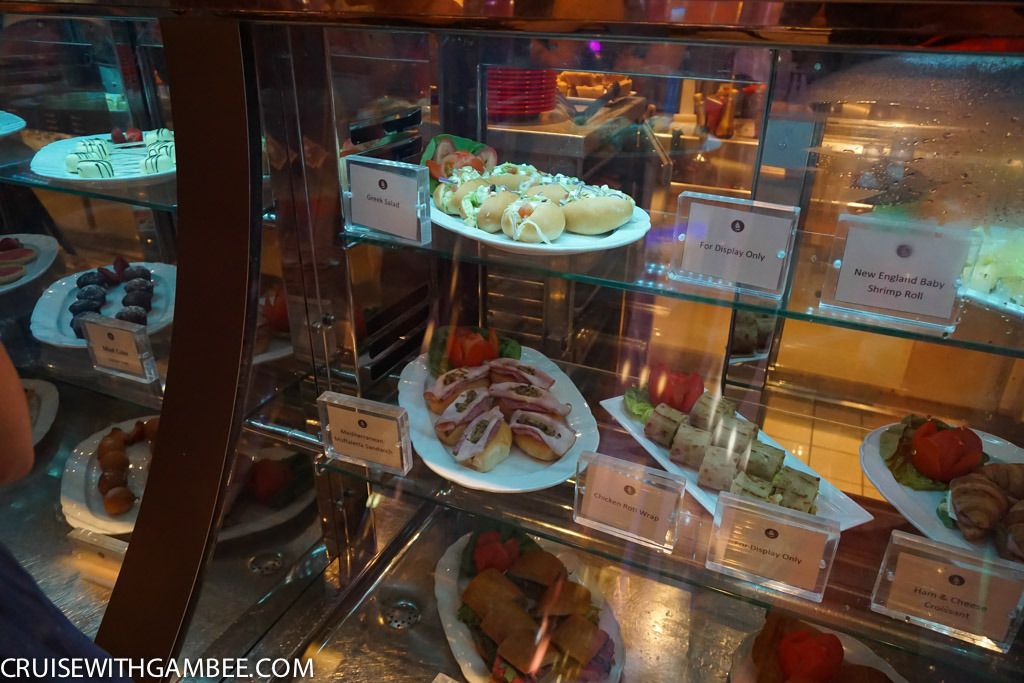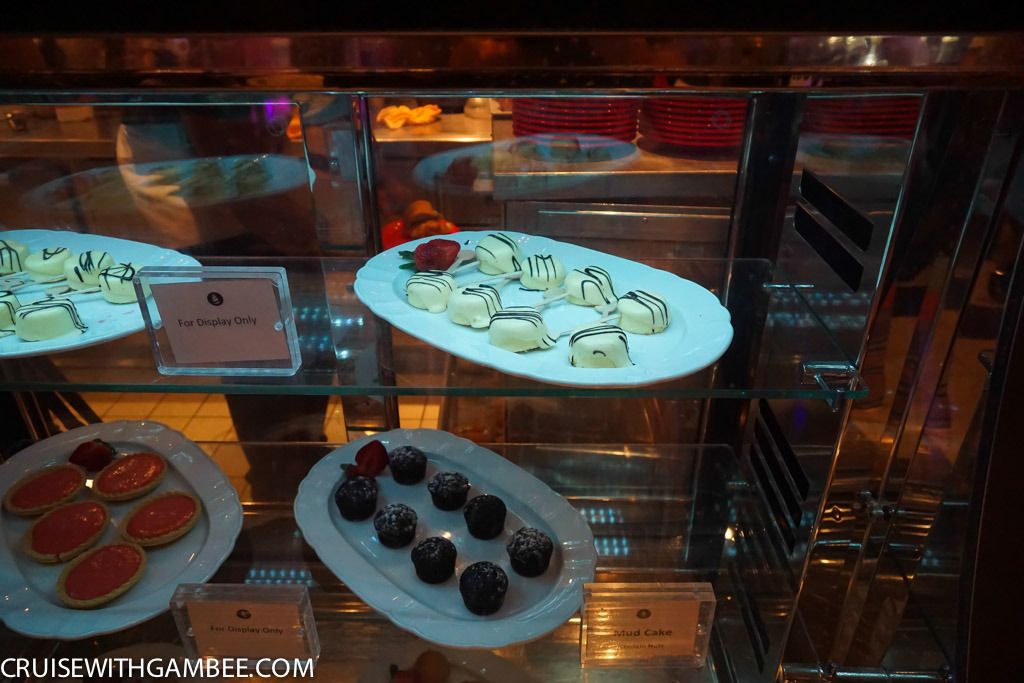 This place is just ok, their sandwiches tend to be a little dry and some of them are tasteless. I heard some good things about their desserts. Mom enjoyed the raspberry pie, personally I LOVED THE ZEPPELINS!!!! Those things amazing, they remind me of a Colombian treat called buñuelo and usually served around christmas time. If I did not have any self control, I would have eaten about 10 of them a day!
The Zeppelin is the round one.
We took our food to our balcony and grabbed a coke from the mini bar.
Not the best pic since the camera focused on the coke instead.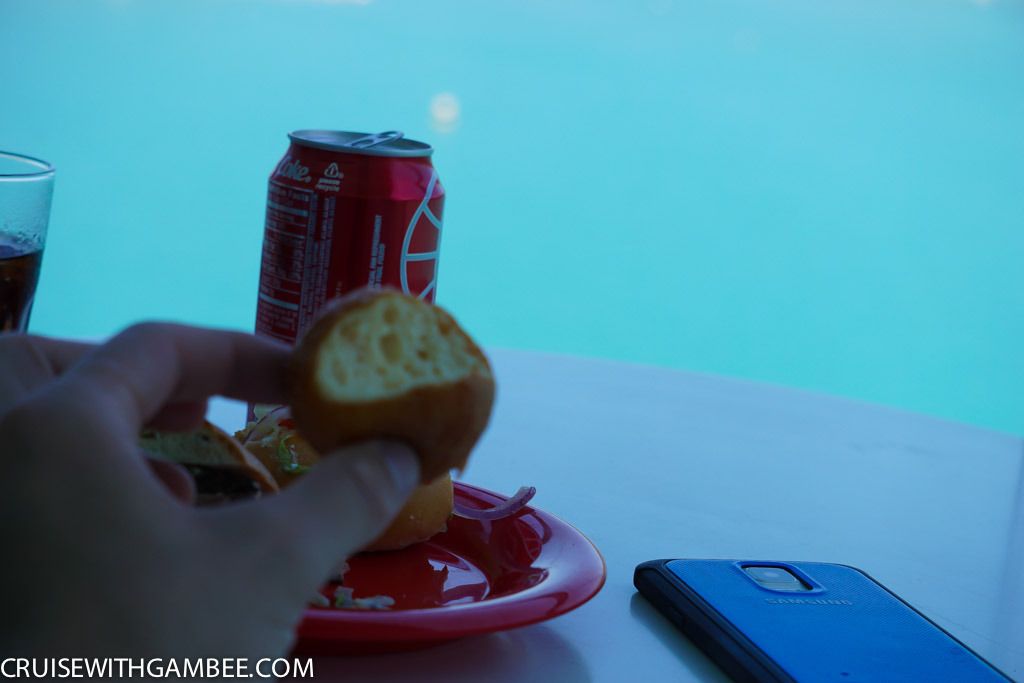 Like I said the other items are mehhhhhh, they are just there to satisfy your hunger issues.
We showered and whatnot. Then relaxed on the balcony while waiting for sailaway.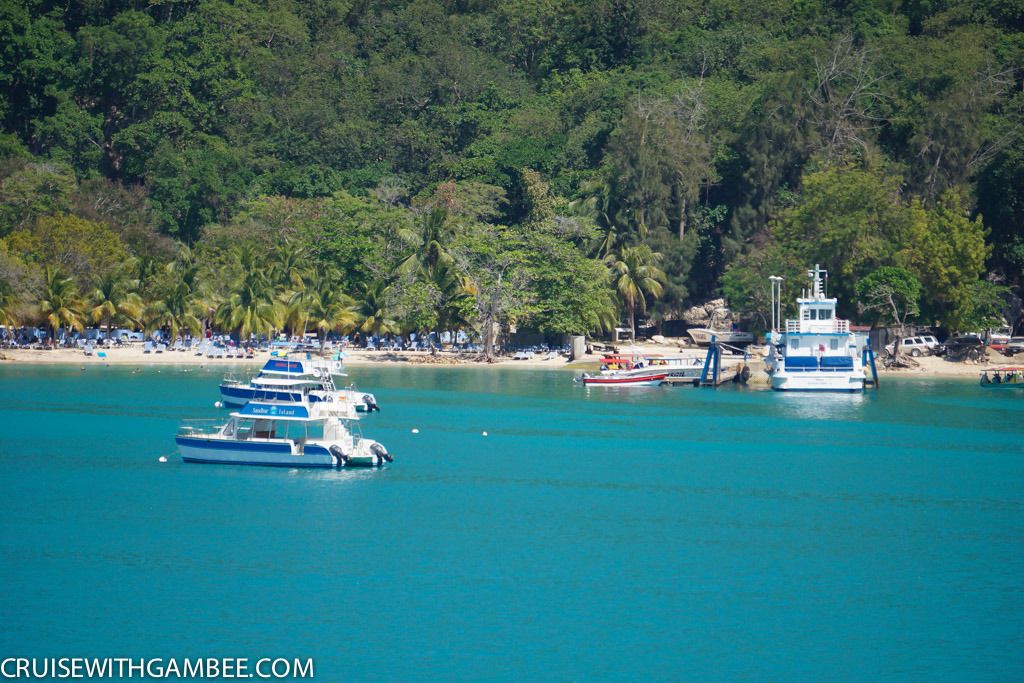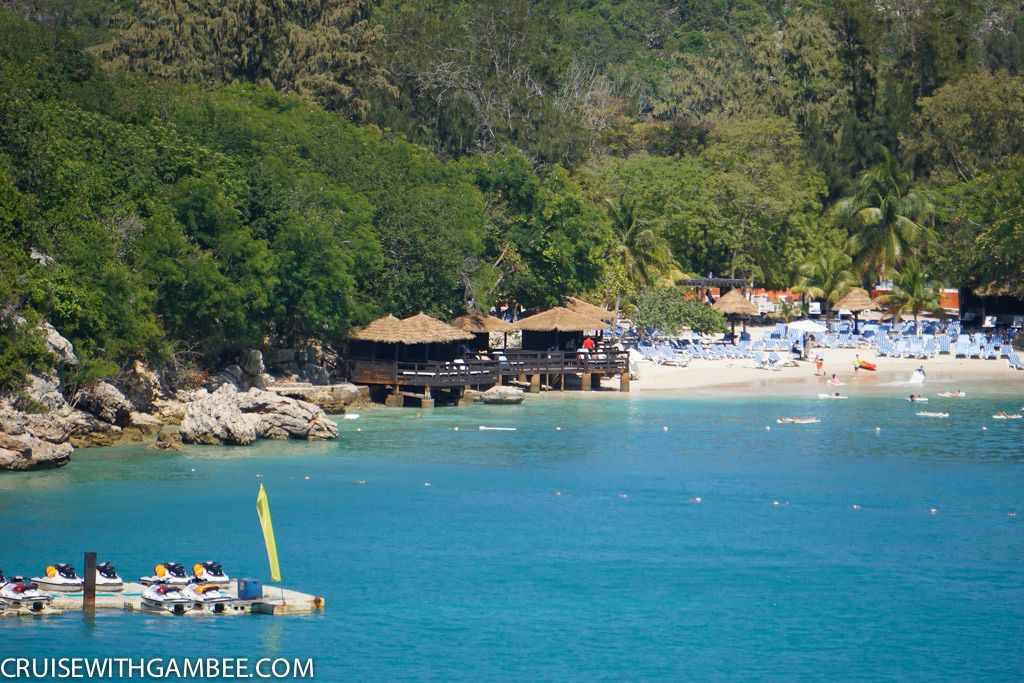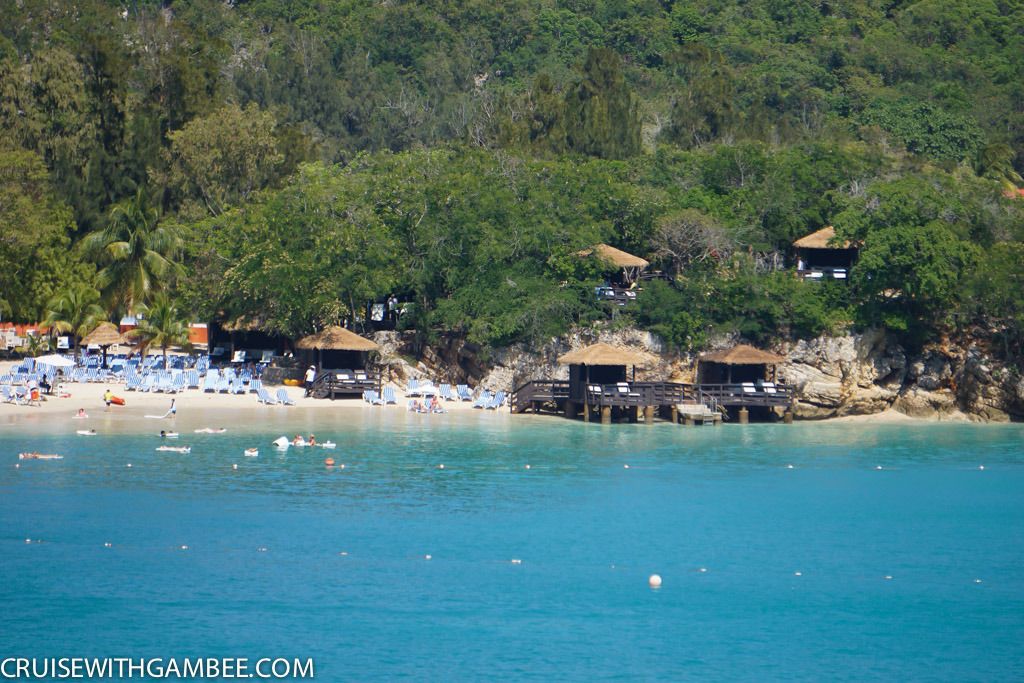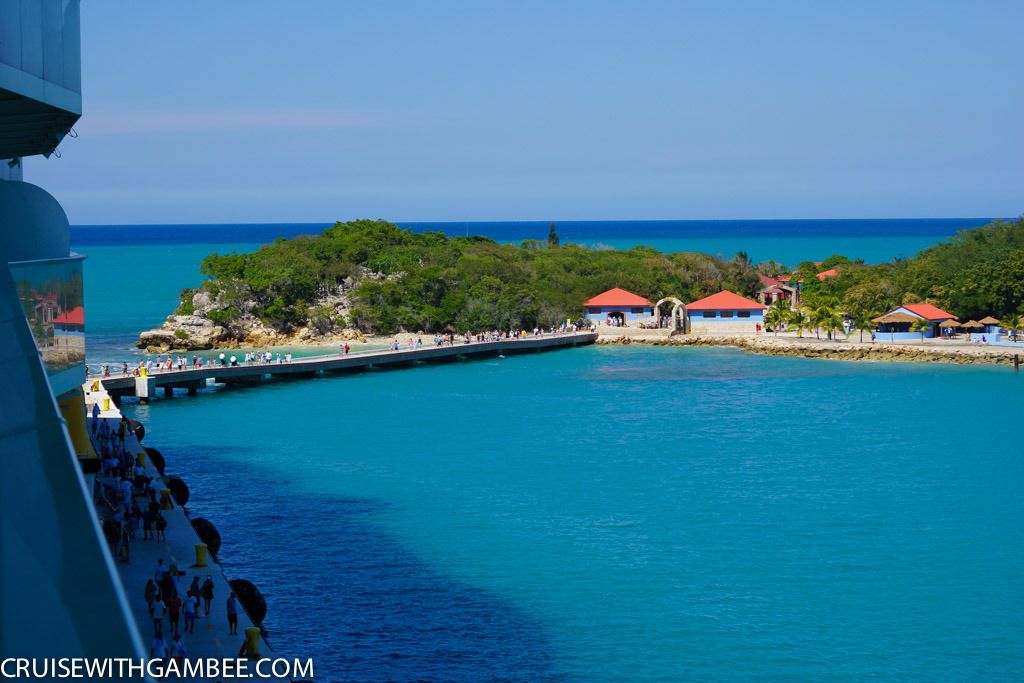 Some of the tours coming back.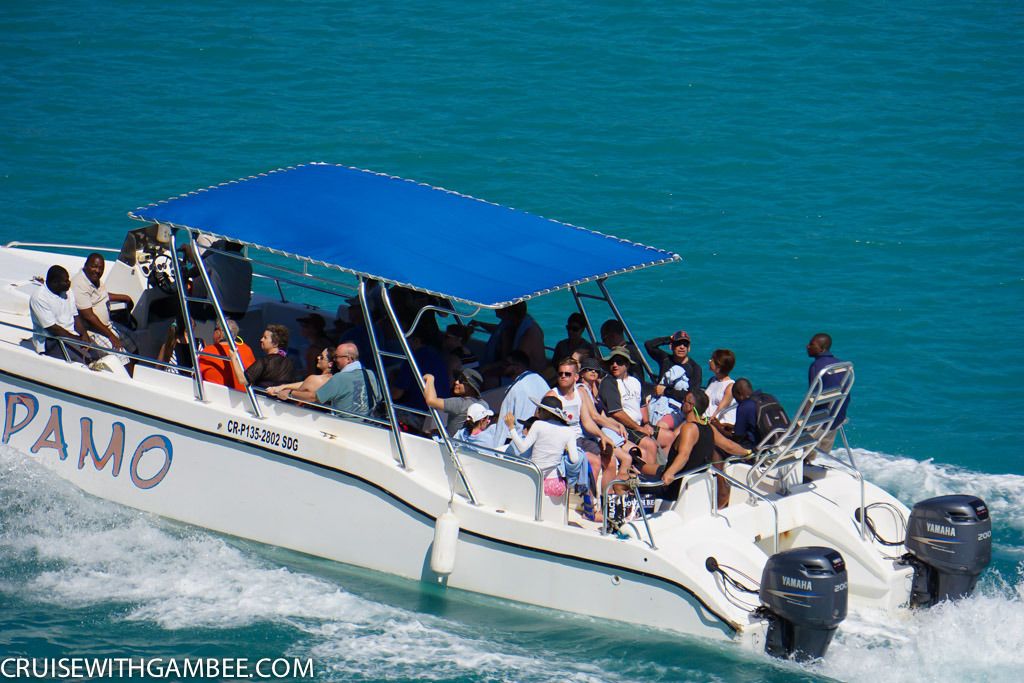 Then we saw the sailboat come back, like I said I think it is about $175 for the tour on it. That said, the boat is beautiful. I am sure that the excursion must be blast, maybe sometime I will do it. I was not expecting such a modern and nicely kept vessel.
They did a little loop around the ship, my guess is to promote the vessel. Did the trick for me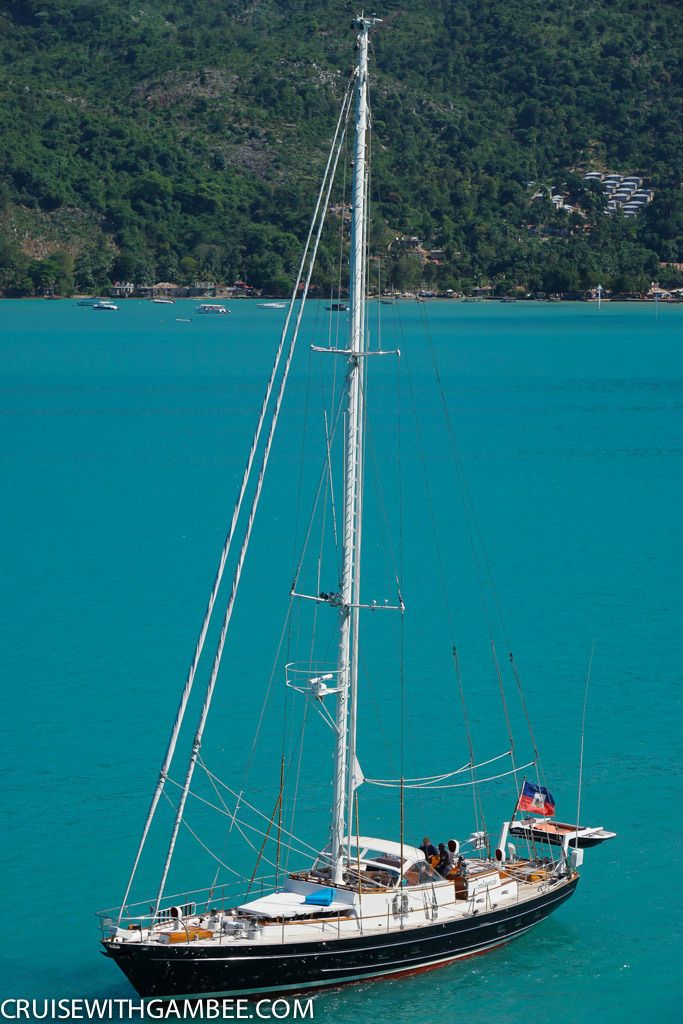 You all know that Gambee has the softest spot wind propelled vessels. As a matter of fact, my dream cruise is a Windstar cruise. I think this is the very first time that I have come out and said it. Right now they are out of our price range, but one day I plan on taking my mom on one amazing vacation aboard one of their incredible sailing yachts =)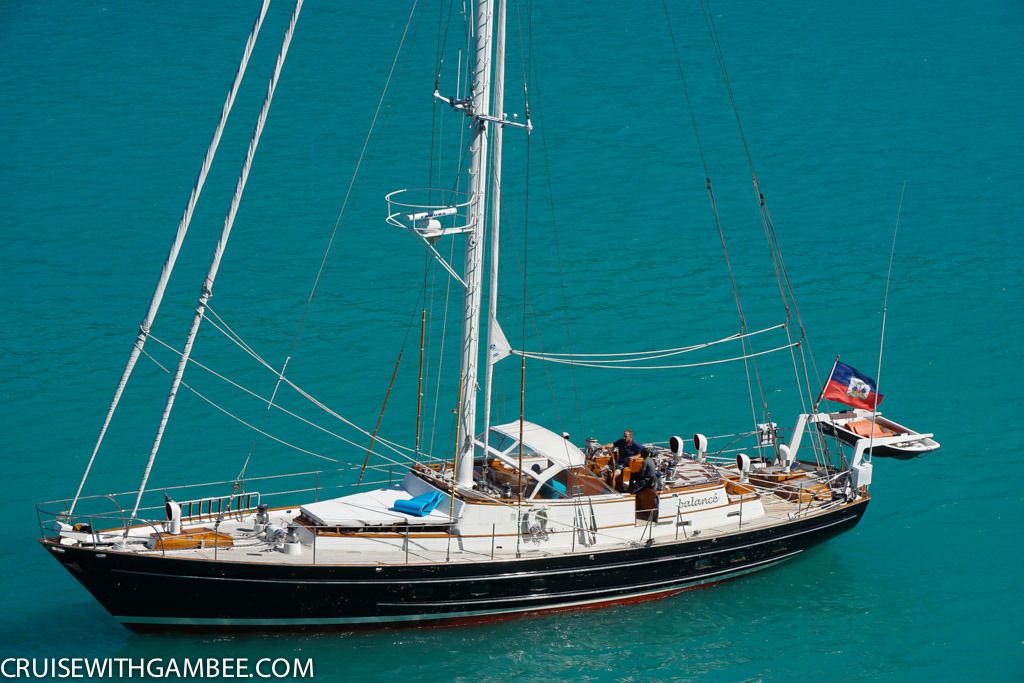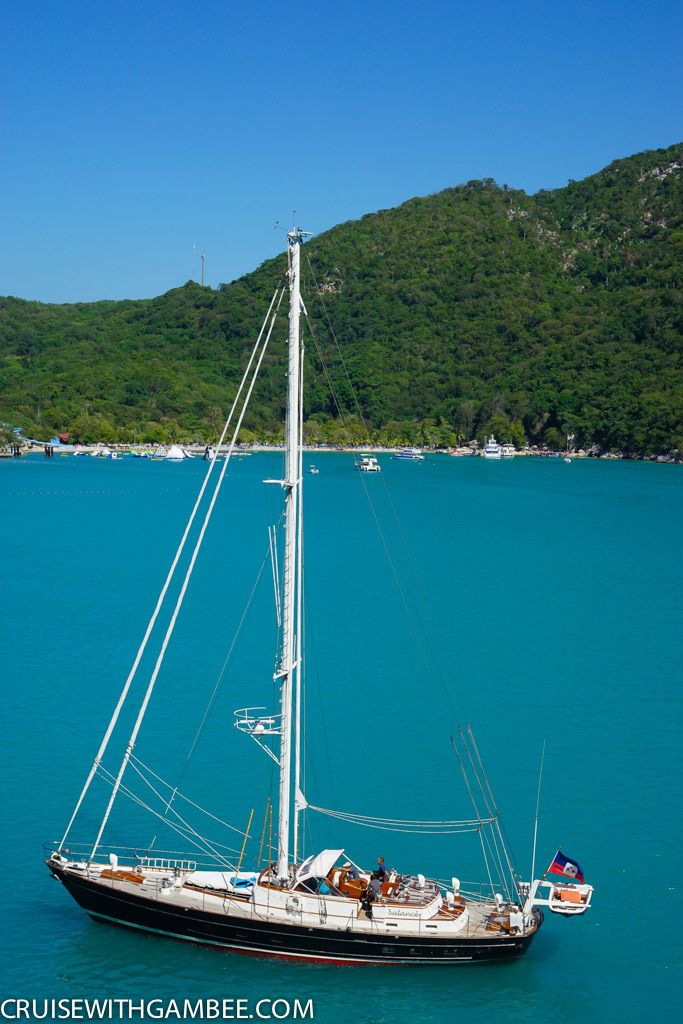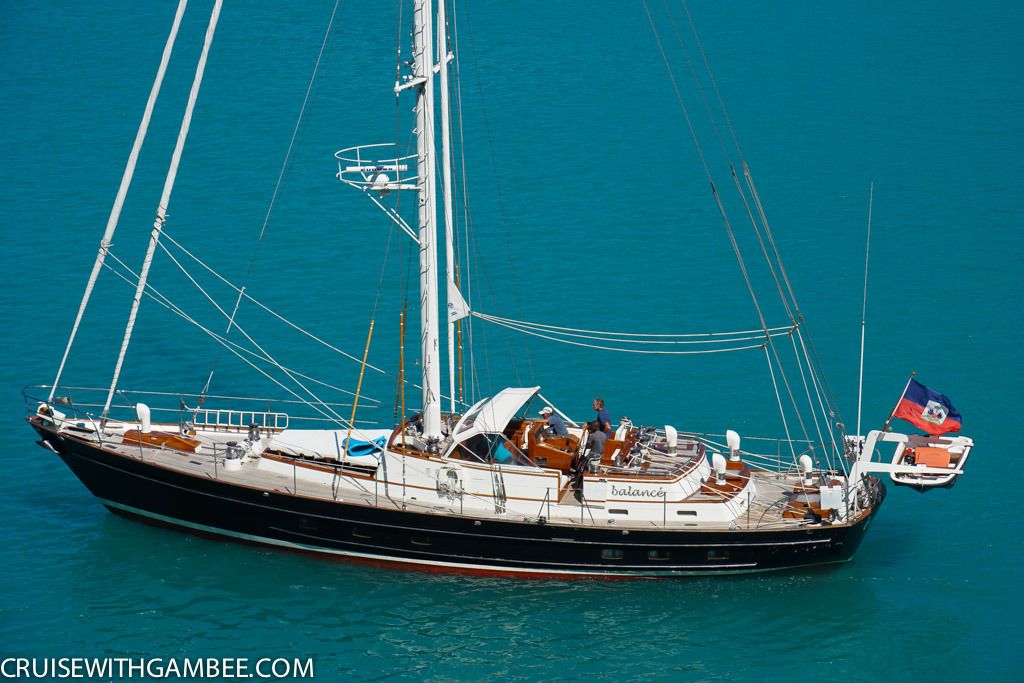 I wonder who owns it, I think it is privately owned, and they are just here temporarily?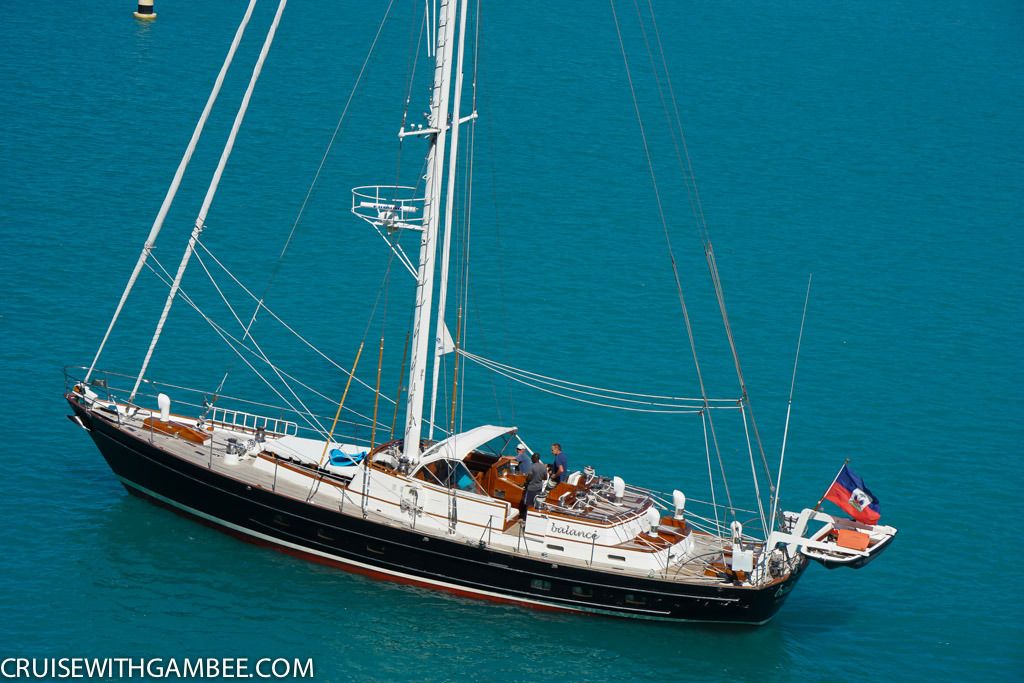 Just one amazing vessel!
Our neighbors came back and smoking again, until then we had made no complaints about them. I am not sure why, I really don't know. I was still coughing, but I was blaming that to me being sick. Like I said, until then other than their smoke, there was really nothing wrong with them.
Then it was time to leave.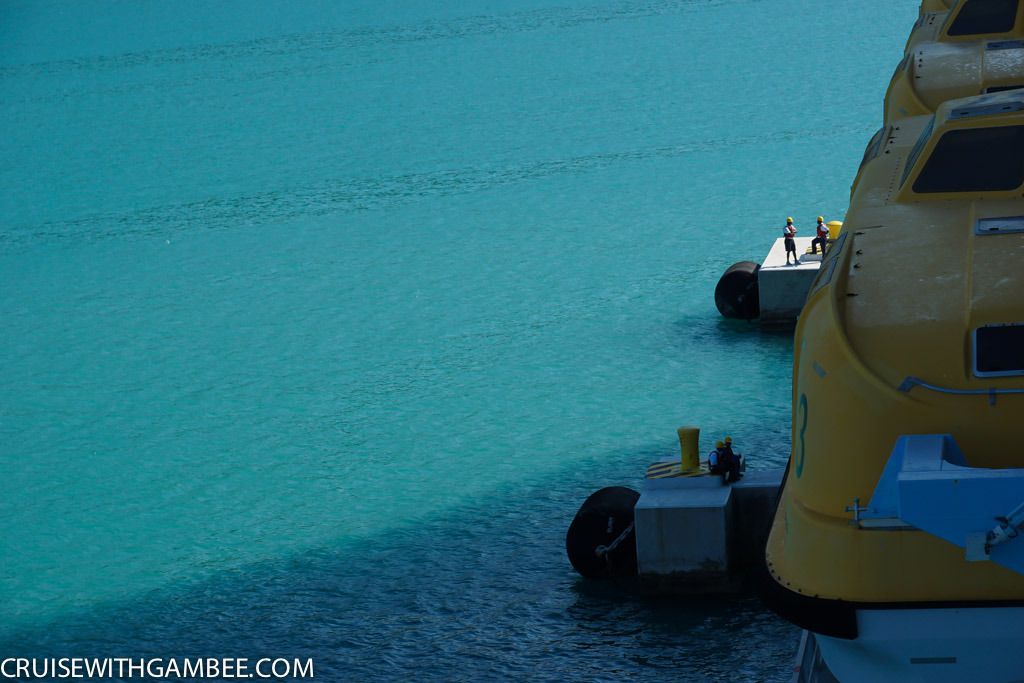 LOVE THIS ONE.
I wonder what she was thinking about?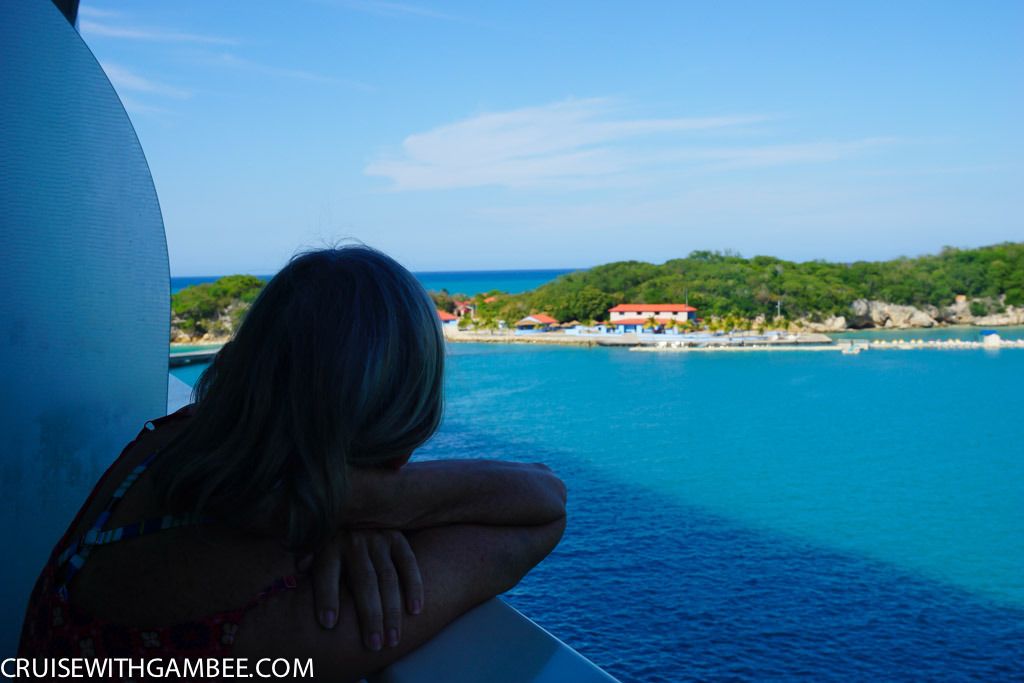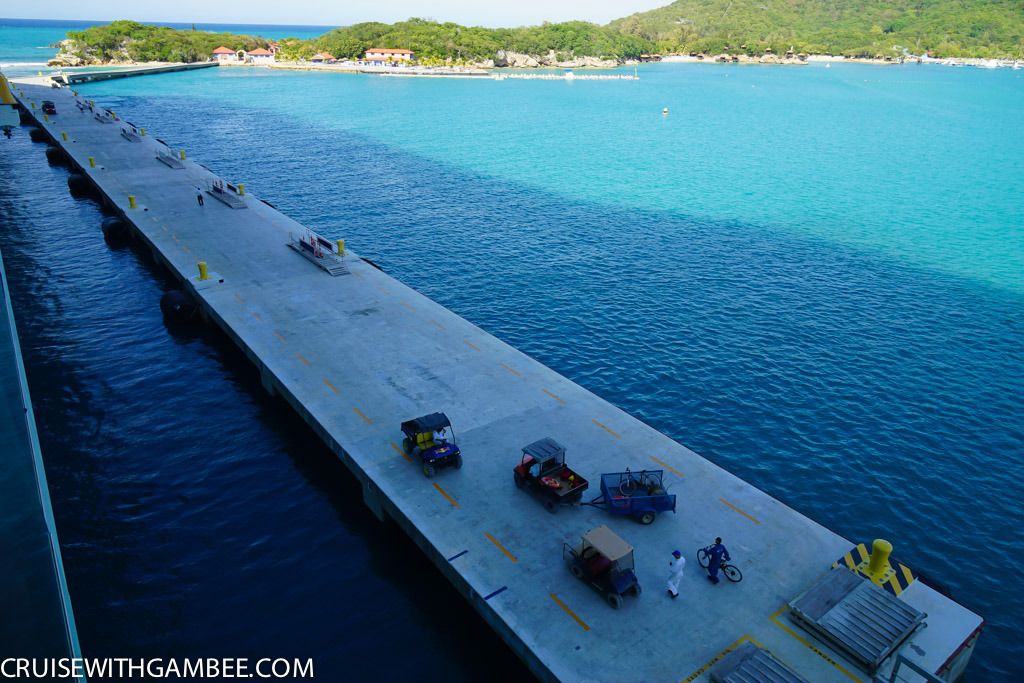 Farewell Labadee, until next time!