We could not be more happy in our new room! Thank you Juan, although I wish RCCL got their act under control!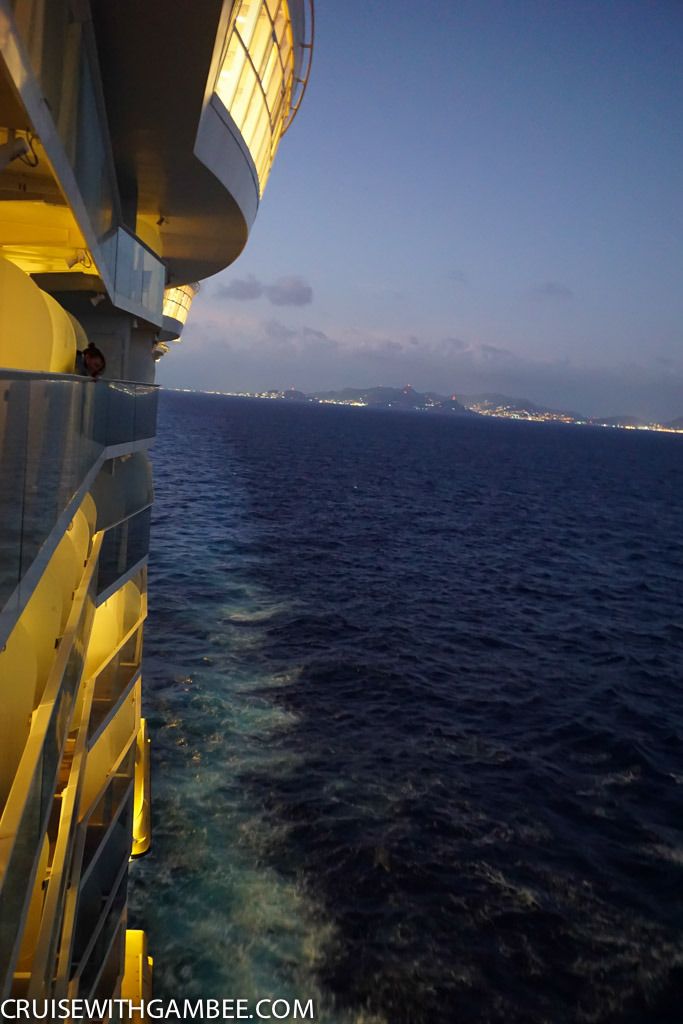 Perfect drying spot for my cap.
We got ready and set off to go to for dinner. Before dinner we went for a little walk around the stores.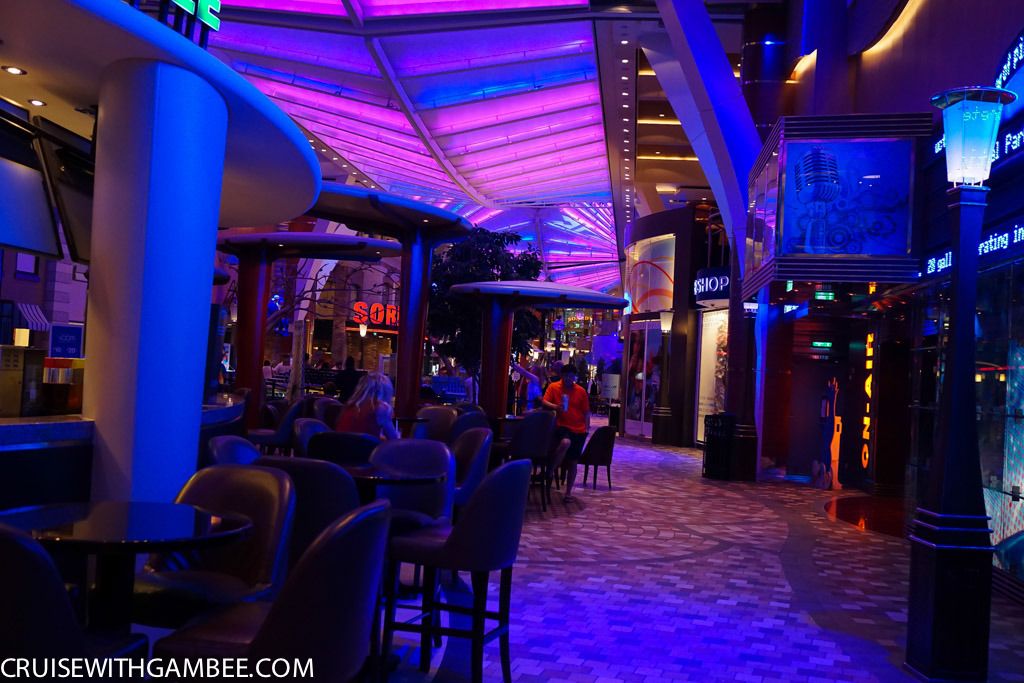 Just look at the view from there.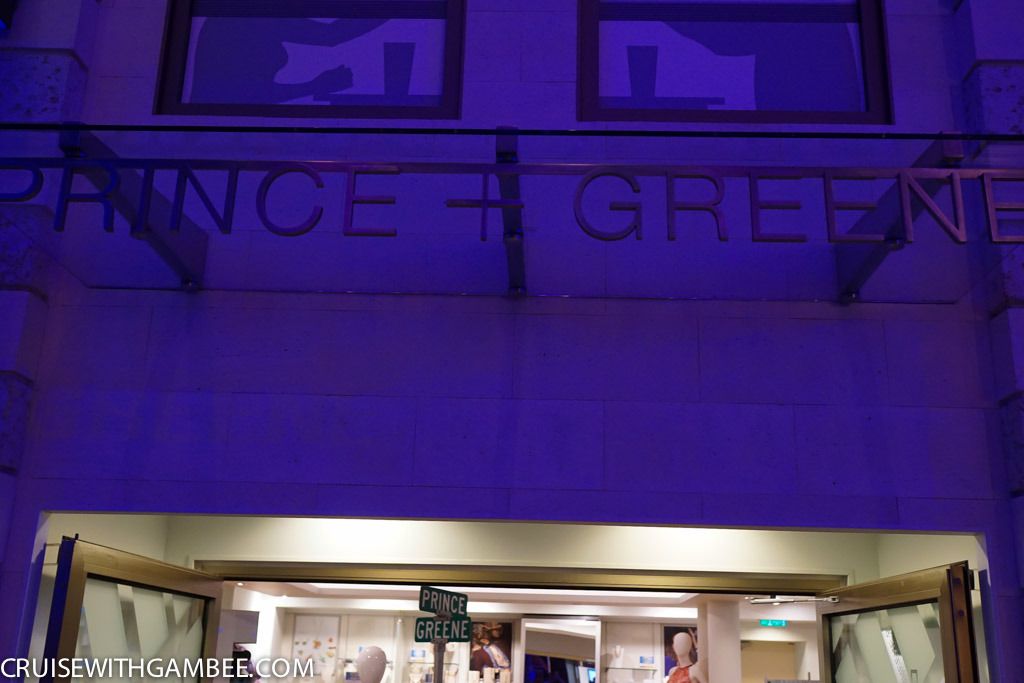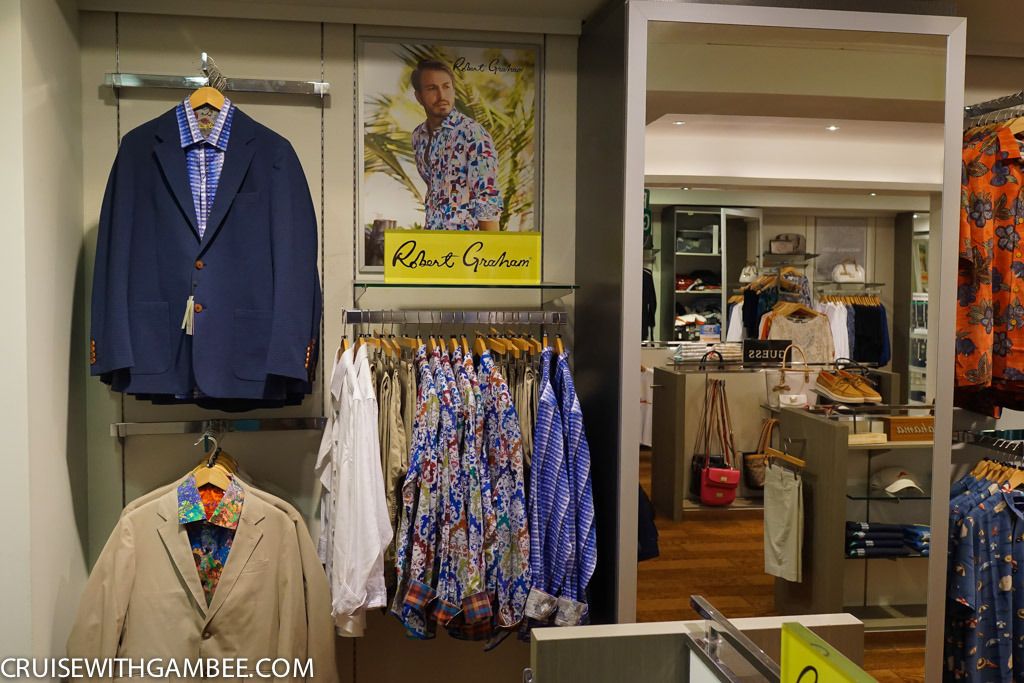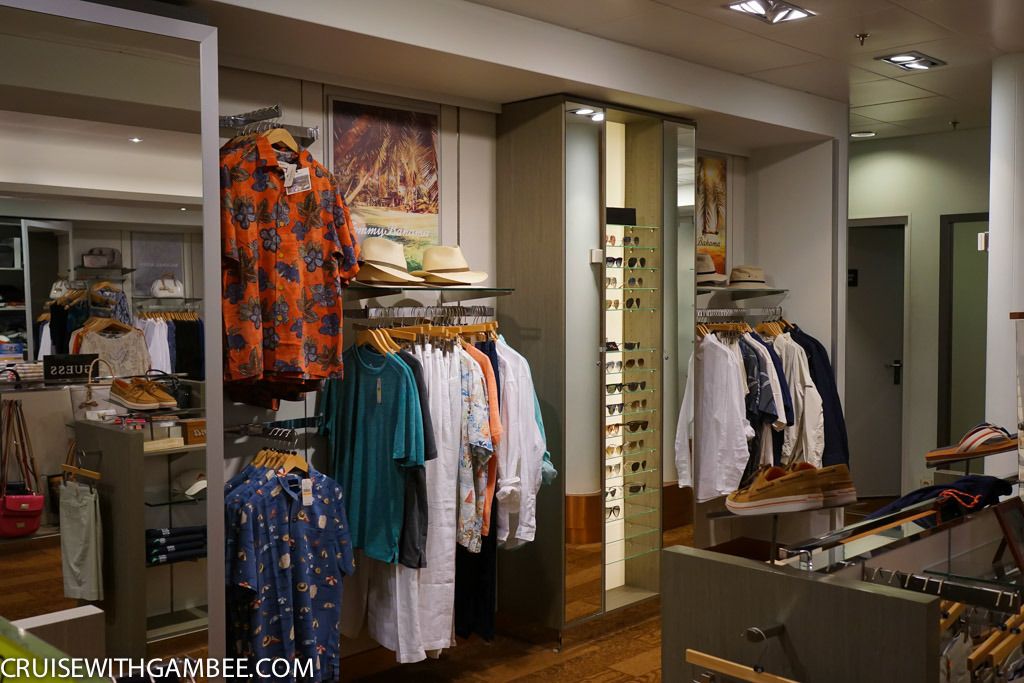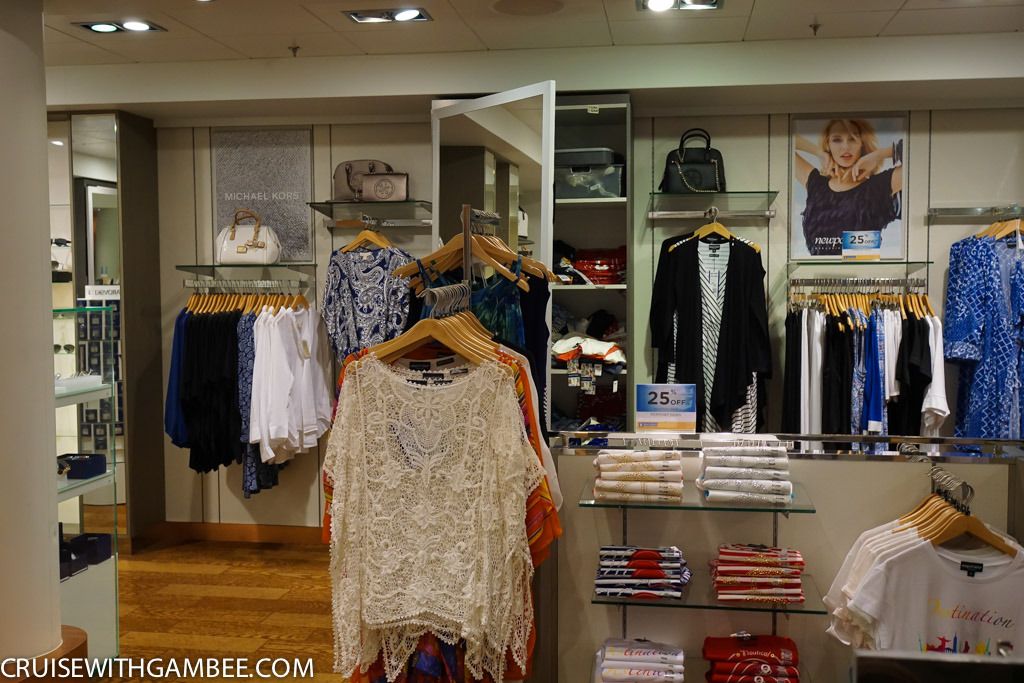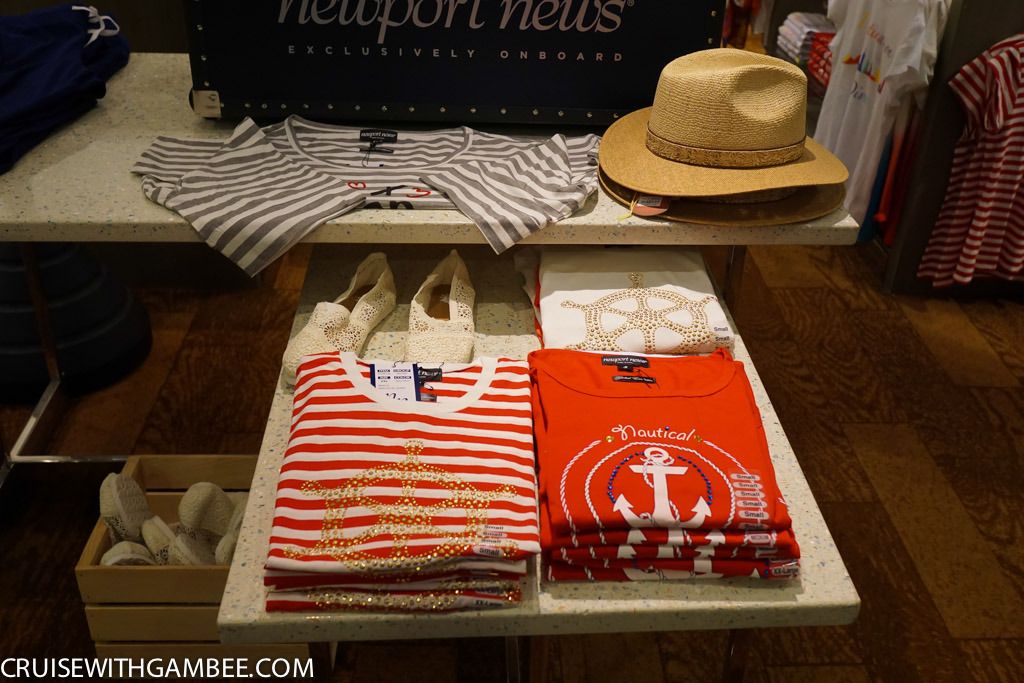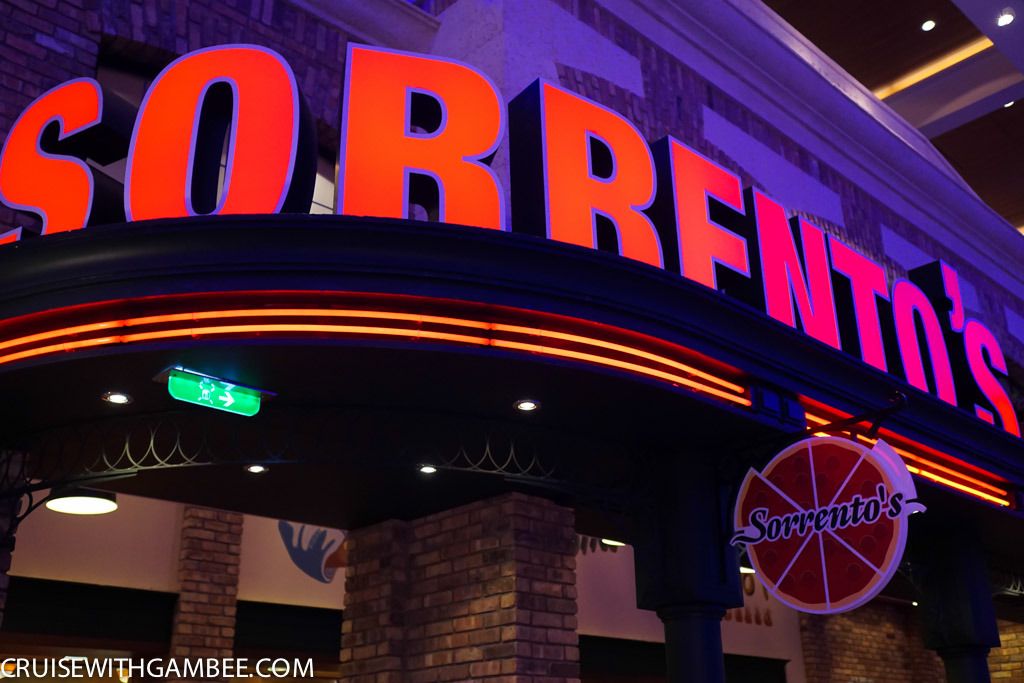 The best 24hr cruise pizza I've had is on Carnival, it is just a shame that the lines are so long most of the time.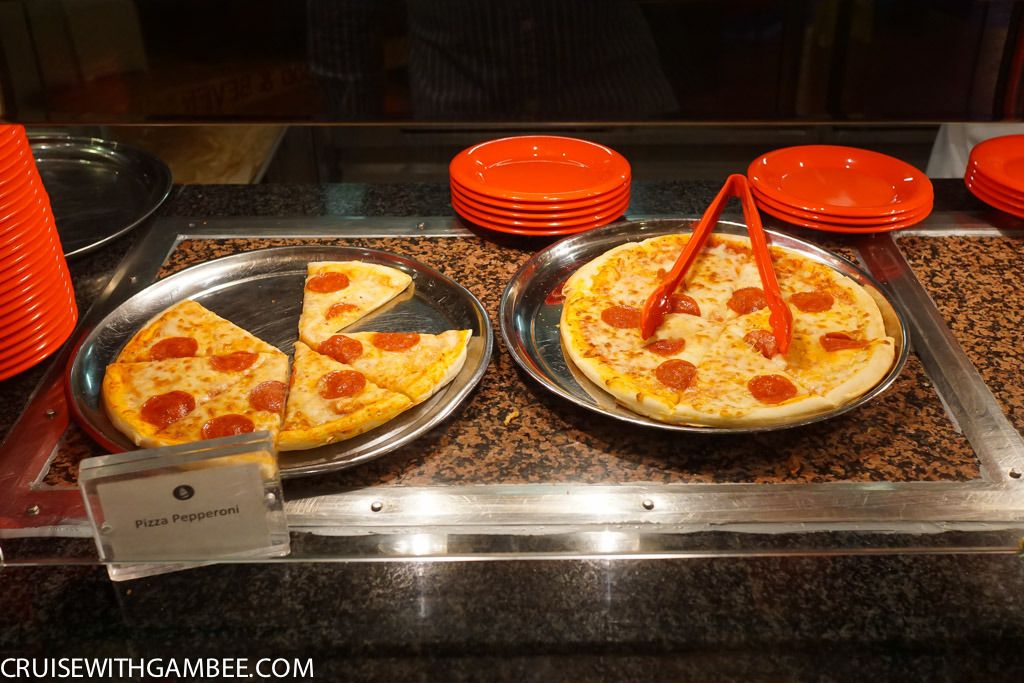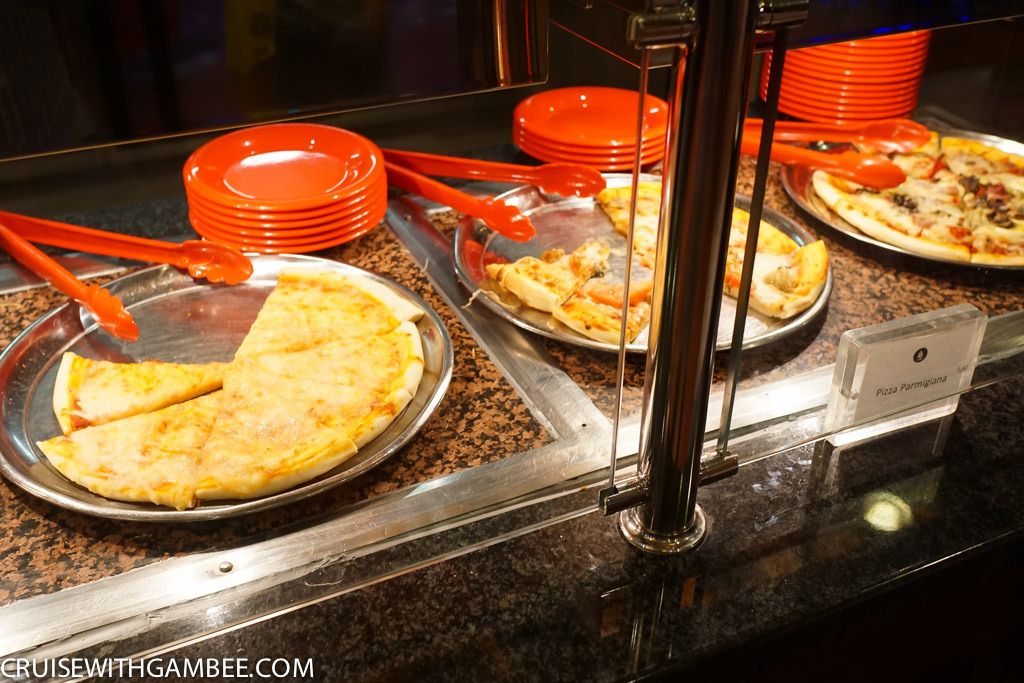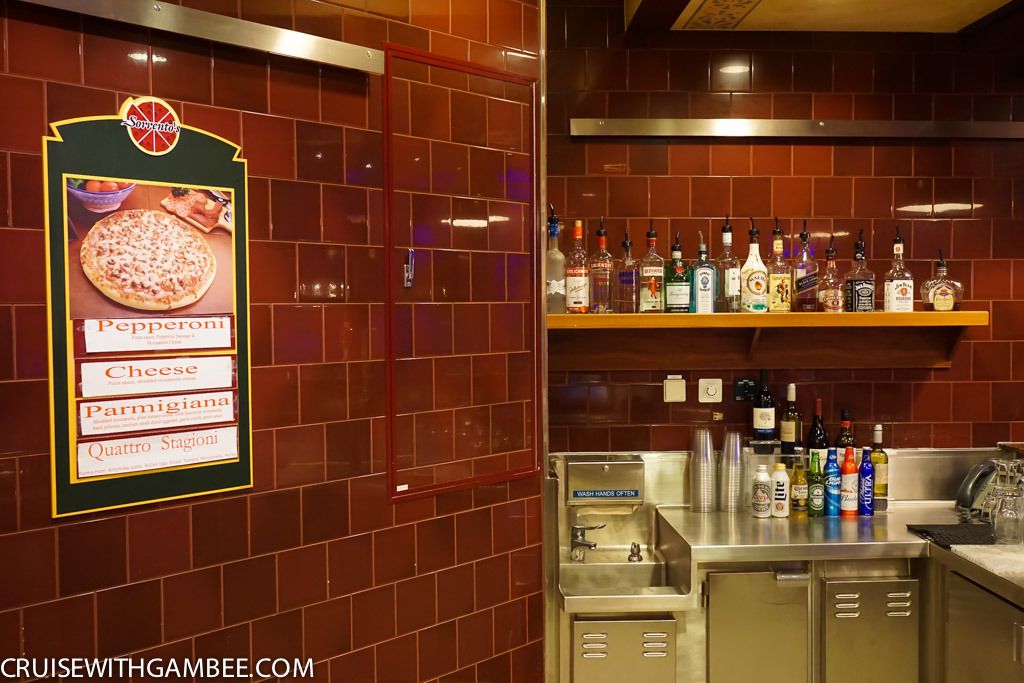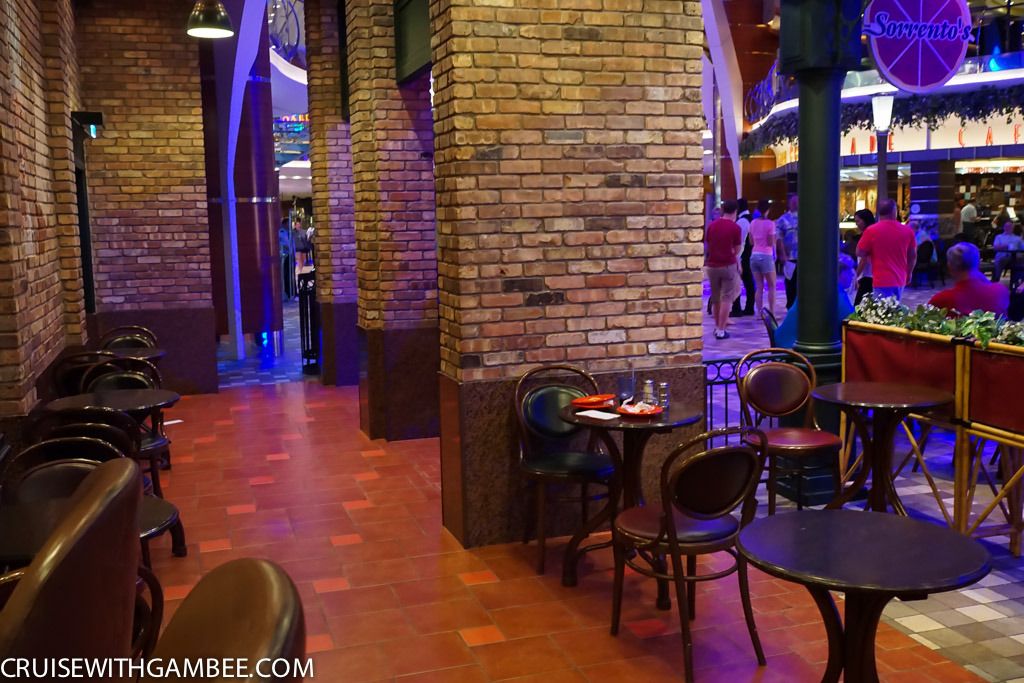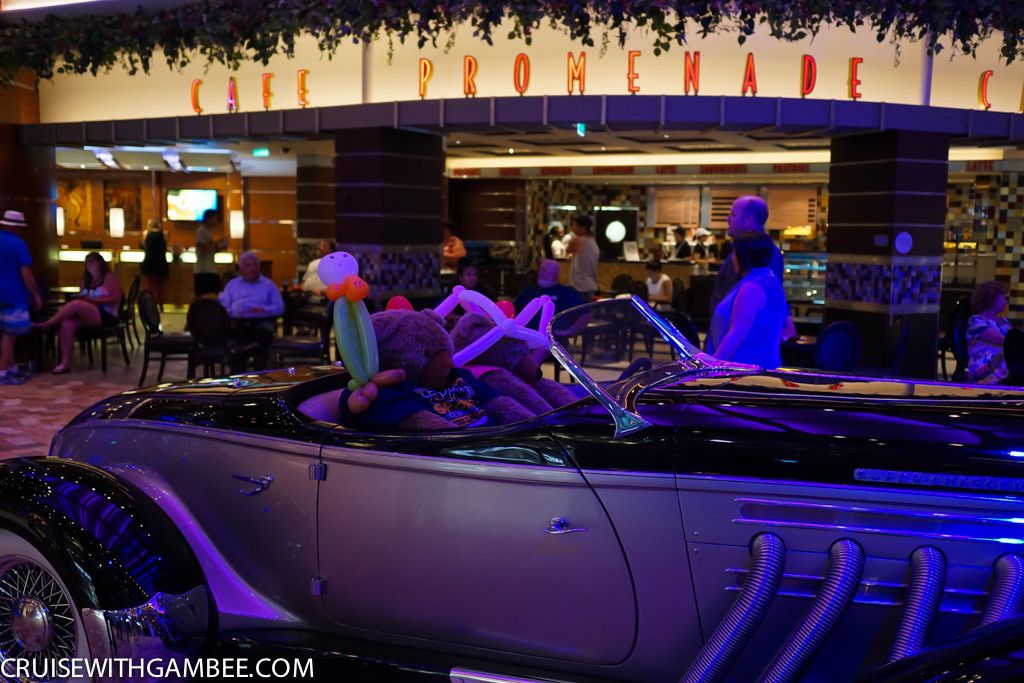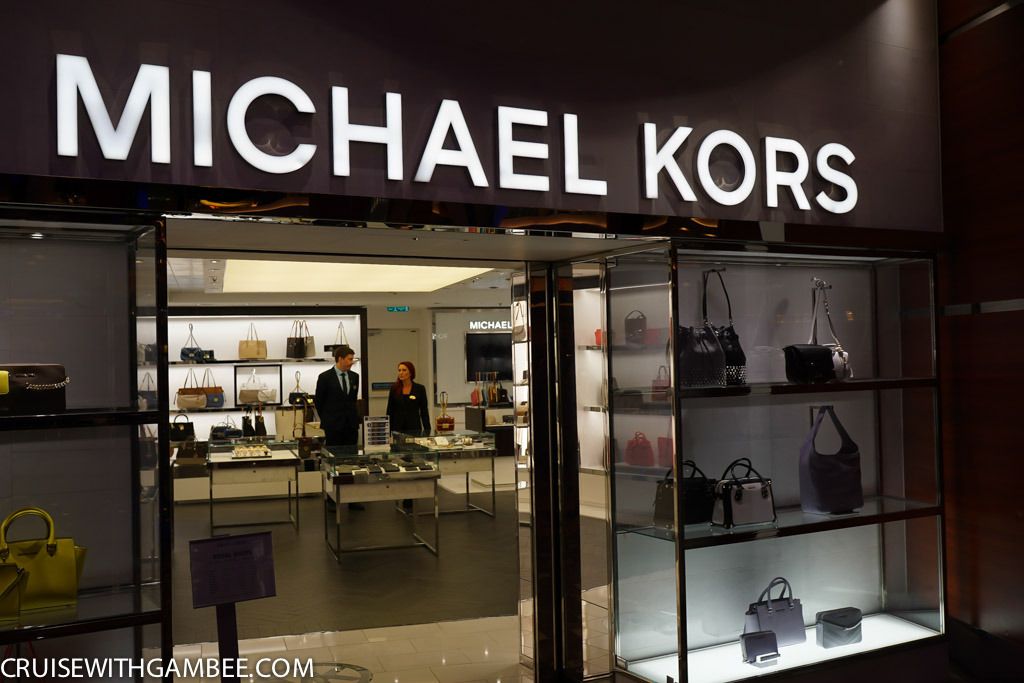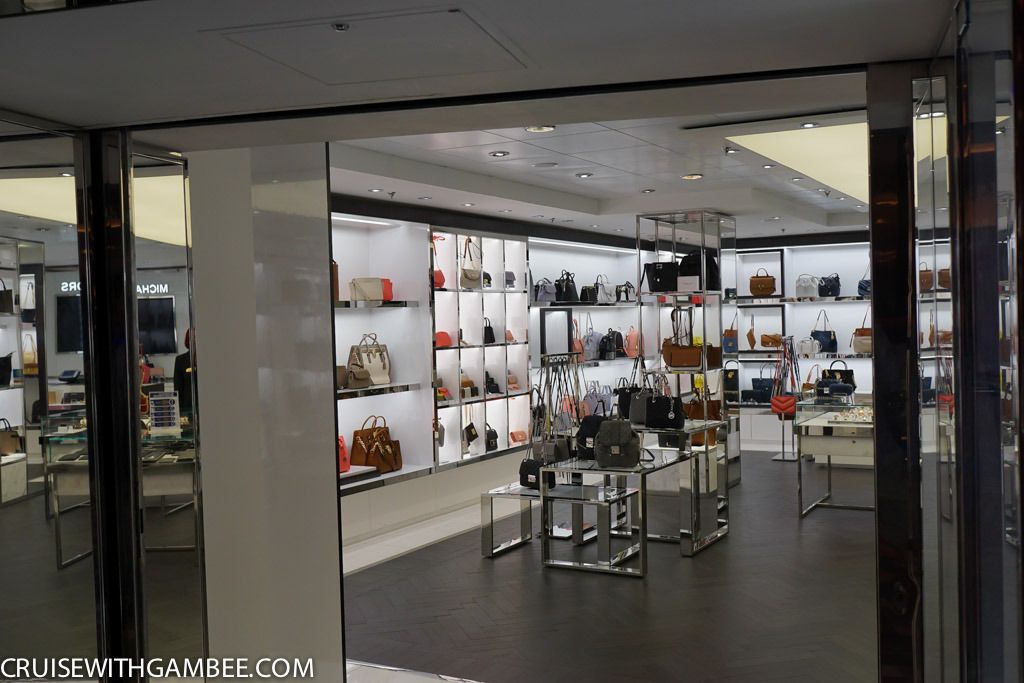 The bar was getting ready for another run.
I really LOVED the art on this ship!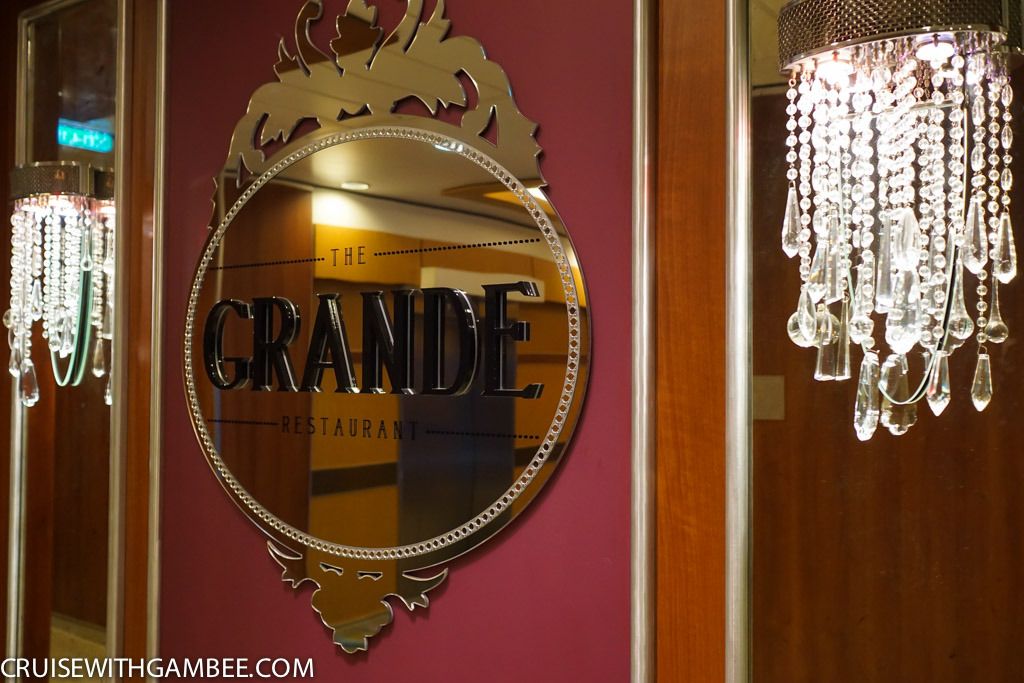 Our plans for that night was to go to Izumi. Just so you know we got lucky and got a seat. But I highly recommend that you make reservations. We had none.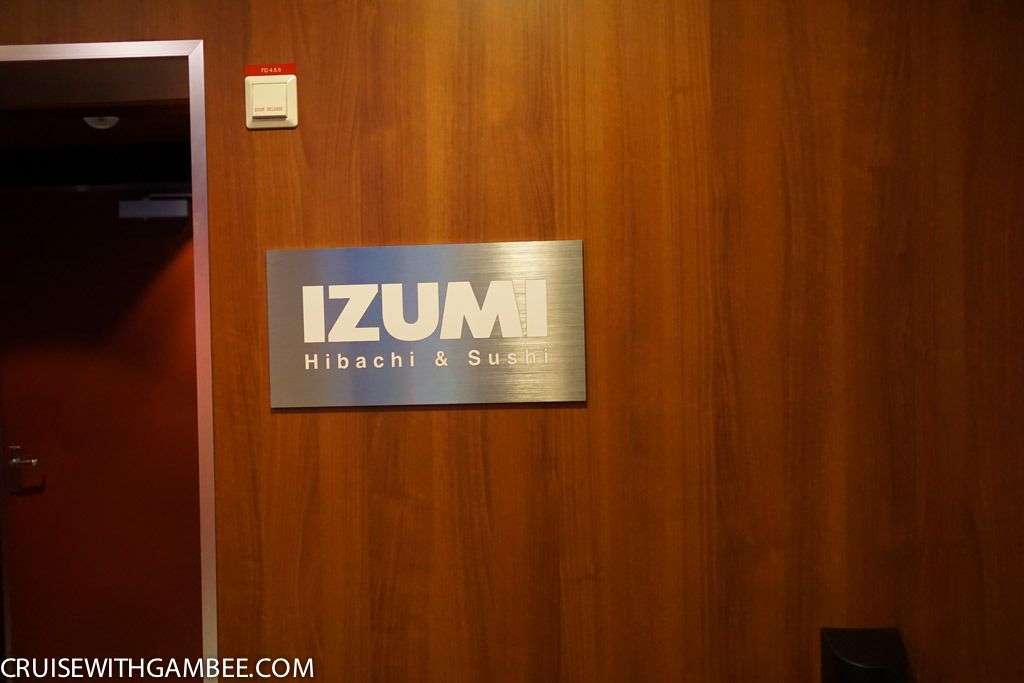 Hibachi there is done in two large tables, and it is INSANELY LOUD!!! I would say that it was never this loud on NCL. And if you're not part of the Hibachi table, it can get annoying. And is coming from someone who couldn't care less about noise.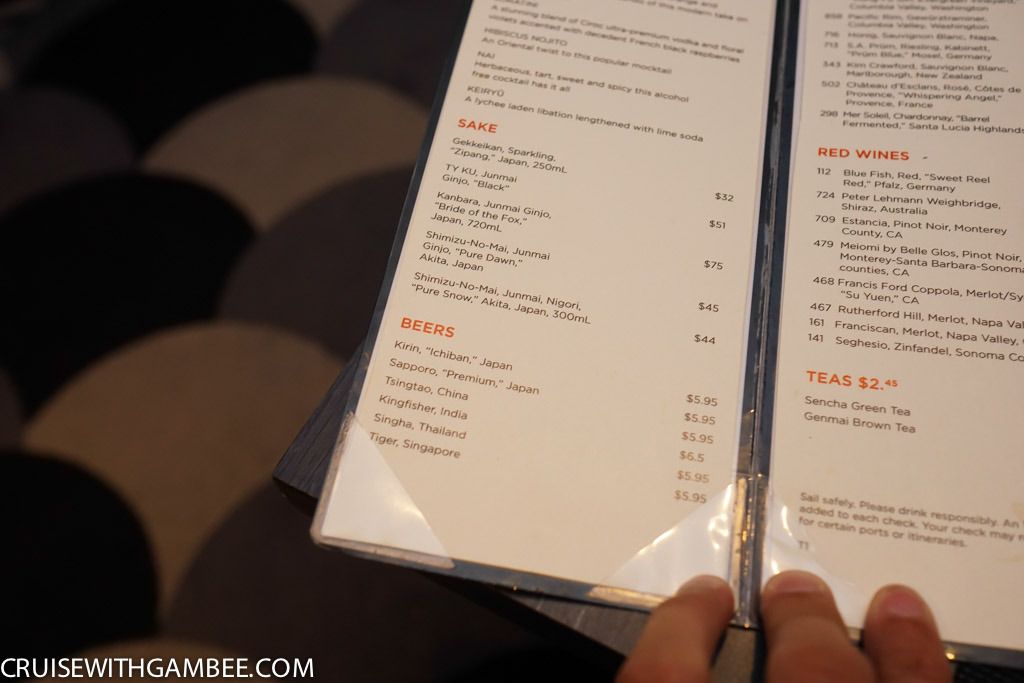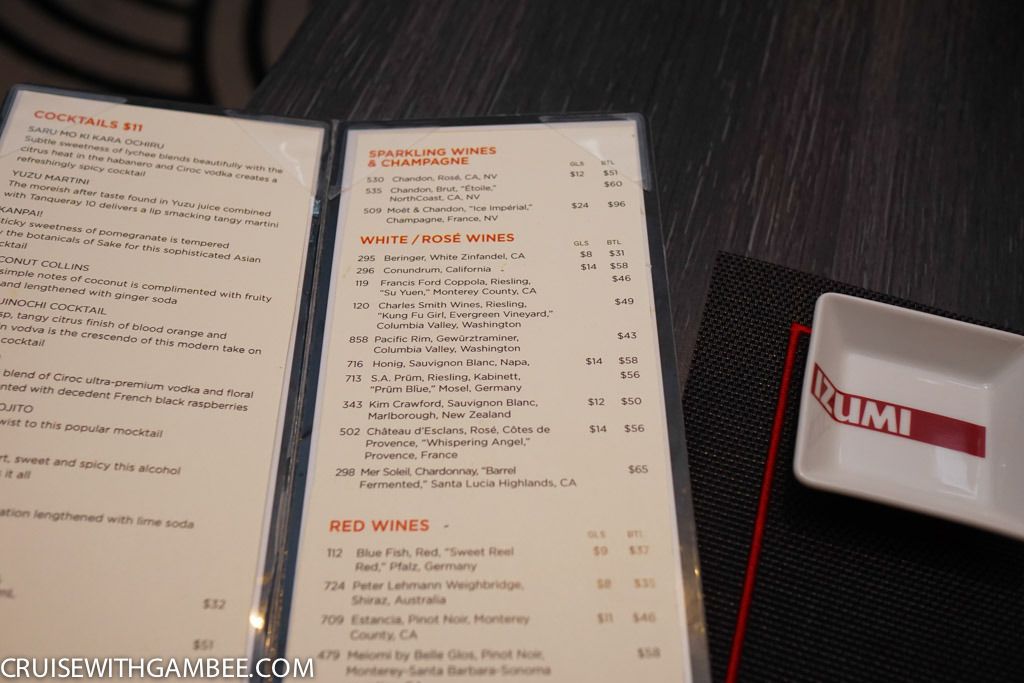 Make reservations! The restaurant is fairly small.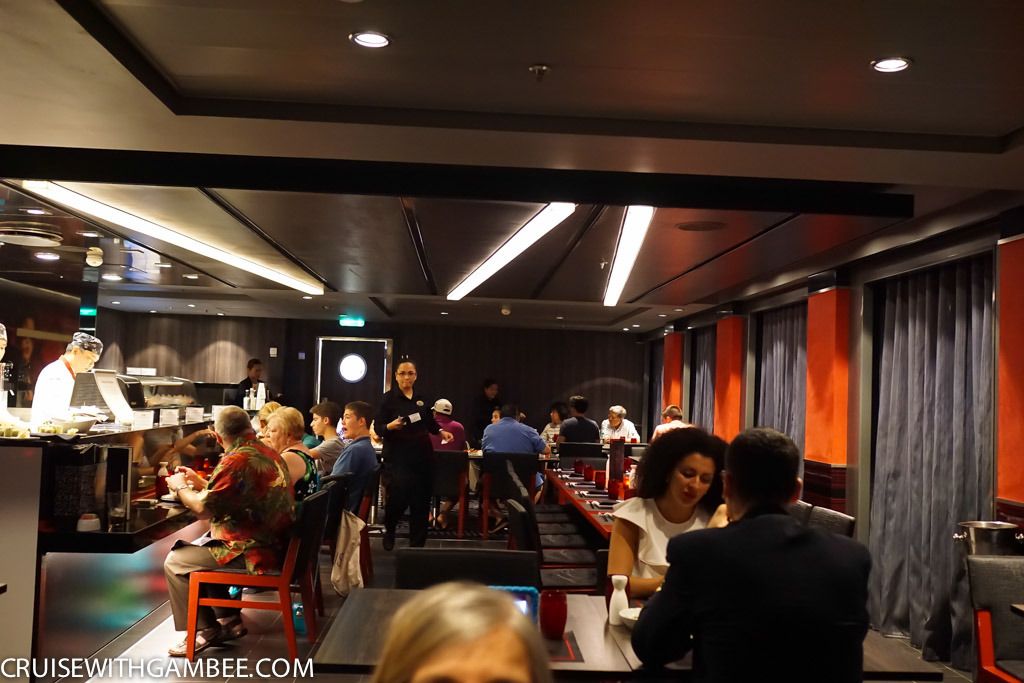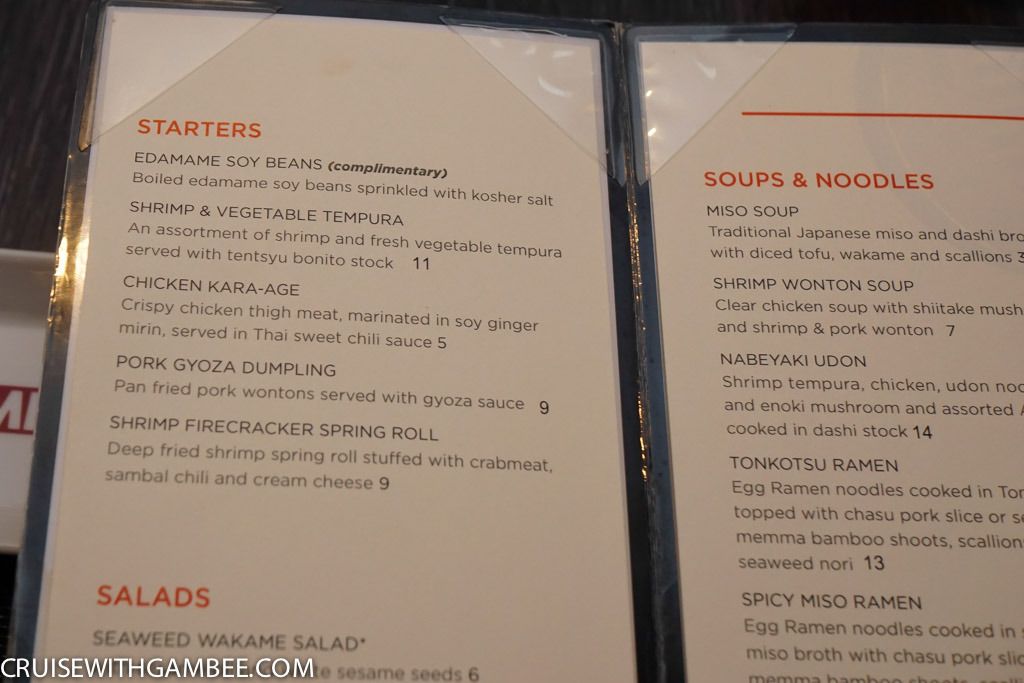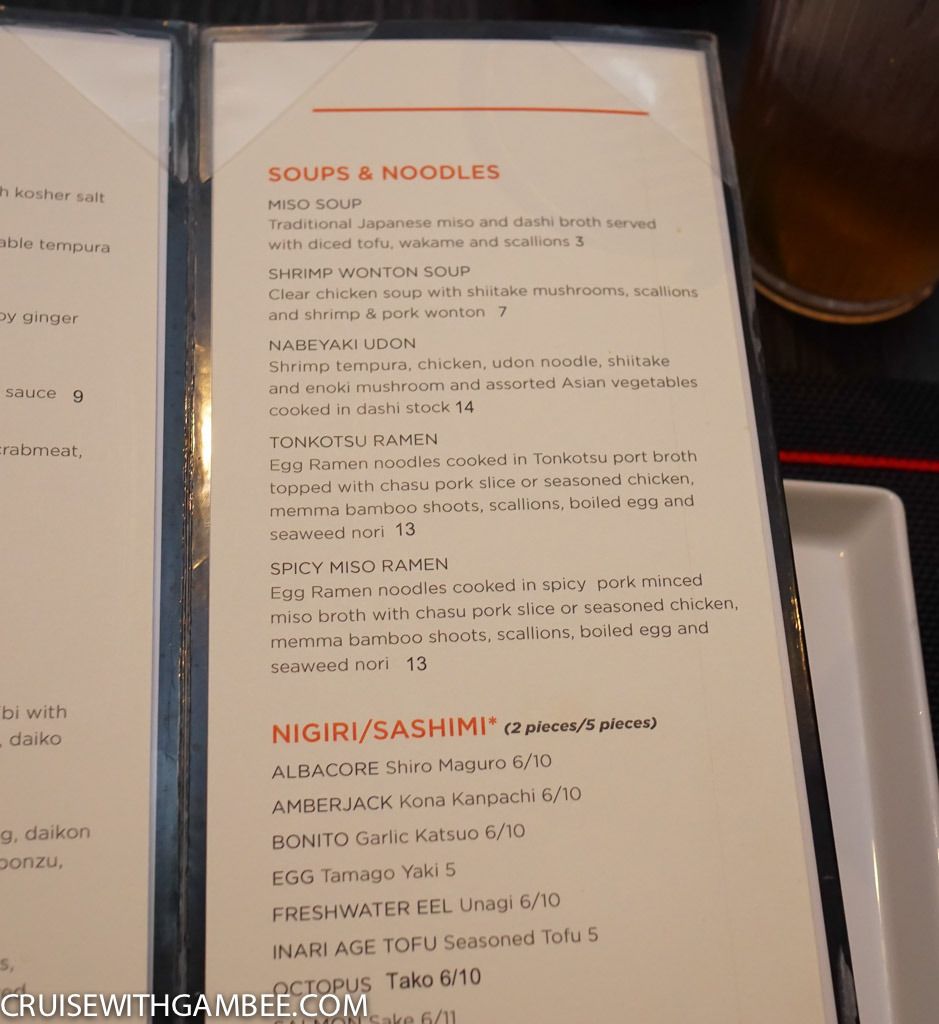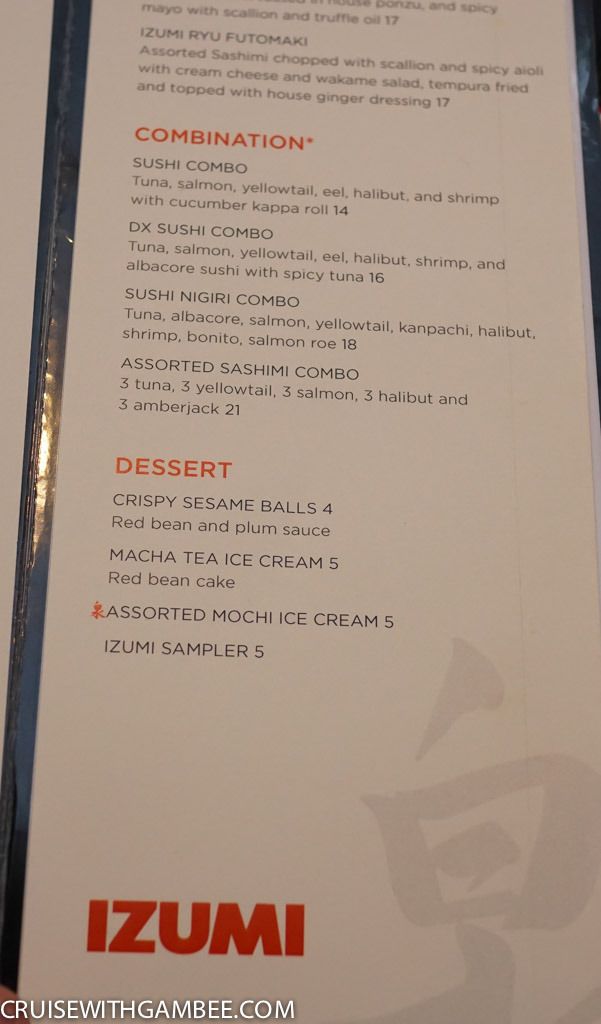 The hibachi table is right there.
Planning for the next day. They give you complimentary edemame.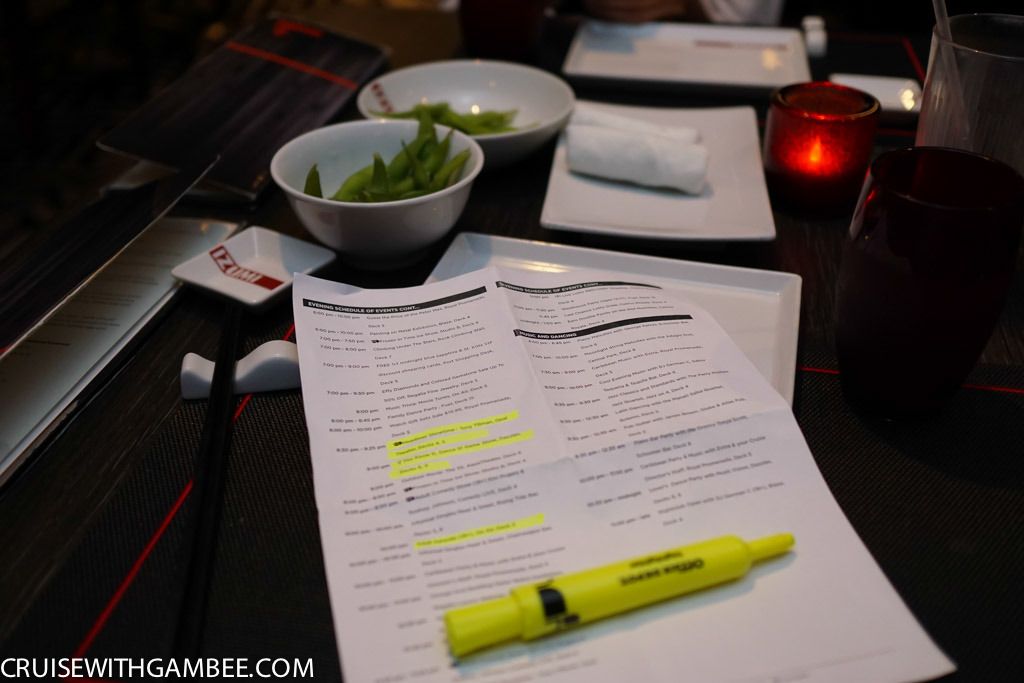 They turned a lot of people away.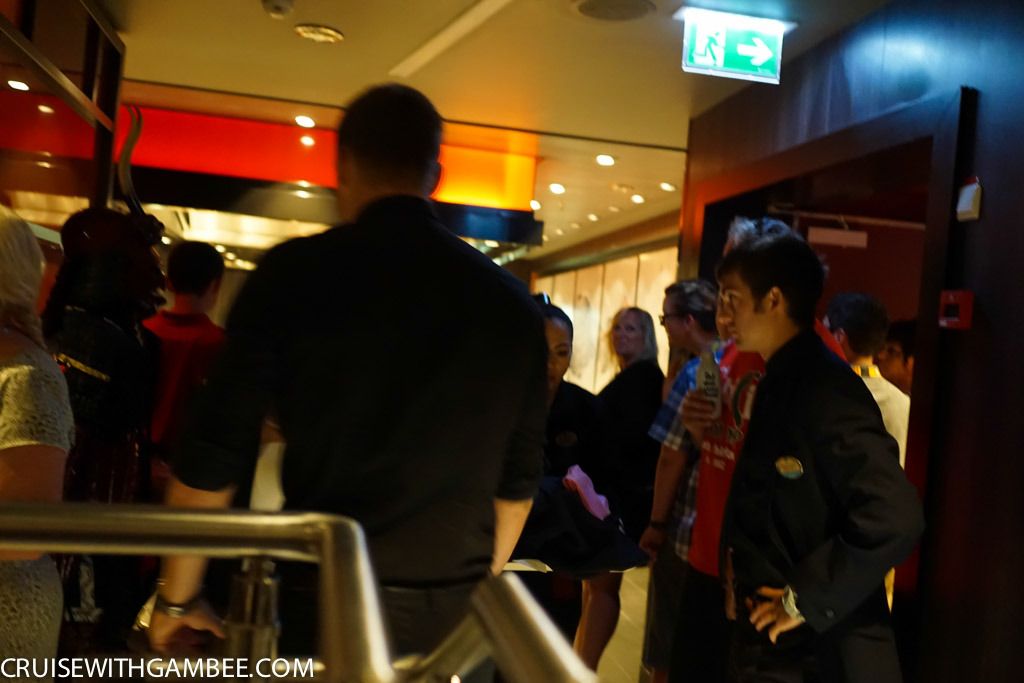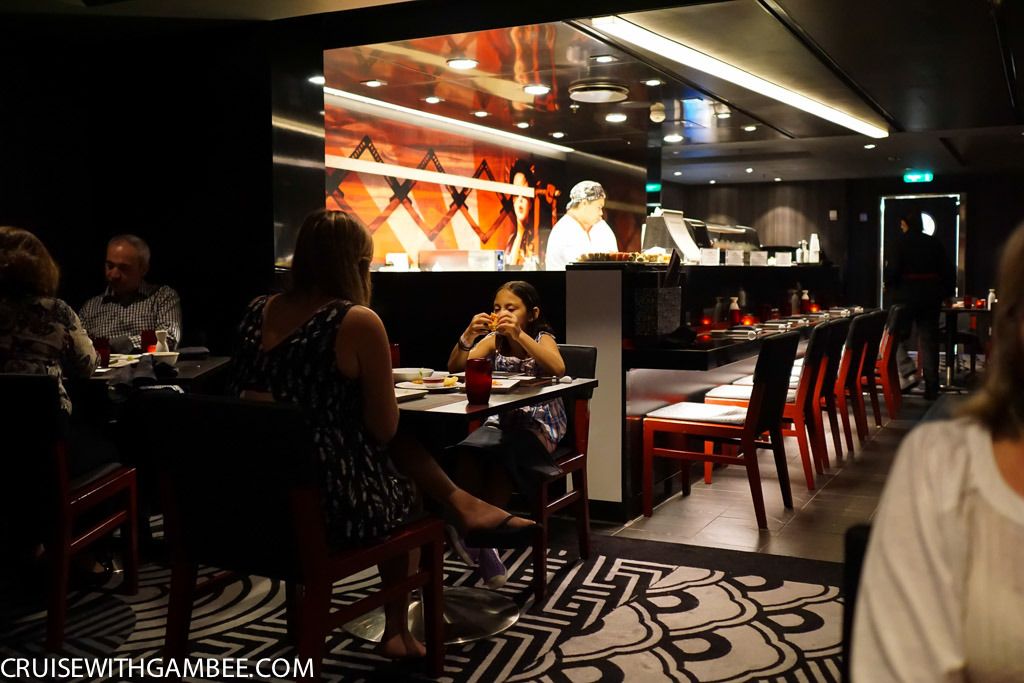 Service was kind of slow and unorganized. Tables who were sat way later than us got their orders taken first, same server. He kind of seemed out place, and I also think they were understaffed.
I got mom a wonton soup. She said it was good. She loves her soups.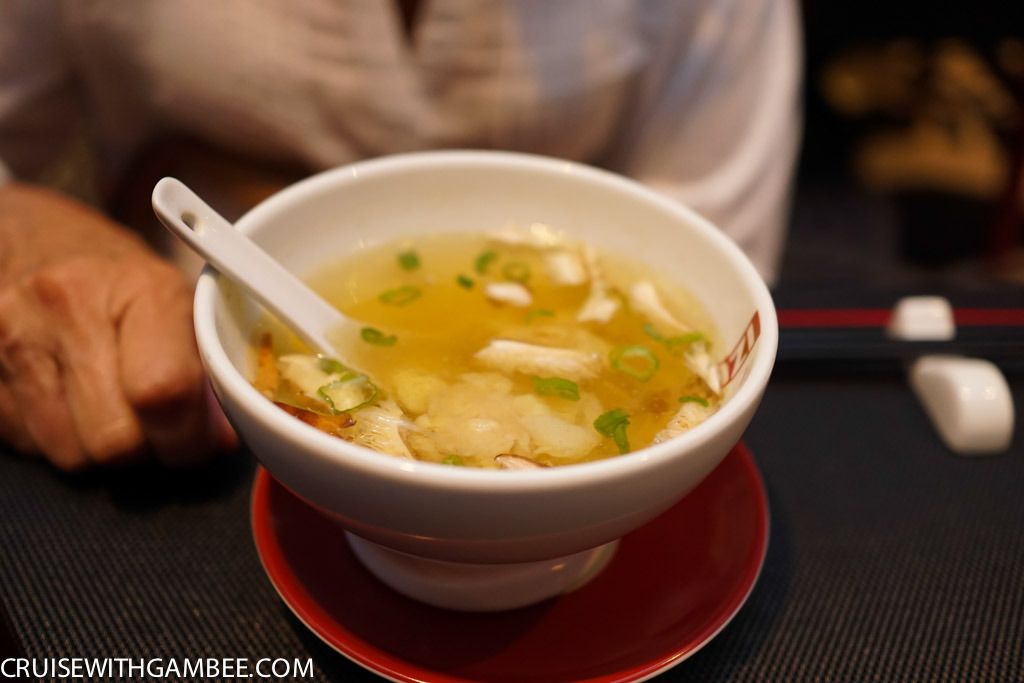 I got some shrimp firecracker spring roll. They were ok, I kind of wish I got something else.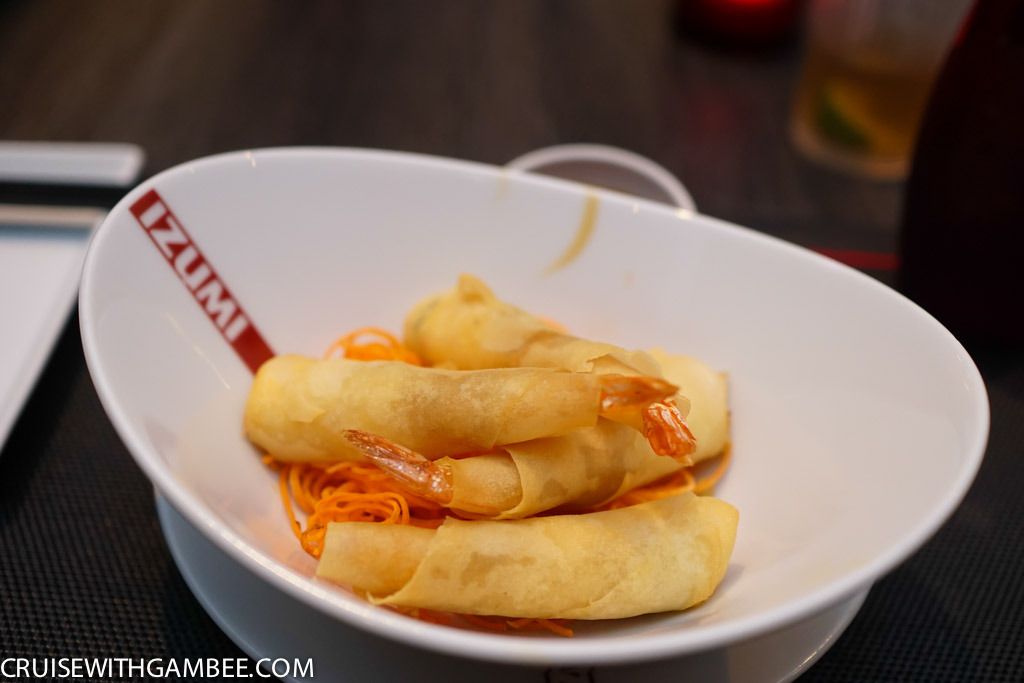 The appetizers took so long, that I told him to bring the rolls as soon as they were ready. He brought them out immediately. That was a good thing. I actually think he might have forgotten to put our appetizer order in, or maybe it got lost in the system.
The champagne lobster roll in Zuzu Wrap. Lobster? Where? I mean I guess it is there, but this roll was a bust. Mom did not care for it at all, what a shame I basically ordered it for her because of the lobster. I ended up eating most of it, but it really had little to no flavor at all.
The Truffle Creamy Lobster Tempura. I had this roll slightly modified. It is supposed to be with raw fish inside, but mom does not eat raw fish, and I wanted her to try both lobster rolls. So they replaced the raw fish with shrimp tempura.
This roll was better, this is the one that mom ate most. But it was still just average for my taste.
Was this dinner worth the cost? No way! I can get much better sushi on land, for much less than that. But we did enjoy ourselves. Now that I think about it, I am not sure why I took mom there. I think for that money we should have gone to giovanies, at least I know she loves the jumbo shrimp there. And the atmosphere is much nicer as well.
Oh well, lesson learned.
We had some time before our Frozen show, so we went to see the second show of the headliner show.
But first we stopped for some dessert.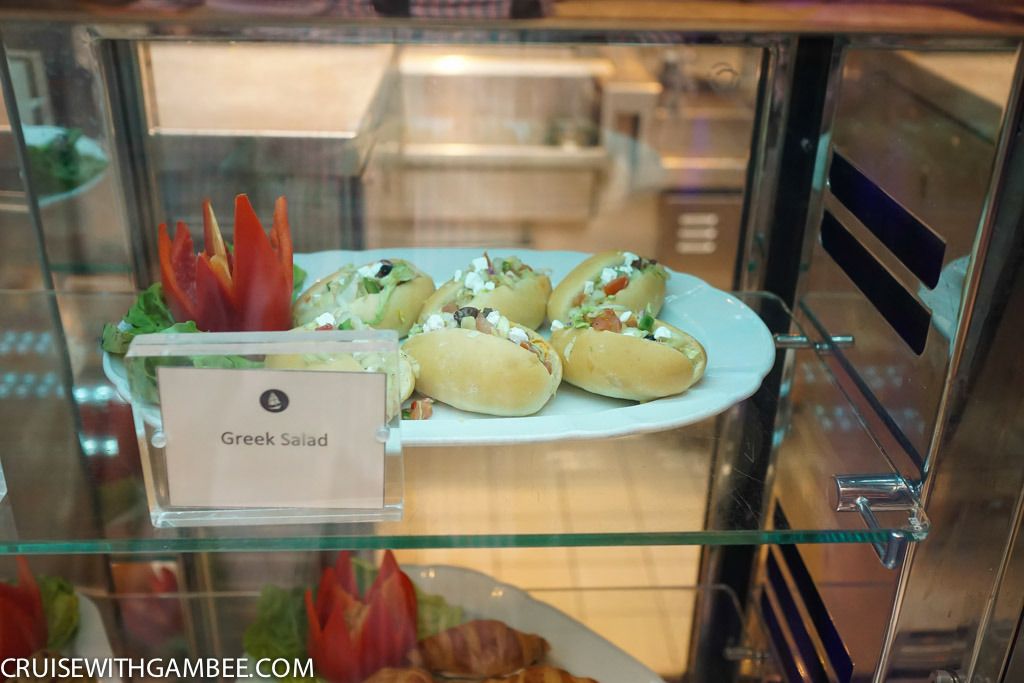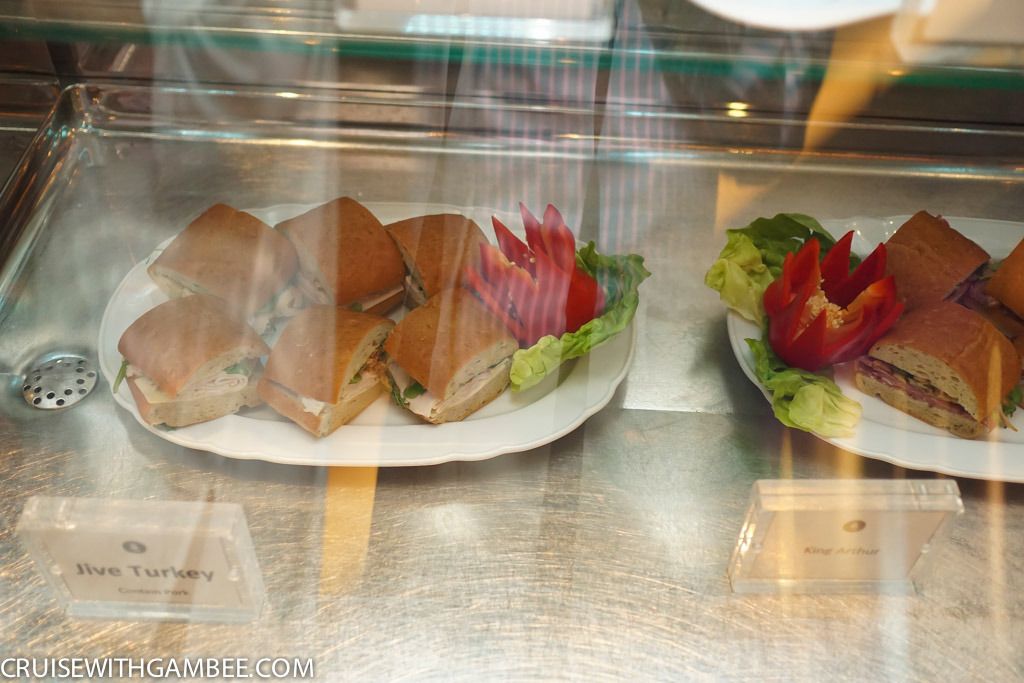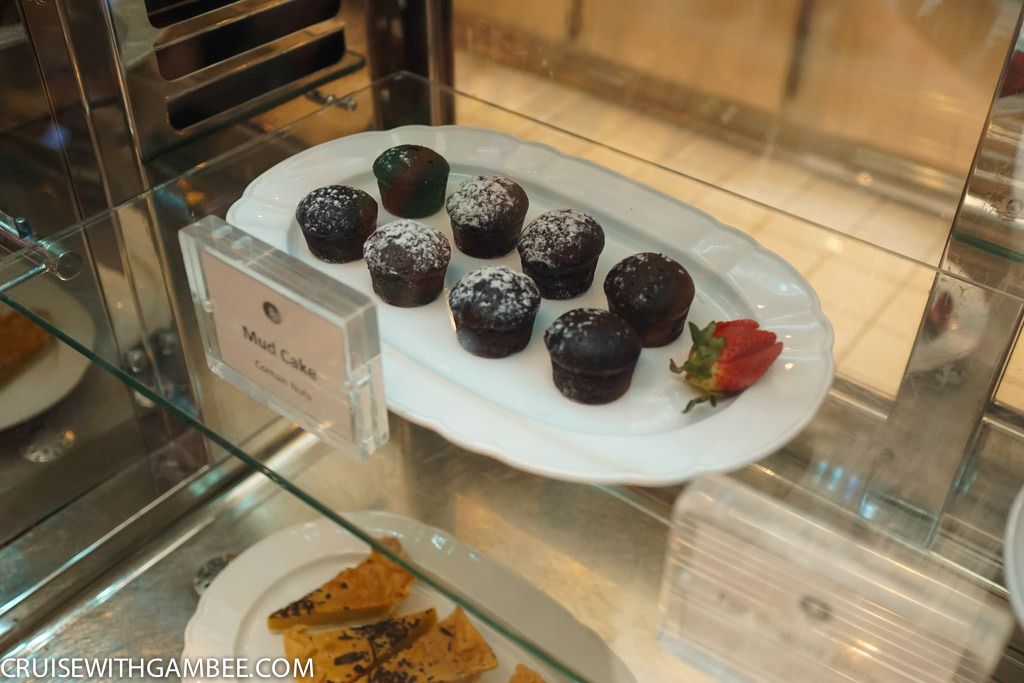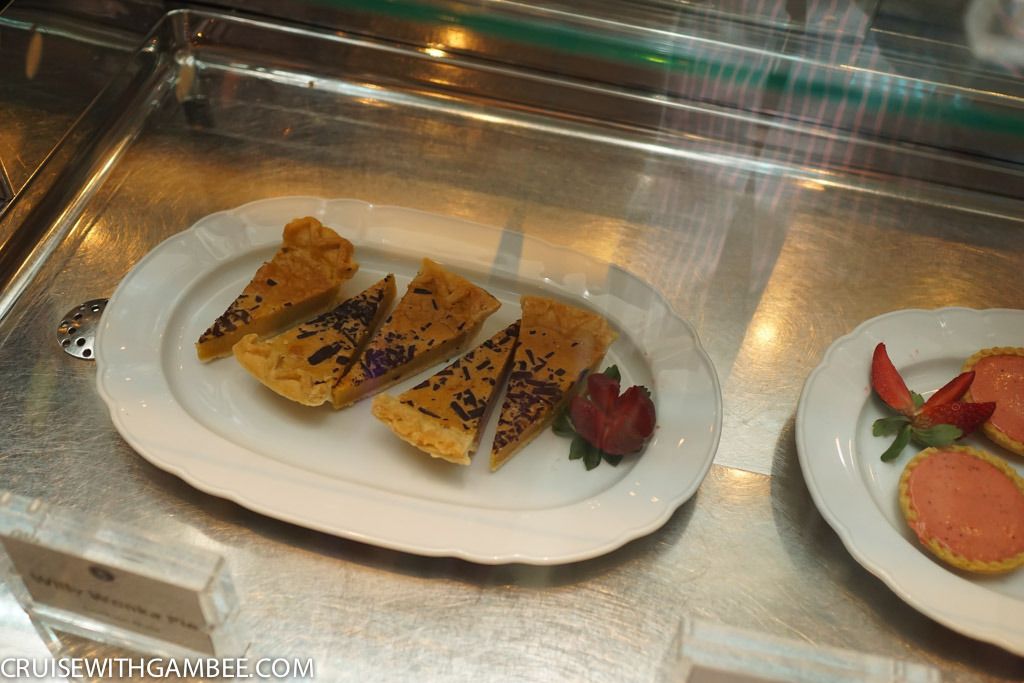 I got my usual and mom got the mud cakes.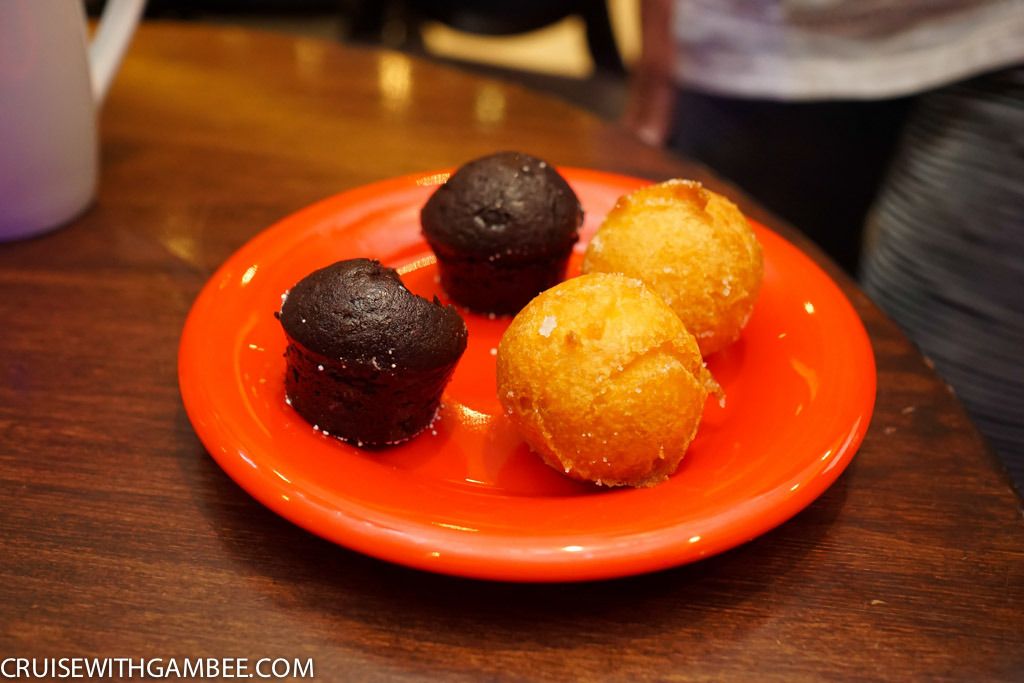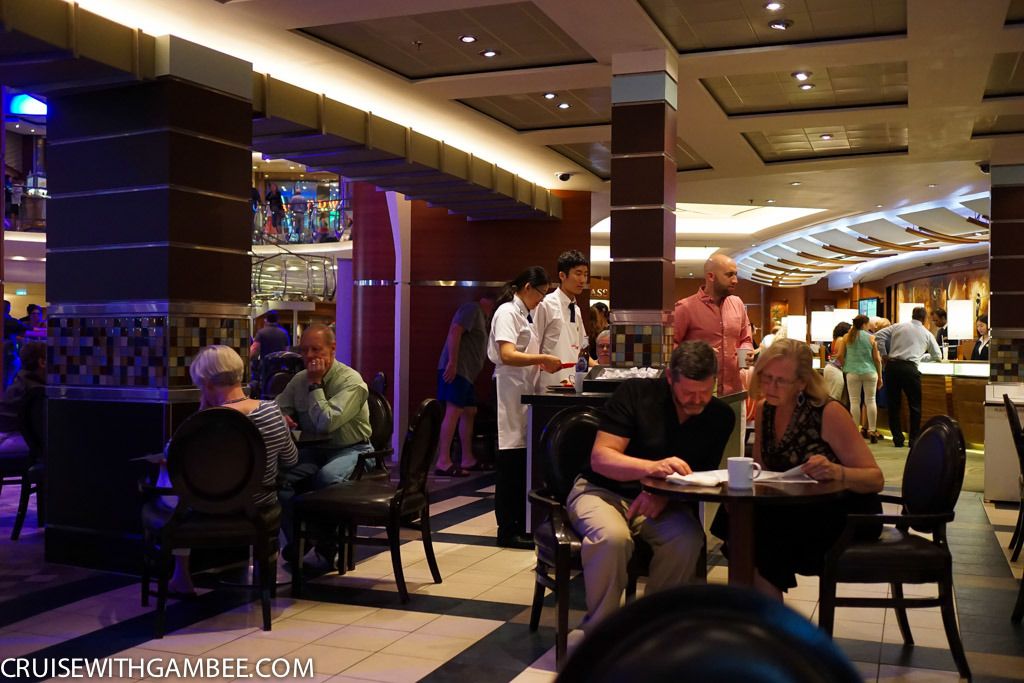 The headliner show was empty.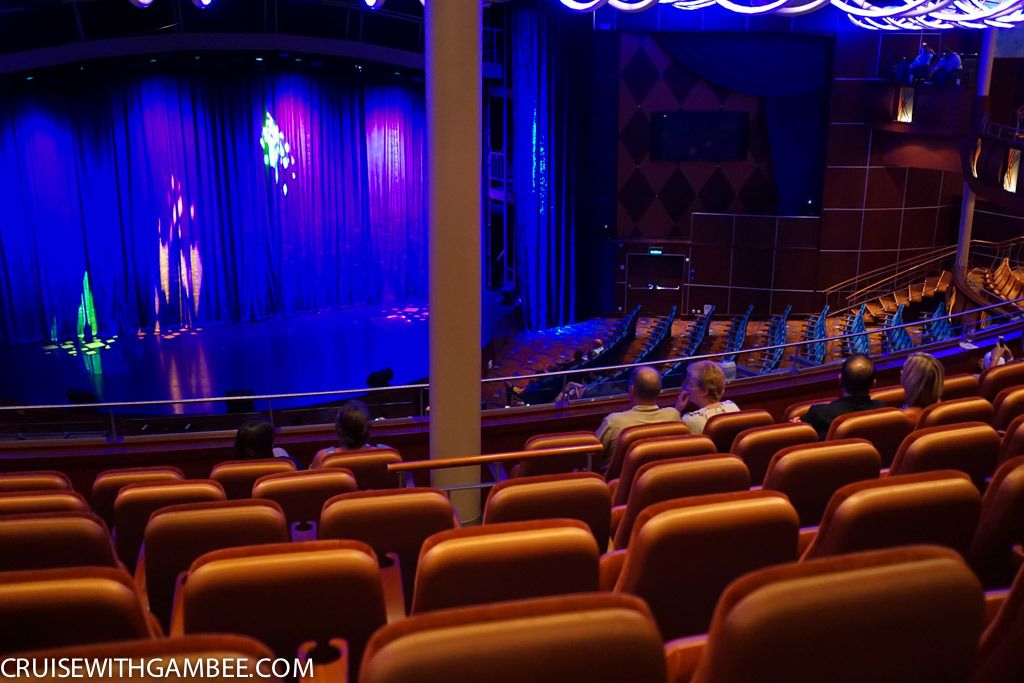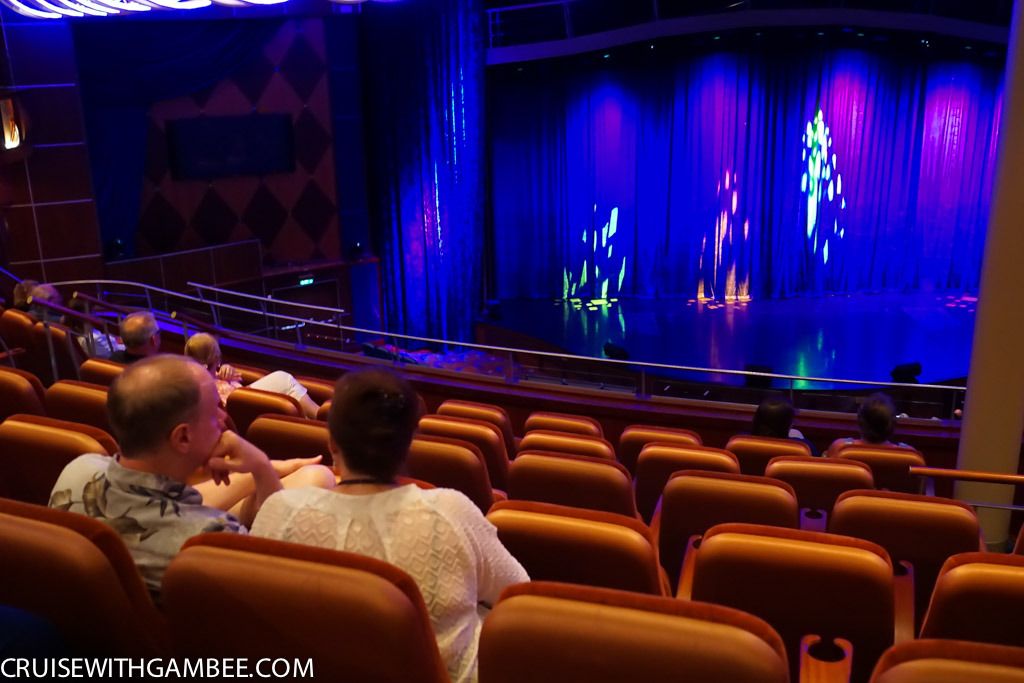 Mom said that he was much better than the other headliner show. I thought he was good, and funny, but not enough to keep me there for the entire show. I guess I was not in tune with his type of music.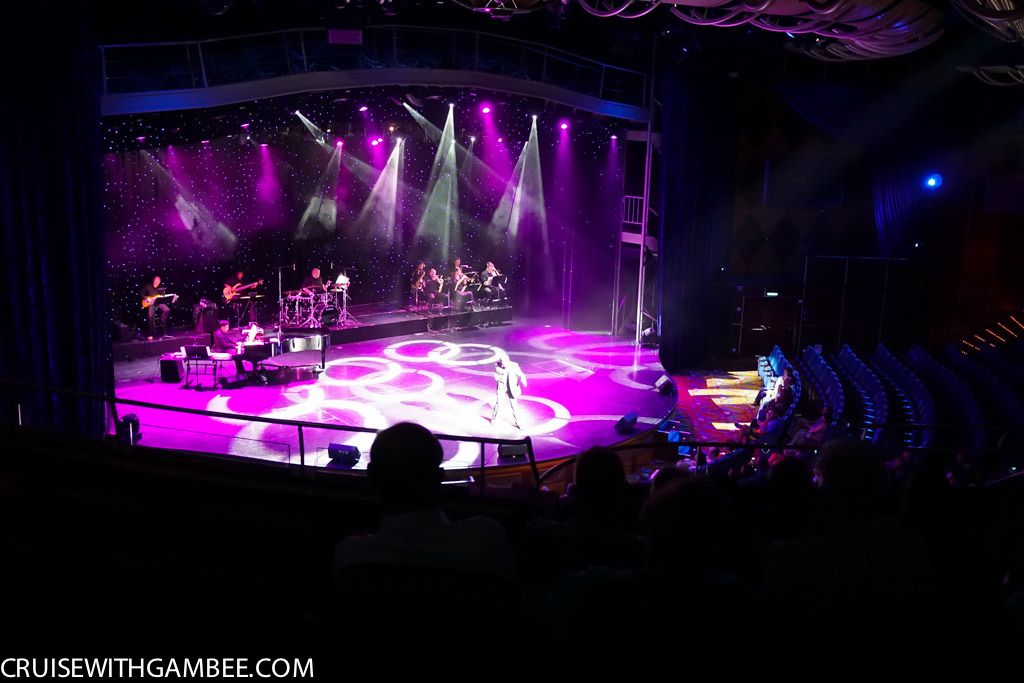 After a little while there we went to Studio B for the frozen show.
This was the line for the comedy show. By the way, once again, I messed up and missed our comedy show reservations… I guess the twin sisters just don't want me to experience their comedy show.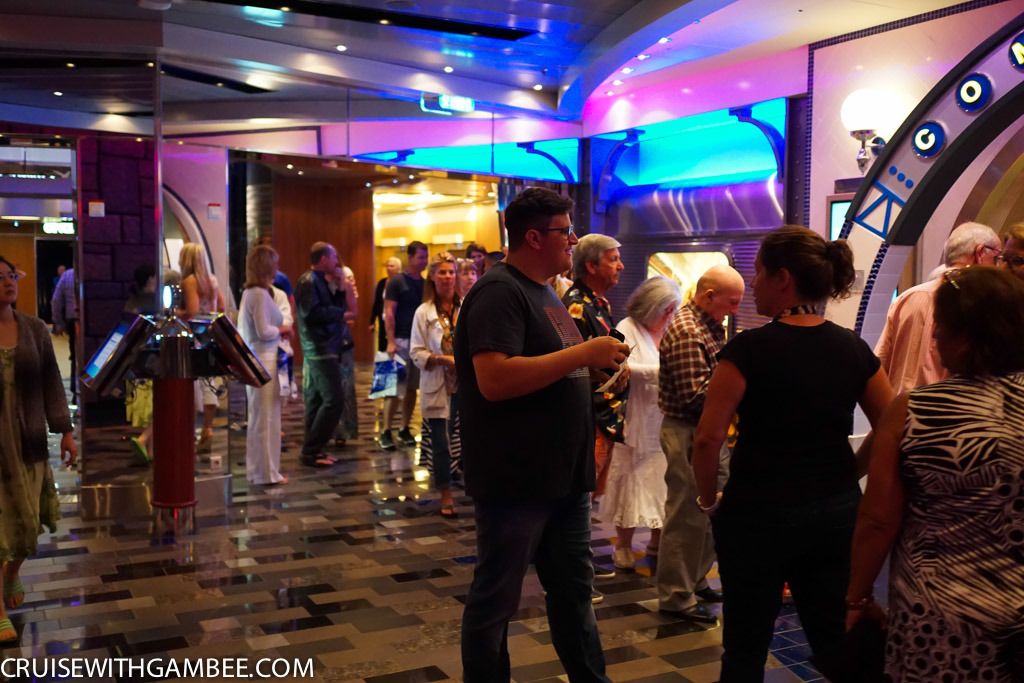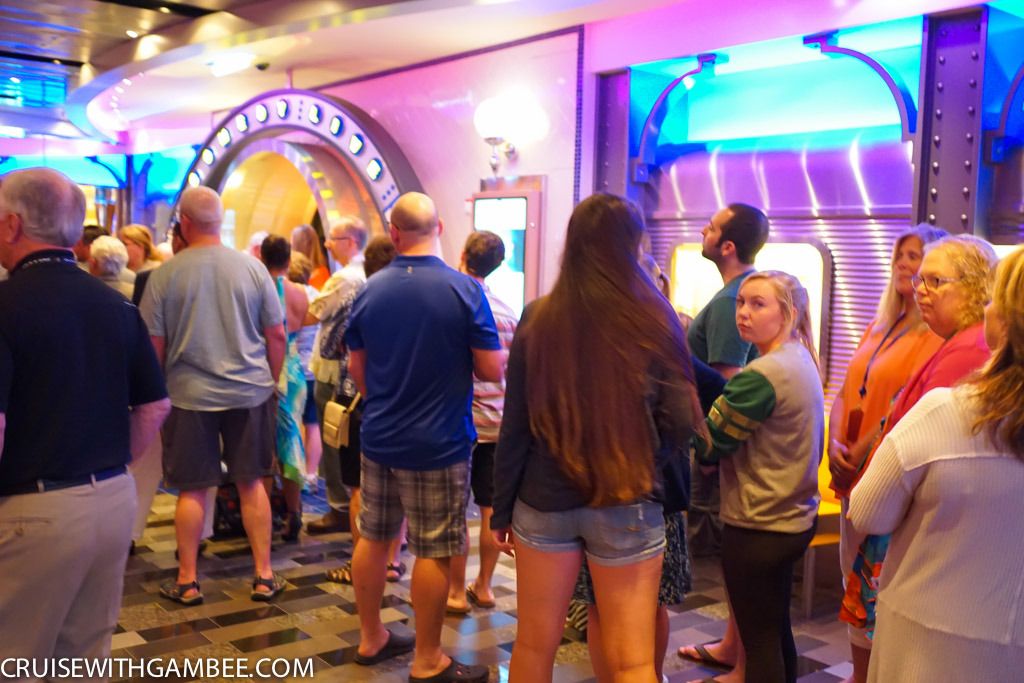 We got some nice seats on the bar towards the back.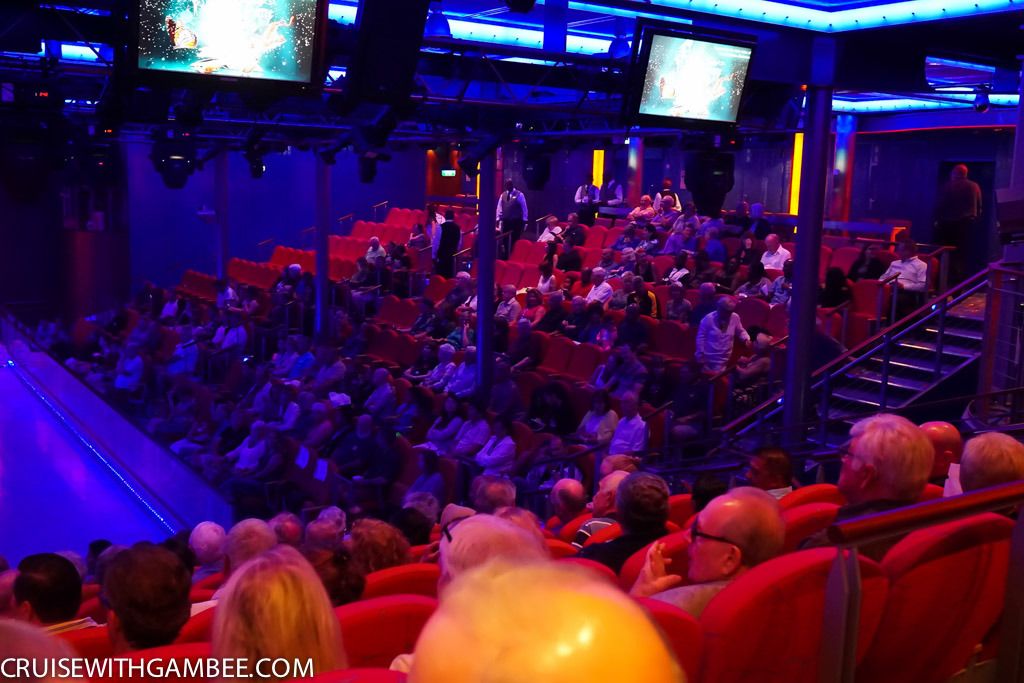 This show was really good, we really enjoyed it. Just like on the Allure. Actually, I am having a really hard deciding which one takes the win.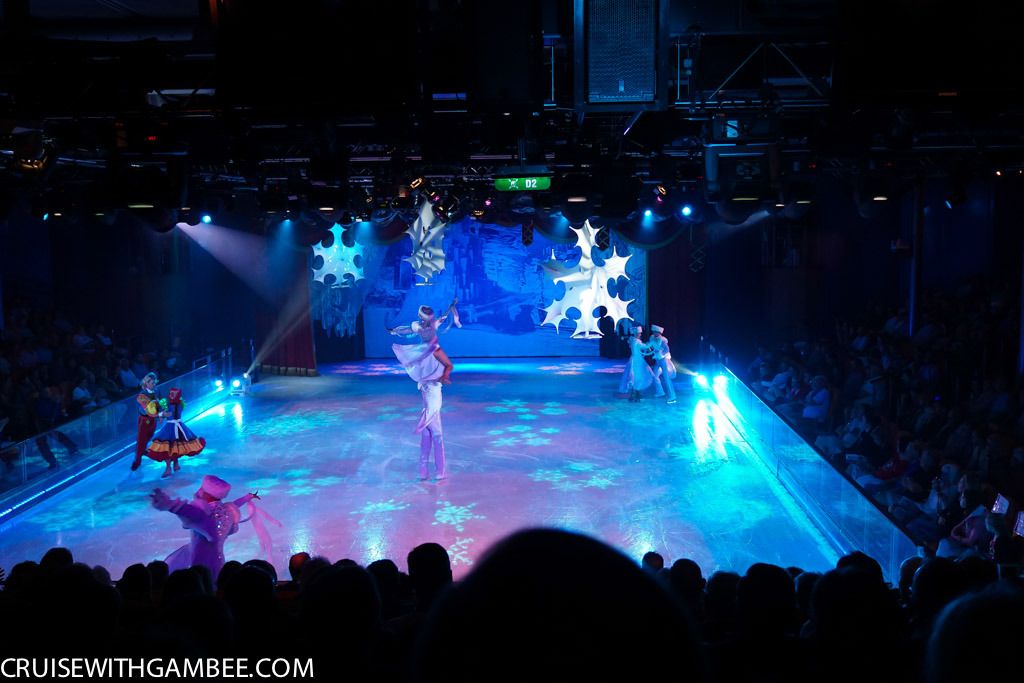 This was the ugly duckling part.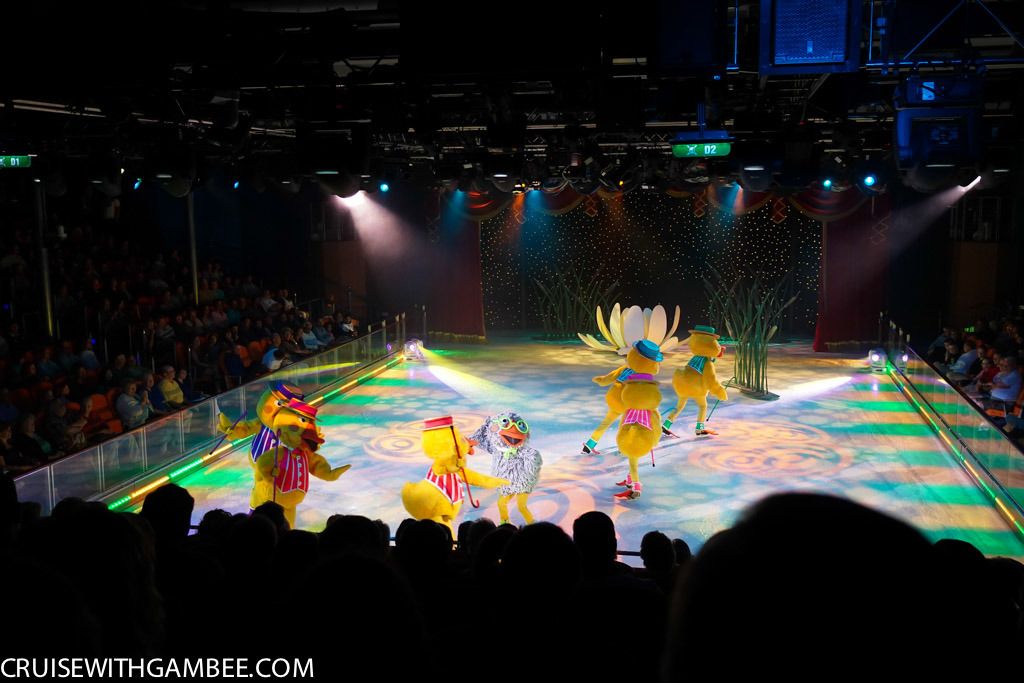 It was really funny.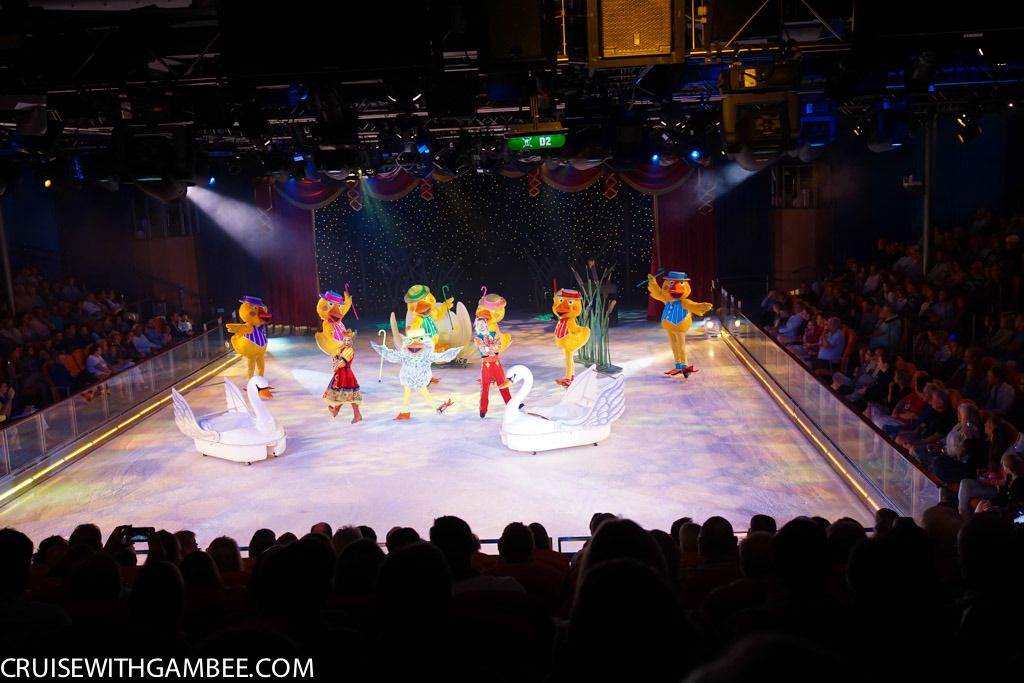 After the show we retreated to our smokeless balcony, and enjoy the sounds of waves breaking on the bow of the ship.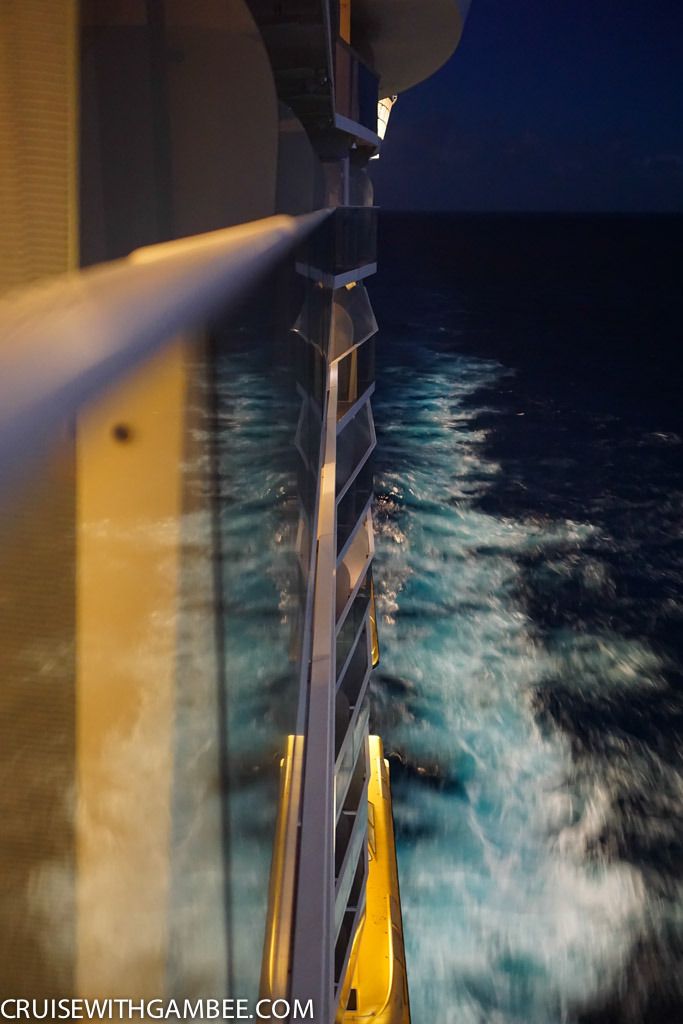 A few islands in the distance.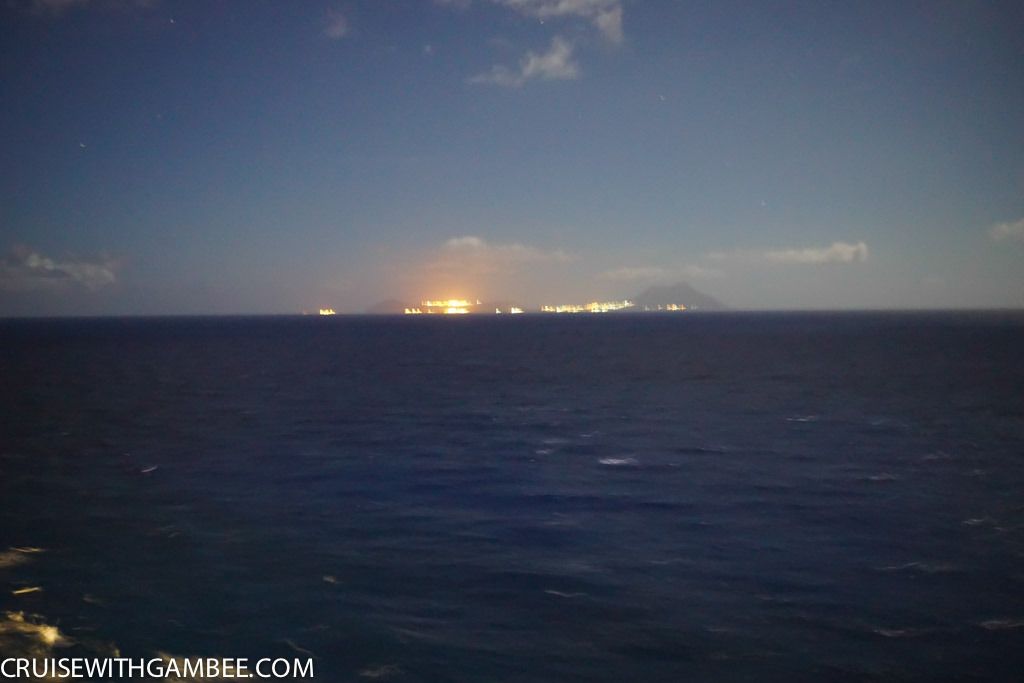 And that gorgeous moon.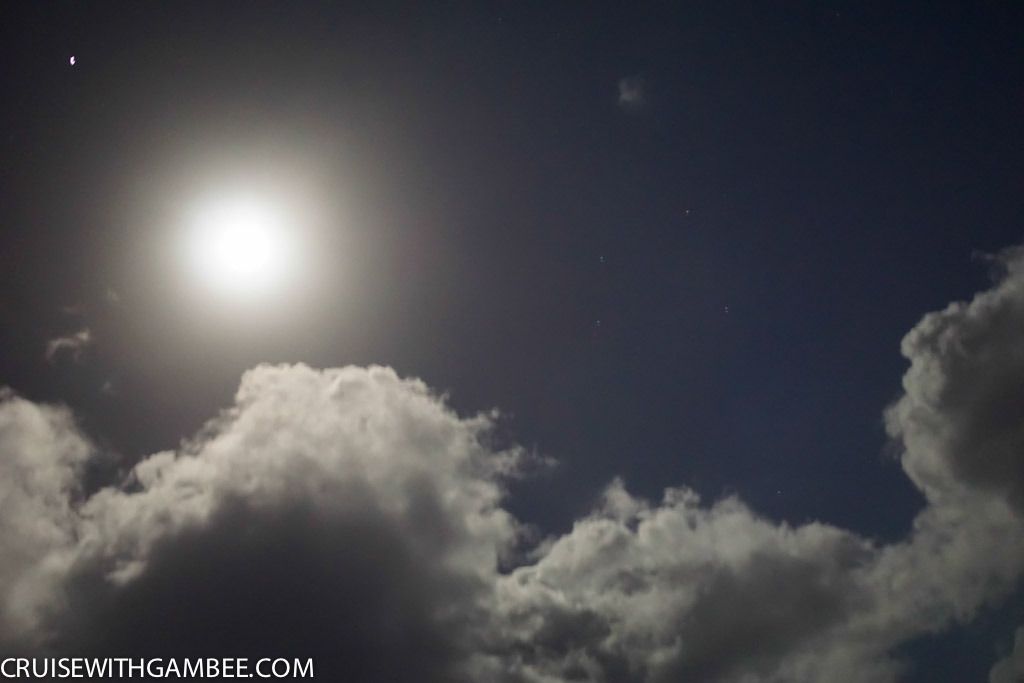 RCCL has these corny romantic comedies on the ship, I guess maybe its their own version of "The Love Boat" lol.
Overall, it had been an amazing day aboard the Oasis of the Seas. I was so very grateful that we were moved, and now we were able to truly cherish our time on-board Lady O. Best of all we still had 3 more full days aboard her!
Day 6, End.