I went back through the port side of ship.
Everyone having a blast on their family vacation, that is just the scenery that I enjoy the most.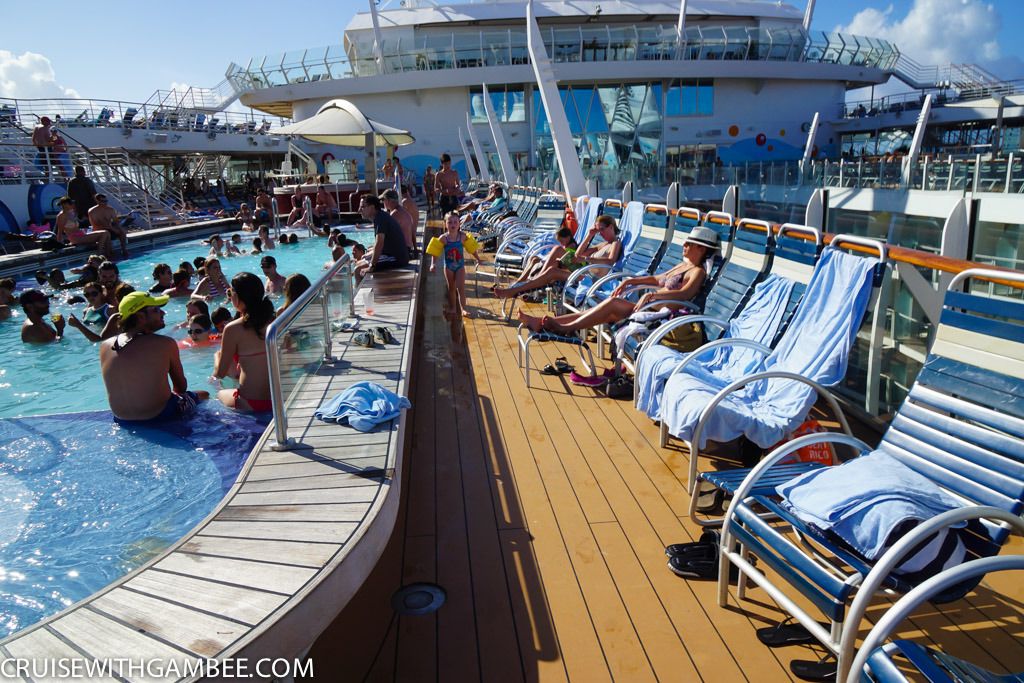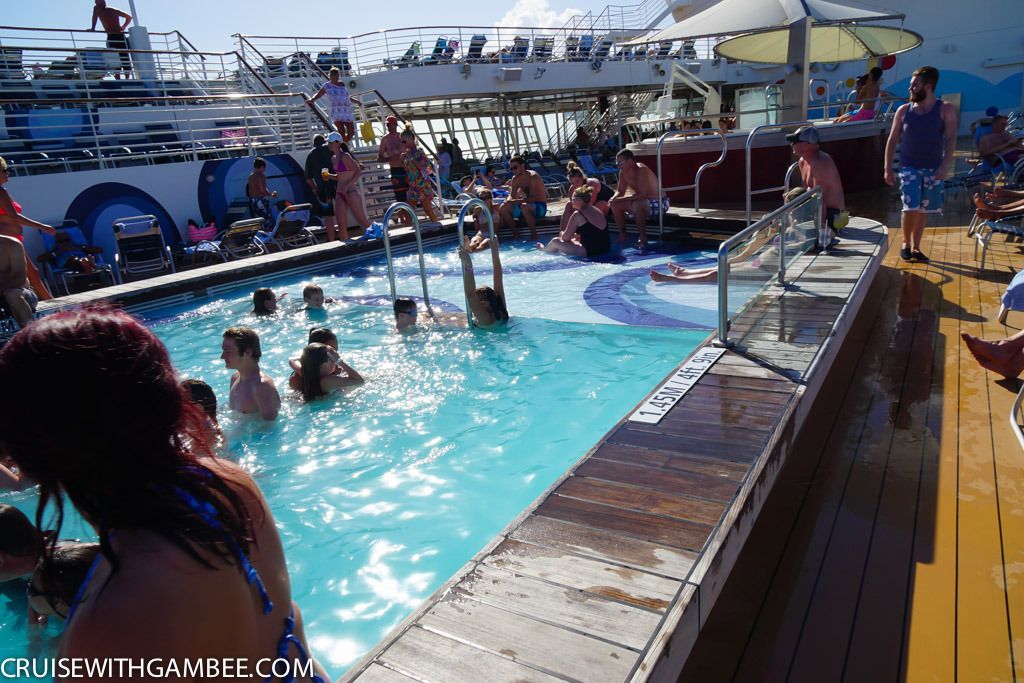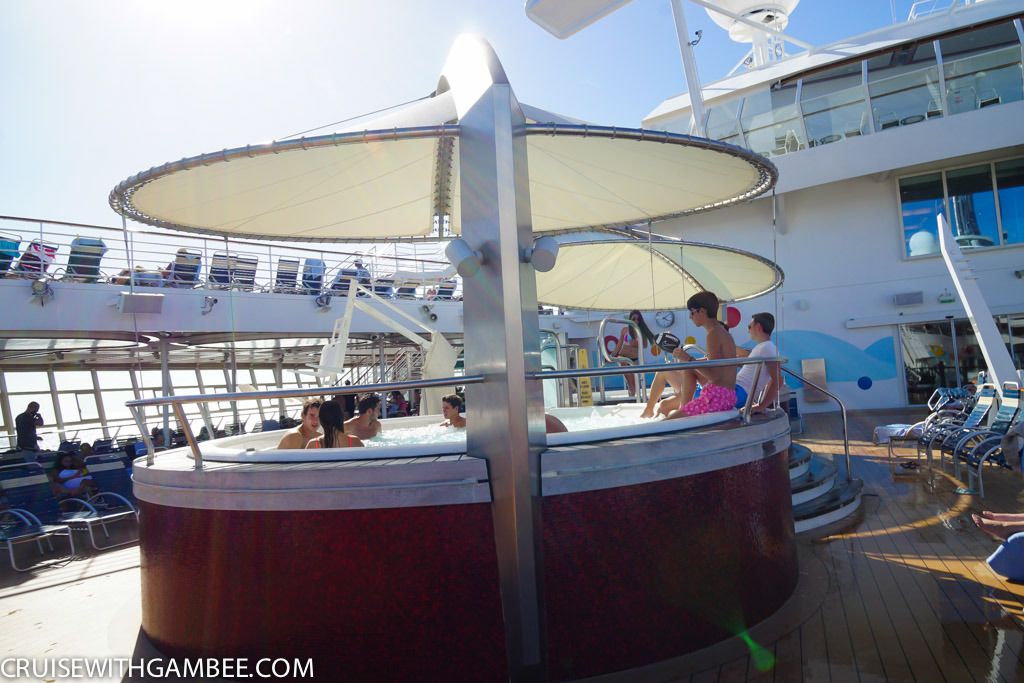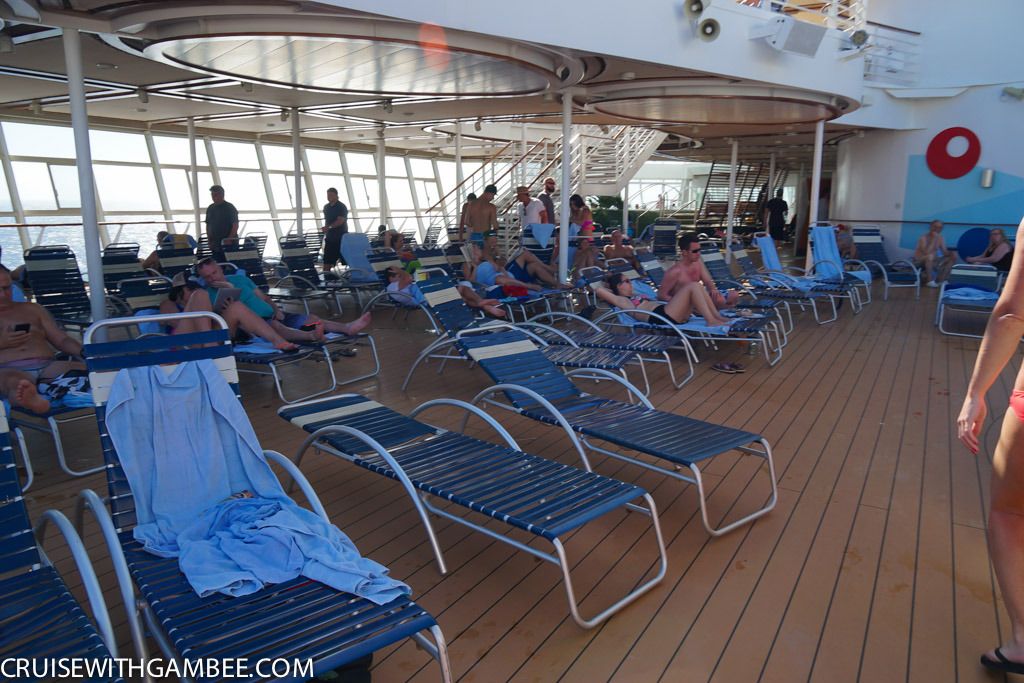 The solarium was emptying out.
We enjoyed our ice cream and decided to head back to the room to get ready for dinner.
We got back to the room, and I went to the balcony to take a picture. It was then that I noticed that my sensor was dirty once again. See the black spot in the middle?
And like magic, I was ready for more pics.
We loved that room!!!!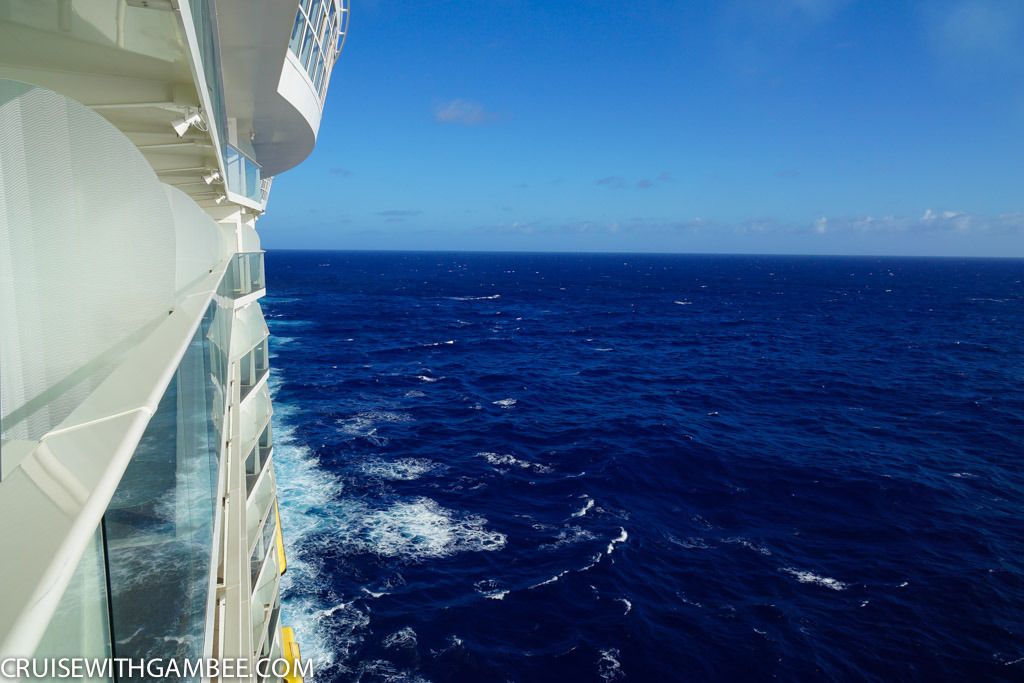 You can see there how we left from St Thomas, it was due to that medical emergency that happened at night.
We relaxed and eventually got ready for dinner.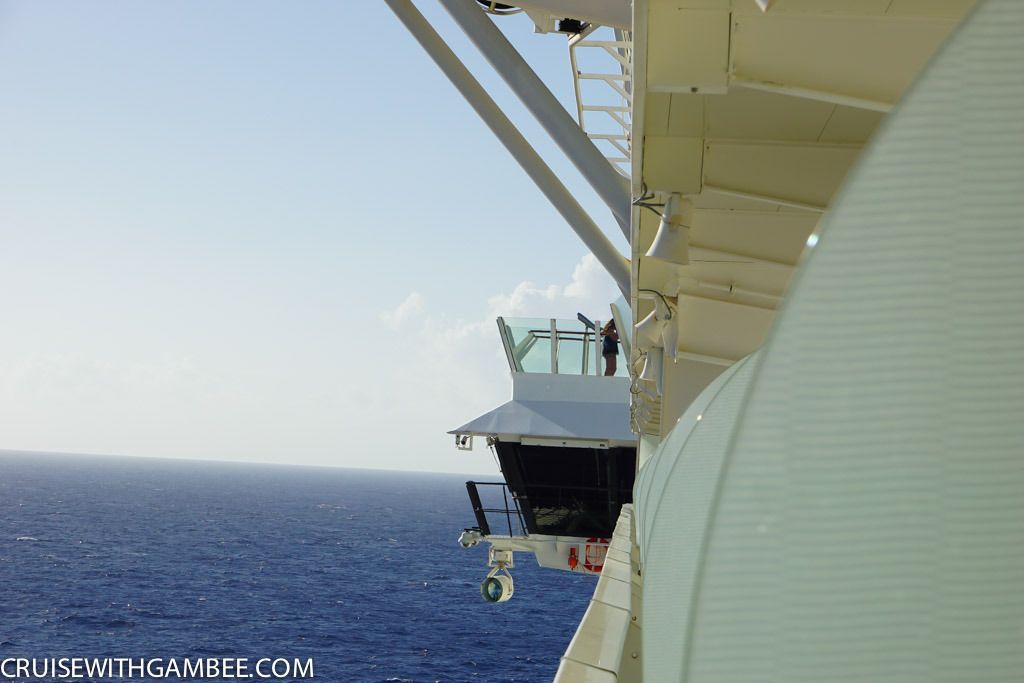 I told mom that we should get there early to avoid waiting. I think we ate around 6pm that day and let me tell you something, it was a good idea. I am not really sure how effective it is to get my time dining now a days. If you plan on going past 6:45 without reservations, good luck to you. What is the point of my time dining if they are going to make us get reservations? Just makes no sense to me, but I am sure many disagree. What do I know.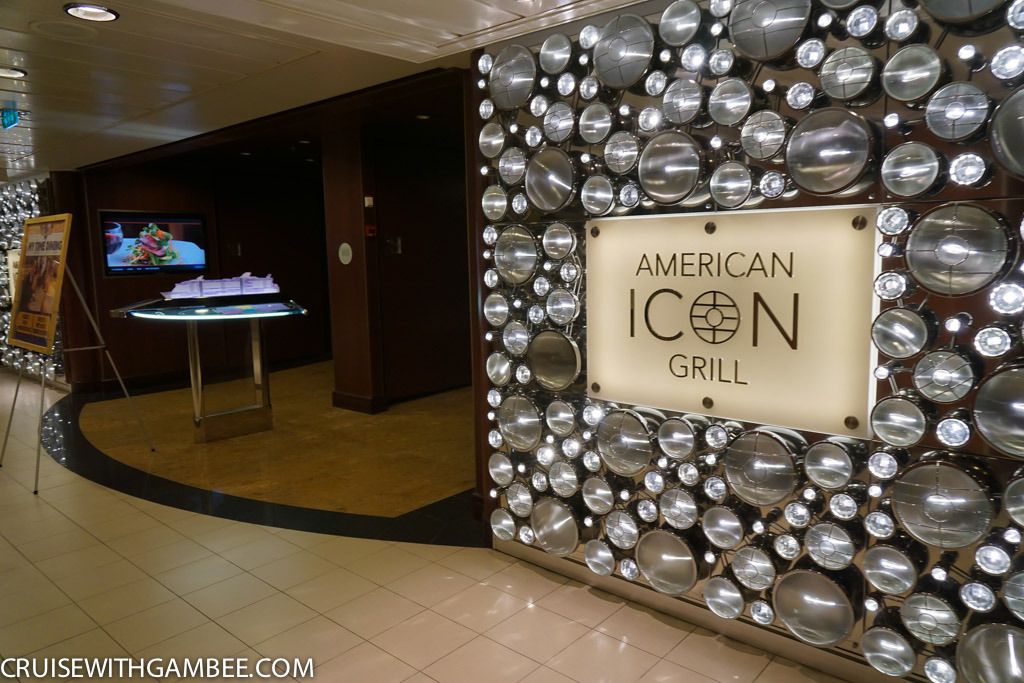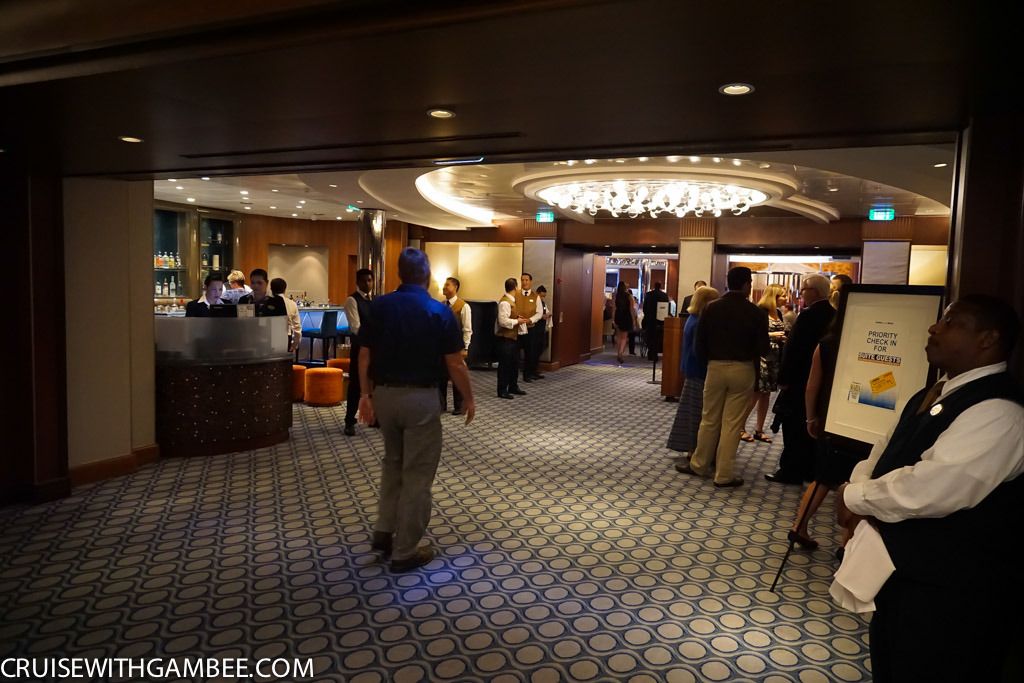 Even with no one in line, they told us to wait. So I went to the bar and ordered a martini. Let me tell you something, this the most expensive martini I've ever had, and the one with the least amount of booze.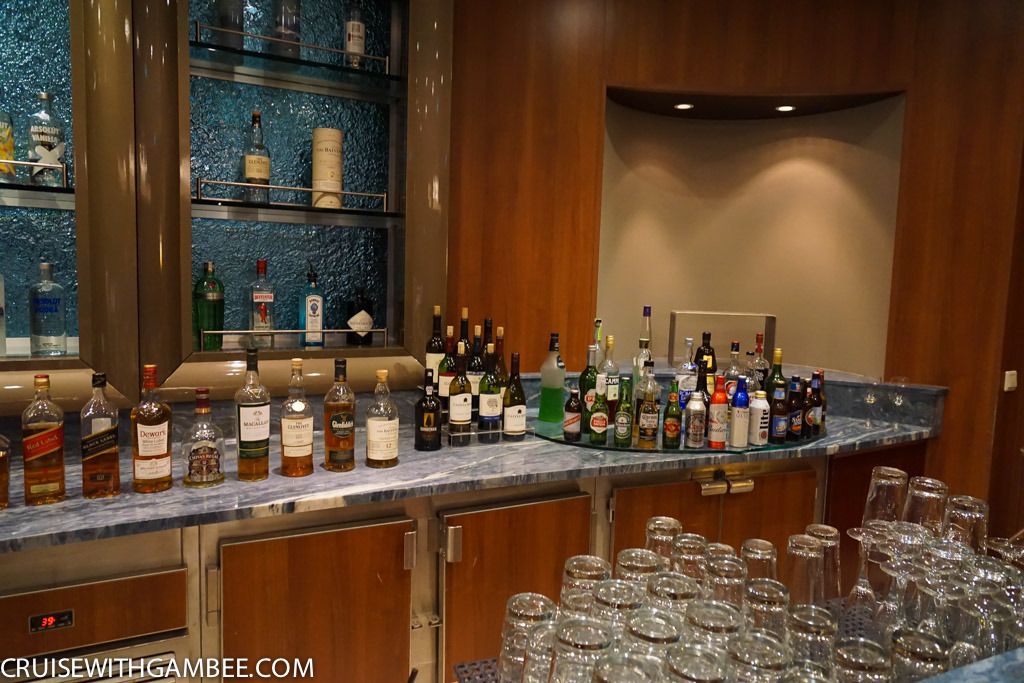 He basically put 1.5 oz of grey goose and 1.5 vermouth, then diluted the crap out of it by shaking it for nearly an hour. Ok, I am exaggerating, but the amounts are real! That is not how you make a $15 martini!!!!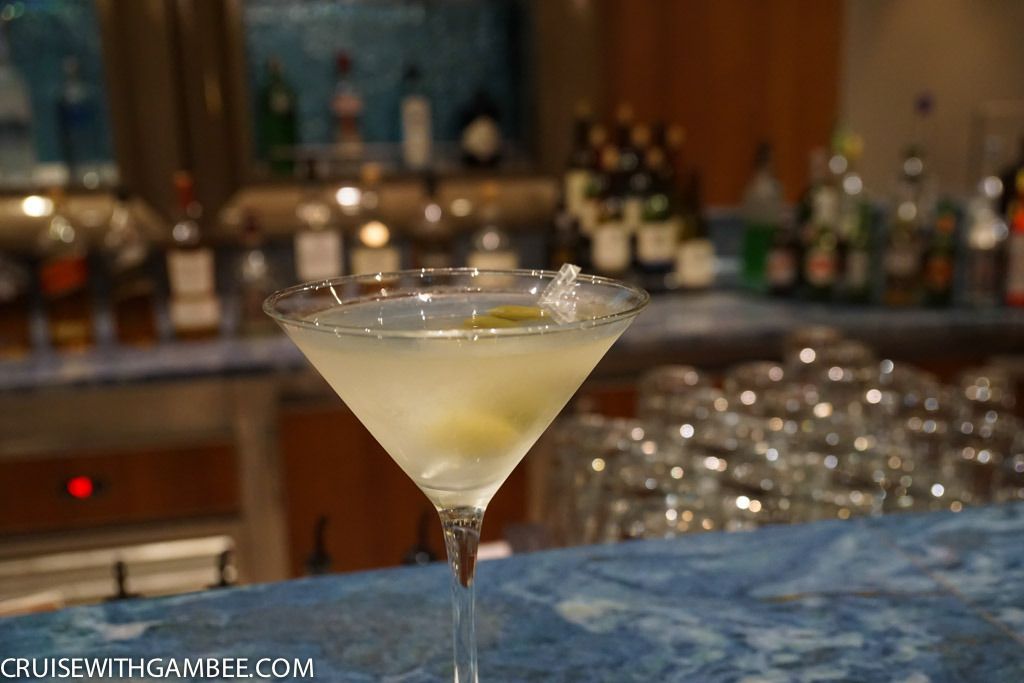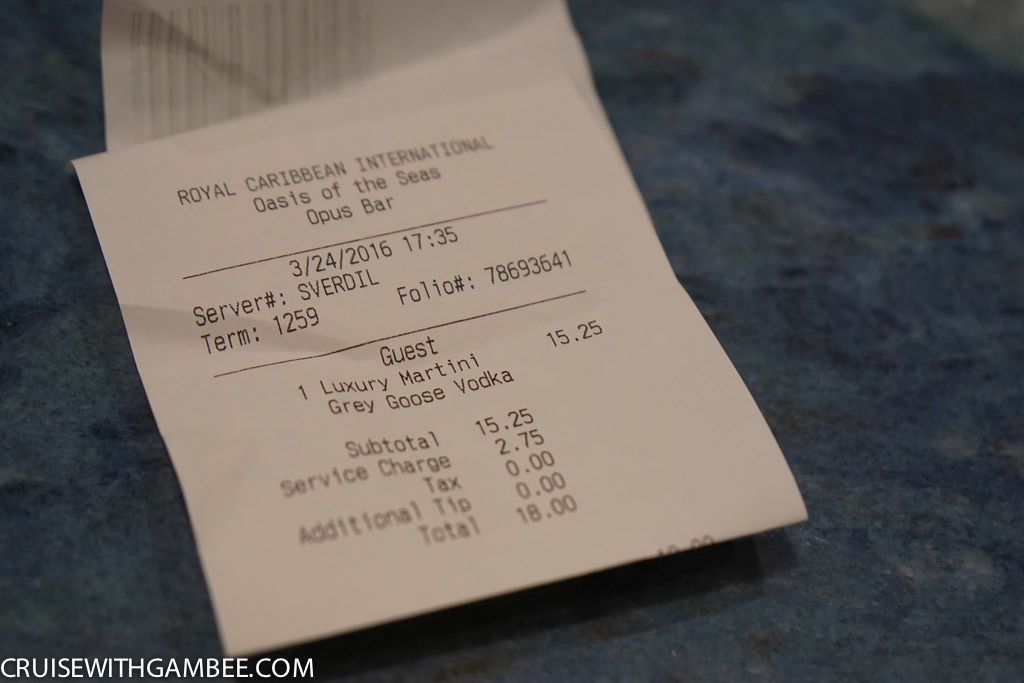 Then right after I pay he tells me, "Would you be interested in buying the 10 drink package? You could have this same martini for under $10" First of all I don't want this same martini ever! Second of all, WHAT THE HELL!!!! You tell me know after I dished out $18 for this crap?!!!!!! And tipped him extra by the way, don't ask me why, I guess I am stupid….
Keep in mind that it is $79 plus the 18% gratuity which is $14.22. It come to a total of $93.22, making each drink at $9.33 including the tip. Not a bad deal at all.
I was quite frustrated, but I told him no thank you and moved on.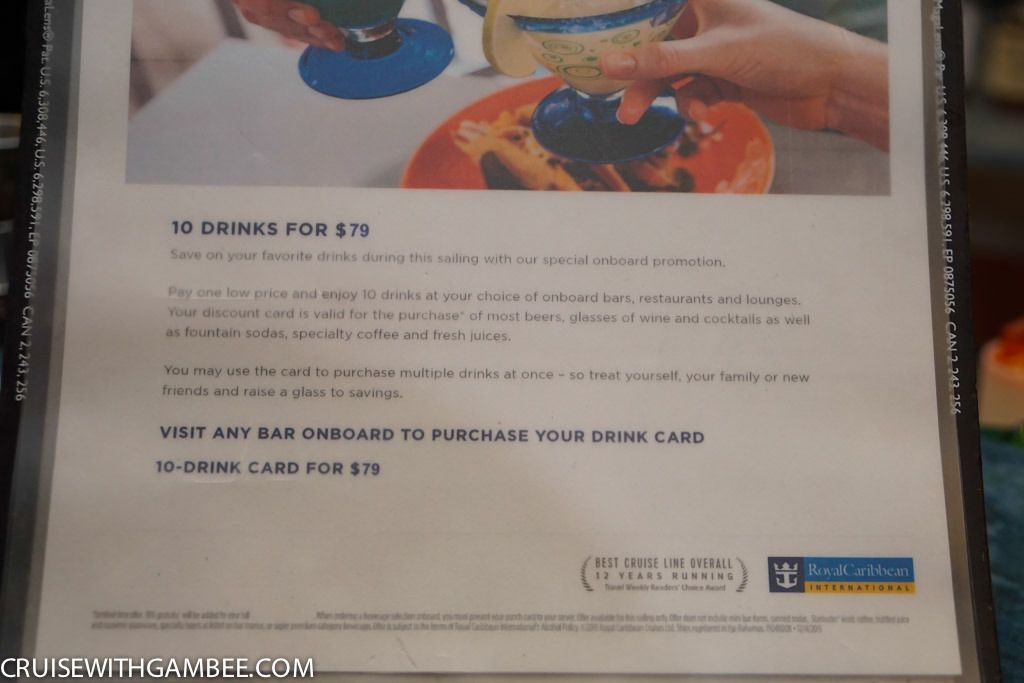 Right after I took a sip of my impeccable made martini, our name was called and we were guided to our table. This time around, we waited around 10 minutes or so.
I did not get pics of the menu, but you can go back to day 2 and check the menu out. It was formal night.
Our server that night was Rey Reyes and he was fabulous. He performed magic tricks for all his tables, but you could clearly see that he was overwhelmed because of two large groups. It is simply too many people to take care of.
Mom ordered a salad. Of course she ended up eating half of mine after she tasted them. Who orders a salad as an appetizer? I will never understand her. That is exactly the reason why ordered 2 appetizers, because I knew she would end up stealing my stuff
I got the mushroom puff pastry. It was excellent.
And the king crab appetizer. I am aware that it does not look appetizing, but looks can be deceiving. It was actually quite tasty, although the texture was questionable.
At one point they opened the shades, and I am sure someone complained, because they closed them right back.
Maybe it was the guy in blue, Muahahahaha , just look at him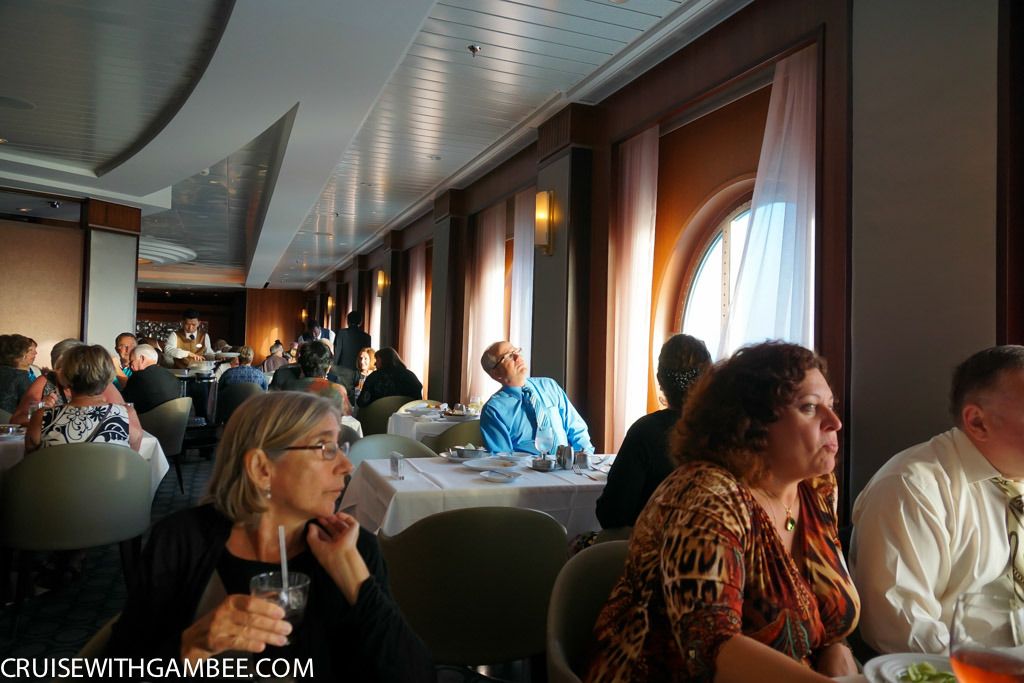 Opppps, I guess he noticed me snapping a pic.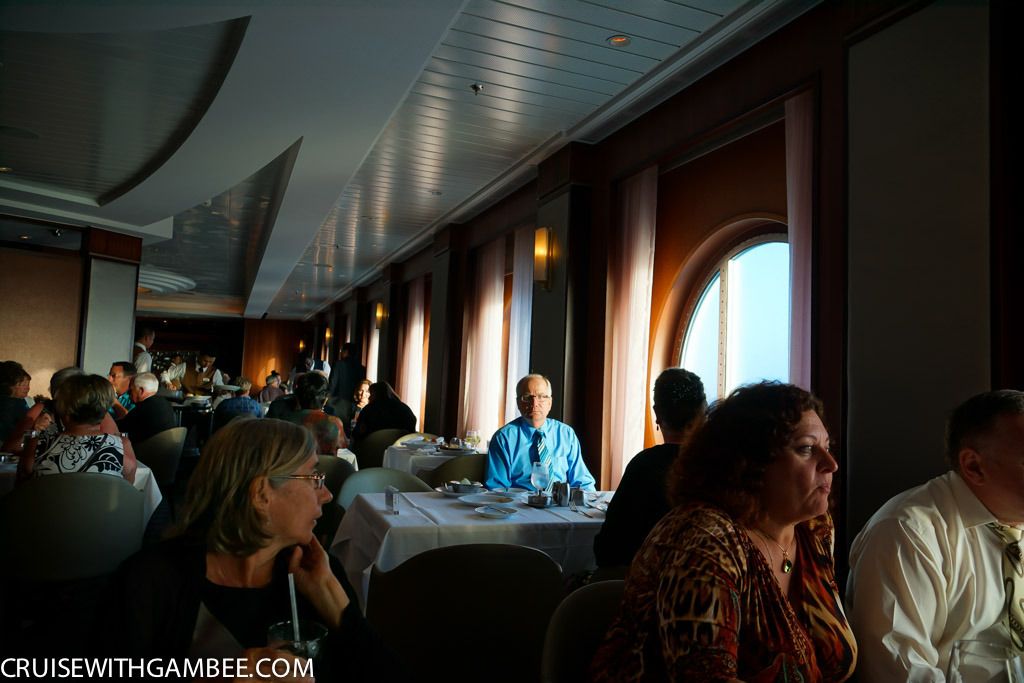 And back down they go….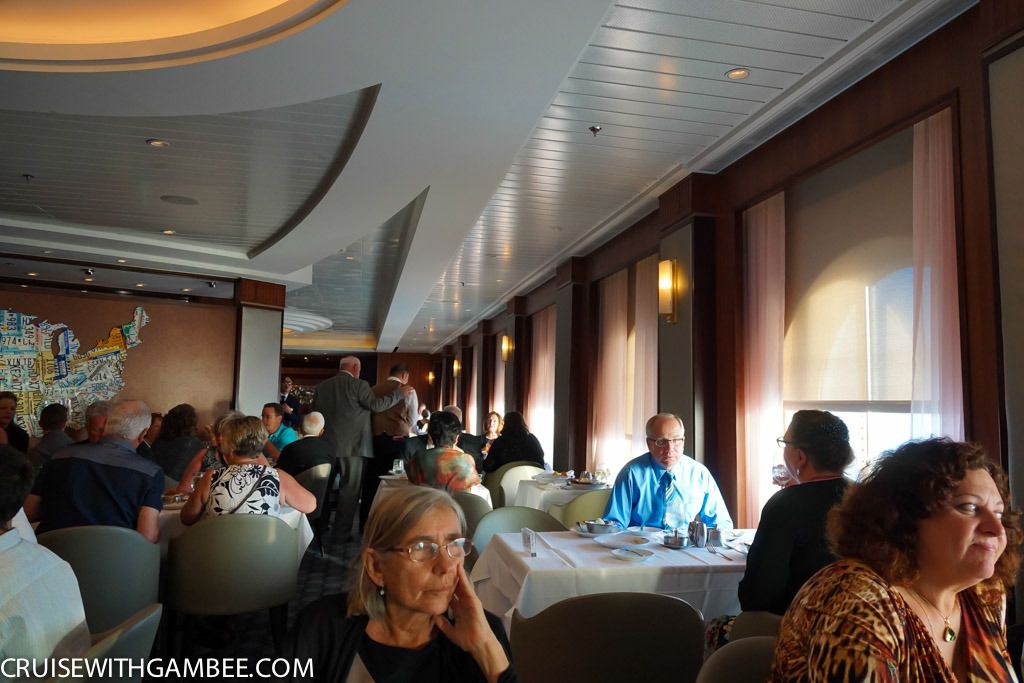 Of course we both ordered the lobster, which is actually the only reason we were there. I think it is called the fishermans plate? Something along those lines. When we ordered he insisted that we both got two lobsters instead of one, who was I to argue with that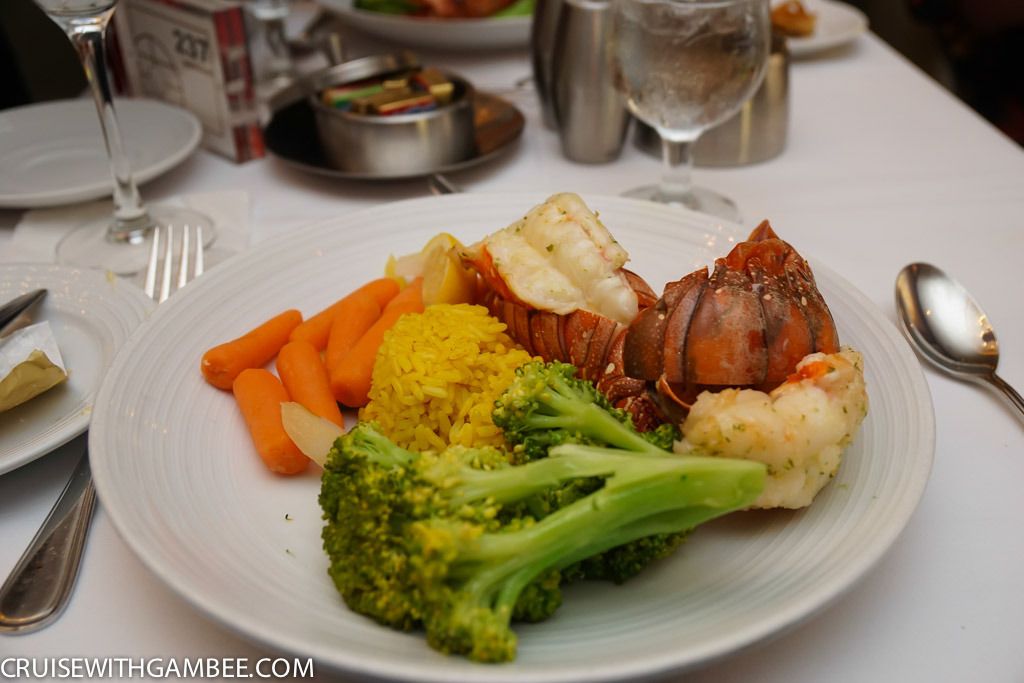 His assistant came around and removed the shells of the lobsters for us, and gave us butter. The lobster was very good! I was quite surprised about it. There have been more than a few times in which the "free" lobster has been quite questionable.
I ended up eating both of mine and half of moms'. Yum, Yum! Even the rice was tasty, and tasted even better with the butter. The broccoli you ask? What's broccoli? I think my organism rejects anything green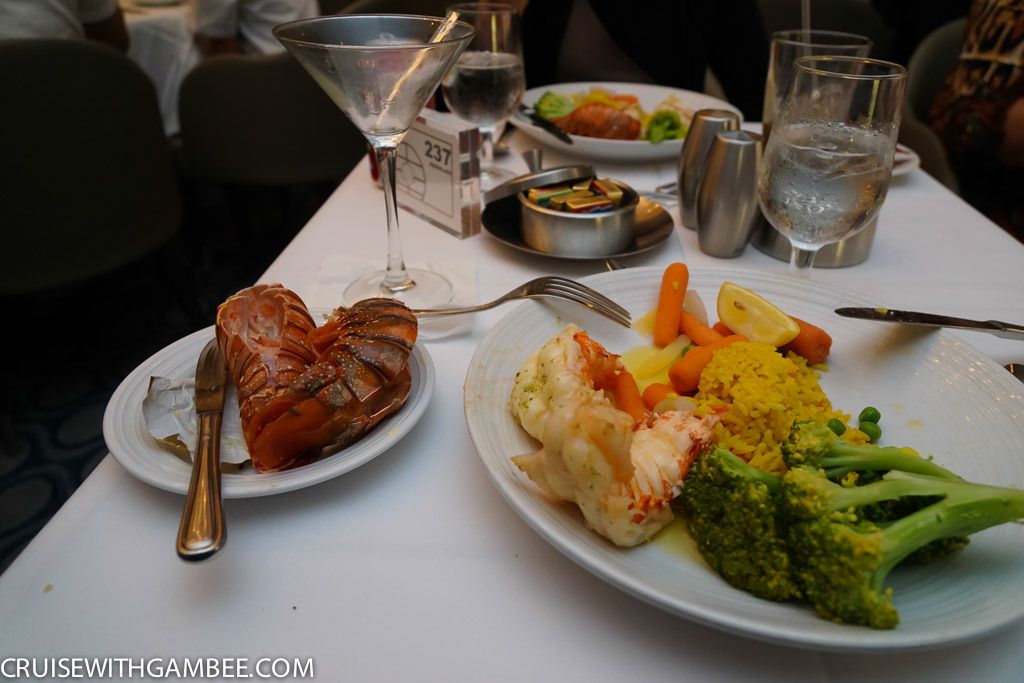 And the mega miss of the night! The creme brulee! Oh my, it looked like well, um, how do I put this, you figure it out… I just don't want to be gross, but you can pretty much decipher what I am thinking about. The main reason I say that is because it wiggled around like… well…. And how did it taste? Like banana puree… You know what? It could actually resemble a kind of even softer baby food. It also only had a tiny bit of crispy caramel in the middle, like about 25% of it. This dessert was HORRIBLE!!! GROSS!
Mom was very disappointed. And I was cracking up, mainly because she waited the entire cruise for it. I know, I know, Karma. But hey, I think I have redeemed myself as far as mom's Karma goes.
I got the baked alaska, which was not bad at all. And unlike the Allure one, this one was not as sweet.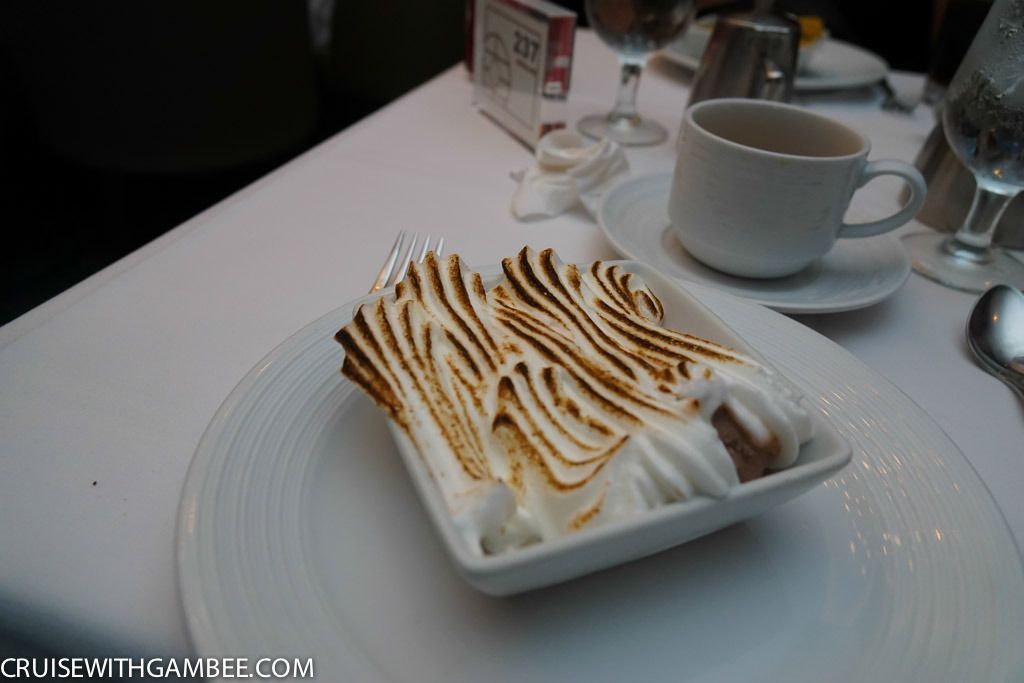 Like I said, the service was excellent! We finished eating and we left.
And good luck to you if you're planning on going there without reservations after 6:30pm.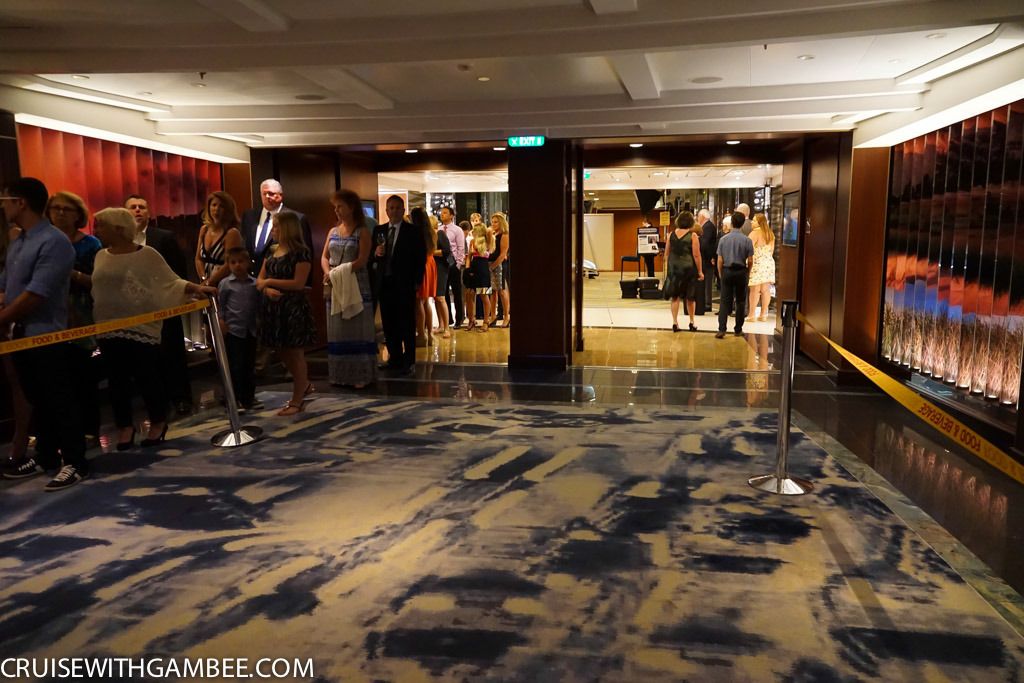 Not that it is much better with reservations.