Since we did the Aqua show early we decided to go and try to make it into Cats. We went for a walk on the way there.
Oh, I forgot. We stopped by their camera store to try to find the gopro case. But no such luck there, but hey, at least I was trying. Thank you for those who suggested I try it there =)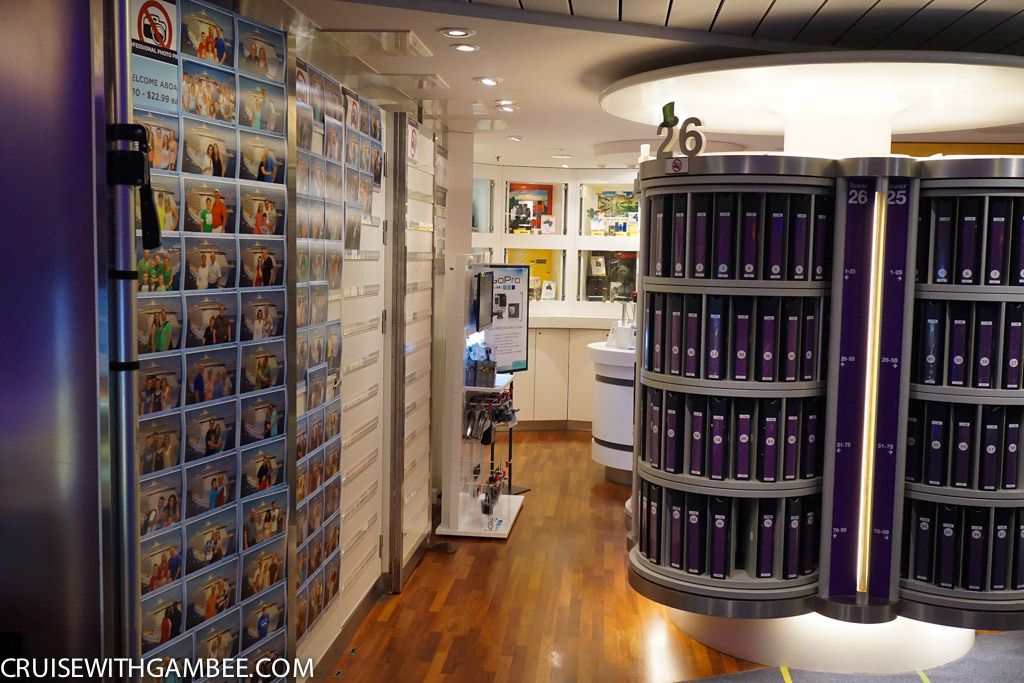 They did sell some GoPro accessories, but just not the housing.
Puss in Boots making an appearance. This time around there were much more Dreamworks characters walking around that in our Allure cruise.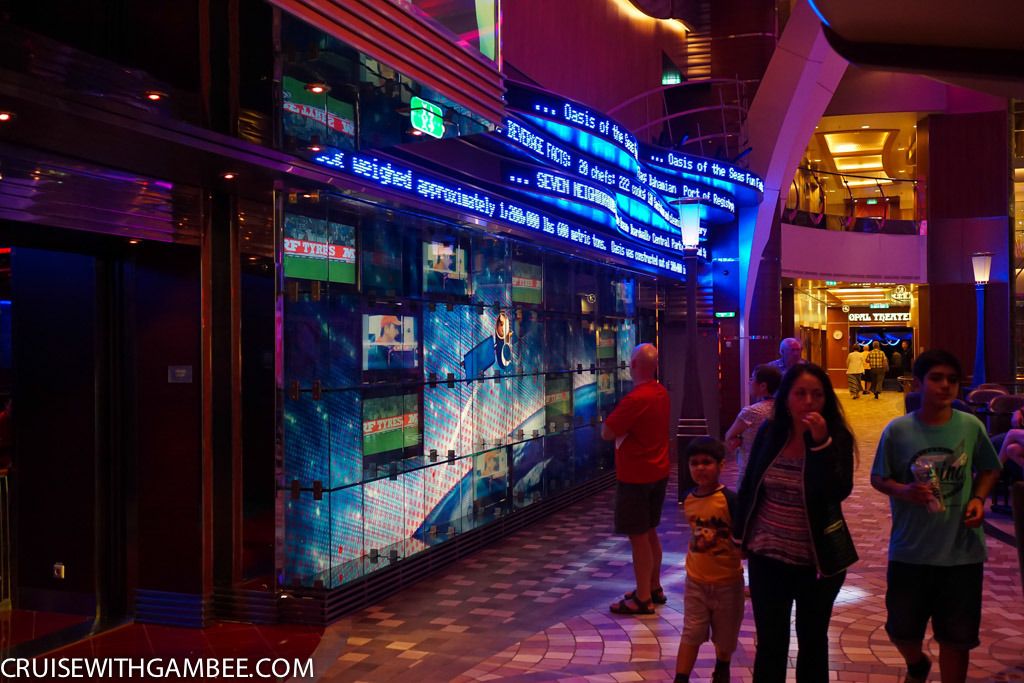 I get the menus later on.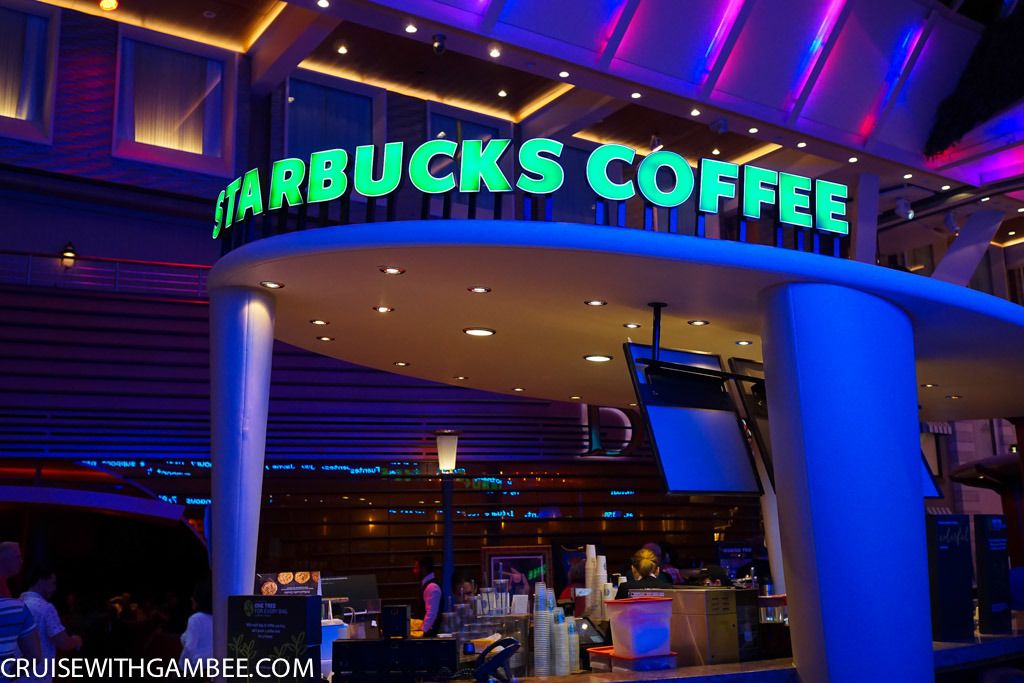 We made it Cats before it started and got a great seat on one of the balconies. Please tell me why people dislike this location? They are almost always open, and the view while far it is really clear without obstacles. Plus, you have your own space with table for your many juicy drinks!
What can I say about Cats?
"I want chicken I want liver
Meow Mix Meow Mix
Please Deliver
I want chicken I want liver
Meow Mix Meow Mix
Please Deliver
I want chicken I want liver
Meow Mix Meow Mix
Please Deliver
I want chicken I want liver
Meow Mix Meow Mix
Please Deliver"
LoLoLoLLoLoLoLLoLoLoLLoLoLoLLoLoLoL
All jokes aside, this is not my type of performance, AT ALL!!! One of the worst shows that i have seen on a cruise ship. Granted, I lasted maybe 30 minutes or so, and half the time I was napping. Mom was the one who told me to leave.
One of our cruise critic roll call members had their show in the production. And that was basically why they booked the cruise, I am sure they were quite proud of him. And I am sure a lot of people enjoyed the show, as that theater was super full. It is after all a famous Broadway production. But it was not for mom and I. I guess you can't please everyone.
Damn, these pics came out really bad. I guess I was too far out, and no tele lens in hand.
Walking back to the room we decided to take a stroll by central park. I had my drink on hand and really enjoying it. I am not entirely sure what happened, but next thing I know my glass hits the floor and shatters
. Then mom goes, "Be careful someone might get hurt", I told her back, "Hurt? what about my DRINK?!". Anyway, a couple of officers walked by and told us not to worry about it, that someone would clean it. So we moved on. Is there ever going to be a cruise when we don't spill or break something?
Why not pic? Not entirely sure, maybe I am slaking? I think I just forgot in the middle of the commotion of mom freaking out and the officers walking by.
Mom and I decided to go to the jacuzzi for a little while and relax after a very long and pleasant day.
A few people taking a dip in the pool.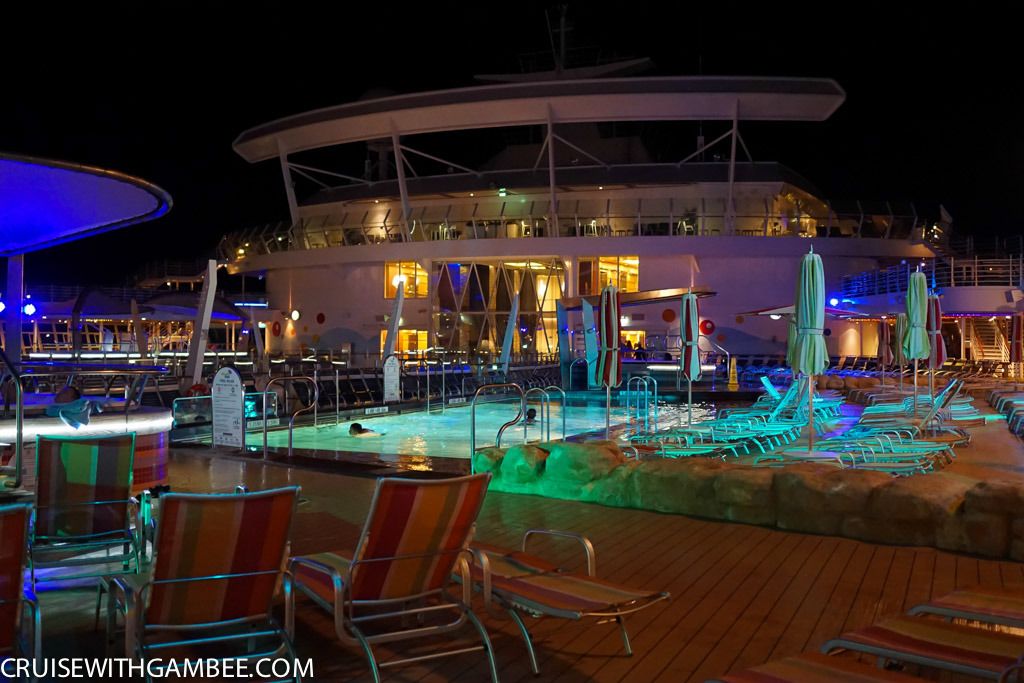 They usually close this one late at night to clean them.
But our target jacuzzi was in the Solarium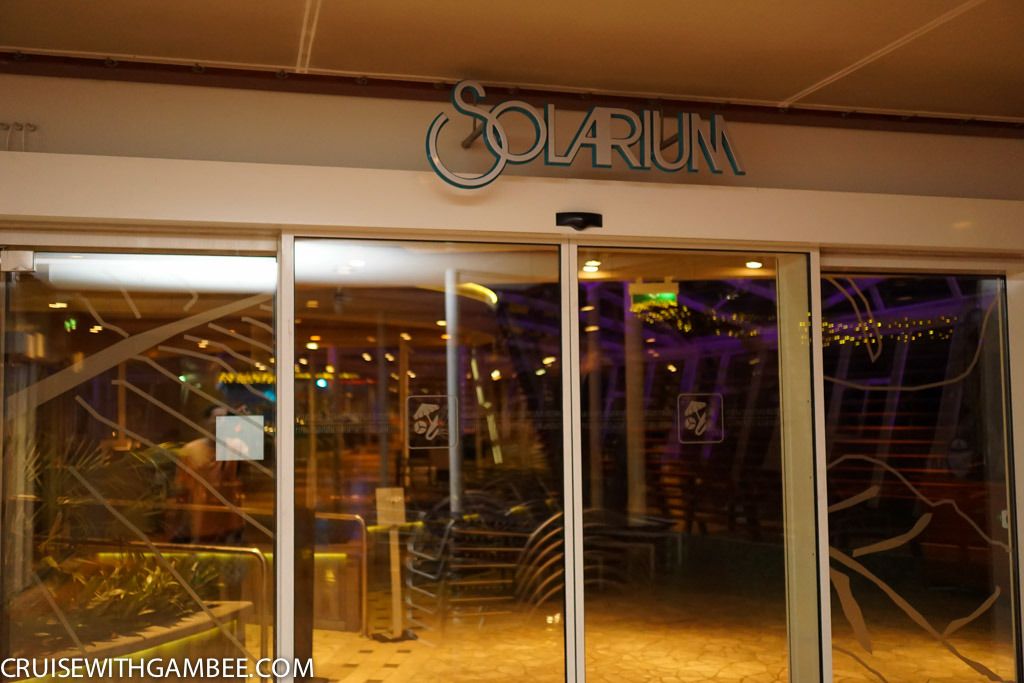 The first one was closed.
I love the solarium at night.
That restaurant is never busy.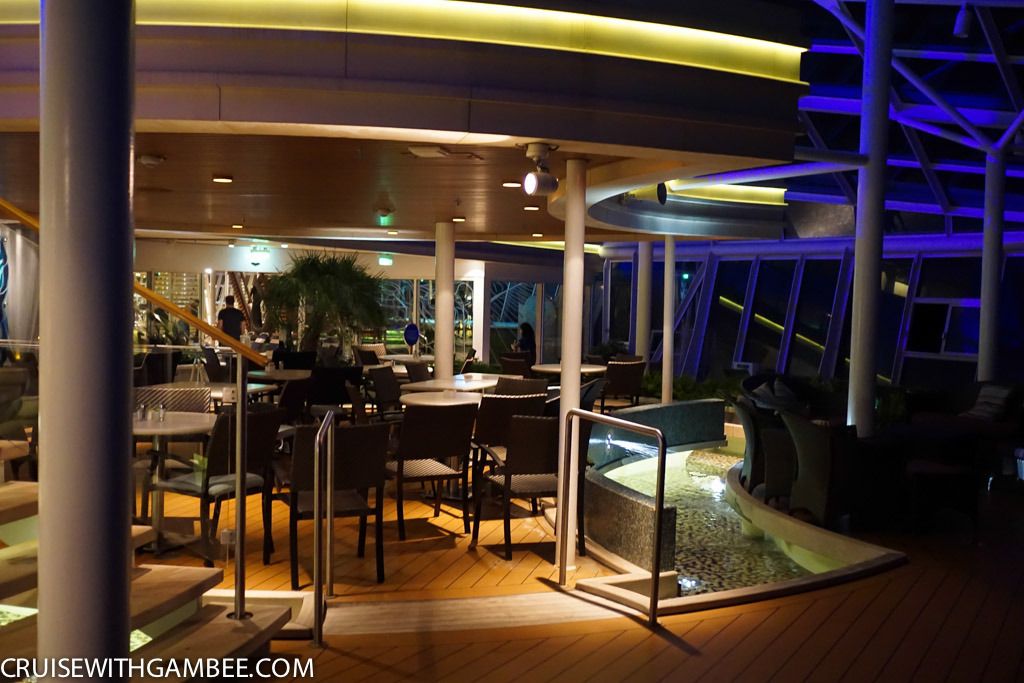 It was quite busy, but we found some room in there.
We must of been there for about an hour or so, and by then we were beat. So off to the room we went.
Once in the room, I ordered a little bit of room service, as if we needed more food
I love their ordering system.
Here are the room service menus.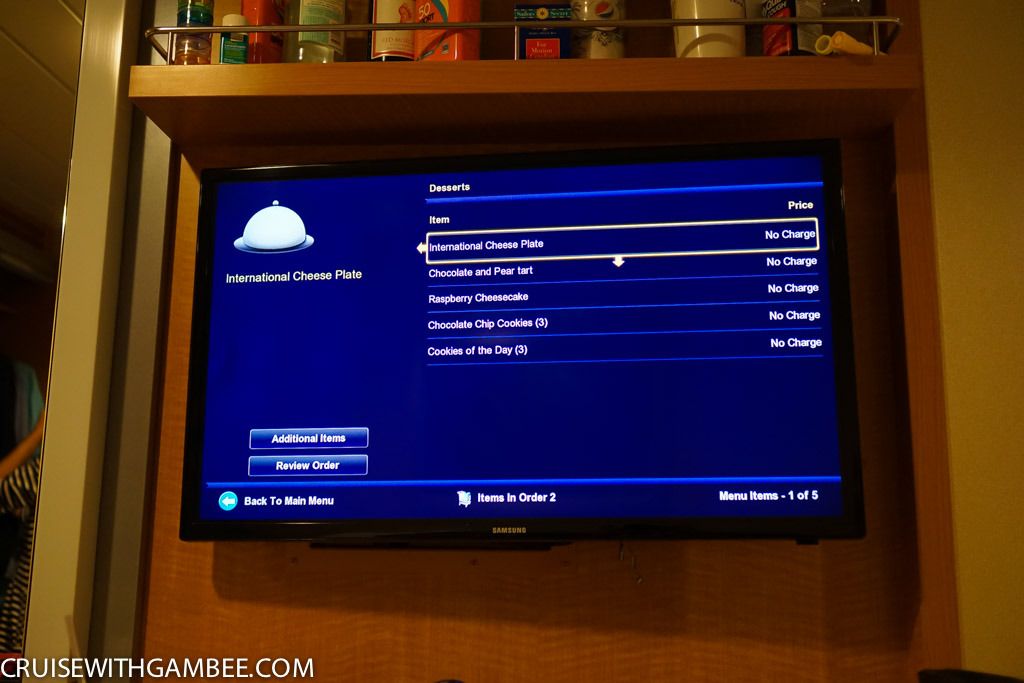 Let's talk internet, WOW, that thing was super fast. This is by far the best internet I've had at sea, and nothing else comes close to it. I heard on the RCCL tv channel, that it was due to a partnership with some satellite company. Why aren't other cruise lines not doing this??????
Anyway, on our cruise they had two options. The slower internet was $10 a day for the first device, and the faster internet was $20 a day for the first device. They offer multiple devices plans and such. The faster internet is needed if you want to stream video, or video chat, or periscope and such.
We purchased the slow one, for one device for the week. In a way I regret not getting the two devices one, mainly because the internet ended up being mom's internet. I thought I had a internet addiction…. I am not sure what she will do on our upcoming NCL Escape cruise (opppsss did I spill the beans?), because I won't be paying $290 for the unlimited internet there.
In this case it was only a $45 difference, if I paid for the 2 device one. But we made it work. Just keep in mind that you won't be able to upgrade from one plan to another. Once you purchase a plan that is your plan. If you want to upgrade, you will be forced to buy a completely different plan. Make your decision wisely, and not with a bunch of drinks on you like I did
Here are the plans, available for our sailing. Keep in mind its 9 days.
A beautiful starred ski from our balcony.
And that is when we realized that our neighbors smoked. In a way we should have known from earlier, because her voice had that deep smokers tone to it. At this time we did not make much of it, I guess maybe I had my drink on me and having fun. And to be fully honest with you I was not fully aware of the smoking policy on RCCL. I knew it was not allowed on the balcony, but I thought there were exceptions and such. Like I said, at the time I did not make much of it. Let's just leave it at that now.
We were sailing down the Caribbean at around 16 knots.
Then our food got to the room.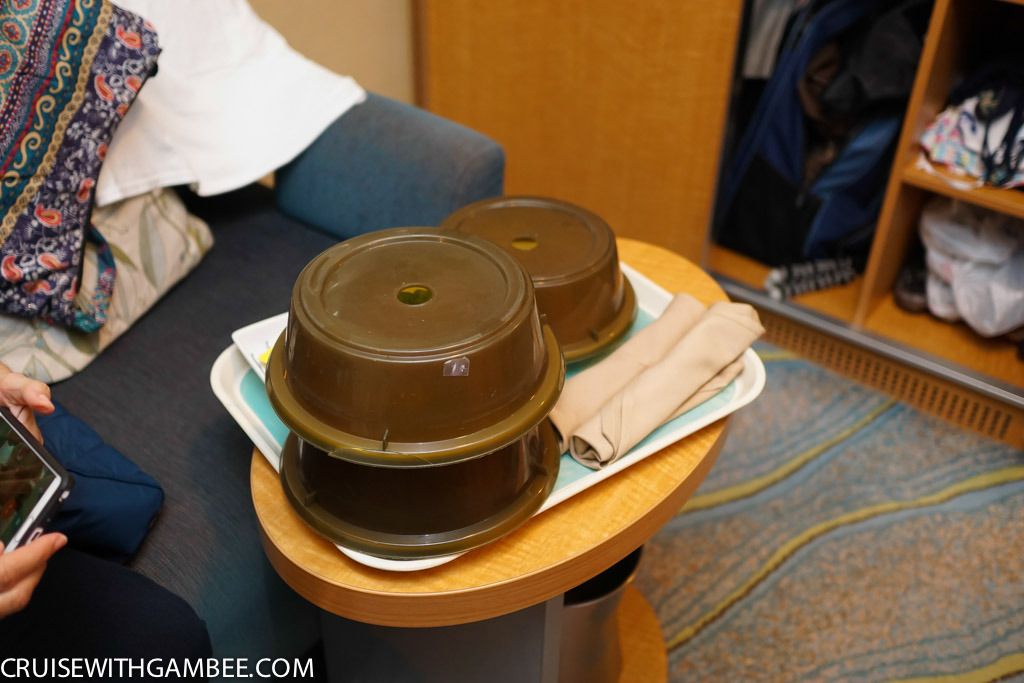 I was not expecting this with smoked salmon, I was super excited when I got it. My favorite, with Brie and all.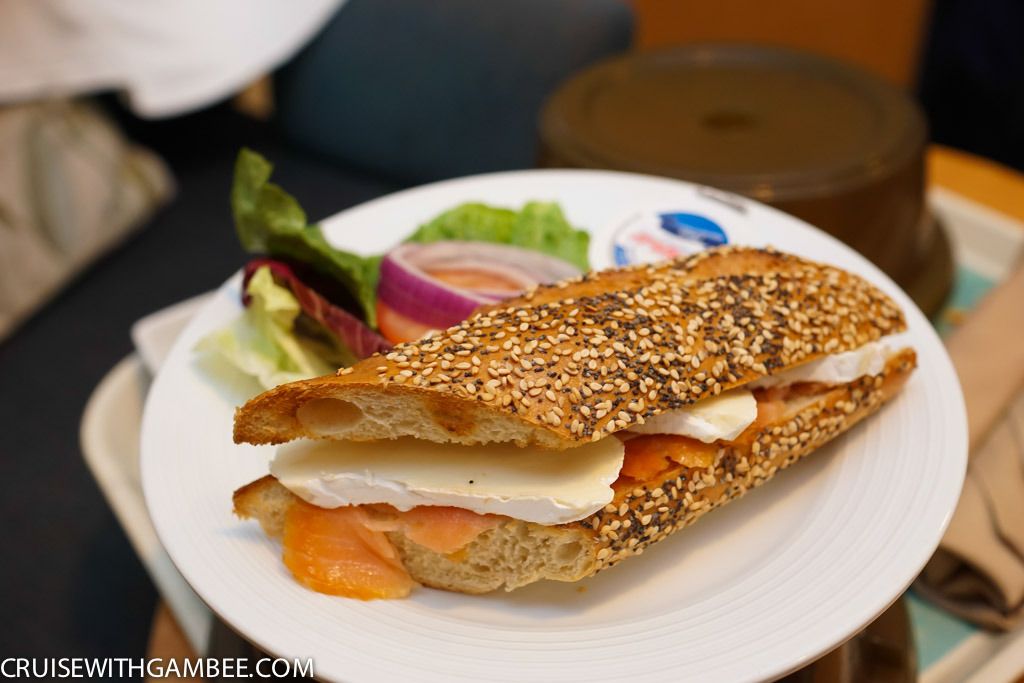 Is that a ketchup package? Hint, Hint,
We ate while enjoying some tunes, and Futurama???? Muahahahaha, LoL.
I love my cartoons
After that we went to the karaoke. They had a few fun contestants, we stayed there for 30 minutes or so.
To be honest, I am not sure how I was still standing. lol
This guy was doing FaceTime with someone, the connection was very stable. For that you need the $20 internet.
Before leaving I got their drink list and prices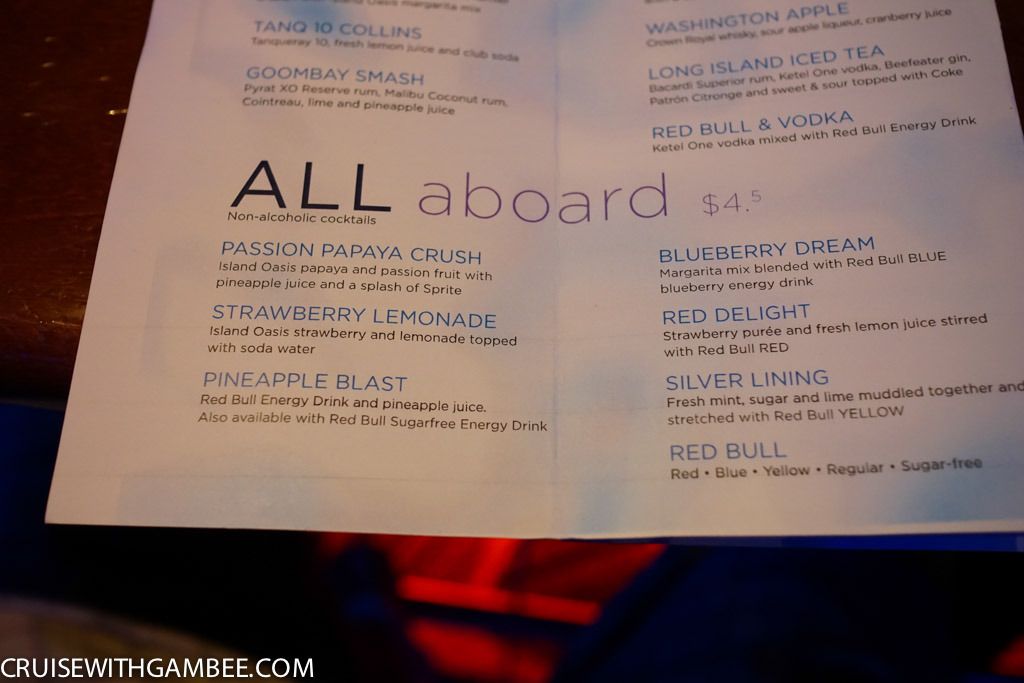 American Premium ????? LoL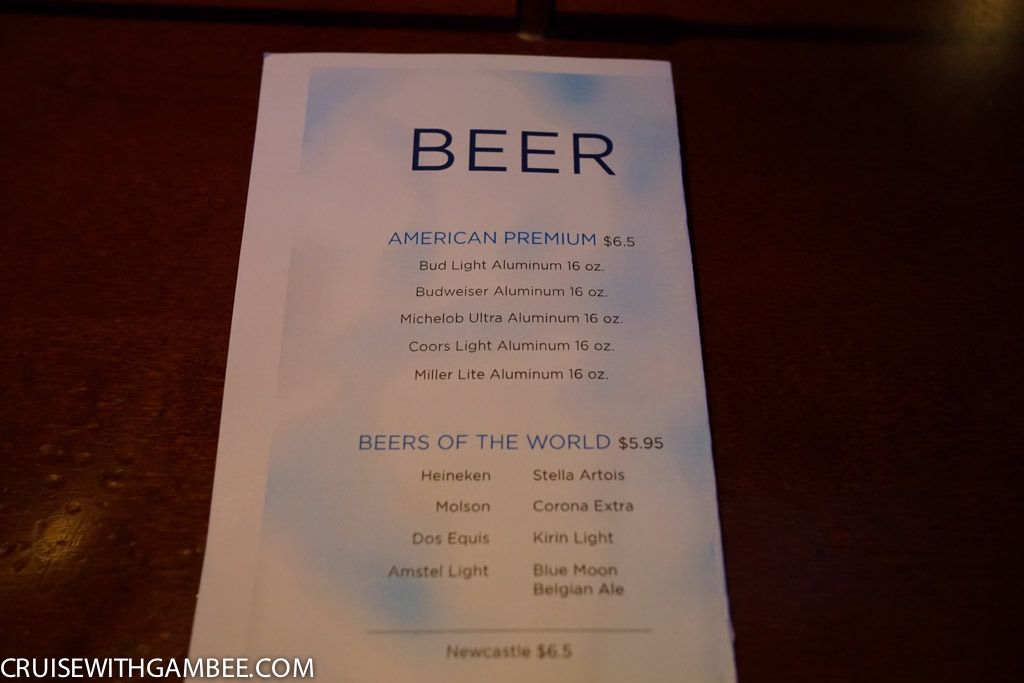 Damn, $19 a day for the soda one. That's a lot of sodas that mom would have to drink to make it worth it. But like I said the premium package is totally worth it, anything over 5 drinks and that's it.
The champagne bar was quite quiet by then.
Our room was taking shape. I told mom if she did not get the place nice and neat, I would have to look for a new travel companion (maybe my aunt, while my aunt was on the phone with my mom). She did not care for that joke either, I thought it was funny. Don't you?
By then I was just out, so we headed to bed.
By the way I love their Dreamwork channel, I just love cartoons =)
By the way I used google keep to take notes on this cruise. I used to use Apple Notes, but since I got rid of my iPhone, I started using keep. It is quite effective and it back ups constantly.
I had been a fabulous first day aboard the Oasis of the Seas and we were very grateful to have the opportunity to enjoy this time together.
End Day 1