Day 2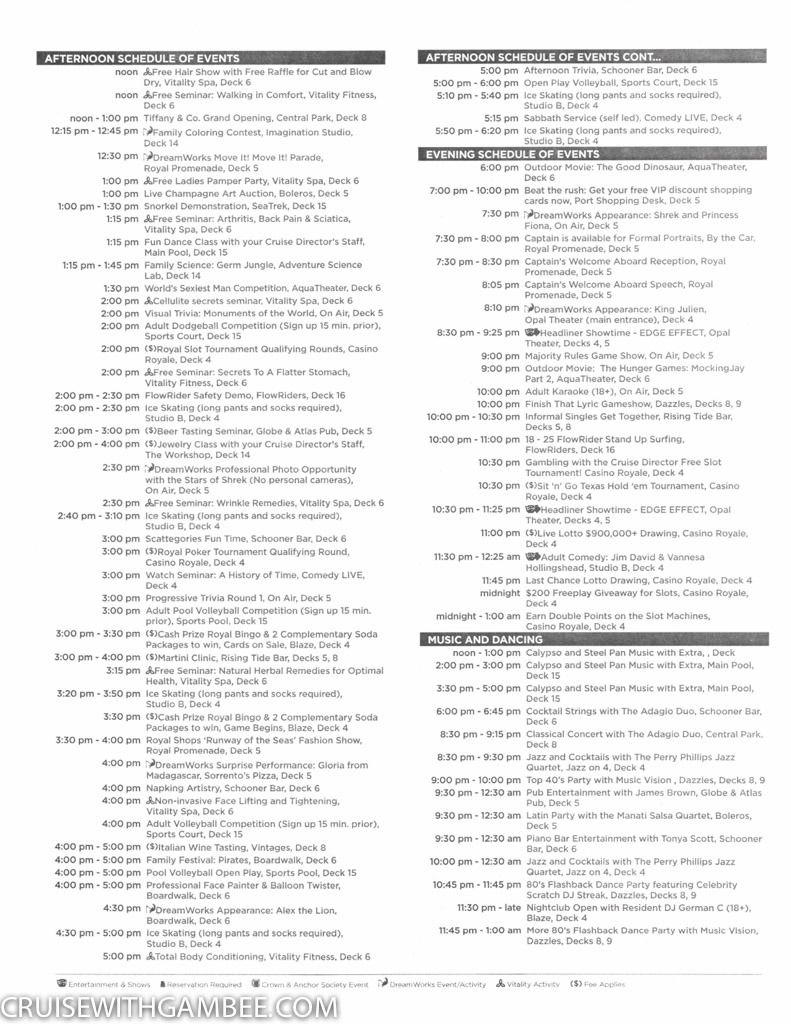 We woke up nice and early, and just like on our Allure cruise I turned on the TV to place our breakfast order. Little did I know that it is not possible to place same day breakfast orders on Oasis. I am not sure if it also changed for Allure, but at least that was the case here. I was a little bummed out about that, since I was looking forward to it. But, no big deal, there is plenty of food on that ship.
I also forgot to mention that the safe is tiny, so tiny that we had to fold our naturalization certificate to fit it in there. It is not that there is no space in the closet, I am not sure why they are so tiny. At one point the safe locked on us and it started making beeping loud noises. But it was quickly opened for us by a security supervisor.
With the room service failure, we changed the channel to the bridge one to take note of where we were.
I look forward to the day that I can visit Cuba, I know it is a touchy subject to many. And in a way it is to me as well, but I am a traveling person, and the amount of history there must be ridiculous!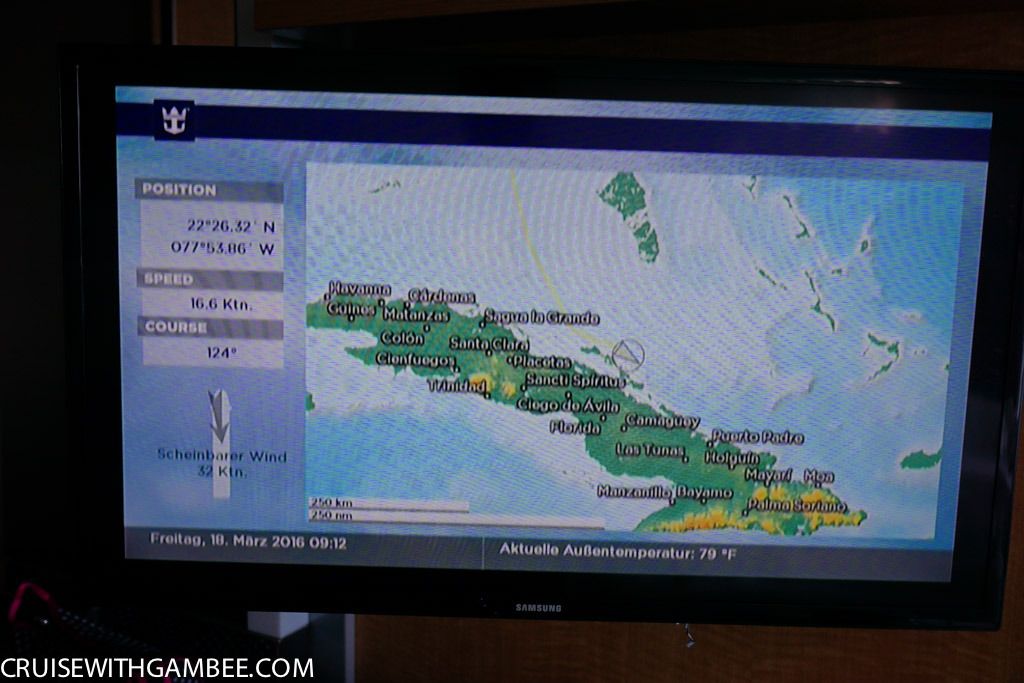 A view from the balcony. Perfect weather, once again God never forgets us.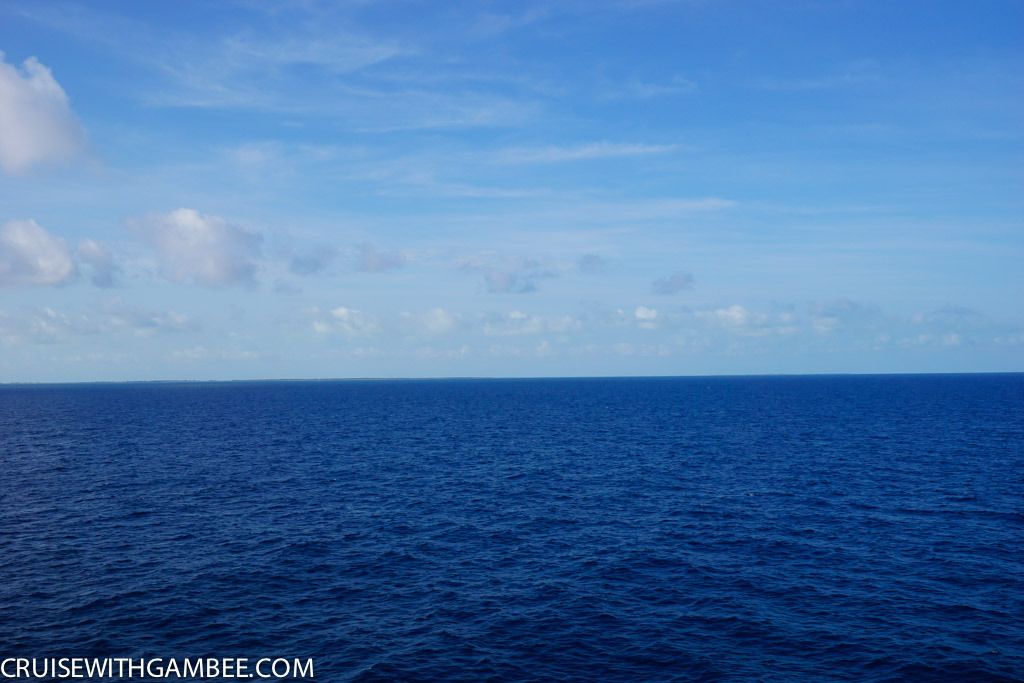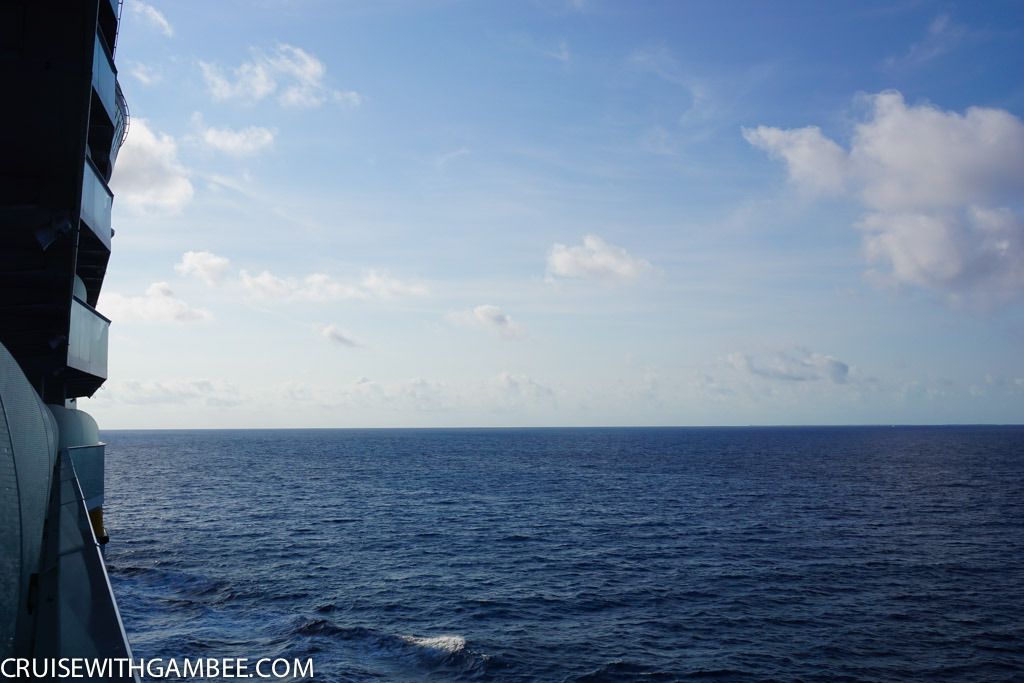 One day Gambee, one day. Geez, I have a lot of "one day scenarios".
I was feeling a little stuffy, so I took some emergency C. Let it be said, that until today I am not sure the cough was caused by our smoking neighbors or not. But I have a feeling it did.
I shaved and marked the activities for the day. This is the first time that I bring a highlighter, funny thing is that we ended up missing more than half of the planned activities. But we had the best intentions of going there.
I told mom that I would go upstairs and get us some food, so that we could enjoy some kind of food on our balcony. She was too busy with her phone to even acknowledge me
.
Please note this picture, they have all the ingredients to make your own eggs benedict.
They had a good variety of items that morning.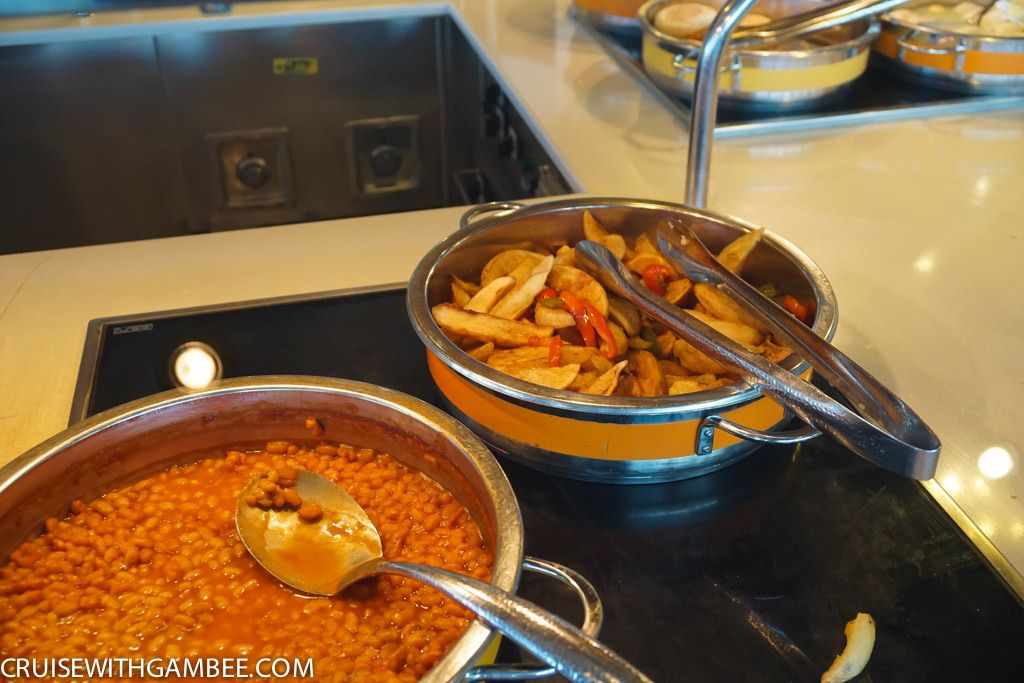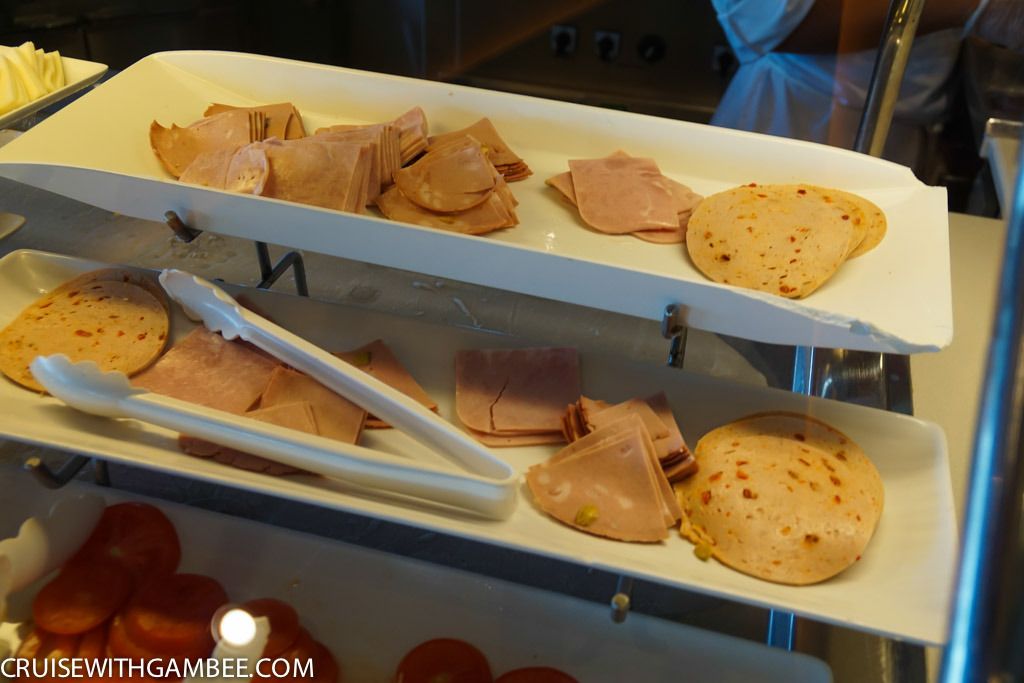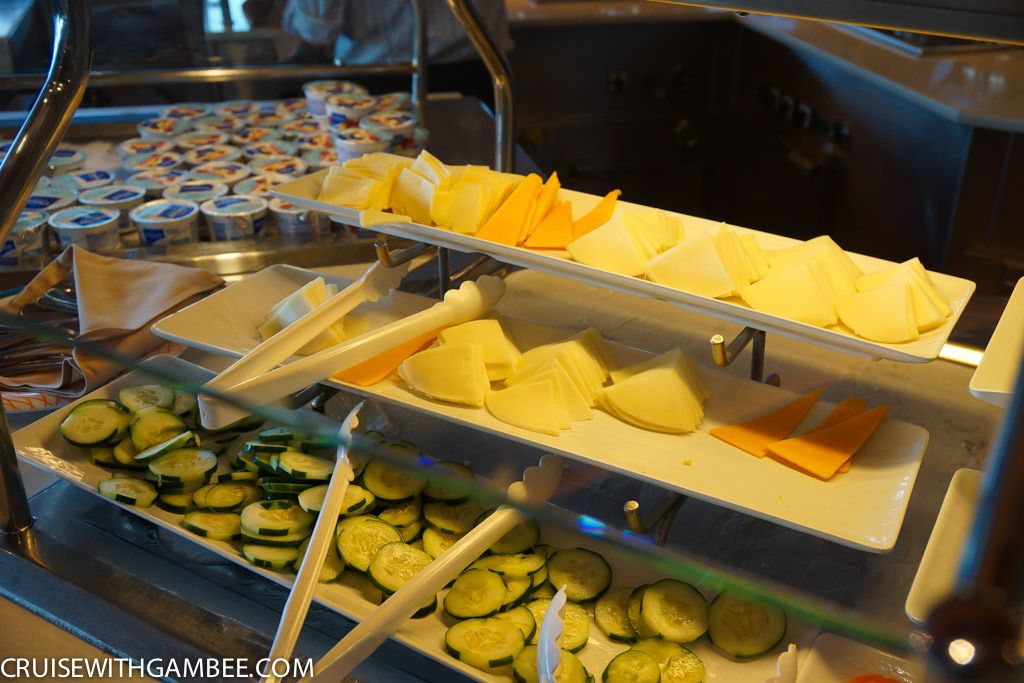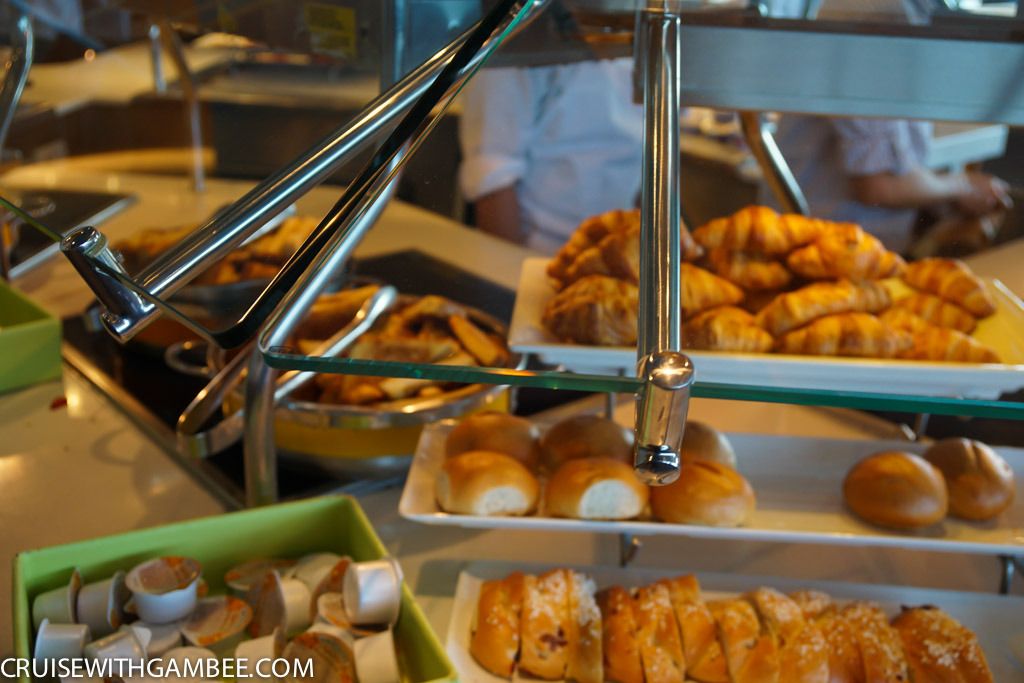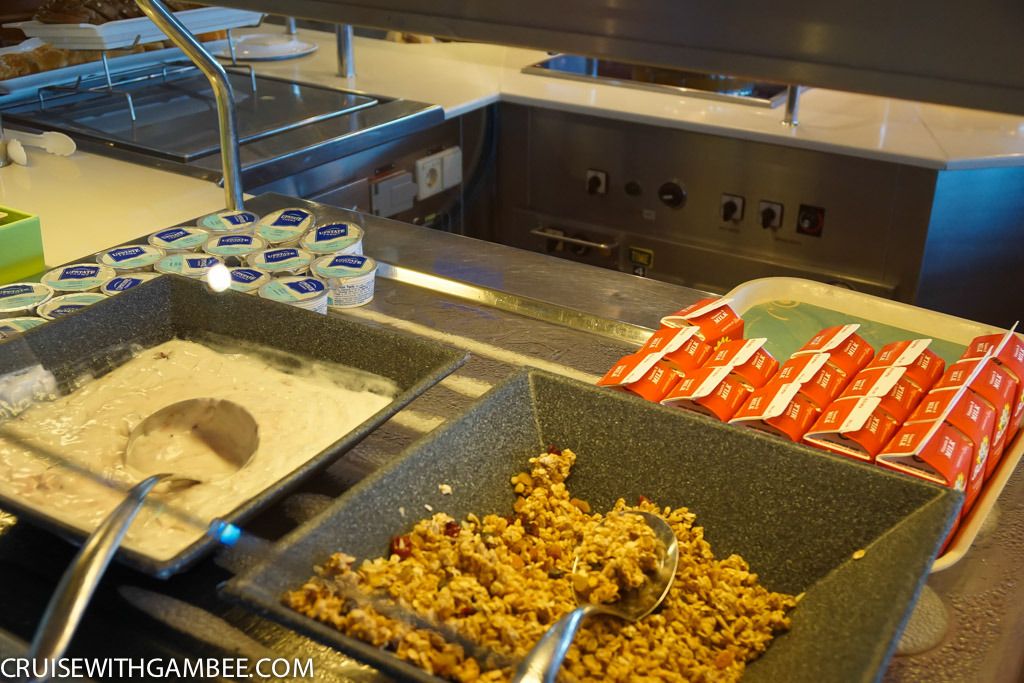 I brought the food down and then realized that we had no utensils.
I went out and looked for them in the cafe promenade, but they were not available there. So I went back up to the Windjammer and go them. I also made myself some eggs benedict.
Then it was time to eat. The Windjammer actually has a nice selection, and the food is quite good. But just try not to go there at prime time, otherwise your experience might not be as pleasurable as ours was.
The only thing that was lousy were the scrambled eggs.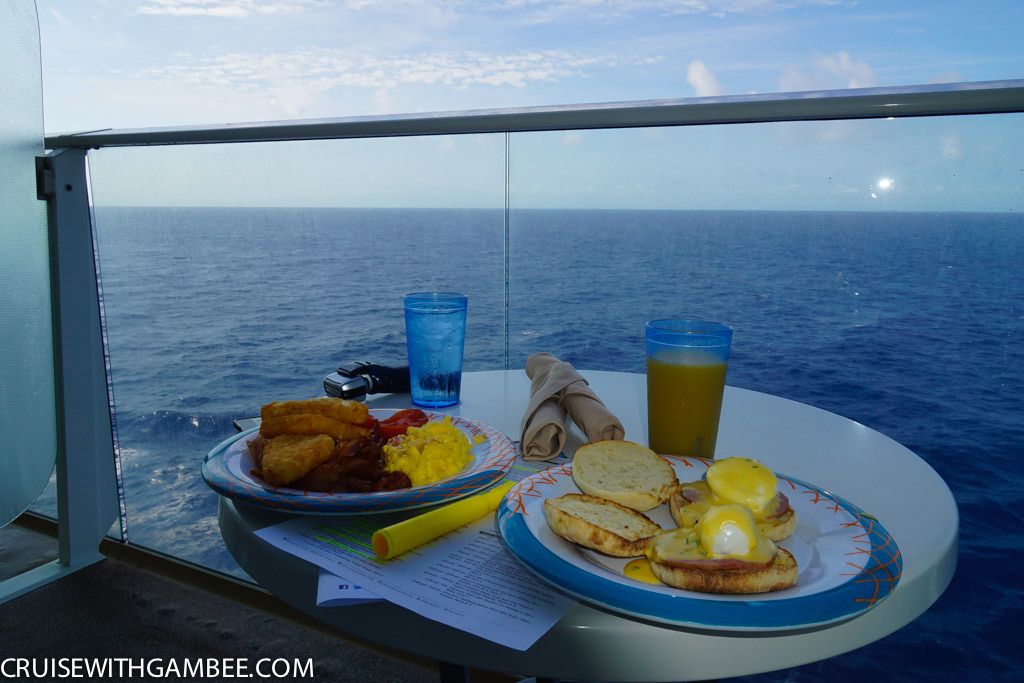 After breakfast I decided to go upstairs, mom had some work to do and she said that she would do it on the balcony. So up I went to the Solarium to enjoy the great weather!
It was still kind of quiet on the Lido deck.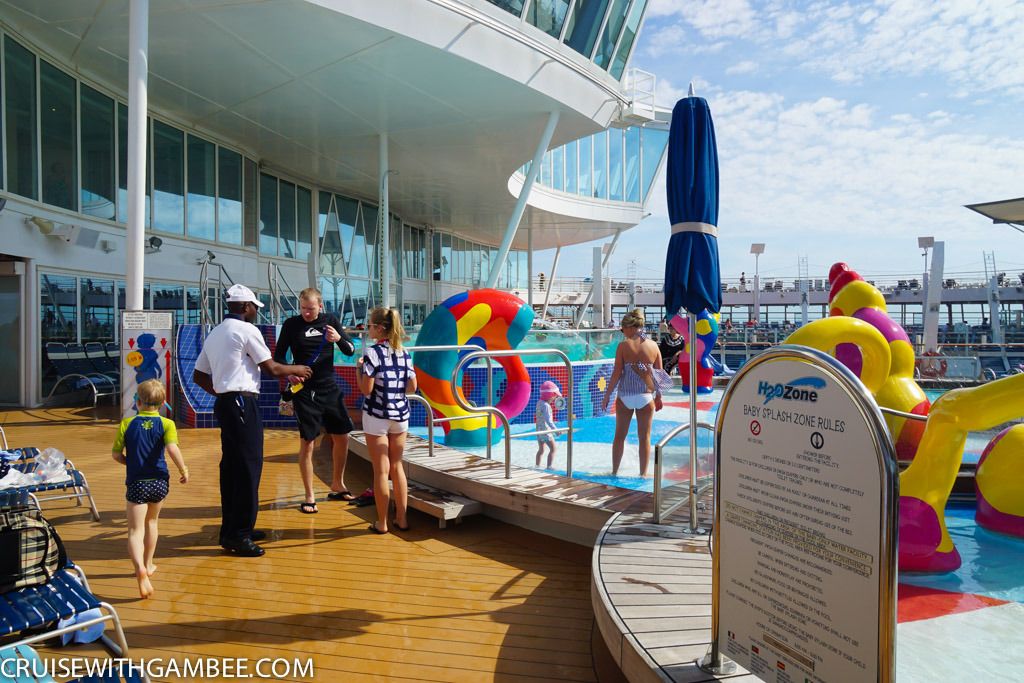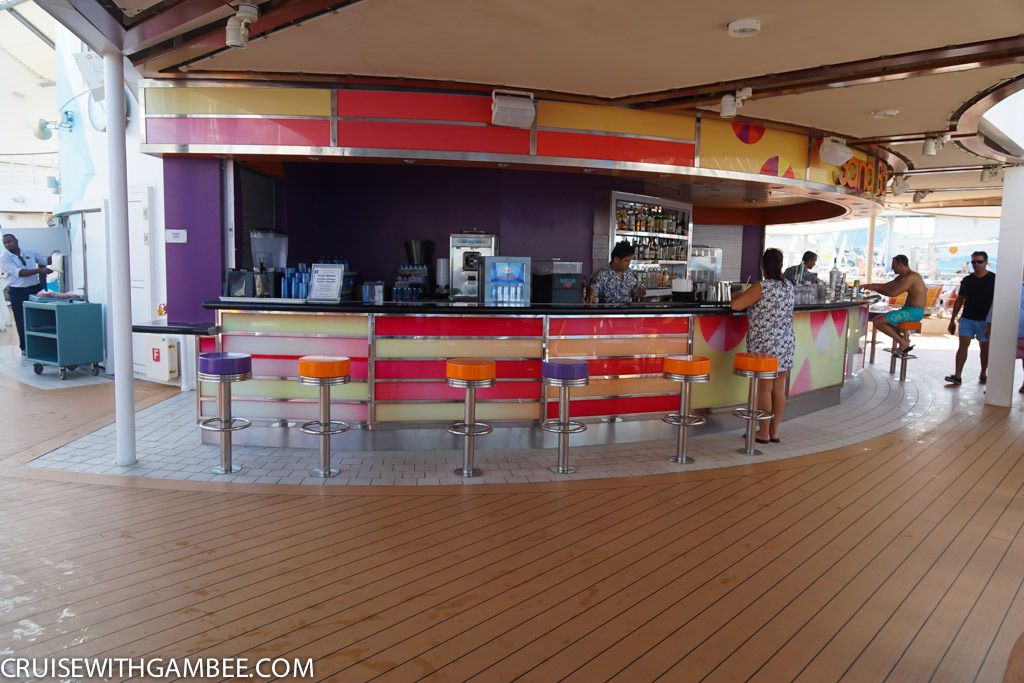 Even though we never went there, the beach pool seems like the nicest of the 3 pools.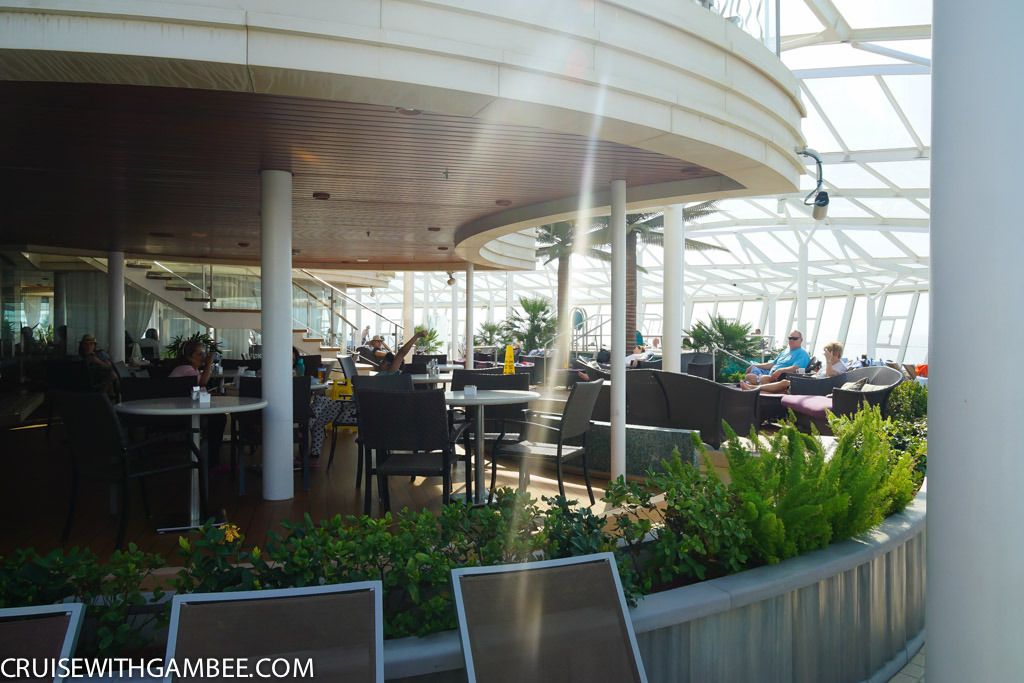 I found a nice lounger and relaxed there for a little while. I saw tons of flying fish from there. After a little research I read that they fly to scape predators, well this is the hell of a predator, I can imagine why they would fly to get away from Oasis, LoL. Poor things.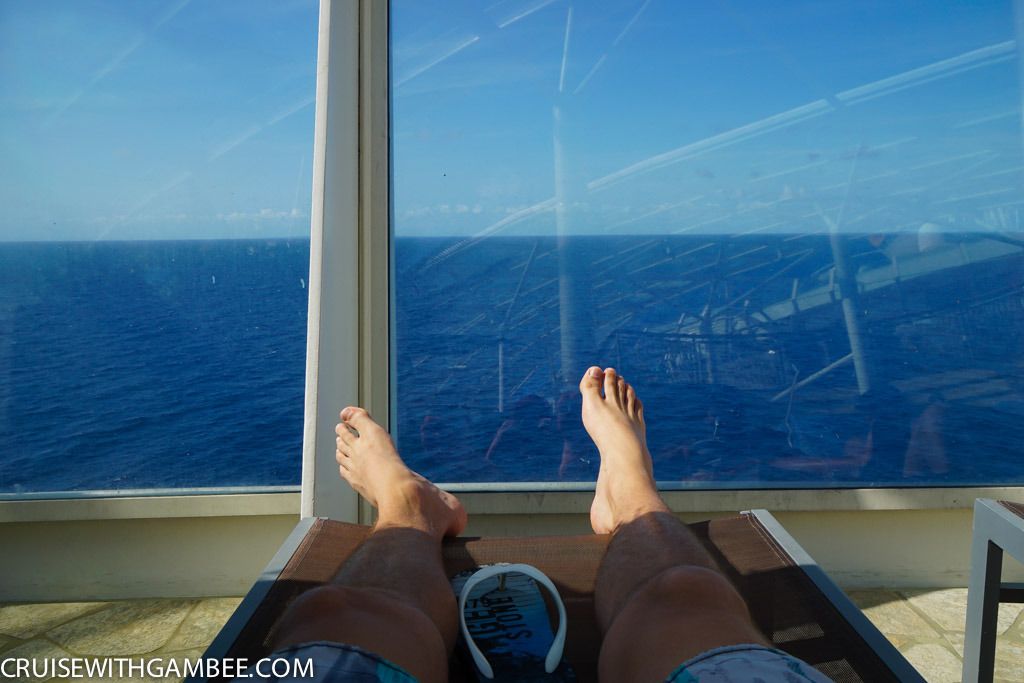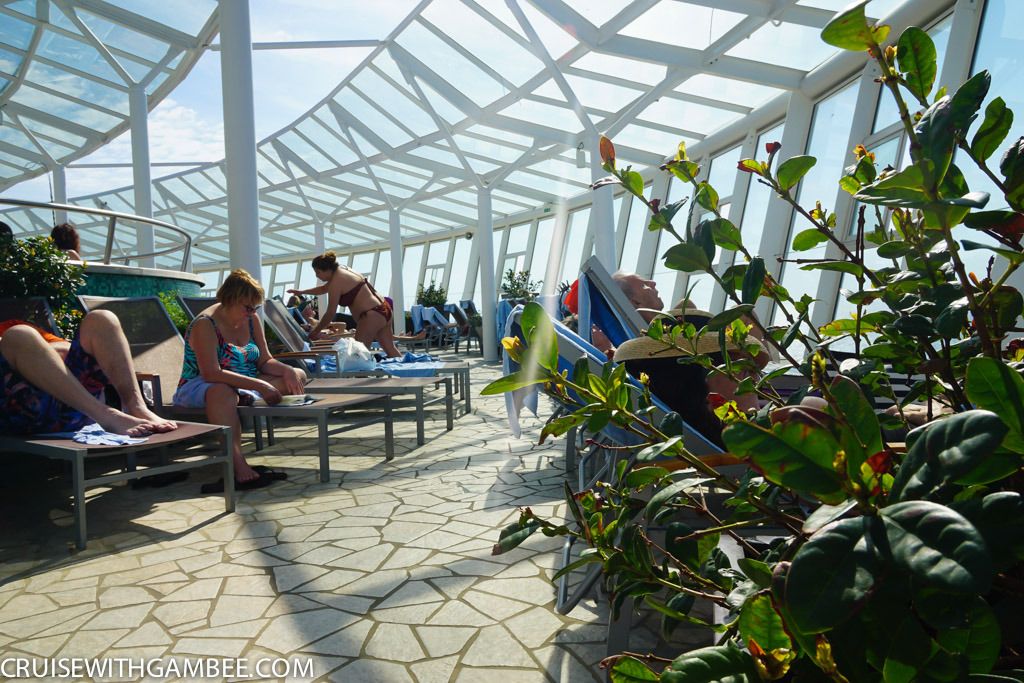 Some people enjoying the view.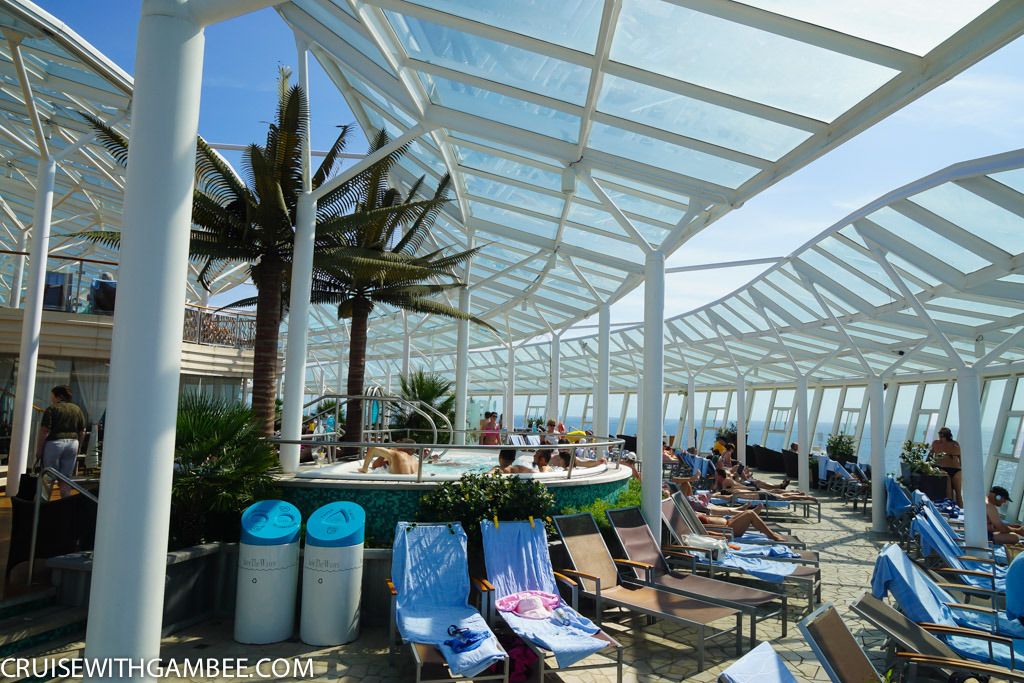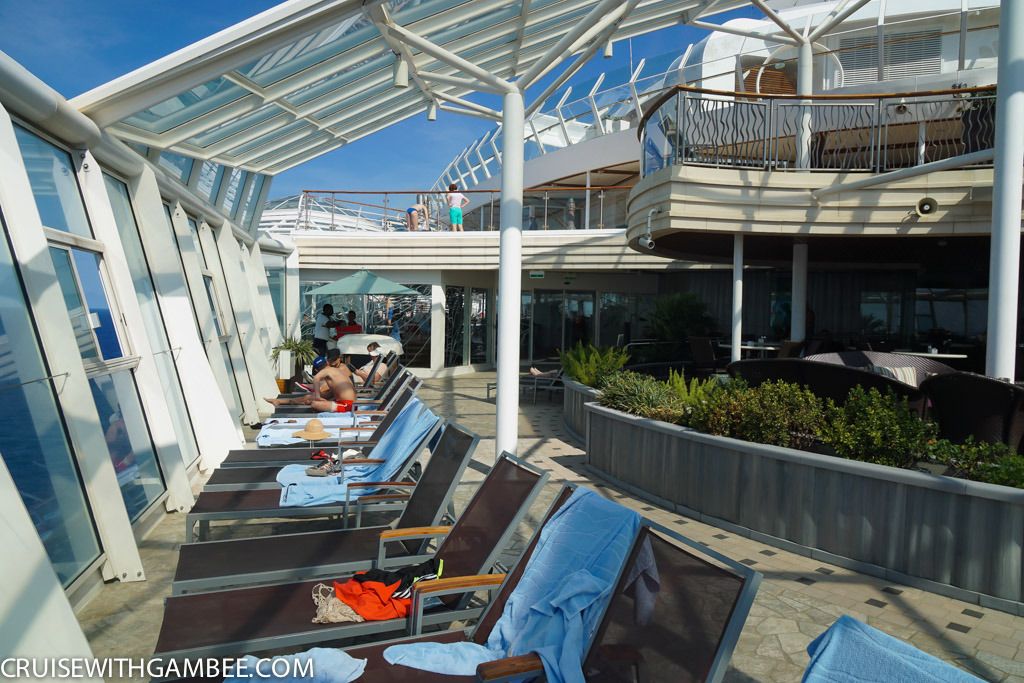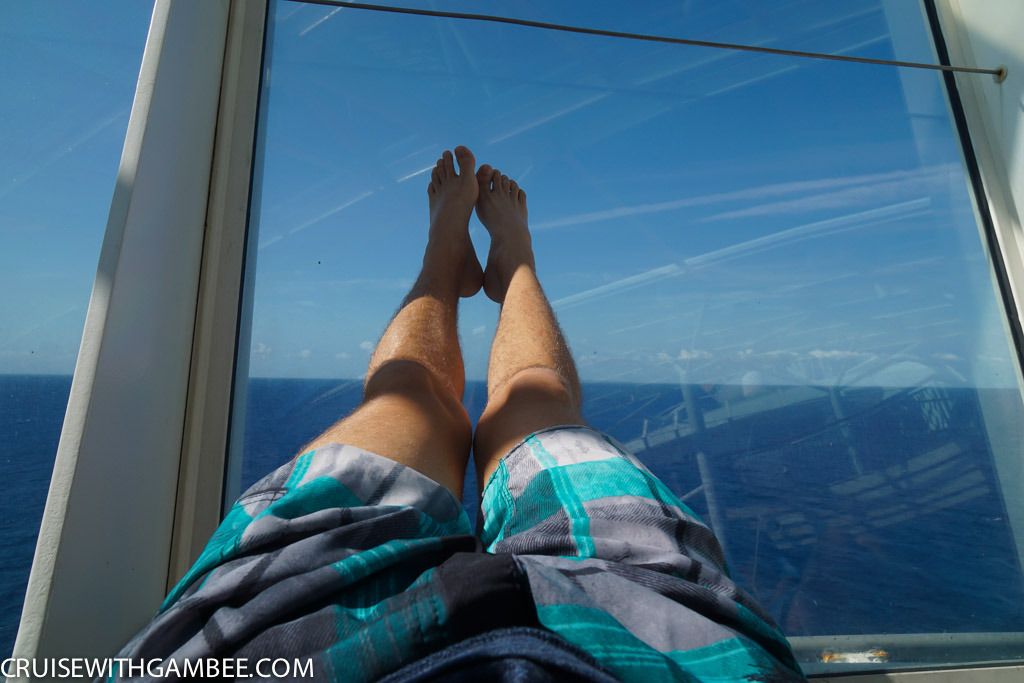 I was there for a few hours, and then I decided to check the deck below, before going to guest services.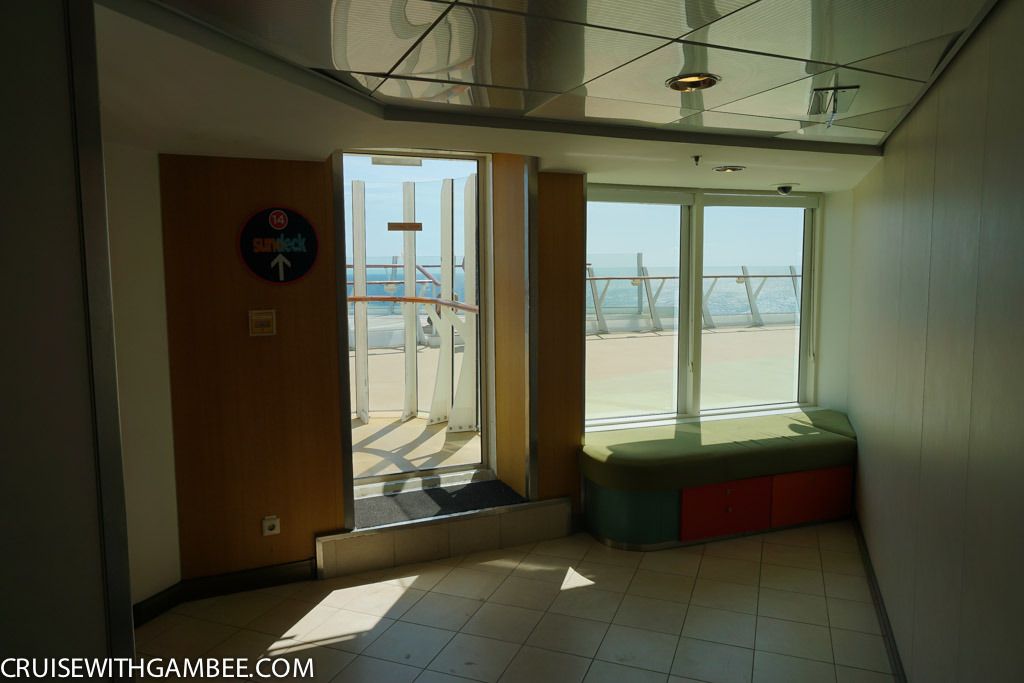 I took my hat off, I already had one blown off by the wind on the Carnival Breeze. That was not going to happen again!
It is extremely windy down there, lots of fun.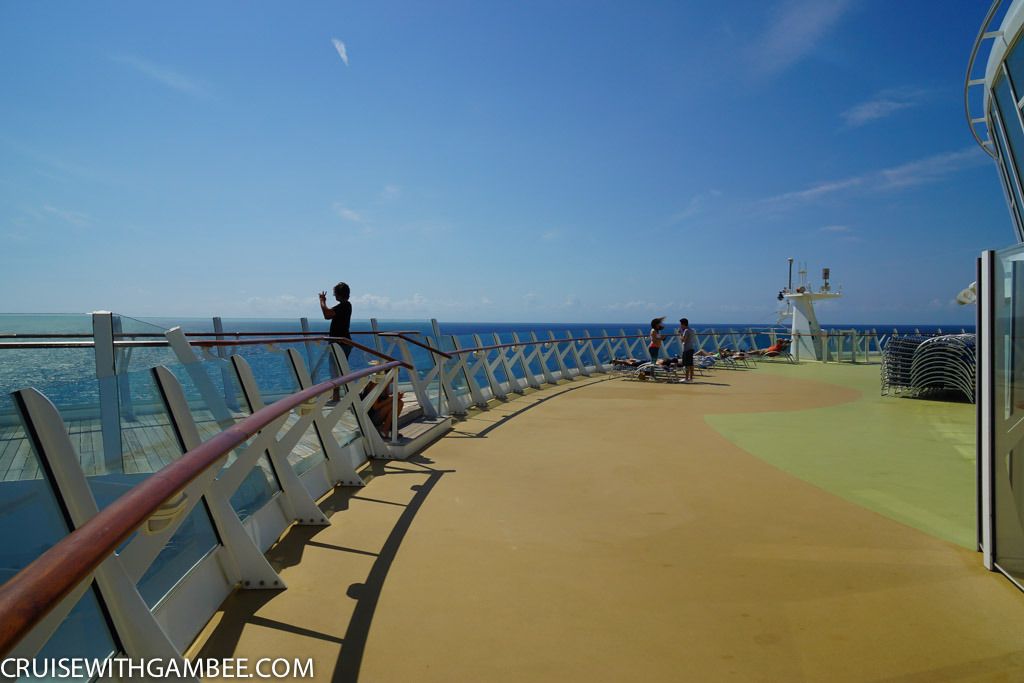 There was another cruise ship in the distance.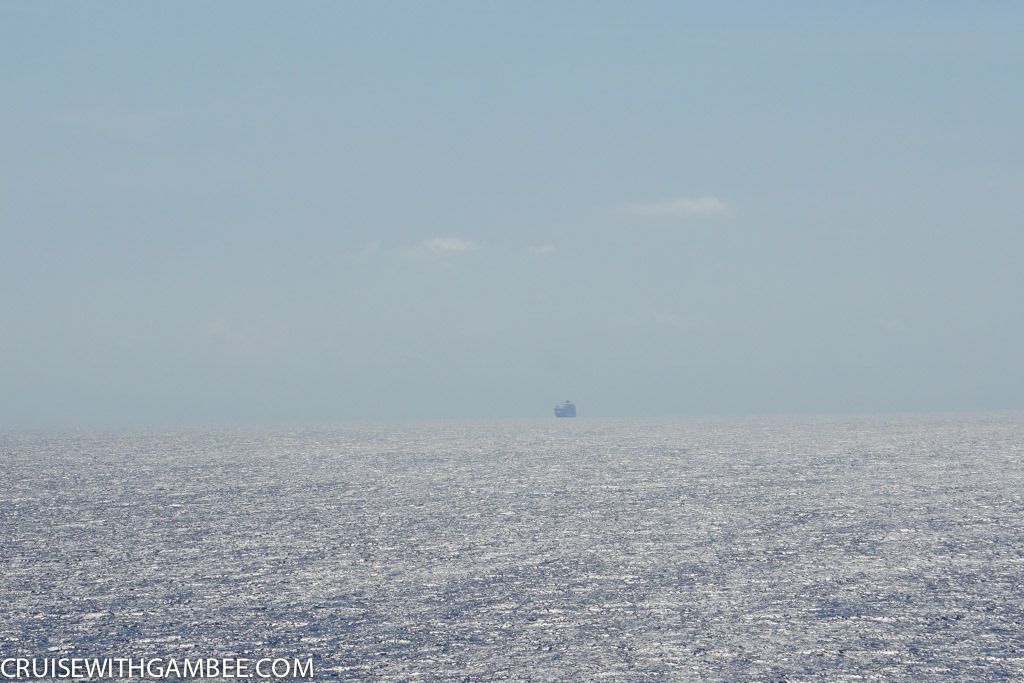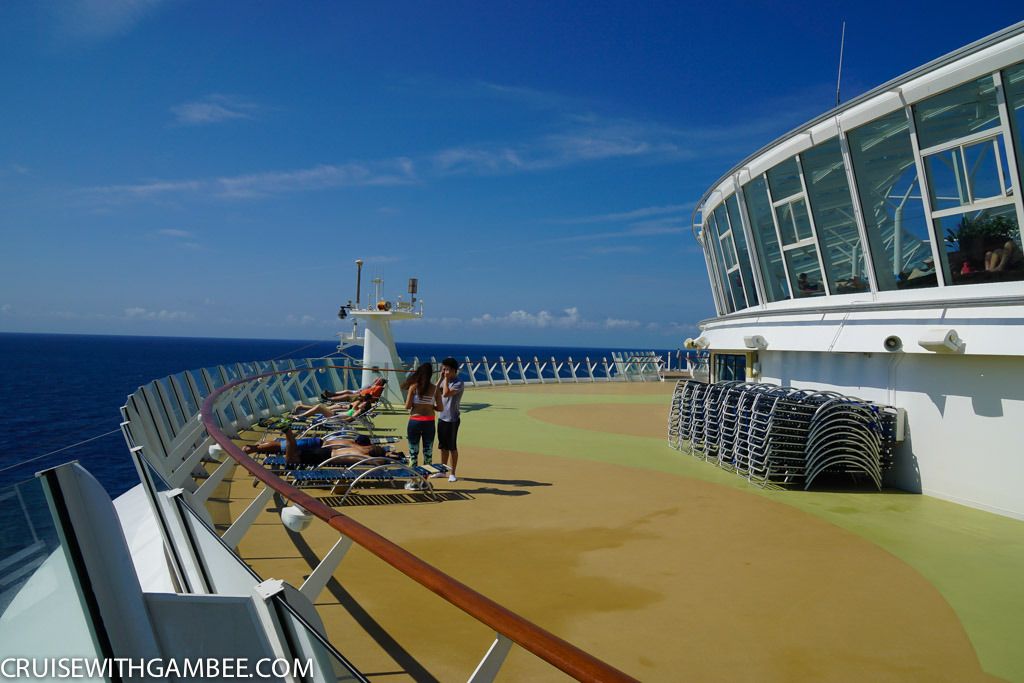 There you can see the kids' area.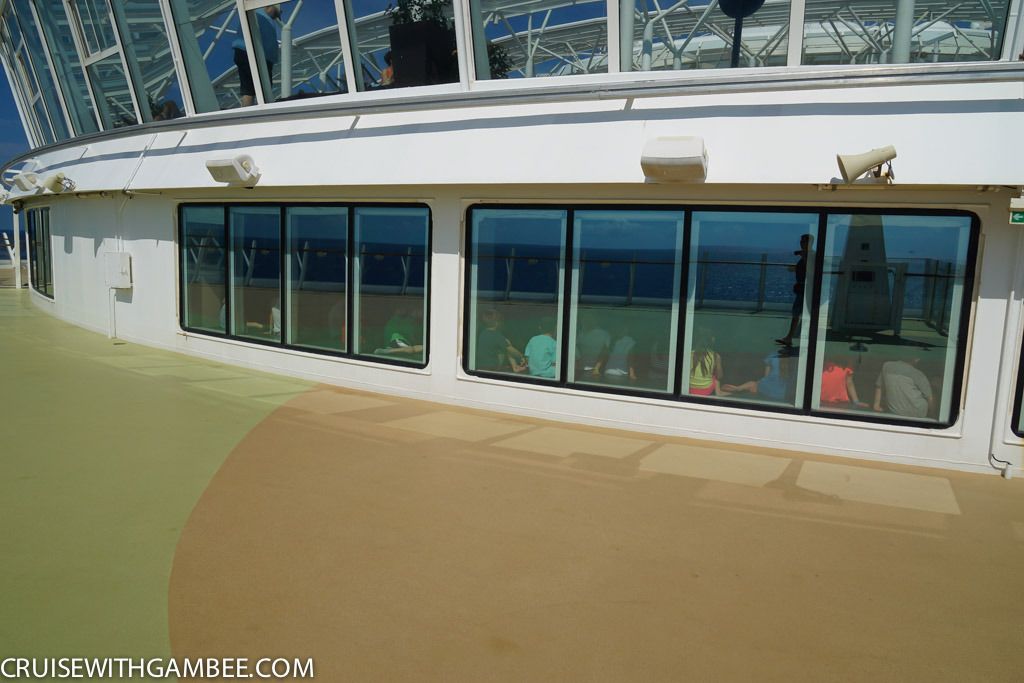 I would later bring mom to this area, so that she could enjoy it as well.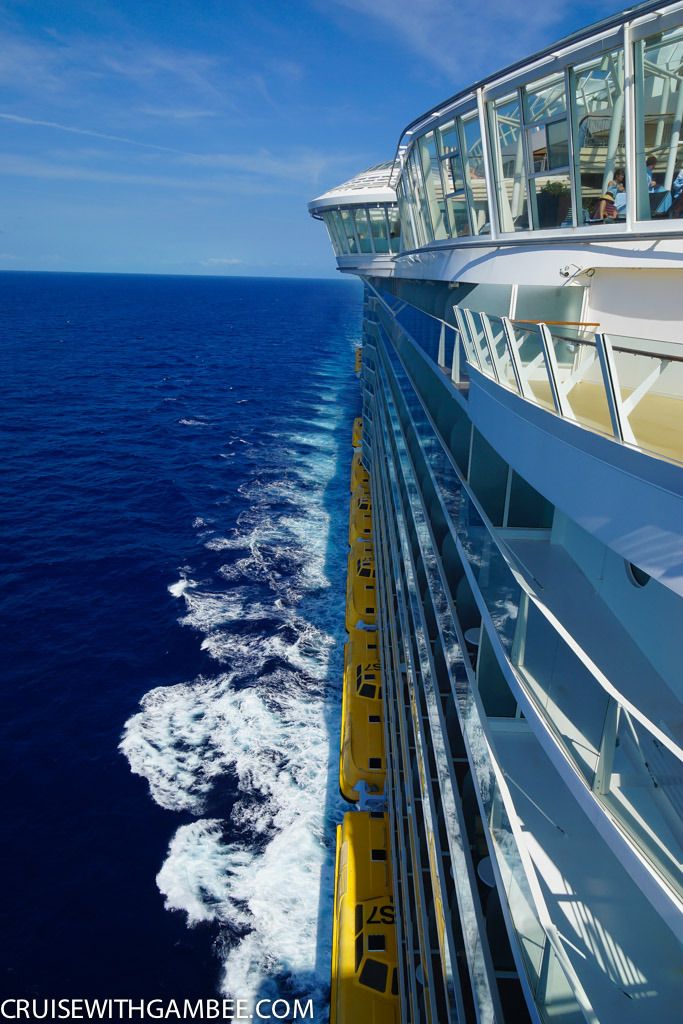 Once on the promenade deck, I took pictures of the Starbucks menus.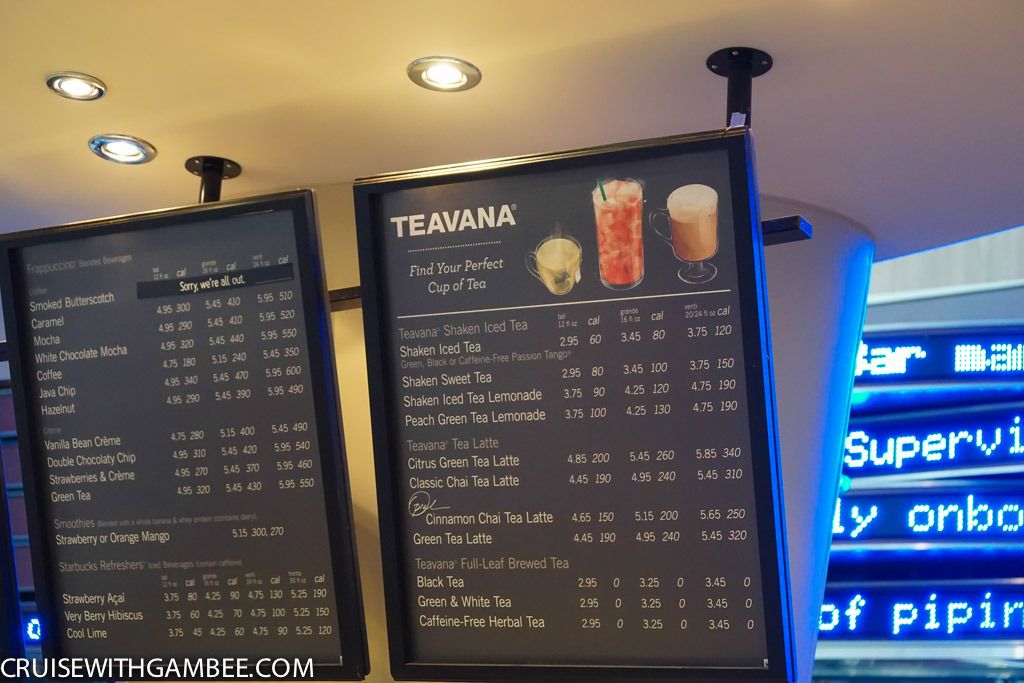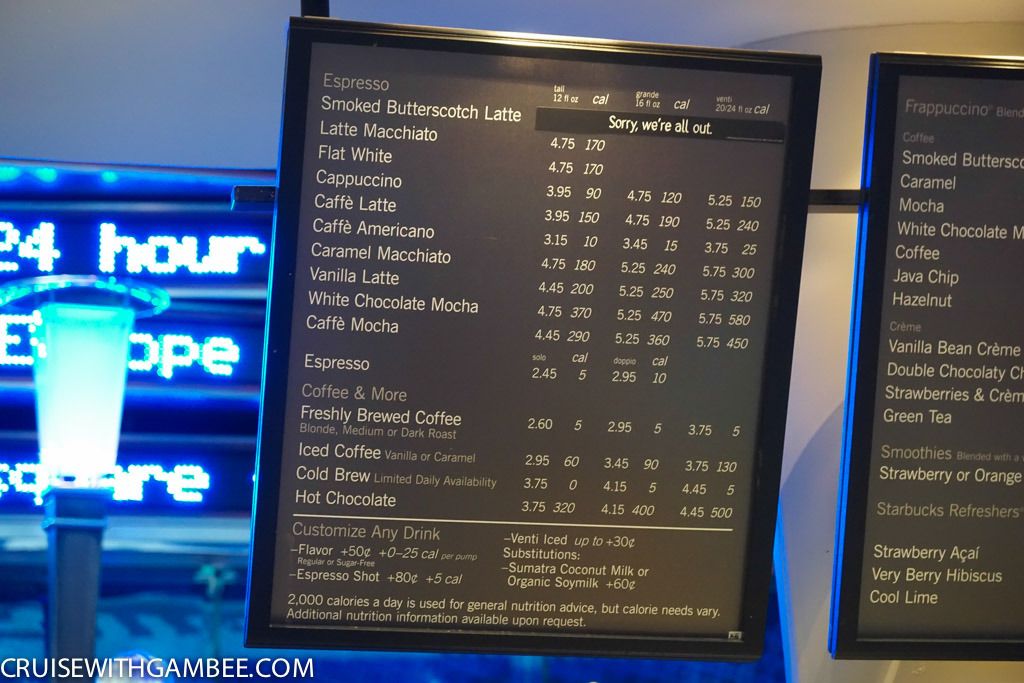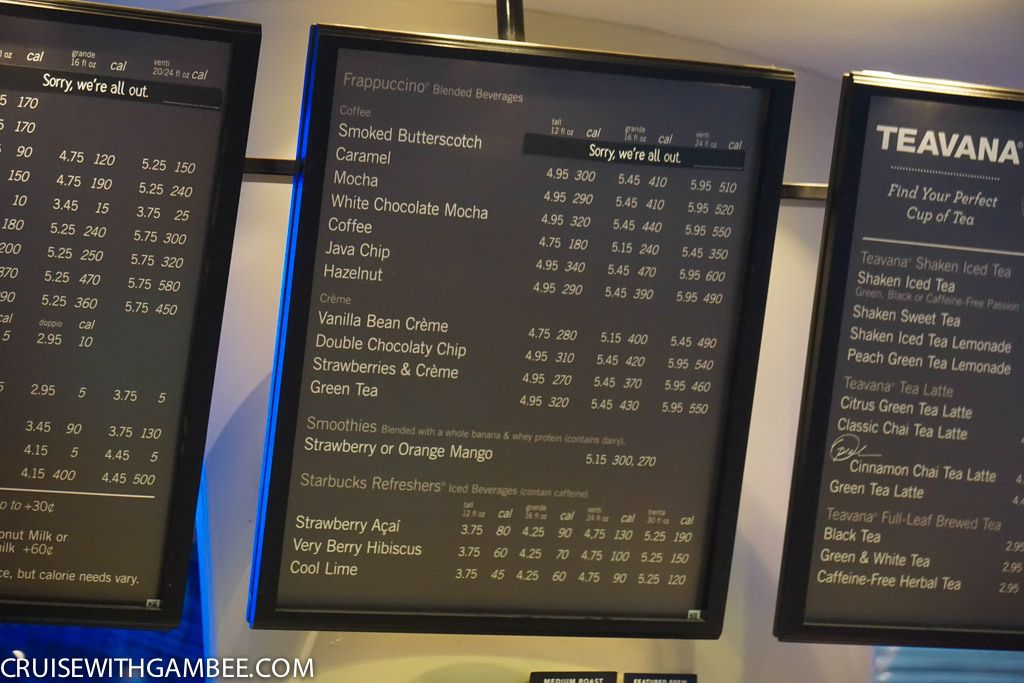 It was quite busy down there.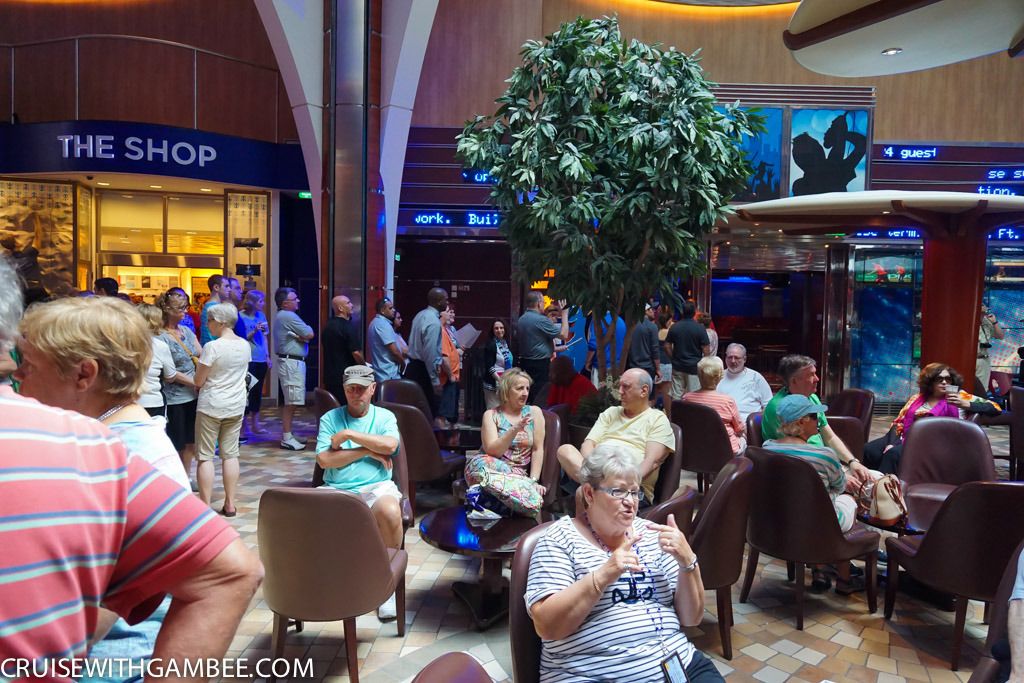 I guess they had one of their non-sense sales
The last T-shirt!!!! run, run, run, run!!!!!
I decided to get in line in front of the Voom internet stand, to inquire about adding the second line. But like I said it cannot be done. The issue is that there is no clear line, and everyone keeps getting in, and she takes forever with one person. I highly suggest you go to guest services instead, and that is what I did after waiting 15 minutes or so.
Guest services were quick, albeit she was not the friendliest. I inquired about the internet, and also my complimentary dinner at Chops. She told me that the dinner was there, just to let them know about it. Then I also asked about some OBC that I had, and she was a little intense explaining me that it was already used (I knew that already, I wanted to make sure that it was there since the TV account system was not working). It was an ok experience, not great, but much better than the ones I had with NCL on Breakaway. Somewhat happy with my answers (nothing to do about the internet), I went to see if mom was done with her work.
I picked up mom and of to the solarium we went. I grabbed a coke from the minibar before leaving.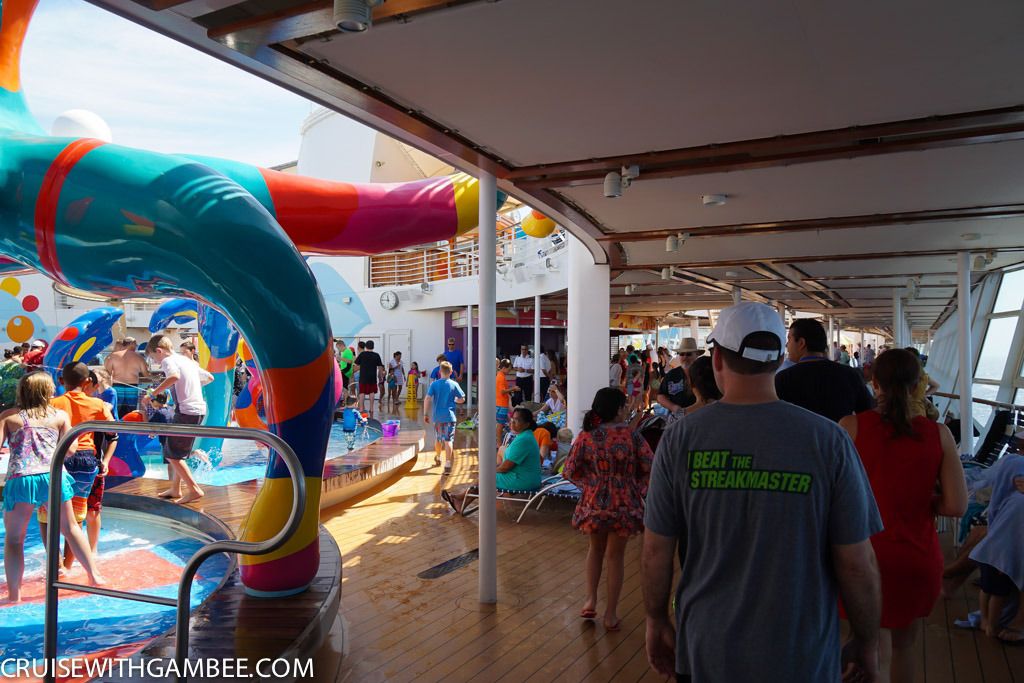 The Lido deck was much busier then.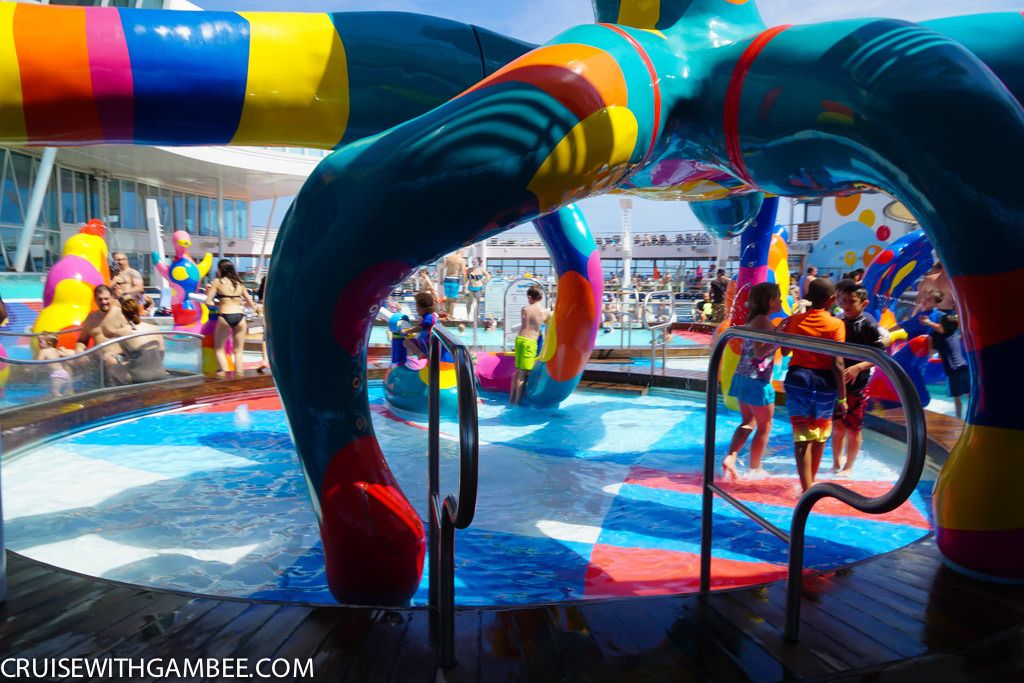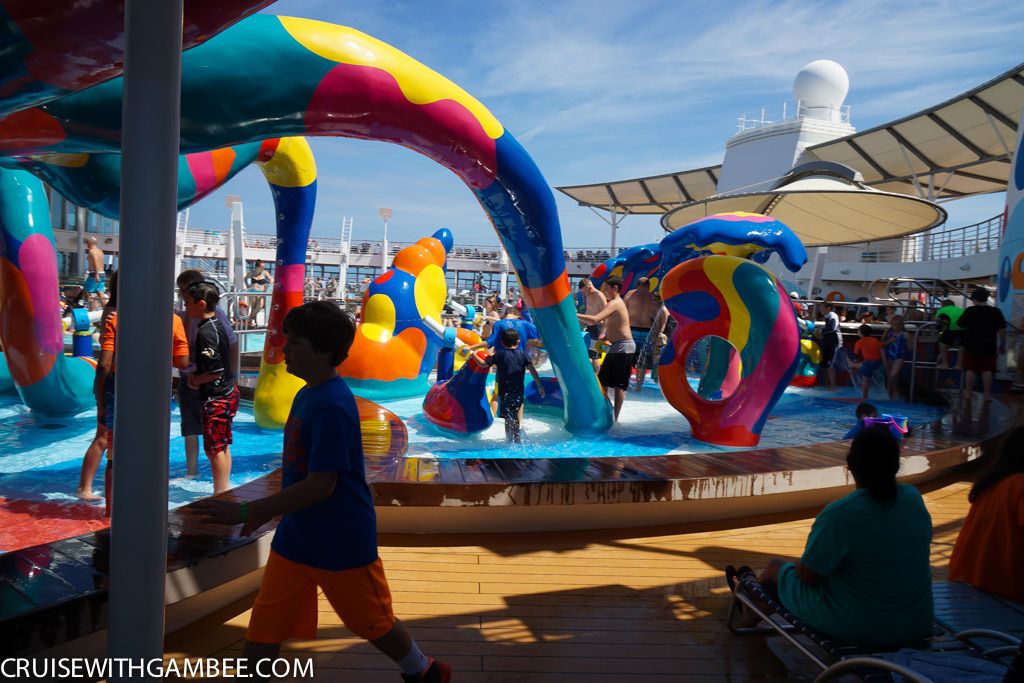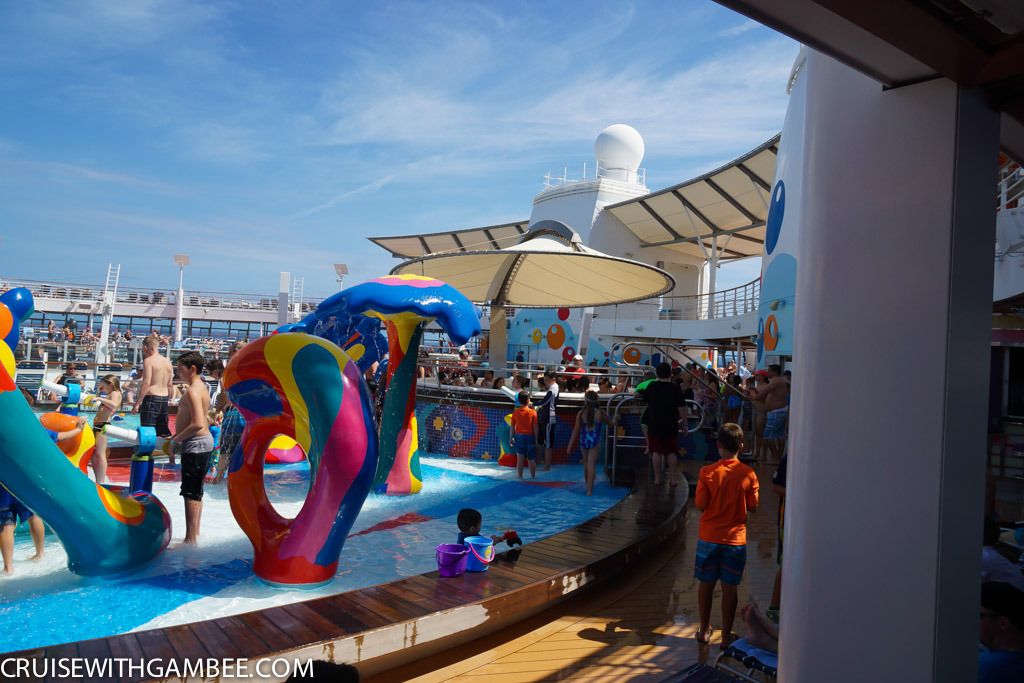 We sat on one of the tables near the bistro. There were no loungers available, so that was our only option. I went upstairs to get some shots from up there, while mom used the internet for a little while.
You see the guy with the red container? He has one rough job. He walks around all that picking up plates and dishes. Just imagine that, exposed to the sun and whatnot, day after day.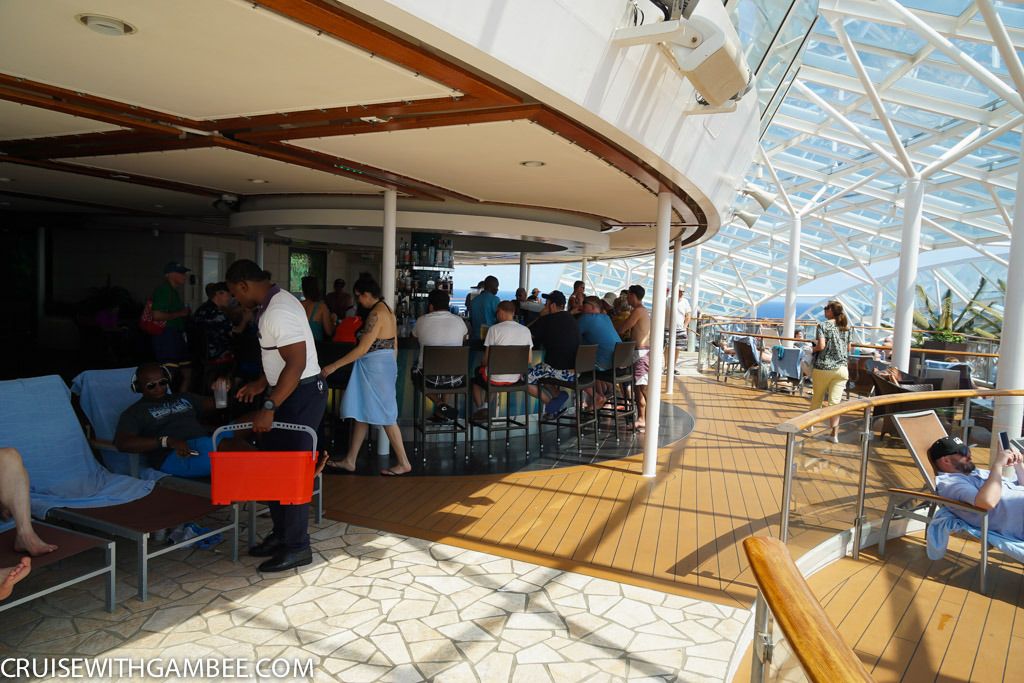 Did I mention that the Jacuzzies are burning hot!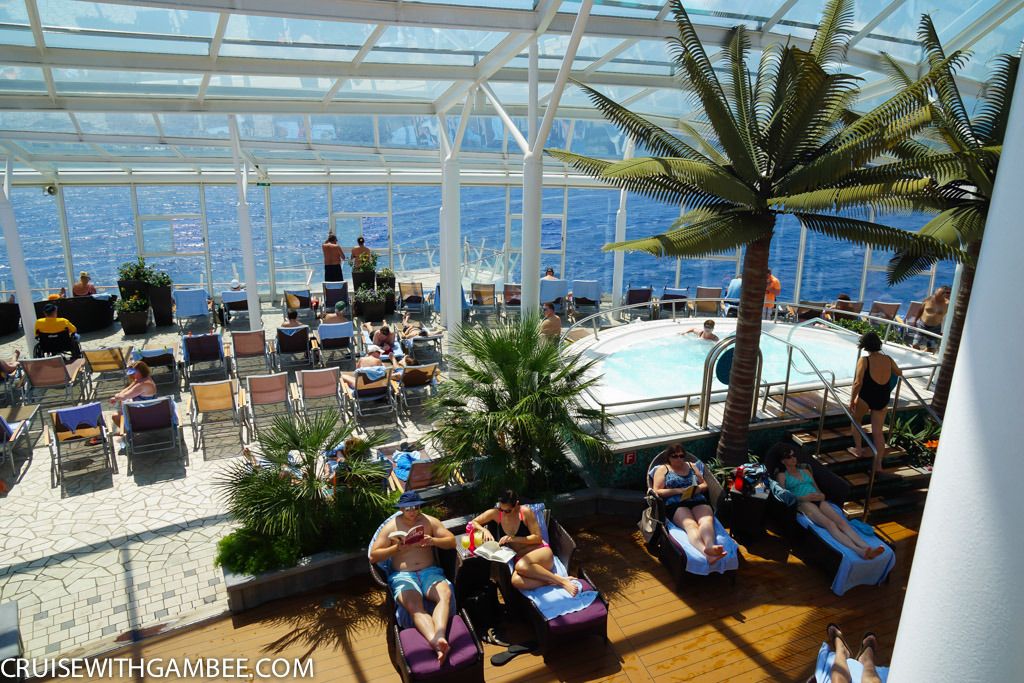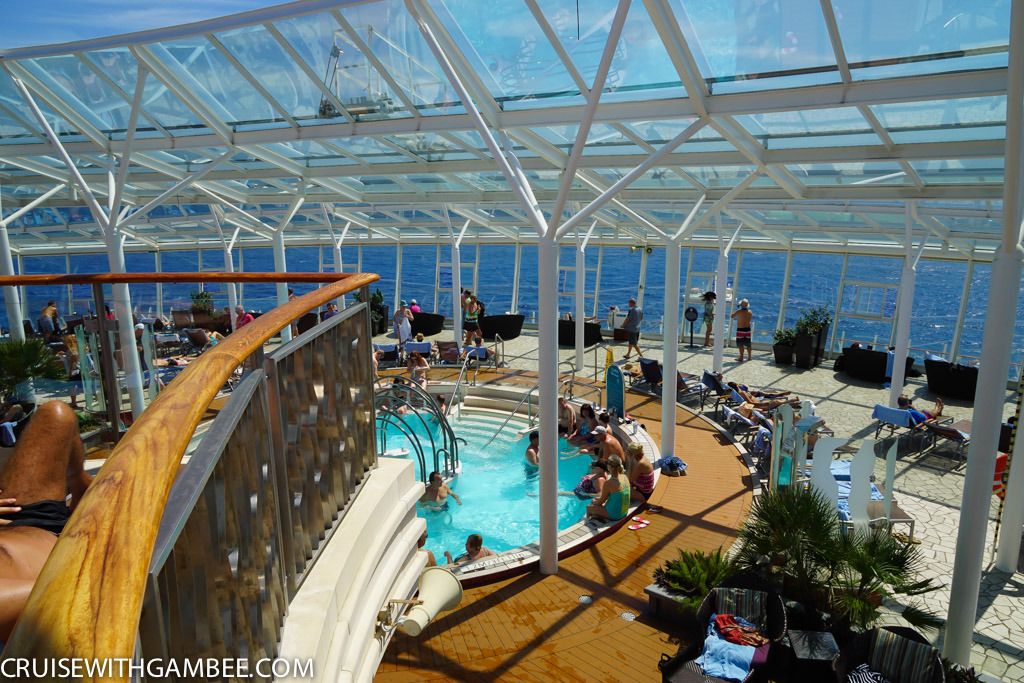 The solarium opens for lunch at noon. That place is hit or miss, our first two days were very enjoyable there. But it quickly became monotonous, and we had to look for lunch elsewhere.
It is nice and quiet there, usually.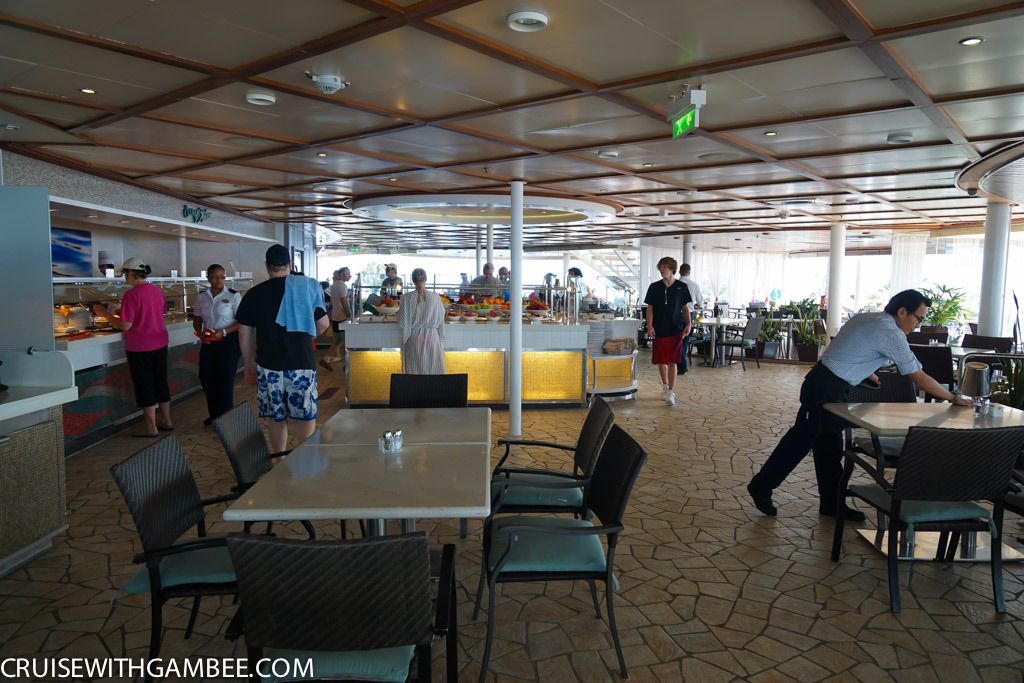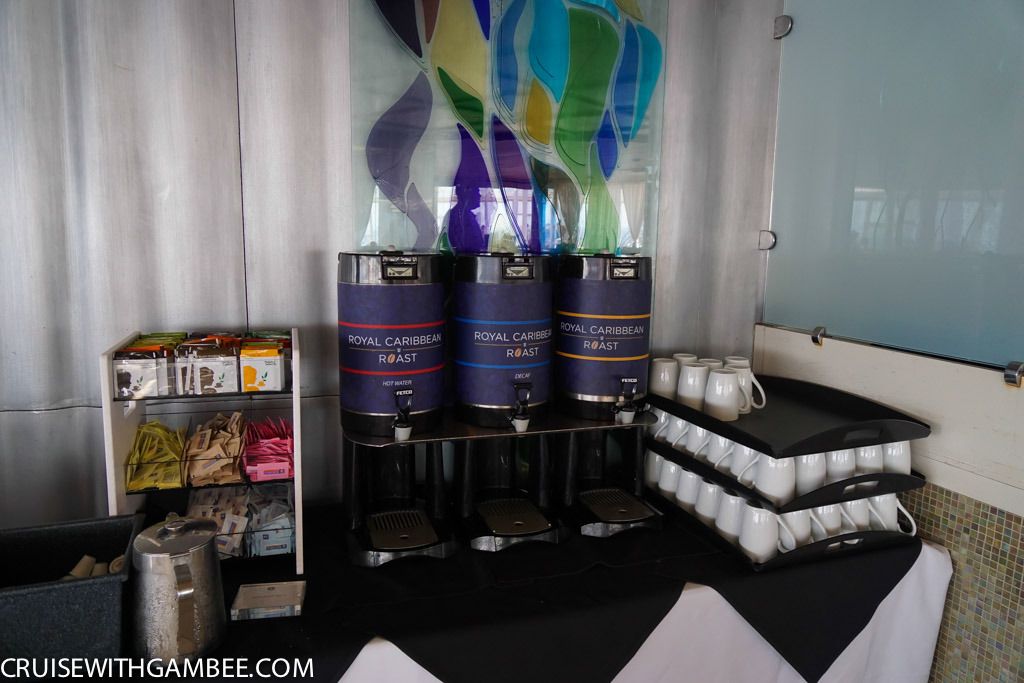 Like I said, no ice machines.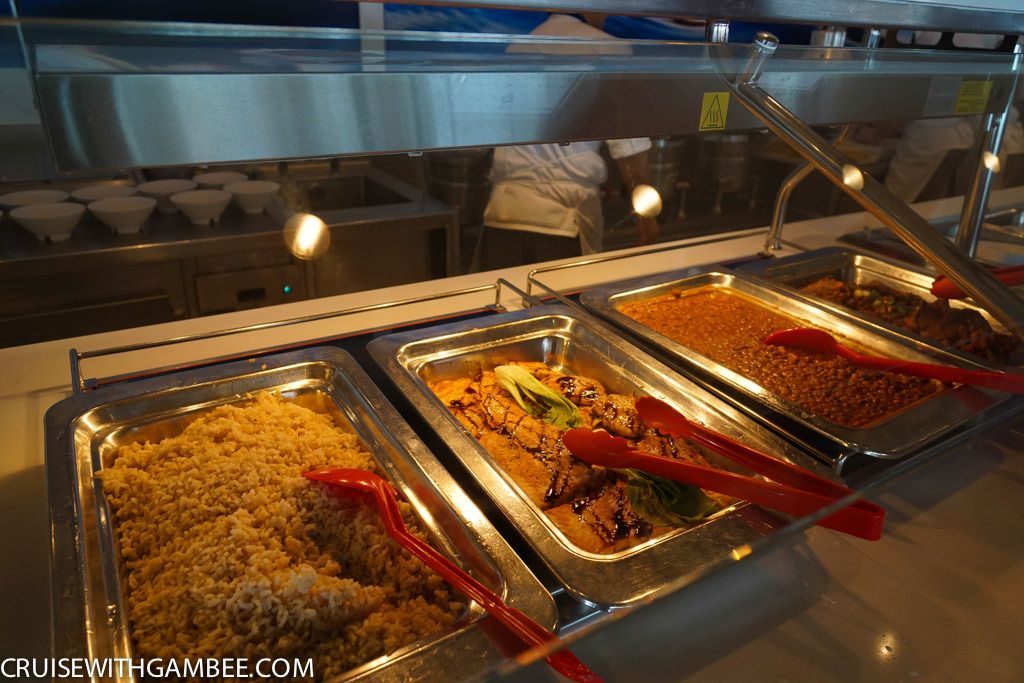 Miso soups.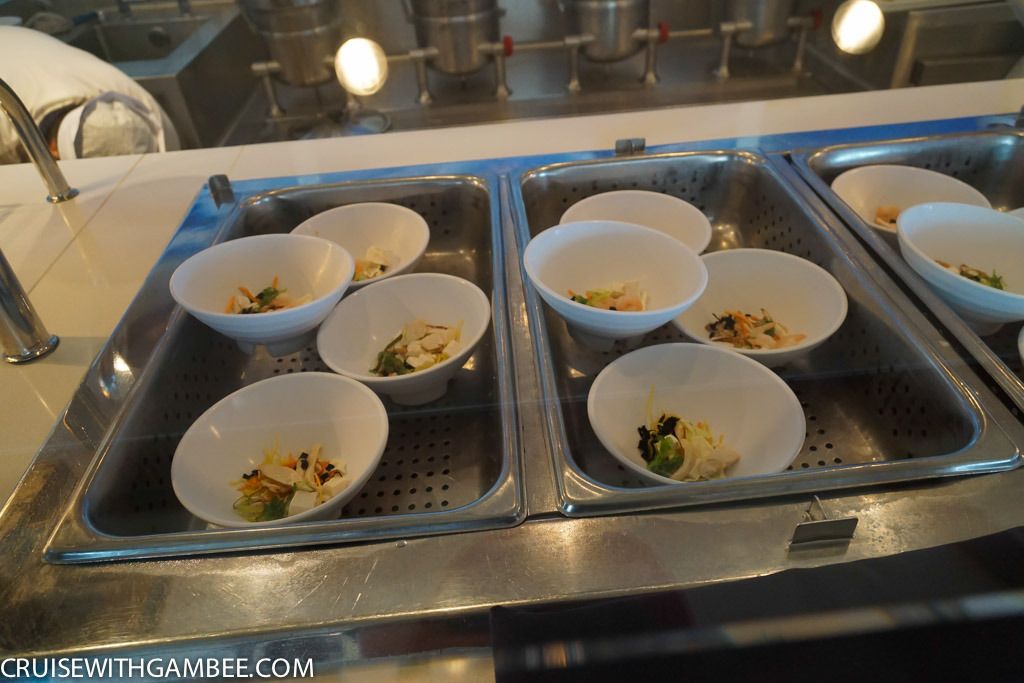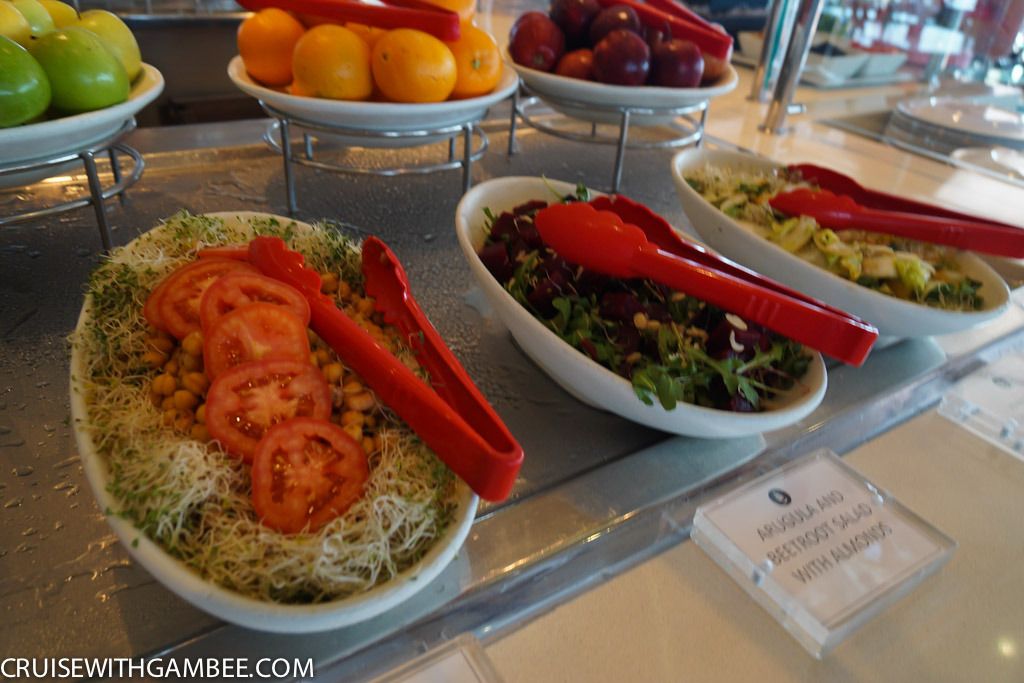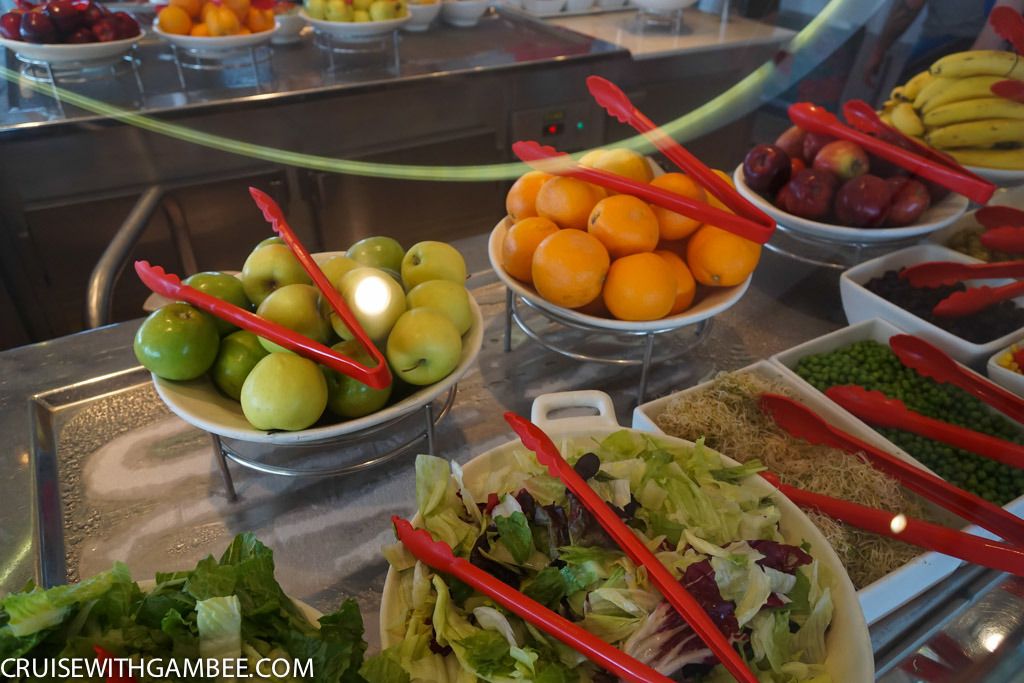 Salmon and rice, with a miso soup. Everything was really tasty, although I like my salmon a little undercooked. It was very well done.
From here I really enjoyed the baby corn with the ranch dressing, everything else was just ok.
Mom enjoyed the steak, and the beans, well they were beans, lol.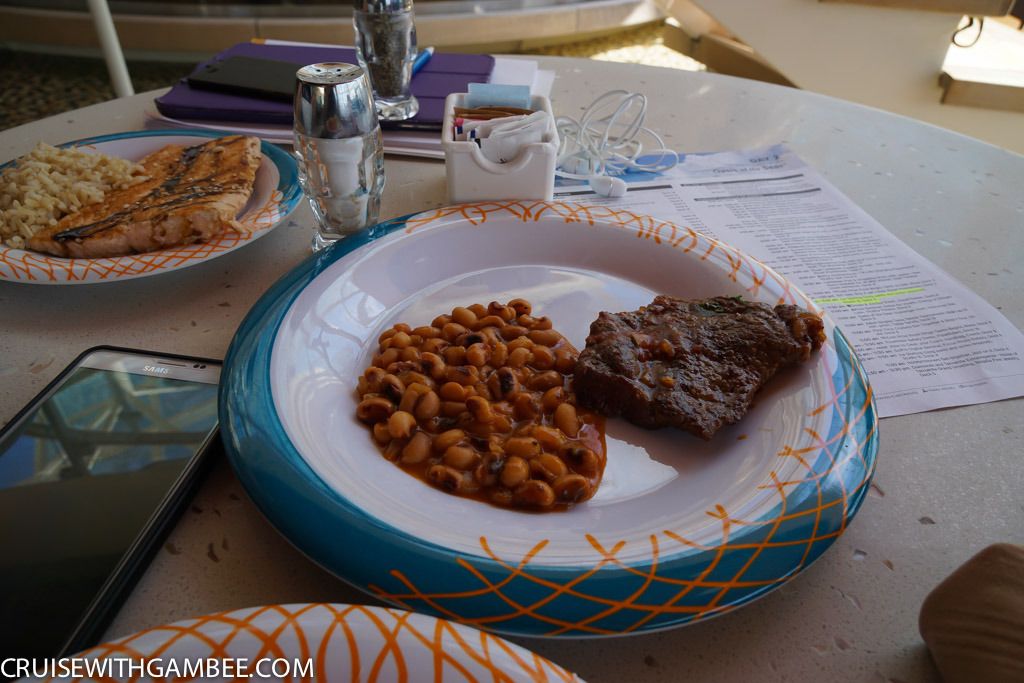 The pistachio sugar free cake on the left was great. The other two desserts were tasty as well. Word of advice, the wrap on the right was horrible. The worst part is that they always looked sooooo good, and each time they had different flavored ones, and I keep on trying them all, only to figure out that they are all tasteless. What a shame, they could be so good. Oh, it is not a dessert. Some of them have salad, some shrimp, some chicken, even the one with jalapeños was dry and tasteless. How is that possible?