Welcome to my Princess Cruise Drink Packages webpage, this site will help you decide if any of these packages are right for you or not. The current price for the Princess Cruise Drink Packages is $49 + 15% gratuity and that comes to a grand total of $56.35 per person, per day. The total price for a 7 day cruise for two people would be $789.
The package includes pretty much all drinks under $10 including, alcohol, wine, beers, sodas, coffee, juice and shakes.
I guess the main question is and will always remain, are the Princess Cruise Drink Packages worth it? To be honest the answer is actually quite simple, it depends on how much you drink. From my wide knowledge and given the price range, on average it takes from 5-10 drinks a day to break even. It really depends on what you drink, if you drink $10 martinis then it will only take you 5 of those to break even. Every drink after that is profit on your side, but also keep in consideration that there are port days, and on those days you will most likely not drink as much.
For me personally the Princess Cruise Drink Packages are not a good deal, simply because I cannot drink that much and enjoy my vacation at the same time. While I have been known to be a heavy drinker from my Celebrity Silhouette review, I still know my limit and 5 martinis a day is kind of pushing it. Specially when considering that you will be doing that 7 days straight. On the other hand I know people who drink 15 drinks a day without blinking an eye, in those cases there is not question about it, the really benefit from getting one of the Princess Cruise Drink Packages.
Princess Cruise Drink Packages for Groups
The prices you see below are for groups of over 30 people in them. Keep in mind that everyone in the room has to purchase the package so if you have a weak drinker and a heavy drinker it will not work out for you.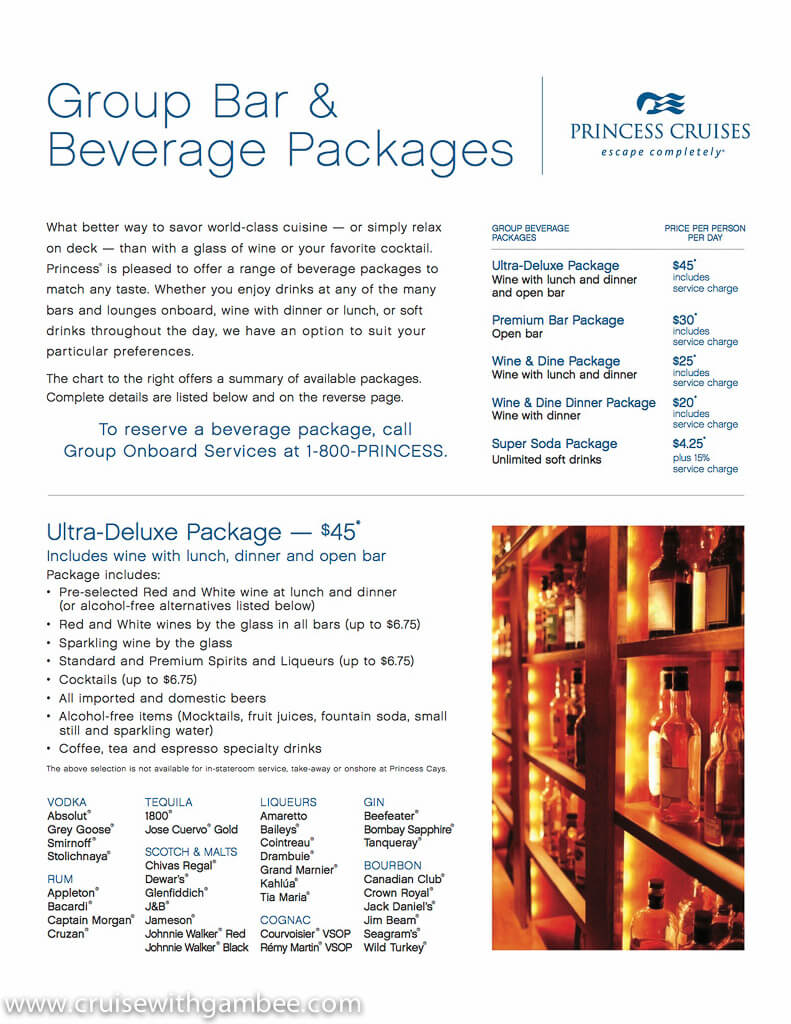 princess cruise drink packages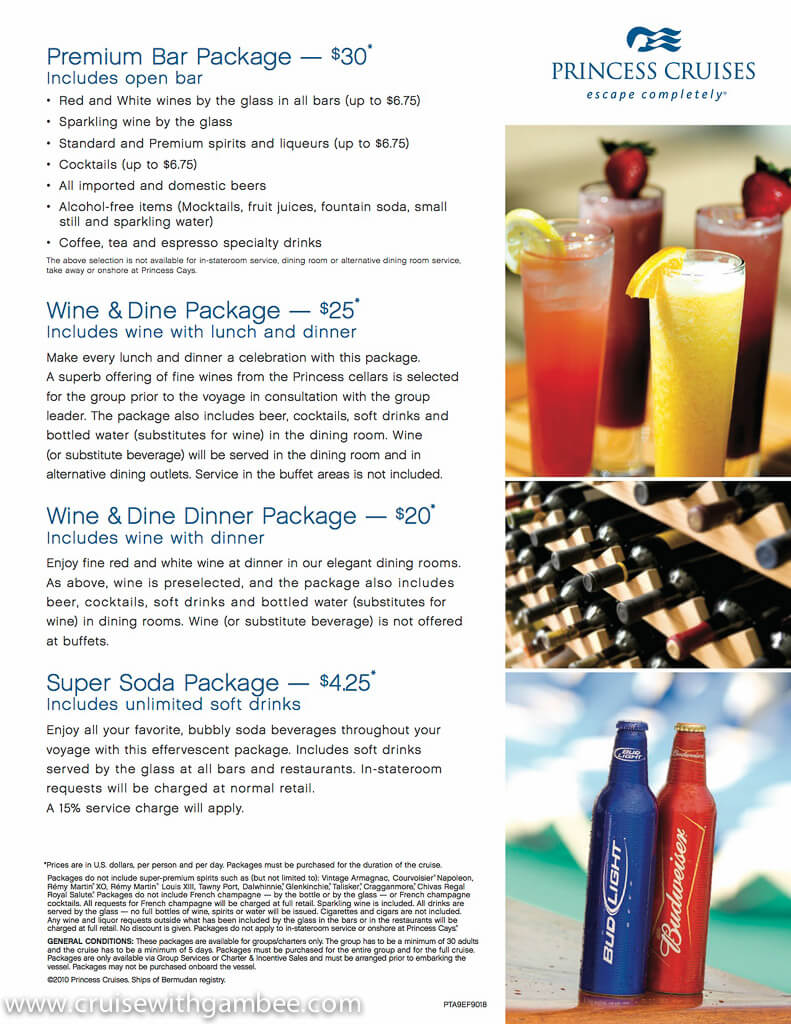 You could also try getting more information about the Princess Cruise Drink Packages here, in the Princess site.
Caribbean Princess, Regal Princess, Coral Princess, Royal Princess, Crown Princess, Ruby Princess, Dawn Princess, Sapphire Princess, Diamond Princess, Sea Princess, Emerald Princess, Star Princess, Golden Princess, Sun Princess, Grand Princess, Island Princess, Pacific Princess, Ocean Princess.
Thank you for visiting my Princess Cruise Drink Packages webpage.