In the process of deciding what to do in Bermuda I did extended research, now I am sharing all my knowledge with you. One thing to keep in mind is that most cruises choose to dock in Bermuda for longer stays. Fortunately for us there is enough to do in Bermuda to keep you busy for your entire stay.
Here is my list of the Best Bermuda things to do!
Let me start with the Dockyard.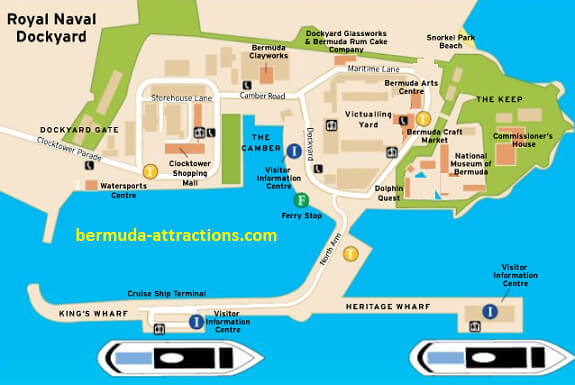 Kings Wharf Bermuda and Heritage Wharf.
Short list of what to do in Bermuda Dockyard.
The National Museum of Bermuda  seems to be the main attraction in this area. The cost is $10 for anyone over 13 and free for kids under 13. It is open from 9:30-5:00pm.
Snorkel Park Beach The cost is $5 during weekdays, free on Saturdays, $10 on Sundays and children under 12 is free. They also have a night club on Mondays, Wednesdays, Thursdays and Saturdays with a cost of $10 per person. We heard from good word that the mini golf is a super fun activity to do in Bermuda.
Hartley's Famous Undersea Walk This tour departs from Heritage Wharf, and the cost per person is $95 for divers and $48 for Observers. If you have a few bucks to spare, this is an amazing activity to do in Bermuda.
Glass Beach is an approximate 20 minute walk from the Dockyard, you can go there and collect sea glass. This is a great activity to do in Bermuda for those in a Budget.
Bermuda Clayworks is your shopping place for ceramics.
Bermuda Glassworks They have items available from $10 to smaller items, to hundreds of dollars for larger items.
Bermuda Craft Market We bought a few items there, the prices were much better than other stores around the island.
Bermuda Clocktower Mall is home for several stores such as Bermuda Triangle, Crisson Jewelers, Perfume Shop and more. If shopping is your thing, this is a must for you to do in Bermuda.
South Hampton & Warwick Parish.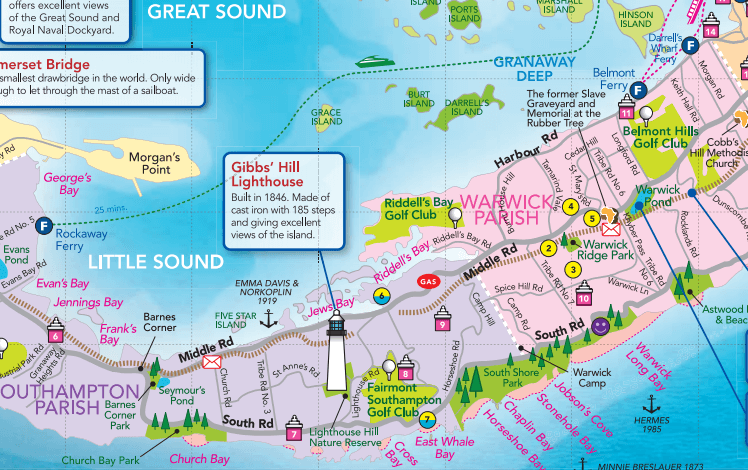 List of what to do in Bermuda Southampton Parish.
Church Bay Beach, a small beach well known for good snorkeling.
Gibbs Lighthouse, the best views of Bermuda can be seen from here. The fee to climb the lighthouse is $2.50.
Horseshoe Bay Bermuda, the most popular beach in Bermuda. There,you will find facilities with bathrooms, showers, ice cream parlor, umbrella/chair rentals and a restaurant. This a great activity to do in Bermuda, I enjoyed some great snorkeling.
Chaplin Bay Beach, It is a smaller and more quiet beach, perfect so a romantic getaway.
Stone Hole Bay Beach, If you're looking for a more secluded location, far from the masses this is a great alternative beach.
Jobson's Cove, Some would called it the perfect family beach, this would be a great shore excursion to do in Bermuda for young families with children.
Warwick Long Bay Beach, is a 1 mile long and very gorgeous beach, some would say that this is a must to do in Bermuda while you're visiting the island!
Hamilton Bermuda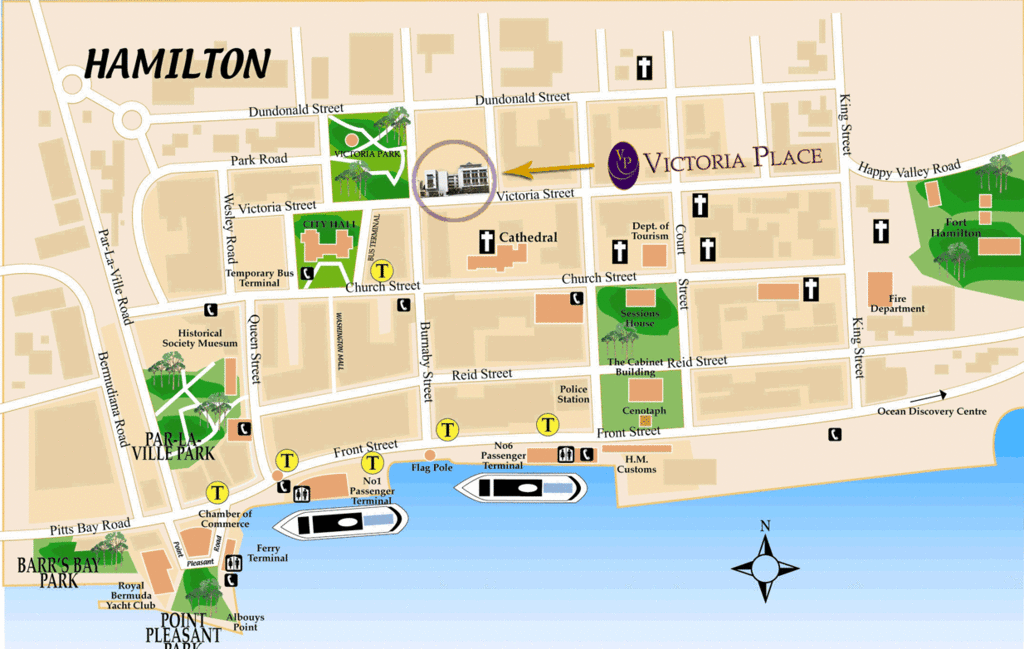 world map Bermuda
List of things to do in Bermuda, if you go to Hamilton.
Most Holy Trinity Cathedral with a tower rising 143 ft it provides a nice view of Hamilton Bermuda. There is a $3 fee to go the top.
Queen Elizabeth Park a beautiful city park like an oasis with trees, shaded gardens and walkways. This is an activity to do in Bermuda not usually considered by many, but it offers a very tranquil area to enjoy your day.
Fort Hamilton is a gorgeous area overlooking the harbor. It offers great views and beautiful gardens. There is no admission fee.This is a great activity to do in Bermuda if you're in a budget.
Bermuda Underwater Exploration Institute Admission fee is $12.50 for adults, $6 for children between 6-17 and free for children under 5.
Bermuda National Gallery contains collections of 17th & 18th century European paintings.
Admiralty House Park The property has a historic building, nice park, nature and hiking trails. The entrance to the park is free.
Hamilton Harbor  here you will always see hundreds of boats in a picturesque setting. The harbor is a must activity to do in Bermuda, as this short walk is simply gorgeous.
Bermuda Aquarium and Crystal Caves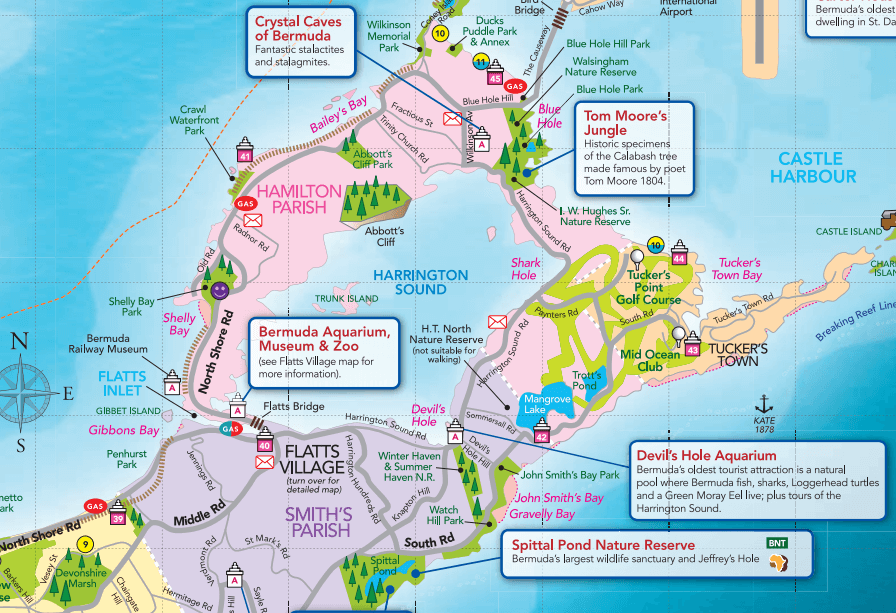 A short list of activities to do in Bermuda, if you plan to go around Hamilton Parish.
Aquarium, Museum and ZOO (BAMZ) The price for admission is $10 for adults, $5 for children between 5-12 and free for children under 5. If you have kids this is a must shore excursion to do in Bermuda.
Crystal Caves There are 2 caves: Crystal Cave and Fantasy Cave. Crystal Cave is the main cave with mostly predominant blue waters. Fantasy cave has more formations coming from the ceiling. Cost is $20 for one or both combined for $27, children 5-12 $8, or $10 respectively and free for children under 5. In my opinion this is a must activity to do in Bermuda, we had a great time there.
St. George Area.

Short list of things to do in Bermuda if you're planning to go to St. George.
St. Peter's Church This is the oldest Anglican church in the new world and still in use." This is a great activity to do in Bermuda for those in a Budget.
St. Catherine Fort  This is the most popular  fort in Bermuda, with lots of exhibits and history to tell. The cost to the entrance of the Fort is $7 for adults and $2 for children.
St. Catherine Beach "Placid waters and soft white sand are what this beach is known for. Out of the city crowd, this beach is quite popular with locals."
Tobacco Bay Beach is one of the most popular beaches in the island. It's a great beach for sunbathing and snorkeling. This is a great activity to do in Bermuda for those in a Budget.
King's Square This is an open space were you will need to come to start your tour for the St. George's Town. Although while there is not much to do here, visiting the square is a must activity to do in Bermuda if you go to St. George.
Unfinished Cathedral is a famous landmark in Bermuda, and one that many visit.
Bermuda National Trust Museum contains a detailed exposition of Bermuda's role in America Civil War.
Gates Fort It's located at the end of Cut Road and is 1 mile away. This is a smaller Fort, and the entrance is free.
Transportation 
Recap of what to do in Bermuda.
I guess I can start this day by writing about my overall opinion of Bermuda. What can I say about Bermuda other than it is my ABSOLUTE FAVORITE ISLAND YET! There is so much to do in Bermuda, that I could myself coming back soon. Everything about Bermuda is great, and the locals are super polite. You will never experience pushy sales people anywhere in the island. Even the children are extremely polite, I find that hard to find now in most societies.
The ocean! Oh my that ocean… It is just about the most beautiful blue ocean my eyes have ever seen. That alone is something to do in Bermuda that would keep me coming over and over again. Snorkeling was just ok, and the water was freezing (must get better in summer), but over it was just stunning!
There is just so much to do in Bermuda, 3 days are not enough. Now I can see why people go to Bermuda year after year and never get bored of it. I think I could go there 3 more times, before I say I had enough and like to try something else.
One more thing to talk about was my hesitation to be docked for 3 days instead of being on the move every night. I really hated the idea of being docked, and I kept wondering if there were enough things to do in Bermuda to keep me occupied for 3 days. But let me tell you something, I like it. You can come and go as you please, at any time of the day or night. It felt very nice to get off the ship to go use the internet and stretch our legs, and it was also very nice to be able to take pictures of the ship at night.
On a final note for those who are hesitant of doing the Bermuda itinerary, all I can say is, try it. You might just be very surprised at how much you will like it. We can't wait for the next time that we are able to go to Bermuda. I hope that this short guide helped you figured out what to do in Bermuda, when you finally get there. I suggest you give the gorgeous Bermuda Island a try!
For more information on Bermuda Click Here.
Thank you for visiting my To Do in Bermuda page 🙂